---
I decided to take the Gatwick Express train from Gatwick Airport to London's Victoria Station, so as I left the airport I purchased a one-way ticket for £19.90. It's worth pointing out that both Gatwick Express and regional Southern Railway local trains depart from the Gatwick rail station, all going to London. Don't make the mistake that I did of paying for a Gatwick Express ticket and accidentally boarding the local train that takes the slow route to Victoria Station. 🙂
Victoria Station was an absolute cluster, and the line to purchase a ticket on the Tube was thirty deep, so I decided to try my luck at Uber instead. Pretty instantly, an Uber X car showed up and dropped me off at the front door of the Andaz Liverpool Street in 20 minutes.
It goes without saying London is a very expensive city, and that black cabs are famously pricey, and even Tube tickets are ~$3.50 a pop. I had no idea how much my Uber was going to cost, but I was pleasantly surprised to discover it was just a little over £10, or $15 — which became, for me, a game changer as far as getting around London is concerned. London is generally a tremendously inconvenient city, so Uber "fixed" one of its major flaws for me.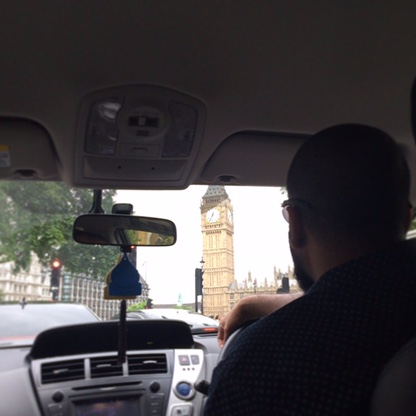 Anyway, I got to the hotel lobby around 12:30pm. The Andaz is in a beautiful Edwardian-style building adjacent to the massive Liverpool Street Station. The hotel was actually built in 1884 as the Great Eastern Hotel, and refurbished as an Andaz in 2008.
Since Ben has already reviewed the Andaz Liverpool Street before (and since jet lag got the best of me and my photos are few and far between), I'll keep the review brief and mainly focused on my experience with service and my guestroom.
The inside of the lobby was extremely modern, despite the historic nature of the hotel. Actually, the Andaz's lobby was quite dark.
Like all Andazes, check-in is not done at a front desk but performed by roving attendants. I was checked in fairly quickly and given a key to a King room on the 5th floor.
Exiting the elevator on the 5th floor, I discovered that the hotel was… not laid out well.
Indeed, I think it was laid out by sadists. My room was a long walk from the elevator bank, and required about four different turns and intersections.
Unfortunately, when I got to my room my key did not work. A hotel employee happened to be walking by at the time, and he couldn't get the key to work, either, so he promised he'd send someone right up.
I actually waited about 10 minutes before I decided it was easier to just get a new key myself, so I went back down to the lobby. This time, the attendant walked with me to the room with the new key, to make sure it worked. (It did.)
I've generally always been impressed with guestrooms in the Andaz chain, because even when there's not a lot of square footage (say, in Amsterdam) the rooms are laid out strategically and make incredible use of space.
This guestroom, however, was a bummer.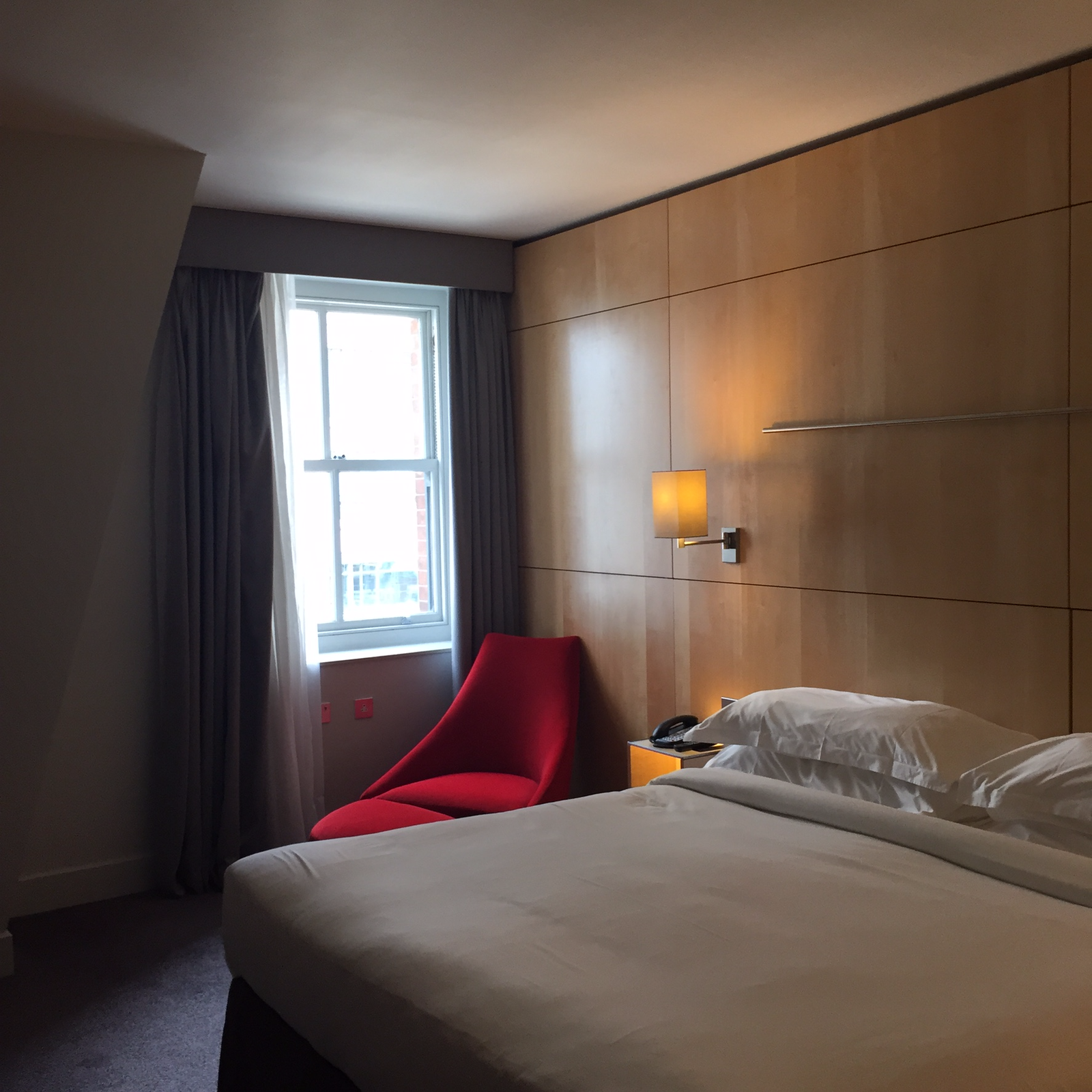 It felt bland, unexciting and small, and because it was on the top floor, it had a dormer window and an angled ceiling. Tiffany had actually warned me in advance to request a room with "big windows" at the Andaz, and I wish I'd heeded her advice.
Usually Andaz is a brand known for whimsical, edgy rooms, but my room felt more appropriate for a Radisson or a Best Western, to be honest.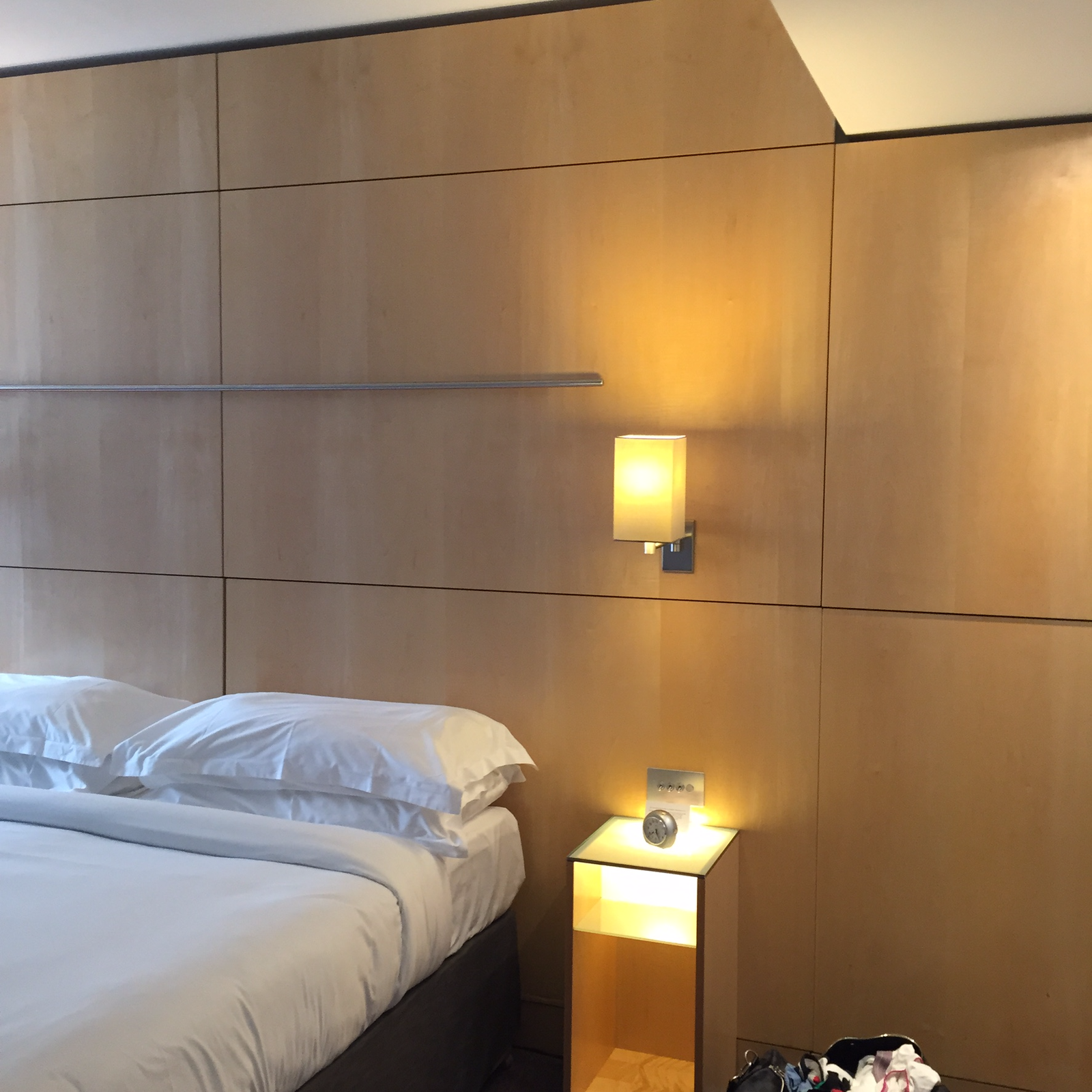 There was a charging station near the desk area that included an international adapter. By and large, I thought the desk area was a bit of a mess of wires and cables. Indeed, underneath the television was a massive bundle of cables running over to the desk area, totally exposed. It felt messy, and a bit tacky. (You can see the cables underneath the weirdly-low placed television set in the photo below.)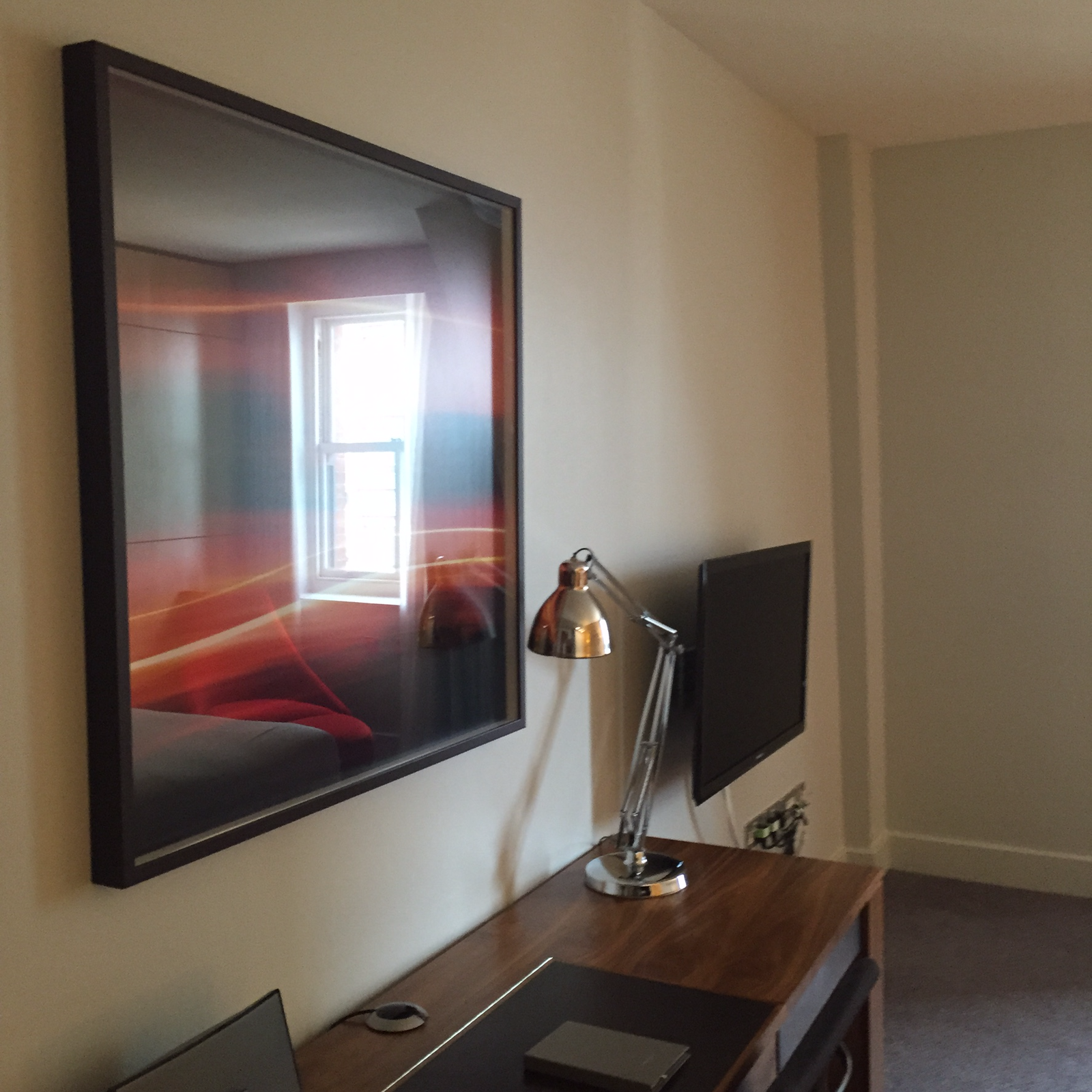 The closet space and storage area was small, and basic.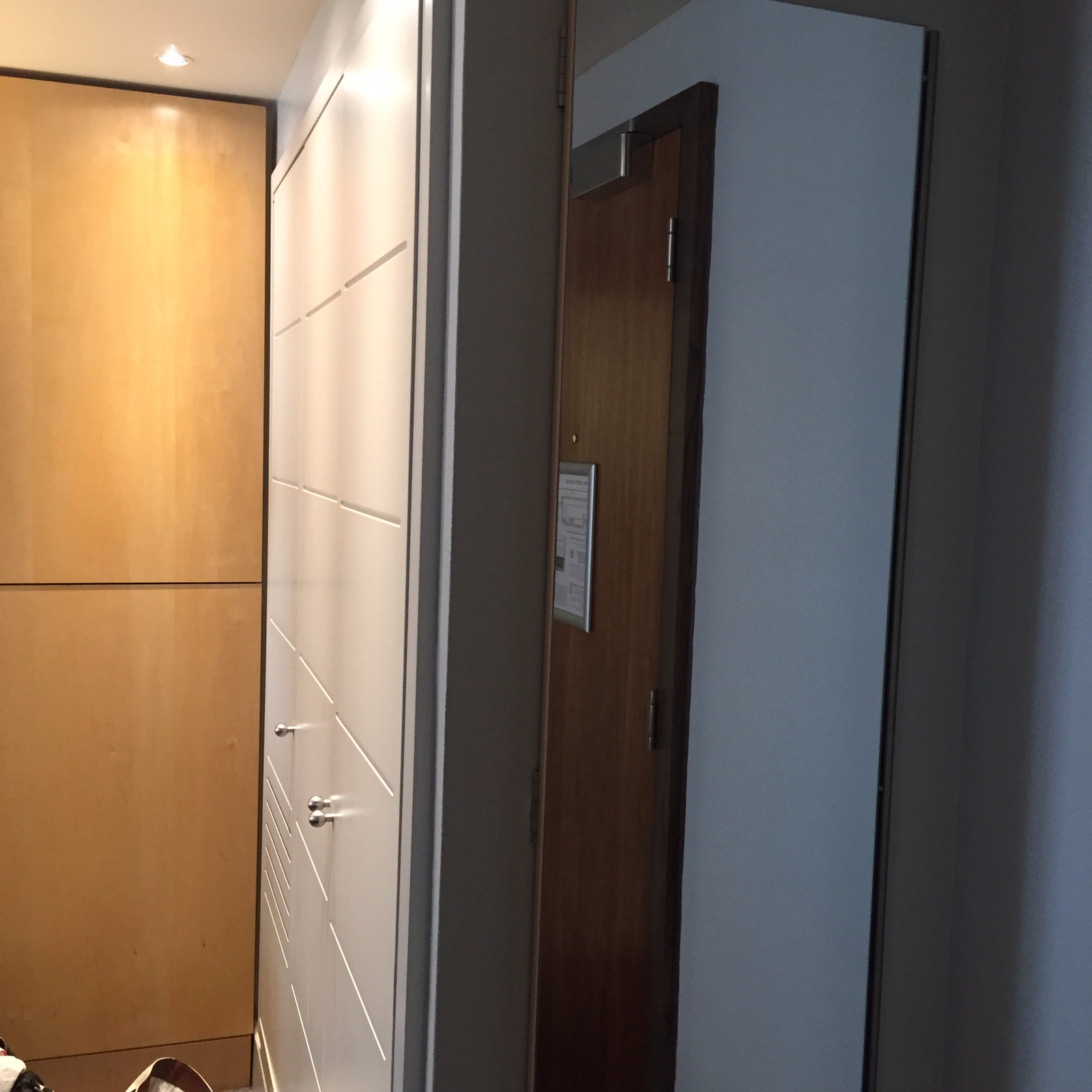 The room didn't have an iron or ironing board, but reception sent me up an iron relatively quickly upon request.
The bathroom was very small. The sink is especially tiny, actually.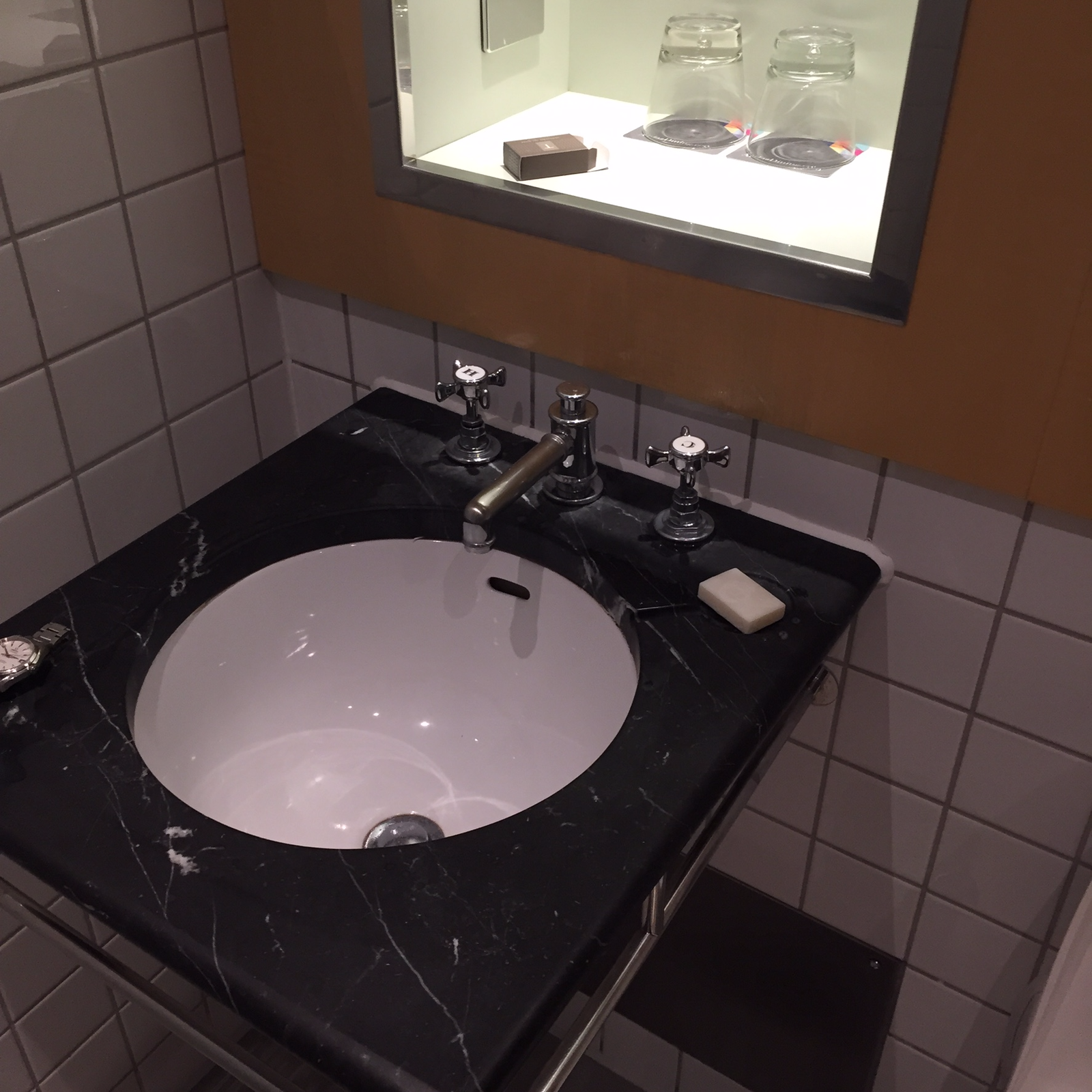 Luckily, there are two generous, backlit storage nooks of sorts built into the wall behind the sink, which were useful.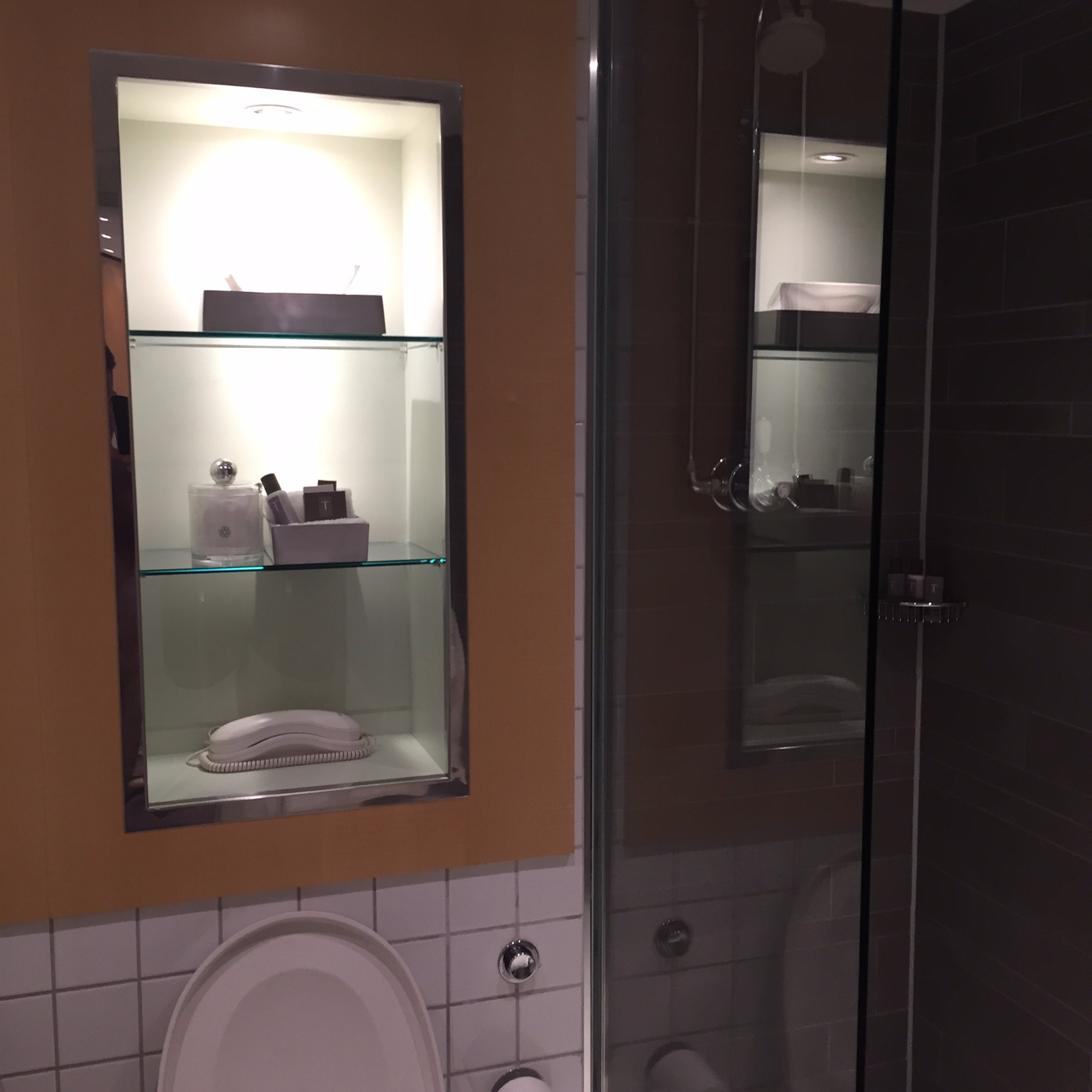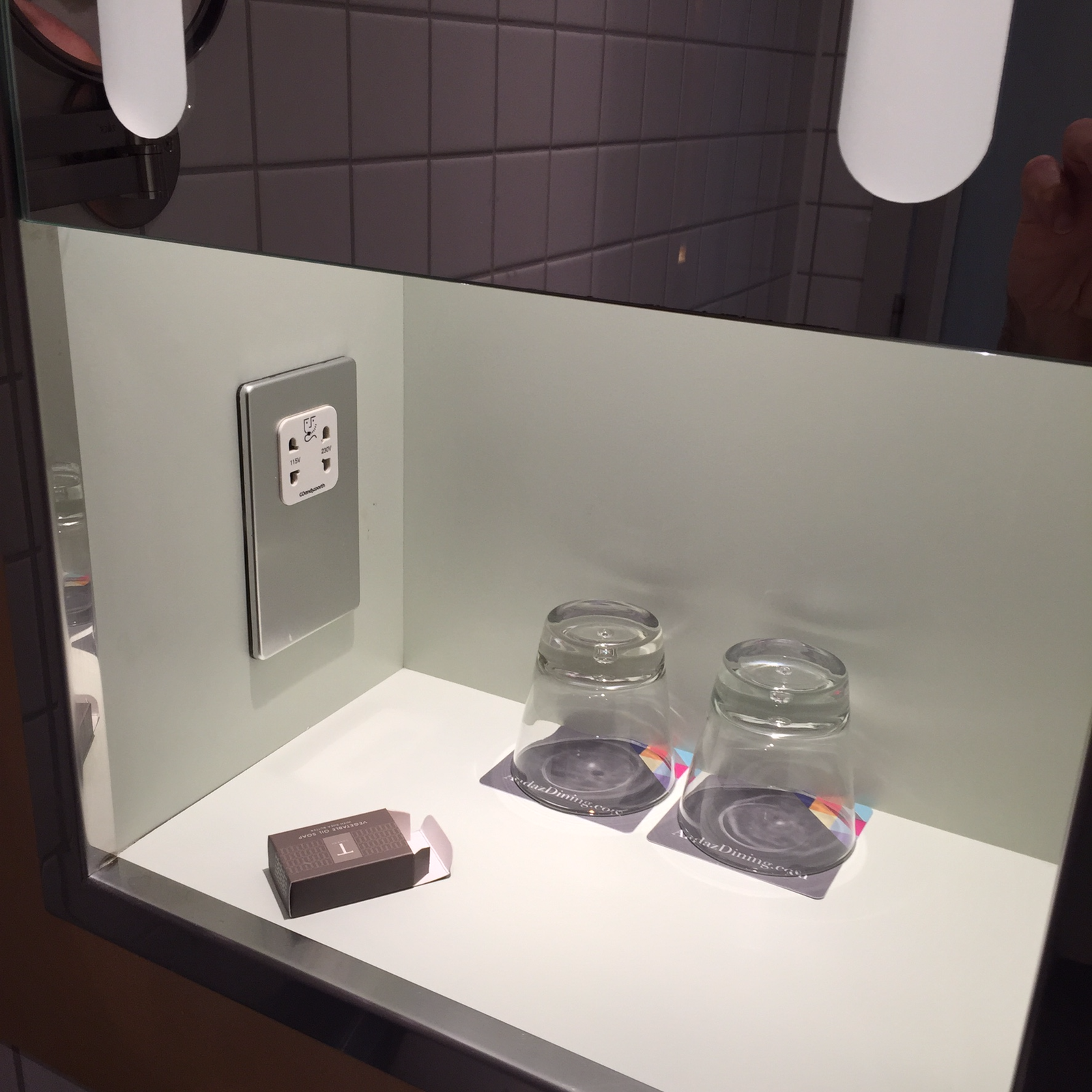 Maddeningly, the hair dryer is not located in the bathroom, but rather is in a pop-up drawer in the desk in the guestroom, which makes zero sense to me.
Toiletries were "T London" branded, and I liked them quite a bit.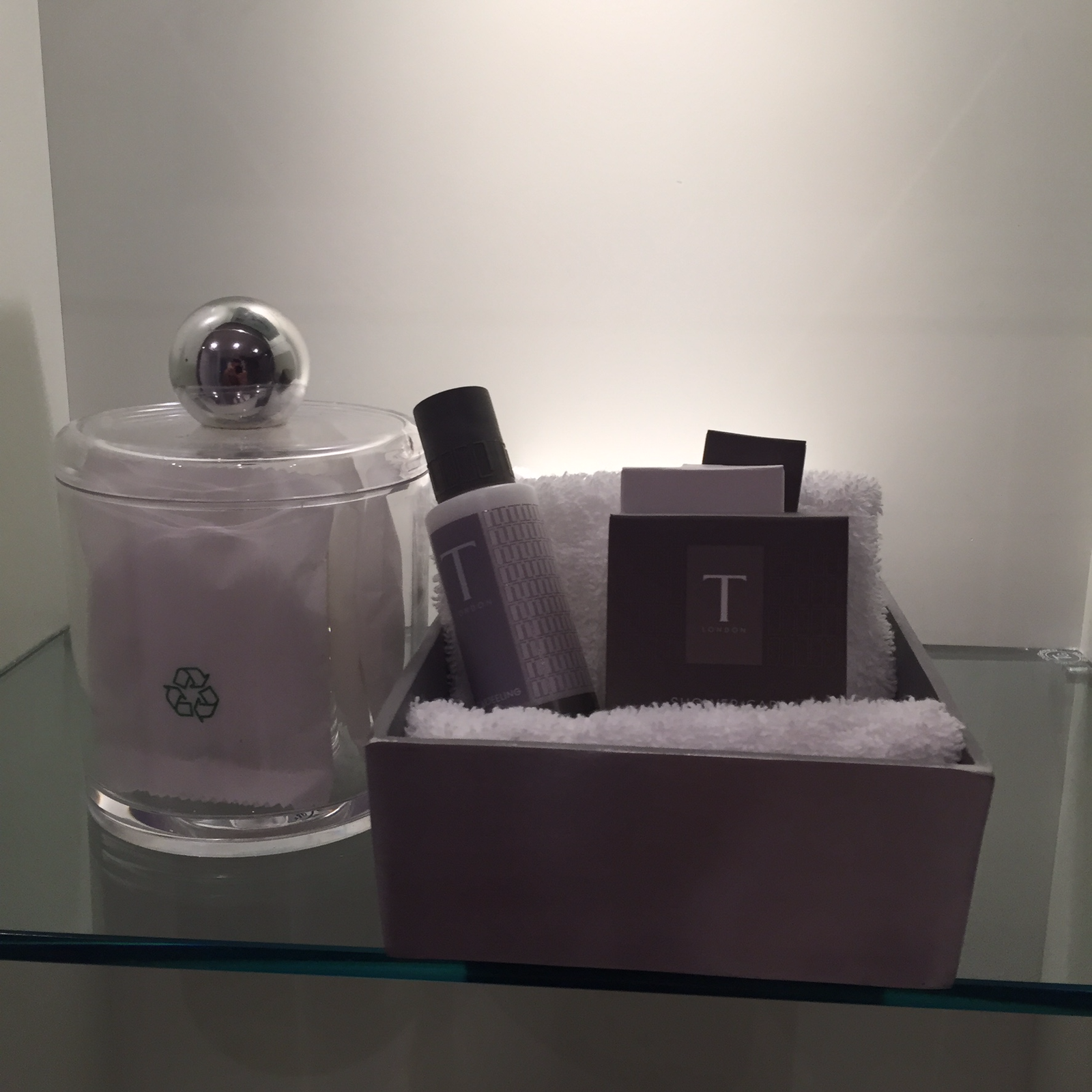 The shower was elevated from the rest of the bathroom, and quite dark.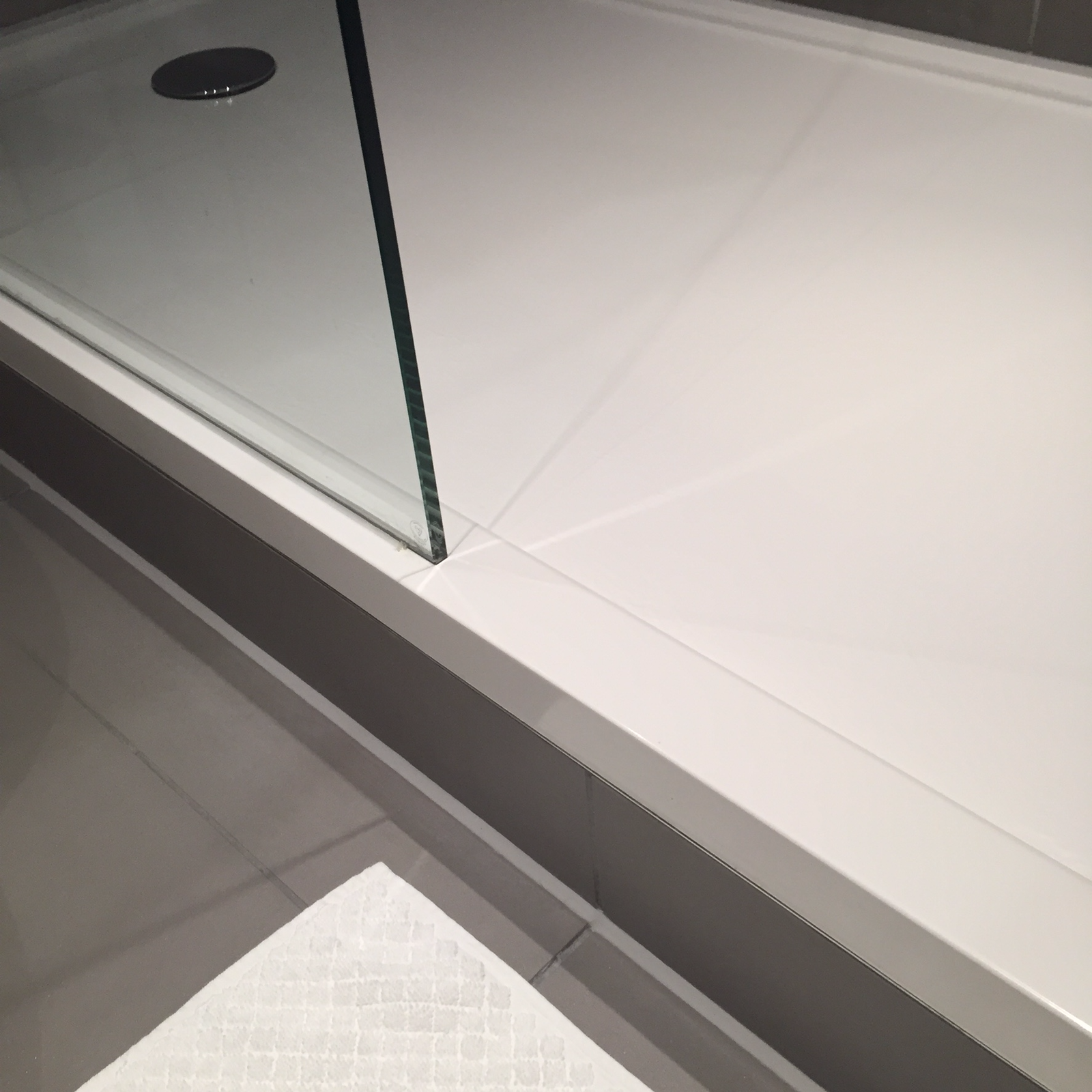 I set my phone up to charge and took a bit of a nap on the bed, which was quite firm but comfortable.
When I woke up, I started to take a shower. As Ben has noted before, some hotel showers are annoying, as is this one: the shower head and controls are way in the back, unreachable unless you're in the shower and directly under them, so there's no way to "test out" the water temperature before getting soaked.
It didn't really matter, anyway, because within a minute of turning the shower on, one of the pipes popped out, spraying scalding hot water everywhere like a broken fire hydrant. I was able to sort of work the pipe back in place in order to redirect the water to come out of the shower head, but it popped out again almost immediately.
The bathroom floor, of course, was covered in about an inch of standing water.
Anyway, I was going out to meet a friend, so on my way down I stopped by the lobby to speak to someone about having the shower fixed.
I mentioned that I'd be going out for several hours, but that if they didn't happen to be able to fix the shower, I'd appreciate being relocated. I tried to work in, "if you're going to relocate me, I'd really appreciate a less depressing room with more windows," and he seemed to acknowledge that I'd been assigned to one of the clunkers. I was hoping he'd proactively offer to change rooms right away, but alas, he didn't.
I did like that the hotel was only about a 5 minute walk to the hipster neighborhoods of Shoreditch and Hoxton, which are becoming a crucial part of the London "scene." I'd never seen Shoreditch before, and had a great dinner out on the town there.
In any event, the shower did end up being fixed when I returned to the room. I had to leave the hotel relatively early, so I hit the sack and set my alarm for 7:30am.
After a successful morning shower without scalding myself (always look for the small victories), I checked out of the hotel and called an Uber. The lobby attendant mentioned that my two in-room beers from the minibar had been comped because of the problems I had with my key and shower, which was a nice touch, though sort of a halfway gesture, but I'm not going to look a gift horse in the mouth.
Annoyingly, as soon as I pulled up my Uber app, I realized I'd lost my internet connection. It seems the Andaz cuts your Wifi signal the moment you're checked out, which when you think about it is fairly inconvenient for precisely these reasons. One of the bellmen gave me the password for the Andaz Conference Center Wifi network so that I could call an Uber, but I was irritated that it took an extra few minutes when I was already in a bit of a hurry.
Andaz Liverpool Street London Bottom Line
I think there's probably a right way to do the Andaz Liverpool Street and a wrong way.
Ben seemed to do it the right way earlier this year. Photos of his room look beautiful, and his room and bathroom were airy and spacious.
I think I must have done it the wrong way.
Essentially, the rooms seem to vary wildly at the Andaz Liverpool Street, so your mileage will vary based on which room you get. It's absolutely worth asking for a bright, large-windowed room if possible. It's also potentially worth asking for a room "closer to" (though not adjacent to) the elevators if you're bothered by a labyrinthine walk to your room (as I was).
Service was largely helpful and quick, but I can't say my experience wasn't a bit tainted by an inoperative shower, an inoperative key, and a desk and television setup marred by a mess of tangled cables.
London is an expensive city, so if you're looking to use your Gold Passport points to stay there, it's worth noting both the Andaz Liverpool Street and the Hyatt Regency – The Churchill (which is more in the swankier western side of town) require the same level of points. If you're in London for hip things, you'll appreciate the Andaz's location over the Hyatt Regency's, but be sure to reach out to the hotel in advance to ensure a decent room, since some of the rooms are most definitely clunkers, as mine was.