---
I've been wanting to try JetBlue's Mint since it was introduced a couple of years ago, so I was thrilled to finally have the opportunity.
I could tell the Mint experience would be different even before we got on the plane. As the gate agent scanned our boarding passes he said "enjoy your Mint experience" to each passenger. While it sounds like a scripted line (and likely is), over the next six hours I experienced a level of hospitality that I forgot exists at US airlines.
JetBlue 1323
New York (JFK) – Los Angeles (LAX)
Tuesday, August 3
Depart: 9:45PM
Arrive: 12:44AM (+1 day)
Duration: 5hr59min
Aircraft: Airbus A321
Seat: 2A (Mint)
I boarded through door L1, where I was greeted by Agda, one of the Mint flight attendants. Since I managed to be the first passenger aboard, I took the opportunity to snap some quick pictures of the cabin.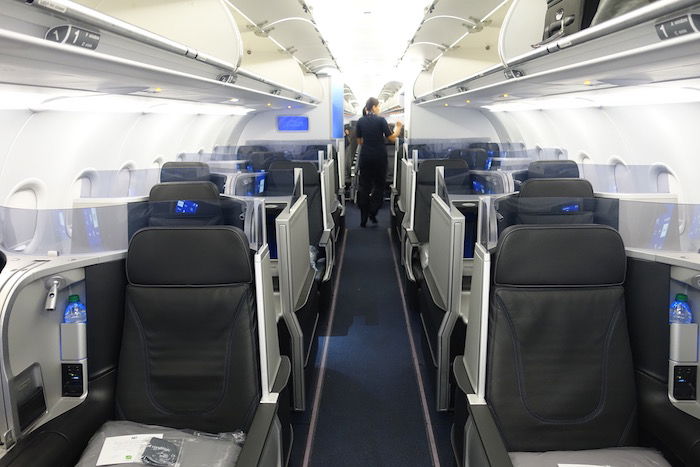 JetBlue Mint cabin
As you can see, JetBlue's Mint cabin has a total of five rows. Three of those rows (one, three, and five) have four seats per row, while rows two and four have just two seats per row, which are known as the Mint suites.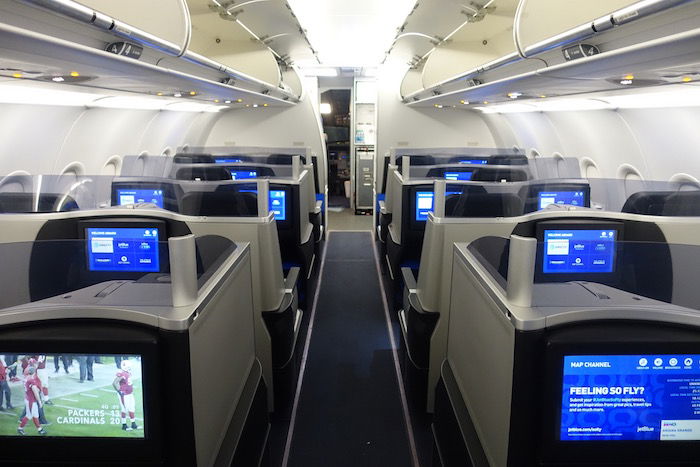 JetBlue Mint cabin
The 12 "standard" Mint seats looked great overall, and I appreciated the amount of privacy there was between the seats.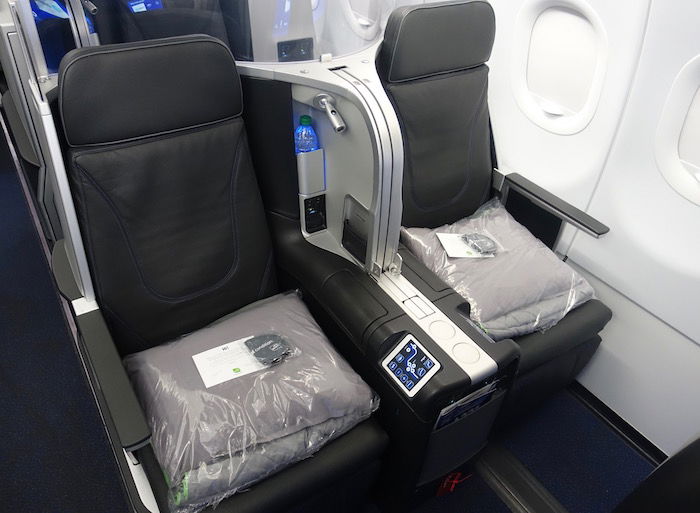 JetBlue Mint standard seats
There was plenty of legroom, and also it seemed like the "cubby" for your feet when fully reclined looked quite large.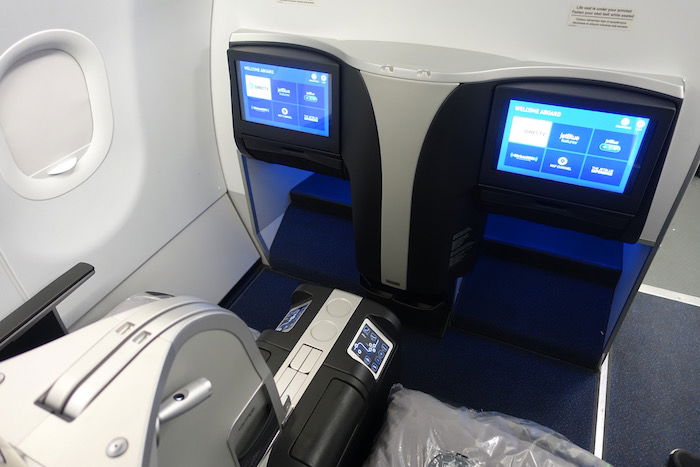 JetBlue Mint standard seats
The four Mint suites are available on a first come first serve basis (which is a blessing for those looking for a good value, since those booking first are typically also getting the lowest fares). I managed to snag seat 2A, the Mint suite in the second row on the left.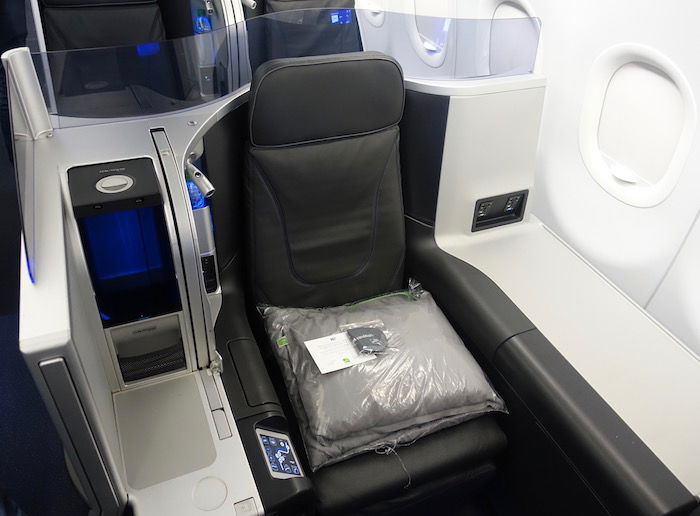 JetBlue Mint suite
These seats are the same general staggered configuration you'll find on quite a few airlines, where the number of seats per row alternates.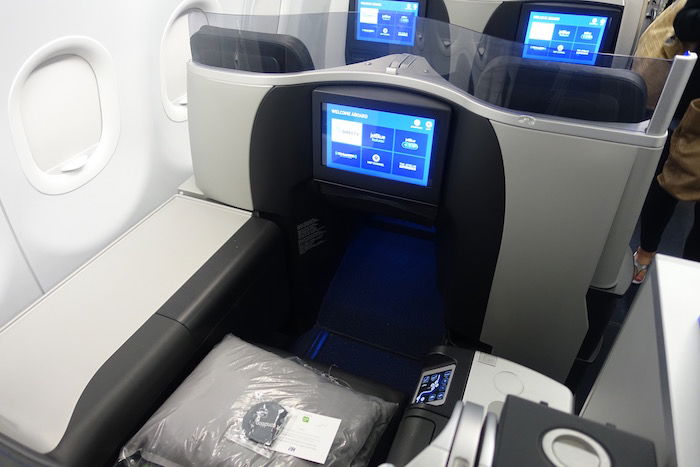 JetBlue Mint suite
The seat controls were located to the right of the seat, and were easy to use.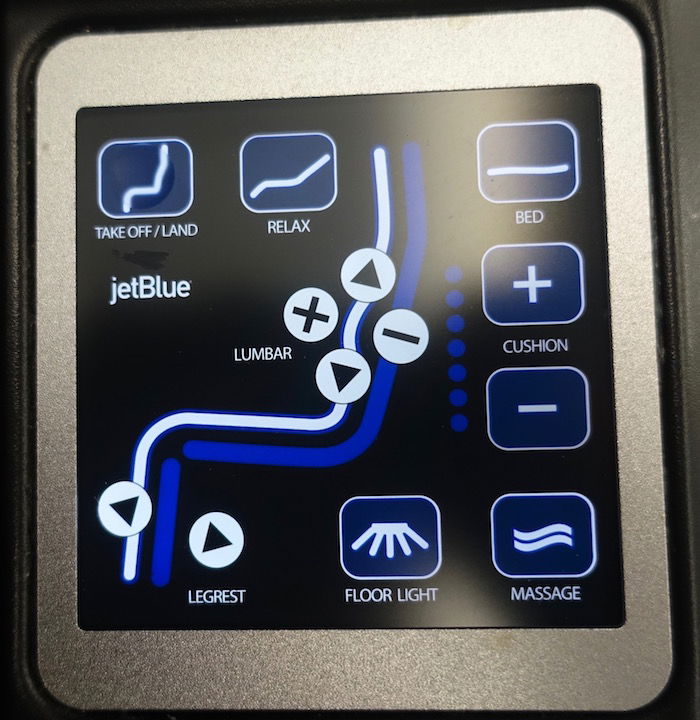 JetBlue Mint seat controls
Above that and also to the right of the seat was a reading light, water bottle holder, power outlet (which could accommodate both USB and 110v), as well as a storage compartment that could be closed.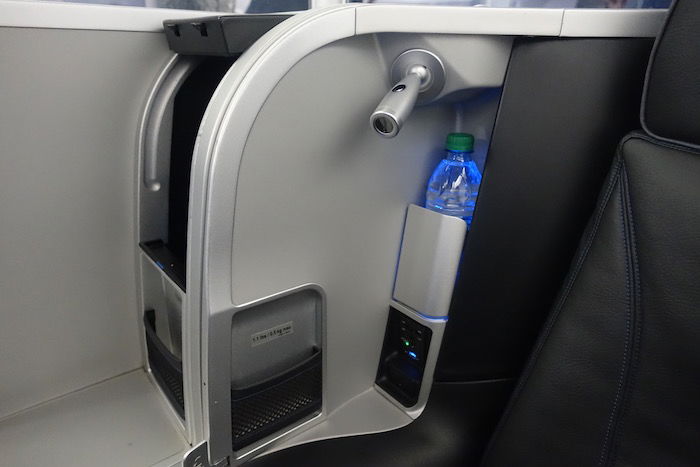 JetBlue Mint seat features
The storage compartment was fairly large, and could easily fit headphones or just about anything else you'd want to take out for the flight.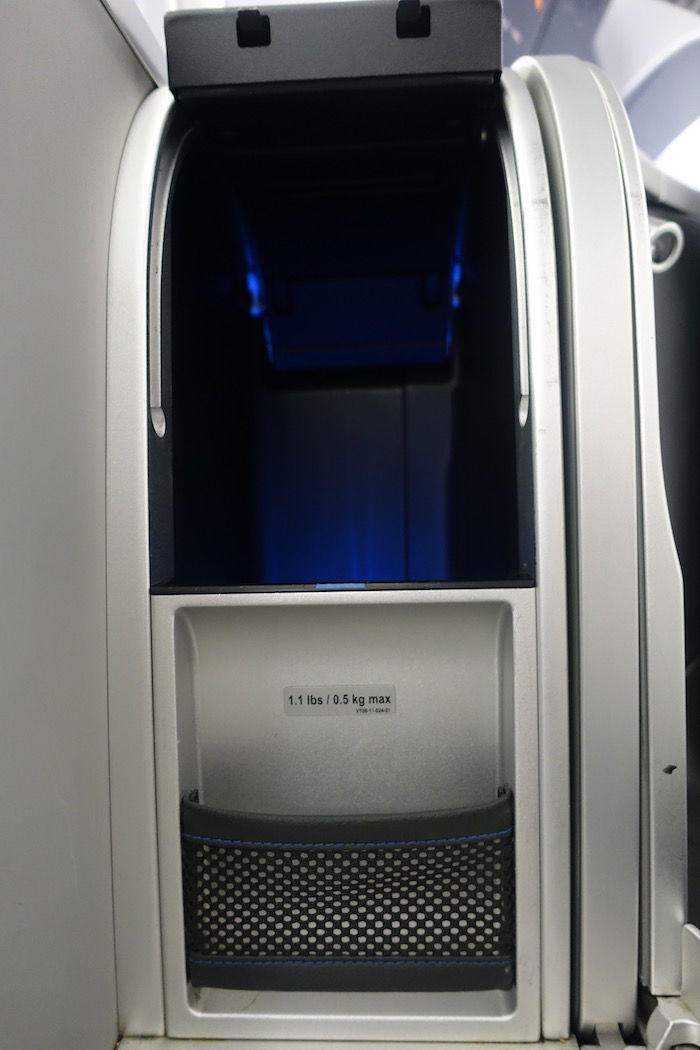 JetBlue Mint seat storage
Also on the right armrest were the entertainment controls, which I found a bit confusing to use.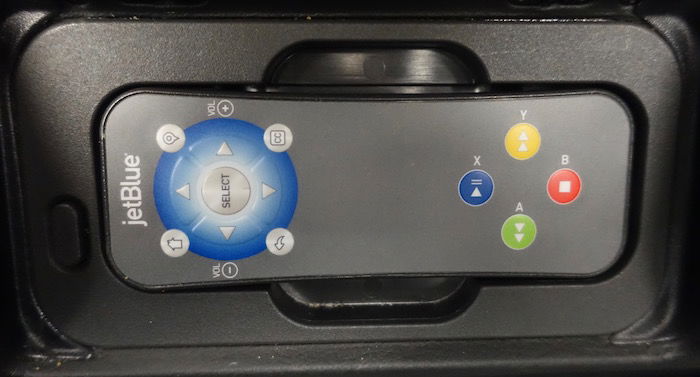 JetBlue Mint entertainment controls
The tray table also came out of the right armrest, and was easy enough to use. A lot of staggered seats in a similar configuration have complicated tray table setups, though that wasn't the case here.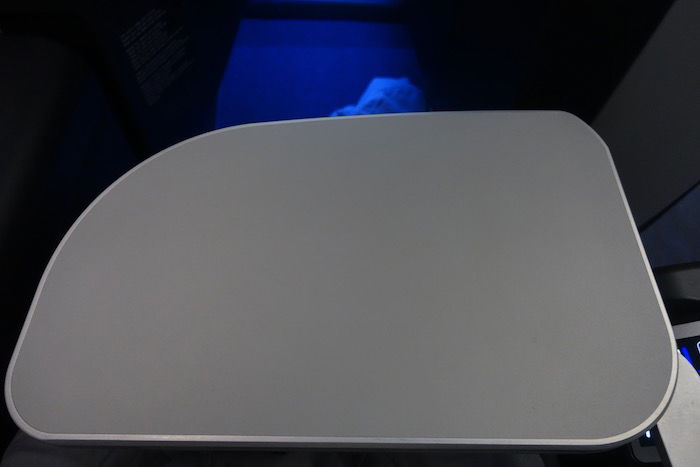 JetBlue Mint tray table
On the left side of the seat was a large console, where you could easily leave a bag during the flight if you wanted (though everything has to be stored for takeoff and landing).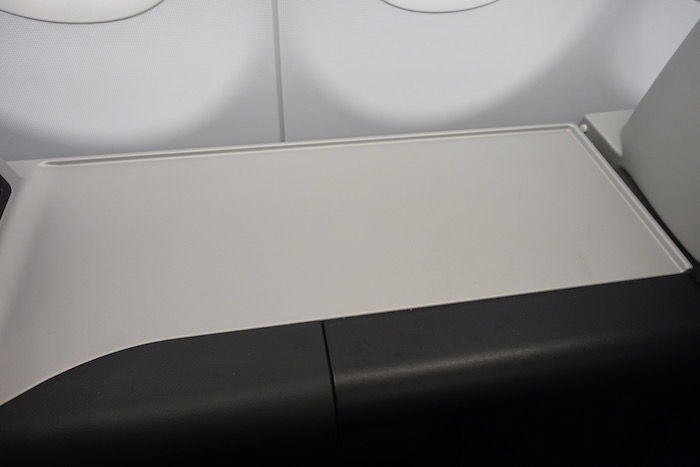 JetBlue Mint seat console
Also on the left side of the seat were two more power outlets, which could accommodate both 110V and USB plugs. I loved the fact that the Mint seat had six power outlets — where else do you get that much power in one seat?!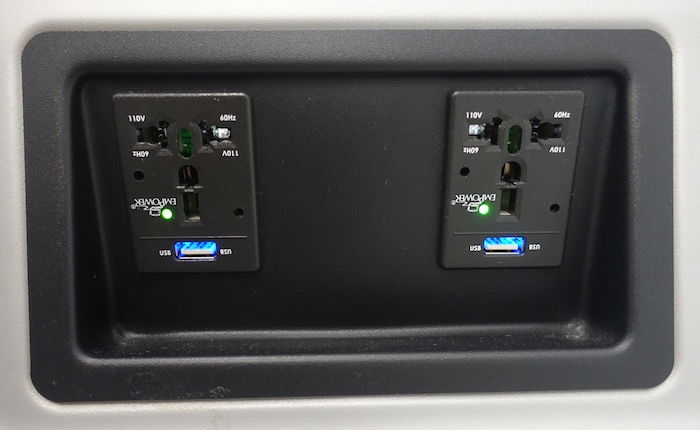 JetBlue Mint power outlets
The one major downside of the Mint suites is that when fully reclined, the "cubby" for your feet is really small. This isn't an issue if you're just lounging around, but if you're fully reclined you'll have a hard time moving your feet around. This is the same problem you'll find on airlines like Austrian, Brussels, Delta, etc.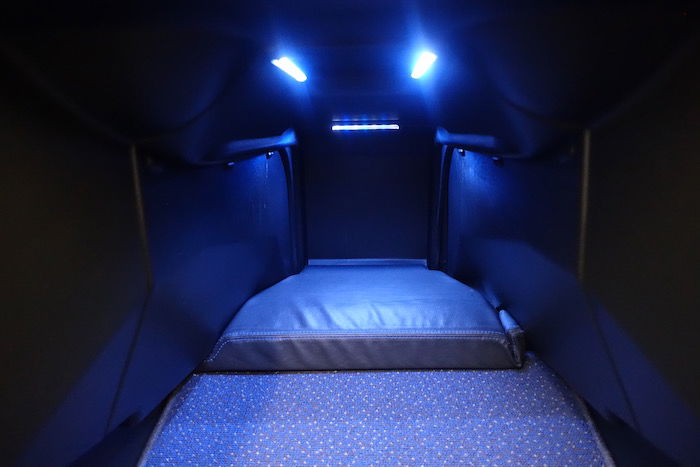 JetBlue Mint suite legroom
Above the foot cubby was a magazine pocket.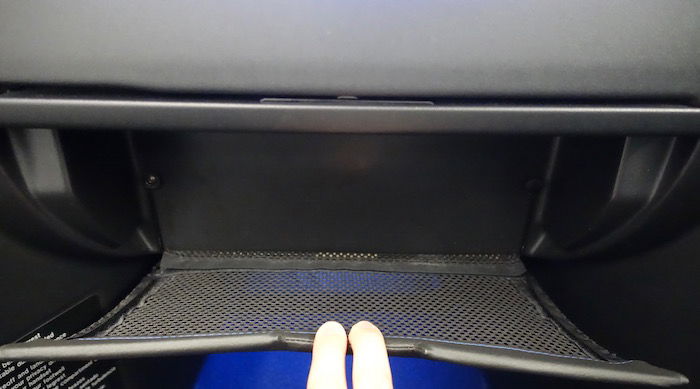 JetBlue Mint seatback storage compartment
Waiting at my seat on boarding was a fantastic pillow and blanket set, as well as eyeshades and a note signed by the two Mint flight attendants, Agda, and Raphy.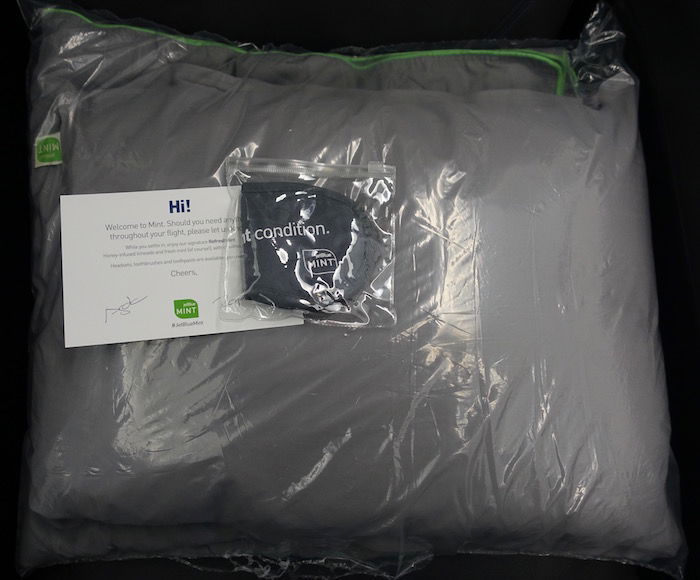 JetBlue Mint pillow & blanket, eyeshades, and welcome note
The pillow and blanket were top notch — the pillow was large and plush, while the blanket was large and soft without being too warm.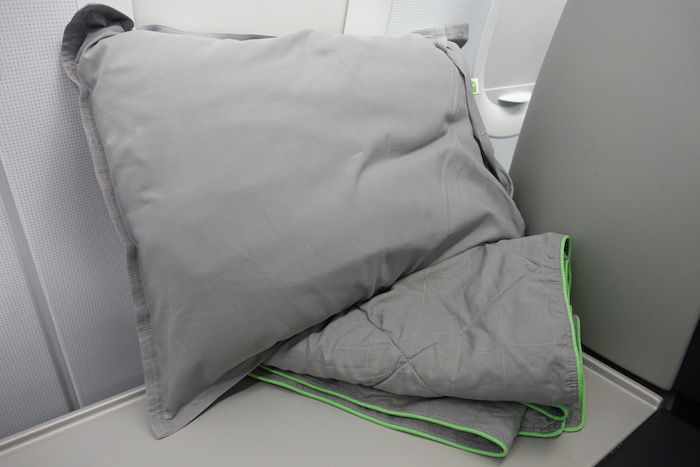 JetBlue Mint pillow & blanket
Once I settled in Agda came by my seat to formally introduce herself. When she learned that it was my first time in Mint, she gave me a fantastic intro to the seat. I don't remember the last time I've flown a US carrier and been asked if I knew all the seat features. Agda really went above and beyond, as she spent a couple of minutes explaining all the seat's features to me.
She also showed me how my suite door closed. There's a button on the right side of the seat that can be pushed to close the door.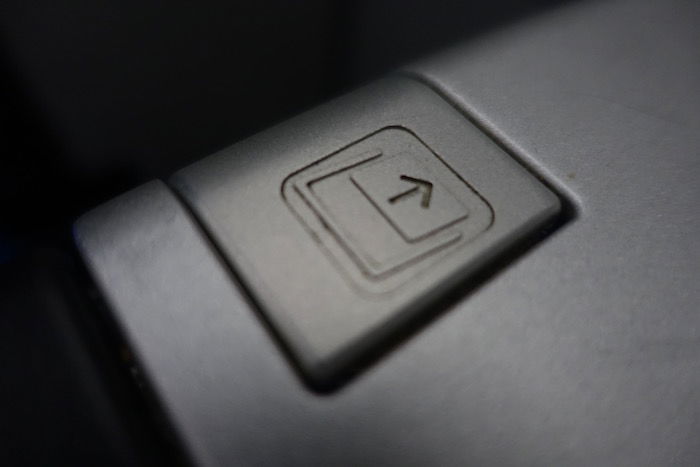 JetBlue Mint button that controls closed door
This isn't some gimmick, but rather there's a legitimate door at the suite seats.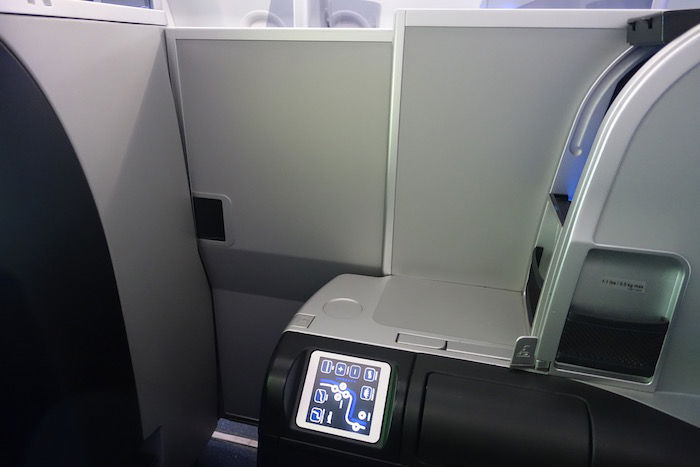 JetBlue Mint suite door closed
Below is a picture of what the suite looks like from the outside when closed.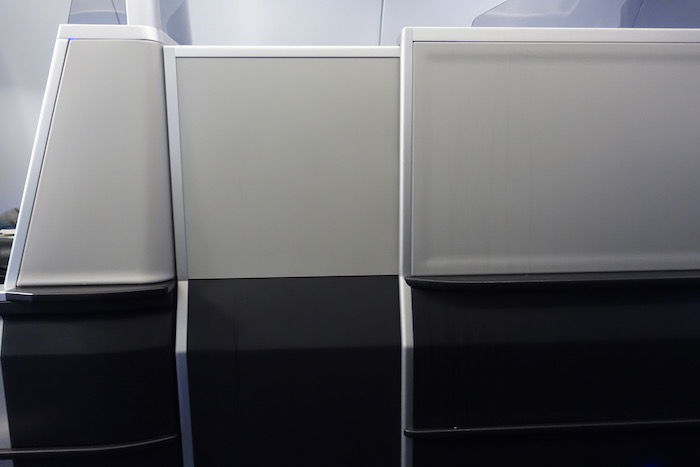 JetBlue Mint suite door closed
Upon the completion of the seat explanation, she asked if I wanted JetBlue's signature pre-departure cocktail, which is a honey infused limeade with fresh mint and vodka, along with a splash of club soda. It tasted every bit as delicious and refreshing as it sounds.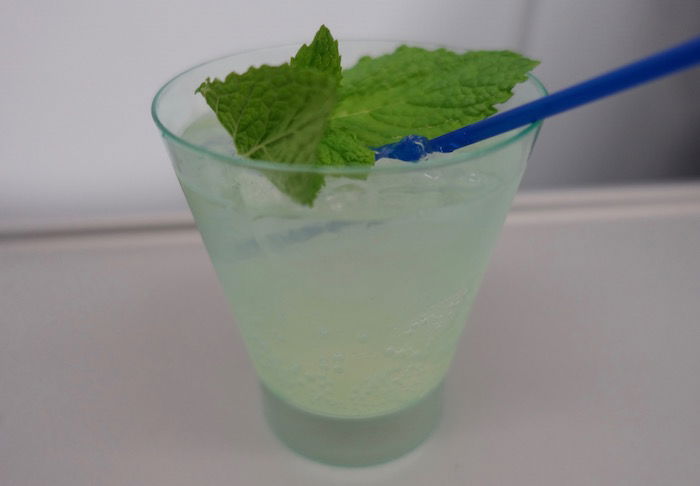 JetBlue Mint welcome drink
After that, Agda presented me with the menu for the flight, and explained their dining concept. They have several dishes you can choose from, and each Mint passenger can select up to three of them.
Can I just note how awesome it is that JetBlue has a full service on a flight around 10PM? That's how it should be for all airlines, in my opinion, though American wouldn't serve a full meal even in first class on a similarly timed flight.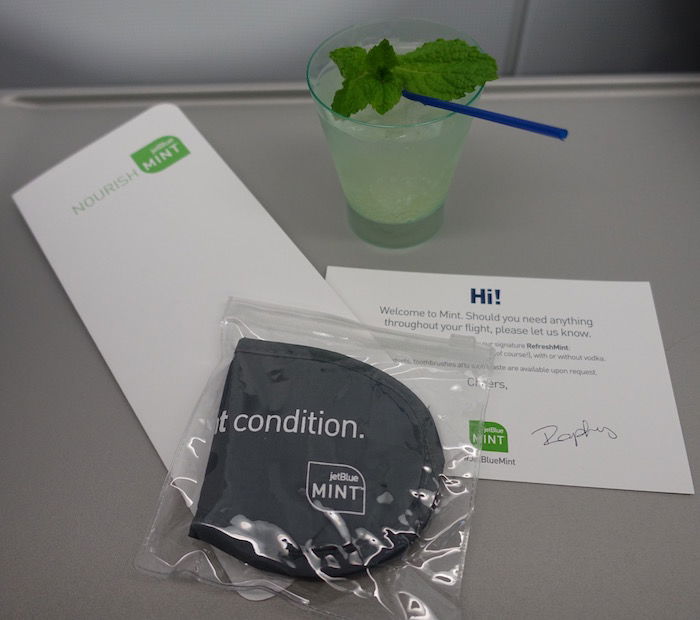 JetBlue Mint menu & welcome drink
Boarding was pretty efficient, and eventually every Mint seat was taken. Agda and Raphy took the same care in explaining the features of the seat and the menu concept to each passenger. I was just so impressed by how friendly, thorough, and enthusiastic they were.
At 9:55PM the cabin door was closed, a bit behind schedule due to an issue with servicing the lavatory, apparently.
Moments later we began our pushback, at which point Agda announced our flight time of 5hr5min, and followed that up with a manual safety demonstration.
Once we pushed back we stayed in our position for about 15 minutes, and then finally began our taxi at around 10:10PM.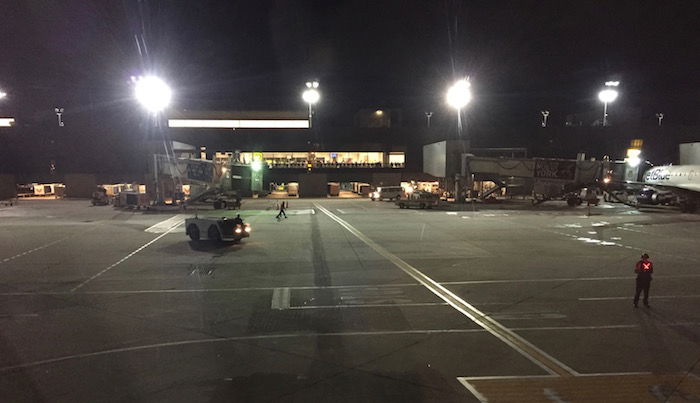 Pushing back at JFK Airport
As we waited for taxi clearance I had the airshow on.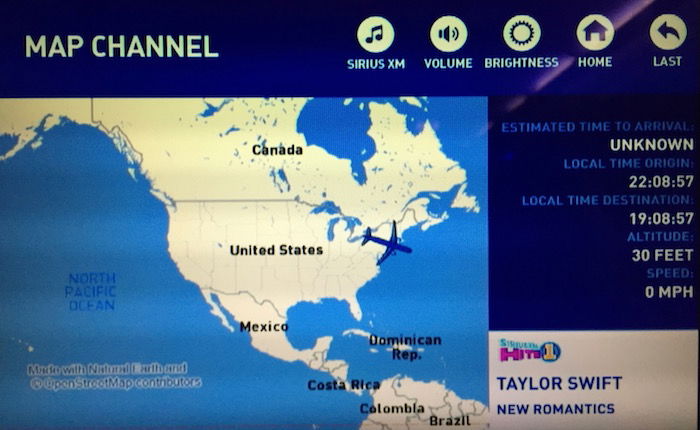 Airshow enroute to Los Angeles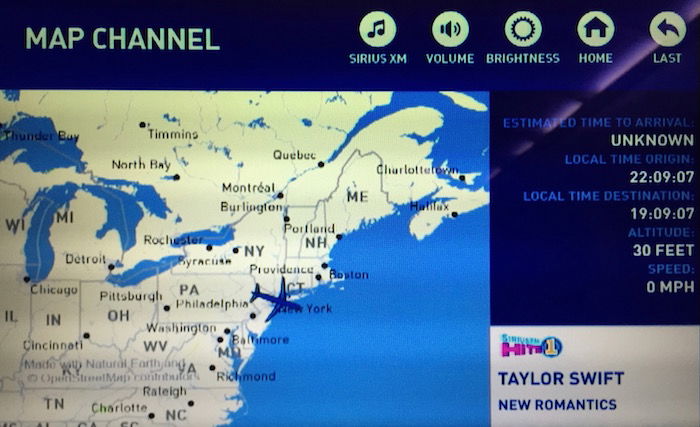 Airshow enroute to Los Angeles
We taxied out to our departure runway, 13R, which took about 20 minutes. At 10:35PM we were cleared for takeoff, behind a Qatar Airways 777 headed to Doha.
We had a smooth climb out, and during that time I browsed the entertainment selection. JetBlue's inflight entertainment is a bit controversial, as some people love it, while others hate it. They offer DirecTV programming, meaning you have access to over 100 channels of live TV. However, beyond that, their actual on demand programming is very limited.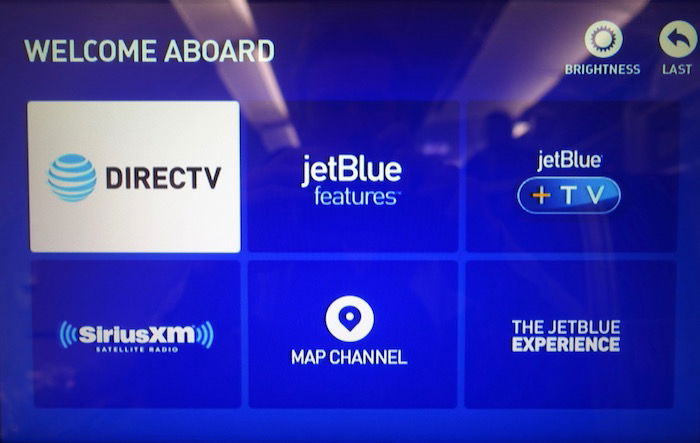 JetBlue Mint entertainment selection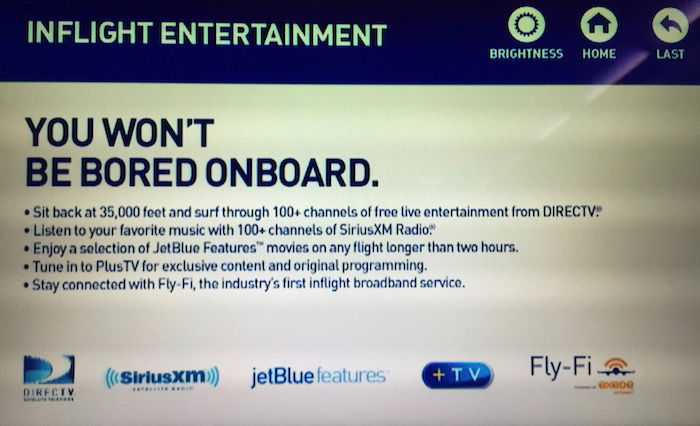 JetBlue DirecTV selection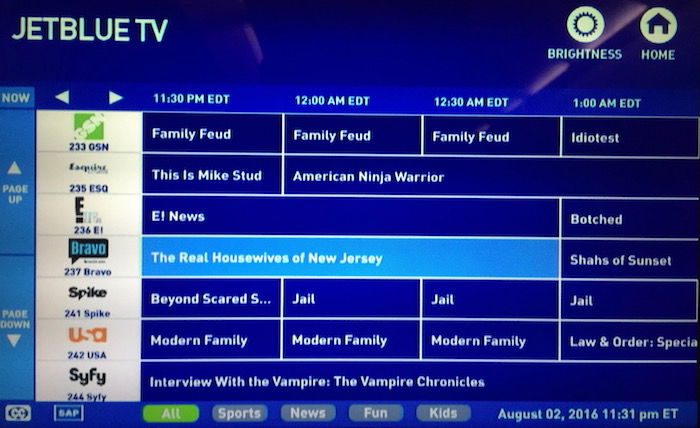 JetBlue TV listing
I ended up first watching the Shahs of Sunset reunion on Bravo (that's too much drama even for me), and then watched Family Feud. Not exactly the highest quality programming in the world, but…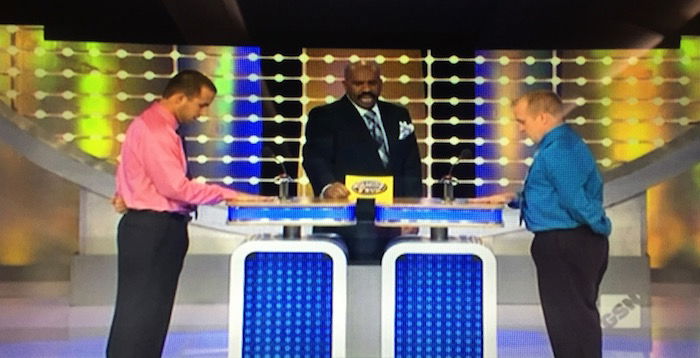 Watching Family Feud on JetBlue
Something else that makes JetBlue unique is their Wi-Fi offering, or as they call it, Fly-Fi. They offer free basic Wi-Fi to all passengers, which is fast enough for texting, basic social media, etc. If you want true high speed Wi-Fi, you can pay $9 per hour.
I love that they offer this. Their free Wi-Fi is almost as fast as what I'm used to on Gogo, while their $9 per hour Wi-Fi was legitimately fast. If I wanted to work, the premium Wi-Fi for $9 per hour would be a no brainer (on this flight I only used it briefly, since I was sleeping for much of the flight).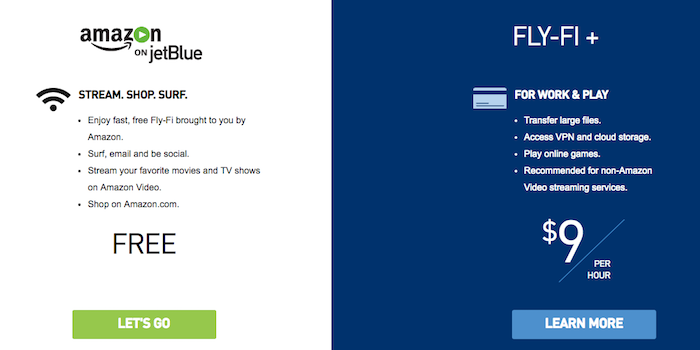 JetBlue inflight Wi-Fi options
It's worth noting that while the on demand entertainment selection as such is limited, you can stream content quite easily through your portable device.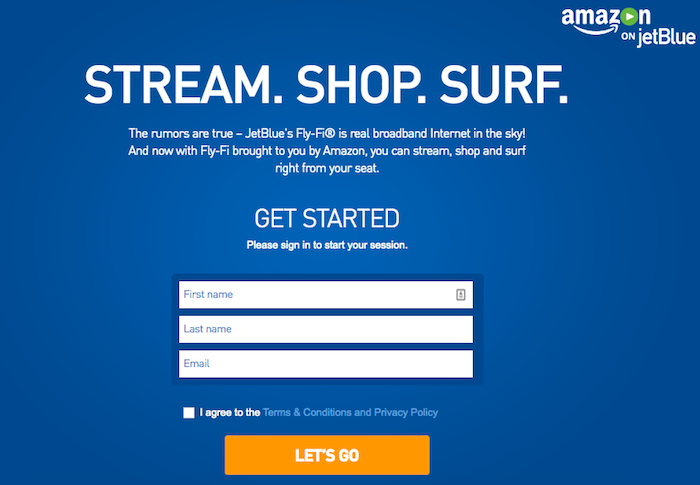 JetBlue inflight Wi-Fi
As we passed through 10,000 feet, Raphy proactively came around to each passenger and asked if there was anything he could get out of the overhead bin for us. That's really exceptional service.
Around the same time, Agda distributed headphones, which were quite nice. I still used my Bose QuietComfort 35 headphones since they're nicer, but these were decent quality as far as airplane headphones go.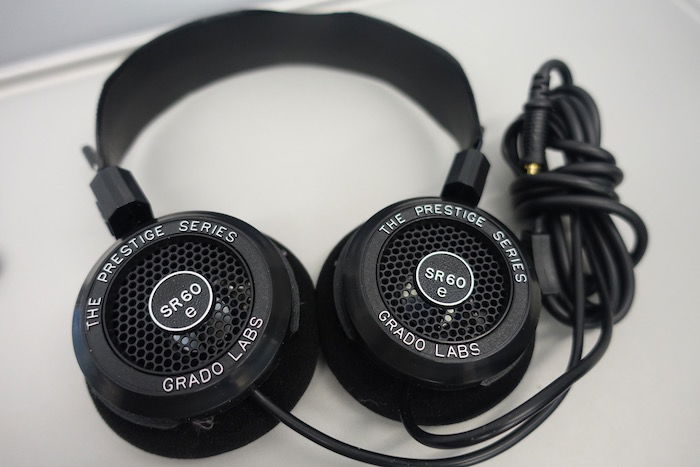 JetBlue Mint headphones
After that, Agda distributed Birchbox kits. They had separate kits for men and women.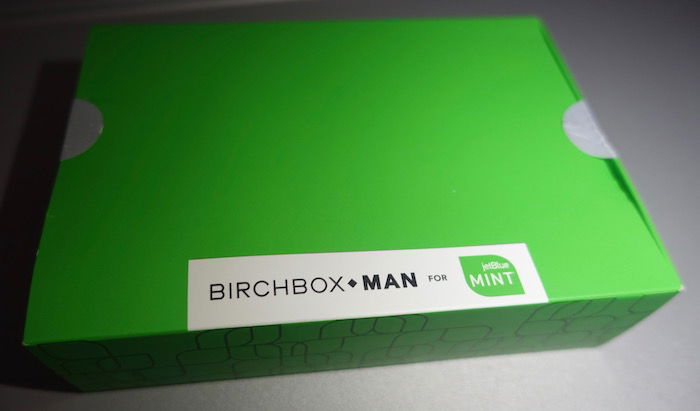 JetBlue Mint Birchbox amenities
This is a creative partnership, since Birchbox is a popular concept, though I'm not sure I totally get the logic of offering it on planes.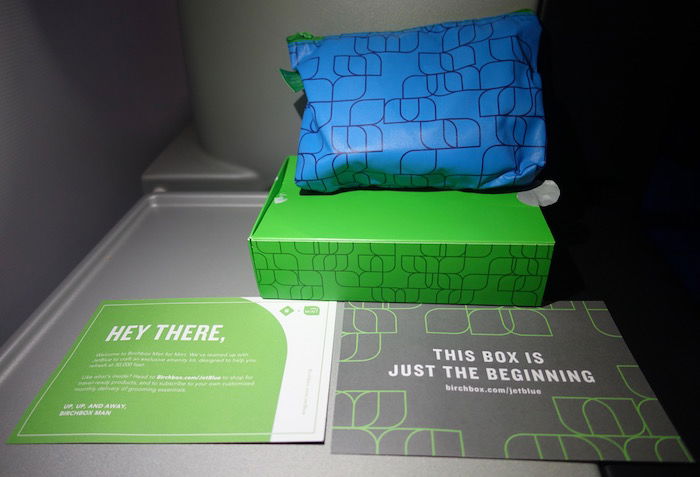 JetBlue Mint Birchbox amenities
For example, my kit had lip balm, shampoo, sunscreen, a body bar, and shoe wipes. It's a quirky way for them to cross promote, that's for sure. For what it's worth, the flight attendants can also provide more traditional airplane amenities, like a toothbrush and toothpaste, on demand.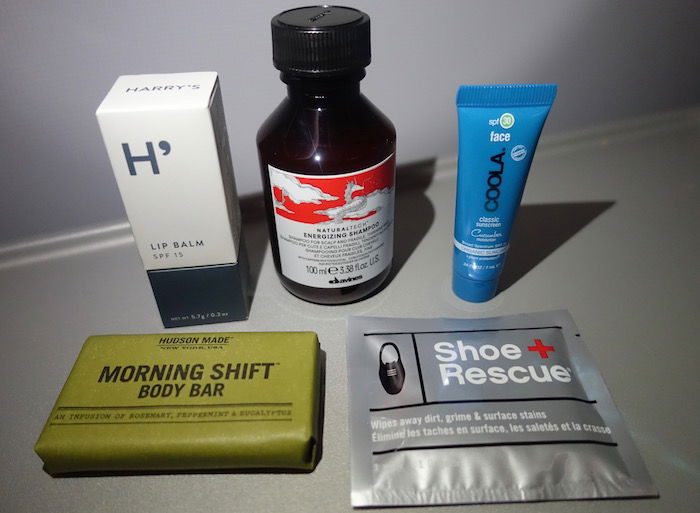 JetBlue Mint Birchbox amenities
About 45 minutes after takeoff hot towels were distributed.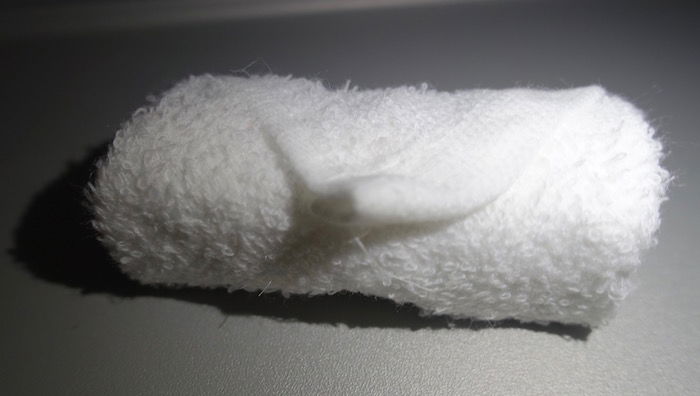 JetBlue Mint warm towel
At that point the meal service began.
The beverage list read as follows: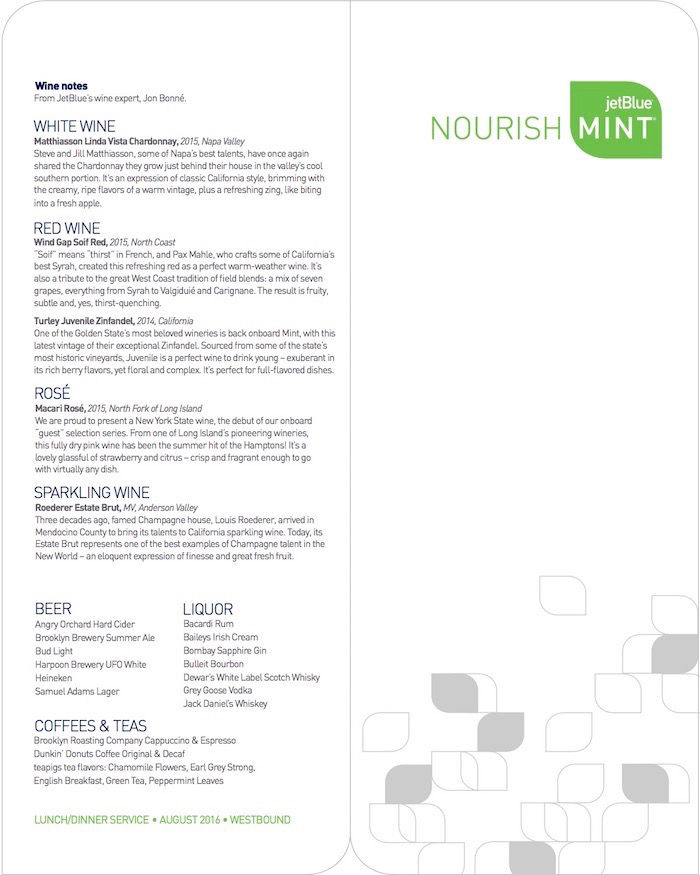 The menu read as follows: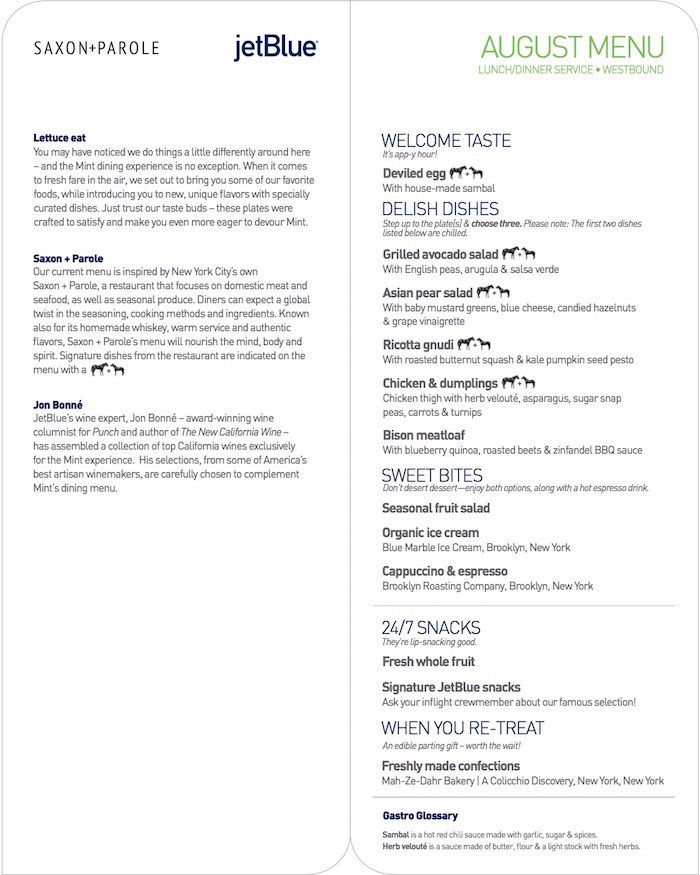 Service began with drinks, along with the "welcome taste." I ordered a gin & tonic, and the "welcome taste" consisted of a deviled egg.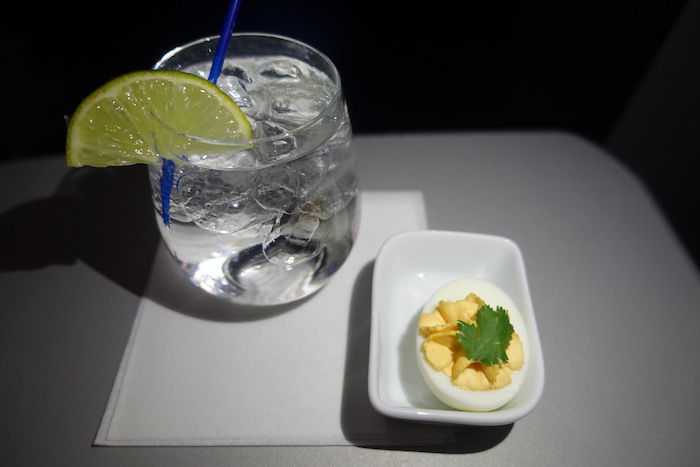 JetBlue Mint dinner — gin & tonic and deviled egg welcome taste
I didn't think I'd like deviled eggs (I don't ever remember voluntarily ordering one), but this was actually really good.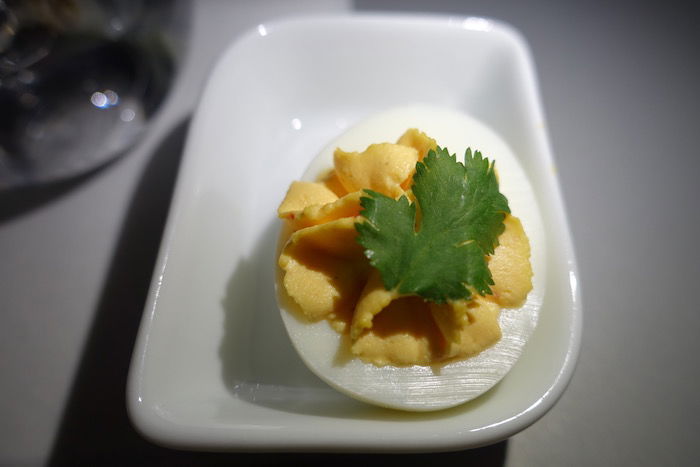 JetBlue Mint dinner — deviled egg welcome taste
After that a tray liner was placed on the tray table.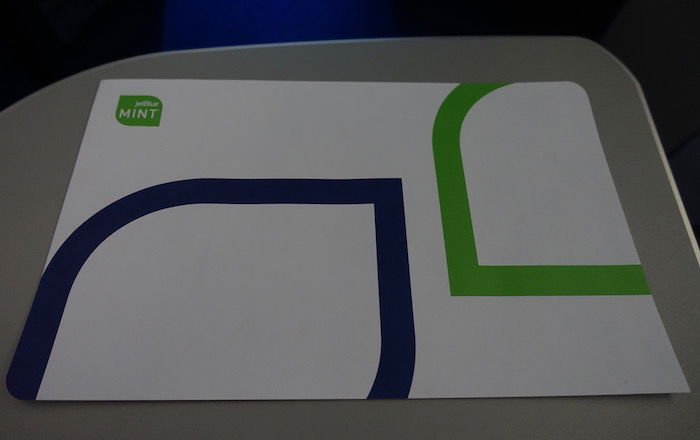 JetBlue Mint dinner — table setting
As you can see based on the above menu, you can choose three options from the "delish dishes." I had a glass of rose to accompany the meal, and was proactively offered a piece of bread with a packet of olive oil.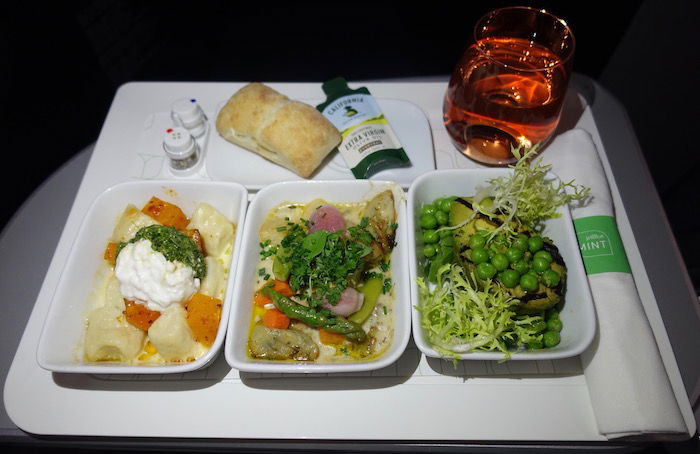 JetBlue Mint dinner — selection of three dishes
For the dishes I ordered the ricotta gnudi, chicken & dumplings, and grilled avocado salad.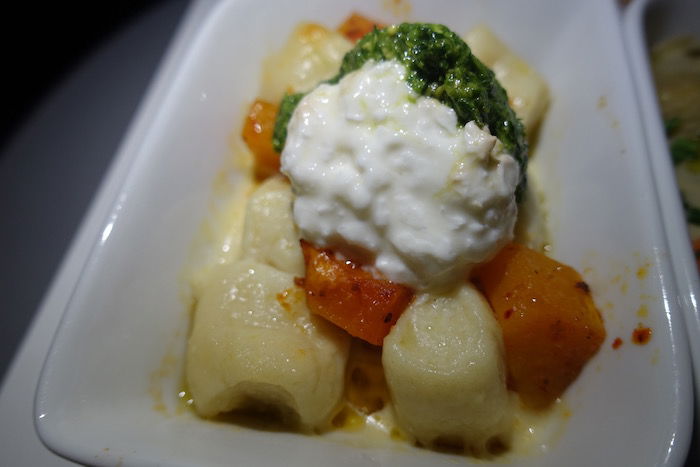 JetBlue Mint dinner — ricotta gnudi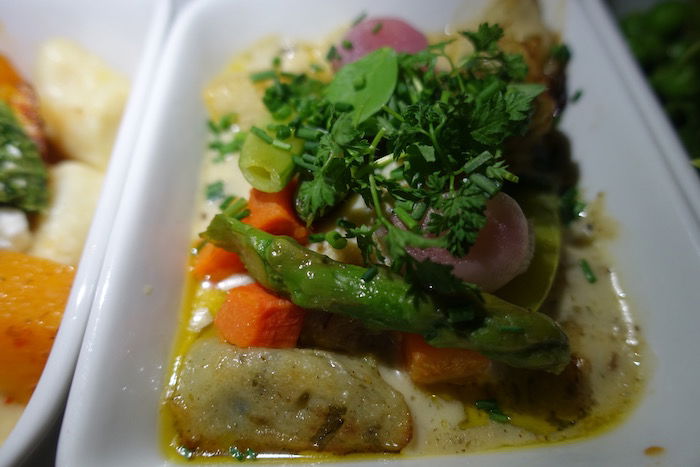 JetBlue Mint dinner — chicken & dumplings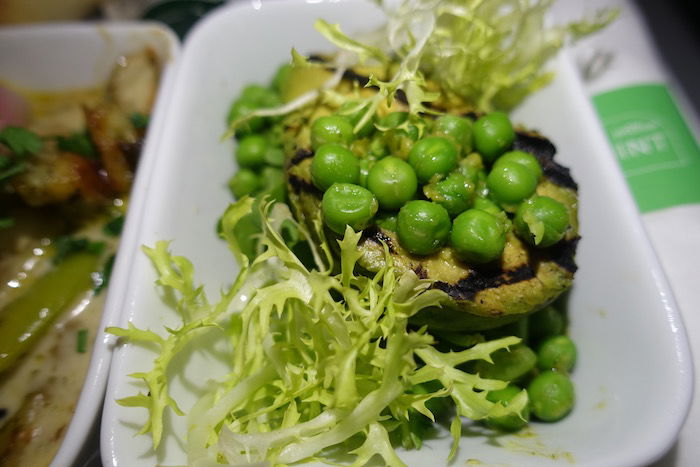 JetBlue Mint dinner — grilled avocado salad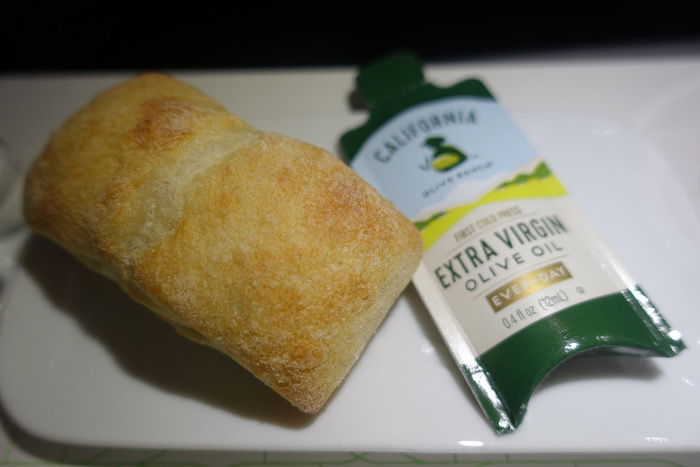 JetBlue Mint dinner — selection of three dishes
Meanwhile Ford had the Asian pear salad and bison meatloaf.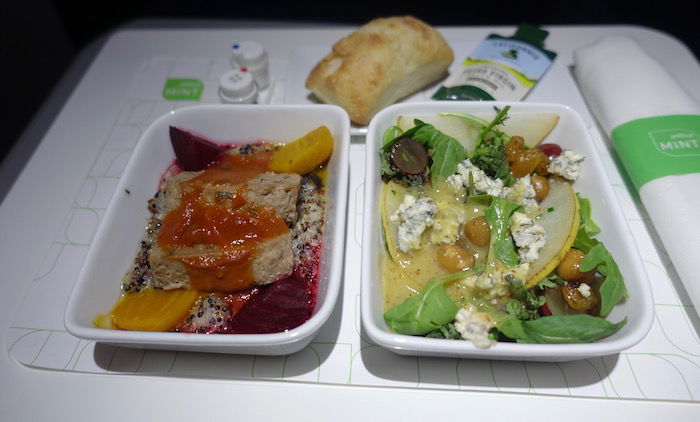 JetBlue Mint dinner — Asian pear salad and bison meatloaf
Once those trays were cleared, I was offered dessert. Dessert consisted of fresh fruit, chocolate ice cream, and the choice of an espresso beverage.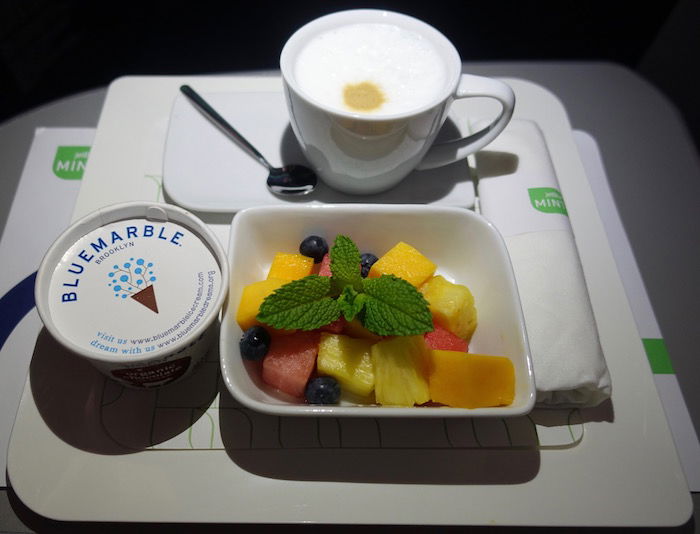 JetBlue Mint dessert — fresh fruit, ice cream, and cappuccino
The ice cream was fantastic quality, though if I had one critique it would be that I wish they had a choice of flavors.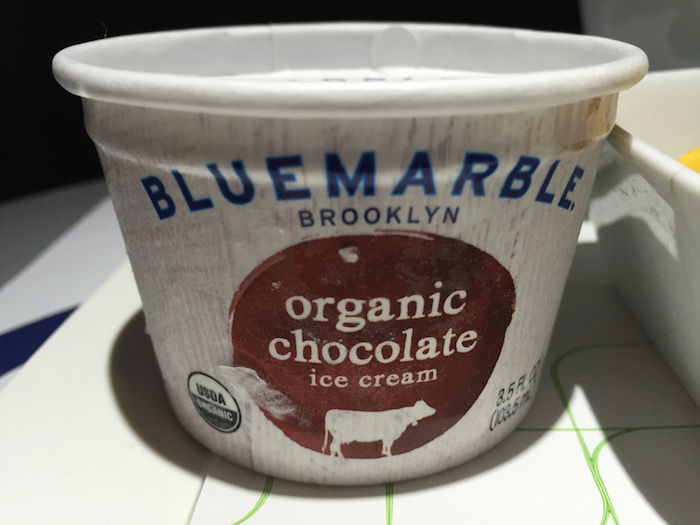 JetBlue Mint dessert — Blue Marble organic chocolate ice cream
The fruit salad was great as well.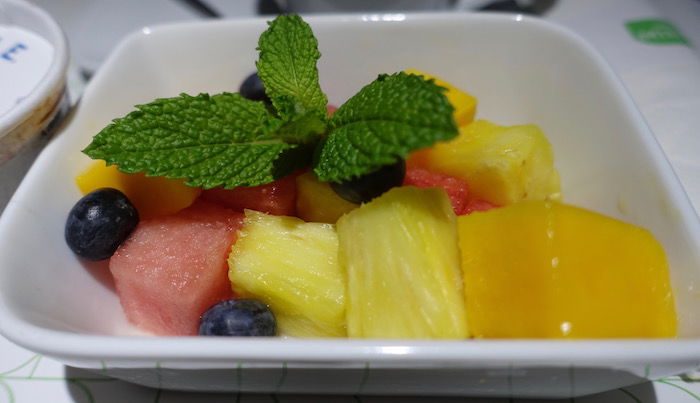 JetBlue Mint dessert — seasonal fruit salad
The cappuccino was phenomenal, easily one of the best I've ever had on a plane.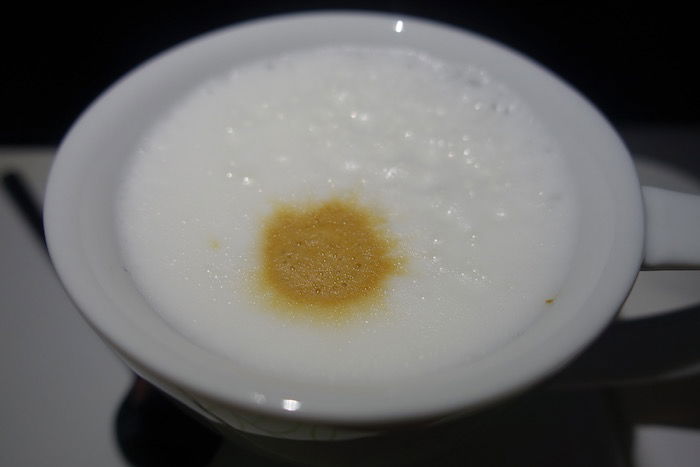 JetBlue Mint dessert — cappuccino from Brooklyn Roasting Company
I can't say enough good things about JetBlue's Mint meal service. Their concept is so well executed. They're not going for the most drawn out meal service, but rather are serving the meal in an unpretentious way with brilliant execution.
Agda and Raphy were great throughout the meal service. They were friendly and so attentive. I will say that the service felt a bit slow to me, as it was about two hours after takeoff before the meal was done. That's not a huge deal, but it seems like it could have been carried out a bit more quickly.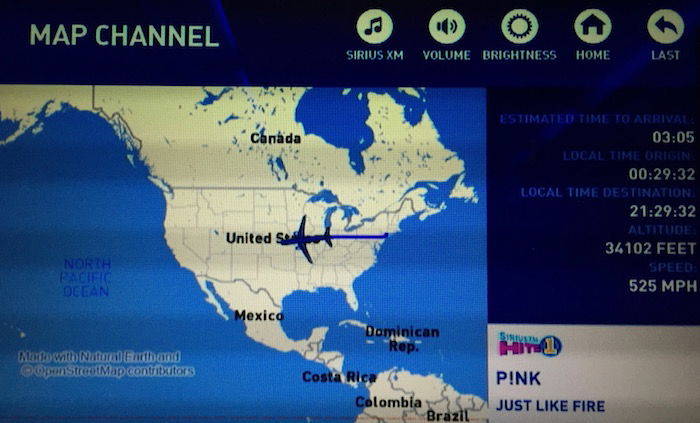 Airshow enroute to Los Angeles
After the meal I checked out the lavatory, located in front of the Mint cabin. It was pretty basic, not that I was expecting more from a narrowbody aircraft.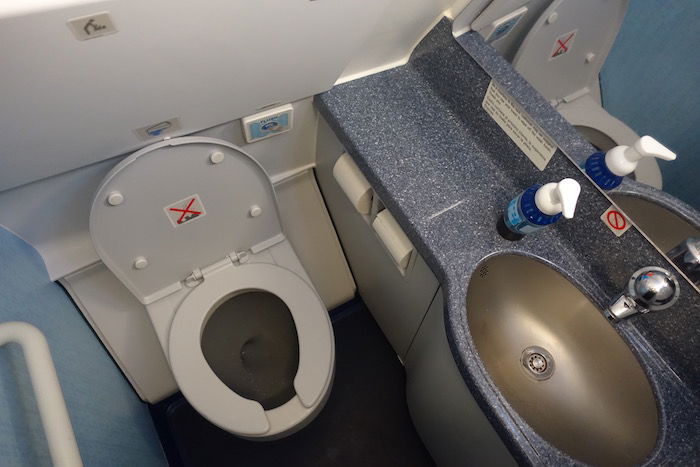 JetBlue Mint lavatory
At this point I was so tired, and managed to sleep for about two hours, waking up a bit over an hour before our arrival in Los Angeles. While the foot cubby was a bit tight (as is standard in staggered seats), the privacy of having a door on a domestic flight more than made up for it. Then again, with how tired I was at this point, I could have probably slept in economy as well.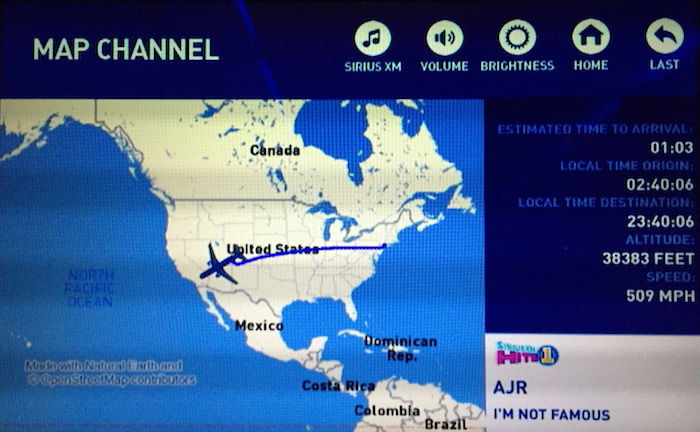 Airshow enroute to Los Angeles
Agda came through the cabin with the typical JetBlue snack basket, also available in economy. Who doesn't love JetBlue's blue chips?!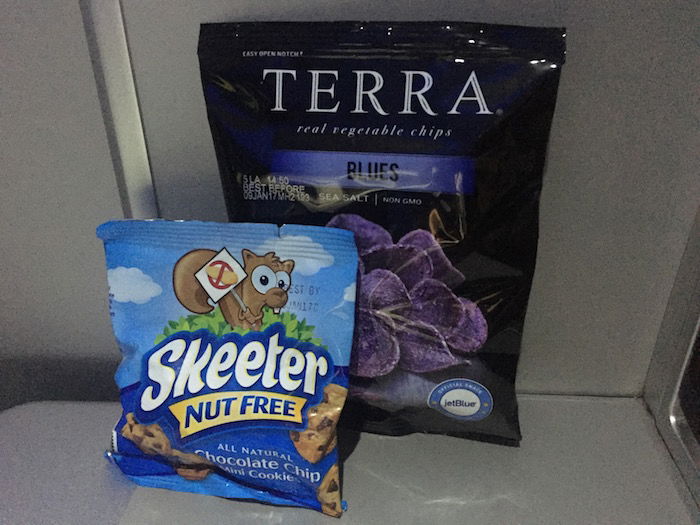 JetBlue Mint snacks
She also offered drinks, so in order to wake up I ordered another cappuccino, which was as delicious as the last one.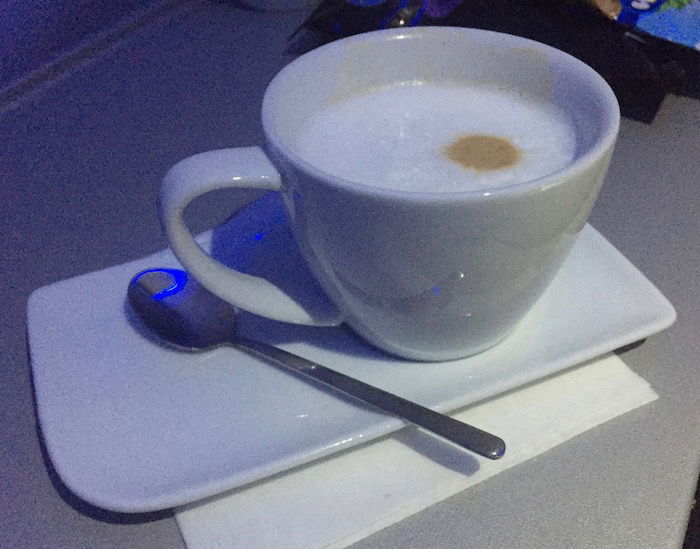 JetBlue Mint cappuccino pre-landing
About 30 minutes before landing, Agda thanked us for flying Mint and gave us the "edible parting gift," as they call it.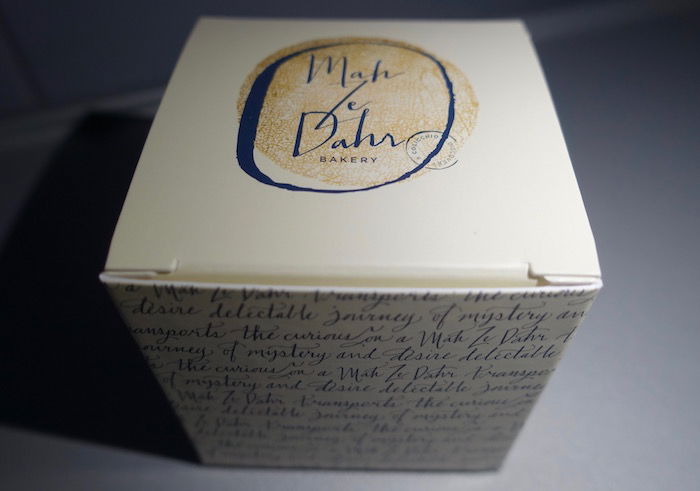 JetBlue Mint edible parting gift
It consisted of cookies and a white brownie of sorts from Mah-Ze-Dahr Bakery. I may have tried them the next day (just for research, of course), and they may have been very delicious.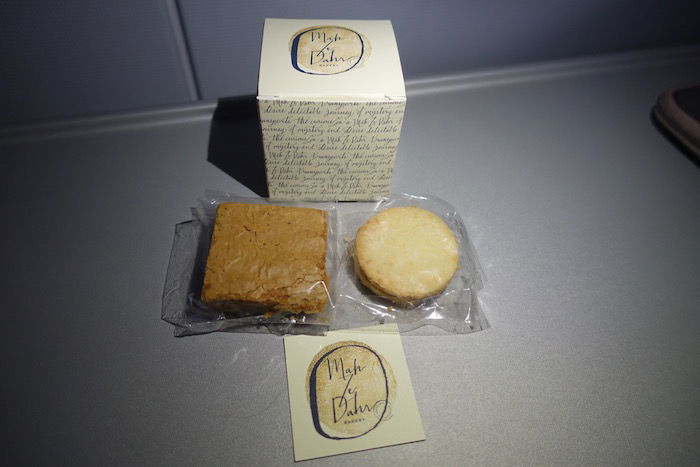 JetBlue Mint edible parting gift
Around the same time the cookies were distributed we began our descent, and about 15 minutes later the seatbelt sign was turned on. The views on approach to LA were gorgeous as usual.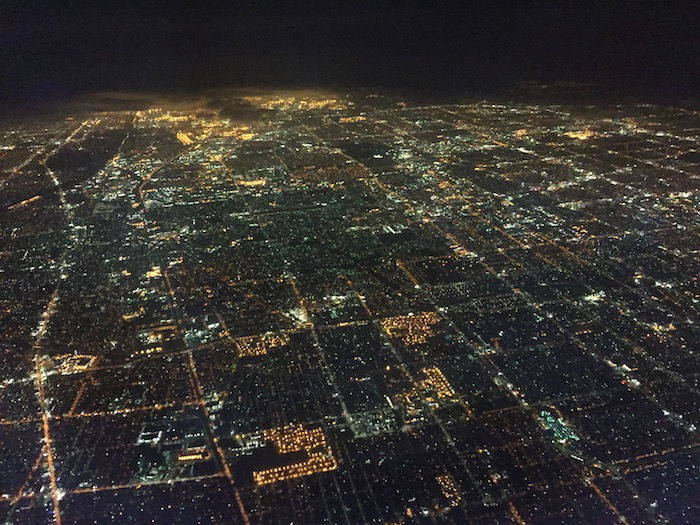 View approaching Los Angeles
At LAX you almost always takeoff and land into the west, though overnight they seem to take off and land into the east. So in our case we flew past the airport over the Pacific, and then turned east to land on runway 6L at 12:40AM. The landing was so smooth that I barely realized we had arrived. From there it was just a short five minute taxi to the gate.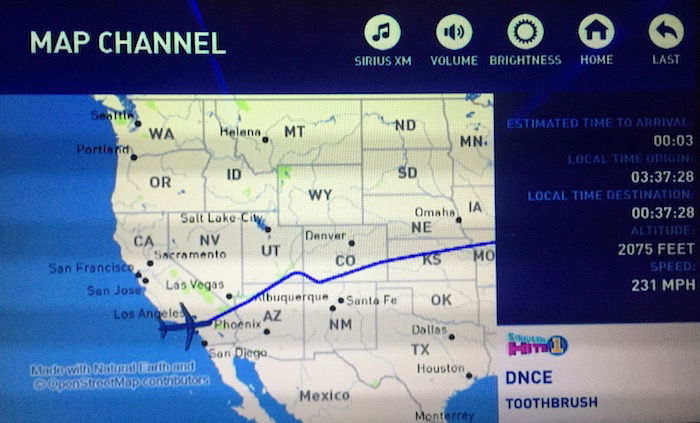 Airshow approaching Los Angeles
We bid farewell to Agda and Raphy, and I was so happy that this long journey was finally over (as much as I enjoyed it).
JetBlue Mint bottom line
If this flight is representative of what the Mint experience is usually like, then I'm blown away.
The service was the best I ever recall having on a domestic flight. I almost forgot what it was like to fly a US airline and have flight attendants who actually cared and made you feel like they wanted to be there. Agda and Raphy were fantastic. I don't know how JetBlue does it, but they're in a league of their own when it comes to the service in Mint.
The food was excellent as well. The meal service is relatively simple, with excellent execution. From the food to the cappuccinos, I enjoyed everything I consumed on this flight.
As far as the seats go, JetBlue does amazingly well there too. The Mint suites are innovative for a domestic service, and even the non-suites are at least as good as what you'll get on the other carriers in the market.
Congrats, JetBlue. I had high expectations of Mint coming into this flight, but they were exceeded in just about every way. Talk about a fantastic ending to a crazy trip.