---
We arrived from Jeddah at 8:35AM, while our connection to New York was at 12:45PM. I thought it was just Heathrow Airport that really sucked, but Manchester Airport does as well.
We arrived at Terminal 2 and our flight also departed from Terminal 2, though somehow there wasn't an open transit security checkpoint in Terminal 2. So as transit passengers we had to take a bus to Terminal 1, go through a security screening there, and then take the same bus with the same driver back to Terminal 2, where we were let in a different door given that we had been "screened."
That process took over 45 minutes — how ridiculous! On top of that the security folks weren't any friendlier than the last time I was in Manchester…
As it turns out, Pakistan Airlines doesn't have a transit desk at Manchester Airport, so we were told just to go to the gate about an hour before departure. In the meantime we used our Priority Pass membership to access the Escape Lounge (which Pakistan International Airlines apparently uses for their passengers anyway), located in Terminal 2. We also visited the Swissport Lounge. The lounges were so crowded that I couldn't practically get pictures of them. As a result, I won't be reviewing them.
With our flight at 12:45PM, we started walking around the terminal at around 11:30AM. We saw the same Saudia 787-9 we had just taken from Jeddah — she's a beauty!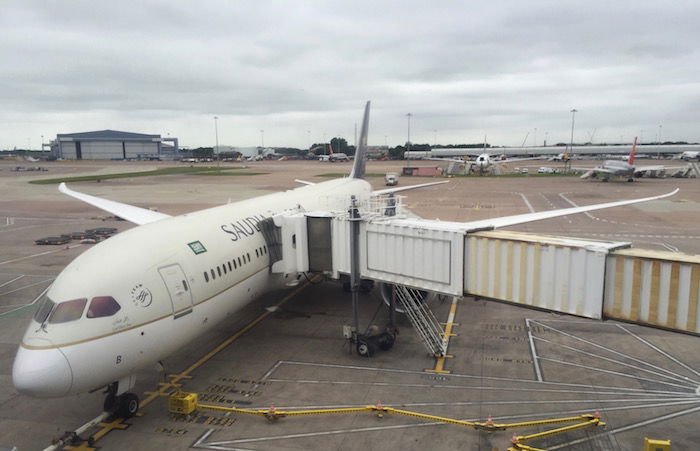 Saudia 787-9 Manchester Airport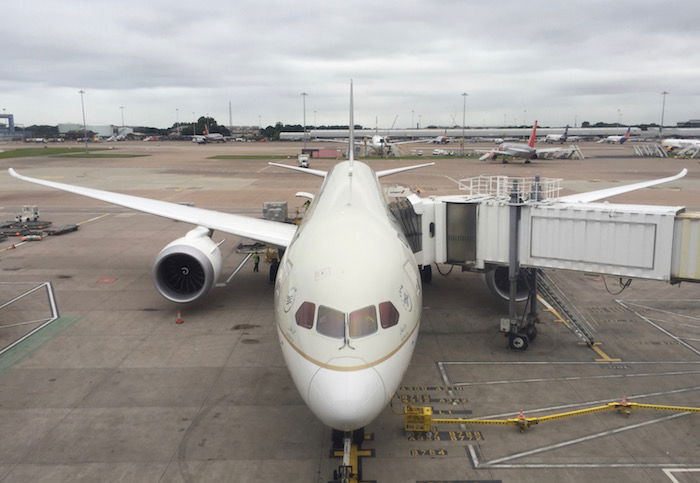 Saudia 787-9 Manchester Airport
Our flight was departing from gate 212, and we got there at around 11:45AM. While I figured the interior of the PIA plane wouldn't be very nice, the exterior was pretty spiffy looking.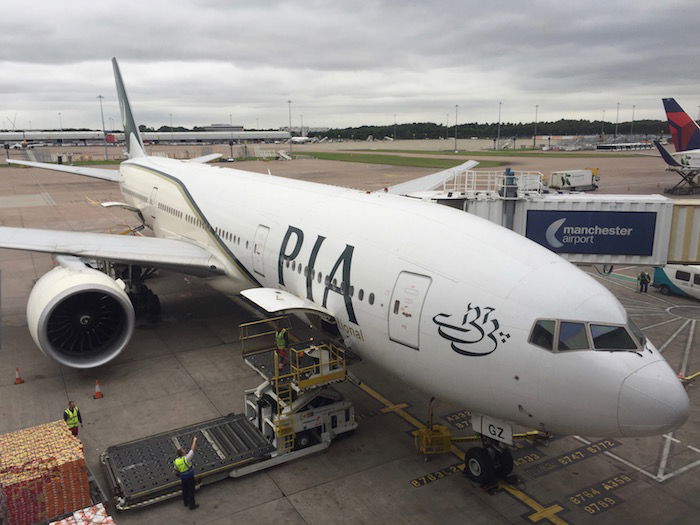 Pakistan 777 Manchester Airport
There was a security checkpoint at the gate, so when we approached the security officers we explained we still needed boarding passes, since we hadn't yet checked in. They told us to wait for a while, and that eventually we would be fetched by one of the PIA agents.
About 15 minutes later the PIA agent took our passports and issued our boarding passes. Based on the number of passengers with transit cards in their hands, it seemed like we were among the only passengers originating our travels in Manchester (which isn't really surprising, given that PIA only operates this flight in one direction anyway).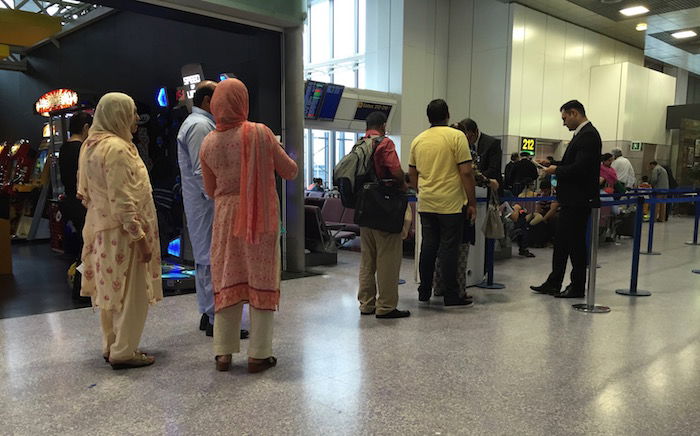 PIA departure gate Manchester Airport
At this point the crew was still sitting at the gate. PIA supposedly has one of the very worst employee to plane ratios in the industry. I was confused about how that could be, until I saw the gate area. There were six (!!!!) PIA pilots in uniform at our gate. Now, I'm not sure if they were all working or what, but that's a lot of pilots!
Finally at 12:25PM boarding was announced, starting with business class.
Pakistan 721
Manchester (MAN) – New York (JFK)
Tuesday, August 3
Depart: 12:45PM
Arrive: 2:55PM
Duration: 7hr10min
Aircraft: Boeing 777-200
Seat: 3J (Business Class)
We boarded through door L2, where we presented our boarding passes and were pointed left towards the business class cabin.
PIA's 777s feature a total of 35 business class seats, spread across five rows in a 2-3-2 configuration. The seats immediately looked familiar — they're the same that United used to have in first class on their "Premium Service," and also the same that Singapore Airlines used to have in their business class, back when it was called Raffles. Talk about a blast from the past!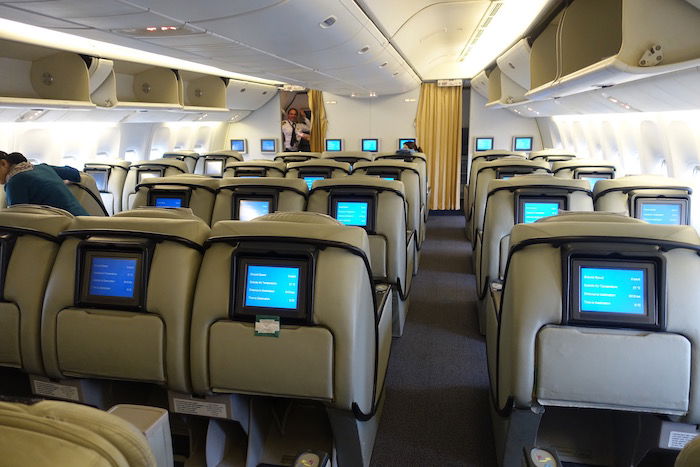 Pakistan business class cabin 777
At first glance the seats didn't seem to be in horrible condition. As we entered the cabin we were snapping pictures like crazy, and it was pretty clear the crew thought we were crazy. Best I could tell we were just about the only passengers not of Pakistani descent, so we stood out quite a bit.
We were approached by one of the nicer (older) female flight attendants, who greeted us with a warm smile and invited us to take all the pictures we wanted. Meanwhile moments later one of the male flight attendants standing behind business class screamed "NO PICTURES" at us. Fortunately he never appeared in business class again, and since the business class crew was fine with our picture taking, we continued.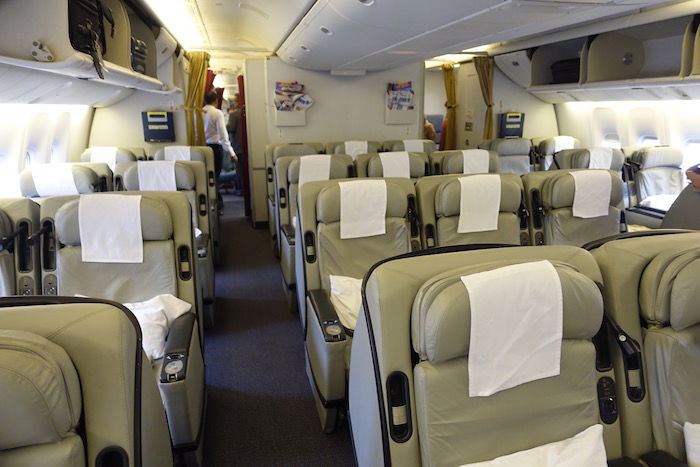 Pakistan business class cabin 777
We had assigned ourselves the aisle and window seat on the right side in the third row.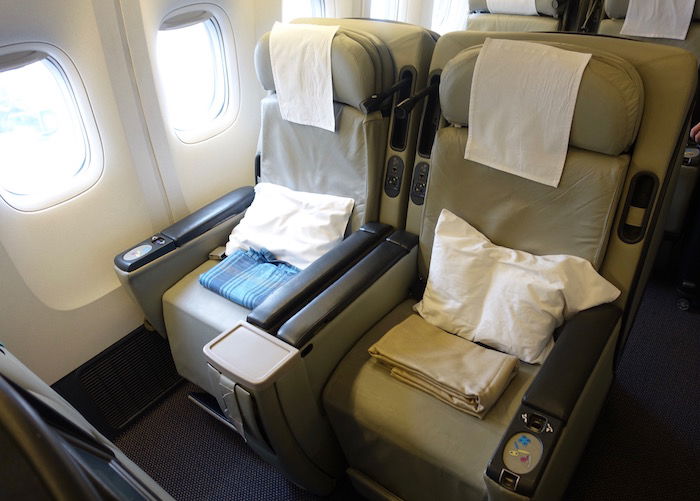 Pakistan business class seats 777
The legroom was quite good, though the seats were angled, which I wasn't looking forward to, given how tired I was.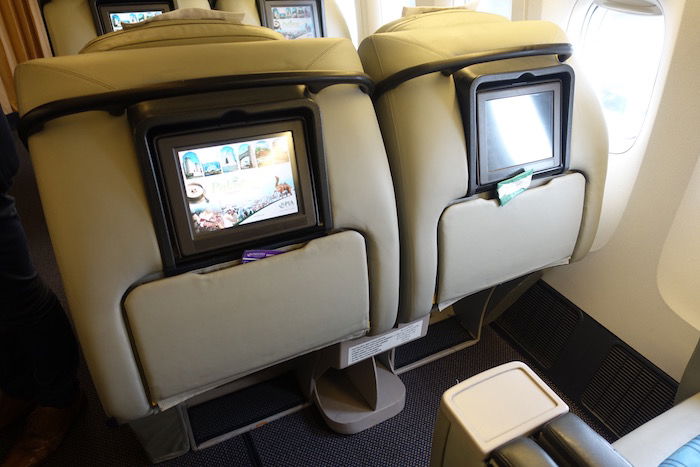 Pakistan business class seats 777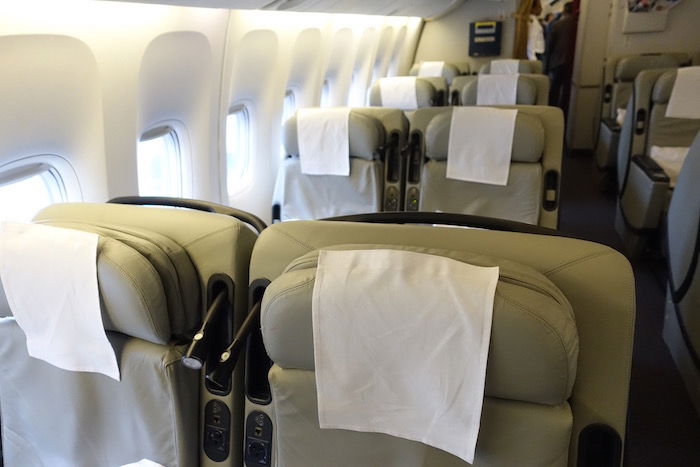 PIA business class cabin 777
Also, since there are seven seats per row, there's a middle seat in each row, which I wouldn't like to be stuck in on a longhaul flight.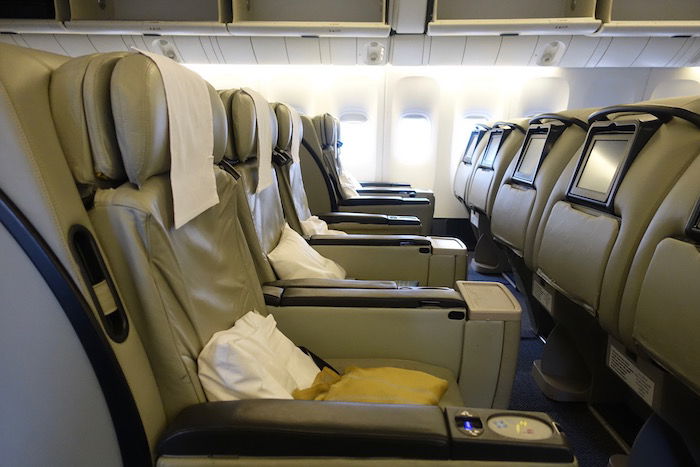 PIA business class cabin 777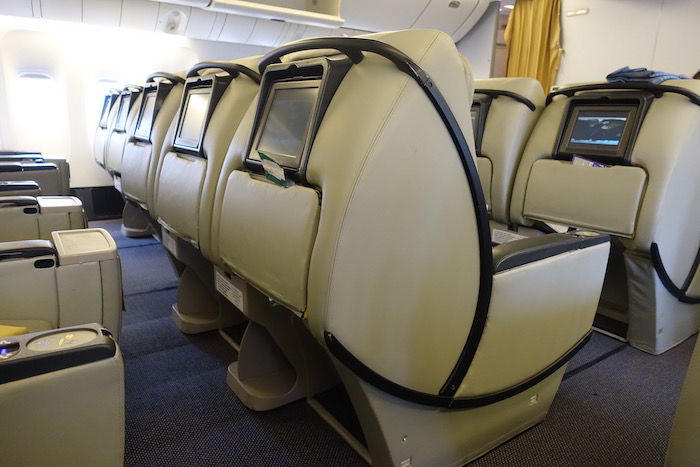 PIA business class cabin 777
On the seatback was a small personal television, as well as a pocket with magazines, the safety card, etc.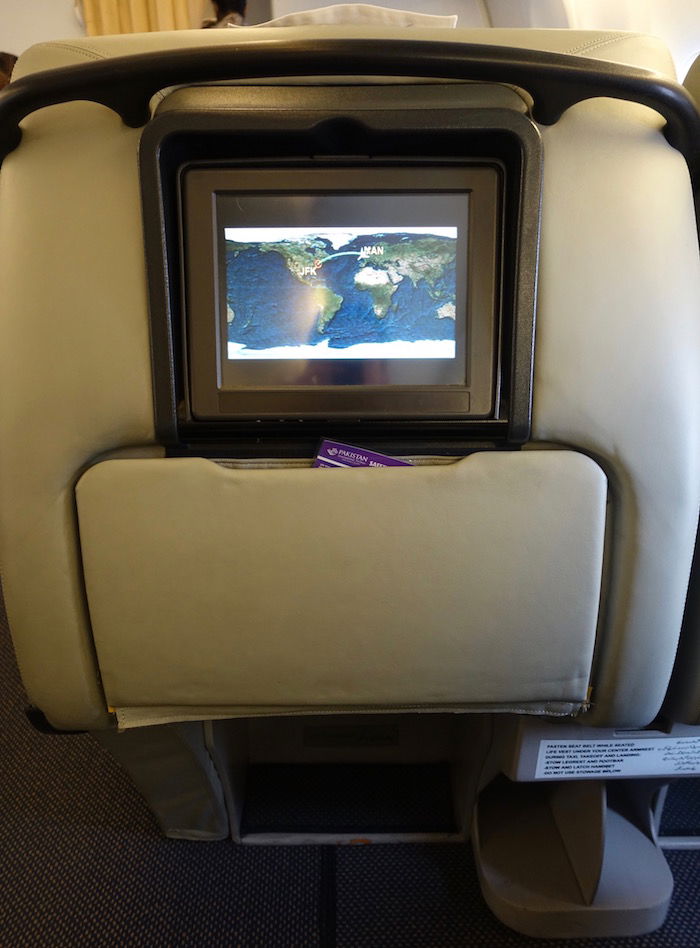 PIA business class legroom 777
Due to how these seats are angled, your feet can essentially "push" against a small area at the bottom of the seat when fully reclined.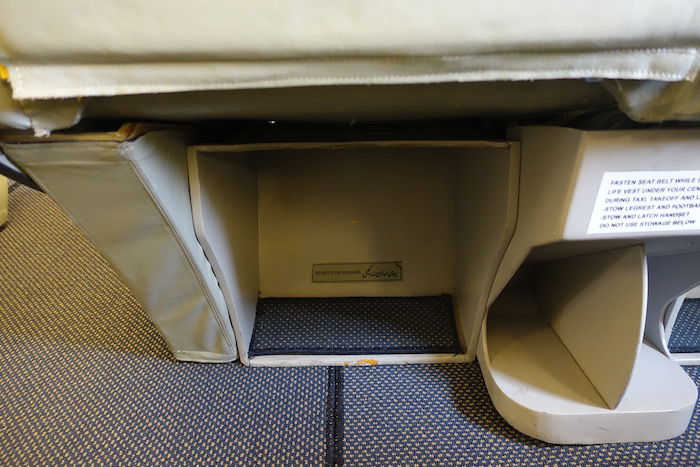 PIA business class legroom 777
In the center section was a compartment where shoes could be stowed.

Pakistan business class show storage compartment
The seat controls were on the aisle-side armrest, and were easy to use (not that the seat has that many functions). The armrest was in bad shape, as it was wobbly and almost felt like it could be ripped off without much effort.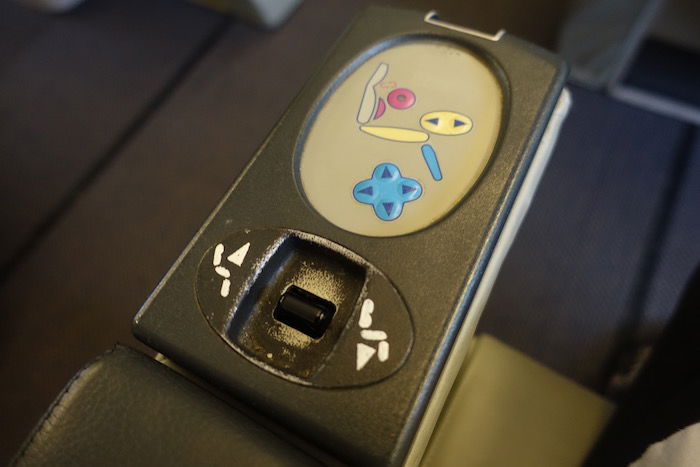 PIA business class seat controls 777
Also on the armrest were the old school seat controllers.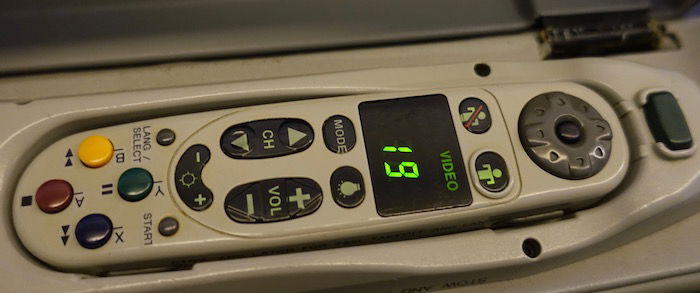 Pakistan business class entertainment controls
Between seats was a reading light, headphone jack, and a power port. Unfortunately my power port didn't work, though at least Matthew's did. A lot of pressure was required in order to stick anything in it, though.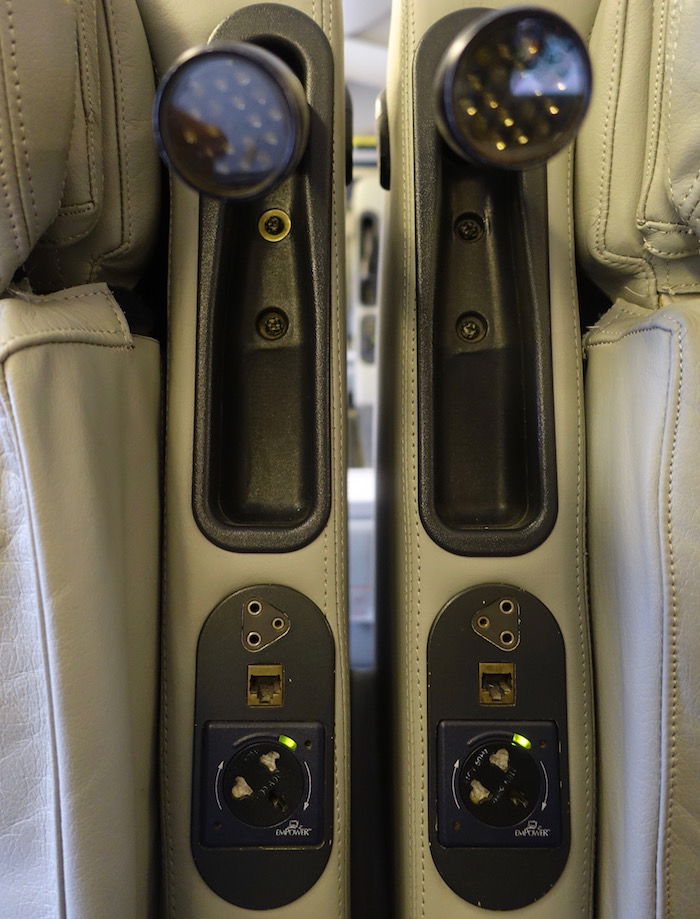 Pakistan business class reading light, power outlet, and headphone jacks
As we sat down, the flight attendant quickly said "oh, you're not in transit, right? Let me get you a different blanket." I'm not sure if they reuse blankets for transit passengers, or what…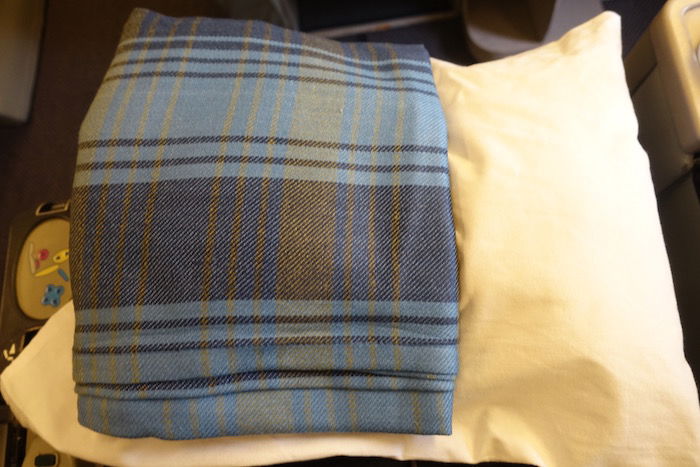 Pakistan business class pillow & blanket
I was surprised that business class stayed mostly empty throughout the boarding process, until about 10 minutes before the door closed, at which point a couple dozen business class passengers showed up. I'm not sure if they were stuck in transit security, or if the lounge boarding call was only made pretty late.
As boarding finished up, Kiran, the flight attendant taking care of "our" aisle, came around with pre-departure beverages. She offered us apple juice, mango juice, or water.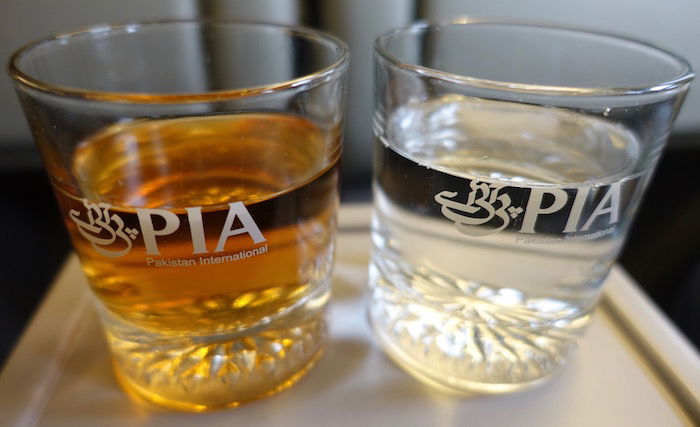 Pakistan Airlines business class pre-departure beverages
We spoke to Kiran briefly, and she explained that they were on a 10 day trip, as they were flying from Lahore to Manchester, had a four day layover, then had a three day layover in New York, and then flew nonstop back to Lahore. Gosh, that's a long trip for three flights.
Kiran was an absolute delight. As she hung Matthew's coast she said "are there any valuables in your coat?"
He said "yes, but that's fine."
She responded with "well don't worry, your coat is valuable to me."
Before flying PIA, people had warned me that the odor in the cabin is horrible. There was definitely an odor, which can best be described as a combination of baby powder, body odor, and flatulence. But it wasn't as strong as I was expecting, based on what people had told me.
By shortly after 1PM the business class cabin was mostly full, including two pilots in uniform seated in row one. I was surprised by the number of women traveling with multiple small kids. There were probably eight young kids in the cabin.
Seated in the center section across from us was a mom with her two young sons (they seemed to be American, but of Pakistani descent). They were maybe four and six. The kids were so cute, though I found some of the conversation to be hilarious. One kid wouldn't stop talking.
"Mommy do you think I'm cool?"
"Yes."
"Mommy I'm a bad boy. Are you a bad girl?"
Alrighty then…
At around 1:15PM the captain made his welcome aboard announcement and apologized for the delay, apparently caused by not having enough service items for the number of passengers onboard, whatever that means. He informed us of our flight time of 6hr30min, and hoped we'd still be in New York on-time.
At 1:20PM we began our pushback, at which point the safety video played, along with a travel prayer, but in song form.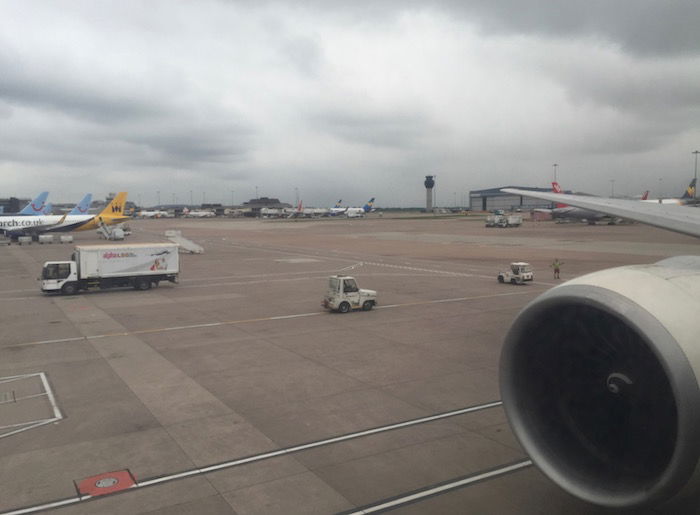 View from Pakistan 777 at Manchester Airport
Our taxi to the departure runway took about 15 minutes, and once again I loved looking at the variety of planes, ranging from a Jet2 757 to Thomas Cook A330.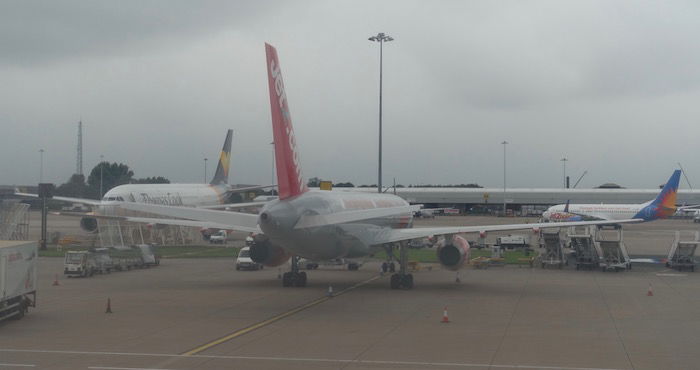 Jet2 757 Manchester Airport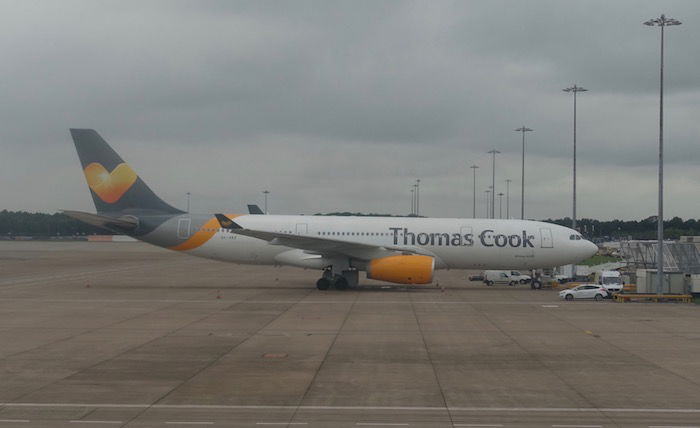 Thomas Cook A330 Manchester Airport
We crossed runway 3R…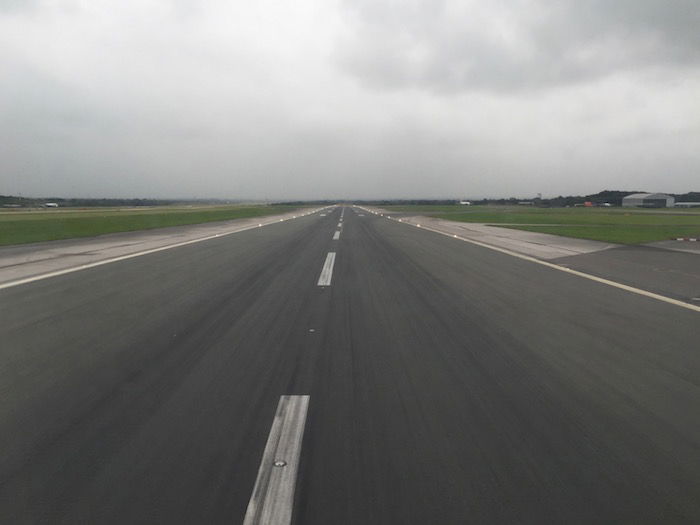 Crossing runway Manchester Airport
At 1:35PM we made it to runway 3L, where we were immediately cleared for takeoff.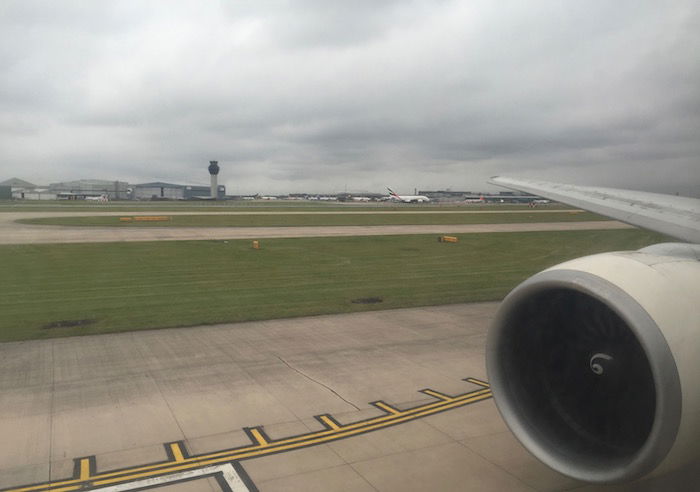 Taking off Manchester Airport
Our climb out was smooth, and the seatbelt sign was turned off about five minutes after takeoff. As we climbed out the lead flight attendant made an announcement apologizing proactively that many of the seats and entertainment systems were broken, and that they're working on updating their fleet with more modern products. It sounded like a scripted announcement, so I'm guessing it just reflects the state their planes are in.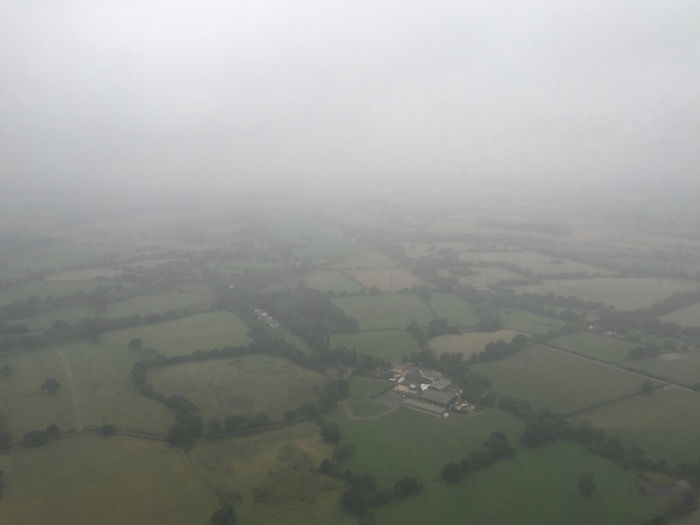 View after takeoff from Manchester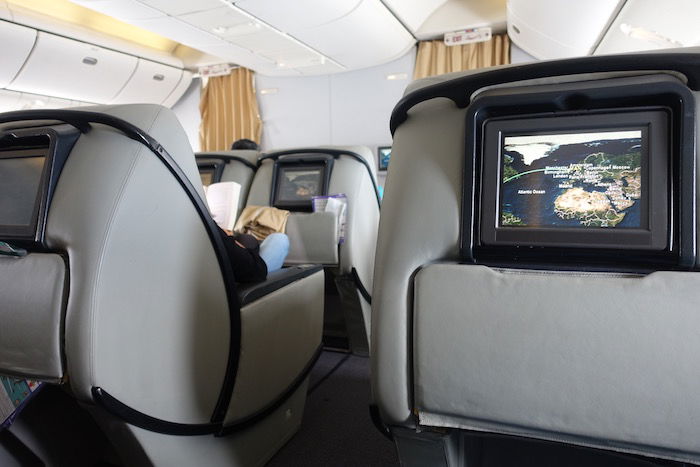 PIA 777 business class cabin after takeoff
Shortly thereafter the crew closed the curtains between the galley and the cabin, and then distributed headphones. I'm guessing these are the same headphones they offer in economy. For what it's worth, there weren't amenity kits or menus on this flight either.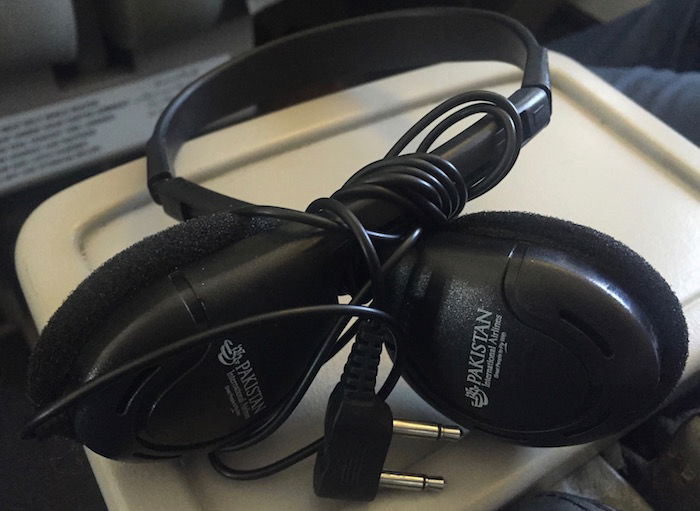 Pakistan International Airlines business class headphones
I explored the personal television, starting with the airshow. As you can see, the quality of the video was very grainy.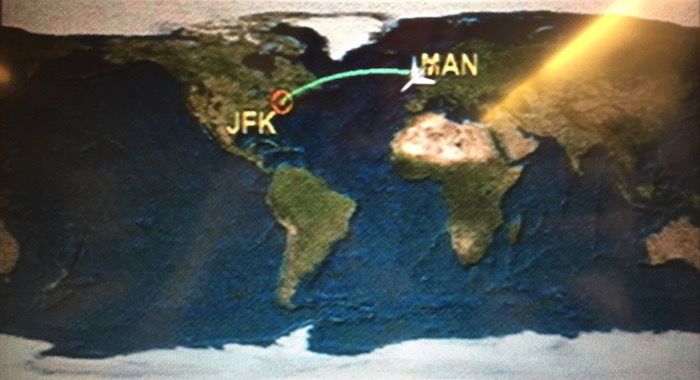 Airshow enroute to New York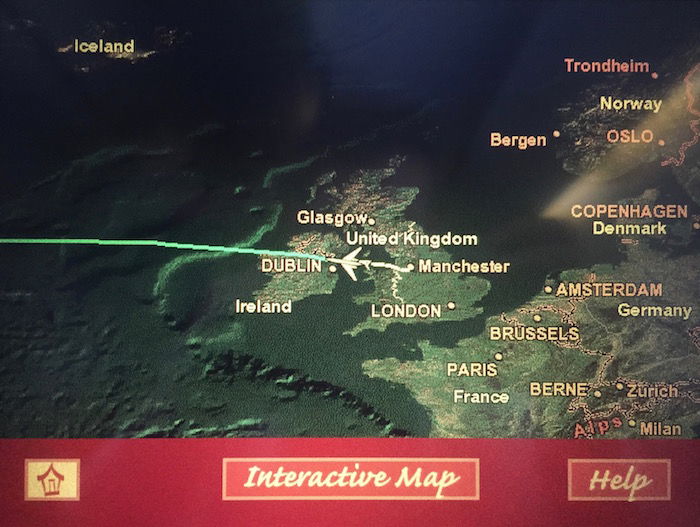 Airshow enroute to New York
On the plus side, at least the entertainment was on demand, rather than just having looping channels. The number of western movies and shows was limited. I counted fewer than a dozen Hollywood movies.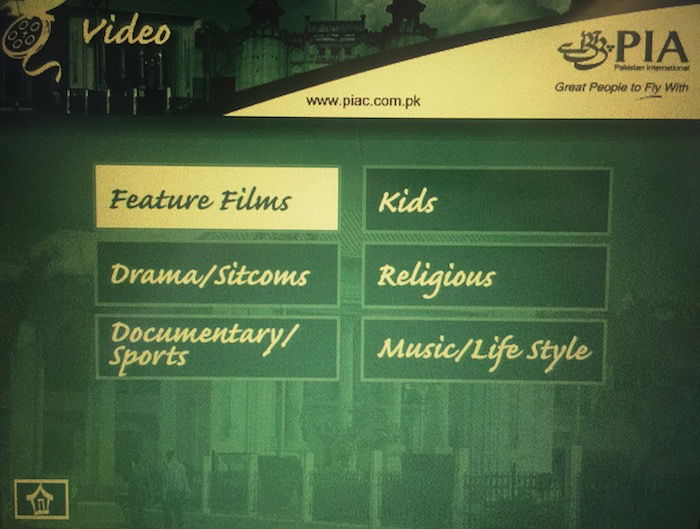 PIA business class entertainment selection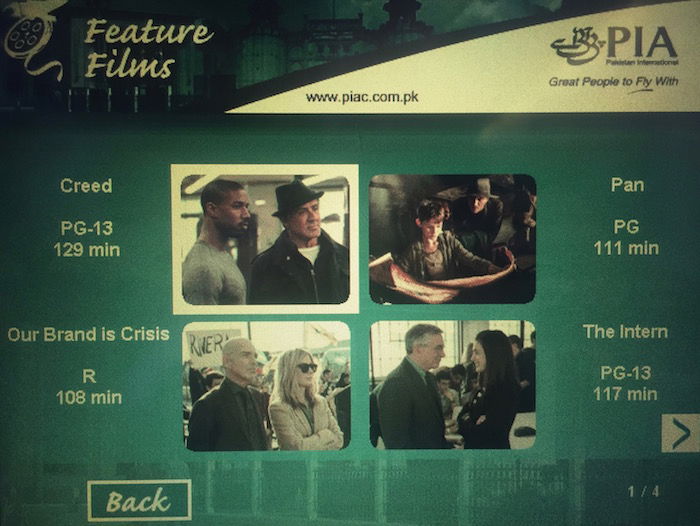 PIA business class entertainment selection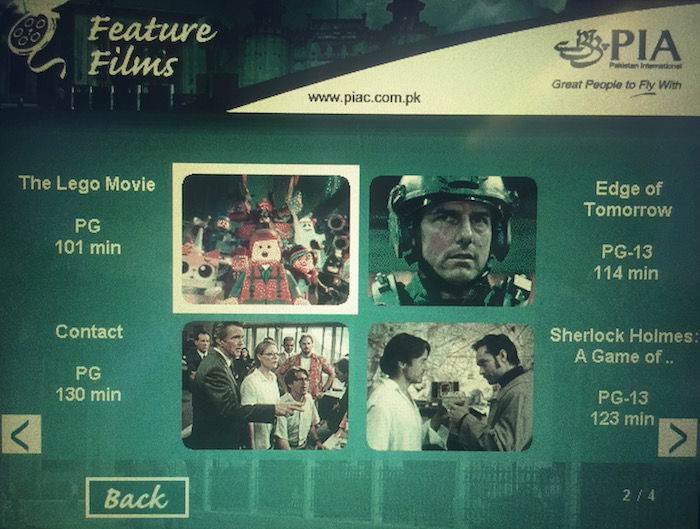 PIA business class entertainment selection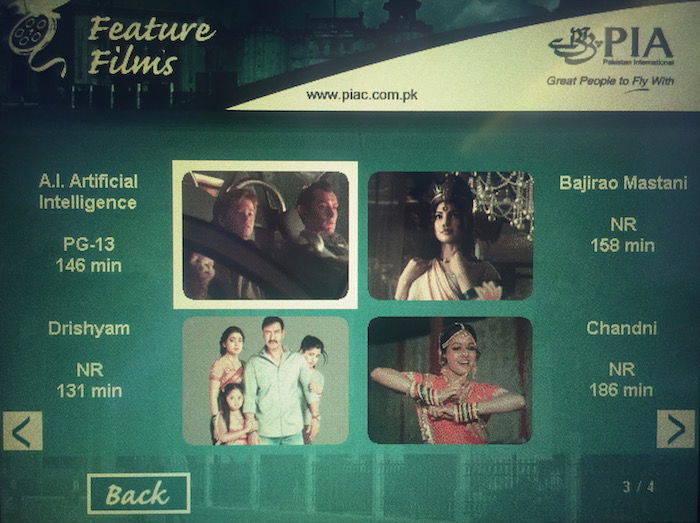 PIA business class entertainment selection
There were also a few TV shows.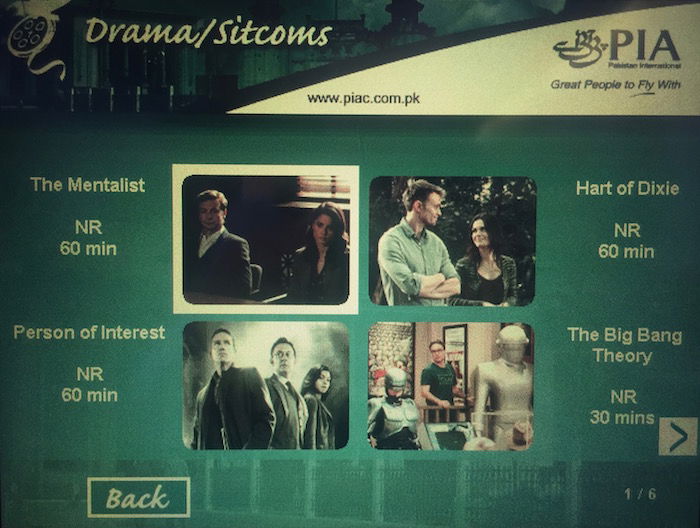 PIA business class entertainment selection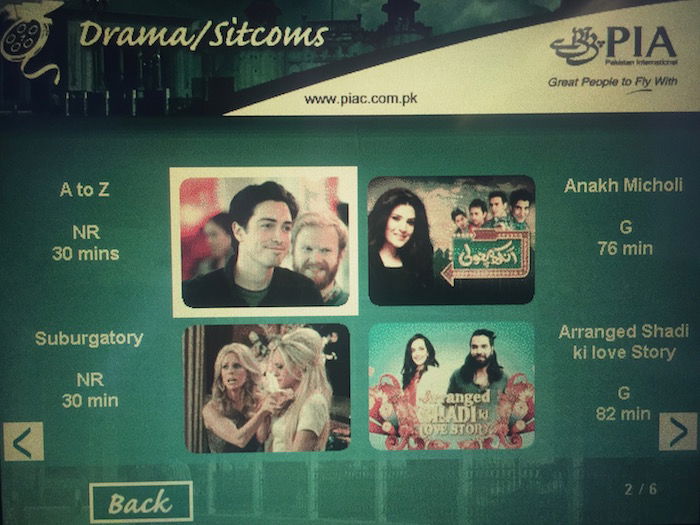 PIA business class entertainment selection
About 30 minutes after takeoff the meal service began, starting with tables being set.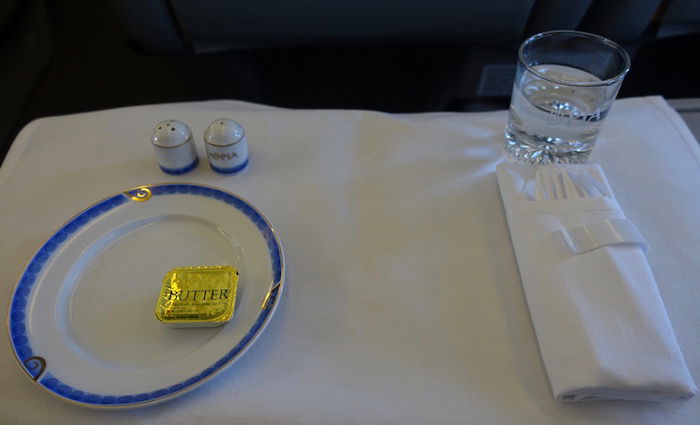 Pakistan business class lunch service — table setting
I loved the PIA salt & pepper shakers, though there didn't seem to be much consistency with them, as only one of mine had the PIA logo on it, while neither of Matthew's did.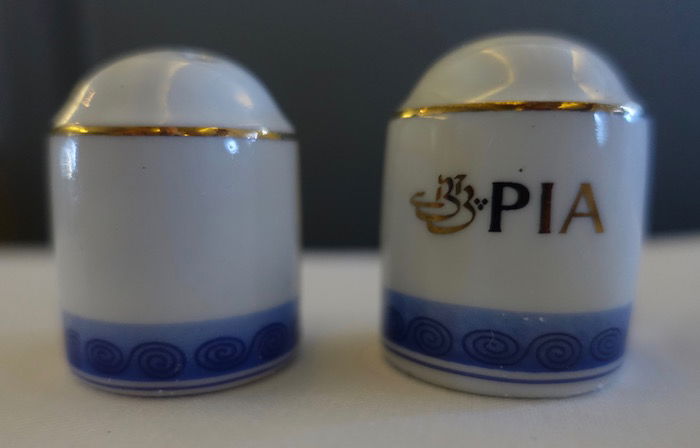 Pakistan business class lunch service — salt & pepper shakers
Pakistan offers plastic cutlery in business class, which is pretty disappointing. If this is due to some Pakistani regulations, it's still unfortunate that they use this quality of plastic cutlery, since it was the cheapest and flimsiest type imaginable.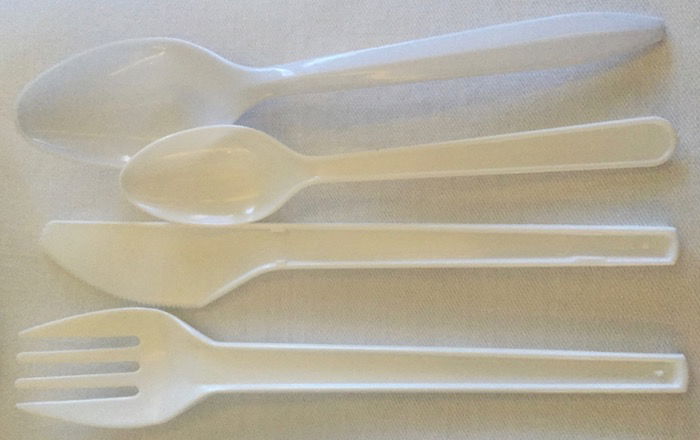 Pakistan business class plastic cutlery
All the service was done by cart, so the crew first offered the choice of three types of salad, including what was described as fresh, greek, or waldorf.
I selected the fresh salad, which was served wrapped. They didn't have any dressing for the salad, so it was very dry.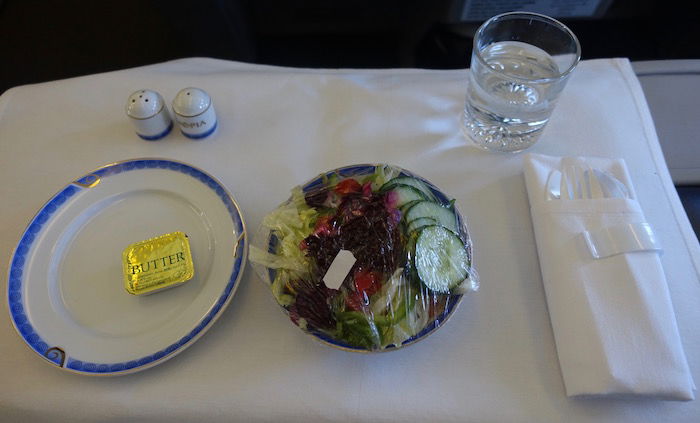 Pakistan business class lunch service — salad
Also on the cart was a selection from the breadbasket. I selected some garlic bread, as well as some of the oddly packaged wheat bread (I thought it was strange that it was served in such a way).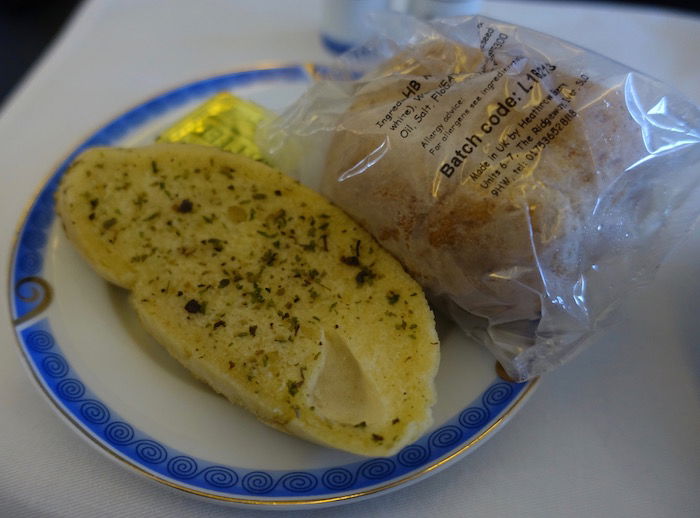 Pakistan business class lunch service — bread
Pakistan is also a dry airline, so once the salad and bread were served, the crew came around with a tray that had three types of soda on it. No glasses or anything were offered, but just the can directly. I sort of felt like I was at a pre-teen's birthday party.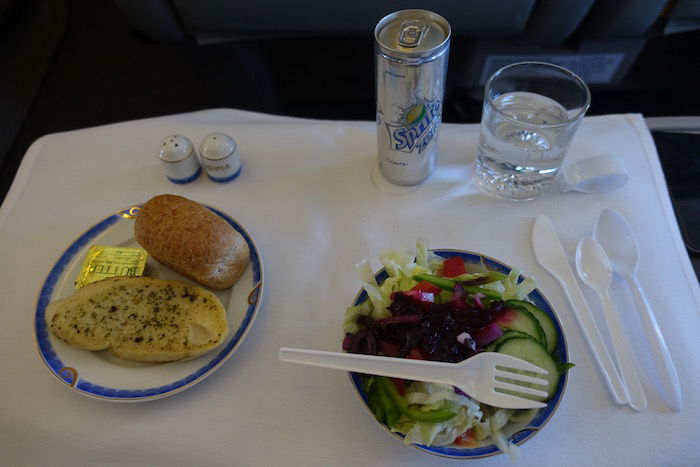 Pakistan business class lunch service
After that the mains were rolled out. While some might not like the aluminum trays in which the food was presented, in general I love the buffet-style presentation, where you can pick and choose what you want. The food looked incredible, and Kiran did a great job describing everything in detail.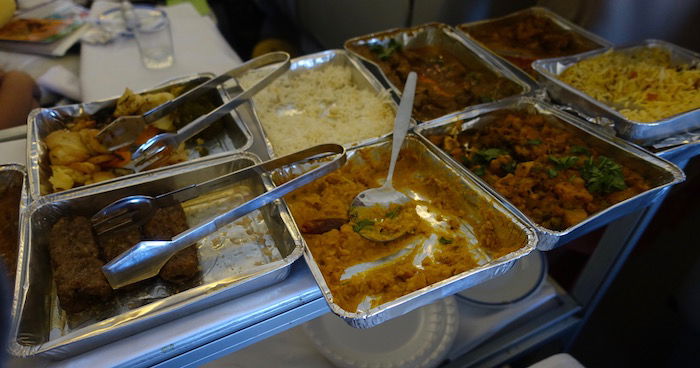 Pakistan business class lunch "buffet"
I asked for a little bit of everything, which she plated beautifully.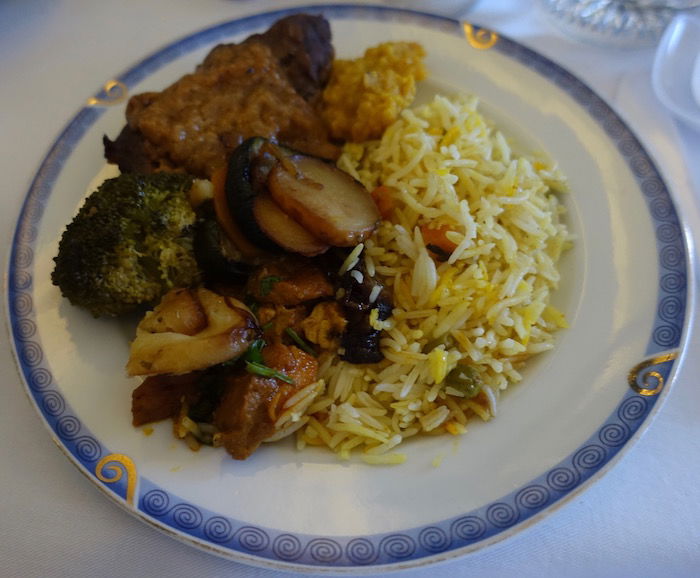 Pakistan business class lunch main course
I was also offered more bread with the main course.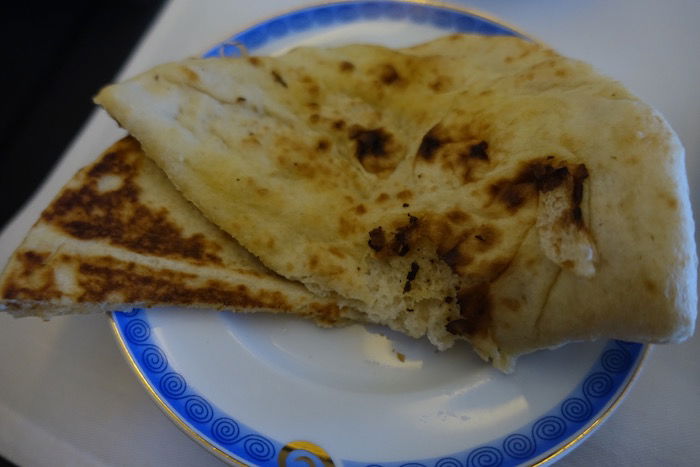 Pakistan business class bread
Once the main course was cleared, the dessert trolley was rolled through the cabin. The choice was between a brownie and the Pakistani dessert, which I didn't catch the name of. Now that I'm Googling it, I'm guessing it was kheer?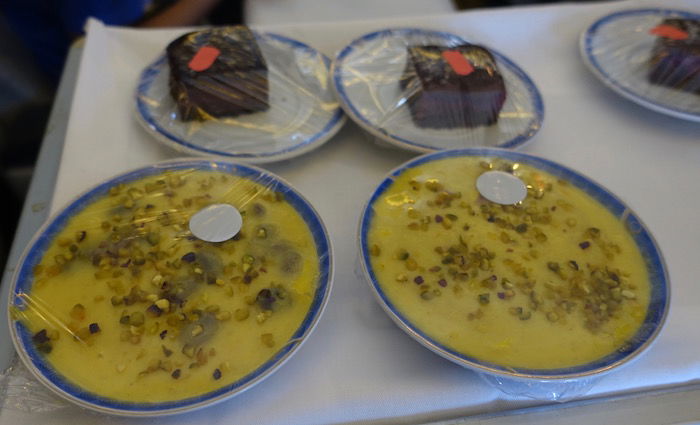 Pakistan business class lunch dessert options
Anyway, the Pakistani dessert was incredible. It was possibly the best dessert I've ever had on a plane. While it was a big portion, I had every last bite, and would have licked my plate if it were appropriate. Matthew agreed with me on how good it was.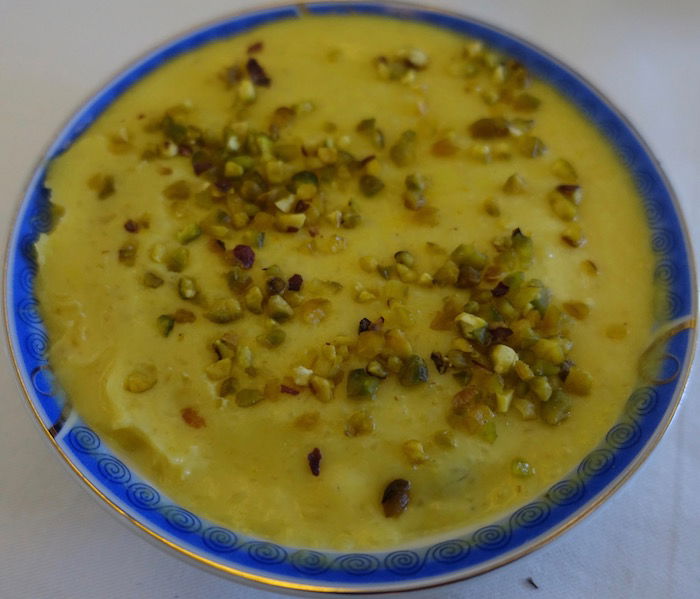 Pakistan business class lunch dessert options
After that a trolley was rolled through with fruit and cheese. The cheese was packaged, while most of the fruit was whole.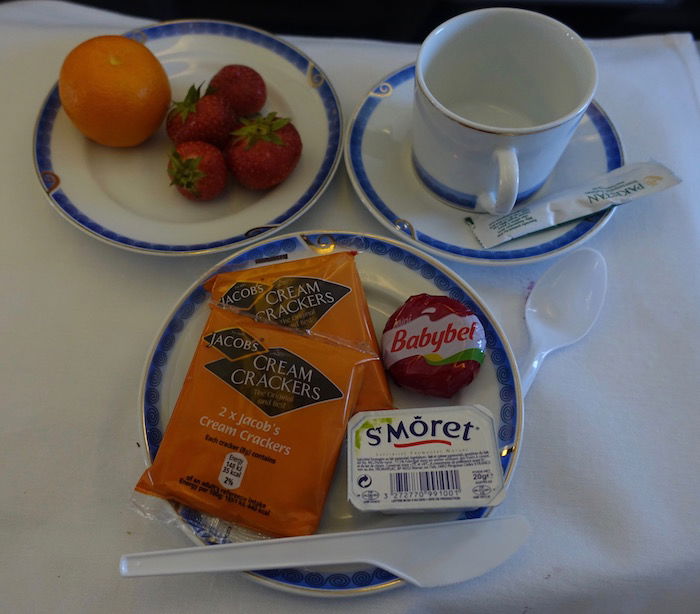 Pakistan business class lunch cheese & fruit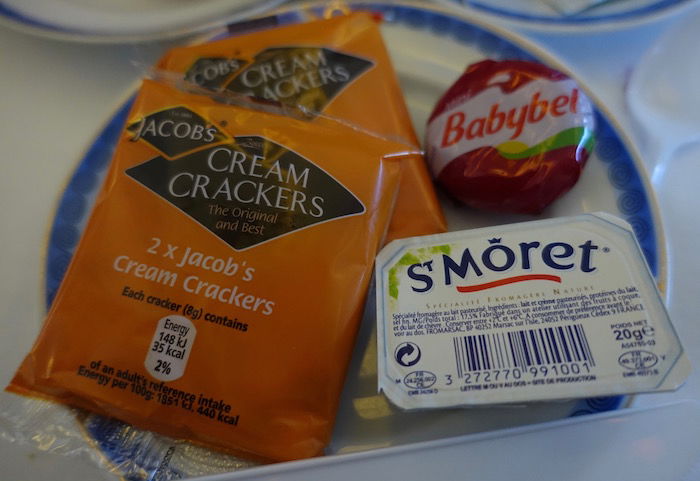 Pakistan business class lunch cheese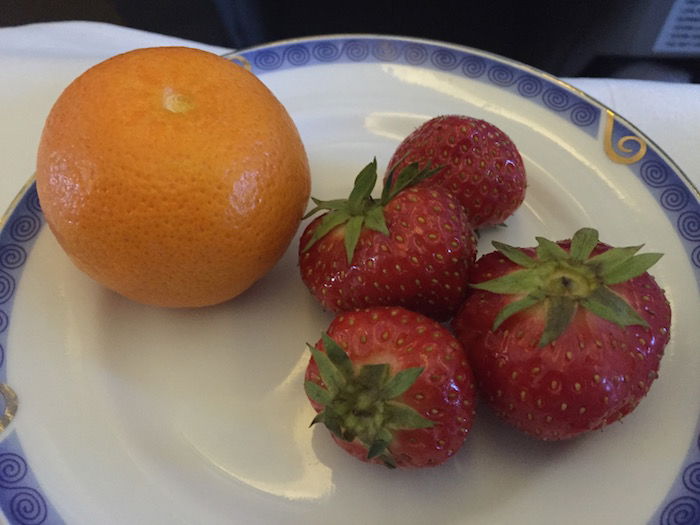 Pakistan business class lunch fruit
I ordered a coffee with the fruit and cheese course, though it was pretty clear it was powdered. It was nasty, as you'd expect.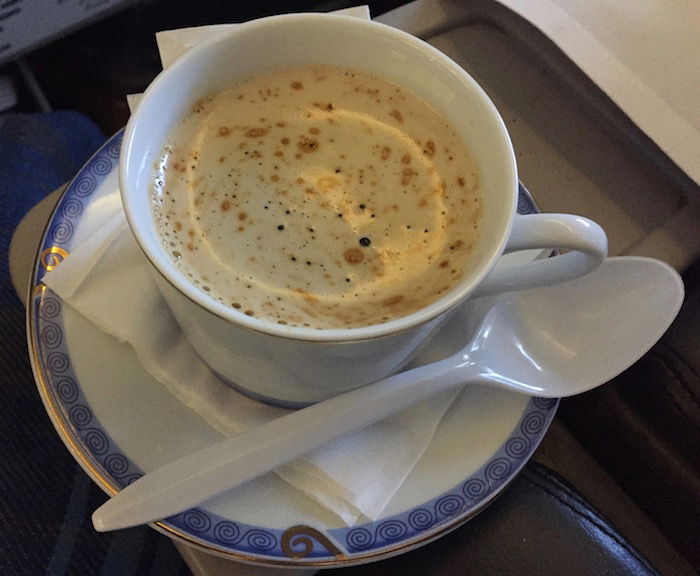 Pakistan business class coffee
The meal service was quite efficient, and done about 90 minutes after takeoff, as we were south of Iceland. I had very mixed feelings about the meal service.
On the plus side, the dessert was incredible, and the main course selection was great as well. Furthermore, Kiran, our flight attendant, was so warm and hospitable.
However, everything else about the meal was rather underwhelming, ranging from the super flimsy plastic cutlery, to soda cans being brought around without glasses, to food and bread being served wrapped, to salad being served without dressing, to the cheap packaged cheese they offered, to the powdered coffee.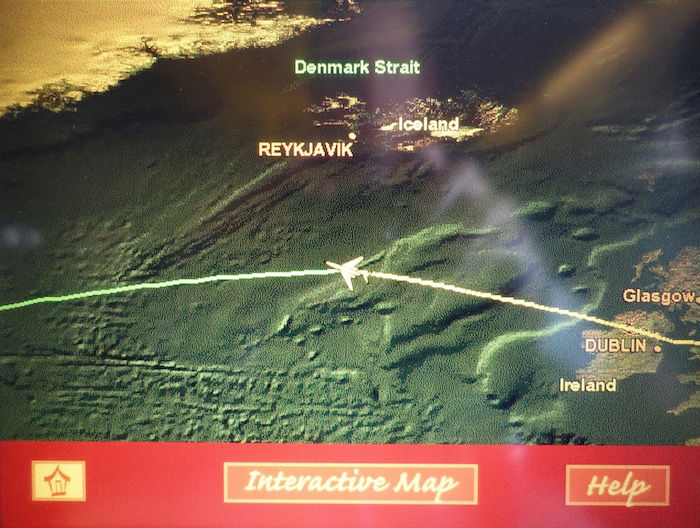 Airshow enroute to New York
The only other unique thing to note about the flight up until this point is that the guy in the center seat in the first row seemed to have sort of serious medical condition, as the two people seated on his sides were his caretakers, and he had all kinds of tubes hooked up to him. Every so often the guy to his left (who seemed to be a doctor) would rub his head and back.
After lunch I headed to the lavatory, one of which was located behind the cabin.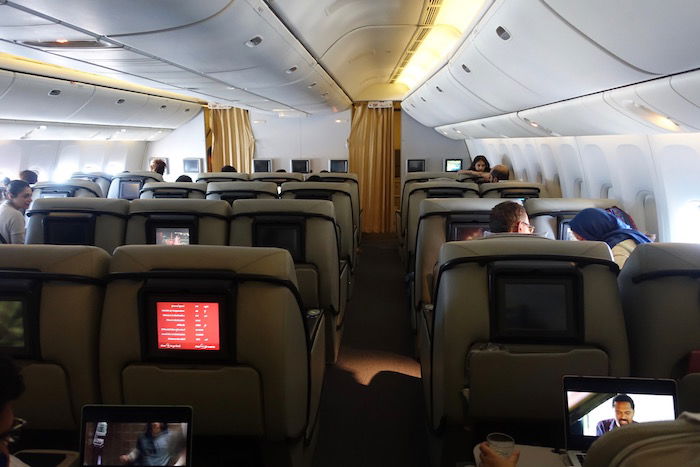 PIA 777 business class cabin
The lavatory certainly wasn't in great shape, but it wasn't in horrible condition either.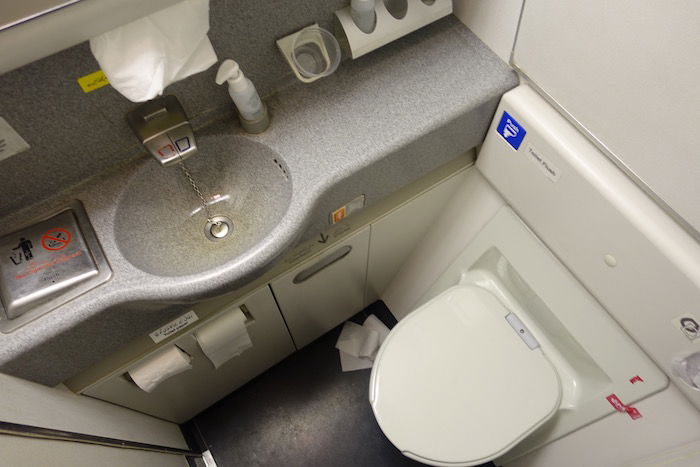 PIA 777 business class lavatory
While the seats were angled and not especially comfortable, we were so tired at this point, so I managed to sleep until we were woken up for the pre-landing snack, about 90 minutes out.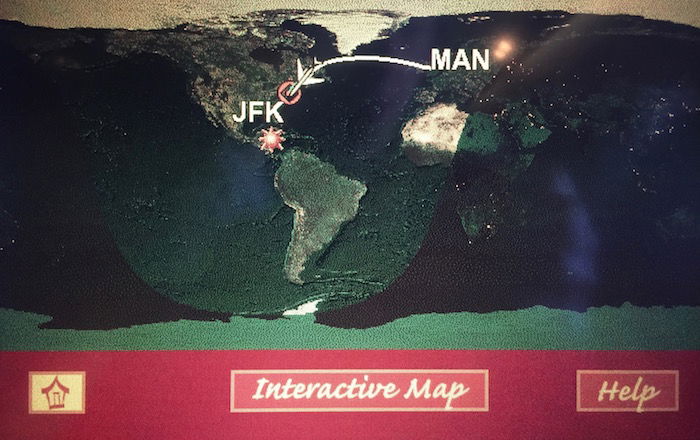 Airshow enroute to New York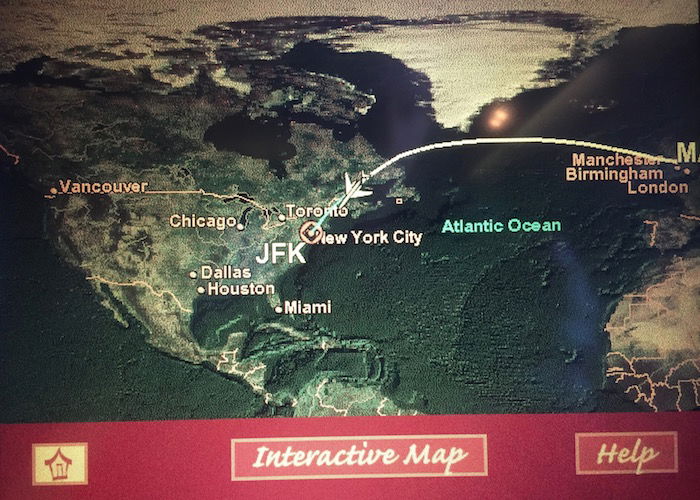 Airshow enroute to New York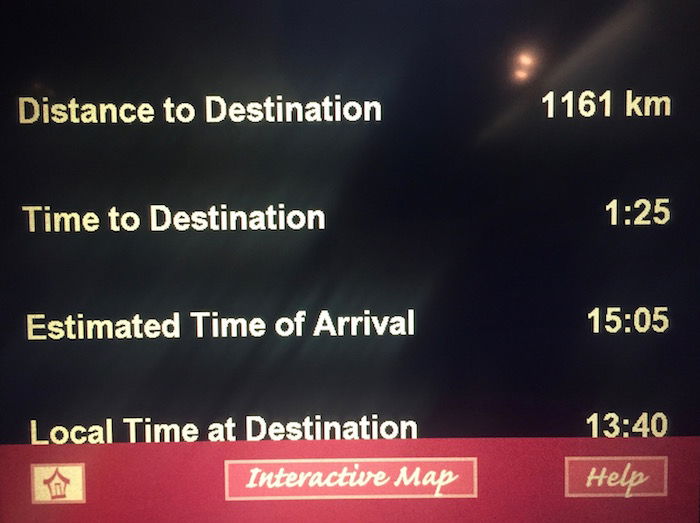 Airshow enroute to New York
I'd note that the seats were in pretty bad shape in terms of the motor, as they had to manually reset Matthew's seat after his nap, and that seemed to be the case at a few different seats.
This isn't an especially long flight, so the pre-landing snack simply consisted of small chicken sandwiches and some sort of cheesecake.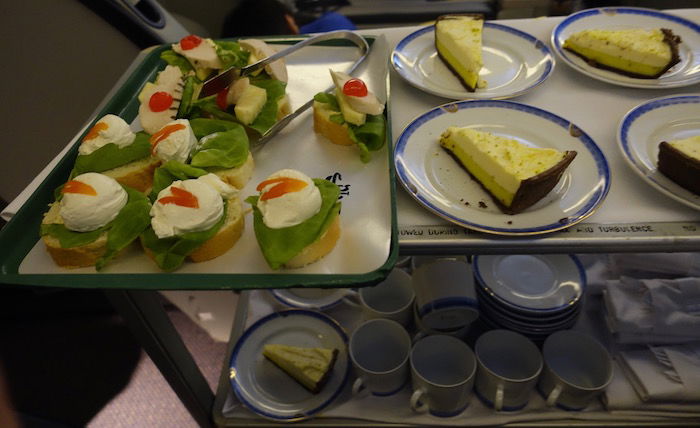 Pakistan business class pre-landing snacks
I had a glass of mango juice to accompany it.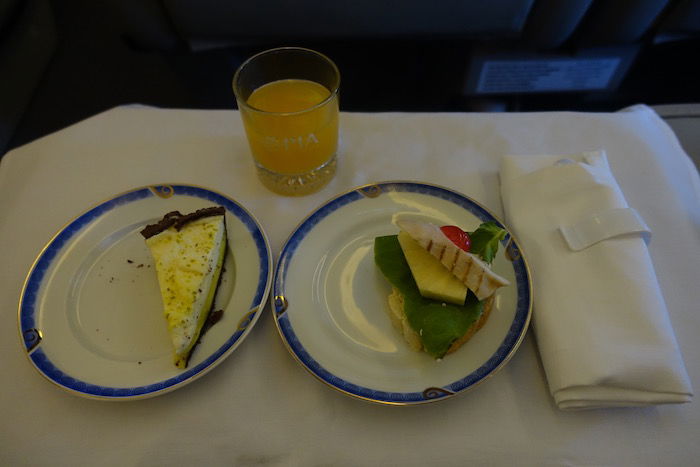 Pakistan business class pre-landing snack
The chicken sandwich was horrible. The chicken couldn't have been lower quality, the pineapple was dried out, the bread was stale, and the cherry on top was a bizarre touch.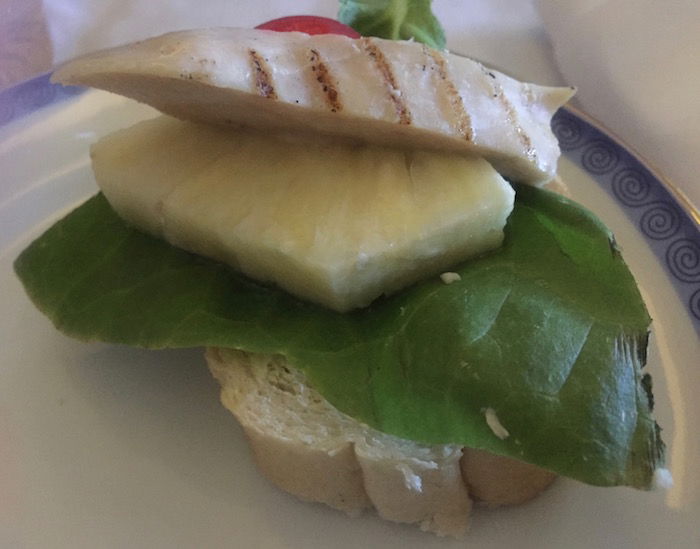 Pakistan business class pre-landing snack
The cake was fairly good, though nothing compared to the Pakistani dessert I had with the first meal.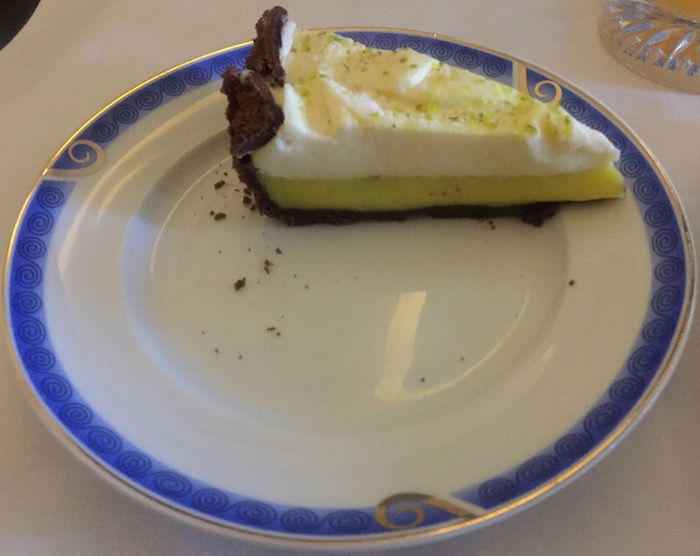 Pakistan business class pre-landing snack
After lunch I napped for about 30 minutes longer, until finally we began our descent and the seatbelt sign was turned on, at which point the cabin had to be prepared for landing.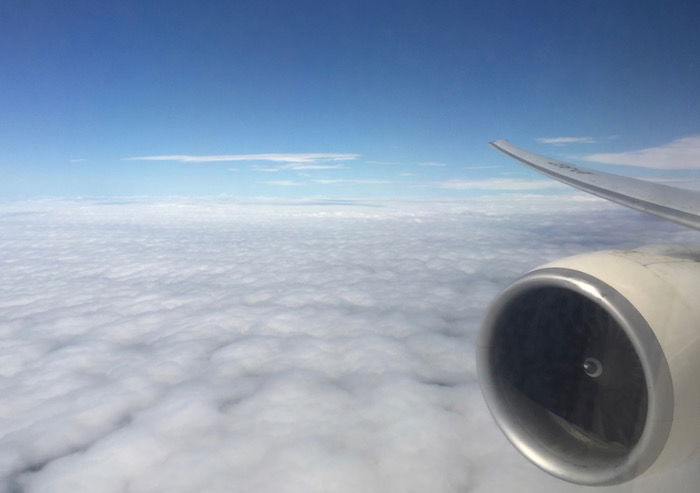 View approaching New York
Our approach into New York was gradual and smooth.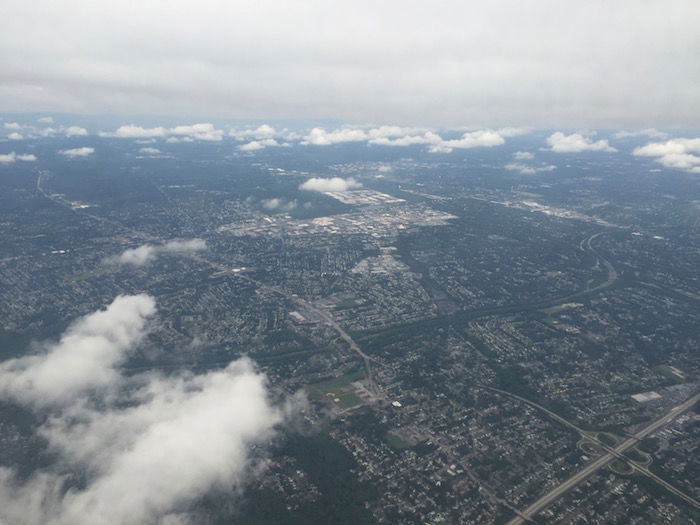 View approaching New York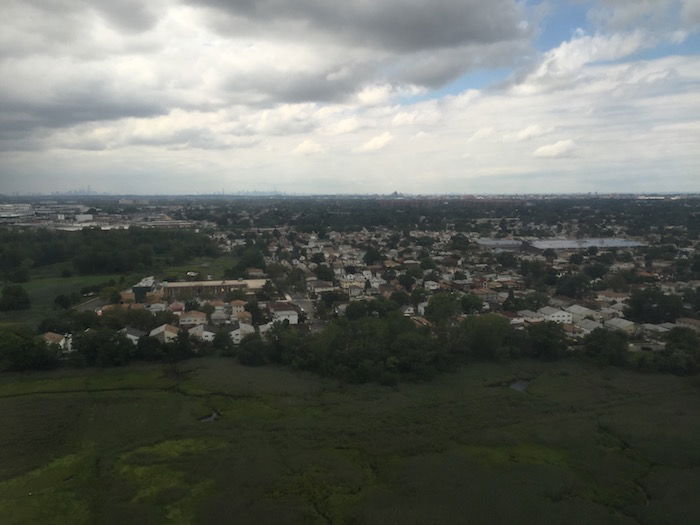 View approaching New York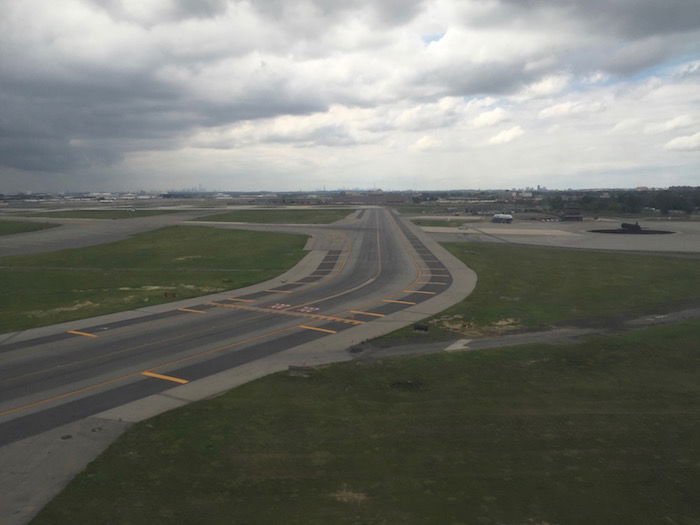 View on final approach to JFK
At 3:05PM we had a firm landing at JFK.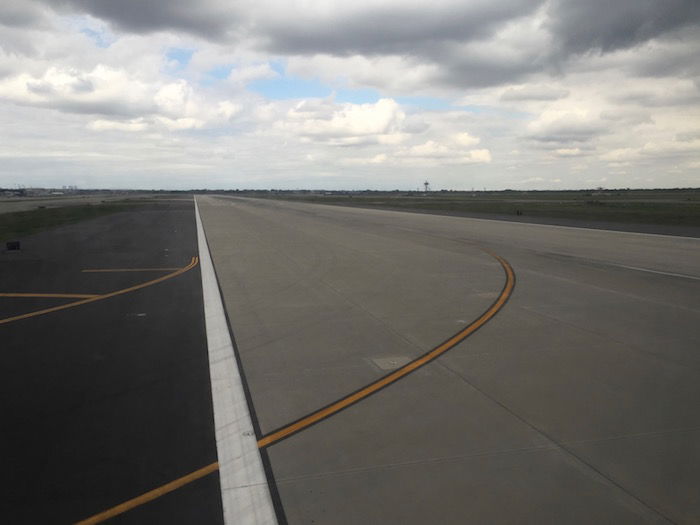 Taxiing JFK Airport
From there it was just a short 10 minute taxi to our arrival gate at Terminal 4.
PIA 777 business class bottom line
I think it goes without saying that I had low expectations going into this flight.
Overall PIA's cabins are outdated, and even worse, aren't properly maintained. It's one thing to have a bad hard product, but when you have a bad hard product and the seats don't work, that's when it starts to really suck.
The meal service was both a pleasant surprise and underwhelming. The Pakistani dessert was incredible and the main course "buffet" was good, while most other things were quite underwhelming.
But what positively surprised me about PIA was the service. Our flight attendant, Kiran, was an absolute treasure. If the service hadn't been good I would have walked away with a very negative impression of PIA, though somehow thanks to the warmth of our flight attendant, I sort of found the whole experience charming.