I've been using Bose headphones for over a decade. Are they the best value headphones out there? Perhaps not, as they're expensive. But they're also extremely high quality, long lasting, and have incredible audio quality.
In early June I wrote about Bose's newest set of travel headphones, the Bose QuietComfort 35 Wireless Headphones. Over the years Bose has introduced several new versions of their headphones, though I've found the differences to be marginal. The new Bose QC35 headphones represent quite a change, as they're Bose's first wireless headphones.
I decided to pick up a pair of Bose QC35 headphones shortly after they were released, and figured I'd share my thoughts.
The Bose headphones I used before
For a bit of context, prior to the QC35 headphones I used the Bose QuietComfort 25 headphones, in addition to the Bose QuietComfort 20 in-ear headphones. Why do I have both sets of headphones?
When I'm on planes and/or watching TV shows while sitting around, I'll always use the QC25 headphones, as I love how comfortable the over-ear headphones are.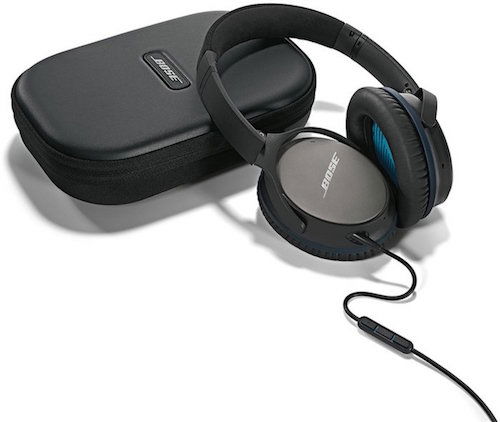 However, I find the in-ear QC20s to be great for the gym, when walking around a city, etc., since they're much more portable. You can easily fit them in a pocket, and they won't wear if they get some sweat on them.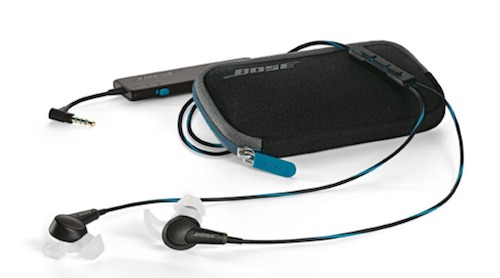 It works out perfectly, since I can easily fit the pouch with the QC20 headphones into my QC25 case, so it doesn't take up much extra space.
The QC35 headphones look very similar to the QC25 headphones. They come in the same case.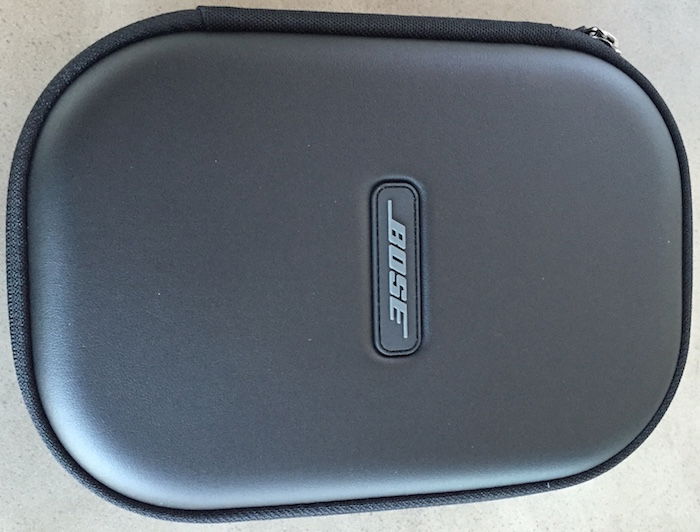 The only difference in their appearance are the wires.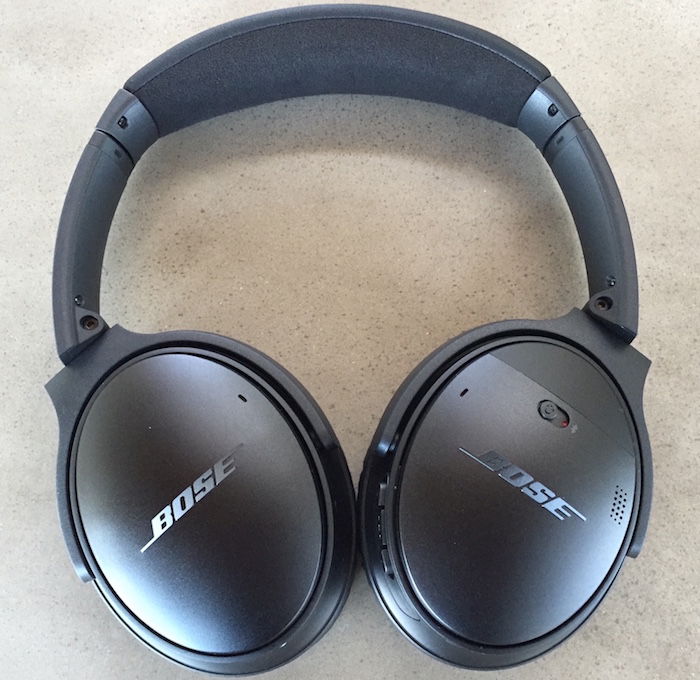 In addition to the actual headphones and case, the QuietComfort 35 headphones also come with a USB charger, as well as a cord in case you want to turn them into wired headphones. These can easily be stored in the pouch of the headphone case when not in use.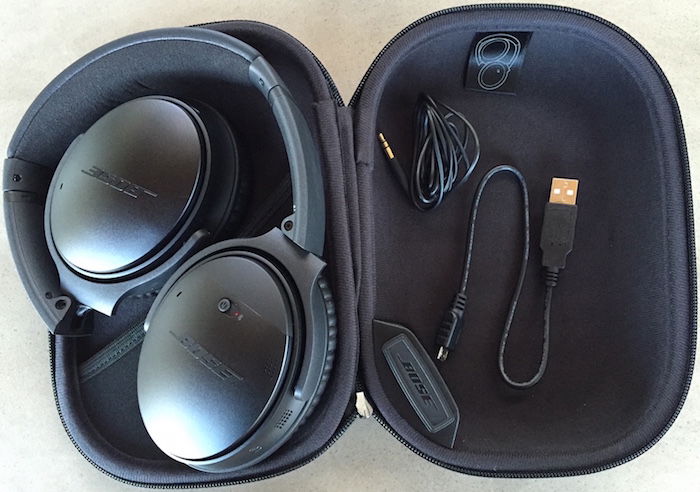 The headphones themselves are gorgeous, though that was also true of the QuietComfort 25 headphones.
As you can see below, you can charge the headphones using a small charger in one of the earbuds, which is also where you can plug a cord in if you want to turn them into wired headphones.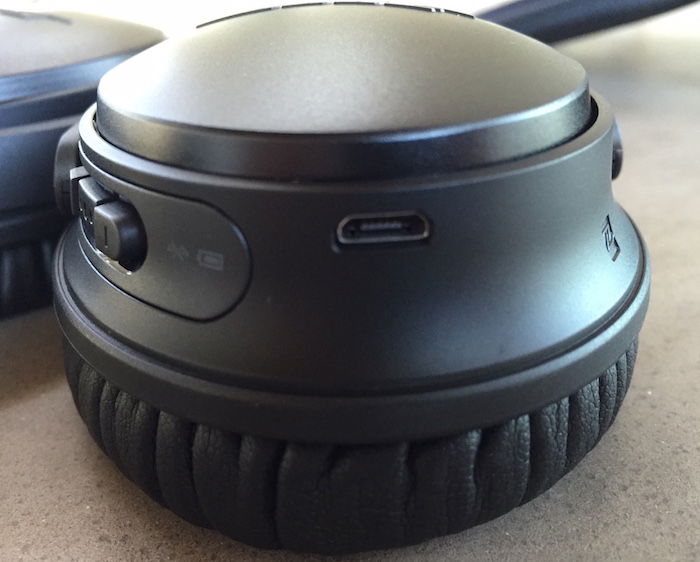 No disposable batteries are required for the headphones, and you need to charge them after about 20 hours of wireless use, or 40 hours of wired used. I'd say that's excellent battery life for wireless headphones.
Advantages of the Bose wireless headphones
The audio quality on these headphones is spectacular, though I've found that to be the case with my last several generations of Bose headphones as well. When I bought the QuietComfort 35 headphones I said to myself "meh, they'll probably not be worth it, but I might as well review them."
However, before I purchased these, I never fully appreciated how much of a difference wireless headphones can make, especially on planes. When I'm flying domestically, I typically have my laptop on my tray table, and have it plugged into the outlet, while my iPhone is charging off of my computer.
The cord from my headphones was yet another cord that got in the way of things. It's nice to be able to walk to the lavatory with your headphones on without having to worry about cords.
Is it life changing? No. But it certainly makes the wire "situation" on planes significantly better.
Can you use Bose's wireless headphones on planes?
I haven't had any issues, even during takeoff and landing. No one has said anything to me.
Are the Bose QuietComfort 35 headphones worth the price premium?
The Bose QC25 headphones retail for $299, while the Bose QC35 headphones retail for $349. Is the premium worth it?
If you already have the QC25 headphones and they're in good condition, I don't think it's worth paying $349 to upgrade to the wireless headphones
If you're considering buying Bose headphones but don't have any yet, I do think it's worth the $50 price premium to get the QC35 headphones over the QC25 headphones
Bottom line
Every time I write about Bose headphones, I get comments from readers saying "there are headphones that are just as good for a fraction of the price," and I'd certainly invite you guys to share those in the comments section. However, I've been a Bose customer for over a decade, and have always loved their products. The headphones are long lasting, and when I think of how many thousands of hours I've used them, I think I get good use out of them.
I love the Bose QC35 headphones since they're wireless, so it's one less cord for me to worry about when traveling. To me that's valuable. I'd say the convenience of the wireless headphones is worth it for the $50 premium, though for most people with the QC25 headphones it's probably not worth upgrading exclusively for the wireless feature, as I don't think it's worth $349.
Everyone values things like this differently. Those are my thoughts, and you guys can draw your own conclusions. I am also very intrigued by the new Bose 700 headphones, which are now available for preorder.


What are your favorite travel headphones?