This year I'm doing everything I can to review new airline products. I started the year with a list of 16 airline products I've been wanting to review, and I've been making good progress.
So far this year I've reviewed Finnair business class, Air India first class, Iberia business class, LAN business class, Oman Air business class, Air France business class, Avianca business class, Aeromexico business class, Air Canada business class, and South African Airways business class.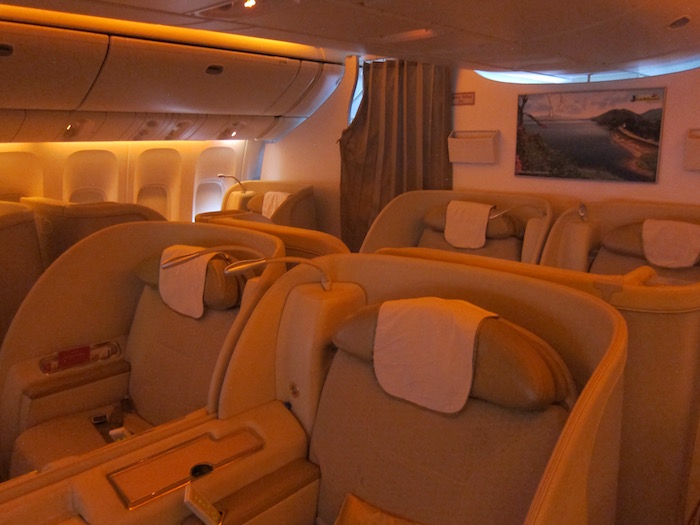 Air India's 777 first class
Coming up I have reviews of SAS business class, Aeroflot business class, Air Tahiti Nui business class, Fiji Airways business class, Royal Air Maroc business class, China Eastern business class, Kuwait Airways business class, and Royal Jordanian business class.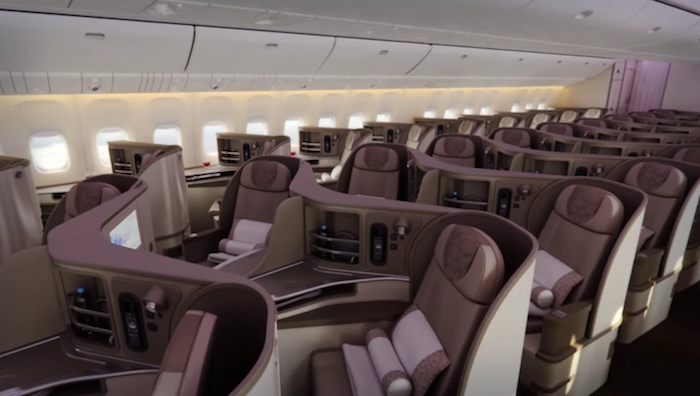 China Eastern's new 777 business class
I'm flying Swiss first class!
As I wrote about a couple of days ago, I managed to redeem miles for Swiss first class between Zurich and Los Angeles. This is extraordinary since Swiss doesn't usually make first class awards available to their partner airlines, though I managed to ticket the award for 70,000 Aeroplan miles without any fuel surcharges.
Best of all, this is in Swiss' new 777-300ER first class, which looks fantastic.
But how should I get to Europe?
Now I'm trying to decide how I should get to Europe, since this is a trip I'm taking for review purposes. For the flight from Zurich to Los Angeles, I can ultimately change the ticket for 90CAD to originate anywhere in the region, so I'm now trying to lock in my outbound flight, and decide what would make the most interesting review.
I've come up with a few general options, and am of course open to other creative options as well.
Ethiopian Airlines' new business class Los Angeles to Dublin
Ethiopian Airlines operates a cool fifth freedom route from Los Angeles to Dublin, which I've been interested in trying. I could book this ticket for 63,000 Avianca LifeMiles.
While I've reviewed Ethiopian's 787 business class before, Ethiopian is in the process of installing a new business class product, which I'd be curious to try. As far as I know, there's no guarantee that I'd get the new product, though. Still, I'd be curious to see what their service is like between the US and Europe, given how tough it can otherwise be to snag nonstop business class awards between the west coast and Europe.

Ethiopian's "new" 787 business class product
Aer Lingus's new business class to Dublin
I reviewed Aer Lingus business class several years back between Boston and Dublin, including their lounge in Boston.
However, in the meantime Aer Lingus has installed a fantastic new fully flat business class product, added onboard Wi-Fi, an arrivals lounge in Dublin, and pre-flight dining at their US lounges. So it seems like a sufficiently different product than it used to be.
Here's where I'm conflicted:
Do I review Boston to Dublin, which would cost 37,500 British Airways Avios (thanks to British Airways' distance based award chart, and that this route is under 3,000 miles)?
Or do I review New York to Dublin so I can review their new lounge in New York (which looks quite nice), even though it costs 60,000 British Airways Avios?
Air Europa's new 787 business class
SkyTeam member Air Europa recently started flying the 787, and has very good award availability. They have an updated business class product, so this could be a good use of Delta SkyMiles or Air France FlyingBlue miles.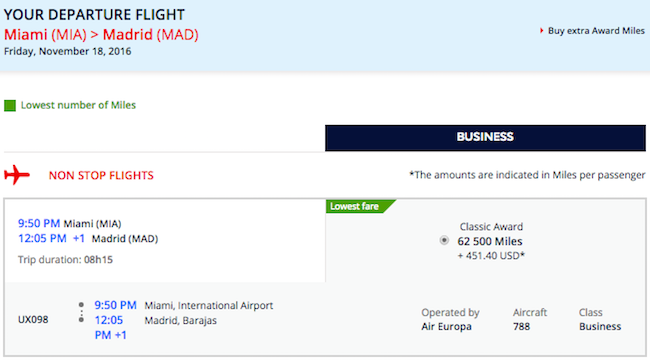 You can see more about their new business class cabin in this odd commercial:
Ukraine Airlines' 767 business class
When it comes to intriguing options, I think this one ranks pretty high. Ukraine Airlines flies from New York to Kiev using a rather old 767, and they have very reasonable business class fares. I wrote about this option before, and it sure does intrigue me.
Which do you think would make the most interesting to review (or do you have another idea altogether)?