One of the challenges in collecting miles is knowing where to credit the miles earned on a given flight. The combination of alliances and fare codes can make it tricky, especially for those new to miles. The Ask Lucky forum has a question nearly everyday about how many miles will be earned for a certain flight, or what the best deal is, etc., so it's something a lot of people can struggle with.
I have a strategy and a timesaver tool, which I figured I'd share for those who might be in a similar situation.
Know what those miles get you
My strategy is to think about your future travel desires, and how the miles you might earn for a flight can support those plans. Just because you can credit miles to say, Thai Royal Orchid Plus, doesn't mean you should. There is possibly (and really probably), a better alternative with a partner carrier.
There's a lot of nuance to this. Everyone's goals vary, of course, but it also depends on how you're able to earn miles. If you aren't familiar with the "goalposts" for various awards, or which programs might make the most sense for your travel goals, be sure to check out our post on how many miles are needed for an award ticket.
My new favorite tool: Where To Credit
Knowing which miles you'd like to earn is the critical first step. Knowing what miles you can earn on a given flight helps as well.
It can be pretty confusing to go through airline earnings charts prior to a flight (or even a purchase) in order to see how many miles you'd earn. Where To Credit is a newish tool that consolidates all that information, and tells you the best options.
There are a couple of ways to use Where To Credit. The first is to enter the airline you're interested in flying on the homepage:

This pulls up all the booking classes (that they know about) for that airline, and the associated partner earnings rates: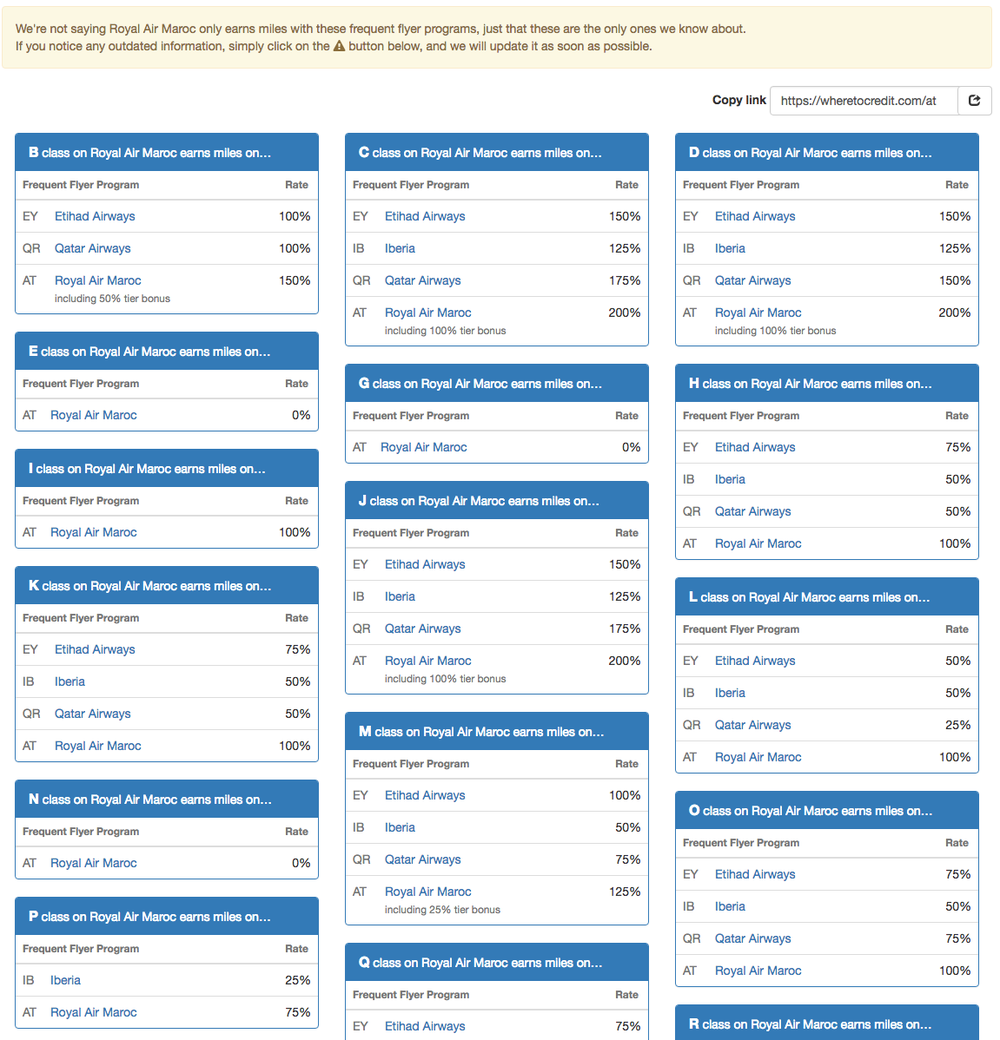 Super useful, especially if you're considering two fares for the same flight. Earnings rates can vary tremendously on a slightly higher fare, so it's nice to get a snapshot.
Where To Credit also has a Mileage Calculator, which I think is fabulous.
Enter your flights, carrier, and booking class, and the calculator approximates what you'd earn on each partner.
My flights on Aeromexico, for example, had the following partner earnings rates:

In this case I credited to Alaska, as 1430 Alaska miles are a better fit with my future travel than anything else.
As another example, I'll be going to Hawaii in a few weeks, and am actually flying Hawaiian. Hawaiian isn't in any alliances, but Where To Credit makes it easy to see the best options:


For the most part, I've found Where To Credit to be pretty accurate, and they've been good about fixing errors, so I feel comfortable recommending it. They have a Chrome extension as well that syncs with some Online Travel Agencies, but I haven't experimented with that.
Bottom line
For those concerned about elite status, other tools (or a handmade spreadsheet) will be the better tracking option. But Where To Credit is perfect for those random deals that come up or when you're flying outside your core alliance.
How do you decide where to credit miles?