I'm writing a series of posts about some of the tools and services I most use for managing, earning, and redeeming points. While I often mention these websites and services in passing, I've never written dedicated posts about them, so that's what I'm doing now.
In this post I wanted to talk about how and why I use MaxMyPoint, which is a website that makes finding hotel award availability easy. In separate posts I talked about Google Flights, AwardWallet, ExpertFlyer, point.me, Seats.aero, and aeroLOPA.
What is MaxMyPoint?
MaxMyPoint is a website that makes it easy to find hotel award availability. Now, in fairness, hotel award availability isn't nearly as restrictive as airline award availability, since most major hotel loyalty programs have a no blackout dates policy. However, many hotels do have a very limited number of standard rooms, so there's a lot of competition for award nights.
I find MaxMyPoint to be most useful for World of Hyatt redemptions, because World of Hyatt doesn't have a calendar display that shows award availability. meanwhile I find it less useful for Hilton Honors redemptions and Marriott Bonvoy redemptions, since both programs have award calendars that accurately show availability. If you want to redeem points at one of Hyatt's properties where award availability can be tough to come by, MaxMyPoint is for you.
MaxMyPoint is also awesome because it lets you set availability alerts, which will alert you if award availability opens up for a specified hotel.
How much does MaxMyPoint cost?
Just viewing award availability doesn't require a membership, as you can do it just by visiting the website. Beyond that, MaxMyPoint has three membership tiers:
You can be a member at no cost
You can be a Gold member for $3.99 per month, and can cancel anytime
You can be a Platinum member for $7.99 per month, and can cancel anytime
There's plenty of value to just using the site for free, as you can get a calendar view of award availability at various hotels. Where the Gold and Platinum tiers really shine is when it comes to being able to set alerts, so that you can be pinged when award availability opens up for a particular hotel.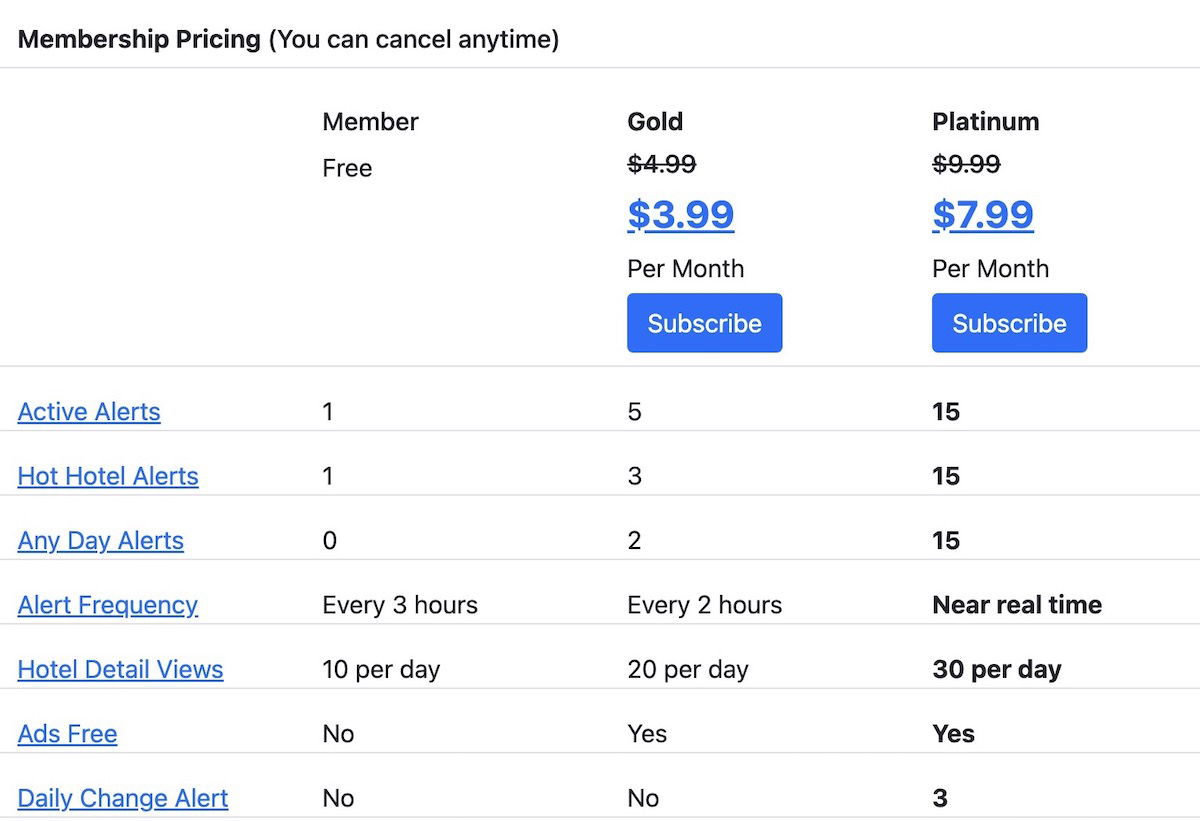 How do you use MaxMyPoint?
MaxMyPoint lets you search award availability with Hilton Honors, IHG One Rewards, Marriott Bonvoy, and World of Hyatt. The way I view it, there are three main areas where MaxMyPoint is useful, so let me cover those.
Search Hyatt award availability with MaxMyPoint
Since Hyatt's website won't show you a calendar view of award availability, MaxMyPoint can really come in handy, as you can see a year of award availability in a matter of seconds. When you're on the website, you can search by specific hotel name, if you want.

Otherwise, you can just select which of the major hotel groups you're interested in, and you'll see some of the most popular and hard to get redemptions listed first.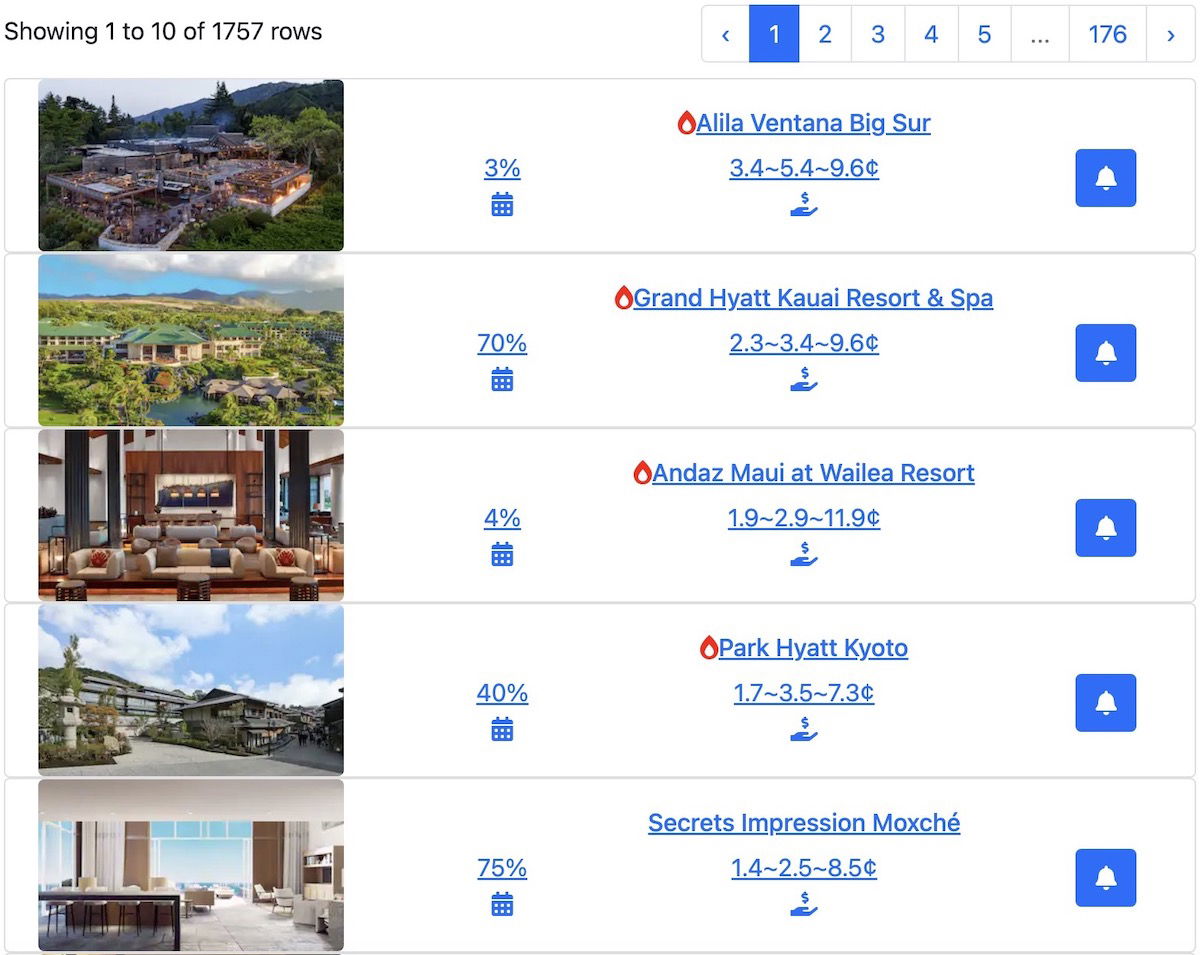 MaxMyPoint will show you what percent of nights have award availability, and the average value you'll get per point. For example, the Park Hyatt Kyoto is a tough property at which to find standard room award availability. As you'll see above, there's award space 40% of the time.
You'll then see a calendar feature that shows you both the points price (if available) and the cash price for each night. Based on looking at the calendar, you'll see that a vast majority of space is either available way in advance, or close to the stay date.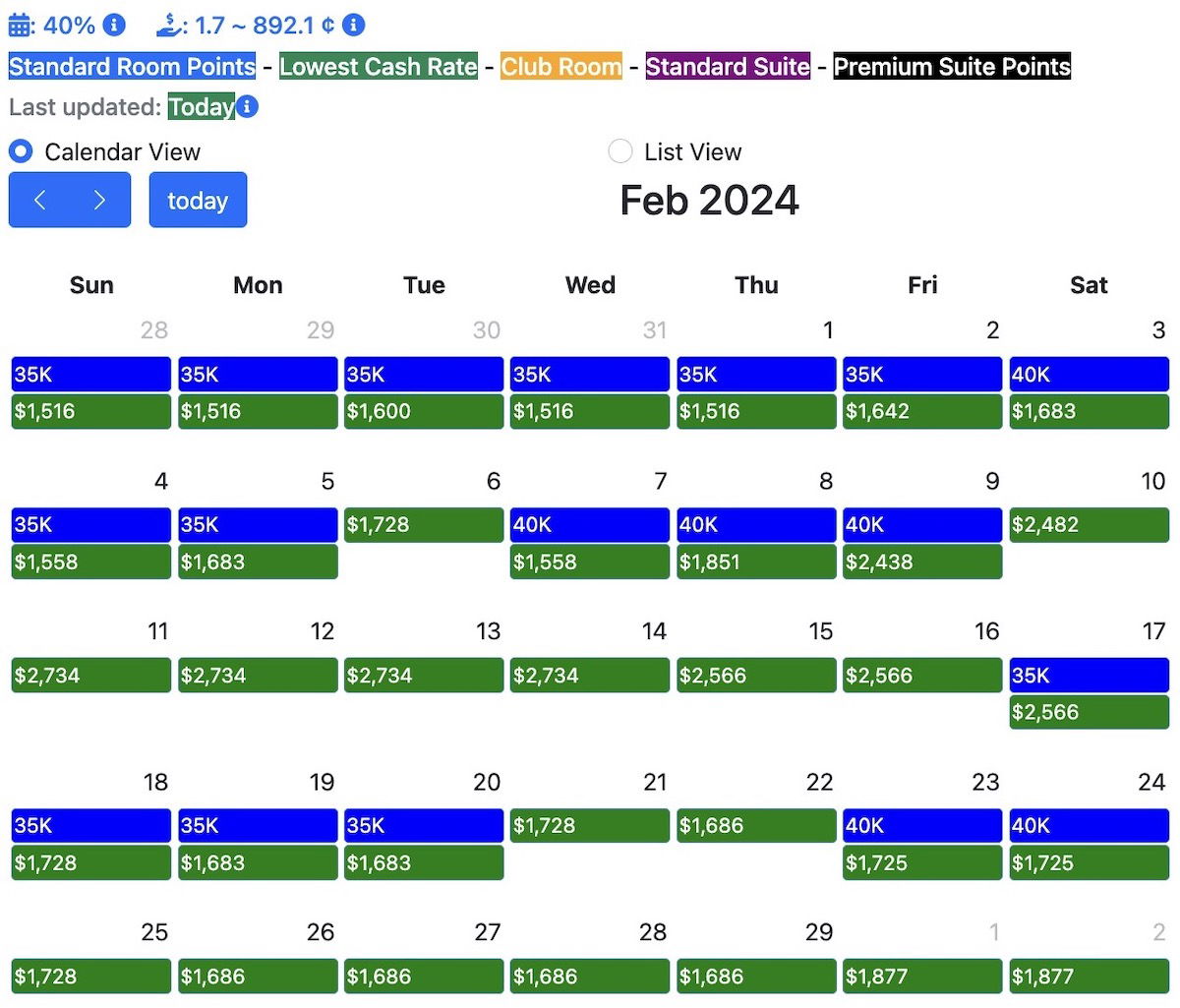 If you don't like that kind of visual, you can also instead get a list view with pricing and availability.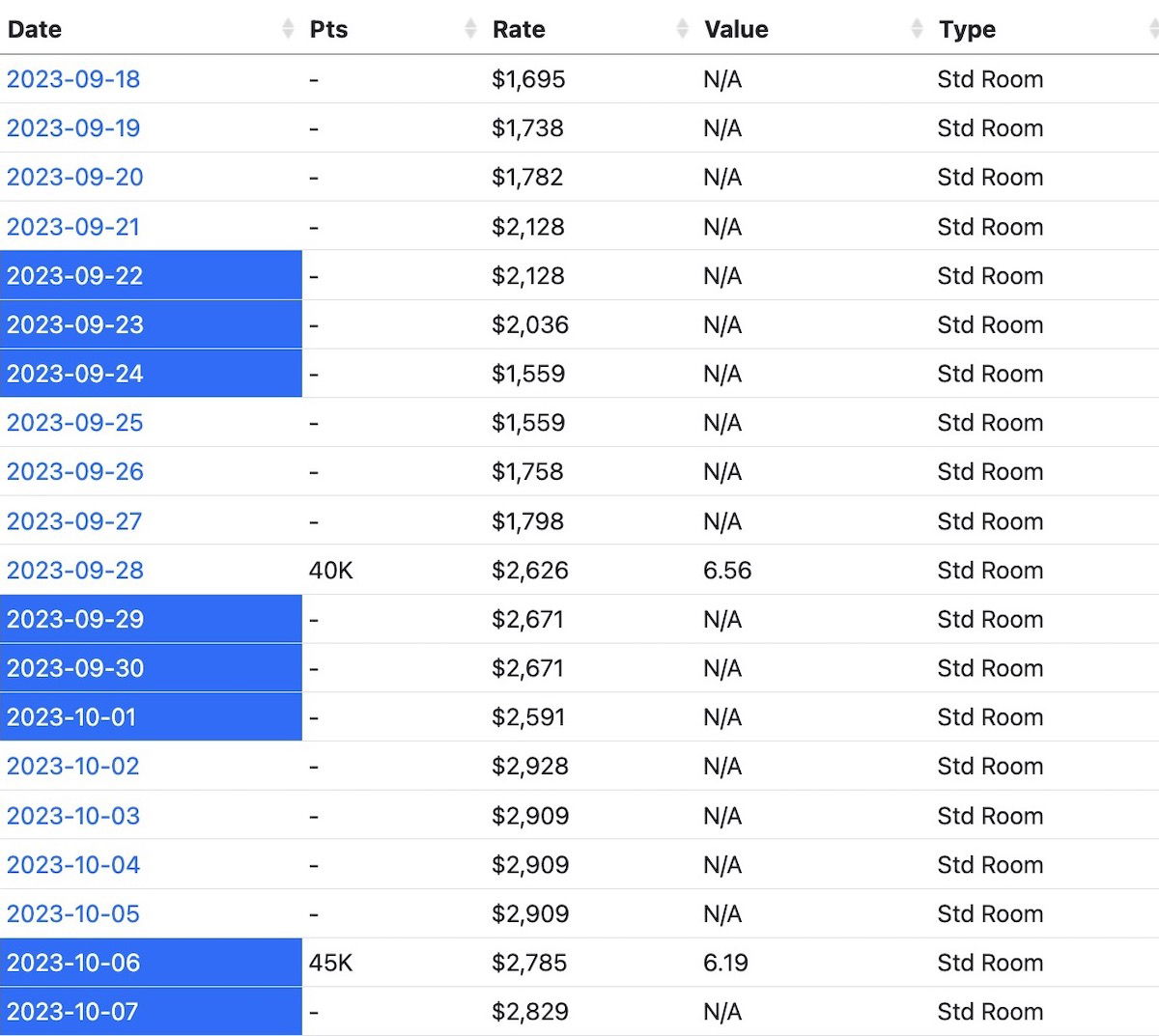 For my upcoming trip to Japan, the Park Hyatt Kyoto didn't initially have award availability. But based on looking at MaxMyPoint, I saw that it frequently opens up in the weeks leading up to a stay. Sure enough, it opened up a couple of weeks after I planned my trip.
Search IHG award availability with MaxMyPoint
I don't see too much value to searching Hilton Honors and Marriott Bonvoy award availability with MaxMyPoint, as the Hilton and Marriott websites also have a useful calendar function showing award availability. MaxMyPoint does come in handy with IHG One Rewards, though, since IHG doesn't have an award calendar (well, there's a hidden one, but it's a hassle to find).
Fortunately MaxMyPoint can also give you an overview of availability and pricing for IHG awards, which is valuable, since pricing is dynamic. However, I find IHG to have the worst value program of the "big four" when it comes to premium redemptions.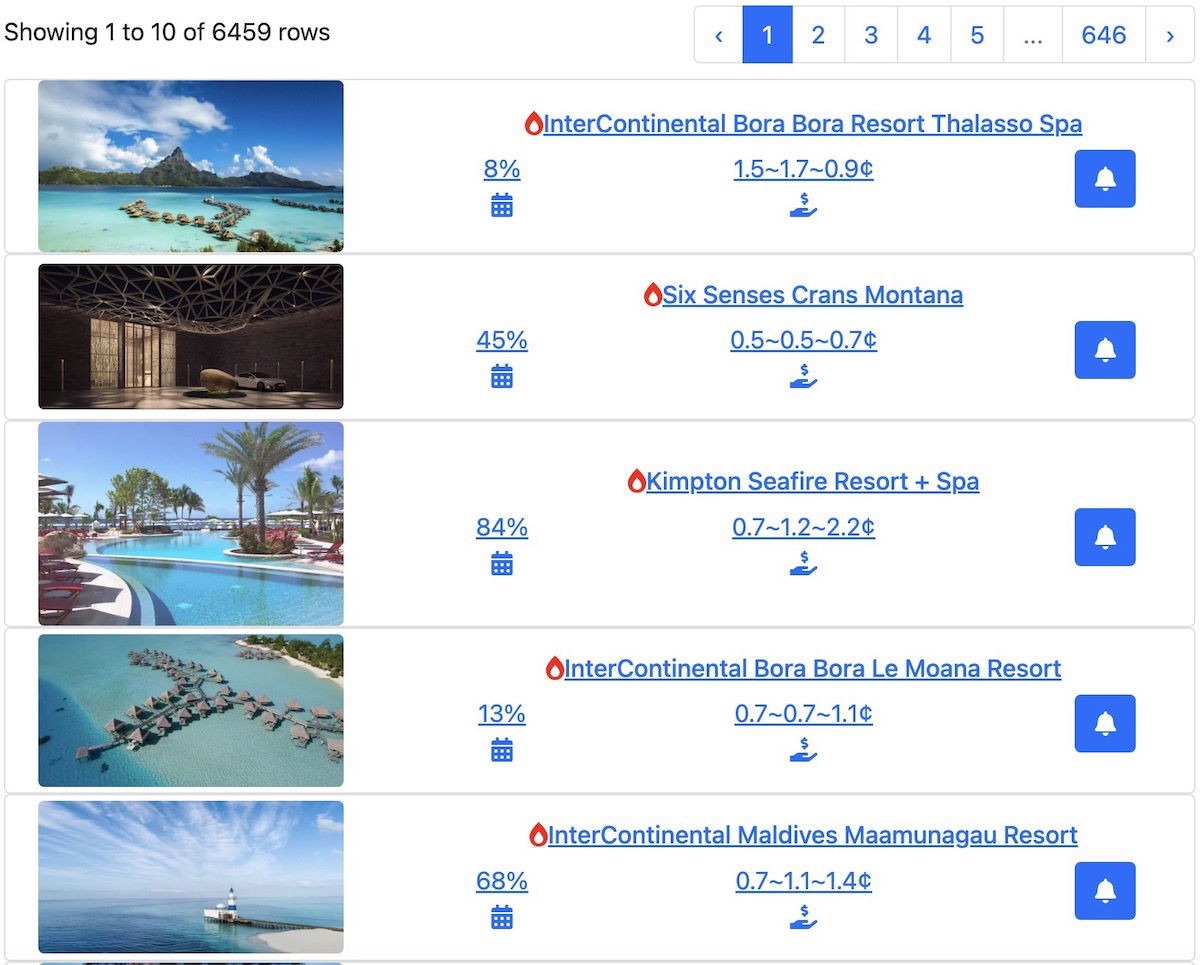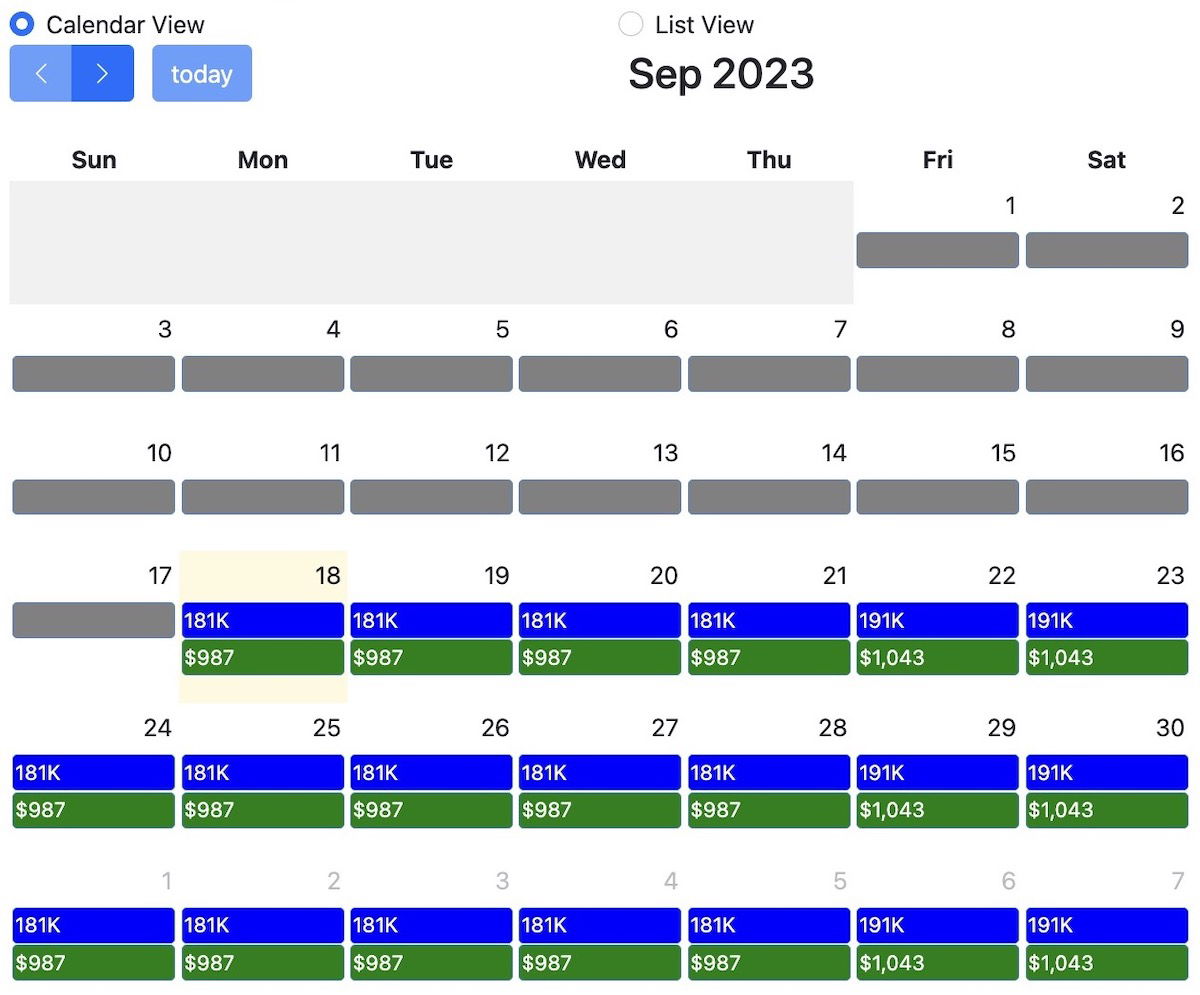 Set award availability alerts with MaxMyPoint
The area where MaxMyPoint can be valuable for all programs is with the ability to set alerts. MaxMyPoint lets you set three kinds of alerts:
You can set a full stay alert, whereby MaxMyPoint will monitor for availability of award nights for the entire duration of a stay (so you enter a check-in and check-out date), and alert you if it opens up
You can set an any day alert, whereby you can set a range of dates, and MaxMyPoint will let you know if any nights open up for awards
You can set a daily change alert, whereby on a daily basis, MaxMyPoint will notify you when new standard reward dates become availability in the next 365 days
Above I covered MaxMyPoint pricing, and as you can see, Platinum gives you access to the most alerts, with the most frequent alerting. However, even free members can set one active alert.
Setting an alert is easy. Just click on the little "bell" icon next to a property, and then you can select the hotel, the check-in and check-out date you want, and the price range. The points price range is useful with Hilton Honors, for example, given that the program has dynamic award pricing, so there's almost always availability, but often at a very high cost.
It goes without saying that the value for finding points availability at a luxury property could be huge.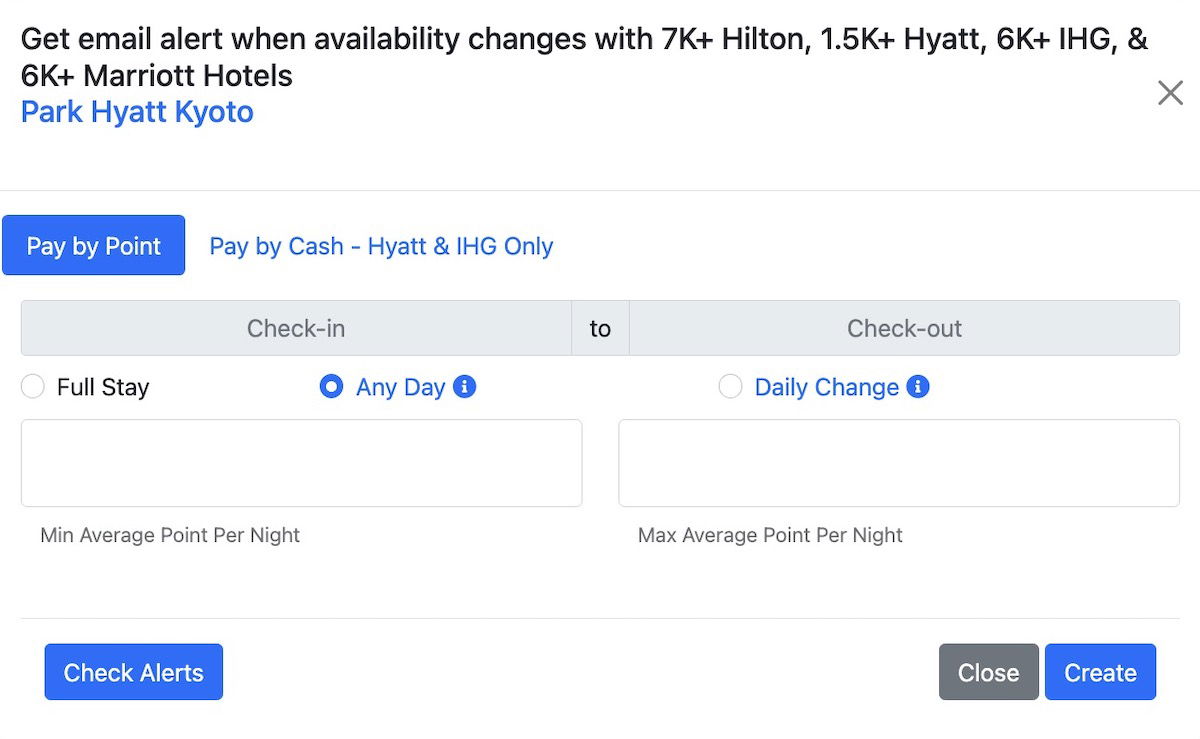 Bottom line
MaxMyPoint is a useful website for finding hotel award availability. For one, it offers a calendar view with both award and revenue pricing. I find this to be especially useful for World of Hyatt and IHG One Rewards, since these programs don't otherwise have easily accessible calendars for finding award availability.
MaxMyPoint can also be useful for setting hotel award alerts, as you can be alerted if award availability opens up at a particular hotel. This feature is more robust for paid members, as you can set more alerts, and be alerted of new availability sooner.
If you've used MaxMyPoint, what did you make of it?