While redeeming American AAdvantage isn't as lucrative as it used to be (both in terms of redemption rates and in terms of partners, given the number of partners they've lost lately), there are still some great redemption opportunities. For example, one of the unique partners that American has is Air Tahiti Nui, allowing you to earn and redeem miles for travel on them. Air Tahiti Nui doesn't have that many airline partners, so this is one of the few ways to redeem miles on them.
A bit over a year ago I flew Air Tahiti Nui from Los Angeles to Paris. This flight was operated by one of their A340s, and the experience was alright.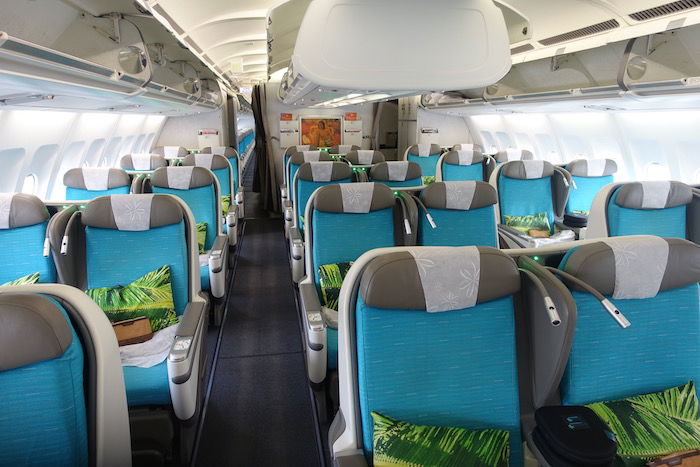 Air Tahiti Nui's A340 business class
The good news is that the airline will soon be refreshing their fleet, and replacing their A340s with 787s, which will feature a new business class. The first 787 will join Air Tahiti Nui's fleet in November 2018. I've never been to Tahiti before, so this seems like a good opportunity to review their new 787 and visit Tahiti.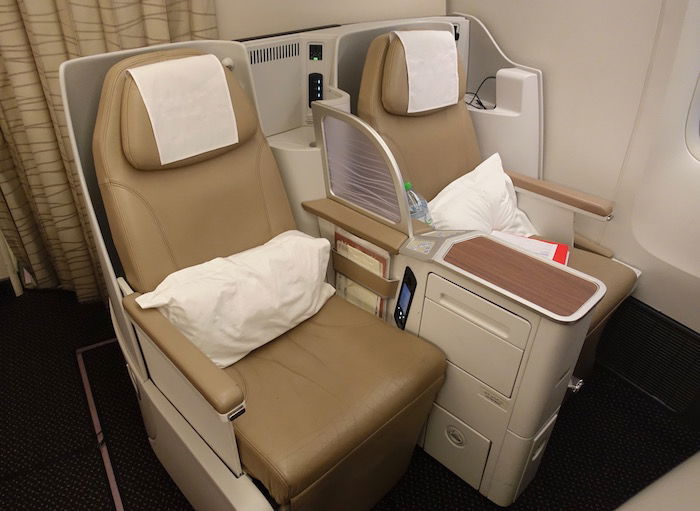 B/E Aerospace Diamond seats (the style of seat Air Tahiti Nui will have on 787s)
Anyway, if you're looking to redeem American miles on Air Tahiti Nui, there's an update to this process as of a few months ago that may stump people, which is the main purpose of this post.
Searching Air Tahiti Nui award space
Unfortunately Air Tahiti Nui award space doesn't show up on American's website, so you need to book by phone. Given how tough Air Tahiti Nui award space is to come by, I recommend searching availability on your own first. The best place to do so is through ExpertFlyer, which is a subscription service. They let you easily search economy and business class award space for a week at a time.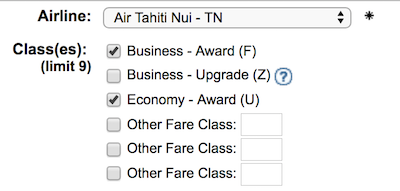 Where Air Tahiti Nui flies, and how many miles it costs
Here are the routes that Air Tahiti Nui serves, along with how many American AAdvantage miles a one-way ticket will cost you (economy/business):
Papeete to Auckland (15,000/30,000)
Papeete to Los Angeles (40,000/80,000)
Papeete to Tokyo Narita (30,000/40,000)
Los Angeles to Paris (30,000/57,500)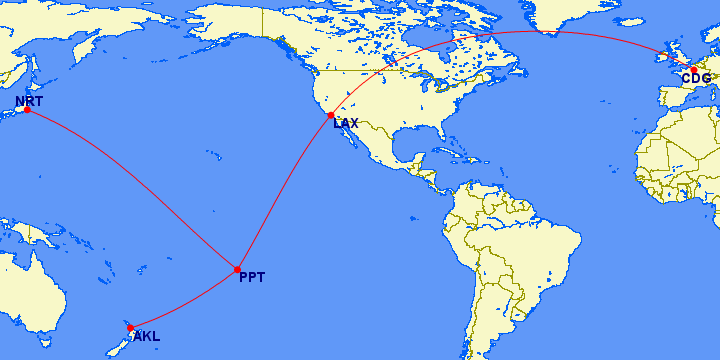 I'd note that while Los Angeles to Tahiti is obviously the most practical route for those based in the US who want to travel to Tahiti, the Tokyo to Tahiti flight is a much better value on miles. The route is significantly further, and only costs half as many miles in business class. So if you want to combine a vacation to Japan and a vacation to Tahiti, that could be a good value.
Not only that, but award availability to/from Tokyo is way better than award availability to/from Los Angeles.

Calling American to redeem miles on Air Tahiti Nui
Air Tahiti Nui uses the following fare "codes" for award tickets:
Business class awards — "F"
Economy class awards — "U"
Aside from the hilariousness of "FU," these are generally confusing codes for an American AAdvantage agent:
"F" is usually the code for paid first class
"U" is usually the code for business class awards on oneworld
These codes have only recently been updated, because up until last year Air Tahiti Nui business class awards used the "I" code," and Air Tahiti Nui economy awards used the "W" code.
As a consumer none of this should matter, though it looks like American hasn't fully updated their systems yet so that agents can easily book these. Let me explain in the form of an example. Last night while booking my ticket I had a really competent Executive Platinum agent (not being sarcastic, she was awesome, which is nowadays the exception rather than the norm):
Me: "I was hoping to book two Air Tahiti Nui business class awards from Los Angeles to Tahiti on ______. I think the seats should be available."
Agent: "That's strange, the fare class isn't even coming up for me for their business class."
Me: "Out of curiosity, what fare class are you searching?"
Agent: "I'm looking at 'I.'"
Me: "I was told that the fare class for Air Tahiti Nui business class awards was recently changed to 'F,' which seems weird for an award fare bucket, but…"
Agent: "I see two 'F' seats, let me see if I can snag those. Bear with me, they're coming back unconfirmed, I'm not sure why. Let me try this in a different system. If that doesn't work I'll talk to my support desk."
She was clearly trying hard, while many other agents might say "nope, it can't be booked." After being on hold for a couple of minutes she returned.
Agent: "I got those two seats confirmed for you."
Me: "Great, thanks so much. Just so I know for the future, was there some issue with Air Tahiti Nui seats confirming, or what exactly happened?"
Agent: "Yeah, they use a different system. Usually when we book awards we put in the award code first, but that doesn't work with Air Tahiti Nui. Instead I just put in the word 'AAdvantage' rather than the code, which is what was needed to get this to work. It's just a new system that's different."
Bottom line
I can't wait to try out Air Tahiti Nui's new 787 business class, and finally visit Tahiti. I'm still finalizing the rest of the trip, though I'll be flying another airline in the other direction. I'll let you guys guess what airline that is. 😉
If you want to redeem miles on Air Tahiti Nui I suggest doing the research yourself before calling, because space out of Los Angeles is limited. The real sweet spot is redeeming between Tokyo and Tahiti, which is a nearly 6,000 mile flight, and only costs 40,000 miles in business class. That route gets the new 787 as of February 2019.