While British Airways Executive Club is not the best value loyalty program in the world, Avios are easy to accumulate, especially if you live in the UK. I find myself earning them almost faster than I can use them, and there's plenty to like about British Airways.
Of course I would love use them to book a first class redemption to somewhere exotic, however the Avios needed for long-haul premium class redemptions can be hundreds of thousands of Avios and combined with the frustrating UK APD and carrier surcharges, you may need to get creative to get the most out of your Avios.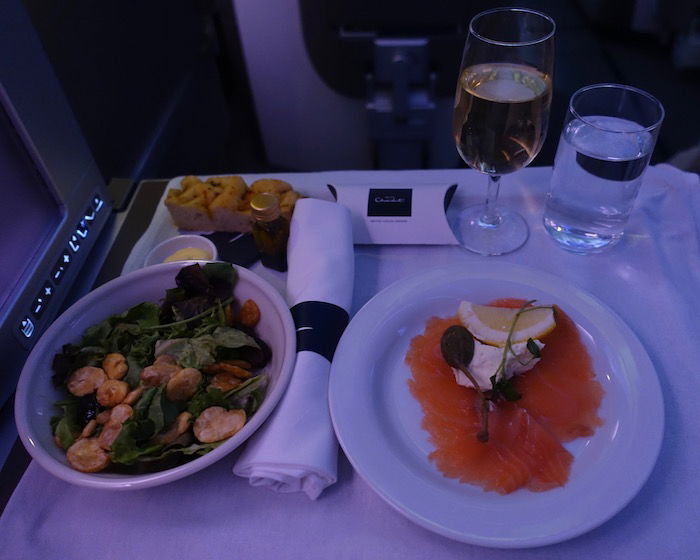 If you do find yourself booked in a lower class of service on a British Airways flight, such as World Traveller (British Airways' name for their economy product) or World Traveller Plus (their premium economy), it may be a smart use of Avios to consider an upgrade.
Who can upgrade?
If you have:
an eligible British Airways operated cash ticket (with a BA flight number),
sufficient Avios in your Executive Club account,
and there is award availability in the higher class,
you can upgrade.
But let's break down each of those requirements.
1. Eligible flight
The cheapest deeply-discounted economy tickets unfortunately cannot be upgraded. This means fares in Q, O and G fare buckets are ineligible. To use an example for this article, I've selected the cheapest flight to New York on British Airways' website on a particular date, which is a basic economy fare.
On the Flight Summary screen, if you click on 'Flight details' it will reveal the fare bucket in a pop-up window.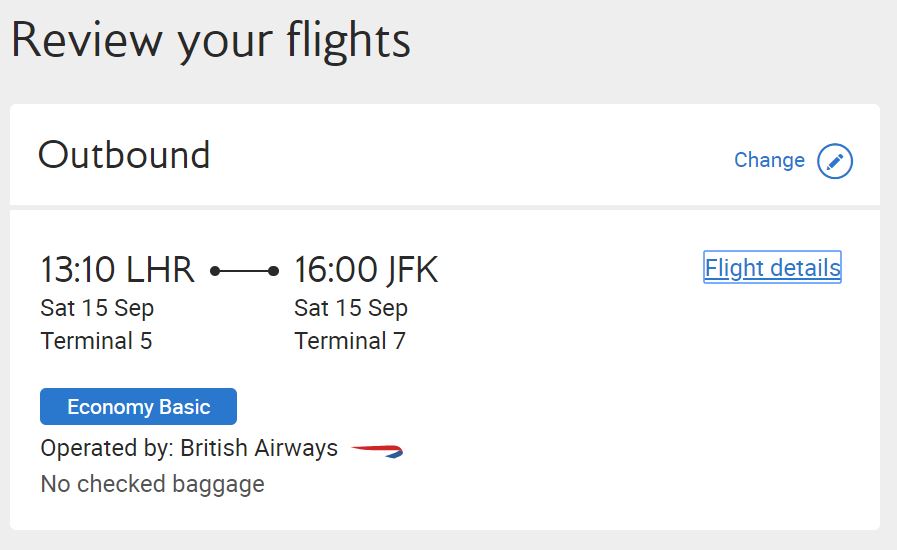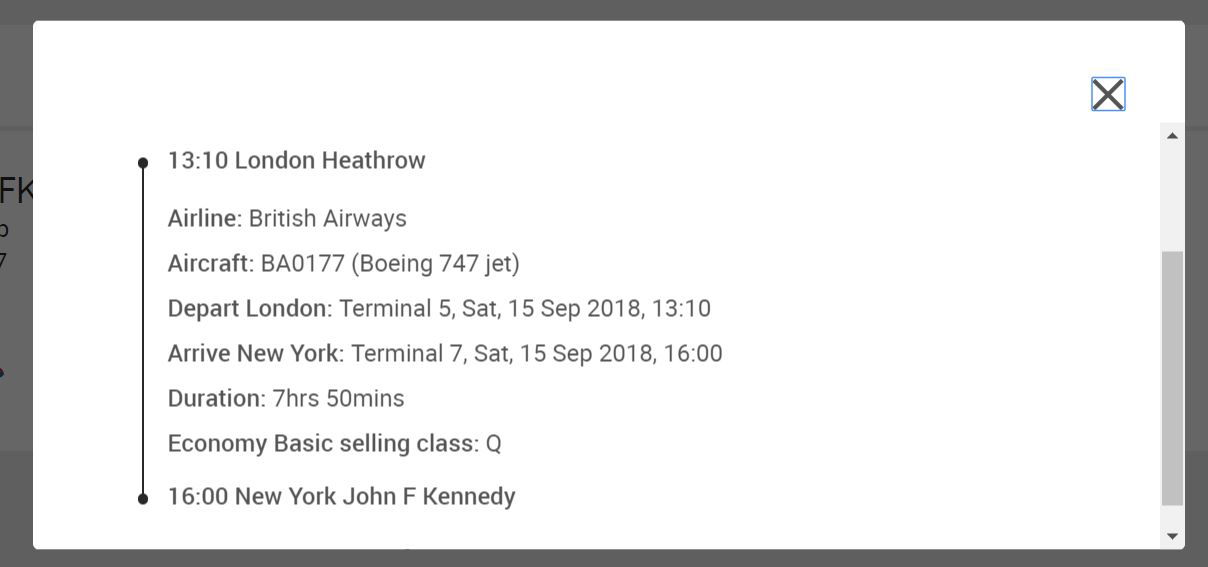 This fare is 'selling class: Q' class/bucket which means it is ineligible for upgrading with Avios. While it's frustrating to have this restriction, it is fairly common in the airline industry. If you are planning to purchase an upgradeable fare please triple check it is the right fare class/bucket first!
If your economy ticket has a selling class other than Q, O or G (i.e. it is selling class T, Y, B, H, K, M, L, V, S or N) then it is an upgradeable selling class.
Fortunately virtually all World Traveller Plus and Club World cash fares are upgradeable.
You can only upgrade one class of service, so:
World Traveller to World Traveller Plus (or Euro Traveller to Club Europe for short-haul flights)
World Traveller Plus to Club World
Club World to First, where first class is offered
2. Sufficient Avios
This is where it gets a bit tricky and I must admit I was confused even researching and writing about this part.
Avios uses distance based award charts for everything, but rather than just having an upgrade chart to reference, the Avios required is the difference between the Avios needed for the cabin you wish to upgrade to, less the Avios required for the cabin you have already paid for.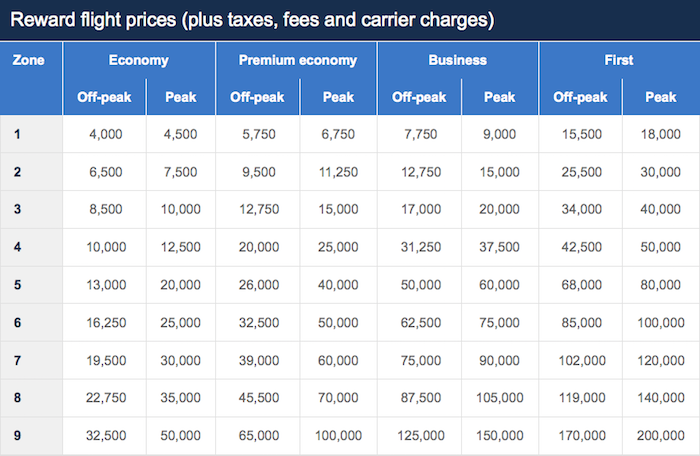 The zones are distance based, as follows:
Zone 1: 1 – 650 miles
Zone 2: 651 – 1,150 miles
Zone 3: 1,151 – 2,000 miles
Zone 4: 2,001 – 3,000 miles
Zone 5: 3,001 – 4,000 miles
Zone 6: 4,001 – 5,500 miles
Zone 7: 5,501 – 6,500 miles
Zone 8: 6,501 – 7,000 miles
Zone 9: 7,000+ miles
Again, using the New York example above, had I booked an eligible fare in World Traveller Plus on BA179 knowing that there was a Club World redemption seat available on that flight (see point 3 below), then LHR-JFK is 3,451 miles, which falls into Zone 5.
September 15 is classed as an 'off-peak' day by British Airways. For some bizarre reason it is less Avios to upgrade this Zone on a peak day than a non-peak day (20,000 vs 24,000).
Zone // Distance

Economy to Premium Economy: Off Peak // Peak

Premium Economy to Business: Off Peak // Peak

Business to First: Off Peak // Peak

Zone 1
1-650 miles

1,750 // 2,250

2,000 // 2,250

7,750 // 9,000

Zone 2
651-1150 miles

3,000 // 3,750

3,250 // 3,750

12,750 // 15,000

Zone 3
1151-2000 miles

4,250 // 5,000

4,250 // 5,000


17,000 // 20,000

Zone 4
2001-3000 miles

10,000 // 12,500

11,250 // 12,500

11,250 // 12,500

Zone 5
3001-4000 miles

13,000 // 20,000

24,000 // 20,000


18,000 // 20,000

Zone 6
4001-5500 miles

16,250 // 25,000

30,000 // 25,000

22,500 // 25,000

Zone 7
5501-6500 miles

19,500 // 30,000

36,000 // 30,000

27,000 // 30,000

Zone 8
6501-7000 miles

22,750 // 35,000

42,000 // 35,000


31,500 // 35,000

Zone 9
7001+ miles

32,500 // 50,000

60,000 // 50,000

45,000 // 50,000
British Airways Executive Club Upgrade Pricing with Avios
Therefore the Avios required to upgrade would be 50,000 Avios (Zone 5, Business off-peak) less 26,000 Avios (Zone 5, Premium Economy off-peak), so 24,000 Avios.
On the surface, this seems like excellent value.
However be aware that you will also have to pay any additional fees, taxes and carrier charges applicable to the higher fare class.
Now fortunately, or unfortunately, the expensive UK APD is high for all 'premium' flights, which includes premium economy, business and first class. So there will be no increase in UK APD if upgrading from World Traveller Plus to Club World.
However if you were upgrading from World Traveller to World Traveller Plus, the UK APD Tax would jump from £78: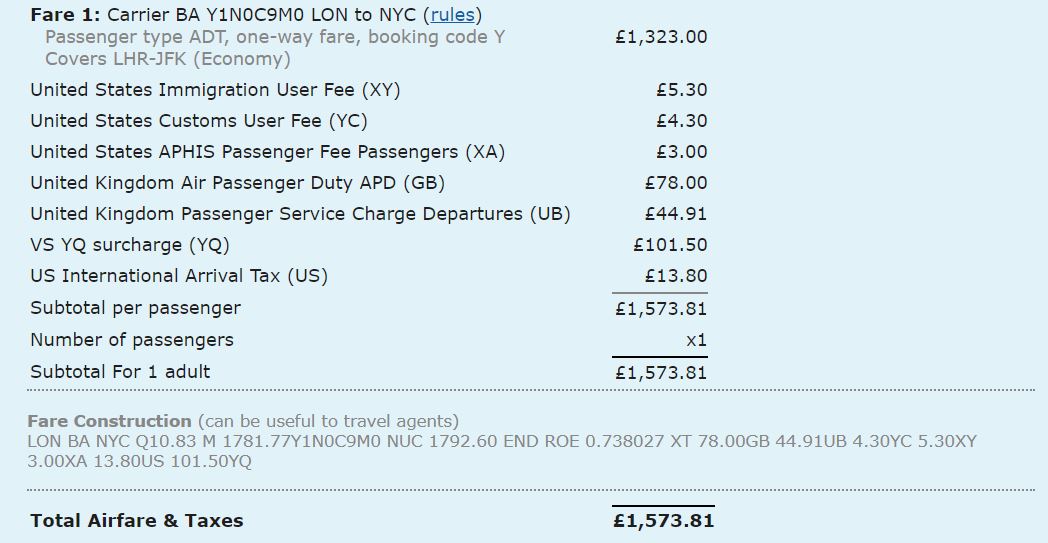 to £156: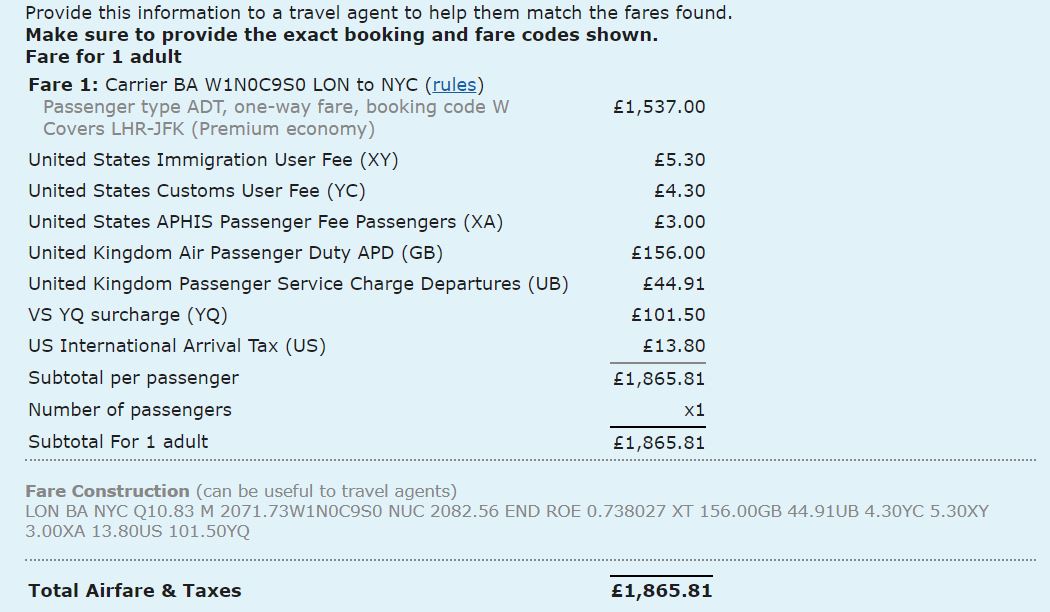 and this additional tax would be payable if upgrading.
You will only earn Avios and Tier Points for the fare class you have paid for, not upgraded to, which I think is a fair rule to have.
3. Award Availability
The next big restriction is that you can only upgrade if there is a standard award seat on that flight in the higher class available on your flight. While World Traveller Plus award seats are fairly common, Club World and First award seats are rare and often snapped up as soon as the schedule opens. There may be additional seats added at a later date but I would not assume there will be.
Using the New York example from above, I can see from ExpertFlyer that there are no award seats in any class available on that flight (BA177) on that day. Therefore at the time of writing, there is no ability to upgrade on this flight, regardless of what ticket you have booked.
You could also check BA.com for a standard award seat to determine upgrade availability.
If you had booked on the later BA179 flight that day, there is a Club World seat available, so using the one-class-upgrade rule, if you had booked a World Traveller Plus ticket, you could then use Avios to upgrade to Club World on this flight (only), as shown on the ExpertFlyer screen shot below.
If you had booked a flexible World Traveller Plus cash ticket on a different flight this day, and wanted to upgrade, you could check what the change fees (and any fare difference) may be to change to the BA179 flight, in order to upgrade.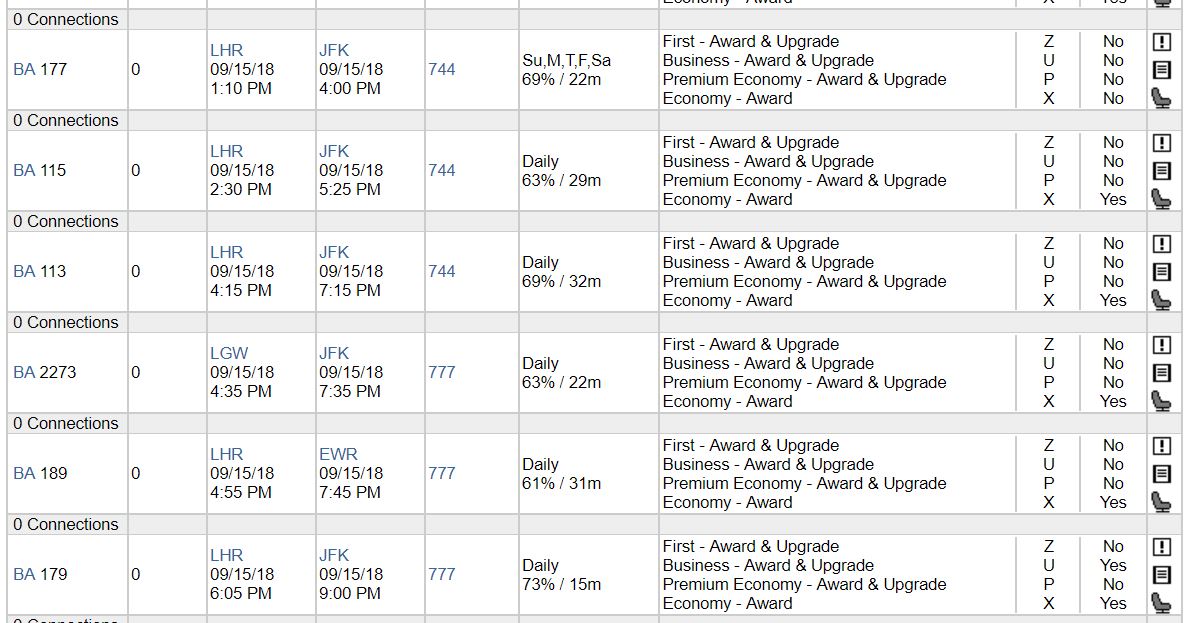 Some airlines like Qantas allow anyone to enter an upgrade 'lottery,' where you can submit an upgrade request regardless of whether there is currently an award seat in the higher class of service of not, and upgrade requests are processed in order of status in the days leading up to the flight.
While this method would appear to potentially give you a better upgrade chance because there is no requirement for an award seat to be available (like BA does), I prefer the BA method, as there is actual certainty in knowing whether you can upgrade or not (even if the chances remain low).
Qantas has a similar restriction that the cheapest sale fares cannot be upgraded, so I would be extremely annoyed if I had bought a more expensive upgradeable Qantas economy ticket, submitted my upgrade, the upgrade had not cleared and I was stuck in economy knowing I'd paid more for my ticket than I needed to!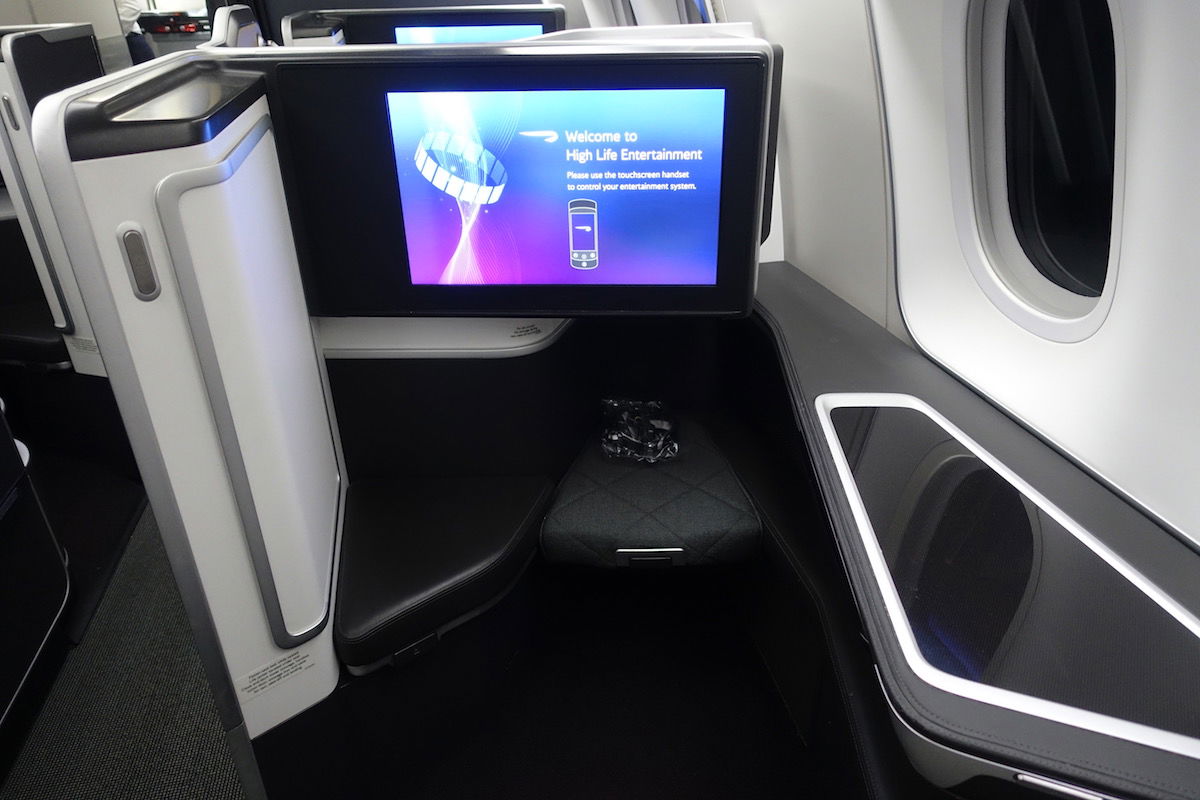 How to actually upgrade
If you've met all the requirements, and you are comfortable with the costs, then the process of upgrading is actually quite easy and I do need to commend British Airways for this. You can upgrade only one flight of a multi-sector journey if you wish, but you would most likely have to call British Airways in order to do this.
Note that you can only use Avios from your Executive Club account and not an Iberia Plus account for those of you who may have participated in the recent Iberia Plus promotion. You also need to upgrade in advance – don't try and do it at check in.
But for simple itineraries, simply go to the Manage My Booking section of your Executive Club account, scroll down to 'Your booking details' and expand the actual flight details.
Here's an upcoming flight in my Executive Club account:

Then select the Upgrade tab, and click on Upgrade with Avios: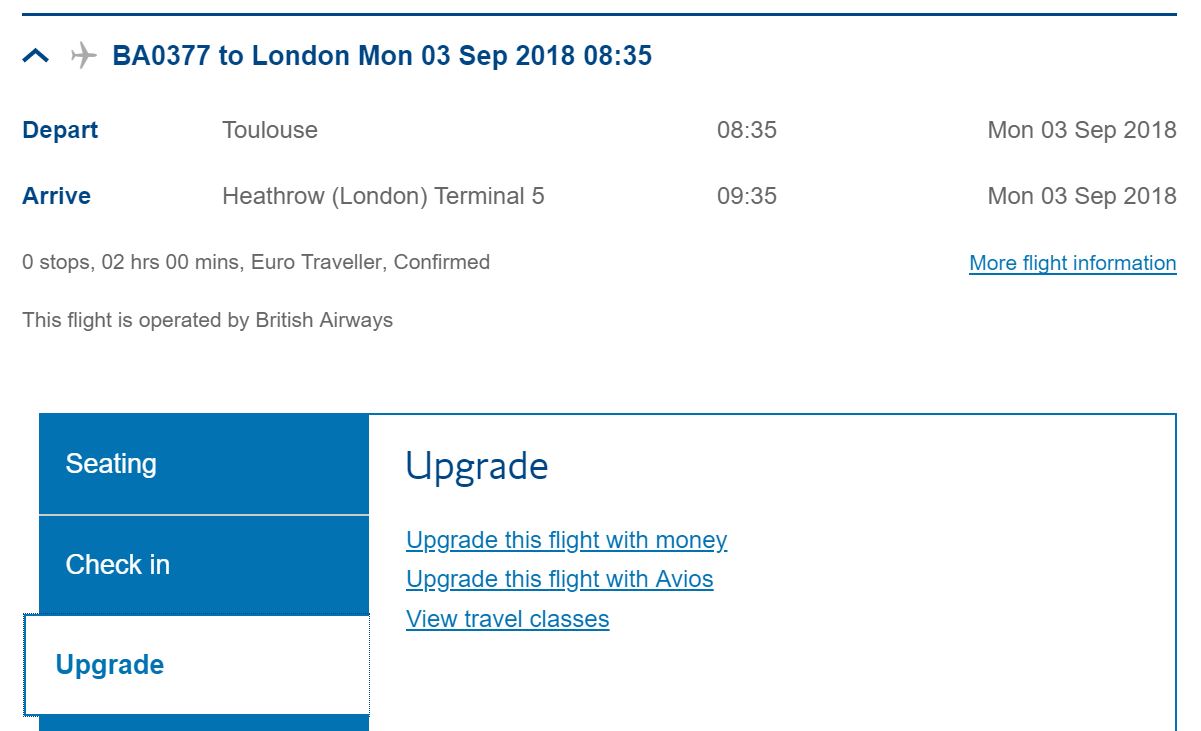 I was hoping to walk you through the process of upgrading this flight online, however I get this error message despite booking the cash ticket on BA.com just a few days ago!

Now this was a fairly expensive economy short-haul cash ticket (long-story!), and I did check for Avios award availability before booking as it would have made sense to book an award seat for this flight, in Euro Traveller, or Club Europe. However, there was no award availability in any class on this flight when I booked.
Just to be sure, I'll check ExpertFlyer again:

As expected, there is no business class award availability on the morning flight, which may be why there was no option to upgrade online.
If there was the option to upgrade online it's a simple process – the website will check the availability, and then calculate the Avios and any additional fees, taxes and carrier charges required. It will then present the price to you (Avios + cash) and you can elect to proceed if you wish.
For short-haul flights you can upgrade from economy to business class because that is a one-class upgrade, because there is no premium economy on these flights. As this just slides into a Zone 1 off-peak, it would be 7,750 Avios (for a business redemption), less 4,000 Avios (being the economy redemption cost which is considered the cost I have already paid for my cash ticket), so 3,750 Avios. Even though Euro-business is pretty terrible, this isn't a bad upgrade cost (if it was available!).
However, as this is a morning flight and I have BA status, this is not good value in my eyes for a breakfast meal.
So I doubt I will upgrade, even if an award seat becomes available.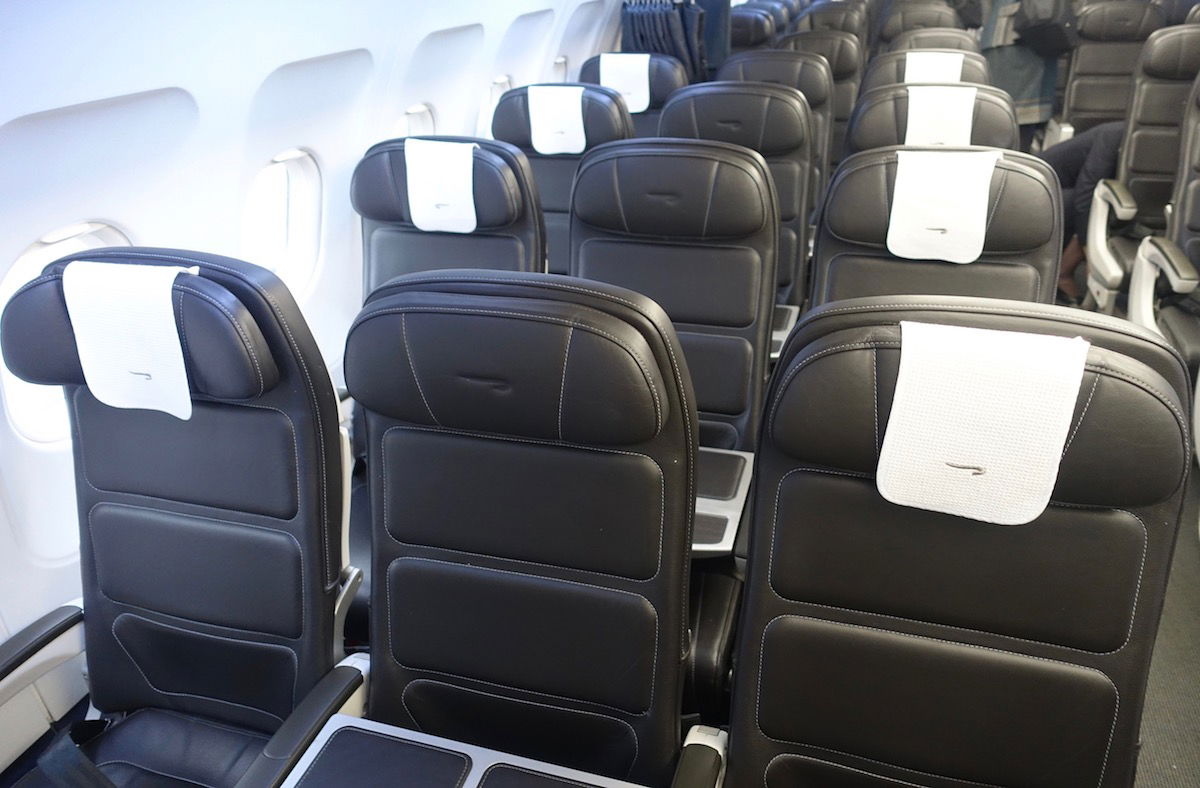 Can you upgrade on other airlines using Avios?
Some yes, but naturally there are caveats. If you have booked a fully flexible ticket through British Airways only on American Airlines, or Iberia (Y or B selling class/bucket) you can upgrade one class. I have not done this myself, so imagine you would need to call British Airways to do this.
I'd love to hear in the comments below if anyone has done this themselves.
Bottom line
There are lots of rules and a few hoops to jump through, but generally, upgrades with Avios can be good value and a good use of a points currency that is often poor value.
Upgrades are particularly handy for those traveling for business on strict corporate travel policies, who may be forced to book (flexible) World Traveller or World Traveller Plus fares, but may have plenty of Avios from previous business travel and are keen for a more comfortable ride.
My favourite use of upgrades remains 4,000 – 4,500 Reward Fare Savers to Europe as they have proved great value several times, although a smart use of the British Airways Amex 2-4-1 Companion Voucher can also be a great use.
Have you used Avios to upgrade?