Earlier this week Delta changed the verbiage on their website to suggest SkyMiles would no longer allow mixed-cabin awards. It turns out the changes on the website were poorly worded, and were intended to reflect changes implemented as of January 1st.
As Live and Let Fly summarized,
The changes do not appear to be as bad as imagined — rather they are more a formal acknowledgement of what has already occurred on delta.com, the inability to book a round-trip award in one direction in economy class and the other in business class.
Or so they claim.
But this is SkyMiles, so of course there's more to the story.
Disclaimer: We are going to get into some heady stuff in this post. I would be shocked if there are more than a few dozen people who understand this currently. I only get it (or think I do), because I am fortunate enough to have my colleague Mac, who knows more about the inner workings of the SkyMiles program than most people with a Delta Employee ID card anyone.
I'll do my best to explain everything, but this is pretty complex. And if you have Delta SkyMiles, or plan on having Delta SkyMiles, you should have a general idea of how Delta prices awards, but it's okay if you don't understand this all at first. You can bookmark this and come back later, I don't mind. 🙂
Now that everyone but my mother has stopped reading (Hi Mom!), let's dive in to how Delta prices awards nowadays.
How multi-cabin awards actually price
The spotlight has been focused on the "round-trip" question, which makes sense given the higher fees charged for originating outside the US. That aspect has been blogged about extensively, so what I'd like to focus on is how SkyMiles prices awards, and what you can expect to pay for your trip.
We already know some of the basic rules, based on how Delta priced award tickets prior to 2015:
SkyMiles has multiple pricing tiers (1-5)
Partner-operated segments fall into the lowest tier of pricing (so always 1)
Mixing tiers can cause additive pricing, or force the entire award into the next tier
These rules are still in place, but in addition to the pricing tiers (which you just have to trust me on, as Delta no longer publishes their award charts), the tiers are further divided by aircraft type.
Yes, aircraft type.
So it's no longer enough to look for low-level space (or space at an equivalent tier to your long-haul segment), you have to consider whether that particular airplane has the potential to have First/Business class seating, even if award inventory isn't available.
Here's (my attempt at) an illustration of how SkyMiles prices awards in practice: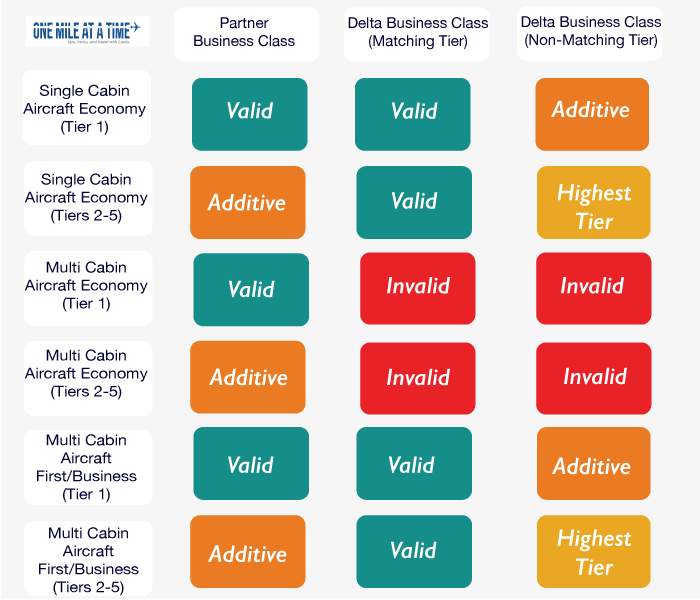 As before, if you're not matching up your pricing levels, the pricing either becomes additive, and you effectively pay for multiple awards, or you pay for the entire award as though it were at the highest tier.
This is how the pricing for SkyMiles awards has become downright laughable in the past — the combination of multiple pricing tiers and additive pricing can produce ridiculous results, like domestic itineraries for 300,000 miles.
So crazy numbers have always been a key element of SkyMiles redemptions.
What's new, however, is that in practice, Delta has eliminated mixed-cabin itineraries on Delta metal with the exception of single-cabin aircraft.
Not only do these awards not price correctly online, but the combinations labeled as "Invalid" above will not price at all.
Even if you call and ask for specific award fare buckets (and find an agent willing to play along), the computer will override the agent and force the mis-matched economy segment into the appropriate first/business class tier. If it's not available, and you really want those specific economy flights, it has to be issued as two separate records.
I have no idea why this is. I'm not entirely sure this was even intentional on the part of SkyMiles. But it's consistent.
Delta.com is better but still not accurate
Despite Delta's insistence that "the price is the price," the website continues to be…well, I'd say error-ridden, but I am grown-up enough to suspect it's working as designed.
As an example, let's look at a trip from Savannah to Paris. We're going to look at economy awards to try and simplify things, and the goal here is to find the lowest level of space — 30,000 miles each way.
Searching segment-by-segment, we can see Air France has award space between Atlanta and Paris.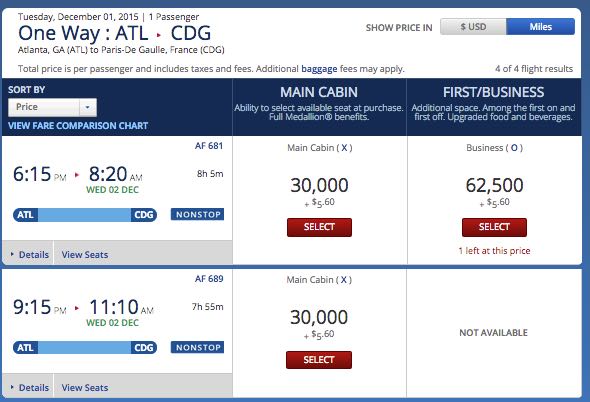 Partner awards always price at the lowest tier, so we're going to be looking for Tier 1 award space between Savannah and Atlanta. Fortunately, every single flight has space (this image only shows half of them):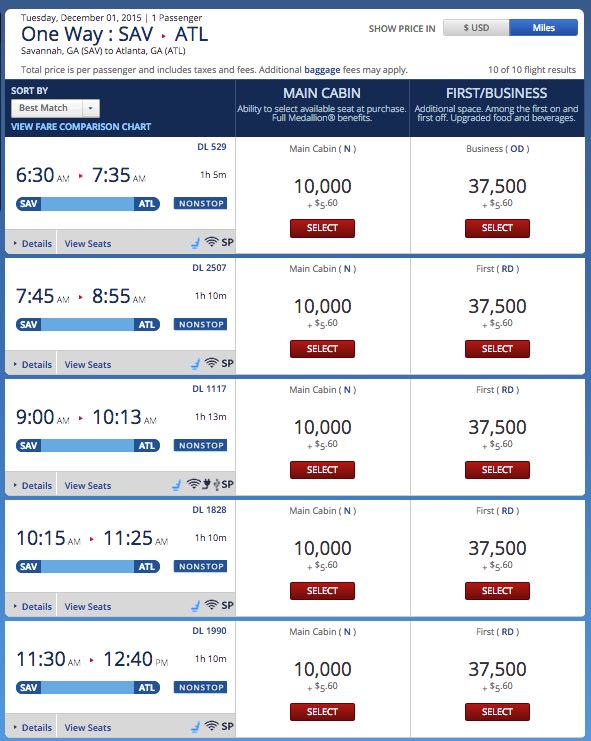 Based on everything we know, this award should price at 30,000 miles for the one-way in economy, right? But look at what happens once you enter Savannah > Paris into the award search tool: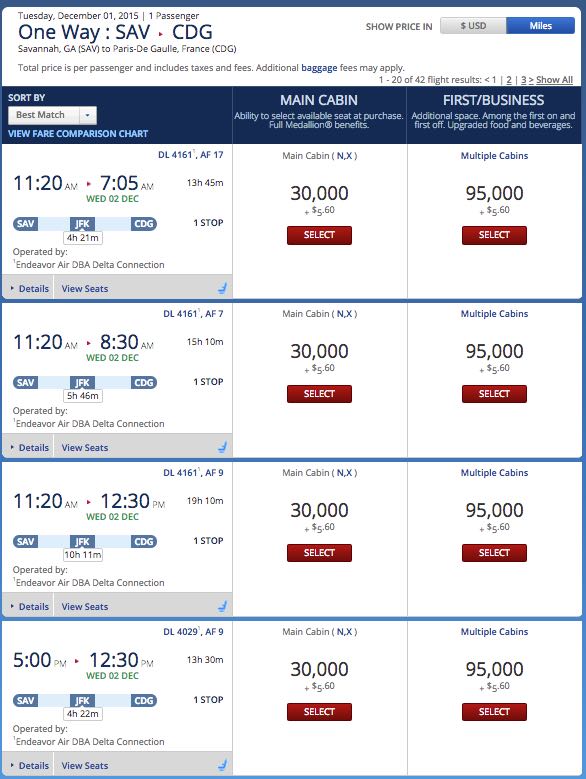 Where did all the Air France flights from Atlanta go?!?
Sometimes websites need help, so let's narrow the results to force the Atlanta connection: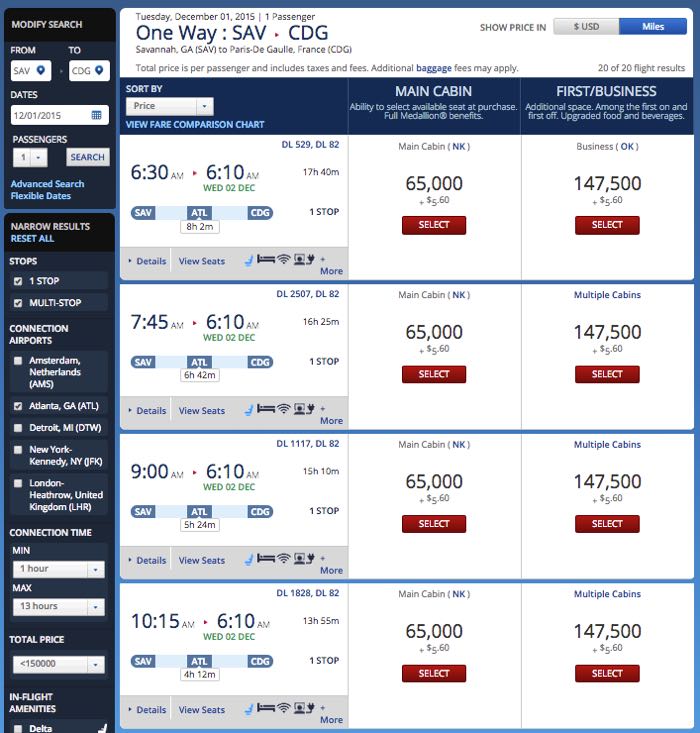 No? What about if we enter the flights we want into the multi-city tool?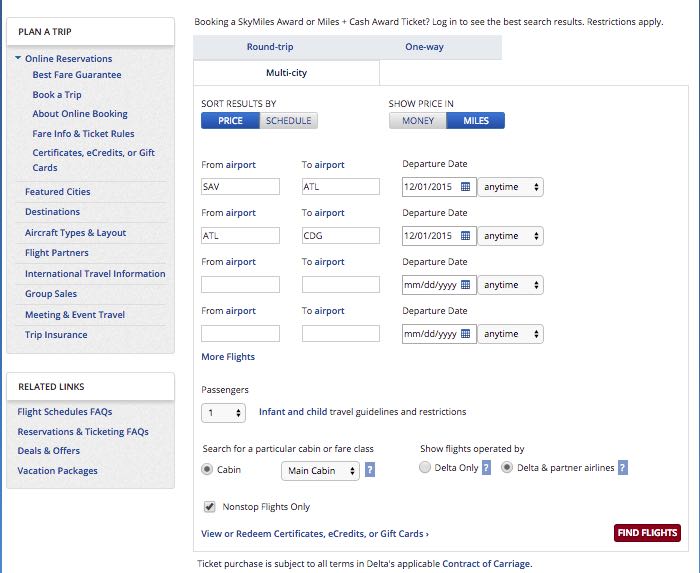 Still no.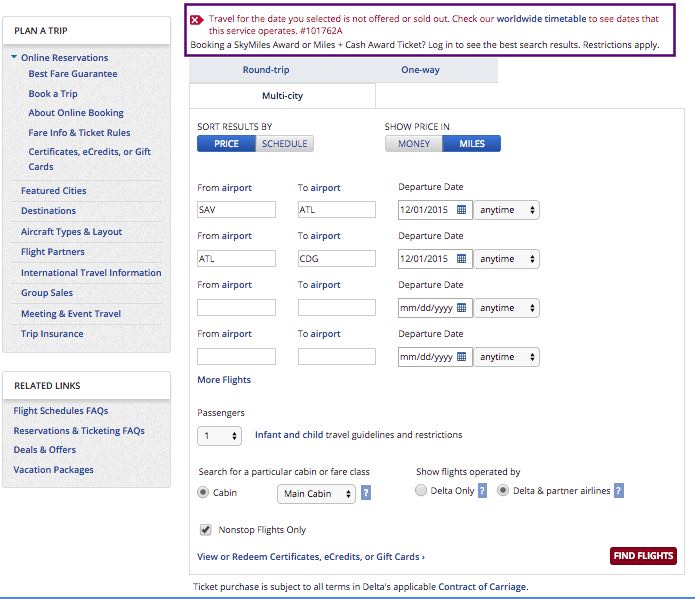 I have no idea why this doesn't work. However, as this itinerary is all at the same tier, and doesn't use Delta metal for the longhaul portion, this should be bookable at the 30,000 rate if you call.
Mysterious routing rules
While awards involving partners can be priced differently over the phone, when it comes to awards on Delta metal, the price you see is the price you get.
For a trip between Charleston and Dublin, for example, let's look first at space between Atlanta and Dublin. Delta flies this route non-stop, and has business class availability at the Tier 1 level of 62,500 miles: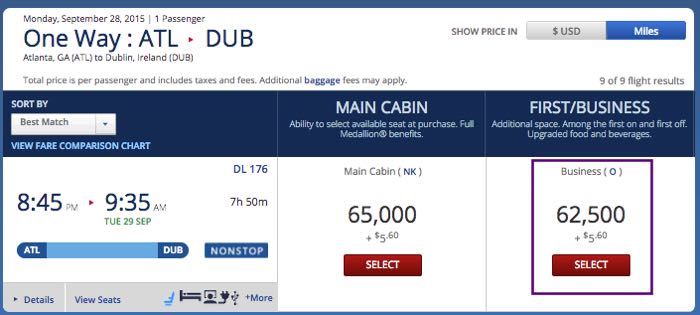 If we follow the rules that we know, we should be able to have the entire one-way itinerary price at Tier 1. Our choices for connecting flights then are:
Single cabin aircraft at the Tier 1 economy price
Multi cabin aircraft at the Tier 1 first/business price
Partner flights, which are always Tier 1
Looking at the next segment, two of the flights between Charleston and Atlanta have Tier 1 space in first.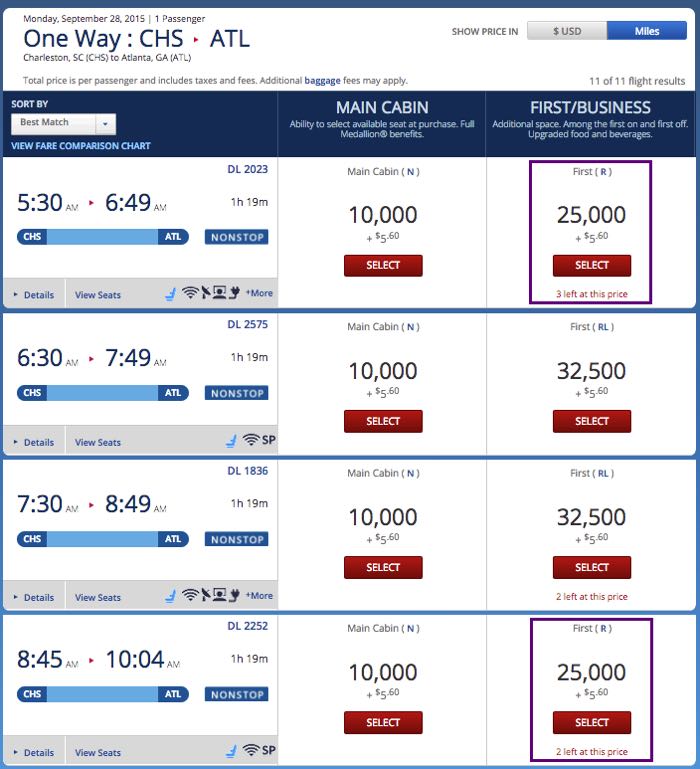 Based on the rules we know, combining the 5:30AM flight from Charleston with the long segment to Dublin should price at 62,500 (matching tiers, in the same class of service).
But it doesn't. Because SkyMiles.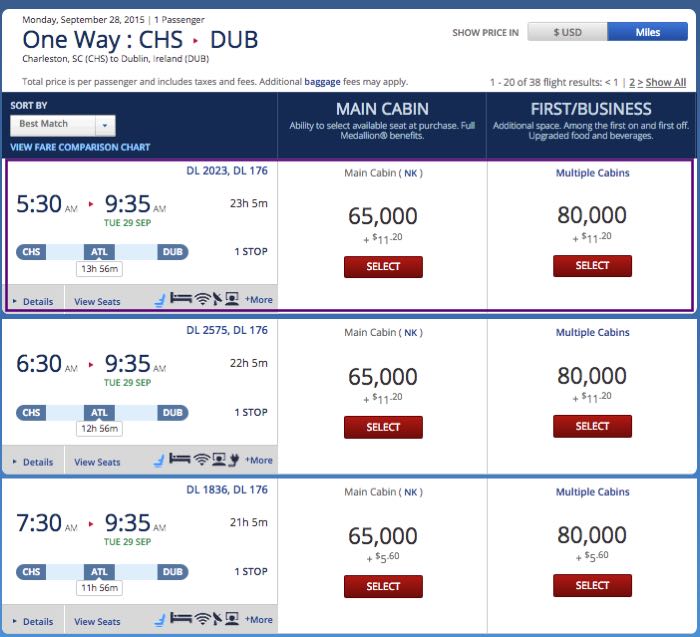 Hmmm…
Another example, and this time let's look at economy. For a trip between Savannah and Dublin, there is Tier 1 space on the Atlanta > Dublin flight: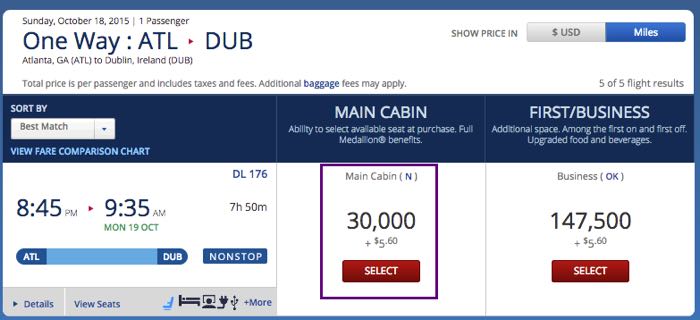 Even better, every single Savannah > Dublin flight is at the Tier 1 level as well, so you'd think you'd be able to choose the most convenient connection.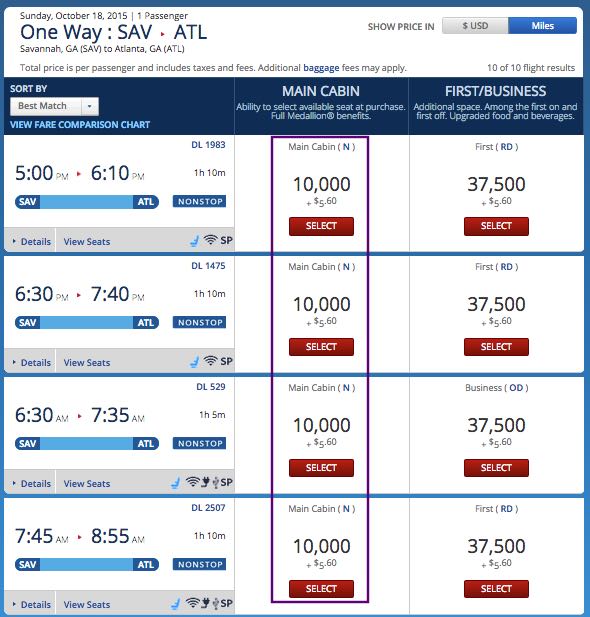 But you'd be wrong.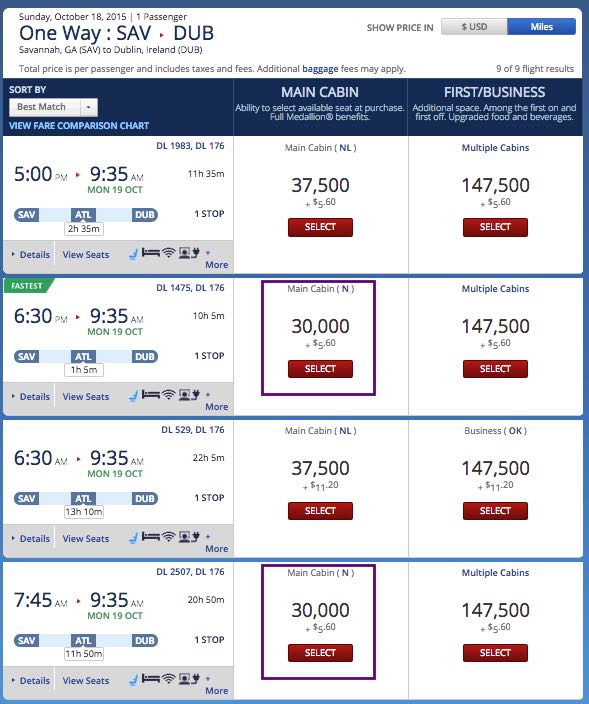 Only certain combinations of flights will price at the lowest possible level. Other days you won't see any combinations at the lowest level, even when both segments are at the lowest tier. Calling will not change the price.
We see this time and time again (and mostly Mac, because he has the patience of all the Saints). There is some additional element to the award pricing algorithm nowadays. Delta ultimately wants award pricing to vary based on market rates, and it seems that a minimum price is being set on some routes, regardless of the individual components.
Mac asserts (and I tend to agree), that this is the next step in further pegging the redemption side of SkyMiles to revenue. In some cities (Savannah and Charleston are particularly subject to this, along with other smaller cities where Delta has control of the market), the lowest effective award price to Europe is 28% more expensive than in 2014.
You don't see this happening as much in more competitive markets, and again, if you use partner airlines for the long-haul segment, this isn't an issue.
Can't I just call the manual reissue desk?
In the good old days, the manual reissue desk could hand-compile awards that other agents couldn't.
My guess is that this is still possible in some circumstances, but you're going to have to spend some time to find a willing agent. Delta agents have been told "the price is the price" and that each market is different, so they don't have a reason to manually build an itinerary.
So you can try, but I can almost guarantee this isn't worth the time required in most cases.
Bottom line
Regardless of what is being allowed in terms of round-trip awards, SkyMiles is already limiting mixed-cabin bookings. Delta seems to be taking steps towards more actively controlling the price of certain routes as well.
In terms of pricing your own awards, all this essentially boils down to two best practices:
If all your flights are on Delta, the price the computer gives you is the price you're getting
If you're leveraging a partner (and you should!) the old rules of searching segment by segment for the lowest tier still apply
I have always found SkyMiles to be useful, and I'll continue to use SkyMiles despite the program changes — my household is even actively working on minimum spends for new Delta credit cards. So even if you don't want to learn the minutiae of the program (and no one would blame you!), having a general understanding of how awards price will hopefully help you to use your miles more effectively.
Questions?
Again, many thanks to Mac, for patiently explaining this to me and others on a near-daily basis.