Over the weekend Alitalia devalued their program overnight, and implemented new pricing for SkyTeam partner awards with seemingly no notice.
I wrote about MilleMiglia in November of 2014, and noted that Alitalia had a separate award chart for SkyTeam partners at that time:
In nearly all cases, these are lower than what Delta or Air France would charge. However, the award charts are set to be updated next year (or last Saturday, according to their Greek language website), so I wouldn't count on these prices sticking around.
So while it's annoying that the partner award chart was updated overnight, it's not like we didn't have any notice. We just didn't have specifics, nor a timeline, but this has been theoretically happening "domani" for years.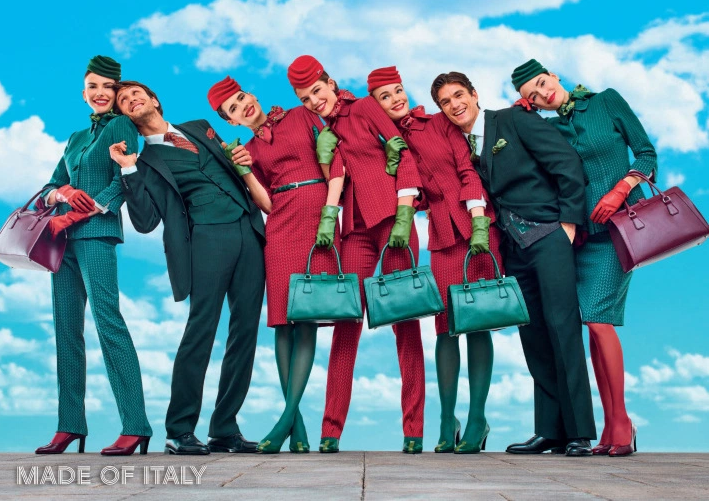 Fortunately, however, the price of awards on Alitalia hasn't changed, nor has my favorite part of the program.
The hidden gem of the Alitalia program
SkyTeam awards have typically been problematic through Alitalia, in my opinion. Sure, you could always luck out and find low-level Delta award space, which would have given you that 80,000 mile partner award with ~$300 in fees, but the routing restrictions and fuel surcharges limit the usefulness of these awards in many cases.
And that hasn't traditionally been the sweetest spot in MilleMiglia anyway. I was actually talking about this yesterday afternoon at the Chicago Seminars, but using MilleMiglia miles for upgrades can be a great option.
Unlike U.S. airlines, where upgrades are often of dubious value, many foreign carriers have more reasonable upgrade schemes.
This is especially true of Alitalia, as they don't require business class award inventory to be available for upgrades. As long as "I" space is available — which is their lowest business class fare bucket, you can upgrade from economy or premium economy to business.
Theoretically (and according to the English-language chart), you only need 12,500 miles to upgrade a long-haul flight between North America and Italy: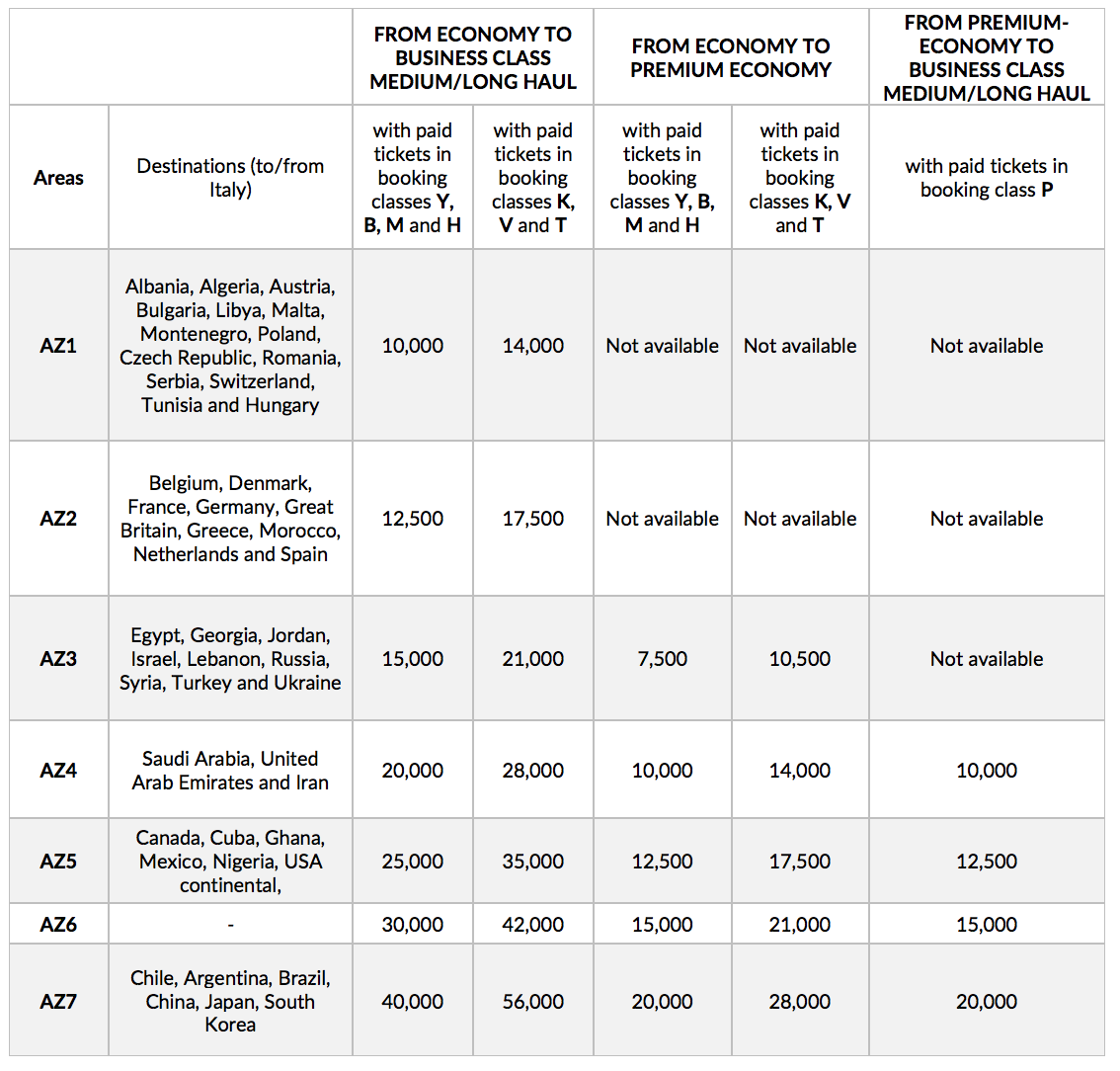 In practice, prices are often the same as what is listed on the Russian-language site: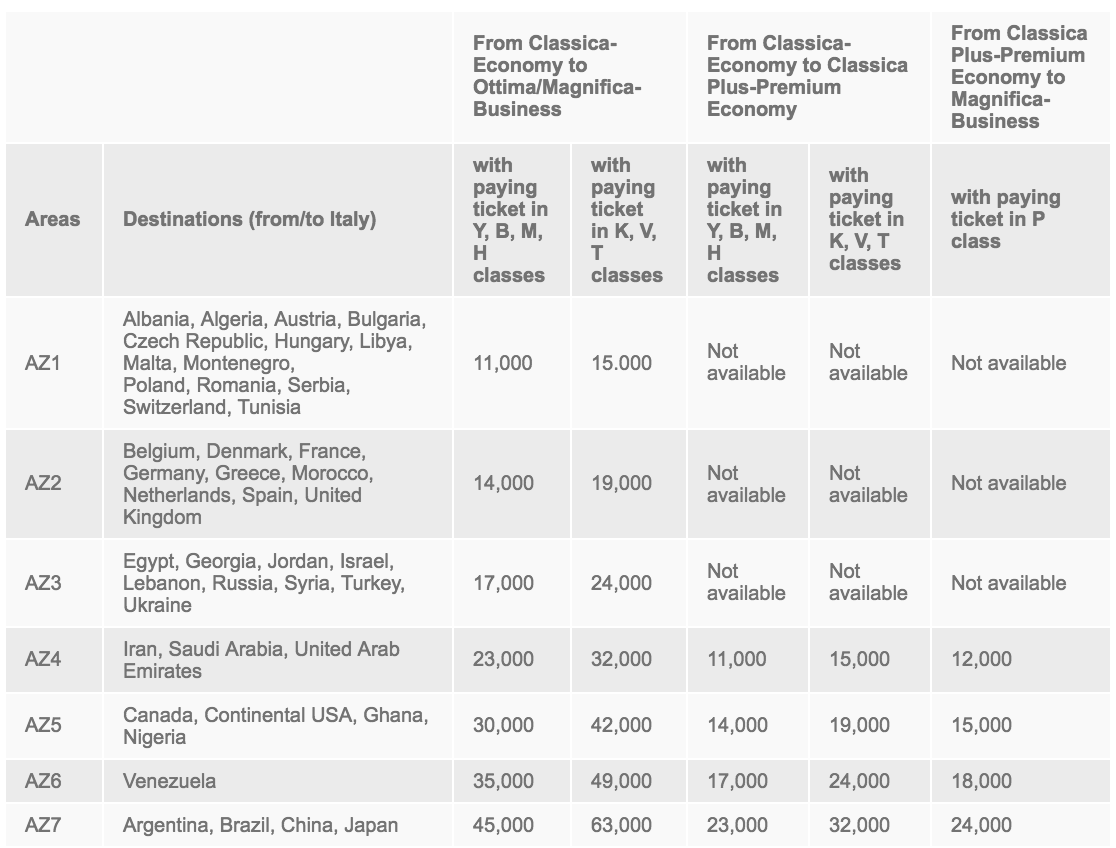 It depends on the agent, I think. I don't actually know why it varies.
So it's somewhere between 12,500 and 15,000 to upgrade a premium economy ticket to business class, with very few inventory restrictions.
Of course, you can also book an economy ticket and use the additional miles to upgrade to business class, but that tends to not be as economical. I often see premium economy fares for ~$1200, which is compelling combined with the upgrade, but of course do the math on your specific trip.
And again, you only need "I" inventory, which you can search for on ExpertFlyer:

Given that Alitalia is a 1:1 transfer partner of American Express Membership Rewards (which is also running a 25% transfer bonus this month), you could use as little as 20,000 Amex points to upgrade an Alitalia ticket to business class.
Processing Alitalia upgrades
Alitalia can hold award tickets, but not revenue flights, and transfers from American Express can take 24-48 hours.
My general practice is to price the flights, confirm I inventory, then transfer the needed points to the MilleMiglia account.
Once the points post, an Alitalia agent can process the upgrade while issuing the ticket, so you don't have to worry about upgrade space disappearing.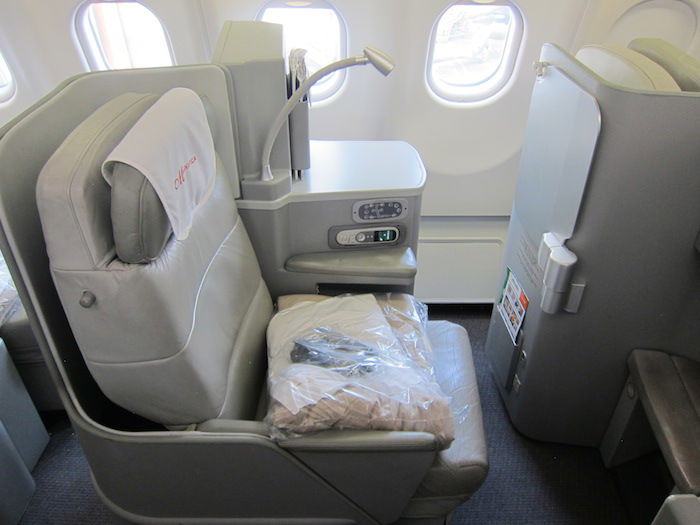 The US phone number for Alitalia is (800) 223-5730. If you have Google Voice, however, you're probably better off calling the Italian number +39 066 5649, as those agents seem a bit better trained.
Upgrades can be processed at any time (including, technically, after boarding), but I obviously prefer to get everything done at the time of ticketing.
Bottom line
Even when they're expected, devaluations can still sting, and this one is no exception. Alitalia has had a bifurcated award chart for years though, and while some awards were the same price for Alitalia as for SkyTeam partners, I'm not super surprised at how this was handled.
And fortunately, the best value in the program is still there.
I of course wouldn't make speculative transfers to Alitalia (and there's no reason to), nor would I expect the current chart to last indefinitely. But depending on your situation, I wouldn't write the program off entirely based on this update.
Has anyone used Alitalia miles to upgrade? How did it go?