---
As you guys know, I'm a huge fan of Lufthansa's first class, and think it's one of the best first class products in the west. However, I've never been as impressed by Lufthansa's business class. I've only reviewed Lufthansa's new business class once, on a 747-8 flight from Frankfurt to Washington a few years ago.
I was curious to see how their service compared on an eastbound redeye, in particular now that they've introduced a new service concept in business class.
Lufthansa 475
Montreal (YUL) – Munich (MUC)
Thursday, June 15
Depart: 8:15PM
Arrive: 9:50AM (+1 day)
Duration: 7hr35min
Aircraft: Airbus A330
Seat: 10D (Business Class)
I boarded through door L2, where I was greeted by the purser and pointed right towards my seat. My flight was operated by one of Lufthansa's new three class A330 aircraft, featuring business, premium economy, and economy.
The plane had a total of 42 business class seats, spread across seven rows in a 2-2-2 configuration. The forward cabin had five rows, while the rear cabin had two rows.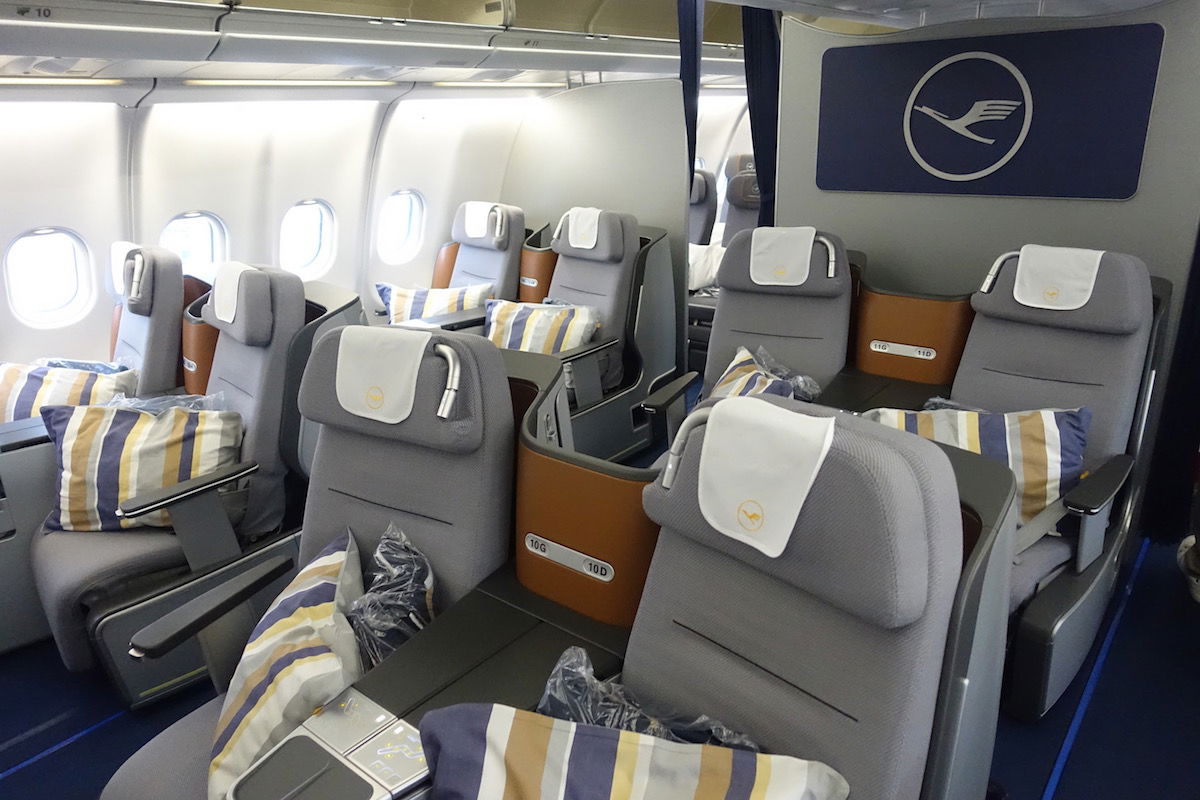 Lufthansa A330 rear business class cabin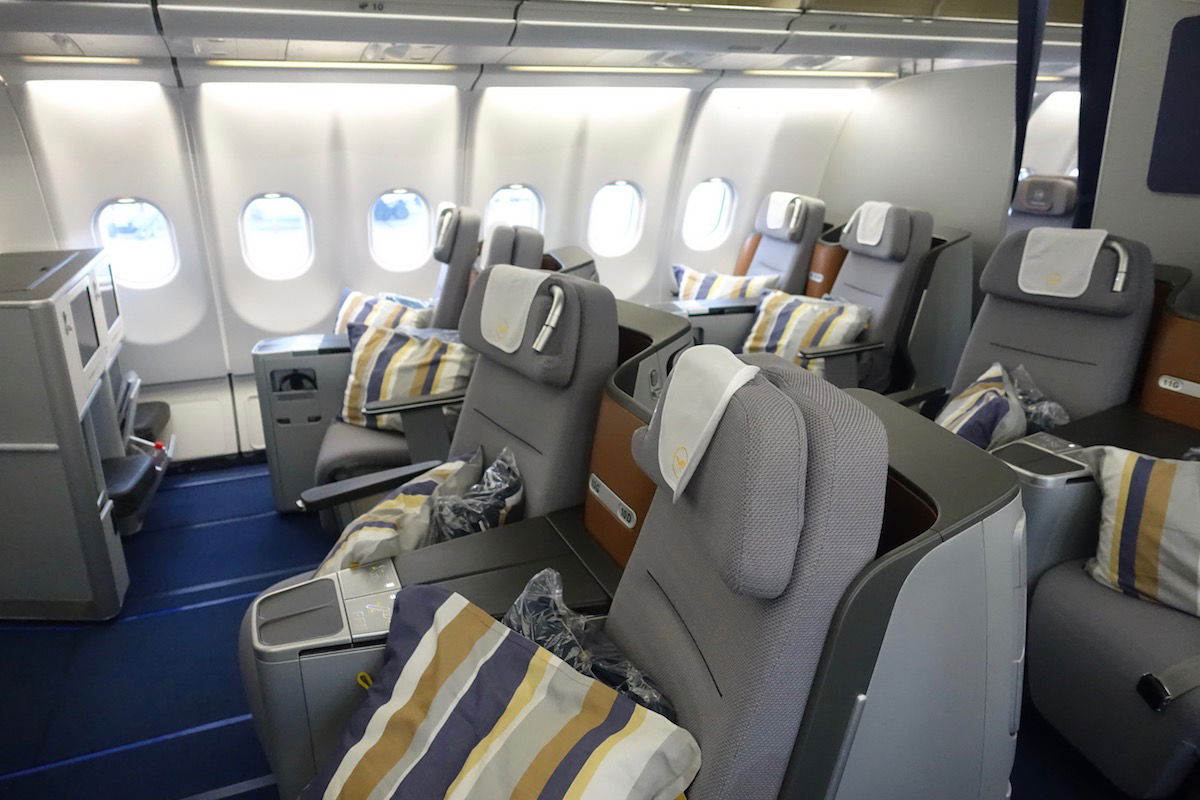 Lufthansa A330 rear business class cabin
I booked fairly last minute, so I reserved seat 10D, which was the bulkhead center aisle seat on the left side. As you can see, the seats in the center section of Lufthansa's business class are angled somewhat towards one another.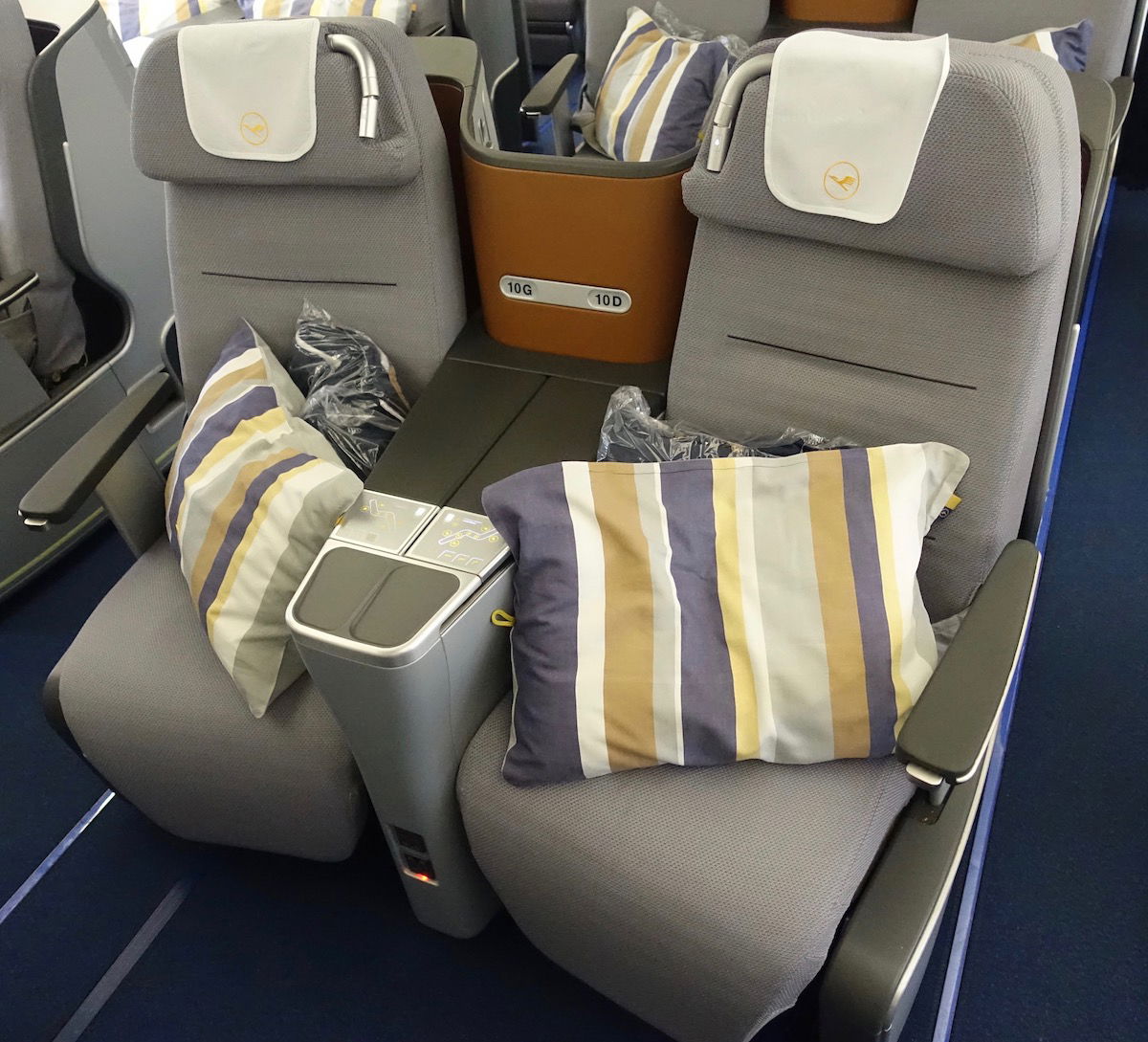 Lufthansa A330 business class seats
This is very awkward if you're sleeping, because the place you put your feet is right next to the area for your seatmate, and it's not unusual for your knees to touch when fully reclined. I was lucky that I was in the bulkhead, because there's even less of a partition between the foot cubbies in other rows.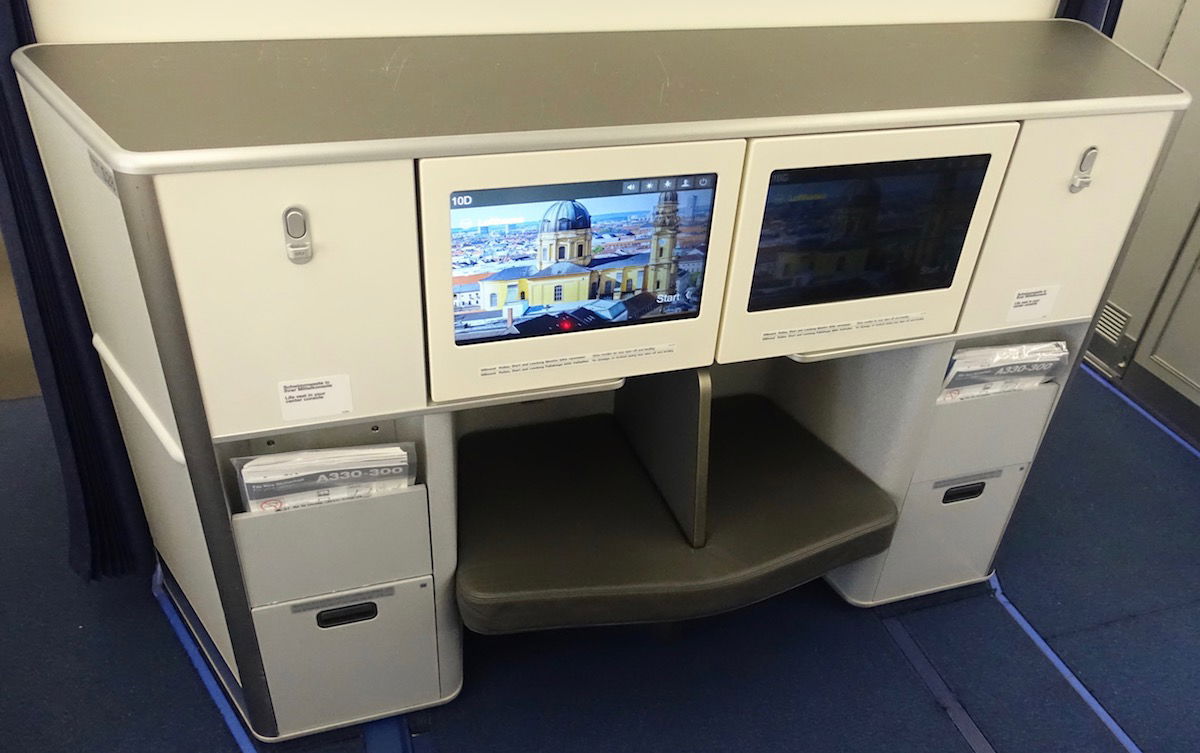 Lufthansa A330 business class seats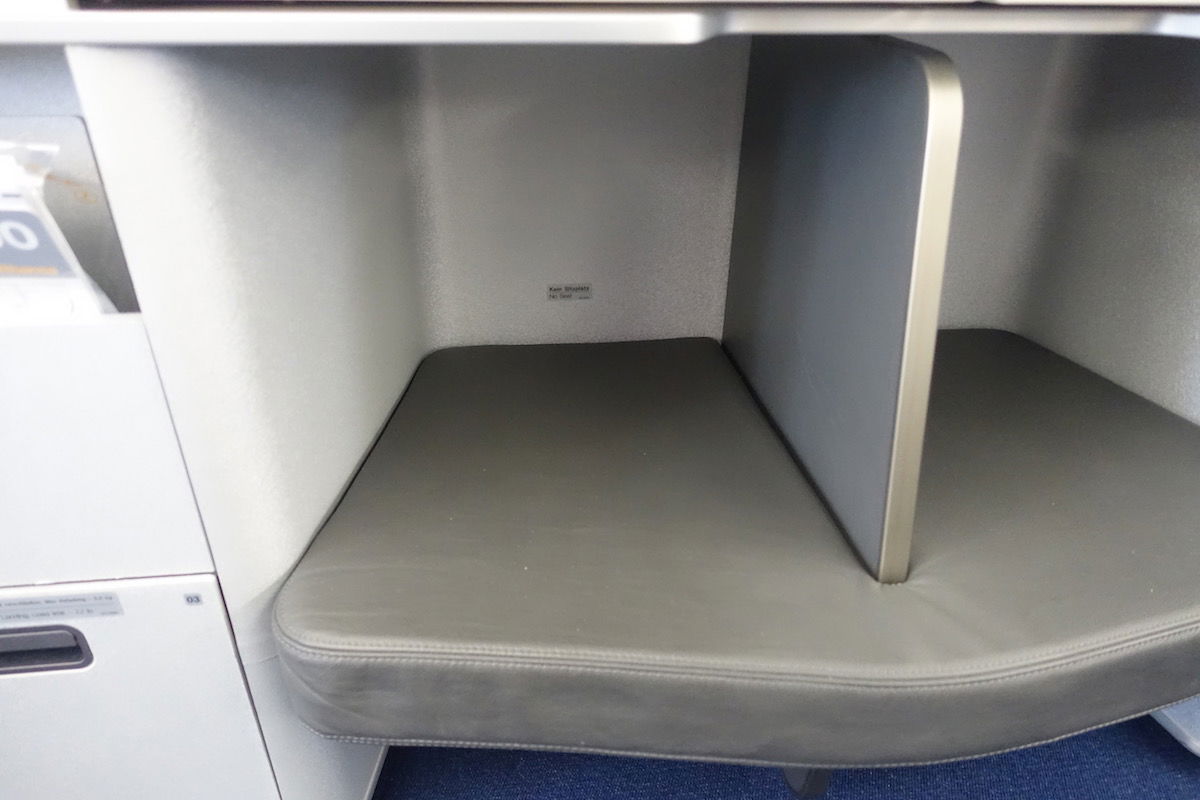 Lufthansa business class legroom
If you're traveling alone it's generally advisable to select one of the seats by the windows, as those seats face in the same direction, rather than being angled towards one another. That means there's slightly more separation for your feet.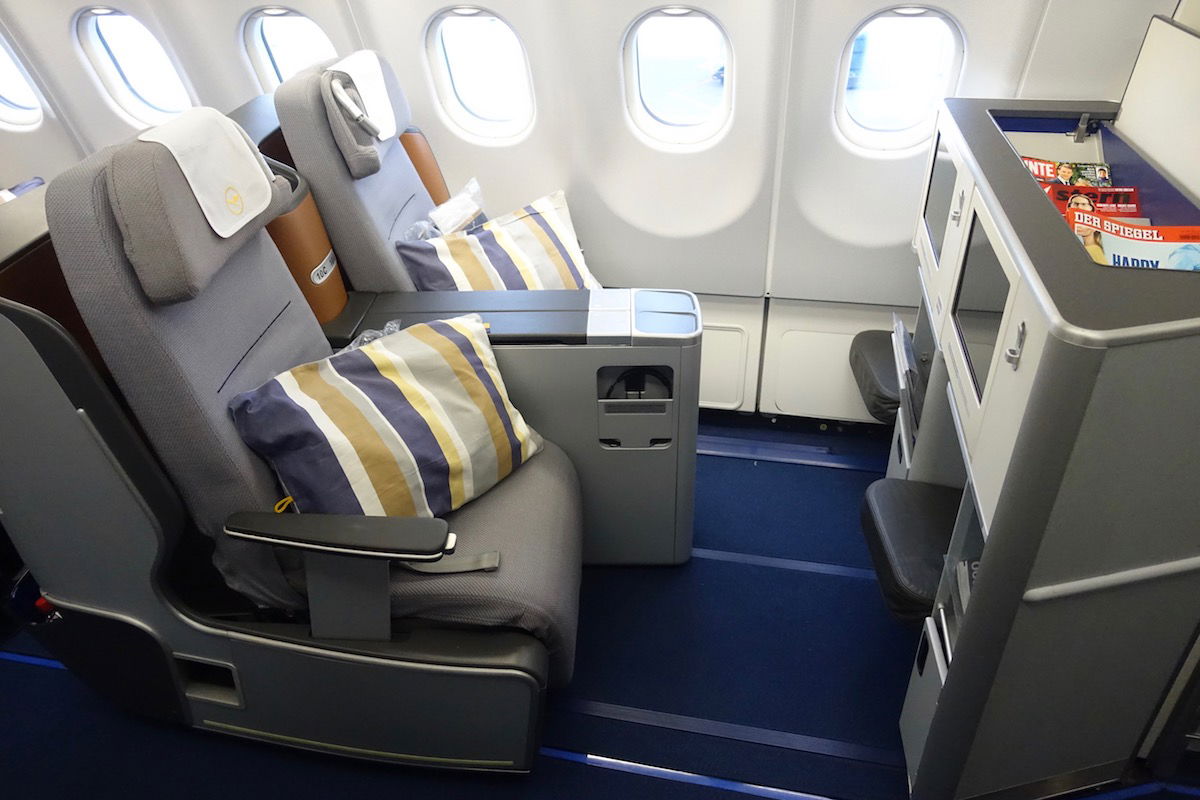 Lufthansa A330 business class seats
On the right armrest of my seat were the easy to use seat controls. There were three presets, and then you could also adjust individual aspects of the seat. I find the location of the controls to be a bit annoying, since I'd sometimes accidentally adjust the position of the seat by putting my elbow on this section.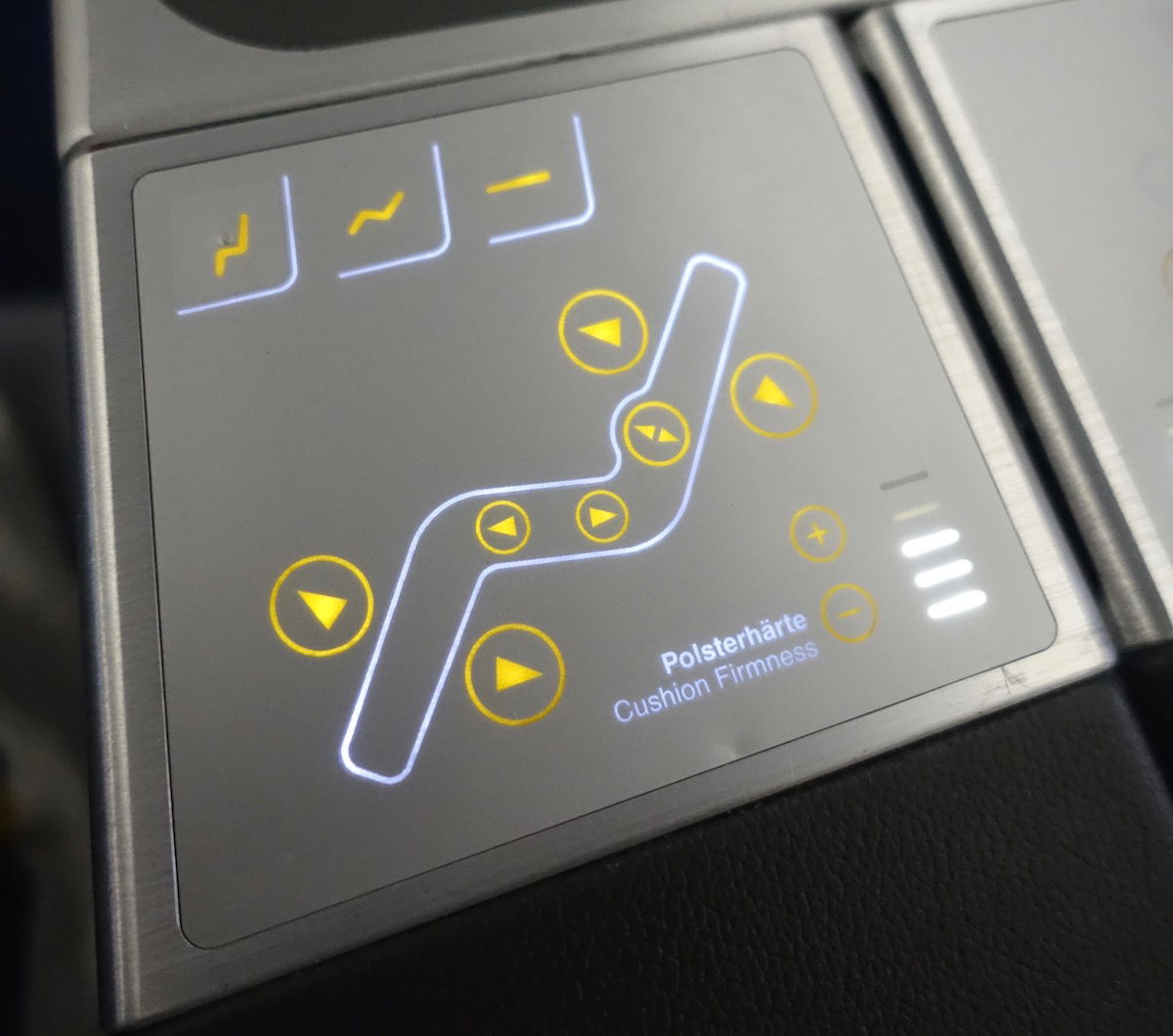 Lufthansa business class seat controls
Immediately beneath that was a console that could be opened, which contained the tray table and the entertainment controller.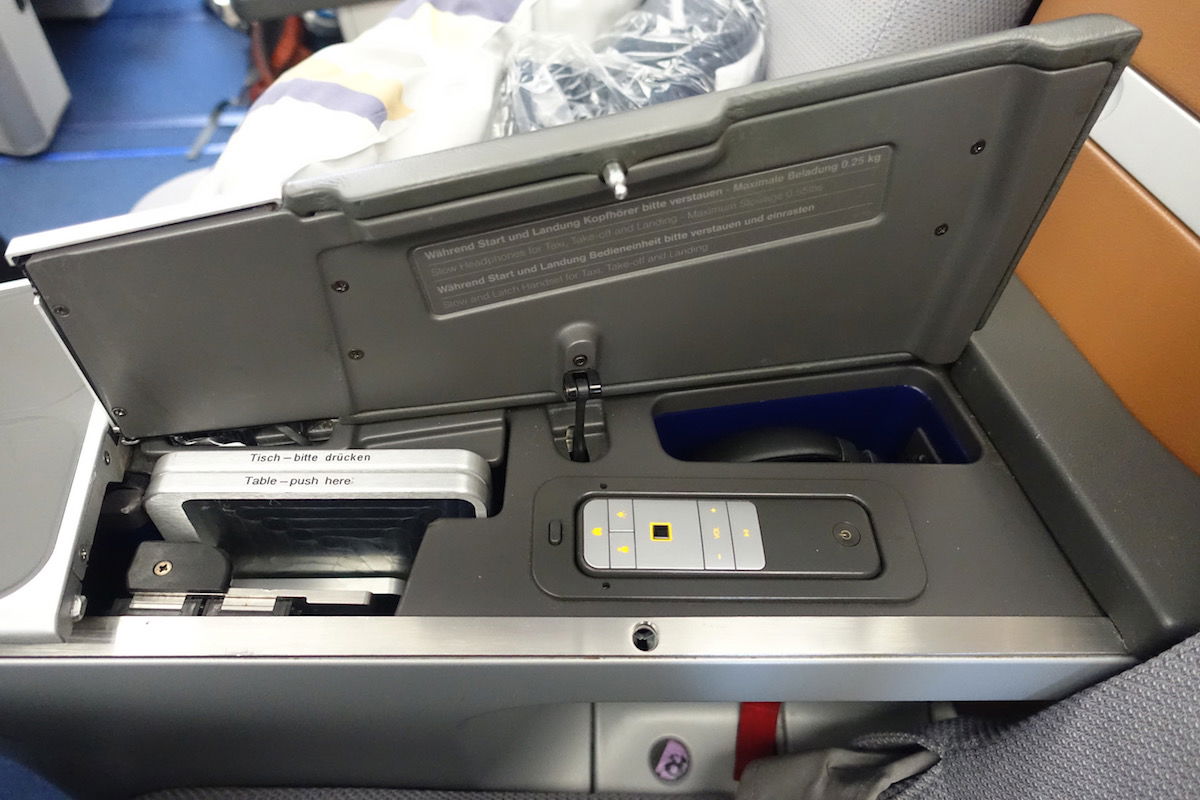 Lufthansa business class tray table & entertainment controller
The tray table was pretty compact — it could be folded over in half, but even then it was pretty small.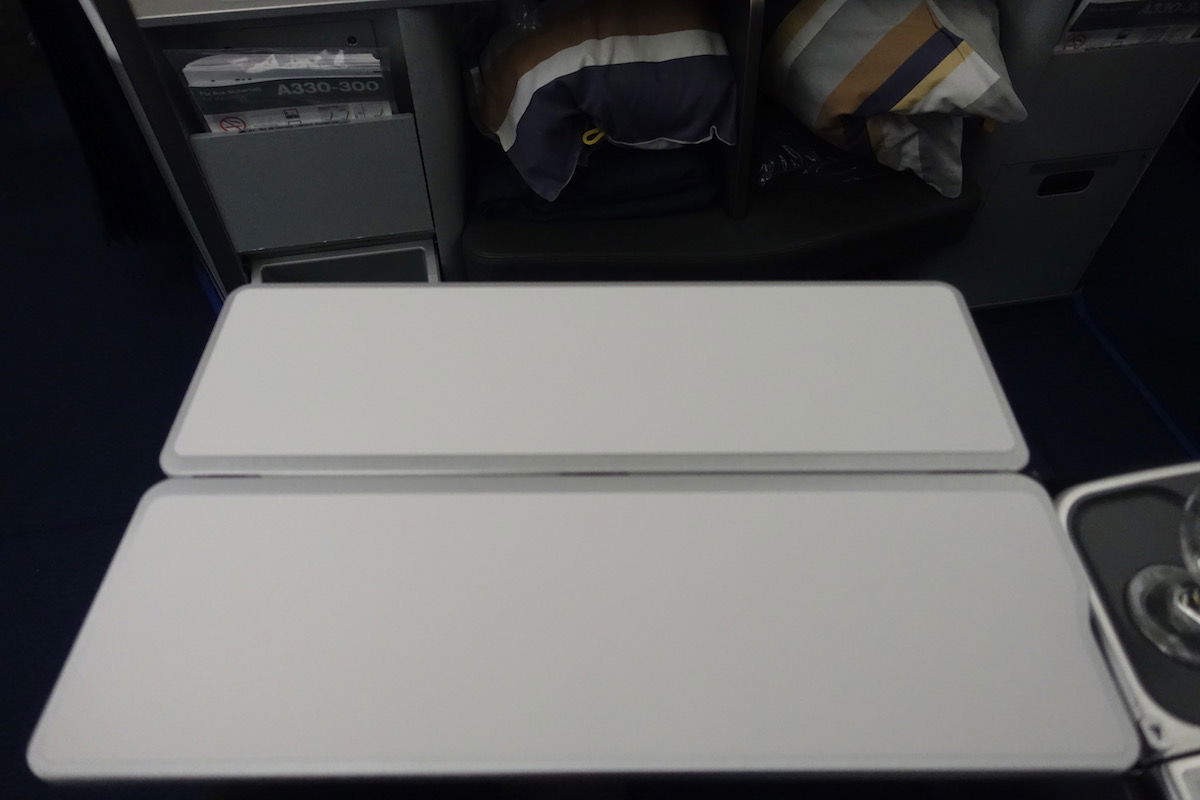 Lufthansa business class seat tray table
Next to the entertainment controller were the Bose noise canceling headphones. Kudos to Lufthansa for offering these in business class — the only other airline I know of that offers Bose headphones in business class is American. Unlike with American, Lufthansa's Bose headphones are attached to the seat, which is a blessing, since it means they don't have to collect them before the start of descent.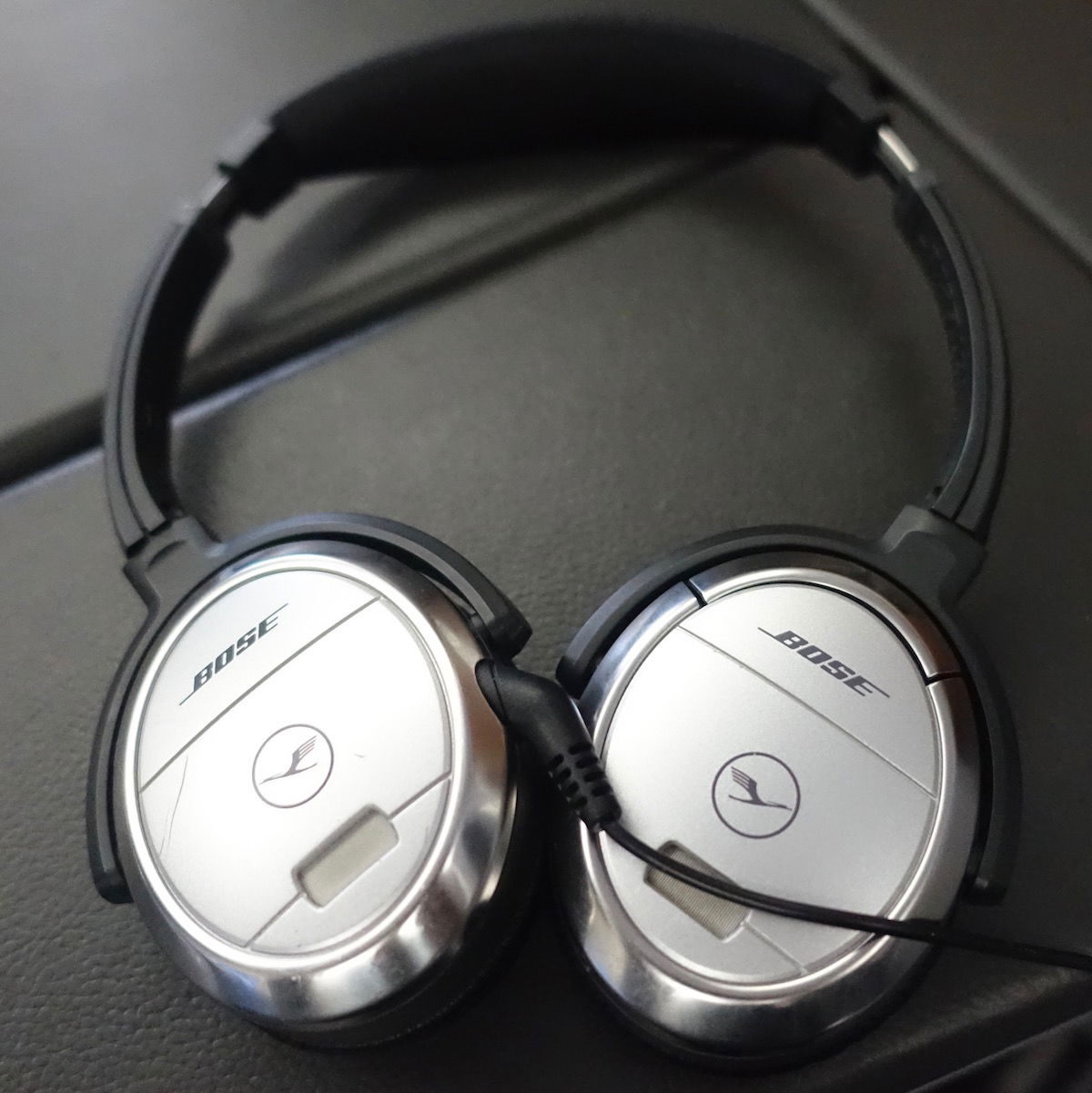 Lufthansa business class Bose headphones
Underneath the center armrest were two power outlets (one for each passenger).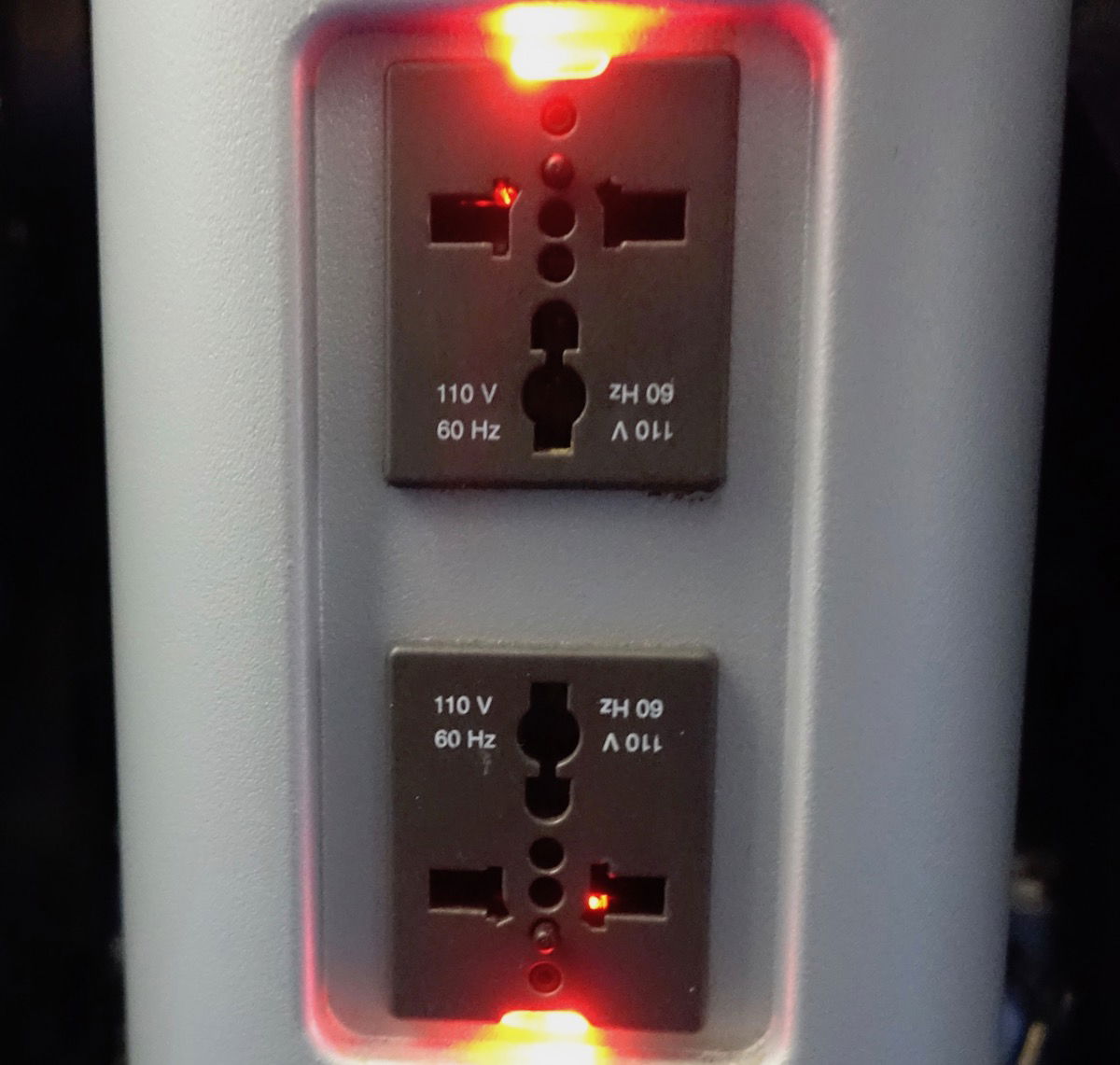 Lufthansa business class power outlet
On the bulkhead was a hook that could be used to hang a coat, but also to hang a pair of glasses. I thought that was pretty innovative.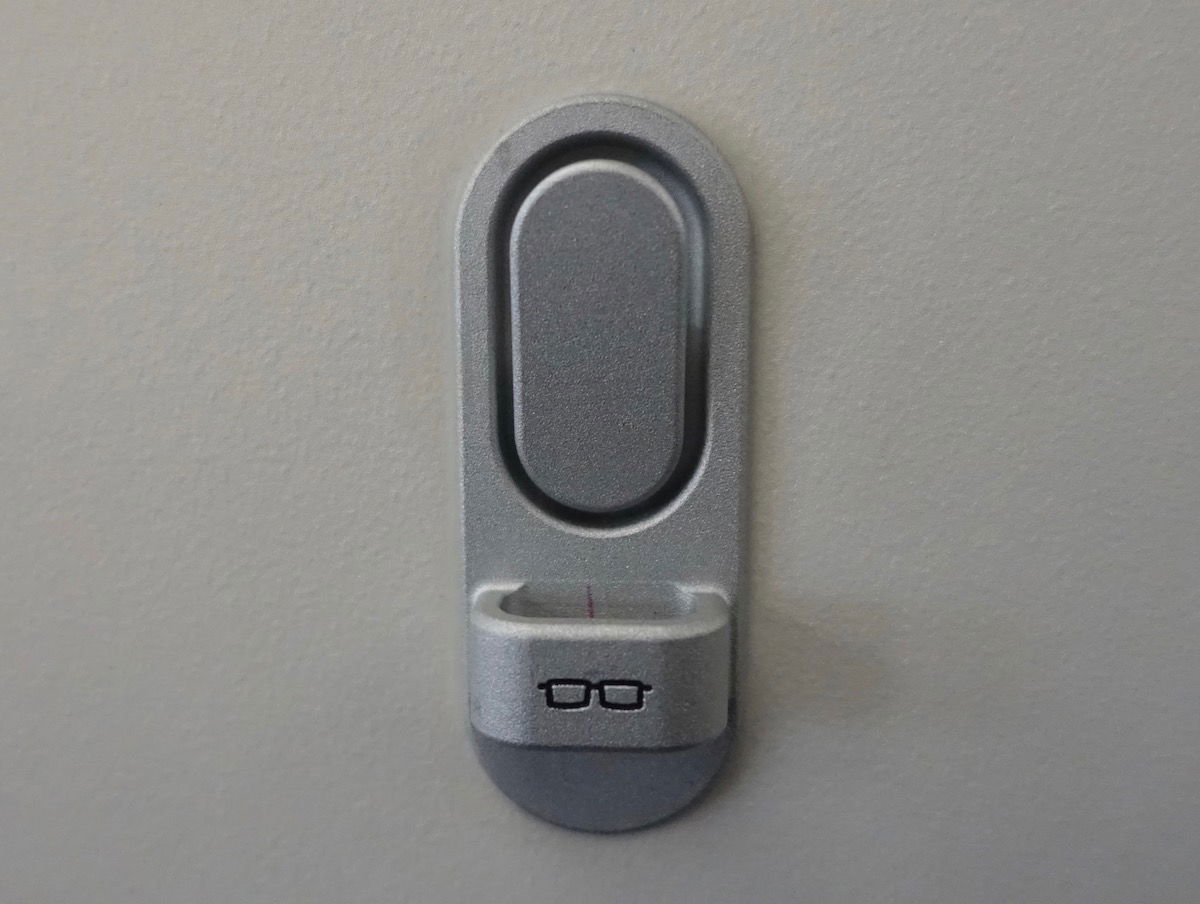 Lufthansa business class seat hook
There was also a small storage compartment, which housed a bottle of water and amenity kit.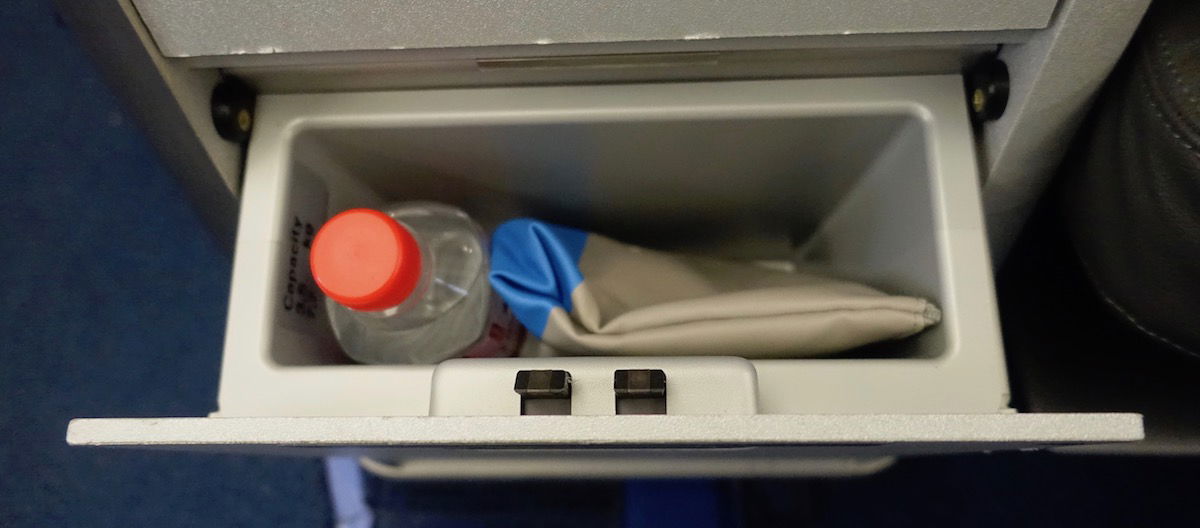 Lufthansa business class seat storage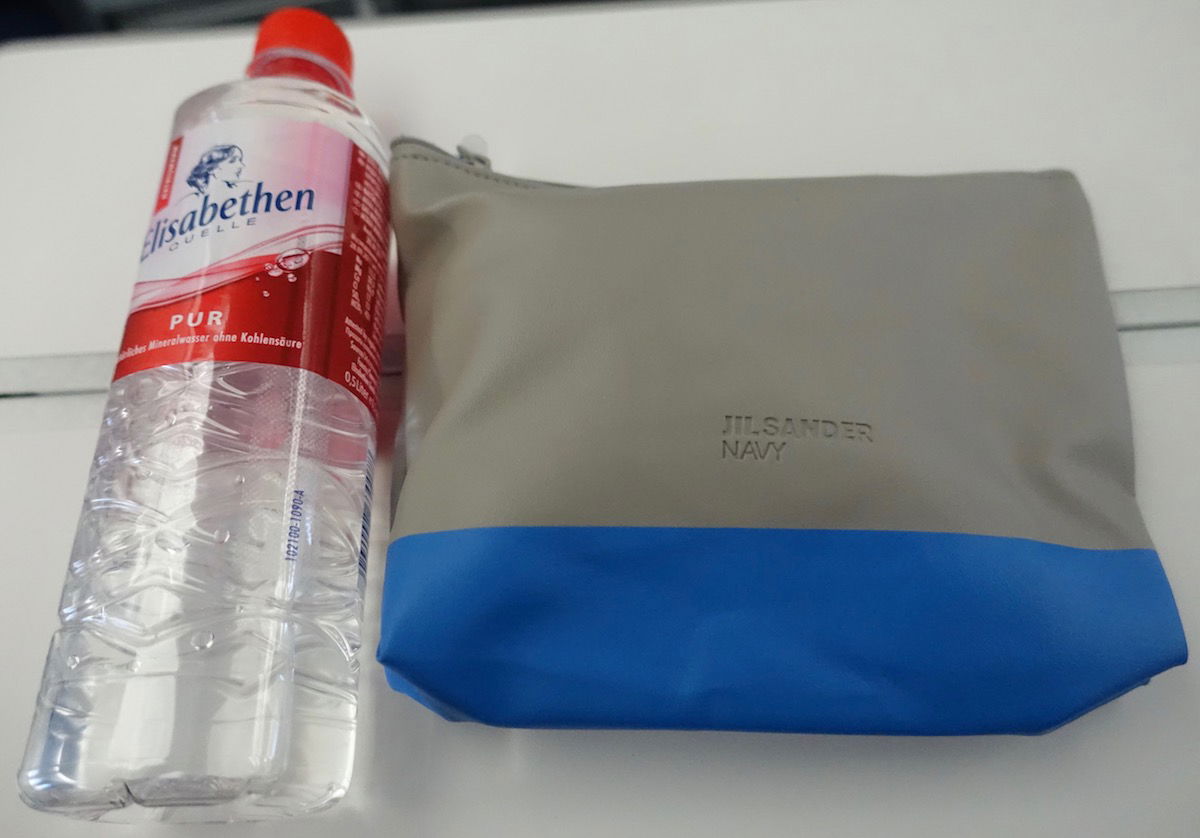 Lufthansa business class bottled water & amenity kit
The amenity kit was pretty basic — the kit itself felt pretty cheap, and it contained socks, eyeshades, earplugs, lip balm, lotion, a toothbrush and toothpaste, etc.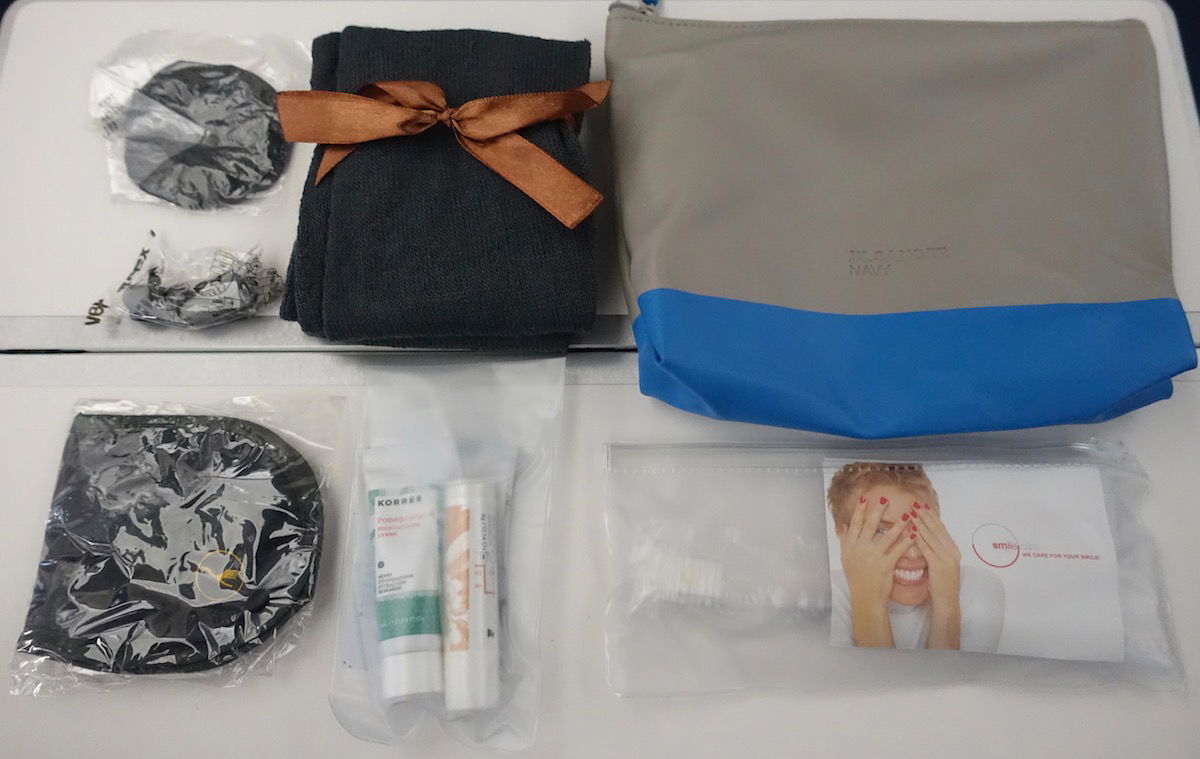 Lufthansa business class amenity kit contents
Also waiting at my seat on boarding was a pillow and blanket. This is an area where Lufthansa really lags, as the pillow and blanket were both scratchy. So many airlines have great bedding in business class nowadays, and this is simply uncompetitive.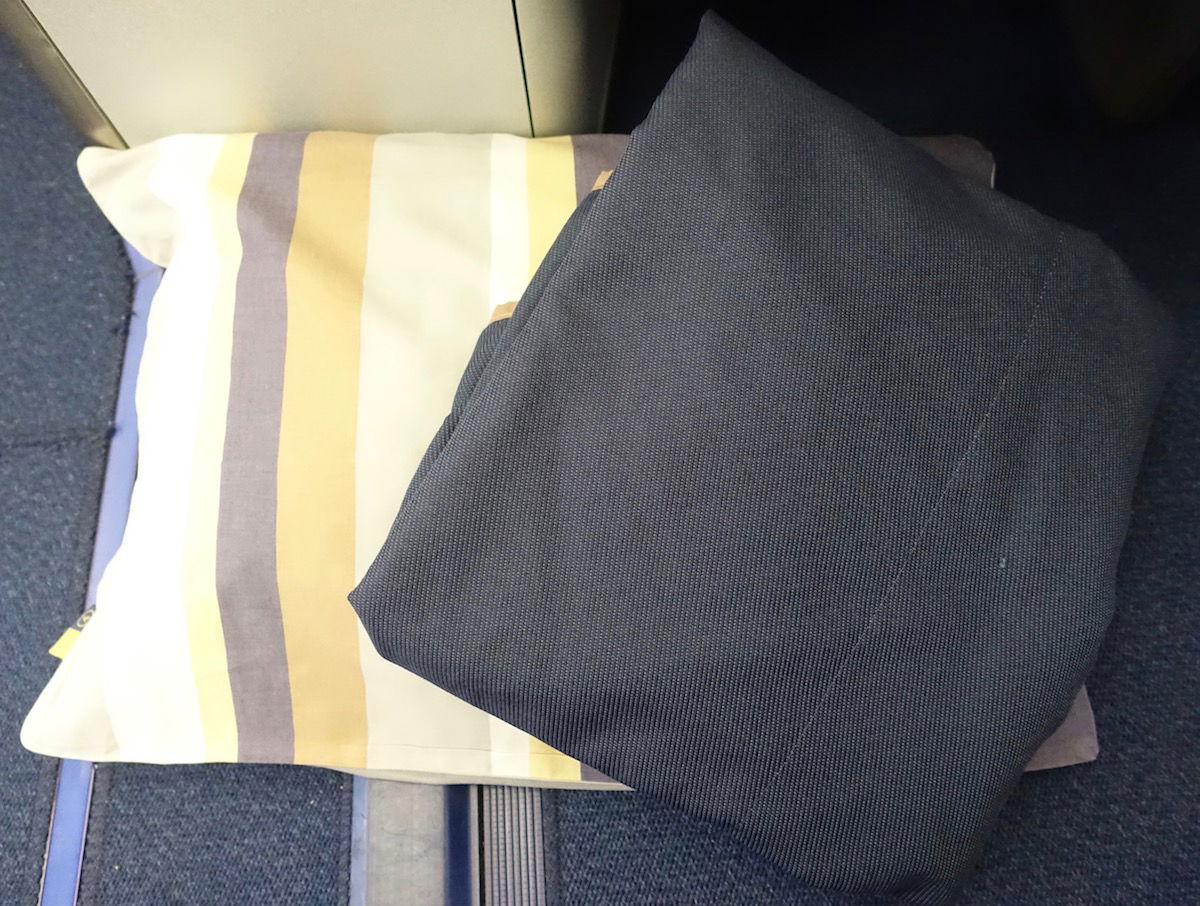 Lufthansa business class pillow & blanket
Within a few minutes of settling in, one of the friendly flight attendants came by to offer me a pre-departure beverage, with the choice between water, champagne, and orange juice. I selected a glass of champagne.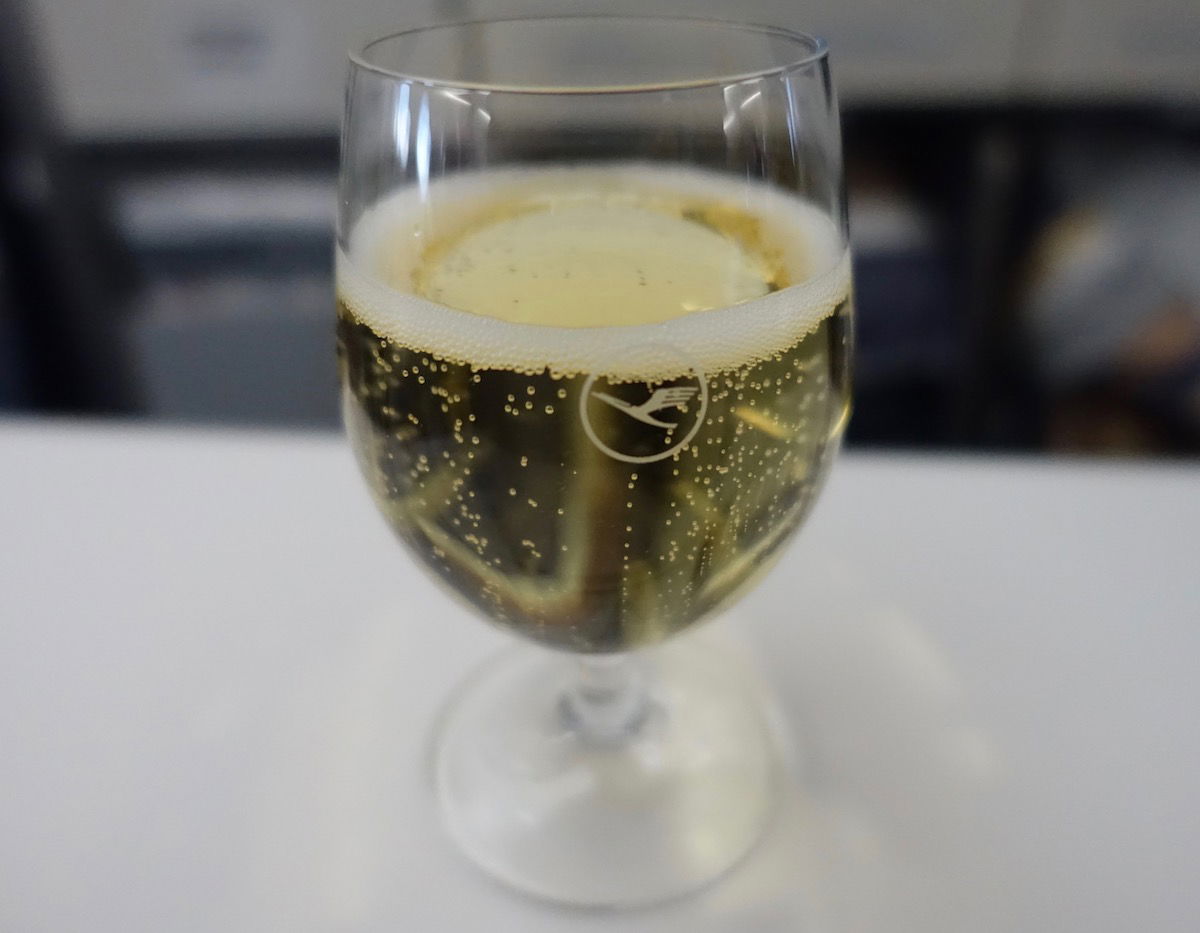 Lufthansa business class pre-departure champagne
This flight was pretty full, and in end there were only two empty seats in business class. The seat besides me was taken by a German guy who upgraded last minute (I only know because he asked the flight attendant whether his special meal request would carry over), who gave me confused glares the whole flight over my picture taking. I guess I can't blame him, though having a seat without any privacy does make my "job" significantly more awkward.
A few minutes before the door closed the purser came through the cabin to distribute menus to all business class passengers.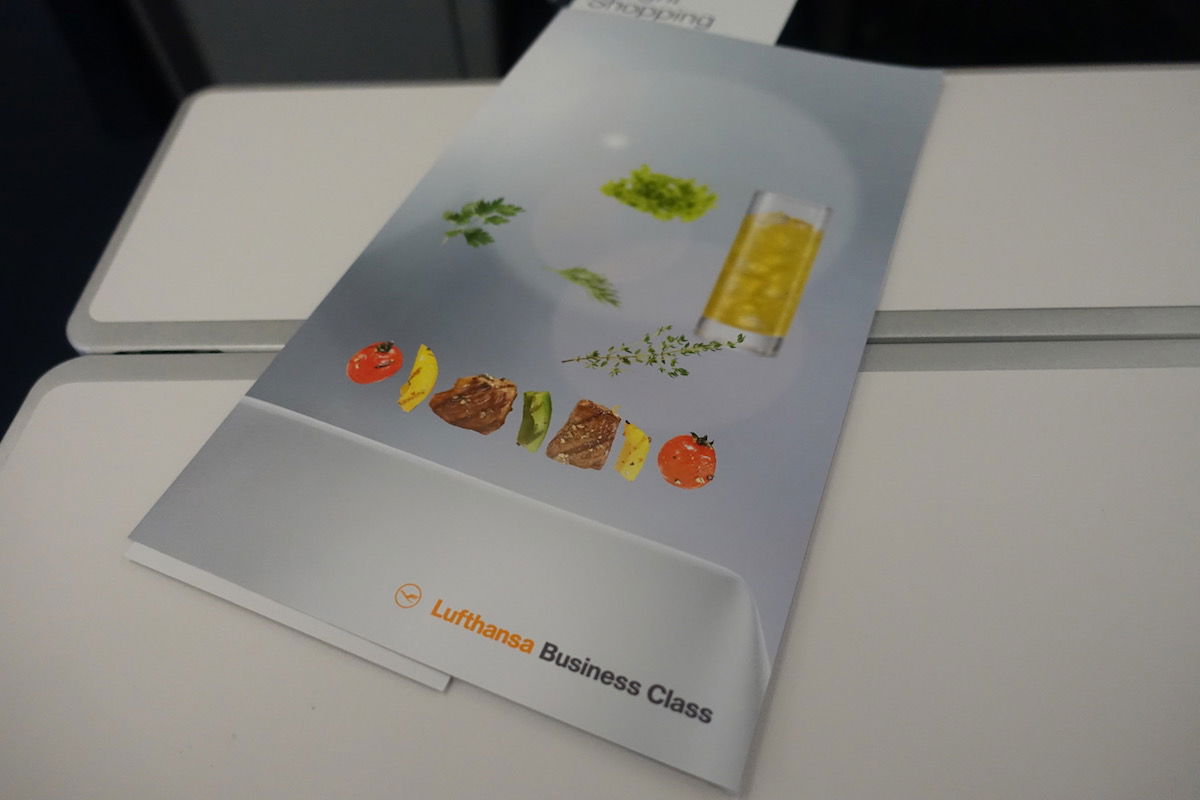 Lufthansa business class menu
Shortly thereafter Captain Wiener apologized for our delayed departure, but assured us that we'd arrive in Munich on time, as our flight time was only 6hr55min.
At around 8:20PM the door closed, and by 8:25PM the safety video was screened and we began our taxi. We had a very fast taxi, and by 8:35PM we were cleared for takeoff.
The seatbelt sign was turned off only about 20 minutes after takeoff. Once it was off I visited the lavatory, which was located immediately in front of my seat (though on the other side of the curtain, so it didn't bother me when sleeping).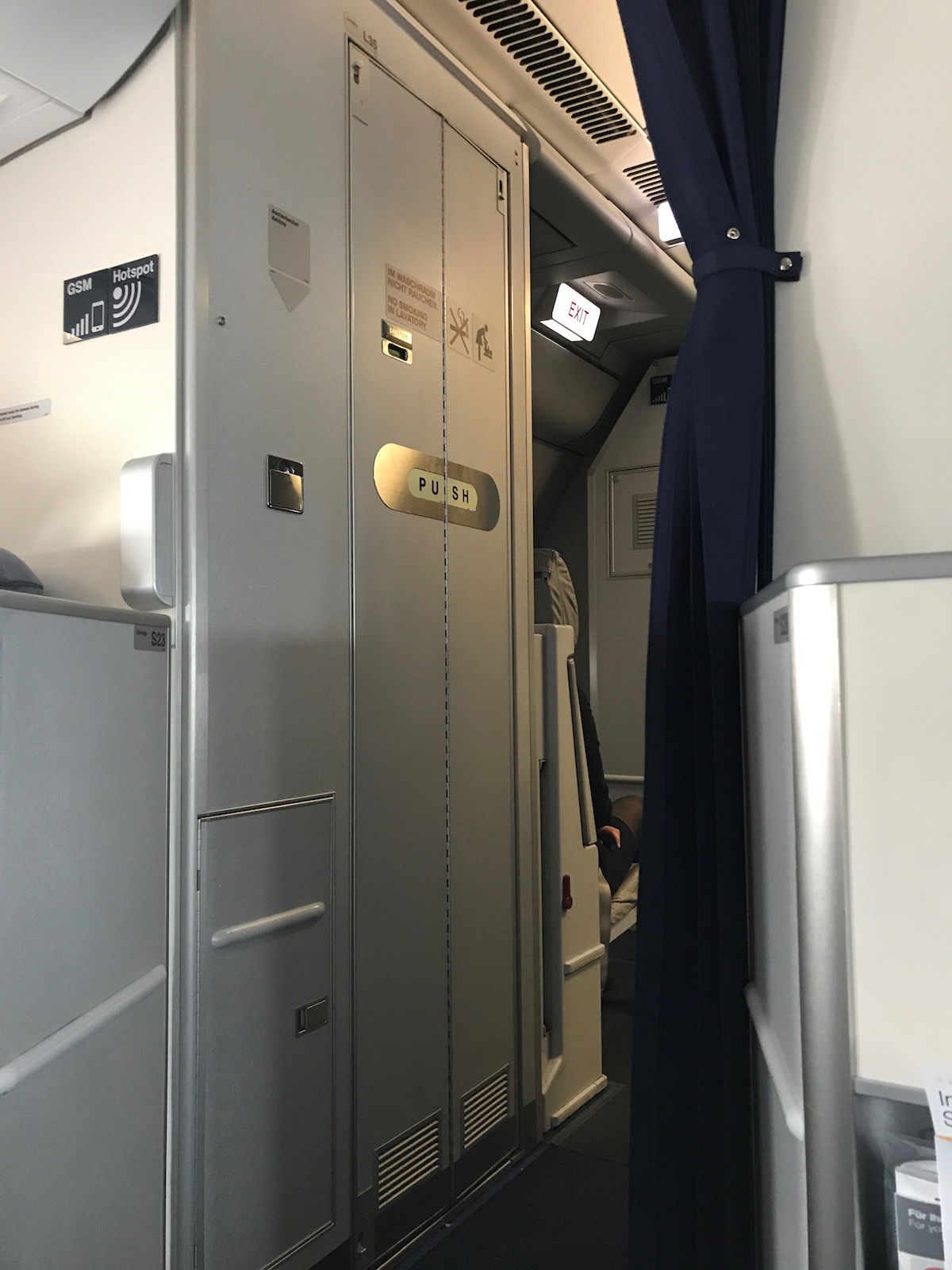 Lufthansa business class lavatory
The lavatory was clean but basic, and did have some amenities like mouthwash, combs, etc.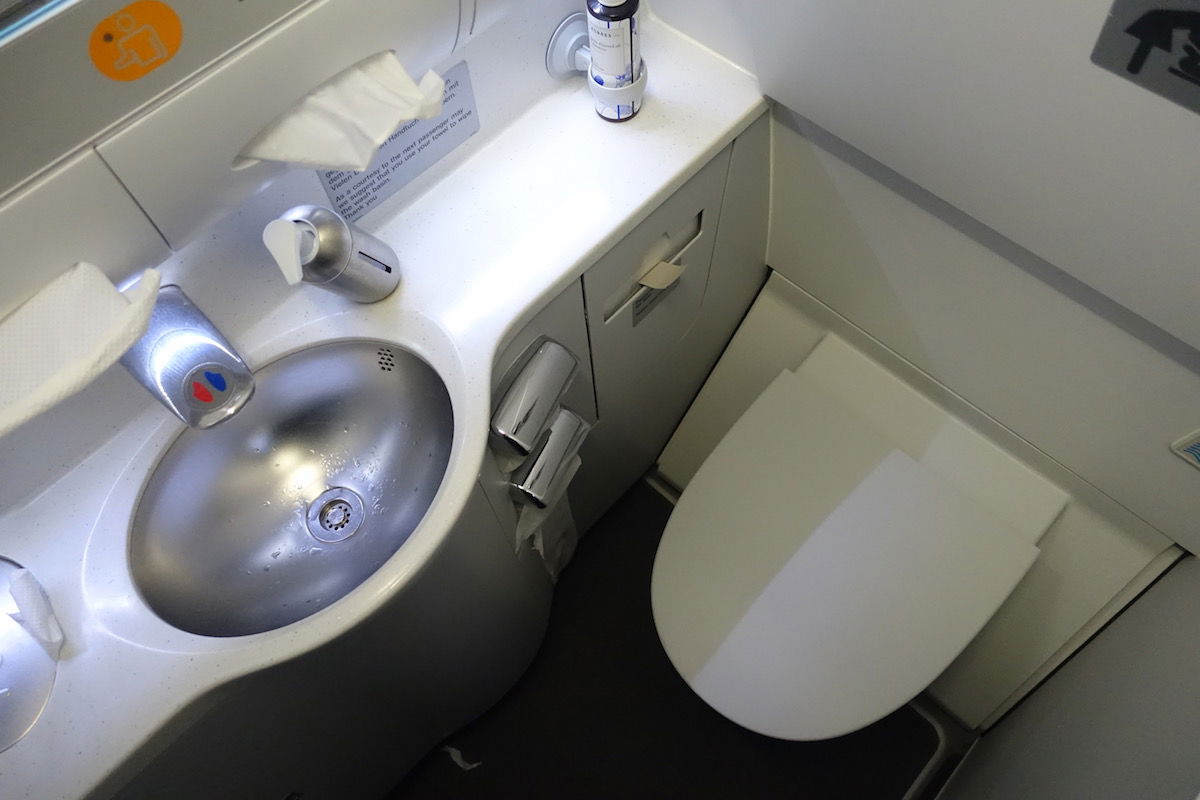 Lufthansa business class lavatory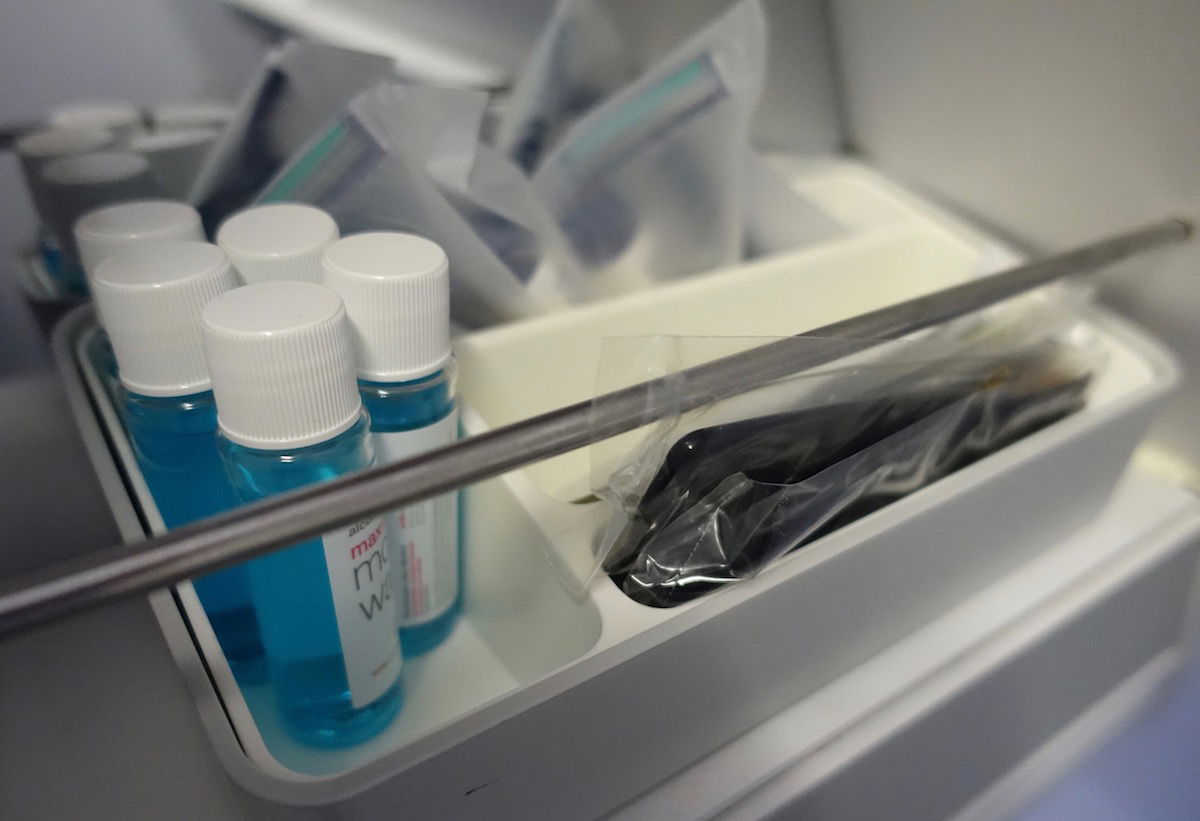 Lufthansa business class lavatory amenities
I also snapped a picture of the forward business class cabin, which had 30 seats.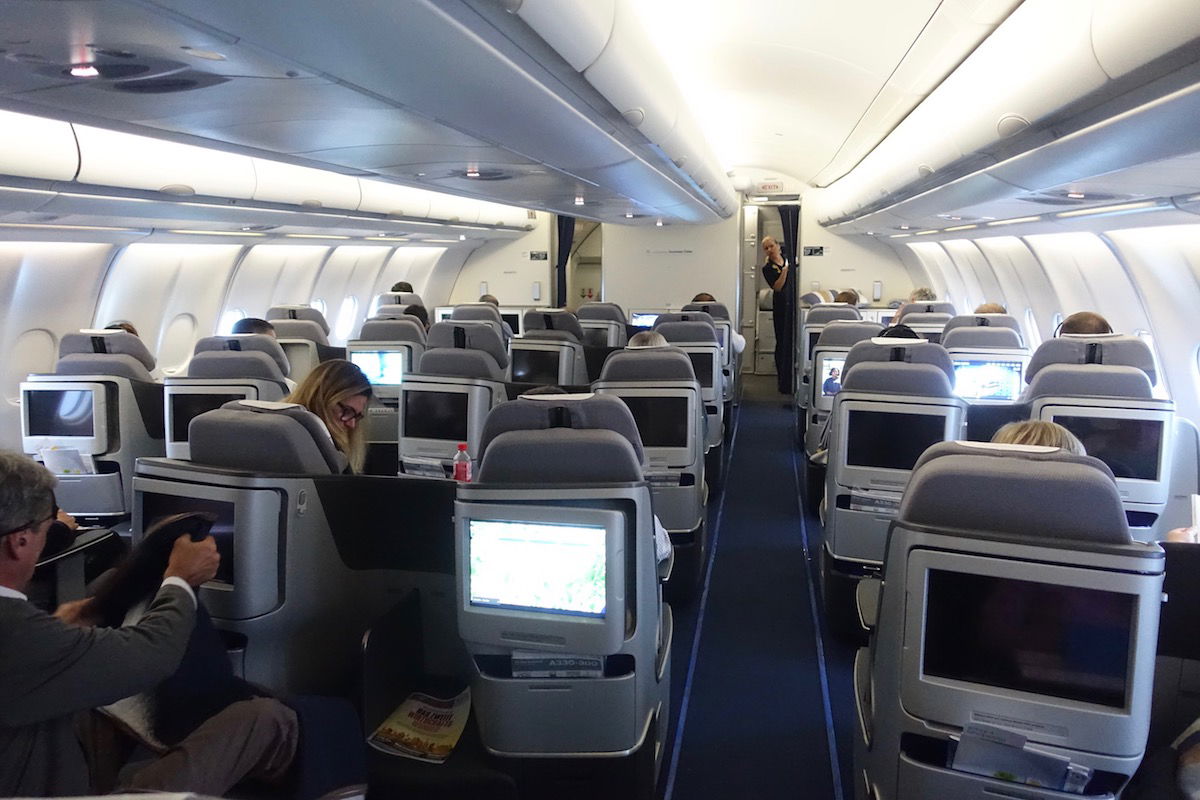 Lufthansa business class cabin A330
Once back at my seat I connected to the Wi-Fi. One thing I love about Lufthansa is their Wi-Fi pricing. They charge 17EUR for a Wi-Fi pass that lasts the entire flight with unlimited data. That's an excellent value, and I find their Wi-Fi to be among the fastest of any airline.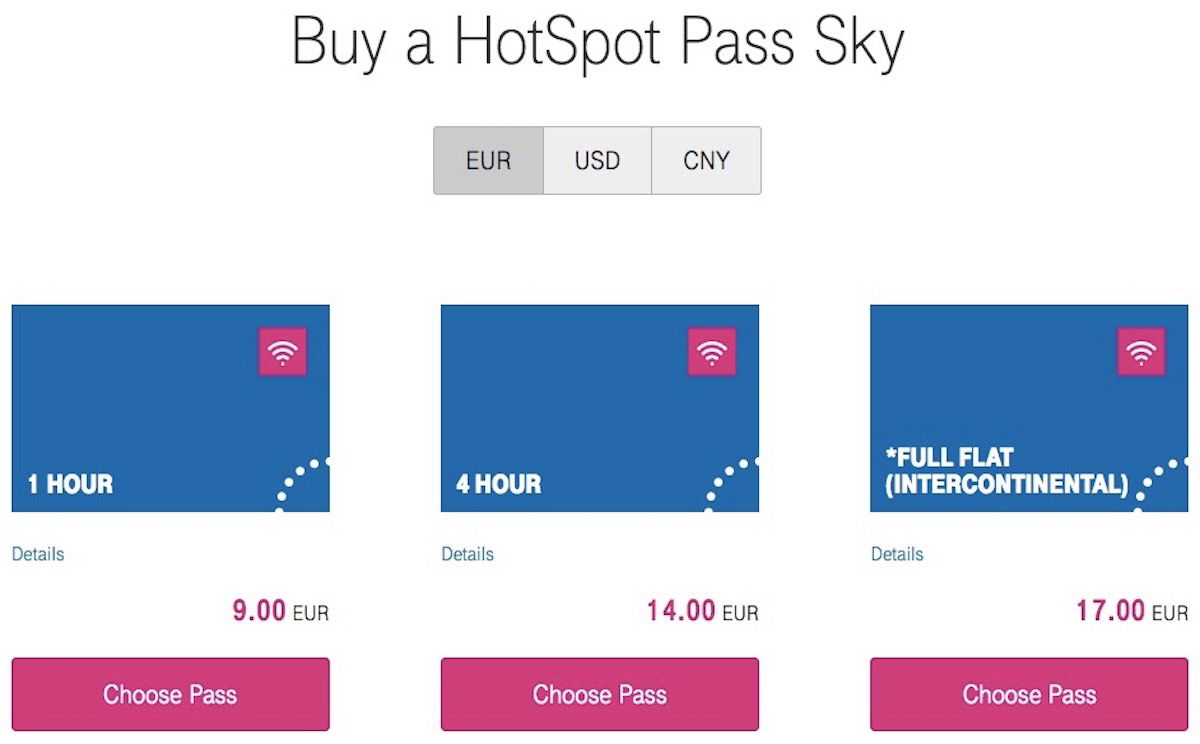 Lufthansa Wi-Fi
After takeoff the purser came through the cabin to take drink and meal orders, and had an interesting question for me (which I handled in the usual way).
Lufthansa purser: "I notice you are taking many pictures, why is this?" Me: "It's my first time in business class and I am excited." 😉

— Ben Schlappig (@OneMileataTime) June 16, 2017
The menu read as follows: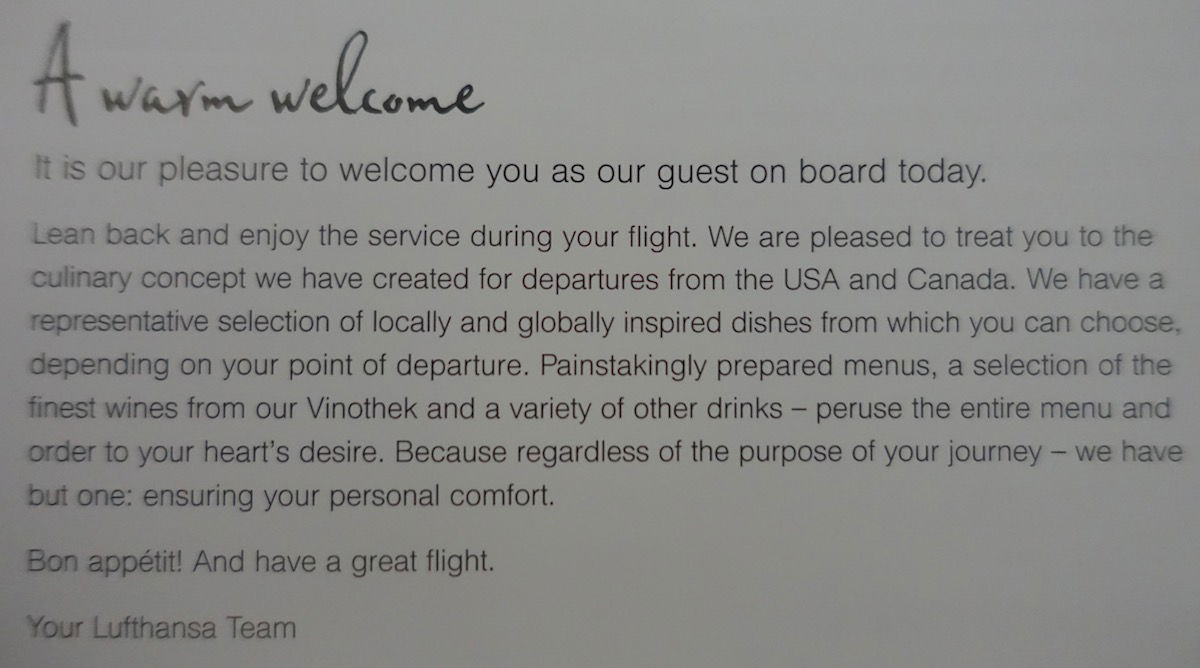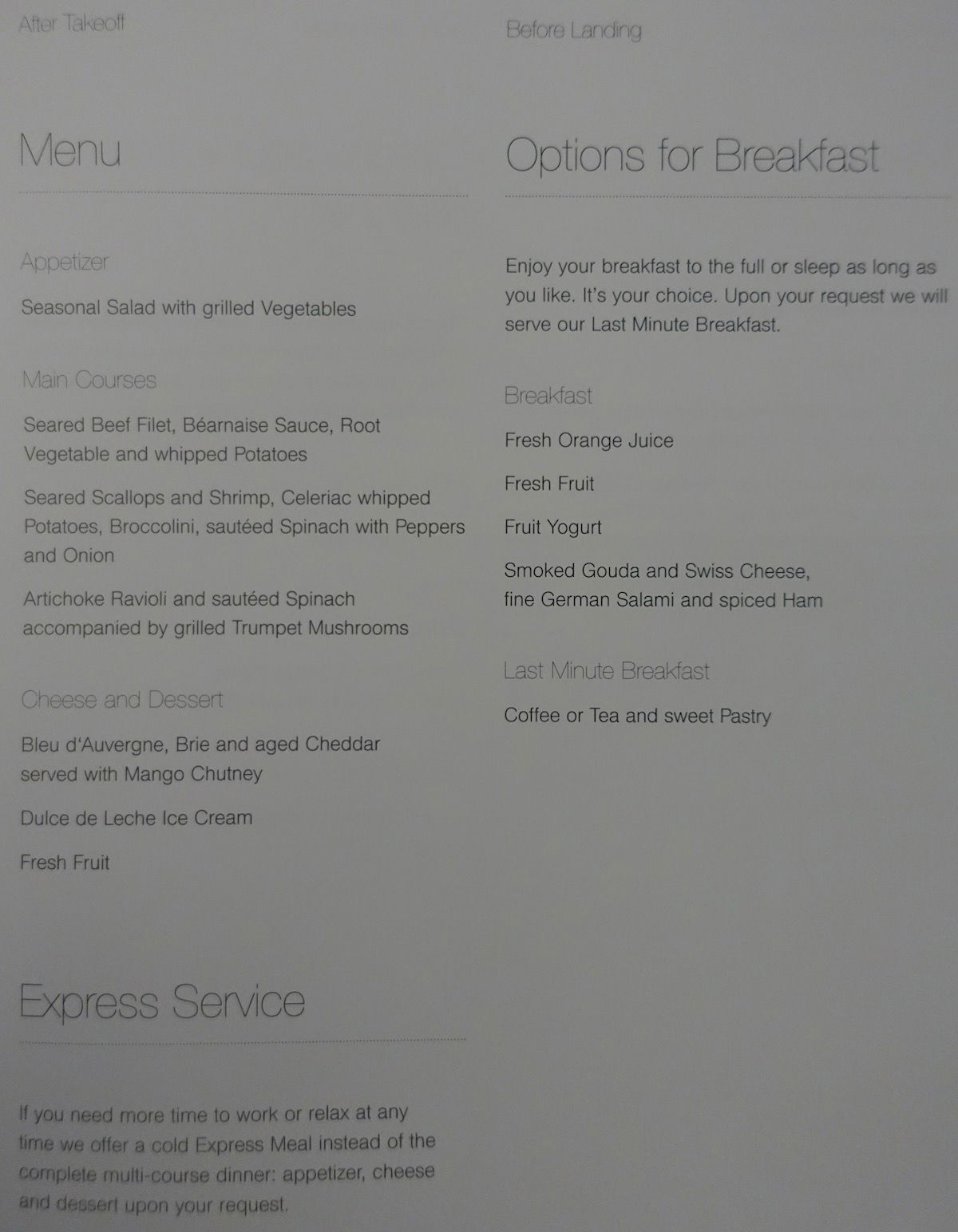 The drink menu read as follows: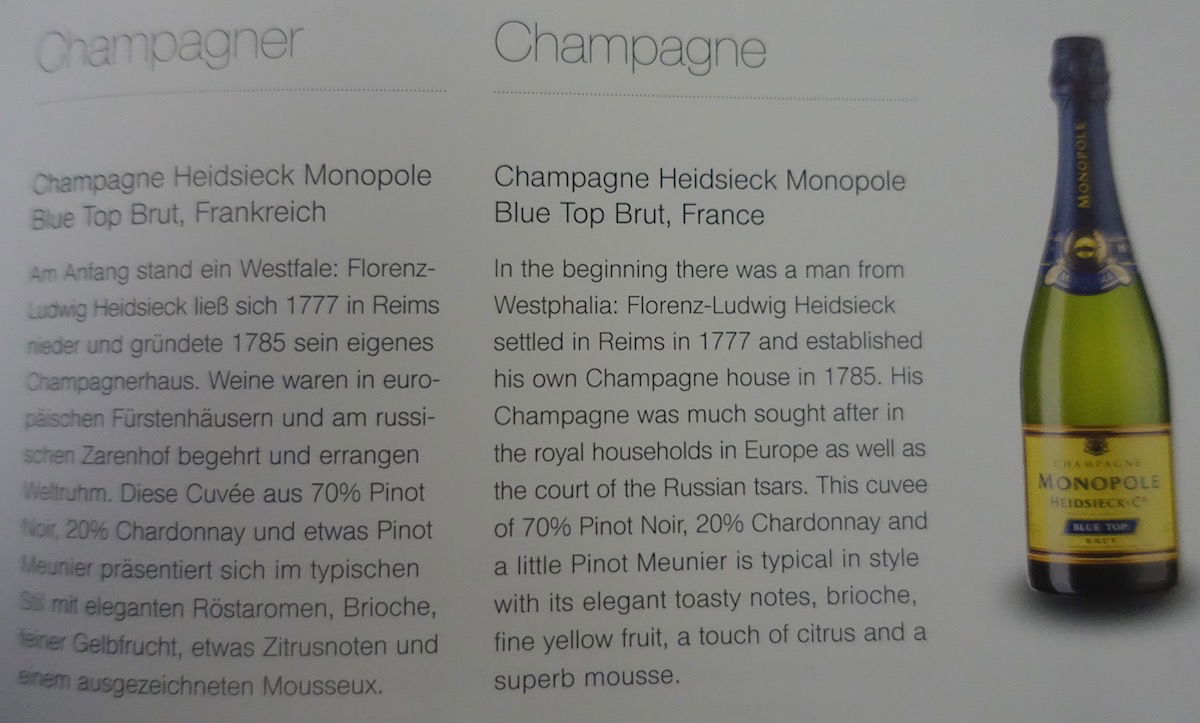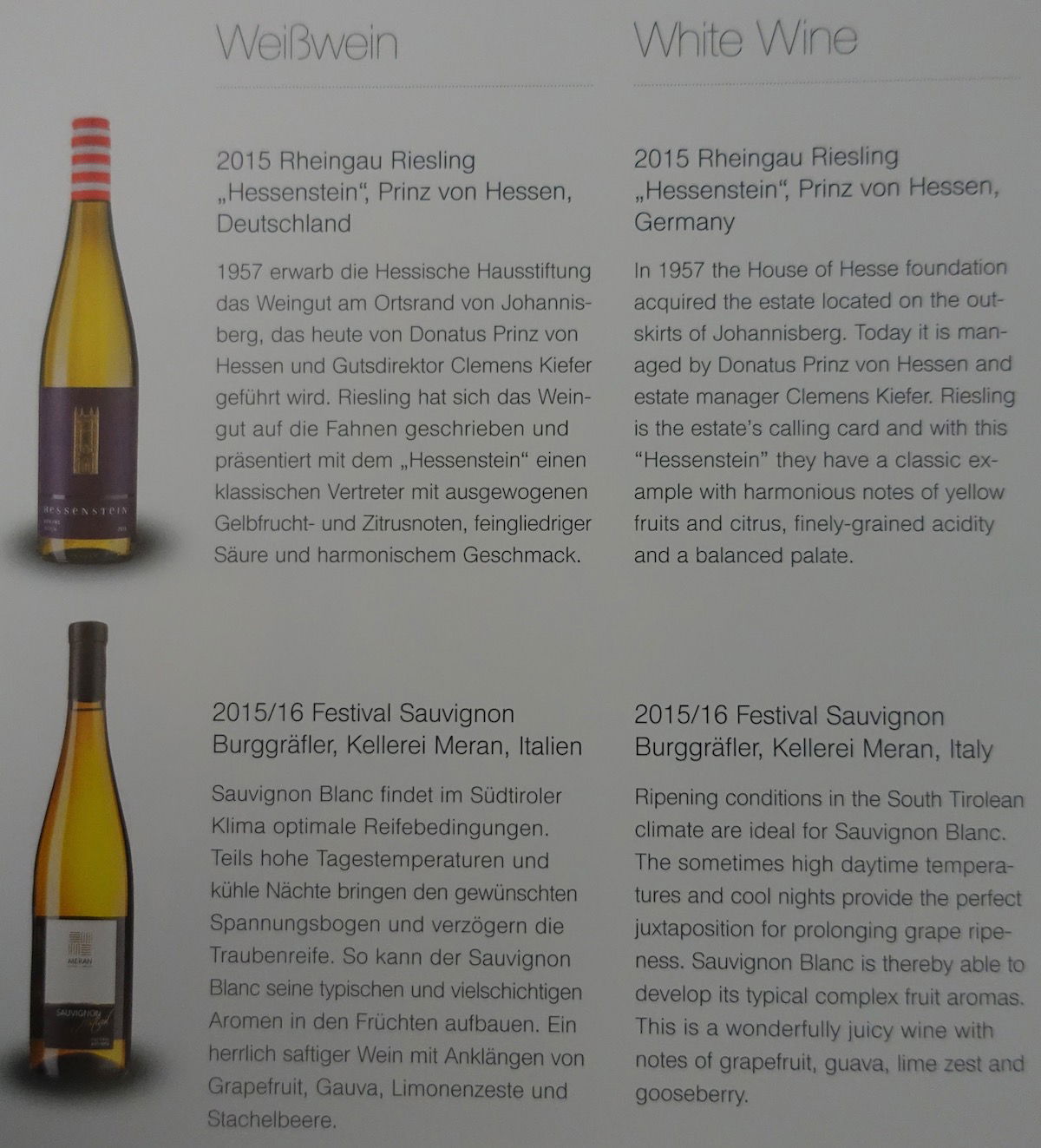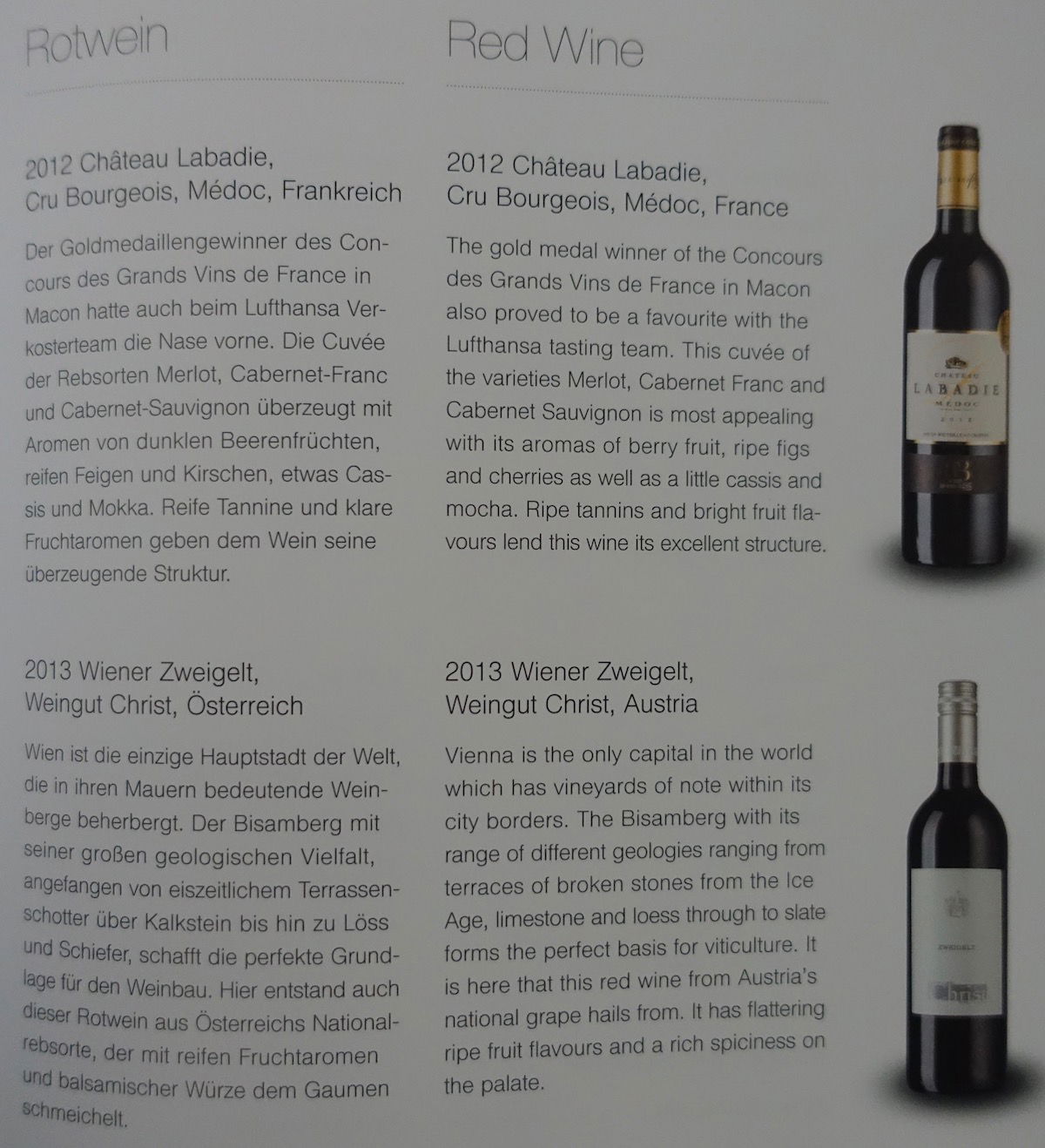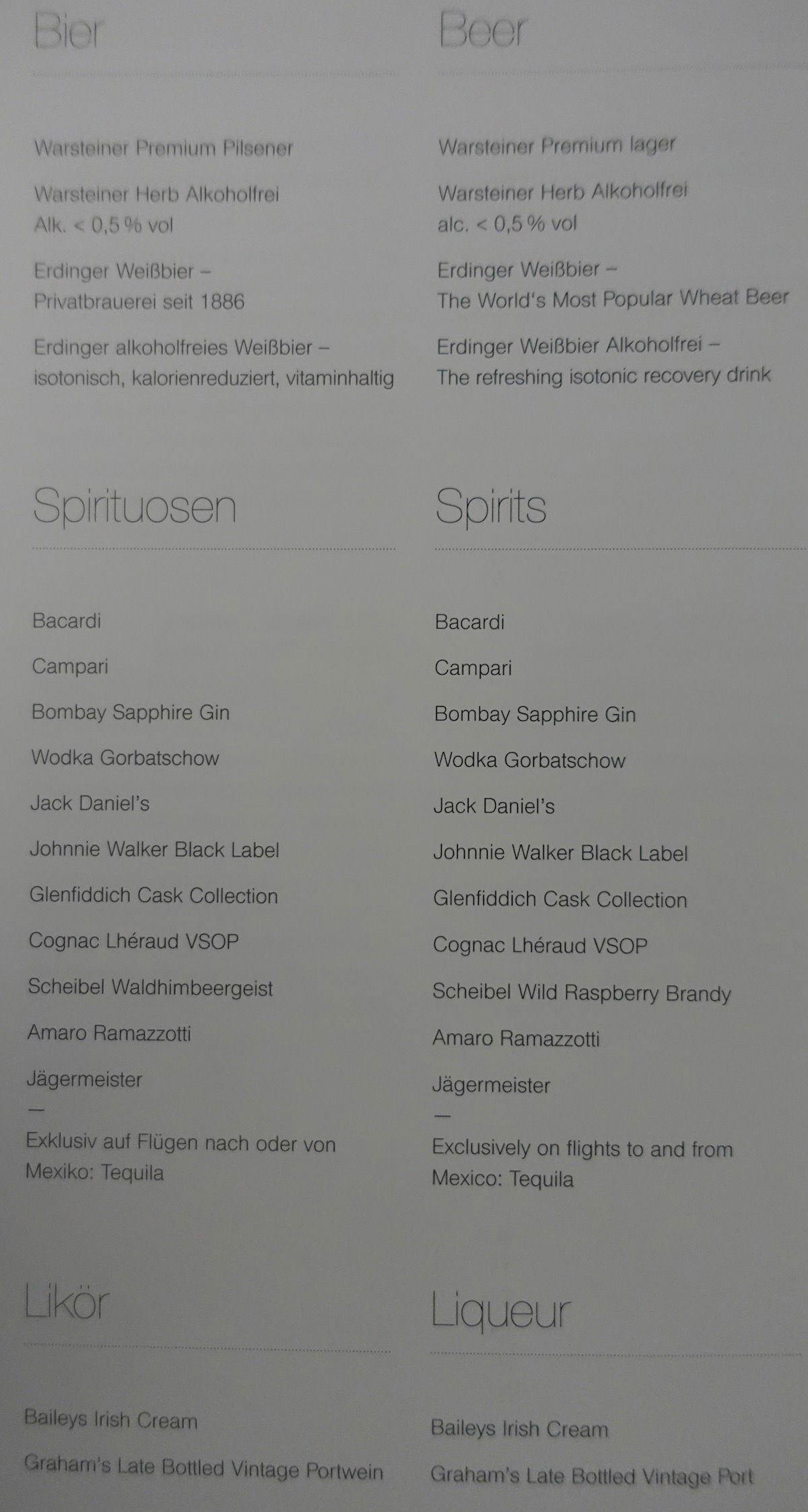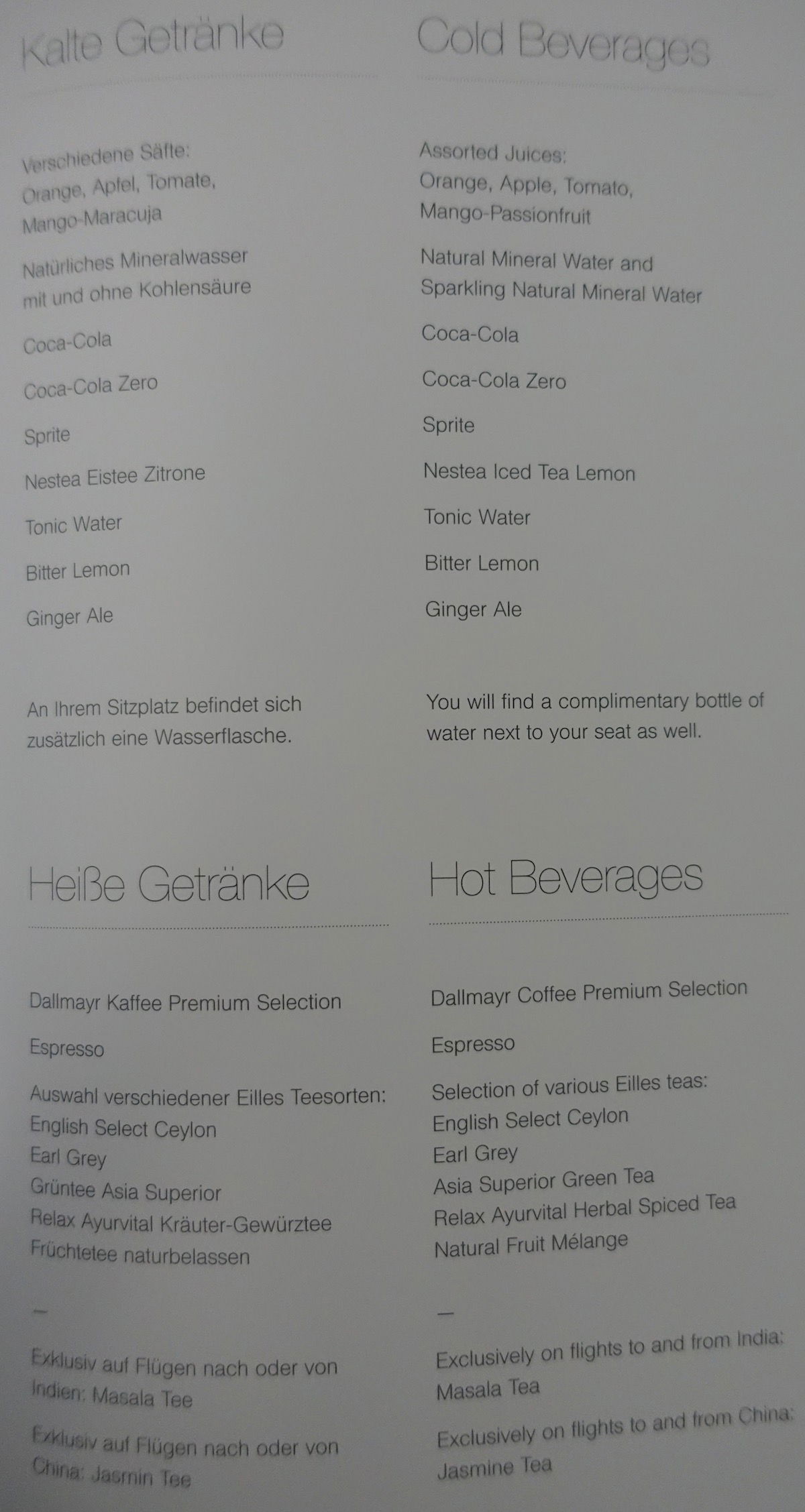 To start I ordered a glass of champagne, which was served at 9:10PM, about 35 minutes after takeoff. Lufthansa serves Heidsieck Monopole Blue Top Brut in business class, which is nice enough. It was served with some warm cashews.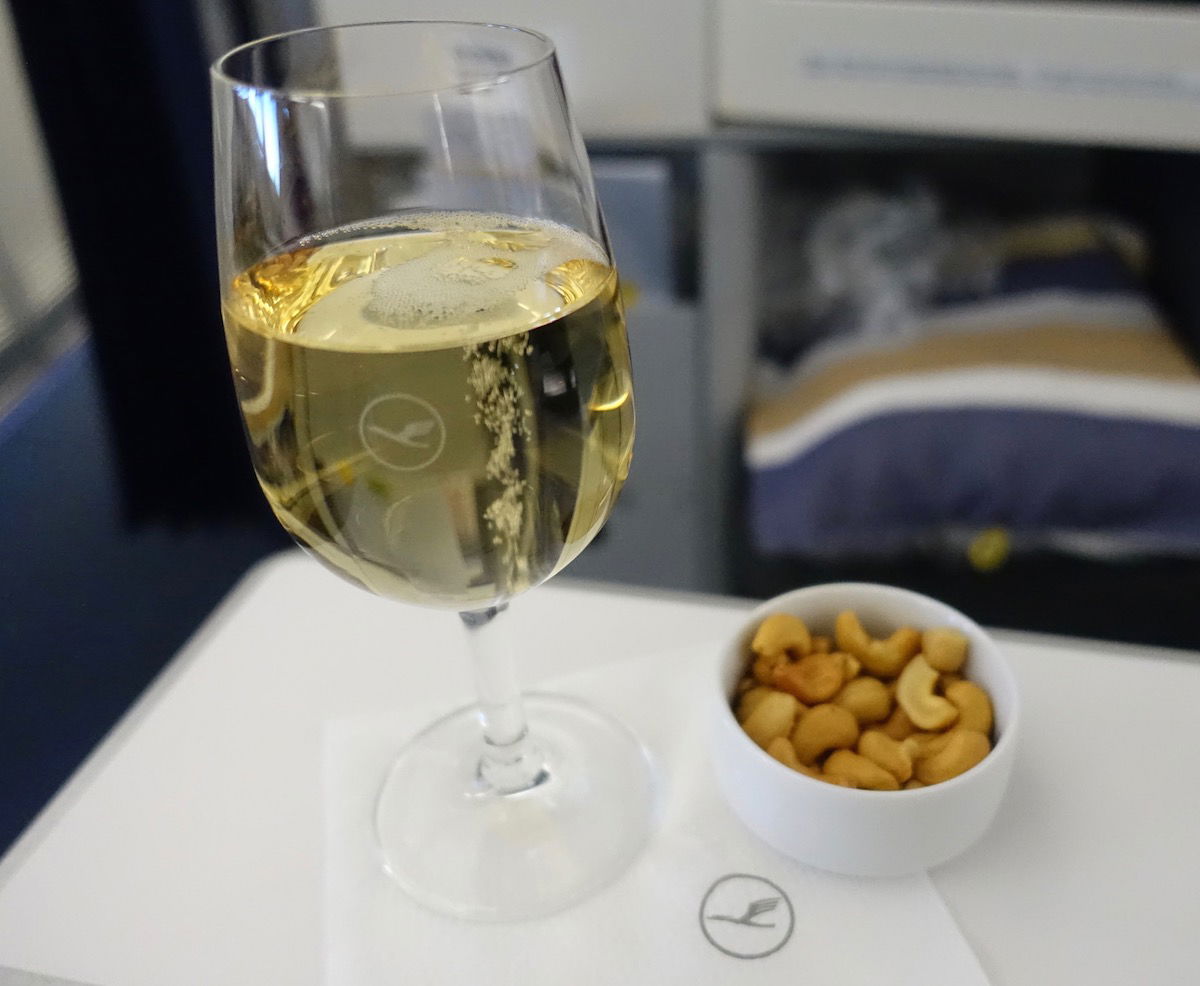 Lufthansa business class dinner — champagne & warm cashews
At first I was a bit underwhelmed by the menu because there was just a salad and main course, and not an appetizer. Then again, this was a quick redeye, and the focus is on maximizing sleep. In the end I was very pleased with the meal.
I was served my meal at 9:45PM, about 70 minutes after takeoff. Both the salad and main course were excellent.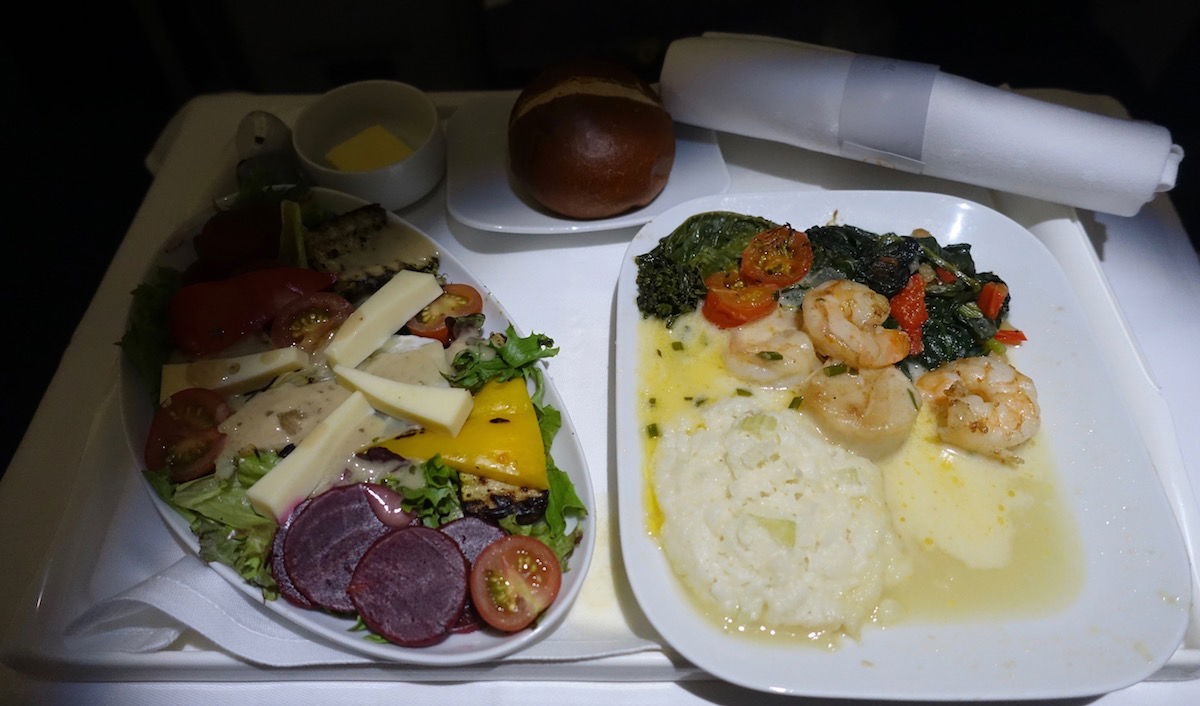 Lufthansa business class dinner
The salad in particular was top notch, as I don't remember the last time I've had such a good salad in business class.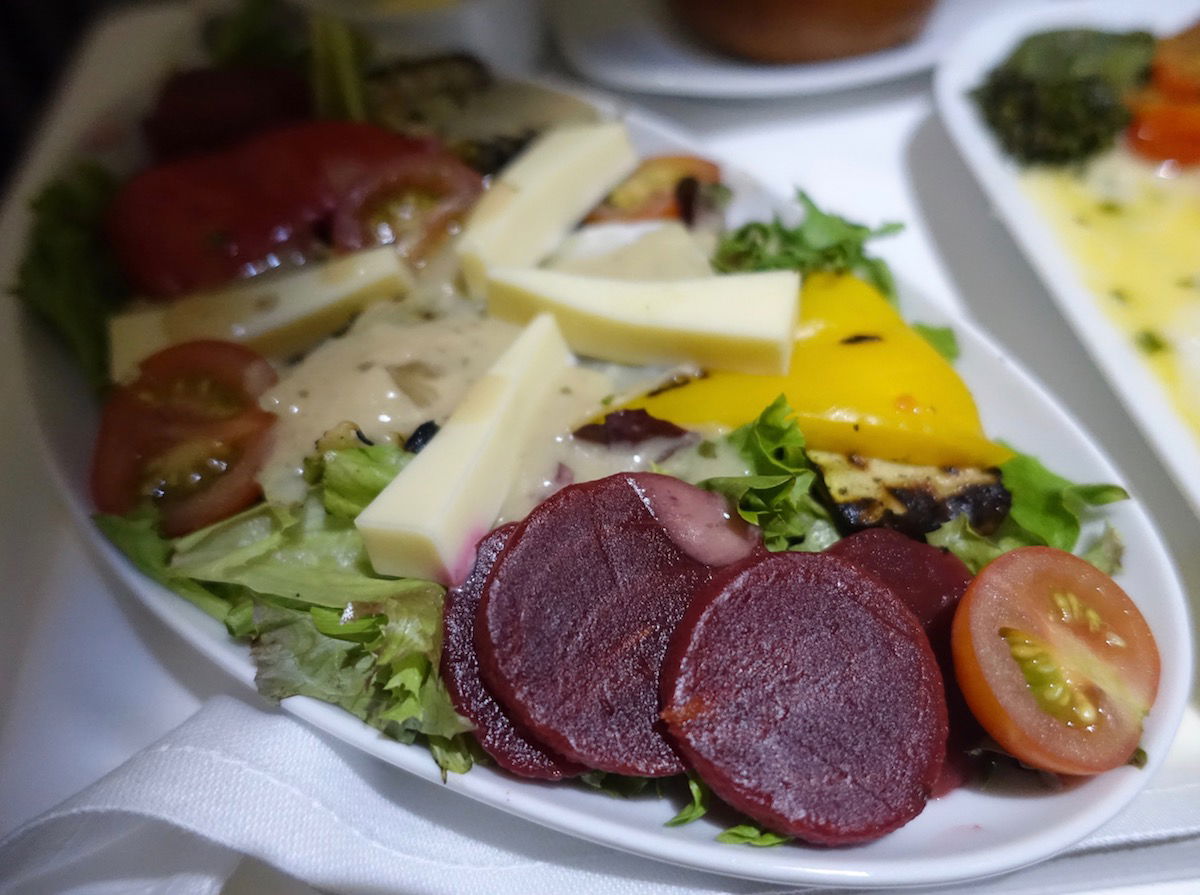 Lufthansa business class dinner — seasonal salad with vegetables
The main course was good as well. My only disappointment was that there was only a single scallop.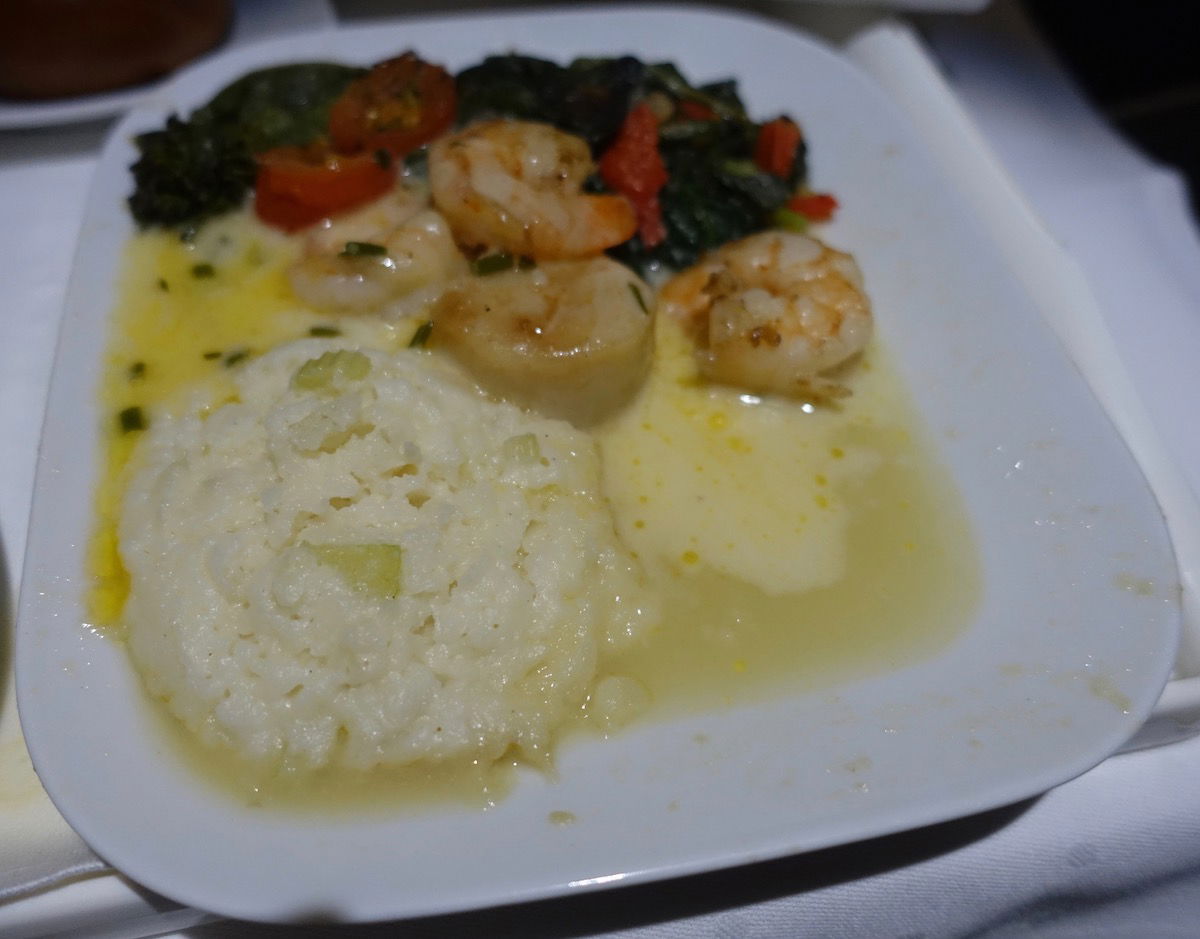 Lufthansa business class dinner — seared scallops and shrimp with potatoes, broccolini, and spinach
For dessert there was the choice between cheese and ice cream. I chose the ice cream, which was Haagen-Dazs dulce de leche gelato. Personally I'd prefer they have another dessert option or at least present the ice cream differently, but then again, this is pretty common among airlines.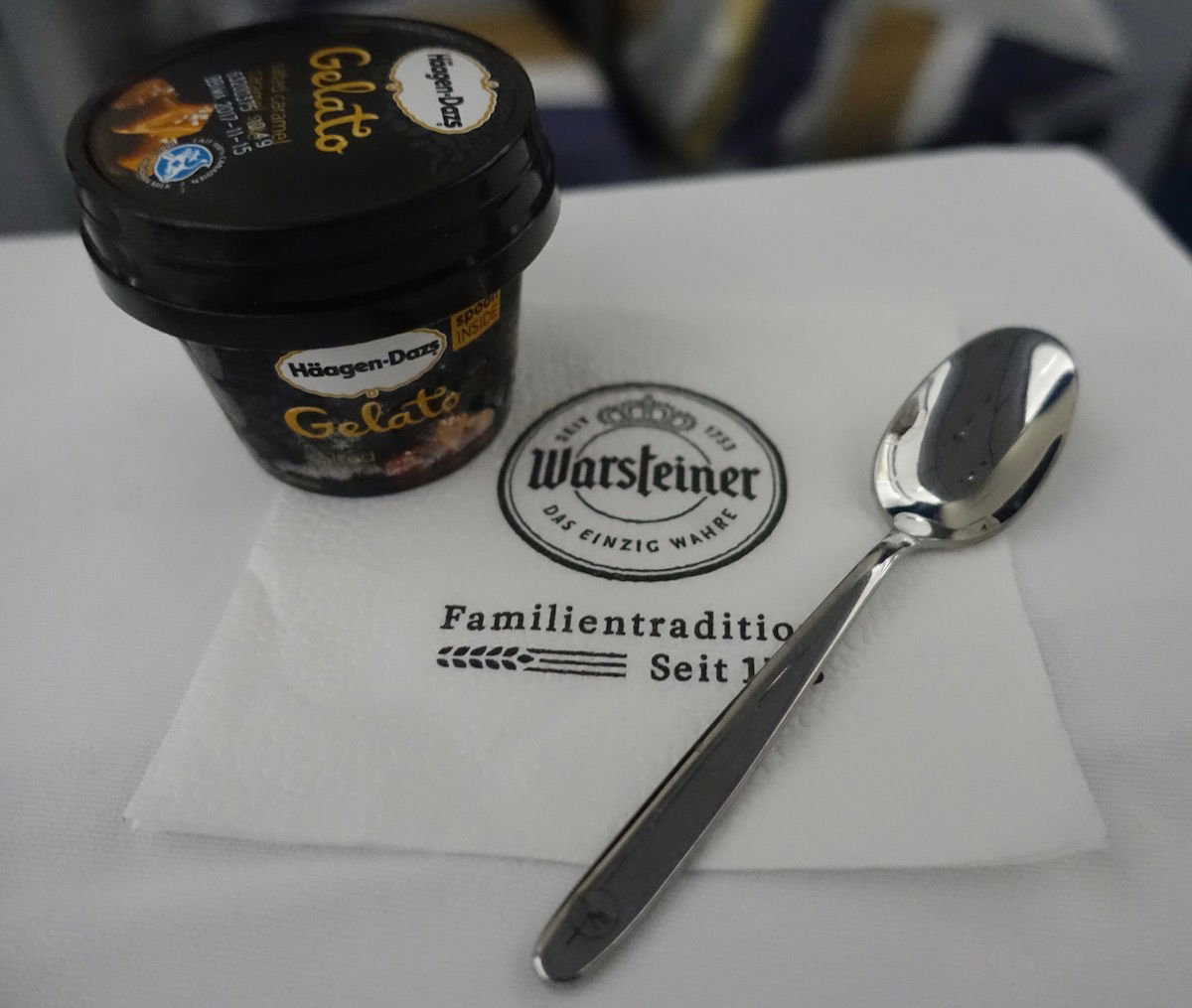 Lufthansa business class dinner — dulce de leche ice cream
Once my tray table was cleared I was given some packaged chocolate.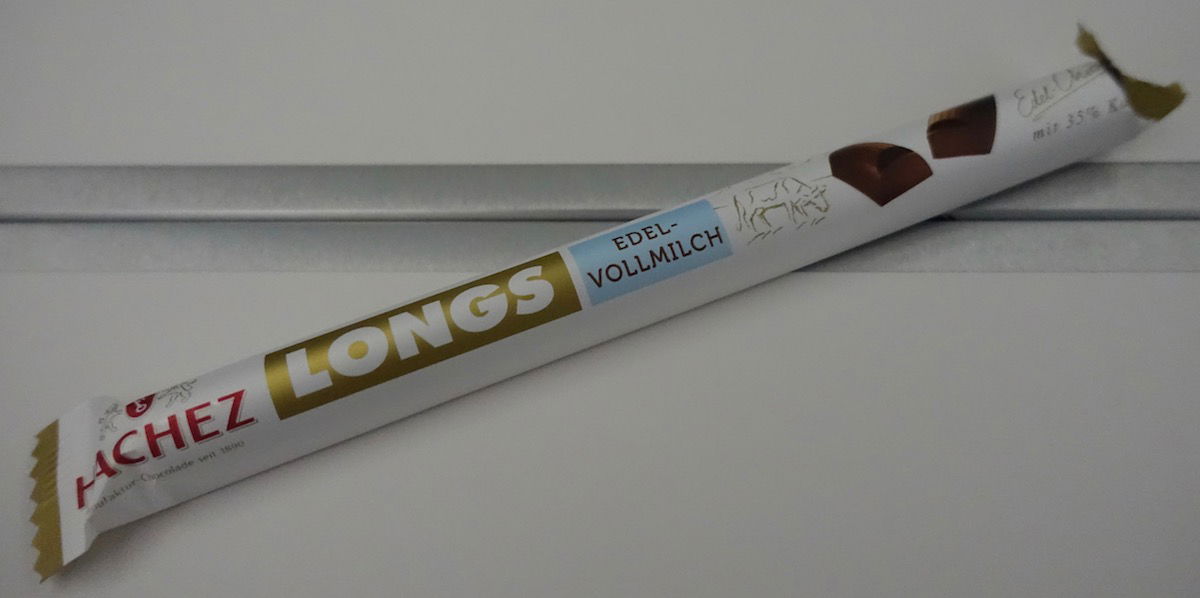 Lufthansa business class dinner — chocolate
The service was done about 90 minutes after takeoff, which I'd say is about as good as it gets.
I have to give Lufthansa a lot of credit for their new business class service concept. Lufthansa used to take an "assembly line" approach to business class service, where flight attendants would come down the entire aisle with carts, and you really wouldn't get any personal service.
With Lufthansa's new service concept, there's instead a single flight attendant dedicated to a certain number of seats (let's say maybe 8-10 passengers per flight attendant). Carts aren't used, they remember your names, and they take care of you from start to finish. The flight attendant taking care of me was friendly, and this was such a pleasant surprised compared to Lufthansa's old service concept.
Once the meal was done I browsed the inflight entertainment selection.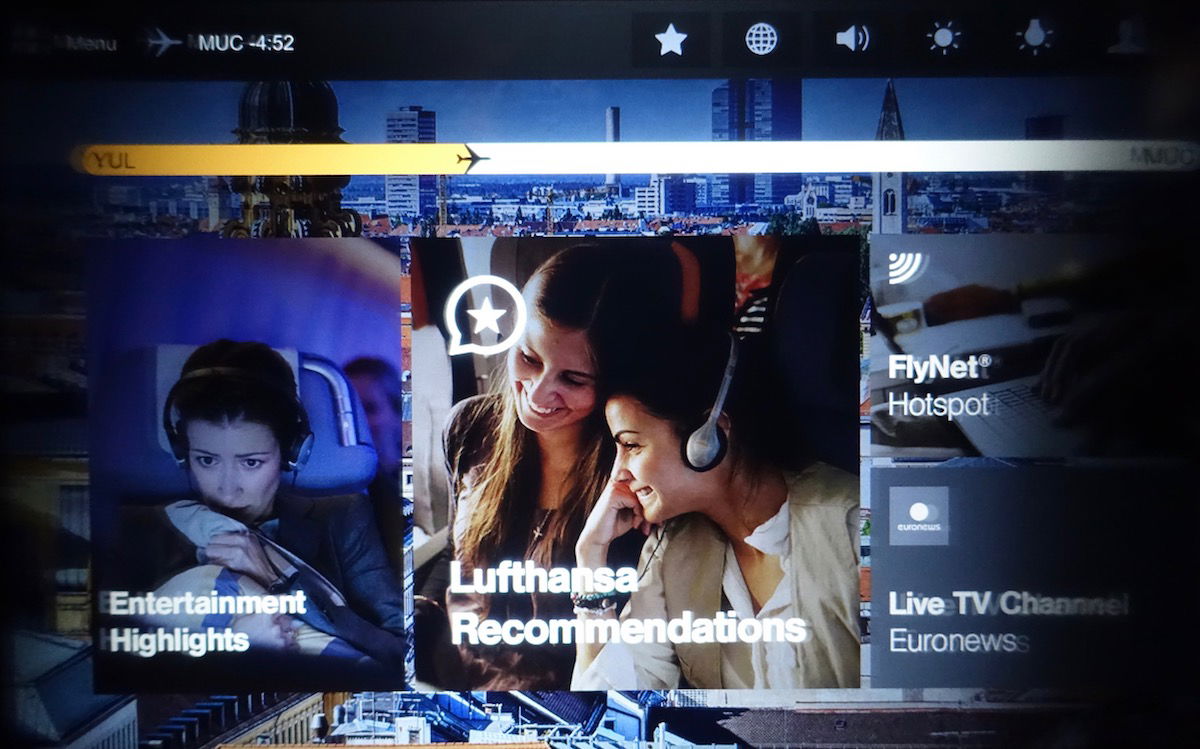 Lufthansa entertainment system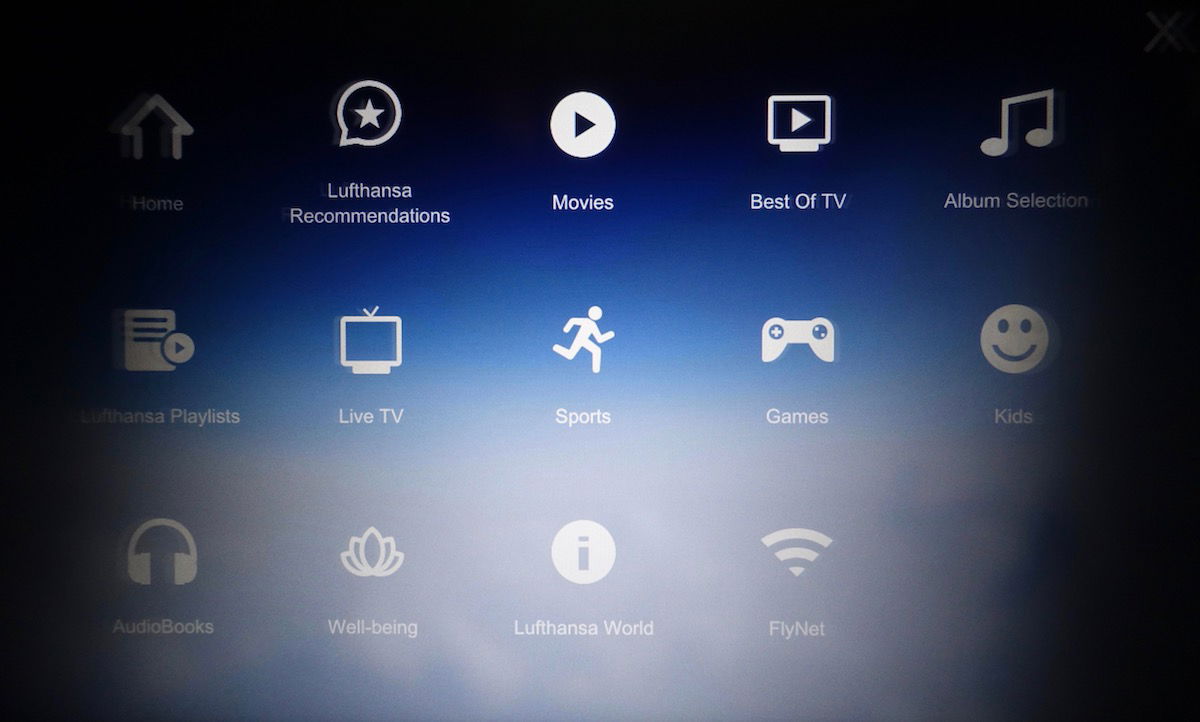 Lufthansa entertainment system
Lufthansa's entertainment selection on this flight was better than I remembered in the past. There were 130+ movies; I don't ever recall them offering that many movies in the past. This might just be because I never pay attention to their selection, given how good their Wi-Fi is. I don't remember the last time I've watched a movie on Lufthansa.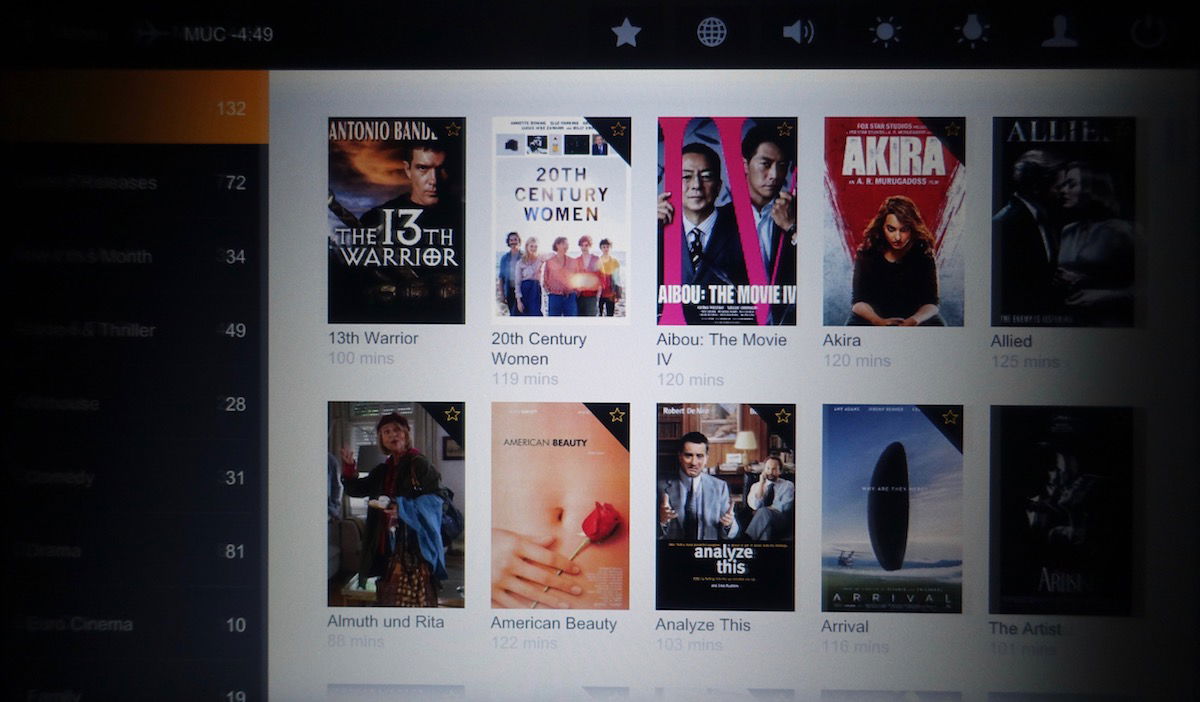 Lufthansa entertainment system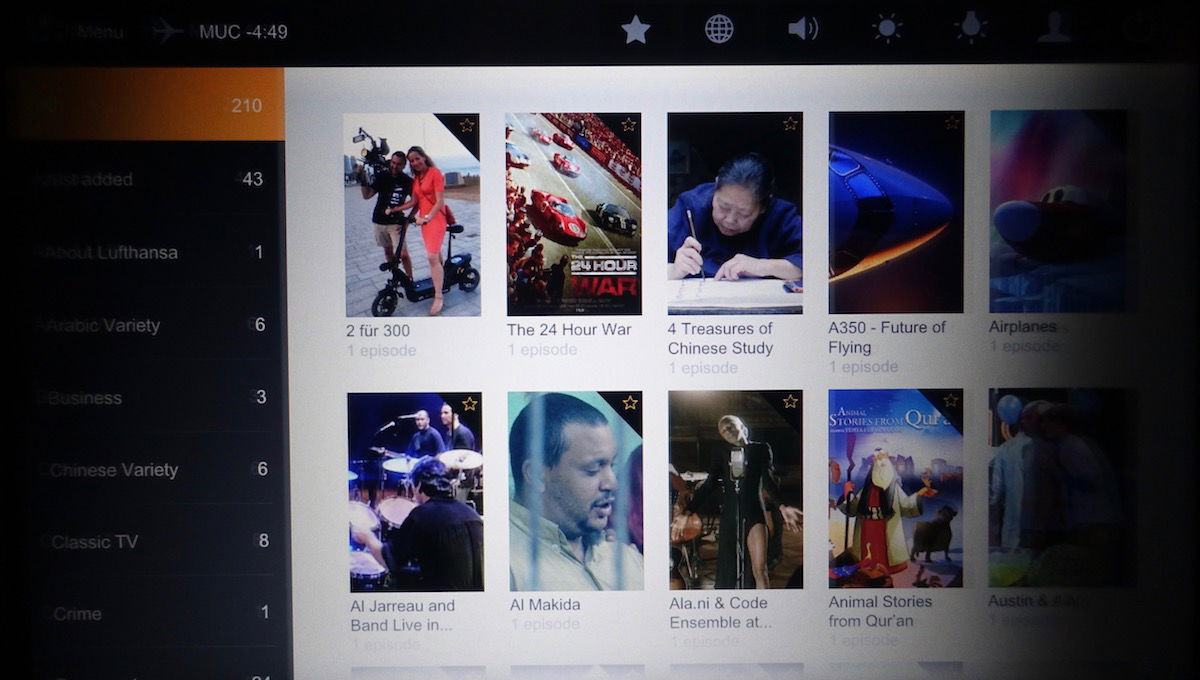 Lufthansa entertainment system
By the time I was ready to sleep, we had just under five hours remaining to Munich.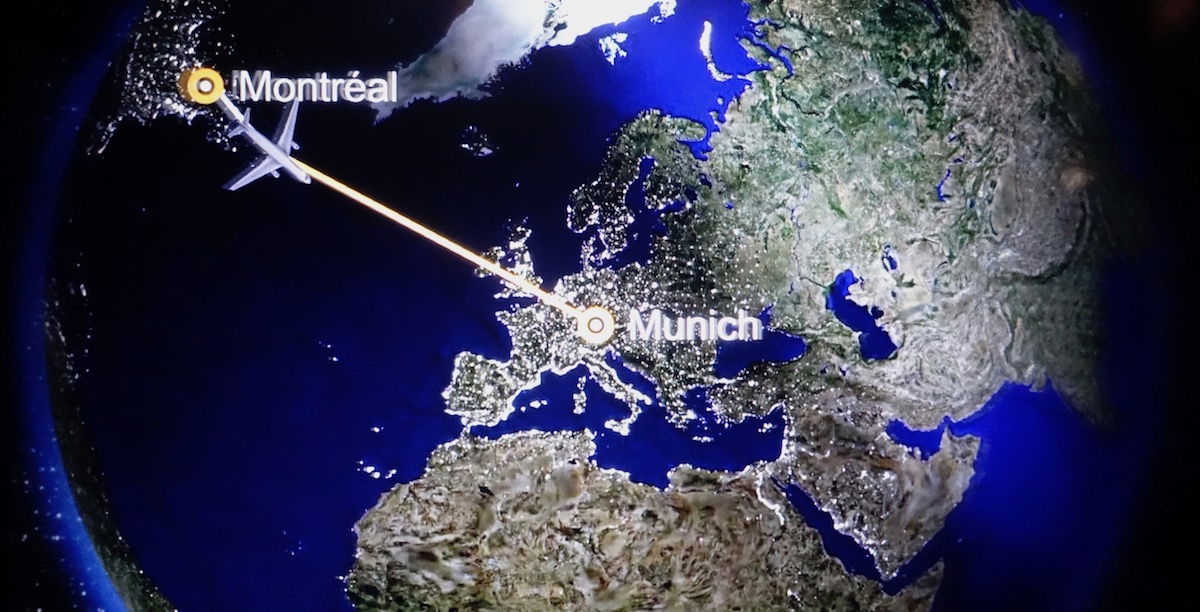 Lufthansa airshow enroute to Munich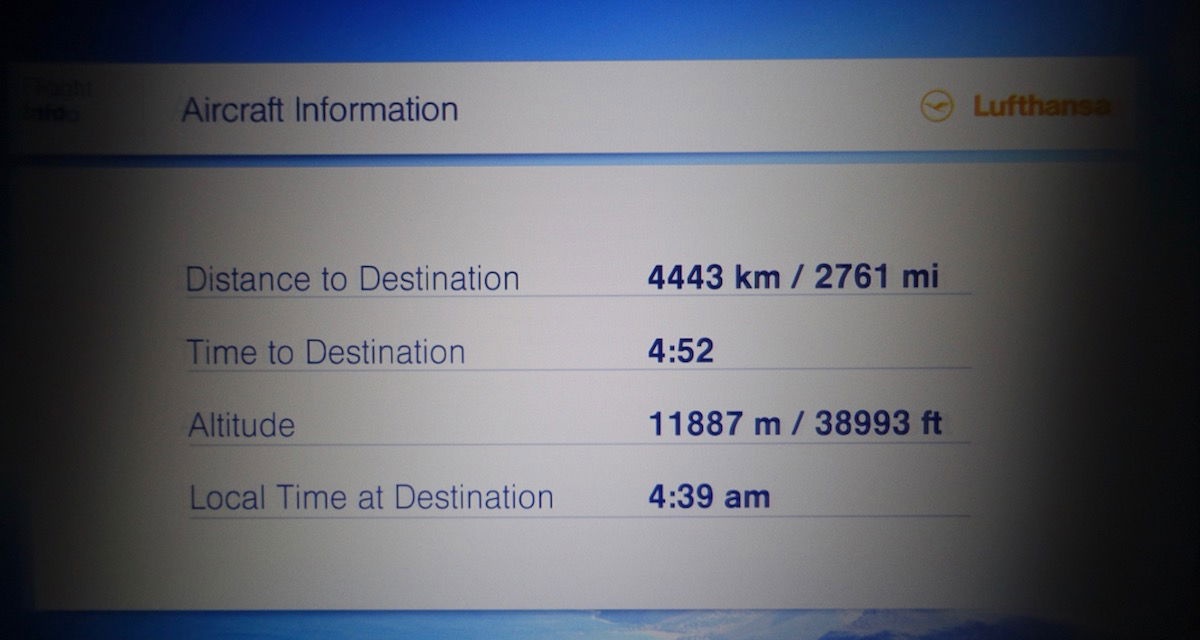 Lufthansa airshow enroute to Munich
I reclined my seat, and found it to be reasonably comfortable, though I was also really tired. Ultimately this seat is pretty tight, and it's awkward when you and your seatmate are facing one another. Lufthansa doesn't have any sort of a privacy partition between seats, and it's not unusual for knees to be touching.
So while the seats aren't great, I was exhausted and slept uninterrupted for about 3.5 hours.
I woke up about 80 minutes out, as the cabin lights were turned on in preparation for breakfast.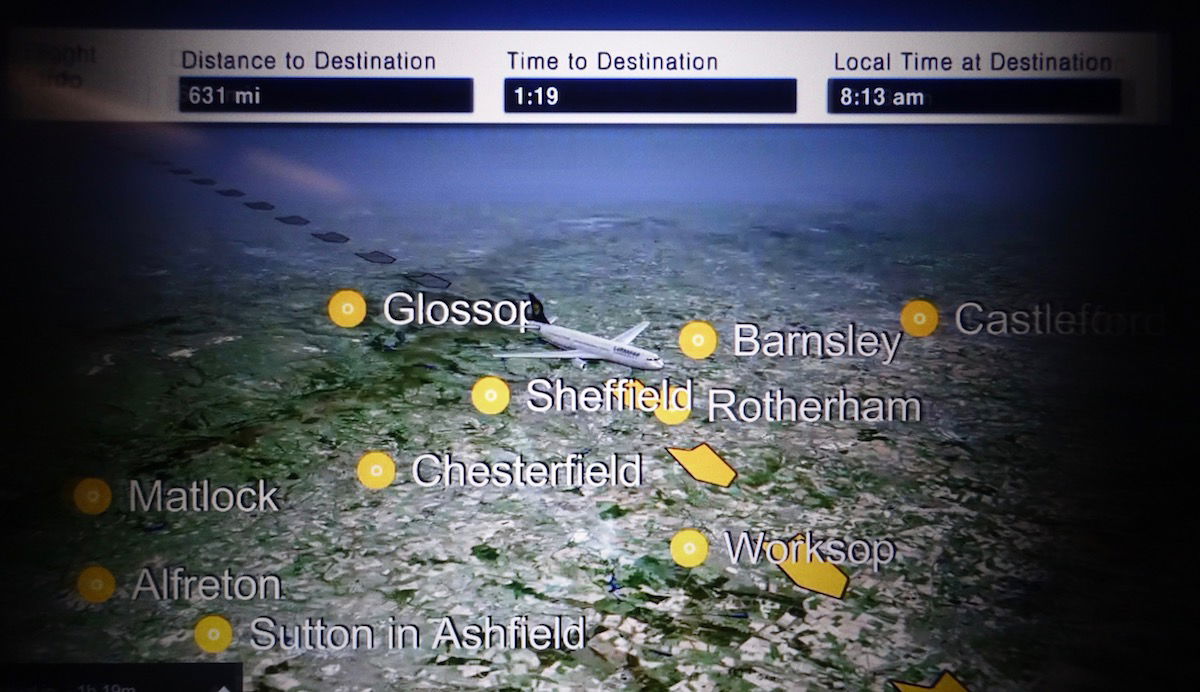 Airshow approaching Munich
The entire breakfast was served on a single tray.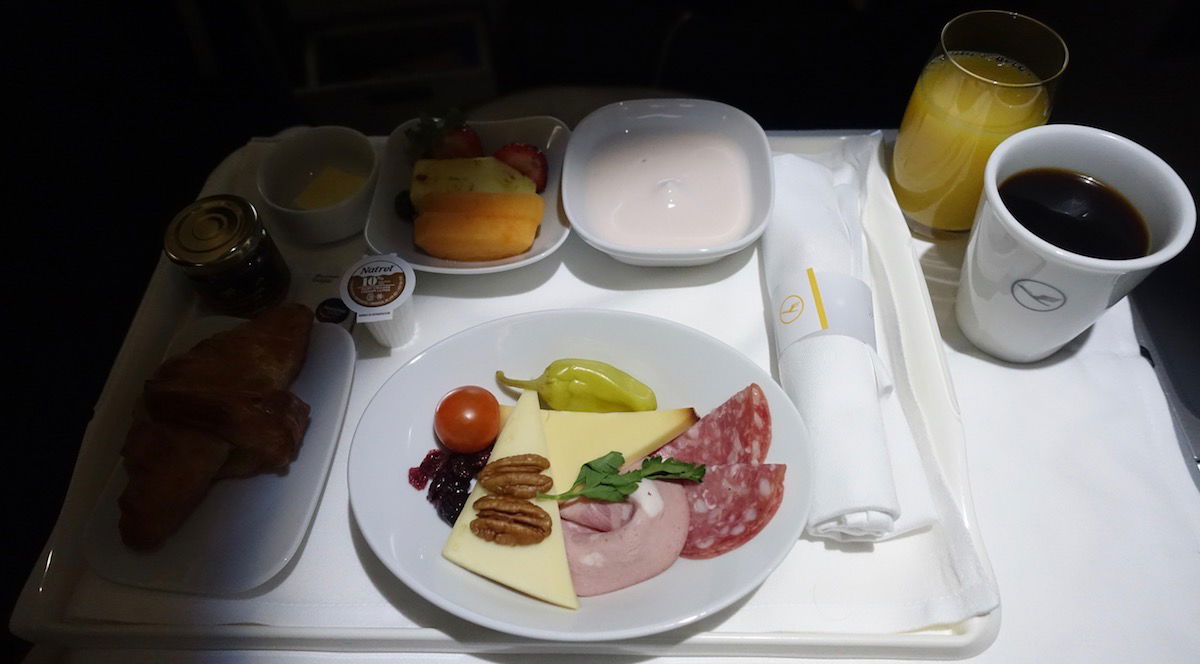 Lufthansa business class breakfast
This was a light breakfast, though that's perfectly reasonable on such a short flight. The "main" consisted of cold cuts, cheese, etc.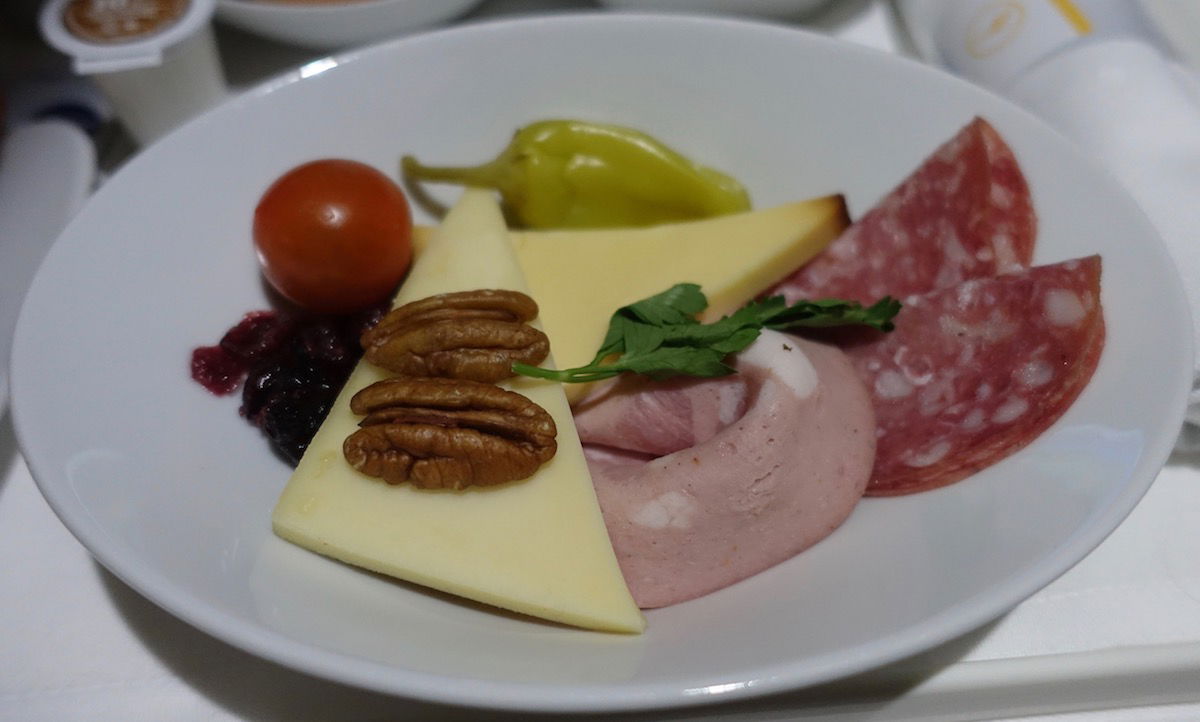 Lufthansa business class breakfast — cold cuts
Then there was a side of fruit and yogurt, as well as a selection of bread from the breadbasket.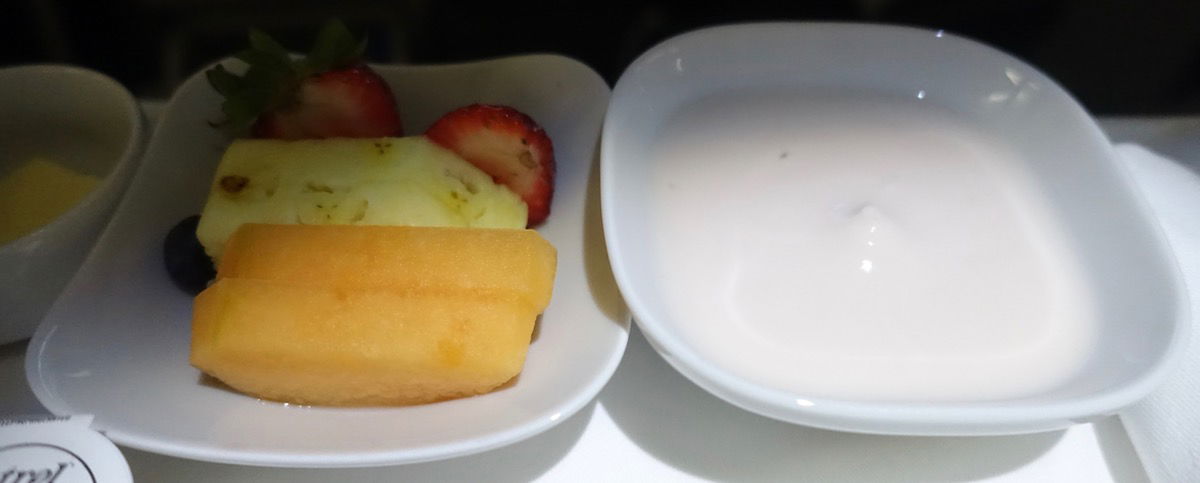 Lufthansa business class breakfast — fresh fruit and yogurt
There wasn't much in the way of coffee refills as the crew was really hustling, given that people were waking up throughout the breakfast service.
At 8:50AM the first officer announced that we'd be landing in about 40 minutes, and should even be at the gate a bit early. Sure enough, we had a smooth touchdown in Munich at 9:30AM sharp.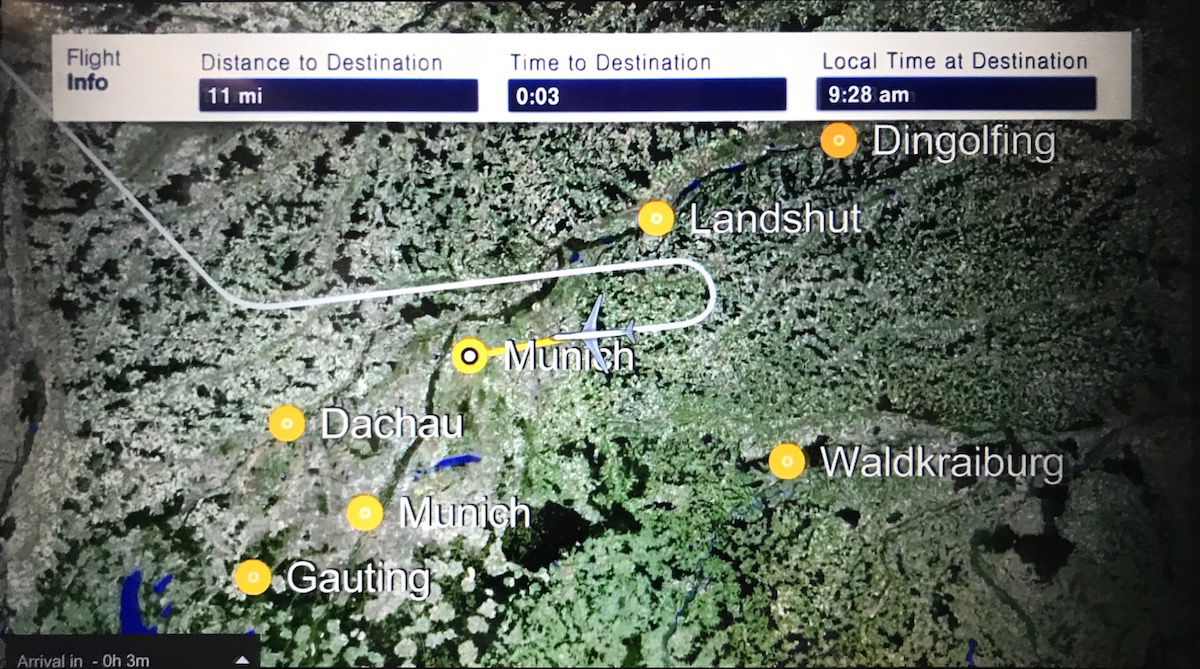 Airshow approaching Munich
From there it was just a short five minute taxi to our arrival gate, where we arrived 15 minutes early. I had only booked a 45 minute connection in Munich, and ended up having plenty of time before my flight to Naples.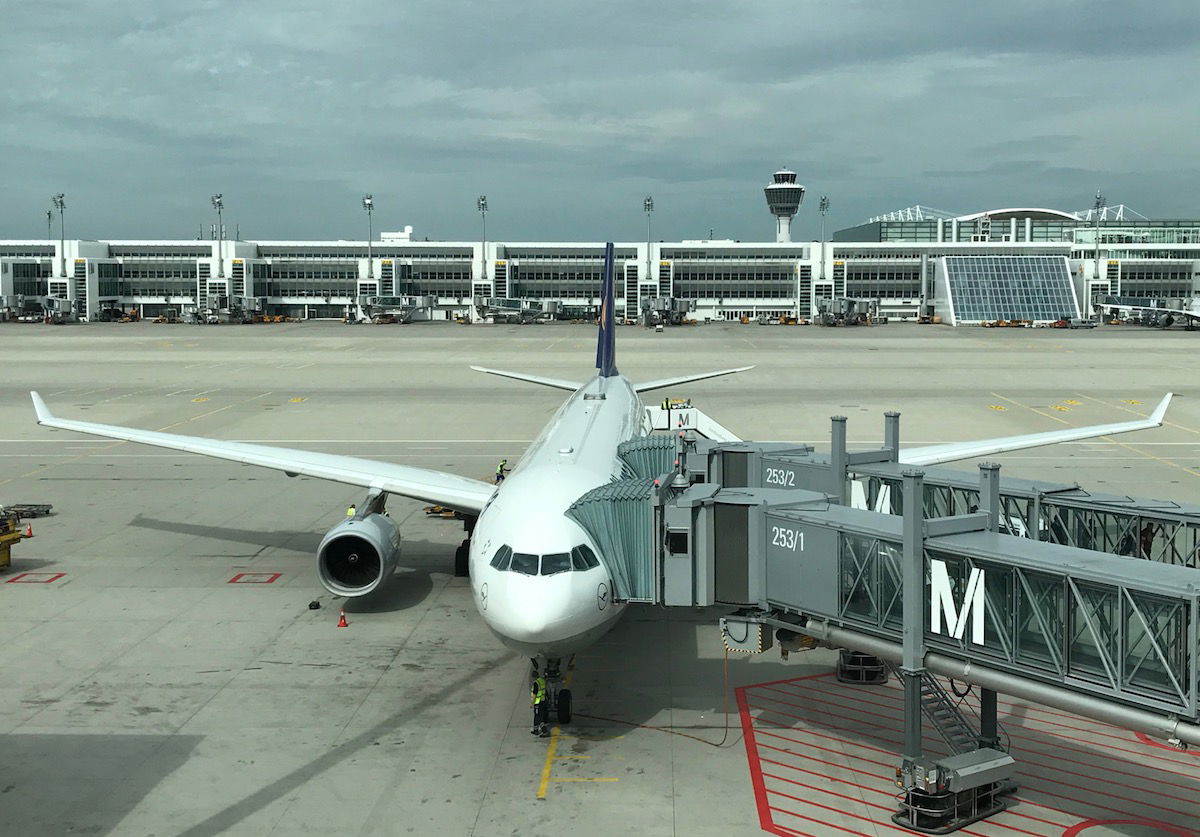 Lufthansa A330 upon arrival in Munich
Lufthansa A330 business class bottom line
There were things about Lufthansa business class that impressed me, and other things that didn't.
On the plus side, I think Lufthansa's new service concept in business class is a huge improvement over the old one. While the menu was limited, the food quality was excellent. Furthermore, I love Lufthansa's Wi-Fi pricing, and also the Bose headphones they offer in business class.
Then there are the downsides. Business class is all about the seat, and that's an area where Lufthansa fails miserably. While most airlines are working towards direct aisle access from every seat in business class, Lufthansa isn't even trying. Their business class seats have virtually no privacy, and on top of that, are pretty tight. So if you're traveling with someone, or if we're just talking about a relatively short flight, that's fine. But for an ultra longhaul flight traveling alone, this product isn't competitive in any way.
I'm afraid that both British Airways and Lufthansa seem to take their customers for granted in business class. While aspects of the experience were better than I was expecting, the hard product just isn't competitive.
If you've flown Lufthansa business class, what was your experience like?