In late 2017, Lufthansa announced its new business class product, which over five years later still isn't available on a single plane. The airline has today formally unveiled further details of its new "Allegris" product offering. In addition to revealing details about a new first class product, Lufthansa has also announced more details about its new business class.
A look at Lufthansa's new business class
Lufthansa has revealed what it's calling the "Allegris" product generation, which the airline describes as its biggest-ever investment in the premium cabin experience. This includes the airline sharing some more details about its new business class product.
Lufthansa is promising a new business class product, offering direct aisle access and of course fully flat beds for all passengers. The cabin will alternate between being in a 1-2-1 and 1-1-1 configuration. The walls in the new business class will be a minimum of 114cm (~45 inches) high, featuring "generous space in the shoulder area."
All seats can be converted into a two meter bed, and will feature a 17″ personal television, wireless charging, noise canceling headphones, and the ability to connect one's own device (like a PC, tablet, smartphone, or headphones) to the entertainment system via bluetooth.
With its new product offering, Lufthansa seems to want to be all things to all people, and the airline is marketing how it will have seven different kinds of seating options for business class passengers (presumably there will be extra costs for some of the premium offerings). These seating types include the following:
Front row suites, which are the seats in the first row with doors (more on that below)
Extra space seats, which are the solo center seats
Window seats, which are the seats closest to the windows
Seats with extra long beds, measuring 2.2 meters
Seats with privacy and an infant carrier, by the windows in the last row of the cabin
Double seats, which are in the last row and can be turned into a double sleeping space
The standard business class seats, which are the window seats closer to the aisles, as well as the other center seat pairs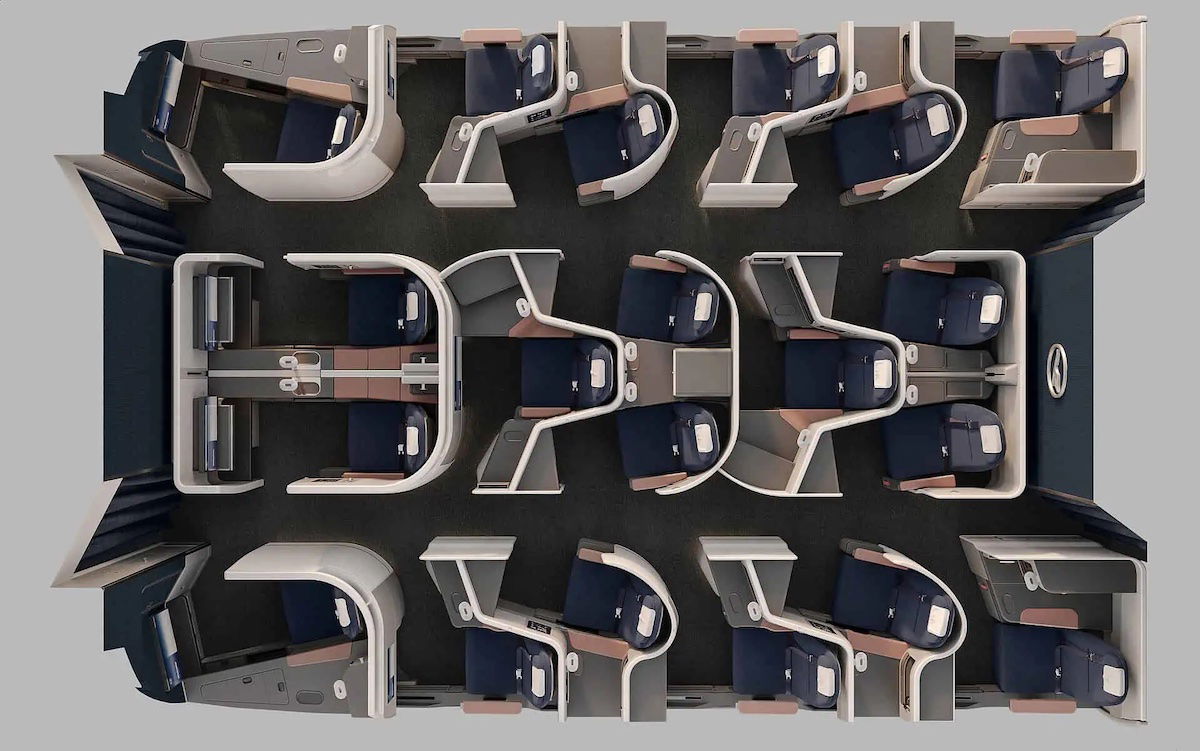 While I can appreciate the desire to appeal to different market segments, is there a point at which too much choice isn't a good thing, in terms of product consistency, understanding the product, and logistics?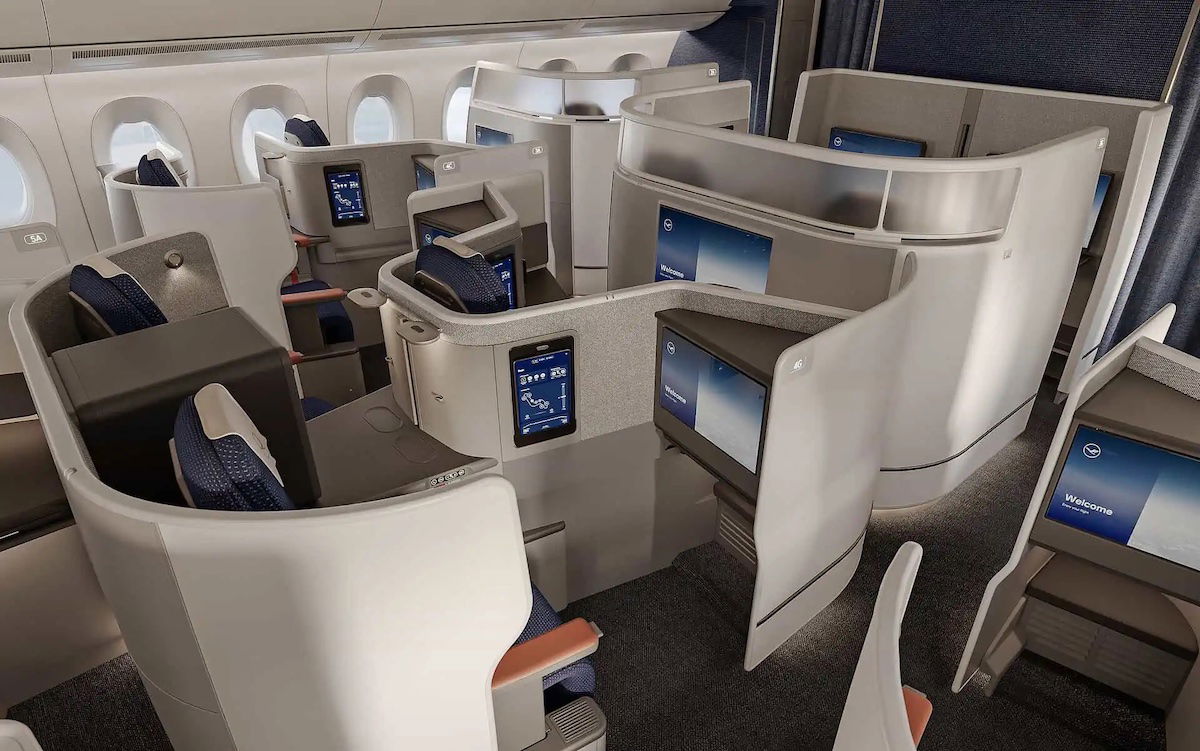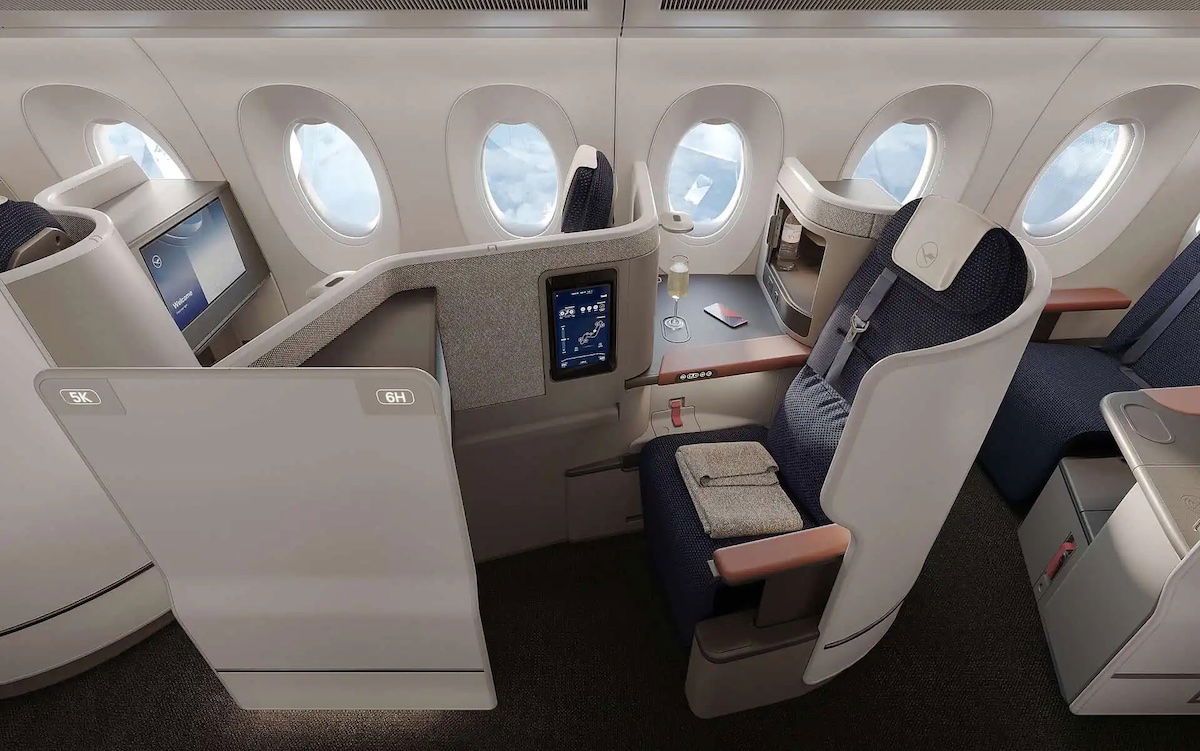 Lufthansa's first row business class suite
Lufthansa intends to introduce a premium business class product in the first row of the cabin. Lufthansa is promising that these seats will feature additional personal space, privacy doors, a monitor of up to 27″, a personal minibar, and additional storage, including a wardrobe.
Furthermore, the two suites in the center section can be connected to offer a large degree of privacy to those traveling together. Note that this is different than the single seats in the center section, which are otherwise in every other row.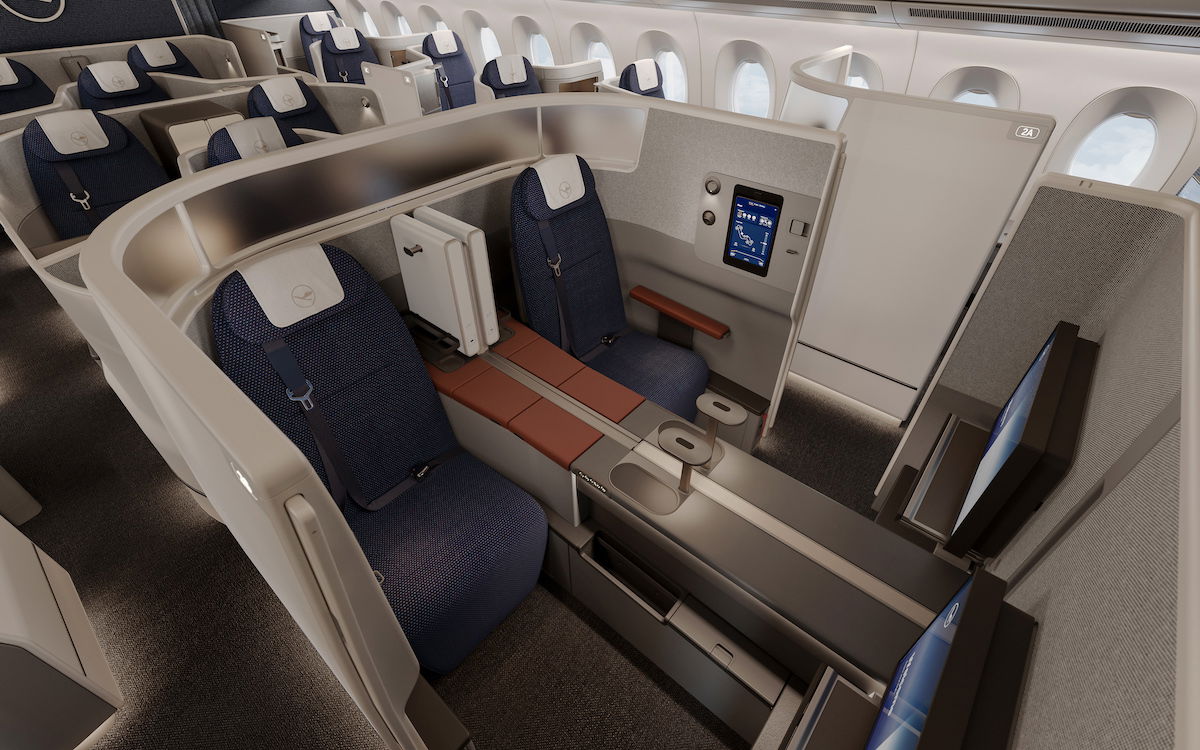 This "business class plus" concept is an increasingly common trend among airlines, where they create a premium business class product in the first row, to take advantage of this additional space. We're seeing this on a variety of airlines, including Condor's new Airbus A330-900neos (which have Prime Seats), Virgin Atlantic's new Airbus A330-900neos (which have Retreat Suites), and more.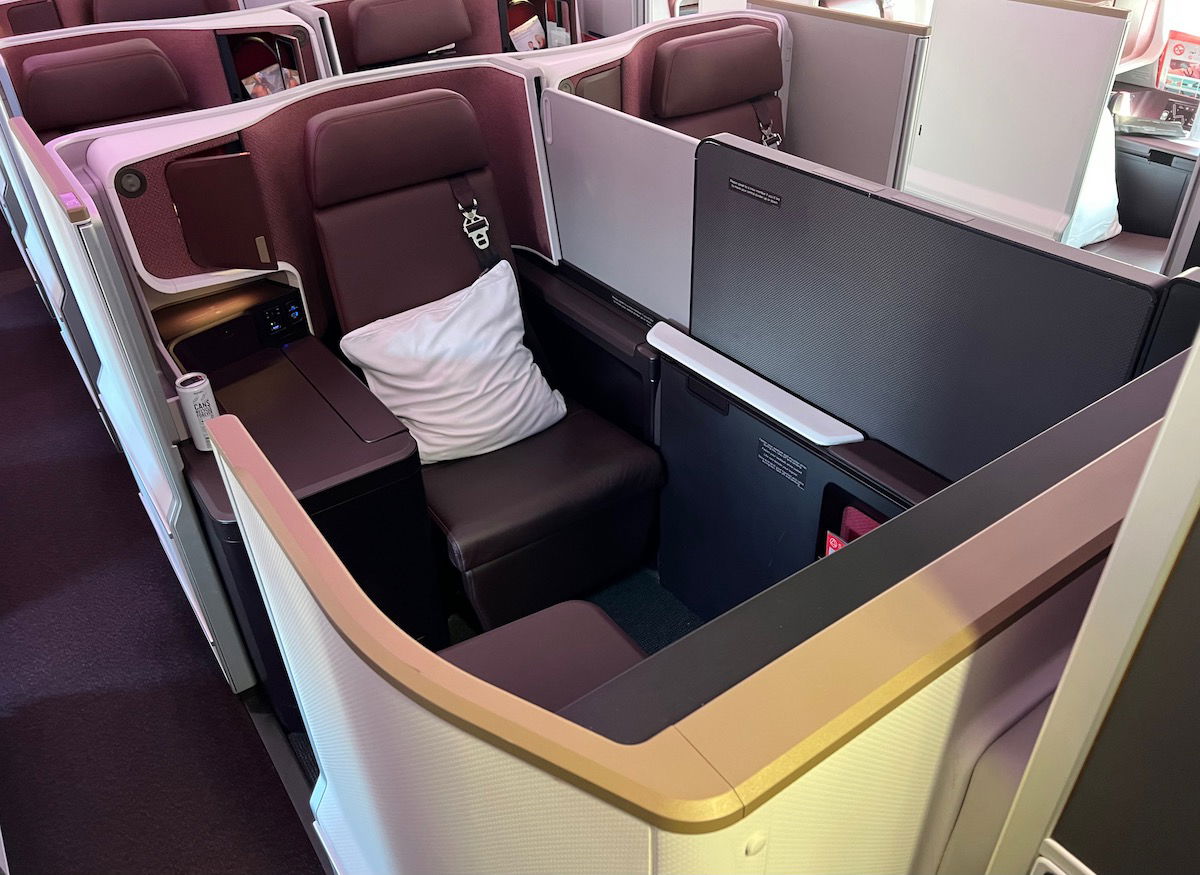 It really is unbelievable (for better or worse) how many different seating options Lufthansa will have in business class, in addition to two different kinds of first class products.
Lufthansa's new business class seat count
When introducing these new business class seats, Lufthansa will pretty considerably be reducing its premium cabin seat count:
Airbus A350-900s will feature 38 business class seats, including eight of the suites (since there will be two cabins)
Boeing 787-9s will feature 28 business class seats, including four of the suites (since there will be one cabin)
As a point of comparison, Lufthansa's current Airbus A350-900s feature 48 business class seats. So while I can appreciate that Lufthansa can maybe focus on offering a more personalized experience, this isn't good news for business class fares or award availability.
Timeline for Lufthansa's new business class
Lufthansa claims that it will launch its new business class product in 2023. The plan had been for Lufthansa to introduce it in the summer of 2023 on A350-900s also featuring first class, but those planes are now only being delivered as of 2024. Lufthansa is also expected to introduce this product on some Boeing 787-9s, but with delivery delays on those jets, who knows when the first plane with these seats will be delivered.
So while an exact timeline remains to be seen, as of now the plan remains for the product to be introduced in 2023, presumably on the Boeing 787s.
Note that this product is different than the secondhand planes that Lufthansa has recently picked up, which also feature a new interim business class product. This includes Lufthansa's A350-900s that previously flew for Philippine Airlines, as well as Lufthansa's 787-9s that were intended to fly for Hainan.
Lufthansa's new business class product was initially supposed to debut on the Boeing 777-9, but that jet has been delayed by at least five years, to 2025. Why Lufthansa hasn't been installing the new product on all its newly delivered A350s since then is a mystery, though.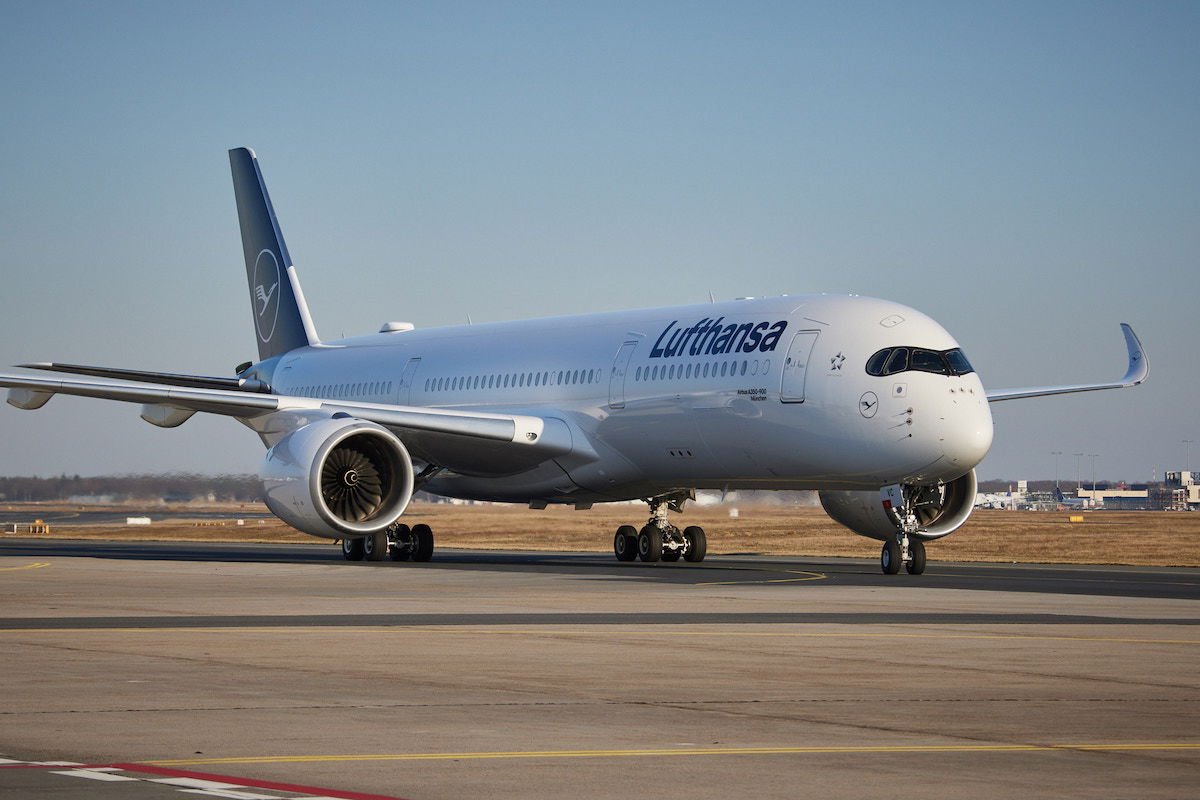 Lufthansa's new business class looks… pretty good?
When Lufthansa initially unveiled its new business class product in 2017, I was pretty impressed, both because it represented a significant incremental improvement, and because it genuinely looked good. However, seats have evolved quite a bit in the past five years, and I can't help but think that at this point the product looks average at best.
To me, the standard seats in this configuration look awfully similar to United Polaris or EL AL business class.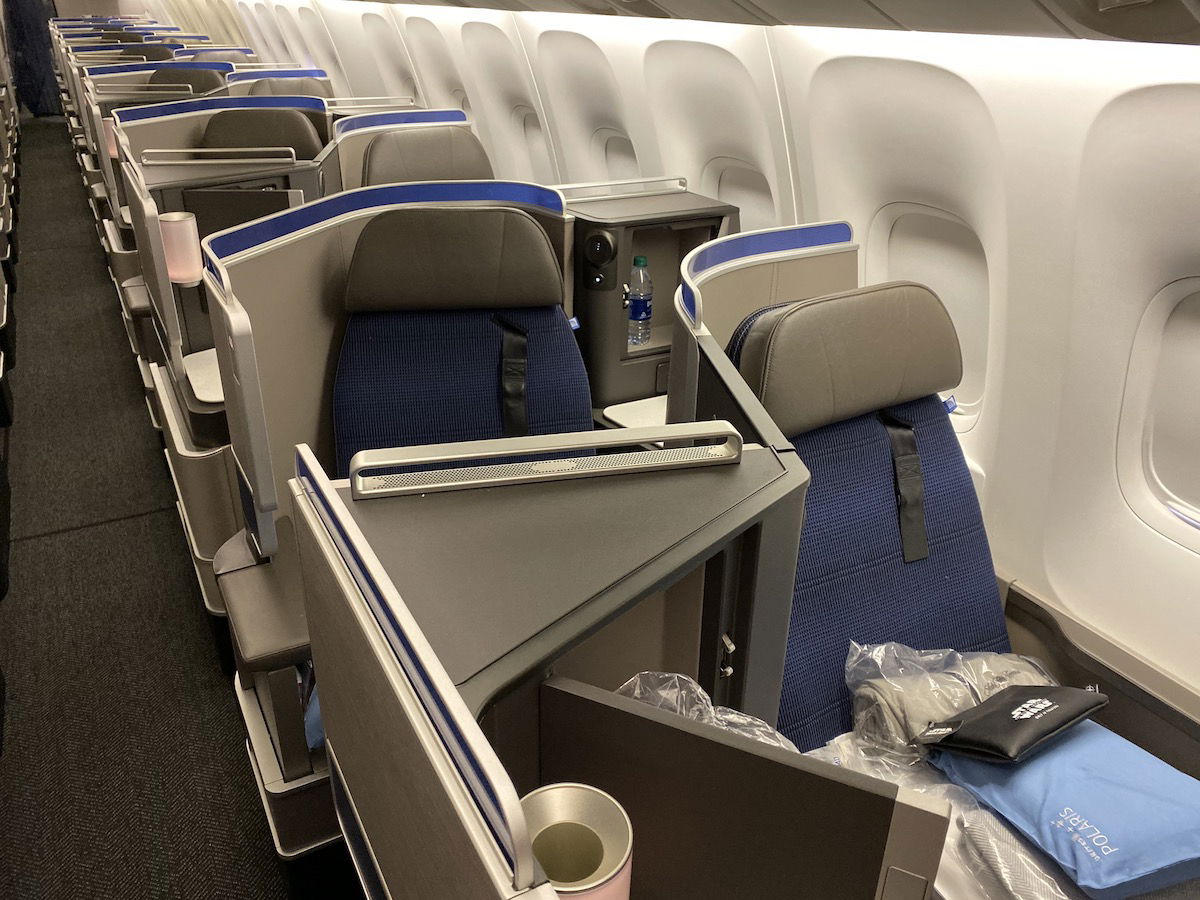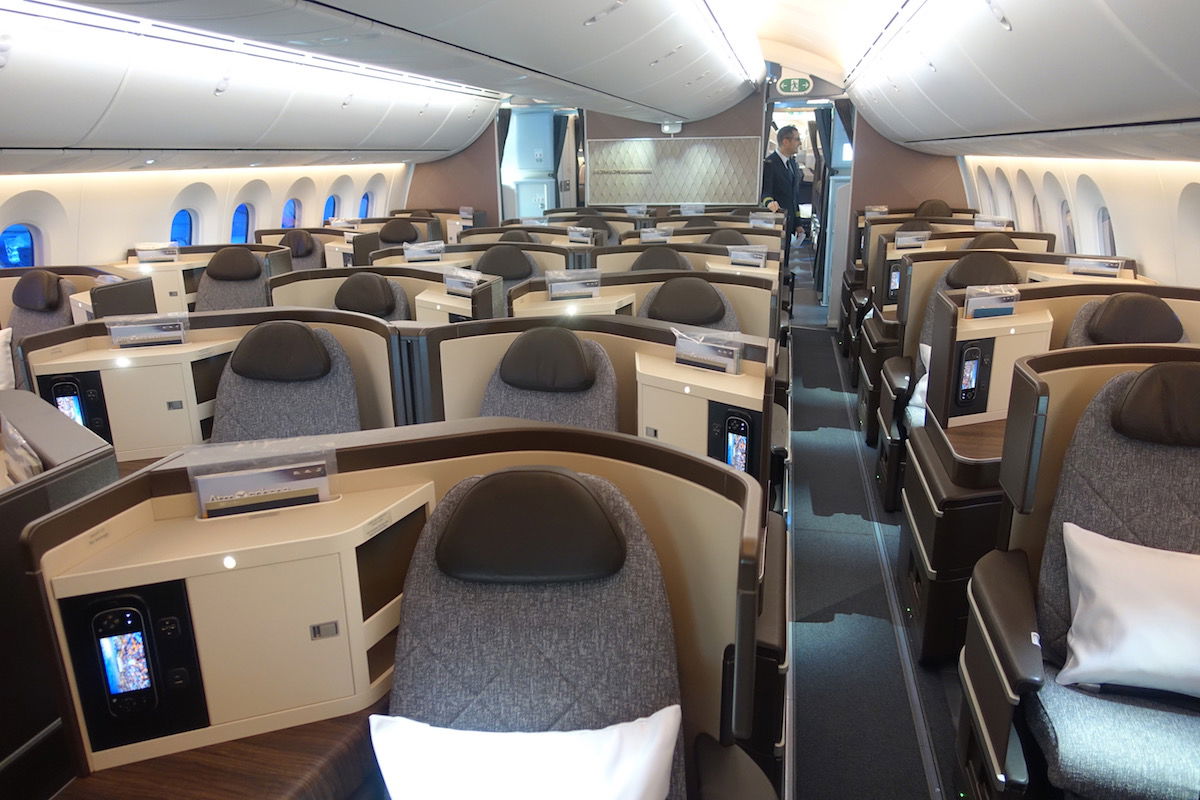 Don't get me wrong, those are perfectly nice products. However, they've been around for quite some time, and we know that United is already looking at introducing a new business class product. Meanwhile Lufthansa will only start to install these seats as of this year, so it's anyone's guess how long it will be before a majority of Lufthansa long haul jets feature these seats (probably 2027, optimistically?).
At least this represents a significant improvement over Lufthansa's current business class.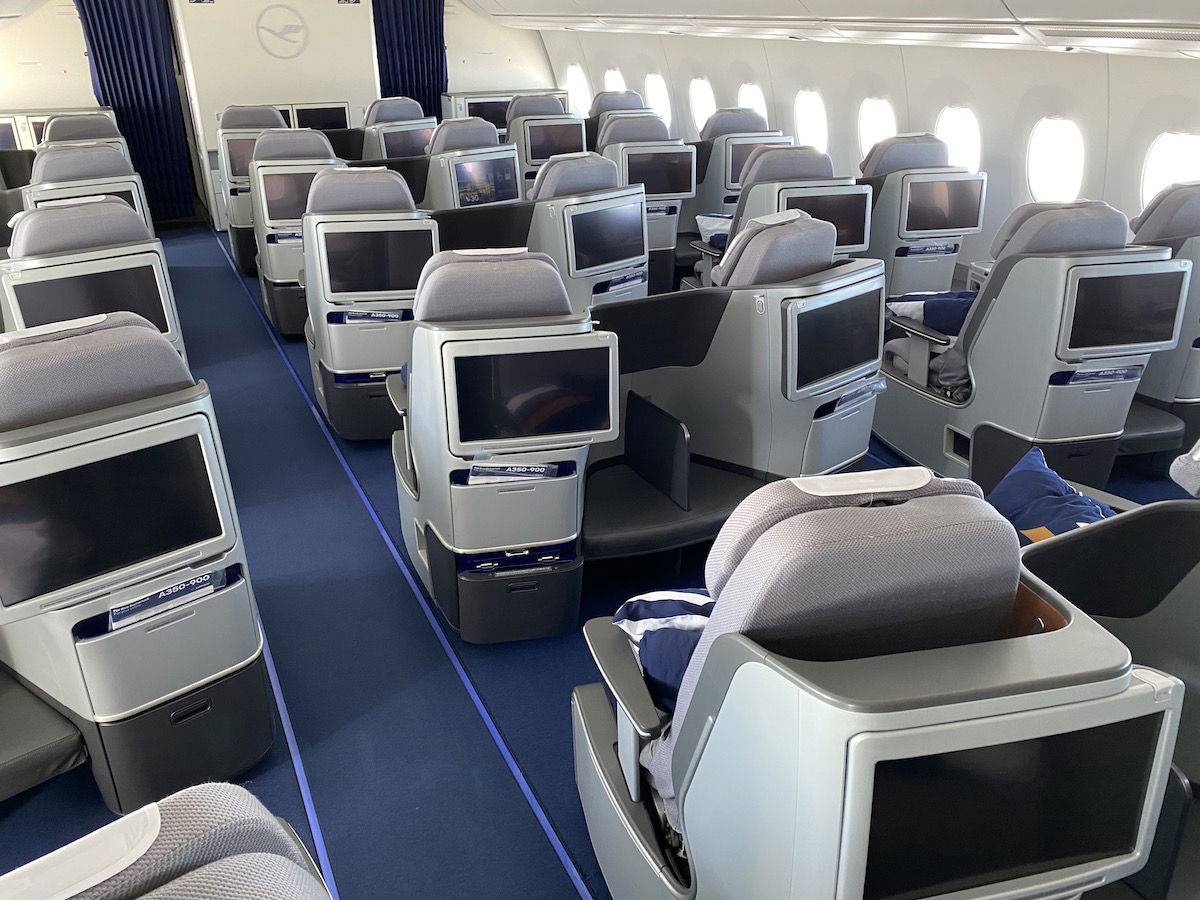 Bottom line
Lufthansa has revealed more details about its new business class product, including plans for a first row suite with privacy doors. This product was first announced back in 2017, and is now expected to enter service later this year.
Perhaps what's most interesting about the new seats is how Lufthansa is marketing seven different business class experiences, offering a lot of choice. I'm not sure what to make of that, both in terms of product consistency, and in terms of (presumably) charging for many types of seats that are considered premium.
What do you make of Lufthansa's new business class?