Emirates offers one of my favorite first class products in the world. I consider Emirates' new 777 first class to be the world's best first class product, while I love Emirates' A380 first class for the shower suite and onboard bar.
Fortunately you don't have to spend $10,000+ per ticket to fly Emirates first class, as it's possible to redeem rewards points for travel in these luxurious cabins. In this post I wanted to cover the basics of redeeming miles for Emirates first class, and how to actually secure award space.
I figured this was a topic worth revisiting, given the Emirates Skywards devaluation we recently saw, and also given that it's now possible to redeem Air Canada Aeroplan points for Emirates first class.
Redeeming Skywards miles for Emirates first class
Generally the best way to redeem miles for Emirates first class is through the Emirates Skywards program. Savvy points collectors know to take advantage of loyalty program arbitrage opportunities, so that the airline they want to fly and the airline program they redeem through often aren't the same.
However, over the years Emirates has greatly restricted partner first class award space. Therefore nowadays Emirates Skywards is often going to be the best program for redeeming for Emirates first class in terms of availability, pricing, and ease of earning miles. Air Canada Aeroplan is another option, but I'll cover that in a separate section below.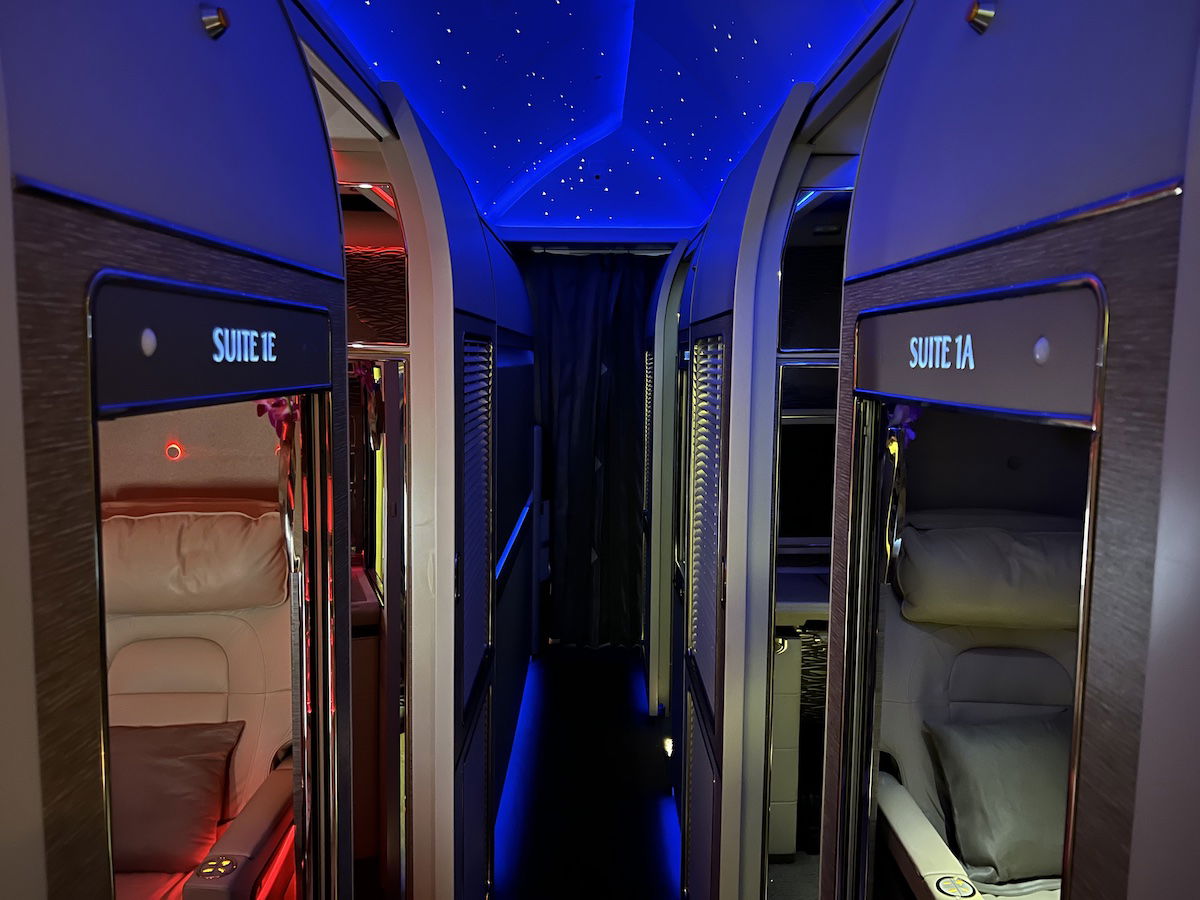 How many miles do you need for an Emirates first class award?
Emirates doesn't have an award chart, but rather has an award mileage calculator. Just follow the link and select your origin and destination, and whether you want to travel one-way or roundtrip, and you'll be shown the award cost. The cost is consistent in a given market, and you can expect that the pricing is broadly distance based.
Emirates Skywards consistently charges half as much for one-way first class awards as for roundtrips, so there's not really an advantage to booking a roundtrip. To give you a general sense of first class award pricing:
A one-way award from New York to Milan or Newark to Athens will cost you 102,000 Skywards miles
A one-way award from Washington to Dubai will cost you 163,500 miles
A one-way award from Los Angeles to Dubai to Male will cost you 186,000 miles
As you can see, the value here differs quite a bit. In general redeeming for first class on fifth freedom flights between the United States and Europe is a real sweet spot of the program. That's especially true when you consider that these flights have among the lowest surcharges.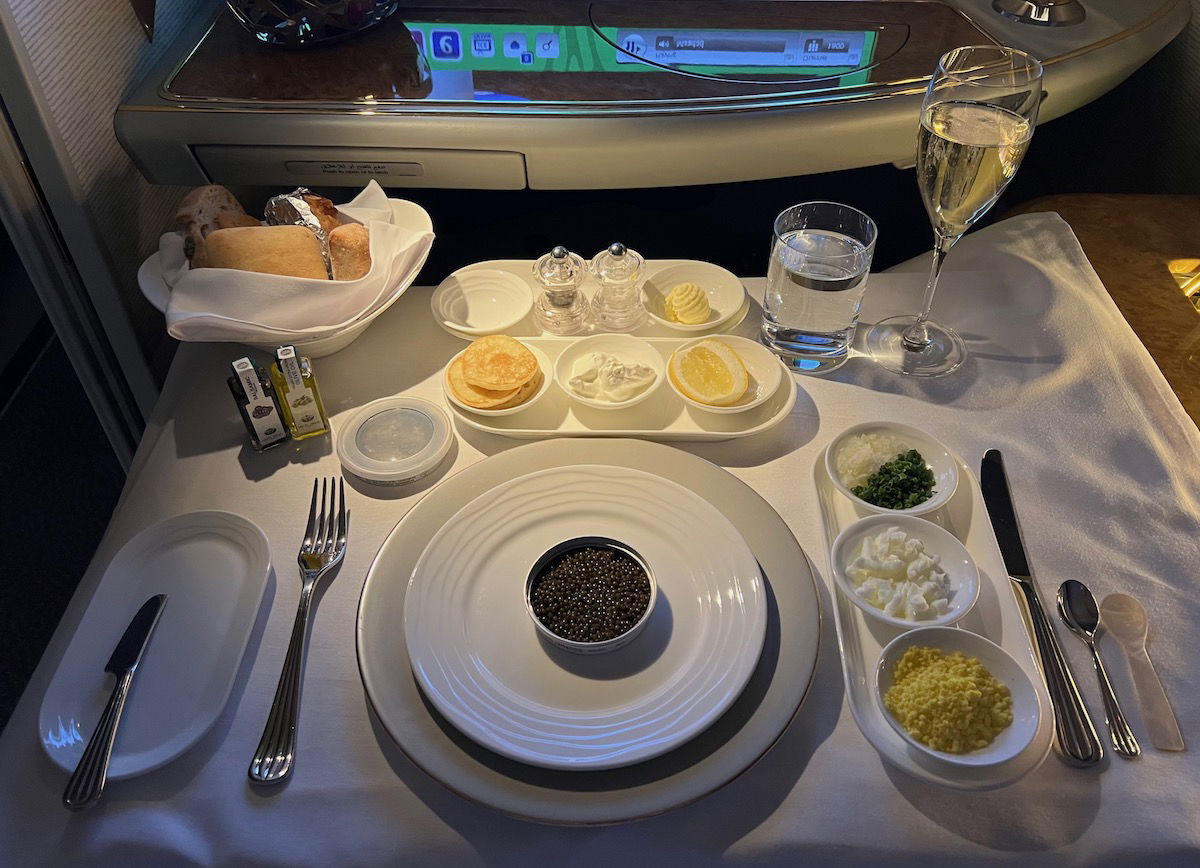 Are there fuel surcharges on Emirates awards?
When redeeming miles, Emirates Skywards does pass on whatever carrier imposed surcharges (often referred to as fuel surcharges) would be charged on a revenue ticket. These do change over time, and have been higher than before in the past couple of years, given fuel costs.
Between the United States and Dubai (and beyond) in first class, you can expect to pay $800+ per person one-way. Meanwhile between the United States and Europe in first class, they're much lower, at closer to $100 per person one-way. Hopefully these go down again over time as oil prices decrease.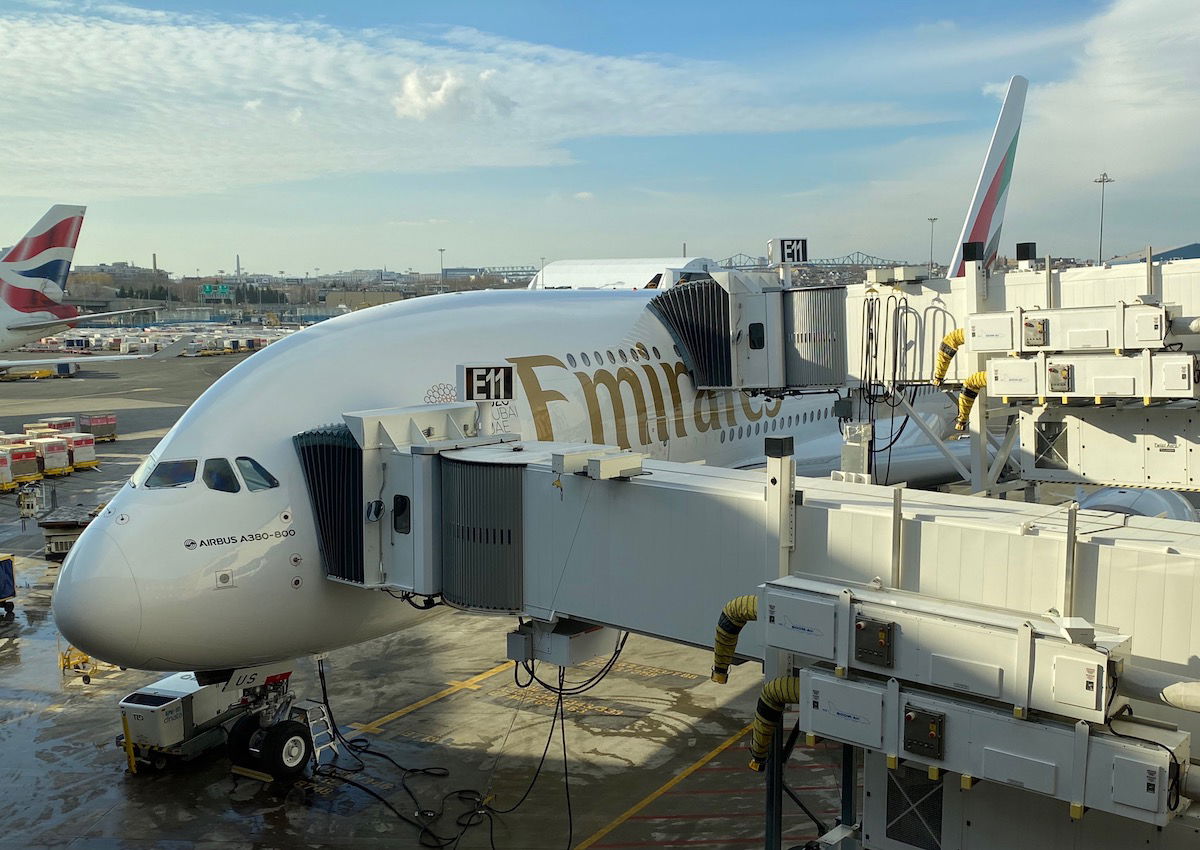 Does Emirates allow stopovers on award tickets?
Emirates Skywards does allow stopovers on one-way first class awards without requiring any additional miles. However, if you want a stopover on a one-way award, you do need to book by phone. Fortunately Skywards agents are pretty well trained in booking these kinds of itineraries.
Note that you can even modify a booking after initial ticketing to add a stopover. In other words, if you book a New York to Dubai award, you could later (before departure) add a Dubai to Male segment and just pay the difference in miles and fees.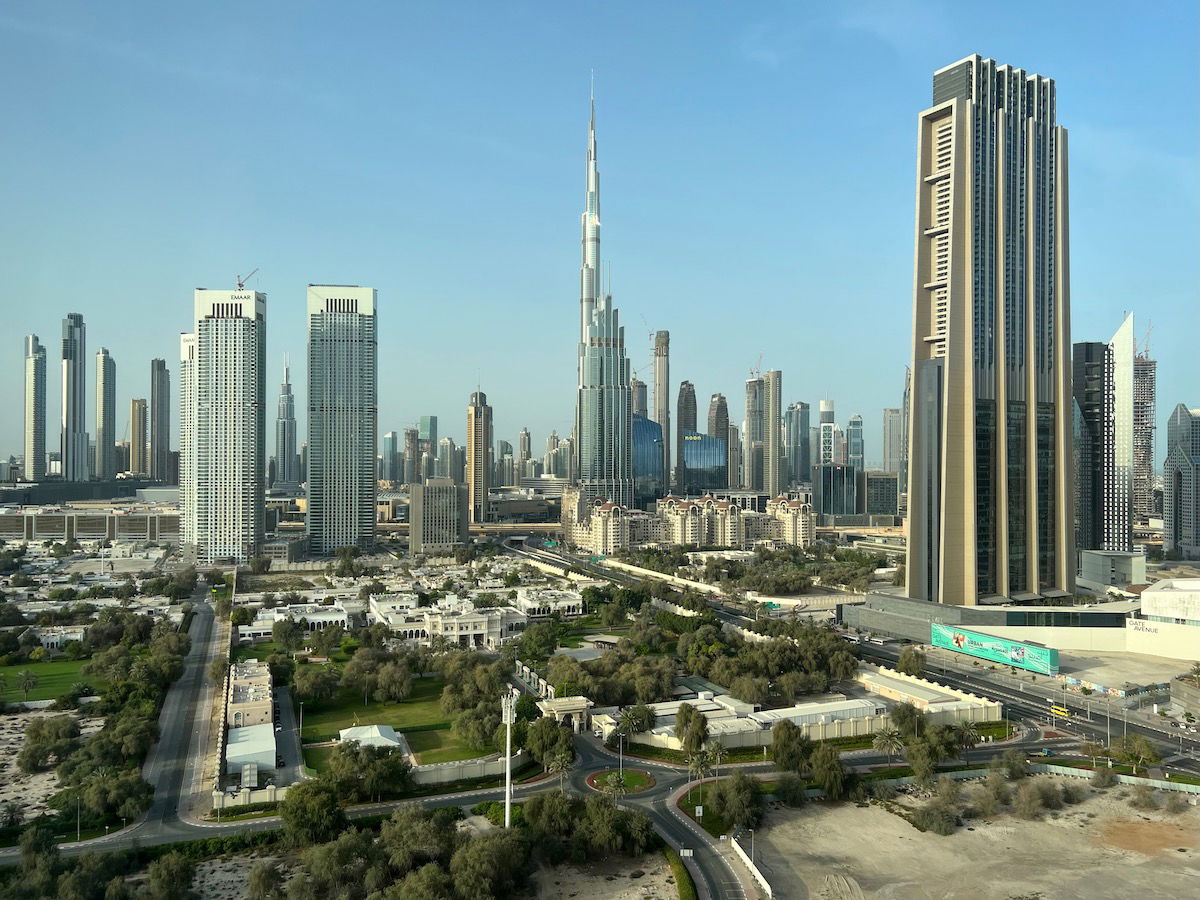 How do you earn Emirates Skywards miles?
One of the awesome things about Emirates Skywards is how easy it is to earn the miles. Skywards is transfer partners with all major transferable points currencies, including Amex Membership Rewards, Capital One, Chase Ultimate Rewards, and Citi ThankYou, and all points transfer at a 1:1 ratio.
While Emirates award rates are often steep, it's fantastic that there are so many ways to accrue these miles.
There is one quirk to be aware of if booking an award through Emirates' website. In order to redeem miles through emirates.com, you'll need more than enough miles for your award ticket, or else you'll get an error message about having insufficient miles. If you encounter this issue, simply use the Emirates app, and then having exactly the right number of miles will work. This is worth being aware of for those transferring points from a partner.
How do you search Emirates first class award availability?
You can search Emirates first class award availability directly on emirates.com. Just select the "Classic rewards" box, and then you can search by route and date. There's even a flexible date option, so that you can search one week at a time (three days before and three days after your desired travel date).

How many Emirates first class award seats are there?
The above covers the basics of the logistic of redeeming miles for Emirates first class, but how do you actually find award availability? Unfortunately finding availability is the hardest part of this whole exercise, so let me share some tips and observations:
Emirates is inconsistent about making award seats available; Emirates doesn't open a certain number of first class award seats per flight, so there's a lot of variability
On some routes Emirates may open one or two first class award seats when the schedule opens, while on other routes Emirates may not; and that also varies over time, as Emirates sometimes opens award seats in spurts
Availability varies based on how many first class seats are in the cabin, and that depends on which plane you're flying — Emirates' A380s have 14 first class seats, so are much more likely to have first awards in advance, while Emirates' 777s have either six or eight first class seats, so it can be harder to find award availability in advance
For example, looking almost a year in advance, I see availability between San Francisco and Dubai on most dates.

Between New York and Milan I even see a good amount of award space, which is a fantastic opportunity, given the much lower surcharges.

In general your best odds for snagging an Emirates first class award is to book either as soon as the schedule opens, or closer to departure. While I realize booking last minute doesn't necessarily work for everyone's schedule, that's what I usually do. How do you book an Emirates first class award closer to the departure date?
You'll want to find a flight with a lot of unsold first class seats; depending on the market or time of year, that's not necessarily that tough, since many Emirates first class cabins go out pretty empty
You can get a sense of how full a flight is in first class by looking at the seatmap (which isn't always an accurate indicator) and by seeing how many seats are still for sale (though you can often only search four seats at a time)
Unfortunately there's not much consistency beyond that — sometimes Emirates opens first class award seats a couple of months before departure, while other times it's a couple of days before departure; the emptier the cabin and closer to departure, the better the odds of finding award seats
Unlike with redeeming miles for Lufthansa first class, Emirates doesn't release nearly all first class seats as awards as the departure date approaches; with Emirates half the cabin could be empty, and the airline still may not choose to release award seats
Generally speaking my expectation is that award space will only open up when the cabin is largely empty. The good news is that this happens more often than you might assume. Just to give an example of my last three Emirates first class redemptions (in each case I found two first class award seats within a week of departure):
I got two award seats in Emirates' new 777 first class (which features just six seats) from Washington to Dubai, as the cabin was completely empty
I got two award seats in Emirates' old 777 first class (which features eight seats) from Dubai to Male, as the cabin was completely empty
I got two award seats in Emirates' A380 first class (which features 14 seats) from New York to Milan, as only three of the 14 seats were occupied
Like I said, it might sound unlikely to see cabins this empty, but you might be surprised, especially for midweek travel, etc. If I feel fairly confident that award space will open up on a particular route, I just keep checking back once or twice a day, in hopes of getting lucky.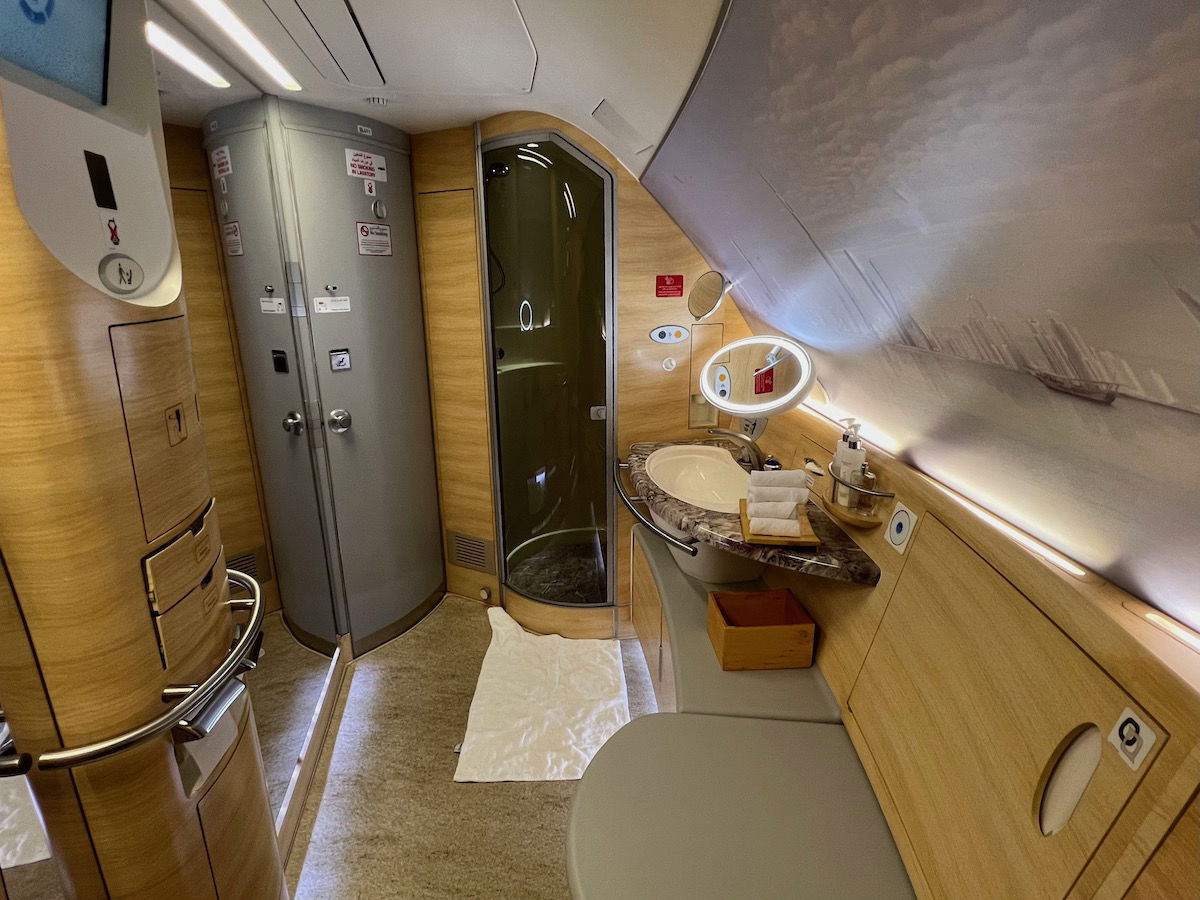 Tip: Upgrade to Emirates first class instead
There is one other trick to snagging a seat in Emirates first class using miles, which gets you access to much better availability. Long story short, Emirates lets you upgrade business class tickets to first class using miles on the day of departure with last seat availability:
Even award tickets qualify, meaning you could book a business class award (business class awards are usually much easier to find), and then use miles to upgrade to first class, in the same way you'd upgrade a revenue business class ticket
While you can absolutely waitlist this upgrade in advance, expect that it generally won't clear in advance
What's different is that on the day of departure you get last seat availability with no real capacity controls for these upgrades, letting you secure seats that you couldn't otherwise get with miles
This can be done either at the airport or even onboard, though there are two major catches:
While this is the policy, not all airport agents are well trained in how this works, and that's especially true at outstations with contract agents
While there are no official capacity controls, the one limitation is that if limited meals have been catered for passengers, an upgrade may be rejected on those grounds
So this isn't perfect, but in general this is the best way to snag an Emirates first class seat on a flight that doesn't have first class award availability.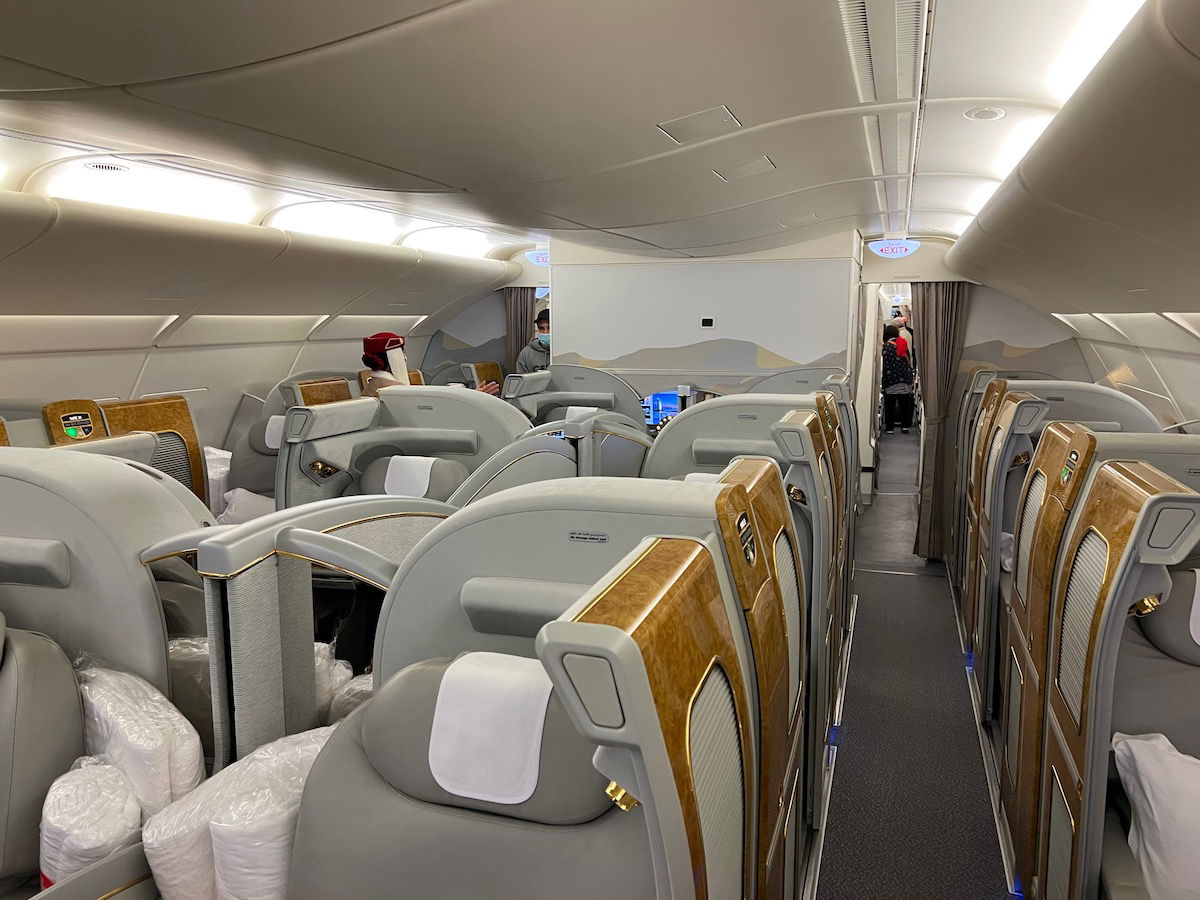 Redeeming Air Canada Aeroplan points for Emirates first class
As mentioned above, Emirates first class awards aren't available through most partner frequent flyer programs. The main exception is that Air Canada and Emirates have a partnership, and it's possible to redeem Aeroplan points for travel on Emirates, including in first class.
Air Canada Aeroplan is a great program with lots of airline partners and a great stopover policy. The catch is that awards on Emirates don't follow Aeroplan's standard award pricing, and rather you can find the award pricing below (which is actually a range).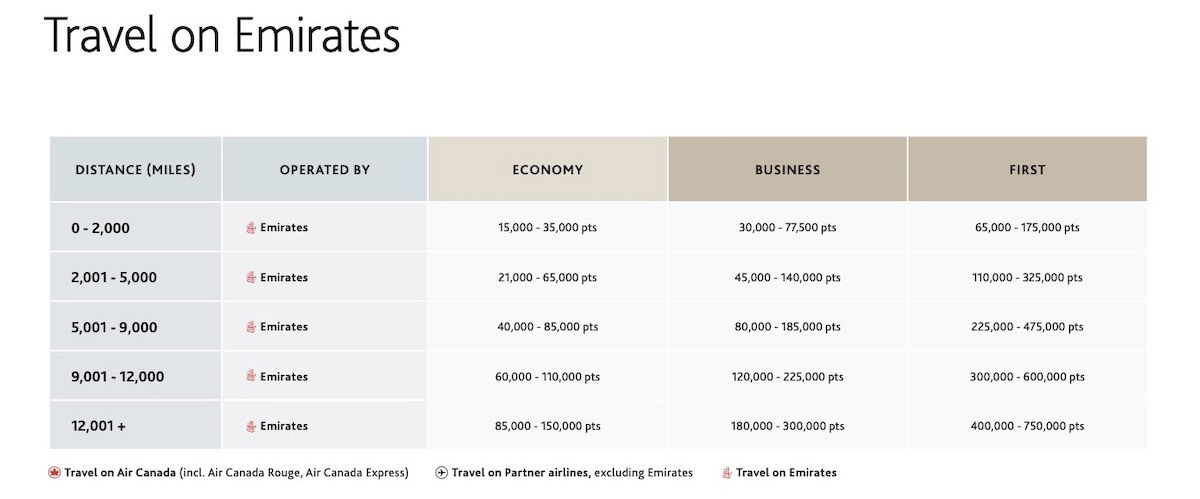 Presumably Aeroplan is having to reimburse Emirates for these seats at much higher costs than with other partners. On the plus side, Aeroplan doesn't impose fuel surcharges for these awards. But the pricing in first class is also generally quite a bit higher than normal.
For example, the same San Francisco to Dubai award that costs 186,000 Emirates Skywards miles plus $838 would cost 317,000 Air Canada Aeroplan points plus $57.

When it comes to redeeming Aeroplan points on Emirates, personally I think the sweet spot is for business class redemptions, rather than first class redemptions. However, first class awards are still worth keeping in mind, especially if you have a strong preference for minimizing the cash you're paying.
Bottom line
On balance, Emirates offers an incredible first class product, and the airline also has the largest international first class footprint of any airline in the world. The best way to redeem for Emirates first class is typically directly through the Skywards program, which is transfer partners with major transferable points currencies.
While Emirates isn't terribly consistent with making award seats available, with some persistence, patience, and flexibility, this is an experience that's very attainable.
If you've redeemed miles for Emirates first class, what was your experience like?