We were picked up promptly at noon from the Grand Hyatt in the InterContinental's S-class Mercedes. As a club guest an airport transfer is included, so it was very nice of them to extend this benefit to being picked up from a different (competing) hotel.
After a 30 minute drive we pulled into the very familiar looking InterContinental, which I find to be one of the most beautiful and relaxing places on earth. This might be a good time to mention that I stayed here a couple of years ago. I won't make this report quite as detailed, so I suggest checking out my original review of the property, so I can focus mostly on the differences. It's also worth noting that we paid around $300 all-in per night for a club room through InterContinental's Friends & Family rate, which is a great value given how phenomenal the club experience is at this hotel.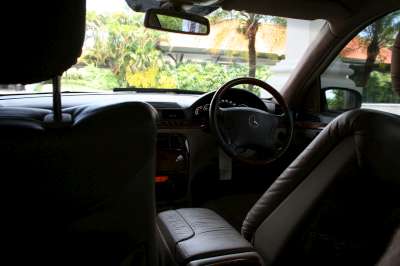 Airport transfer
As we arrived at the hotel we were escorted to the club lounge where we were promptly checked in. As the agent processed our check-in we were offered drinks and cold towels. The agent then explained to us all the benefits of being a club guest, the resort amenities, etc.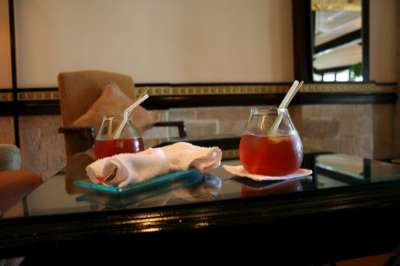 Drinks and towels
We were walked to our upgraded room, a club duplex suite. As you may remember from my last review, I got lucky and got an upgrade to a Jimbaran Suite thanks to high occupancy, which was beyond amazing. Not only was the room huge, but the views were spectacular.
As we were being walked to our room the agent asked whether we had been to the hotel before, and I indicated I had. He asked whether I stayed in a club duplex suite last time, and I said "no, I stayed in one of the Jimbaran Suites, actually." He then asked me whether he should check if they have any available they could move us to. Um, sure, why not? I couldn't really tell whether they were just moving me up because I was a Royal Ambassador (a club duplex suite is a single level upgrade, while Royal Ambassadors typically get a two level upgrade), because I'm a returning guest, wanted to upsell me, or what.
We got to our room and after the guy was on the phone for a few minutes, he indicated one was available. Great, right? He then indicated he would give us a special rate of only $300 extra per night, as opposed to the usual $400. Not a very tempting offer, and actually left a bit of a sour taste in my mouth. First of all, if a room is otherwise sitting empty you should do better than offering a 25% discount, and you should indicate up front that you were looking to upsell us, in my opinion — something like "would you like me to check if a Jimbaran Suite is available as a buy-up?" Maybe I was naive, and hell, we might have paid an extra $100 per night, but not $300.
Fortunately that was the only even slightly sour point in our stay. This hotel was just as awesome as I remembered it.
I've gotta say, I really love the club duplex suite. The room is two floors and very nice, with a large living room, desk, guest bathroom, couch, chairs, table, patio, and upstairs bedroom with large bathroom.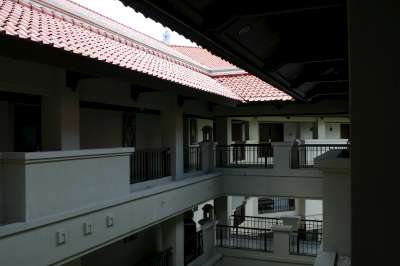 View from door of room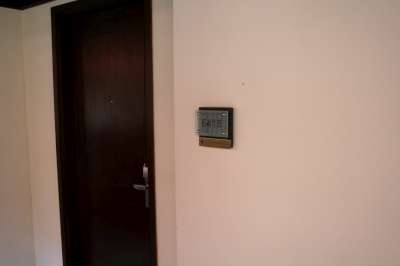 Our room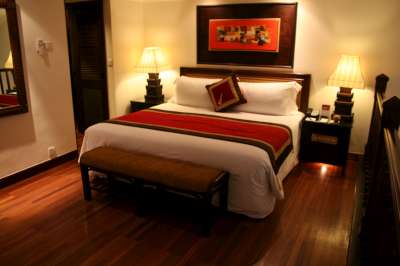 Bedroom upstairs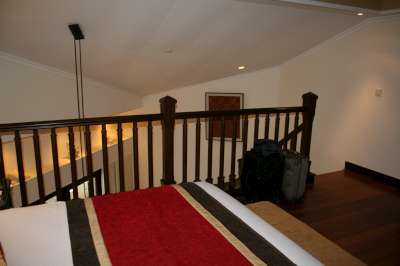 Looking down from second floor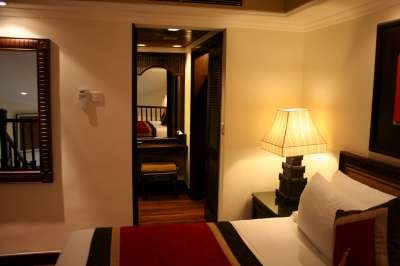 View from bedroom to bathroom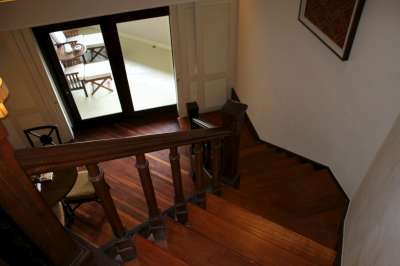 Going down the stairs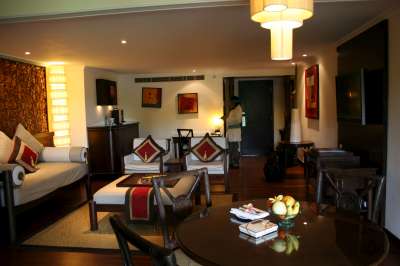 Living room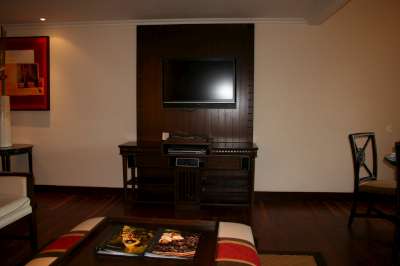 TV
As far as the room itself goes, I almost prefer the duplex suite to the Jimbaran Suite. It's kind of cool to have a hotel room with two floors. What sucks about the club duplex suites are the locations and the views. They're all located on the fourth floor, and because of the high railing on the outside patio, you really can't see anything other than the top of palm trees. Compare that to the view and location of the Jimbaran Suite from my previous stay.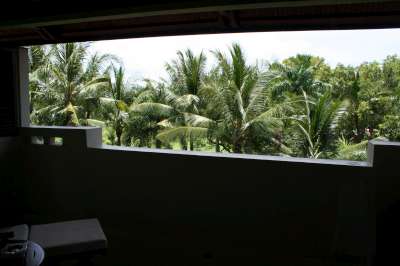 View (or lack thereof) from the patio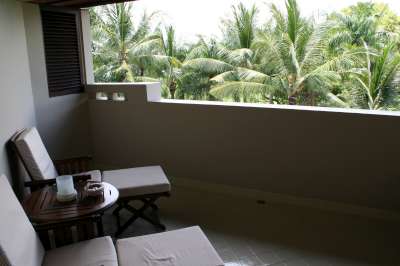 Patio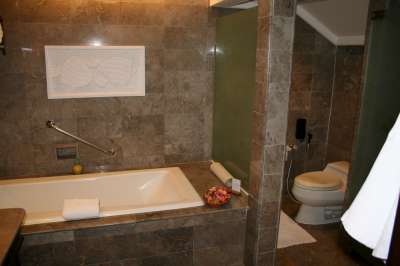 Bathroom and tub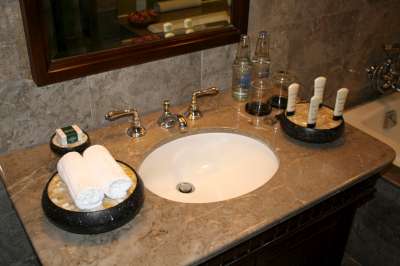 Sink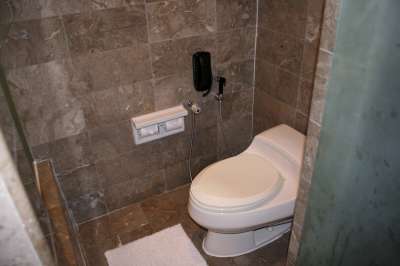 Bathroom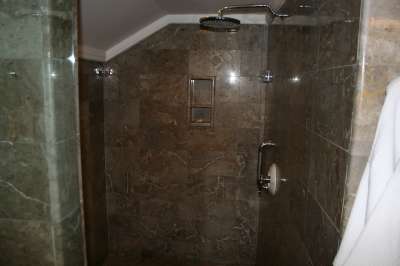 Shower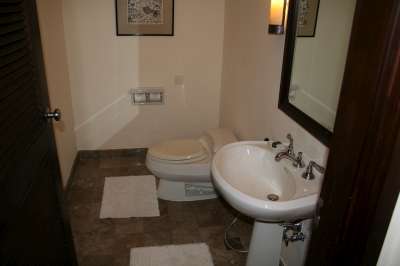 Guest bathroom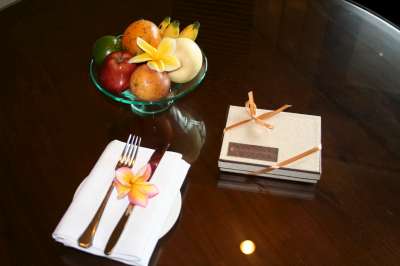 Chocolate and fruit
I appreciated the fact that there were at least a dozen bottles of water scattered around the room (in addition to the minibar) which were refilled a couple of times a day.
As far as the resort itself goes, it's exactly how I remembered it. The hotel was virtually empty, so there was plenty of space at the pool, the club lounge was never full, and it had an all around relaxing atmosphere.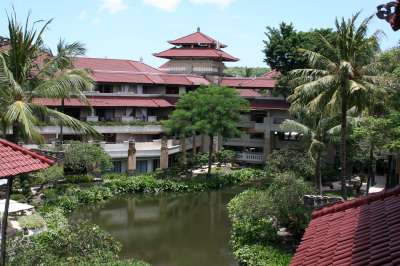 Club building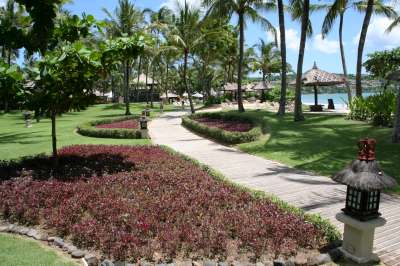 Grounds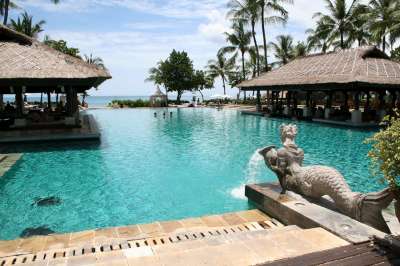 Beautiful pool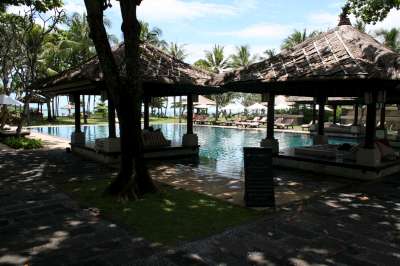 Club pool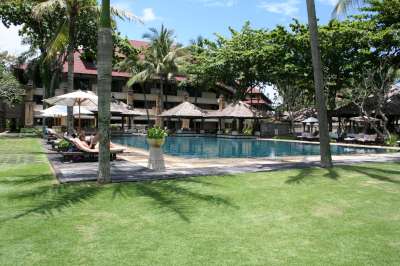 Club pool
Now one of the most spectacular parts of the resort has to be the club lounge, which is worth every penny. There's a steep premium for it and they never upgrade Royal Ambassadors to club rooms, so it's something special. As I mentioned earlier it includes roundtrip airport transfer, and if you were so inclined you could easily not spend a dime on food otherwise.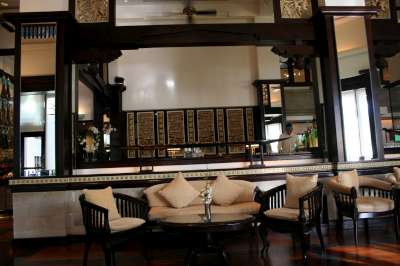 Club lounge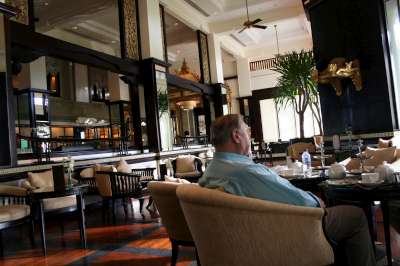 Club lounge
In the mornings you can have breakfast either in the club lounge (6:30AM-12PM), in one of the restaurants, or even room service, all at no additional cost. We had breakfast in the club lounge both days, and the spread was spectacular. They had made-to-order omelets along with anything else you could want. Hell, they even had sparkling wine.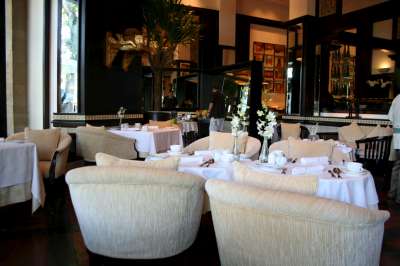 Tables set for breakfast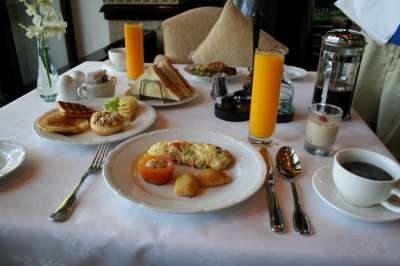 Breakfast
Throughout the day they have nine menu items available made-to-order. They're by no means huge portions, but are perfect for a light lunch or snack. You can order as many as you want, so….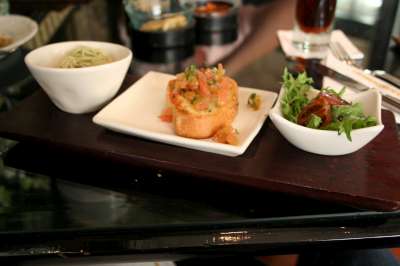 Snack
Then there's afternoon tea, although we never took advantage of it. The evening spread is what's most impressive, really. It's available from 5PM till 8PM and consists of a variety of hot and cold options along with a variety of alcoholic beverages.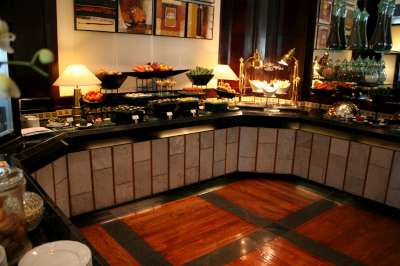 Evening spread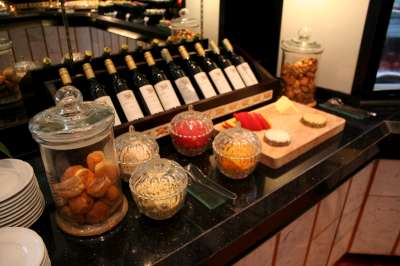 Evening spread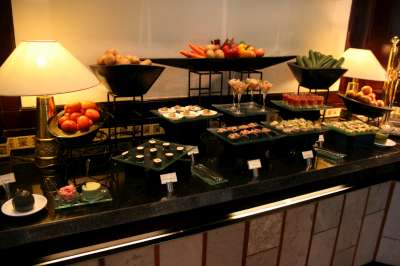 Evening spread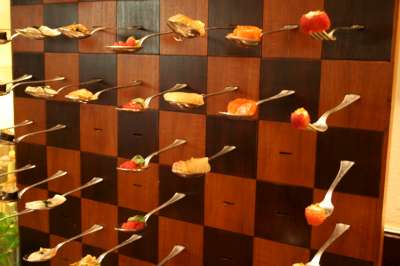 Still trying to decide if this is the most brilliant or idiotic display ever… I'm going with brilliant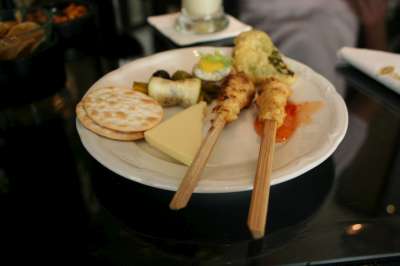 Evening snacks
What really sets this hotel apart, though, is the service. Indonesians are some of the friendliest people in the world to begin with, and the service at the InterContinental is so polished. While the service at the Grand Hyatt was good, this hotel takes it to a different level.
I'm convinced there are few places in the world nicer than Jimbaran Bay in the evenings. With the incredible sunset, palm trees, bands playing, and seafood restaurants set up on the beach, it's quite the scene. Another cool thing is that the approach course and even runway are visible from Jimbaran Bay. Makes for quite some plane spotting!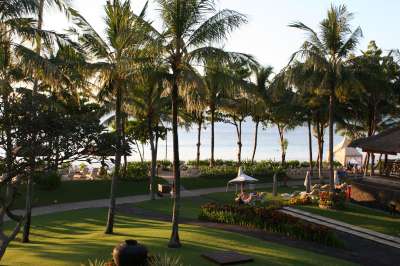 Evening overlooking Jimbaran Bay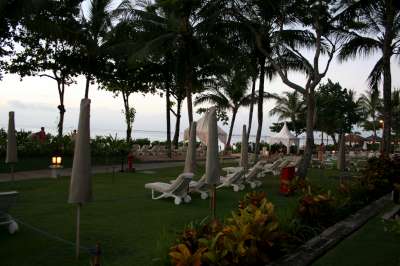 Evening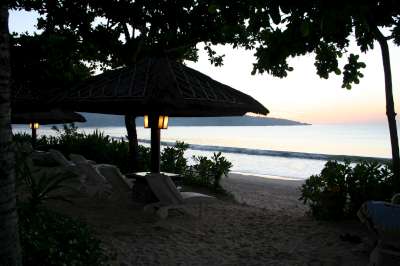 Sun getting ready to set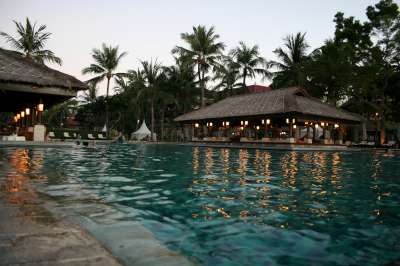 Pool in the evening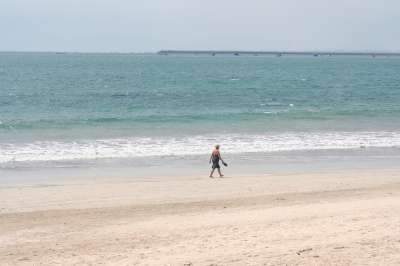 That's the airport runway in the distance…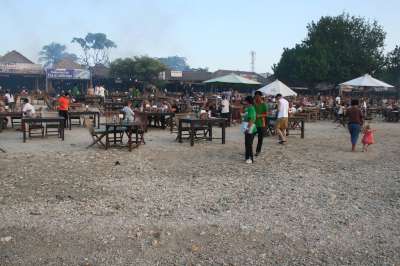 Seafood restaurants set up on the beach in the evenings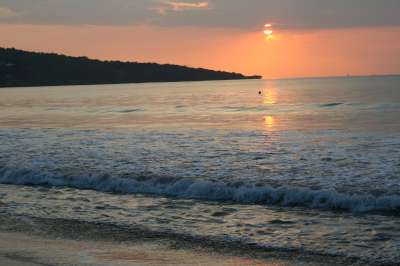 Sunset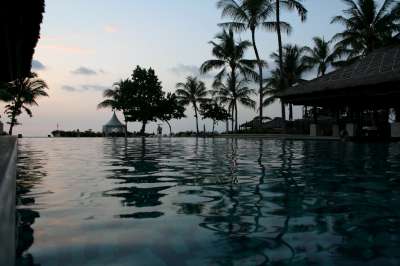 Evening
By the end of our stay I felt truly relaxed for the first time in at least a year. No stress. No cell phones. No computer. Just relaxing. It's kind of nice every once in a while, since I'm usually more of a city person.
The InterContinental Bali remains one of my favorite hotels in the world. The grounds are great, the service is incredible, and the club experience is worth every penny. On the last day of our stay we were driven to the airport in the hotel car once again and slowly began our homeward journey.