Yesterday I shared a dilemma I was facing in regards to how to get to Chicago this weekend for the Chicago Seminar Do. Revenue fares are crazy expensive, at this point close to $1,000 roundtrip, so I started thinking of creative alternatives.
US Airways charges just 90,000 miles for business class to North Asia, and since it's presently possible to generate US Airways miles for ~1.1 cents each, that means I could get enough miles for a business class ticket to Asia for ~$1,000, not much more than I'd pay for a roundtrip between Seattle and Chicago. Then I'd just have a stopover in Chicago on the way out, and continue to Asia from there.
The itinerary will have a very simple purpose — I want to review as many new products as possible. I did a very similar trip in January, and managed to sample Brussels, Austrian, Turkish, and LOT business class for the first time.
Anyway, I have a couple of different itineraries on hold, and it seems I have a few decisions I need to make so that I can finalize the itinerary shortly.
I'd love to know which products you guys would most like to read reviews of, as I'll decide which routing to fly based on that.
The options include:
LOT 787 business class. In January I was booked to fly the 787, though unfortunately due to the groundings at the time my flight got swapped to a 767. As some of you may recall, my flight on their ratty old 767 left a LOT to be desired. That being said, the 787 has a new fully flat seat, so it would be interesting to see how the experience compares. Given that I'd be flying in October instead of January, hopefully the "crunchy seasonal salad" would be a bit more varied. Who knows, maybe I'll even get a "free one way" to Iceland if I include LOT.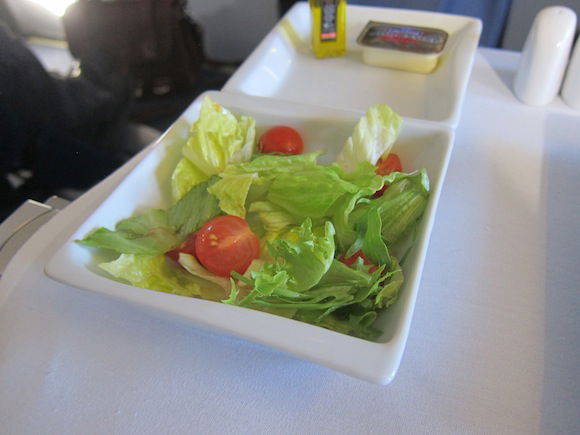 "Crunchy seasonal salad" on my last LOT flight

Air China 777 business class. Air China has a fairly new fully flat business class product which doesn't seem to get much action. As long as I don't have to listen to the air traffic control communications it seems like it could be a fun flight.
EVA AIR HELLO KITTY 777-300ER ROYAL LAUREL CLASS. Disney is supposedly the place that dreams come true for kids. Hello Kitty themed EVA Air 777s are where dreams come true for me! EVA started Hello Kitty service to Los Angeles last month, and I'm really wanting to try the service. Now in terms of the seat the flight will be identical to the one I took from Taipei to San Francisco a few months ago, minus the kitty flair of course…
If I do fly the Hello Kitty plane you can bet I'll be stocking up on duty free goodies to give away on the blog.
ANA 787 business class. So I've really wanted to fly the 787 and ANA has direct service to Seattle on it. It would be both a new plane and a new product for me (in ANA business class I've only flown their old product). But the issue is that I'm having to choose between ANA 787 business class and the EVA Air Hello Kitty service, since those are my two options for getting home.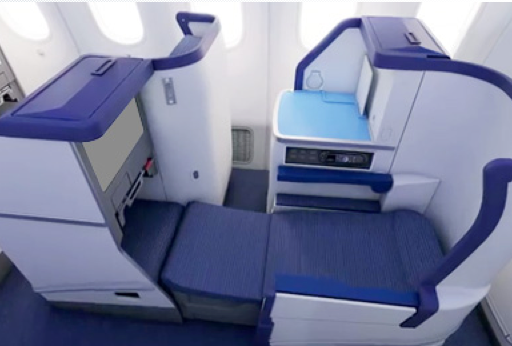 US Airways A330 Envoy Suite. As much as we give US Airways crap for not really being a "premium" airline, they're actually the airline that first featured a reverse herringbone business class product, which I consider to hands down be the best business class hard product out there. I believe US Airways' version differs slightly from those offers by American, Cathay Pacific, and EVA, so I'm curious to see how the seat itself and of course the service compares.
https://www.youtube.com/watch?v=QVJFLmXrHCs
Swiss A330 business class. So I've only flown Swiss in first class longhaul (reviews here, here, here, and here) and never business class. On one hand I'd really like to try it, on the other hand I believe the hard product is very similar to the ones offered by Austrian and Brussels, both of which I've tried.
Anyway, it's up to you guys to decide which products I fly. I'd be curious to know which product you'd like to read about most, which you'd like to read about least, and whether you'd rather read about ANA 787 business class or EVA Air Hello Kitty business class, as those are the only two products that are mutually exclusive?