Hello from Paris! As part of my quick 72 hour round the world journey I just flew US Airways from Charlotte to Paris in Envoy Class. While I'll share lots more details about my flight when I write the trip report, I figured I'd share some initial impressions right away.
This flight was operated by an A330 featuring their newest business class product, the Envoy Suite. As much as we (or I?) like giving US Airways crap, they actually innovated business class given that they were the first airline to install a reverse herringbone seat, which I find to hands down be the best hard business class product out there.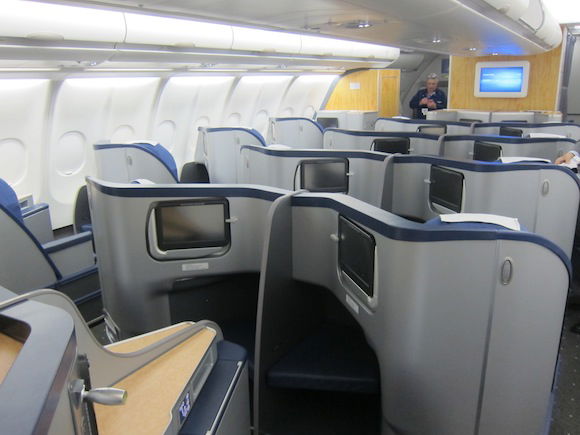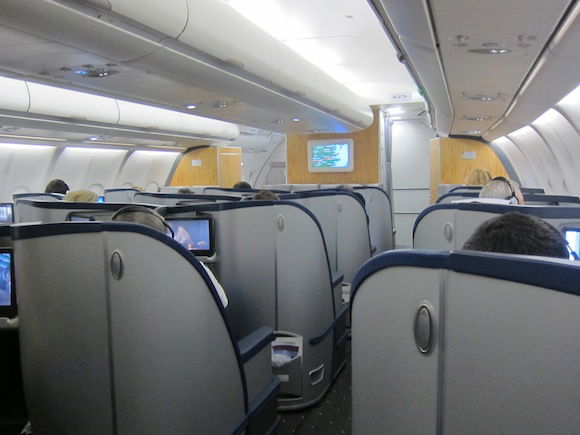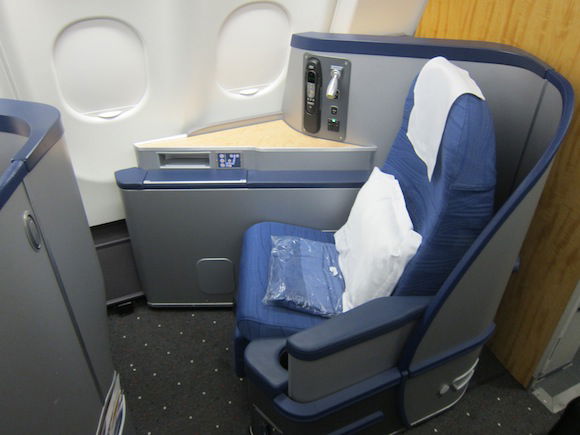 Other airlines followed and slightly modified US Airways' reverse herringbone seats, so I think American or Cathay Pacific's business class hard product is a bit nicer in terms of the finishes, but US Airways still has a phenomenal business class hard product. If I had to compare the difference between the Envoy Suite and the slightly newer versions of the reverse herringbone seats, I'd say the difference is like an iPhone 4 vs. iPhone 5 – there are a few minor differences, but nothing huge.
As far as the food goes, it was okay. The service began with nuts, followed by a bland but edible salad and appetizer.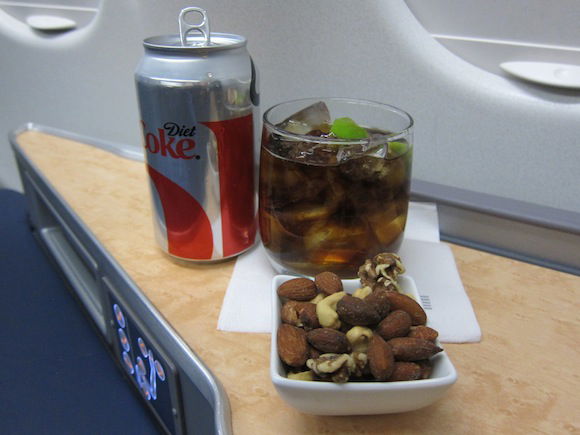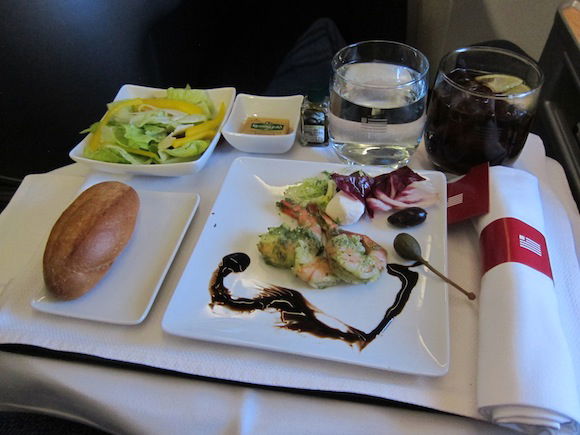 For the main course I had talapia, which was extremely chewy, so I only ate a few bites of it.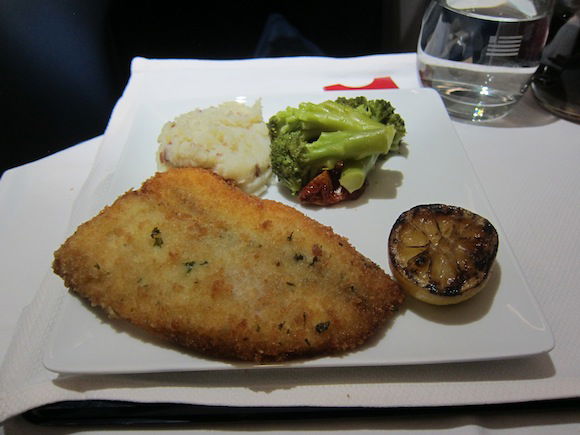 Then for dessert was tiramisu.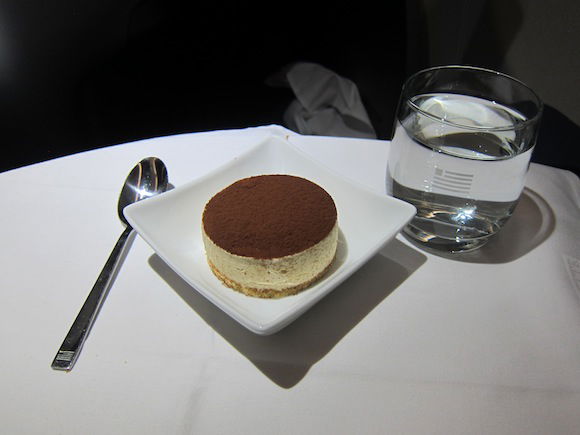 I really don't even know where to begin regarding the service, because it was actually hilariously bad. It's a bit ironic since I've always found service on US Airways to be really good domestically, even if they don't have much to work with. So I figured it would be the same type of service internationally. Instead the crew was possibly the worst I've ever had on a transatlantic flight. Let me take it a step further – I went to The Wiener's Circle in Chicago on Saturday night at 4AM, and I think I received more refined and friendly service there (minus the chocolate shake, which was a bit much for me).
Working the aisle in Envoy were two older ladies, perhaps somewhere between 60 and 70. Usually I like more senior flight attendants, especially in bases like Charlotte, which I usually find to have some of US Airways' best flight attendants. Carolyn was working my aisle, while Ms. Peggy (as every other crew member called her) was working the other aisle.
There were no "hellos" or smiles when we boarded. We were served pre-departure beverages shortly after boarding, and then a full 15 minutes before the scheduled departure time one of the flight attendants came down the aisle and barked at everyone that still had a drink, saying "drink up, I need yer glasses back."
When she came around to take meal orders she simply said to everyone "what for dinner?" Yeah, those three words. I said "the tilapia, please." She responded in a loud voice with "WHAT?!"
Oddly I don't think I was ever actually served anything on my tray, but rather whenever I ordered something the flight attendant handed it to me so I could place it down.
The flight attendant noticed my iPhone was sitting close to the side of the seat, so she said "don't put it there, it can fall through the crack and if it's gone it's gone." I guess I appreciate the warning in theory, but surely there's another way to communicate that, no?
Then between the main course and dessert, after all main course plates had already been cleared, the two aisle flight attendants literally stood in the forward galley for 20 minutes without once checking on anyone. This wasn't the galley where they were actually working (since that's the behind the cabin), but rather they were just chatting in the forward galley. On a seven-hour transatlantic flight I sure wish they'd get the service done efficiently rather than take chatting breaks.
And it only got more entertaining when the meal service finished. As if we were eight year olds in summer camp, the flight attendant made a PA just to the business class cabin, along the lines of "this is now your allocated rest period, so you can sleep. If you want something to eat or drink you can help yourself in the galley."
About two hours out of Paris I wanted some more water so pressed the flight attendant call button. No one responded, so I pushed it again. Still no one responded. Finally a flight attendant walked by, looked at my light, and kept walking past me till I stopped him. Meanwhile the other flight attendant and a passenger were sitting in the jumpseats talking loudly (so much for passengers not congregating in the galley, let alone sitting in a jumpseat) for the better part of a couple of hours.
As I was waiting for the jet bridge door to open one of the flight attendants started talking to me. She mentioned she loves Beijing, and I said if the merger happens maybe she can fly there again. She said "oh no, if a merger happens I'm taking my buy out and leaving." Hear that, DOT? There may actually be some customer friendly changes that happen if the merger goes through. 😉
As is always the case with US airlines, service is consistently inconsistent. This by no means represents service on all US Airways flights, but it simply amazes me how bad service can be on US airlines at times. I did recently have a pretty negative experience on Singapore Airlines, so I guess it's not limited to US airlines, but still…
Ultimately as I've always said business class is all about the seat, and this is a phenomenal seat. So I'd still choose this over an airline that had angled flat seats in business class with great food and service.
Has anyone else flown US Envoy, and if so, how was the service on your flight?