---
This was the part of the journey I was most excited about. EVA Air offers special Hello Kitty flights on select routes, so we intentionally booked the flight from Tokyo Narita to Taipei that was operated by a Hello Kitty Airbus A330. We would then be connecting to another Hello Kitty flight from Taipei to Los Angeles the same night, operated by their first 777-300ER with the Hello Kitty theme. Hello Kitty is involved in every aspect of these flights, from the check-in process to the planes themselves, to the catering, to the flight attendants (as you'll see in subsequent installments). Anyway…
We were dropped off at Narita terminal one at roughly 11:15AM (in a hotel employee's personal car).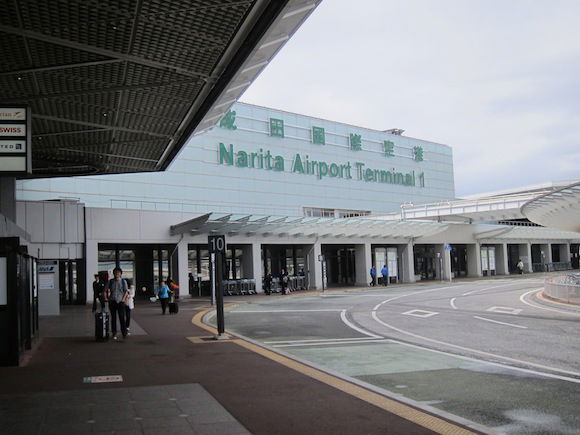 Narita Airport terminal one exterior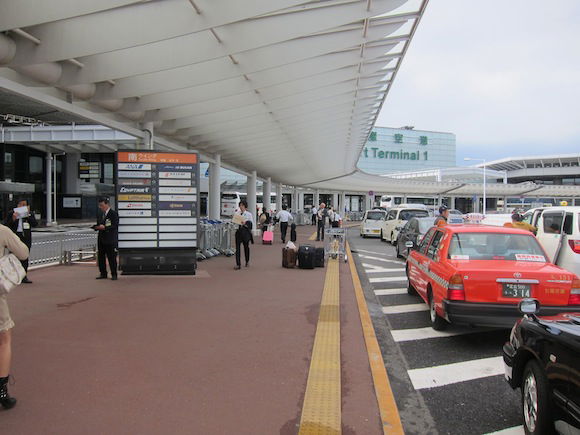 Narita Airport terminal one exterior
Terminal one houses the Star Alliance, and for the most part it's a pretty easy to use terminal. They have dedicated check-in desks by carrier for economy class passengers, but a joint check-in area for all Star Alliance carriers for elite members, along with first and business class passengers.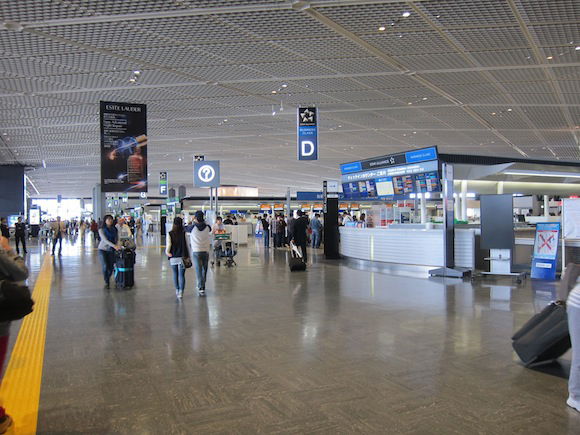 Narita Airport terminal one check-in
However, we were flying EVA Air's special "Hello Kitty" service between Narita and Taipei, so wanted to be sure we were using their normal check-in area to get the full experience. We found the EVA Air check-in counter, though once there were informed that check-in for the Hello Kitty flight was located one aisle over. So we headed over there, only to find not a single employee, or any EVA Air signage for that matter. So we asked another employee for clarification, and they just said we should keep waiting there.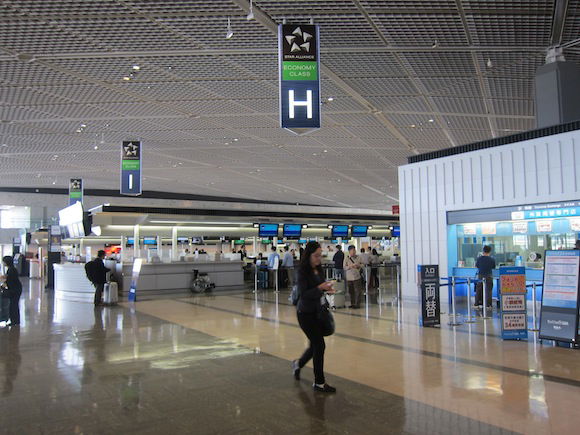 Narita Airport terminal one check-in
We just stood there, which wasn't half bad since Narita Airport has free Wi-Fi, though it sure was odd. Then I started to realize that due to the typhoon everything was running way late, including the ground staff, apparently, given that public transportation had been shut down earlier in the day.
At around 12:15PM — just two hours before departure — some employees began to show up, though there will still no signs of them opening up check-in.
About 15 minutes later the check-in area began to get "Kitty-fied" a bit.
The monitors had pictures of Hello Kitty.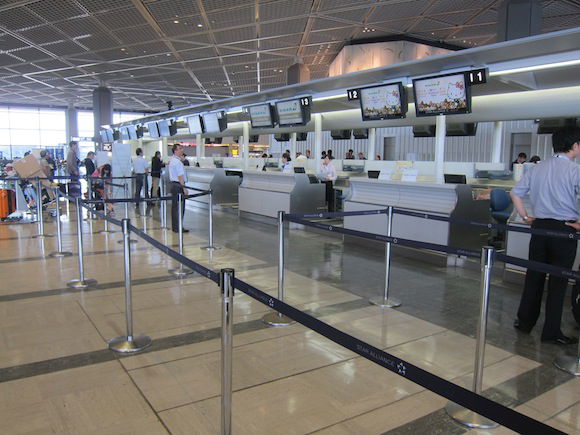 EVA Air Hello Kitty check-in Narita Airport


EVA Air Hello Kitty check-in Narita Airport
And there was even a huge Hello Kitty cardboard cut out. I was tempted to have my picture taken with "her," though given that other passengers were queuing as well, I figured I was best off containing myself. 😉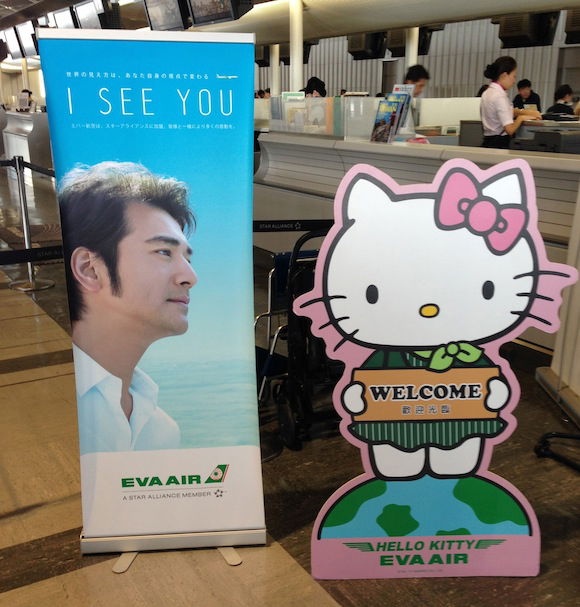 EVA Air Hello Kitty check-in Narita Airport
At around 12:45PM check-in opened, and we were first in the business class queue. We were issued boarding passes, and they were even on Hello Kitty cardstock!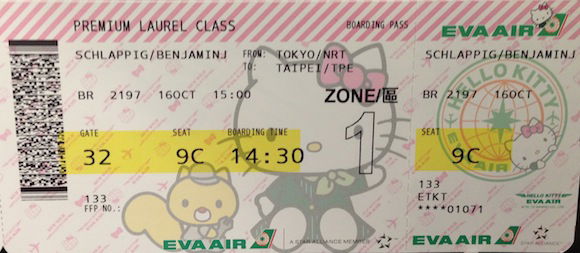 EVA Air Hello Kitty boarding pass

Naturally I also grabbed several of the Hello Kitty bag tags.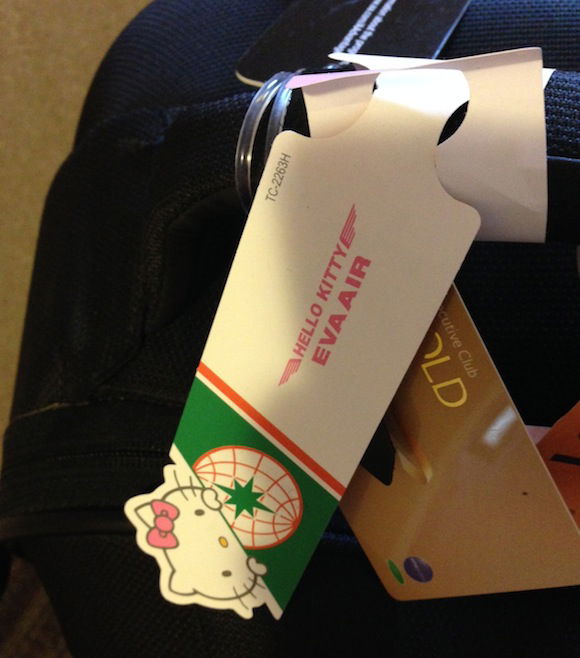 EVA Air Hello Kitty bag tag
The agent informed us that our flight would be 45 minutes late, so the new departure time was 3PM.
Once checked in we headed towards immigration and security, which was fairly efficient.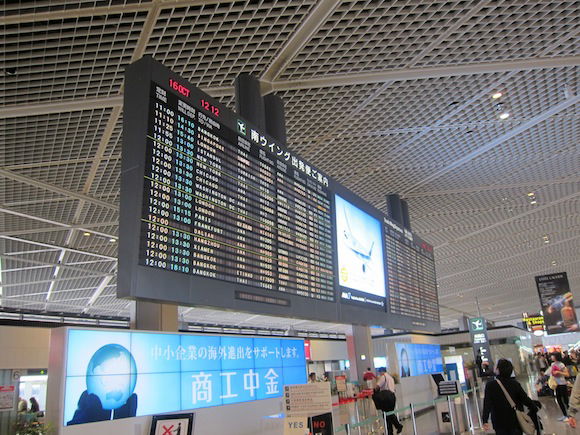 Narita Airport departures board
We were airside in the terminal shortly after 1PM. We headed to the ANA business class lounge, which I've reviewed before, so I won't write about it again. We spent about an hour in the ANA business class lounge, distributed evenly between the massage chairs and noodle/curry bar, of course.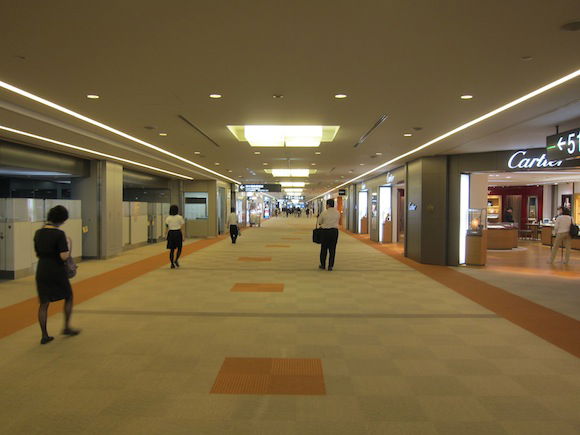 Narita Airport airside terminal
At 2:15PM we headed to our departure gate, which the departure monitor indicated was gate 42. For those of you not familiar with Narita Airport, the walk from the ANA lounge to gate 42 is roughly 13 miles, given that it's basically the furthest possible gate in that terminal to the lounge.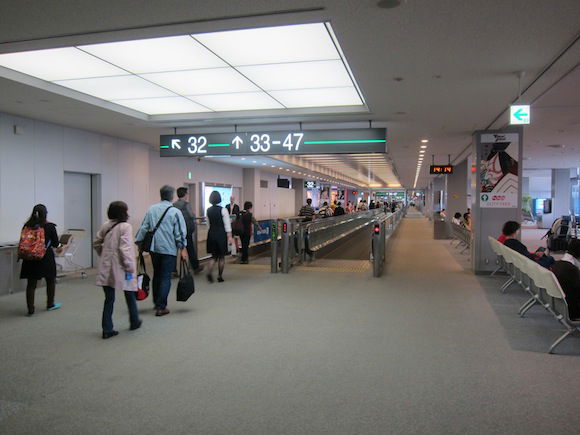 Narita Airpot airside terminal walking to gate 42
I wanted to be sure we didn't miss the initial boarding call for the flight (after all, I had pictures of the Hello Kitty plane to take), so we more or less sprinted there, only to find there was a gate change.
Crud.
We were now leaving from gate 28E.
That's the first time I've left from a gate with a letter behind it at Narita, which was instantly concerning. And there was good reason for concern, since apparently that's a remote stand. And I think we all feel the same way about remote stands when flying anything other than Lufthansa first. 😉
So we followed the signage to gate 28E, which took us down an escalator.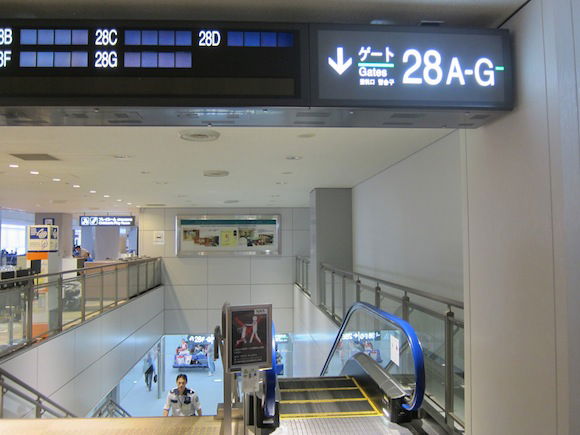 Narita Airport airside terminal escalator to gate 28E
We made it to gate 28E by around 2:45PM, so I figured boarding would already be underway. I did see a dozen gate agents standing by the gate (as is the norm at Narita, which is generally a good sign), so I approached them and asked when boarding would start. They responded "not yet." I asked once again when boarding would start, and they responded with "not sure."
I understand the Japanese culture is all about being precise and not provide wrong information, though I've consistently had the experience at Narita where I'm not sure if my flight is delayed by five minutes or five hours, as they don't want to give you wrong information. It's incredibly frustrating, as I don't really care when the flight is leaving, I just want to know how much time I have to work in the interim.
Time continued to pass, and at 3:20PM the departures board still showed a 3PM departure. Boarding was eventually called at 3:30PM.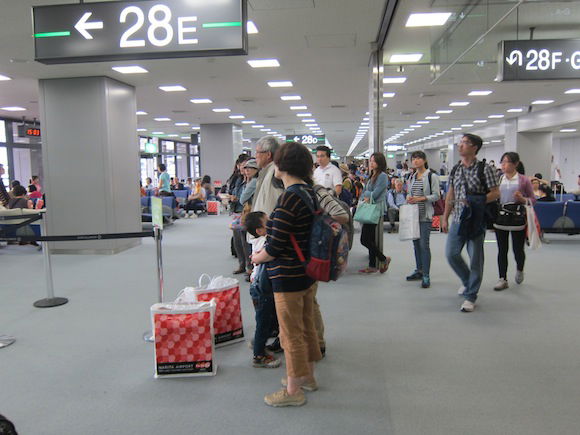 Narita Airport airside terminal gate 28E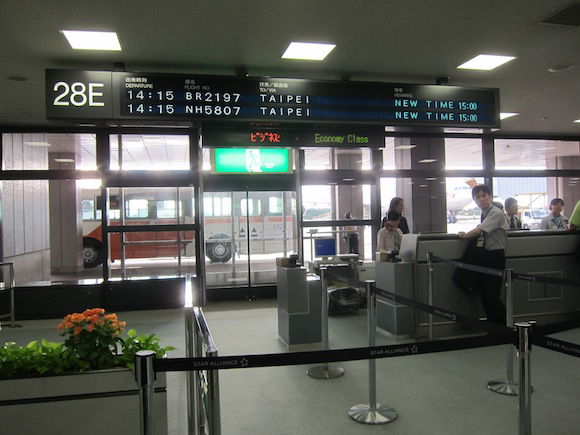 Narita Airport airside terminal gate 28E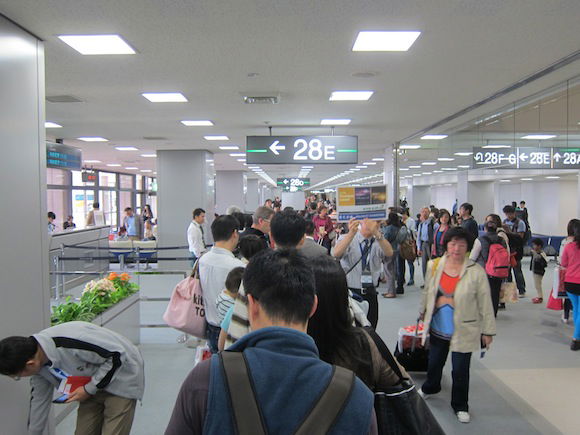 Narita Airport airside terminal gate 28E
We all hopped onto a bus — interestingly also branded as the "Friendly Airport Limousine," the same one that goes into Tokyo — and once it was full drove to the plane.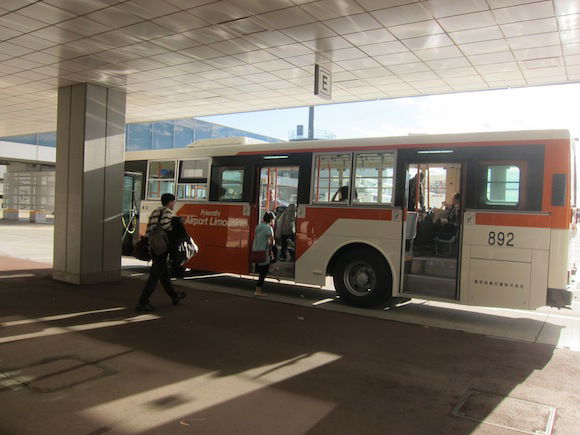 Friendly Airport Limousine
This was my first time taking a bus to a remote stand at Narita, and I have to say the experience was actually quite pleasant, partly because they didn't pile a million people in the bus as they'd do in a subway during rush hour.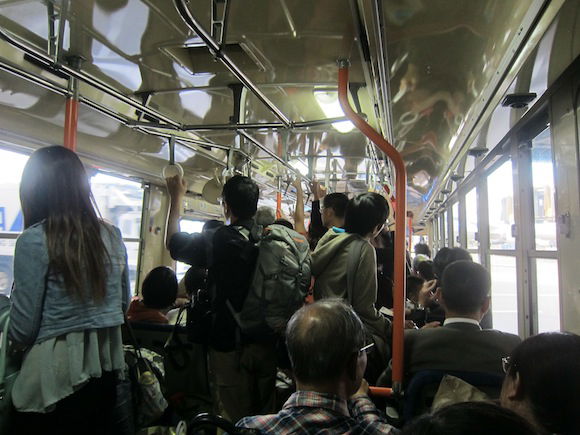 Narita Airport bus to remote stand
And the traffic as we were driven to the plane was quite fun to look at as well.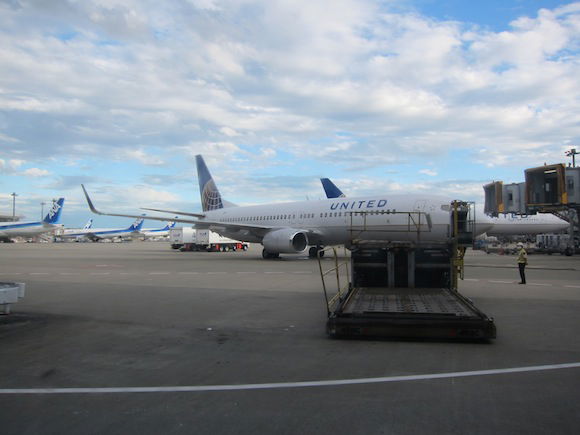 Narita Airport United 737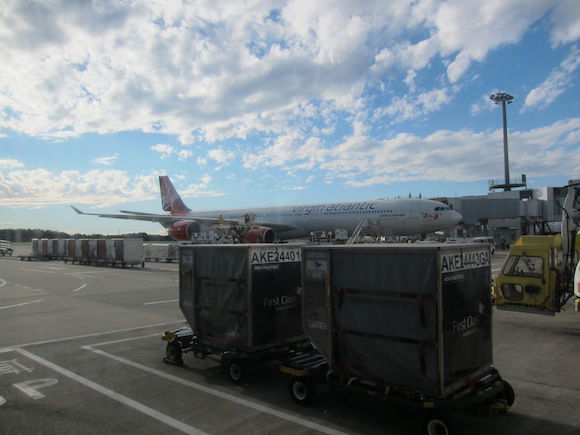 Narita Airport Virgin Atlantic A340-600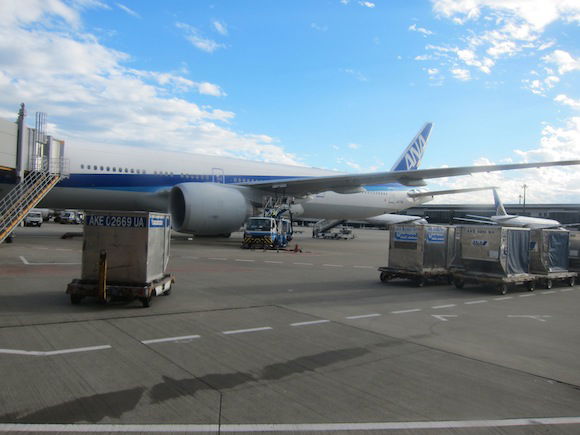 Narita Airport ANA 777-300ER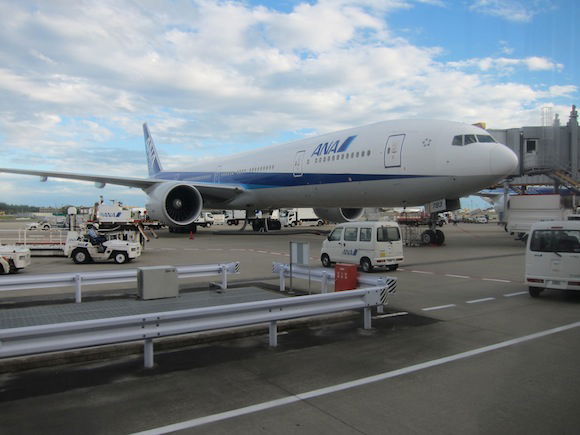 Narita Airport ANA 777-300ER
Eventually, in the distance, we finally saw our Hello Kitty EVA Air Airbus A330-200. The only people on the bus that showed any noticeable excitement were me and a 13 year old girl. That's it, sadly.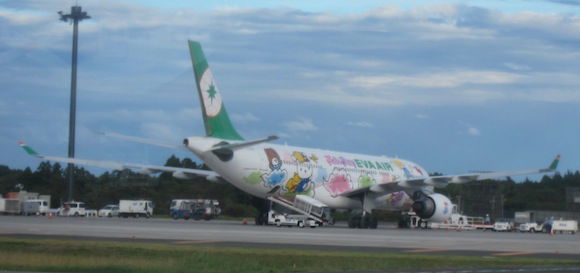 EVA Air Hello Kitty Speed Puff A330
Our plane would be the Hello Kitty "Speed Puff" plane. Suffice to say I'm quite a fan of the livery, and took every opportunity to snap some pictures from the tarmac.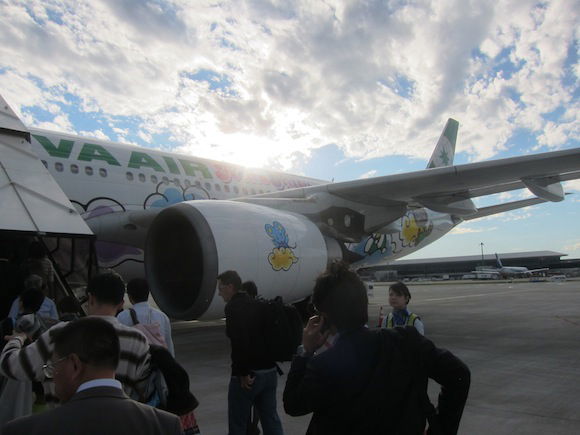 EVA Air Hello Kitty Speed Puff A330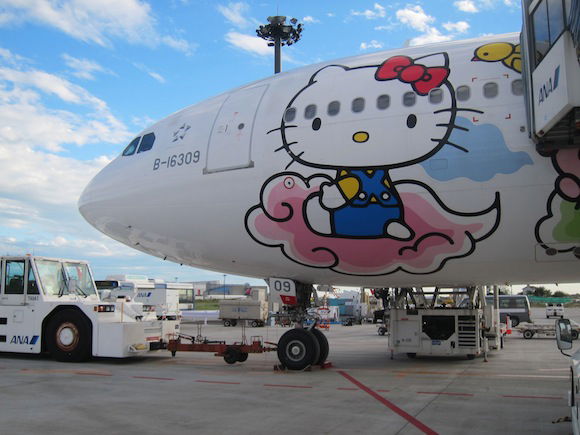 EVA Air Hello Kitty Speed Puff A330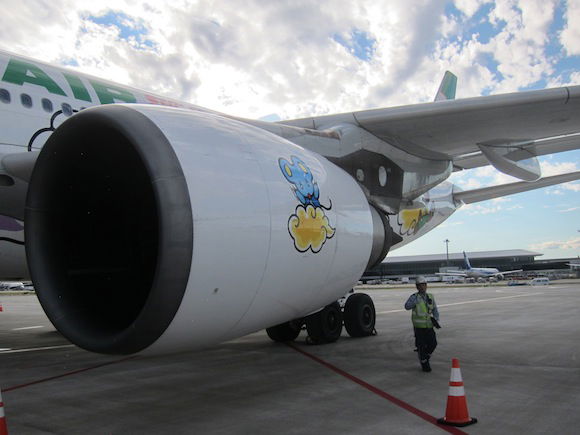 EVA Air Hello Kitty Speed Puff A330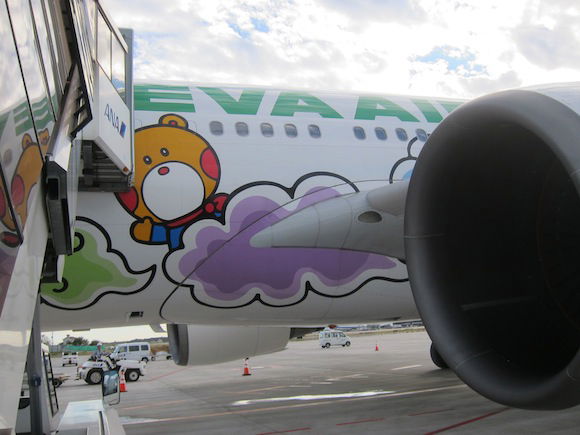 EVA Air Hello Kitty Speed Puff A330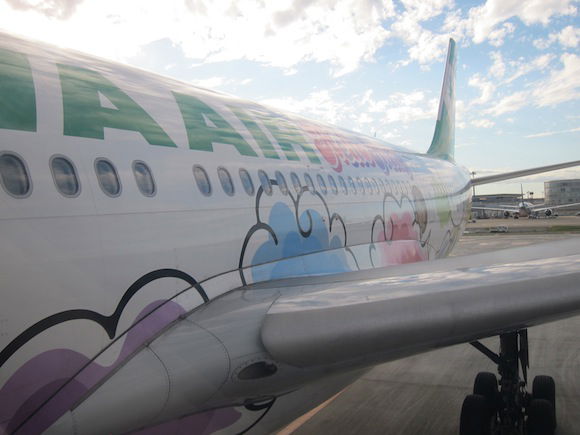 EVA Air Hello Kitty Speed Puff A330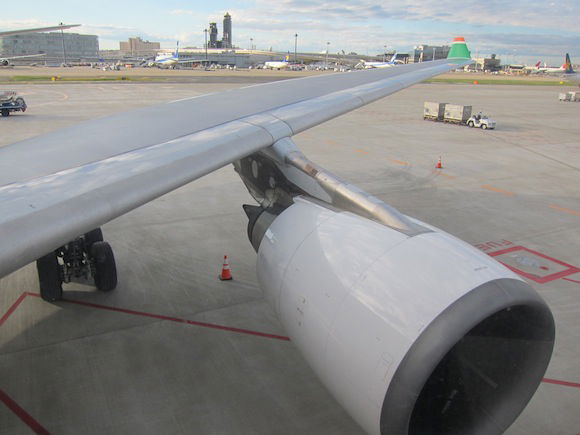 EVA Air Hello Kitty Speed Puff A330
But would the interior of the plane live up to the exterior? Stay tuned (and try to contain your excitement)… 😉