---
Update: American Airlines will retire all 767-300s by May 2020.
I had a roughly three hour layover at JFK, and during it visited the Flagship Lounge, which I've reviewed before. Boarding was scheduled to begin at 6:15PM, though I headed to the gate at around 6PM since I was getting a bit bored in the lounge.
Conveniently the flight left from gate 7, which is located in the concourse closest to the Flagship Lounge and security checkpoint.
Inconveniently at the gate next to us was the flight to Birmingham, which shared a single boarding door with our flight, and the flights left just a few minutes apart. So the gate area was borderline chaotic.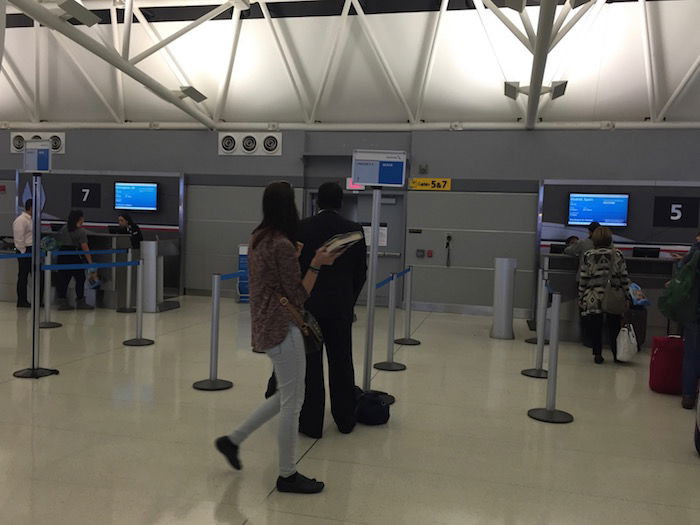 JFK Terminal 8 departure gate
At around 6:10PM a guy was escorted to the gate by an American representative. I'm guessing he was using American's Five Star Service, or something. I was most fascinated by his carry-on, which was perhaps bigger than Santa's sack (and I don't mean that in a dirty way).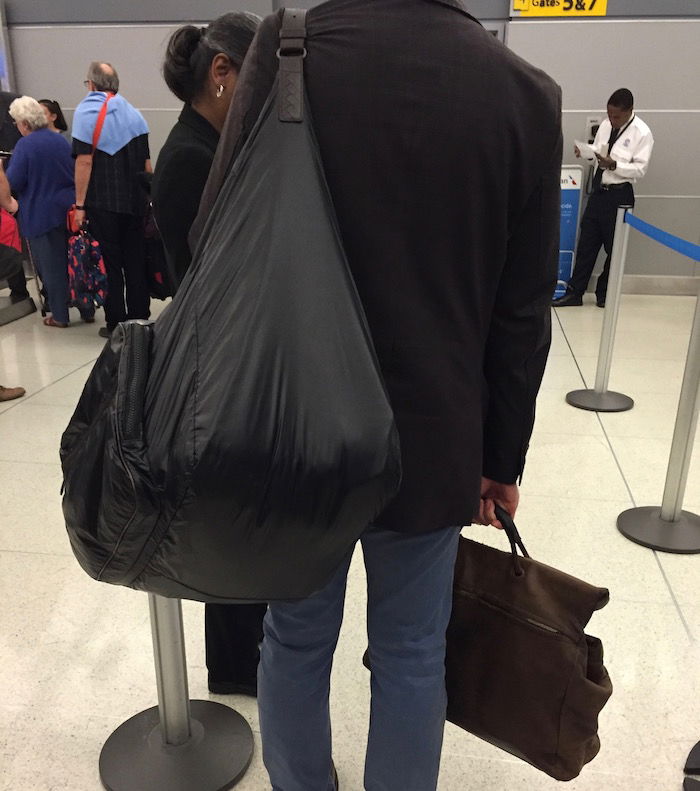 Impressive carry-on
At 6:15PM boarding was called, starting with business class. I was quite excited for this flight, as it would be my first time flying in American's refurbished 767 cabin.
American 94
New York (JFK) – Madrid (MAD)
Thursday, October 29
Depart: 6:55PM
Arrive: 7:15AM (+1 day)
Duration: 7hr20min
Aircraft: Boeing 767-300
Seat: 8J (Business Class)
Upon boarding I was greeted at the door by the super friendly purser and two of the business class flight attendants. I find JFK-based crews to be a mixed bag, though this crew was exceptional.
I was seated in seat 8J, which is the window seat on the far aisle in the very back of the cabin. As I walked down the aisle I hit my head on the overheard and nearly tripped, and looked at the flight attendant standing there and said "sorry, apparently it's not my lucky day."
Without a pause she responded with "honey, I'm working your aisle today. Trust me, it's your lucky day." I appreciated her confidence, her sass, and most importantly, her friendliness. I told her "I like the way you think, Delphine."
American's new 767-300 business class consists of a total of seven rows in a 1-2-1 configuration, for a total of 28 seats. The seats are staggered, making them very similar to the products offered on Austrian, Brussels, Delta, Jet Airways, Swiss, etc.
Since the plane was only relatively recently refurbished, I must say that it looked quite "fresh," and that I liked the finishes at the seats.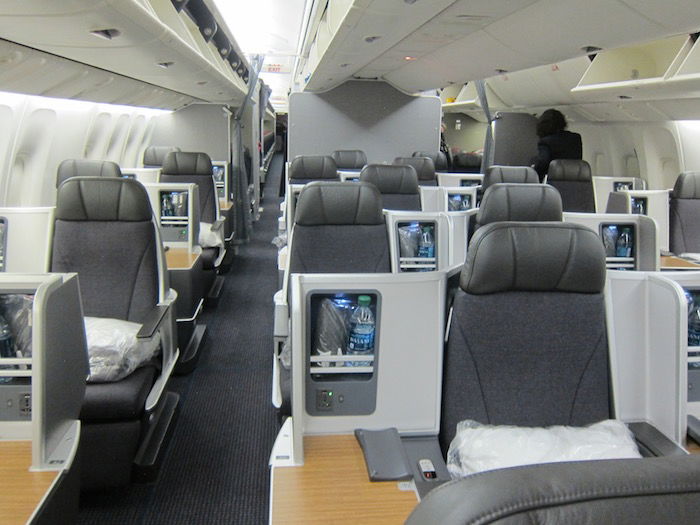 American 767 new business class cabin
As I've stated before, this type of staggered configuration is far from my favorite, and I don't find it to be nearly as good as American's new business class product on the 777-300ER.
The seats alternate so that in one row the window seats are closer to the aisle…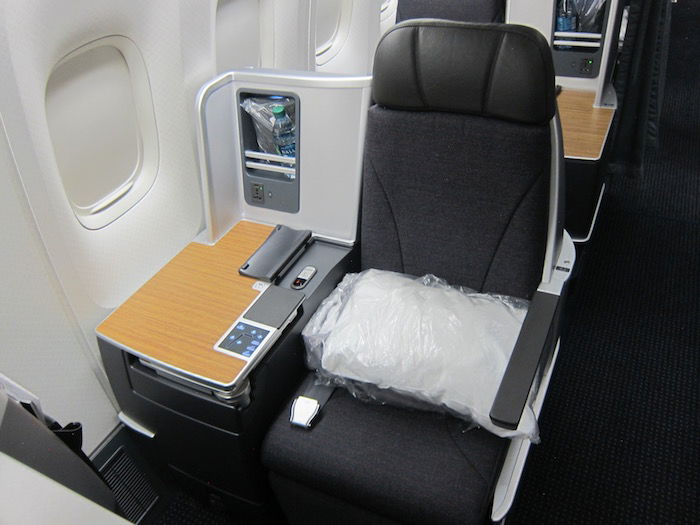 American 767 new business class, seat 7J
While in the following row they're closer to the window (with the console being on the aisle side). The even numbered rows have the seats closest to the windows, which would generally be my preference, since it's more private.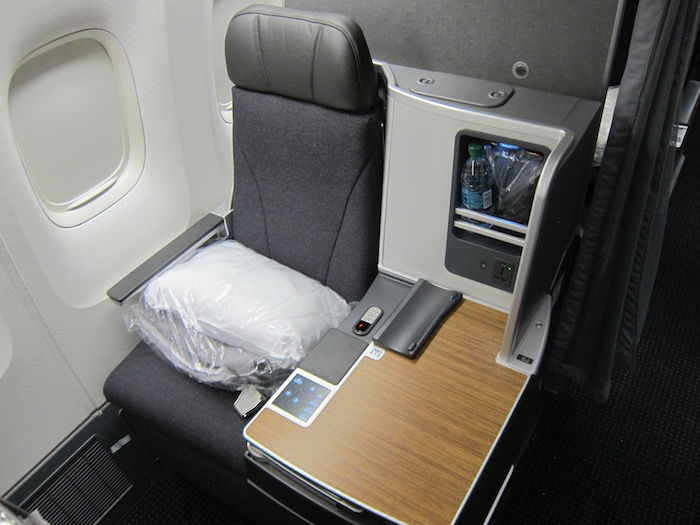 American 767 new business class, seat 8J
The seats in the center stagger similarly by row.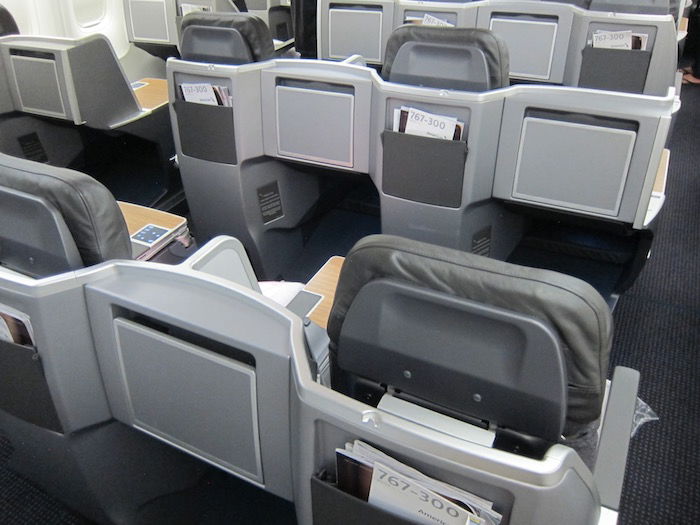 American 767 new business center seats
If the business class cabin looks a bit odd, it's probably because there's no built-in seatback entertainment.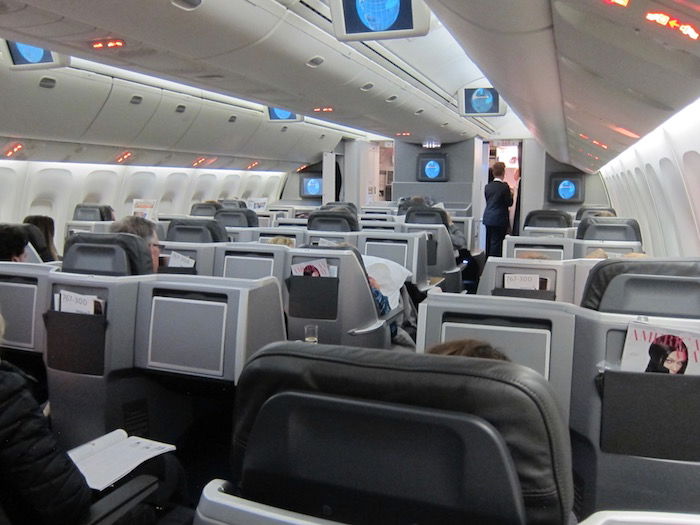 American 767 new business class cabin
It's worth noting that while American recently refurbished the business class cabin on these planes, the economy cabin looks ancient.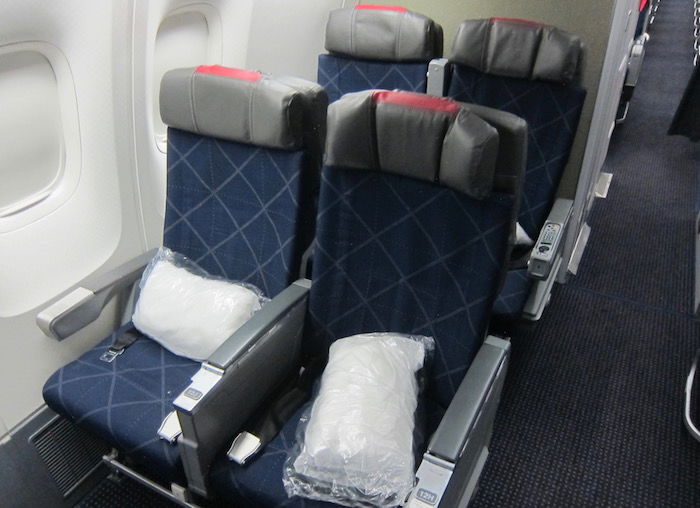 American 767 Main Cabin Extra
After taking a quick look at the Main Cabin Extra cabin behind my seat, I finally settled into my seat, 8J.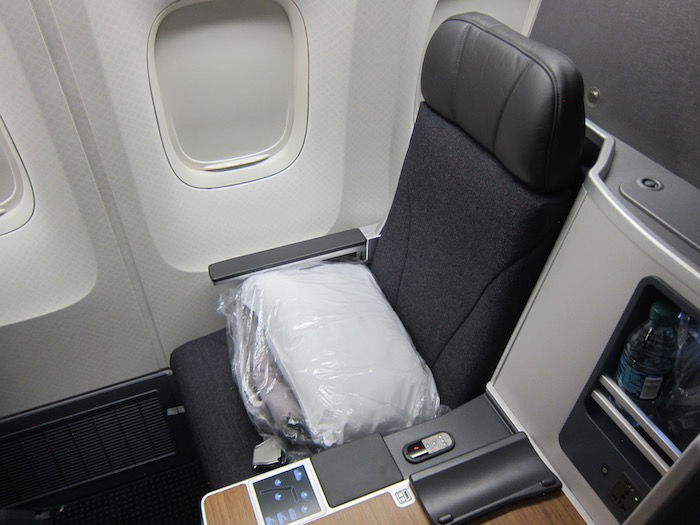 American 767 new business center, seat 8J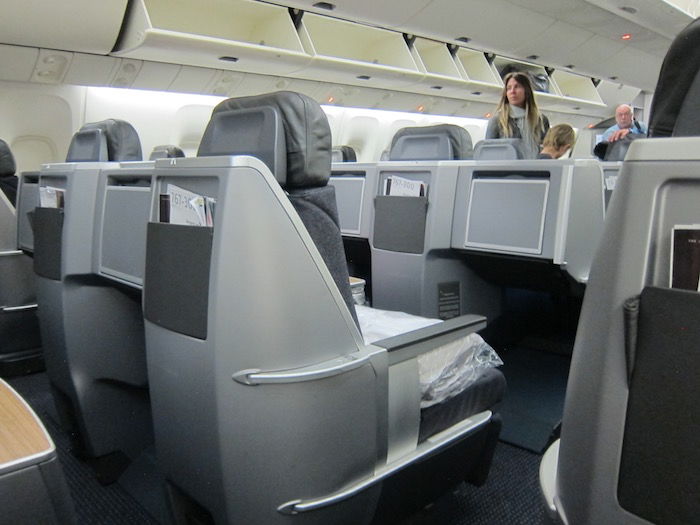 American 767 new business class, view from seat 8J
While the seat has a tray table to the side of it, it's worth noting there's an additional tray in the front, which also has a second power outlet. The portable entertainment system is supposed to go into the space behind where the tray folds, and really that power outlet is intended to keep the portable entertainment system charged.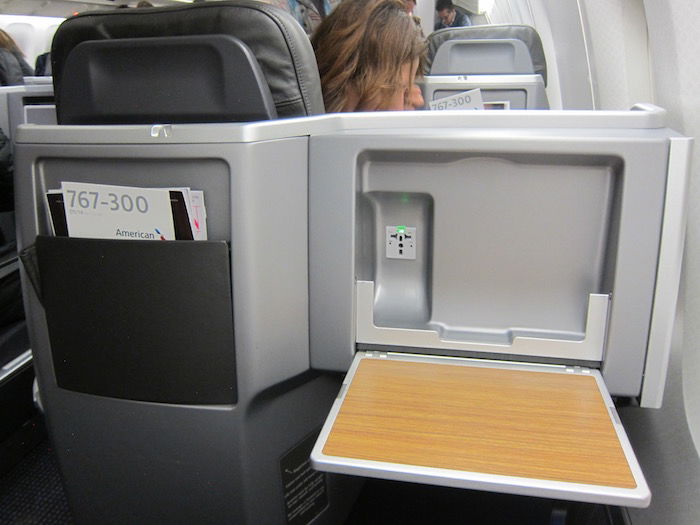 American 767 business class seatback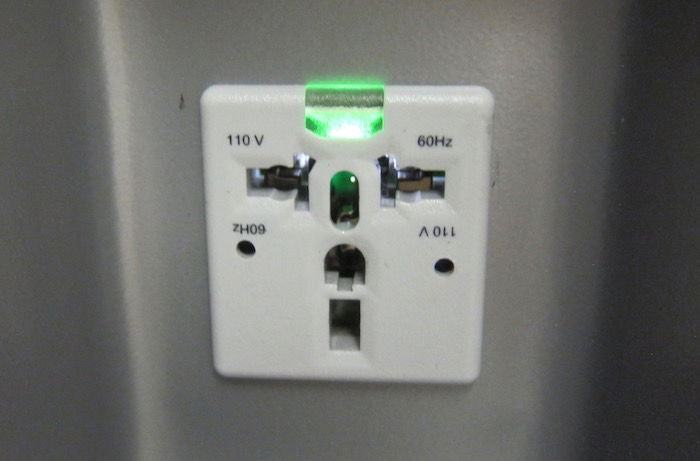 American 767 business class power port
As usual, my biggest complaint about these kinds of seats is that the foot space is extremely limited when you're trying to sleep, since it's confined to the space "next" to the seat in front of you.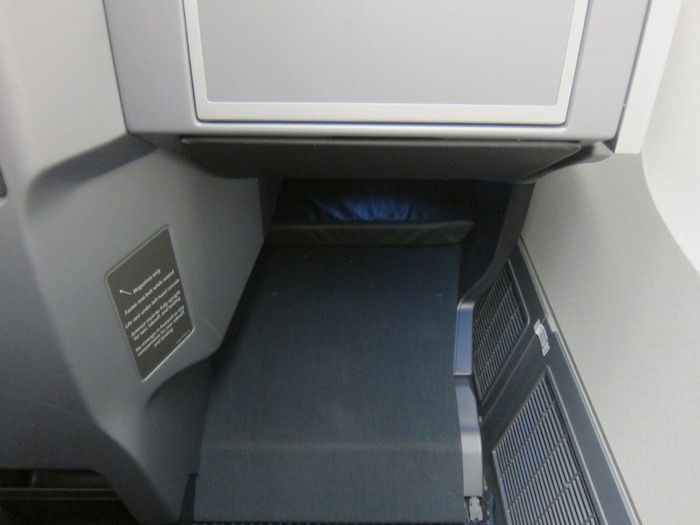 American 767 business class seat legroom
The seat controls were located to the left of the seat on a touch-screen surface, and were easy to use. Perhaps too easy to use, as you can easily accidentally push the controls to adjust the seat throughout the flight, as happened to me.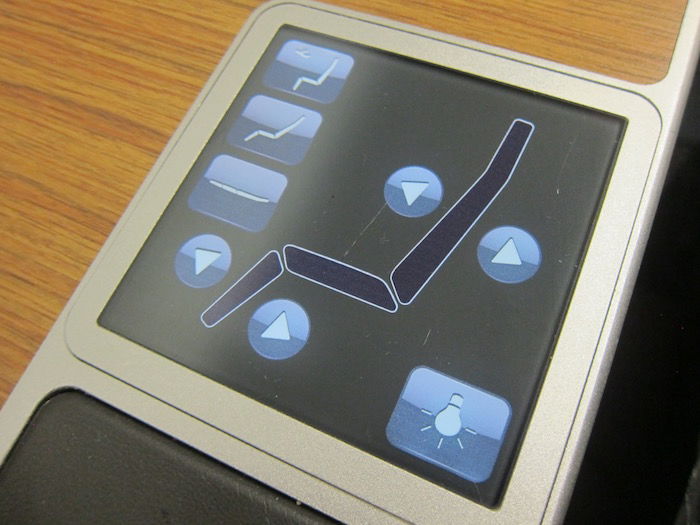 American 767 business class seat controls
What's not easy enough to use, however, is the tray table. I don't know who designed it, but you need a degree to use it.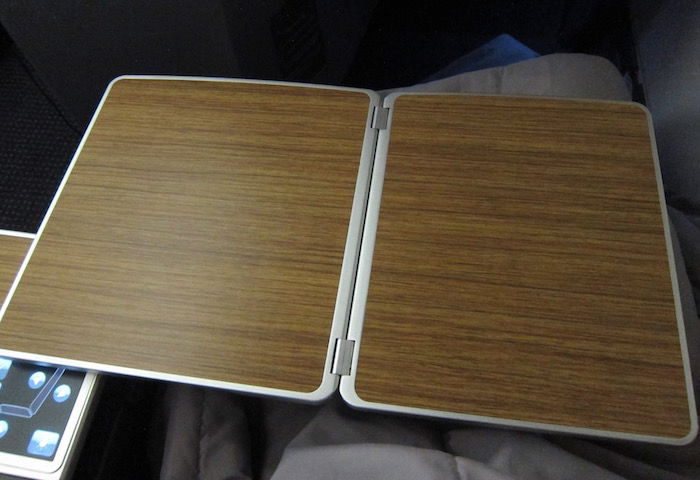 American business class tray table
Immediately below that were the controls for the lighting and audio selection.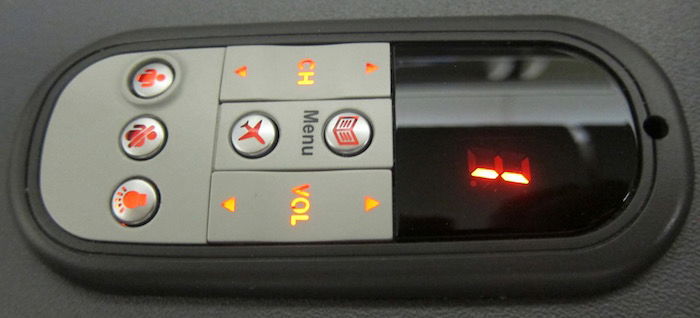 American 767 business class entertainment controls
To the left of my seat along the back was the amenity kit and a bottle of Dasani water.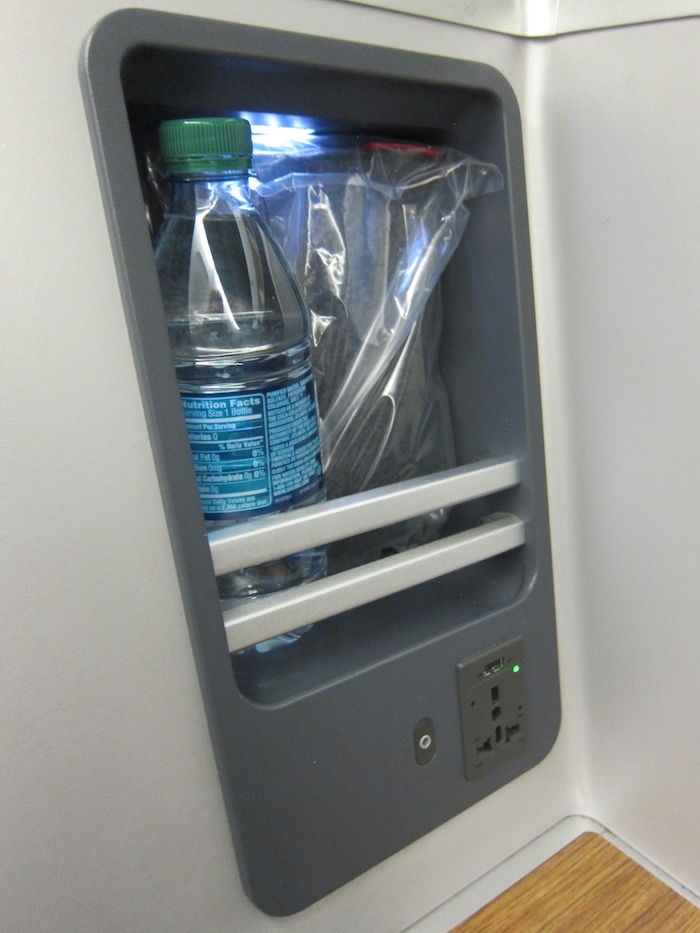 American 767 business class storage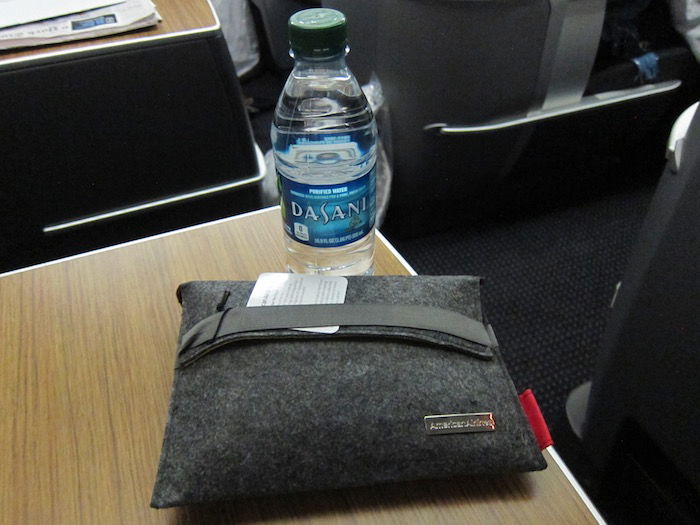 American business class amenity kit & bottled water
For a while American has offered special heritage amenity kits to commemorate all the airlines which formed the "new" American. I got an AirCal kit. For a business class amenity kit, I thought it was pretty well stocked.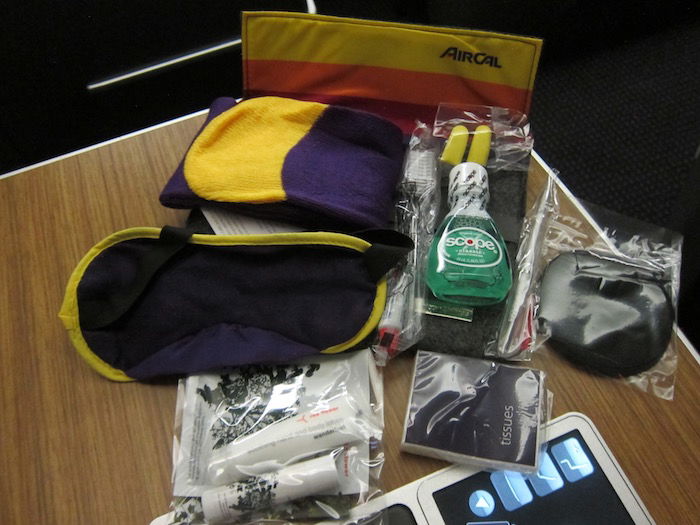 American business class AirCal amenity kit
Also waiting at my seat was a pillow and blanket. It was fairly comfortable, though after my recent flight on Delta with Westin Heavenly bedding, I have to say that it doesn't really compare.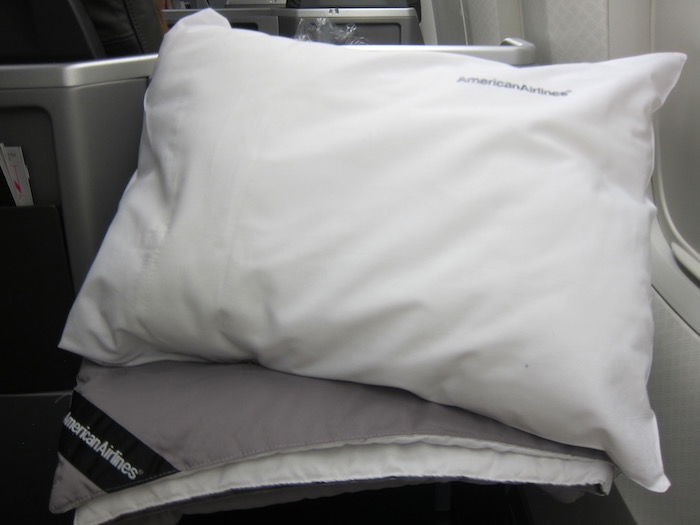 American business class pillow & blanket
It's a bit tricky for flight attendants to offer service while at the gate on the 767, given that the aisles are quite narrow and everyone has to board through the forward door.
Nonetheless Delphine quickly stopped by to offer my a pre-departure beverage. I selected a glass of champagne, which was actually drinkable. American must have change their champagne since the last time I flew them internationally in business class, because last time it was borderline vile.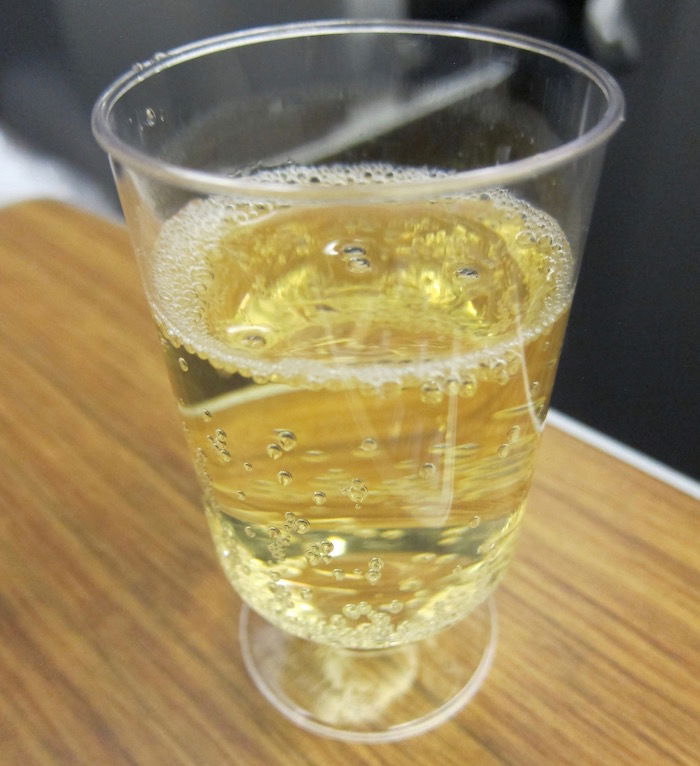 American business class pre-departure champagne
Shortly thereafter the purser came through the cabin to distribute menus for the flight.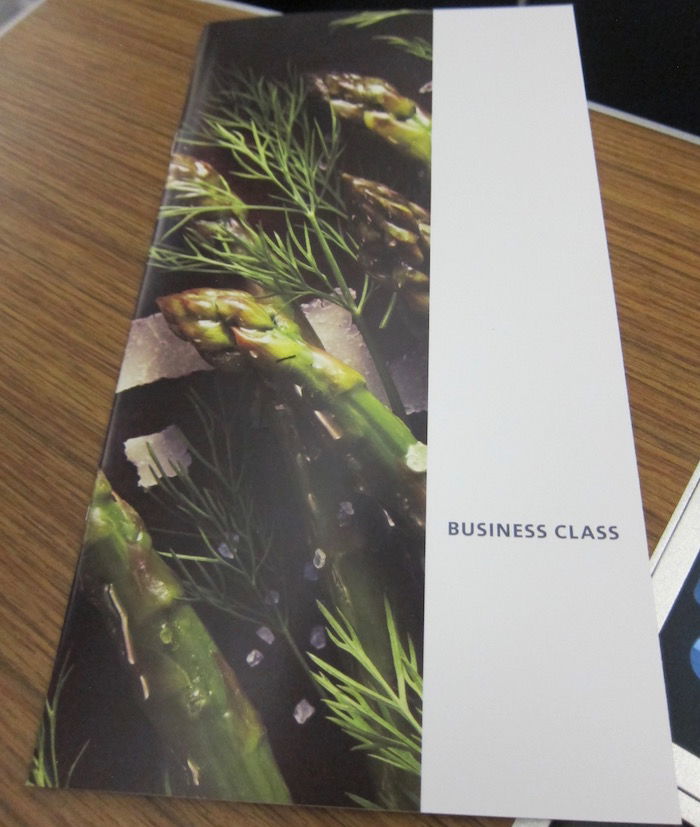 American business class menu
At 6:35PM the purser came on the PA and said "if you're trying to go to Birmingham, now is a good time to deplane." Two passengers actually deplaned. Whoops!
A couple of minutes later the captain came on the PA and informed us of our flight time of 6hr30min, anticipating we'd get into Madrid on-time, or maybe even a few minutes early.
At 6:40PM the cabin door closed, which was 15 minutes ahead of schedule. Every seat on the plane was taken. From then it was another 10 minutes before we began our pushback, though.
The safety demo played as we taxied out, and much to my surprise we were airborne 25 minutes after starting our taxi, which was pretty darn good for JFK on a Thursday night. Our takeoff roll on runway 22R was smooth, and then we began a very, very gradual climb out to our cruising altitude (we must have been under 10,000 feet for a good 15 minutes due to our sequencing on departure).
About 20 minutes after takeoff the crew began their service. It's also worth noting that seat 8A is a pilot crew rest, so shortly after takeoff one of the three pilots came to start his break, and they have a curtain which goes around that seat. It's a bit of an awkward setup.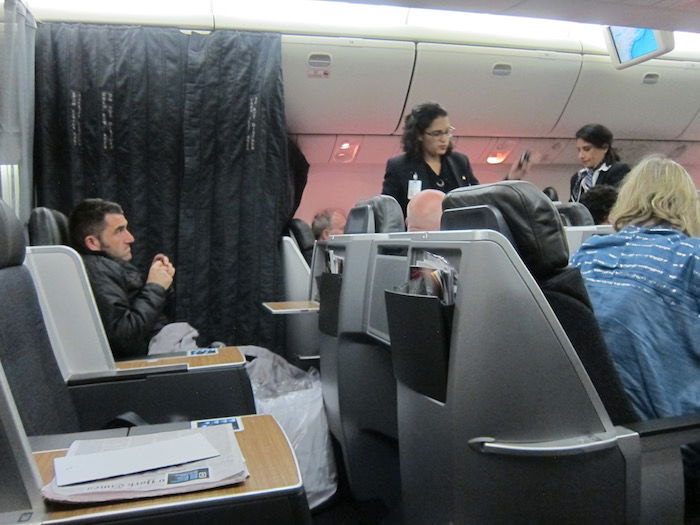 American 767 business class pilot crew rest
The crew was very quick to begin their service after takeoff. While we were still climbing out the crew came through the cabin with portable entertainment players and Bose headphones. They helped with setting them up, including plugging them into the power plug. The whole setup is a bit clunky. In the future I'd probably just not take it, since I bring my own entertainment on my iPad.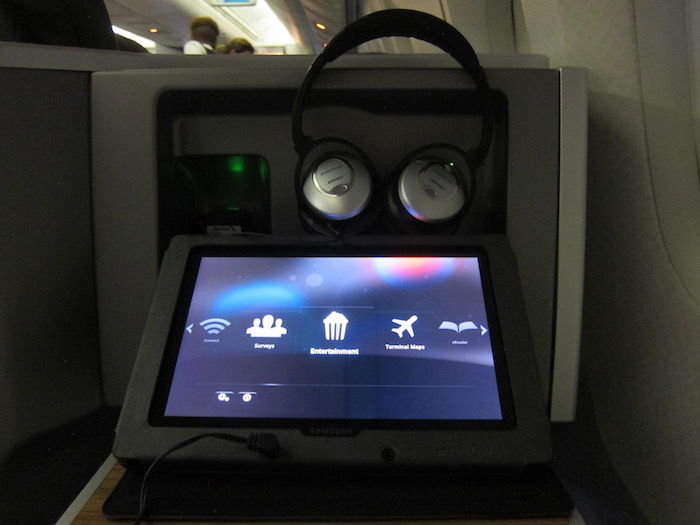 American 767 business class portable entertainment & headphones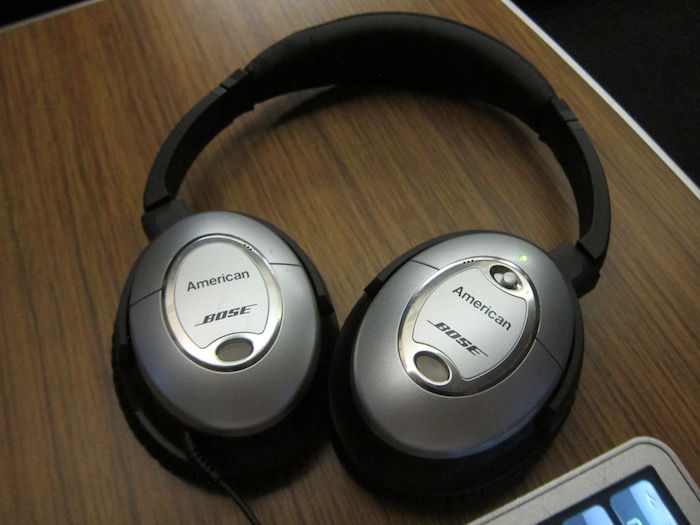 American business class Bose headphones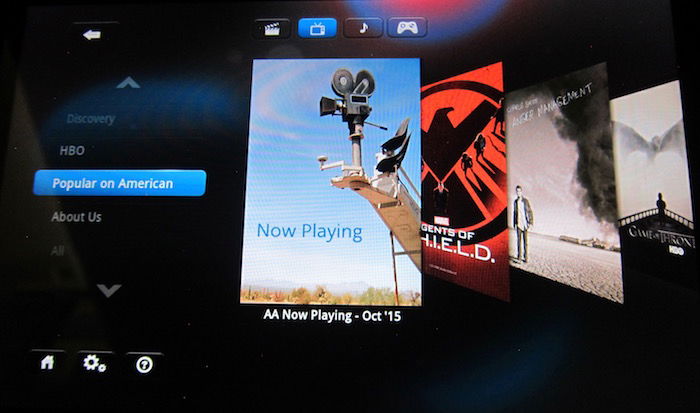 American 767 business class portable entertainment selection
After distributing portable entertainment players Delphine came through with hot towels.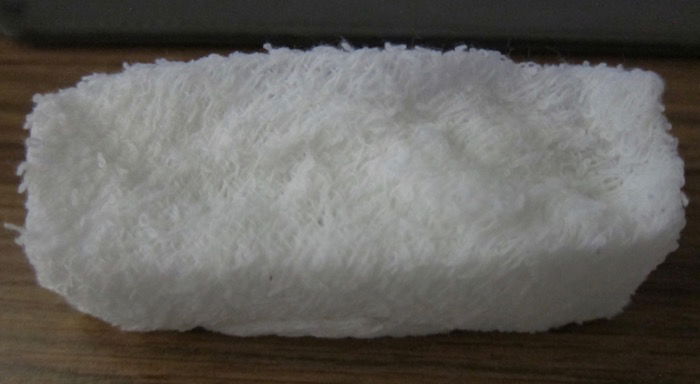 American business class hot towel
Dinner service then began.
The dinner menu read as follows: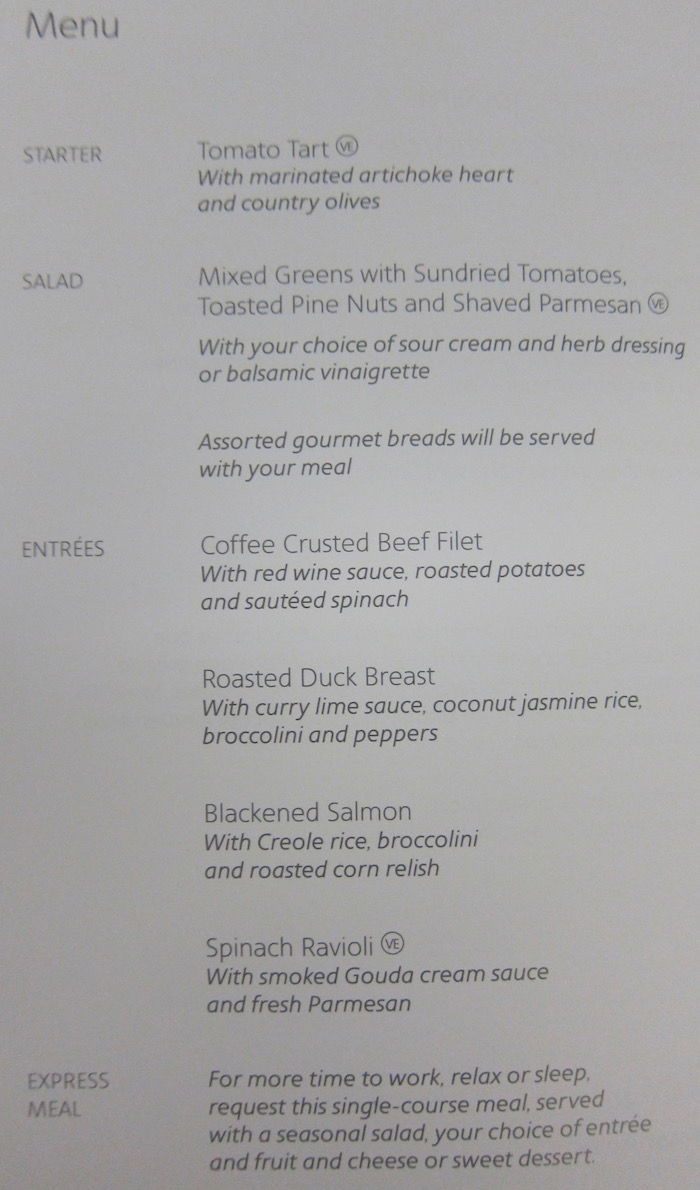 And the wine/beverage list read as follows: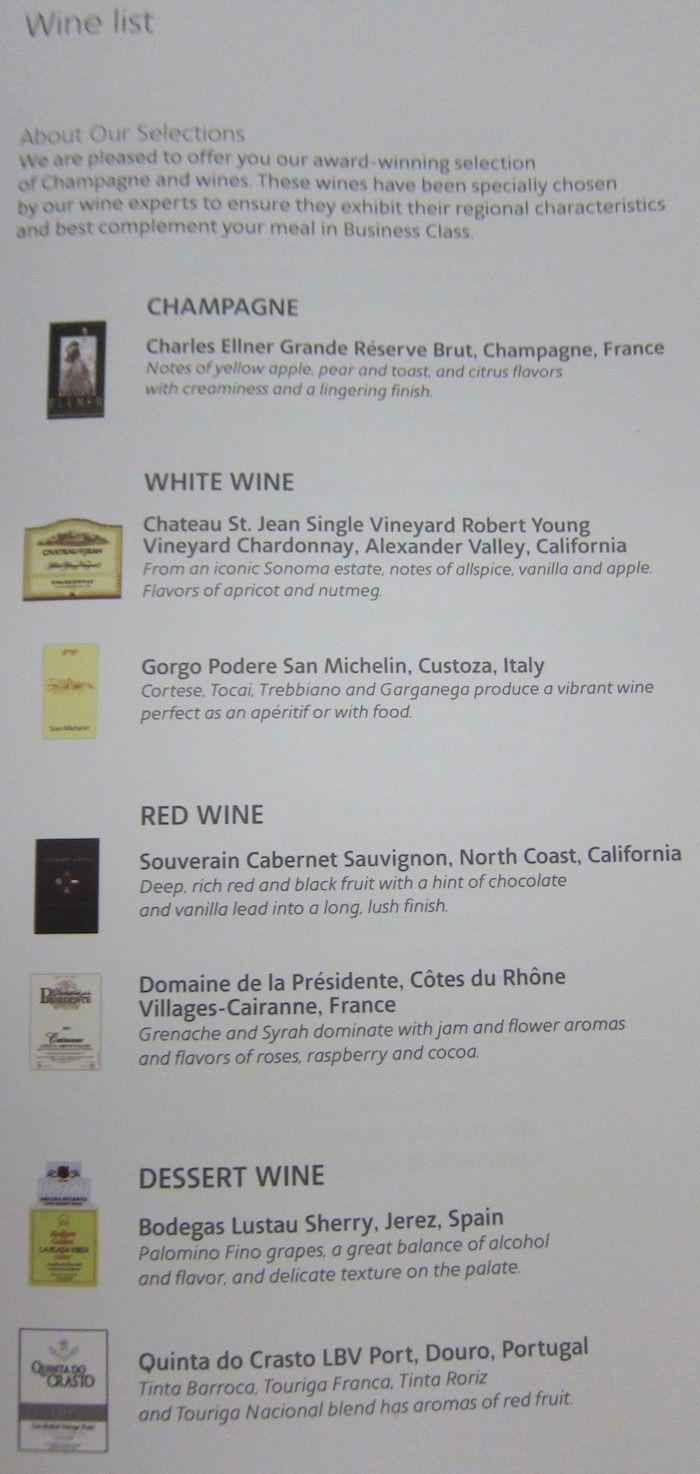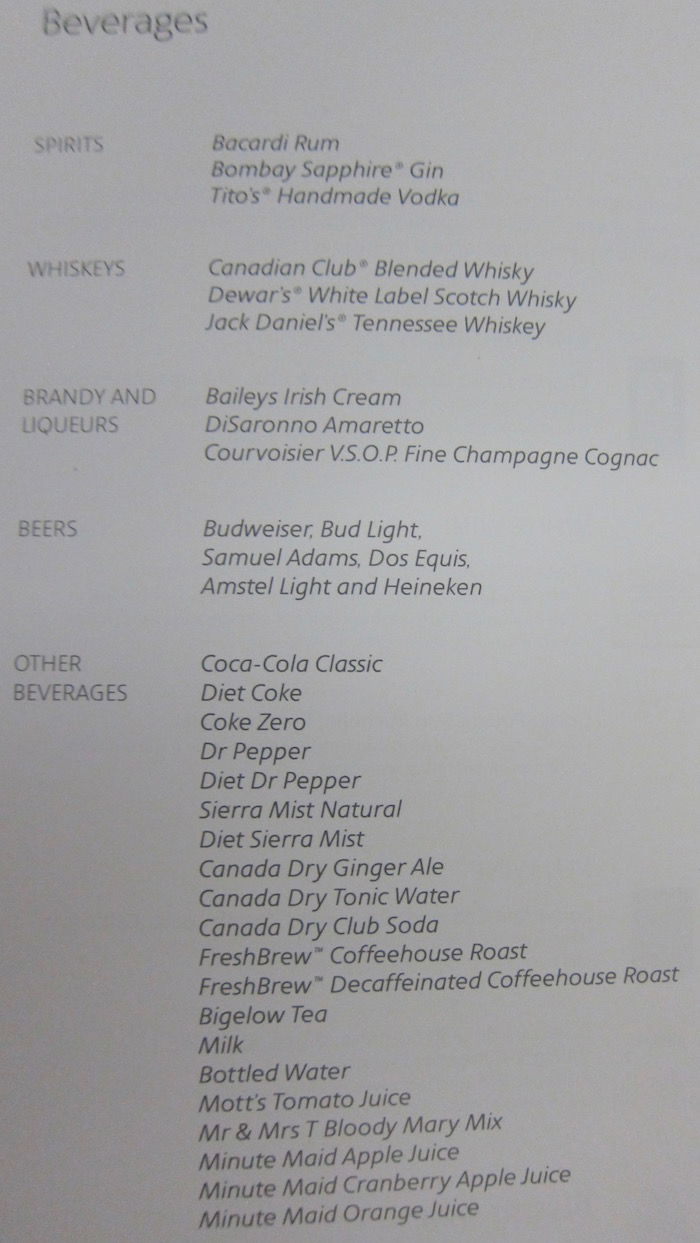 Service began with hot nuts and drinks. I had a glass of still water and a gin & tonic.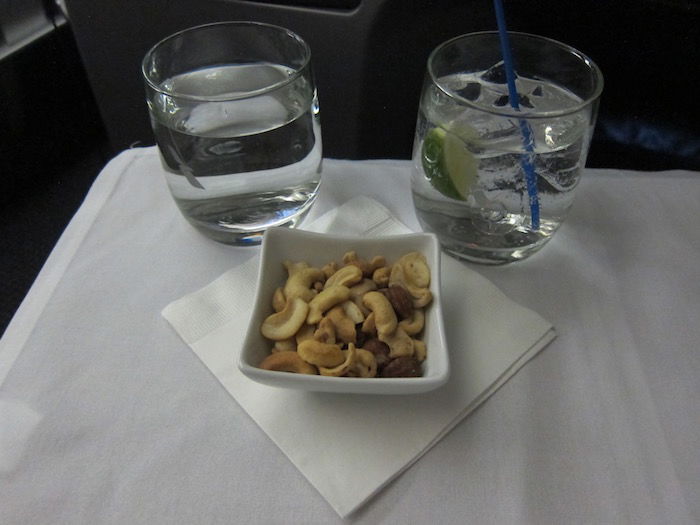 American business class hot nuts & drink to start
About 15 minutes later the crew rolled a cart through the galley with the salad and appetizer.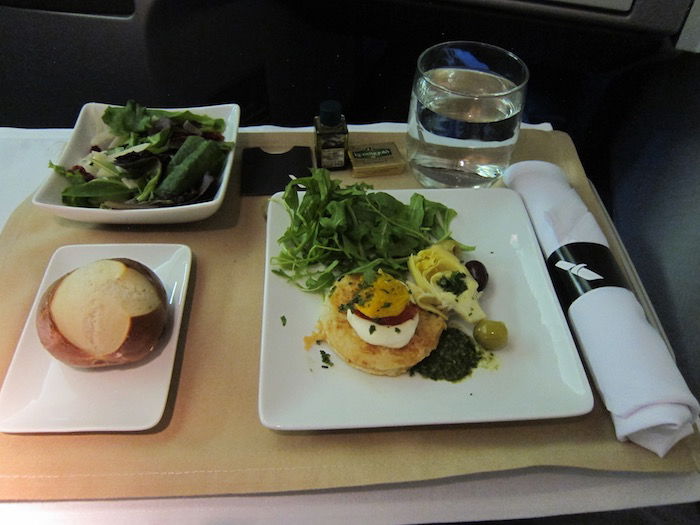 American business class dinner — salad and starter
The appetizer was simple, though a bit odd, as it was basically a piece of bread with some cheese and tomato.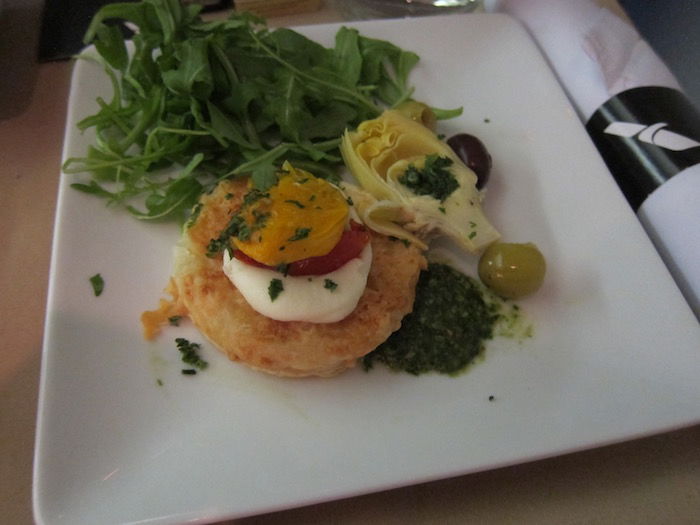 American business class starter — tomato tart with artichoke heart and olives
The salad was quite simple, though perfectly edible.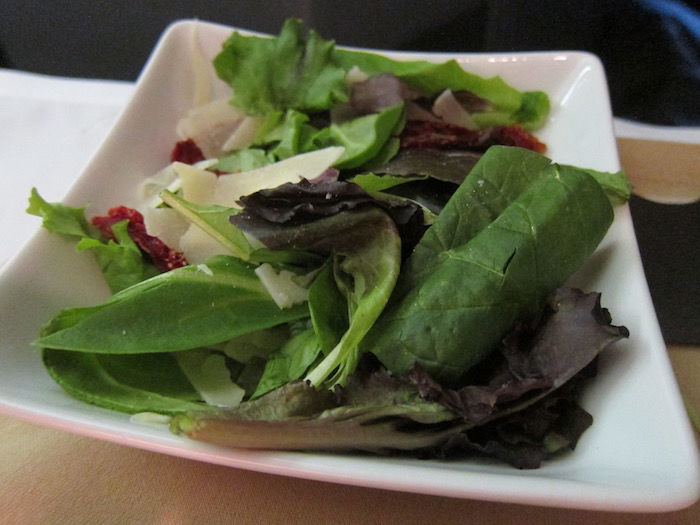 American business class salad — mixed green salad with sundried tomatoes and pine nuts
The pretzel bread was too delicious for anyone's good, as usual.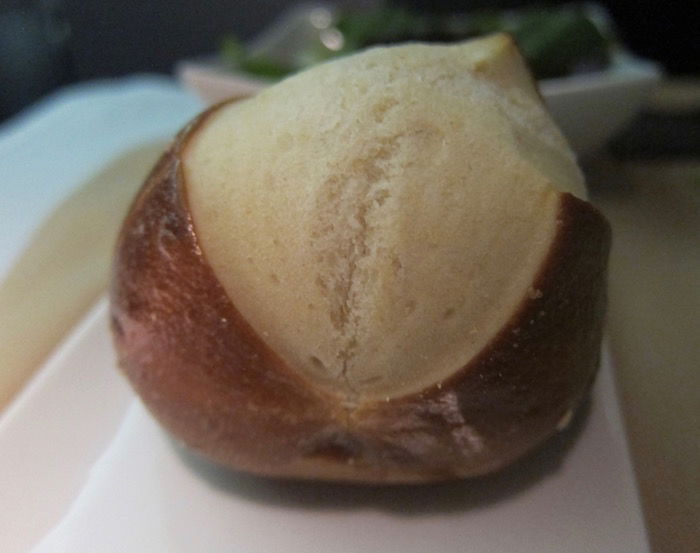 American business class dinner — pretzel bread
For the main course I ordered the salmon. When I ordered it I said to myself "what was I thinking, fish is never good on American?" This salmon dish was actually excellent. It was flavorful and moist. When fish is super dry I like when it has sauce, though in this case it was moist and the corn relish complemented the dish beautifully, as it didn't overpower it. Absolutely fantastic.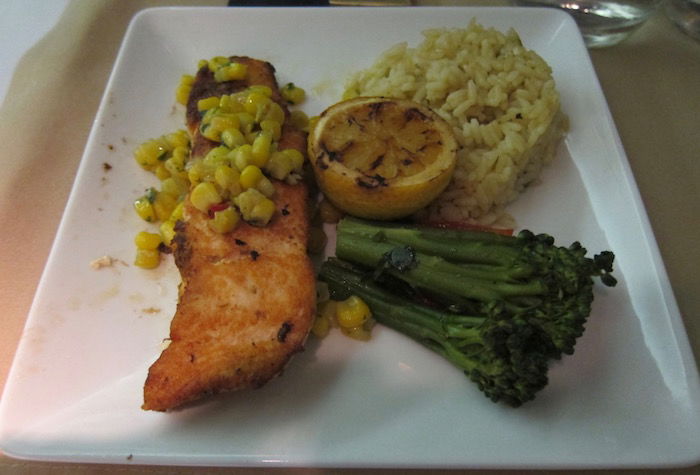 American business class main course — blackened salmon
Then for dessert I had the ice cream. American no longer offers custom made sundaes on eastbound transatlantic flights, which I suppose is to save time with the service and allow people to maximize sleep.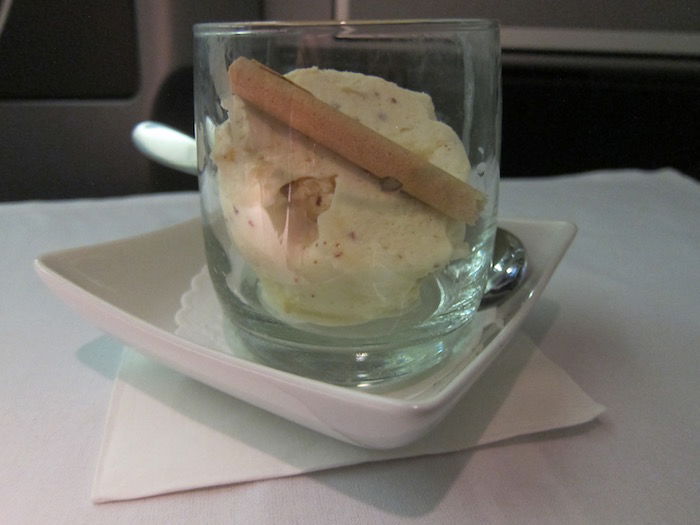 American business class dessert — ice cream with heath bar crunch
Was the food amazing? On the whole, nope. But the salmon was fantastic, and everything was perfectly edible.
Most importantly for a 6hr30min redeye, the service was fast. Dinner service was done less than 90 minutes after takeoff.
I should also note that service throughout the meal was fantastic. Delphine couldn't have been more professional, sassy, efficient, and fun. She was constantly smiling and genuinely seemed to enjoy her job. I can't say enough good things about her.
After dinner the cabin lights were dimmed and I reclined my seat to sleep. Despite the confined space for my feet, I slept surprisingly well for about 3hr30min, and woke up about 90 minutes before landing. That's not bad for a 6hr30min redeye.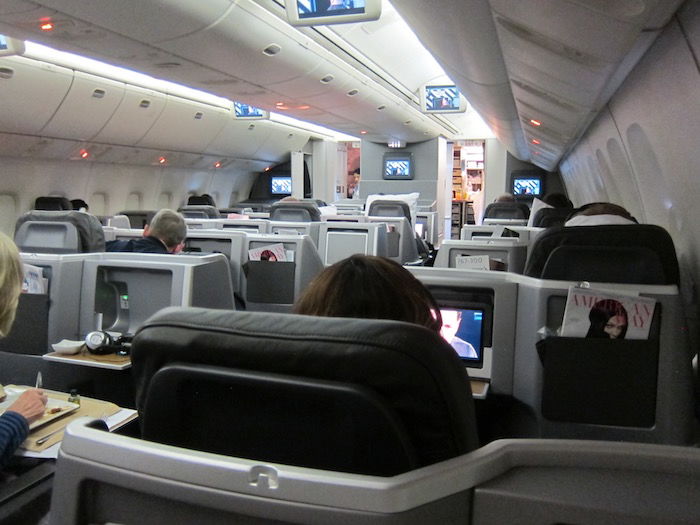 American business class cabin after dinner service
After that I decided to watch another show on my iPad. About an hour before landing, smiling Delphine rolled her cart through the aisle for the breakfast service.
The breakfast menu read as follows: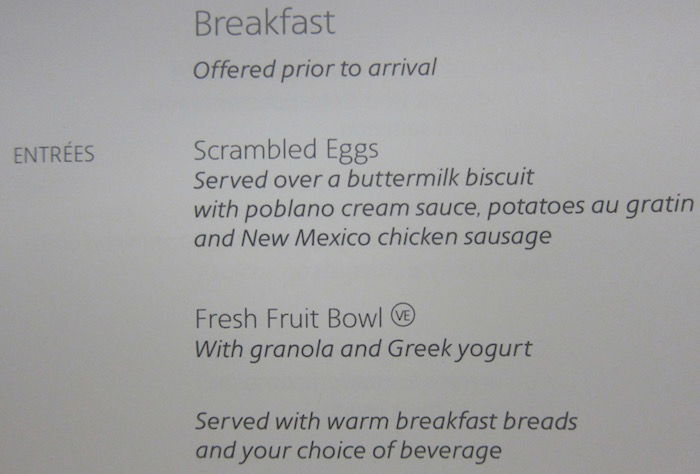 I just had the fruit bowl, which came with granola and yogurt. It hit the spot, given that I wasn't really hungry after such a short flight.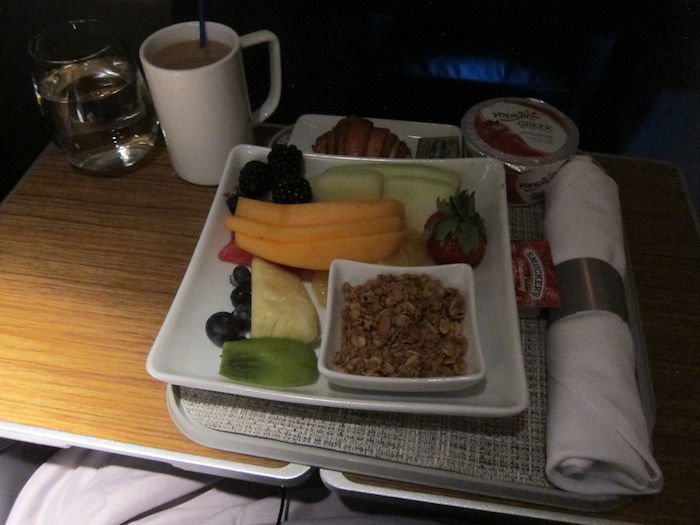 American business class breakfast — fresh fruit bowl
As I finished up my breakfast the captain came on the PA to advise us we'd be landing at 6:50AM, anticipating that we'd get to the gate a bit early. At that point we began our descent, and I took the chance to freshen up in the lav.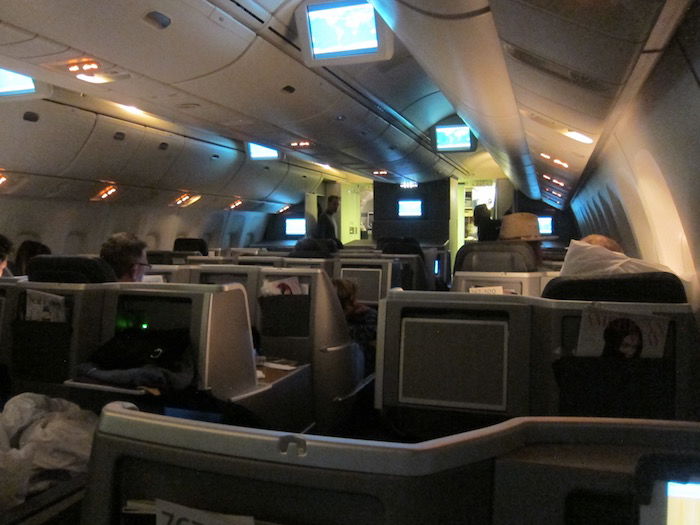 American business class cabin on descent into Madrid
The views on descent were beautiful as the sun slowly began to rise in the distance.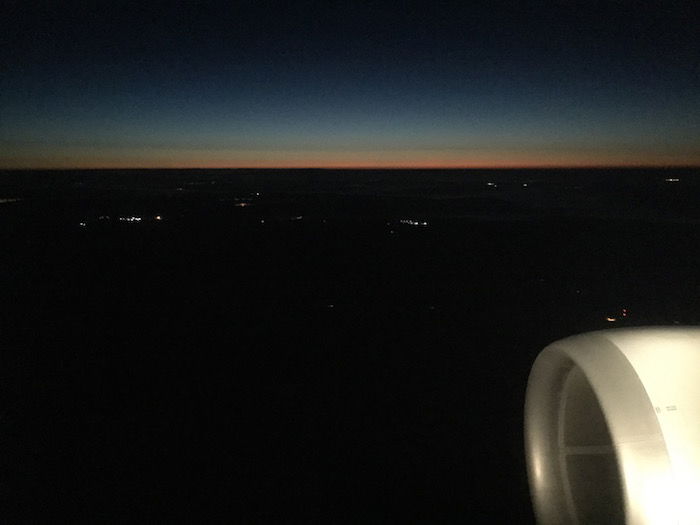 View on approach into Madrid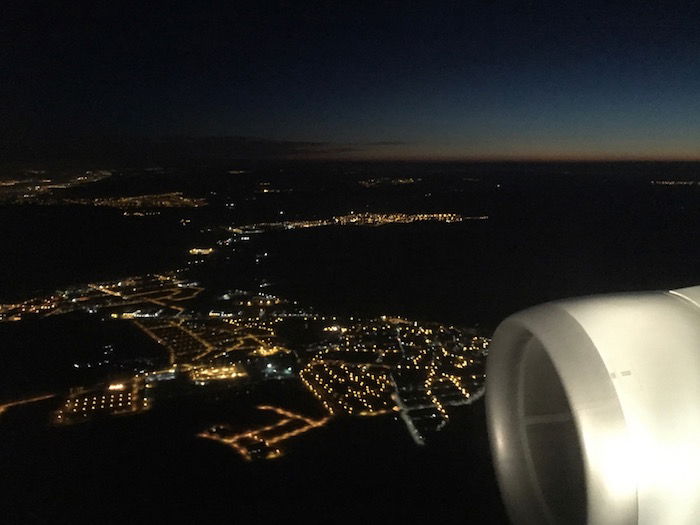 View on approach into Madrid
Sure enough we had an extremely smooth touchdown at 6:50AM, and from there had a 10 minute taxi to the gate.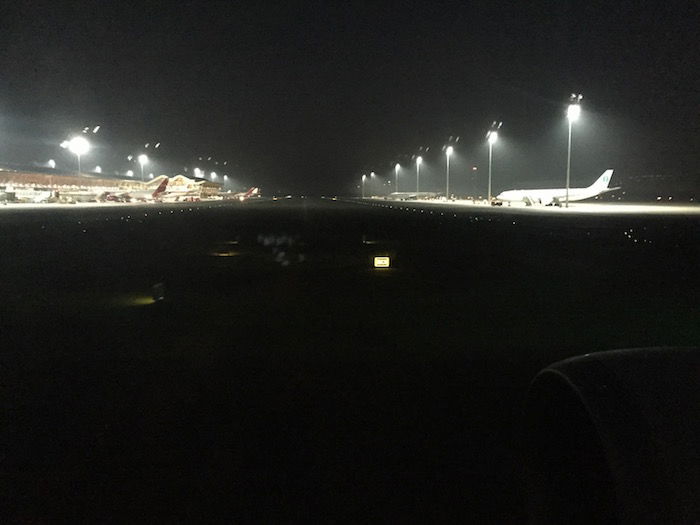 Taxiing at Madrid Airport
We parked next to an Avianca 787, which was sort of funny since it's a plane I've been excited to try.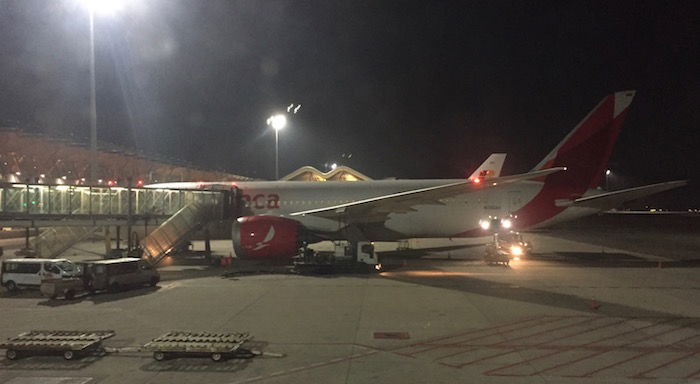 Arriving at gate at Madrid Airport next to Avianca 787
Upon exiting the plane I bid the crew farewell, and was off into the gorgeous Madrid Airport terminal. The terminal is gorgeous as could be, though it was one of the most fitness minded airports I've transited. Which is to say that it was a good 25 minute walk till I found myself in a taxi to the hotel, despite the fact that there were no queues for immigration.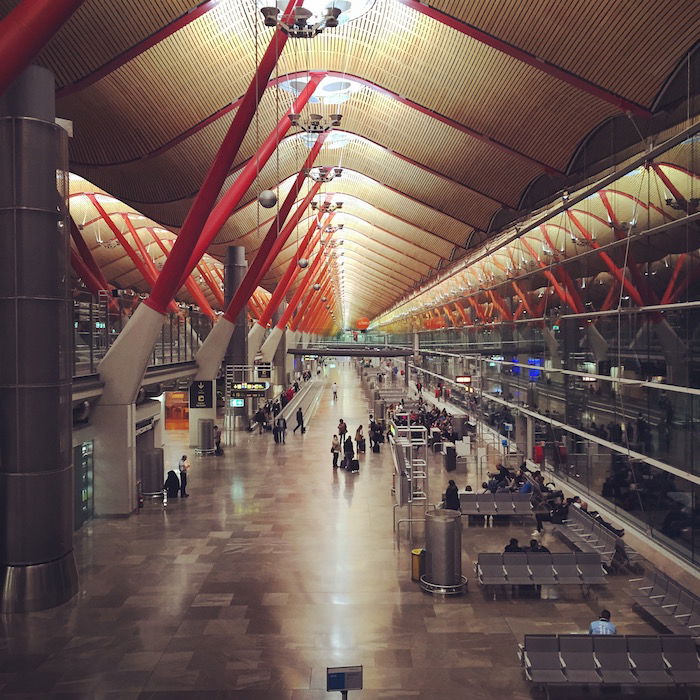 Madrid Airport terminal
American 767 business class bottom line
American's 767 business class product isn't my favorite hard product out there. I far prefer the reverse herringbone seats they have on some of their other planes.
That being said, everything else about this flight was great, in particular for a short transatlantic flight. The food was perfectly edible, the service was efficient, and Delphine couldn't have been friendlier or more courteous.
If you've flown American's new 767 business class, what was your experience like?