Good morning from Brussels! As I outlined yesterday, I just flew from Toronto to Brussels on Jet Airways in business class. While Jet Airways isn't in oneworld, they are an AAdvantage partner airline, so you can redeem American miles for travel on Jet Airways.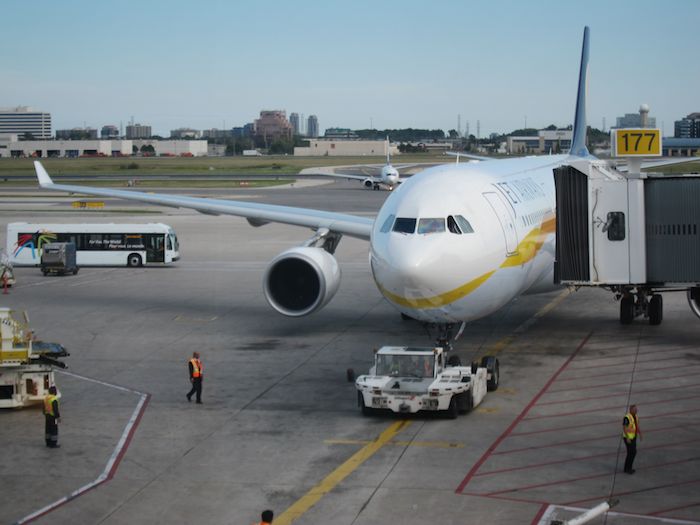 Jet Airways A330
Jet Airways is known to be one of the better airlines in India, and back in the day was the only airline to serve Dom Perignon in business class. Unfortunately they've gone through some serious financial woes over the past few years, and based on what I had heard, service reflected that.
They were in the news just a couple of weeks ago after one of their planes mysteriously dropped 5,000 feet enroute from Mumbai to Brussels. Not that it's a huge deal, but at the same time when it's the only thing about the airline in the news…
Of course I conveniently left out that tidbit when I told my mom which airline I was flying. 😉
There's a good chance you've actually flown a Jet Airways plane without knowing it. They have leased their 777-300ER aircraft to Turkish, Thai, and Etihad. They couldn't turn a profit flying them, so leasing them out to other airlines was the only option.
Based on all of the above, my expectations of their business class weren't very high, figuring the product would reflect their financial woes and cost cutting.
Well, I was wrong. The flight was pleasantly surprising and a great way to fly between the US and Europe.
I'll have a full trip report soon, but will share my initial thoughts below:
Jet Airways Business Class A330 Seat
Jet Airways used to have herringbone seats in business class on their A330s, though recently introduced a new Vantage style business class seat. I'm not sure why, because I actually prefer a herringbone configuration, but then again I've never claimed to understand airlines.
In terms of the "footprint" of their business class seats, it's almost identical to the products offered by Delta and Swiss.
The cabin alternates between one and two seats on the left side of the cabin, then has two seats in the center of the cabin, and then one seat on the right side of the cabin. So that's a total of 4-5 seats per row.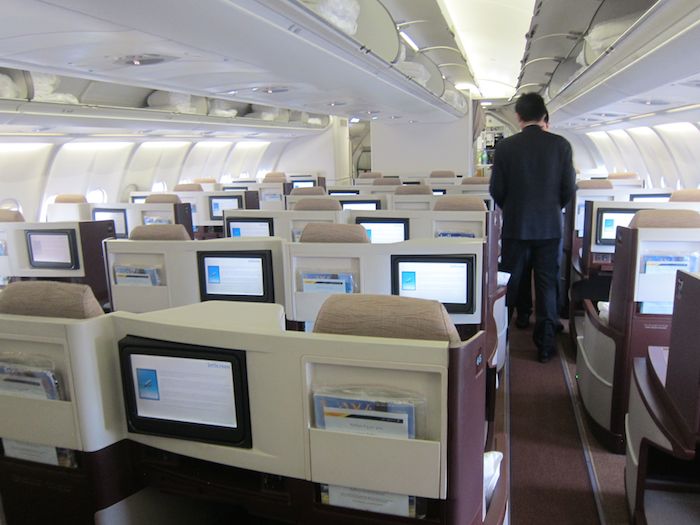 Jet Airways Business Class A330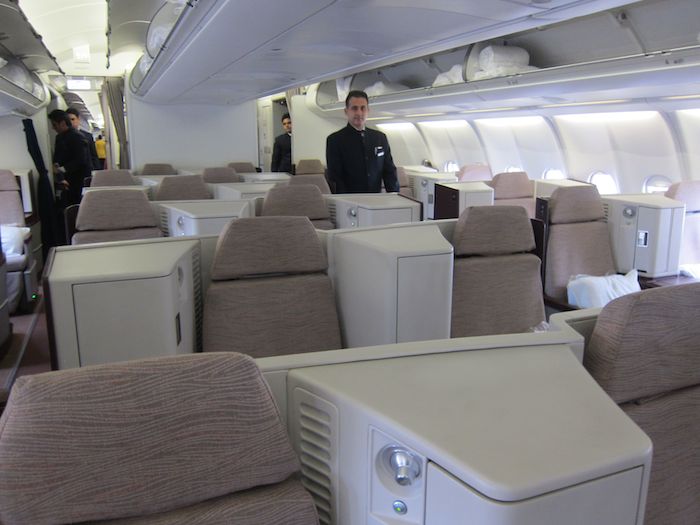 Jet Airways Business Class A330
I chose a window seat on the right side of the aircraft, which are staggered as well. I was lucky to snag a "true" window seat – in other words, a seat closer to the window than the aisle, which in this configuration is the even numbered seats (2K, 4K, 6K, and 8K).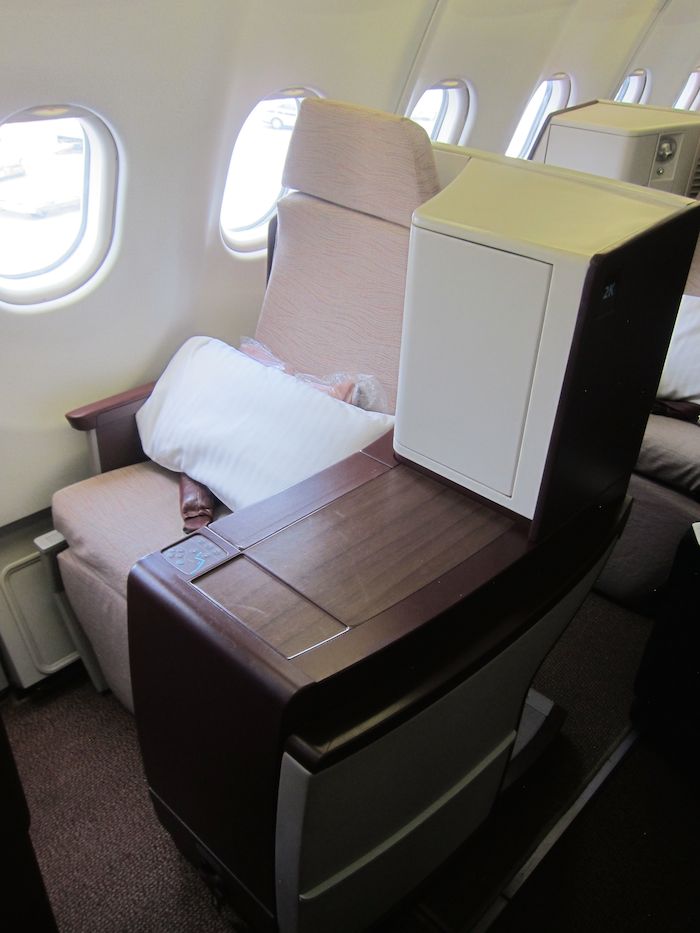 Jet Airways Business Class Seat A330
This was a solid hard product. Since this is a new product, the seats looked fresh, though were certainly on the dull side in terms of the tones. I did appreciate that they had a storage compartment at the side of the seat which opened and closed. The area where your feet go is somewhat restrictive, but not as much as in the "throne" seats on the other side of the aircraft.
Jet Airways Business Class Food
Simply great. I love Indian food, so was in heaven on this flight.
The starter consisted of the choice between a mushroom soup or an arugula, melon, and mozzarella salad. I went with the latter.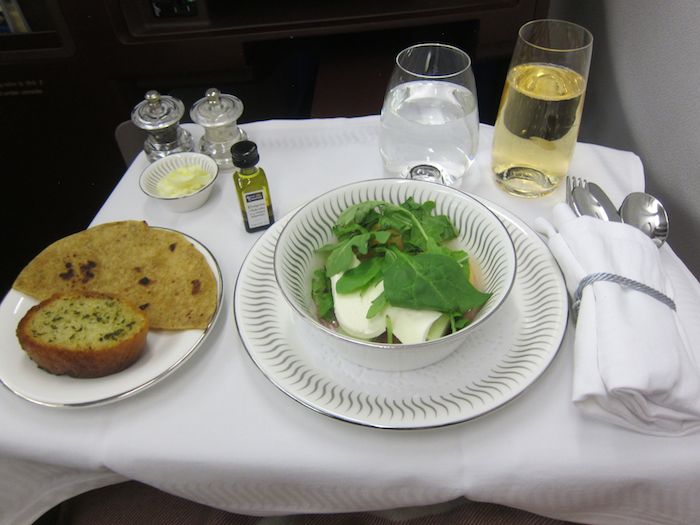 Jet Airways Business Class Dinner
For the main course I had a fantastic Indian prawn dish which gave Korean Air's bibimbap a run for its money in terms of the number of dishes used.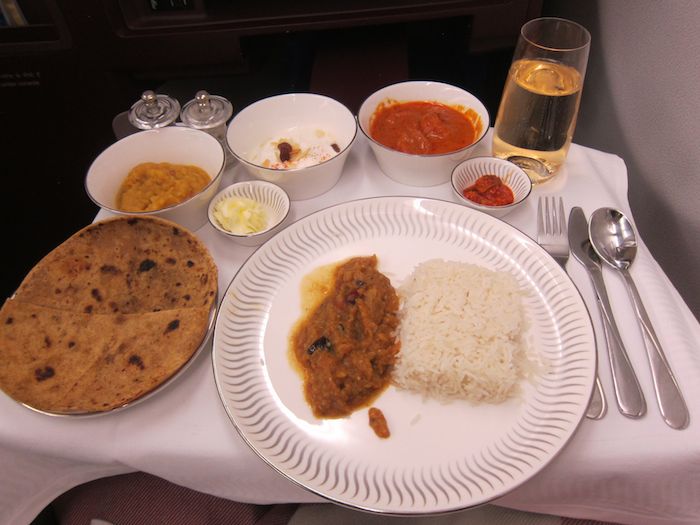 Jet Airways Business Class Dinner
Then for dessert I really just wanted the western dessert, but the crew suggested I try the Indian dessert as well, which I did (and after trying it I've decided I love all Indian food except the desserts).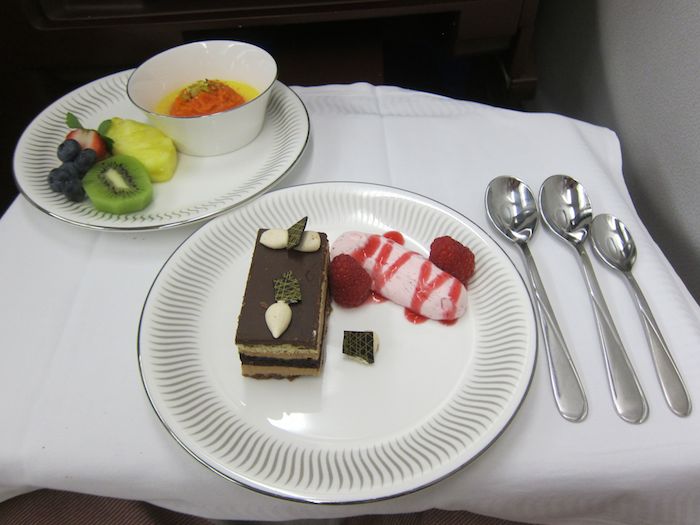 Jet Airways Business Class Dinner
In terms of champagne, they might not have Dom Perignon anymore, but they replaced it with Billecart Salmon, which frankly I enjoy as much as Dom, if not more. It's nice and light, so goes great with Indian food and other dishes that are heavy/spicy.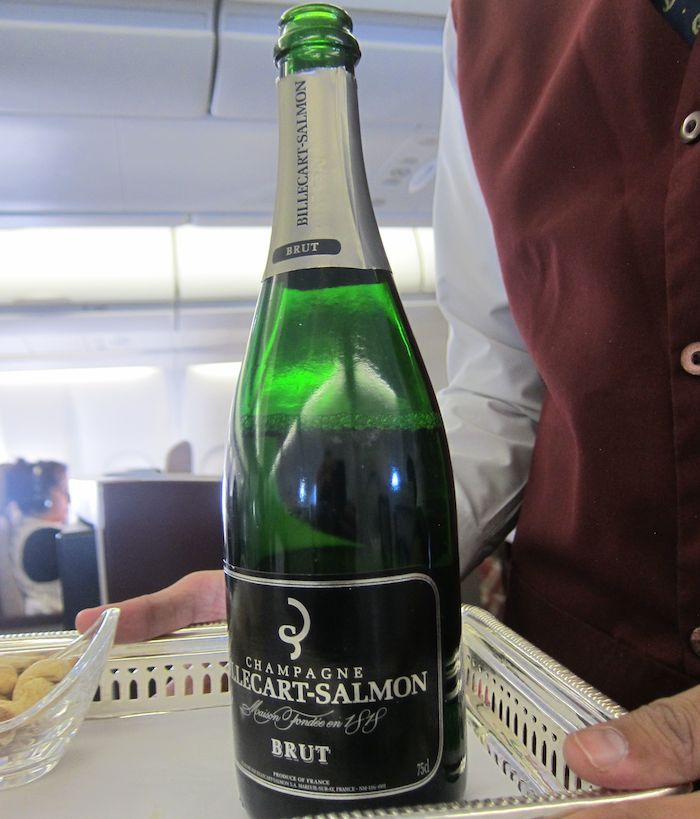 Jet Airways Business Class Champagne
To my surprise they also had legit cappuccinos. Not the overly sweet ones served by many other airlines, but rather a straightforward, delicious cappuccino. Kudos!
Jet Airways Business Class Service
The service was so close to being excellent.
Service started off on a great foot. I was escorted to my seat upon boarding, and the crew was all smiles. Service throughout dinner was excellent as well, despite every business class seat being taken (over half of the cabin was occupied by operational upgrades, interestingly, since economy was way oversold).
I was pleasantly surprised that no trays were used for the meals, but rather everything was set directly on the tablecloth. Furthermore, while the initial table setting was rolled out on a cart, all the other service was done by hand, which is always a nice touch.
But after dinner I don't think they passed through the cabin once. What was truly bizarre is that I was awake the whole flight and was waiting for the breakfast service. I wasn't actually hungry but did want to photograph it. I figured the service must still be coming since many people were up but no one had been served breakfast at this point.
As we began our descent I asked when the breakfast service would be, and the flight attendant said "oh we are landing soon, it is too late for breakfast." I expressed surprise at having "missed it" since I was awake. She responded that she could get me breakfast, but only if I ate really quickly.
I ended up getting my tray after the captain told the flight attendants to take their seats, and quickly handed it back.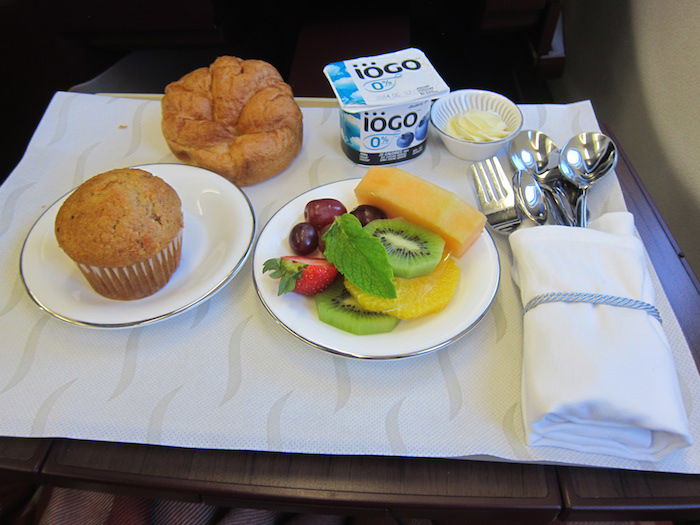 Highly Coveted Jet Airways Business Class Breakfast
I found that rather odd.
But I thought the service was quite good otherwise. The crew was friendly and during dinner service even quite polished and attentive.
Jet Airways Business Class Amenities
Before takeoff an amenity kit and pair of socks were handed out. I'm not much of an amenity kit guy to begin with, but this one definitely wasn't impressive. It was made of a similar material to the La Compagnie one (aka a trash bag), and when I opened it I couldn't help but feel kind of disappointed at the contents of the package.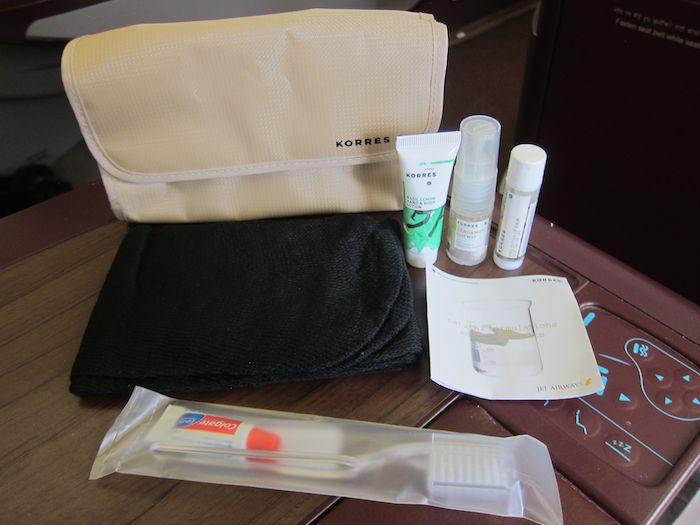 Jet Airways Business Class Amenity Kit

It had a toothbrush and then hand lotion, lip balm, and body mist. No eyeshades, really?
On the plus side, the blanket and pillow were great. The pillow was firm and blanket huge.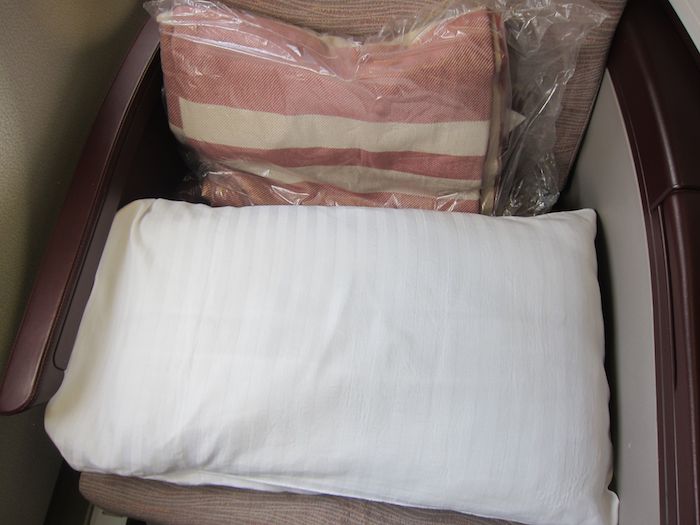 Jet Airways Business Class Pillow & Blanket

The entertainment system was okay but not amazing. It featured a fair selection of TV shows and movies, though I have really high standards when it comes to TV (fortunately on my iPad I had two episodes of Real Housewives of Orange County left to watch, along with an episode of Married At First Sight… quality television, clearly).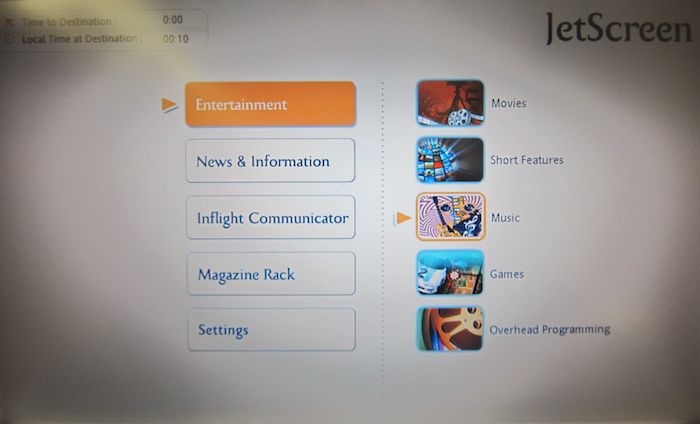 Jet Airways Entertainment
The inflight entertainment did have One Direction's "Midnight Memories" album, which was a great way for me to make sure I had memorized all of their lyrics. I'm very excited to see them in a couple of weeks at the iHeartRadio Music Festival in Las Vegas (though I'm still undecided as to whether I should wear a Harry or Liam shirt – thoughts on that would be appreciated in the comments section!).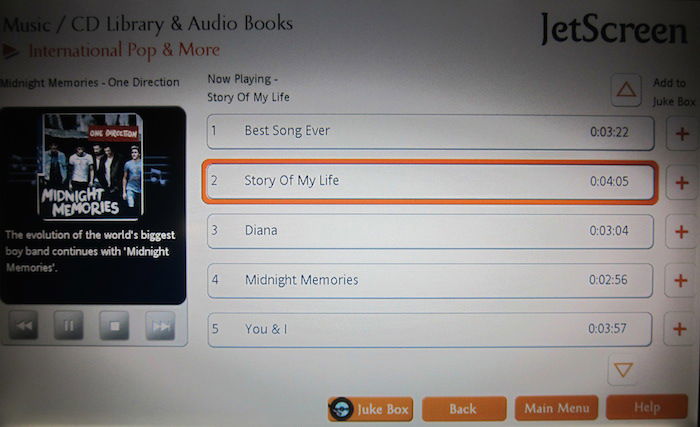 Jet Airways Entertainment
Speaking of One Direction, has anyone actually read the lyrics of "Story Of My Life?" Man they're deep!
Jet Airways Business Class Bottom Line
Jet really exceeded my expectations. The hard product was above average (especially if you can grab a "K" seat in an even numbered row), the service generally good, and the food excellent.
I'd say they're a great use of American miles given the lack of fuel surcharges. Anecdotally they release more award space on their flight from Toronto to Brussels than their Newark to Brussels flight. I'd fly them again in a heartbeat.
Have you flown Jet Airways? If so, what has your experience been?