---
I had booked a paid economy ticket for this trip, and managed to upgrade my American flight from London to Los Angeles using a systemwide upgrade. However, there was no easy way to upgrade the Madrid to London flight, so I was in economy for the short sector. That's not much of a loss, though, given that intra-Europe business class is simply economy class with a blocked middle seat and slightly better service.
Iberia 3162
Madrid (MAD) – London (LHR)
Tuesday, November 3
Depart: 8:20AM
Arrive: 9:50AM
Duration: 2hr30min
Aircraft: Airbus A321
Seat: 17A (Economy Class)
I was among the first economy passengers to board, given that oneworld Emerald members can board via the fast track lane with business class.
The business class cabin on this particular flight was huge, as it extended to row 10. Given that business class is simply economy with a blocked middle, it's easy for the airline to adjust the size of the business class cabin to meet demand on every flight. Given that this was a flight to London, I guess I'm not surprised the business cabin was so big.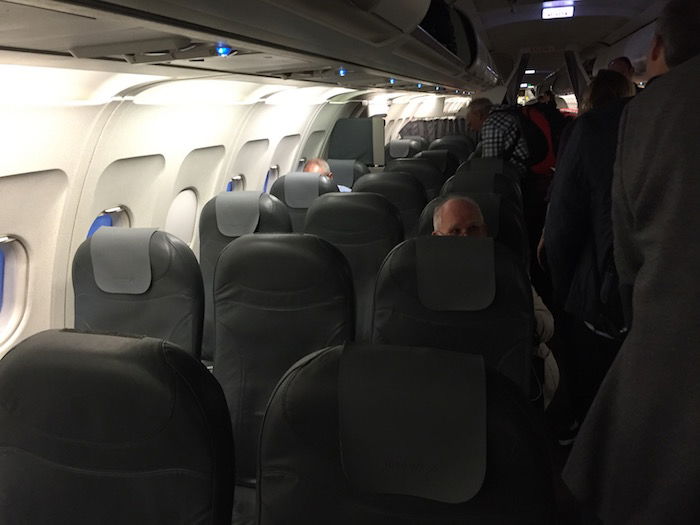 Iberia A321 business class cabin
At the door I was welcomed aboard by the cabin manager, Francisco, and directed to my seat.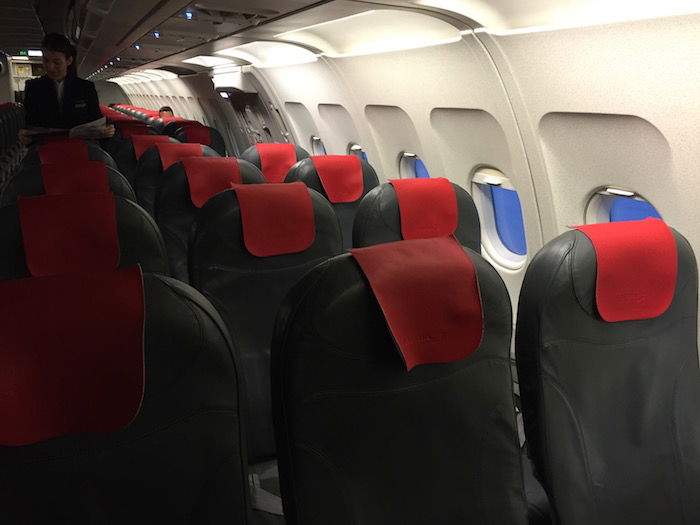 Iberia A321 economy class cabin
At check-in I was assigned seat 17A, which was just over the wing, towards the front of the economy cabin.
Apparently Iberia's A321 economy seats have 31″ of pitch and 17″ of width, which seems tight. But I actually found it to be reasonably spacious. When I fly economy it's usually in an exit row or seat with extra legroom, so I was expecting to feel like it was super tight, but it wasn't.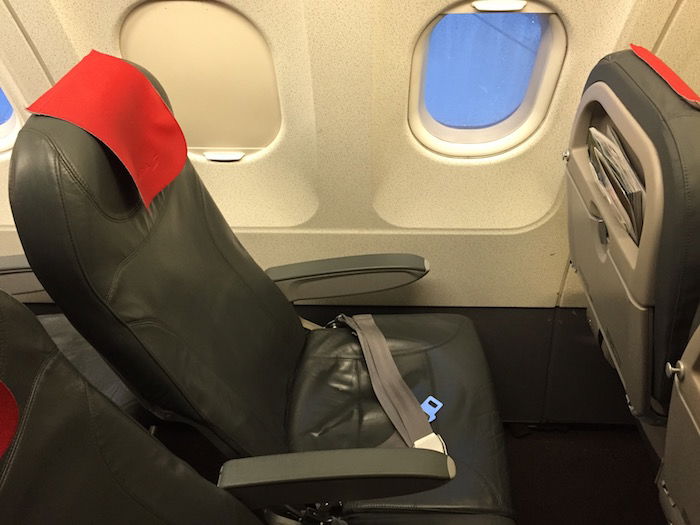 Iberia A321 economy class, seat 17A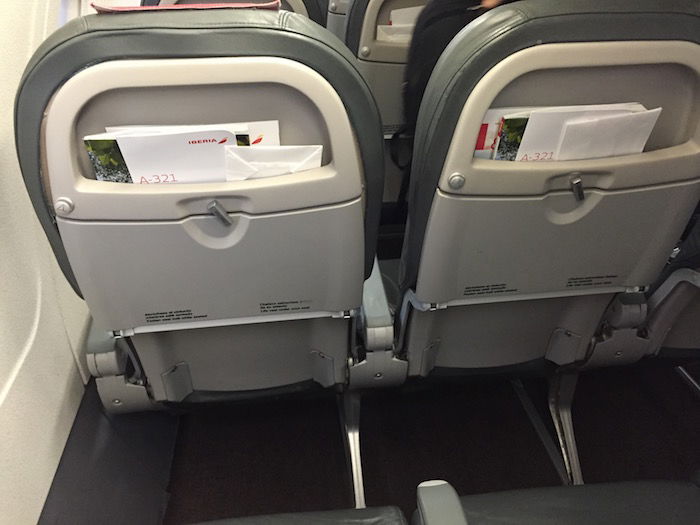 Iberia A321 economy class, seat 17A
The seats were slimline Recaro seats, which means they're quite "thin." The inflight magazines were in the rack on top of the tray table, leaving extra space around my knees.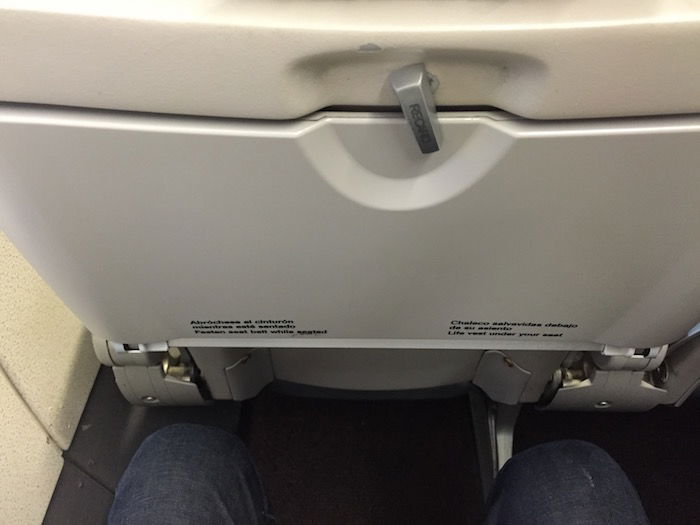 Iberia A321 economy class, seat 17A
As is the norm on non-US airlines, the boarding process was super efficient, and everyone was seated within 20 minutes. This flight was especially full, with every seat taken. Two ladies settled in next to me, and they were the ideal seatmates — they both had small frames and didn't speak a word the entire flight.
Since Iberia doesn't have inflight entertainment or Wi-Fi, I loaded some shows onto my iPad, and began watching "Million Dollar Listing: Los Angeles" the second I settled into my seat, and I managed to get through about three episodes on the flight.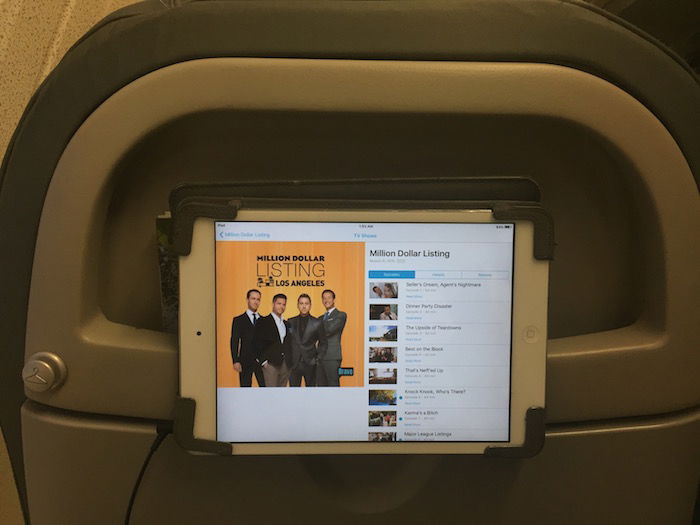 Seatback entertainment
While we were scheduled to depart at 8:20AM, the door didn't close until 8:25AM, and then we didn't move for a while. At 8:30AM the captain came on the PA to welcome us aboard and apologize for the delay, which was due to some late inbound passengers, as we were just waiting on their bags to be loaded.
The captain's English was adorably bad, and I mean that in the nicest possible way. I barely speak any Spanish, but I understood his announcements better in Spanish than English. The way he parsed words together was actually sort of endearing — "uhhh apologize delay due late passengers we fly now to London in two hour flight." Alrighty then!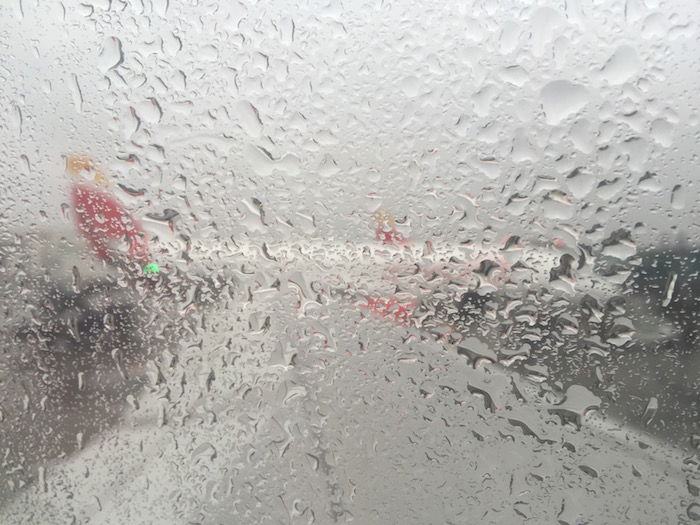 Rainy morning in Madrid
We pushed back at around 8:35AM, and five minutes later were cleared for takeoff. Our takeoff roll was rather long. I quite enjoy taking off in rainy weather, as it's kind of cool when the water "runs" down the windows.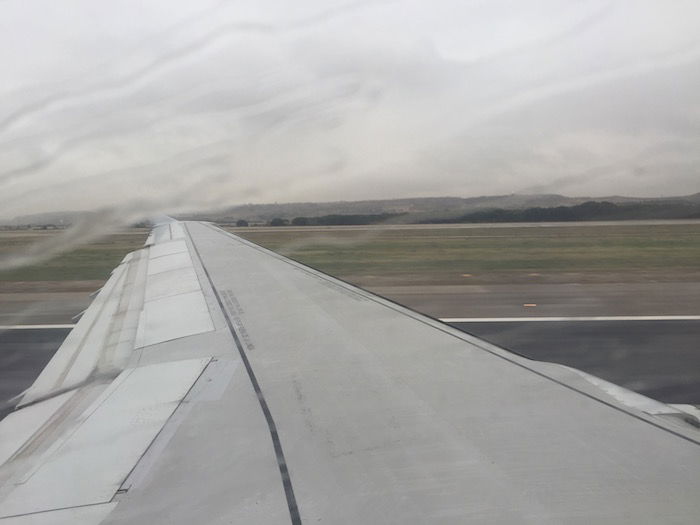 Taking off Madrid Airport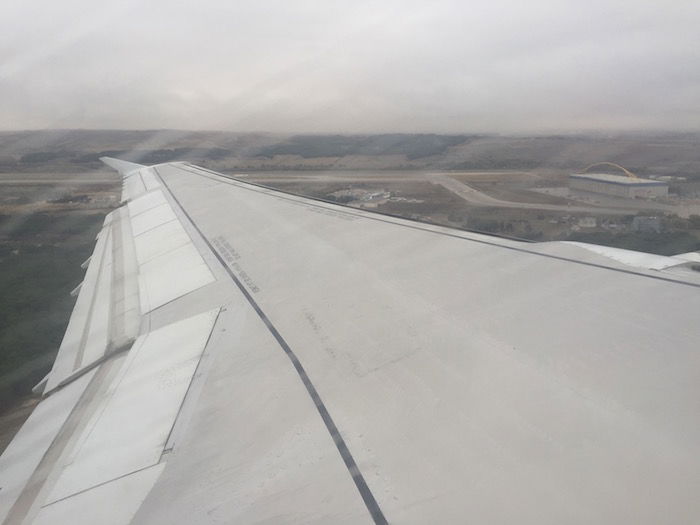 View after takeoff from Madrid Airport
As usual, it was a gorgeous day once we were above the clouds.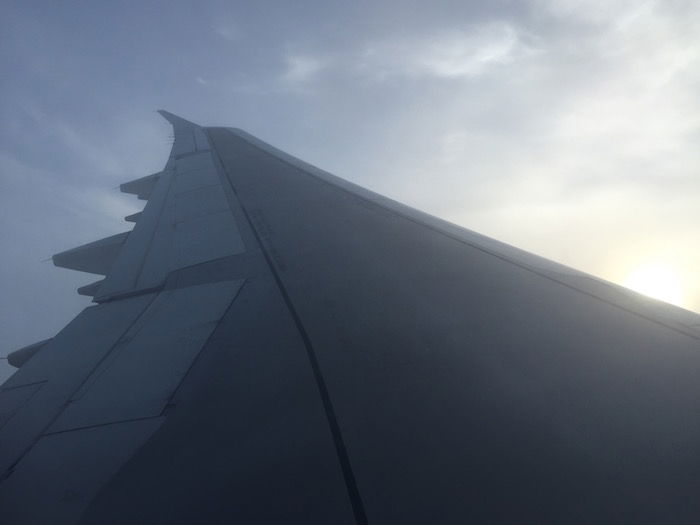 Climbing out of Madrid Airport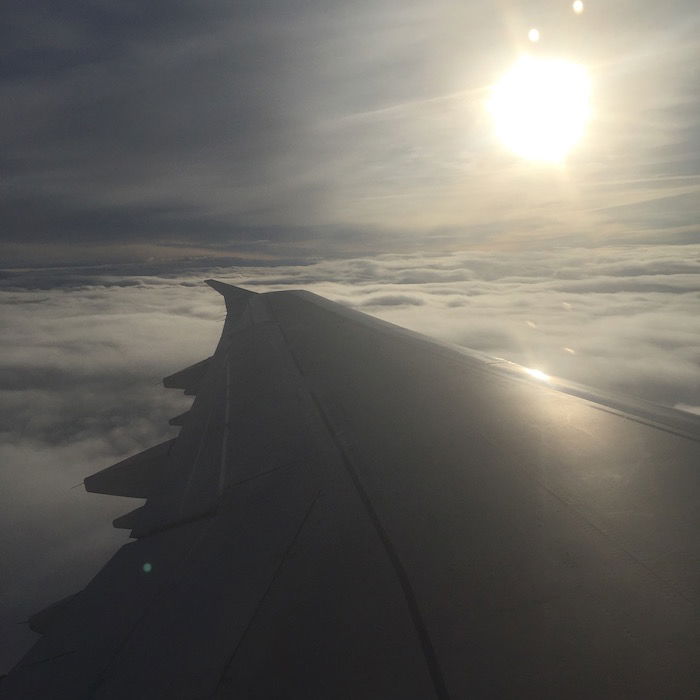 Climbing out of Madrid Airport
The seatbelt sign was turned off less than 10 minutes after takeoff, at which point the curtains were closed between economy and business class.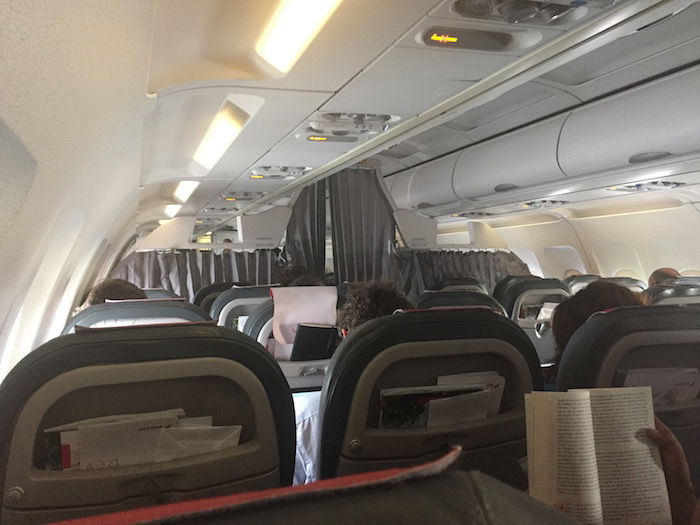 Cabin after takeoff from Madrid
About five minutes after the seatbelt sign was turned off the crew was through the cabin for their service. I didn't actually realize till I looked at the menu that Iberia has a super low cost carrier approach to intra-Europe service, as they charge for everything.
Here's a small sampling of the economy buy on board menu: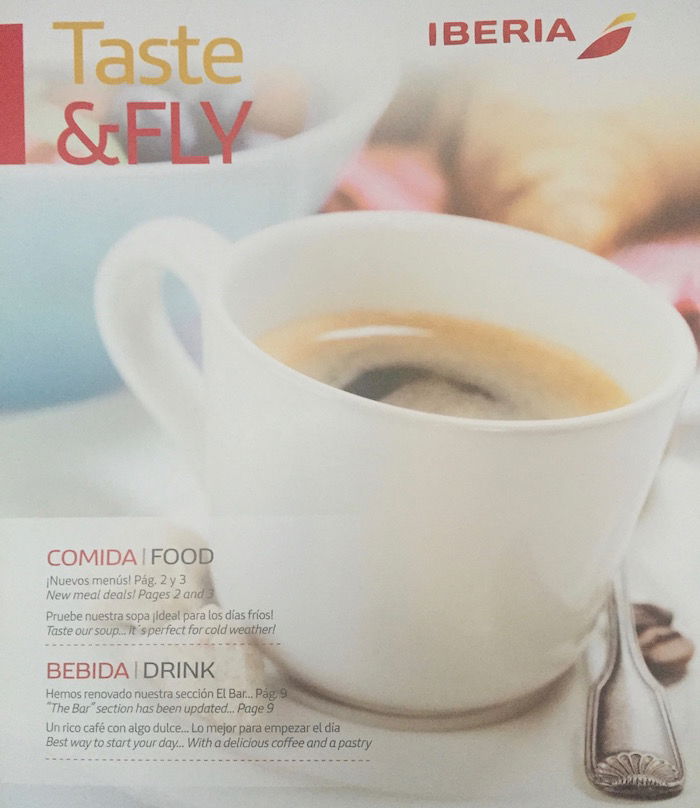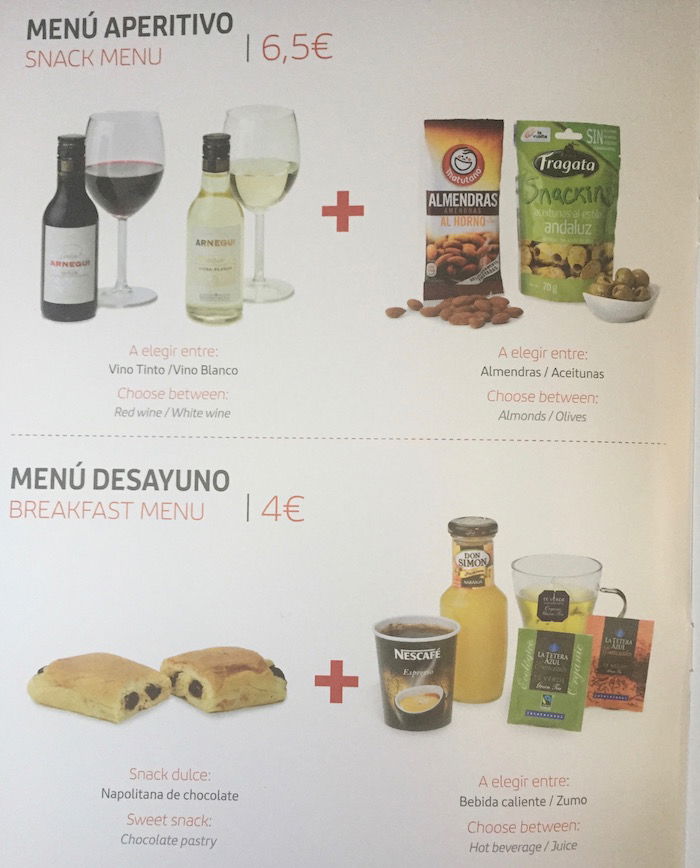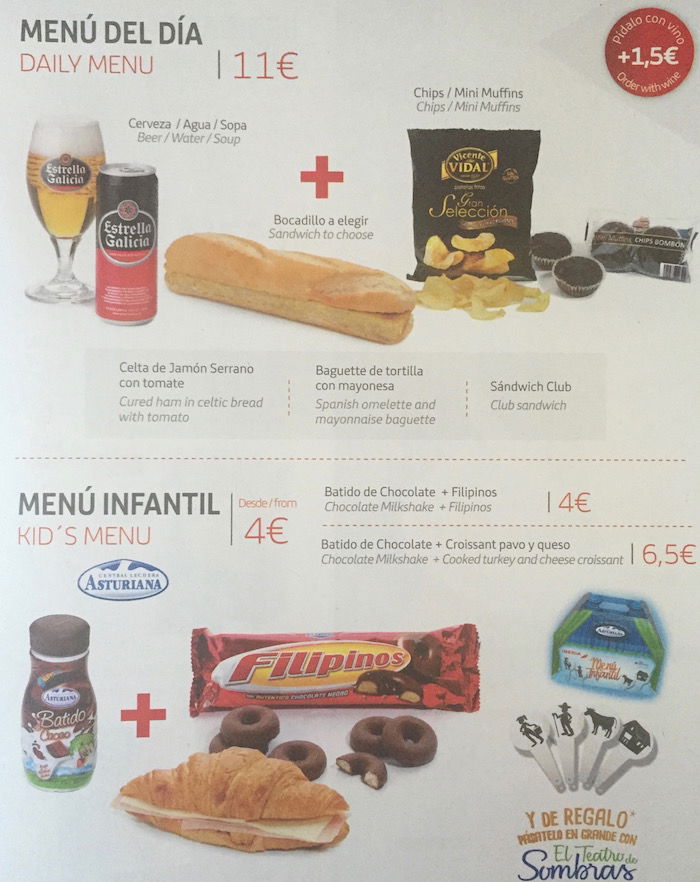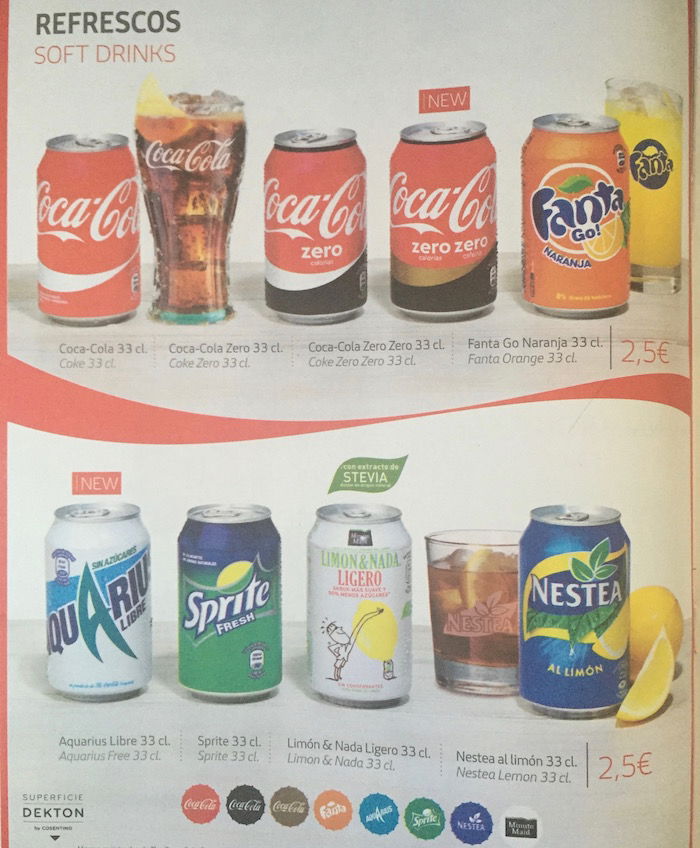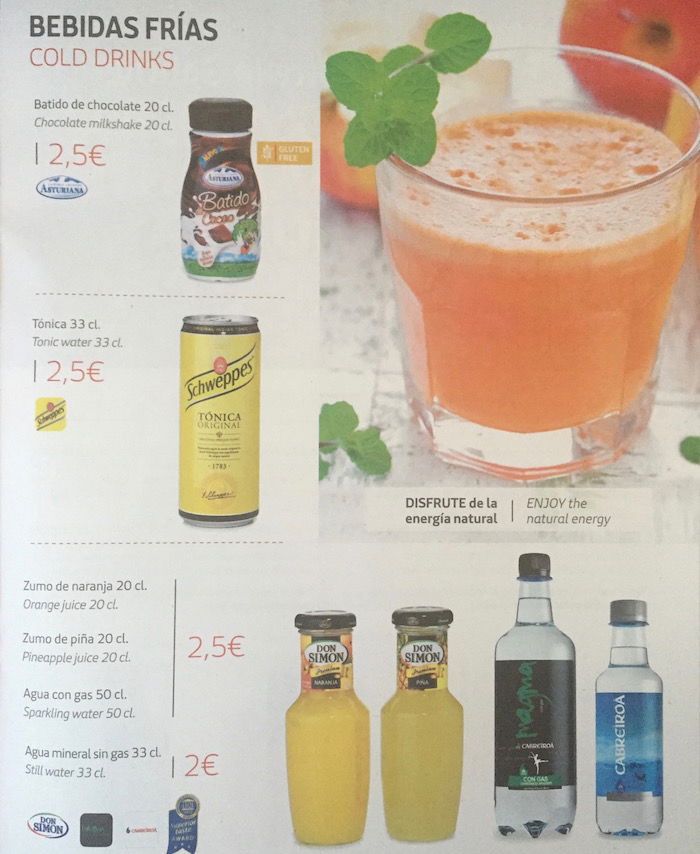 The good news about this service model is that it took them less than 10 minutes to serve the entire cabin, which caused less blockage in the aisle.
About 1hr20min after takeoff we began our descent into London, though halfway through the descent the captain came on the PA to inform us we'd be in a holding pattern, which he didn't expect to last too long.
Within 10 minutes we were cleared to continue our descent, and at 9:45AM we had a smooth touchdown at Heathrow Airport.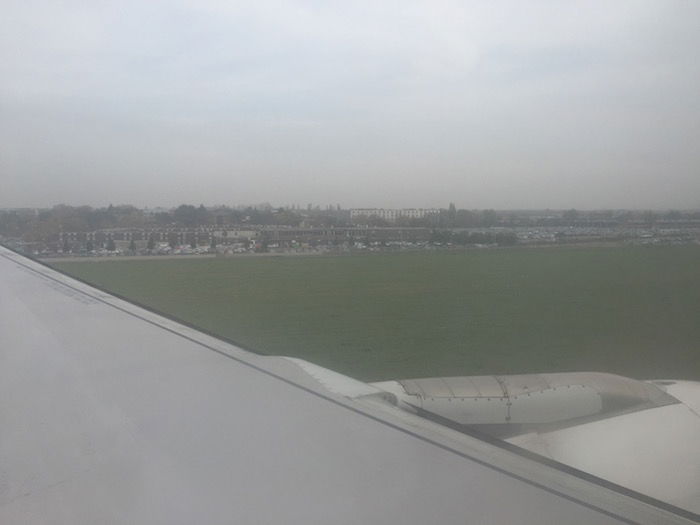 View on final approach into London
Our taxi to the gate took quite a while, though, as it was 15 minutes before we pulled up to our stand at Terminal 5. Fortunately the traffic enroute was interesting, as we passed Terminal 3.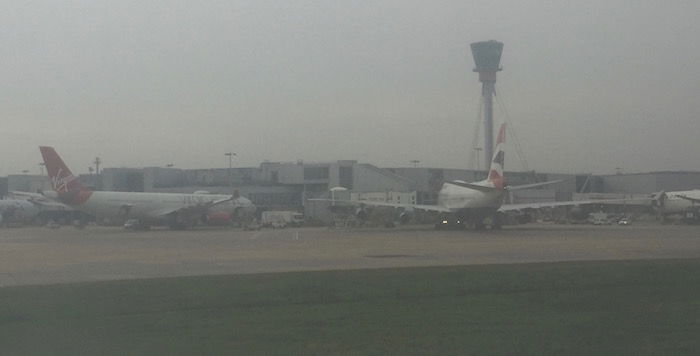 Taxiing Heathrow Airport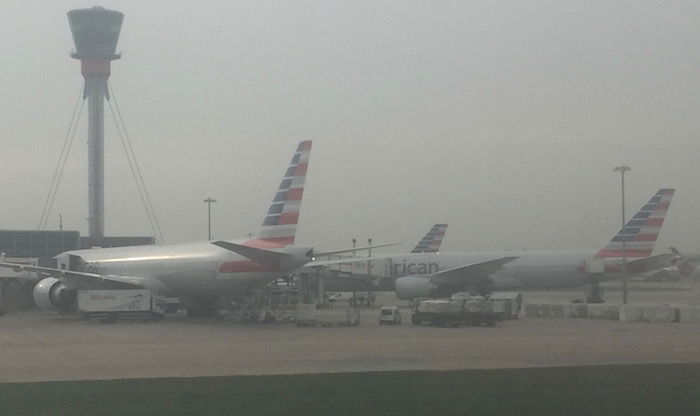 Terminal 3 Heathrow Airport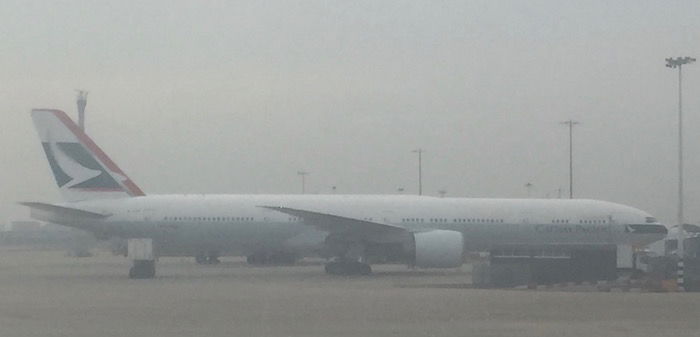 Cathay Pacific 777-300ER Heathrow Airport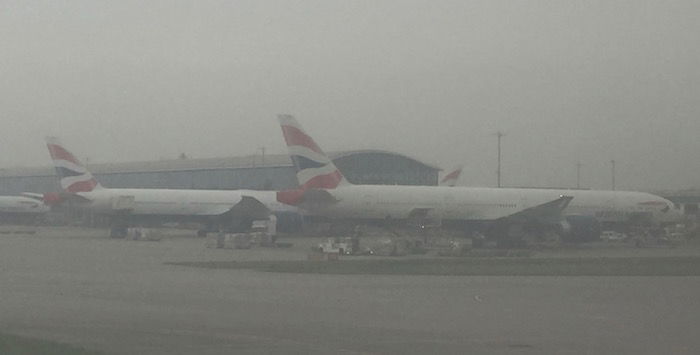 Terminal 5 Heathrow Airport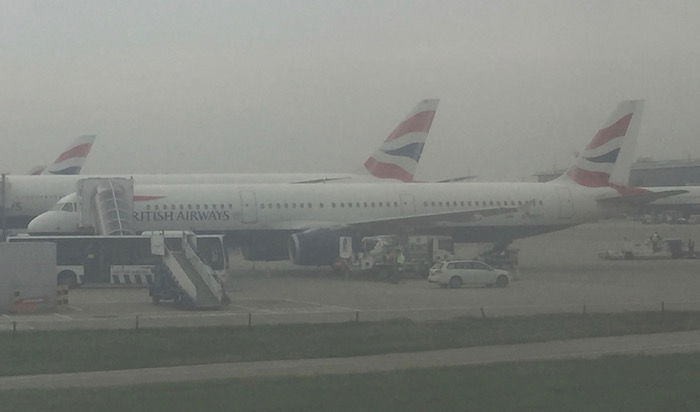 Terminal 5 Heathrow Airport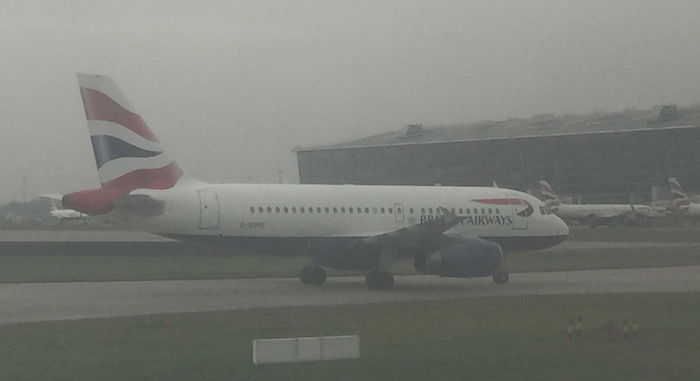 Terminal 5 Heathrow Airport
We eventually pulled in next to a British Airways 767. I actually didn't even realize until the day before the flight that Iberia operates out of Terminal 5 at Heathrow, as that's a fairly recent change. While I realize Iberia is part of IAG, I can't quite rationalize that, especially given the number of British Airways frequencies which operate out of Terminal 3 (you'd think British Airways would just keep their own flights at T5 instead).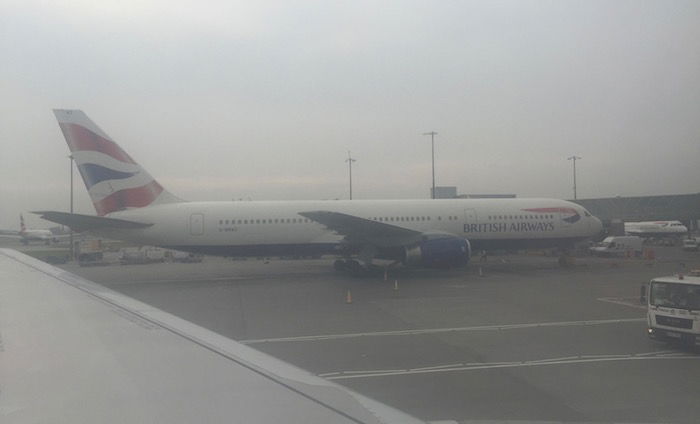 British Airways 767 Heathrow Airport
Upon deplaning I began the marathon to Terminal 3, where my American flight was departing from. My connection time was only 1hr45min to begin with, so with a further 10 minute delay it was a bit of a hustle.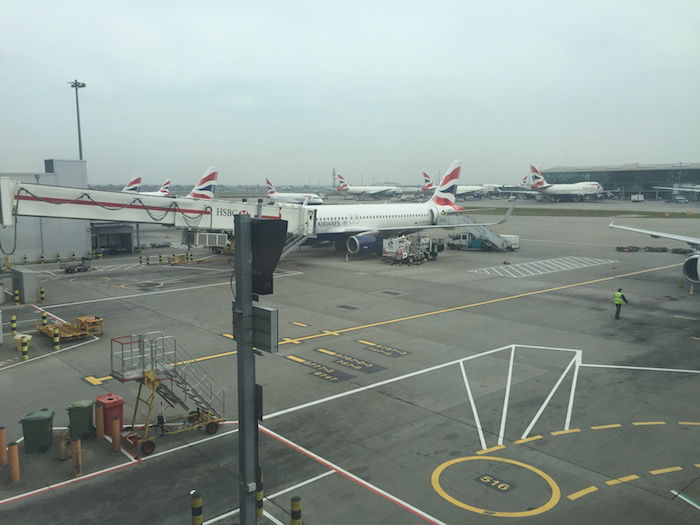 View upon arrival at Heathrow Airport
I first navigated my way through Terminal 5. Even leaving the terminal is a complete maze. I eventually made it down to the transfer bus, where there was a decent size queue for Terminal 3 transfers.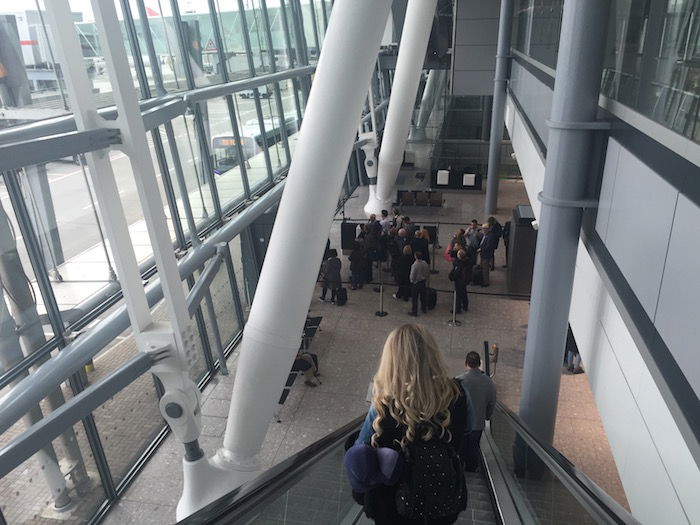 Transferring terminals Heathrow Airport
The bus arrived within a couple of minutes, and it was literally the most crowded bus I've ever been in. And I've taken airport buses in Egypt, China, India, etc. My face was literally stuffed in a mature British man's armpit, though at least he was kind enough to hold onto my carry-ons, which I had become separated from due to how crowded the bus was. Heathrow transfers aren't quick either, as the T5 to T3 one takes over 10 minutes.
At T3 it was then a 15 minute wait to clear security.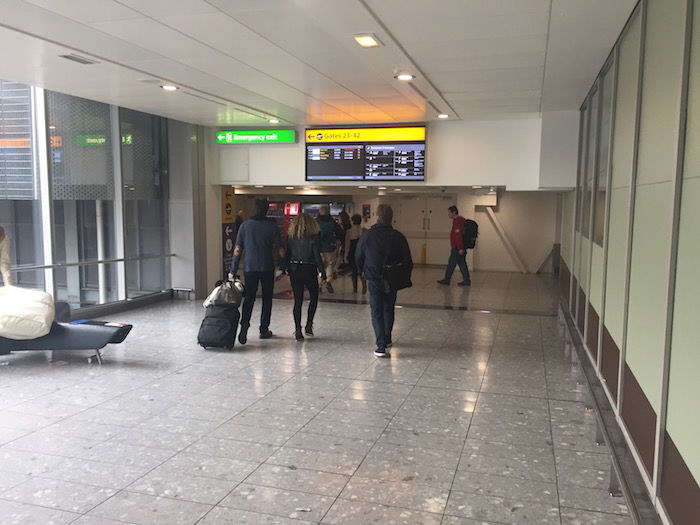 Terminal 3 Heathrow Airport
Did I mention I hate transiting Heathrow Airport? 😉
Iberia economy class bottom line
While Iberia's intra-Europe service is truly no frills, the flight was pretty close to on-time, the staff were friendly, and I didn't find the seat to be all that uncomfortable. I certainly object less to Iberia economy class than I do to Heathrow Airport.
I wouldn't hesitate to fly Iberia intra-Europe again, though I'd be curious to try their business class product, to see how it compares to other "full service" European airlines.
If you've flown Iberia economy class, what was your experience like?