As someone who flies American Airlines more than any other airline, I figured it would be useful to write a guide about the carrier's inflight Wi-Fi offering. Inflight connectivity has come a long way over the years, allowing travelers to stay connected above the clouds.
The bad news is that unlike Delta Air Lines, American doesn't offer free Wi-Fi to passengers. The good news is that Wi-Fi speeds are for the most part very good. Let's talk about which American planes have Wi-Fi, what speeds are like, how much it costs, and how you can access Wi-Fi for free.
Which American planes have inflight Wi-Fi?
Which American Airlines planes feature Wi-Fi?
American offers Wi-Fi on all of its mainline aircraft, including both narrow body and wide body jets, covering nearly 1,000 aircraft
American offers Wi-Fi on a majority of its regional jet aircraft, operating under the American Eagle brand; however, select American Eagle aircraft, including Embraer ERJ145s and Bombardier CRJ-200s don't have Wi-Fi
So basically you can expect that nearly all American flights feature Wi-Fi, except those operated by 50-seat regional jets that are in a one cabin configuration.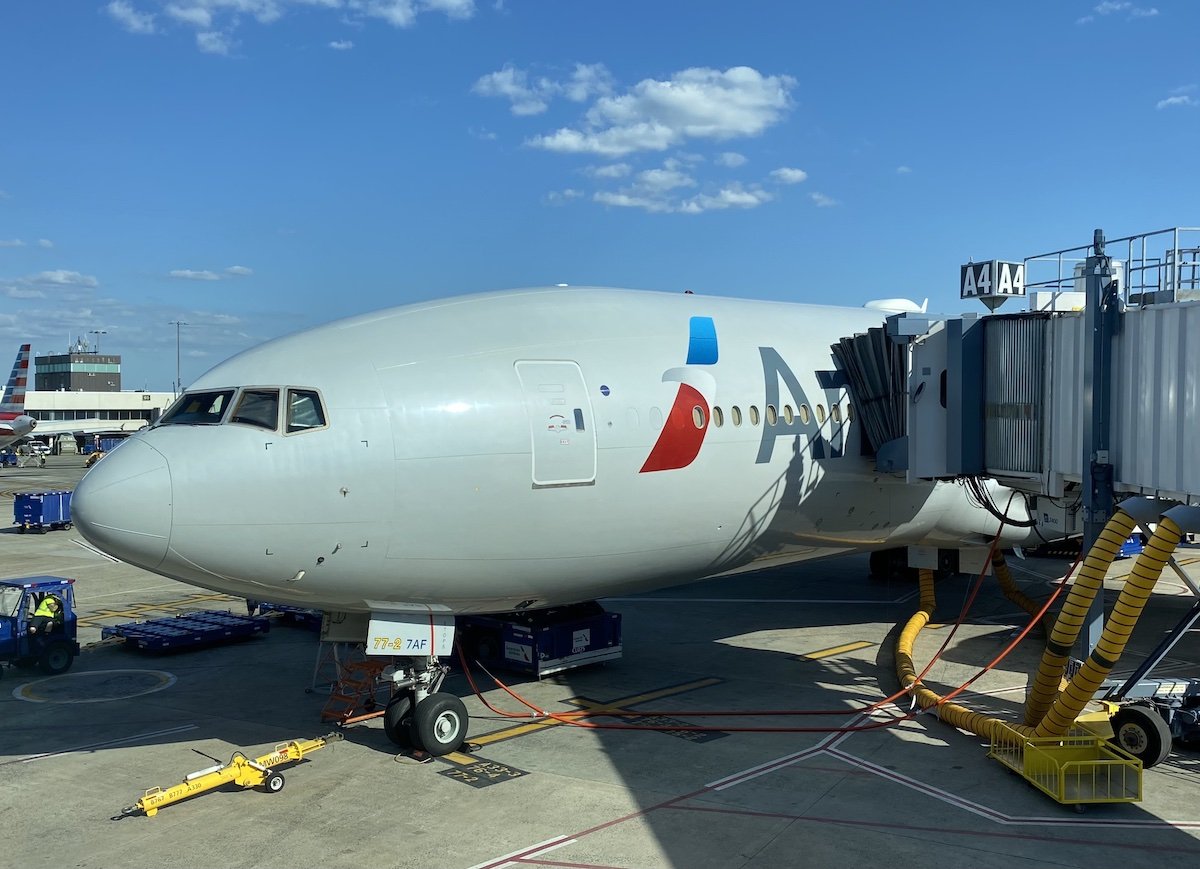 Does American have high speed inflight Wi-Fi?
What should you expect in terms of the quality of Wi-Fi on American?
A vast majority of American mainline narrow body jets (including Boeing 737s and Airbus A320-family aircraft) feature Viasat Wi-Fi, which is the fastest Wi-Fi you'll find in the fleet; Viasat Wi-Fi is available gate-to-gate
All of American's wide body jets (including Boeing 777s and Boeing 787s) feature Panasonic Wi-Fi, which isn't as fast as on the narrow body jets, but is still pretty decent; this is available from shortly after takeoff until shortly before landing
All of American's regional jets with Wi-Fi have the old generation Intelsat Wi-Fi (formerly known as Gogo), which is frankly almost unusably slow, so don't expect to get much work done; this is also only available from shortly after takeoff until shortly before landing
While there shouldn't really be a need to even look this up (since American is consistent by aircraft type), aa.com will also show you what kind of Wi-Fi you can expect on your flight. When you go to the flight status section of aa.com and look up any mainline flight, you'll see the Wi-Fi symbol next to the flight number if your flight features Wi-Fi.

If your flight features high speed Wi-Fi (narrow body mainline aircraft), you'll see that the Wi-Fi logo has a little line at the end of it, which means the flight is scheduled to have high speed Wi-Fi.

American's website generally won't show the availability of Wi-Fi for regional jets, so don't worry if you don't see the logo, as your flight will still likely feature it (unless it's one of the aircraft types without Wi-Fi).
To answer a few common questions:
I find that Viasat Wi-Fi typically allows you to stay truly productive, as webpages will load quickly, and you can even watch videos, send pictures and videos, etc.
Panasonic Wi-Fi is usable for things like email, but don't expect that you'll be able to stream entertainment; however, American is in the process of improving the speeds of this, so hopefully it's soon be comparable to Viasat
Panasonic Wi-Fi generally works globally, while Viasat Wi-Fi works for most destinations in North America, though it doesn't generally work over the Pacific, in case you're flying an A321neo to Hawaii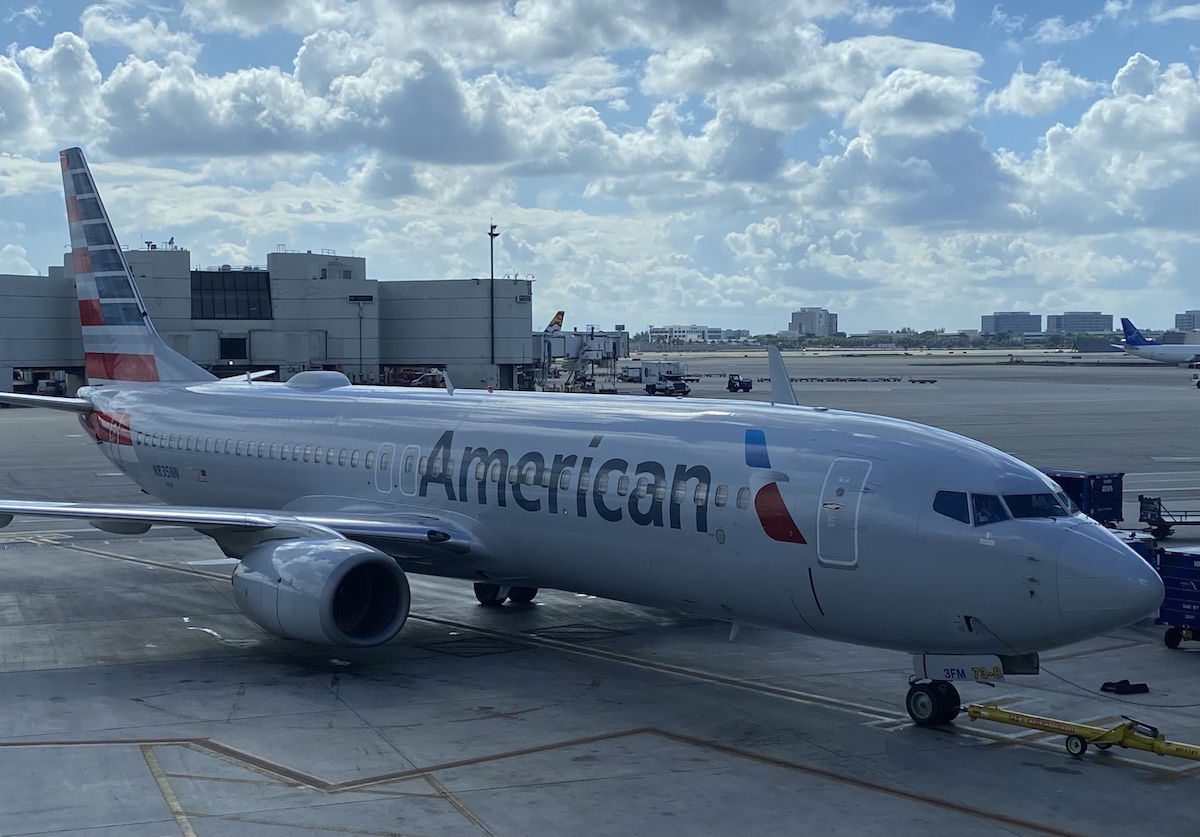 How much does American charge for inflight Wi-Fi?
The only consistent pricing that American has for Wi-Fi is for those who buy a subscription:
You can buy a one device subscription for $49.95 per month, or $599 per year
You can buy a two device subscription for $59.95 per month, or $699 per year
If you fly American frequently, then it's probably worth getting a subscription. The catch is that a Wi-Fi subscription only works within North America. So this pass wouldn't cover Panasonic Wi-Fi on long haul flights (though if you're on a domestic flight on a wide body, it would work).
For those who don't buy a Wi-Fi subscription, American has variable pricing for Wi-Fi. There's typically the option to purchase a couple of kinds of passes, with one valid for the entire flight, and one valid for one or two hours, depending on the length of the flight.
Pricing can vary quite a bit, and presumably pricing is based on demand in a particular market. After all, Wi-Fi demand is much higher on some routes than others. I find that American's Wi-Fi pricing is often pretty aggressive, and can be $15-35 for a domestic flight, depending on the length. On the plus side, all of American's Wi-Fi packages have no data caps, so you at least don't have to worry about how much data you're using.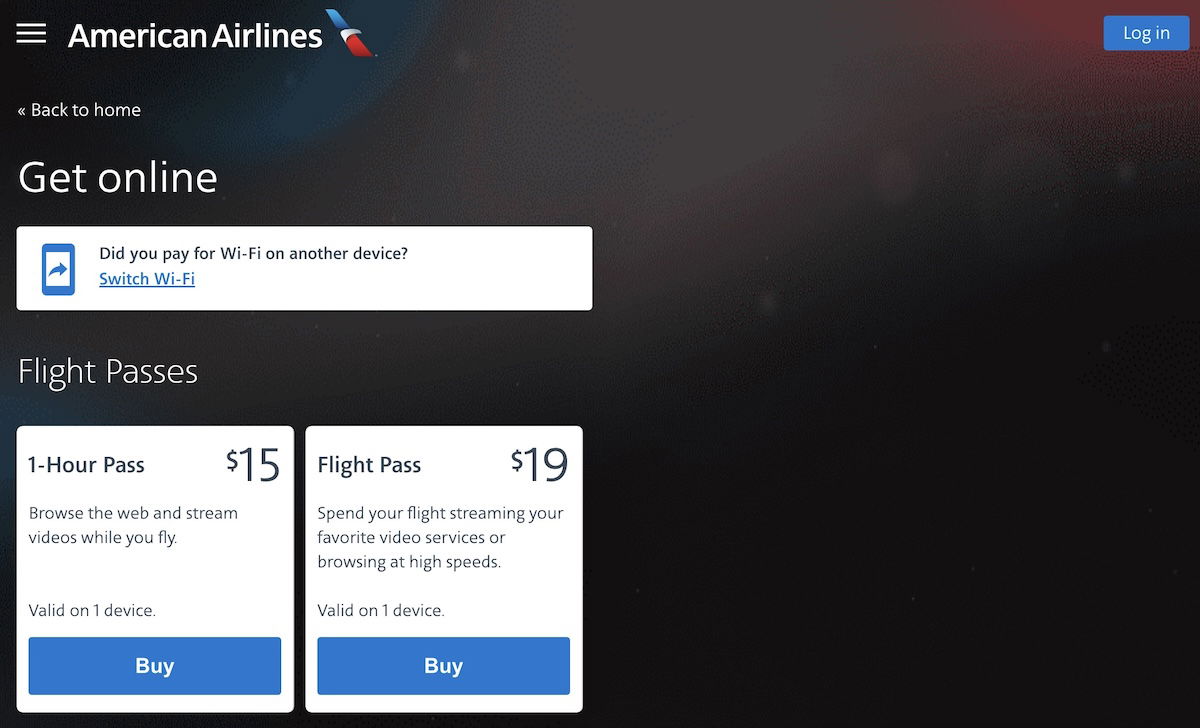 Does American offer Wi-Fi for T-Mobile customers?
T-Mobile has a program whereby it sponsors free Wi-Fi on select flights on Alaska, American, Delta, and United. T-Mobile offers free Wi-Fi on all American aircraft with Viasat or Intelsat Wi-Fi (so that only excludes flights with Panasonic Wi-Fi). Note that the amount of free Wi-Fi you receive depends on your plan:
Magenta MAX customers receive unlimited free Wi-Fi
Magenta customers can choose four flights a year where they get unlimited free Wi-Fi, and receive one hour of free Wi-Fi on all other flights
You can only connect to the free Wi-Fi using your mobile device. Just follow the prompts on the Wi-Fi log-in portal.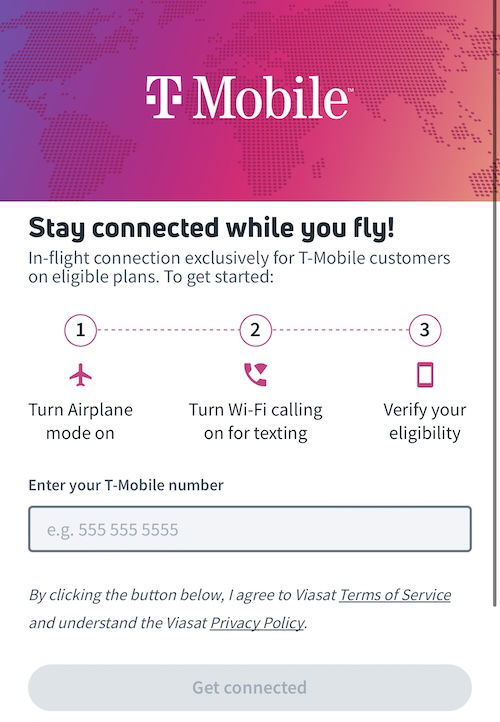 Does American offer free Wi-Fi?
Unlike Delta, American doesn't offer free inflight Wi-Fi, at least not generally. There is one potential opportunity, though. On some flights, American offers free Wi-Fi on mobile devices to all customers. Just go to the log-in page and scroll down, and see if "Limited Time Pass" is listed there. Then you can typically watch a 15-30 second ad to receive 30 minutes of free Wi-Fi.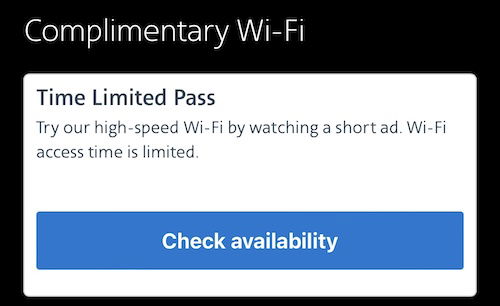 How do you log into American's Wi-Fi portal?
Once you're on an American flight with Wi-Fi, how do you connect? Simply connect to the aainflight.com hotspot. A page should then load that gives you the opportunity to log-in or select a plan. In the event that you don't get to that page, just type "aainflight.com" into your browser.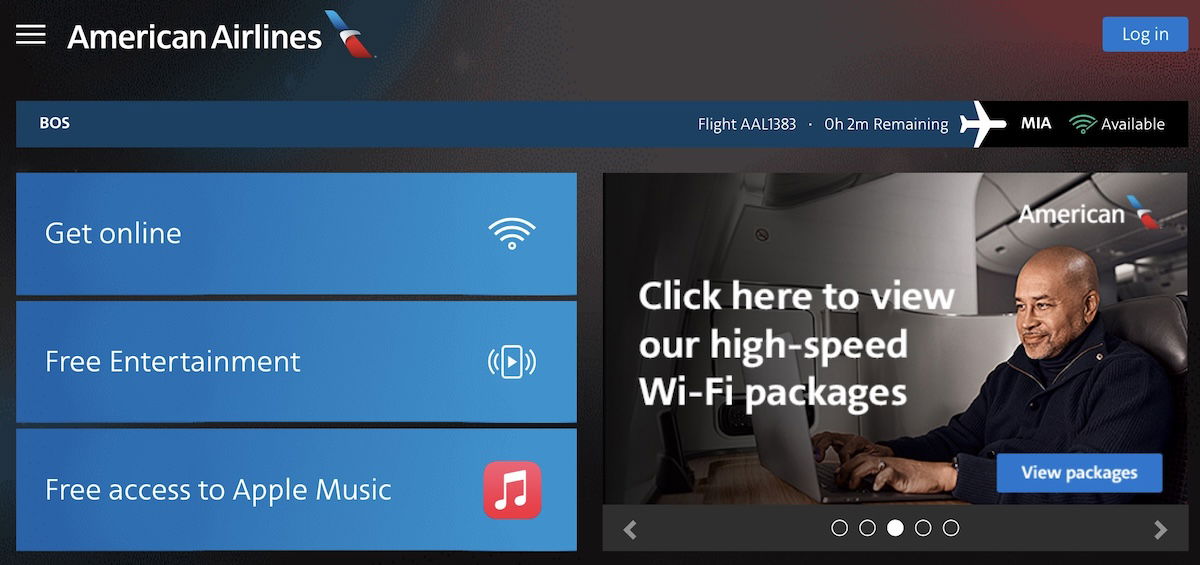 My take on American's inflight internet
American is my primary airline, not because I think the carrier is great, but because I live in Miami, and American has an extensive route network out of there. I do have to say that I consider American's inflight internet to be pretty great, on balance. A few thoughts:
Yes, Delta has free Wi-Fi, which is great, but that also impacts speeds, and you'll notice that it's considerably slower than on an airline that charges for Wi-Fi
Given the frequency with which I fly American, I find it worthwhile to buy a Wi-Fi subscription, and am pleased with the speeds
American is still way better than United when it comes to inflight Wi-Fi, as United has a lot of catching up to do
I really wish American would invest in its regional jet Wi-Fi, since the speeds are atrocious
In 2024, American is taking delivery of new Boeing 787s, which will feature an ultra-premium configuration, new business class seats, and Viasat Wi-Fi, so it's nice to see American upgrading its long haul Wi-Fi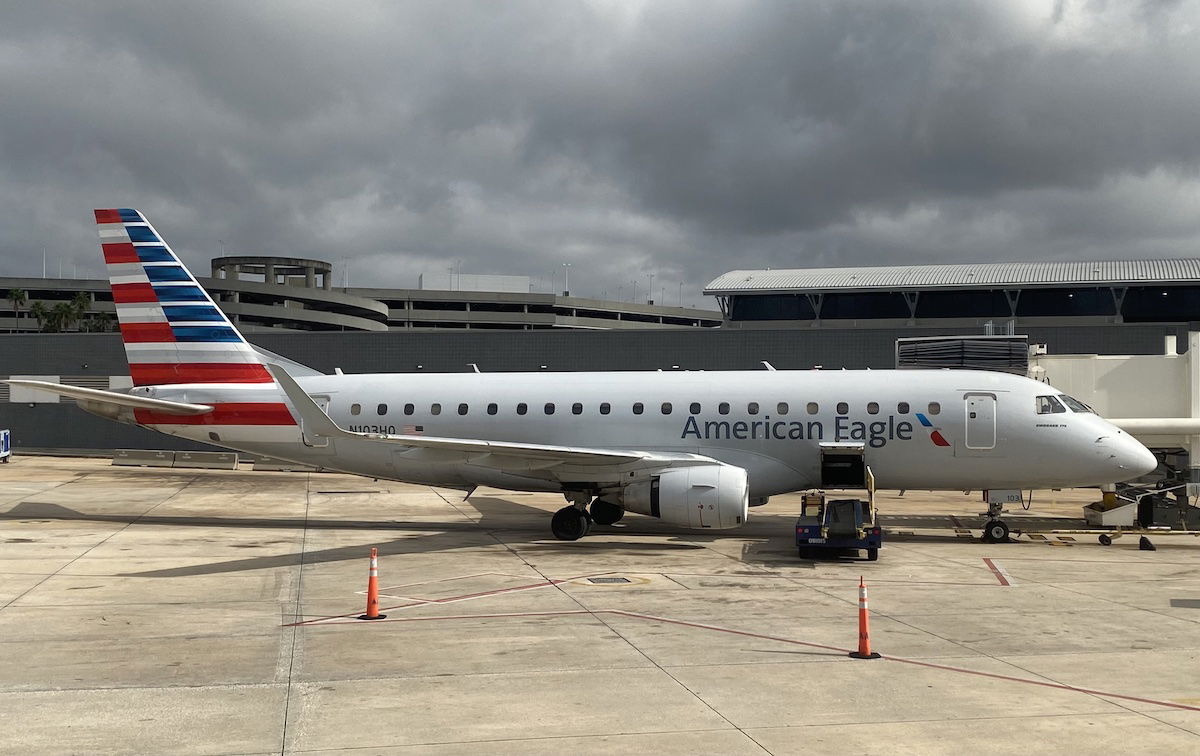 Bottom line
American Airlines has a pretty solid Wi-Fi setup, as all narrow body mainline aircraft feature high-speed Wi-Fi. Meanwhile wide body jets feature slightly slower Wi-Fi, and regional jets feature excruciatingly slow Wi-Fi.
While not as sexy as Delta's free Wi-Fi, I find American's internet speeds to be very good, and as a frequent flyer, I find a subscription to be worthwhile. If I missed any details about American's inflight Wi-Fi, please let me know.
What has your experience been with American's inflight Wi-Fi?