---
American flies some pretty snazzy A321s between Los Angeles and New York, which are in a three class configuration. I've flown this route several times before, though only ever in first class. I figured this flight would be a good opportunity to finally review business class, though there was no such luck. While the flight only had a few seats occupied in business class when I booked, by the time the trip date came around, the cabin was full and there was quite an upgrade list.
Day of departure I believe I was number three on the upgrade list, though I suppose in theory I could have been number 10 as well.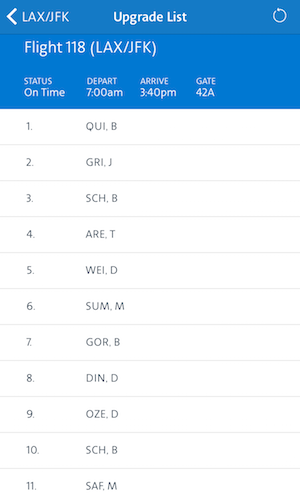 I got to LAX at around 6:15AM for my 7AM flight to New York. While the general security lines were long, I was through Pre-Check in a matter of minutes, and at the gate by around 6:25AM. In theory I could have used the Flagship Lounge LAX, though I valued sleep over lounging at that hour.
Boarding began right around 6:30AM, starting with first & business class. Rather than making a boarding call for Executive Platinum members afterwards, they called all elites to board, which was basically half of the economy cabin.
See, these are all things you only realize when you're flying economy. 😉
American 118
Los Angeles (LAX) – New York (JFK)
Thursday, October 29
Depart: 7:00AM
Arrive: 3:40PM
Duration: 5hr40min
Aircraft: Airbus A321
Seat: 13A (Economy Class)
I boarded through the forward door, which meant I first had to walk through the five rows of first class, which are in a 1-1 configuration. These are the same seats American offers in business class on their 777-300ERs. They look even more comfortable when you're enroute to your economy seat, I must say.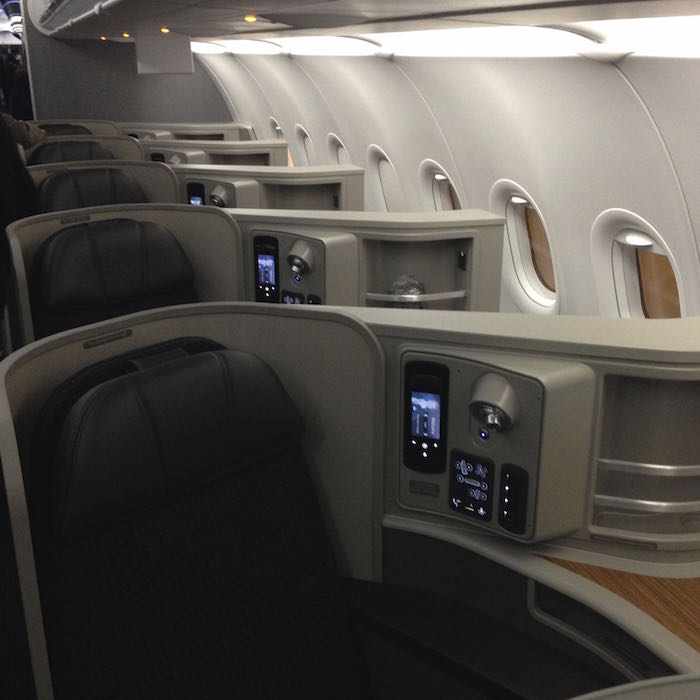 American A321 first class cabin
After that I walked through the five rows of business class, which are in a 2-2 configuration. They're also fully flat, and similar to the business class seat I flew in on Air China.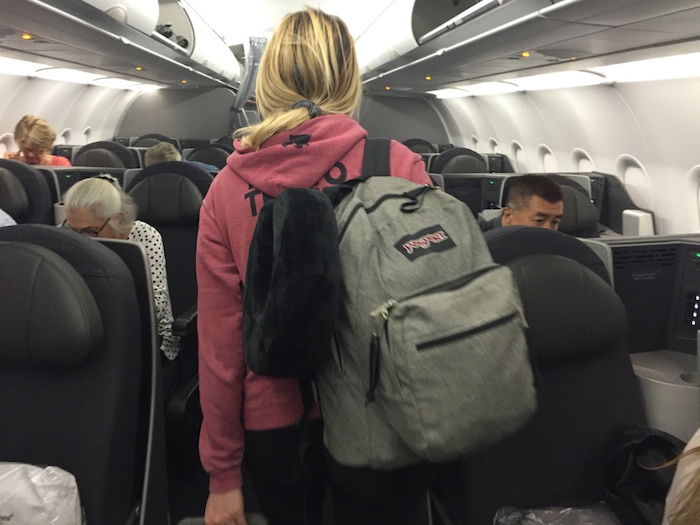 American A321 business class cabin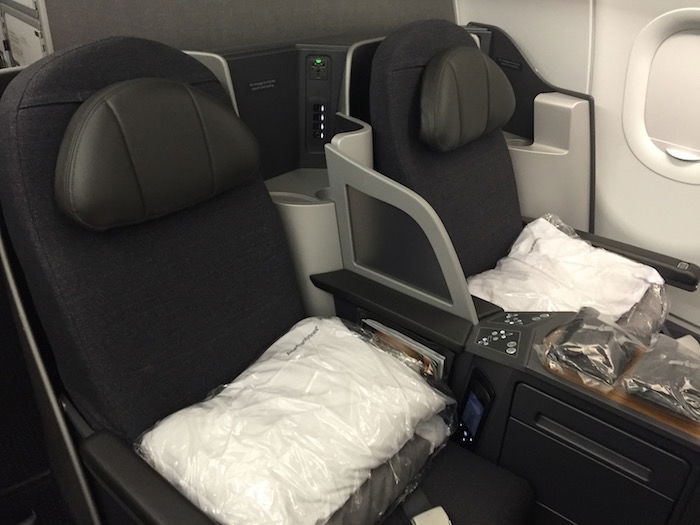 American A321 business class seats
And then I found myself back in the economy cabin, which features just 72 seats spread across 12 rows. Half of those rows are in Main Cabin Extra, which features an extra ~5″ of legroom (35-37″ of pitch).
As I walked through the cabin I began to wish I had booked the bulkhead row, since there was virtually unlimited legroom. Unfortunately no bulkhead seats were available when I booked, let alone aisle seats.
While I like window seats on short flights for the view, on longer flights I prefer an aisle seat so I have unobstructed access to the lavatory.
But the best seat I could snag was 13A, which was a window seat in the third row of Main Cabin Extra.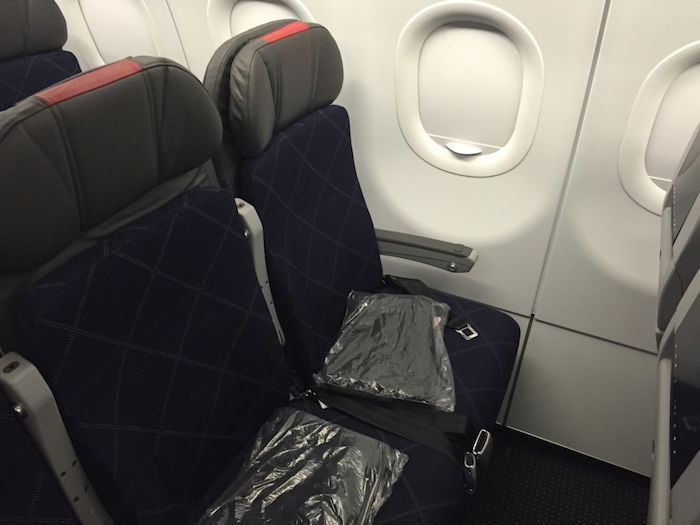 American A321 Main Cabin Extra seats
I must say the legroom was exceptionally good, and the seat width was quite good as well. Airbus narrowbodies are slightly wider than Boeing narrowbodies, meaning the seats are 18″ wide. That's space you really feel in the shoulders.
Each seat had a personal television monitor, a USB outlet, and a 110v outlet.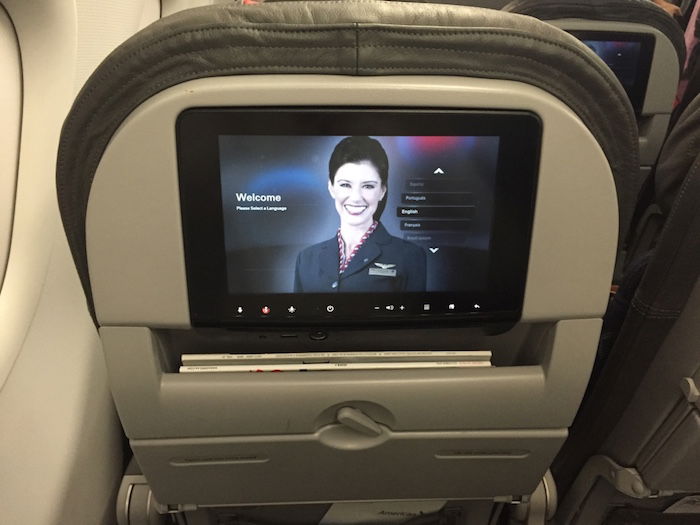 American A321 economy class inflight entertainment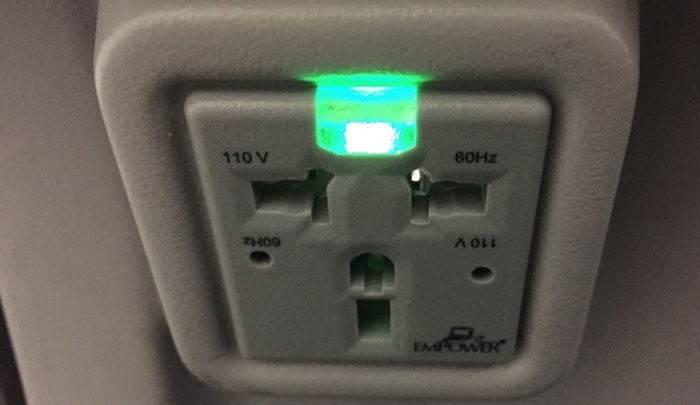 American A321 economy class seat power
The tray table was "folded" when stored, in the sense that you folded it over when you opened. Then magazines were in a hard-cased enclosure on the back of the seat. Like I said, legroom was excellent, though the box by my feet was somewhat obtrusive.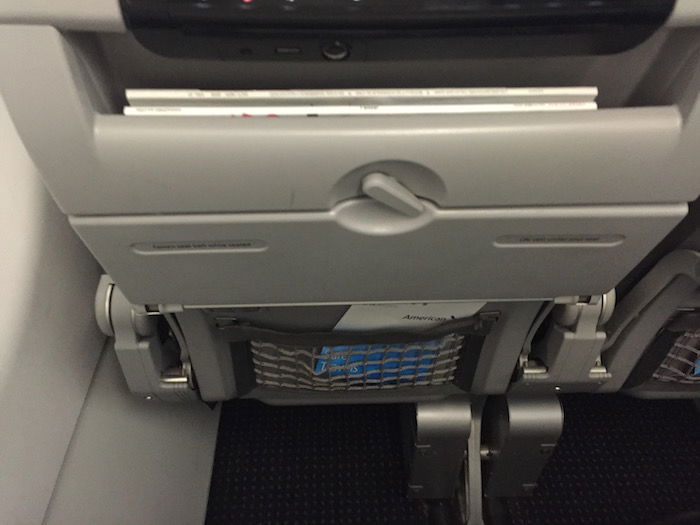 American A321 economy class legroom
When I am in a seat where I have a seatmate, I generally put on my headphones before my seatmate arrives. It's not that I'm trying to be anti-social (or maybe I am?), but I've just had too many experiences where someone ends up yapping the whole flight, so I smile as they sit down and acknowledge whoever I'm seated next to, but otherwise am happy in my "zone."
In this case I got out my laptop and got some work done during boarding.
Two ladies settled in next to me. They talked from the second they sat down, which worked for me.
We pushed back exactly on-time with every seat on the plane taken, and began our taxi to runway 25L. The safety demo played as we taxied, and by 7:10AM we were airborne.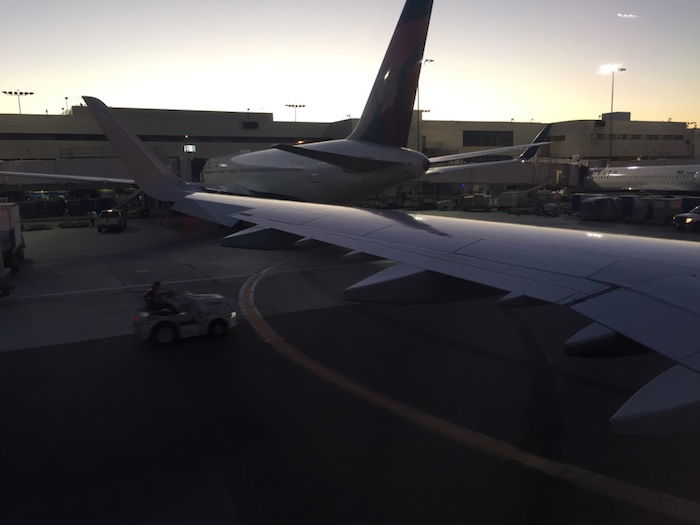 Pushing back at LAX
The views on the climb out were gorgeous. Gorgeous, gorgeous, gorgeous. My eyes were glued out the window for the first ~20 minutes of the flight, as we climbed out over the Pacific and then turned east towards New York.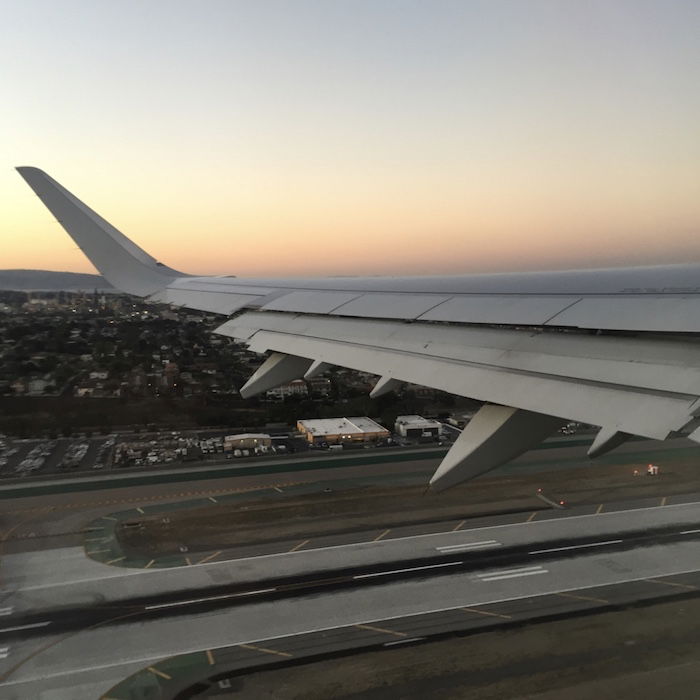 Taking off from LAX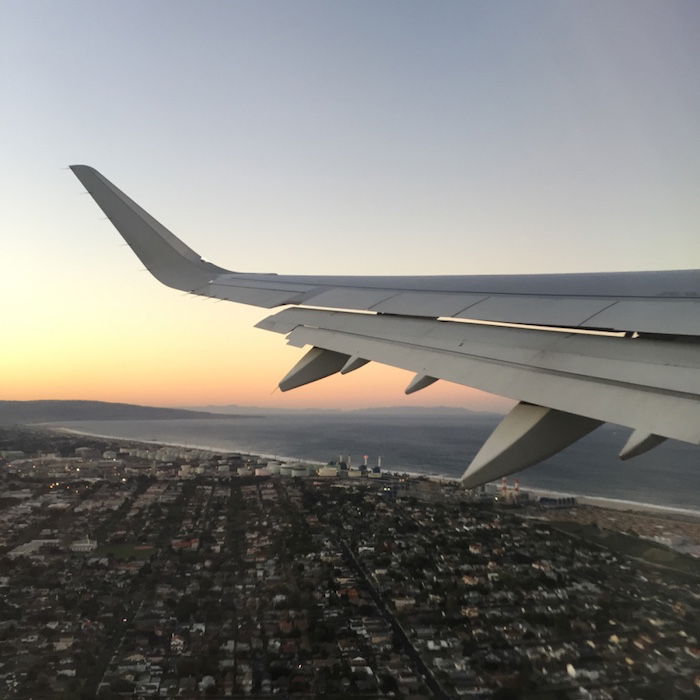 View on departure out of LAX
Since I'm usually seated in front of the wing, I forgot how much more beautiful the view can be when you're seated towards the back. As an aviation geek, the wing makes for a beautiful backdrop.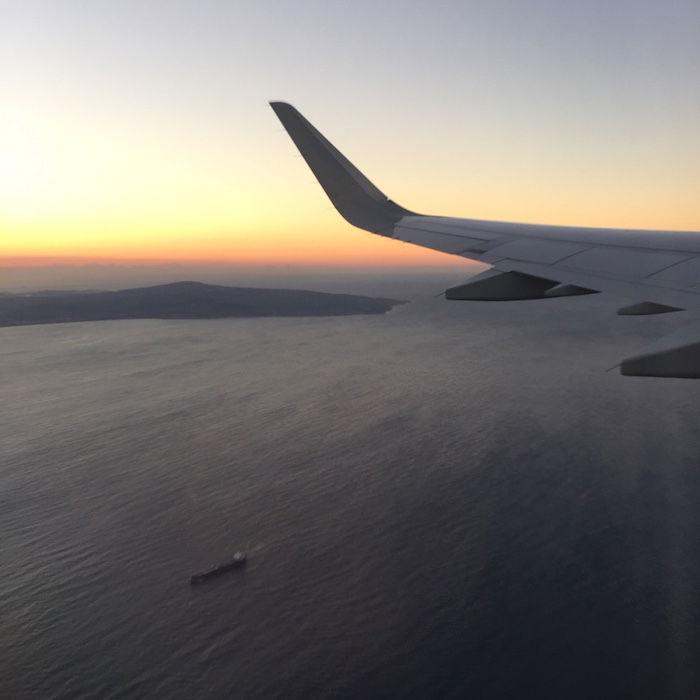 Climbing out over the Pacific Ocean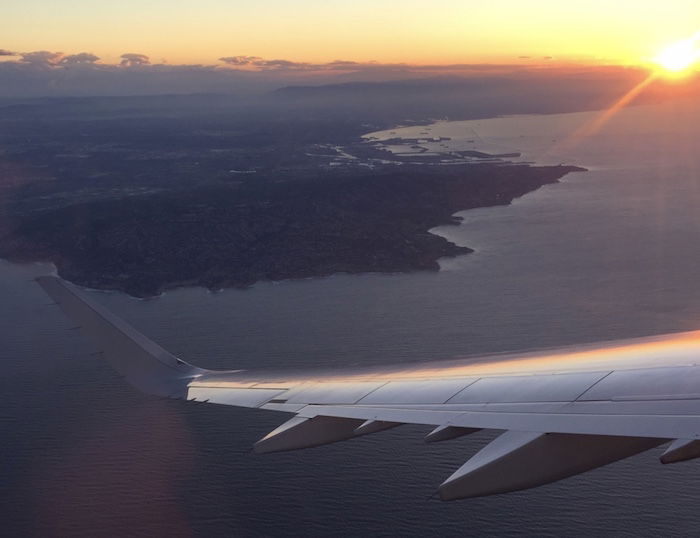 Climbing out over the Pacific Ocean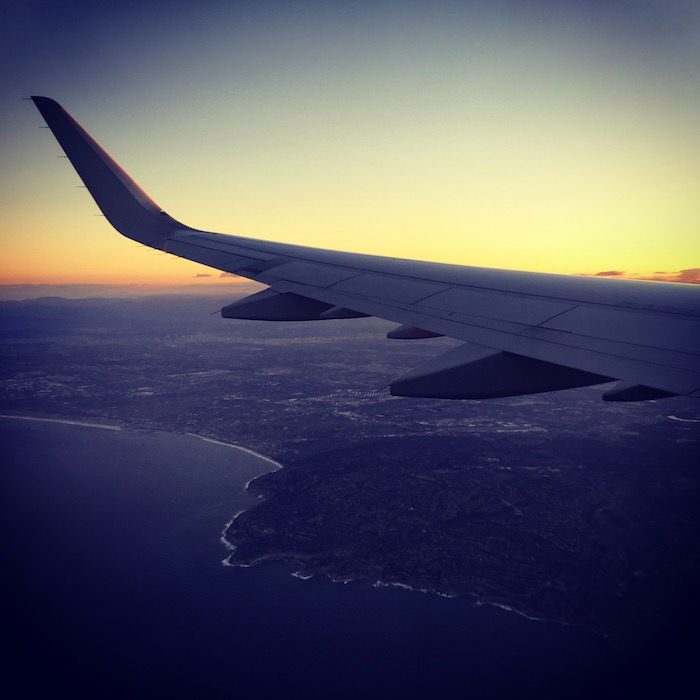 Flying east after takeoff
About 20 minutes after takeoff I took out my laptop, plugged it into the power outlet, and worked for most of the 4hr40min flight to New York.
About 30 minutes into the flight the two friendly economy flight attendants rolled a cart through the aisle. On the cart they had both complimentary drinks as well as a selection of buy on board options, including snacks, fresh food, and alcoholic beverages.
Here's what the buy on board menu looked like: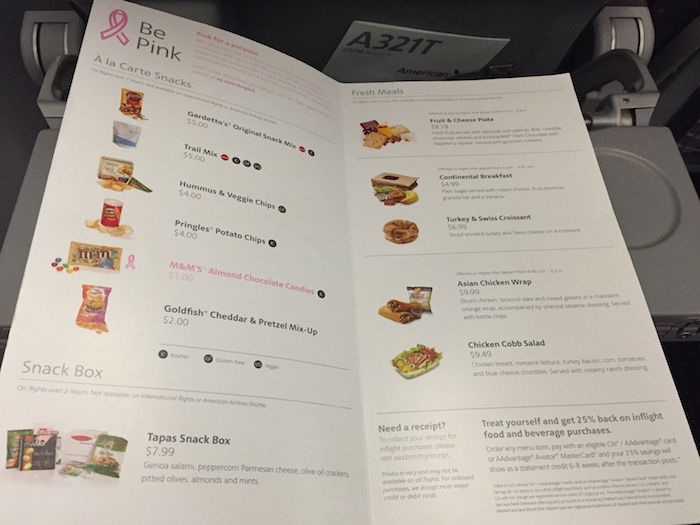 American A321 economy class buy on board menu
As an Executive Platinum member you receive a free drink and snack when seated in coach, which is a lovely perk. It's not just a useful perk, but it actually sort of makes you feel valued, which is nice.
Sometimes actually taking advantage of that benefit is a bit awkward, especially if you're seated in the window, since other people are confused as to why you get something for free. In this instance the crew was fantastic, and when I ordered the turkey croissant, she looked at her tablet and said "thanks for your loyalty, Mr. Schlappig. This one is on us. Let me know if you want a drink later." It certainly makes it easier when they proactively offer to comp it rather than having to ask.
I just had a coffee to go along with my turkey croissant. I have to say the croissant was actually quite tasty, and as good as anything I've eaten for breakfast in domestic first class (usually it's the choice between some mystery egg dish and bland oatmeal). And as much as people complain about there being no more free food in economy, I consistently find the sandwiches/salads to actually be good.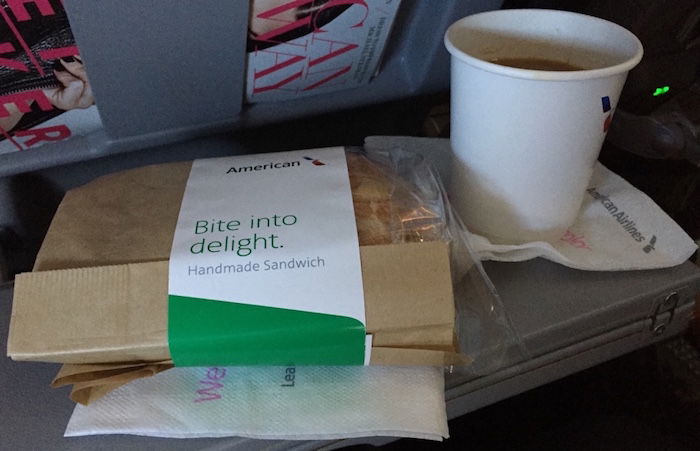 American A321 turkey & swiss croissant buy on board selection
There are two other things worth noting about the flight, on my end:
I was impressed that I didn't have to use the restroom once in over five hours. That's, like, a new personal record for me. Usually I stay extremely well hydrated, though in this case I just had a single cup of coffee during the flight, which meant fewer bathroom visits.
As I wrote about in a separate post, the lady in the aisle seat was traveling with her husband, and he was seated in business class. They swapped seats about halfway through the flight, which I found interesting.
Anyway, while the flight was scheduled for 5hr40min, our actual flight time was only 4hr40min, which meant we were way early. About an hour before our arrival the flight attendants came through the cabin for another beverage service.
We began our descent into New York at around 2:30PM New York Time, and touched down there a few minutes before 3PM.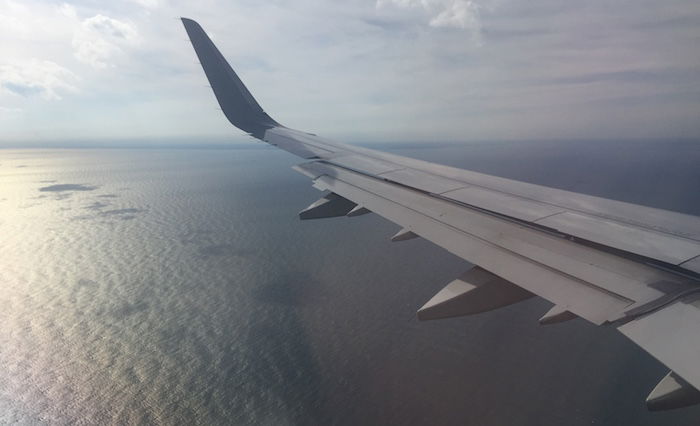 View on descent into New York
Our taxi to Terminal 8 was quite fast, and we arrived at our gate before 3PM, about 40 minutes before our scheduled arrival time. Can't beat that, especially when seated in coach!
American Main Cabin Extra bottom line
Do I prefer flying first or business class? Absolutely. But:
I was able to work very comfortably in Main Cabin Extra thanks to plenty of legroom, a fairly wide seat, Wi-Fi, and power ports. Add in a seatmate who left me alone, and I'd say it was a perfectly comfortable flight.
Flying in economy also made me appreciate flying in premium cabins more. It's nice once in a while to be reminded that flying in premium cabins is a privilege and not the only way to fly.
I certainly wouldn't hesitate to fly American Main Cabin Extra again on a plane with Wi-Fi and power ports, even on a longer flights. But I also do think that A321 Main Cabin Extra is as good as it gets on American.
If you've flown American's A321 economy, what was your experience like?