---
Finding first class award space between the West Coast and Europe is tough. Very tough.
So when I decided to try and fly my cousin Heather and I to Madrid in first, I knew it was going to be a challenge. The fallback plan was to book business class, and I wasn't too worried about eventually finding space on one airline or another.
The planning process
At six weeks prior to departure there of course wasn't any availability, but we had a good sense of our travel parameters. I think this is key to being flexible when you aren't really flexible. We targeted Thursday as our ideal travel day, but organized things at home so that we could leave Wednesday, or even Tuesday if something super fun opened up.
And then we waited.
The Sunday prior to departure there still weren't any great options. Lufthansa had only released award space on routes that weren't all that convenient for our situation (like Atlanta > Frankfurt), and the landscape in general was looking a bit grim. My husband is used to my crazy travel shenanigans and didn't bat an eyelash when I told him I didn't know when I was flying, but Heather's friends and family were definitely confused.
"So when do you leave for Europe?"
"Mmm, not sure yet."
"Isn't that trip this week?"
"Yep!"
"And you don't have flights because…?"
"It's complicated."
On Monday morning American released space between Dallas and Madrid for Wednesday. We'd have to fly Economy to Dallas, and the old first class product on American is hardly an aspirational use of miles (and I've been aggressively redeeming AA miles this year in anticipation of an award chart hemorrhage, so it's not like I have millions of miles there anymore), but the schedule itself was pretty convenient. I held the flights as a backup option, and kept stalking Lufthansa space.
On Tuesday a bunch of Star Alliance space was released for Wednesday, but nothing from Western cities. Heather lives in Eastern Washington, so extra segments are part of the game, but the best itinerary I could put together was:
Spokane > Denver > Chicago > Frankfurt > Munich (Overnight) > Madrid

She was excited about the prospect of overnighting in Munich, but I was less than thrilled with trying to book that many segments through Aeroplan. I'm still not entirely sure it's possible, but it ended up being a moot point as Heather called as I was on hold for Agent #2.
"I don't know how any of this works, so tell me if this is obnoxious."
"Okay…."
"Is there any way we can still leave on Thursday? I'm having a Mom Fail. So we're either going to carve pumpkins at 10PM tonight, or can we leave Thursday?"
And really all of that is just to help justify why I ultimately chose to redeem miles for British Airways First Class, even though it is not a good value, at all.
The only real option for a premium cabin on Thursday ended up being British Airways from Austin on the 777, and tickets to Austin were reasonable from both San Diego and Spokane. I also had a Travel Together Ticket set to expire in early January, and no plans to reasonably use it otherwise.
So for 115,000 Avios and ~$900 in cash I booked the following:
That's not a horrible price for two people, and is a bit less expensive miles-wise than what I was prepared to pay for Lufthansa, but it is still undeniably pricey.
And that, folks, is why I use a cashback card to create a "travel fund" in addition to my miles-earning cards. Sometimes stuff is expensive, and it's nice to not feel guilty about it.
With all that out of the way, I'm going to write up our entire British Airways experience in this one post. We didn't really fly anything that hasn't already been reviewed here on the blog in extensive detail, and I'm just really not good at taking pictures on airplanes (though I'm trying to get better!).
British Airways First Class to London
British Airways 190
Austin (AUS) – London (LHR)
Thursday, October 29
Depart: 7:41PM
Arrive: 9:34AM
Duration: 8hr53min
Aircraft: Boeing 777-200
Seat: 2E & 2F (First Class)
Heather's flight was a bit delayed getting to Austin, so we ended up having a fairly short connection. British Airways uses gate 2, but the Austin airport is tiny, so even with walking to the far end of the terminal we had plenty of time.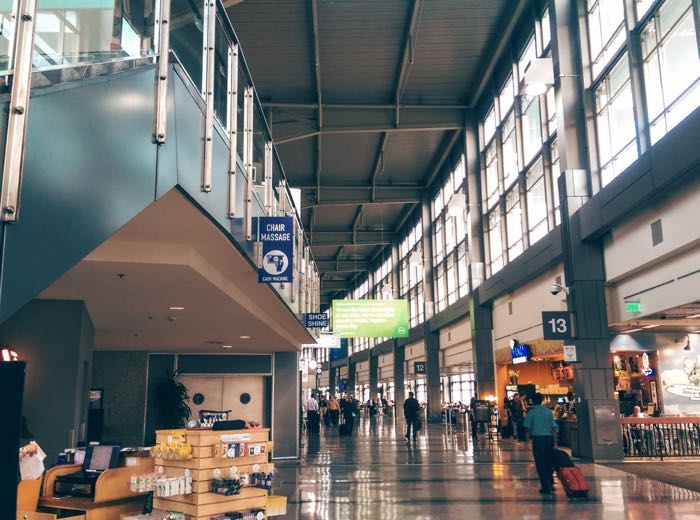 Austin airport departures hall
Beyond that, boarding was delayed about twenty minutes, which gave us plenty of time to catch up, charge our electronics, and people watch.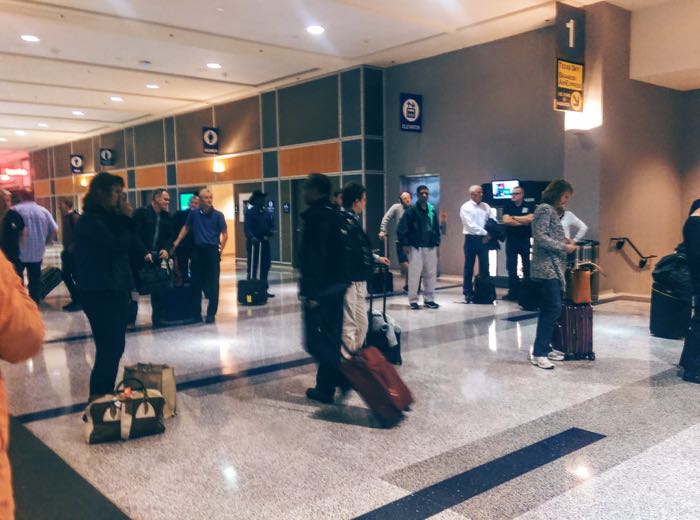 Austin airport departures hall
Upon boarding, we settled in to our seats in the center section of first.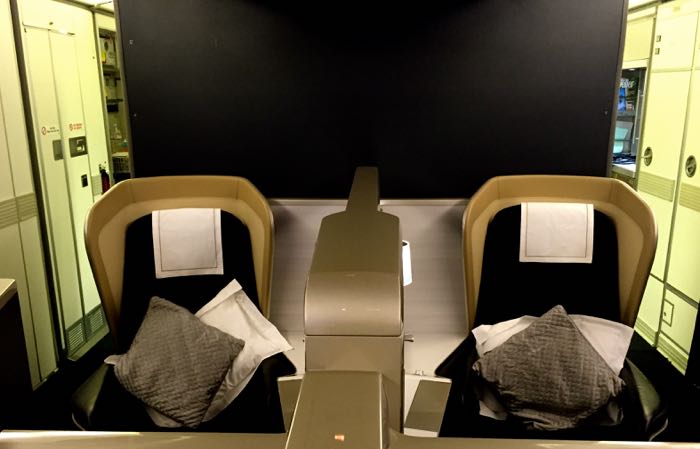 British Airways first class
The crew delivered pajamas, slippers, and amenity kits, which as usual were well stocked: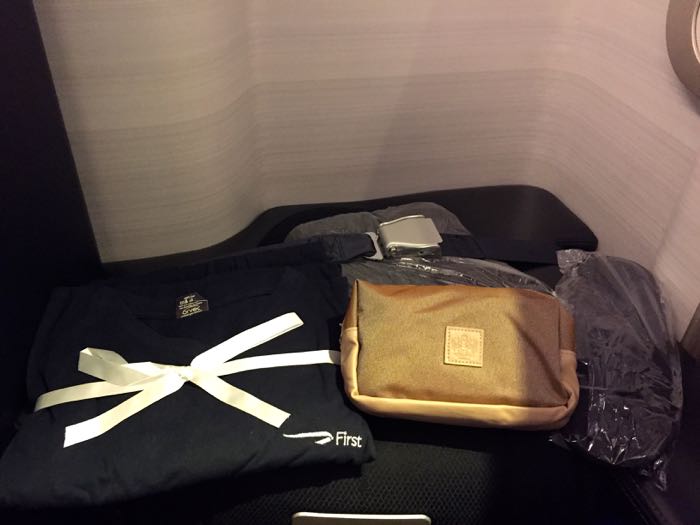 British Airways first class pajamas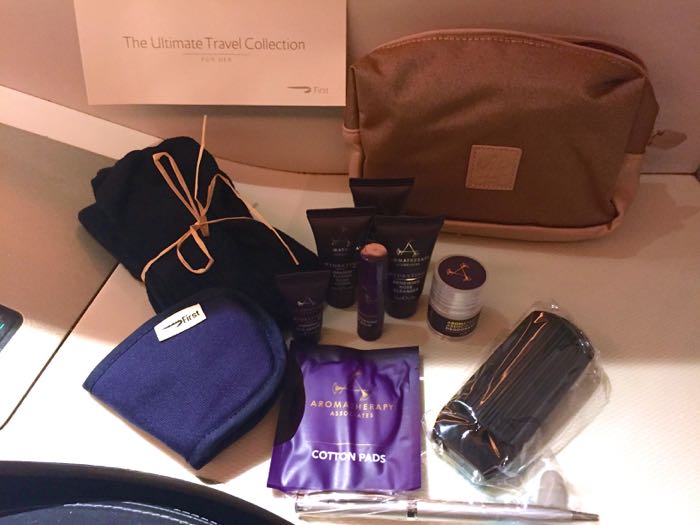 British Airways first class amenities
Menus were perfunctorily delivered, and the Cabin Service Director and then Captain began the nearly-endless announcements that are typical of British Airways. Those people sure love using the PA!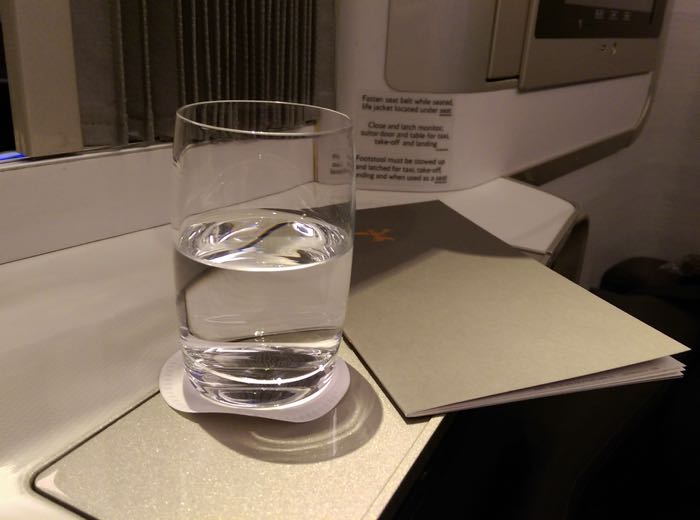 British Airways first class pre-departure beverage
At which point Heather, having only previously flown Virgin Atlantic Upper Class in terms of premium cabins, turned to me and delivered the most innocently scathing condemnation of British Airways ever:
"So, what exactly is the difference between business and first?"
And that, really, sums up the problems with British Airways first quite nicely.
Our flight attendants were anything but chipper as they delivered mixed nuts and poured champagne, then gave us time to look over the menus.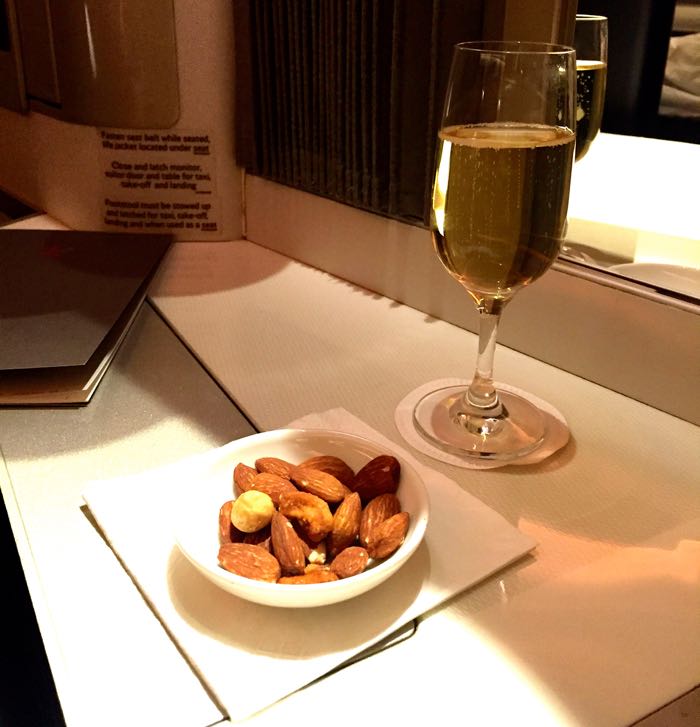 British Airways first class champagne and nuts
The wine list read as follows: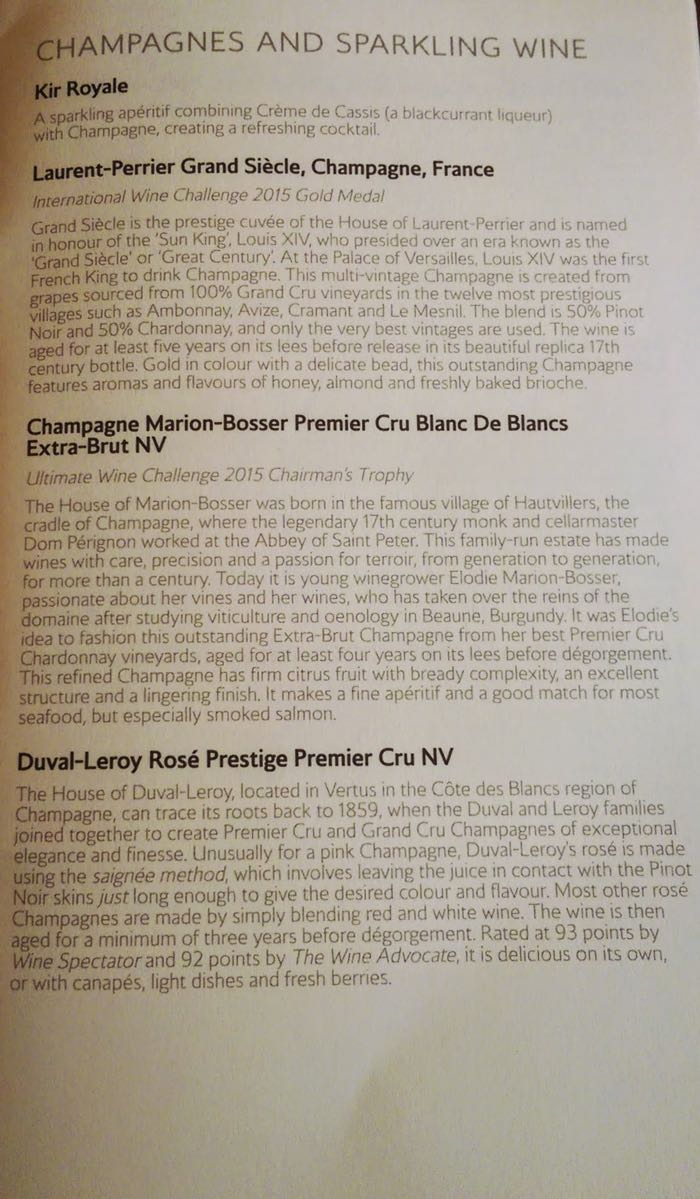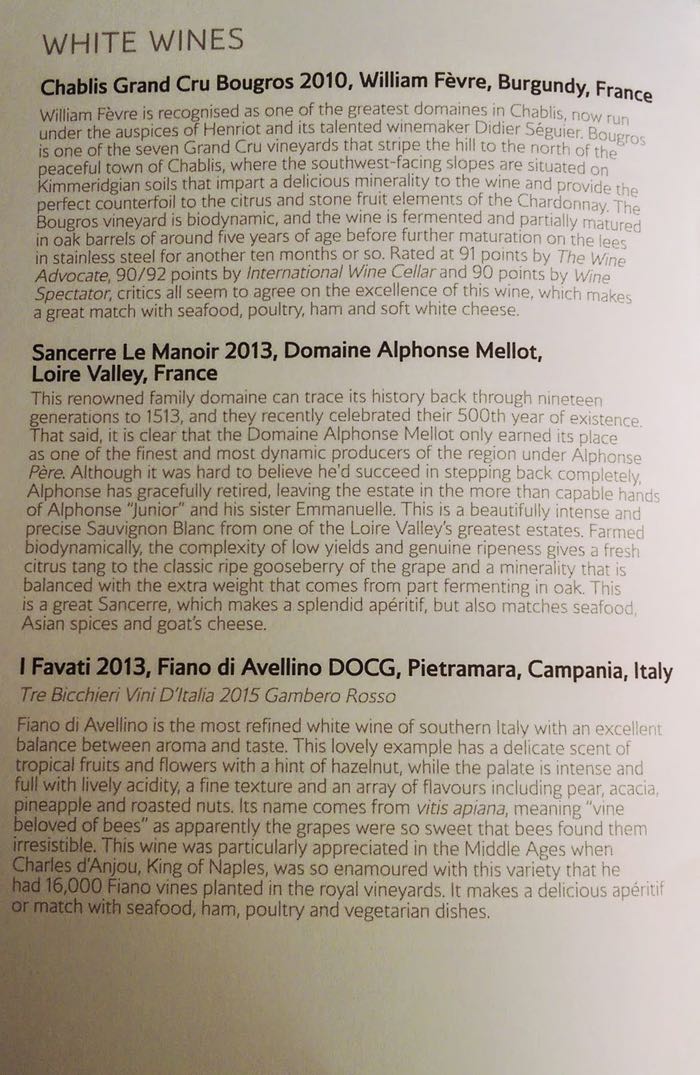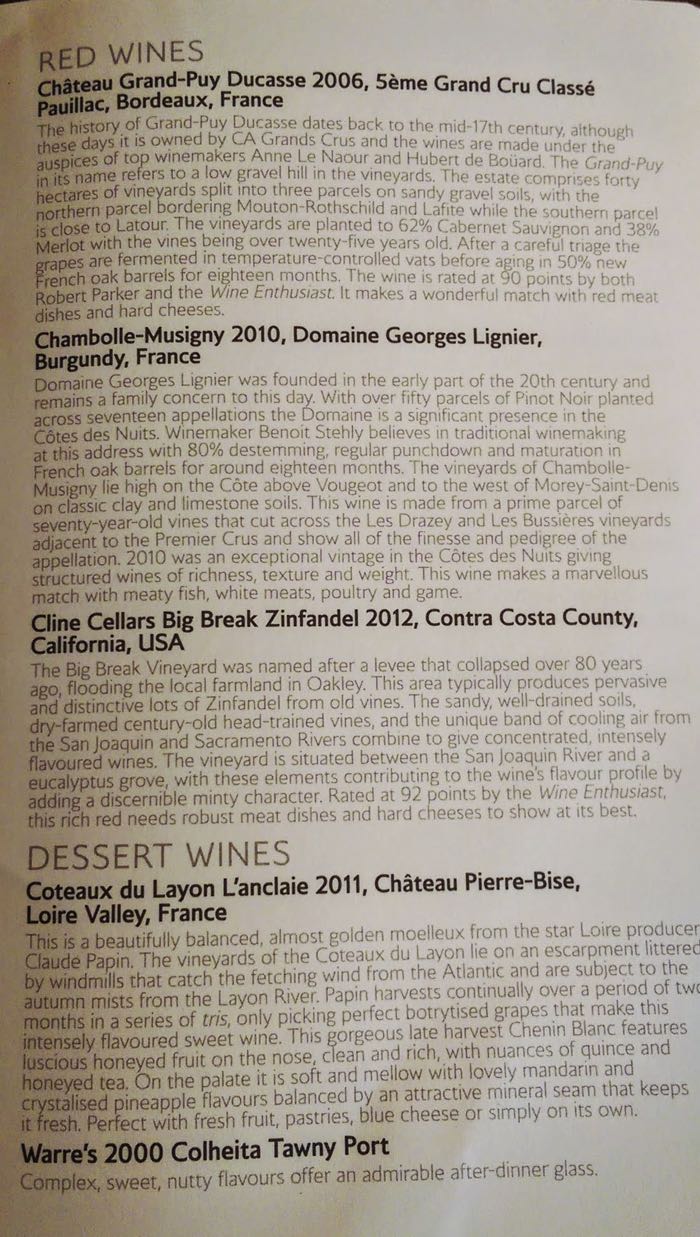 While the dinner selections included the following: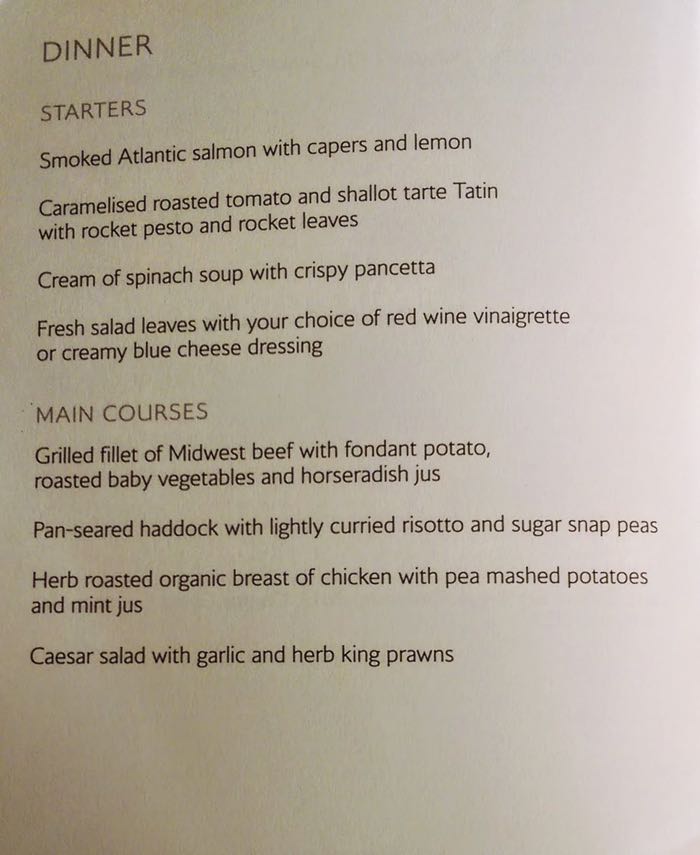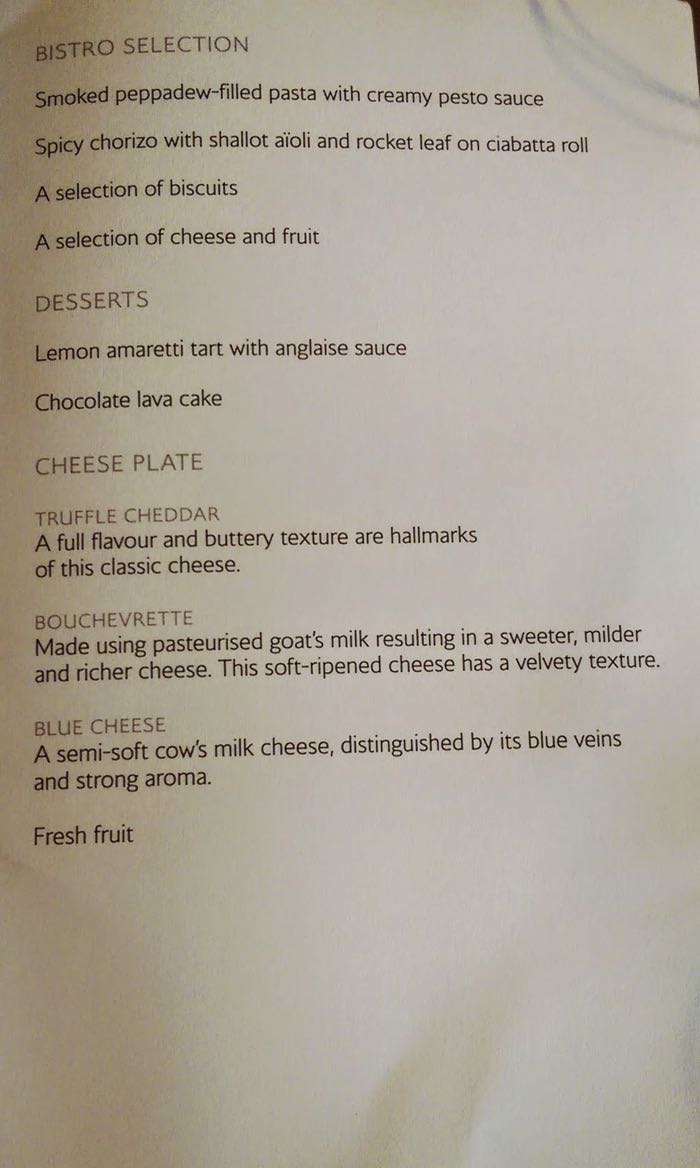 The main courses on British Airways tend to be underwhelming, so we decided to order a bit heavier on the appetizers in anticipation of disappointing entrees.
The amuse bouche was an herbed goat cheese with pine nuts: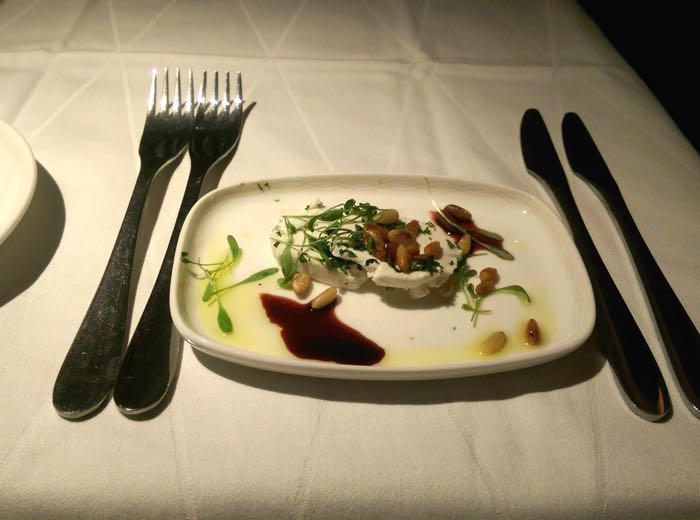 British Airways first class amuse bouche
Followed by the smoked salmon for me: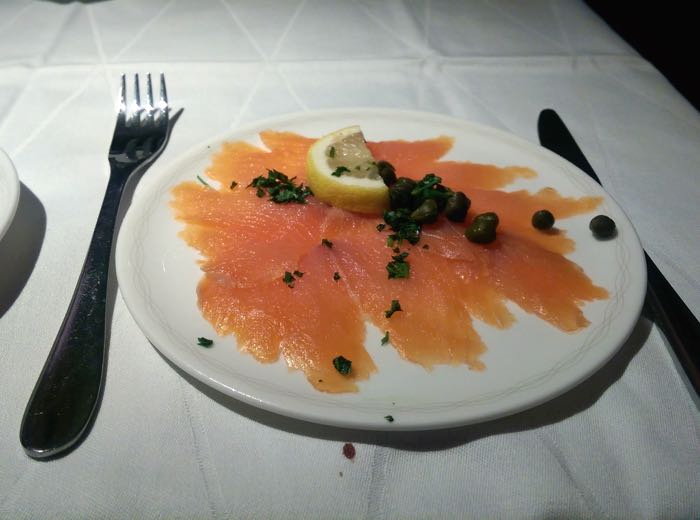 British Airways first class smoked salmon
And the shallot tarte for Heather: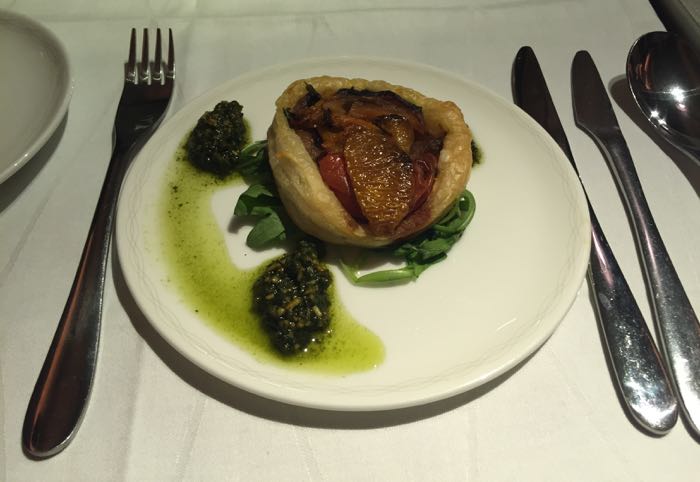 British Airways first class tarte
We both ordered the soup as well, which was the standout of all the dishes: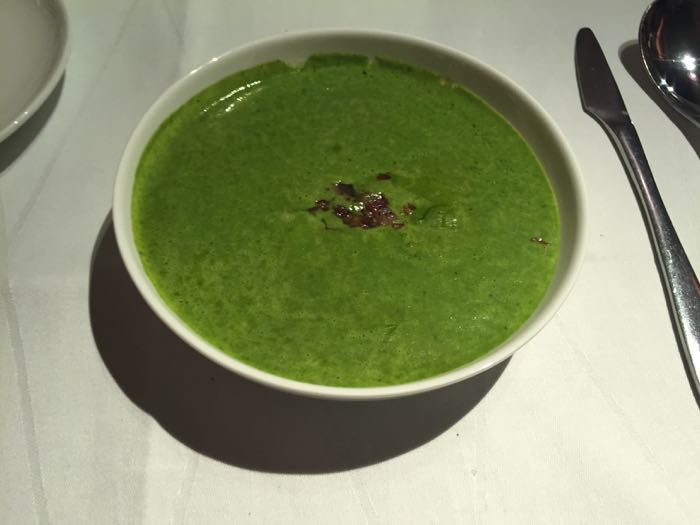 British Airways first class spinach soup
And then we had salads just to make ourselves feel a bit better, basically: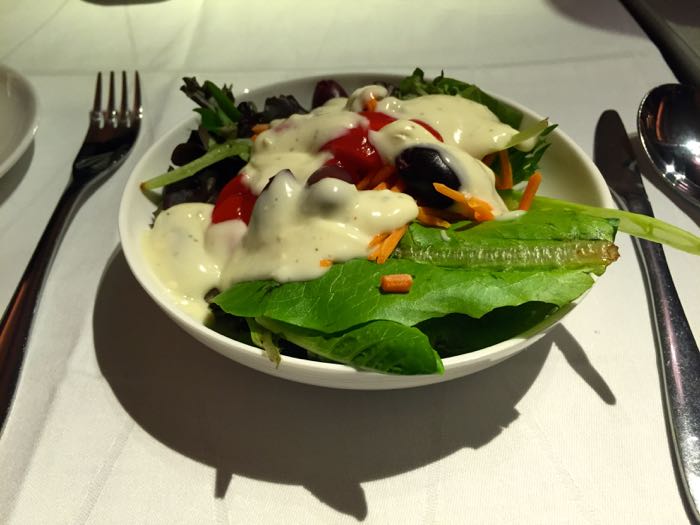 British Airways first class salad
The mains, as I'd more or less expected, were a complete disaster.
I ordered the chicken: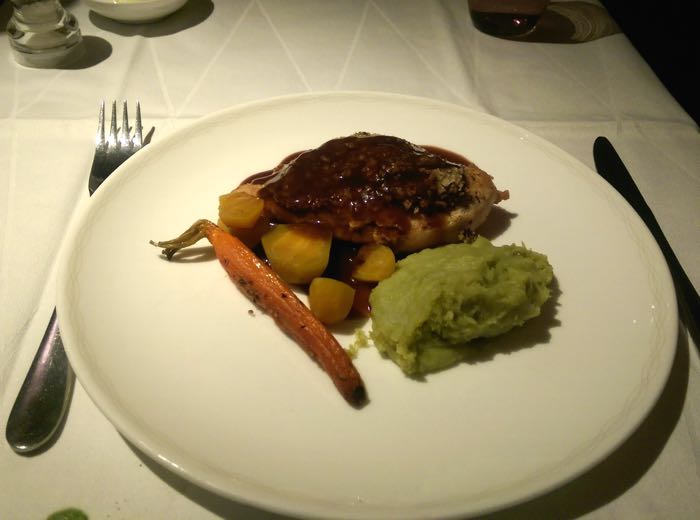 British Airways first class roasted chicken
While Heather chose the fillet: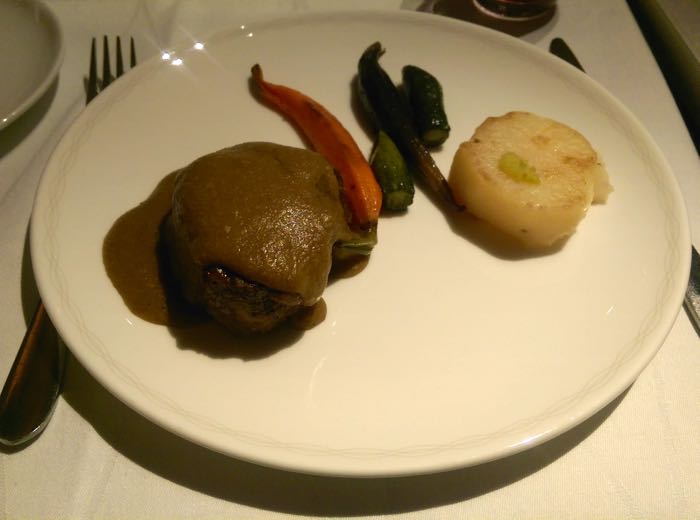 British Airways first class beef fillet
Neither was anything even approaching tasty, so we didn't have more than a bite each.
We had switched from champagne to wine (the Bordeaux) during the meal, and decided to finish our glasses with a cheese plate: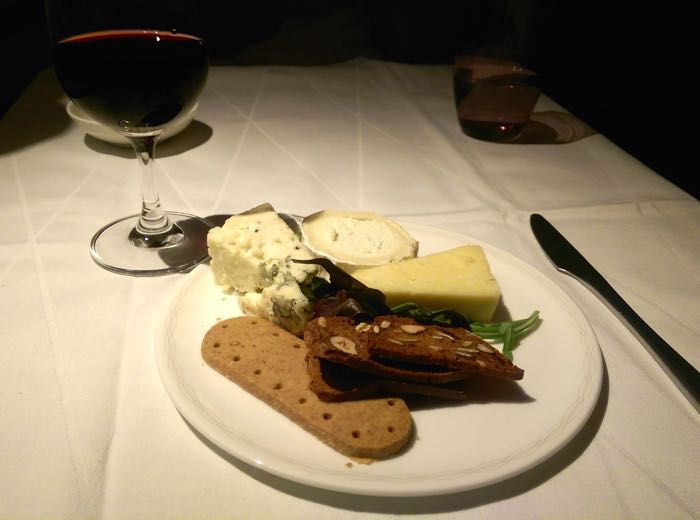 British Airways first class cheese plate
For a short flight, the meal service was very slow. The flight attendants also didn't do a great job of synchronizing service on both aisles, which slowed the process further. I received my salad about ten minutes before Heather's was delivered, etc., so it was more than three hours into the flight before we were finished with the service.
With under five hours to go, we asked the crew to make up our beds, and settled in for a nap: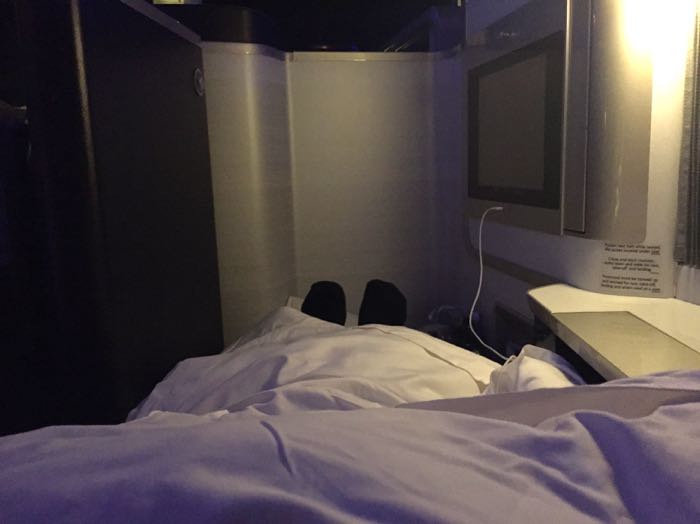 British Airways first class bed
I woke up after maybe an hour to a sweltering cabin. Like Tokyo department stores in the summer of 2011 warm.
The gentleman to my right had beads of sweat pouring off his face, and when I glanced over at Heather she had rolled her pajamas up to her shoulders and thighs. The woman across from her was holding a glass of ice to her forehead.
Glad it wasn't just me, I walked up to the galley and politely mentioned the cabin was quite warm, and asked if anything could be done. The crew member rolled her eyes and literally stomped away, but she turned the air on, so I'm counting that as a win.
At this point we had about four hours to go, so I figured I could sleep for at least three hours.
About two and a half hours prior to landing, however, the crew abruptly turned the lights on in the cabin, and began taking breakfast orders. The menu options consisted of the following: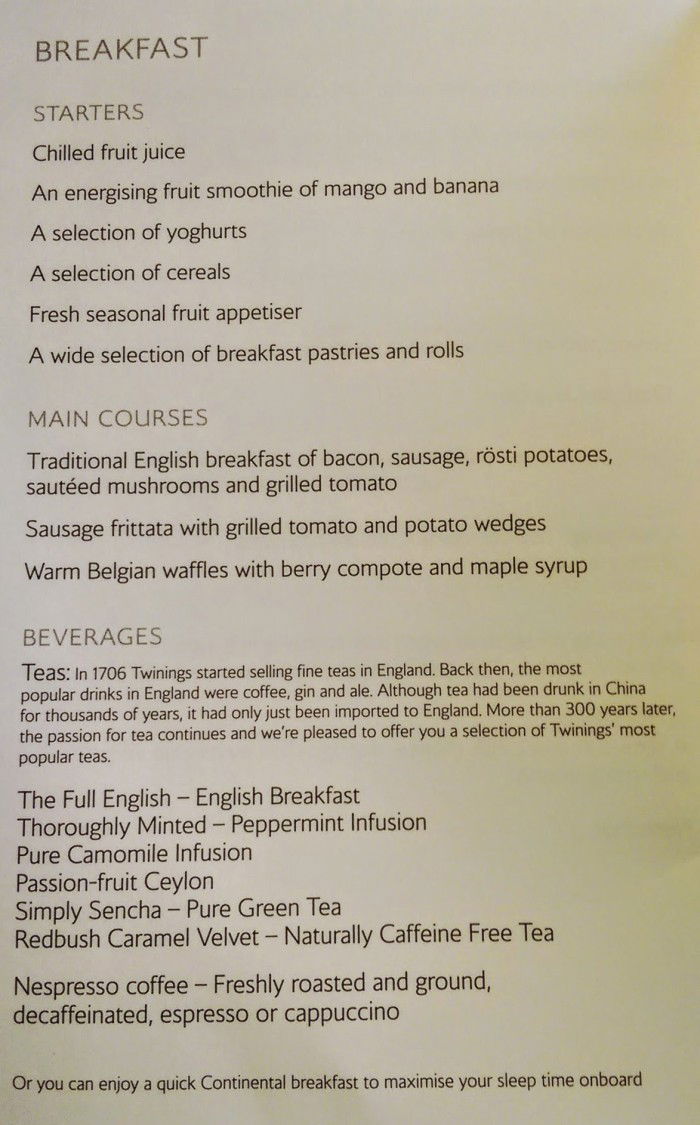 We both ordered a cappuccino to start: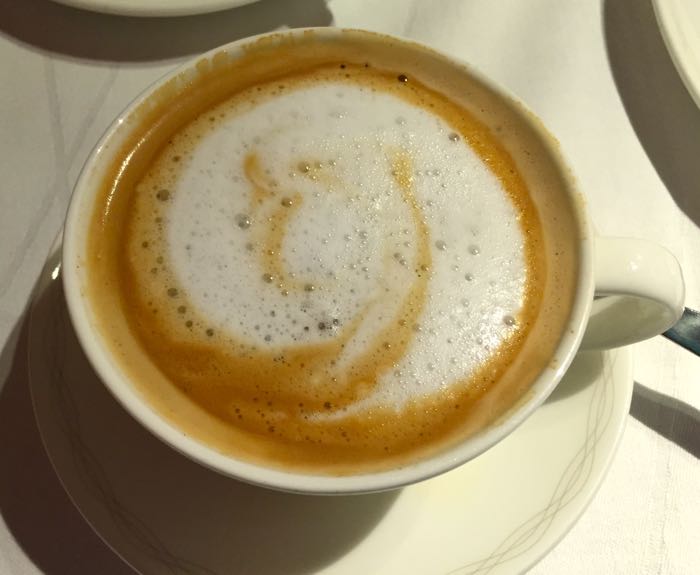 British Airways first class cappuccino
And then Heather chose the frittata: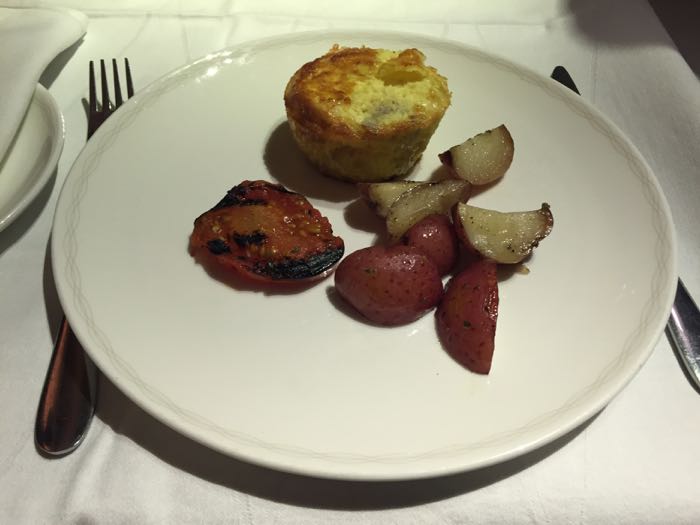 British Airways first class breakfast
While I opted for fruit and yogurt: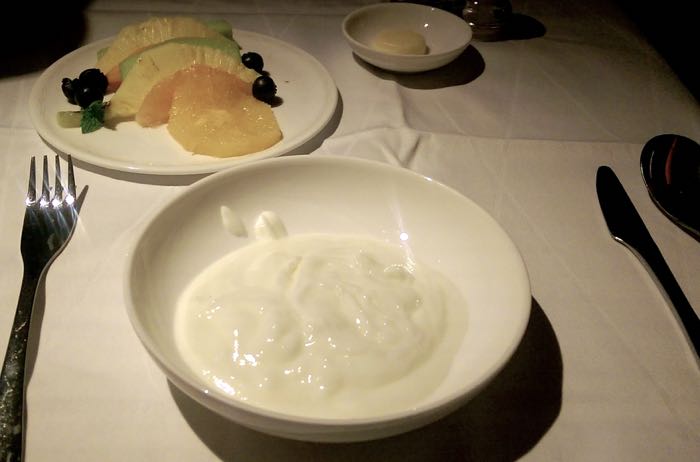 British Airways first class breakfast
The breakfast service was, impossibly, even worse than the dinner service. It took well over an hour to get a second cup of coffee, and the towels we'd anxiously anticipated after such a hot night were never offered.
While the poor service was disappointing to me, the apathetic nature of the crew had much bigger ramifications. The woman sitting across from Heather happened to be hard of sight, and based on what we observed, I don't think the crew could have been less accommodating if they'd tried. No one proactively checked on her during the flight, offered assistance with bags, or anything else.
So it was a generally mediocre flight overall, though obviously much better than economy. I typically quite enjoy British Airways, but this experience was pretty disappointing.
Transiting Heathrow and the Concorde Room
Despite the late departure and having to hold for a bit over London, we arrived on stand just a few minutes after our scheduled arrival. We disembarked at the B pier, which meant we had to take the train back to the main terminal.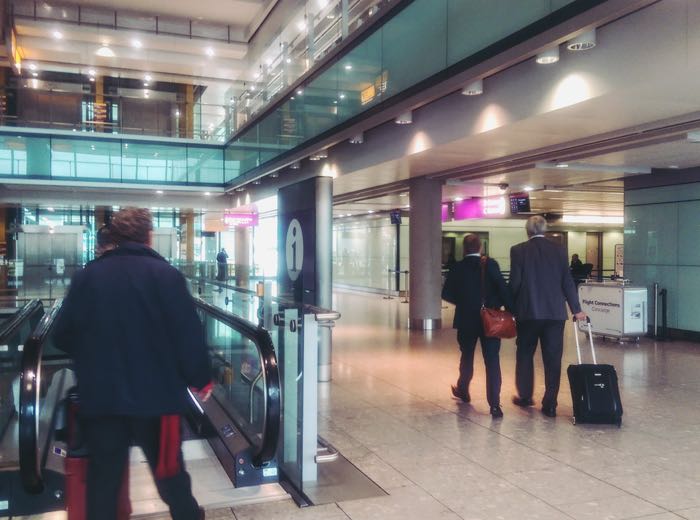 London Heathrow Terminal 5 B pier
As we walked, I explained a bit of the process to Heather; namely that we would need to re-clear security, and that I had pre-booked a cabana in the first class lounge for us.
"I just love hearing all those words in one sentence. 'Cabana.' 'Lounge.' This is going to be fabulous!"
"Ummm, it's not really a nice cabana. But it does have a shower!"
Which is really the only reason I'd bothered booking a cabana. When Ben, Andrew B., and I were transiting Heathrow a few weeks ago the queue for the shower was over three hours, so reserving a cabana in advance seemed like the best way to ensure we could shower.
And what a shower it was!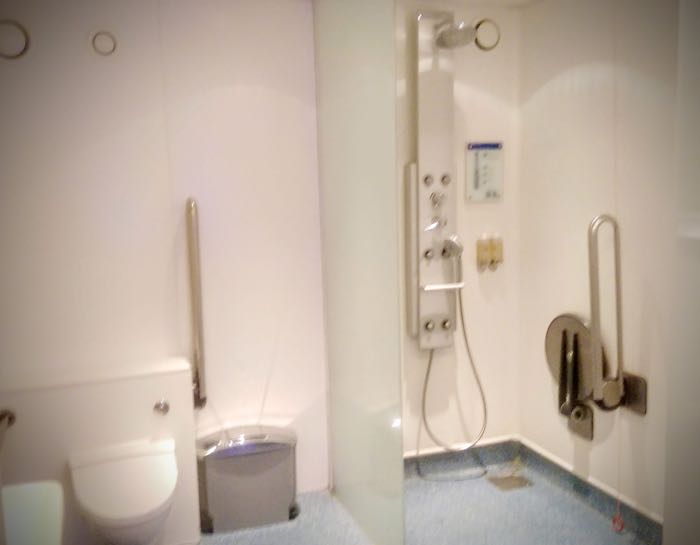 British Airways Concorde Room Cabana One shower
"So….this is a cabana?"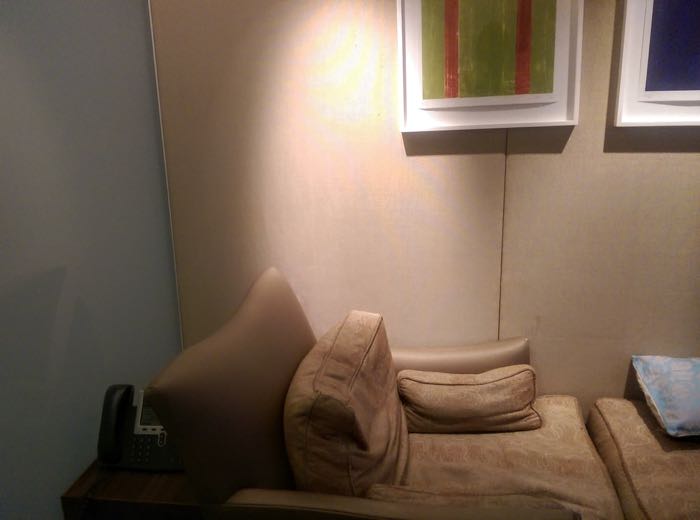 British Airways Concorde Room Cabana One sofa
"Do we like, have to stay here?"
The Concorde Room cabanas are not a place to linger if you can help it, so we took turns taking showers and spent the bulk of our time out on the "terrace" area (with its secret power outlets).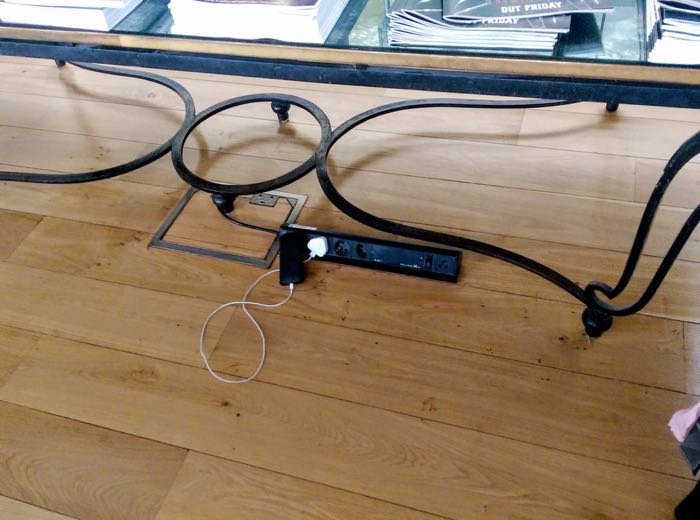 British Airways Concorde Room secret power brick
Although I generally try to avoid the food in the Concorde Room, we decided we should probably at least snack before our flight, given the timings. The butternut squash pasta was quite tasty: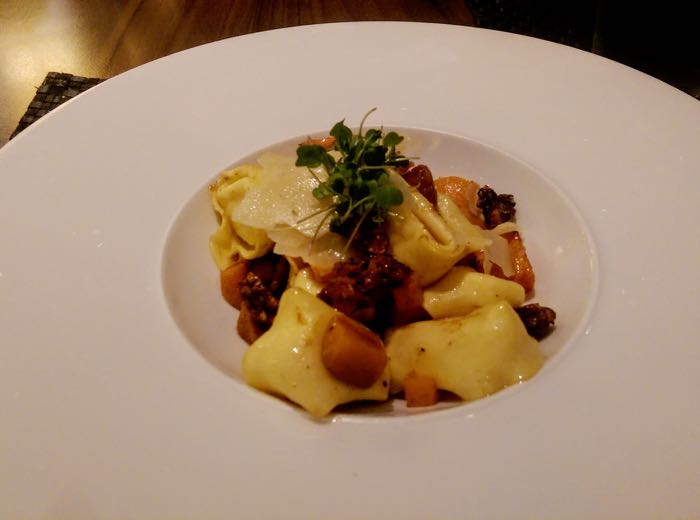 British Airways Concorde Room pasta
And was followed by a cheese board: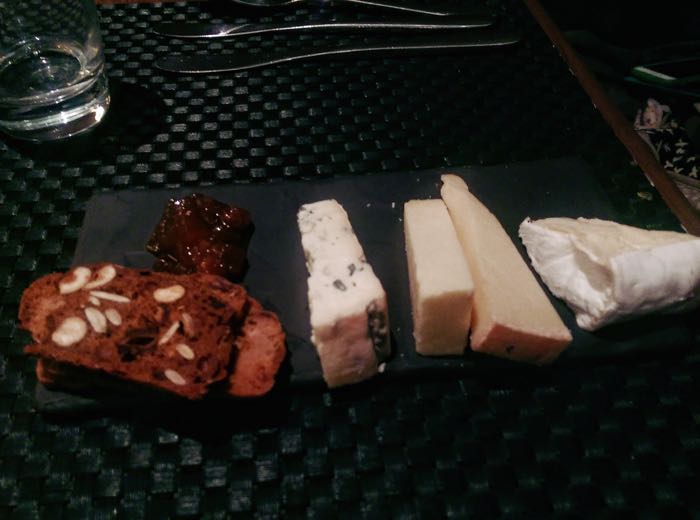 British Airways Concorde Room cheese plate
After lunch we gathered our things and made our way to the gate, which was conveniently just downstairs at A14.
British Airways Club Europe to Madrid
British Airways 460
London (LHR) – Madrid (MAD)
Friday, October 30
Depart: 1:50PM
Arrive: 5:10PM
Duration: 2hr20min
Aircraft: Boeing 767-300
Seat: 7D & 7F (Club Europe)
Our flight to Madrid was operated by one of BA's 767s. The seatmap is a bit deceptive, but the plane is actually in a 2-2-2 configuration in business.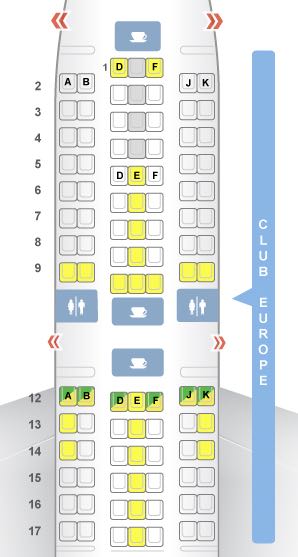 And I highly recommend choosing one of the center seats. That's because there are actually only two seats on the window side, as opposed to the blocked middle you generally see on intra-European business class: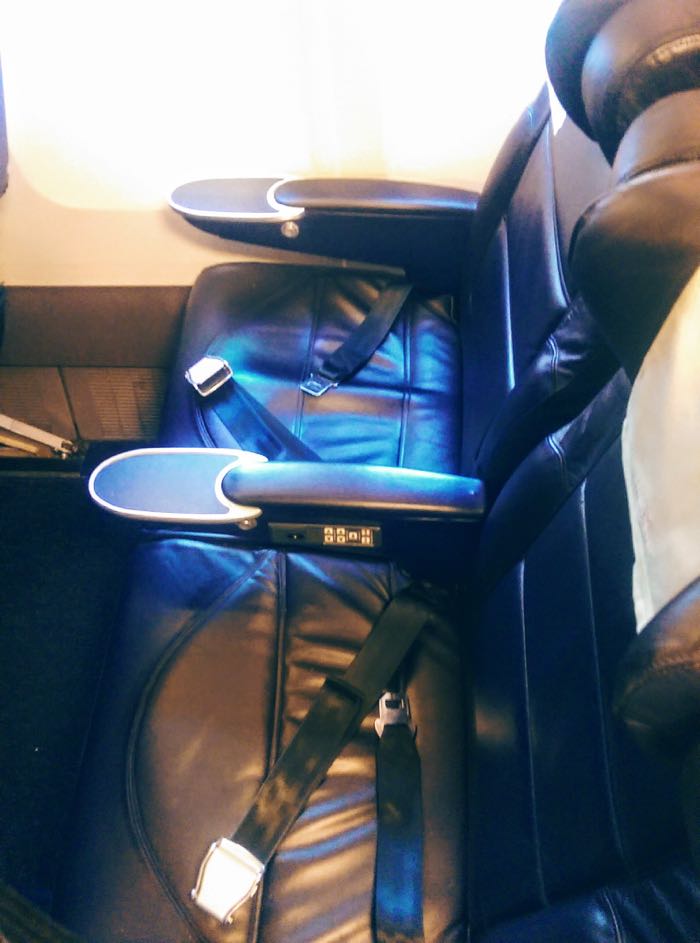 British Airways 767 Club Europe
Versus the center section, which does have the blocked middle, and is much more comfortable: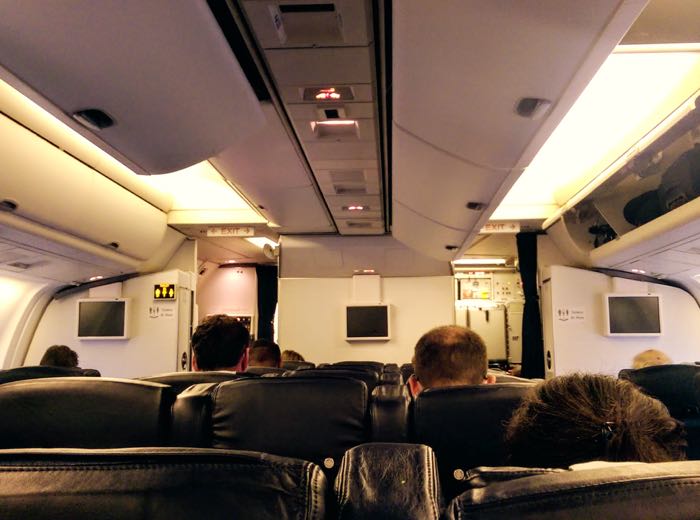 British Airways 767 Club Europe
So comfortable, in fact, that shortly after being greeted by the chipper flight attendants, we were both dozing in our seats. We hadn't had much sleep the night before, but I was still surprised to be nodding off before the safety video even started, and slept more or less until we started our initial descent.
So there isn't much else I can say about that flight. 😉
Overall
While this wasn't the "best value" or "most aspirational" award redemption I've ever made, I'm still happy with the trip overall. The companion certificate definitely takes some of the sting out of the redemption costs, but I don't think I'd go out of my way to earn one again.
Having a mediocre crew on the long haul segment was disappointing, but we still had a great time, and the scheduling ended up being perfect for us. We were able to leave home on our ideal day, and arrived in Madrid at the perfect time to start our weekend, so the timing really couldn't have been better.
The Concorde Room is still an embarrassment though.