Update: Alaska Airlines will be joining oneworld as a full member as of mid-2021.
Yesterday I wrote briefly about how Alaska Airlines' Chief Commercial Officer suggested that the airline was looking at becoming a "oneworld Connect" member.
This is different than becoming a full oneworld member, so in this post I wanted to look more closely at what this would (and wouldn't) mean for frequent flyers.
What is oneworld Connect?
Oneworld Connect is a new concept for the alliance. Earlier this year it was announced that Fiji Airways would become the first oneworld Connect airline, but that hasn't even fully launched, so it's understandable that there's confusion about how this concept works.
Essentially oneworld Connect is intended to be an option for (mostly) smaller airlines to join the alliance without having to pay the full membership costs. Joining a global alliance is expensive, so Connect members are those that partner with some oneworld airlines and that can add value, without wanting to fully join.
Here's how oneworld describes this concept:
oneworld connect partners will provide select alliance benefits to frequent flyers from any oneworld member airline traveling on their flights, with a more extensive range of benefits offered with a subset of oneworld member airlines, known as their "oneworld sponsors."
Here's a chart showing oneworld Connect benefits: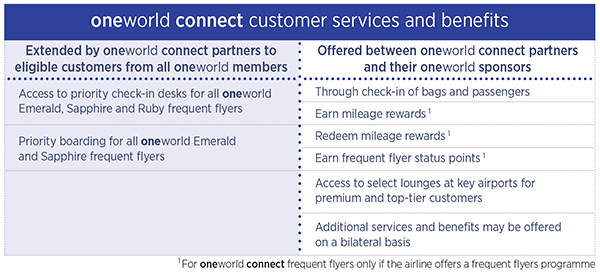 So I figured it makes sense to clarify what a oneworld Connect membership would and wouldn't mean for Alaska Airlines.
What oneworld Connect wouldn't mean for Alaska
"Does this mean Alaska MVP Gold 75K would become oneworld Emerald?" "Does this mean we could redeem Alaska Mileage Plan miles on all oneworld airlines?"
No and no.
If Alaska becomes a oneworld Connect member, elite tiers in Mileage Plan wouldn't come with corresponding oneworld status. It wouldn't be possible to earn and redeem Mileage Plan miles on all oneworld airlines.
Similarly, not all oneworld frequent flyer programs could suddenly earn and redeem miles for travel on Alaska.
Furthermore, Alaska and American scaled back their partnership as of the beginning of this year, and Alaska becoming a oneworld Connect member wouldn't necessarily undo that.
What oneworld Connect would mean for Alaska
If Alaska becomes a oneworld Connect member, all oneworld Emerald, Sapphire, and Ruby members would receive priority check-in on Alaska, and all oneworld Emerald and Sapphire members would receive priority boarding on Alaska. That's actually it.
The intent of oneworld Connect is that it would create a framework for Alaska to better cooperate with several oneworld airlines. Becoming a oneworld Connect member requires being sponsored by existing airlines in the alliance, and Alaska already has close relationships with British Airways, Cathay Pacific, and Qantas, and I imagine those would be Alaska's sponsors.
So under this concept you could expect that they would offer through checking bags and passengers, reciprocal mileage earning and redemptions (including elite miles), and access to select lounges. But Alaska already offers all of those things on their potential sponsor airlines.
Lots of people don't realize this, but Alaska offers access to British Airways and Qantas lounges under select circumstances.
So I hate to be the downer here, for those who thought MVP Gold 75K would soon translate to oneworld Emerald status, and that you could soon redeem Alaska miles on Qatar Airways. It ain't happening. And trust me, I wish it were, I'd love to just be loyal to Alaska and call it a day.
So what's the point?
Ultimately the big three airline alliances are marketing vehicles for airlines, and the oneworld Connect concept is the most superficial level of marketing of all. It's something that Alaska is even quite transparent about:
"The benefit to Alaska Airlines with these global partners is when people start to think Alaska, they are starting to think global. They are starting to make their plans around flying on our global partners. We are looking at ways to get more seamless."
Obviously the push for Alaska here is to try and better reinforce that they have global partners, and having limited participation in a global alliance would further make that point.
Oneworld Connect might be valuable for an airline that isn't good at forging partnerships to begin with, but that's something Alaska is already very good at. They have a robust frequent flyer program with a unique array of airline partners. So them being a oneworld Connect member is more about reinforcing that concept, rather than materially changing anything that benefits frequent flyers.
So while I understand the excitement at the concept of Alaska being in oneworld, this would mean almost nothing… at least that's how I see it.
What do you make of Alaska becoming a oneworld Connect member?