As an update to the below story, at a press conference in New York today, Qantas CEO Alan Joyce has confirmed on behalf of oneworld that Royal Air Maroc will be joining the oneworld alliance. It's expected that Royal Air Maroc will join oneworld in mid-2020, so unfortunately we're still about 18 months from this officially happening.
---
Yesterday it was widely being reported that oneworld would announce a new member airline on December 5. There was a lot of speculation as to what airline that would be. I heard people throw around Aer Lingus, Air Italy, China Southern, Royal Air Maroc, Philippine Airlines, and more.
Well, at this point it looks like we have our answer. It seems 99% certain that Royal Air Maroc will be the airline announcing that they're joining oneworld next week. Why? Because Royal Air Maroc's CEO will be in attendance at this meeting, so it would be too much of a coincidence for that not to be the case.
Royal Air Maroc is a great fit for oneworld
Is this the most exciting announcement ever? No, most definitely not. Royal Air Maroc is a fairly small airline, with just 55 planes. However, they're a logical fit for the alliance:
Royal Air Maroc already partners with Iberia and Qatar
Royal Air Maroc will be oneworld's first African airline
Morocco is a hot travel destination right now
Royal Air Maroc often has great fares, so this will be an excellent option for earning oneworld miles
Royal Air Maroc releases a good amount of award availability (including in business class, where they usually have at least two seats), though obviously that may change as they join oneworld
Most importantly they're a non-controversial addition, since many major airlines joining oneworld may cause one of the founding members to exercise their veto rights
Where does Royal Air Maroc fly?
Royal Air Maroc has four destinations in North America. They operate:
Up to 2x daily flights between New York and Casablanca
3-4x weekly flights between Washington Dulles and Casablanca
Daily flights between Montreal and Casablanca
As of April 3, 2019, 3x weekly flights between Miami and Casablanca
On top of that, Royal Air Maroc operates flights to Sao Paulo and Rio de Janeiro in South America, to select destinations in the Middle East, and to destinations across Europe and Africa. So I'm especially excited about all the new African destinations that oneworld loyalists will have access to.
Here's their current routemap: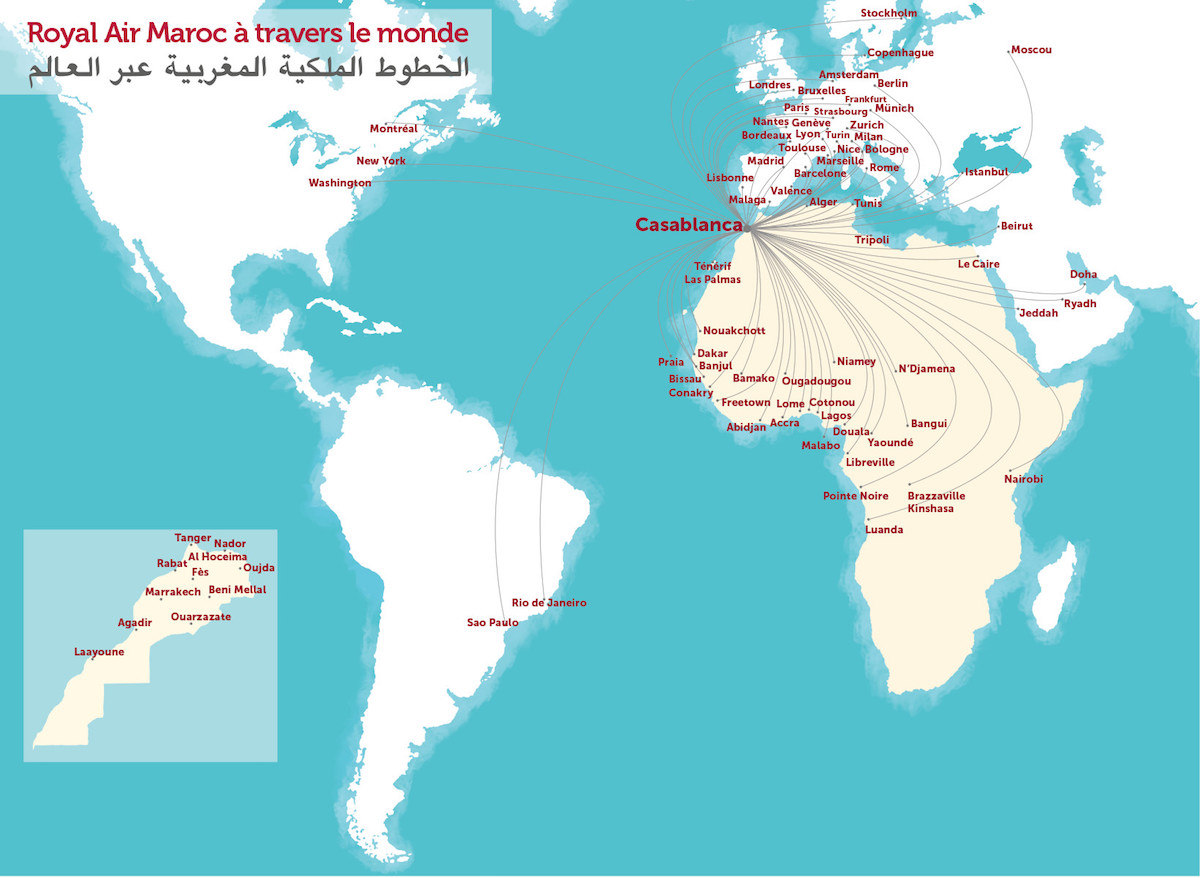 How is Royal Air Maroc's business class?
RAM exclusively operates Boeing 787s on their routes to North America. I reviewed Royal Air Maroc's 787 business class between Doha and Casablanca in 2016, which is roughly comparable in length to their US flights. I was pleasantly surprised by the experience.
Royal Air Maroc has flat beds in business class on their 787s (though it's an odd configuration), the service was friendly, and the food was quite good. I wouldn't hesitate to fly them again.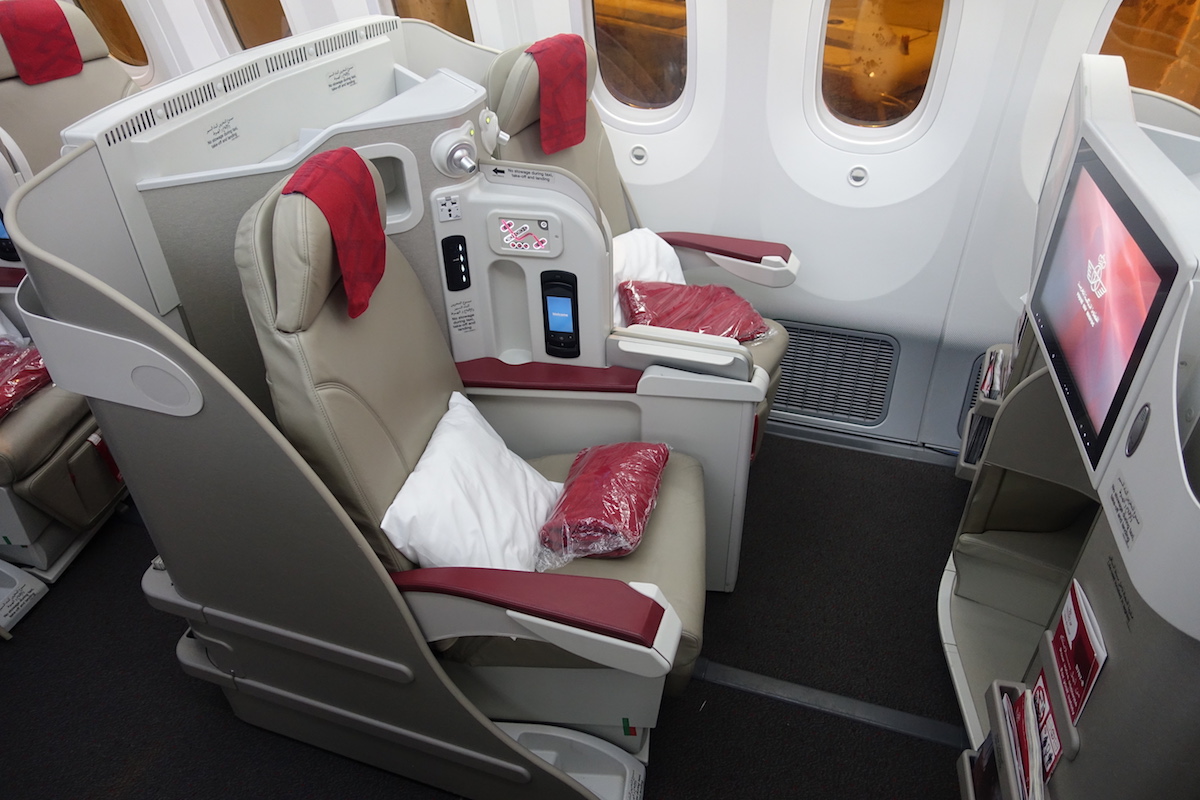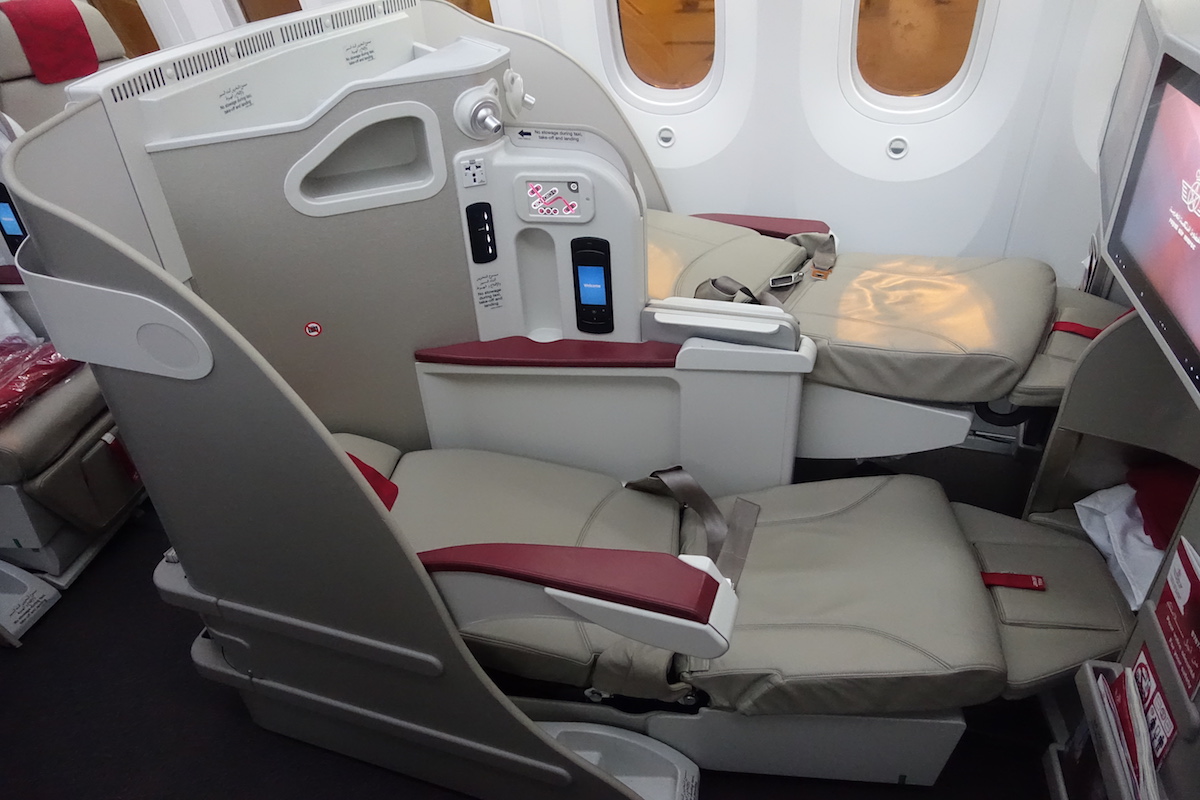 If you're connecting on Royal Air Maroc to Europe or another destination, there's another cool thing to be aware of. Royal Air Maroc's 737s feature proper business class seats, similar to what you'd find in domestic first class within the US.
This is much better than what you'd usually find on an intra-Europe flight, for example, where business class is just economy with a blocked middle seat. So in many cases Royal Air Maroc is a comfortable way to get to Europe as well.
Bottom line
While I wouldn't consider this a game changer for the alliance at large (unless you specifically fly to secondary African markets often), this is nonetheless a positive development. Royal Air Maroc serves an area that's otherwise not currently well served by oneworld.
The airline has a solid onboard product and is good about releasing award space, so I could both see myself earning and redeeming miles for travel on them.
Now we'll just have to wait until next week for this to be official.
What do you make of Royal Air Maroc joining oneworld?