On Monday I asked the (admittedly) ridiculous question of whether it's worth rerouting an award trip to get on a flight with better champagne. As it turns out the question was moot, since apparently Korean Air has changed the champagne they serve, but it was interesting to read the reactions nonetheless.
Anyway, reader EggSS4 left the following comment on the post:
I know this post was tongue in cheek at least partially, but I really would love to read a post on what champagnes I should order in premium cabins. I have absolutely no idea whether 2002 Dom is better than 2003 and how Dom differs from Krug, or whatever. Anyone know a good website with guidance?
I'll be the first to admit I'm no expert on champagne, or for that matter alcohol in general. I don't drink beer, I rarely drink wine, and my mixed drink of choice on the ground is Diet Coke with Jack — yes, I'm a simple guy.
That being said, I've at least started to develop a bit of a palate for champagne. I find that among first class flyers there are two mentalities when it comes to drinking champagne — there are those that appreciate champagne for the actual taste, and those that can just "taste" the retail value of the bottle. I definitely fit in the latter category for several years, though over the past year or so have started to actually appreciate champagne.
I'm still by no means an expert, so I asked my friend Matt if he'd consider writing a guest post about airline champagne. He's much more of a connoisseur than I am, and is my go to guy when it comes to alcohol selection. If I'm in an airline lounge with a decent bartender I'll text Matt and ask him what I should order, and an hour later I'll have consumed the following:
With that in mind, thanks to Matt for offering to write this post! Without him I'd view Dom Perignon 2003 simply as a $150+ bottle of champagne, rather than nicely bottled and marketed cat urine. 😉
Now, over to Matt!
---
There are few things that excite me more than the sound of a bottle of champagne being uncorked.  When I think about my next trip, I immediately think of the first sip of champagne in an airport lounge or, alternatively, the first sip onboard the plane (depending on the respective lounge and onboard offerings).  It's the perfect way to start any trip.
It will become clear to you that I enjoy champagne more than I probably should.
But come on—it's so easy to love.  For those of you that enjoy champagne nearly as much as me, I have put together this post on what I believe are the top champagnes offered in first and business class respectively, and a few of the best first and business class lounge champagne offerings.
BEST FIRST CLASS CHAMPAGNES
Krug is sometimes referred to as the king of champagne—and for good reason. Krug "Grande Cuvée" is easily the most expensive and sought after non-vintage champagne in existence.

As a non-vintage champagne, it contains a blend of grapes from various years.
The current offering seems to be based primarily on 2004, which gives the cuvee a good amount of floral zing and acidity.
With ten years to develop, the base has more maturity than any other non-vintage around (with the possible exception of Grand Siècle, discussed below).
The remainder of the cuvee is a blend of various other years—some older than 2004; most younger.
This makes the champagne very approachable, with attractive aspects of both youth and maturity.
Best with:
Almost anything.  Krug Grande Cuvee will pair nicely with the first few courses of any first class meal, especially caviar and shell fish, and can stand up to soft cheeses, fish, and even lighter chicken or pork dishes.  Of course, I would never say no to drinking this champagne on its own.
Served on:
NOTE: If you're interested in seeing what years are blended in your bottle of Krug Grande Cuvee, ask the flight attendant for the "Krug ID" on the back of the bottle.  You can imput that at www.krug.com for the exact details on your bottle.  Pretty neat!
Dom Perignon is Moet & Chandon's prestige champagne.  It is always a vintage champagne, and hence (theoretically) only released in the best years.
It seems that airlines are currently serving a mix of 2002, 2003, and 2004 Dom Perignon, with the 2003 vintage being offered by the vast majority of airlines (at least for now).

If I had to choose which of the three vintages is "best" it would be a tough choice between the 2002 and 2004 vintages.
The 2002 is a powerhouse, and may well go down in history as one of the best, but in my opinion it could stand several more years in the cellar and that just won't cut it for airline consumption.
2004 Dom, on the other hand, is ready to drink now.  It is remarkably bright and linear, with a clean finish that leaves me wanting for more and more (as much as this guy, even).
Ben has already expressed his negative views on the 2003 vintage, and I tend to agree with him.  2003 was a bad year in Champagne; that almost no houses besides Dom Perignon declared a 2003 vintage is very telling.  2003 Dom Perignon is uncharacteristically very pinot noir heavy, and it's exuberance is difficult to handle without the right food pairings.  It won't be many people's favorite, but those who really like Veuve Clicqout's pinot noir-heavy cuvees may actually enjoy it.
The 2002/2004 vintages will pair perfectly with the same courses as the Krug Grande Cuvee.
The 2003 definitely wants drinking with slightly heavier fare, but I wouldn't shy away from enjoying it with caviar, shell fish (preferably in a cream sauce), or – best of all – foie gras.
Served on:
Singapore Airlines
Emirates
Thai Airlines
Malaysia Airlines
Perrier Jouët "Belle Epoque" (2004)
Known on the street as the "flower bottle," this vintage champagne gets its name from the flowers painted on the outside of the bottle.  Can the belle of the ball be beautiful inside and out?  I guess so—at least when it comes from France.

Best with: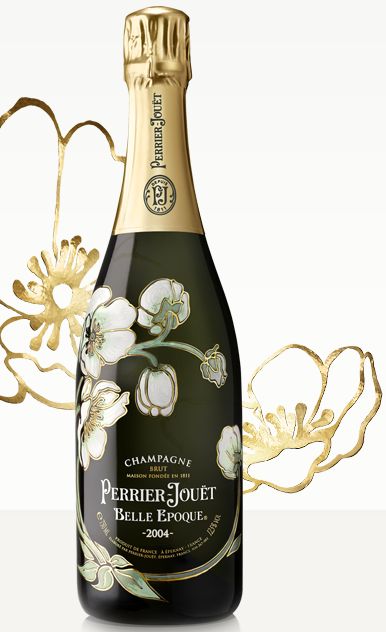 This is the lightest and freshest of the options listed here, it wants drinking with lighter fare, or better yet, on its own.
If you are really going for the utmost in gastronomical pleasure, I would suggest switching to a nice white wine or a lighter red wine after the amuse-bouche and caviar course.  (That goes for you over the weekend, Ben.)
Served on:
Laurent-Perrier Grand Siècle (NV)
This cuvee is often overlooked stateside because, as a blend, it bears no vintage date and yet commands more than $100 a bottle.
This is so because it is actually a blend of three of Laurent-Perrier's previous vintages—the current offering comprises a blend of 2004, 2002, and 2000 vintages.  Sadly, I must admit I have never enjoyed even a glass of Grand Siècle, though perhaps that was necessary to make room for Ben's 6 bottles on BA.
Best with:
I have had Laurent-Perrier's 2004 vintage, and if the Grand Siècle is anything like it (which I assume it must be since it's mainly comprised of 2004 vintage), it will want drinking with lighter fare.
That's definitely a good thing, given that BA's food offerings leave a lot to be desired.  On a positive note, it should actually pair beautifully with the tea service BA offers on flights from the UK to the West Coast, including my hometown of Los Angeles.
Served on:
I wanted to point this champagne out more as a history lesson (and out of nostalgia) than anything else.
Pommery Cuvee Louise is an estate champagne—meaning that the grapes are all sourced from Pommery's own vines.  This is beyond rare today.

Besides Cuvee Louise, the only other estate offerings come from Krug (two offerings ranging from $800 to $1,800 a bottle at release), Cristal, and Philipponnat.  In 2002, LVMH sold Pommery but retained the estate vineyards for themselves.

That means that the 1999 Cuvee Louise is the last one ever.  (No vintages were declared in 2000-2002.)  That's kind of neat—at least to me.
Best with:
Stuart ought to be a Cuvee Louise spokes person, because this is truly delicate champagne.  You can only find it occasionally on Lufthansa, and if you do I suggest enjoying it (lots of it) by itself, or alternatively no further than the caviar course.
Served on:
Taittinger Comtes De Champagne Blanc De Blancs 2004
Probably the best blanc de blancs out there.  Made entirely from white grapes, as opposed to the usual blend of chardonnay and pinot noir (sometimes a very small amount of pinot meunier is also used), which leads to a lighter, more lemony and acidic flavor than traditional brut champagnes.
Best with:
Great with shellfish, especially oysters, as well as soft creamy cheeses, and – although you won't find them on a plane – one of my favorites, truffle fries.
Served on:
Qantas (who also serves Pol Roger Sir Winston Churchill on select flights—an equally excellent champagne)
While still not cheap, if anyone has enjoyed this on Qantas and is looking for something similar to Taittinger's Comtes de Champagne to enjoy at home, I would definitely recommend Launois "Special Club" Brut Blanc de Blancs.  It is equally as good as the 2004, and much more affordable.
BEST BUSINESS CLASS CHAMPAGNE
Since there is a no real overlap here, I will go by airline instead of by champagne.
EVA Air – Dom Perignon 2003
Admittedly, it is no one's favorite Dom Perignon, but it is Dom Perignon.  This is a fantastic business class offering.
Virgin Australia – 2002 Lanson Gold Label Brut
The only other airline besides EVA to offer vintage champagne to its business class customers is Virgin Australia.  I love Non-Vintage Lanson Gold Label, and will report back in three weeks once I have this en route to Australia.  The best part is that you can actually use SkyPesos to enjoy this champagne—it's hard to believe you can enjoy vintage champagne compliments of Delta!
Singapore Airlines – Bollinger Special Cuvee (NV)
One of my all-time favorite champagnes.  Bollinger really packs a punch with bold candied green apple flavors that make you wonder how you're enjoying a non-vintage bottle of champagne that costs less than half of comparable champagnes.  It goes perfectly with food of all sorts (just not red meat).  Singapore doesn't always serve it in Business, so count your lucky stars when they do.
Virgin Atlantic – Lanson Gold Label Brut (NV)
The non-vintage sibling of the champagne served on Virgin Australia.  This is an excellent champagne, one that I could drink bottles of.  And one that Ben has imbibed bottles of.
Cathay Pacific – Billecart-Salmon Brut (NV)
There's no better rose than Billecart-Salmon's.  Don't get too excited, though, because Cathay doesn't serve the rose.  Nevertheless, Billecart's non-vintage brut champagne is one of the best in its class, and is the perfect compliment to almost anything short of red meat.
BEST FIRST AND BUSINESS CLASS LOUNGE CHAMPAGNE OFFERINGS
British Airways (Concorde Room)
BA deserves some respect for serving Laurent-Perrier Grand Siecle both in the Concorde Room and onboard.  It is uncommon to see such good champagne offered in a lounge.  Again, it is perfect that Grand Siècle is great on its own, because the food in the Concorde Room is…
Lufthansa (Senator Lounge)
Lufthansa also deserves a great deal of respect for serving Heidsieck Monopole "Blue Top" champagne in Senator Lounges. This is an excellent non-vintage champagne that I must say went well with the food offerings in the IAD Senator Lounge when I was there for an extended period during the first of the dreaded East coast snowstorms this year.  If you're going to be stranded, there's not much better than a cold glass of champagne while waiting to connect on a domestic United flight.  To be sure, I could drink Veuve Clicquot in the United Club, but it is inferior to Heidsieck Monopole in my opinion, and costs $14 a glass there.  Without even taking into account the difference in atmosphere, I'll pass.
Virgin Atlantic (Clubhouse)
Ben adores the Clubhouse.  Why wouldn't he?  They serve Lanson Gold Label Brut!  That's right, the same champagne served on board in Upper Class.  No need to hold off on champagne consumption pre-flight.  Drink a few bottles before boarding—you'll sleep much better.
---
I think that more than answers the question of which airlines serve the best champagne!
What about you? Which of these have you enjoyed, and do you have any other favorites?