OK, it's about time I get started on this report, before I forget all the details. Sadly it's 5AM and for some reason I couldn't sleep last night (must have something to do with jetlag, although I usually don't have much trouble with timezones). Regardless, it presents a good opportunity for me to get an early start on the day. I'll be breaking up the trip report into separate sections for each of the travel sectors and each of the hotels to keep them somewhat short and easy to read.
Enjoy!
Sadly my morning started way too early at the hour at 4:30AM, and sadly I didn't get to bed before 3AM the night before, which made for a short night. I packed my bags, showered, checked my flight status, etc. By around 6AM I was at the airport. I went straight for the security line, which was about 20 minutes long, and made it to the gate right around the time boarding started. I texted AJ to make sure he actually woke up, and fortunately he did.
As I got aboard I heard the agent announce that they were oversold and looking for volunteers, but I overcame my impulse and proudly marched by her without so much as "I'll do it, please pick me, please!"
UA1575, TPA-ORD, 0700-0850
As soon as I got aboard I could tell it was a great crew. There was an unaccompanied minor in the seat behind me, and one of the FA's was incredibly cheery talking to this kid and playing games with him. She kept quizzing him on what her name was and other stuff, and I couldn't help but smirk for a good ten minutes. The flight attendant kept looking over at me and laughing about the fact that I was smiking, and said "I've had waaaaaaaay too much coffee this morning," to which I couldn't help but respond "really? I would have never guessed…"
I then heard her say to the kid "usually we'd have a safety video coming up, but our audio and video system is broken today so it's going to be a manual presentation. Since I knew that meant a skykit, score one…
The rest of the flight was pretty uneventful. The FA brought a skykit to everyone in my row (what lucky seatmates I had!), and I talked to her for a good portion of the flight. The flight felt like a transpacific flight on an MD80, because without audio or video, there was really very little to do.
We got into ORD on-time, and I met up with AJ, who was arriving from BWI, in the gate area.
We headed to the incomparable RCC for a few minutes and then got a call from one of the FlyerTalk FA's who was at ORD that morning. We met up with her at the Starbucks and talked for about half an hour. We'll leave out who exactly it was, but it's one of the few resident FA's I hadn't met before, and she was hilarious.
We then went to the gate of the ANA flight (C10) to get our BP's, and then headed to the C16 RCC. Upon entering I was proactively offered drink chits, while AJ was asked if he was 21, which I found pretty funny, both because he's older than me and because he's a Global Services. He ended up jokingly arguing with the agent for a few minutes.
At around 10:30AM boarding began, and we headed to the gate.
ORD-NRT, NH11, 1050-1345+1
We were seated in 5AC, and upon entering the FA's brought us to our seats (tough job on their part, had to walk a whole three feet!). As usual they were extremely friendly, and they brought around all of the amenities, including newspapers, magazines, slippers, menus, etc. For "security reasons" ANA doesn't do pre-departure beverages and they also don't allow the use of electronic devices on the ground, so the boarding process is somewhat boring.
Before we knew it the door was closed and not surprisingly there was just one passenger in first class, and business was maybe half full. As we began our taxi three ramp workers were standing by our side of the plane and waving as we taxied past. It was pretty funny, since one of the guys clearly didn't understand the culture involved here, and looked both confused and had a strange wave, basically wondering why they were waving for the better part of three minutes as we started out engines and taxied. We had a quick taxi for departure, and were airborne in no time. One of the things I love about NH is that they have a nose cam, which can be pretty awesome to watch.
As soon as the seatbelt sign was turned off the curtains were closed and a sign was placed on the F curtain saying that it was actually F in front of us (shocker).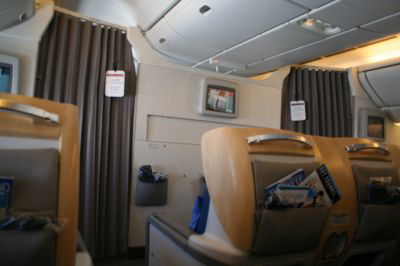 Cabin view from row five
Within a few minutes champagne and green tea were offered, along with towels. I remember having the green tea last time I flew ANA, and I find it disgusting. Still, I chose to take it again because I love the color, and it was once again undrinkable by my taste, but still worth it just for looking at.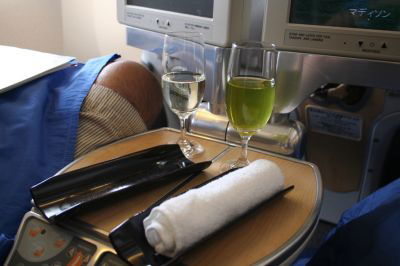 Drinks and towels
Shortly thereafter the cool little appetizer tray was served, along with drinks. I love the look of the little plate, and the contents are usually pretty decent too.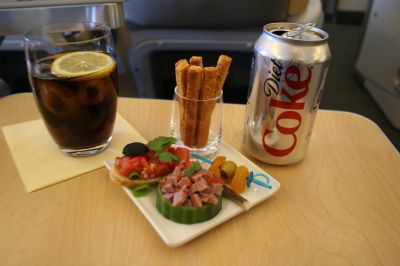 Appetizer plate
The meal service then began, with tablecloths being distributed first. The menu read as follows:
YOUR FIRST MEAL

Kaiseki course

Savor the refinement of classical Japanese cuisine. Our master chef selects nature's finest, freshest ingredients to create a menu that evokes the essence of the season. A choice of hand-crafted sake perfectly complements this special dining experience.

Zensai
Prawn roulade
Baked golden brown squid
Simmered whelk shell
Smoked duck breast
Sweet corn terrine

Kobachi
Braised eggplant in light soy sauce
Assortment of simmered seasonal vegetables.

Shusai
Sake-steamed sablefish with special sea urchin egg broth

Sunomono
Snow crabmeat and lightly vinegared mozuku seaweed with a hint of ginger

Steamed rice

Miso soup and assorted pickles

Dessert
ANA's original tropical parfait
Fresh seasonal fruit
Cheese

International course

Savor the refined taste of European dishes using nature's finest and freshest ingredients. To accompany your main course and dessert selection, we invite you to choose from our sommelier's collection of premier wines.

Salmon paupiette and fresh figs with mango sauce and fresh garden salad.

Pan-fried beef tenderloin with herb crust and tarragon sauce
Pan-roasted cod with creamy mushroom sauce
Portabella mushroom cannelloni marinara

Two kinds of bread with a choice of lsingy butter of extra-virgin olive oil

ANA's original tropical parfait
Fresh seasonal fruit
Cheese

LIGHT DISHES

Snack Menu

We invite you to choose from our light dishes, to be served whenever you wish. Please also feel free to help yourself to an assortment of snacks from our self-service counter at any time.

Bowl of hot Japanese udon noodles
ANA's original ramen (cup of instant Chinese Lamian noodles)
Petit bowl of fried tofu with vegetable broth
Japanese-style creamy rice porridge
Toasted pork cutlet sandwich
Chicken breast and tuna mayonnaise light sandwich
Cup of hot consommé soup
Premium ice cream

BEFORE YOU ARRIVE

Petite Japanese Course

Chilled buckwheat soba noodles with smooth yam and seaweed

Inari-zushi filled with minced shrimp

Fresh seasonal fruit

Petite International course

Curried scallop and chicken fricassee with vegetables

Bread roll

Fresh seasonal fruit
We both went with the international selection. The first course was very good actually, and I'm not a fan of salmon.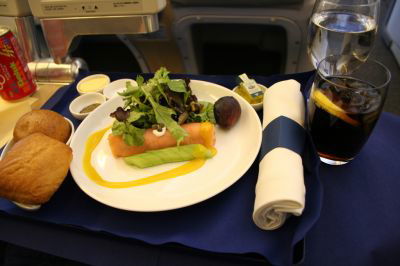 Salmon paupiette
AJ and I both went with the beef as the main course, and this was disappointing. Either it wasn't cooked well or totally fat, because I would have needed a butcher knife to pray on this slab of meat. Basically inedible, but ultimately I was fine with that since my goal when flying is to not die of eating too much, which can be a challenge at times in premium cabins.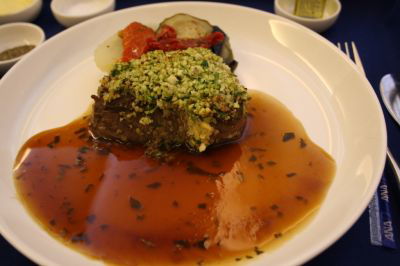 Beef tenderloin
The dessert, as usual, was excellent. Pure deliciousness!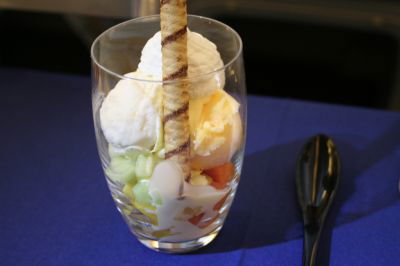 Dessert, yum!
The meal service was done at the perfect pace, and the service was attentive. Overall the meal was quite disappointing, mainly because of the main course. Also, while the FA's were attentive, they didn't "wow" me as much as they did on my last NH longhau flight.
Another disappointing aspect of the flight was the entertainment. While NH's selection is limited compared to other airlines, I've generally found enough good movies to stay entertained. This time, not so much, sadly. I sat in boredom for a pretty good portion of the flight, which is rare.
After the meal service AJ took a nap (a really long nap), so I tried to entertain myself best I could. I walked around the cabin a bit, which was quite empty. On the 777-300 business class is massive, with three separate cabins. Between the center and rear business cabin they have a pretty cool "bar" area with drinks, snacks, amenities, magazines, etc. Pretty nice feature.
About five hours after the main meal FA's came around to see if anyone wanted a snack. I went with ramen noodles, which were quite good. I also took a Perrier.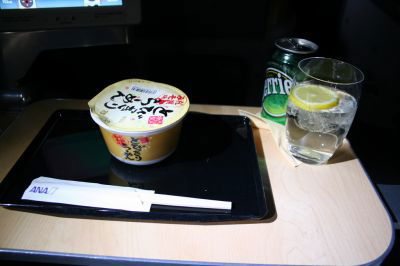 Ramen noodles
As I was placing the tray table back into the side of the seat I somehow managed to cut my finger, and it was bleeding a bit. I went to the restroom and got a tissue, and as I was walking out there was a look of horror on the face of the FA, as if I were bleeding to death. She asked if I was ok, and I said I was fine, just got a little cut. She basically ran for the emergency kit (which was only a few feet away), fumbled through it as if it were a life-death scenario, and took out a few band-aids. Instead of just giving it to me she actually put it on for me, and gave me some extras for later. I was surprised she didn't give it a "get better"" kiss too. Very nice, caring service!
A bit later in the flight when AJ woke up we both went for a round of ice cream. It was delivered promptly and was tasty, although there's not much that can be done wrong with packaged ice cream.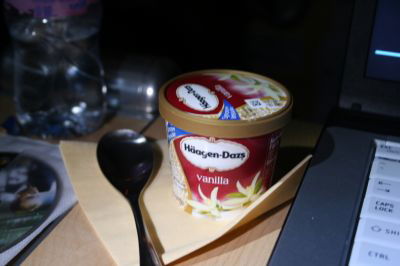 Ice cream
As I was about to put my tray table back into the seat the same FA that acted as a nurse to me ran over and put the tray table away from me, which made me crack up.
About an hour before arrival into NRT the FA's came around with the pre-arrival meal, and we both went with the western option (again). It was pretty good, although it's somewhat disappointing that they have only one western option pre-arrival.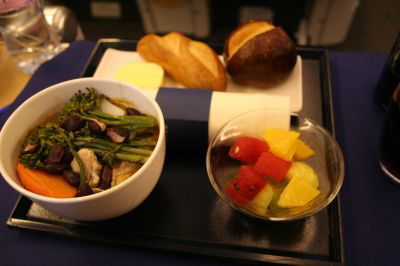 Pre-arrival meal
We got into NRT on-time, and overall the flight was a bit disappointing, at least compared to my last longhaul NH flight from IAD which was top notch. The service was good (although not as stellar as on my last flight), the food wasn't very good (at least the main course), and the entertainment was lacking somewhat.
While I would definitely fly them again, I would choose SQ over them from now on, at least in business.
At NRT:
Since we were only connecting we tried to find the security line for international transit, but sadly the line was closed. We just kept walking and eventually found a line at the other end of the concourse which was open. We recleared security and went to the transit desk to get our onward boarding passes, but the line was way too long.
We then decided to go to the NH lounge, but of course it took them a good ten minutes to let us in because we didn't have boarding passes (yet). Eventually they let us in, after explaining to them that we'd go when the line gets shorter. We headed to the shower rooms to freshen up, and then hung out in the lounge for a while using the Wi-Fi.
After a couple of hours we went to the transit desk to get our boarding passes. The transit desks at NRT drive me absolutely bonkers. There was one person in front of me in line, and I had to wait for half an hour!!! If this place isn't the definition of inefficiency, I have no clue what is. Of course they're beyond friendly, but it's still very hard to be patient when all you want is a boarding pass to be printed, which takes all of 15 seconds.
We then walked through the terminal for a while, eventually terminating our adventure at the RCC. We spent the remainder of our layover there. I was pleased to log onto priorityclub.com and see that our room at the InterContinental Grand Stanford had been upgraded to a club deluxe harbor view, something which was pretty surprising since this hotel is notoriously stingy when it comes to Royal Ambassador upgrades.
We headed to the gate for our connection about 45 minutes before departure and made it there right as boarding began.
NRT-HKG, NH911, 1845-2225
We settled into our seats, 3AB, and were almost immediately offered magazines, newspapers, etc. The menus were also distributed within a few minutes. By the time the door closed basically every seat was taken, and the fun cartoon began displaying on the video screens. It seems like they only do this intra-Asia, but it's basically a manners video about how to act on an airplane. Pretty funny stuff…
We began our extremely long taxi, and were eventually airborne. The seatbelt sign went off within a few minutes, and the captain came on the PA as we reached our cruising altitude. This had to be the highlight of the flight. This captain had a thick, southern US accent, and had the most pilot-like voice out there. I knew other airlines in Asia had US pilots, but I didn't realize even NH (or in this case their subsidiary) did. I would have loved to talk to this guy and get his story, as he seemed like quite the personality on the PA. I was about ready for him to announce that Channel 9 would be on, based on the way he made his announcements.
Shortly thereafter the beverage service began, and I took some sake and sparkling water. The little snack basket was also served, which has to be one of my favorite parts about NH. I wasn't really hungry so didn't have the meal and instead just lounged around for a few hours.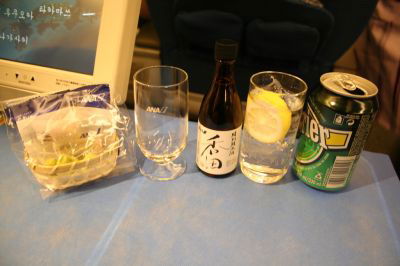 Snack basket and drinks
For those interested, the menu read as follows:
MENU

Flavors of Japan course

In classic Japanese style, fresh seasonal ingredients are prepared to reveal their essence and color. For your summer dining pleasure we offer octopus, which reaches its peak flavor at this time. Enjoy the fresh and sweet, subtle yet bold taste of this delicacy from the summer ocean.

Zensai and kobachi

Octopus and kelp-cured salmon sashimi

Simmered Japanese char and beef galantine

Lightly vinegared mozuku seaweed

Shusai

Stir-fried beef with sansho-peppered soy sauce

Steamed rice

Miso soup

Premium ice cream

International course

Peak-of-season ingredients, exciting taste combinations from around the world, and a light, elegant touch add up to a sophisticated style of dining. To accompany your course, we invite you to choose from our sommelier's collection of premium wines.

Appetizer

Marinated shrimp in vinaigrette

Rosette of marinated salmon

Main course

Pan-fried beef tenderloin with jumbo mushroom

Fresh garden salad

Bread roll

Premium ice cream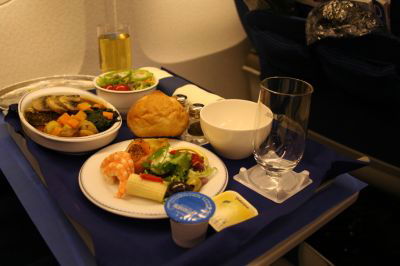 Western meal
We arrived in HKG right on time, and made the long trek to immigration. The line was about 20 minutes long, which is about average for HKG in my experience. We bought tickets for the Airport Express to Kowloon, headed to the station, and within a few minutes the train left. We got to Kowloon shortly before 11PM, just in time to catch the last bus to the Grand Stanford, which got us to the door of the GS right around 11:20PM.
Hong Kong at last!
More to come…