---
Upon arrival at ORD I headed straight to the Swiss check-in counter, which was rather empty. There was no one in the first class line, so I was immediately helped. Within less than a minute I was handed boarding passes for my flight to Zurich and my connection to London. I was also handed a lounge invitation to the Swiss lounge, as well as a letter from the station manager in a "Swiss" envelope.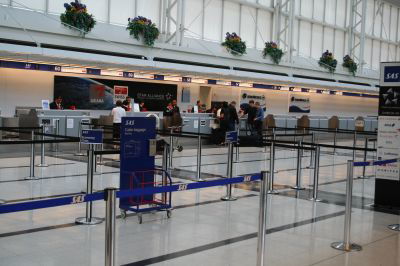 Swiss check-in at ORD
I informed them that my brother wouldn't be making the flight, as he was rerouted, and they confirmed that he was offloaded. As I was about to leave the counter the agent said to me "Well, that makes two misconnects, you'll be the only first class passenger today, Mr. Lucky." I was cautiously excited since I wasn't really sure whether this was a good thing or a bad thing. On one hand it sounds like a hell of an experience, but won't it be awkward to have one (or two) personal flight attendants? Hell, won't it be downright freaky?
I headed towards security, where the line was rather long. I asked one of the TSA agents whether there was a premium security line, and she pointed me over to the crew and handicapped line. I headed over there, and the agent said she was making a "one time exception" by letting me use it. Eh, ok.
Nonetheless the line was rather long, filled with foreigners that didn't realize they had to take off their shoes, coats, and jewelry, and take liquids and laptops out of their bags for that matter. Eventually I made it through the security line, where the Swiss lounge was immediately located.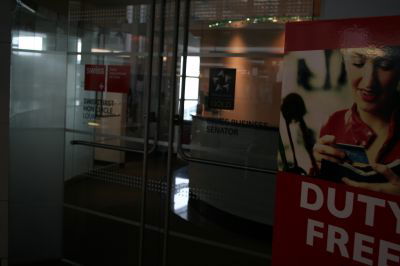 Entrance to the Swiss lounge
I headed into the lounge, and the agent immediately smirked. I'm guessing it's because of my age. Without looking down to verify information she says "oh, so you're our first class passenger for today." Again without looking at any info sheet, she tells me what year my brother and I were born in, and asks whether I am the older or younger one. I say I'm the younger one, and she laughs, almost uncontrollably so. She tells me to enjoy the first class lounge and tells me I'll be escorted to the gate when they're ready to board. As I walk towards the first class side of the lounge I hear her on the phone talking in German about my brother and me, but I was gone before I could hear too many details.
The first class lounge was truly underwhelming. Hell, I would take a Red Carpet Club over this lounge (you heard me right). It was literally a tiny room with about a dozen chairs all bunched together. There was one bag standing there when I arrived, but no one else. I snapped a few quick pictures: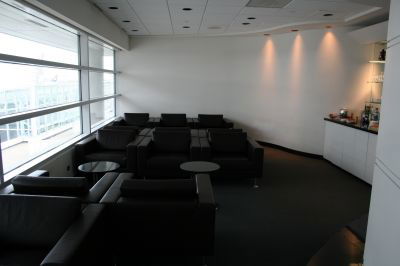 TINY lounge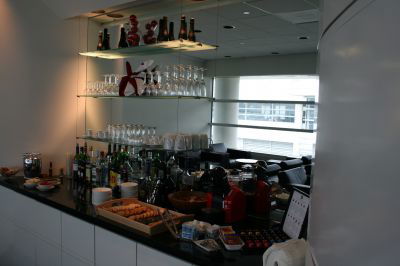 Snack and drink selection
The snack selection was pathetic, consisting of nothing more than cookies. Seriously? Anyway, I was fine with that since I was saving my appetite for the flight. They did add some sandwiches and fruit to the mix closer to departure. What annoyed me, however, was the proximity of the lounge to the TSA checkpoint. I constantly heard that annoying metal detector noise and the sound of bins being placed on the belt.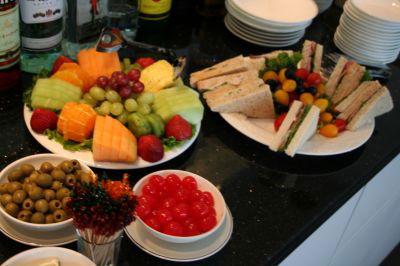 Snacks added closer to departure
I checked my email, and was surprised to see two more people enter the first class lounge by around 5:30PM. Did two people somehow upgrade at check-in, or were these more HONs? I believe they were Scandinavian, and they really liked the sandwiches being served based on their consumption. Another 15 minutes later another person entered the first class lounge. With five people in the lounge it really felt a bit claustrophobic, and more like a gate area than anything else. I was also getting worried that at least one of the passengers was going to be seated in my first class cabin. 😉
I finally opened up the letter I received at check-in, and it read as follows:
Dear Mr. Lucky
Willkommen, Bienvenue, Benvenuto, Welcome!

On behalf of the ground staff here in Chicago I would like to welcome you on board our Swiss Airbus A330 flight today to Zurich.

The approximate flying time for your flight is 8 hours and 10 minutes.

Your pilot-in-command on this flight is ______ and your maitre de cabine is ________. Please note that the boarding for First Class is at 18:45. One of my colleagues will announce boarding from the SWISS lounge and guide you to the gate.

On behalf of the ORD Team, we thank you for flying with SWISS.

Gute Reise, bon voyage, buon volo, have a good flight!

_________
Swiss Station Manager
O'Hare International Airport
Classy!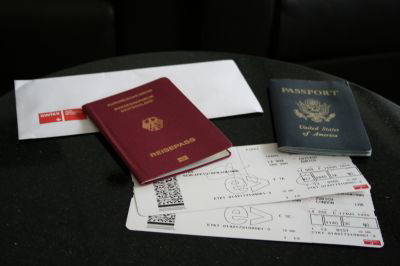 Letter from station manager, my passports, and boarding passes
The lounge was so crappy that I decided to walk around the terminal instead, and terminal 5 at ORD isn't exactly nice. As I was walking around I saw the Swiss plane I'd be flying to Zurich being pulled into the gate.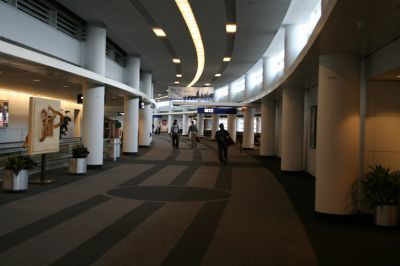 Terminal 5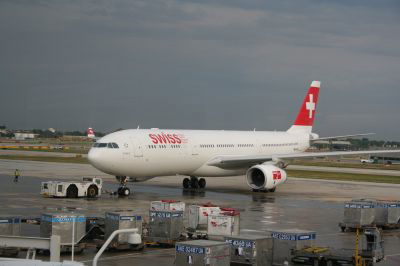 A330-300 arriving at the gate
Eventually I stumbled upon the SAS lounge, so I decided to take a look just for fun. I had left my stuff in the Swiss lounge, so I wasn't planning on staying very long. At the entrance the agent reminded me that Swiss has their own lounge, but I mentioned that I just wanted to check out the lounge, which she was fine with.
The lounge was quite nice, decorated similar to basically every SAS lounge I've been to. Most importantly, though, it wasn't crowded at all. It was much nicer than the Swiss first class lounge in virtually every way.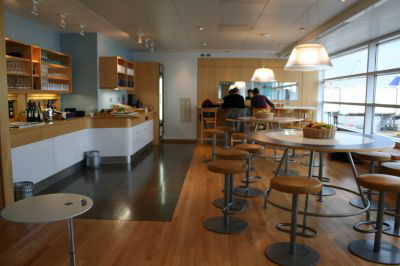 SAS lounge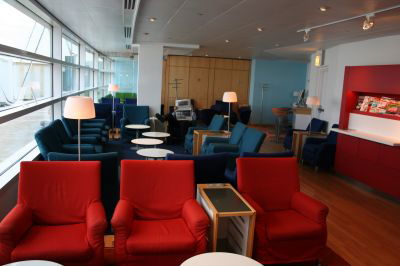 SAS lounge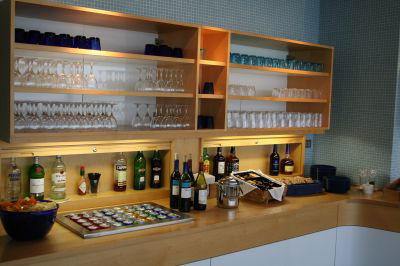 SAS lounge
I was back in the Swiss lounge by around 6:30PM, and within 15 minutes boarding was announced. When the escort came to bring us to the plane, I was ready to go, while the others weren't. The escort suggested she take me, while the others would be taken by another agent. Fine by me!
As we walked to the gate the agent explained to me that the flight was a bit late because the crew's bus had a flat tire on the way to the airport and they had to get a new bus. Ouch! As we approached the gate, she ripped my boarding pass for me and left me at the front of the jetway. That wasn't very useful, since the jetway was backed up all the way, so I still had to wait for about five minutes. Of course that wasn't an issue, since I was happy to stretch my legs before the flight.
Swiss 0009, ORD-ZRH, 333
Sunday, August 16
Depart: 7:15PM
Arrive: 11:00AM (+1)
Duration: 8hr45min
Seat: 1K (First Class)
Boarding was about half done by the time I got aboard. I reached my seat, 1K (how appropriate), and indeed found myself in an empty first class cabin, although I wasn't convinced it would stay that way. Within seconds of getting to my seat a flight attendant came by to introduce himself and offered me a drink. I was thirsty so just asked for some water, which he immediately served me.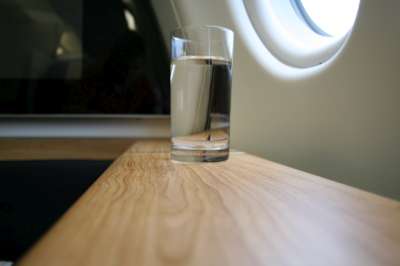 Water
Service was almost nonstop. He then brought me canapés. I had no clue what they consisted of, but they were tasteful. That was quickly followed by pajamas, slippers, headphones, an amenity kit, and the menu. I made a couple of last minute phone calls, at which point I heard the magic announcement: "cabin crew, boarding complete." Holy cow, I actually had first class to myself!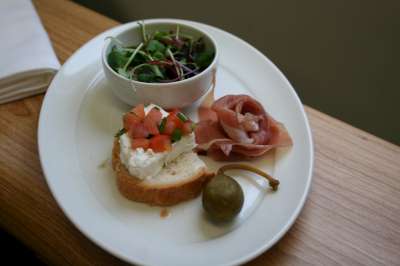 Canapés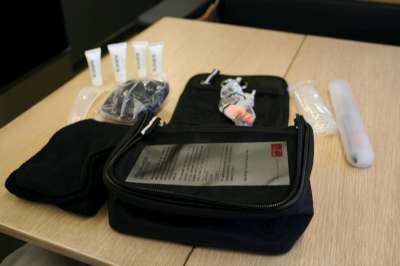 Bally amenity kit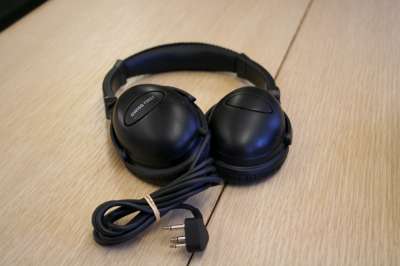 Excellent noise canceling headphones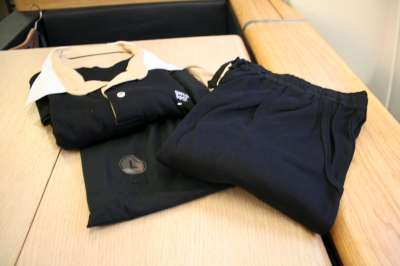 Great PJ's, proudly displaying "SWISS FIRST"
At this point the captain came out and introduced himself to me, followed by the maitre de cabine. I have to say, at first it was beyond awkward to have the cabin to myself. There was no way for the flight attendants to be discreet and check on a refill without blatantly walking up to me.
"My" flight attendant, who was a mix between Ryan Seacrest and Bruno (if they aren't in fact the same person), couldn't have been any better, though. As the door closed we both laughed about the empty cabin, and he mentioned he had never seen this before. I told him I'd try not to be too demanding, and he mentioned he'd do his best to take care of me, and that the other first class flight attendant would work in business class instead. I was actually happy about that, since it made the whole situation a little bit less weird.
I then brought up the fact that they had a flat tire on the way to the airport, and couldn't help but say "the last time I had a flat tire on the way to the airport they didn't wait for me."
Before I knew it we pushed back and the safety video began. We had a pretty quick taxi, and right as we were about to line up on the runway the captain introduced himself over the PA, told us the flight time would be 8hr20min, and said we would be taking off within three minutes.
After a long and weak takeoff we were airborne and on our way to Zurich. While the first few minutes were pretty rough, the seatbelt sign was off fast enough. The flight attendants immediately closed the curtains between the galley and first class and between first class and business class. Moments later the first officer added his welcome aboard, and I was surprised to hear that he was Australian. I later talked to the flight attendant about this, and apparently he's an ex-Qantas pilot. Wonder what happened there…. 😉
I then headed to the lavatory to change into pajamas. The door was closed, oddly enough, so I was expecting "my" flight attendant to just flip the switch. He told me there was actually a key he needed for it, but said I could change behind the curtain in the galley if I wanted to. While it was a nice offer, I passed, and said I'd wait.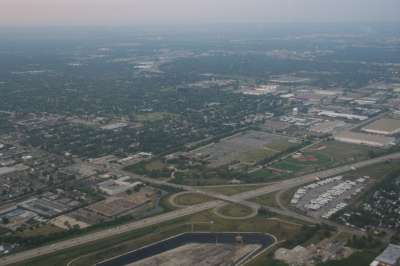 After takeoff
Moments later the lav was open and I was able to change. As soon as I was out I couldn't help but smile at the fact that I had the cabin all to myself. The new Swiss first class product really is top notch. It's sleek, elegant, and the seats are well designed. With only eight seats it seemed private regardless of how many passengers there were (although in this case it was truly private).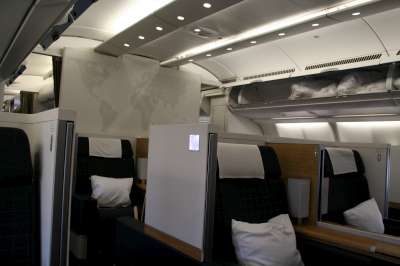 View from my seat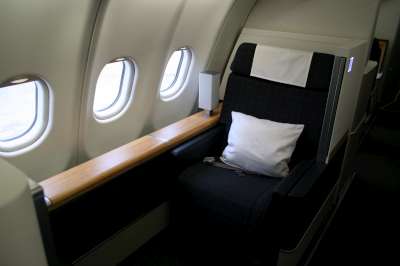 Suite 2K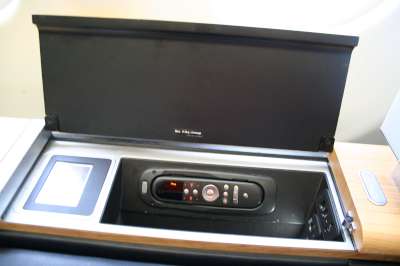 Entertainment control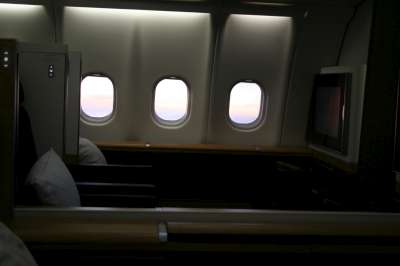 View from my seat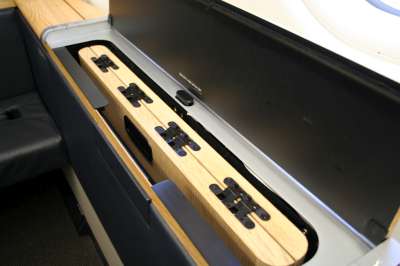 Massive tray table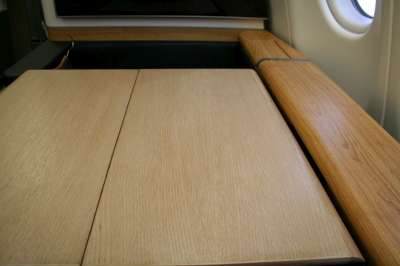 Table
As I got back to my seat "my" flight attendant asked me how I wanted the cabin lighting and whether I wanted all the windows open or closed. Hah, that was a first! I said I'd prefer them to stay open for the time being due to the beautiful sunset, but afterwards they could be closed.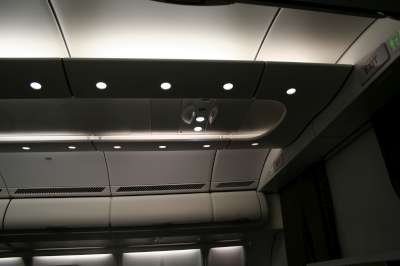 Cabin lighting
I also explained to him upfront that I'd be taking pictures of every course, which he was totally fine with, and made the whole experience a bit more pleasant. It seems like the most awkward part of having the cabin to oneself would be picture taking, but I could mark that off the list.
I reviewed the menu choices and had a hard time choosing between the options.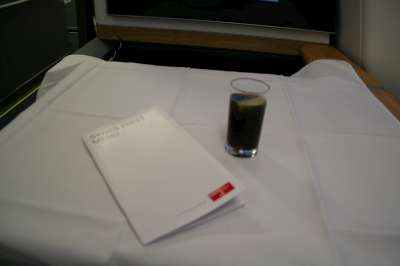 Dinner menu and Diet Coke
The dinner menu read as follows:
DINNER
CHICAGO-ZURICH

GOURMET MENU

First Course
Smoked salmon fillet
Seafood, meat and vegetarian platter

Main Courses
Sautéed filled of beef with Café de Paris butter, mashed potatoes, green asparagus tips and carrot
—
Seared pheasant breast with tarragon jus, sautéed Savoy cabbage and corn and risotto cake
—
Wild mushroom ravioli with Chablis buerre blank and wilted spinach
—
Special of the day
—
Choice of vegetables

Cheese
Cheese selection

Dessert
White and dark chocolate mousse timbale with marinated strawberries
—
Sprüngli chocolates and pralines
Espresso and a selection of coffees and teas

SUPPLEMENTARY CHOICES
Selection of soups, seasonal salads, cheese and fresh fruits
I've always thought that Swiss food is among the best in the sky, and this flight was no exception. The whole meal service was somewhat comical given that every course was served from a cart, yet I was the only one being served. "My" flight attendant really did a hell of a job, though, rolling out every course as if he were serving a full cabin. He kept my Diet Coke topped off throughout the whole dinner service as well.
His attention to detail was fantastic as well, which I really appreciated, from making sure the logos on the glassware were facing me, to precisely plating everything. The pace was also great. The tendency in a situation like this would be to rush, but he left a few minutes between every course and promptly cleared all plates without seeming over-attentive.
The appetizer, salad, and main course were delicious. When I started my main course he brought out a huge pan with vegetables, and I felt awful saying no, but it was just too much food.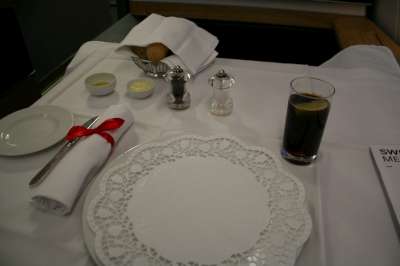 Plating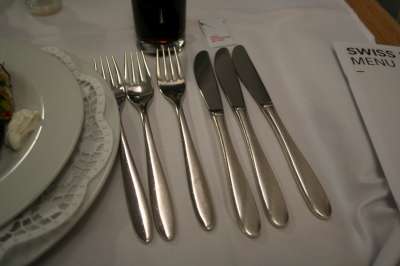 Plenty of silverware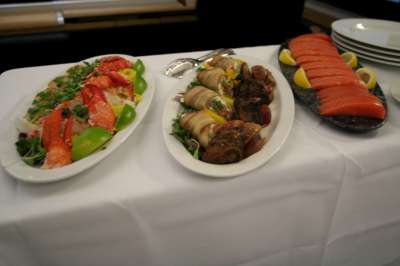 Appetizer cart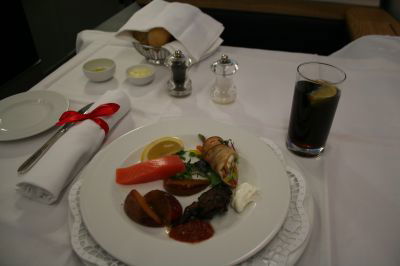 Delicious appetizer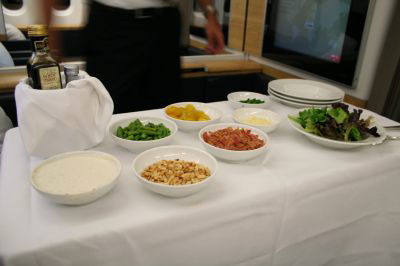 Salad cart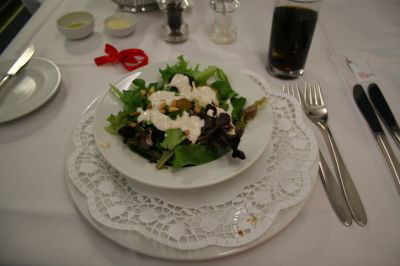 Salad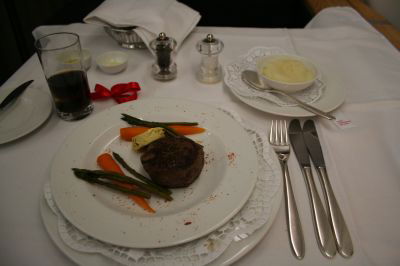 Fillet of beef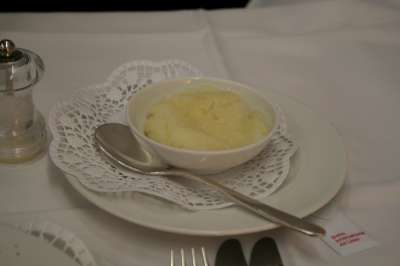 Mashed potatoes
After dinner came the cheese cart. I really didn't want any, but I would have felt too bad taking nothing since he went through all the work of setting up the cart for me. 😉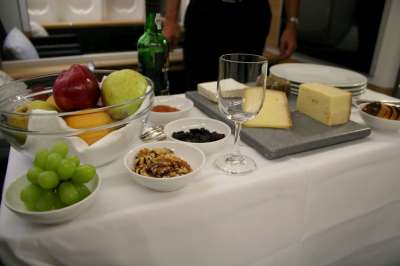 Cheese cart
I just took a bit of everything.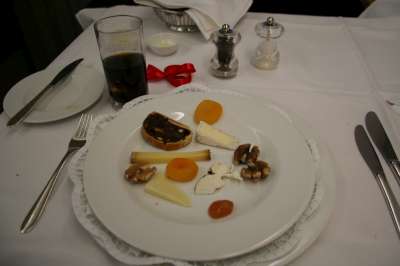 Cheese plate…. a bit more gourmet than what United serves
Finally came dessert, which was painfully good.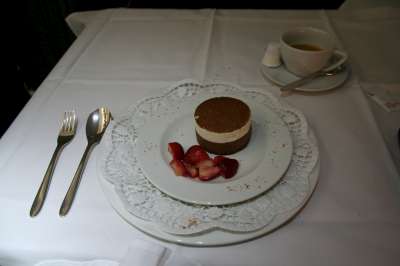 Chocolate mousse
I then asked for a bottle of water, which was delivered with a couple of chocolates. They were just too good to turn down.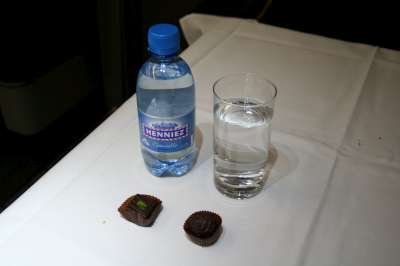 Water and chocolate
Overall it was one of the best meals I've had on a plane. The service couldn't have been better, the food quality was fantastic, and the variety was great. A+ all around. "My" flight attendant then asked if I wanted him to make my bed, and I said yes. While I wasn't quite ready to sleep, I always like "lounging" in a bed onboard a plane, instead of sitting up.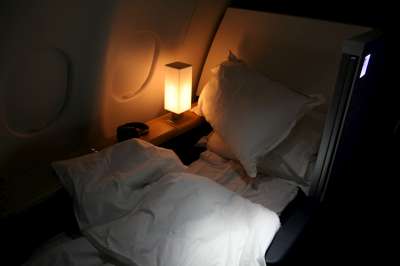 My bed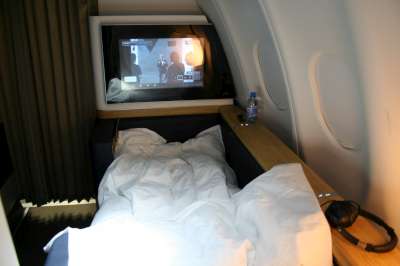 Comfy!
The seat also has a small wall which comes out to add more privacy.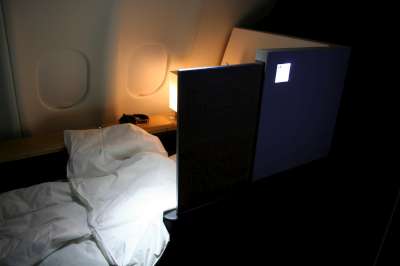 Nice and private
Now, just a couple of negatives. First, I found the padding of the seat in general to be just a bit too hard. Second, I thought the pillows were a bit too soft, although I realize that's personal preference. I asked for an extra pillow, and that was quickly solved.
My biggest complaint, however, was the lack of air nozzles. I've complained about this in the past. I simply don't understand why non-US airlines don't have personal air nozzles onboard. It was a bit too warm for me aboard. In retrospect I have no clue why I didn't ask them to change the temperature. I realize it's my fault, but it's more of a general complaint.
After dinner I decided to watch Lost in Translation, which I realize is an old movie, but I hadn't seen it before. Very cool movie, especially when traveling. It was pretty bumpy throughout the movie, and the seatbelt sign went on a few times.
After that there were about four hours left in the flight, so I decided to take a nap. I slept rather well, despite being warm, and woke up two hours later. Within moments of waking up I was approached by "my" flight attendant, and he asked me whether I wanted breakfast. I said I'd prefer to wait a bit, and he obliged. I did order a glass of orange juice, though. I decided to watch I Love You, Man, which was hilarious.
About 1.5 hours before landing I was served breakfast. The menu read as follows:
BEFORE LANDING

SWISS BREAKFAST

Assortment of breakfast breads, preserves and honey, fresh fruits, yoghurts, muesli and cereals
—
Egg dish
—
Coffee, tea and juices
I wasn't particularly hungry, so I just went with some fruit and a croissant.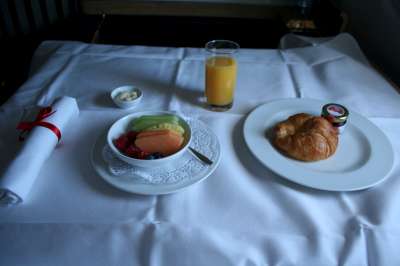 Breakfast
As I finished up the movie we began our descent, and about 20 minutes out the seatbelt sign was turned on. I always find it interesting that the US airlines generally take forever to turn off the seatbelt sign on the climb out, but don't turn on the seatbelt sign until well into the descent, while it seems to be the opposite for non-US airlines.
I changed out of my pajamas and restored my bags. At that point the maitre de cabine came by to bid farewell, and I thanked her for an incredible flight, and mentioned that I hoped the flights weren't usually this empty for Swiss' sake.
Nothing beats the approach into Zurich in terms of the incredible landscape.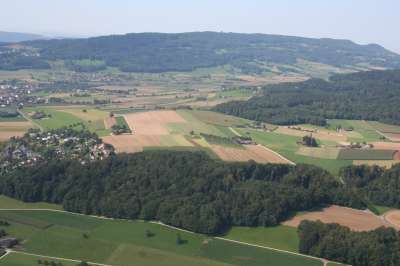 On final approach
After a smooth touchdown hardly any thrust was applied as we gradually slowed down and exited near the end of the runway. From there it was just a very short taxi and we arrived at the gate. I once again thanked "my" flight attendant for one hell of a job, and he mentioned he was heading to JFK next week, although on the Geneva flight (while I would be flying Zurich to JFK).
The captain was at the door to bid everyone farewell, and I was the first one off.
To be continued….