---
The first class check-in is nice and secluded at MUC, and also handles Swiss First Class. We first spoke to the agent in German, but as soon as he saw our US passports he started speaking to us in English. We continued to respond in German, and he continued to respond in English. Gah, that really pisses me off! Just cause I have a US passport doesn't mean I don't speak German. Well, whatever, because he turned out to be awesome.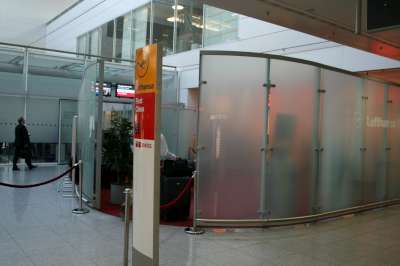 First Class check-in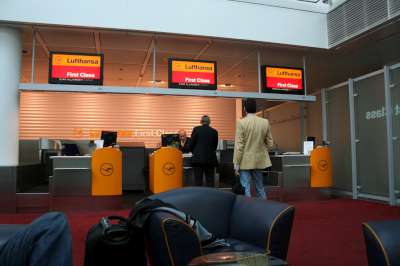 First Class check-in
After a few minutes he said "Hmmm, I only see one of you booked on these flights." Ah, then it all started to make sense to me. Remember how my brother was rebooked on Lufthansa on the way out? Well, I guess they didn't offload him or reticket him correctly, and as a result he showed as being a no show on the earlier Swiss flights. I explained this to the agent, and it made sense to both of us. I've gotta say, this is where I absolutely LOVE Germans. They don't come up with excuses, they don't say "not my problem," they simply solve the problem.
He got on the phone and while the supervisor seemed somewhat apathetic, our agent said "but it's not their fault, we need to take care of them." Once he got off the phone he started talking to us — "Ah, you've gotta love these assholes. All they want to do is get you out of their station, and not solve the actual issue." Ah, this is my kind of agent!
Anyway, he tried to peck away on the keyboard for about 10 minutes, but he still wasn't able to fix the issue, so he told us he'd be back shortly and was going to go to take care of the issue.
It was a long wait, but 30 minutes later he came back. At this point we had less than an hour to go till the flight, so I was a bit concerned. "I have bad news," he said. At this point I thought we were screwed. He said "here's your boarding pass to Zurich, but I'm still working on your Zurich to New York boarding pass. When you get to Zurich go to the first class lounge and the issue will be taken care of." And we trusted him. We thanked him profusely and were on our way to the First Class Lounge.
Security was quick and the lounge was located just past security. At the entrance we were welcomed, and the agents whispered amongst each other about whether or not we'd get a car service because we were flying Swiss. The consensus was yes, and we were told to be back downstairs at 9:10AM, which was 20 minutes before the departure of our flight.
The First Class Lounge in Munich is much like the First Class Lounges at Frankfurt in terms of design. They're fantastic, with nonstop service, all kinds of food options, and most importantly a relaxing atmosphere.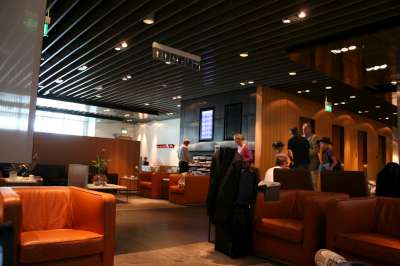 First Class Lounge
I wasn't hungry, but I had my "must have" snack, a soft pretzel.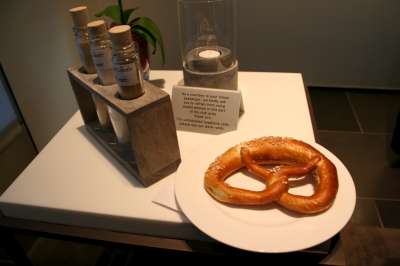 Mmmmmm….
Instead of decorating the table with flowers, they decorated them with Mozartkugeln. A few somehow found their way into my bag. 😉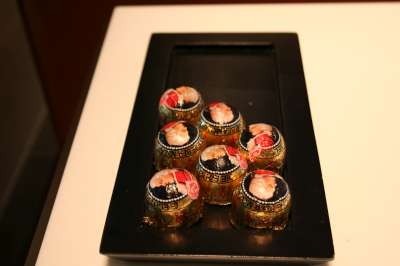 Mozartkugeln
In no time it was 9:10AM, and we went downstairs. Our boarding passes were glanced at and we were introduced to our driver, who would be taking us to the plane that would be flying us to Zurich.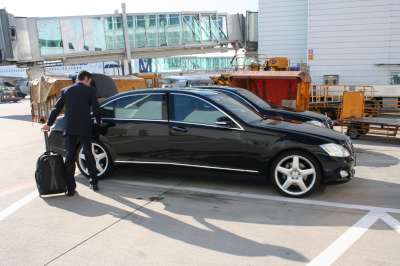 Not a bad way to drive!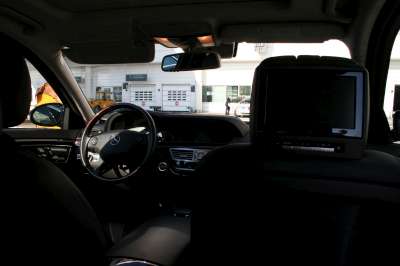 Again, not a bad way to get to your plane!
It's always awkward driving up to a waiting plane, since in theory you're supposed to arrive when the plane is fully loaded. I've seen it from the inside of a plane, and it looks quite interesting when a Mercedes drives up to the plane and an escort helps people aboard with their bags. Unfortunately we entered to find a totally empty plane, which meant a long wait.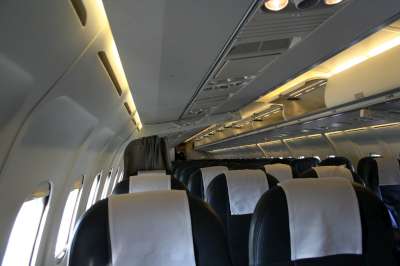 Empty cabin!
Swiss 1101, MUC-ZRH, AR1
Monday, August 24
Depart: 9:30AM
Arrive: 10:30AM
Duration: 1hr
Seat: 1D (Business Class)
The friendly purser welcomed us aboard, and we quickly realized that we were actually assigned an aisle and a middle seat. That's right, there's no seat blocking in business class on this place! So it was literally like coach. Nonetheless it was only a 30 minute flight, so we were going to survive.
We were quickly offered water and a towel, which we gladly accepted. Shortly thereafter boarding began, and almost all the seats filled up. We pushed back nearly on-time, and after a short taxi were airborne. Given that the flight time was only 30 minutes (and that's takeoff to touchdown, not "workable" time), I was curious to see what kind of service would be offered.
Well, not surprisingly it was impressive. Five minutes after takeoff the purser jumped into position and set up the cart. On this short flight everyone in business class was offered a beverage as well as a (very) continental breakfast, and just prior to landing we were all offered some chocolate. VERY impressive! Nonetheless I'll take a United domestic first class seat without any service any day, since the pitch and width of the seat were so limited.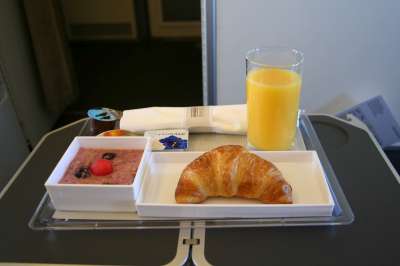 Breakfast
We landed on-time, and once again found ourselves at a remote gate.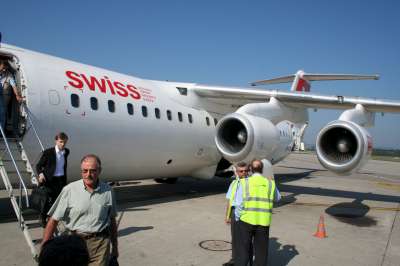 Airplane
Fortunately they didn't wait for all the passengers to deplane for the bus to leave. Instead they left as soon as most business class passengers were off, so the bus wasn't too crowded. We were dropped off at the terminal, where we proceeded to the first class lounge.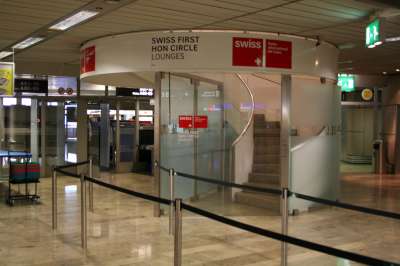 First Class Lounge
Upon entering the lounge we informed the agent of the problem with my brother's ticket, and they quickly looked at the record. They couldn't have been any friendlier, unlike the agent I encountered on the way out. See, the agent in Munich really did live up to his word!
We settled into the lounge and I was once again happy to have internet. The lounge has really improved since the last time I visited a first class lounge in Zurich. It was spacious, had great views, even had a dedicated dining area, and had comfortable seats.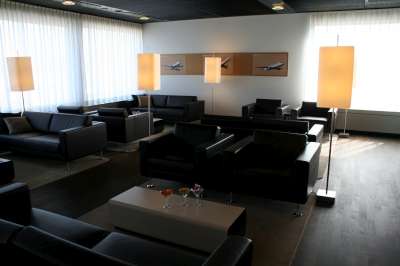 First Class Lounge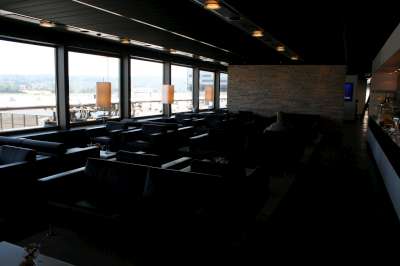 First Class Lounge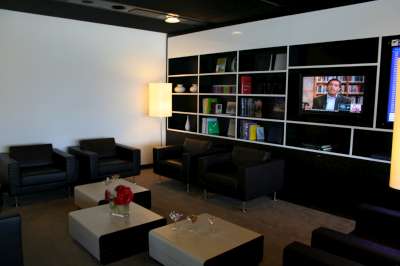 First Class Lounge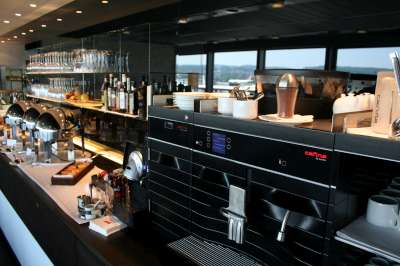 Coffee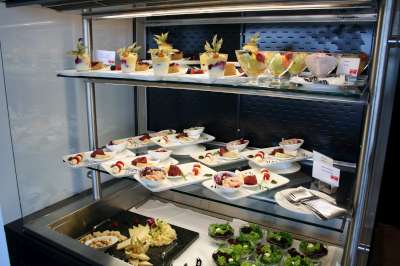 Snacks
I wasn't hungry, especially since I knew we'd be fed well on our Zurich to JFK flight, so I didn't eat. I did shower, though, and the shower rooms were easily the nicest I've ever seen. They even had Bulgari shampoo and shower gel!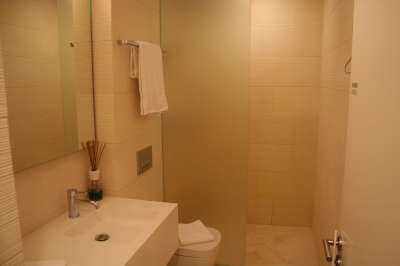 Shower room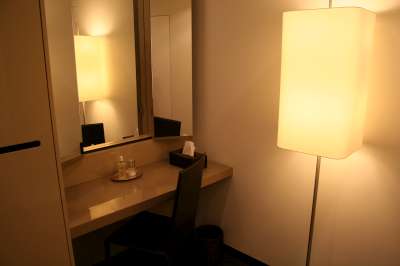 Vanity mirror in shower room
At around 12:10PM we were fetched and escorted towards our plane. Now, this is where the process gets ugly, and the men (First Class Terminal experience in Frankfurt) are separated from the boys (First Class Lounge experience in Zurich).
We weren't escorted straight to a plane. Instead we were escorted to an elevator, and then to a security checkpoint. There was a line at the checkpoint, although it wasn't too long. We were then escorted to the nearby van, where we got a ride, along with another passenger heading to Chicago. It's rather odd sitting face-to-face with a total stranger, thanks to the van configuration.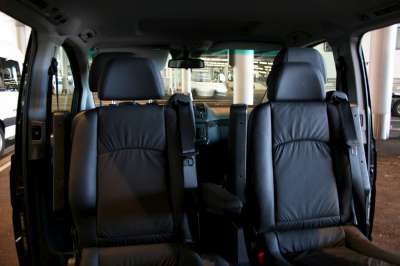 Van
No, we weren't escorted to the plane, but rather driven to an elevator which dropped us off…. in the concourse! That's where the escort dropped us all off and said our gate was just around the corner. Unfortunately we had to go through yet another security checkpoint, just for US flights. GMAFB!
This checkpoint was a bit more…. interesting. First of all, I once again made the metal detector go off. Yes, that meant I got the behind-the-curtain feeling up from some guy. What made this rather odd was that he was talking to me the whole time. I wasn't sure whether these were "profiling" questions to see whether I'm a threat or whether he was just trying to have small talk, but I wasn't in the US so I couldn't play the "am I legally required to answer this question" game.
Our conversation went something like this:
Him: "What language do you speak?"
Me: "English or German."
Him: "OK, then we'll speak German" (so the rest is translated)
Him: "So, where are you going today?"
Me: "New York."
Him: "Oh, do you live there?"
Me: "No, I live in Florida"
Him: "Cool, where in Florida?"
Me: "Eh, Tampa."
Him: "Oh, that's nice"
I still don't know whether he just wanted to talk or whether he was trying to profile me, because I've never been asked questions by one of those agents before. Whatever.
Then we got to the absolute zoo of a gate, but they called boarding, so we proceeded to the jetway entrance. There our boarding passes triggered a small alarm, and we were told we had to have our documents checked and our boarding passes stamped before getting aboard. Seriously? Couldn't they have taken care of this in the first class lounge?
The line at the passport check desk was rather long, and I observed that everyone with a European passport was asked whether they had a return e-ticket, and everyone with a US passport was told to fill out a form. I presented my German passport (which I realize I shouldn't have), and he said "how long are you staying?" I responded that I live there, so he requested my US passport. After arguing for a bit (and him threatening that I could be fined), he presented me with a form to fill out. This is that emergency contact form, which is OPTIONAL everywhere in the world that I've been to. I told him I didn't want to fill it out, but he insisted I must. I literally scribbled on the document and handed it back to him, as I really wanted to get aboard.
We then boarded and the world all of a sudden seemed so much nicer.
Swiss 14, ZRH-JFK, 333
Monday, August 24
Depart: 1:00PM
Arrive: 3:45PM
Duration: 8hr45min
Seat: 2D (First Class)
There were already three seats taken in first class. What the hell happened to empty premium cabins? Boooo! We were promptly welcomed aboard by the flight attendant and offered pre-departure drinks, newspapers, magazines, headphones, and an amenity kit, followed by pajamas.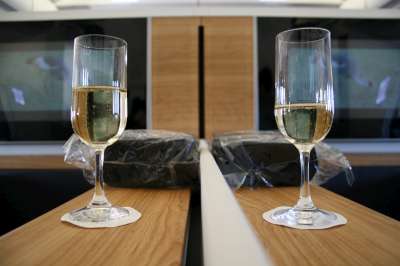 Pre-departure beverages
Shortly thereafter we were presented with the menus.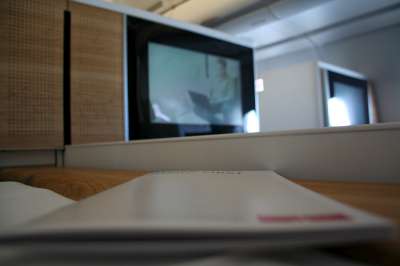 Menu
We pushed back on-time and started our rather long taxi to the runway. We were number four for takeoff, and I considered which movie I wanted to watch.
Once we were airborne the seatbelt sign was quickly turned off, and I immediately changed into pajamas, as I wanted to take a nap after lunch. The lunch service quickly began, starting with beverages.
The lunch menu read as follows:
LUNCH
SWITZERLAND – NORTH AMERICA

GOURMET MENU

First Courses
Selection of appetisers:
Pike-perch terrine
Scallops on polenta with an olive and plum tapenade
Mosaic of beef and garden vegetables
Lovage and cream cheese crepe roulad
—
Loch Fyne smoked salmon fillet
—
Tomato consommé with Alpine cheese grissini and basil ice cream

Salad
Selection from the salad trolley

Main Courses
Fillet of beef with summer morel ragoût, linguine pasta with red chilli julienne, baby carrot and green asparagus
—
Thai green chicken curry with basmati rice
—
Saffron pasta in a herb and mascarpone cream sauce with green asparagus and tomatoes
—
Special of the day
—
Choice of vegetables

Cheese
Selection of Swiss artisan cheese

Desserts
Chriesibragel — warm cherry compote with elderflower ice cream
—
Muota Valley fresh cream cake with kirsch schnapps
—
Sprüngli chocolates and pralines
Espresso and a selection of coffees and teas

HIGH TEA
A selection of fine teas accompanied by light, sweet and savoury favourites
The table was quickly set, at which point we were served a small plate of canapés. The purser also came around welcoming everyone aboard at this point.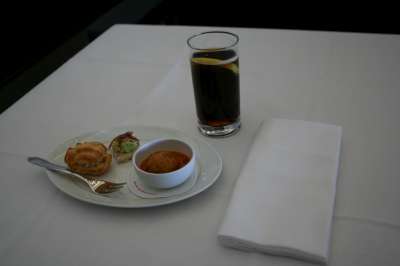 Canapés
I also decided on a movie at this point, and went with Ghosts of Girlfriends Past. It kept me entertained.
The next course consisted of the appetizers, which were similar to what I had on the outbound. Once again, they were delicious.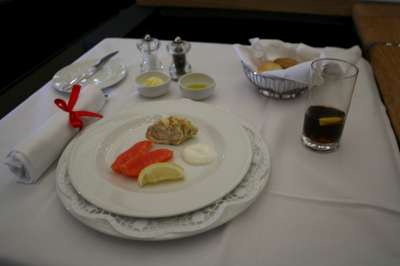 Appetizer
The service was extremely attentive, given that there were three flight attendants working in first class to serve five passengers (which seemed odd, given that it's usually two). Next came the salad cart, and I went with all the "toppings" except for bacon.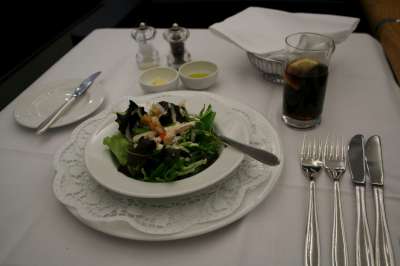 Bacon
After that the soup was served. I loved the presentation and the soup was exceedingly delicious, although I still can't figure out what the point of basil ice cream is. Am I supposed to have one spoon of basil ice cream and one spoon of soup? Am I supposed to put a bit of basil ice cream on my spoon and then put some soup on top to melt it? Am I supposed to put the ice cream inside the soup? I don't get it!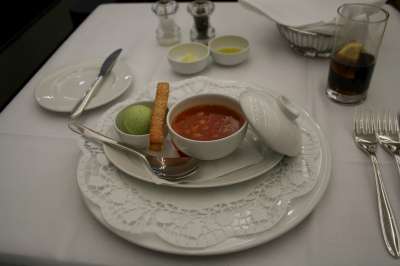 Soup
Since we had been traveling for more hours than I care to remember, I wasn't really all that hungry anymore. I wanted to nibble, but not really eat a whole lot. I always feel least guilty eating a vegetarian meal if I'm going to "waste it," so I went with the pasta option. And you know something, I've still never been disappointed in a pasta dish on a foreign airline.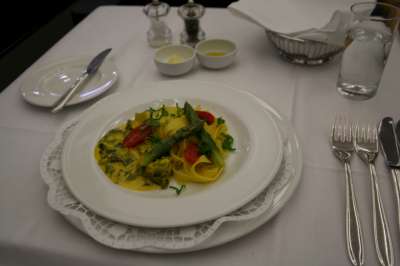 Pasta
I passed on the cheese, although my brother gladly accepted.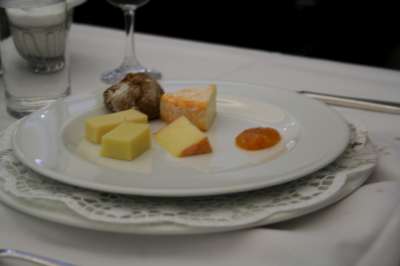 Cheese
I'm a sucker for dessert, and I went with the cream cake. Once again, it was amazing.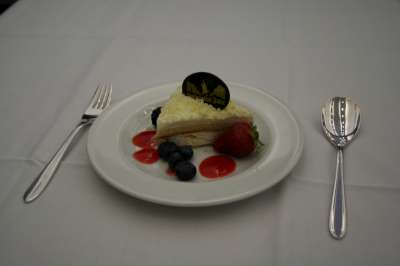 Dessert
My brother also had some coffee at this point.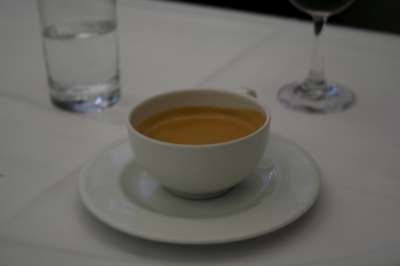 Coffee
My movie was just finishing up, and I was feeling rather tired, so I decided to take a nap. The flight attendant made my bed, which included a pillow, duvet, and blanket. I was expecting to nap for an hour or two, but was shocked to wake up and turn to the air show, which indicated that there were 39 minutes left to go till New York. Holy crap! I got a solid six hours of sleep, which I was happy about, given what a long day it had been and that my day wasn't quite over yet. That also meant I missed the pre-arrival snack, although that's fine.
I went to change out of my pajamas and stow all my stuff in preparation for landing. I was a bit disappointed, in all honesty, that I wasn't offered anything to eat or drink. I realize we only had a bit over half an hour, but serving "light, sweet and savoury favourites" close to arrival shouldn't be that tough in international first class. Don't get me wrong, the flight attendants probably followed the protocol, but there are always those that go the extra mile.
Hell, I remember once flying on United in first class from San Francisco to Incheon, and I slept almost the whole way. I woke up 25 minutes prior to arrival, and within seconds the flight attendant was by to ask me if I wanted to eat something. She served me the full pre-arrival meal, and kept telling me not to rush. They took the tray away from me just before the gear dropped in preparation for landing.
We began a steep descent, and landed at JFK in no time. We had a quick taxi, and parked at a gate next to two other Swiss planes.
Only door 2L was opened, which meant that most of business class was out by the time we got to the door. There were a few agents that had signs for HON members, but no one for first class (which I wasn't expecting, by the way). The agent indicated to the two HONs he was escorting that he really served no purpose, since he couldn't get them through immigration any faster. That made me feel a bit better. 😉
Security took forever since an Aer Lingus flight arrived just before us (the amount of green colored clothing the passengers were wearing gave it away), so the line was maybe 20 minutes. We were asked a few basic questions but then were on our way.
I bid my brother farewell after a fun week, given that he lives in New York and I was continuing to Tampa. I took the AirTrain over to the Delta terminal, while he took a cab home.