---
I made it to terminal one at JFK at around 1PM for my 3:55PM departure.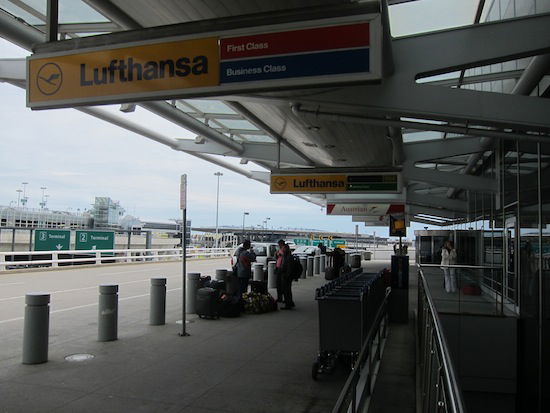 Terminal exterior
It has been years since I've flown Lufthansa out of JFK (I usually fly out of EWR), so I was a bit confused while trying to locate the first class check-in counter. Little did I realize it was just one small counter at the side of the aisle without any partitions, which threw me off given that Star Gold members can use first class check-in as well.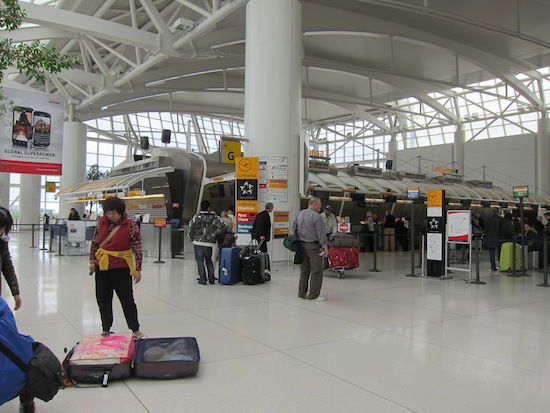 Lufthansa check-in
When I handed the agent my passport she confirmed I was heading to Singapore, and after typing for a minute said "does you have a Chinese visa?" Confused, I said "for Singapore?" She said "yes, you need a Chinese visa." Dumbfounded I stood there for a moment as she flipped through my passport before she said "oh good, you do have a Chinese visa." I just couldn't bring myself to actually say something.
Security queues weren't too long, and there was even a dedicated premium line. Fortunately they were using metal detectors and not full body scanners, so the line moved along faster than usual.
Once through security the Lufthansa lounge is located immediately on the left.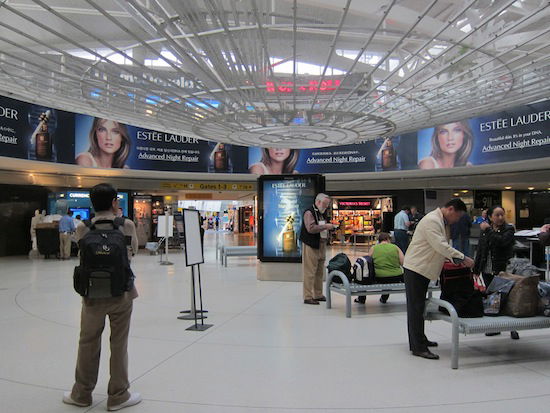 Airside at terminal one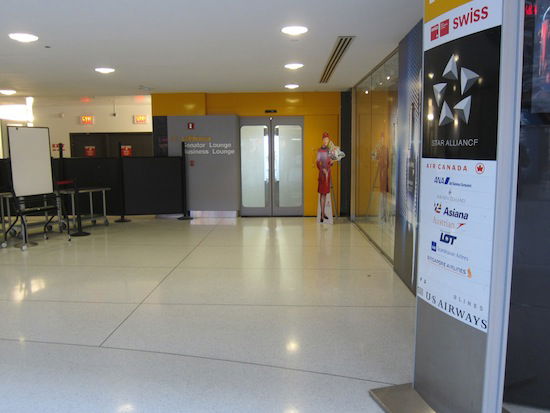 Lufthansa lounge entrance
After checking in the agent informed me that pre-flight lunch would be served stating at 2PM, which I intended to take advantage of since I didn't have breakfast.
The Lufthansa lounge at JFK consists of three levels. On the first level is the business class lounge, for business class passengers (obviously).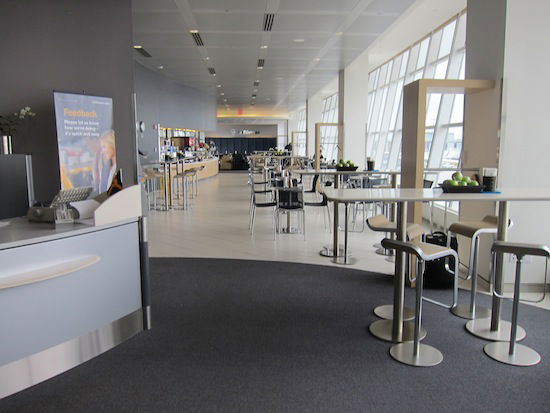 Lounge entrance and business class lounge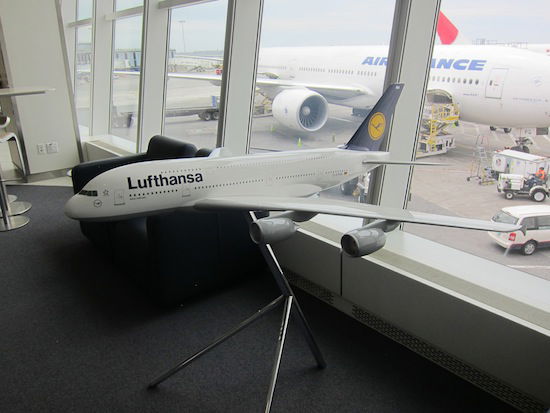 Airbus 380 model at entrance
On the second level is the Senator lounge, for Star Gold members and first class passengers.
The space itself is very nice with a bar, dining area, and plenty of comfortable lounge chairs. The lounge boasts great tarmac views, with runway views in the distance.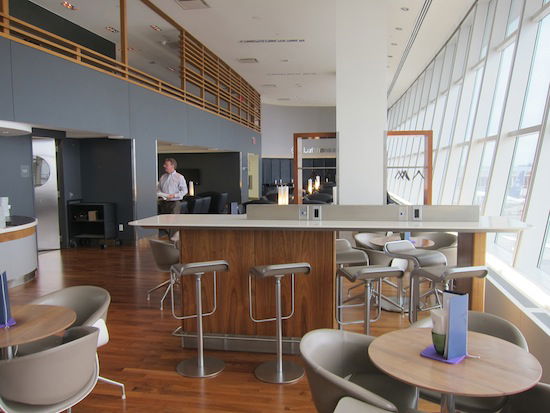 Senator lounge

Senator lounge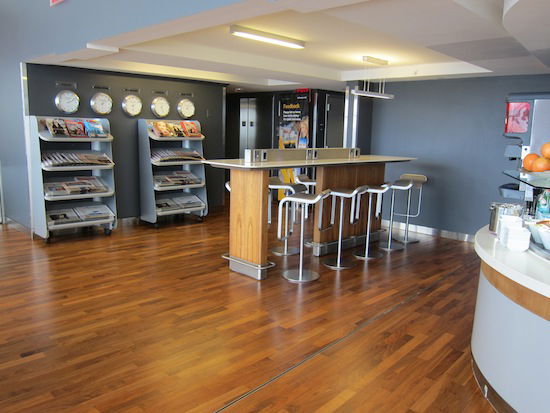 Senator lounge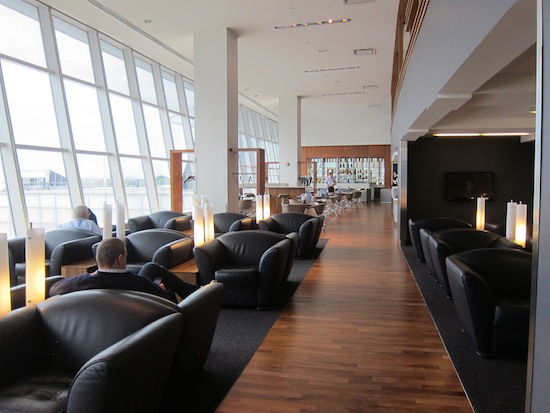 Senator lounge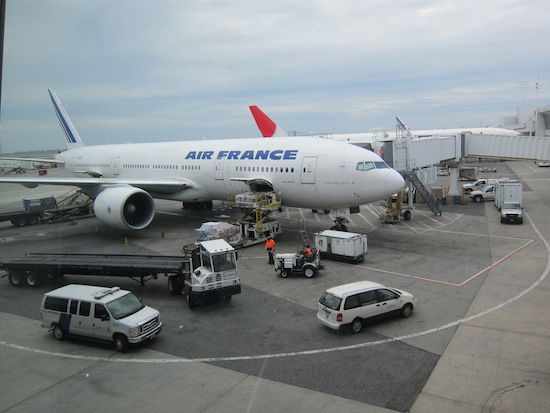 Tarmac views
Since I arrived at around 1:30PM the full buffet wasn't set up yet, though there were plenty of finger sandwiches, chips, etc. Furthermore, waiters were roaming around offering drinks.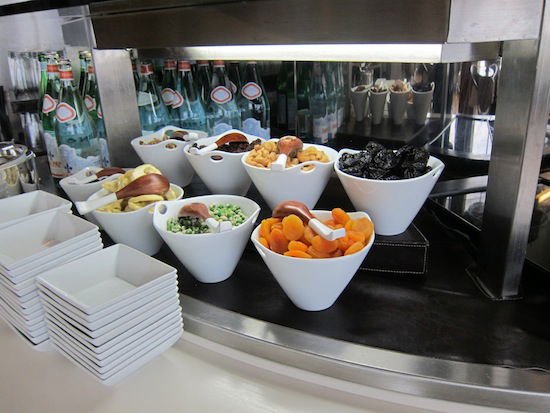 Snack selection
I caught up on email till about 2PM, and then asked an agent about the possibility of having pre-flight lunch, which is served on the third floor. The issue is that you need a key to access the third floor, so the first class waiter has to get you from the second floor to bring you upstairs.
My name was checked off a list and I was invited upstairs. There's a very small seating area with open bar, and then separately a large buffet with dining room. This area is available for first class passengers and HON Circle members (Lufthansa's uber-top-tier elites).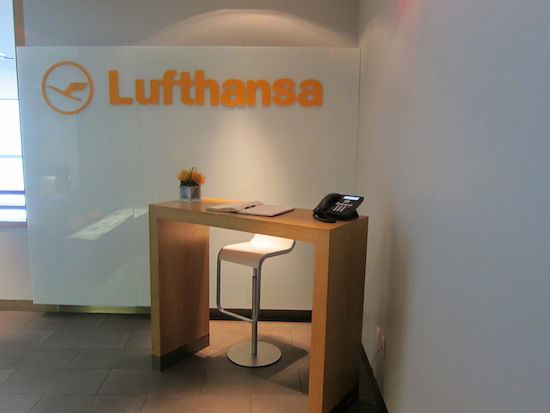 First class lounge entrance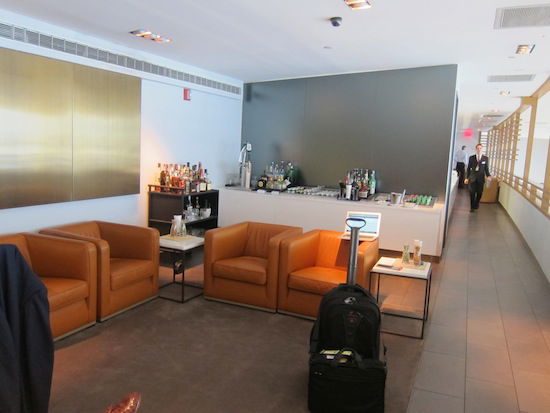 First class seating area

Open bar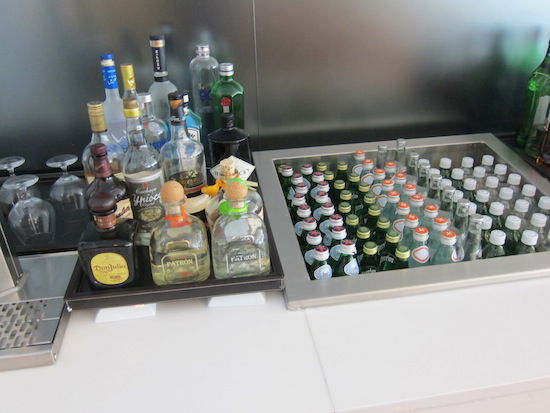 Open bar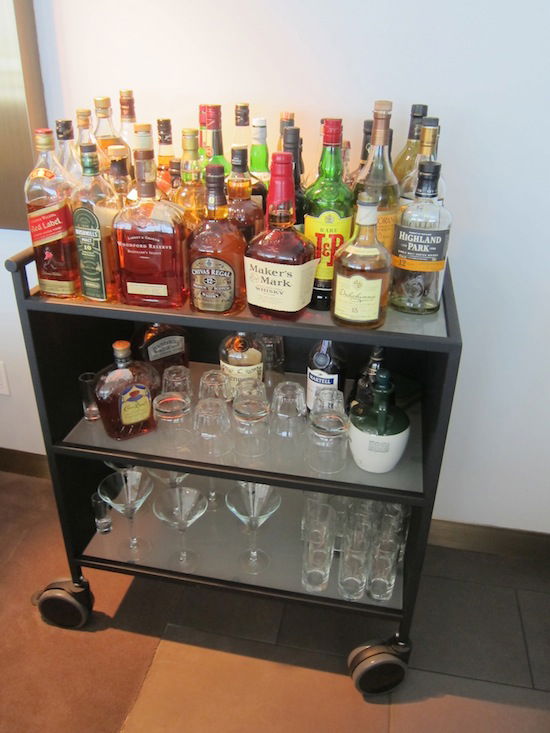 Open bar
I first had a seat in the lounge area, which had a very similar theme to virtually every other Lufthansa first class lounge, both in terms of the furniture and the setup, with canisters of nuts at each side table.
A few minutes later I headed over to the dining room, which was almost identical in quality to the offerings in Frankfurt and Munich.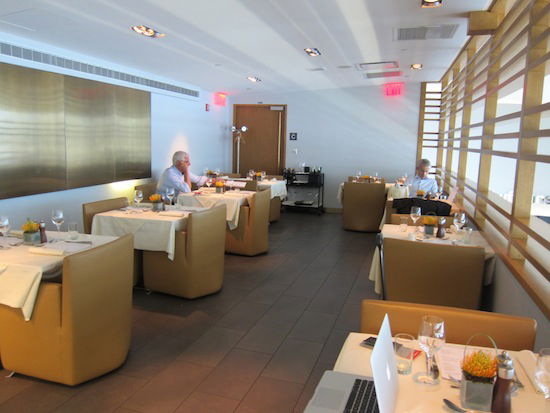 First class dining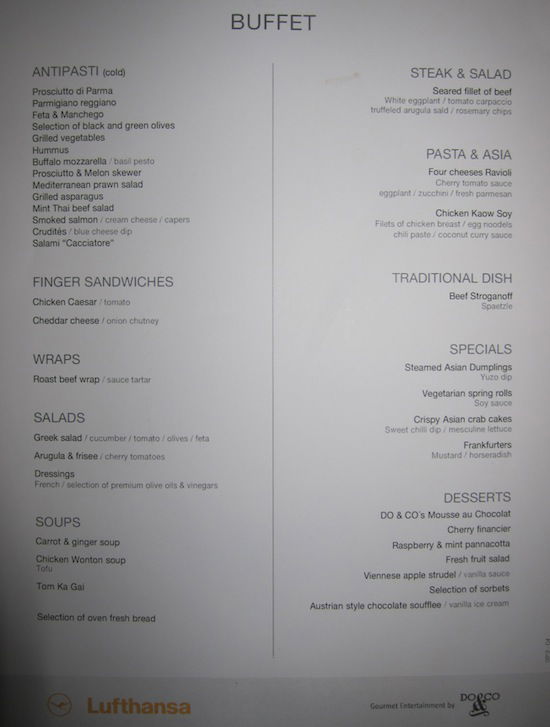 First class menu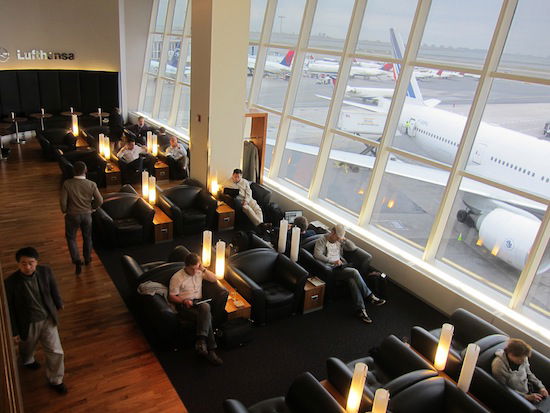 View of Senator Lounge from first class lounge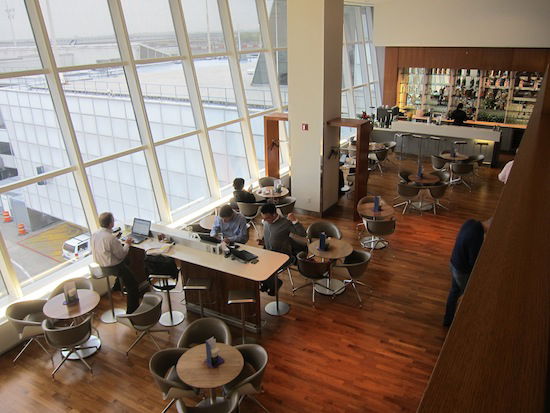 View of Senator Lounge from first class lounge
The buffet consisted of appetizers, six hot dishes, and plenty of desserts.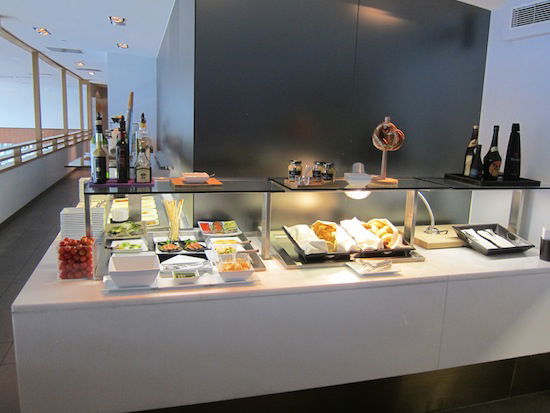 Buffet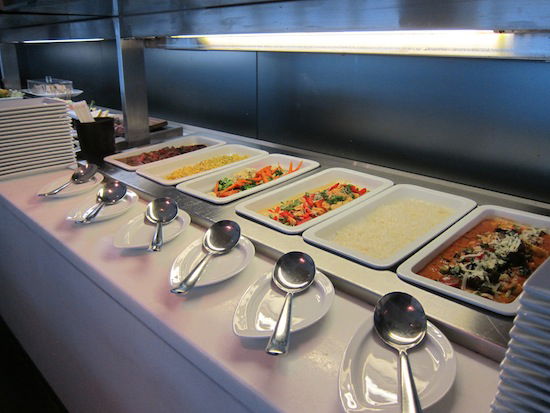 Buffet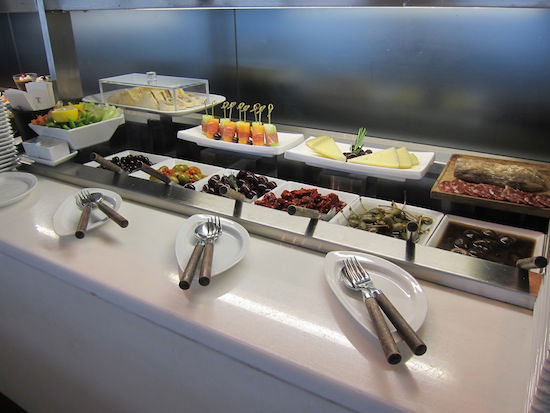 Buffet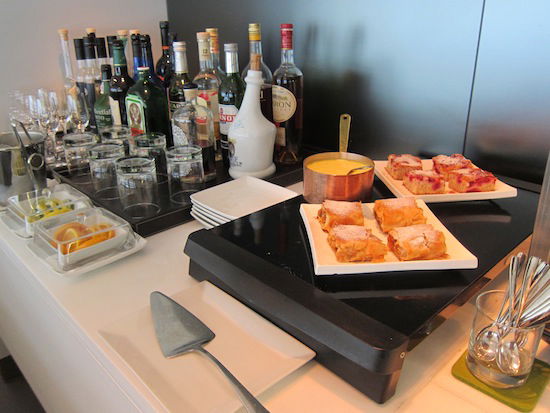 Buffet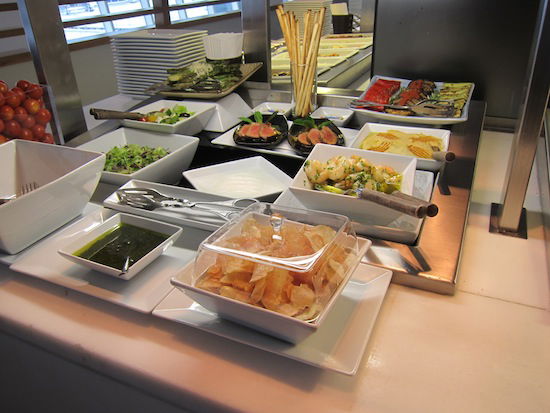 Buffet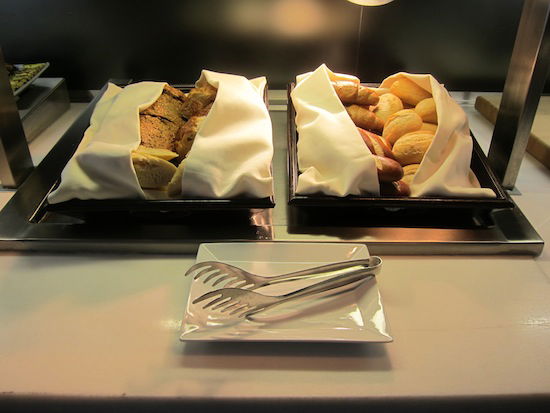 Buffet
The service was also fantastic, with a waiter constantly refilling drinks and clearing plates (I had a glass of Rose).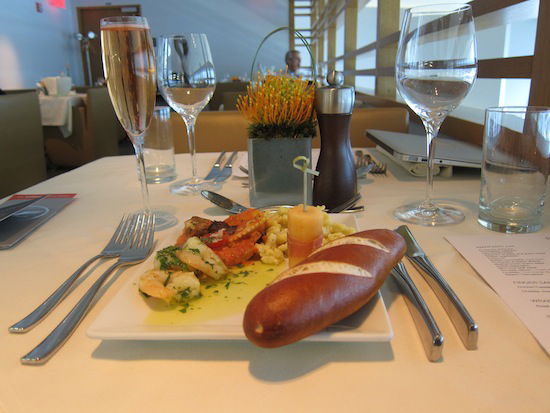 Lunch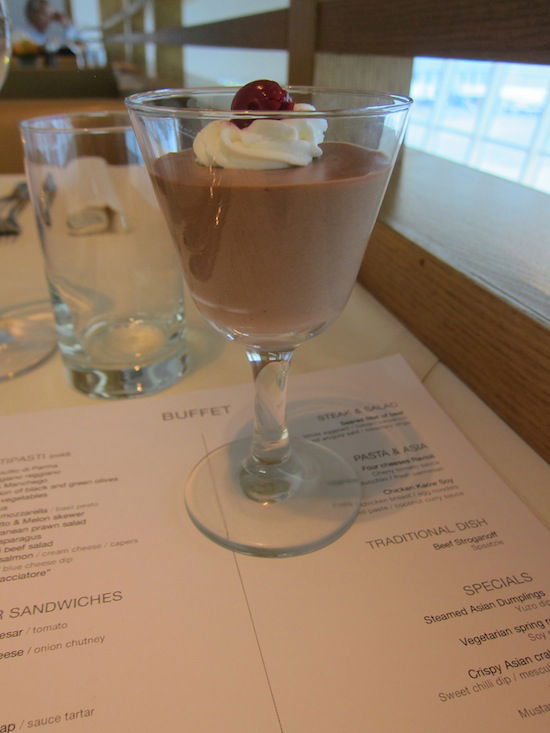 Dessert
Boarding was scheduled for 3:25PM, though knowing that my flight would be operated by the 747 featuring the new first class, I decided to leave the lounge at 3PM in hopes of being the first in the cabin to snap a couple of pictures.
On the whole the Lufthansa First Class Lounge JFK is among the best lounges in the US, probably along with the Virgin Clubhouses JFK and Virgin Clubhouse SFO. Kudos to Lufthansa for their consistency.