Thai 0973, BKK-NRT, 777-300ER
Friday, June 18
Depart: 10:10PM
Arrive: 6:20AM+1
Duration: 6hr10min
Seat: 2A (First Class)
I was quite excited about this flight as it was operated by one of the 777-300ERs that Thai is leasing from Jet Airways. This is the same version of the 777 that I flew on Turkish Airlines, which, as you might remember from my trip report, was fantastic. The plane is equipped with suites that have doors, so the opportunity to fly on this aircraft was too much to pass up.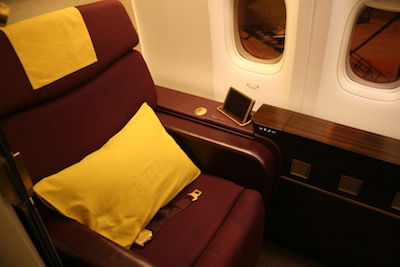 2A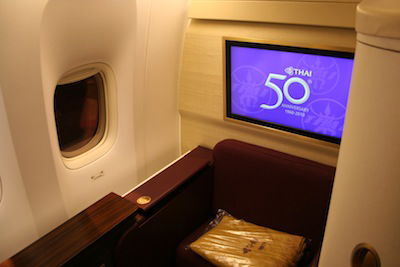 Entertainment system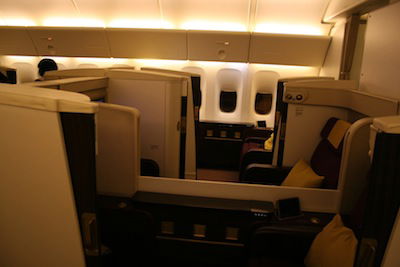 Rest of cabin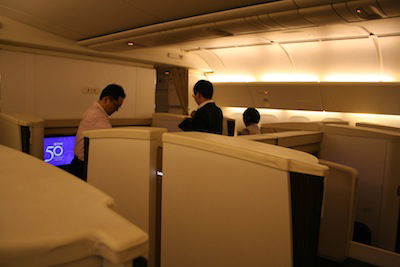 Rest of cabin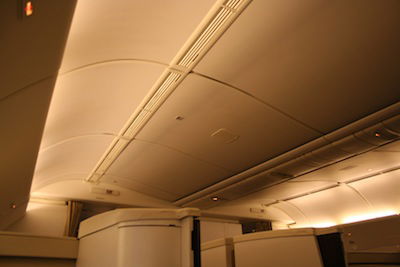 Ceiling (no overhead bins!)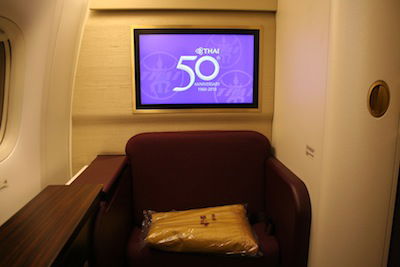 View of TV
Anyway, once aboard I was greeted by the rather senior yet friendly flight attendants. That's the one thing that makes Thai unique – most Asian airlines only have young flight attendants, but Thai has some real "senior mamas." And I don't mean that in a bad way, they can be really, really friendly. Service is a bit more hit-or-miss on Thai than most Asian airlines, but this particular crew was phenomenal.
I settled into my suite, 2A, and was promptly offered a pre-departure beverage. I went with an orange juice.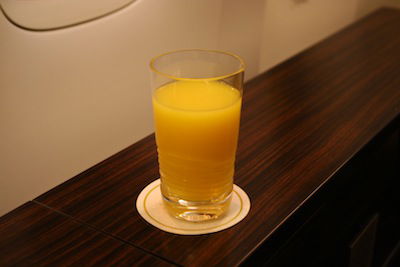 Orange juice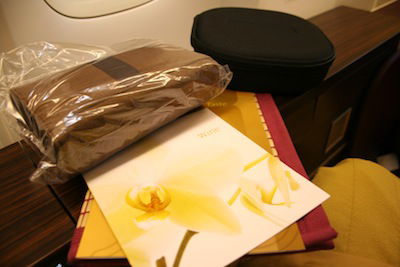 Menu, amenity kit, and headsets
This was quickly followed by a hot towel.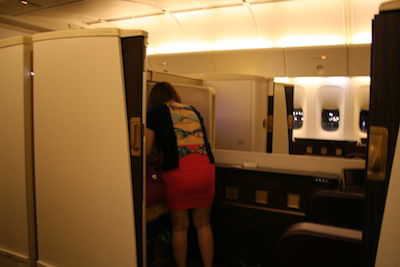 Center seats
In the compartment towards the front of my seat was the amenity kit. As all the passengers were settled in, menus and headsets for the flight were distributed. I was curious about how the meal service was going to be, given that the in-flight map indicated a flight time of 5hr35min. Anyway, as it turned out there was a light snack after takeoff and then breakfast service before arrival.
I dozed off during most of the boarding process, so I awoke as the ground staff did their "departure check." The safety video began to play, and I quickly found out how annoying it can be to hear all announcements in THREE languages – Thai, Japanese, and English. Holy cow, nearly half of the flight was taken up by announcements.
We pushed back close to on-time and taxied to the runway, where we were quickly airborne. The seatbelt sign was quickly turned off, and I started to play with the entertainment system. They had The Flintstones as an option, so naturally I watched that. 😉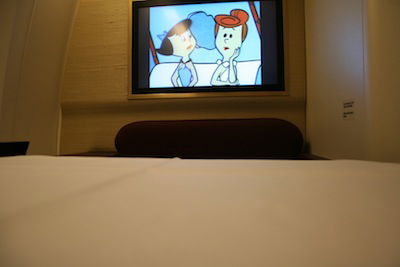 Flinstones
The captain made a welcome aboard announcement as we leveled off, though I didn't understand a word of it. Quickly the purser came by to introduce herself and offer me a beverage. I went with a Diet Coke, and she also asked me whether I cared for the evening snack. I accepted. The menu read as follows:
Bangkok – Tokyo

First Serving
Onion Cream Soup with a Touch of Port Wine
Toasted Bread with Gruyere Cheese
Tiger Prawn Marinated with Thai Dressing
Duck Foie Gars

Second Serving

First Course
Fresh Fruits
Yogurt
Cereal

Main Course
Frittata with Pancetta and Parmesan
Grilled Newburg Sausage, Creamed Potatoes
Sauteed Spinach with Shallot and Cherry Tomato
or
Boiled Rice Soup with Chilean Sea Bass and Garnitures
or
Steamed Prawn Dumpling with Spicy Ponzu Sauce
Steamed Japanese Rice Roll with Wakame and Sesame
Mixed Vegetables

Assorted Bread, Butter, Assorted Preserves, Honey
Tea, Coffee, Hot Chocolate

Noodles Soup with Fish Balls and Garnitures (Available upon request)
The wine list read as follows:
Champagne:
Bollinger 1999
La Grande Annee

Red Wine:
Chateau Dauzac Margaux Grand Cru Classe 2003
Nuits-Saint-Georges 2003
Pommard 2002

White Wine:
Motzenbaecker Dem Himmel So Nah 2008
Chateau Millet "Cuvee Henri" 2006
Pouilly Fuisse Cuvee Armand Cottin 2008
Diet Coke was served with peanuts, which was quickly followed by the snack. The full table setup was still provided, including the massive tablecloth. While onion soup might not be the most practical snack right before going to bed, it worked quite well in this case. I wasn't stuffed, but I wasn't hungry after it.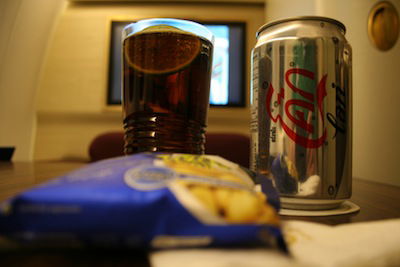 Diet Coke with peanuts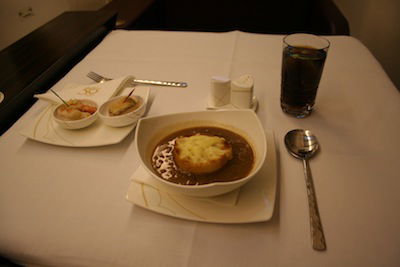 Snack service
The purser asked me whether I cared for breakfast, and I decided I might as well wake up for it (but just for my loyal blog readers, of course, that are making me gain weight like crazy sampling all this food!). She then noticed I was trying to cover myself with the blanket, at which point she said "please Mr. Lucky, allow me to make your bed for you." She brought out another set of sheets, which she placed on the seat, in addition to the sheets that would cover me. She also gave me two pillows. It's a bit disappointing that Thai doesn't have any sort of mattress pads in first class, but they make up for it in other areas. Besides, on this particular aircraft, you really can't beat having doors to your "suite!"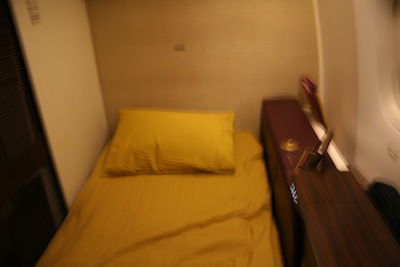 Flat bed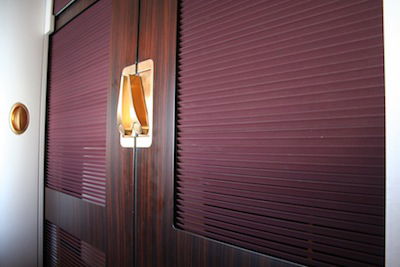 Door closed
I was asleep before I could count to 10, and was woken up about 1.5 hours out of Narita after a pleasant three hour nap. I was offered some juice to start, and once again went with orange. A fruit plate consisting of pineapple, grapes, apples, and orange was served, followed by a bowl of muesli with fresh milk.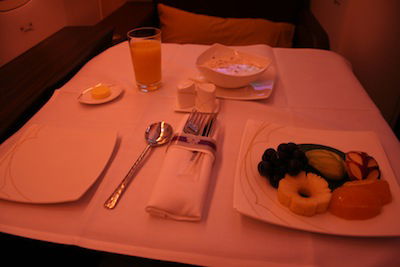 Fruit plate and muesli
The bread basket was offered next, and I took a croissant, which was fresh and flaky.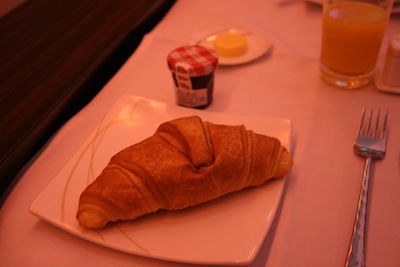 Croissant
Lastly the frittata was served, which was decent. I'm a bit tired of non-egg white omelets, as I have far too many of them on United. So I really only had a few bites of this one.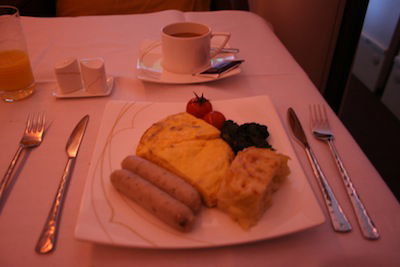 Frittata with Pancetta and Parmesan
My tray was promptly cleared and I went back to snoozing till we were on our final approach. It was a rather gusty morning at Narita, as we hit quite a few nice bumps on the way down. On our final approach we had quite a bit of side-to-side movement, even maybe a couple of hundred feet from touchdown. For a second I thought we'd have to do a go around, but with quite a bit of rudder action the guys up front managed to get 'er down with a rather firm landing.
We taxied for about 10 minutes, most of which was taken up by the announcements being made in three languages. Upon arriving at the gate, the flight attendants did the typical "aisle block" to ensure no business class passengers got off before first class passengers, which always makes me chuckle. The crew bid farewell to me by name, and after an all around pleasant (though too short) flight, it was time for a long day at Narita.
As a bit of background, I had intentionally booked the 12 hour layover. This was the only way to get a Thai Airways first class segment on the itinerary, and I figured it was worth it to sample their ground services along with Jet Airways' incredible hard product. The only flight available from Narita to Incheon was the United flight in the evening, so I didn't have much of a choice but to wait given the routing. It actually turned out fine, as I had a LOT of work I needed to get done, so I figured I could try and be super-efficient during my layover.
We landed right near transit security, which I seemed to be the first person of the morning to clear. As usual security at Narita was a pleasant experience, and almost enjoyable. Once through security I headed towards the "ANA Suites" lounge, which is located on the other end of the terminal.
I'm used to being at Narita during the evening rush when it's packed, so it was cool to be there when it was a ghost town, as it was this morning.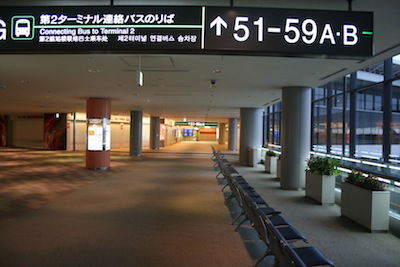 Deserted terminal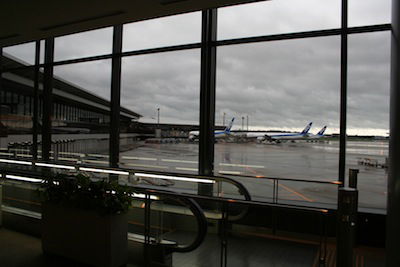 Dreary morning
I got to the ANA Suites lounge by around 6:30AM, and showed the agent my e-ticket, as I didn't have my United boarding pass yet. Generally, ANA agents have a hard time thinking outside the box (last time this happened, they had me stand at the desk for about 20 minutes as they figured out how to proceed, instead of inviting me in), but this time around they let me in without delay. They apologized profusely, as the first class lounge wasn't open yet, so directed me to the business class side.
Fine by me! I seemed to be the first guest of the morning, and there really isn't much of a difference between the two lounges. I took a seat near the window overlooking the tarmac and booted up my laptop to get some work done.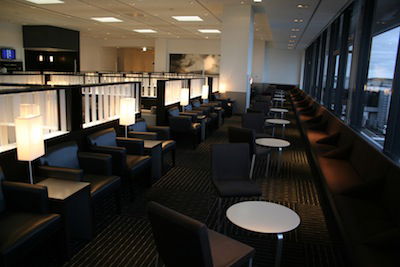 ANA business class lounge
After about 30 minutes the Singapore Airlines A380 pulled in, which operates the redeye from Singapore to Narita.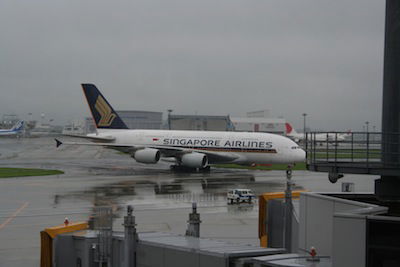 Singapore Airlines A380
Moments later the ANA agent came up to me, and similar to the script they use for the boarding process, said "Mr. Lucky, thank you for waiting, we are now ready for you to use the first class lounge." She waited as I packed my stuff up and walked me over to the other side.
The lounge was also deserted, the difference being that they immediately offer me a cold towel and beverage.
I got a cubicle and worked for several hours, with only a few donut breaks. On the first class side they have the most insanely delicious donuts, and funnily enough they only display them one at a time. I always felt a bit sheepish taking the only donut, but every time I did it was replaced within minutes.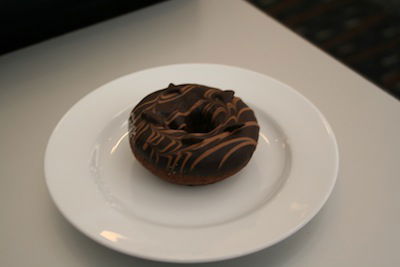 Incredible donut
The highlight of my stay in the lounge was when the Lufthansa A380 pulled in right next to the Singapore A380. Damn!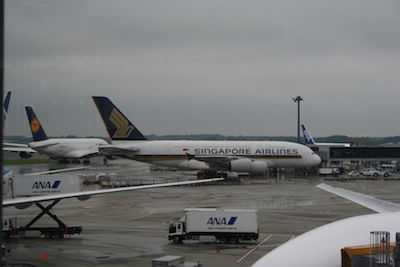 Double trouble!
By around 1PM I decided to head to the United International First Class Lounge to see if they might be able to print out my boarding pass to Incheon. The entrance to the International First Class Lounge is through the Red Carpet Club, and the agent just directs you up the elevator, which is where the lounge is located. The agent indicated she couldn't yet print my boarding pass, but nonetheless admitted me promptly and said she'd look into it.
While the International First Class Lounge isn't nearly as nice as the ANA First Class Lounge, I was the only person in there, which was great. Also, the lounge boasts fantastic views of the runway.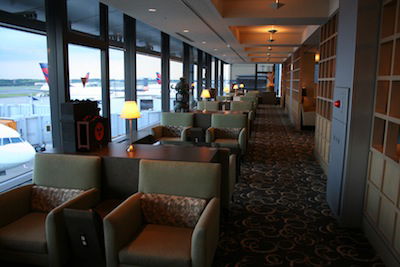 United International First Class Lounge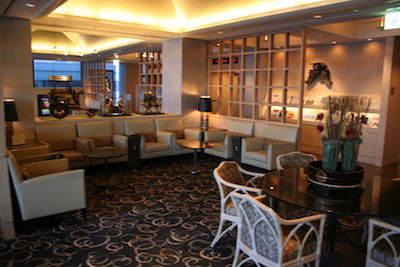 United International First Class Lounge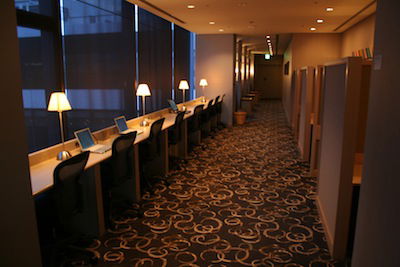 Work stations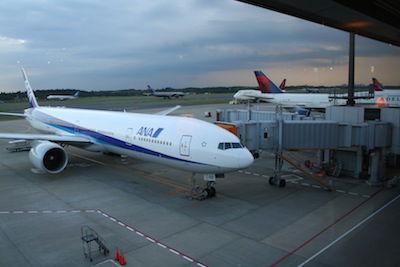 Tarmac and runway views
The snack selection at this time of day is virtually non-existent, since it's before the evening rush picks up. They had packaged snacks and some sandwiches, but that's about it.
Another nice feature of the First Class Lounge is that they have massage chairs. Japanese massage chairs, as painful as they are, feel quite good after the fact. I tried to get some work done while using the massage function, but quickly realized that doesn't work too well.
I was pleasantly surprised to see a United agent scout me out in the lounge, address me by name, and hand me my boarding pass, all without asking for any sort of identification. Impressive that they actually followed up properly!
At around 2PM I decided to shower, so asked the agent at the desk for a key to a shower room. The shower rooms are quite nice in the IFL, with good water pressure and temperature (which is consistently a problem in airport showers, in my experience).
With a few hours to go until my flight, I was growing quite tired, but stayed busy getting work done. At around 3:30PM the IFL really started to fill up with passengers connecting from US flights to onwards United destinations (Bangkok, Singapore, Incheon, and Taipei). The snack selection got a bit better around that time.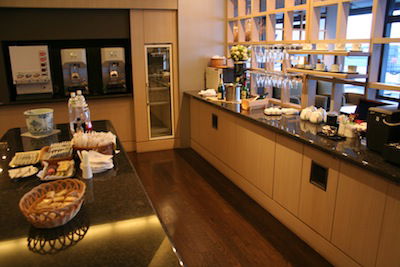 Serving area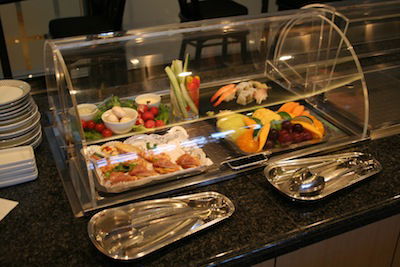 Snacks
At around 5PM I decided to walk around a bit and eventually head to my gate for departure.
After roaming the terminal for a while I made it to gate 34, which is where my flight was leaving from. There was a new colors (though can they really be called "new" anymore?) 777 parked there, which would be taking me to Incheon.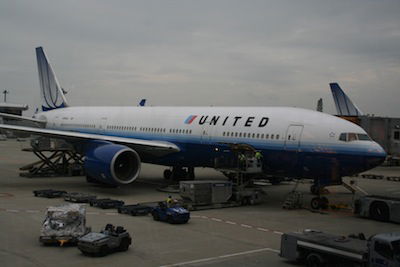 United 777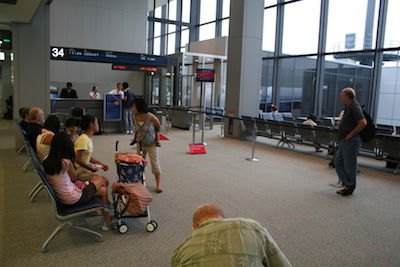 Gate 34
At around 5:20PM boarding was called for Global Services, first class, and 1K (though not business class). I got in the queue and within minutes was aboard.
United 0891, NRT-ICN, 777-200
Saturday, June 19
Depart: 6:00PM
Arrive: 8:50PM
Duration: 2hr50min
Seat: 3J (First Class)
United's intra-Asia flights are always an adventure. The flights from Narita to other Asian destinations are staffed by Narita based flight attendants, and in this case they were a rather senior bunch, but very friendly. As a bit of background (that I find interesting, at least), United's Narita and Hong Kong based flight attendants are part of the AFA, which is the flight attendant union. That's not to say they're any less professional than other flight attendants, but just means you'll see many "veterans," as they can transfer freely between bases. Up until a couple of years ago United had Singapore and Bangkok based flight attendants, though they were forced to let them go when they started involuntarily furloughing flight attendants. They weren't unionized (and as a result, were paid less), so the agreement with the AFA was that they'd be laid off before any AFA flight attendant got the boot. And again, not saying this in a negative way about Narita flight attendants, as they're exceedingly friendly for the most part, but just pointing out that they're not very different from the US-based flight attendants, unlike the Singapore and Bangkok based flight attendants, that were always young.
Anyway, I was promptly directed to my seat by one of the very friendly flight attendants, who almost immediately offered me orange juice, water, or champagne. I went with some water, and she quickly followed with a little amenity basket, consisting of earplugs, eyeshades, and a toothbrush.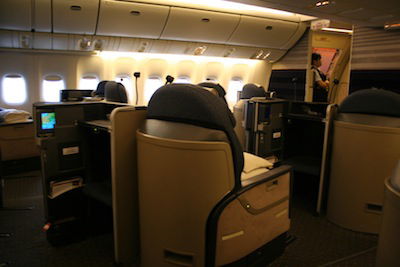 View from seat 3J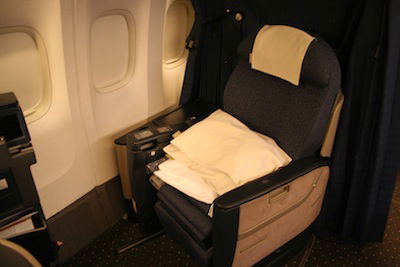 Seat 3J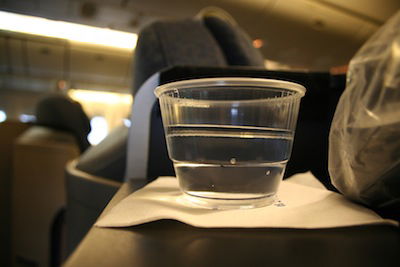 Pre-departure water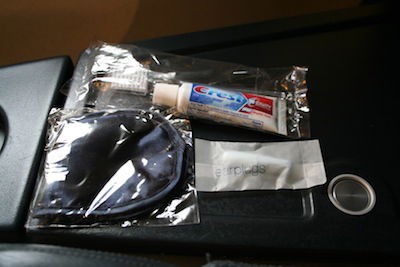 Amenity basket
I've gotta say, United's 777s are looking really, really tired. I know they'll be reconfigured soon (and the process has already started on some planes), but United has to do a better job maintaining them in the meantime. My suite was falling apart. The whole footrest console was almost loose. I can't imagine that would be FAA certified if there were any sort of impact, as it would come loose almost immediately.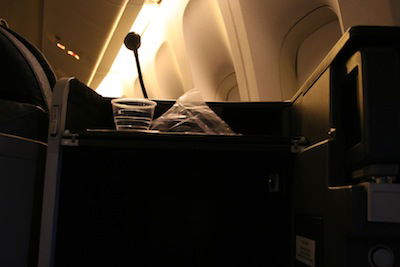 Console
The first class cabin stayed empty throughout the boarding process, and three or four flight attendants stood in the front galley talking for most of the 40 minute boarding process. Not necessarily the most professional thing to do, but they weren't neglecting any passengers by doing this, since everyone was being taken care of.
As boarding finished up an older Japanese businessman-type settled into seat 3E. A "real" revenue passenger, I thought! Nope, he was quickly followed by a lady that settled into 3F, that was very familiar with the crew (they all knew each other by name). She was a Narita based flight attendant, and that was her friend. She chatted with the crew for a while.
As boarding finished up one of the first class flight attendants came by to show me what the two snack options looked like this evening. The choices were a tiny bento box or two slices of bread, one with turkey and one with bacon. Now I've already ranted about this, but this just really ticks me off. This is a two hour flight during prime dinnertime hours in international first class. The one way first class fare on this ticket is over $1,700, and I have to assume United *wants* to sell seats to some people originating in Tokyo as well, and not just connecting traffic from the US. Offering a snack plate during dinnertime hours in international first class is embarrassing, especially when the meal service in domestic first class would be better on a flight of the same length.
Anyway, I asked for the "sandwich" type thing, and also ordered a Diet Coke with lime (ah, I'm back on an airline with lime!).
For the record, the wine selection was as follows (of course there wasn't actually a printed menu):
Red Wine:
Boxed Merlow

White Wine:
Boxed Cabernay
We pushed back on-time and began our rather long taxi to the runway, which seemed to take all day. Fortunately we were close to number one for takeoff by the time we made it to the end of the runway, and were airborne after a very short takeoff roll.
The climb out was somewhat bumpy due to some thick clouds in the area, and the seatbelt sign wasn't turned off before we reached around 40,000 feet. I napped most of the way up, and woke up to find hot nuts and a Diet Coke waiting for me. Yum, hot nuts, maybe this flight won't be that bad!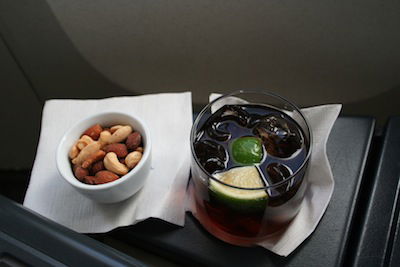 Diet Coke with lime and hot nuts
It's worth noting that announcements were once again made in three languages – English, Japanese, and Korean. On a two hour flight that meant that announcements were being made for probably 30 minutes. Since it's a short flight they only turned on some short subject programming, all of which I had already seen on domestic United flights.
The snack plate was quickly brought out. Don't let the picture fool you, United's pretty good at making this look like more than it is. The picture actually makes the snack look decent. It was one small piece of bread with three thin slices of turkey, and one small piece of bread with bacon. Oh, and there were two olives and a small pickle.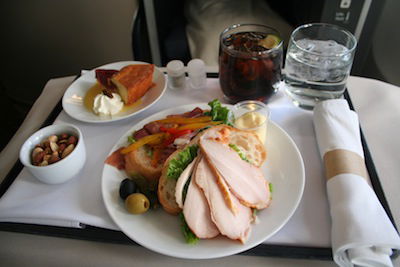 Snack
The dessert, which was some sort of cherry cake, was quite good.
Nonetheless I wasn't stuffed. Not really a bad thing, but for better or for worse you come to expect to get off an international first class flight full. This was like a meal at Panera at best (in terms of quality and quantity).
The crew was friendly and constantly provided refills and addressed me by name, though at one point I counted six flight attendants in the forward galley chatting. Eventually that conversation moved back to my row, as they chatted with the non-rev and her "friend." I don't really blame them for talking in the galley, as there's nothing to do! It's sad when a meal service in international first class takes all of 10 minutes to serve, eat, and clear. How can you take pride in your job with such an offering?
About halfway through the flight we hit a few bumps, so we descended down to 26,000 feet, where we flew for the rest of the flight. The clouds this evening were quite thick, so the captain seemed to do everything possible to make our flight as long – and smooth – as possible. We flew around just about every thick cloud, so despite the never-ending layers of thick clouds, we hardly hit a bump on the way down.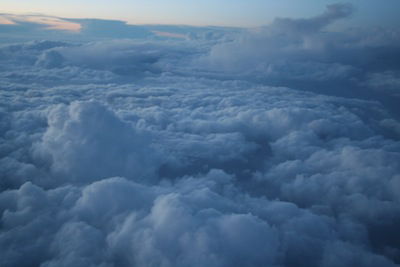 Clouds
After a "smooth as silk" touchdown we taxied to the gate for an on-time arrival. As we were waiting for the door to open I overheard the flight attendants talking to the non-revs, and the word "pension" came up twice. Heh, guess they face the same issues. 😉
Once off the plane I high-tailed it to immigration, which is a bit of a pain at Incheon. Because of the gate we arrived at, there's a train that runs to immigration every five minutes, so it can get quite crowded. The only entertaining part in the whole thing was that I ended up next to some Cathay Pacific pilots, and their topics of discussion were quite interesting.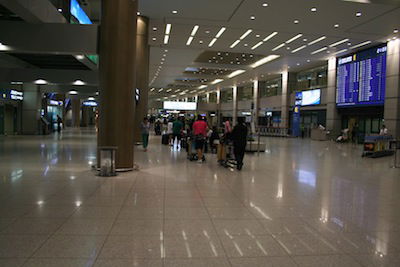 Terminal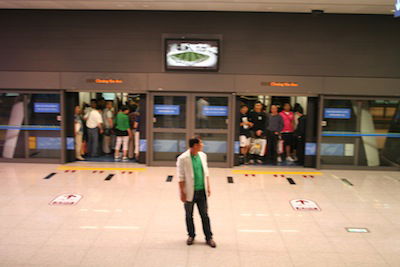 Packed train
The actual queue wasn't so bad, so after about 10-15 minutes I was through. I guess I've been too spoiled with the likes of Singapore, where there never seems to be a wait of any sort. Once outside the airport I headed towards the shuttle bus for the Hyatt Regency Incheon Airport, which I had booked because my brother was only arriving the following morning. I was ready for a good night of sleep.