---
Because of the fact that I switched to the earlier New York to Frankfurt flight, my very manageable nine-hour Frankfurt layover turned into a 15-hour layover.
As a Lufthansa first class passenger in transit you're entitled to a complimentary dayroom at the Hotel Kempinski, a service I took advantage of during my last trip. However, this time around I had a lot of stuff to catch up on, so decided to try and power through the day and just hop around the lounges while getting some work done. I did something similar with a long layover in Singapore last year, and it worked out well. I figured it would work out especially well in this instance, since I could just sleep the whole way from Frankfurt to Singapore.
I would have gone into the city but the weather wasn't especially nice and my family is from Frankfurt, so I already know the city pretty well.
Lufthansa has two FCLs (First Class Lounges) in addition to the FCT (First Class Terminal) in Frankfurt, so I ended up splitting my time pretty equally. The designs are more or less all the same with some very minor variations, which I'll point out below.
My first stop was the B-concourse FCL.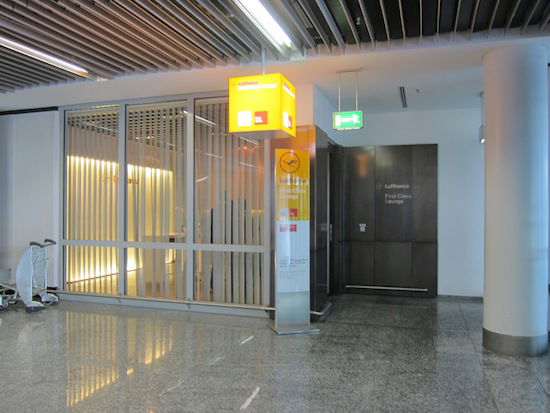 First Class Lounge Entrance
The FCL boasts plenty of seating, though I headed straight for a cubicle where I got about five hours of work done while I was still wide awake. The great thing about the cubicles is that they actually have a sliding door, so are a lot more like enclosed offices.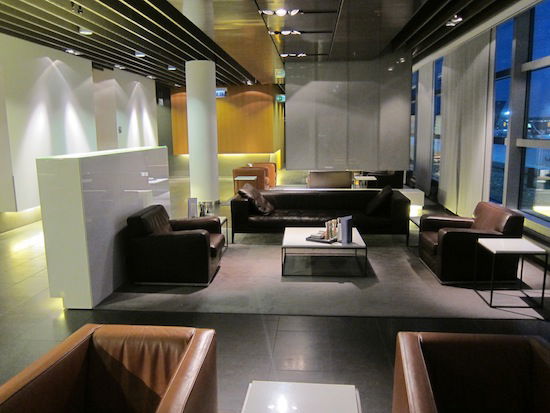 FCL
While I wasn't hungry I did snap a picture of the extensive breakfast buffet.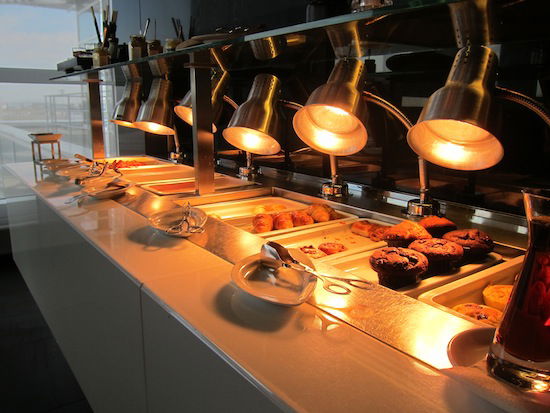 Breakfast buffet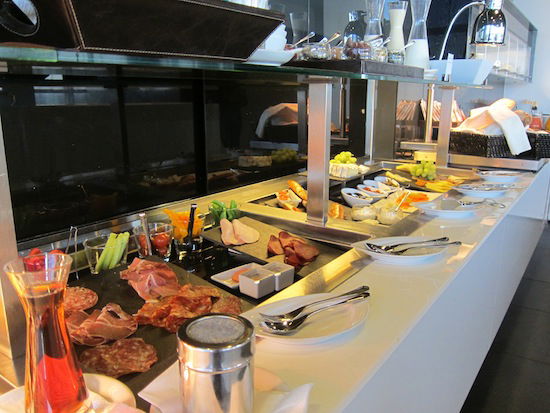 Breakfast buffet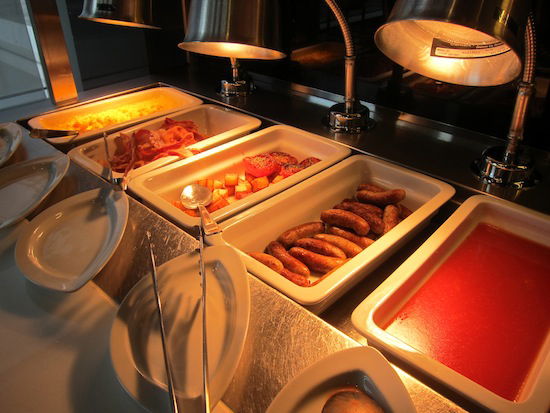 Breakfast buffet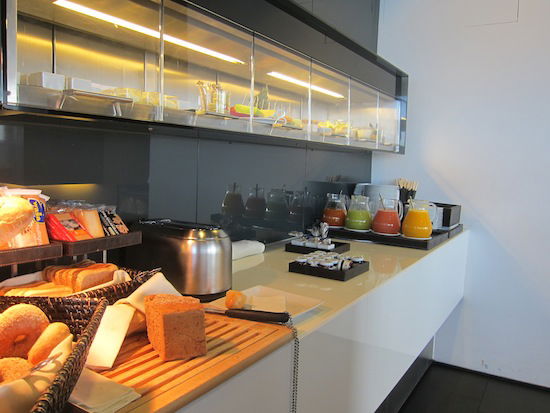 Breakfast buffet
The highlight of the lounge, though, had to be the tarmac views as the sun rose. Maybe I'm nuts, but I don't think there's a more beautiful airport in the world than Frankfurt in terms of the traffic, so a stunning backdrop only adds to that perception.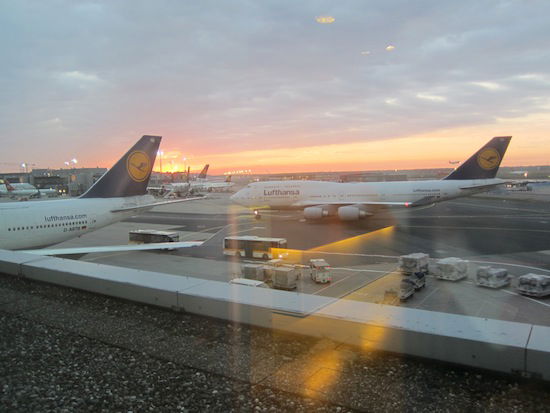 Tarmac views
At around 11AM I headed to the A-concourse FCL for a change of scenery, which was about a 15-minute walk away.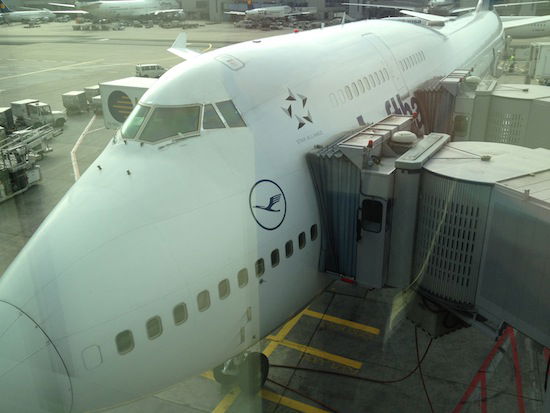 Awesome apron views
The B-concourse FCL is very similar to the one in the A concourse.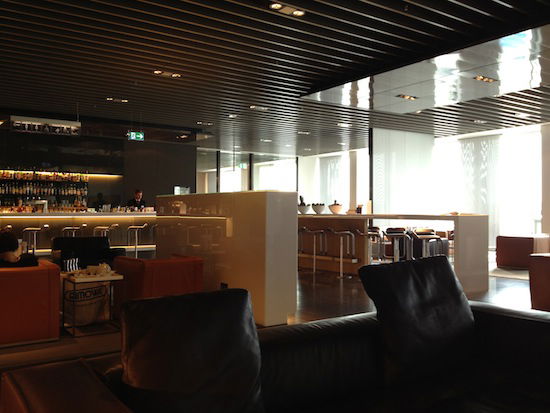 FCL
I intentionally headed over to this lounge as my exhaustion started kicking in, as the nap rooms here are nicer than in the A-concourse FCL or even the FCT. Unfortunately there was a two hour wait for them, so I grabbed a cubicle and enjoyed a nearly endless supply of Fanta and pretzels while getting some work done. Mmmmm…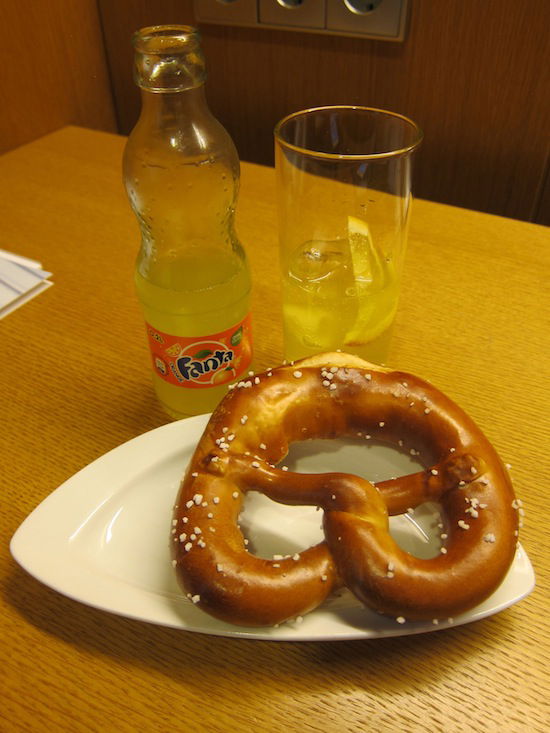 Best thing in the world
At around 1PM it was my turn for the nap room, and I requested to be woken up after two hours. While the bed isn't especially comfortable, it is more of a "bed" than in the other lounges, where you basically get a couch with a blanket.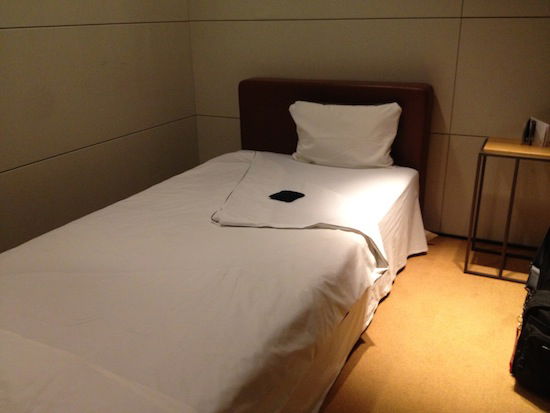 Nap room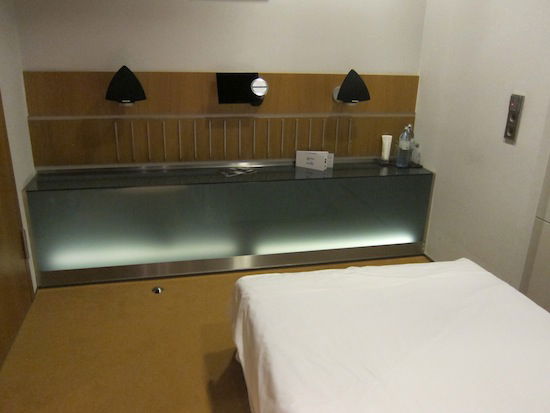 Nap room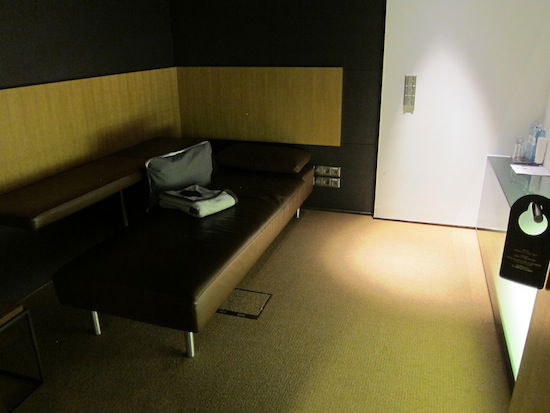 For comparison, FCT nap room
After a refreshing nap I decided it was time to shower. While I was intending to take a bath in the FCT (after all I've gotta kidnap my friend, rubber ducky), I didn't want to show up at the FCT completely unwashed. 😉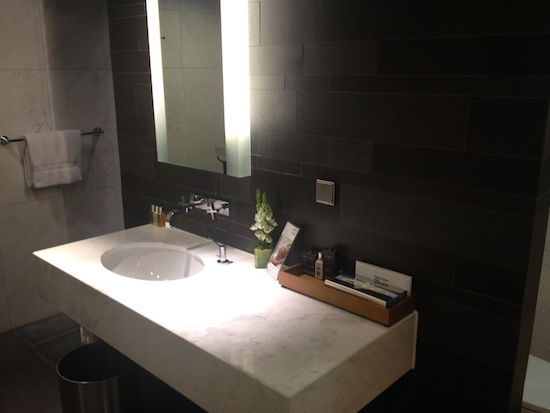 Shower room
The most interesting thing about the FCL visit had to be the group of 16 people (they were Japanese and all seemed to be related) that entered the lounge at the same time. I have to wonder what their deal is. There had to be at least eight HONs or eight first class passengers among them, so I suspect they chartered a whole first class cabin and then some. Impressive!
At around 5PM I headed over to the FCT, which required clearing immigration and walking along the outside roadway to the FCT's side entrance. Once inside I took the elevator up to the reception, where I was immediately escorted through security.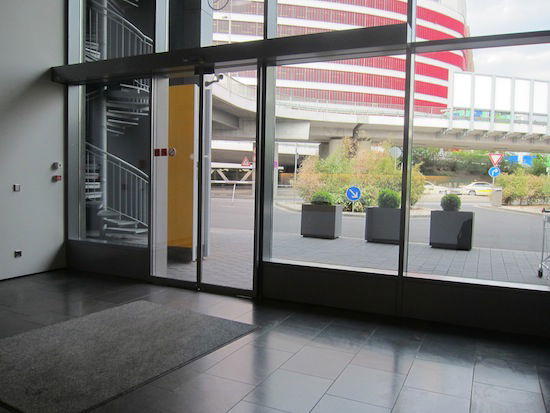 FCT side entrance
I grabbed one of the comfortable lounge chairs along the windows and played around on my laptop for a bit. As much as I do love the FCT, I did notice the absence of tarmac views after spending so much time in the other lounges, which never previously phased me.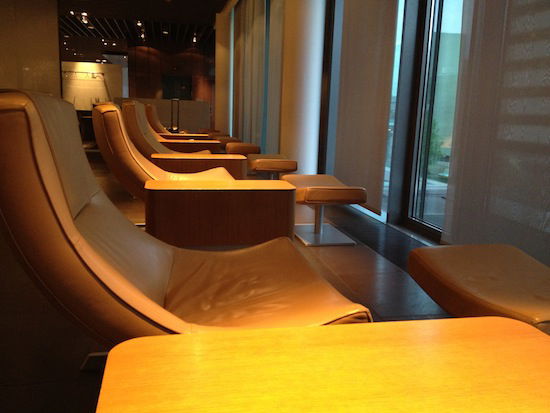 Comfortable seating
At around 7PM I decided to have dinner, which is a highlight of any FCT visit.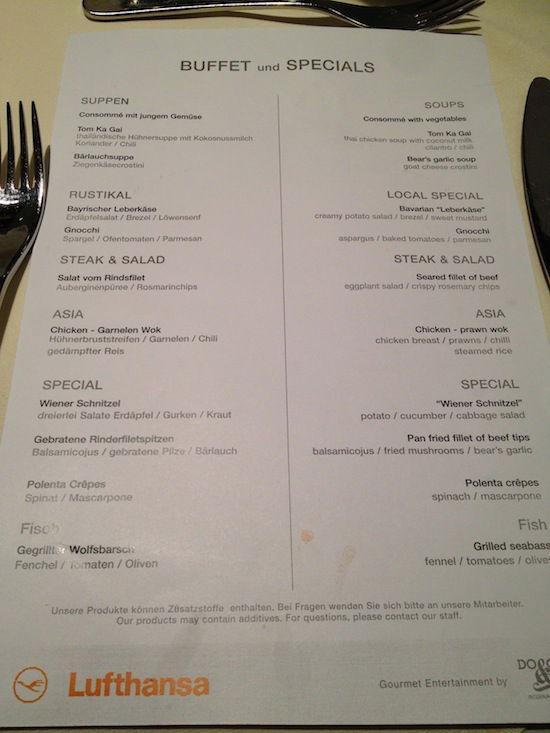 Menu
As usual the buffet was extensive, so I piled on a bit of just about everything.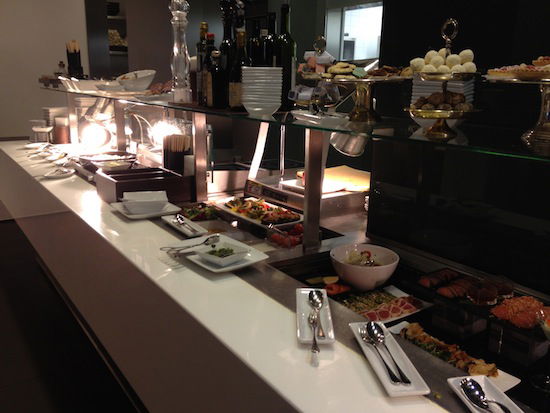 Buffet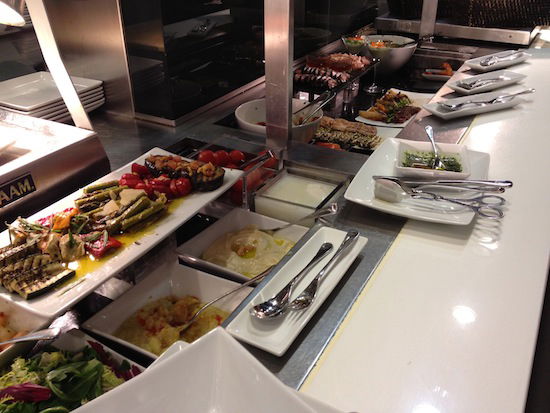 Buffet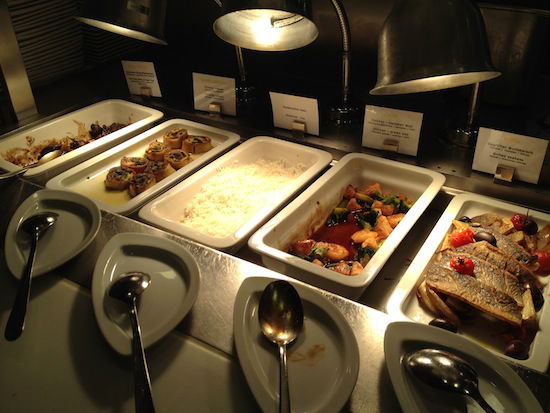 Buffet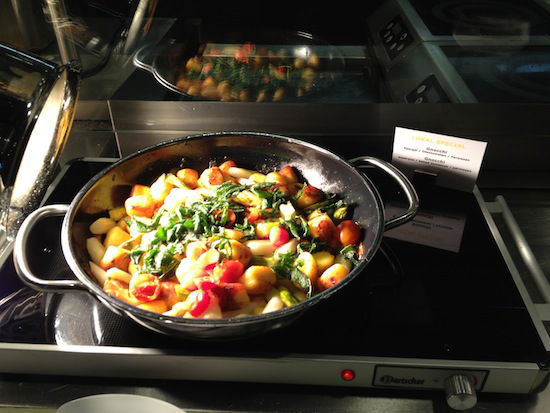 Buffet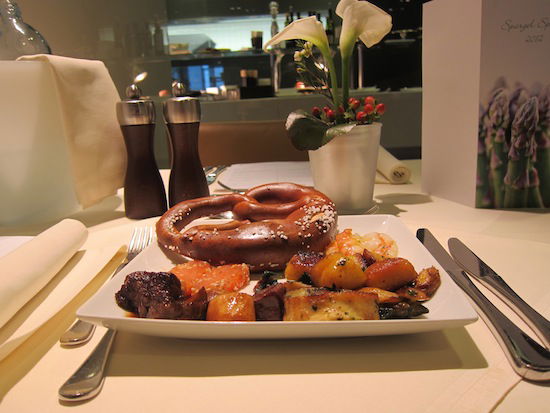 Dinner
After dinner I headed over to the shower/bath rooms for a bath. I'm not usually one to take a bath, though the FCT is an exception.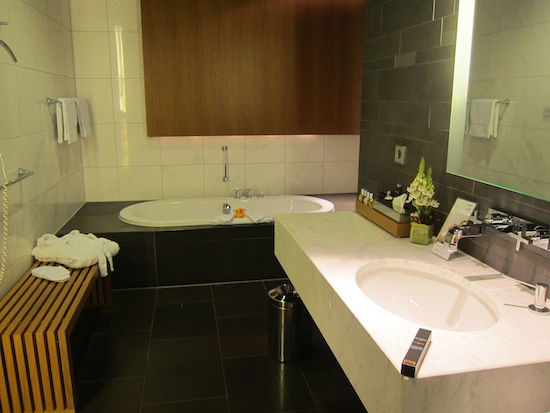 Bath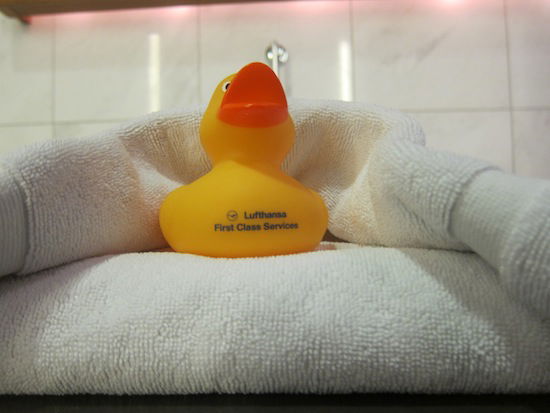 Rubber ducky
At around 10PM the personal assistant fetched me and brought me down to passport control so I could be driven to my connecting flight.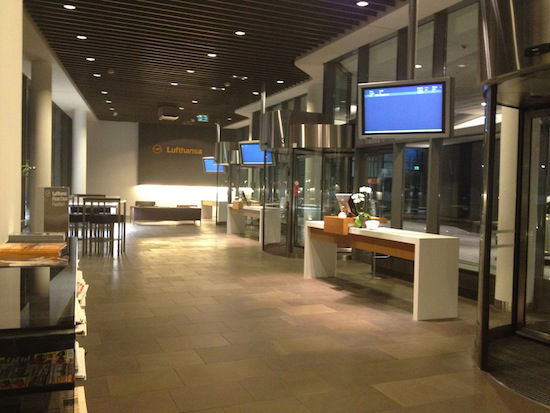 Transfer area
And after a pleasant day my long layover came to an end, and I was ready to get some sleep.