---
I flew this exact route on Japan Airlines back in 2009 (you can find the trip report here), though back then it was operated by their 747 featuring their old first class product. That's the main reason I took this flight, since their new first class product is a huge upgrade over the old one, and I wanted to see how it compared firsthand.
Anyway, at gate 61 boarding was announced for first and business class at around 10:50AM, and moments later I was aboard.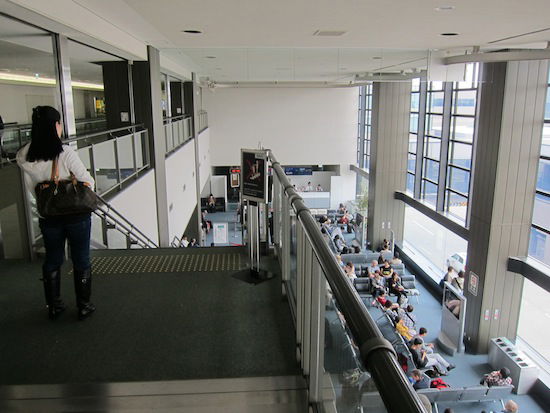 Departure gate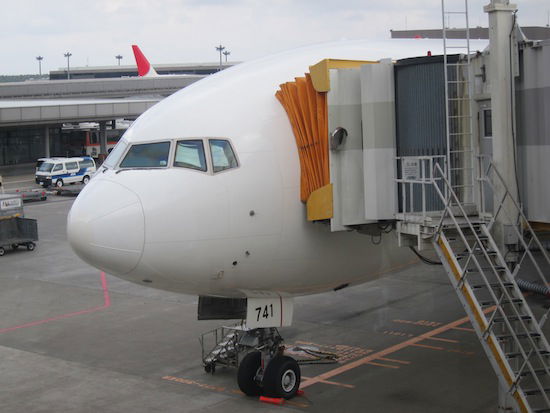 Plane to NY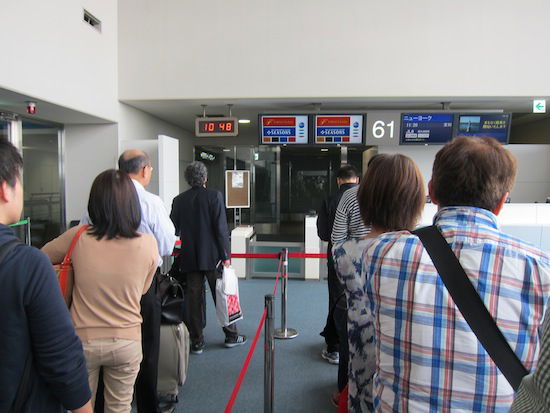 Boarding queue
Japan Airlines 6
Tokyo Narita (NRT) – New York (JFK)
Tuesday, May 1
Depart: 11:20AM
Arrive: 11:25AM
Duration: 13hr5min
Aircraft: Boeing 777-300ER
Seat: 1K (First Class)
At the door I was greeted by the friendly flight attendants that directed me to my seat in row one. One frustrating aspect of flying Japanese airlines is that Japanese aviation regulations prevent Japanese airlines from serving pre-departure beverages on the ground, and you're also not allowed to use electronic devices while on the ground. This makes it advantageous to actually board as late as possible, since you'll sit there in utter boredom. And I always find it rather silly that Japanese airlines are bound by these rules while foreign airlines flying to Japan aren't, essentially giving foreign carriers a competitive advantage.
The first class product on the 777-300ER is the JAL Suite, which is a fairly private and spacious suite with a decent amount of storage space and well padded seat.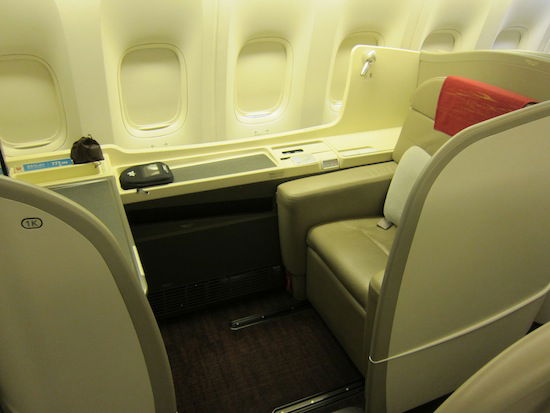 JAL Suite
The bedding is provided by Tempur-Pedic, including the pillow pictured below, which provides for great support.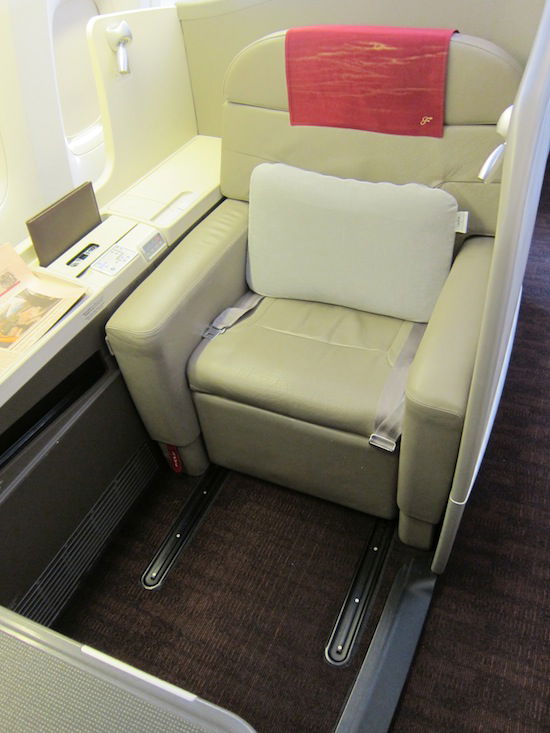 JAL Suite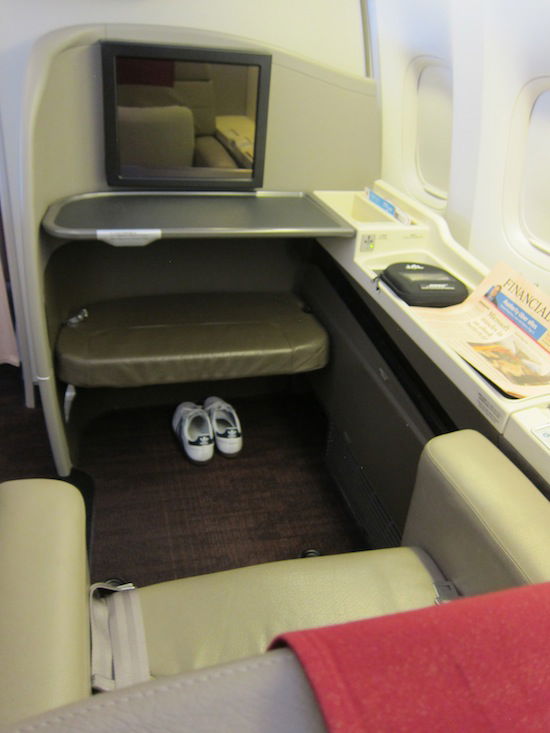 JAL Suite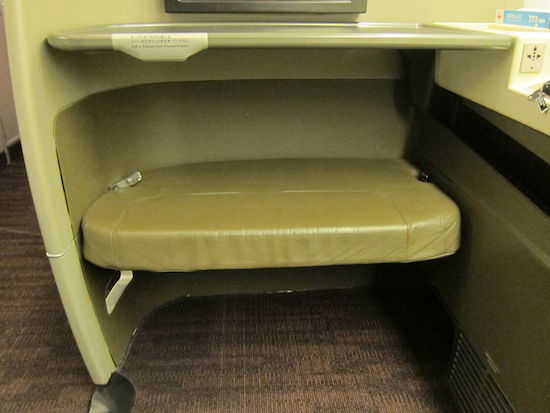 JAL Suite
As you can see below, each seat really does have a huge amount of privacy, so being in 1K I really couldn't see anyone else.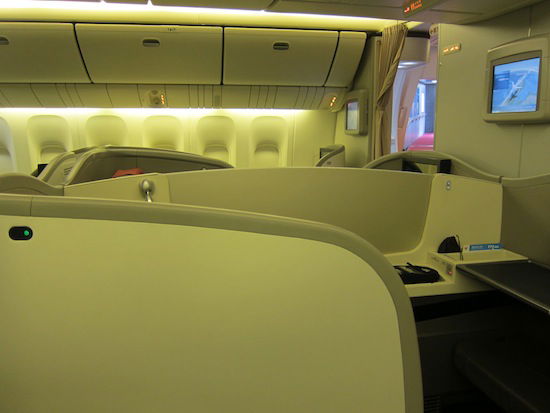 View of cabin from my seat
To the right of the seat were the entertainment and seat controls, as well as a vanity mirror.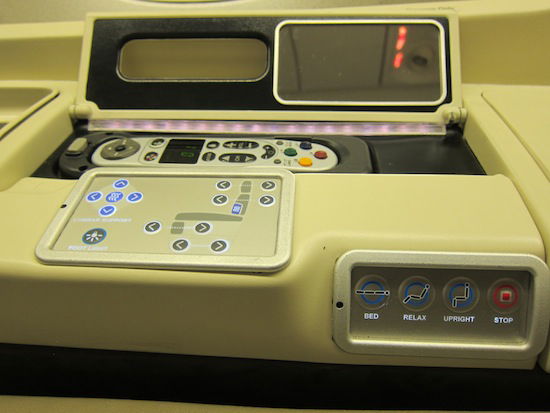 Entertainment and seat controls
As soon as I settled in the flight attendant offered me Bose Quiet Comfort headphones. That was quickly followed by slippers and pajamas.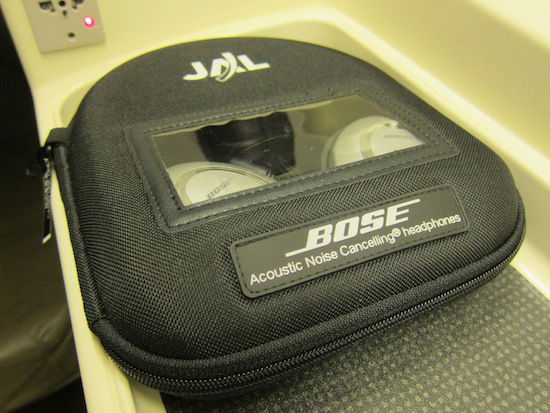 Bose headphones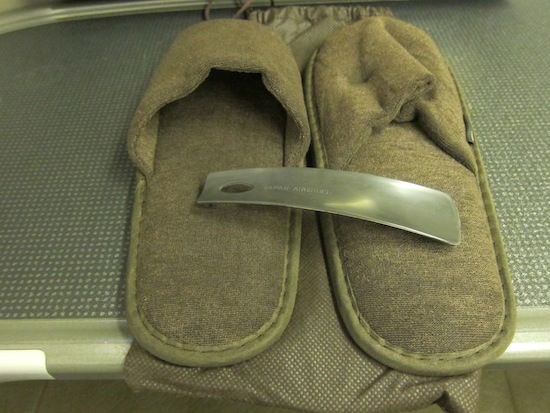 Slippers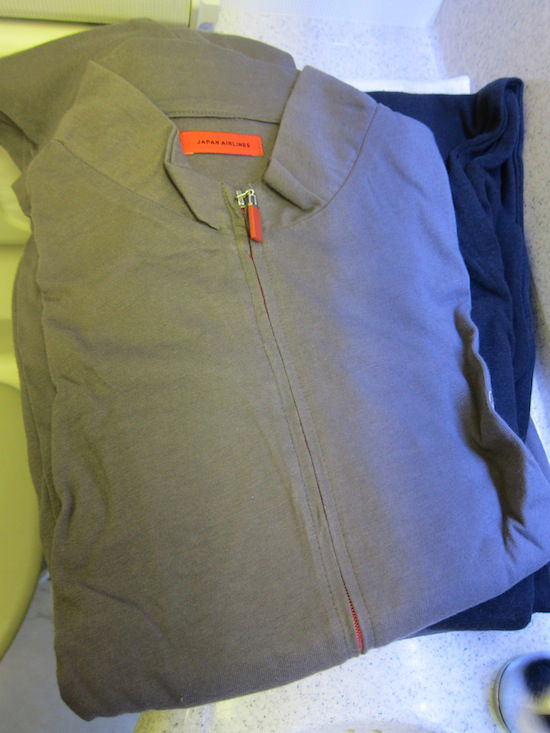 Pajamas
I didn't immediately change into the pajamas, though the guy seated across from me changed right away. I was rather alarmed when I noticed he placed his underwear on the tray table, and obviously wasn't wearing any.
After that I also changed into my pajamas, and as I emerged from the lavatory the purser hung my clothes for me.
As departure time rolled around all eight first class seats were taken (I was the only westerner), and the captain advised us of our flight time of 12hr30min.
As we pushed back the safety video started playing, and at the beginning the flight attendants positioned themselves in the aisle to bow. I found it rather funny that they positioned three flight attendants in first class to bow, for only eight passengers.
We had a fairly quick taxi to the runway, which was made rather enjoyable by the nose camera that was displayed on the cabin monitors.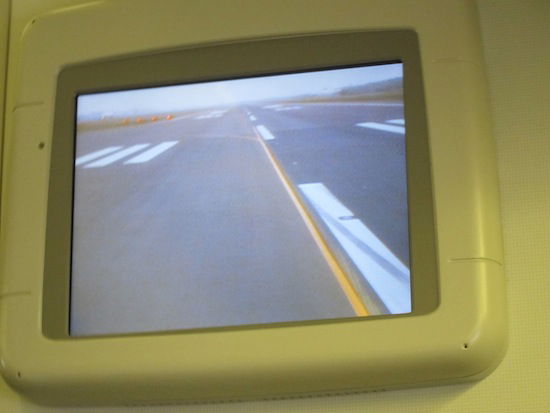 Nose camera
After a long takeoff roll we were airborne, and within 10 minutes the seatbelt sign was turned off.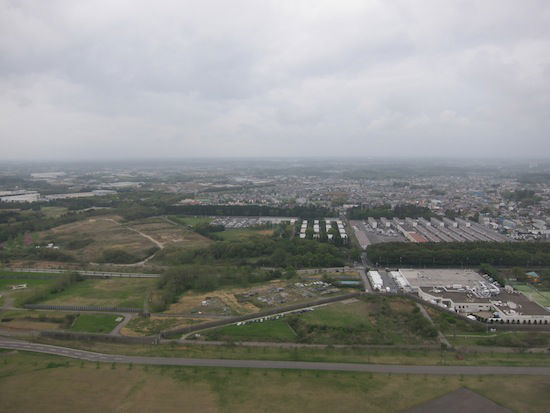 Climb out
As we leveled off the purser came through the cabin to distribute menus and introduce herself. The menus are displayed in very nice leather folders containing both the menus and the wine list.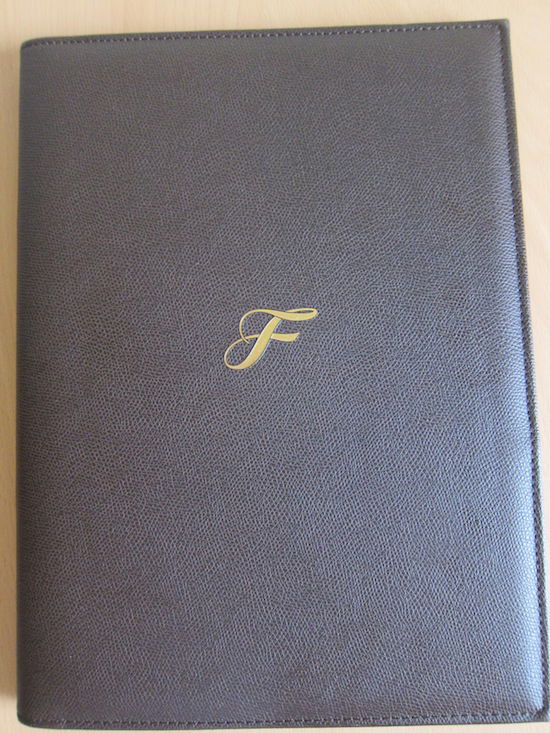 Menu cover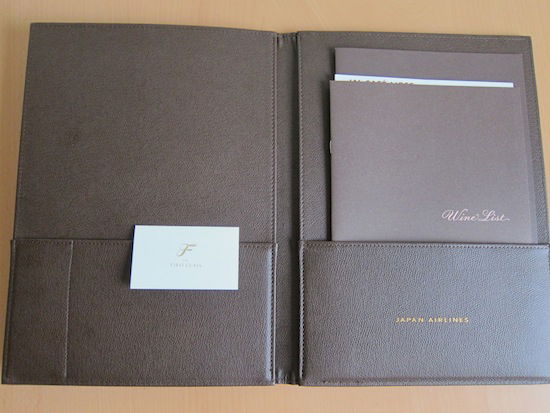 Menu folder
The menu read as follows: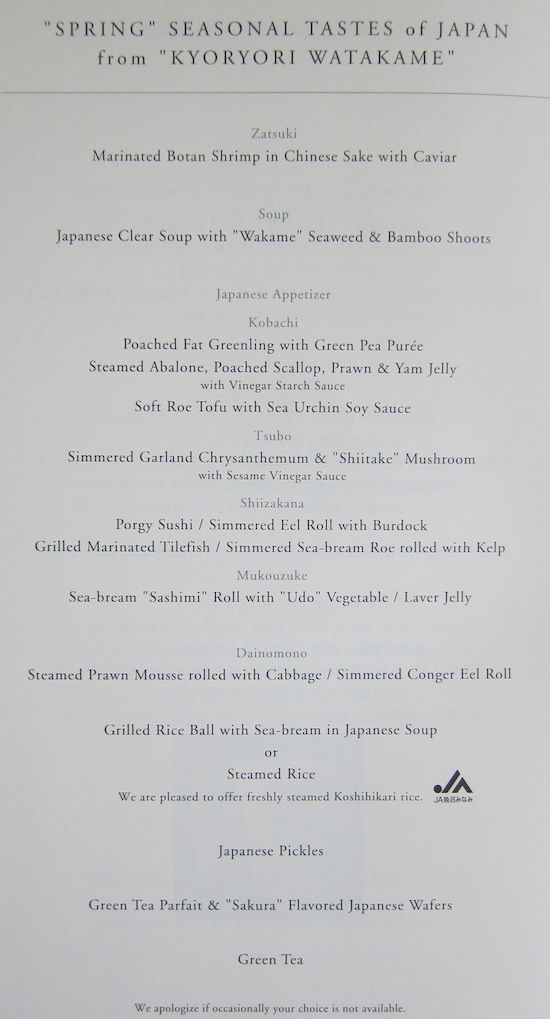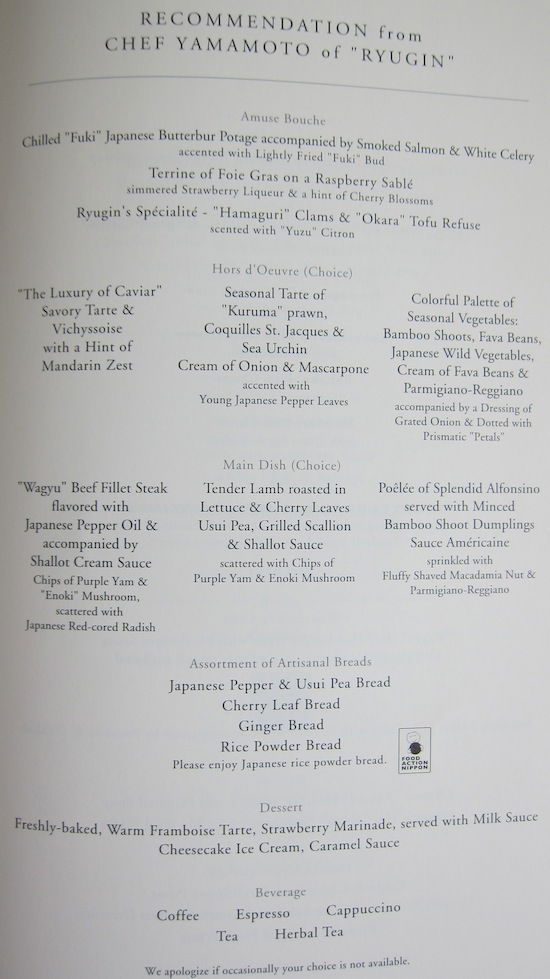 And the wine list read as follows: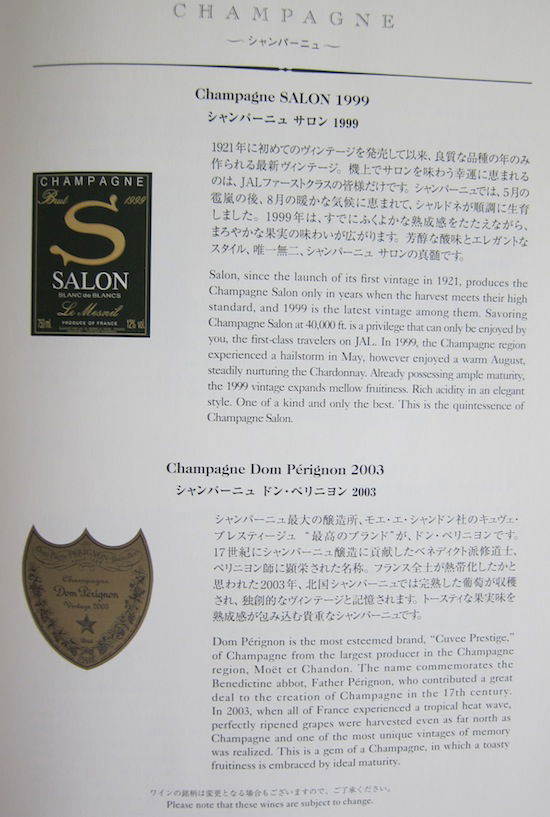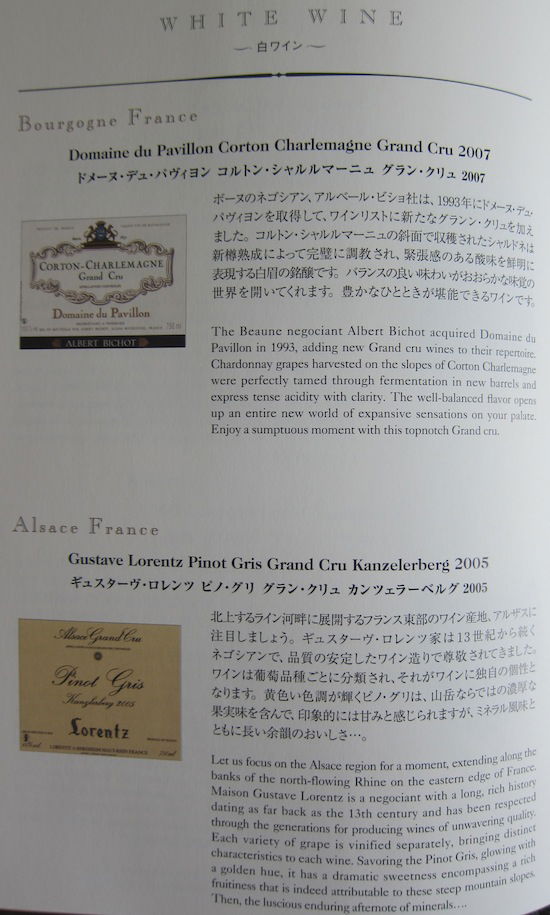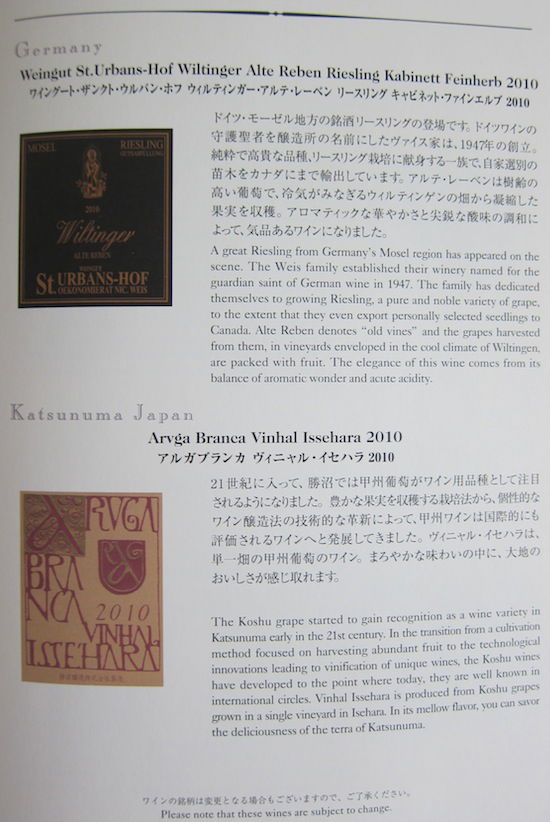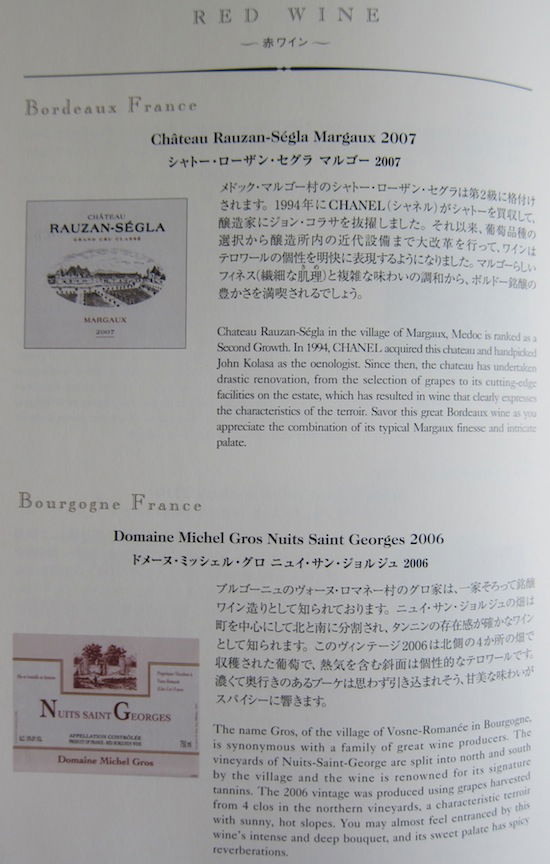 Service started with a hot towel, which was quickly followed by a small smarter. I'm still not exactly sure what it was. The crew's English wasn't especially good, so I wasn't about to find out.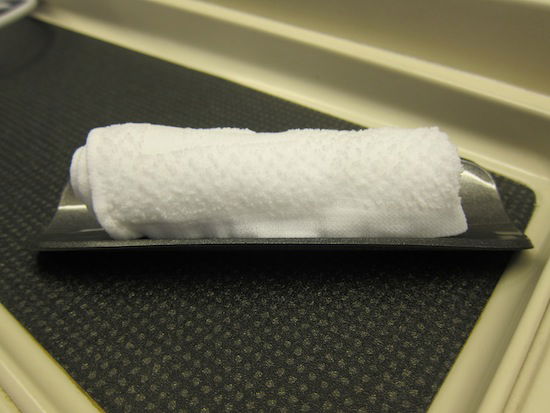 Hot towel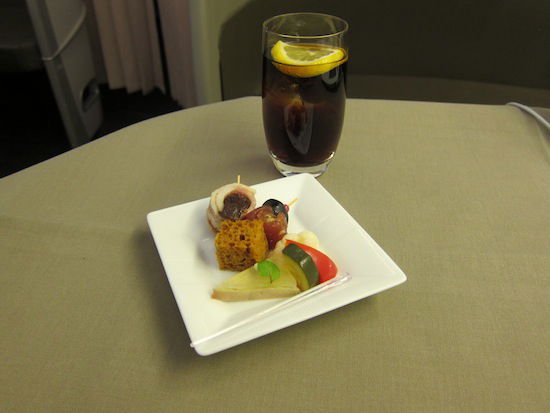 Starter
That was followed by a basket with a variety of Japanese snacks, from which I selected some crackers and almonds.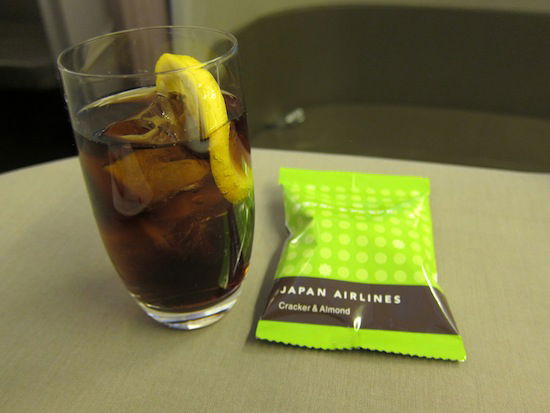 Diet Coke with crackers and almonds
Next was the amuse bouche, for which I'll simply suggest you reference the menu above, because I still have no clue what it really was, though it was fairly good.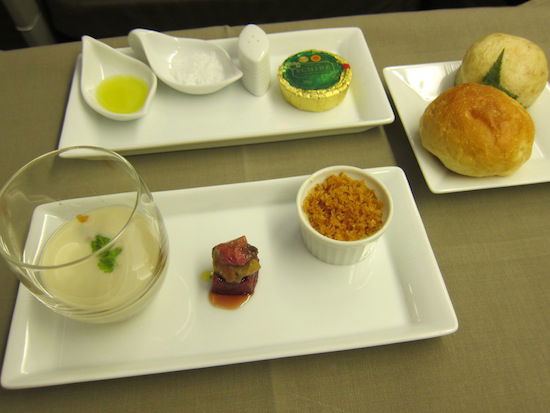 Amuse bouche
The next course was caviar. Even though it had some sort of a zesty "bar," it lacked the traditional garnishes you get on other airlines.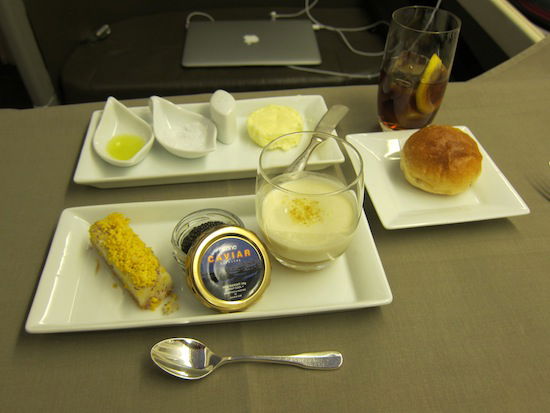 Caviar
For the main course I went with wagyu beef. I'll never understand peoples' excitement over wagyu beef, but that's not to say it wasn't fairly good.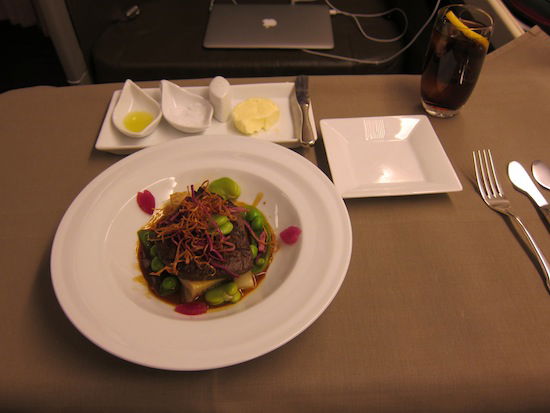 Wagyu beef
The dessert consisted of both a strawberry tart and some cheesecake ice cream. The tart was delicious, but the ice cream really wasn't (and it's rare for me to come across ice cream I don't like).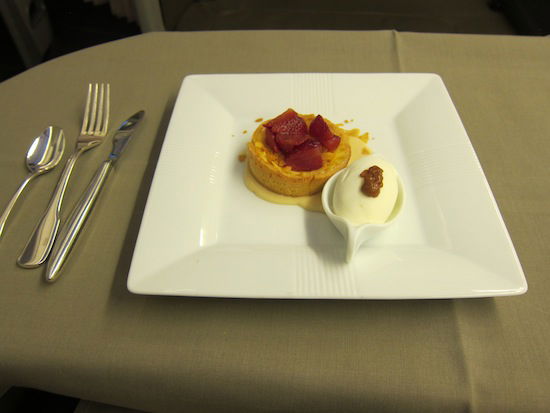 Dessert
On the whole the meal service was nice, though not nearly as memorable as those I've had on ANA, Cathay Pacific, and Singapore, just to name a few. The flight attendants were all very friendly, though there was definitely a communication barrier, and also at times I think that led to them also being a bit less proactive. I do find that ANA crews generally have a better grasp of English.
After lunch I was dead tired so decided to get some sleep, given that I had taken a redeye the night before. I requested turndown service, and the flight attendant set up my bed with a Tempur-Pedic mattress pad. I'm not going to lie, the pad was *really* comfortable. I tried to fall asleep while the cabin lights were still on, figuring they'd be turned off momentarily after everyone finished their meals, as is the case on virtually every longhaul flight.
After about an hour I asked the flight attendant if the lights could be dimmed. After apologizing profusely she went to the galley and dimmed the lights a little bit. The purser returned and explained some passengers were trying to read, which is why they weren't dimming the lights all the way. Maybe I'm missing something, but isn't that what the reading lights are for?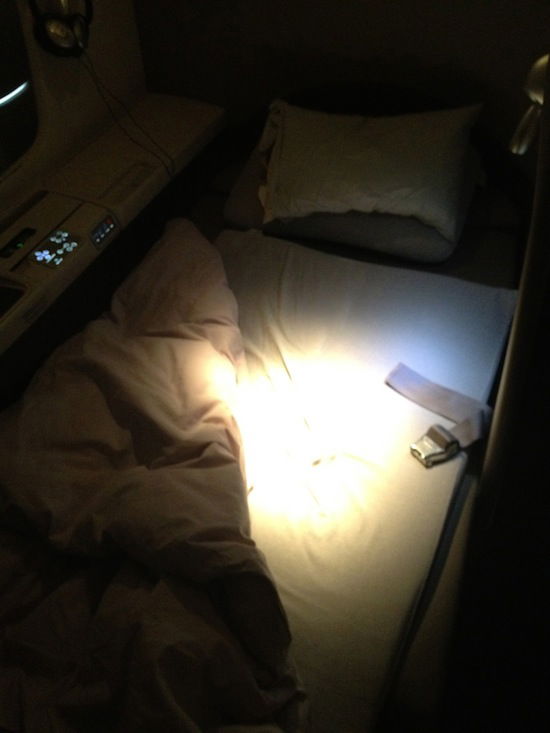 Bed
After a while I decided there was no way I could fall asleep, so I played around with JAL's entertainment system. While the system itself is fairly thorough with movies, TV shows, audio, etc., the actual quality of the selection was just horrible, at least when it comes to US selections.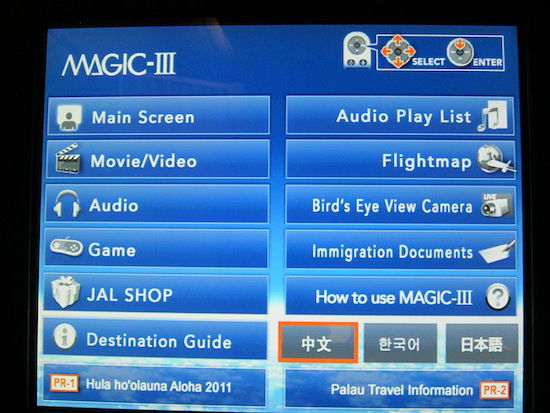 Entertainment system
So eventually I just decided to get started on my trip report, which I did for a few hours, until we were already approaching Vancouver with about five hours to go to New York.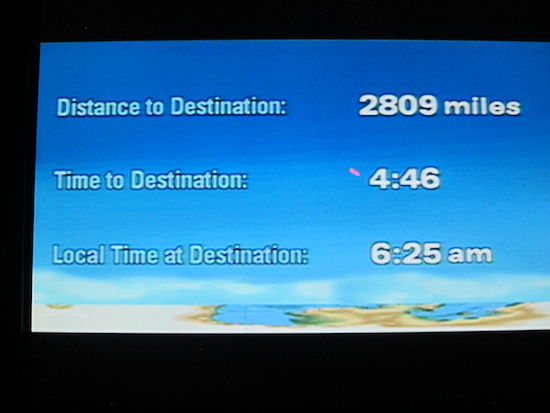 Airshow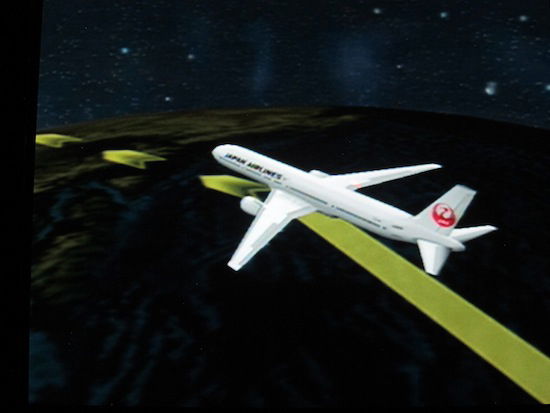 Airshow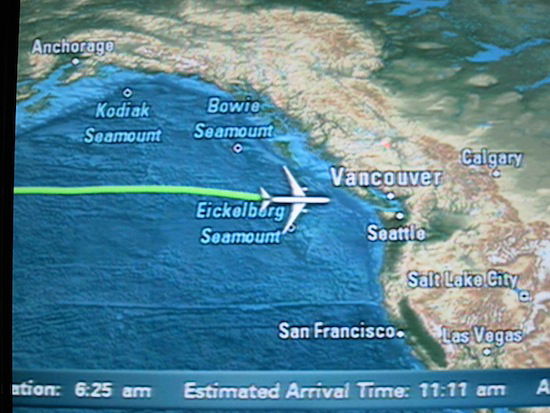 Airshow
Funny enough at this point the purser comes up to me and asks if it would be alright if she dims the cabin lights because some passengers are trying to sleep. You don't say?
Of course I took that as an opportunity to catch a few hours of shut eye as well, so slept until about 90 minutes out of New York.
JAL has a rather interesting menu in that other than the main meal, they just have an a la carte meal from which you can dine at your leisure. The options are all over the place, as follows: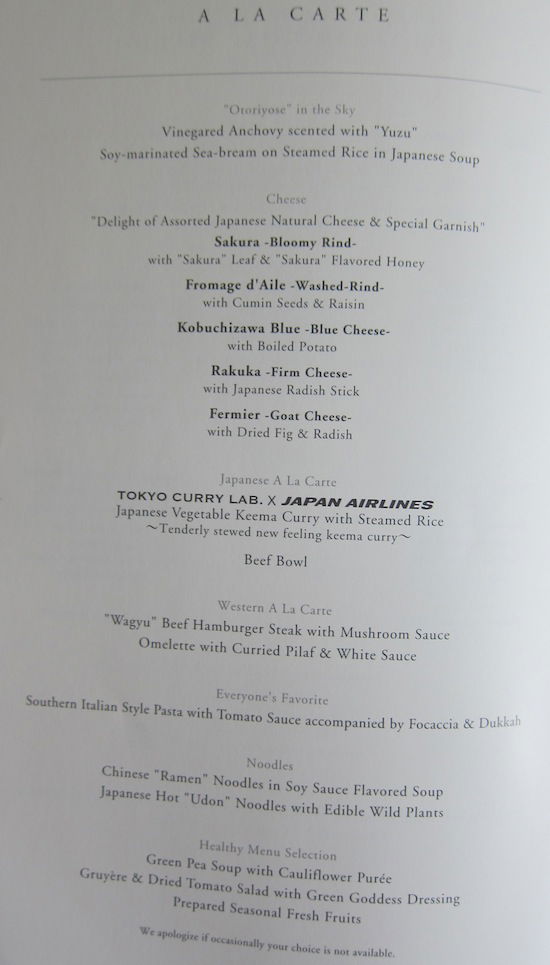 The purser came by to take my meal order, and initially I wasn't sure if I was in a breakfast or dinner mood. I decided on the "Everyone's Favorite" pasta, and as the words started coming out of my mouth a look of pure horror filled the purser's face. "I'm so so sorry. So sorry. We are out." The look on her face made it seem as if both of the pilots had the fish for dinner and were unconscious, and I needed to land the plane. Fortunately that wasn't the case.
I then decided on the "Western Tray," which was a breakfast option.
In the meantime I had already ordered a Diet Coke, which was served with a hot towel. I guess I'll be enjoying breakfast with soda today!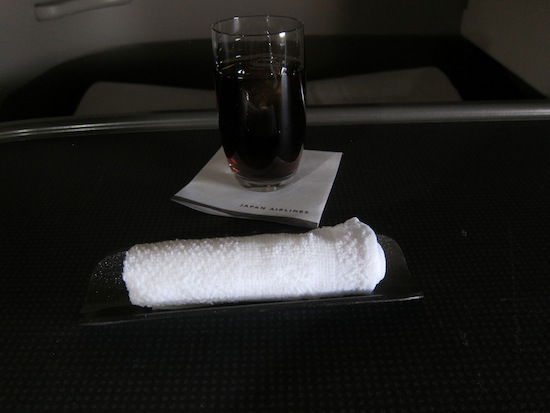 Diet Coke and hot towel
The breakfast portion was tiny, basically consisting of a small waffle cut in half and a spoon full of scrambled eggs. It was also served with a very small container of plain yogurt.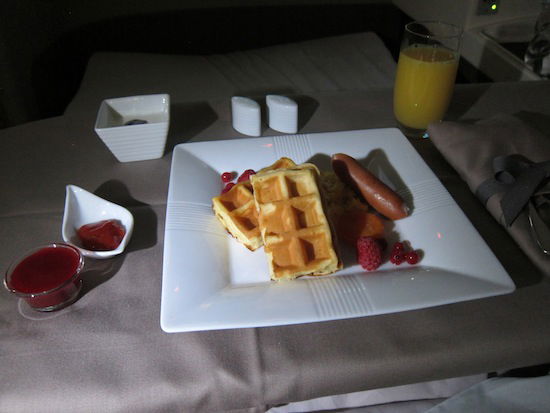 Western tray
Again, I was completely puzzled by what time of day it was in terms of food, so had some ice cream for dessert, hoping it was better than the cheesecake ice cream served earlier in the flight.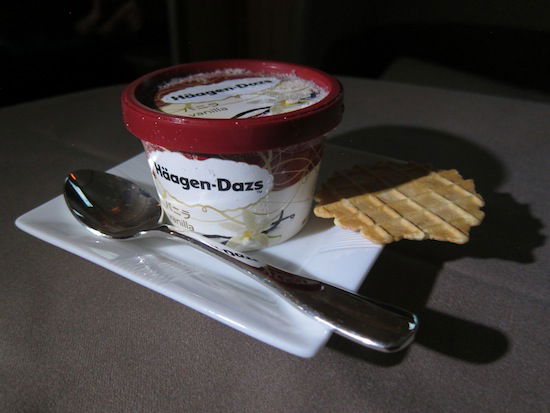 Ice cream
Oddly the amenity kits were distributed about 30 minutes before landing. I'm not sure if it was an oversight on the part of the crew or what, but I found it rather strange. JAL does have one of the nicest amenity kits, though, including Shiseido branded products and (oddly) a large towel/rag, the purpose of which I've yet to figure out.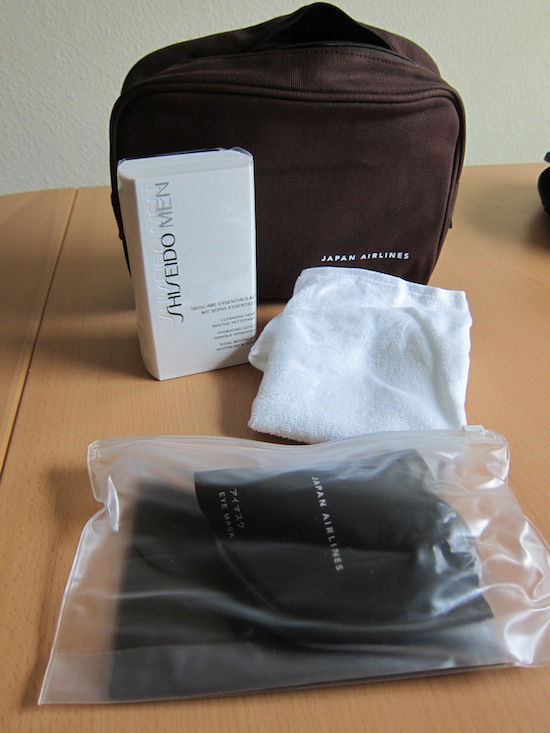 Amenity kit
20 minutes before landing the seatbelt sign was turned on and the captain advised us of our slightly late arrival due to us having to slow down on approach to NY.
Once we landed at JFK we had a fairly long taxi to our arrival gate.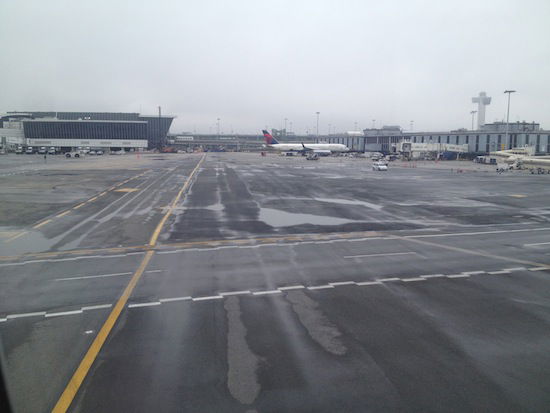 Taxiing in
Fortunately thanks to Global Entry I was outside within five minutes, ready to conk out.
So how do I feel about JAL? Well, I'm happy to have flown their new product and tried them again, but now it's on my "been there, done that" list. Overall I'd rank JAL's first class product as a second tier first class product, ahead of US airlines but behind the best in the world. While the flight attendants are friendly their English skills are lacking. The issue with that isn't the language barrier, but it makes it tough for them to feel more confident in their service. But I'd certainly recommend JAL ahead of US airlines and many foreign carriers. If only first class award space wasn't so hard to come by on them…