---
For months I had a meeting scheduled in Singapore, and originally my plan was to first visit Singapore and then continue on to Thailand for about a week (Chiang Mai and Chiang Rai, specifically).
So while I had a ticket booked reflecting that schedule, I unfortunately had a schedule conflict on both ends of the trip. On the front end I was attending Starwood's screening of "Mansome" in New York at the Tribeca Film Festival, and on the back end I had a family commitment back in Tampa.
Unfortunately this translated to a very quick trip to Singapore of just about 48 hours. While it's not ideal, I was determined to at least get a few new airline products into the trip, and I'm proud to say that I think I succeeded in this instance.
For the outbound I've been dying to try Lufthansa's new first class on the 747, which consists of both a seat and a bed. I've flown their other new first class product, which can be found on the Airbus 380, though never lucked out with the reconfigured 747, since only 10 of the 28 747s feature it.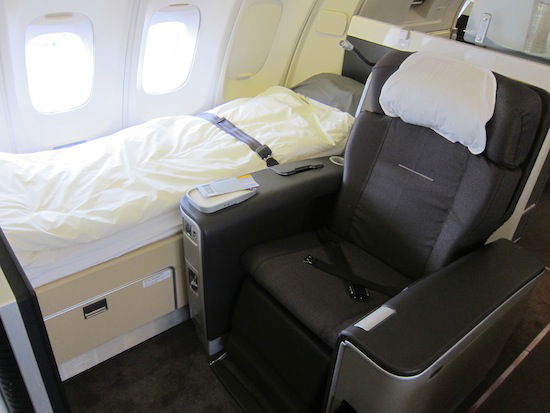 In this instance the most convenient scheduled for the outbound was from New York to Singapore via Frankfurt in Lufthansa first class for 70,000 United miles one way (which I transferred from Ultimate Rewards).
The Frankfurt to Singapore flight was scheduled to be operated by the Airbus 380, so while it's not a new product I didn't feel too bad about flying it again, since I really do love the Airbus 380.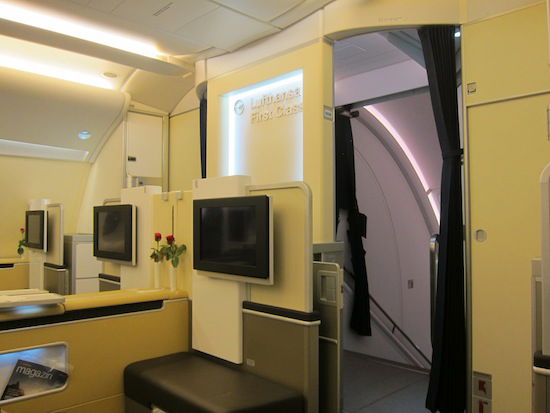 The flight from New York to Frankfurt proved to be a bit trickier. Lufthansa has two flights a day between New York JFK and Frankfurt, one at around 4PM and one at around 10PM. Initially I booked the late night flight, which I far prefer.
The thing is that Lufthansa flies the reconfigured 747s around pretty randomly, so when I woke up in the morning I looked up the tail numbers for the inbound flights from Frankfurt (this FlyerTalk thread is very useful for tracking them). As it turns out, the earlier flight from Frankfurt to New York (LH400) had the new first class, and that plane turns around to fly the early New York to Frankfurt flight (LH401).
So while I wasn't looking forward to spending an extra six hours in Frankfurt, I decided it was well worth it for the new product. Fortunately the earlier flight had first class award space as well, so I called up to make the change, which took only a few minutes.
The return was also a spur of the moment decision. I initially booked a Cathay Pacific first class award from Singapore to Tampa via Hong Kong and Chicago, which is a tough value to beat at 67,500 American miles. Cathay Pacific has one of the most consistent first class products, though I've flown them well over a dozen times, so I was really hoping to try something new.
My flight out of Singapore was supposed to be at 1AM, and at around 4PM the previous afternoon I decided to get online and see if there were any other interesting alternatives.
I found Japan Airlines first class award space from Tokyo to New York in their new Sky Suite. While I flew their old product from Tokyo to New York several years ago, the prospect of trying their new suites proved too much to give up, so I canceled my Cathay Pacific award. The one-way award cost 62,500 miles in first class (flying out of Japan is 5,000 miles cheaper than flying out of Southeast Asia on American).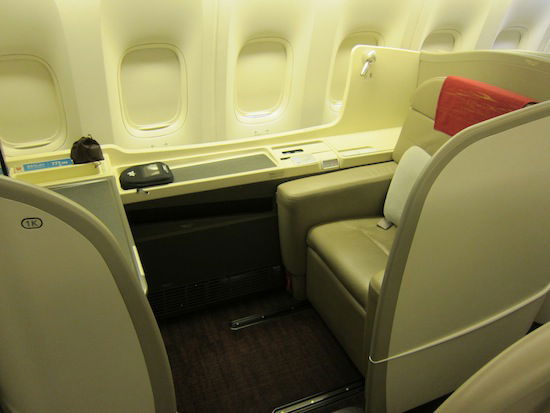 The issue was getting from Singapore to Tokyo. I had some Singapore Airlines KrisFlyer miles, so decided to book the Singapore Airlines redeye from Singapore to Tokyo in first class for 51,000 KrisFlyer miles.
While I've flown Singapore Airlines' old first class product and new business class product, I haven't flown their new first class product.
Now, some might say that Singapore to Tokyo for 51,000 miles on a redeye is a waste. But 90% of the people I know really have no clue how far Singapore is from Tokyo. When I've asked people to estimate the flight length, they usually say 2-3 hours. It's actually blocked at over seven hours, and the distance is further than Boston to London. So when you put it into perspective and think of it as the equivalent of a transatlantic first class flight for 51,000 miles, it seems like a bit better of a deal.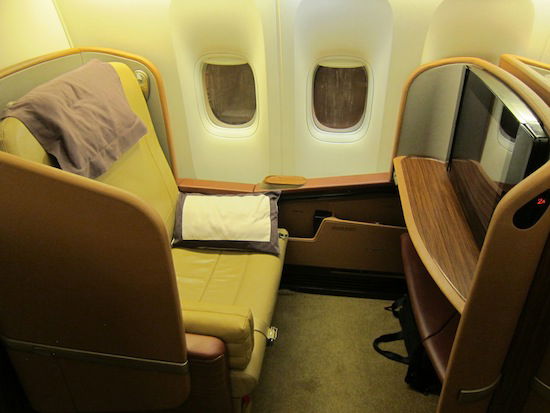 Ultimately there's no doubt the Cathay Pacific deal was a better one, though you guys are always telling me you want me to review new products, and I figured this would be the perfect opportunity, since three of the four airline products were new ones for me.
When all was said and done, the itinerary looked as follows:
04/26 Lufthansa 401 New York to Frankfurt departing at 3:55PM and arriving at 5:35AM (+1 day)
04/27 Lufthansa 778 Frankfurt to Singapore departing at 9:35PM and arriving at 3:50PM (+1 day)
04/30 Singapore Airlines 638 Singapore to Tokyo departing at 11:55PM and arriving at 8:00AM (+1 day)
05/01 Japan Airlines 6 Tokyo to New York JFK departing at 11:20AM and arriving at 11:25AM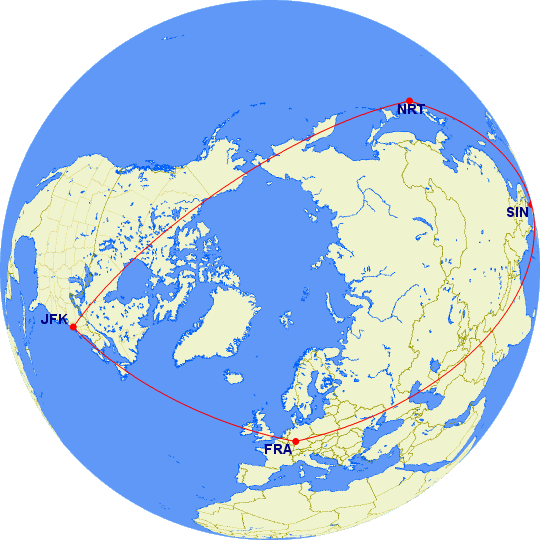 On the hotel front I decided to book the InterContinental Singapore. Since I was staying over a weekend I was able to use an InterContinental Buy One Get One Free Weekend Night Certificate, which is an unbeatable deal in conjunction with Royal Ambassador benefits.
Stay tuned!