Introduction
From Airbus To Megabus: A Trip Of Contrasts
Review: Six Senses Zighy Bay Villa
Review: Six Senses Zighy Bay Activities & Dining
Review: Al Maha Bedouin Suite
Review: Al Maha Desert Resort Dubai Dining
Review: Al Maha Desert Resort Dubai Activities
Review: Dubai International First Class Lounge DXB
Review: Qatar Airways First Class A320 Dubai To Doha
Review: Qatar Airways First Class A380 Doha To London
Review: British Airways First Class A380 London To Los Angeles
Review: British Airways A380 First Class Tasting Menu
Review: Sheraton Gateway Los Angeles Airport LAX
Review: American Flagship Lounge Los Angeles LAX
Review: American First Class A321 Los Angeles To New York
Review: Hilton Austin Airport
---
Qatar Airways 1003
Dubai (DXB) – Doha (DOH)
Saturday, October 10
Depart: 5:30AM
Arrive: 5:40AM
Duration: 1hr10min
Aircraft: Airbus A320
Seat: 3A (First Class)
Upon boarding through the forward door we were greeted by the cabin manager and pointed towards our seats. I was thrilled to see that this flight was operated by an A320 featuring Qatar's updated regional product.
As a point of reference, Qatar's "old" regional product consists of recliner seats which are slightly more comfortable than domestic first class in the US.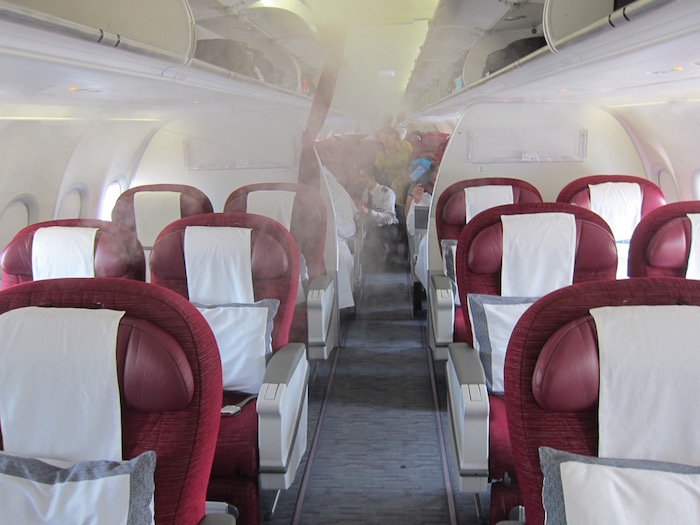 Qatar's old regional first class product
The new regional cabin consists of a total of 12 seats, spread across three rows in a 2-2 configuration. These are fully flat seats which are angled ever-so-slightly towards the window. It's the same seat that United and Air China have in business class on some of their longhaul aircraft.
This is probably as good of a time as any to mention that Qatar Airways is weird about how they market their regional flights. The forward cabin on flights within Gulf countries is marketed as first class, even though it's really a business class cabin. For an explanation of why that is, see my previous post on the topic.
Tiffany and I were in seats 3A & 3C.

Qatar Airways A320 first class, seats 3A & 3C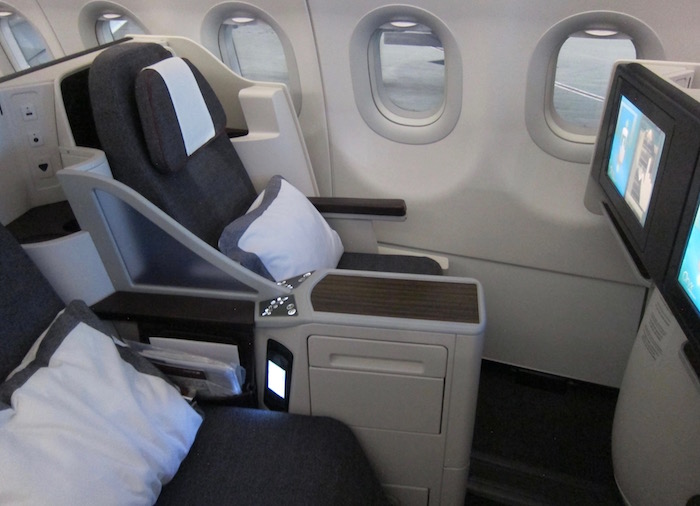 Qatar Airways A320 first class, seats 3A & 3C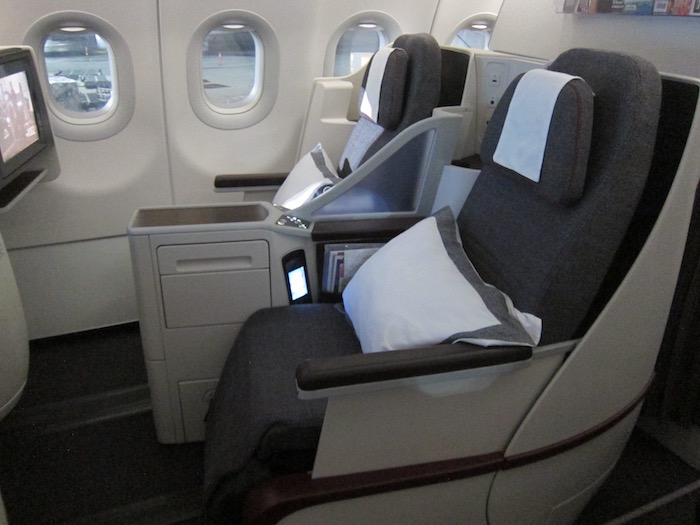 Qatar Airways A320 first class, seats 3D & 3F
Due to how the seats are angled, the foot "cubbies" are located between the seats in front of you.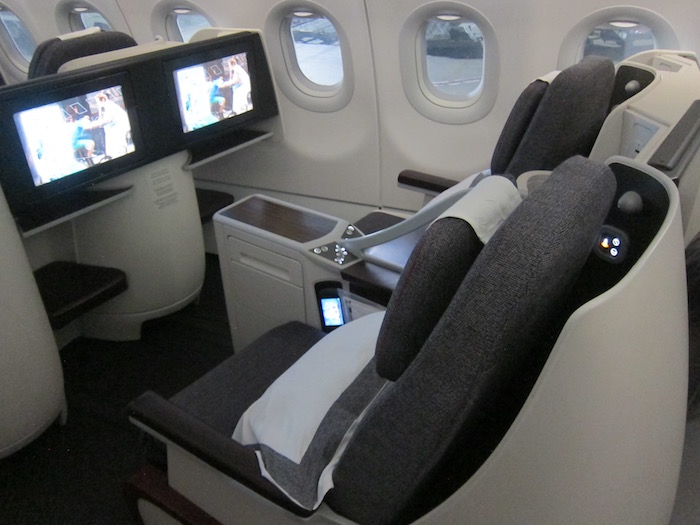 Qatar Airways A320 first class, seats 3D & 3F
On this plane the area for your feet was definitely on the tight side, but then again, this plane operates at most five hour flights. This is a pretty fantastic product for a five hour flight, let alone for our 50 minute flight to Doha.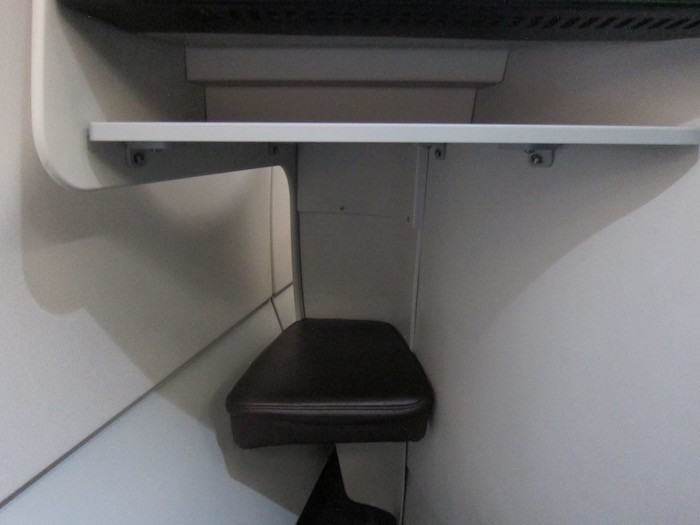 Qatar Airways A320 first class legroom
Waiting at my seat was a pillow, and upon request I was also given a plush blanket.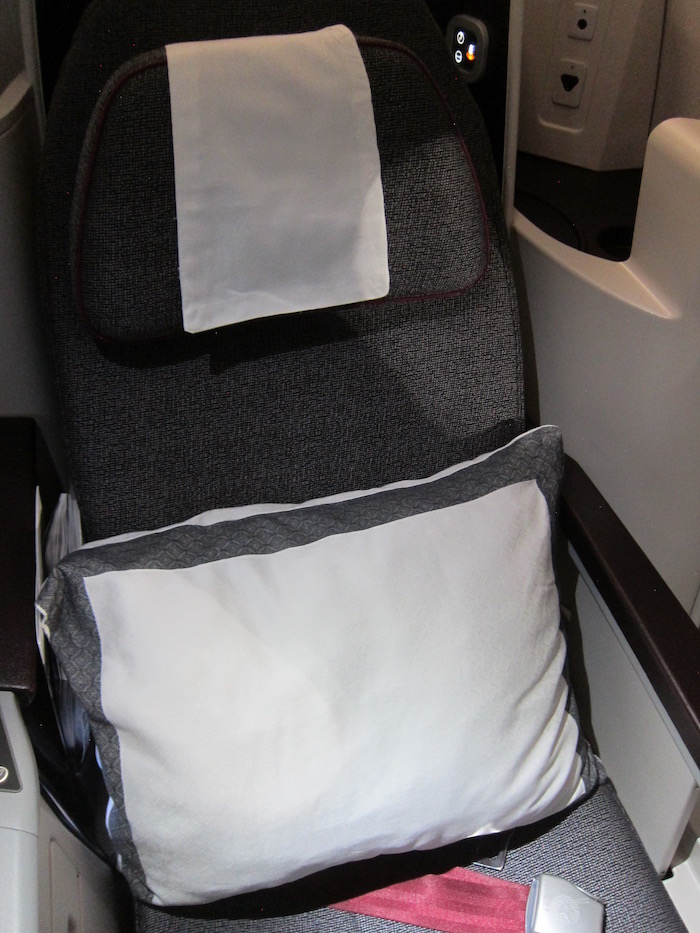 Qatar Airways first class seat
To the left of the seat was a USB plug and the headphone jack, as well as a fair amount of exposed storage.

Qatar Airways first class seat headphone jack and USB charger
The standard international outlets were located below the center of the seats.

Qatar Airways first class 110v charger
Immediately to the left of my seat was a button with simple seat functions, including controls for the reading light, and to recline the seat into bed mode.

Qatar Airways first class seat controls
Then on the console between seats were the more customized seat controls.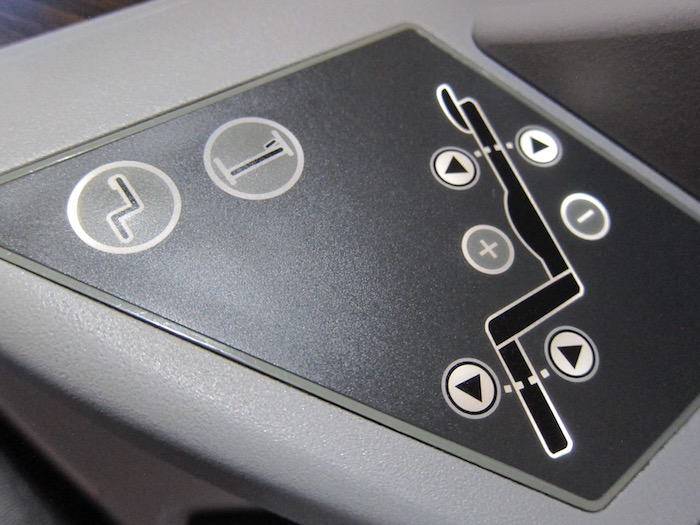 Qatar Airways first class seat controls
The entertainment screens were fixed to the seats in front of us, and there was a shelf underneath the screens, though I'm not sure what purpose it served, since anything stored there could easily fall.

Qatar Airways first class entertainment controls
As passengers settled in, the two cabin crew responsible for the first class cabin came around to offer towels (hot or cold) as well as pre-departure beverages. Qatar's cabin crew are extremely diverse, and this flight was no exception — one of the crew was Filipino, while the other was from somewhere in Eastern Europe. Both were extremely attentive and charming.

Qatar Airways first class cabin
I requested a hot towel and a coffee with milk, which was promptly served. Ah, there's nothing like a proper mug of coffee before takeoff!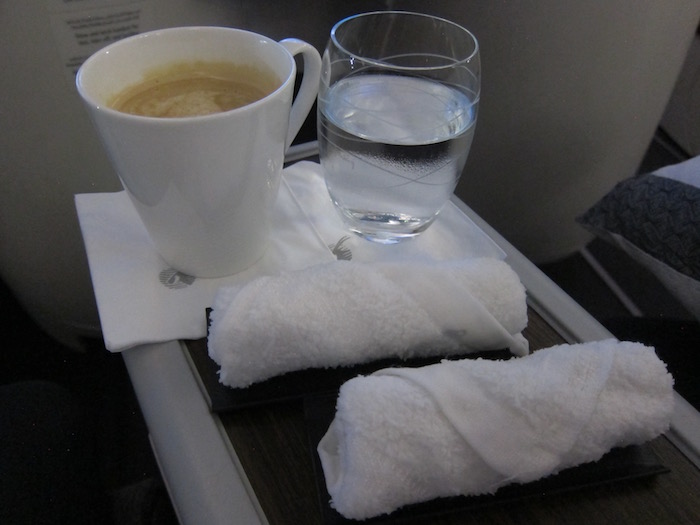 Qatar Airways first class pre-departure beverages
Shortly thereafter the crew came around with Arabic coffee and dates.

Qatar Airways first class Arabic coffee and dates
Following that, newspapers, magazines, and the menus for the flight were distributed.

Qatar Airways first class menu
Given the short flight time, breakfast orders were immediately taken, so they could begin prepping for after takeoff. The menu read as follows:
And the beverage list read as follows:
The flight wasn't especially full — first class had eight of the 12 seats taken, while economy was maybe half empty. Therefore boarding was quick, and at around 5:10AM the main cabin door was closed.
Shortly after the door closed the first officer came on the PA to welcome us aboard and inform us of our flight time of 50 minutes, and our cruising altitude of 20,000 feet.
At 5:15AM we began our pushback, next to a Qatar Airways 787 (virtually all the other planes in sight belonged to Emirates).

Qatar Airways 787 Dubai Airport
At that point the safety video was screened.
We were departing from runway 30R, which is quite a taxi from terminal 1. It took about 20 minutes. During that time I turned on the airshow, so I could follow the progress of our flight across the Gulf.
As we taxied out, the guy across from us had already fallen asleep, and was snoring the loudest I've ever heard. That continued all the way until we landed in Doha.
At 5:35AM we were cleared for takeoff, and had a quick takeoff roll and steep initial climb out.

View after takeoff from Dubai Airport
The seatbelt sign was turned off less than two minutes after takeoff, at which point the curtain between the cabin and galley was drawn.

First class cabin after takeoff
Less than five minutes later the meals were brought out. Qatar Airways nails short-haul catering, in my opinion.
I had the mushroom, cheddar, and tomato tart, which was served with corn, peas, cherry tomatoes, cauliflower, etc.

Qatar Airways first class breakfast
The tart was excellent — it had a great taste and was perfectly heated.

Qatar Airways breakfast — mushroom, cheddar, and tomato tart
Breakfast was served with a side of fruit.

Qatar Airways breakfast — fresh fruit
And then also a croissant and some Arabic bread.

Qatar Airways breakfast — croissant and bread
Tiffany had the halloumi and beef arayes, which also looked very good.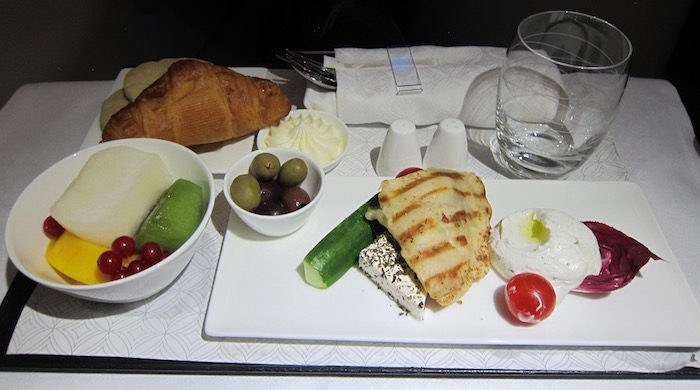 Qatar Airways breakfast — halloumi and beef arayes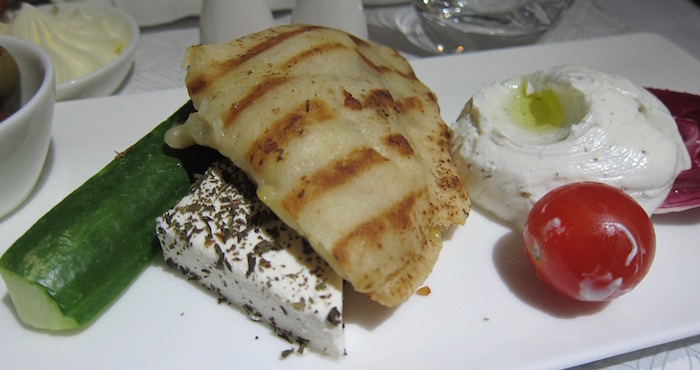 Qatar Airways breakfast — halloumi and beef arayes
The crew first delivered all the meals, and then quickly brought out drinks. I ordered both a cappuccino as well as the avocado and date smoothie.
I only ordered the smoothie because I was intrigued by the combination of avocado and date in a drink — I figured it would taste terrible. Much to my surprise, it was tasty — the date flavor was more prevalent, though the avocado gave it a kick.

Qatar Airways cappuccino and avocado and date smoothie
By the time the meal service was complete we were well into our descent into Doha, with a beautiful sunrise off the side of the plane.
It was also pretty bumpy on the initial descent, though the ride quickly smoothed out. The first officer came back on the PA to inform us of our anticipated arrival time of 5:20AM.
As we began our final approach we had some views of the Doha waterfront, though due to the weather the visibility wasn't great.
We touched down in Doha at around 5:20AM, and from there had a roughly five minute taxi to our arrival stand.

View on final approach into Doha
There were quite a few planes parked at remote stands; we pulled in next to a Qatar 777.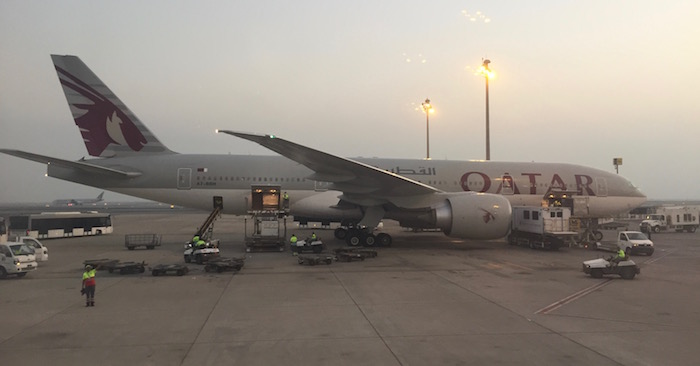 Qatar Airways 777 Doha Airport
It still blows my mind that Qatar built a huge new airport, and it already needs remote stands.
Within a few minutes the stairs were pulled up to the plane, and we were ushered into the premium bus which was waiting for us.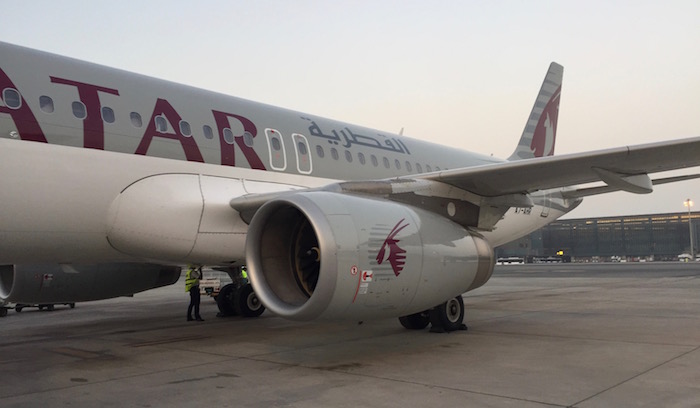 Qatar Airways A320 upon arrival in Doha
At least Qatar is pretty good about having a separate bus for premium passengers, unlike some other airlines and airports.
From there we headed to security, where I'll pick up in the next installment.
Qatar Airways A320 first class bottom line
Qatar Airways does short-haul flights better than almost any airline (a conclusion I reached during my last flight with them, from Doha to Abu Dhabi). Between flat beds, pre-departure beverages of choice, Arabic coffee and dates, and a delectable meal on a short flight, it's among the world's best regional products, in my opinion.
Anyone else as much a fan of Qatar Airways' regional product as I am?