It's not often I write about my domestic flying nowadays, since I find most flights to be pretty run of the mill. However, I recently flew United's 787 for the first time, between Houston and Los Angeles.
In this case I had the option between a $280 economy flight on an American CRJ-700, or a $400 first class fare on a United 787-9. Naturally I chose the latter. Ultimately I realize a domestic flight isn't ideal for experiencing an airline's "flagship" service, though I figured it was better than nothing.
United's 787-9s have a pretty big business class cabin, consisting of a total of 48 seats, in a 2-2-2 configuration.
They're spread across two cabins, with the forward cabin having a total of five rows, and the rear cabin having three rows.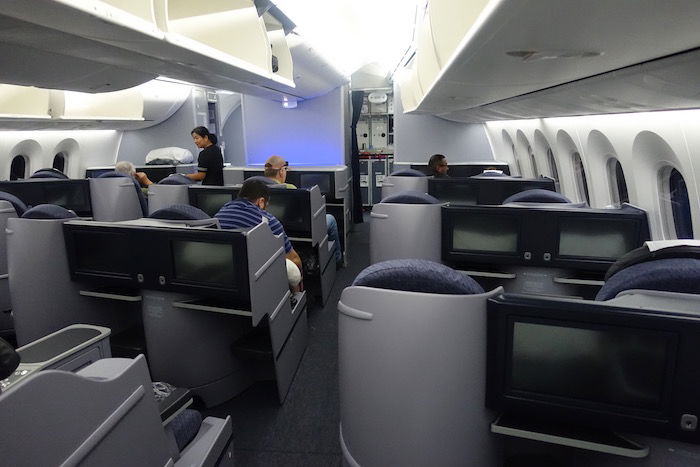 I selected seat 5L, the window seat in the last row of the forward business class cabin on the right.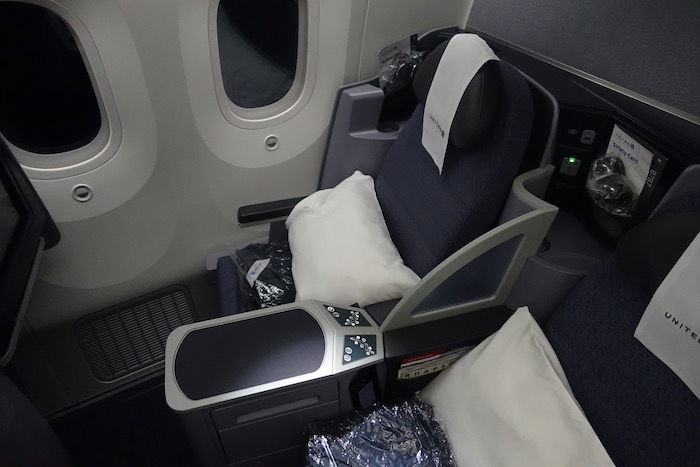 United's 787 business class has B/E Aerospace Diamond seats, which are the same you'll find in Aeromexico's 787 business class, American's A321 business class, Qatar Airways' A320 business class, Air China's 777 business class, etc. Personally I far prefer seats with direct aisle access, though this is still preferred to the ex-United 777s, which have eight seats per row in business class.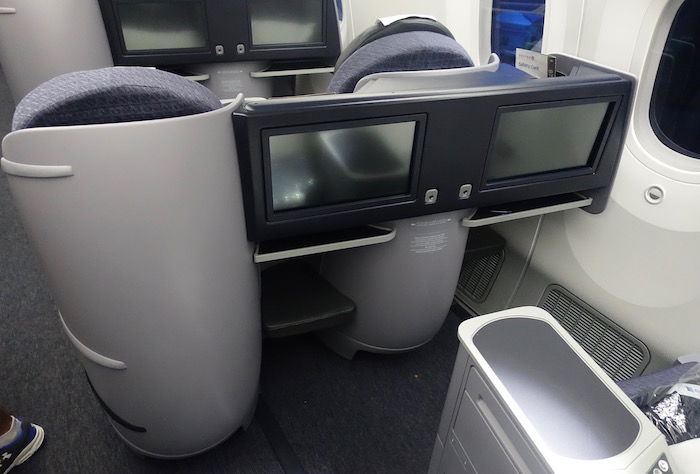 These seats have a bit of storage behind them, so as far as (mostly) forward facing business class seats go, these are pretty decent.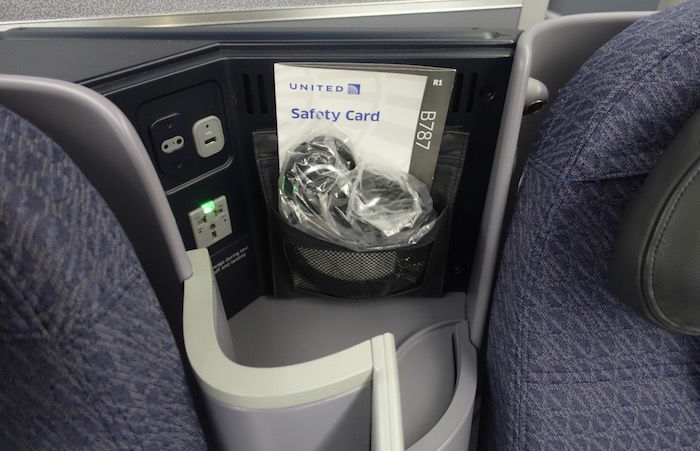 In theory the foot cubby by the window seats is a bit better than by the aisle, though it was still pretty tight. It didn't matter too much on this short daytime flight, though.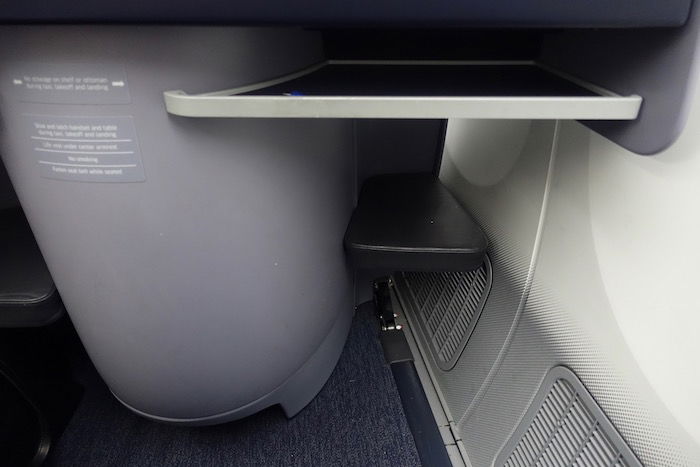 What impressed me most about the flight was the friendliness of the crew. The flight attendants were super young and super friendly, which I wasn't expecting. They offered pre-departure beverages of choice, including several refills during the boarding process.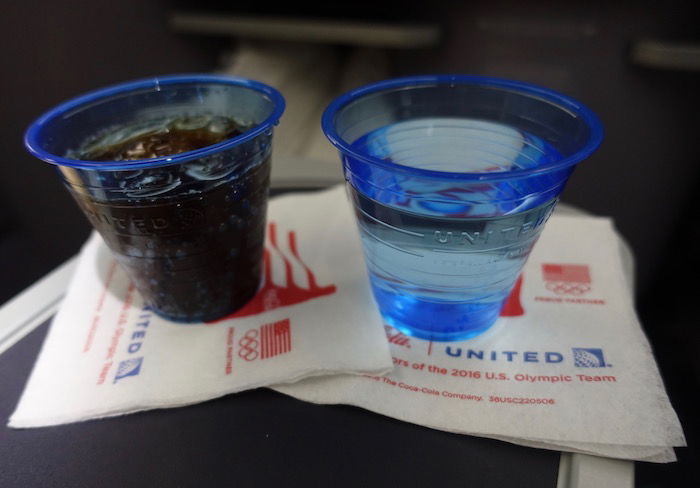 While the service was extremely friendly, I was a bit disappointed by the pace of service after takeoff. The flight time was 2hr48min, and it was an hour after takeoff before they served drinks and nuts.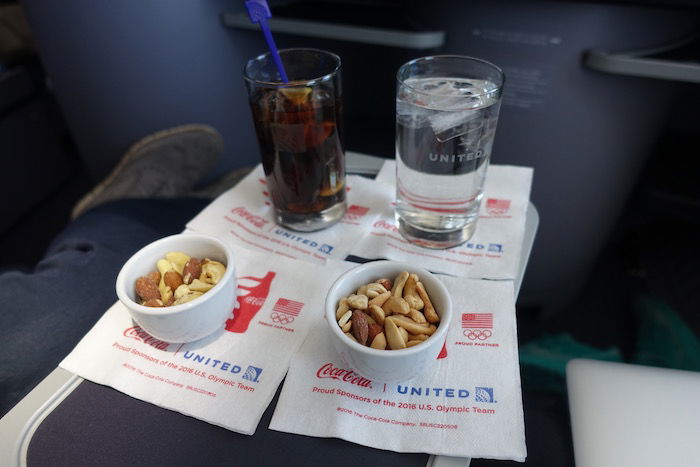 For lunch I selected the chicken option, which was described as "chicken jambalaya."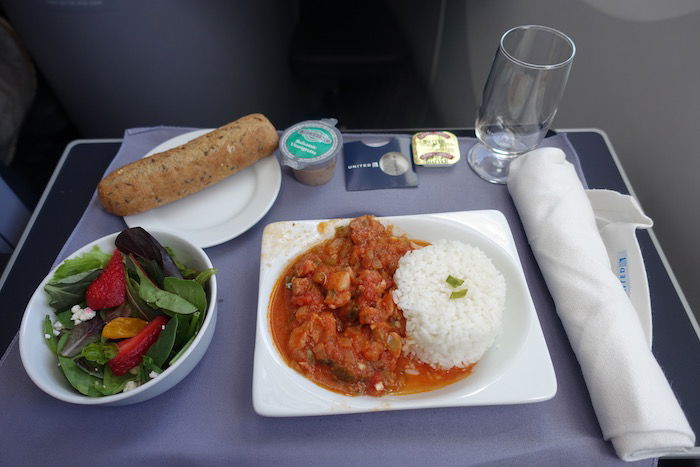 It was not good.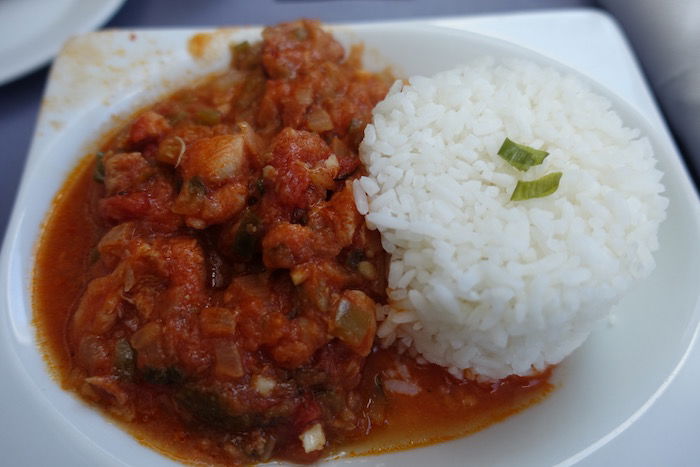 The side salad was tasty, though small.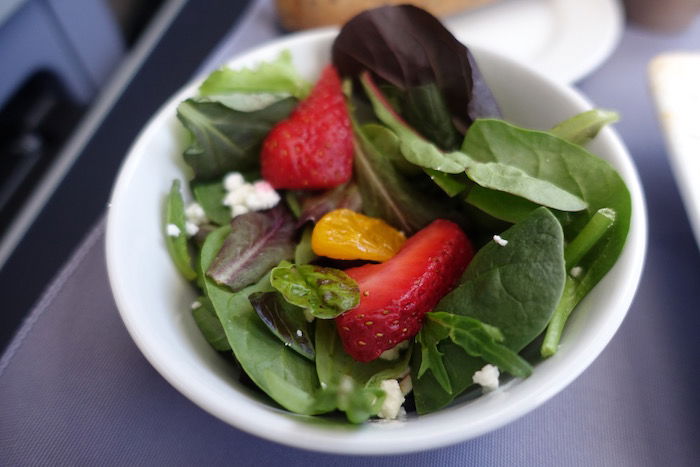 The meal was served with a wheat roll.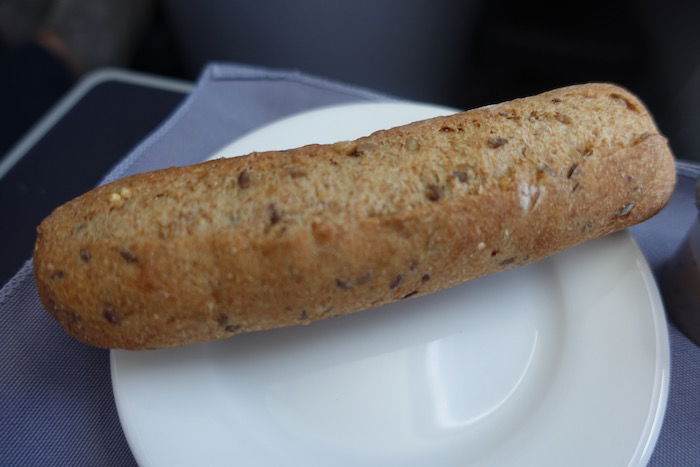 There was no dessert served with the meal, though perhaps that was a blessing, since I eat enough on planes anyway. 😉
Otherwise the flight was uneventful, and I spent most of it working on my laptop. While the plane had Wi-Fi, it was excruciatingly slow, so I stuck to work which didn't require internet for most of the flight.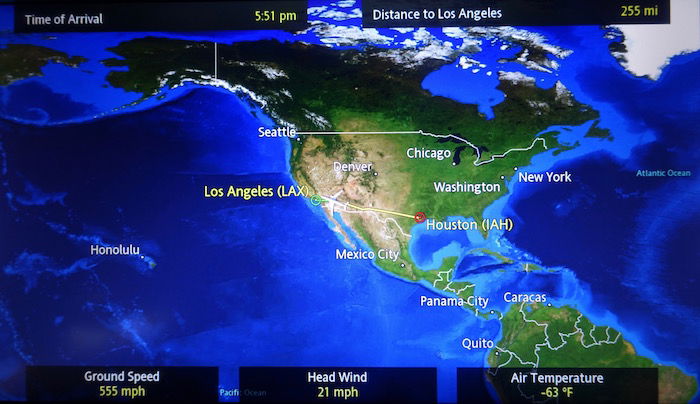 Bottom line
Overall this was a great domestic flight, though this isn't my favorite hard product for a longhaul flight. Overall I was pleasantly surprised by the friendliness of the crew, while I was disappointed by the pace of service and quality of the food.
With the loyalty programs of the "big three" US carriers now being revenue based, there's less of an incentive than before to be loyal. Add in the fact that the price premium between economy and first class seems to constantly be decreasing, and I'm finding it more worthwhile than before to just pay for the cabin/flight I want to take, assuming first class is reasonably price.
With my goal of reviewing as many new airlines as possible, I'll try to review United's longhaul service soon, perhaps when they introduce Polaris service.