United Airlines has today announced a massive aircraft order, as well as new interiors for narrow body aircraft, in a project that's being called "United Next." This ultimately doesn't come as that much of a surprise, since we knew an aircraft order was coming, and there were also rumors of new interiors coming to United planes.
This update is incredibly exciting to see, as it puts United more in Delta's league, and makes American's customer experience uncompetitive among the "big three" carriers.
United Airlines orders 737 MAXs & A321neos
United Airlines has today revealed the purchase of 270 new Boeing and Airbus aircraft, described as the largest combined order in the airline's history, and the biggest order by an individual airline in the past decade. This new aircraft order includes the following planes:
50 Boeing 737 MAX 8s
150 Boeing 737 MAX 10s
70 Airbus A321neos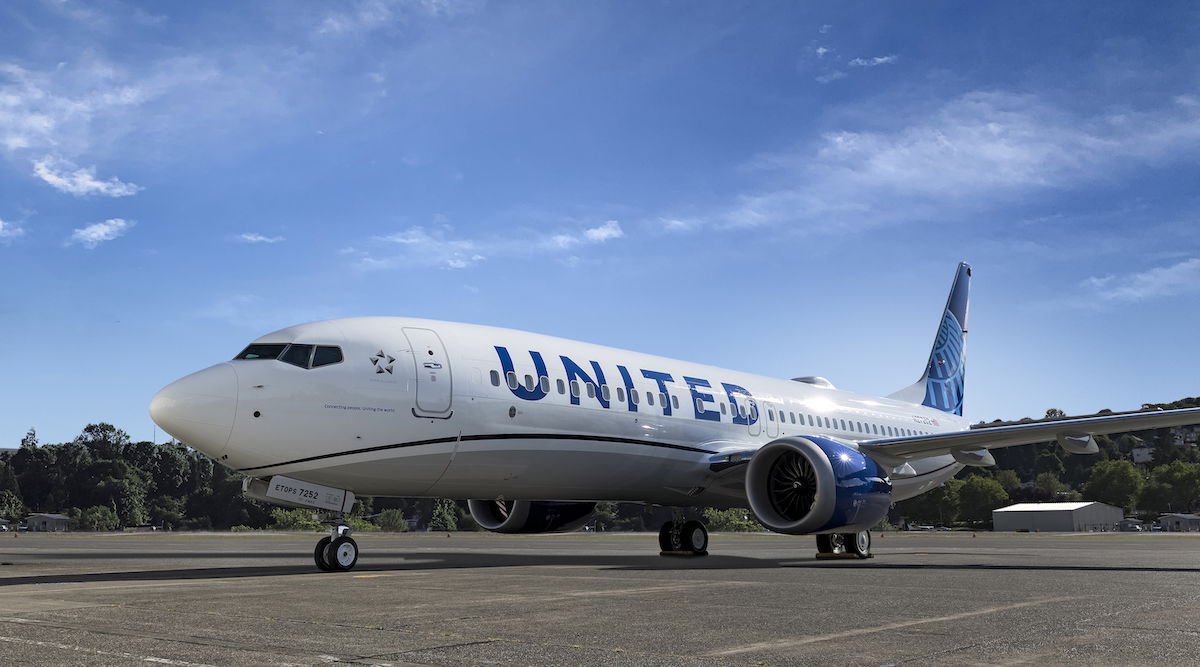 For context, this complements United's existing narrow body orders, as follows:
United had already ordered 100 Boeing 737 MAX 10s, so the carrier now has a total of 250 of these on order
United had already ordered 40 Boeing 737 MAX 8s, so the carrier now has a total of 90 of these on order
United has ordered a total of 79 Boeing 737 MAX 9s, many of which are already in service
United had already ordered 50 Airbus A321XLRs (the longest range version of the A321neo), which will be used for long haul flights; the 70 Airbus A321neos, on the other hand, will primarily be used for domestic and short haul international flights
Between new and existing aircraft orders, United now has more than 500 new narrow body aircraft on order. As far as the delivery timeline for these planes goes:
40 new aircraft will be delivered in 2022
138 new aircraft will be delivered in 2023
As many as 350 aircraft new aircraft will be delivered in 2024 and beyond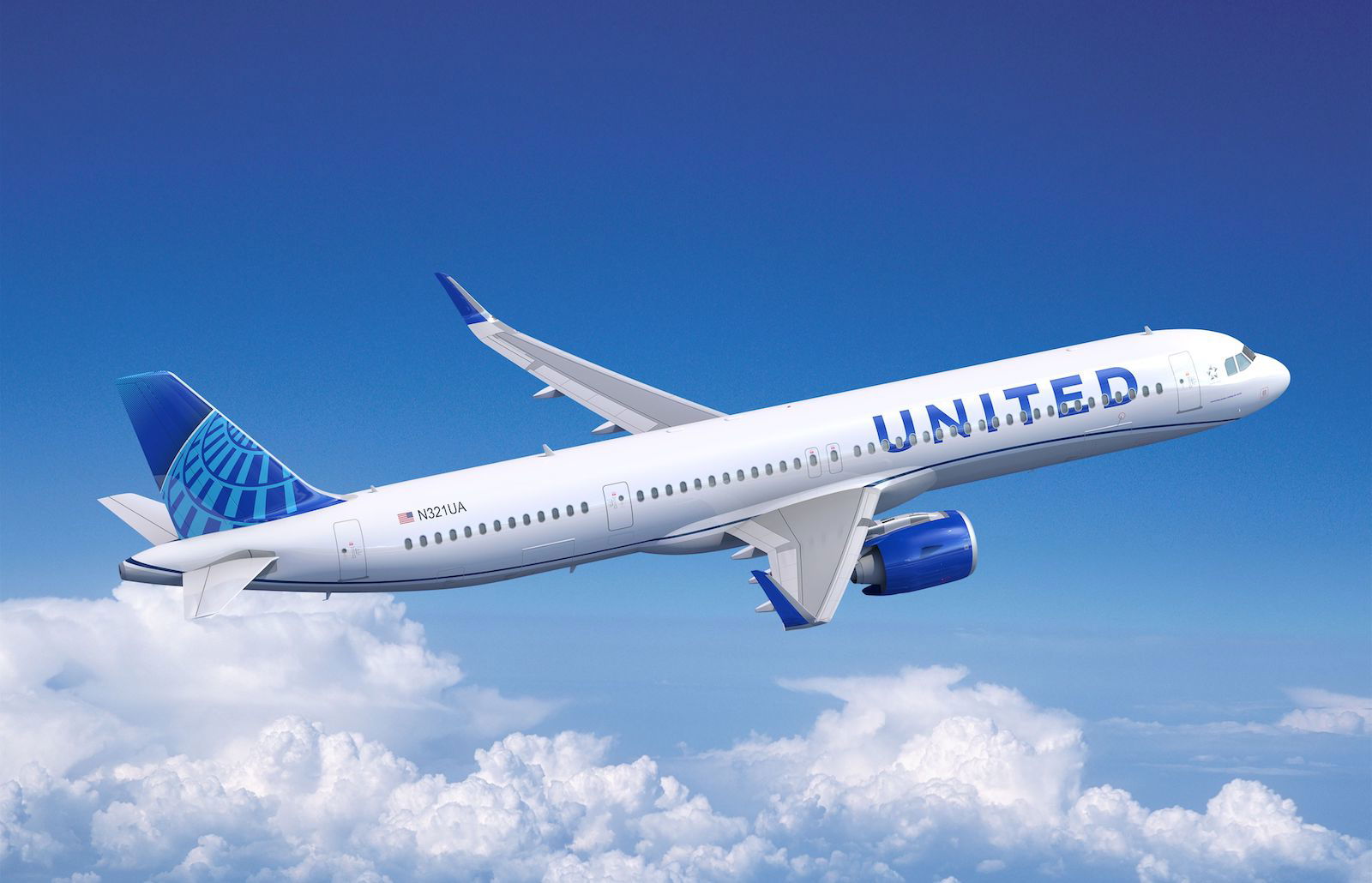 The delivery rate in 2023 is particularly impressive, as United will on average add one new narrow body aircraft to its fleet every three days. With all of these new planes, United hopes to increase domestic departures by almost 30%, and lower per seat carbon emissions significantly.
Between the massive Boeing 737 MAX 10 and Airbus A321neo order, it seems United has intentions to retire its Boeing 757 fleet in the coming years, and then some.
United Airlines reveals new cabin interiors
United's newly ordered aircraft will feature a new signature interior that includes:
Seatback entertainment at every seat — first class will have 13″ monitors, while economy will have 10″ monitors, with 2,800 movies, TV shows, and more
Larger overhead bins
High speed Wi-Fi
AC power and USB outlets at every seat
LED lighting that contributes to a bright new look
What's the timeline for these new interiors?
That's right — by 2025, all United Airlines mainline jets will feature personal televisions at every seat.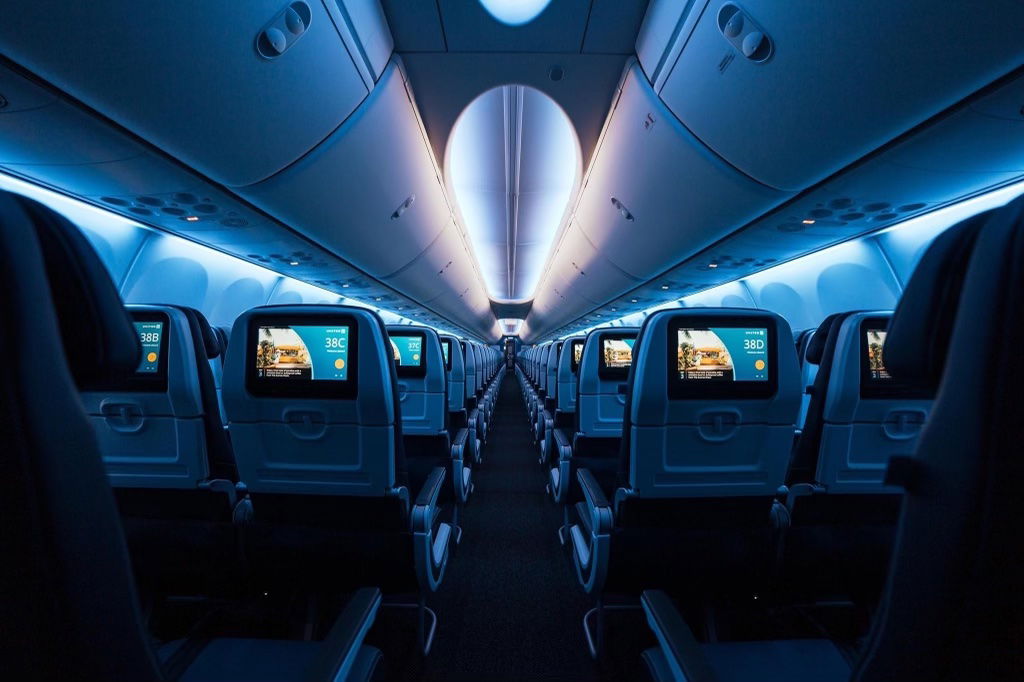 United Airlines installing more premium seats
Not only is United Airlines introducing more premium interiors with personal televisions at every mainline seat, but the airline is also boosting how many premium seats it offers on domestic mainline flights.
United expects to have an average of 53 premium seats (which includes first class and Economy Plus) per North American departure by 2026, which is a 75% increase over 2019 levels, and more than any competitor in North America.
In other words, you can expect that United will continue to install lots of first class and Economy Plus seats on upcoming planes. For example, upcoming United Boeing 737 MAX 8s will feature 16 first class seats and 54 extra legroom economy seats, while American's Boeing 737 MAX 8s feature 16 first class seats and 30 extra legroom economy seats.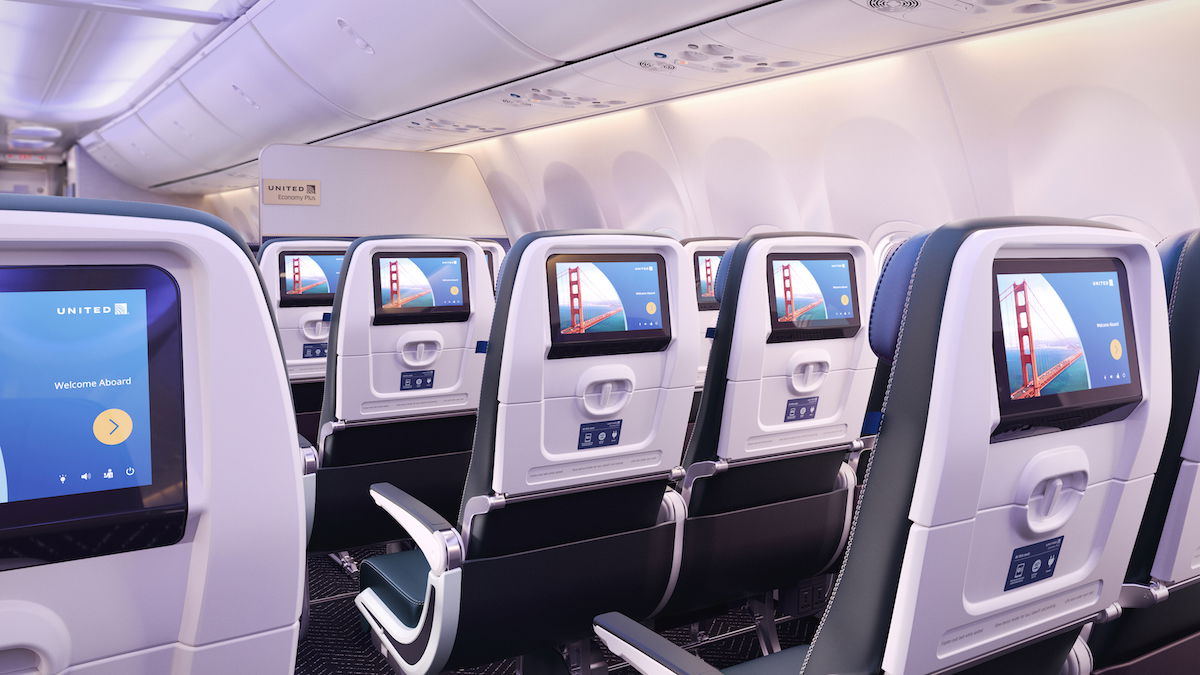 My take on "United Next"
It's impressive to see the direction United Airlines is headed. United is not only investing in new planes, but actually creating a passenger experience that customers might enjoy, with more premium seats. So while American has removed personal televisions from narrow body aircraft, United is going the opposite direction. Not only will United offer personal televisions on newly delivered aircraft, but existing mainline aircraft are also being reconfigured with this amenity.
United CEO Scott Kirby sure has come a long way. Back in his America West and American Airlines days he was known for being a bean counter, while now he seems to see value in investing in the passenger experience. I trust that Kirby didn't suddenly become bad at math, so clearly the numbers work out when offering a passenger experience that people want.
I'm curious to see if American continues with its current strategy and offers an uncompetitive product, or if both Delta and United investing in a more premium experience forces American to compete. I'm guessing that it's probably not a great morning at American Airlines headquarters…
I also find it interesting how United is going all-in on the Boeing 737 MAX 10, which is a plane that hasn't been that popular with other airlines. I think it's a fantastic plane for domestic flights — it's high capacity and fuel efficient, and while it doesn't have amazing range, there are a lot of routes where it works extremely well.
Bottom line
United Airlines has placed an order for 270 new aircraft, including 170 Boeing 737 MAXs and 100 Airbus A321neos. These planes will allow United to modernize its domestic fleet.
Arguably the even more exciting news is that United Airlines will be installing personal televisions at every seat throughout its mainline fleet, thanks to an aggressive project that will see the airline retrofitting all planes by 2025. Well done, United!
What do you make of United's aircraft order and new interiors?