I swear I have really low standards when it comes to inflight catering. But American Airlines' current first class meal choices really take it a step too far.
American Airlines' first class sandwiches
While I fly American Airlines frequently, I'm a morning person, so I usually like to take morning flights. I hadn't had the pleasure of enjoying American's most recent lunch and dinner meals up until yesterday, when I flew from Dallas to Tampa.
What's funny is the number of people who have specifically reached out to me about American's current turkey sandwich being served in first class. We were in San Miguel de Allende over the weekend, and someone who isn't in the miles & points world probably spent 10 minutes ranting about how she couldn't believe how bad the sandwich was (without me mentioning anything about the airline).
Well, yesterday evening I was excited (in a masochistic) way when it was finally my turn to try American's first class sandwiches. The flight attendant offered us the choice of a turkey or pimento cheese sandwich. We took one of each, and they didn't disappoint (from an entertainment standpoint).
American Airlines turkey mustard aioli sandwich
Let's start with the "turkey mustard aioli sandwich."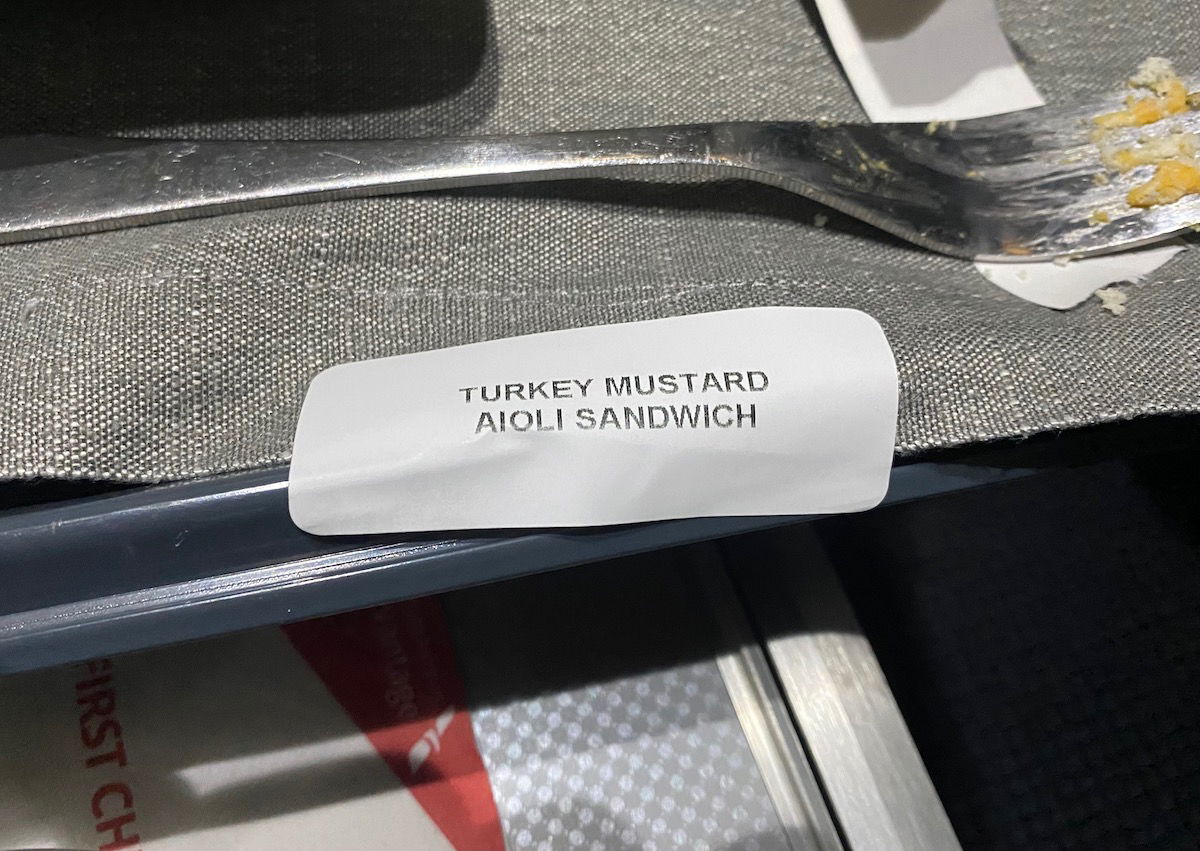 It was served with a salad with cheese and ranch, a potato salad, and a brownie bar. Let's just focus on the sandwich. I consider myself to be a huge pretzel roll enthusiast, but the bread was hard as could be. I'm kind of surprised it's even allowed past security, because it could most definitely double as a weapon.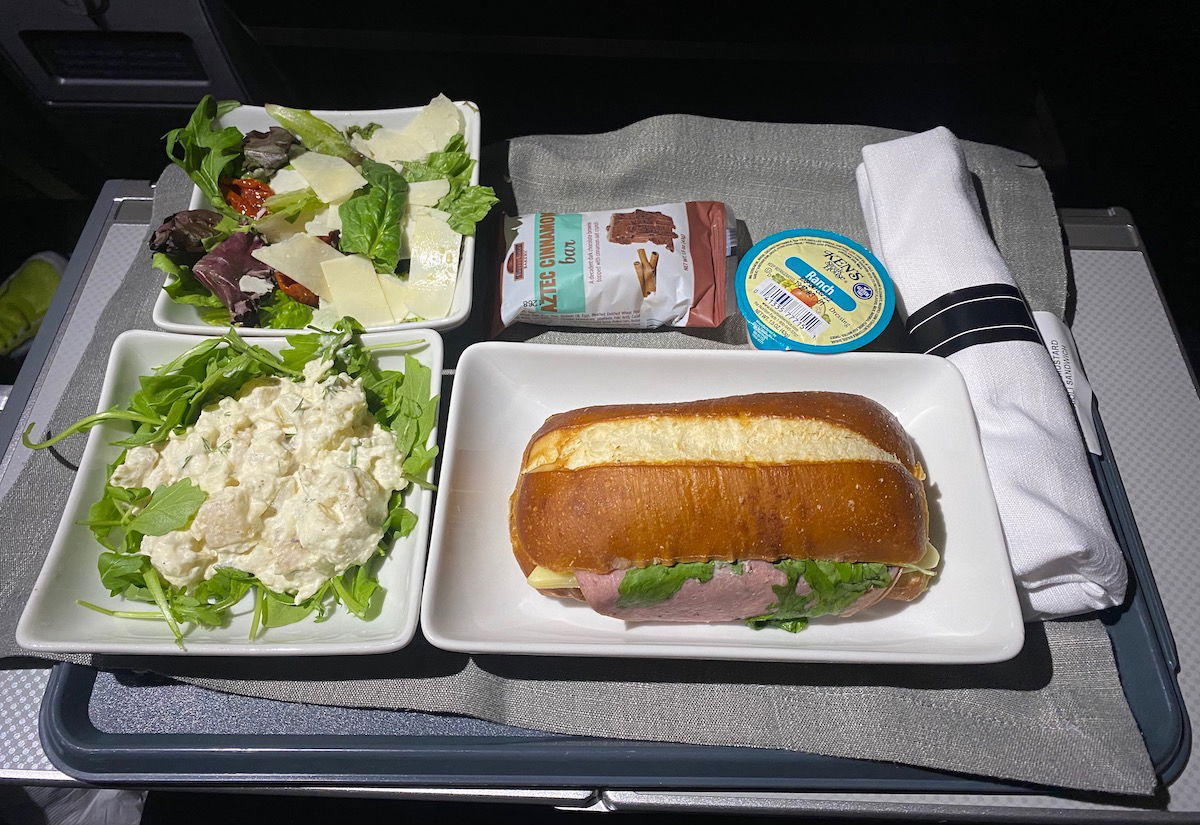 Even that shouldn't matter, because it's what's on the inside that counts, right? Well, let's take a look at what's on the inside…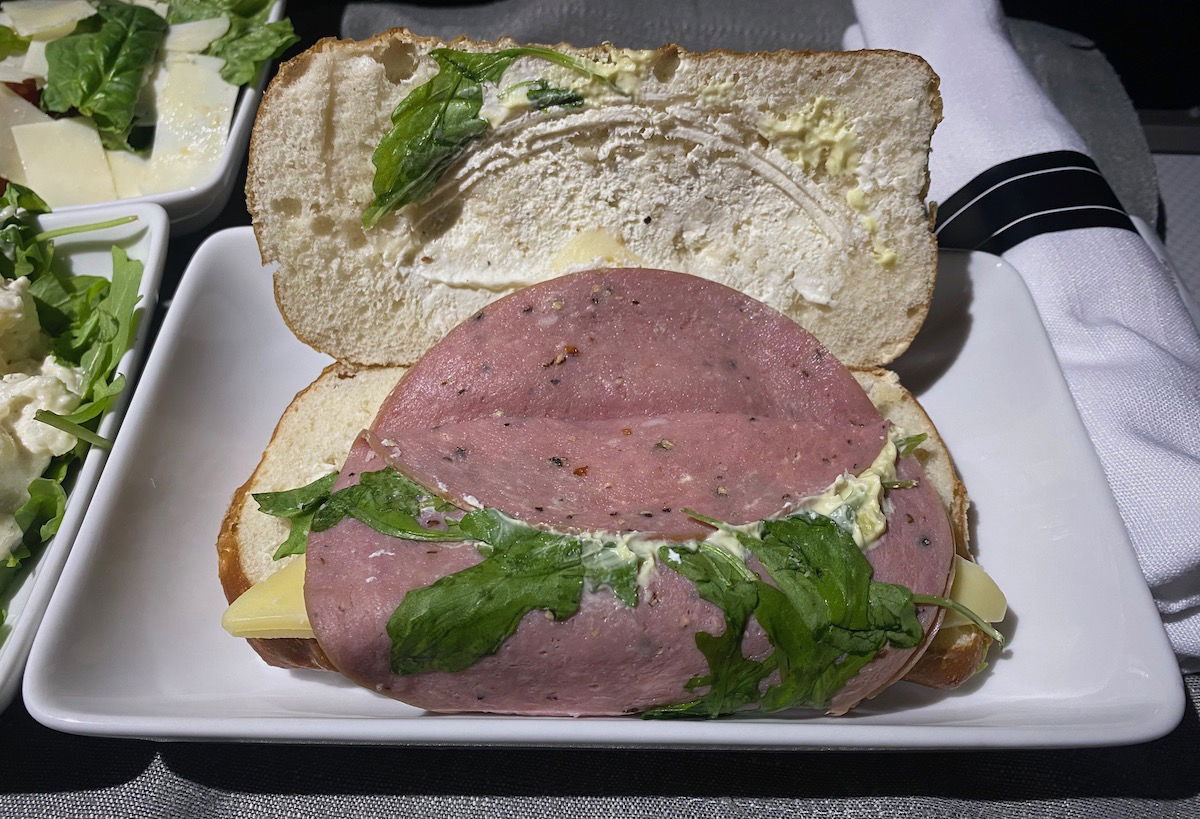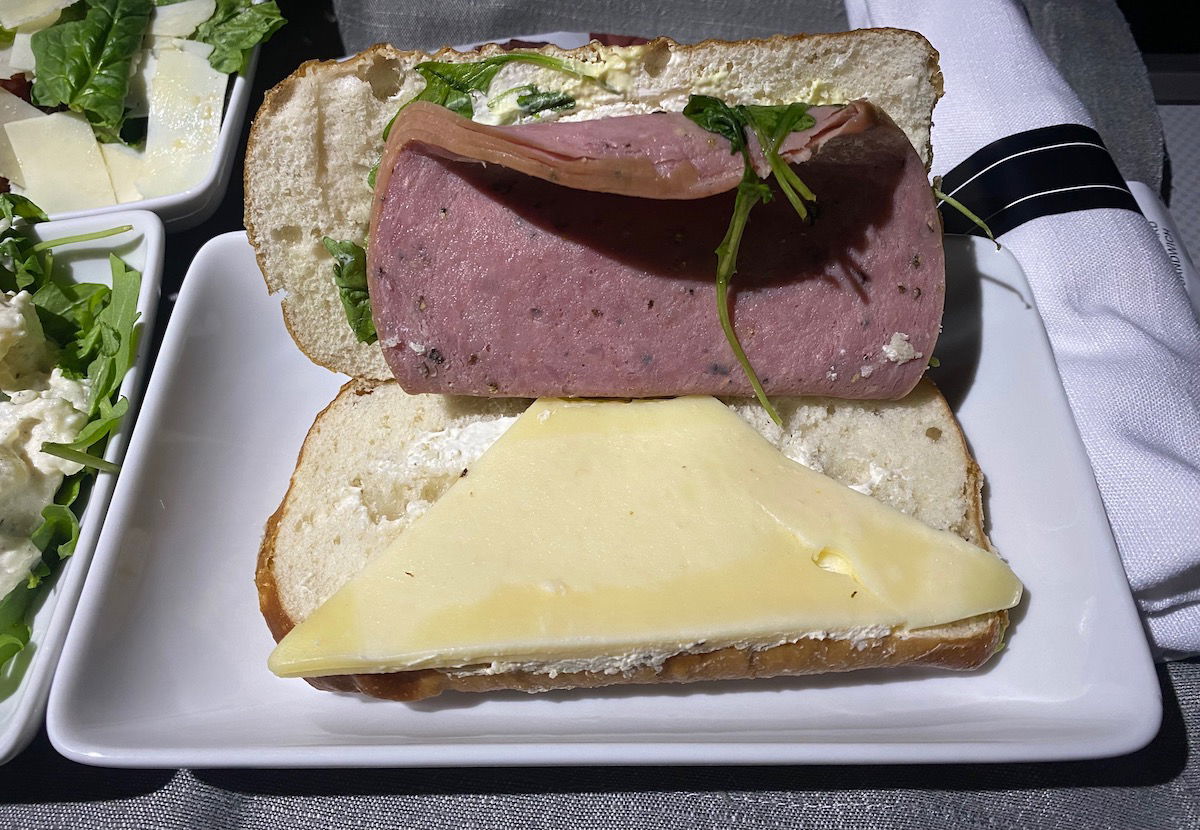 I've gotta be honest — I was a vegetarian for many years, and this sandwich made me want to be a vegetarian again. Or maybe it made me never want to eat again. I don't know which one.
American Airlines pimento cheese sandwich
Next up is the "pimento cheese sandwich."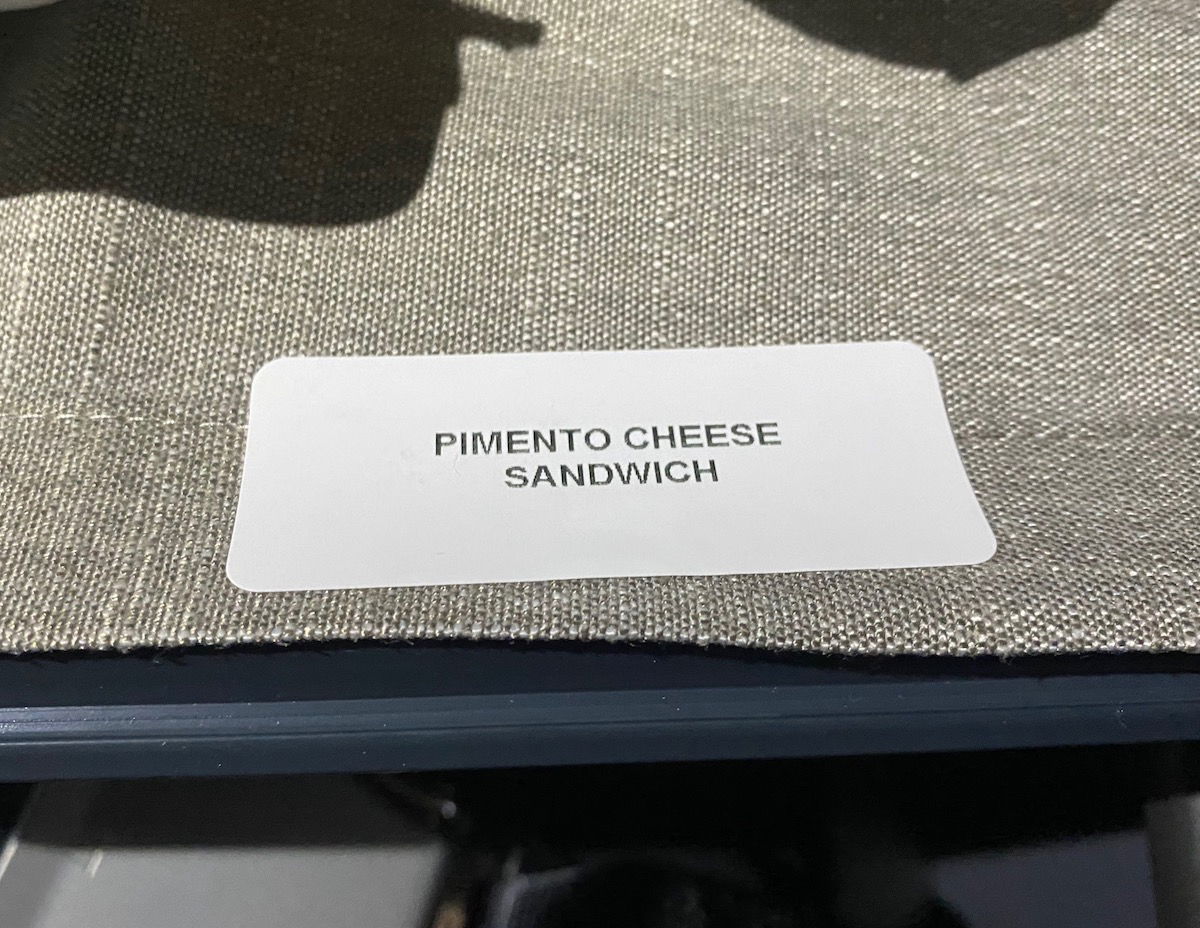 In fairness, I thought the tray setup here was a little more thoughtful, with some hummus and veggies, flatbread crackers, a salad, and a brownie bar. The sandwich was on the same hard-as-a-rock pretzel roll.
How was the sandwich itself?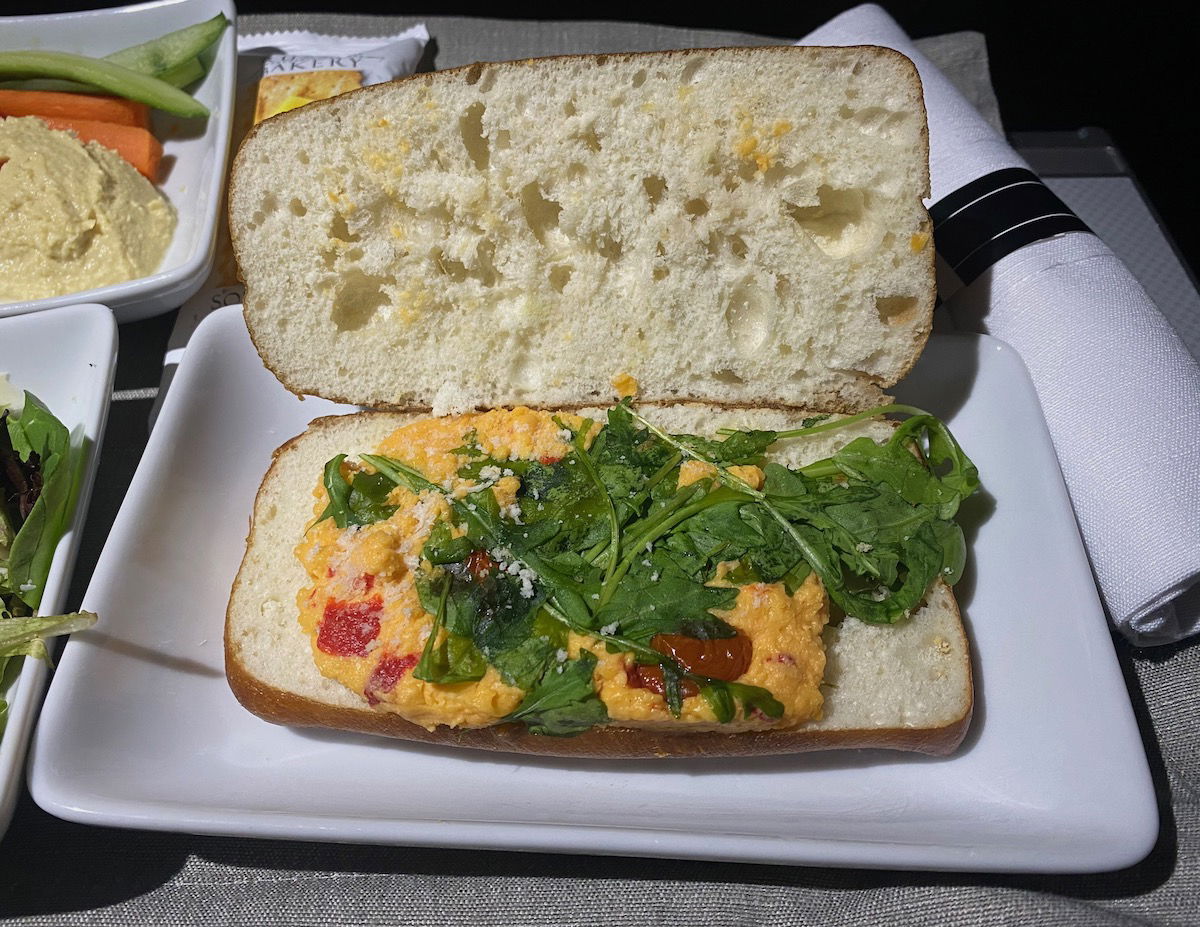 The cheese was more of a "patty" than anything else. I could quite literally lift the cheese "patty" off the bread with a fork.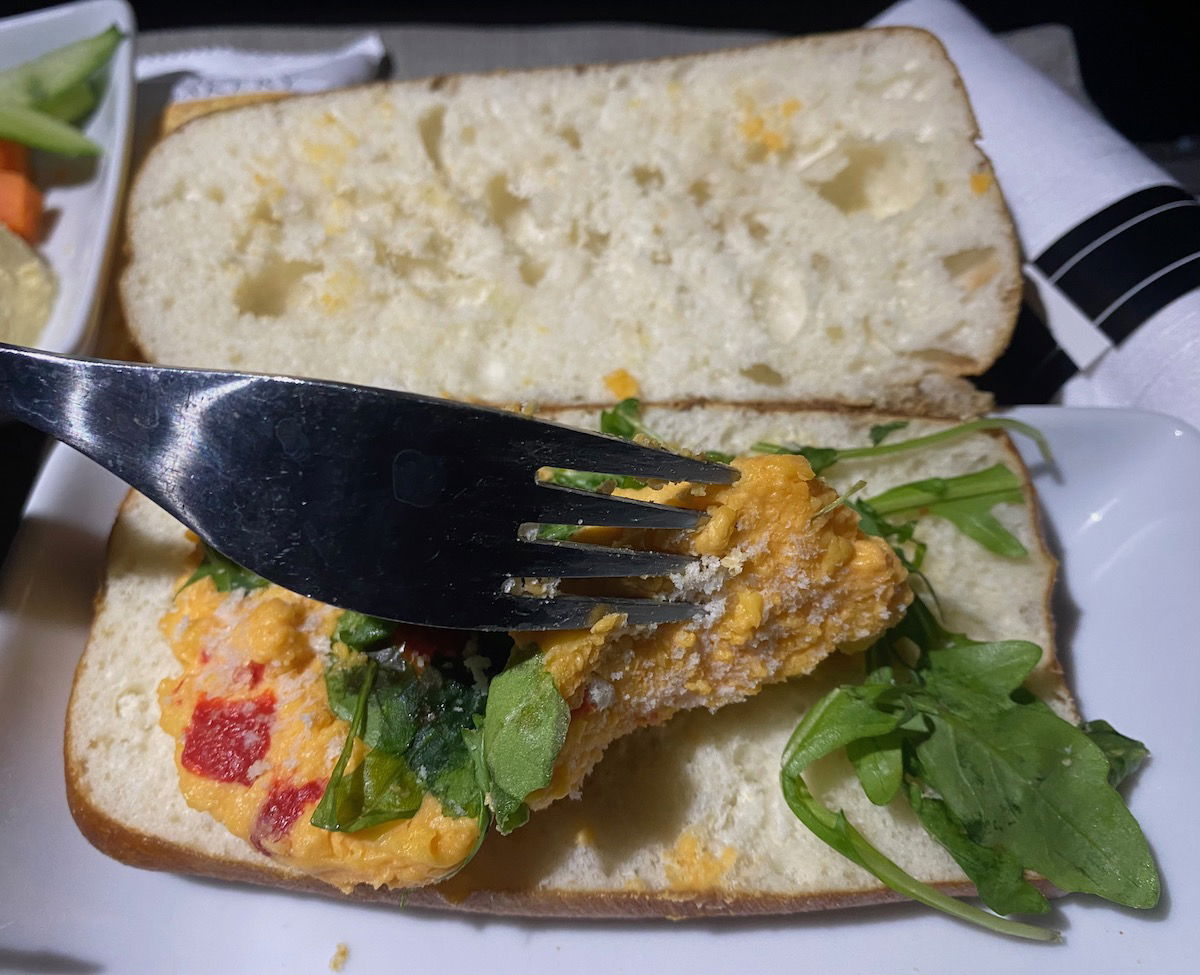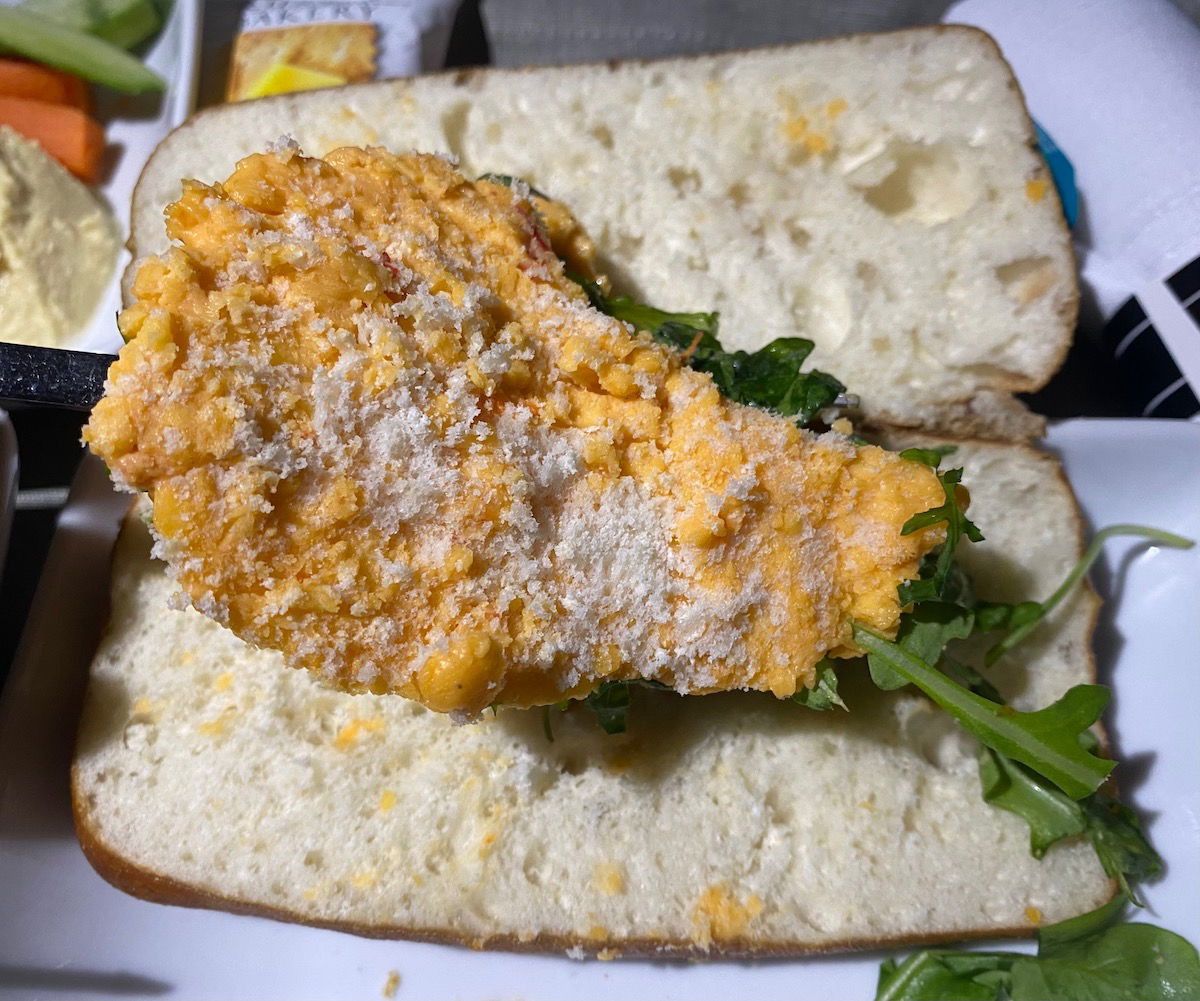 And while I wouldn't eat this, I'm not going to lie, it was kind of fun to play with… it was like Play-Doh.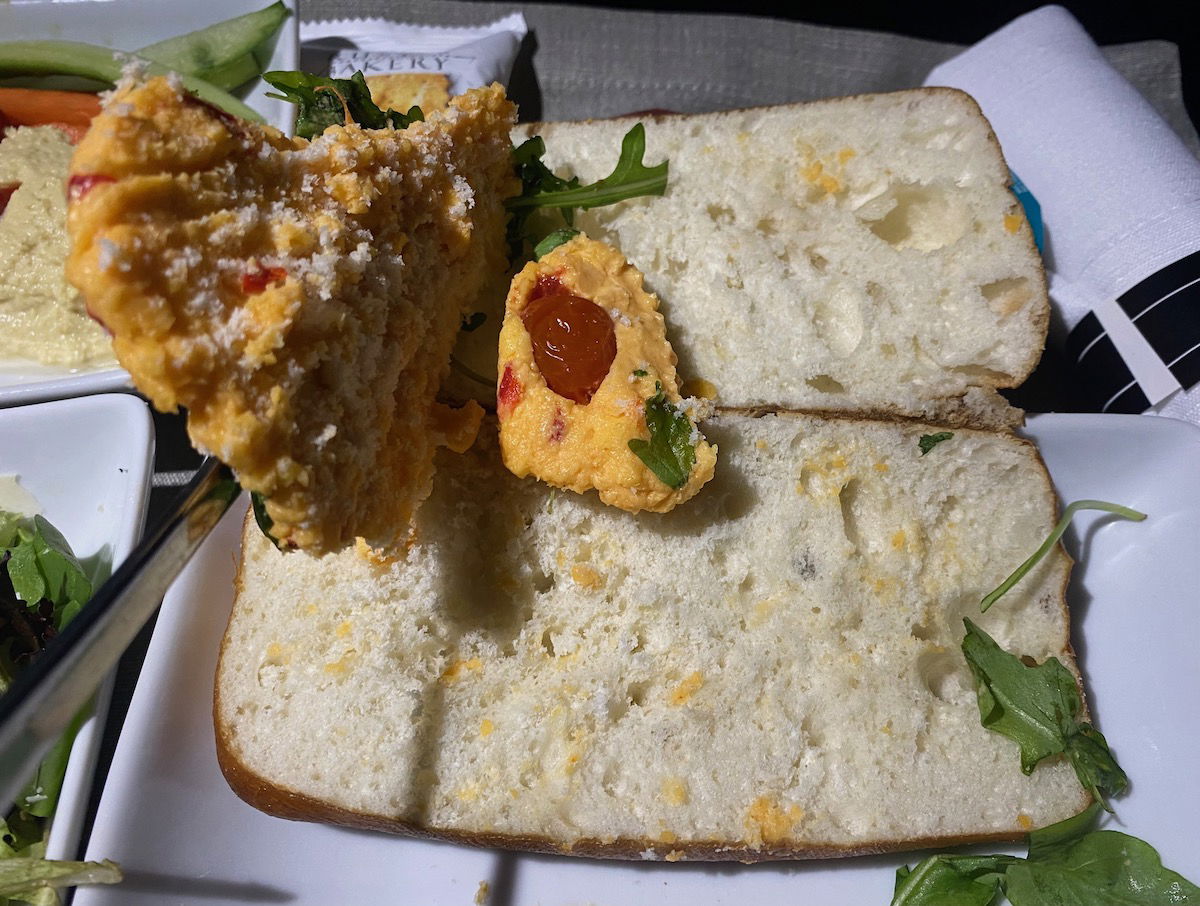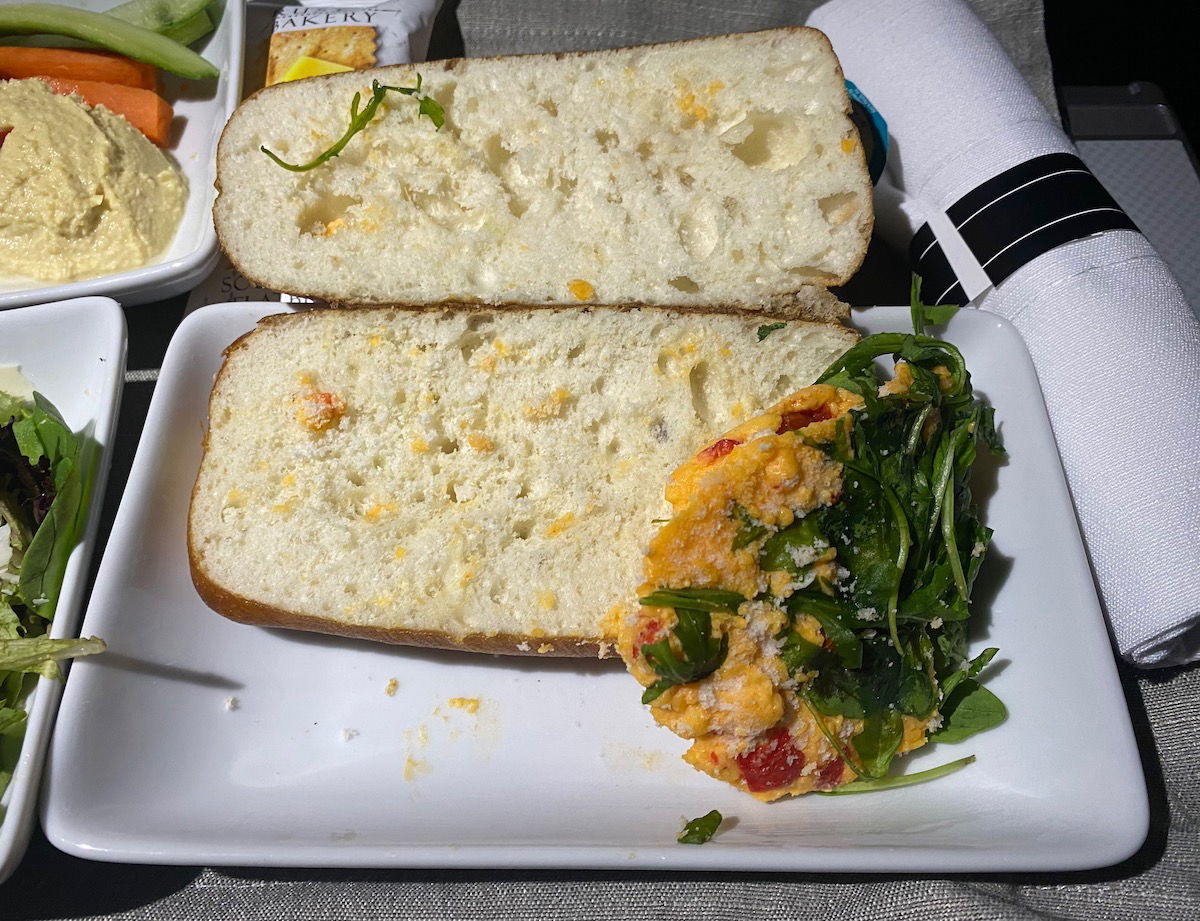 Bottom line
There have been a lot of highs and lows of American Airlines catering over the past decade, but I'd argue American's current first class sandwiches might just be the absolute low when it comes to premium cabin catering. Yes, even worse than the "lobster roll" I had several years back. I've never seen as much uneaten food be returned on a plane.
I fly first class for the extra space and the ability to work comfortably, and not for the food. However, I can't wrap my head around why the airline has to serve something this bad. It's not even about the amount of money the airline is willing to invest in food I miss the buy on board turkey sandwiches that used to be served in first class, which were at least edible.
This all makes me wonder what exactly the process is for meals like this getting approved. This wasn't a fluke, but rather this is the standard first class catering. When they create these meals in the test kitchen and approve the concept, does it taste this bad? And if it's better in the test kitchen, does no one bother checking on the quality when this comes out of the catering facility? Am I the only one who finds this sandwich to be so bad?
Has anyone else had the pleasure of enjoying American Airlines' first class sandwiches?