---
We arrived at Miami Airport at around 5:30PM, plenty early for our 7:20PM flight to Quito. Unfortunately Miami Airport has some of the worst security lines in the country, in my experience, in particular for Pre-Check.
The Pre-Check line was really long. Fortunately I have CLEAR, though only Concourse E has a CLEAR checkpoint, so stupidly we walked over there, figuring it would be quicker than the Pre-Check line.
Unfortunately there's not even Pre-Check in Concourse E, and we ended up waiting for over 30 minutes. Oops.
Since we were flying to South America we had access to American's Flagship Lounge, so we hung out there for about 20 minutes. I won't be reviewing that lounge again, since I did so pretty recently.
Our flight to Quito was scheduled to depart from gate D12, which was about a 15 minute walk from the Flagship Lounge. While there's a train connecting areas of the terminal I'd usually rather walk, but sometimes I forget just how long the walk is.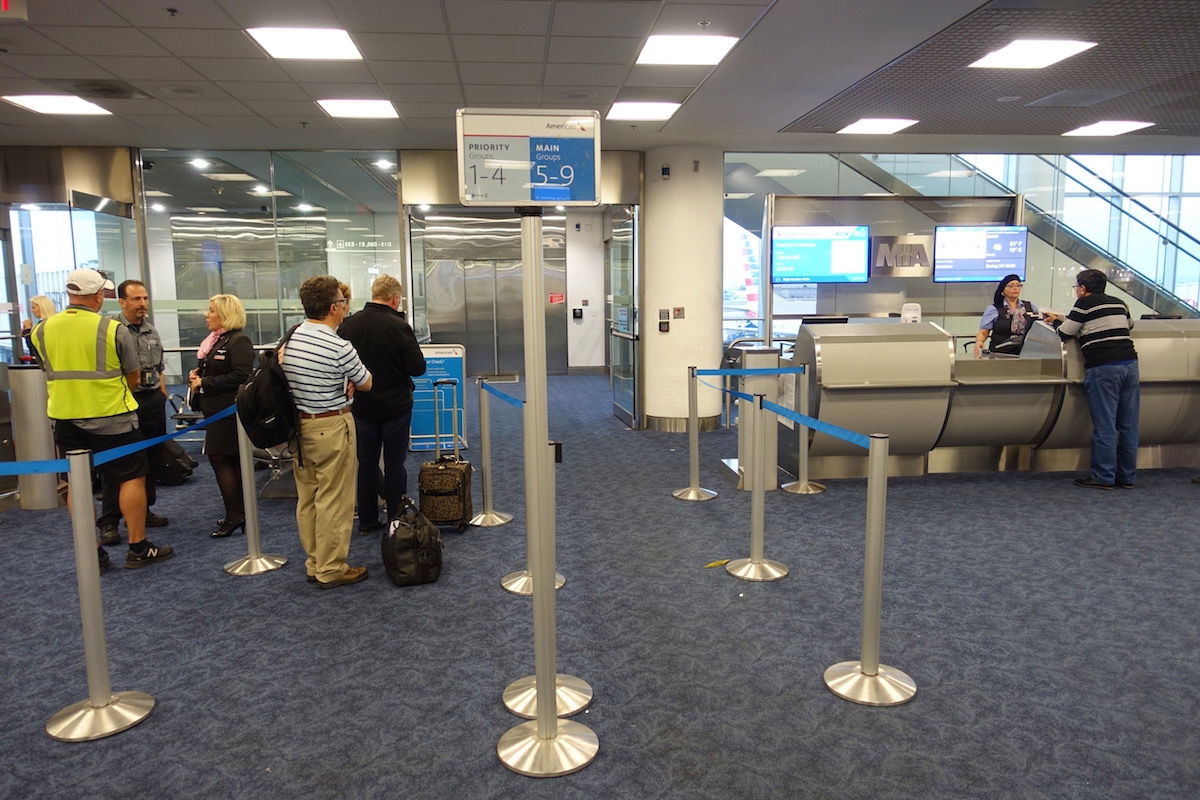 American Airlines departure gate to Quito
Boarding was scheduled to start at 6:35PM, a full 45 minutes before departure. Usually 737s board 30 minutes out, but on international flights they board earlier.
On principle I never identify myself as a blogger or ask for special permission, though in this case I had contacted American in advance to request to board ahead of others so I could get pictures of the cabin, given that this was my first 737 MAX flight, and this plane is so widely talked about.
American 939
Miami (MIA) – Quito (UIO)
Wednesday, October 10
Depart: 7:20PM
Arrive: 10:28PM
Duration: 4hr8min
Aircraft: Boeing 737 MAX 8
Seat: 3E (Business Class)
I shared my general thoughts on American's new 737 MAX in a separate post, so check that out for all of the cabin details. American's 737 MAX aircraft have 16 business class seats, spread across four rows in a 2-2 configuration.
In reality these are marketed as "first class" seats on domestic flights, while on international flights they're marketed as business class seats.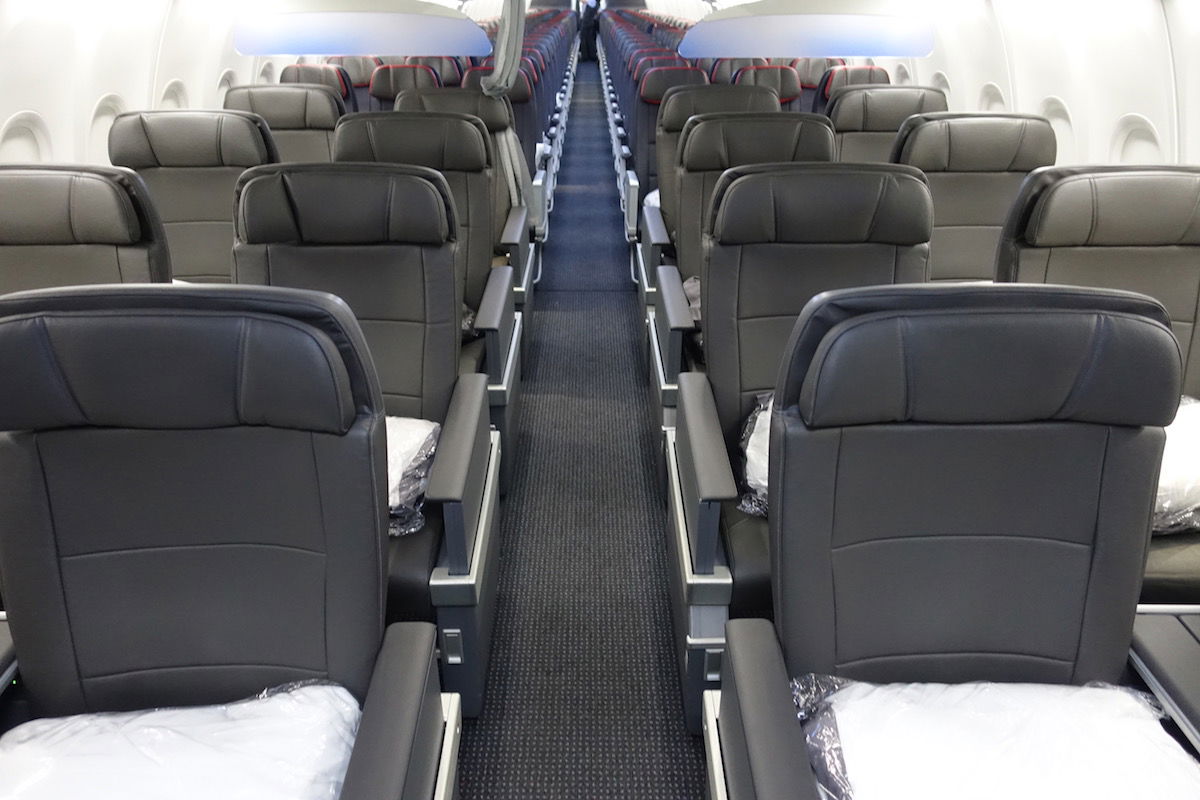 American Airlines 737 MAX business class cabin
Economy features just 30″ of pitch per seat. Without TVs or anything, this cabin sure looks pretty… basic.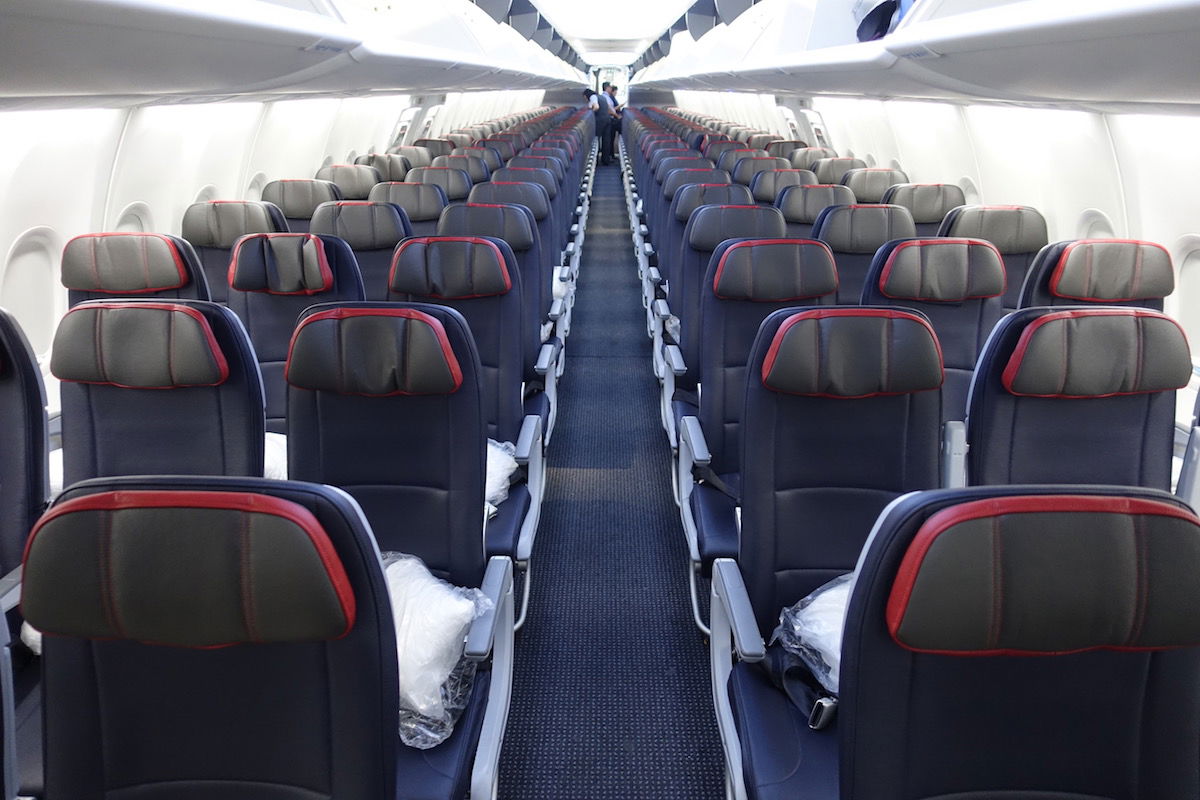 American Airlines 737 MAX economy cabin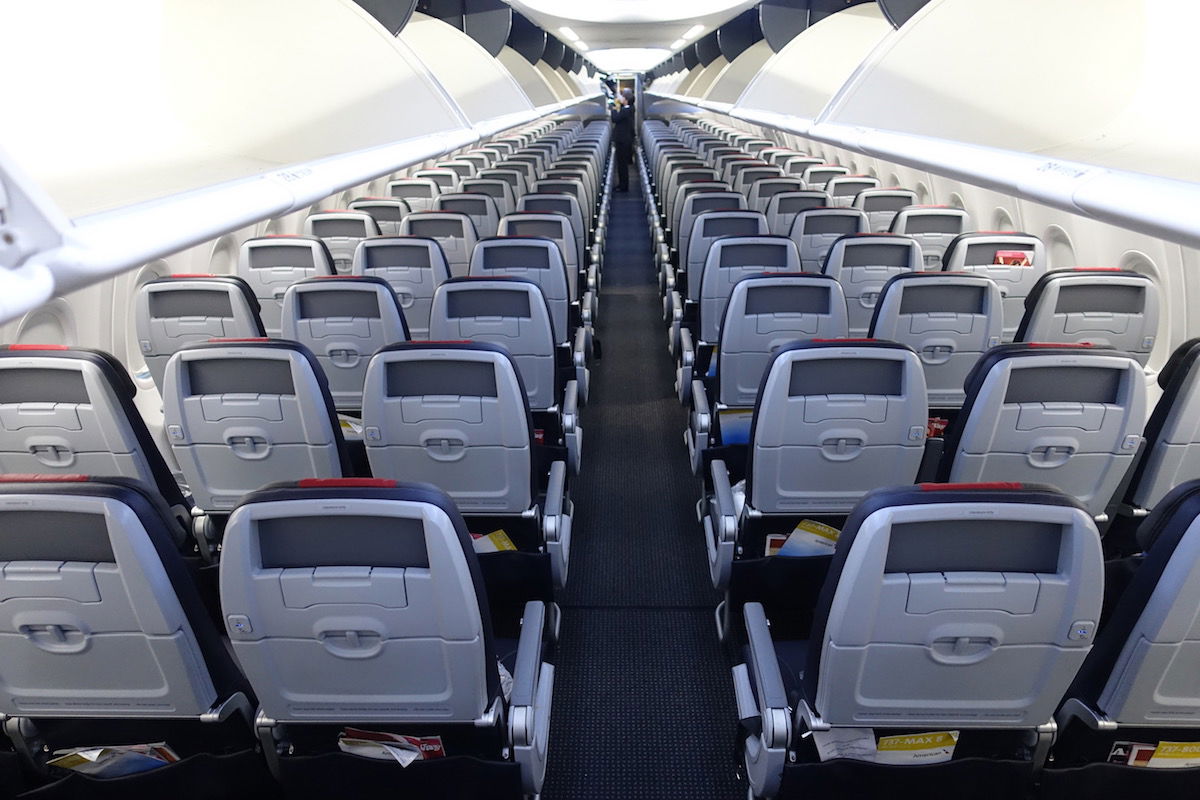 American Airlines 737 MAX economy cabin
Unfortunately in business class legroom is much worse than it was on American's other 737s. In fairness, American had some of the best pitch in the industry on their other 737s, so this is quite disappointing by comparison.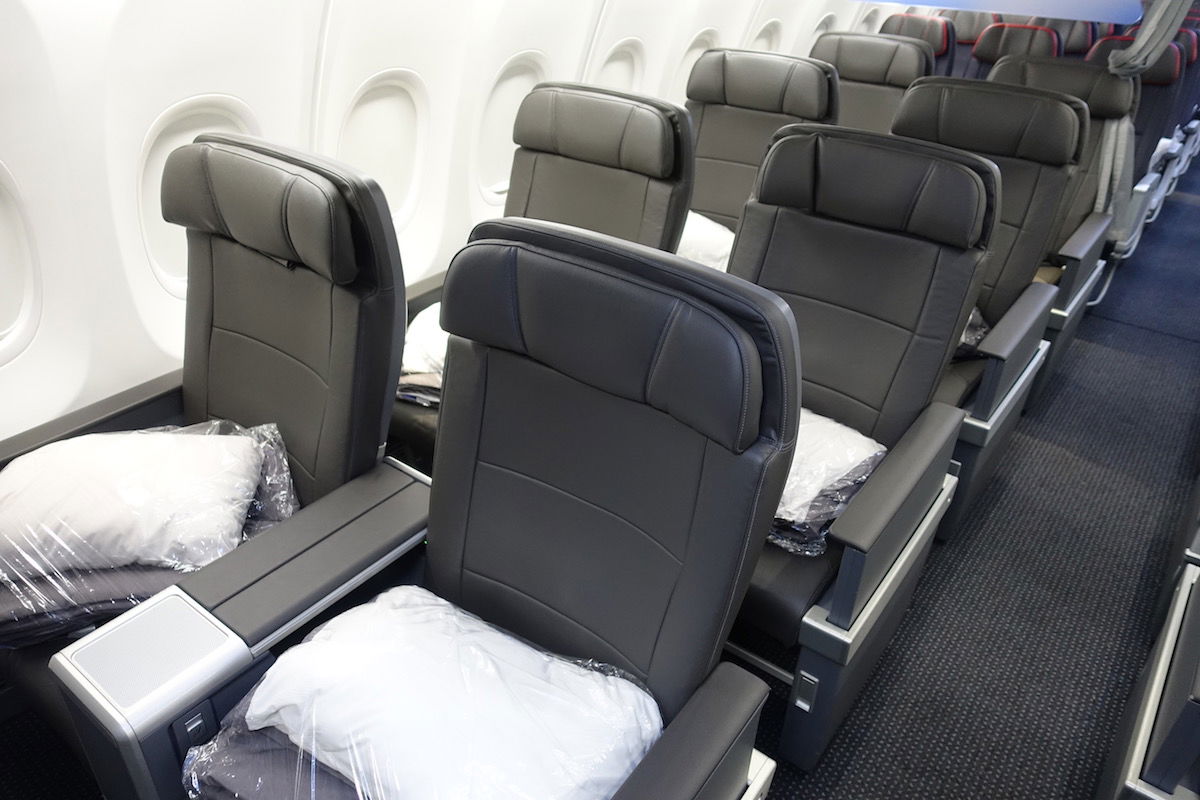 American Airlines 737 MAX business class cabin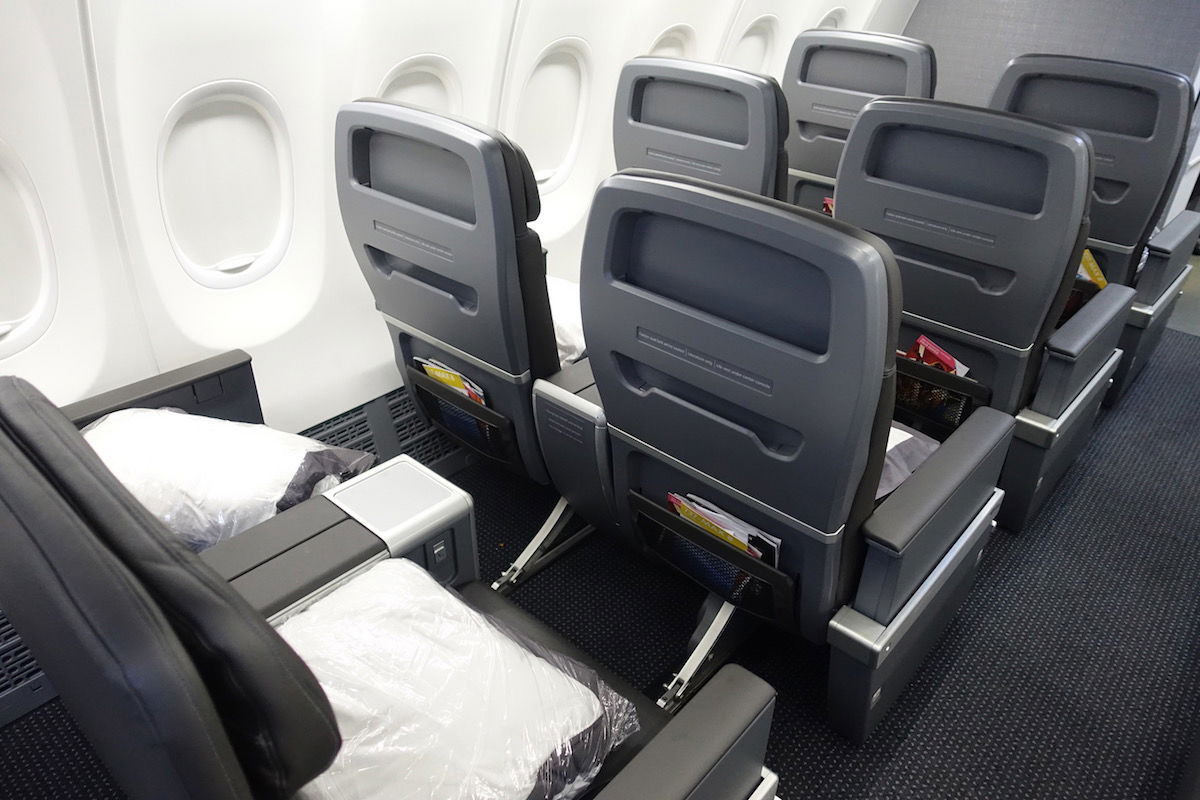 American Airlines 737 MAX business class cabin
My bigger issue than the lack of pitch was how damn hard the seats were. The seats really lack cushioning, to the point that they're quite uncomfortable for longer periods of time.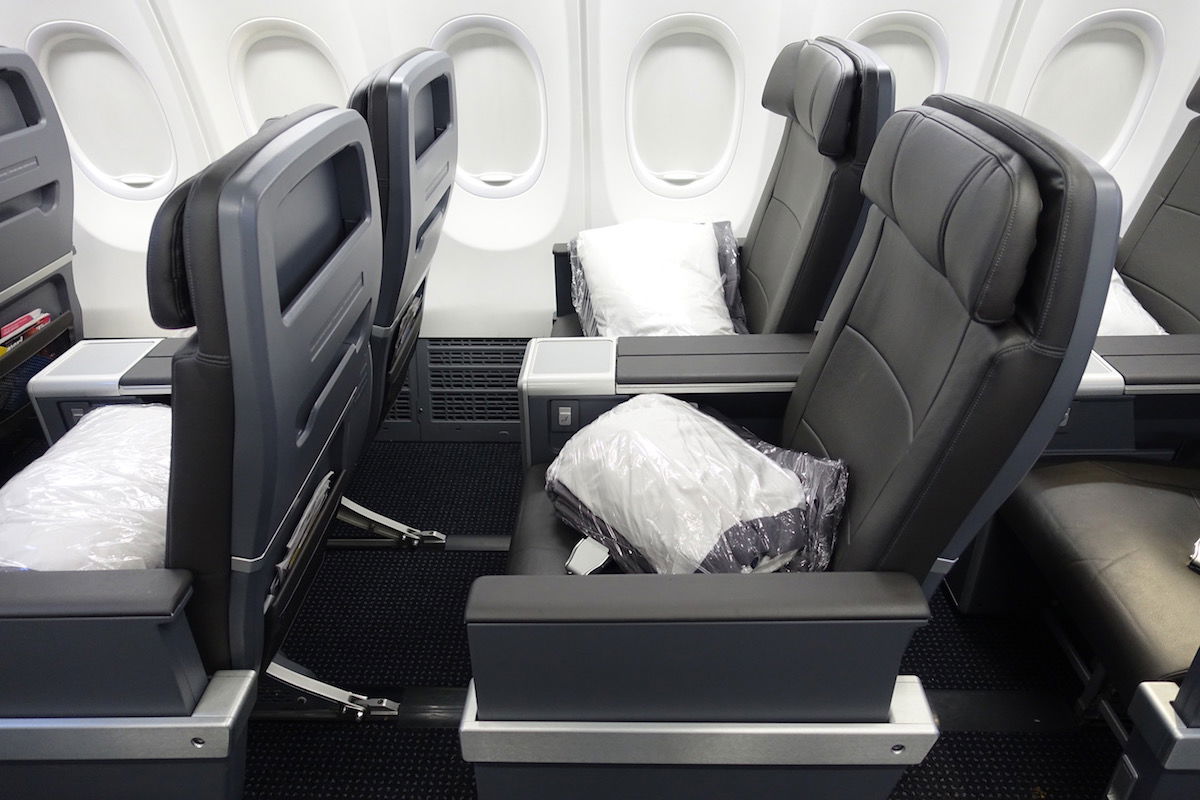 American Airlines 737 MAX business class seats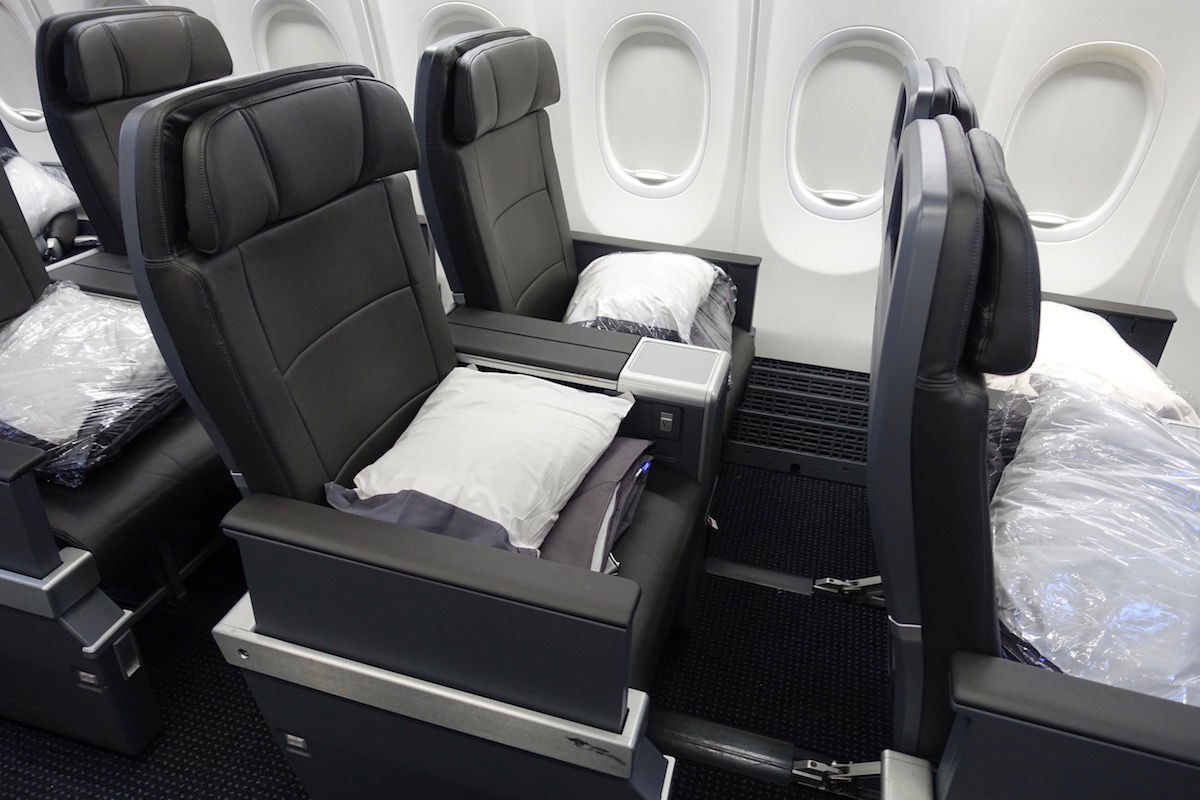 American Airlines 737 MAX business class seats
The seats also barely recline. I guess that's a double edged sword. On one hand it sucks when seats recline a lot to the point that you can barely have your laptop open in first class, though these seats recline so little that you can't really get comfortable.
Much like in economy, there are no personal televisions in business class. There aren't even overhead monitors. This plane has the technology of a regional jet in terms of passenger experience (and not even a nice regional jet at that).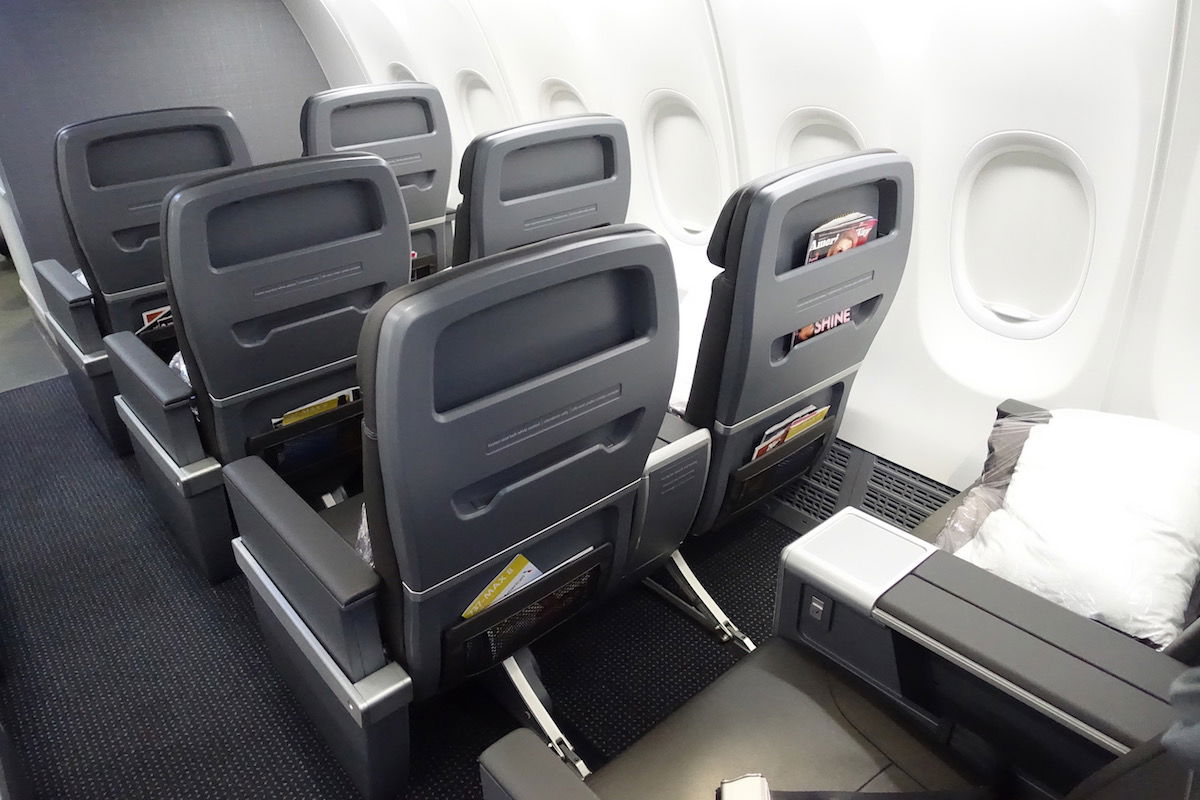 American Airlines 737 MAX business class cabin
I thought the seatbacks were poorly designed as well. In theory there was a literature pocket in the seatback, though it was impractical for storing anything, since anything you placed there would just slide right through. You'd think they would have a little pouch for placing a cell phone or glasses.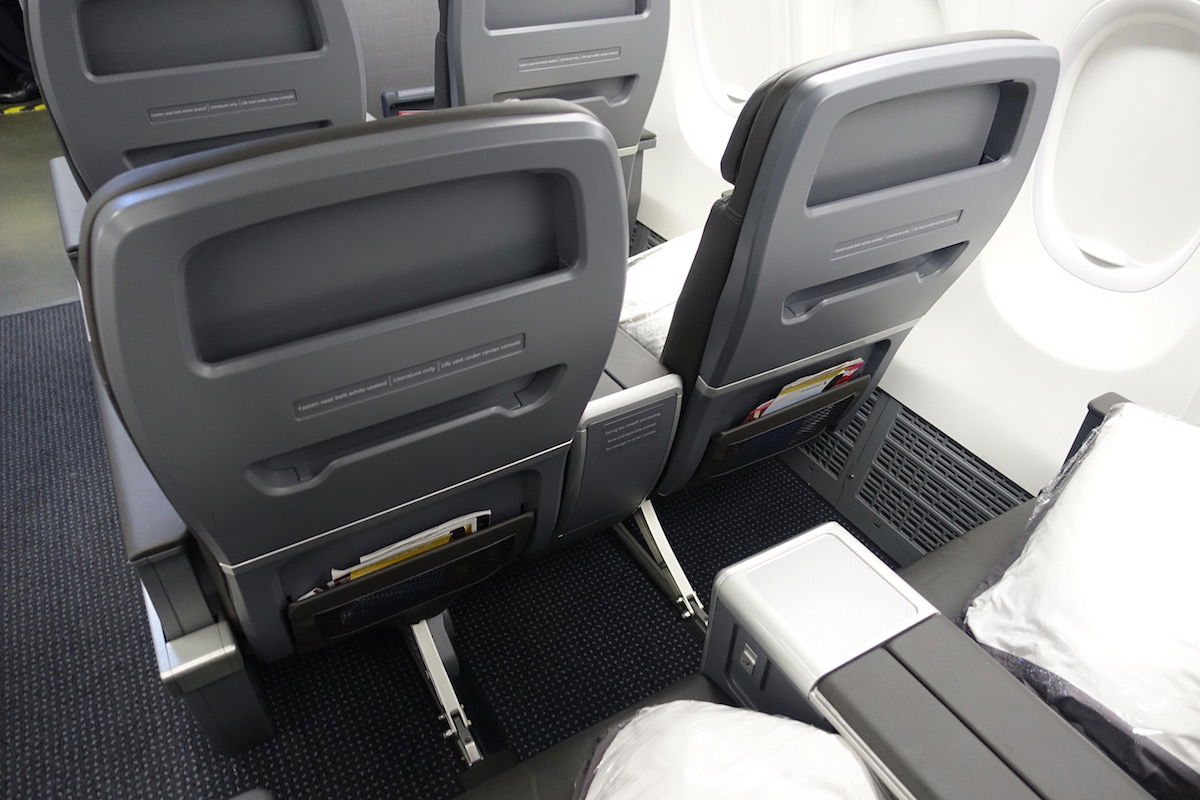 American Airlines 737 business class seats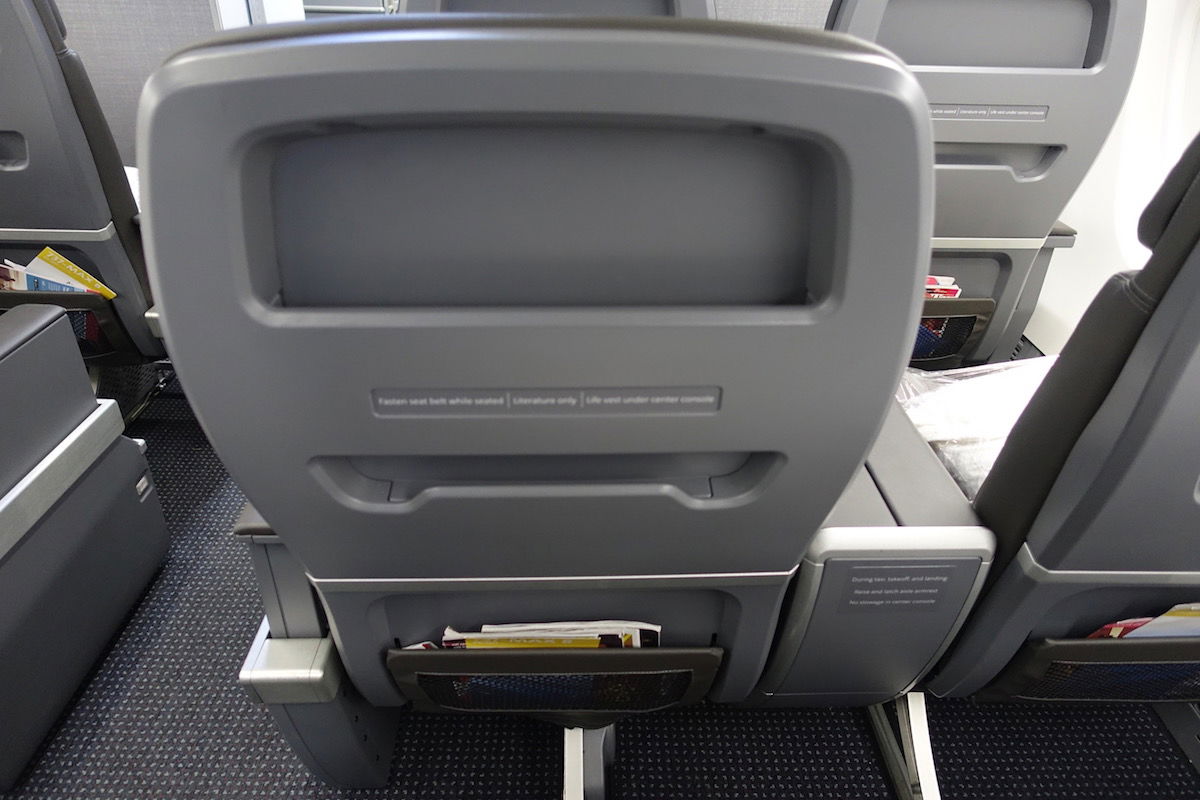 American Airlines 737 business class seats
The tray table folded out from the far armrest, and could be folded over in half. When folded over in half there was a little stand that could be raised if you wanted to place an iPad or something there, since that's the only way you'd stay entertained.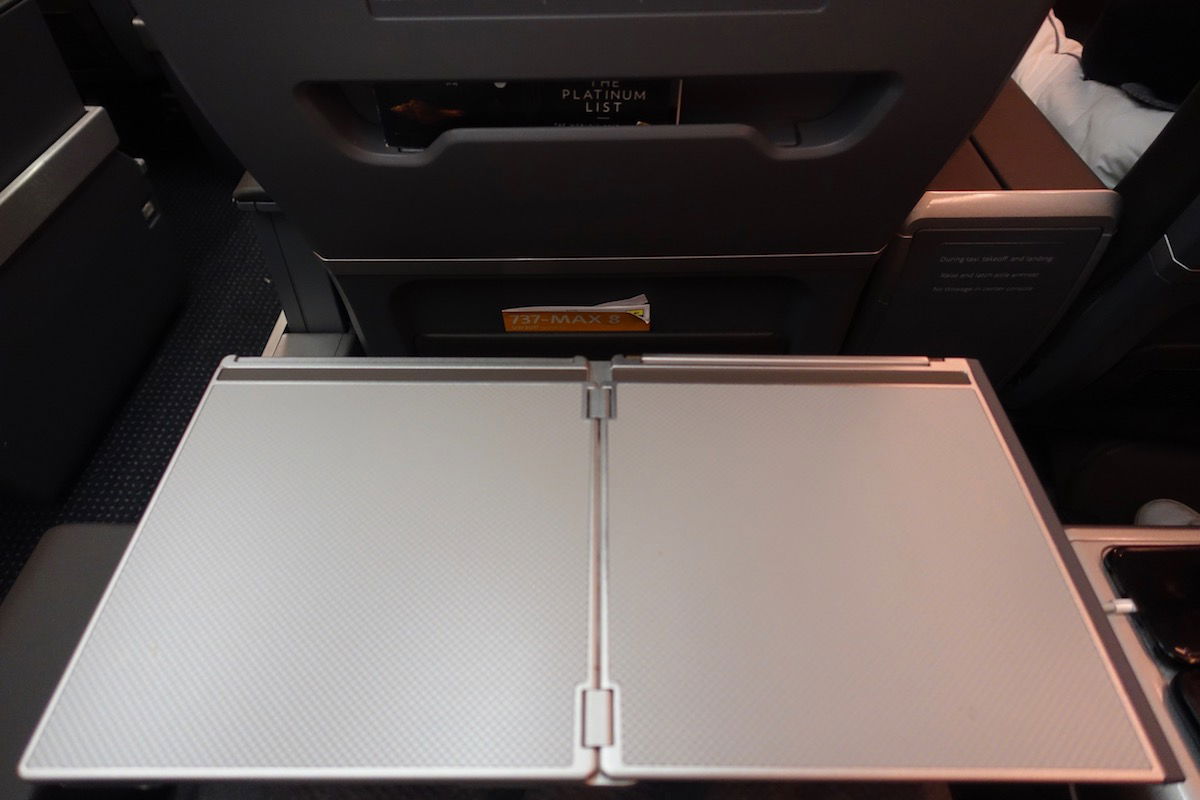 American 737 business class tray table
Then the center armrest could be raised, as there was a small storage pocket there, as well as the outlet (both 110v and USB).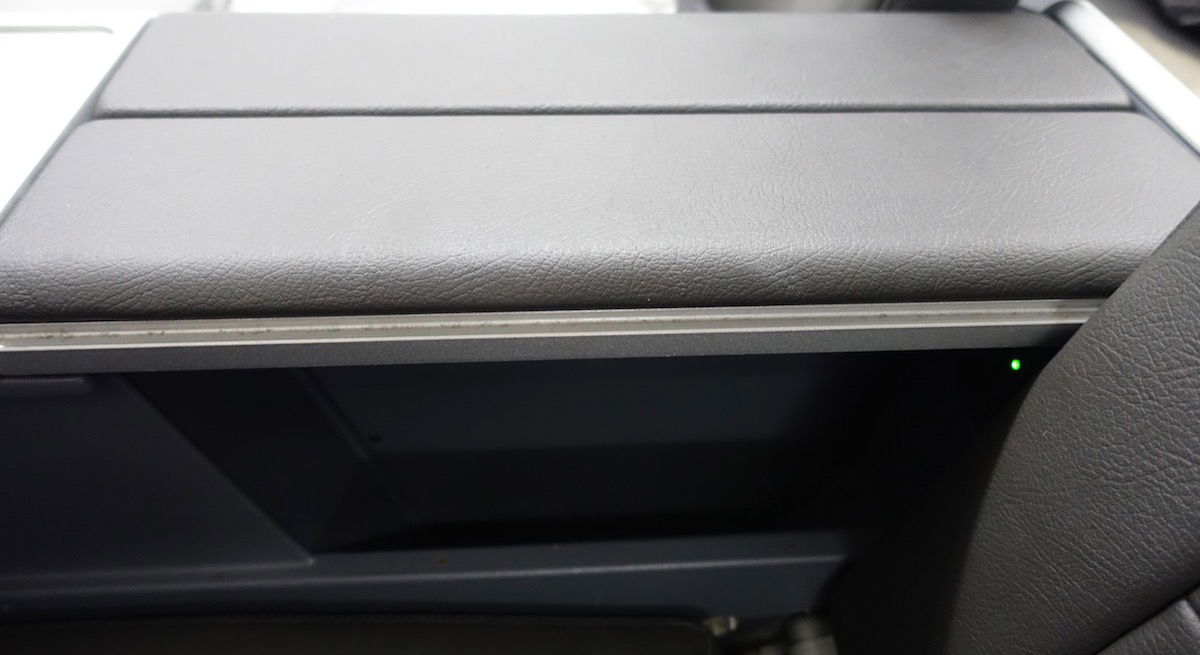 American Airlines 737 MAX business class seat armrest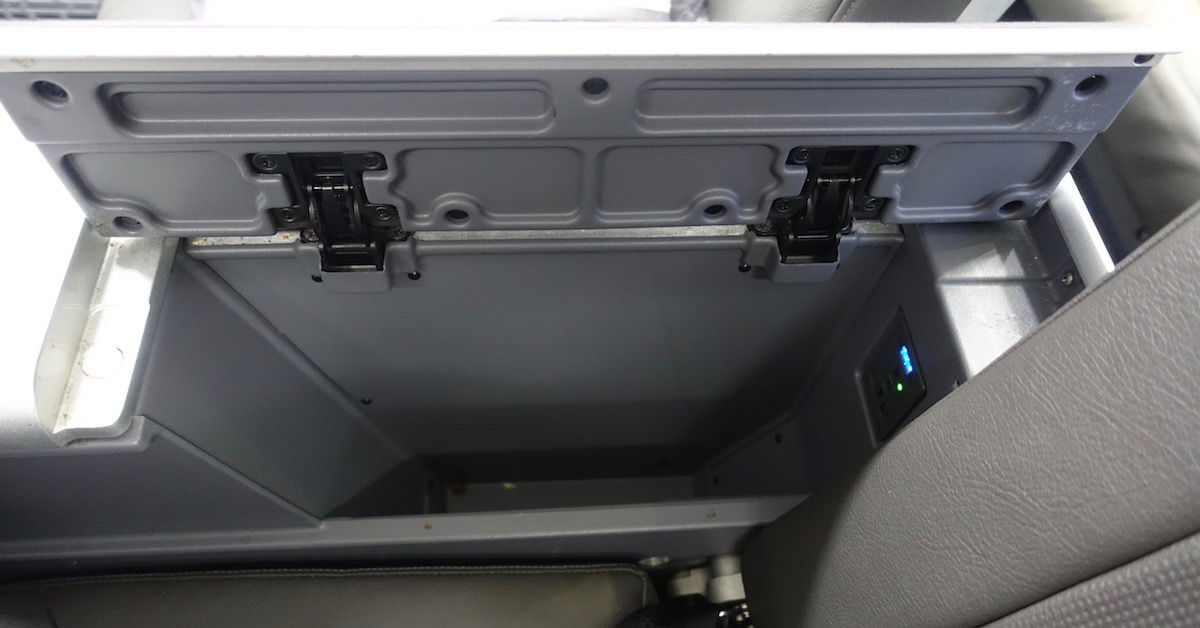 American Airlines 737 MAX business class seat armrest
Overall this is just a very sad hard product.
On the plus side, I was happy to see that American had the proper international business class pillows and blankets onboard, which sure help in getting comfortable. American has Casper bedding — while not my favorite bedding in the world, it's still pretty nice.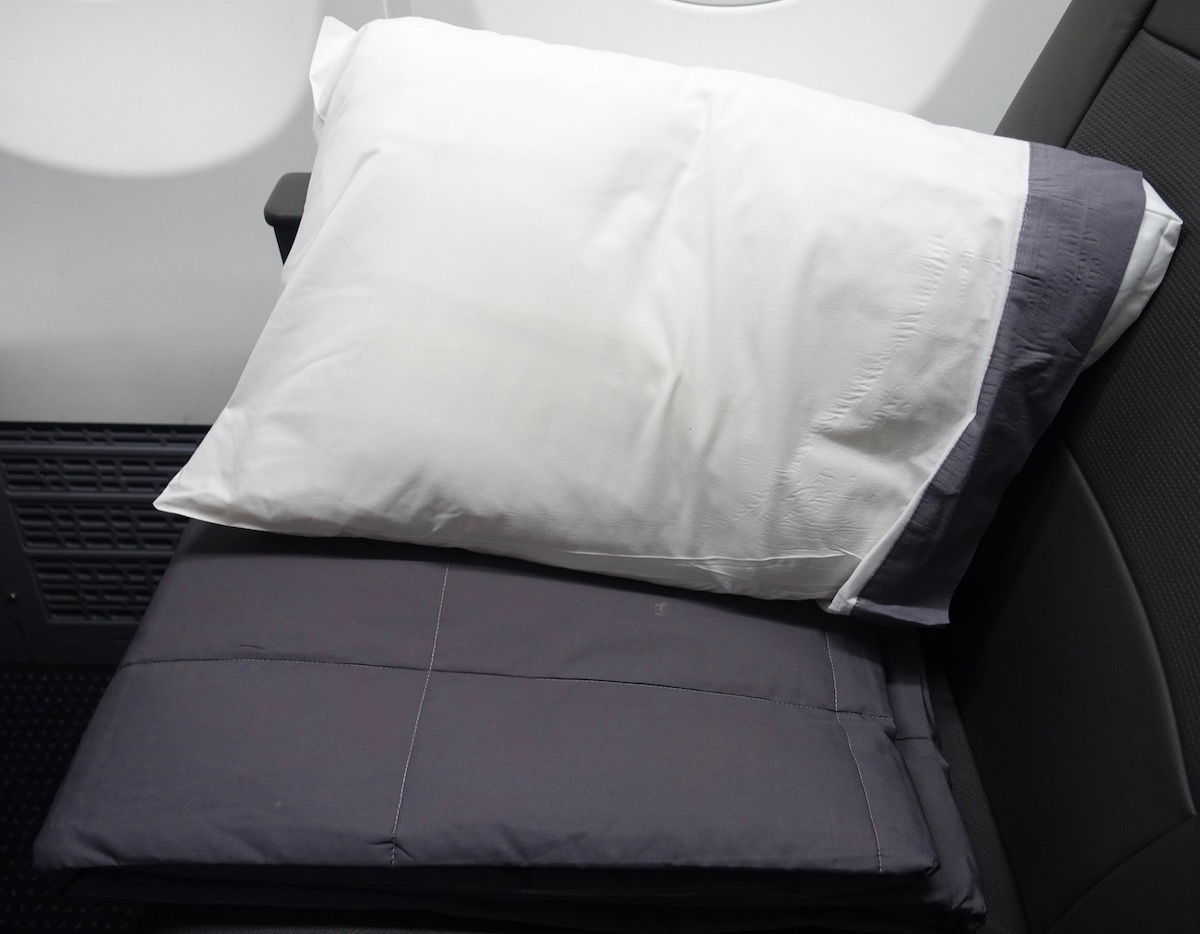 American Airlines business class bedding
The flight was reasonably full (economy seemed to be full, while there were four open business class seats) so boarding took a long time. At 7:20PM the flight attendants passed through the cabin with water and orange juice.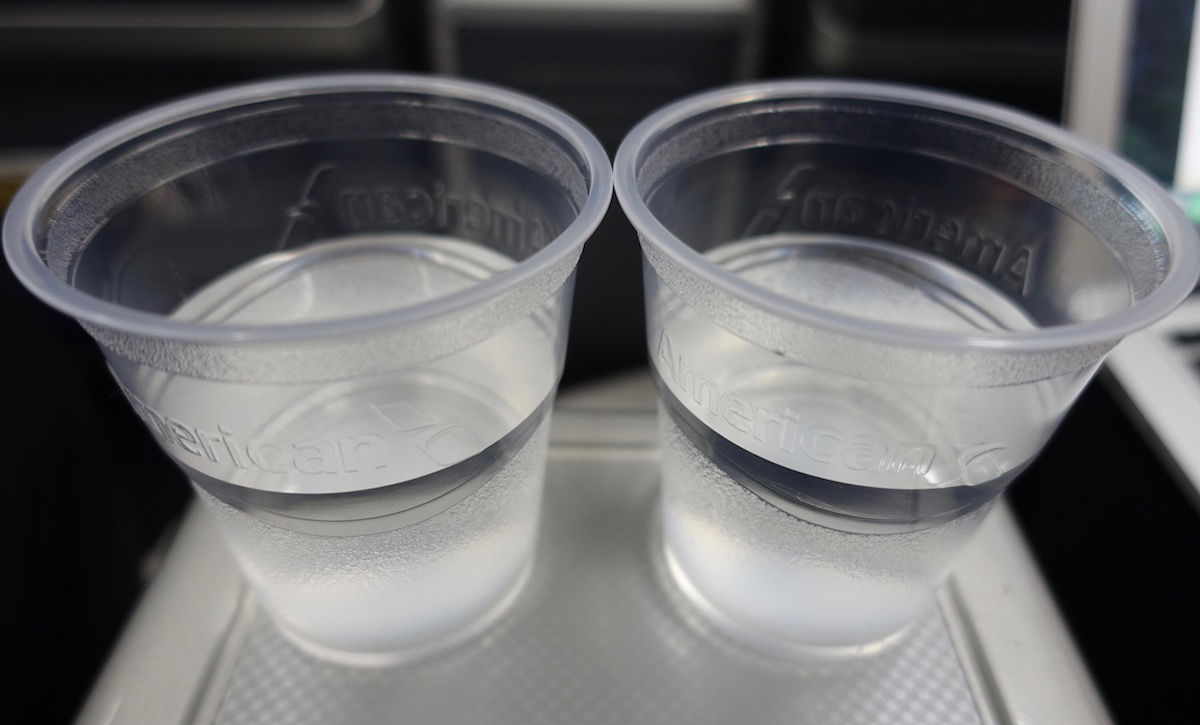 American business class pre-departure drinks
It's interesting to note that this crew was Lima based. American has some crews based in South America. These flight attendants aren't allowed to work domestic flights within the US, so instead they typically operate a lot of flights to/from South & Central America. So they might have a three day trip where they fly from Lima to Miami, have a layover, then fly from Miami to Panama to Miami, have a layover, and then fly back to Lima, for example.
I imagine they're paid less than American's other flight attendants as they have different contracts. Culturally I also get why American hires these types of crews. On many flights to Latin America, a vast majority of passengers are Spanish speakers. So it's logical to be greeted by someone who speaks perfect Spanish and decent English, rather than the other way around.
However, I've also never had a good Lima based crew either. They range from "meh" to "bad," and this crew was no exception.
At 7:25PM, around 50 minutes after initial boarding, the captain stood in front of the cabin and announced that one passenger didn't show up, so they'd have to remove his luggage from the plane. He said that should take about 10-15 minutes.
Then 25 minutes later he announced that there was a problem with an indicator light, and that maintenance was on the way.
Now, at most airlines you'd think the crew would come around and start offering a drink service in business class at this point, since it was clear it would take a while. Not this crew. They just sat in the galley and talked.
Eventually the captain announced this delay would be more serious than he initially thought. "The critical navigation system isn't working, and that's a problem."
A couple of maintenance people boarded the plane, and the captain sat down in one of the business class seats and started watching a show on his iPad (which, for the record, I'm totally fine with, since he presumably wanted to leave space in the cockpit for the maintenance crew to work freely).
Around this time, almost two hours after initial boarding, the crew served mixed nuts and did a beverage service in business class, so we both ordered white wine.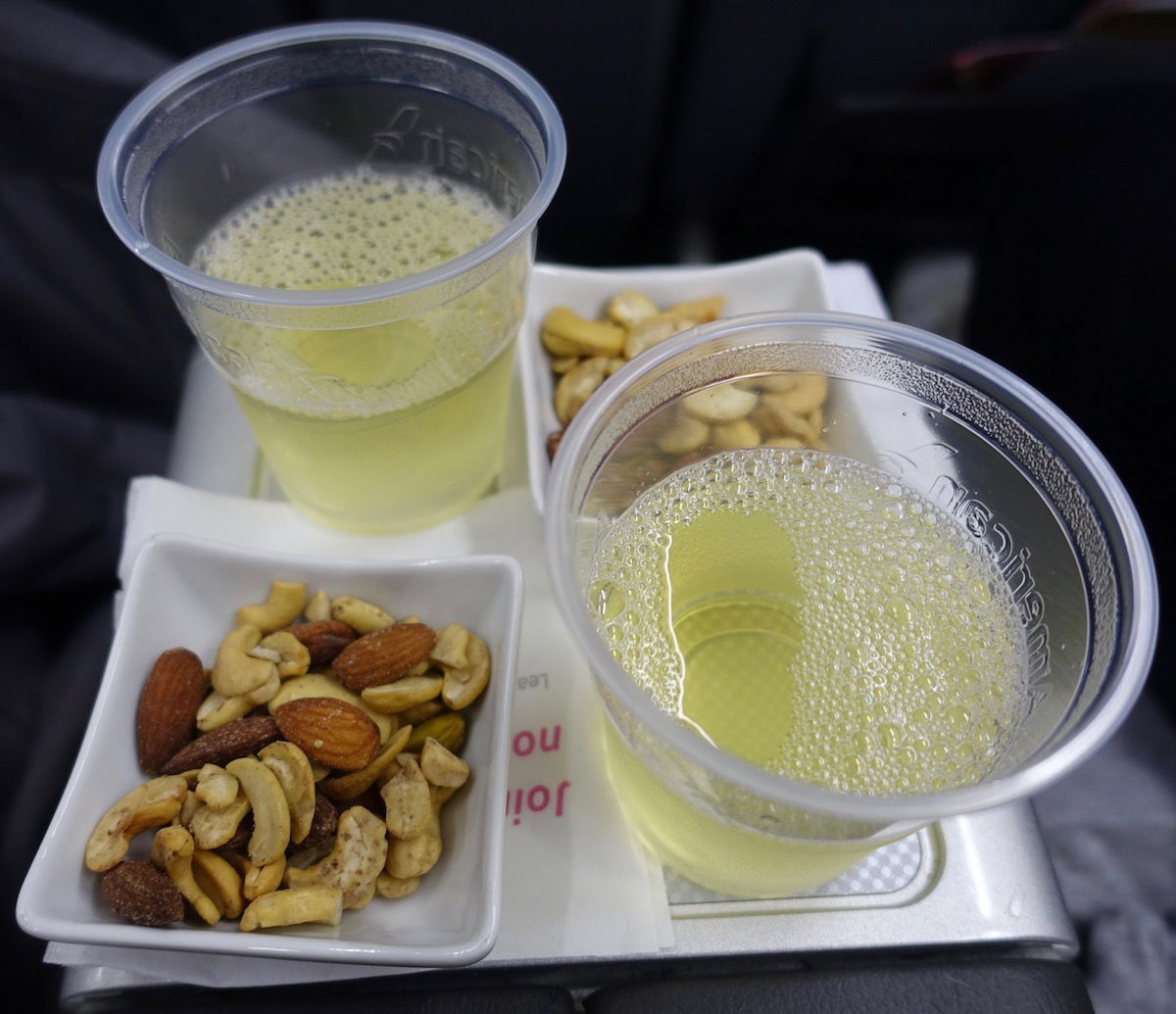 American Airlines pre-departure drinks during delay
A few minutes later the first officer tapped the captain on the shoulder and said "it's broken.". The captain then announced that to passengers, and said we'd soon deplane. He said "you're flying on the special 737 MAX, and this is the only type of 737 we have capable of flying to Quito, so we'll see if we can find another one of those."
So a few minutes later we were all ushered into the gate area. I guess we could have gone back to the lounge, though if I can find fairly empty seating with a power outlet, I'm just as happy in the gate area as in the lounge.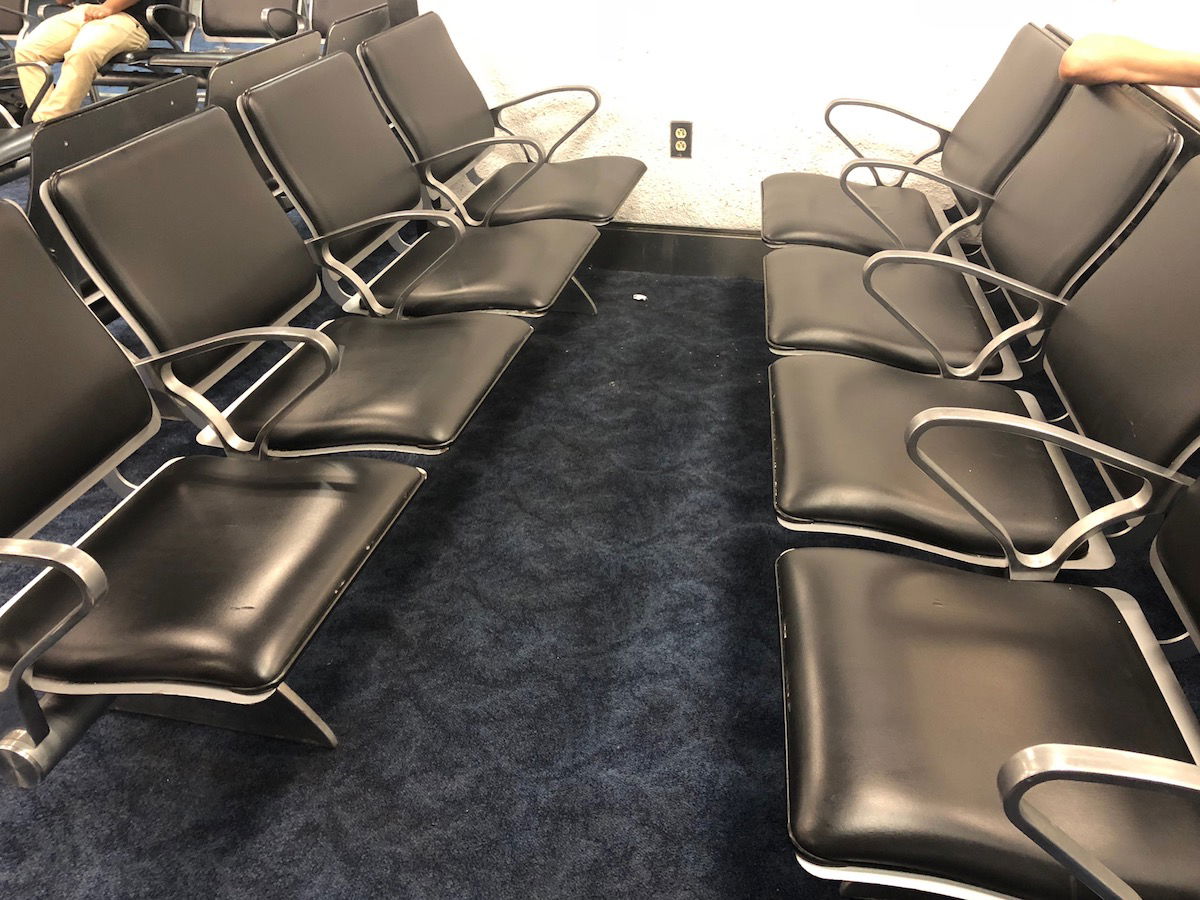 Where we hung out during our delay
At this point the gate agent announced that they'd work on finding another plane, but said that in the meantime they'd be bringing out refreshments into the gate area.
American's 737 MAX 8 fleet isn't very big, so at this point I started looking up the tail number of every 737 MAX 8 they had, to see which of these was in Miami, or was headed for Miami. To my surprise there was only a single 737 MAX 8 bound for Miami (several others had just departed Miami), and that plane was coming from Orlando. So my guess was that this would be our plane, or our flight would be canceled.
Secretly I was hoping they'd upgrade us to a 757 of 767, since those planes are also capable of flying to Quito, though I knew there was a fat chance of that happening, given the logistical challenges of crewing the flight. 😉
After sitting in the gate area for over an hour, I followed up to ask what happened with the refreshments they promised they were going to offer everyone. I didn't ask because I was hungry, but rather because I find it to be horrible customer service to promise to bring free food and drinks into the gate area and then not do it.
The gate agent's response was "I don't know why they said that, by the time they bring them you'll be on the plane." Nice.
The inbound plane ended up landing from Orlando at 10:30PM. They turned around the plane pretty quickly, and by 10:50PM they started boarding, over four hours after our initial boarding. It was the same crew.
The cabin was exactly the same, though frustratingly they had worse bedding on this flight. Rather than providing the same business class bedding they had on the previous flight, they provided premium economy bedding. I get why they did it, since presumably the priority was to get the plane out as quickly as possible.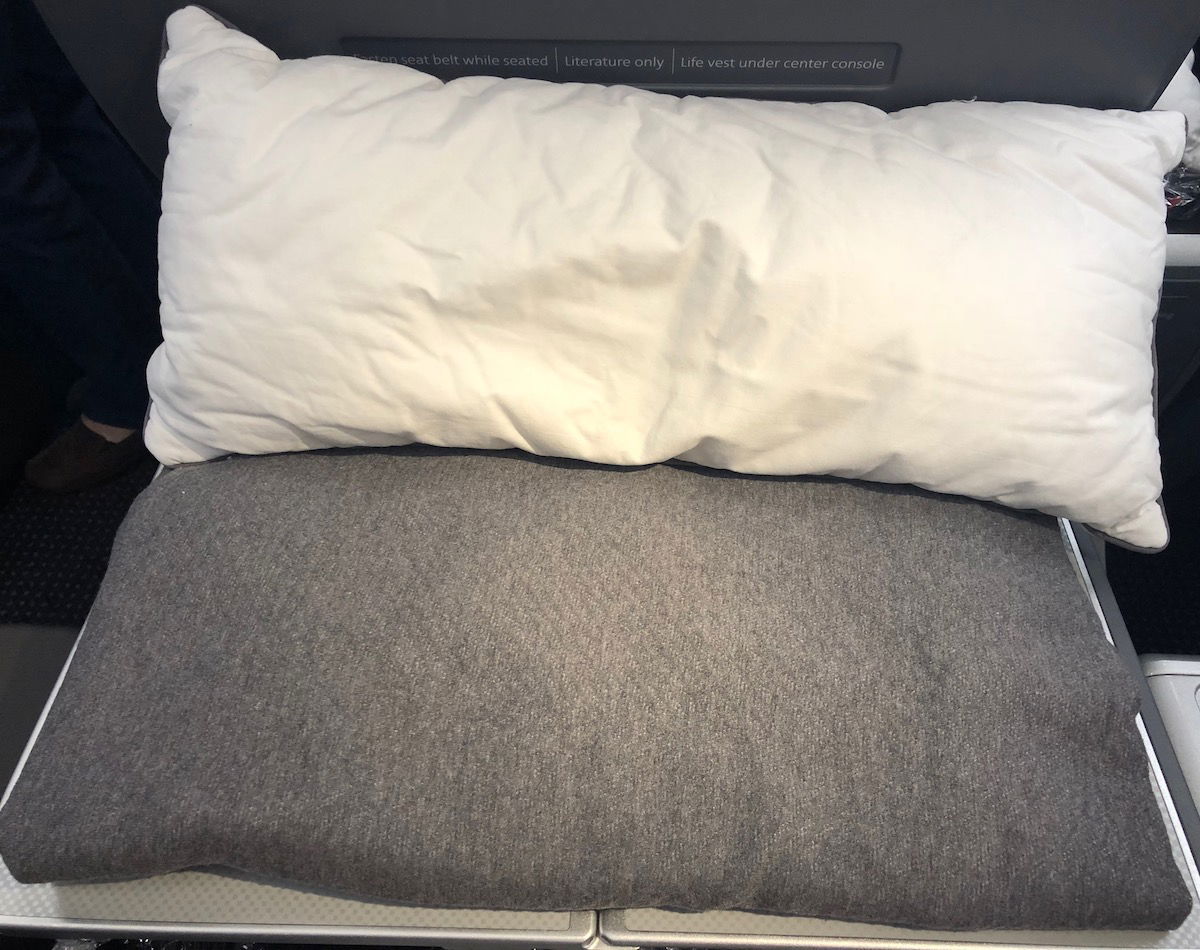 American business class bedding
At 11:15PM the door was closed, and by 11:20PM we pushed back. Since the 737 MAX has no TV monitors whatsoever, there's a pre-recorded safety briefing audio tape, and then the crew goes through the motions in the aisle.
Our taxi was quick given how late we were departing, and we were airborne by 11:35PM, for our 3hr30min flight to Quito. This was my first flight on the 737 MAX (I think), and I definitely noticed that the plane is significantly quieter than other 737s.
Service began about 40 minutes after takeoff with drinks. Since they served the mixed nuts on the ground, the usual mixed nuts weren't offered this time around. I just had a glass of water to drink.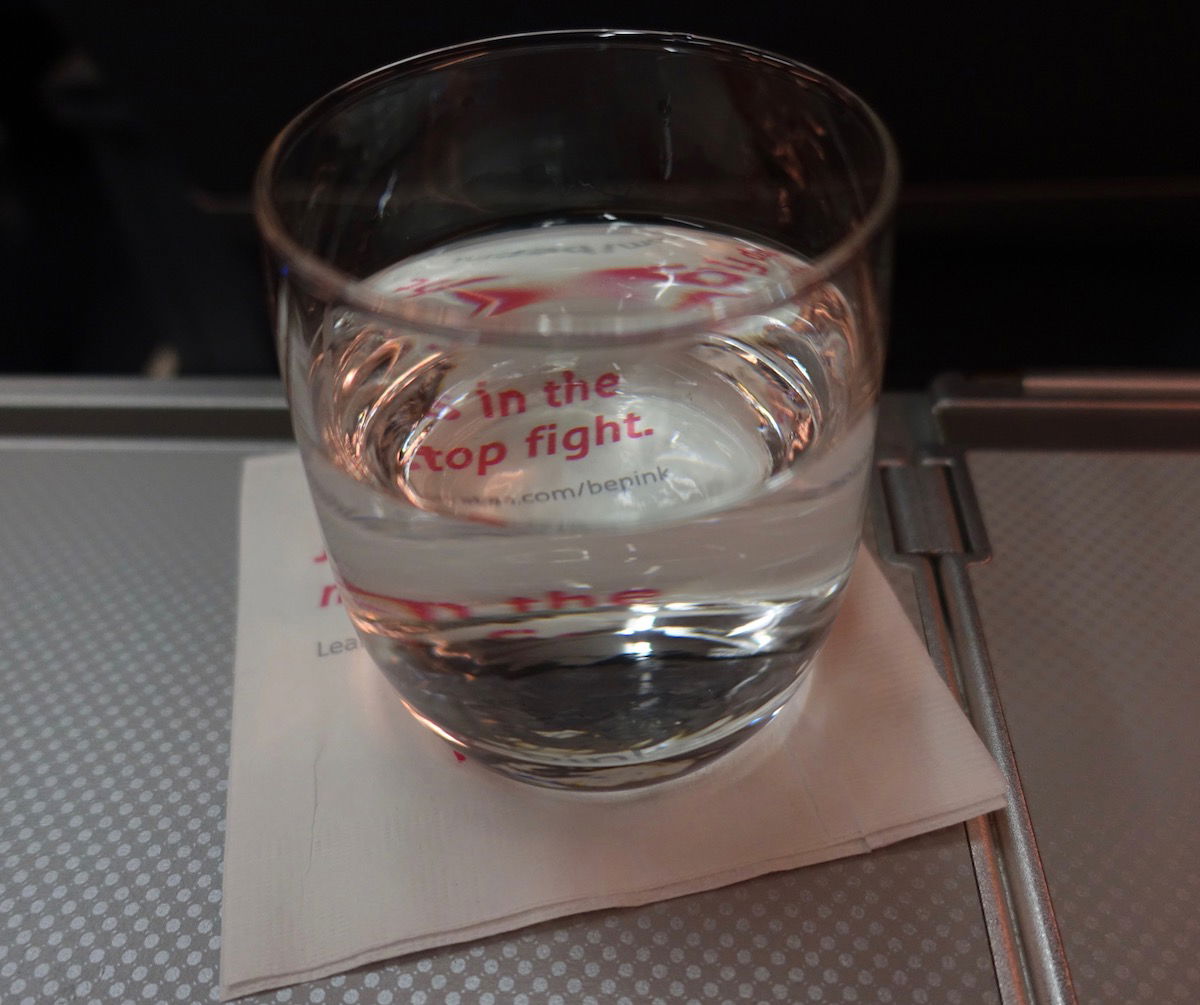 American Airlines business class drink service
Next up there were warm towels.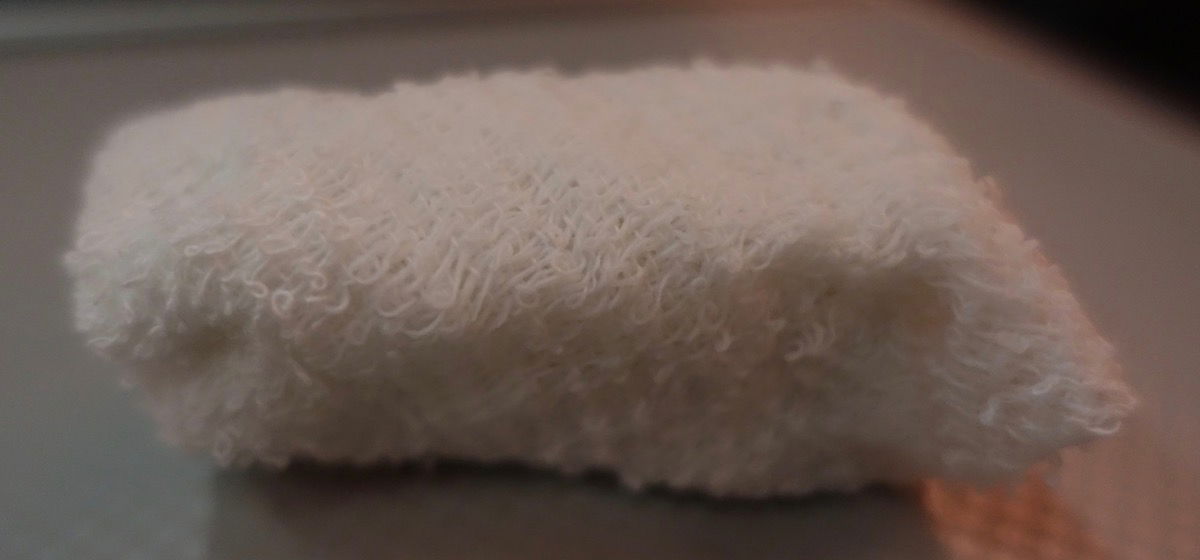 American Airlines business class warm towel
Then it was time for dinner. The purser came through the cabin to take meal orders. "Beef or lasagna?"
In reality I knew the choices were as follows, based on being able to pre-order on aa.com:
Cheese lasagna with pomodoro sauce
Beef fillet with cipollini onion, asparagus, and quinoa
Neither of those options sounds particularly appealing, but I chose the beef. Dinner was served about an hour after takeoff, with everything on one tray, except dessert.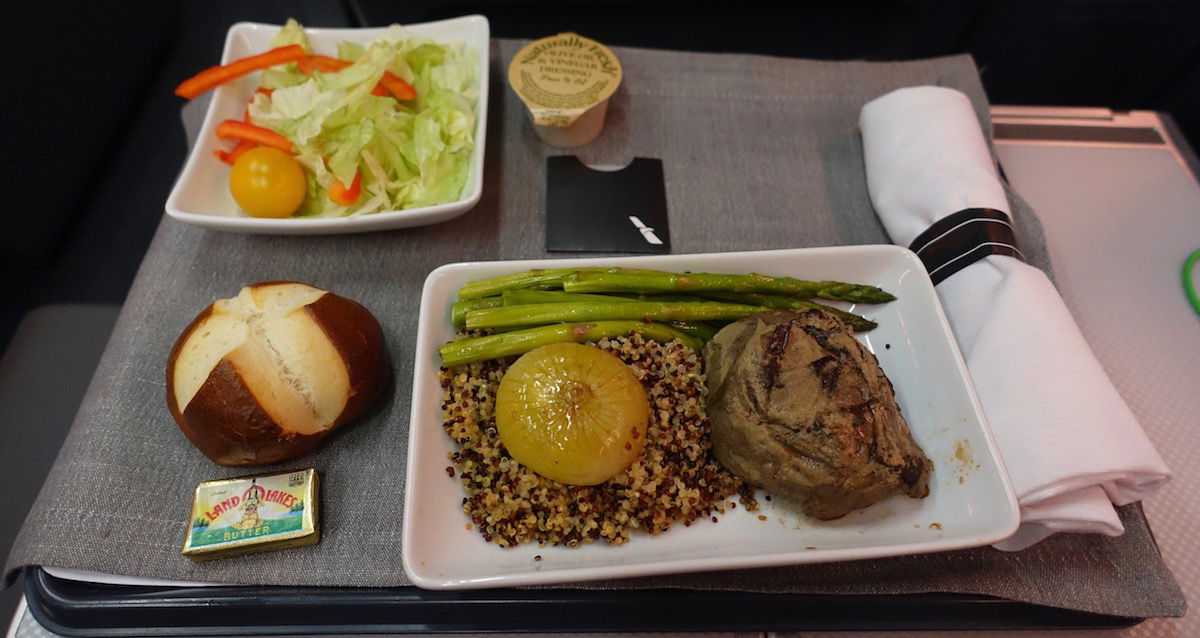 American Airlines business class dinner service
There was a small side salad that was basic.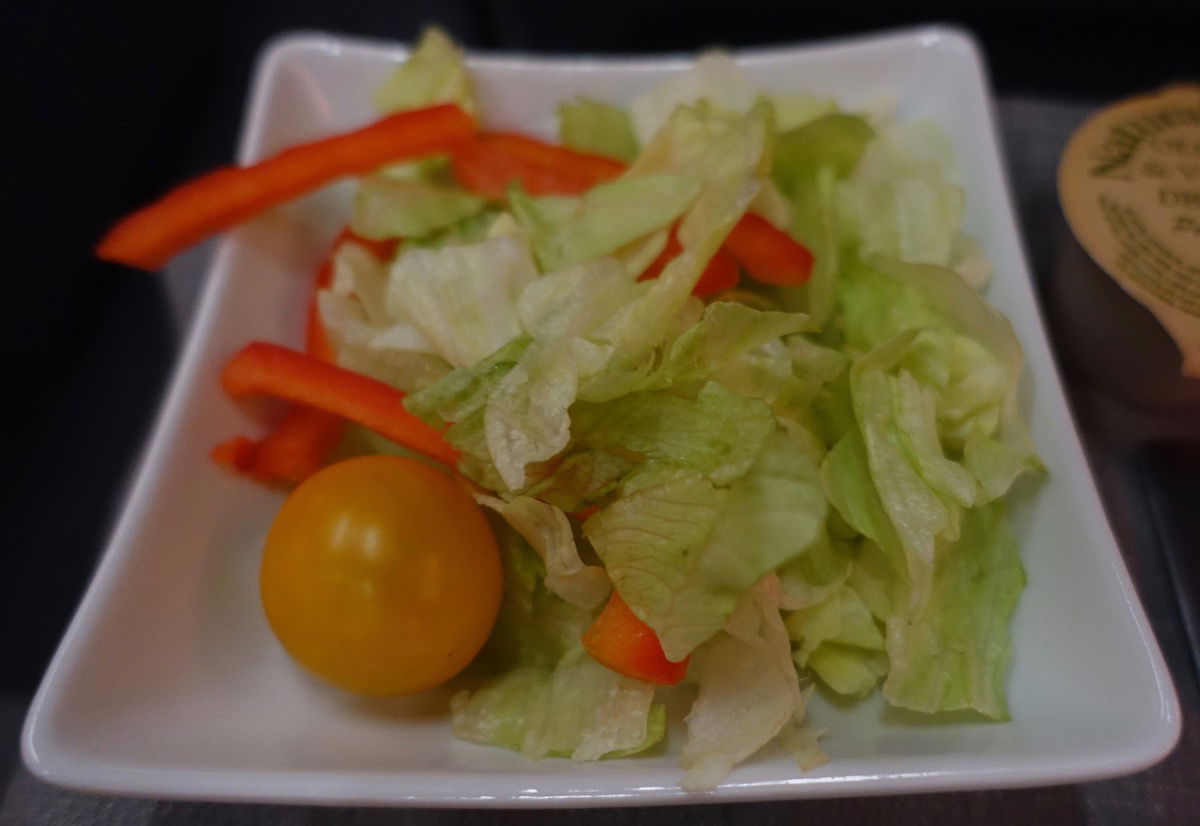 American Airlines business class dinner
Then the beef didn't look very appealing, though at least it tasted a little bit better than it looked. Which isn't saying a whole lot, but…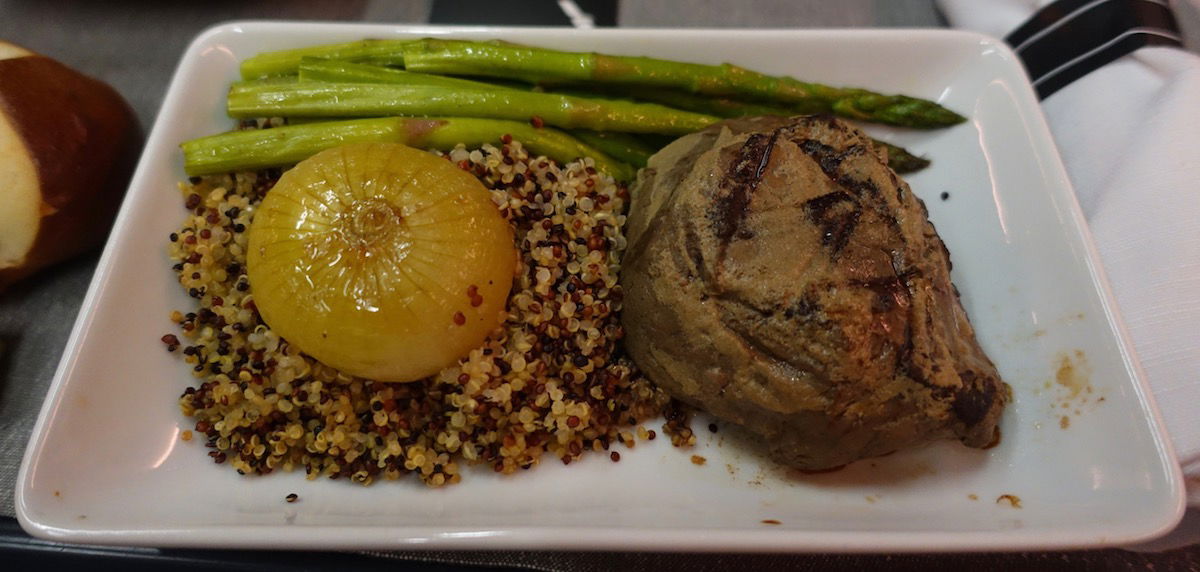 American Airlines business class dinner
For dessert there was caramel ice cream, served in a glass.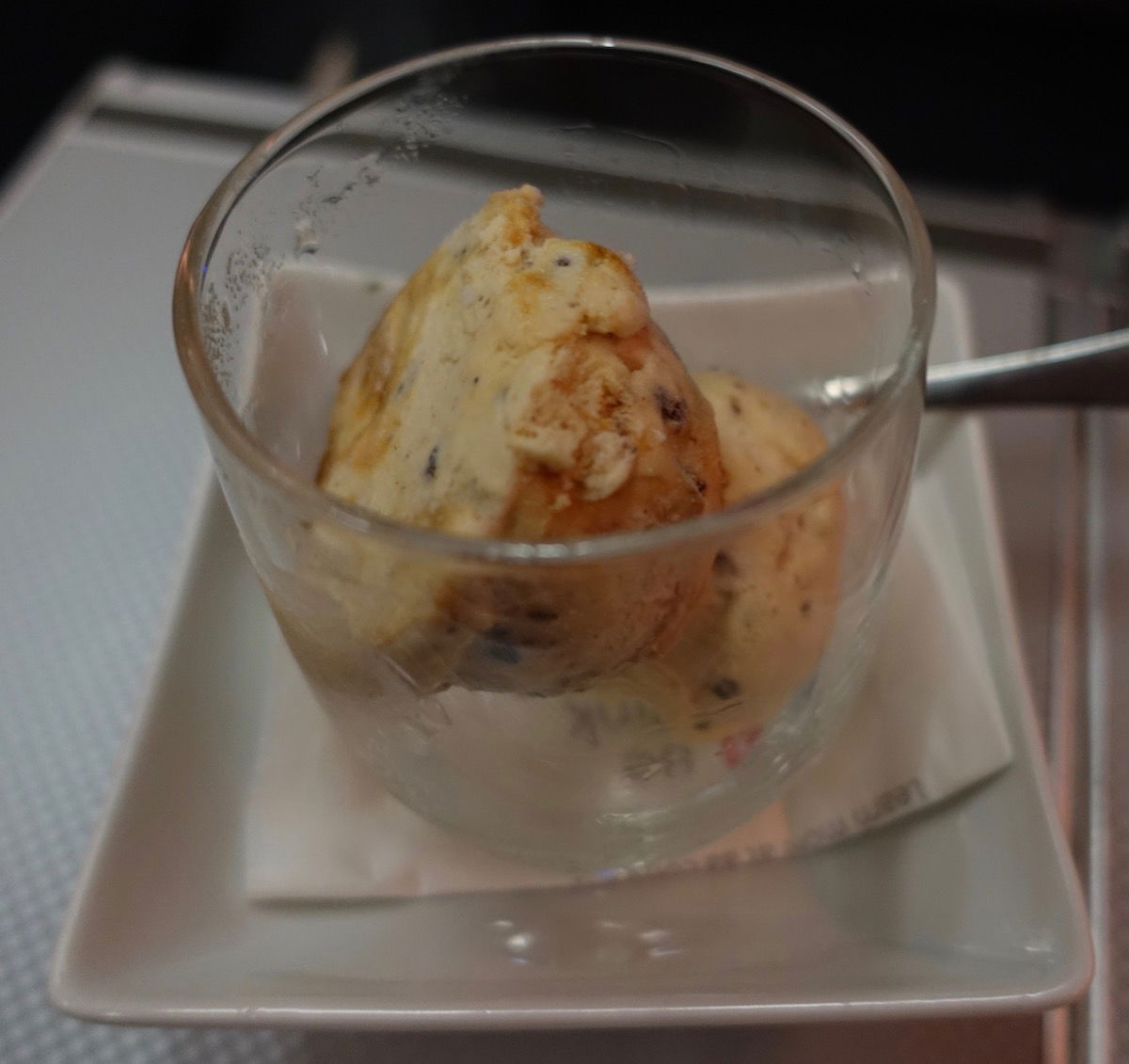 American Airlines business class dinner
I checked out the lavatory after the meal. The 737 MAX is known for tiny lavatories, and the lavatories are indeed very small. This is the business class one: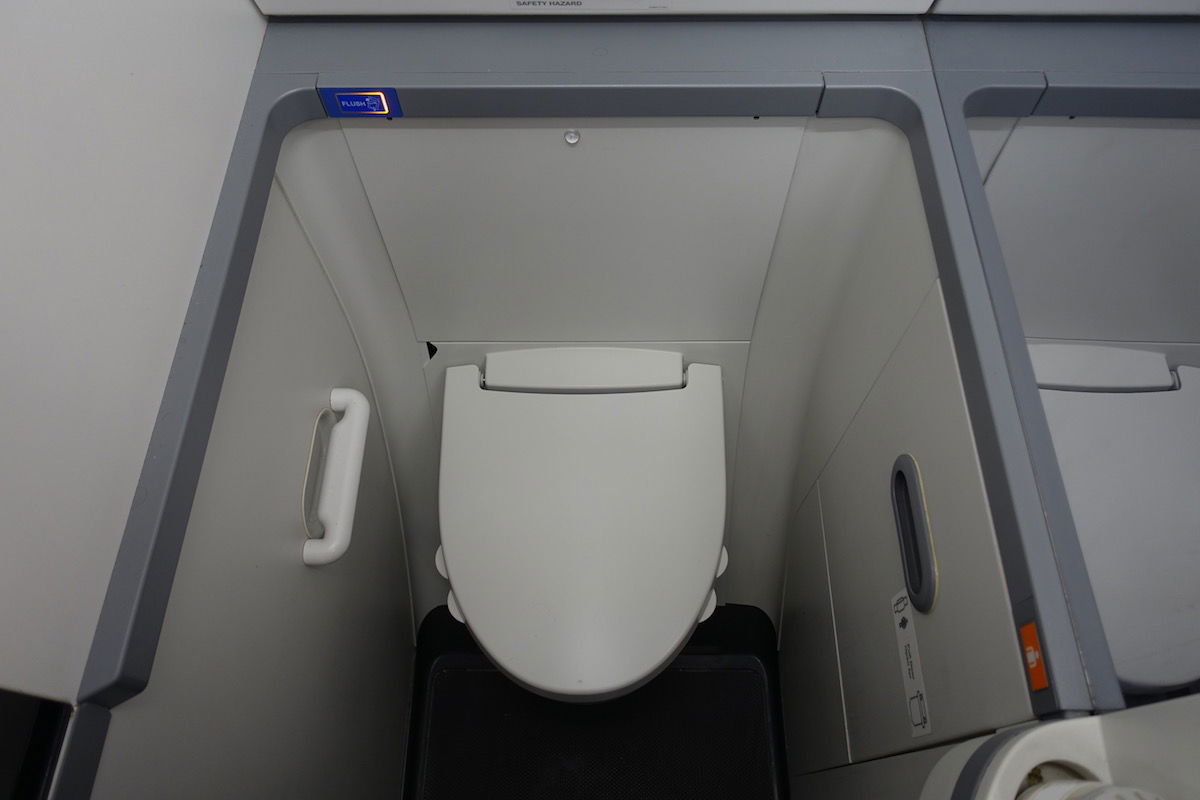 American Airlines 737 MAX business class bathroom
And the one in economy might just be even smaller: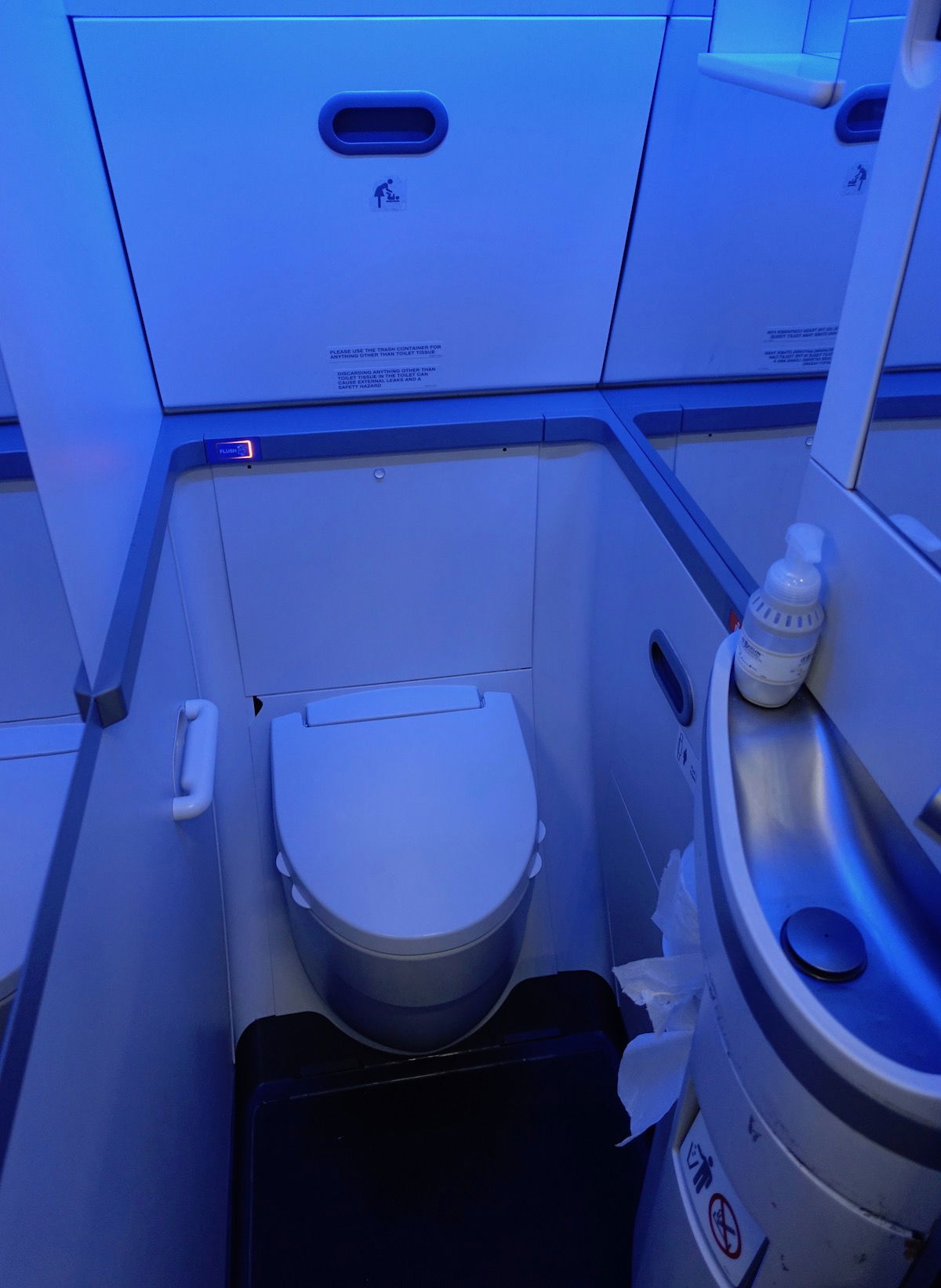 American Airlines 737 MAX bathroom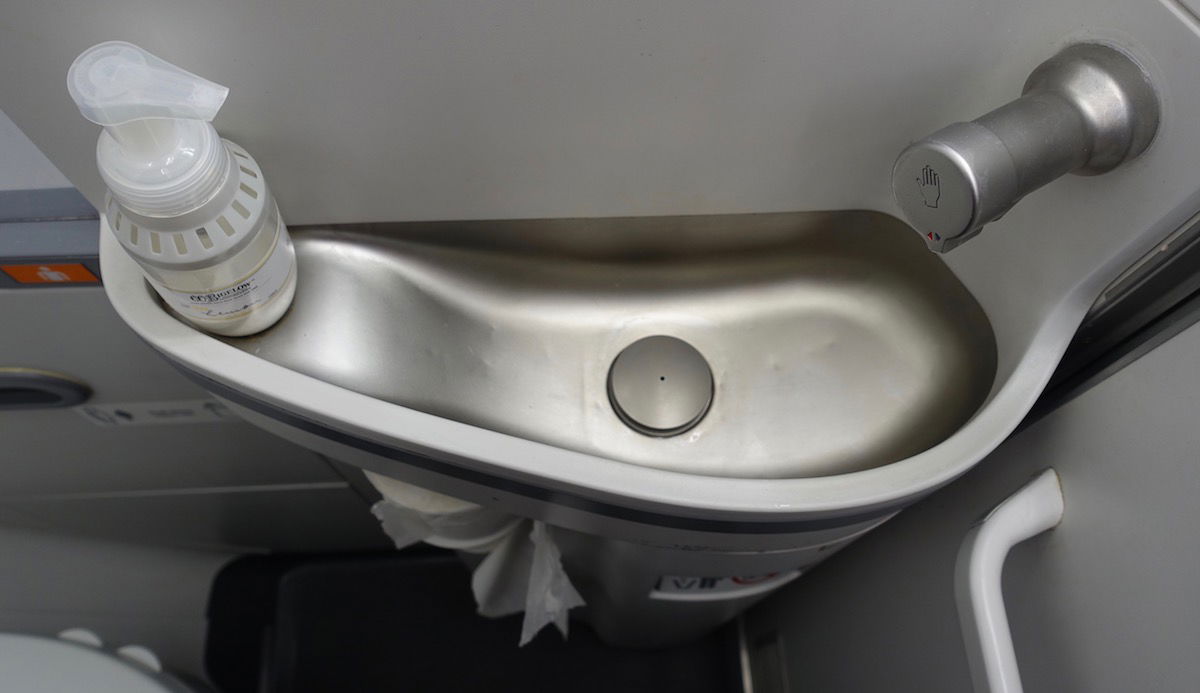 American Airlines 737 MAX bathroom
American's 737 MAX 8 aircraft are supposed to have Viasat high-speed Wi-Fi. It was free on this flight, but presumably that's because the coverage zone is limited. As it turns out, the Wi-Fi literally only worked for the first 15 minutes of the flight. I don't think that was a one-off, because it also only worked for the last 15 minutes of the flight on the way back.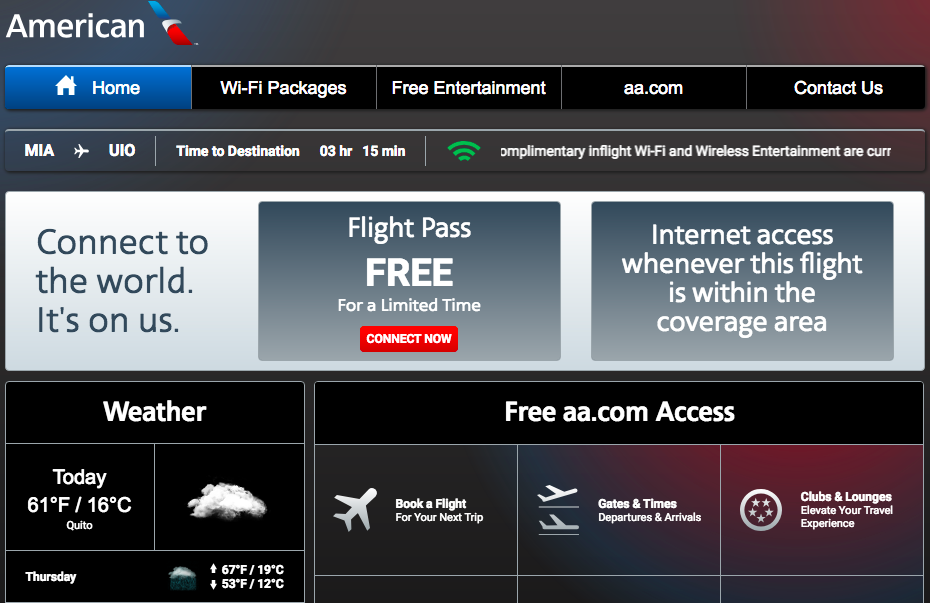 Best I can tell, Viasat's coverage map is supposed to look something like this, though clearly that's not actually the case, at least on the 737 MAX aircraft I was flying: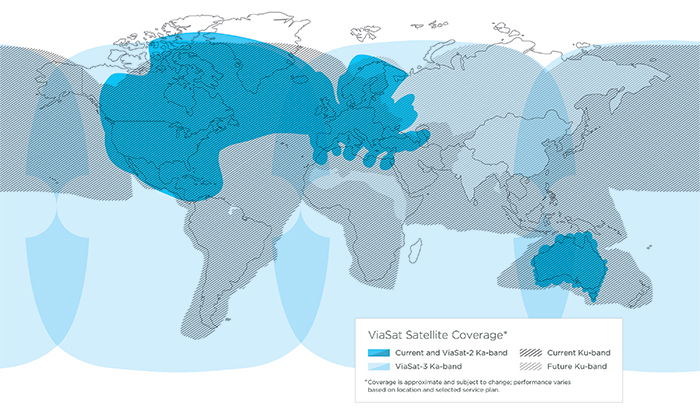 So without Wi-Fi, personal televisions, or any streaming entertainment, I ended up trying to sleep for the rest of the flight. By the way, I think there's supposed to be streaming entertainment even when Wi-Fi isn't working, but it wasn't working on this flight.
I don't think I actually got any sleep, though I did get some rest.
I never did see the crew pass through the cabin again.
At 3:05AM the captain announced that we'd be starting our descent shortly, and landing in 15 minutes. Since Quito is at an altitude of just under 10,000 feet, the descent was really short. We touched down in Quito at 3:20AM, and were at the gate five minutes after that, about four hours behind schedule.
One last interesting note — when we actually departed, neither the pilots nor the cabin crew ever once made an announcement apologizing for the delay. Not that it's their fault, but usually at a minimum when you land and they say "the local time is 3:25AM," you'd think that would be followed up with a "we apologize for the delay."
American 737 MAX 8 business class bottom line
We were looking forward to a quick flight to Quito, though that didn't end up happening. Of course mechanical delays can happen on any airline, so I don't blame American for that.
What I do blame them for are these really uncomfortable 737 MAX aircraft. The seat padding and recline are terrible, so it's pretty tough to get comfortable in these seats.
Furthermore, their handling of the delay wasn't good, between the generally lazy crew, and the ground crew, which promised refreshments but never did offer them.
Anyway, we were happy to be on the ground, even if it was the middle of the night at this point…