Some of you may remember my friend Nick, who reviewed JetBlue's A321 Mint Class last August. He's back with another trip report, this time from his recent trip to South America. Nick is possibly the biggest Delta/SkyTeam apologist funniest person I know, and despite the fact that he toned it down a bit for the trip report, I hope you still find it interesting/amusing. 😉
Unfortunately due to a seat mishap his phone disappeared, so half of his pictures are gone. Or to quote Nick: "can you add an editors note that United ate my phone – to be discussed in UA post – so like half my photos were lost forever hence back off bitchy commenters?"
---
Introduction
Copa Airlines Business Class Los Angeles To Panama City To Buenos Aires
Layover In Panama City
Park Hyatt Buenos Aires
United BusinessFirst Buenos Aires To Houston
---
Argentina and, to a lesser extent, the beaches of Uruguay have been covered relatively in-depth by this blog and many others, which is why I'm glossing over much of my time on the ground in order to give you perspectives you might not otherwise find on the BoardingArea blogs.
One of the common threads on this blog and others is how atrocious Aerolineas Argentinas is supposed to be. While I won't go into a full-length trip report on Aerolineas (and all of the photos I took of the flights were on my phone, which my United BusinessFirst seat ate, as you'll read shortly), I will say that all of our expectations were exceeded by a country mile.
We flew Aerolineas from Buenos Aires' downtown Aeroparque airport to Montevideo, where we rented a car (an adventure in and of itself, but not worth delving into here) and drove to the beach towns of Maldonado province, and we flew Aerolineas back directly from the Punta del Este airport to Aeroparque a few days later.
I was prepared for the worst, for hours-long delays, shoddy service and planes that were held together with Scotch tape. Guys, if you're just flying Aerolineas for a short haul flight within the Southern Cone, don't worry about it! Yes, we got a few emails from Aerolineas in advance of schedule changes and even a flight cancellation (though we were rebooked on a flight leaving a couple of hours earlier, so it was not the end of the world), but once we got to the airport, everything operated smoothly. Not only did the AEP-MVD flight board on time, but we boarded onto a brand spanking new Embraer E90 with leather seats and seatback televisions with a decent selection of IFE. Service was perfunctory – it is, after all, only 20 minutes in the air – but included a snack container with a granola bar, candy bar, piece of fruit and juice box.
Our return flight from PDP was on a slightly older 737-700 without seatback entertainment, but similar snack service (I did not check to see if they had an on-board fax machine per Lucky's obsession, which would have provided a level of entertainment that no episode of "The Big Bang Theory" could offer). No hiccups. I would absolutely fly them short-distance again. But, if you're still skeptical of Aerolineas, it's worth noting that Air France, of all airlines, flies from Buenos Aires' larger Ezeiza Airport to Montevideo on a 777. I checked and there is wide open award availability using SkyMiles in business and economy. Unless the paid airfares for that route are astronomical, however, it's not a redemption worth thinking about, since you're literally not in the air long enough to finish a half-hour sitcom.
In any event, after a lovely New Years' Eve in Buenos Aires and a quiet New Years' Day (note: nothing is open in Buenos Aires on New Years', not even brunch spots in trendy neighborhoods, except for a few isolated hotel restaurants and bars), I went to check in online for our United flight from Buenos Aires to Houston to Los Angeles only to discover that the phone agent who assisted me in November in moving our flights up by a couple of days accidentally booked the IAH-LAX leg for 1/1/15 rather than 1/2/15 (since we were arriving in Houston the day after departure), which meant our itinerary was held up by red flags.
After a few maddening minutes on the phone with United's U.S. customer service line via Skype, I hung up and used a trick you should all use for United customer service: I called the U.K. customer service line, which actually just gets you straight to a U.S.-based call center with relatively helpful agents (as opposed to the U.S.-based customer service line, which puts you through to an overseas call center).
Most of the seats on the IAH-LAX morning flights were taken, but she was able to book us into United First on a 6:47am departure, meaning we had an hour and seven minute layover: tight, but doable if all worked out. And with that, we cabbed it to Ezeiza Airport. (It's worth noting that, while Ezeiza is a good 30-45 minute drive from central Buenos Aires, it's only about a $20 cab ride at most.)
All of the lounges at Ezeiza are brand-new and far above the quality you might expect from similar trip reports of lounges in Sao Paulo and other South American gateways. We had the choice of two lounges – the American Express Centurion Lounge and the Star Alliance Lounge – and we visited both of them.
The Centurion lounge is spacious and well-decorated, with a decent food selection and a relatively unimpressive wine/liquor/sparkling wine selection, but it is packed. We did a quick loop around the lounge and found it much too crowded to enjoy, with no seats available and poor air circulation, so we walked over to the Star Alliance lounge a few gates away, which was spectacular. I had had my doubts, but the lounge is beautifully furnished with chic leather and cowhide accessories, high ceilings, plenty of seating space and a beautiful buffet of food with a good display of local wines and liquors. Because imports are incredibly difficult to come by in Argentina, you simply won't find European wine anywhere in the country (unless you want to pay $500US for a bottle of Moet), so the champagne selection is not going to impress Ben, but we really enjoyed the sparkling rose from a local producer that was more than drinkable. In any event, if you're flying United, by all means avail yourself of the Star Alliance lounge. We walked by the new OneWorld Lounge, as well, which had floor to ceiling glass windows opening up to the corridor, and were unimpressed: the furnishings were middle-of-the-road, the buffets were swarmed, and there seemed to be more customers than seating.
United 818
Buenos Aires (EZE) – Houston (IAH)
Thursday, January 1
Depart: 10:05PM
Arrive: 5:40AM +1
Duration: 10h35m
Aircraft: Boeing 767-300
Seat: 6K (BusinessFirst)
So, guys, funny story. You know how this blog is all about great redemptions of miles, about leveraging your points for the best possible value?
This is not one of those redemptions.
Originally, many many months ago, I booked us on two first-class seats on TAM from Sao Paulo to JFK when the availability was wide open. I didn't quite have a plan to get us from JFK to LAX or from Buenos Aires to Sao Paulo, but I figured that TAM First was too good a deal to pass up and I could figure out those legs later. Well, when TAM decided that, like a Monarch butterfly, its impossibly beautiful first class cabin was too beautiful to live for very long at all, it was time to consider a new routing since I had no interest in flying EZE-GRU-JFK-LAX in substandard business class seats. At that point, so late in the game, I was kind of screwed: pretty tough to find two award tickets from South America to California returning after New Years' weekend!
And that's where a United standard award (I can hear some of you gasping) fit in. I was lucky enough to have a ton of United miles at my disposal, and sometimes the best use of miles – even if it's 150,000 miles per person one-way – is to get you where you need to go. So our very direct EZE-IAH-LAX routing was thanks to an exorbitantly priced MileagePlus redemption. But hey, if you have the points, it's strongly worth it, especially since paid fares, even in economy, were also exorbitant.
In any event, boarding was swift and the BusinessFirst cabin was welcoming, a nicely sized 30-seat cabin with lie-flat seats in a 2-1-2 configuration.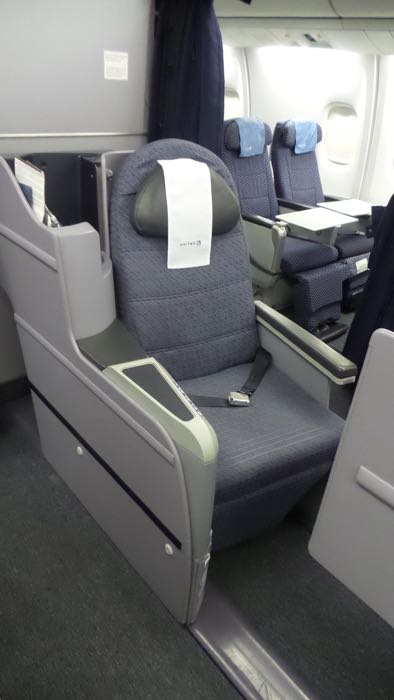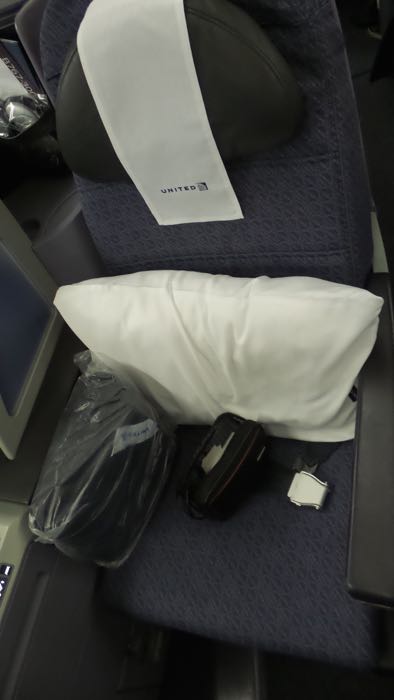 The cabin crew had set a pillow, blanket and amenity kit at each seat, and the amenity kit was actually very nice, with Philosophy branded toiletries, and the usual suspects, including and – this is a good one – a packet of breath mints (off-brand Altoids, basically).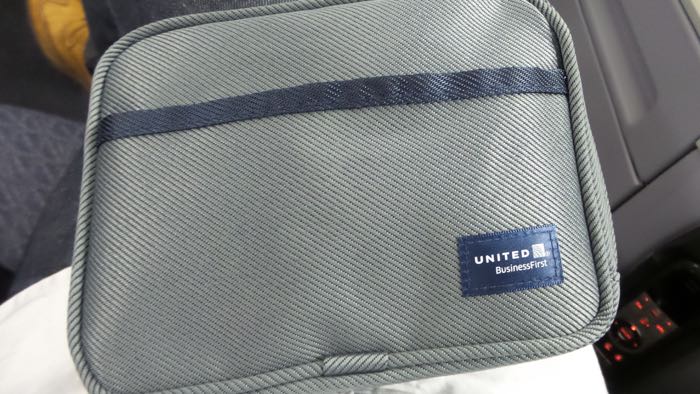 As we settled in, the purser, Riitta, came around to introduce herself and present us with a business card (which I thought was a classy touch) while the male flight attendant passed around trays of champagne and water. While, again, the photos of all of the menus were on my phone which was about to die a horrible death, meaning I can't recall every detail as I type this up, I do recall that United recently changed its menu descriptions.
Instead of listing the brands and wines available, the wine list was vague – apparently fine French champagne was served on board (the wine list did say champagne and not sparkling wine, so it couldn't be all bad). The flight attendant didn't recall the brand of champagne offhand, but I know in the past United has served Nicolas Feuillatte. In any event, I had a glass of champagne, but having filled myself with bubbly in the Star Alliance Lounge, switched over to red wine shortly thereafter. Riitta came by to take our food order and strongly recommended that I order the sea bass. The food service was impressive. Our appetizer was a lovely salmon-and-tuna starter, and Riitta was spot on that the sea bass was very good, in fact, quite delicious for seafood on an airplane. I finished with an ice cream sundae that was great (how could it not be?).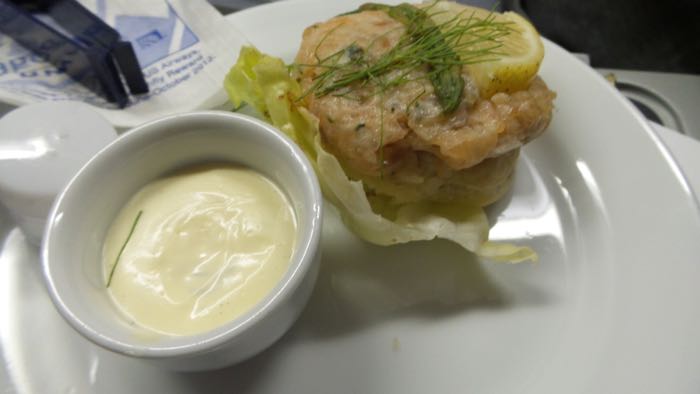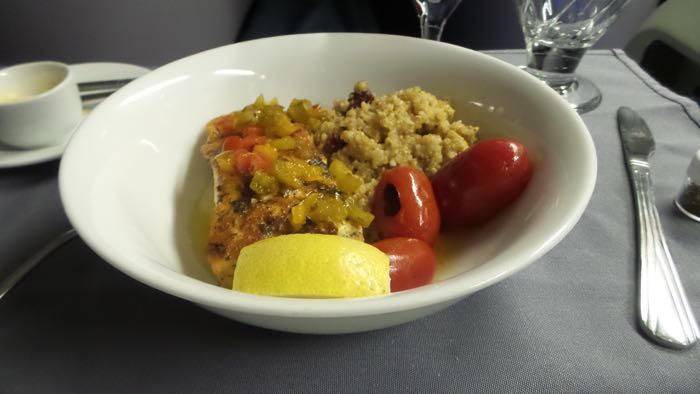 As you're about to read, though, I was a little distracted during the food service.
The seat is laid out in such a way that you have a cubby next to your headrest with a power outlet as well as a USB port, and some storage nooks for headphones, magazines, etc. I plugged in my phone and set it on the wide armrest while I focused on the in-flight entertainment system. United's IFE is (at least compared to Copa's) extensive, with no shortage of great movies and TV shows at our disposal. I settled in to watch Boyhood (you guys, such a good movie). After a few minutes, I started playing with the seat controls to recline my seat fully. The seatback would start reclining and then… about halfway down, it would switch gears and return to an upright position.
Noooooo, I was telling myself, I can't be in a seat where the lie-flat function doesn't work at all – not possible! So I kept hitting the "flat bed" button and the seat kept going halfway down, only to return to an upright position. After a few minutes of this, I started playing with the manual seat controls, where I was finally able to get the seat to lay fully flat.
Note: when your seat won't recline all the way and it keeps bouncing back to the upright position, it may be because there is a foreign object, say, an iPhone 6, in the way.
Yep, at some point my phone fell off the armrest (which had no lip to prevent such a mishap) and into the crevice between the seat and the arm, which happens to be where the mechanical gears for the seat's lie-flat function are located. At some point a few minutes later, I went to reach for my phone to take a photo of my appetizer so that I could get a good photo for you guys only to frantically search for it. I stuck my hand underneath the seat and felt a strangely shaped object. As I pulled out the object I realized it was once my phone, and now a horribly mangled and shattered piece of steel and glass that might work very well as a modern art installation but definitely very poorly as a functioning telephone.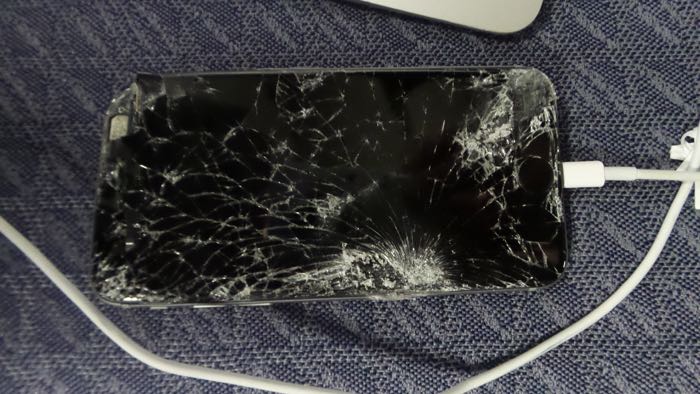 As I picked up the poor, defenseless iPhone from the cabin floor, Riitta, the purser, walked by. I showed her the phone – as sort of a "holy crap, can you believe this happened?!" gesture – and her face instantly showed genuine concern. In my mind, this was just a stupid mistake and mostly my fault, but Riitta was horrified that this happened on her flight, and she pointed out that United should be aware that the armrests should have a lip or some other sort of pouch to hold passengers' charging phones. She immediately fetched a claim form for me to fill out and then spoke to the Captain about the situation, which was above and beyond what was necessary. She reported that the Captain had heard complaints about people's phones falling between the armrest and the seat before, and would call down to IAH to ensure that a "red coat" agent was waiting for me at the jetbridge to take down my information.
Anyway, after that incident, Riitta felt bad for me and made sure the cabin crew took good care of me, liberally refilling my wine until the Pinot Noir numbed the pain of losing my phone. I reclined the seat to a fully flat bed, took a Xanax and another glass of Pinot, and enjoyed Boyhood. Following the movie I fell into a deep, trauma-induced sleep that was one of the best sleeps I have ever had on a plane.
I woke up in time to refresh myself in the bathroom and sit down for an omelette breakfast that was not bad, though certainly not one of the better breakfasts I've had on a plane. We landed at the gate in Houston a few minutes early, which was helpful since our connection was so tight, although there was a mechanical jetway issue which delayed our deboarding by about 15 minutes. I had told Riitta that while I appreciated that the "red coat" would be waiting for me, it was more important for us to make our connecting flight. We sped through Global Entry and were able to get our bags and recheck them, and go through security, in just enough time to make our connecting flight to LAX which, thankfully, was also in Terminal E (normally Houston's terminal for international departures).
All in all, United really impressed me on this flight. The service was wonderful, warm and personable anyway, but when my phone got mangled by the plane seat, Riitta and her crew stepped up their game, making me feel truly cared for and cared about, and making sure that I had a way to file a claim with the airline. The food was quite good, the IFE had plenty of options and the seats were comfortable and lie-flat (or at least, the seat lied flat when there wasn't a $700 Apple product in its way). I was expecting a middling flight at best, but was blown away.
In the end, I really do think that enjoyment of a long-distance flight does hinge on service (and, to a lesser but important extent, food and beverage). With enough Xanax and wine, I can sleep on an angled-flat almost as well as a lie-flat, and of course a tasty meal helps, but the flights I remember are the ones where the flight attendants and cabin crew exuded a warmth, personality and helpfulness that put me in a good mood for my journey. The fact that I left the plane in a great mood despite losing my phone to the seat recline is a testament to the power of great service. I felt like Riitta, as the purser, set the tone for the whole crew, and so long as United employs wonderful people like her, people who can literally turn an unfortunate sequence of events into a pleasant one, I'll remain impressed.
Of course, I'm aware – having flown United quite a bit – that not every United cabin crew is so warm, certainly not domestically. But it had been a long time since I'd flown United internationally in a premium cabin, and every one of my (admittedly, not very high) expectations was exceeded.