EXTRA PERKS AVAILABLE
Enjoy breakfast, upgrades, & more
Want to take advantage of Hyatt Privé benefits, including a room upgrade, complimentary breakfast, a hotel credit, and more, when booking a cash stay? Contact Ford ([email protected]) for more details. He may even be able to help if you already have a stay booked.
I recently spent a night at the 138-room Park Hyatt Zurich. I'm a big fan of the Park Hyatt brand, and it had been roughly a decade since I last stayed here. This hotel has exceptionally friendly staff, but otherwise I can't help but feel like this might be one of the most remarkably unremarkable luxury hotels out there.
Like, there's absolutely nothing that makes this hotel bad, there's just not really anything (other than the friendly employees) that makes this place great. It's just kind of an… uninteresting hotel?
You'll often hear people refer to Zurich as a sterile banking city. And while many claim that this is a misconception, I think "sterile luxury hotel in a sterile banking city" perfectly sums up the Park Hyatt Zurich.
Booking the Park Hyatt Zurich
I recently had a quick overnight in Zurich. Typically I'd stay near the airport (I recently reviewed the Hyatt Regency Zurich Airport, which is awesome). However, in this case I decided to stay at the Park Hyatt Zurich.
Why? I had a Category 1-7 World of Hyatt free night award to use (earned through the Milestone Rewards program). It was expiring within a few weeks, so this seemed like the perfect opportunity to use it.
For context, the Park Hyatt Zurich is a Category 7 World of Hyatt property, meaning that a standard room free night redemption costs 25,000-35,000 points. For the night I was staying, the hotel was at the standard award pricing, so my stay would have cost 30,000 points, though I was using a free night certificate. For what it's worth, I value World of Hyatt points at 1.5 cents each.
As far as cash rates go, the hotel was charging ~$700 for the night I was staying. This seems to more or less be what all of Zurich's top hotels are charging. If you're going to book a cash stay here, I'd recommend doing so through the Hyatt Privé program. Hyatt Privé rates cost the same as standard flexible rates (not member rates, advance purchase rates, AAA rates, etc.), and include the following additional perks:
Daily full breakfast for two in the hotel's restaurant
A $100 property credit per room per stay
A one category room upgrade confirmed within 24 hours of booking (room-to-room or suite-to-suite) — based on availability at the time of booking
Early check-in (as early as 9AM) and late check-out (as late as 4PM), subject to availability
A welcome gift and letter
Park Hyatt Zurich location
The Park Hyatt Zurich has a great location — it's between Lake Zurich and the Old Town, so you can get most places you'll probably want to go by foot. I lucked out with a beautiful, sunny afternoon on the day that I stayed, which I almost never seem to get in Zurich.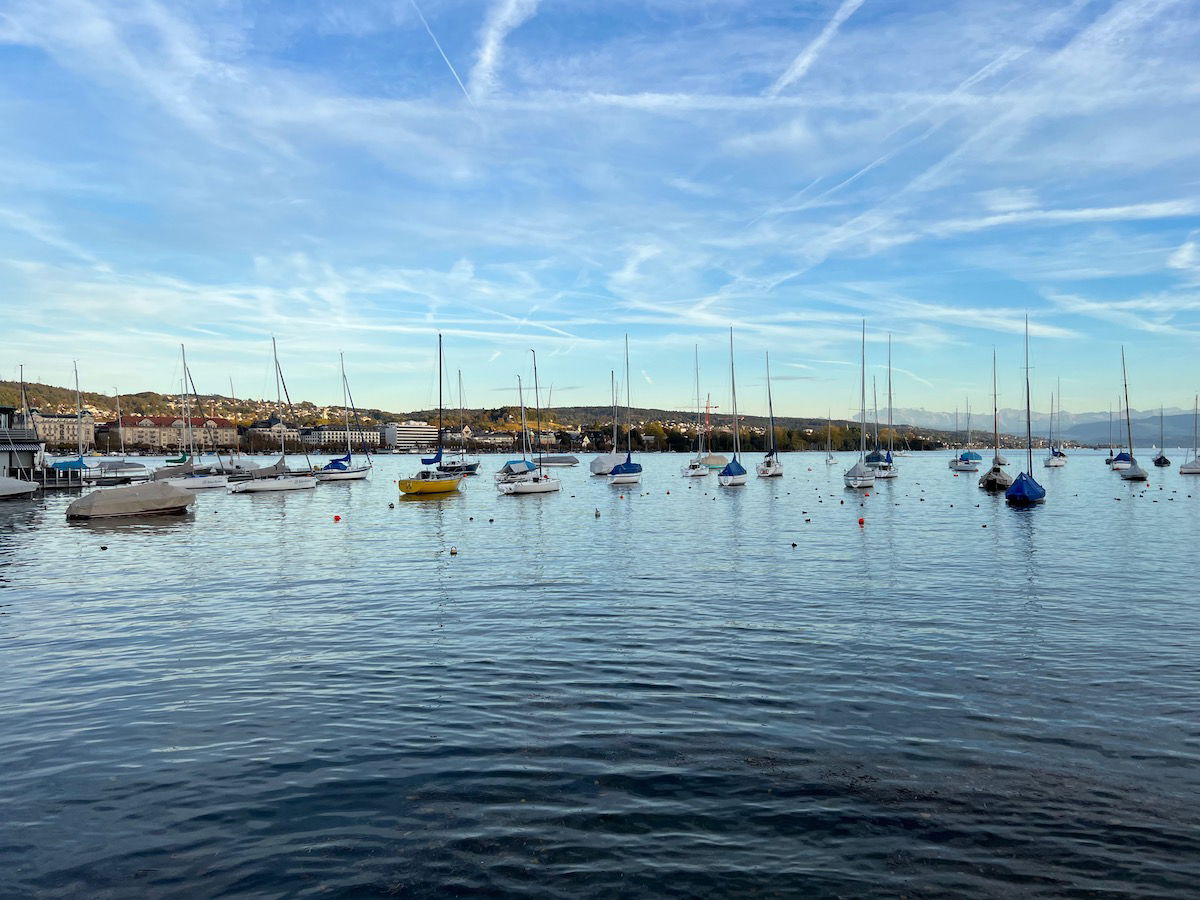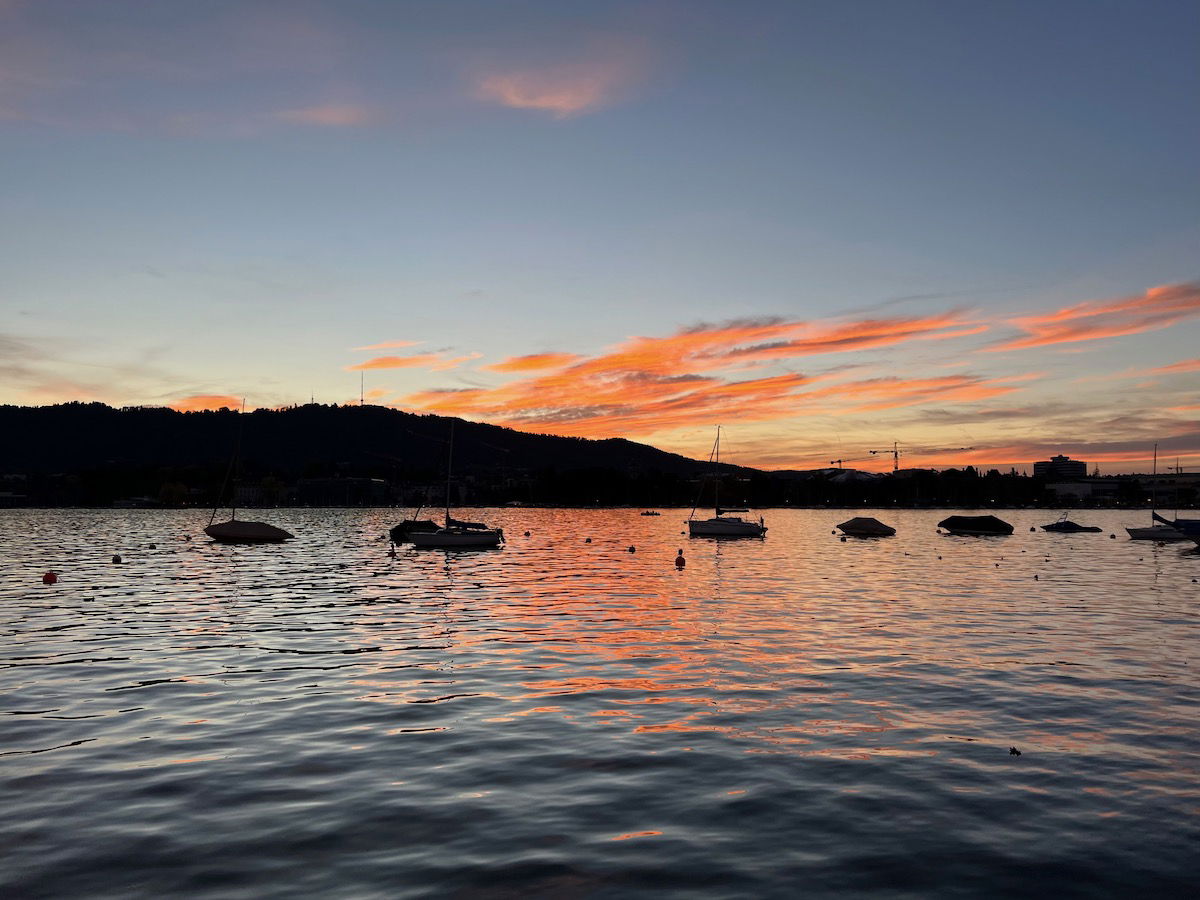 This is one major advantage of the Park Hyatt over the Dolder Grand, which is otherwise probably a better hotel, but doesn't have as central of a location. While the Park Hyatt is well located, note that it doesn't have much in the way of views.
The hotel has a pretty understated exterior and entrance, and it can be easy to miss if you're not looking for it.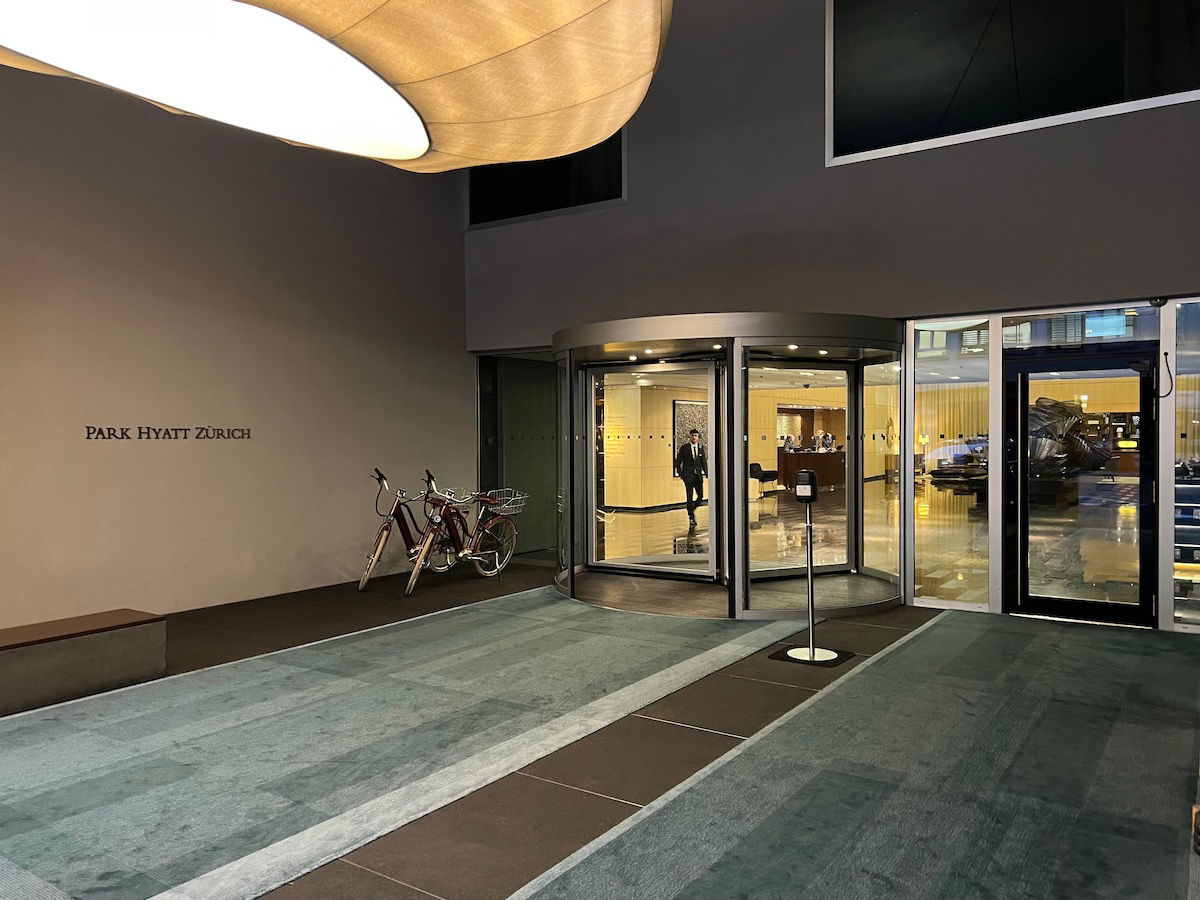 The one exception to the understated entrance is the hotel's Rolls-Royce parked out front. I imagine you can book this for airport transfers, though it's not a complimentary house car, or anything. Rather it just seemed to be parked in the same place for the entirety of my stay.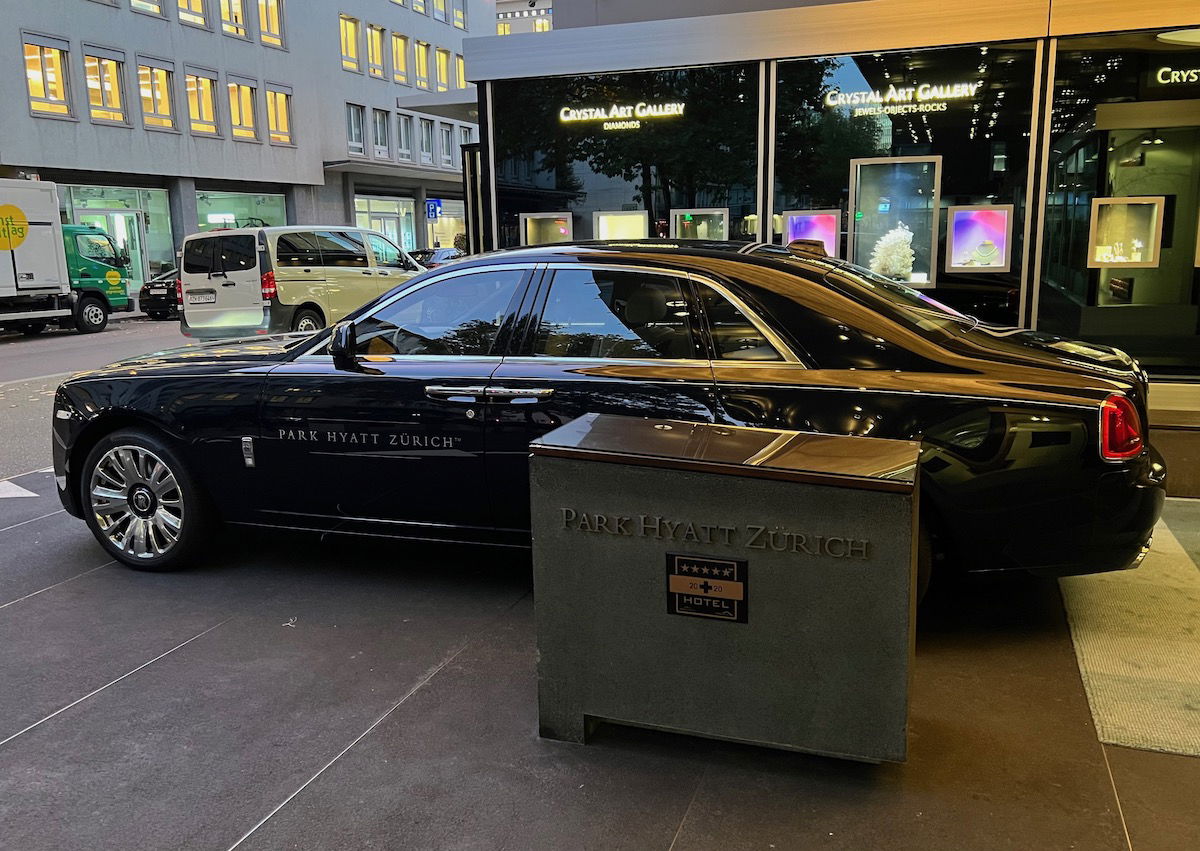 If you're coming from Zurich Airport (ZRH), it's only about 20 minutes to the hotel, whether you're coming by car or train.
Park Hyatt Zurich lobby & check-in
The lobby is probably physically the most interesting aspect of the Park Hyatt. The lobby spans a couple of floors, and has a large piece of art in the center, plus a large, colorful paining on the wall. This gives the property some personality, though otherwise I feel like the lobby feels just ever-so-slightly past its prime.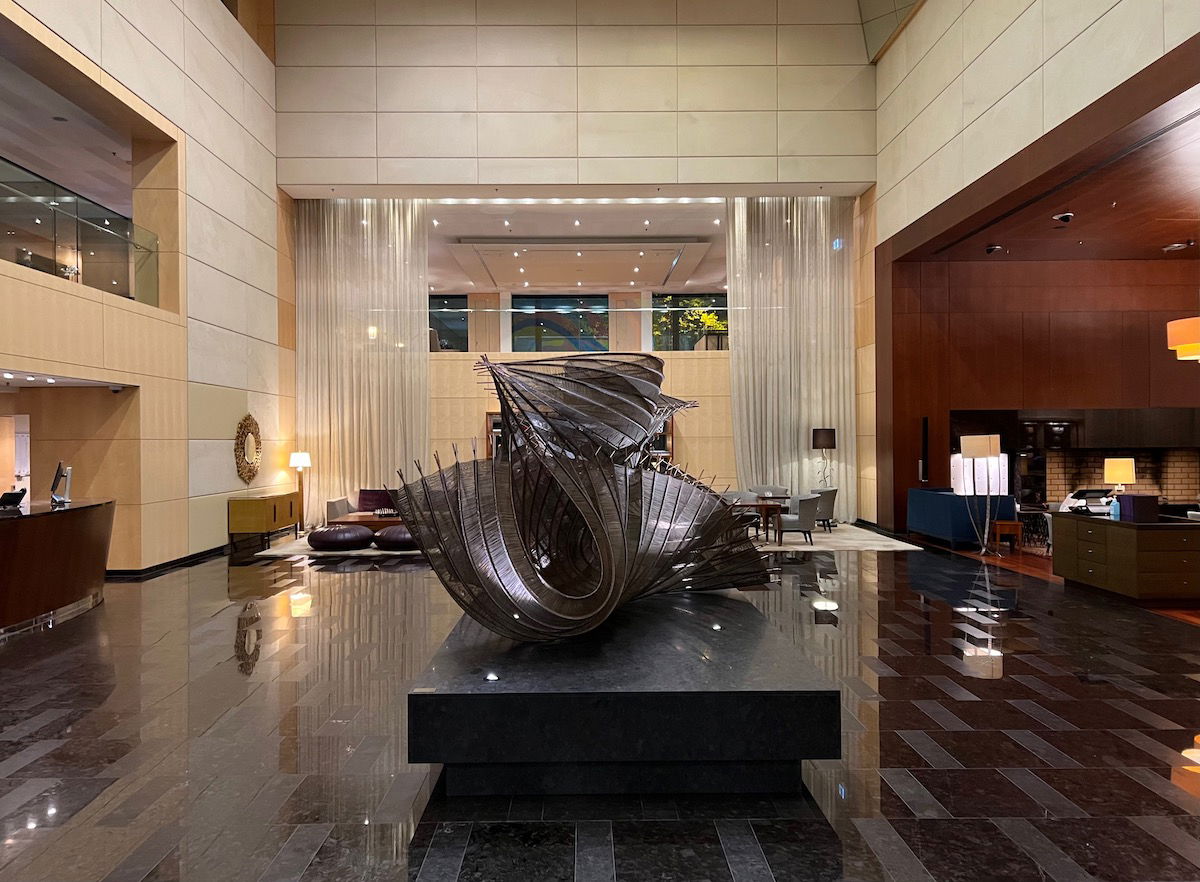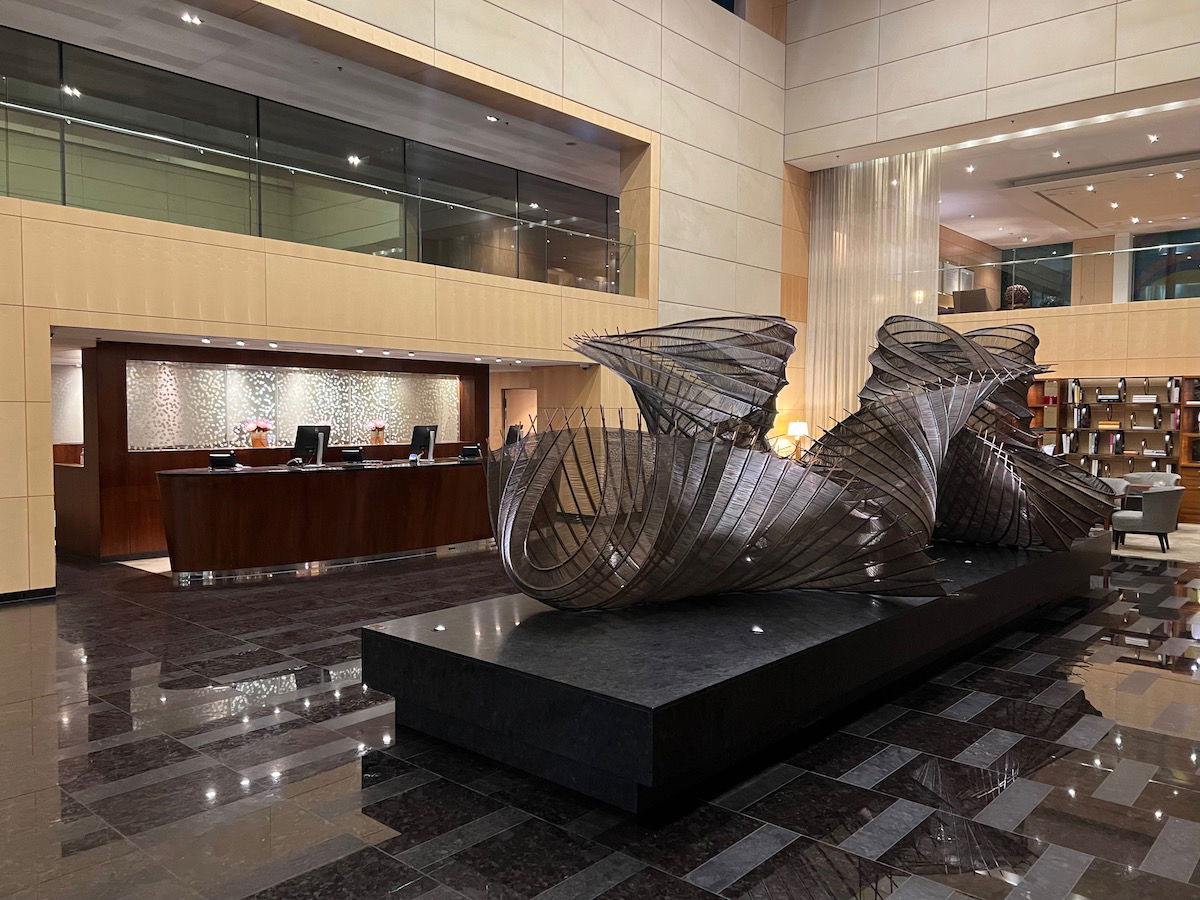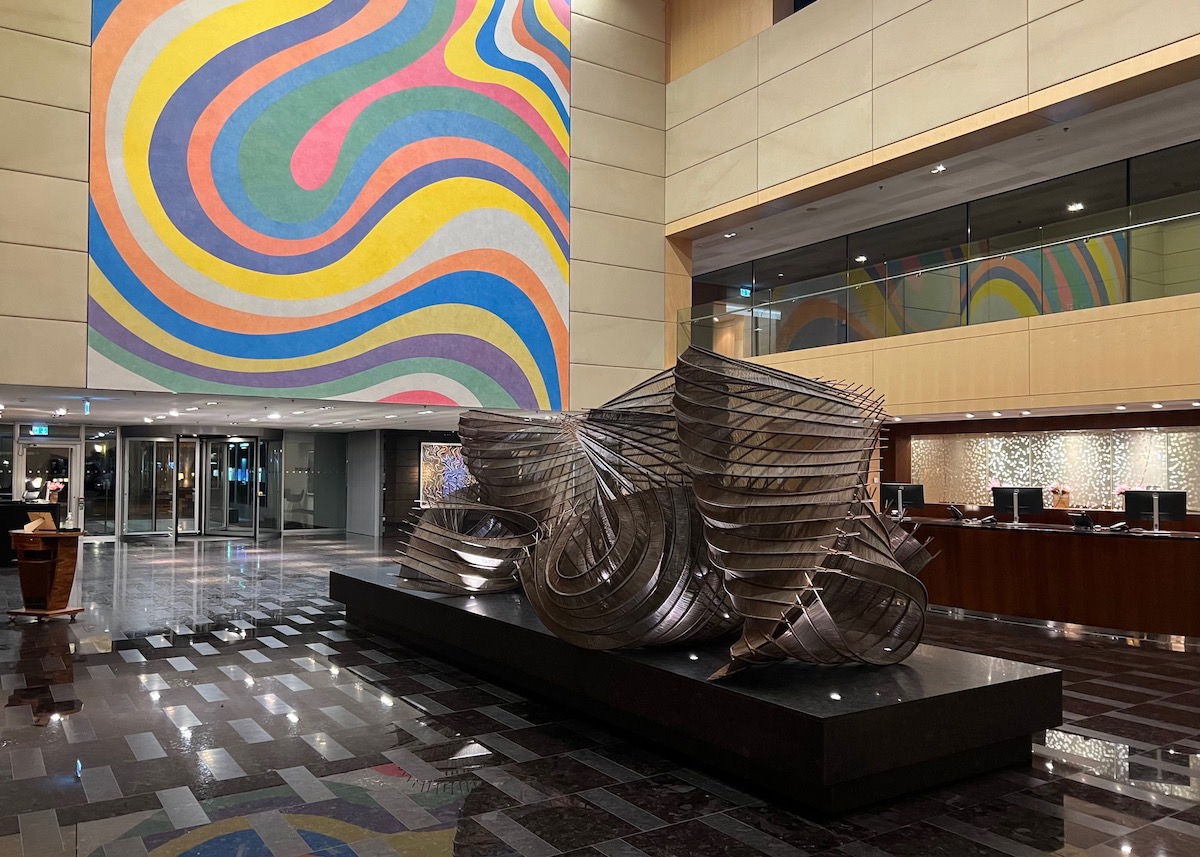 The lobby has a bit of seating in the very back, in addition to the main part of the lobby lounge, which I'll talk more about below.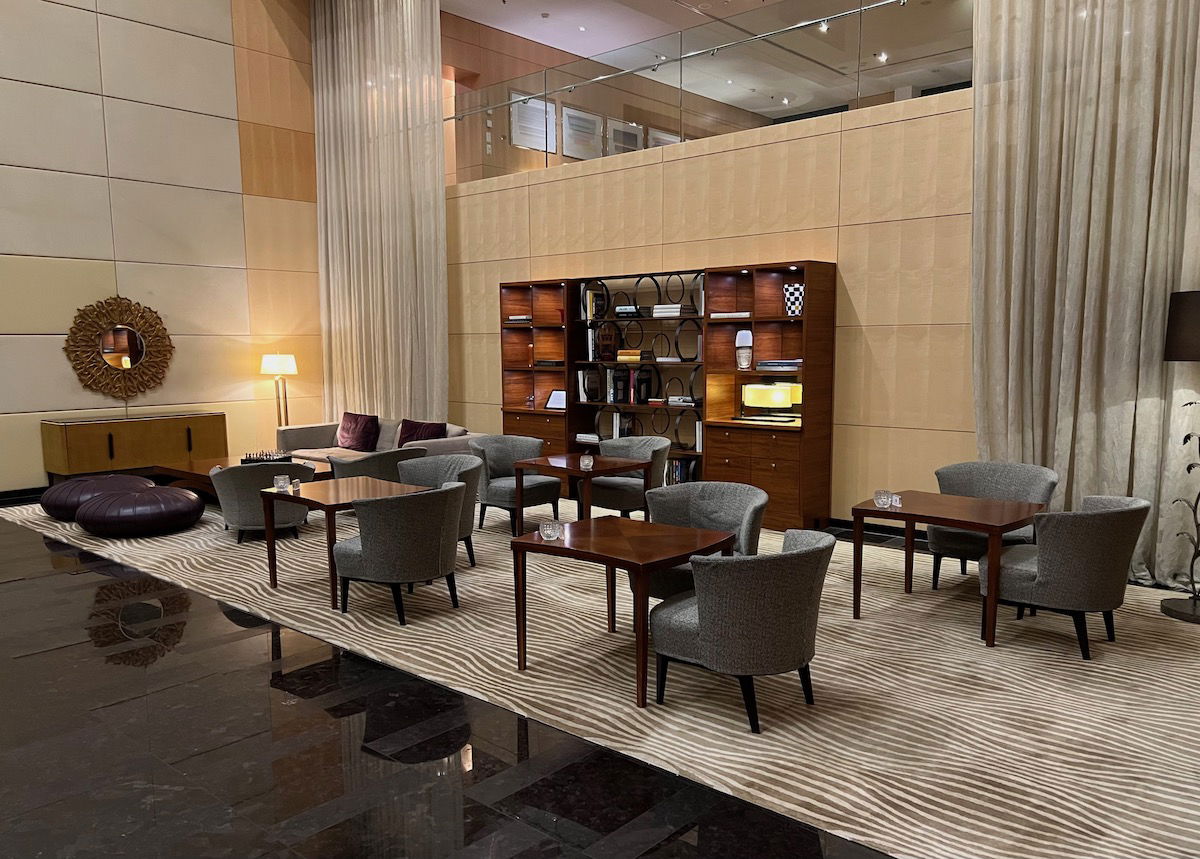 Reception is located inside the lobby and to the left. I have nothing but good things to say about the staff at this hotel, and that started at check-in. The associate checking me in was friendly and textbook professional — she thanked me for my Globalist status, explained no suite upgrades were available (which was true, I verified online), and gave a rundown of all of the hotel's features.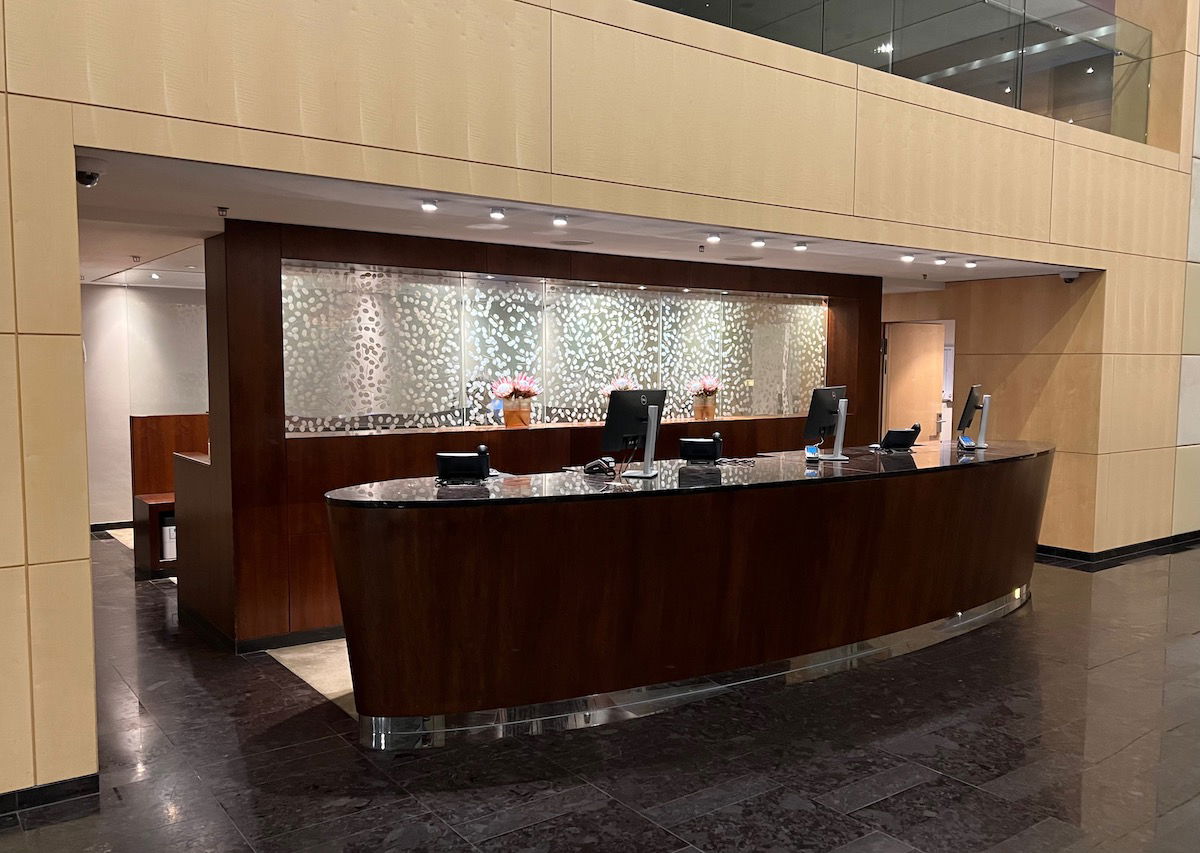 The employee then walked me to the elevator, and wished me a pleasant stay. the hotel's elevators are just down the hall from reception, in the direction of the main restaurant and bar.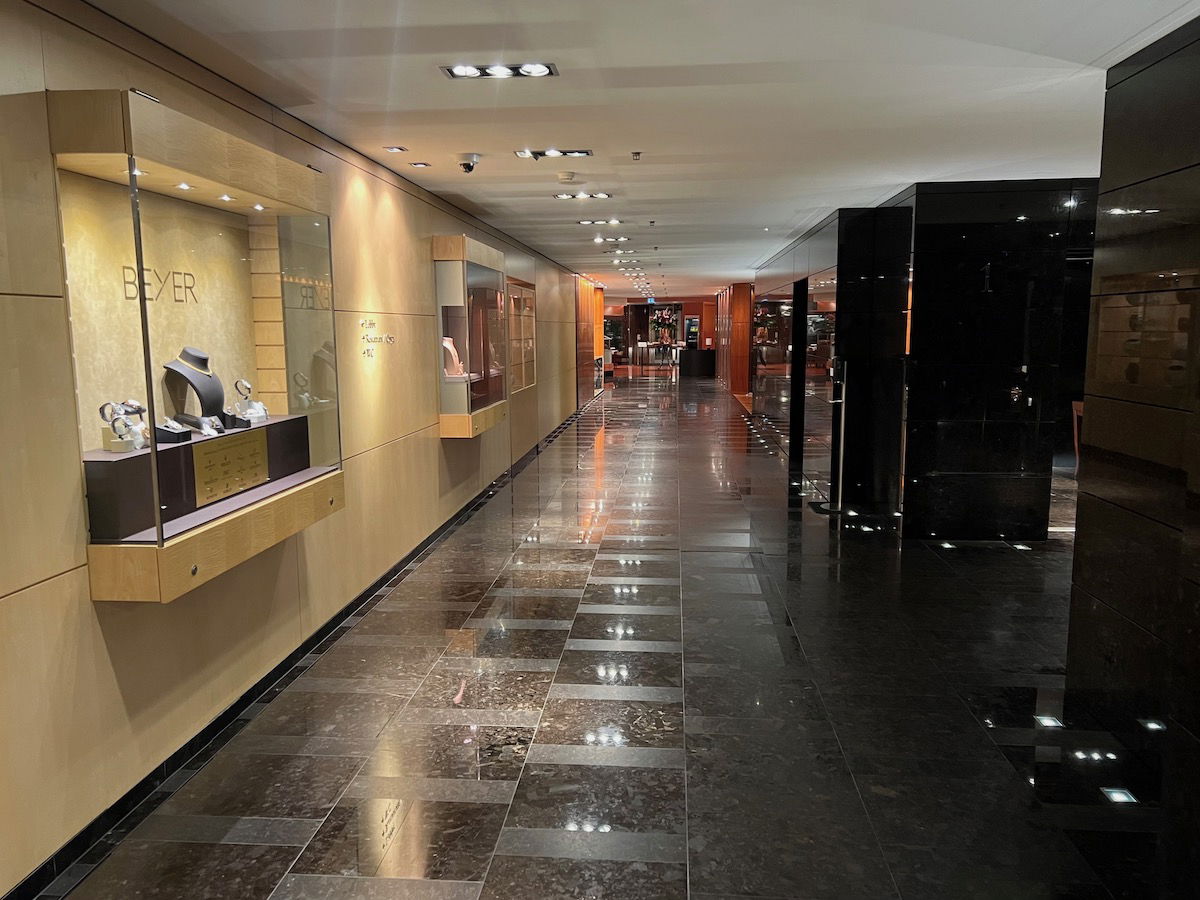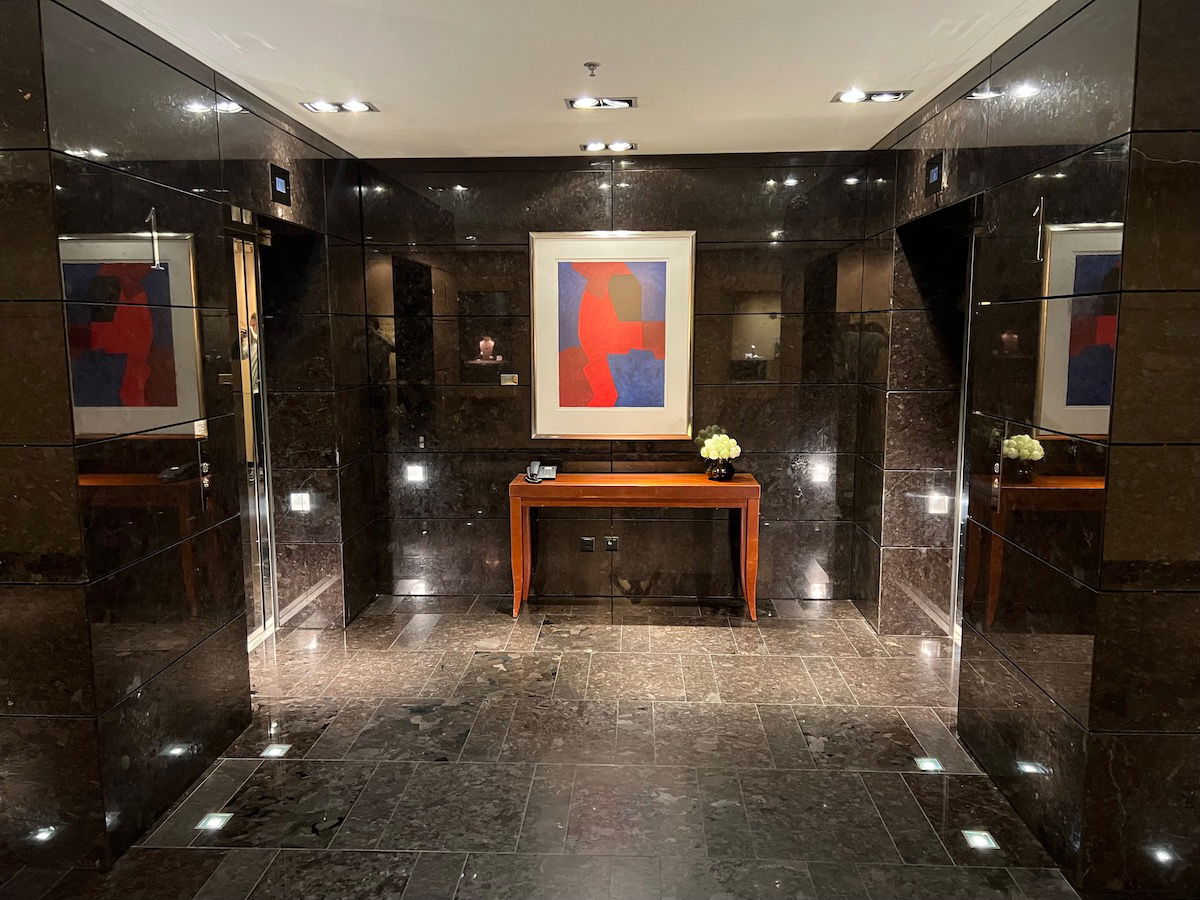 Park Hyatt Zurich king room high floor
The Park Hyatt Zurich has six floors, and I was assigned room 623, located on the top floor (this was technically an upgrade, as it's a king room on a high floor). The hallways in the hotel feel a bit more modern than the rest of the property, in my opinion.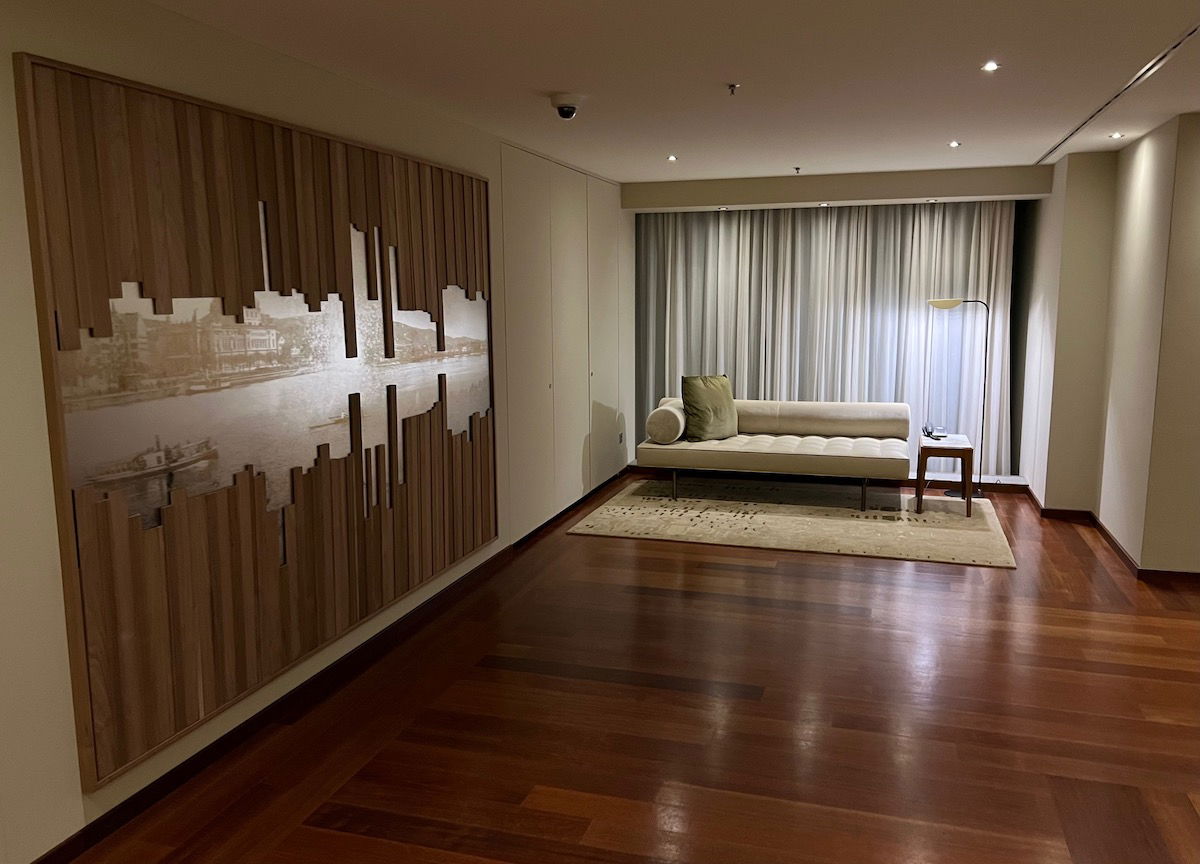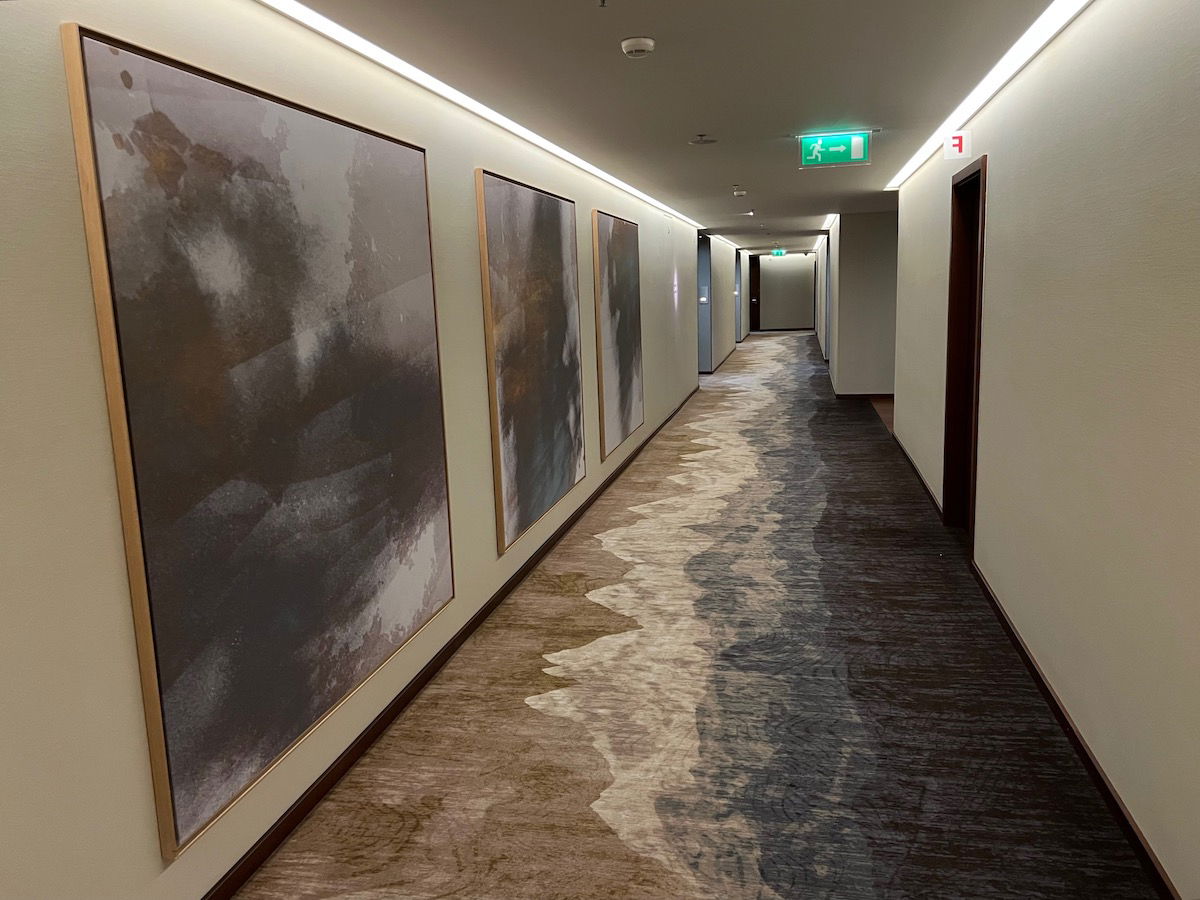 Rooms at the Park Hyatt Zurich start at 36 square meters (~387 square feet), which is a pretty decent size for a standard room in a European city.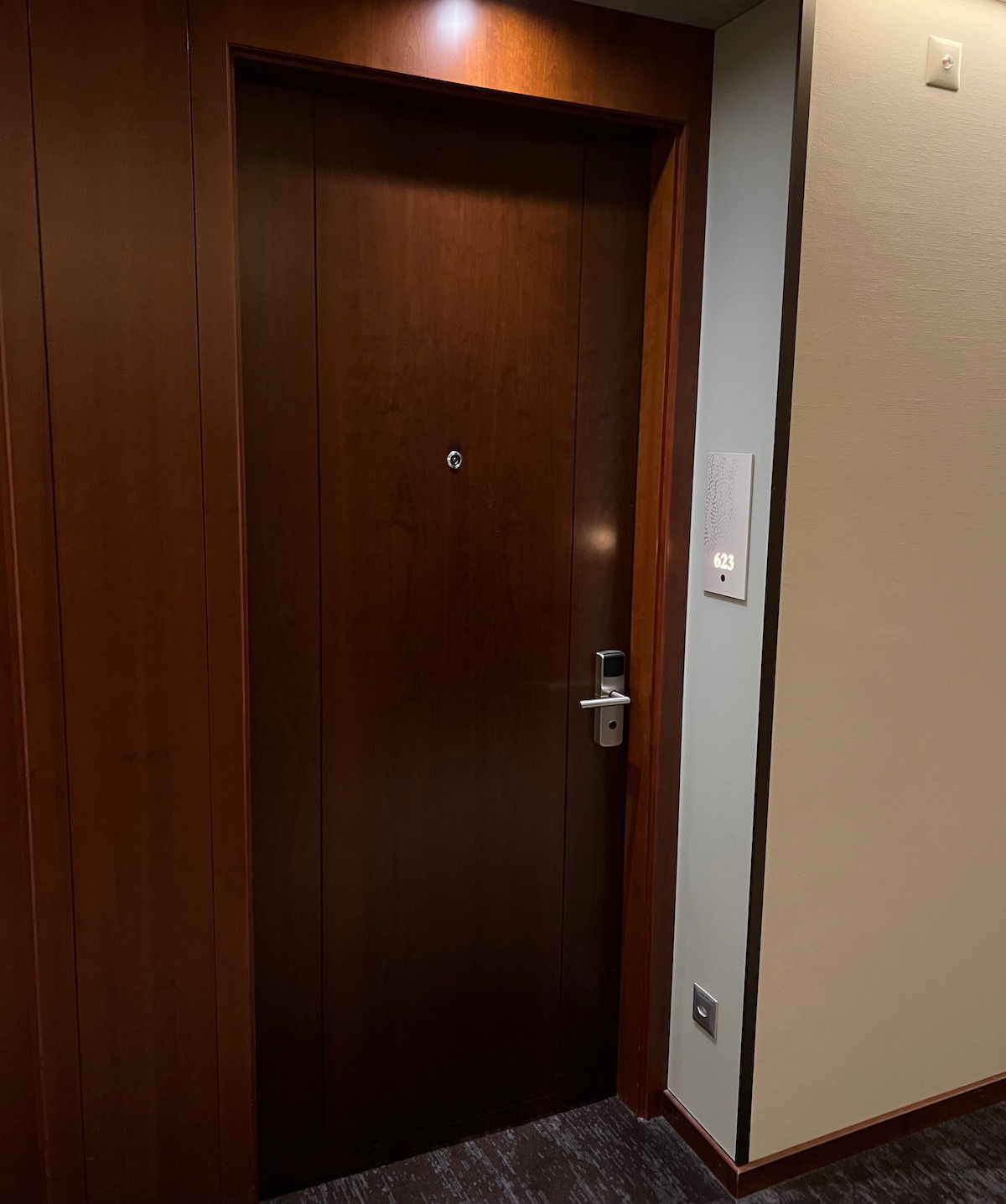 The room featured an entryway with the bathroom to the right.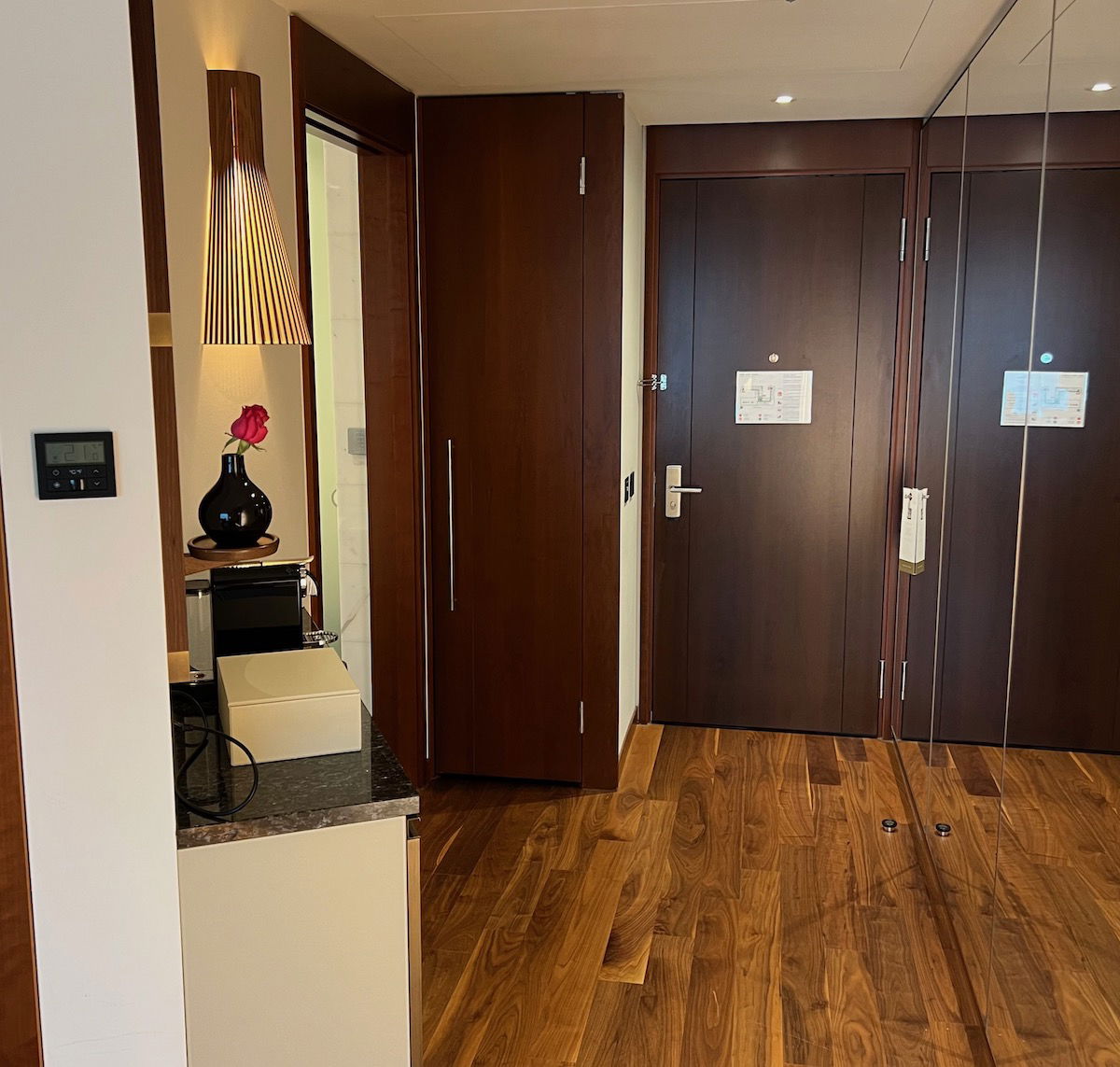 The rest of the room was straight ahead, and consisted of a king size bed, a daybed, a comfortable chair with a dining table, and a wall-mounted TV.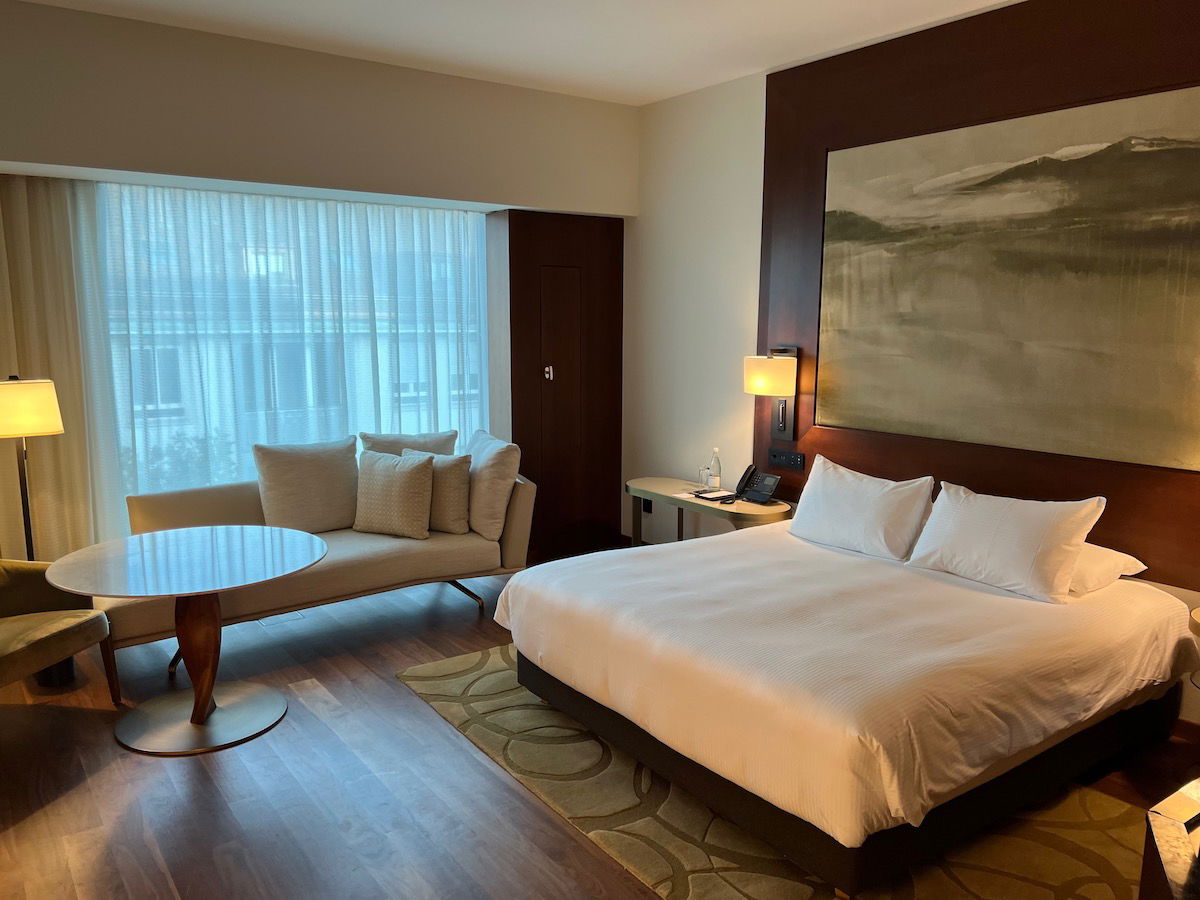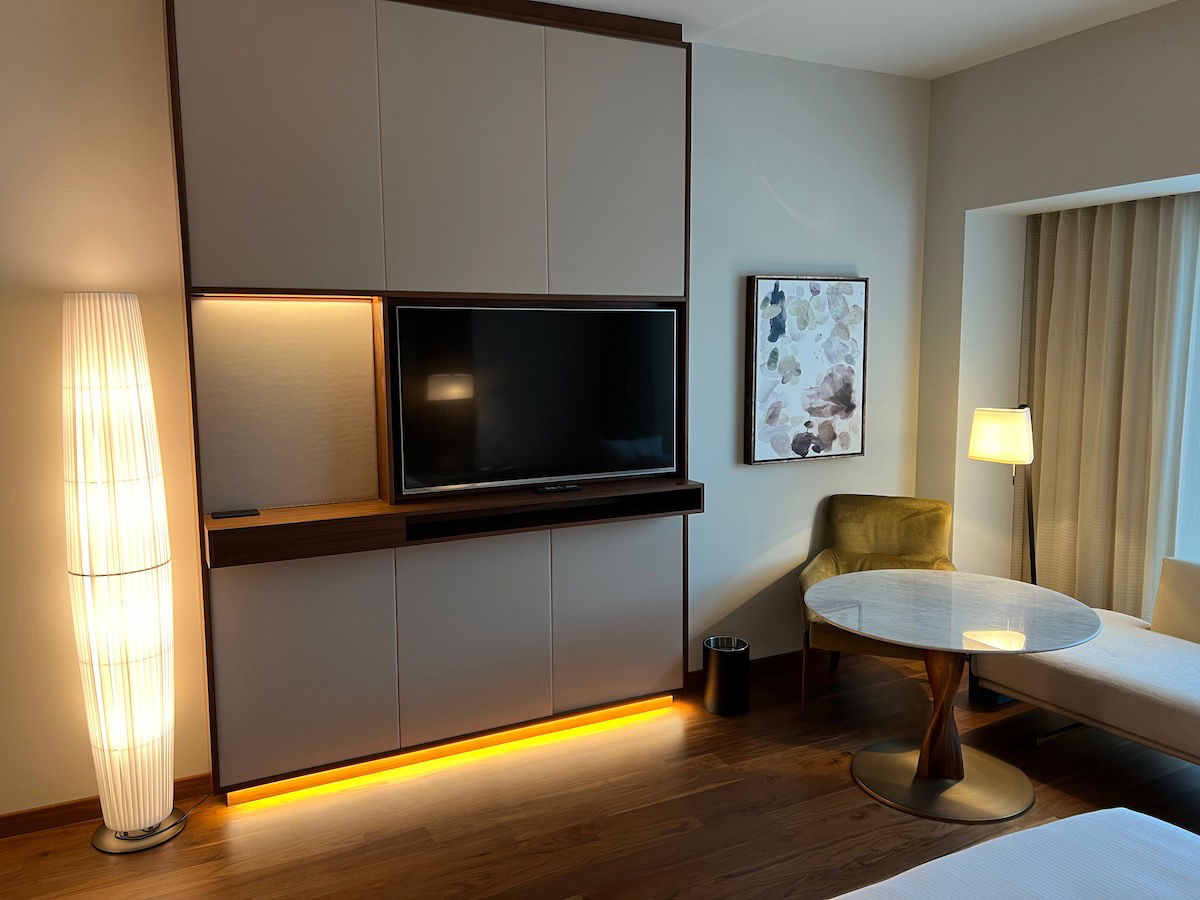 The bed was quite comfortable, especially by European standards (which is to say that it wasn't too hard).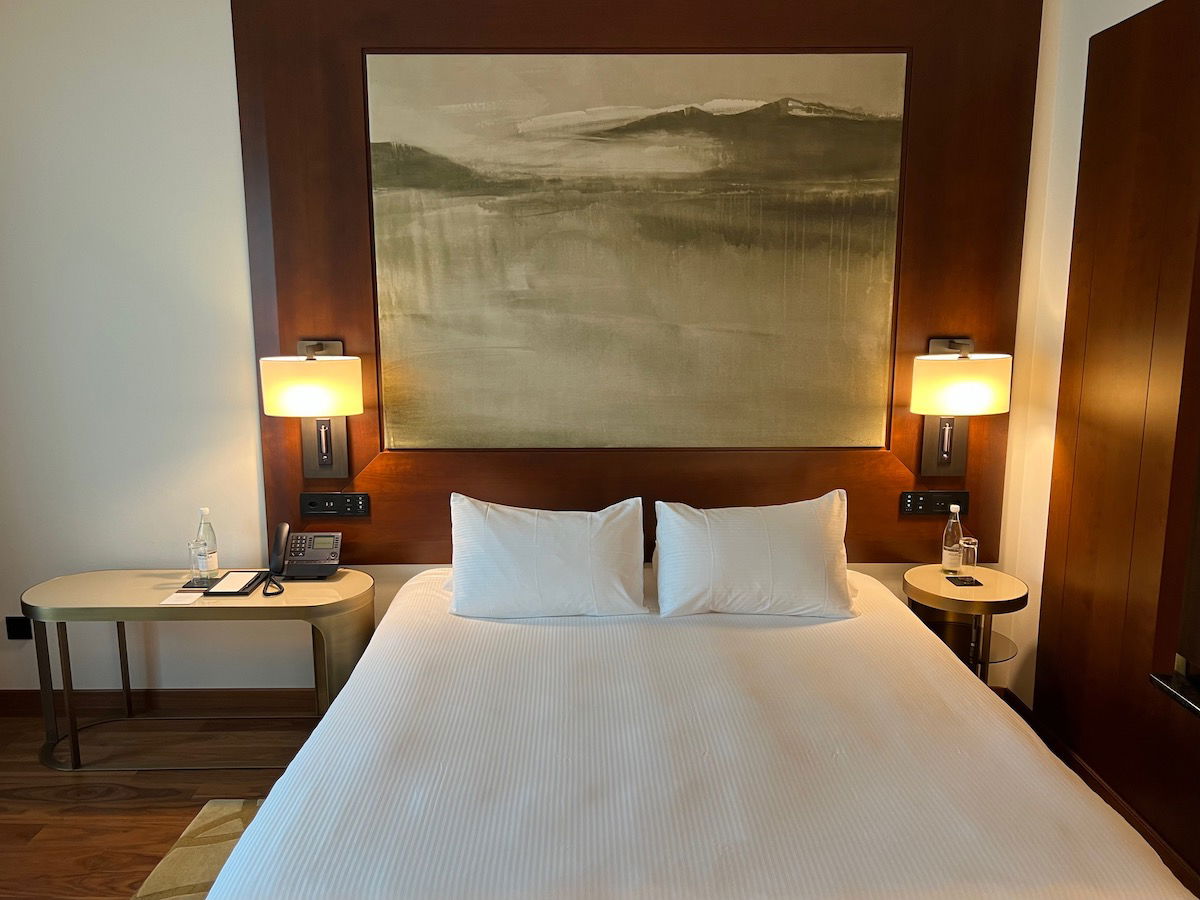 While the room didn't have a traditional desk, the dining table and chair did the trick for me, and I was happy with the versatility of the setup.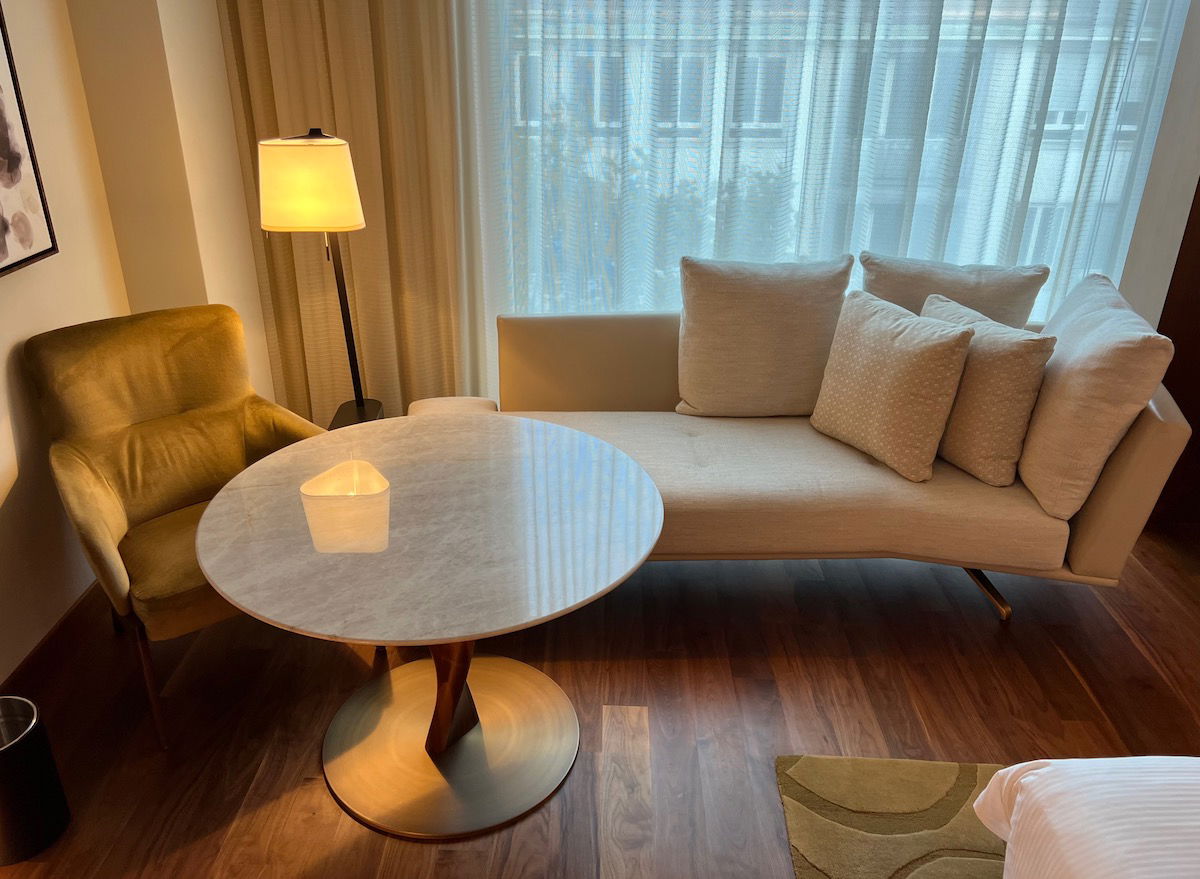 The bathroom was separated from the rest of the room by a couple of panels, which could be opened from either side.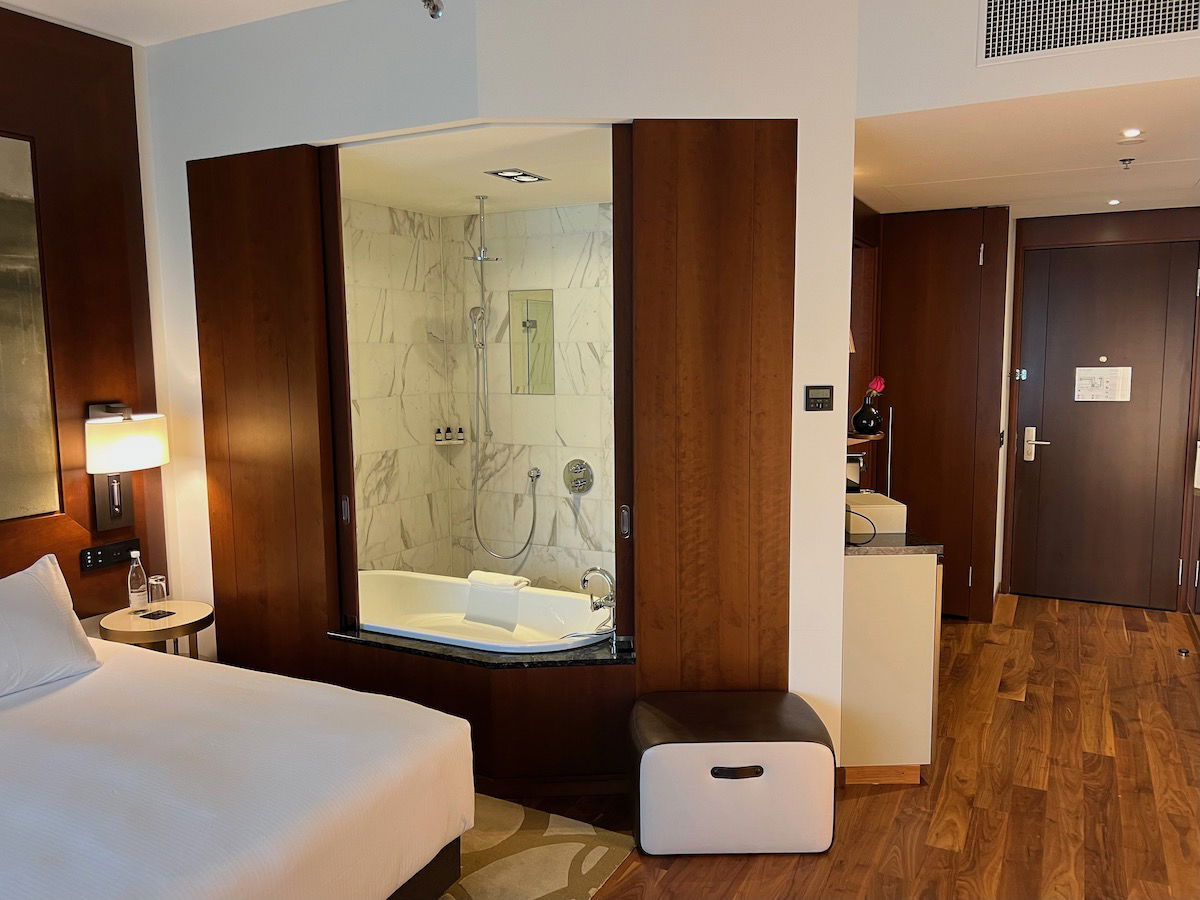 The minibar console was near the bathroom, and consisted of a Nespresso coffee machine, tea, a kettle, and a variety of drinks and snacks for purchase.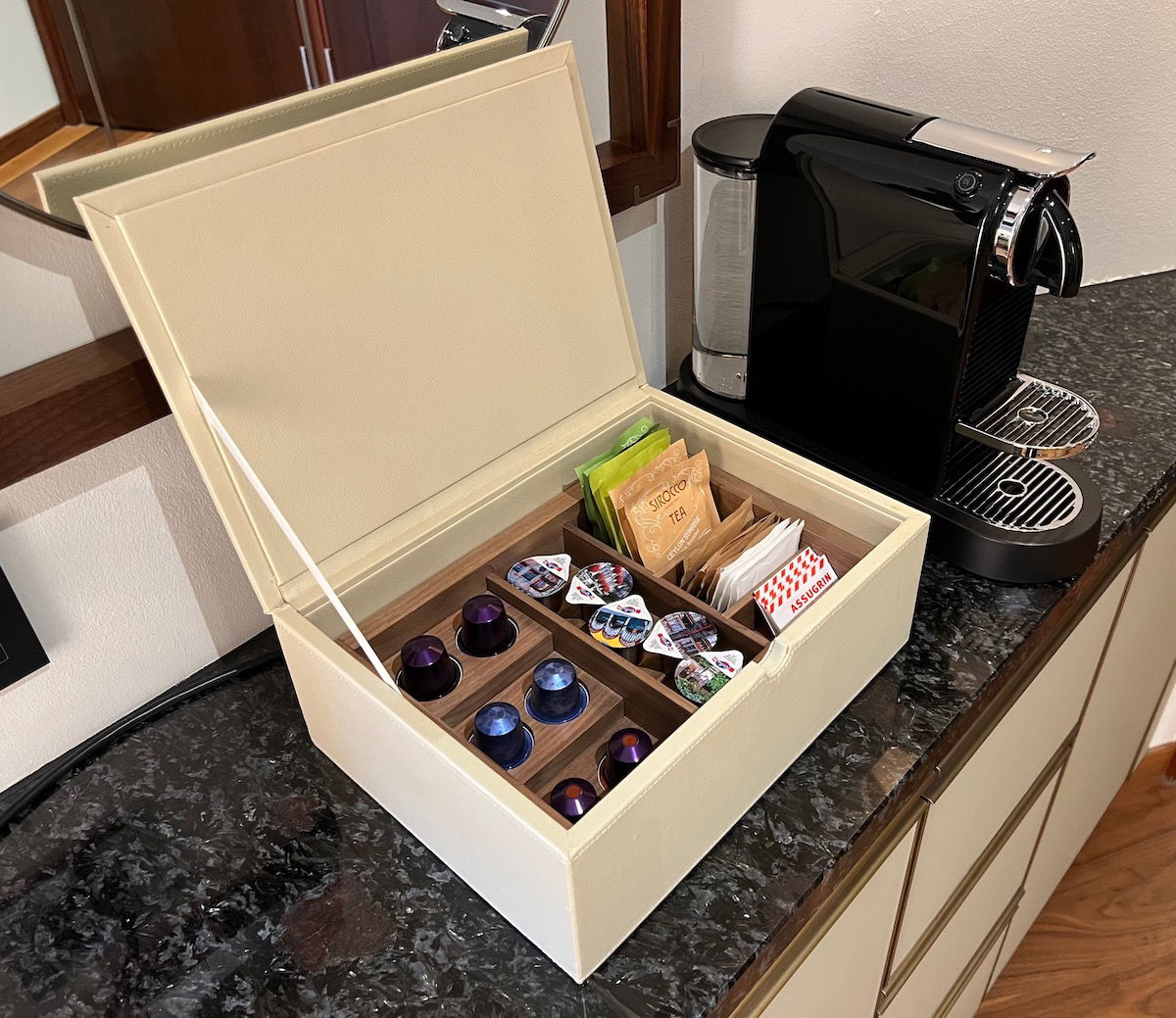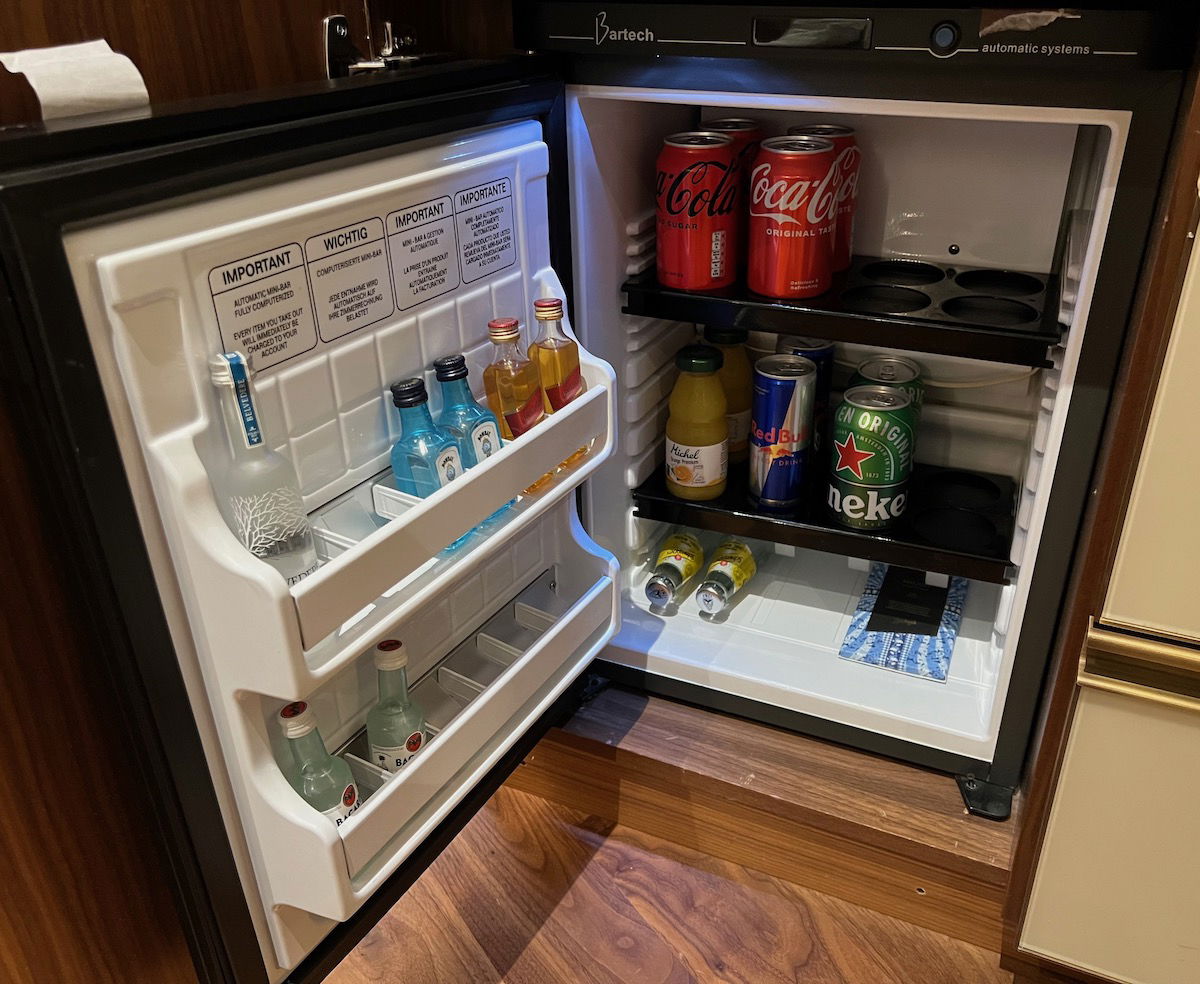 There was also a pretty good size closet near the entrance.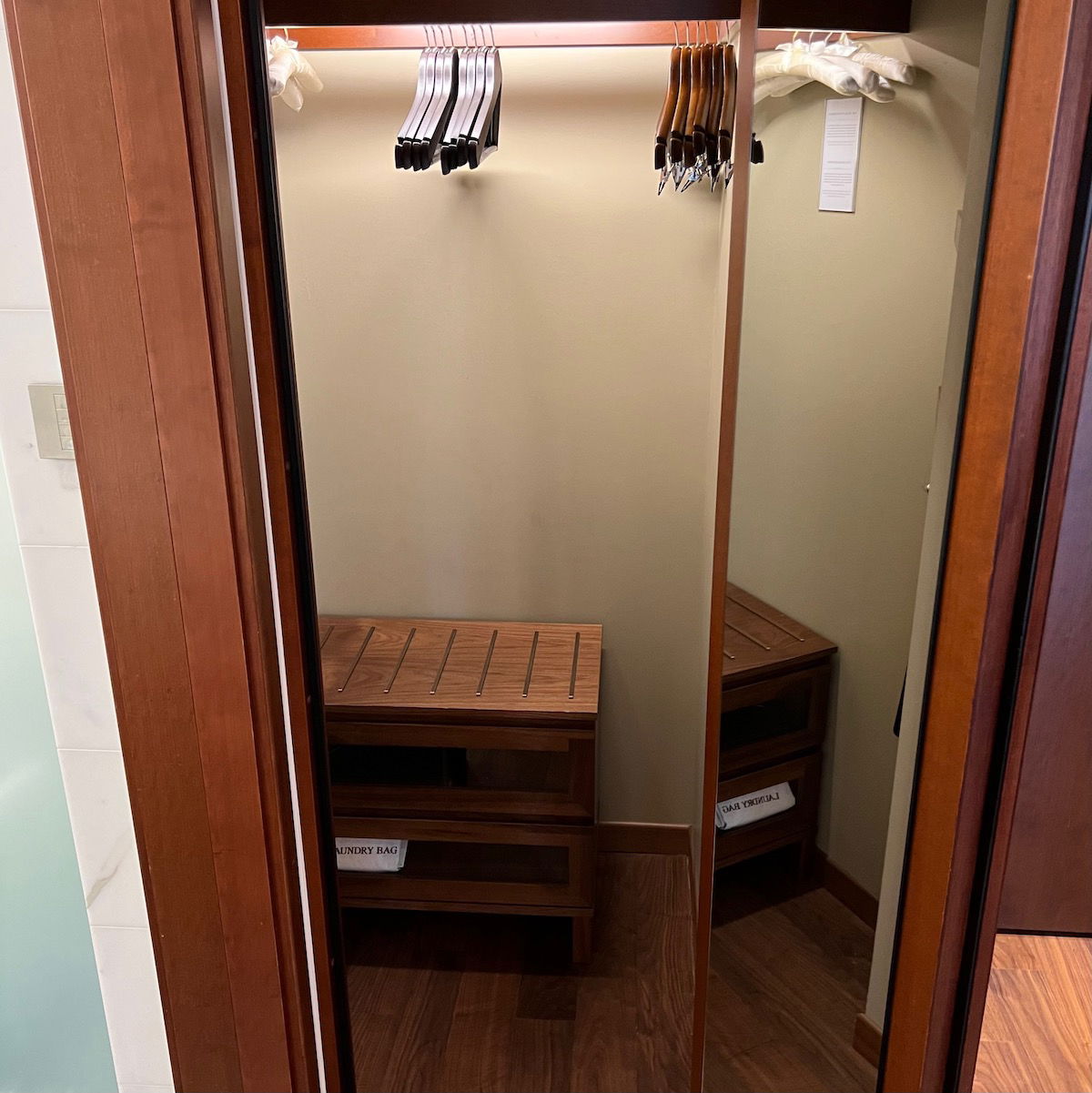 Rather than having a window that could open, the room had a door that could open to get a little fresh air. Fortunately the room had air conditioning, so this isn't your only option for cooling off, should it be warm.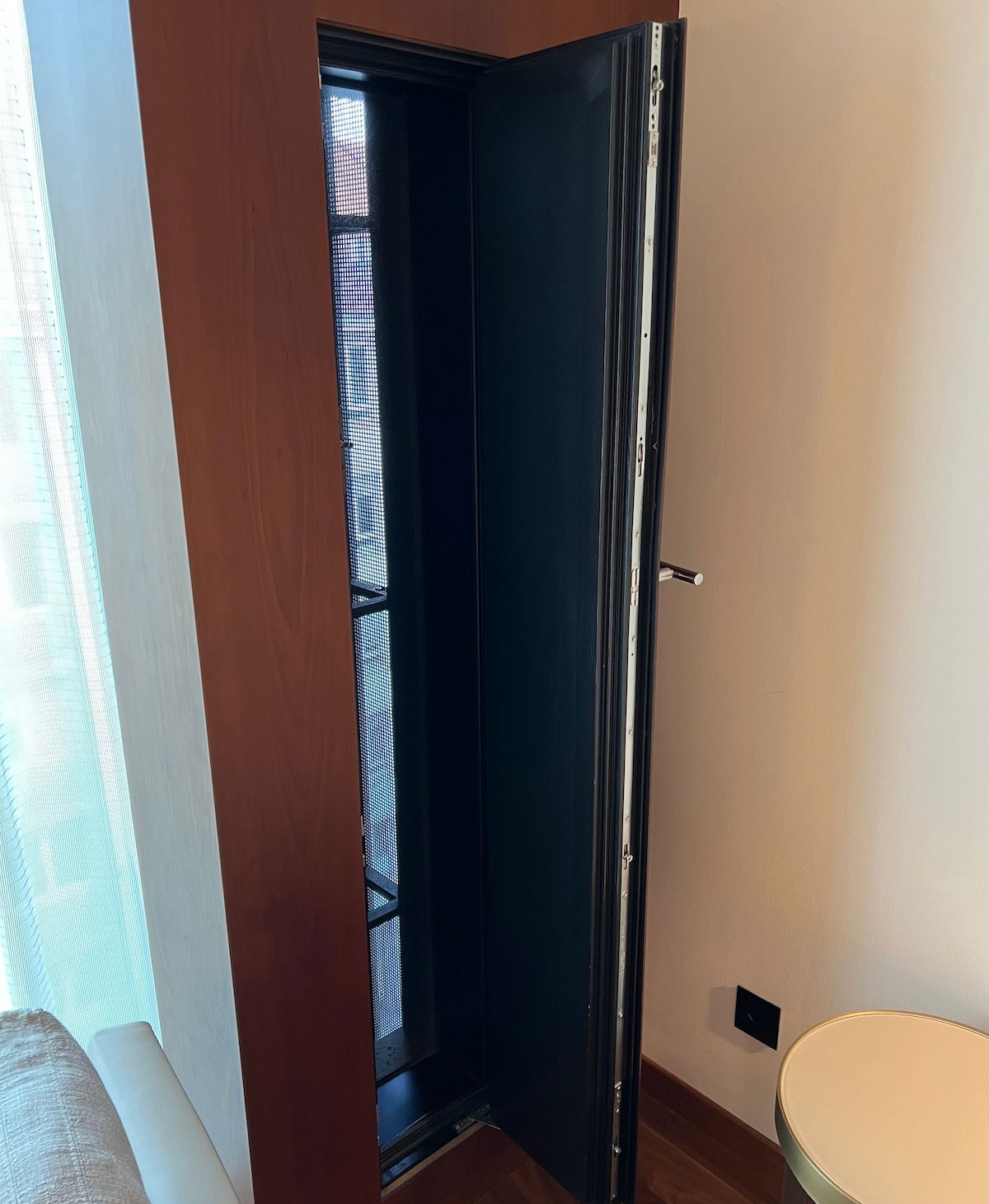 Despite being on the top floor of the hotel, there wasn't much in the way of views — rather my room looked at a building across the street.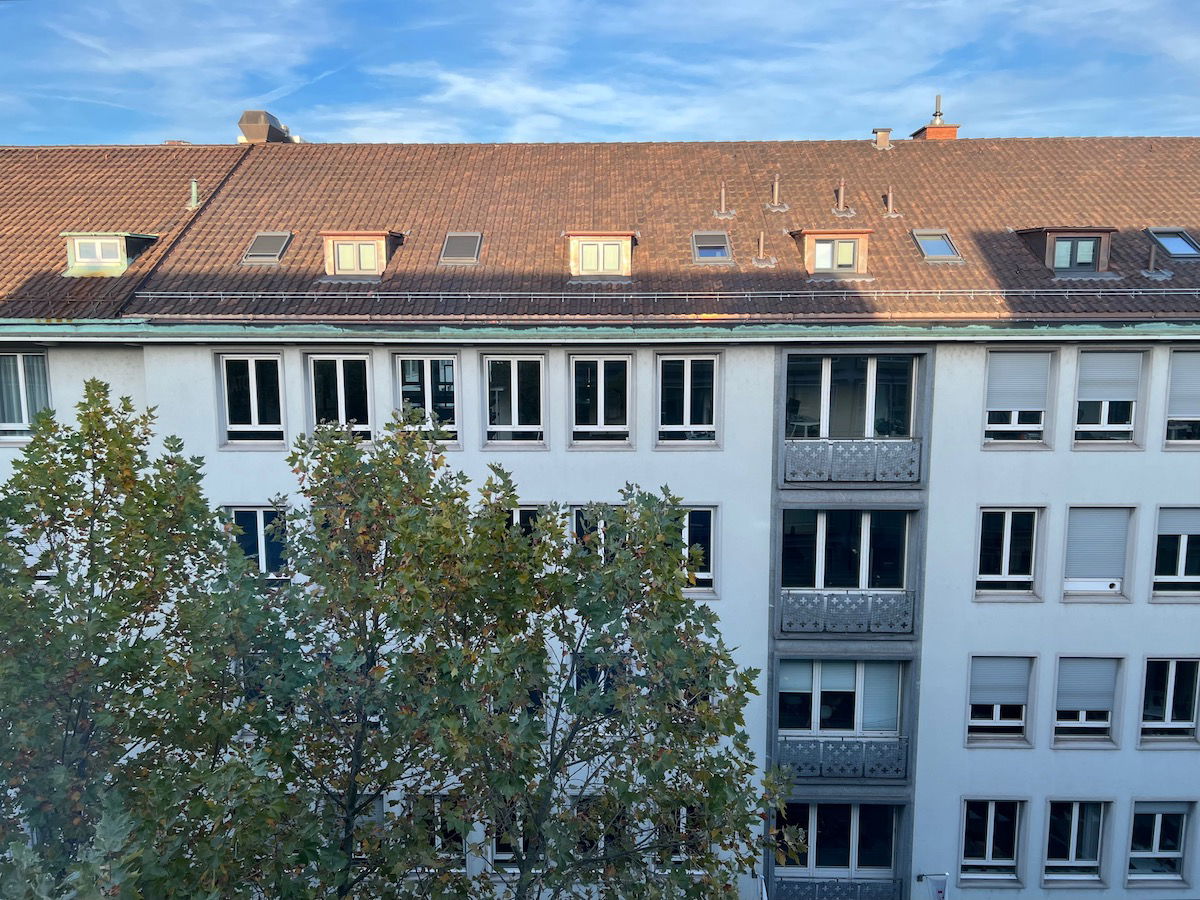 The bathroom was quite nice, especially the shower compound. When you entered the bathroom, the sink was straight ahead, the toilet was to the right, and then there was a shower and tub area to the left.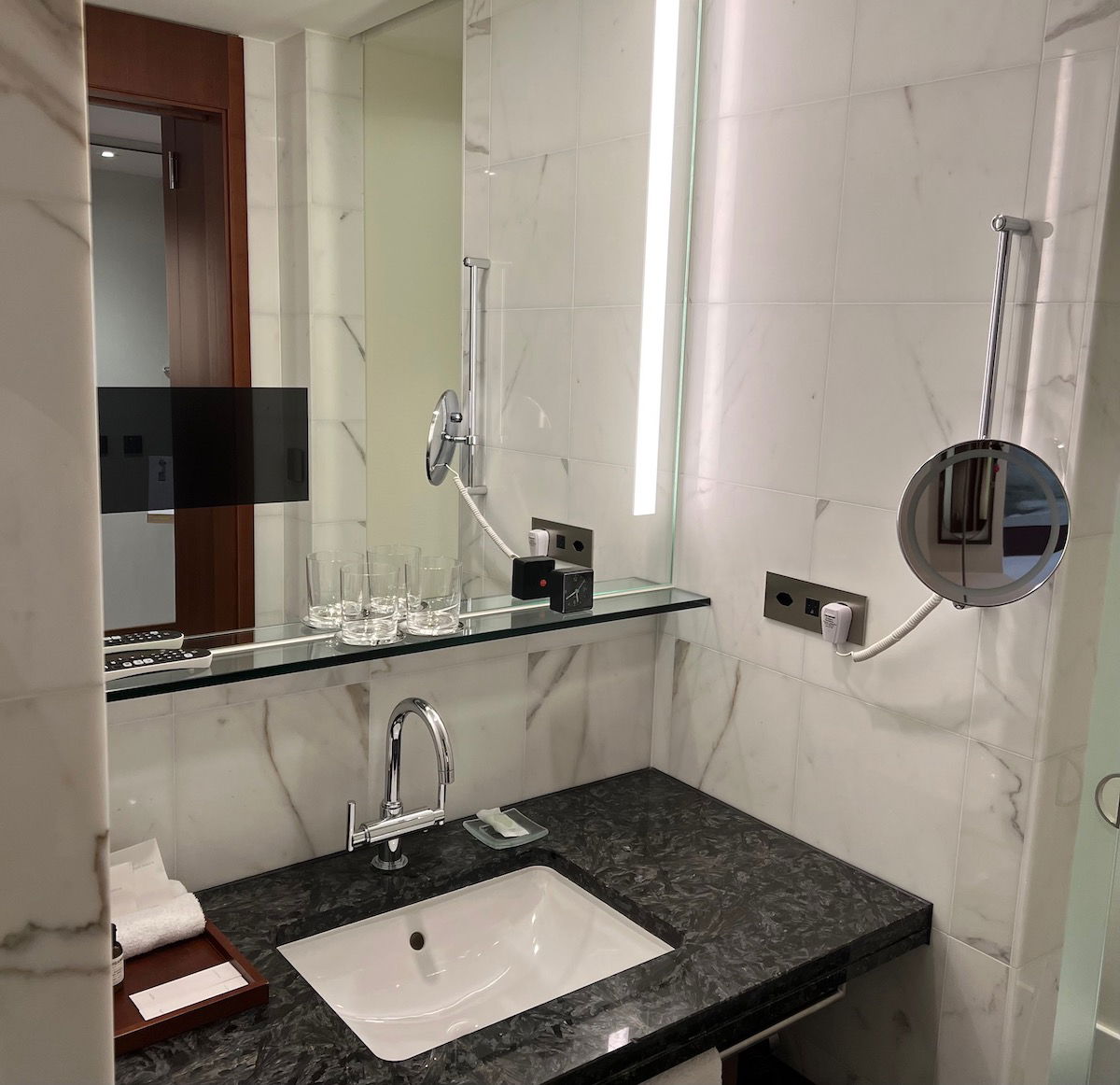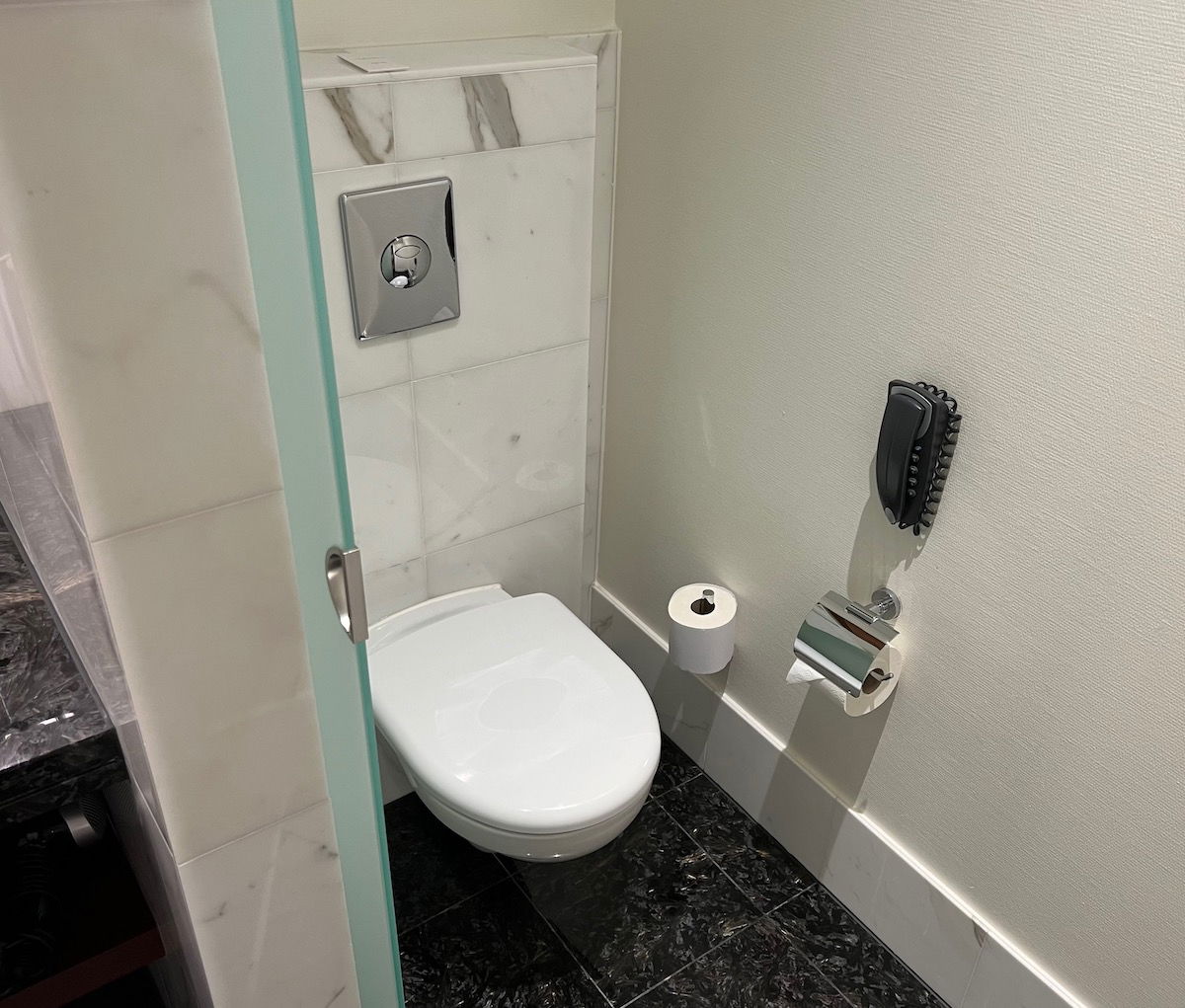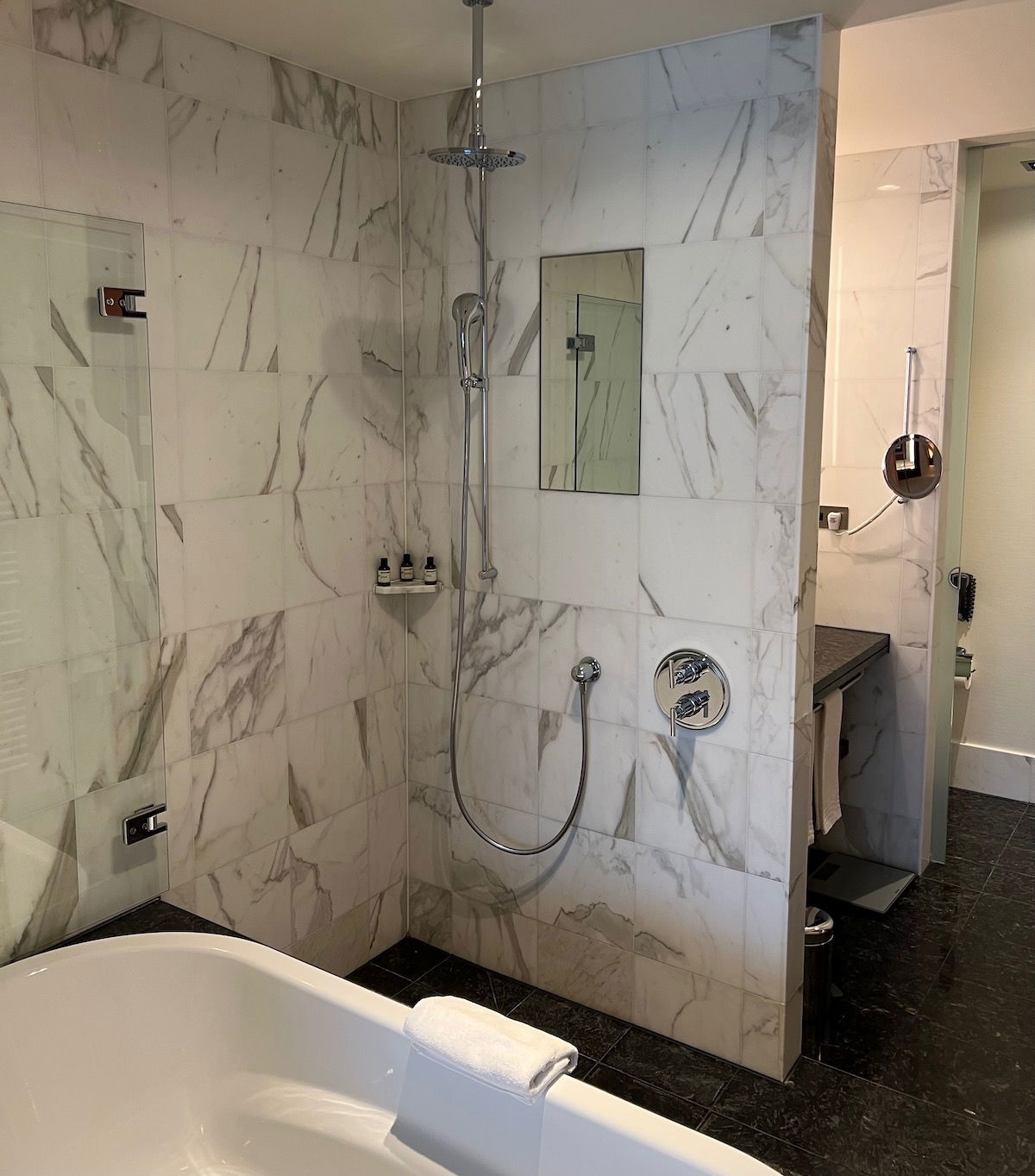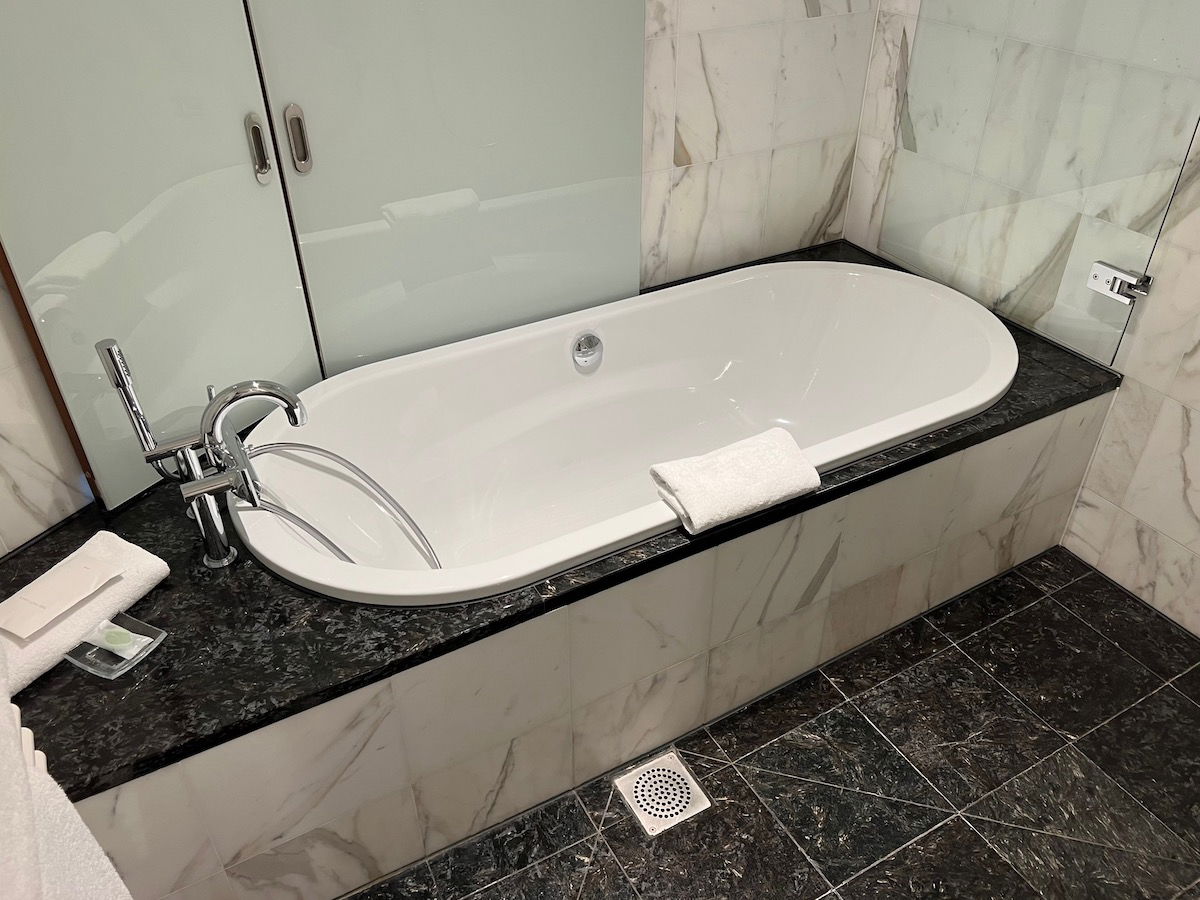 Toiletries were the Bergamote 22 collection from Le Labo.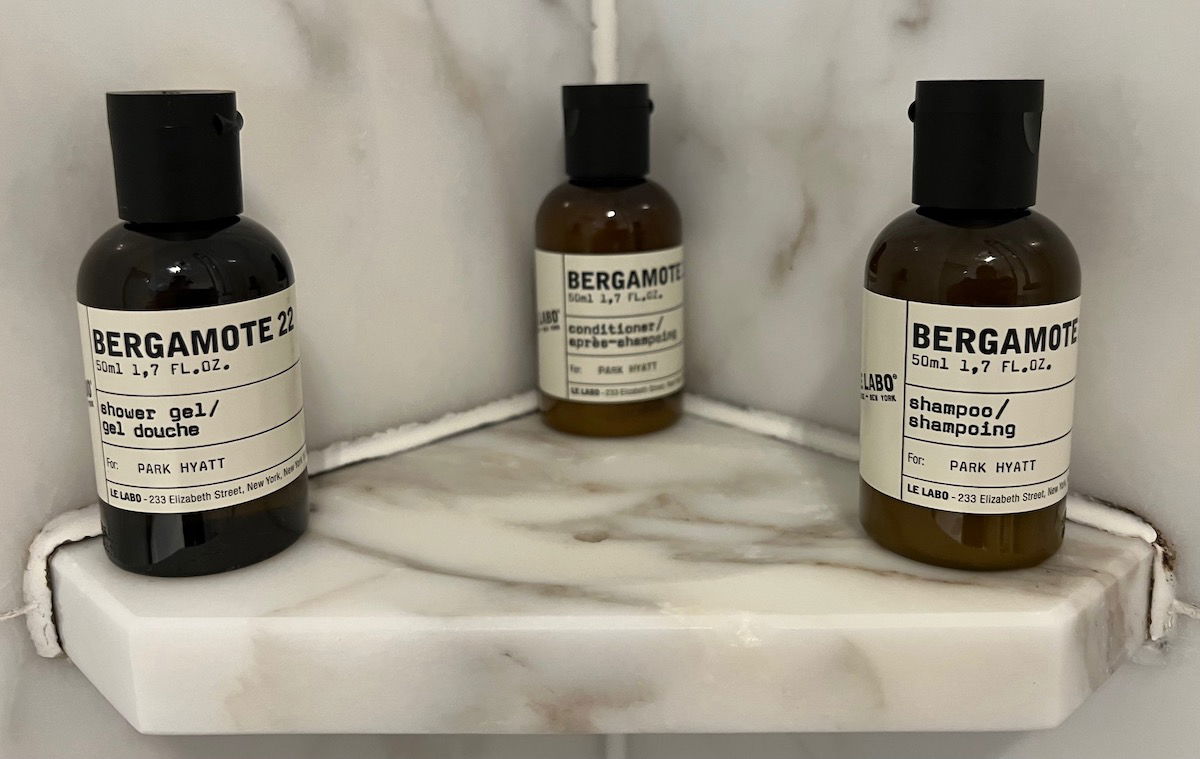 There was also a heated towel rack in the bathroom, which I'd certainly appreciate in winter.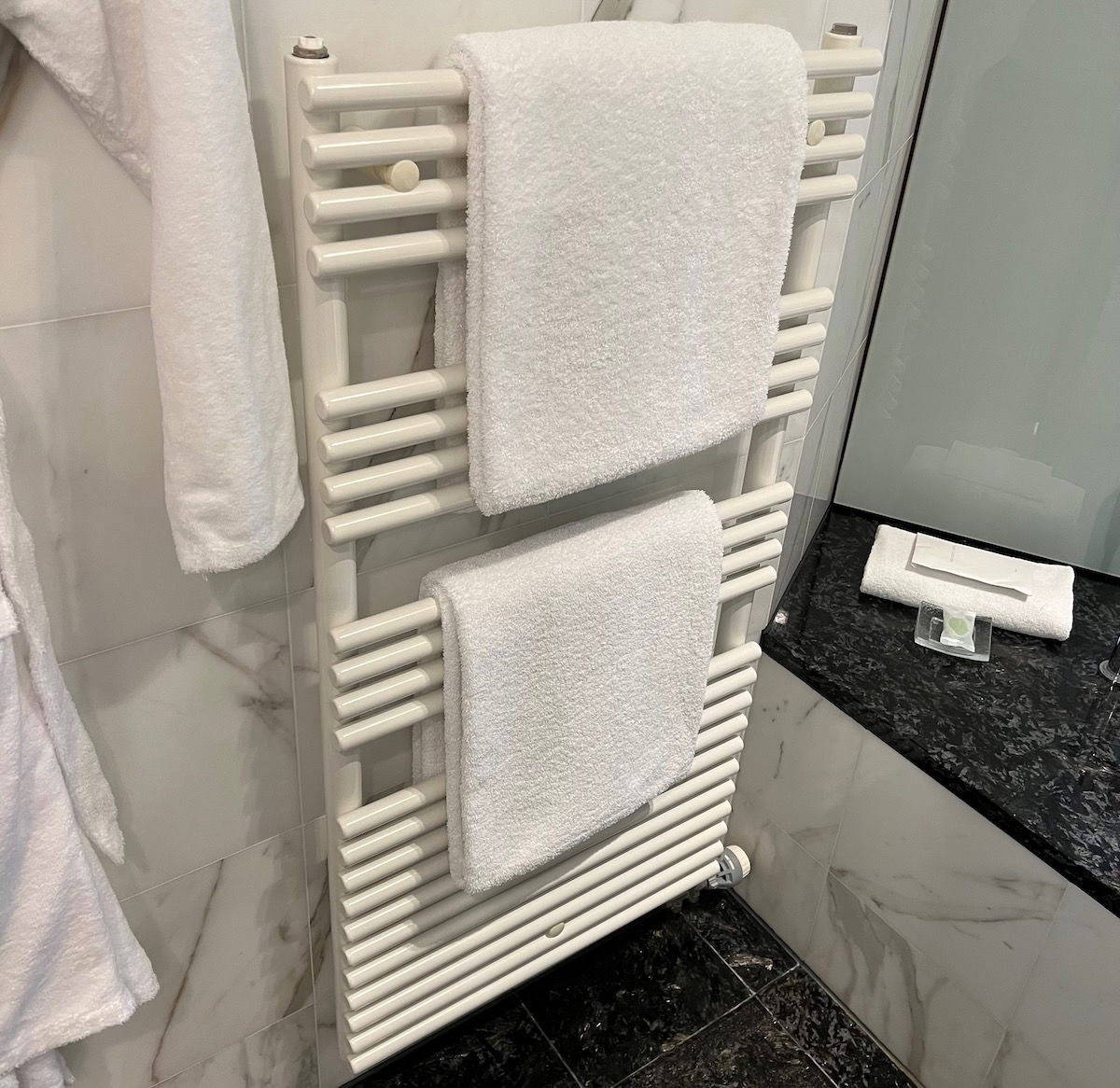 About an hour after arriving in my room, there was a knock at the door with a welcome amenity. This consisted of a fruit plate and some chocolates.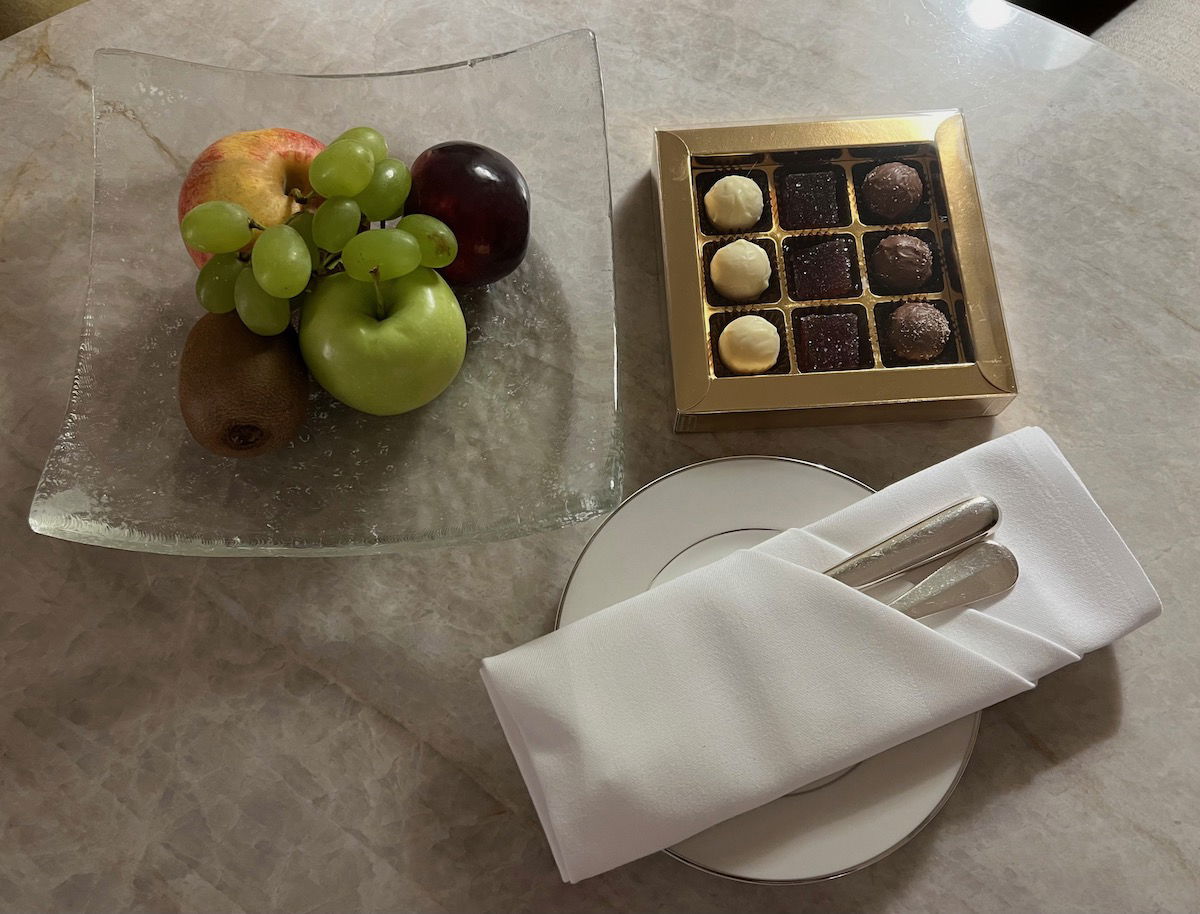 Wi-Fi in the room was fast and free, and easy to connect to.
I thought the room was pretty nice, and a good size. I did feel like it was just a bit past its prime, though, and there wasn't anything that really made this particularly luxurious. If you just showed me a picture of the room, I'd probably guess this is a Hyatt Regency rather than a Park Hyatt.
Park Hyatt Zurich gym & spa area
The Park Hyatt Zurich has a gym on the second floor, which can be accessed 24/7 by guests. While the gym isn't huge, it has a good selection of modern weight and cardio equipment.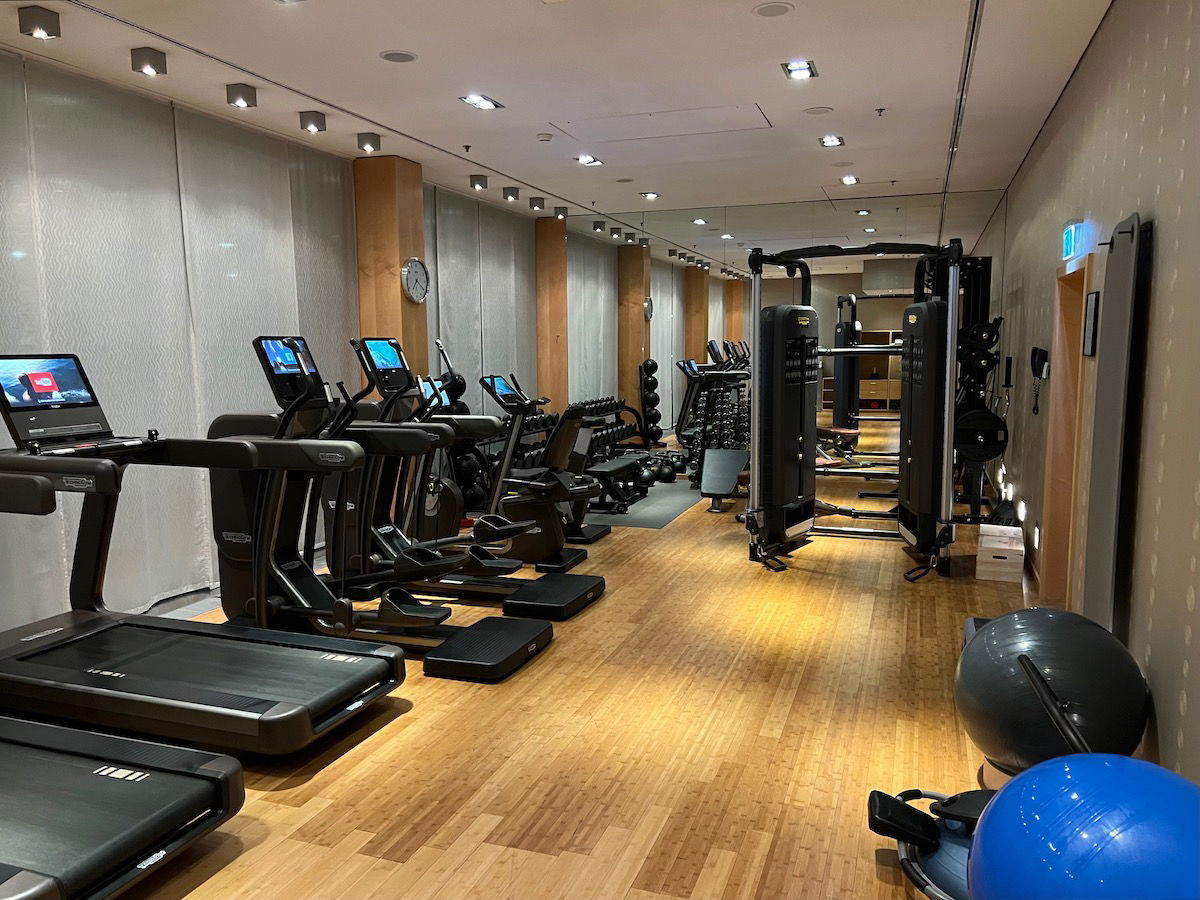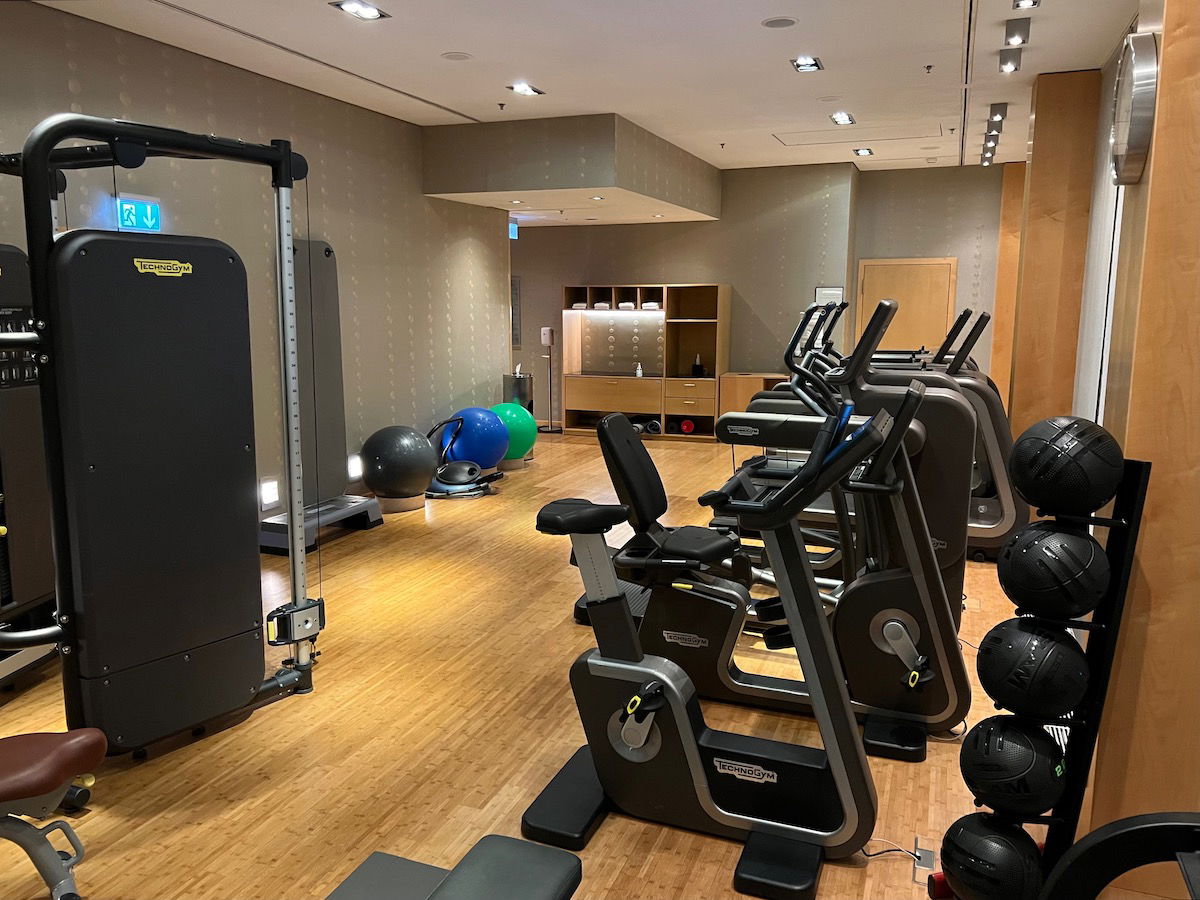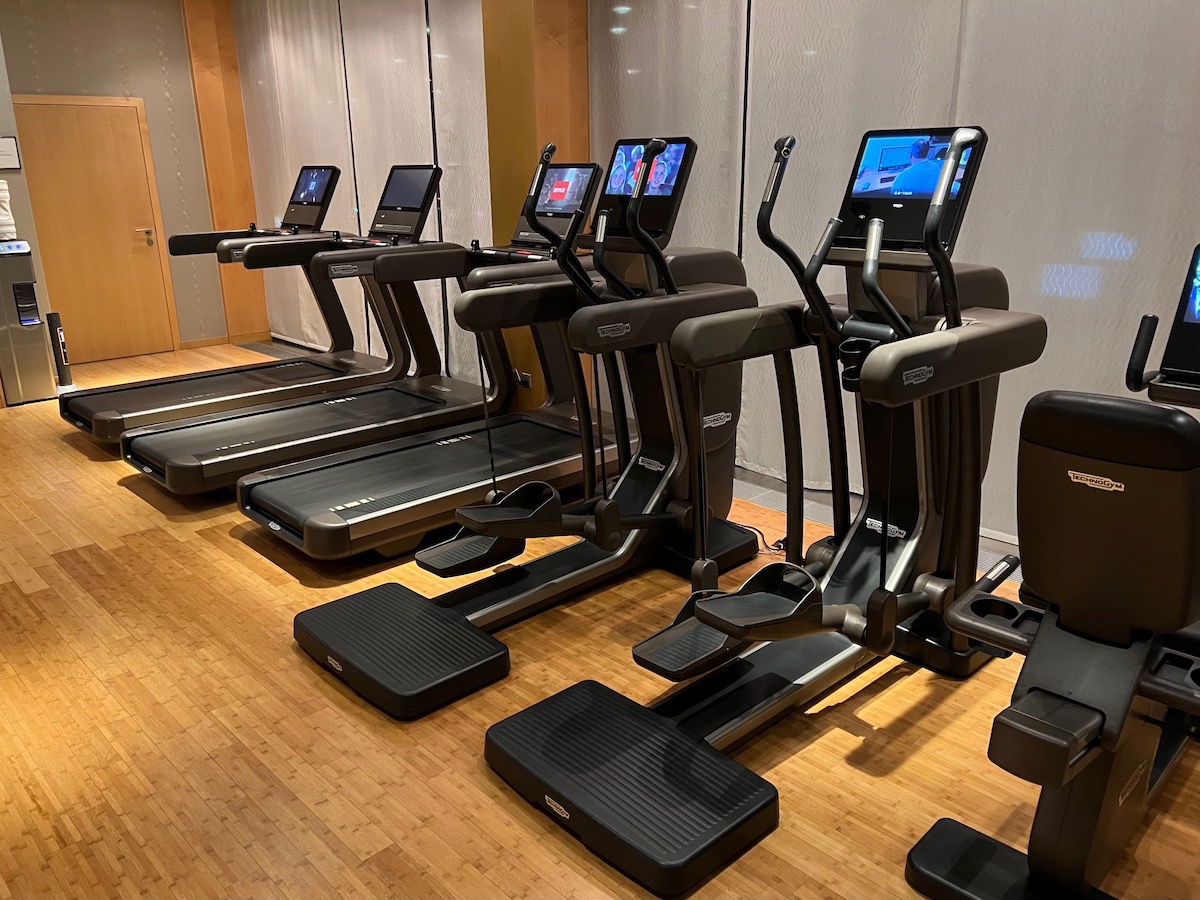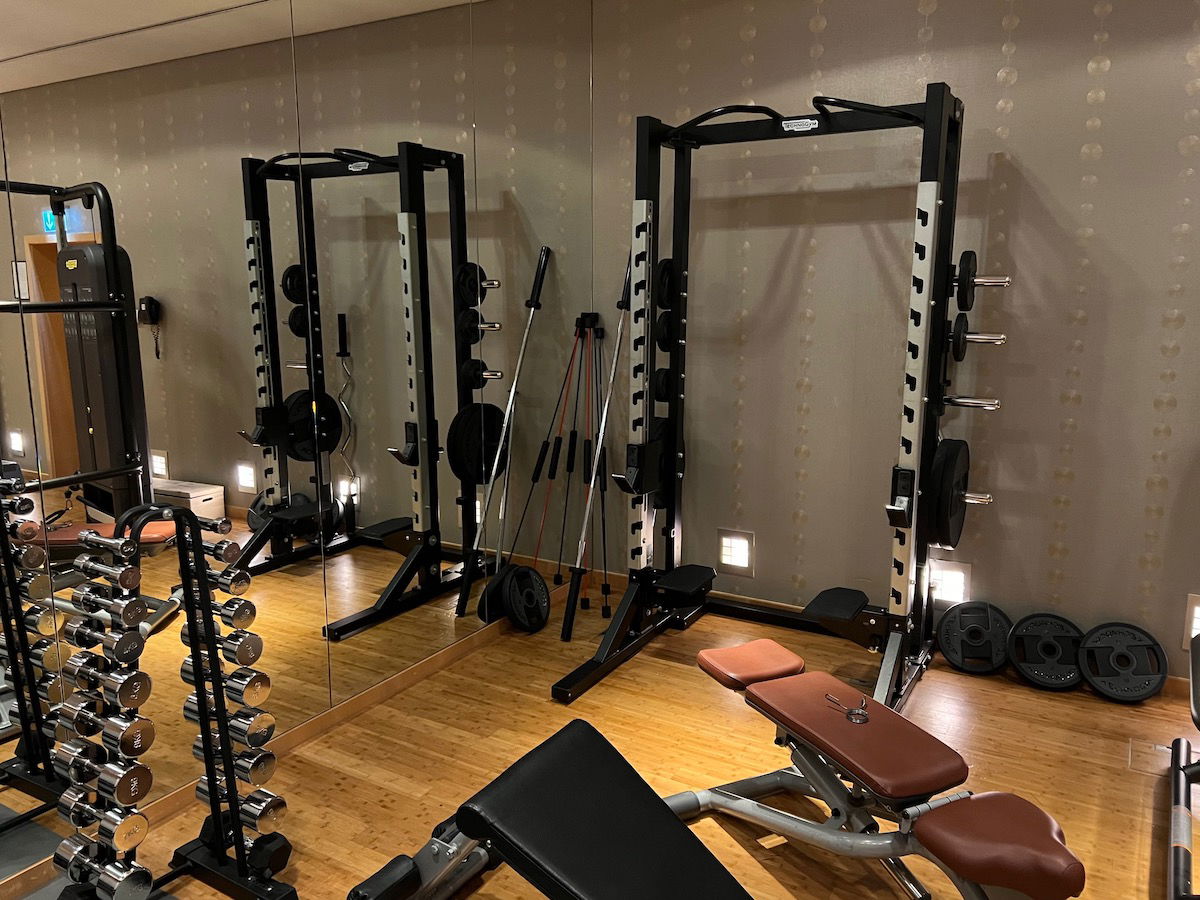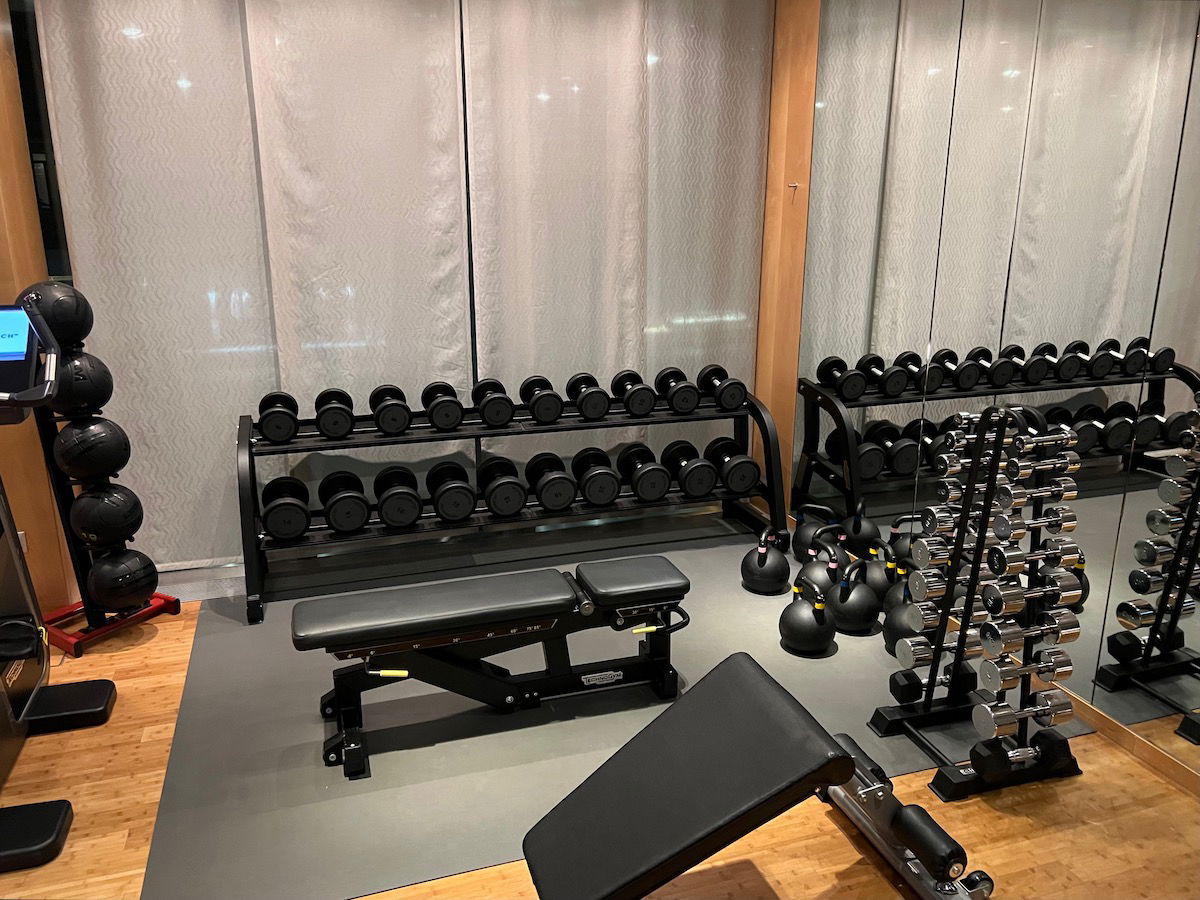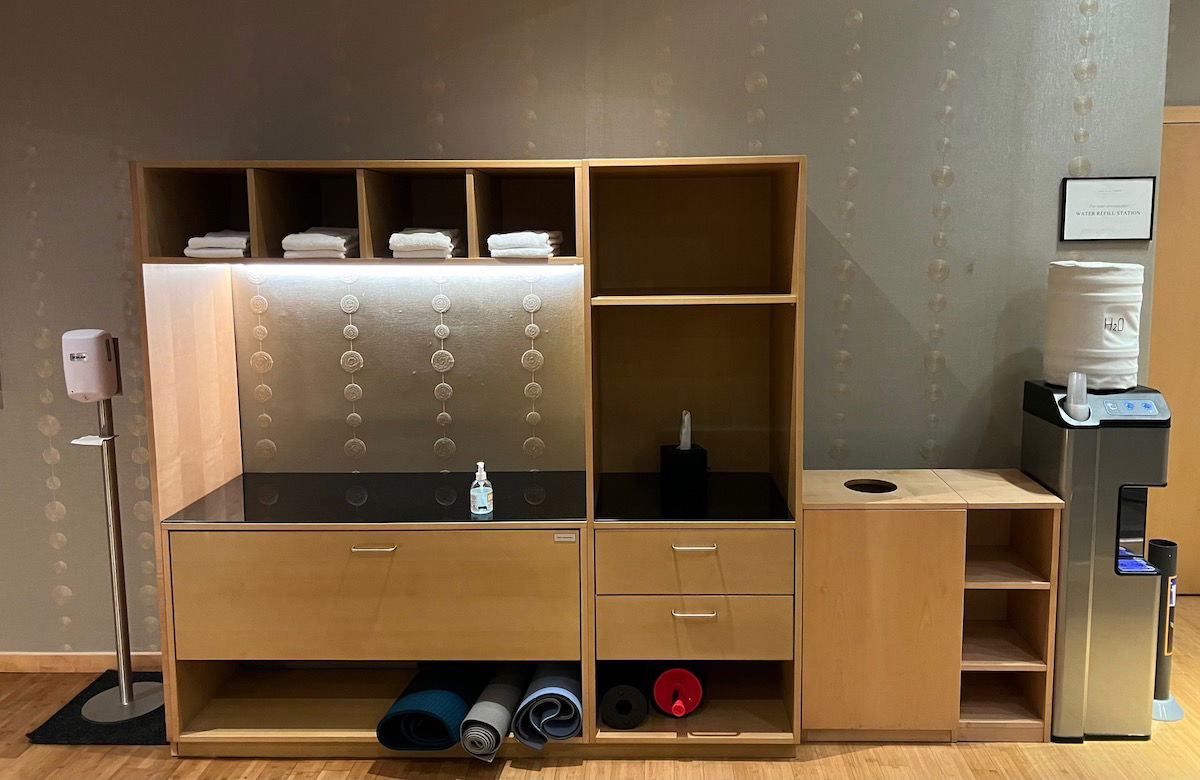 It's a little odd, because the Park Hyatt Zurich's website claims the hotel has a spa, but doesn't actually provide any details about it. In reality, inside the gym there are a couple of spa treatment rooms. Perhaps the hotel can call an outside company to provide treatments, but there was nothing in the way of a proper spa setup here.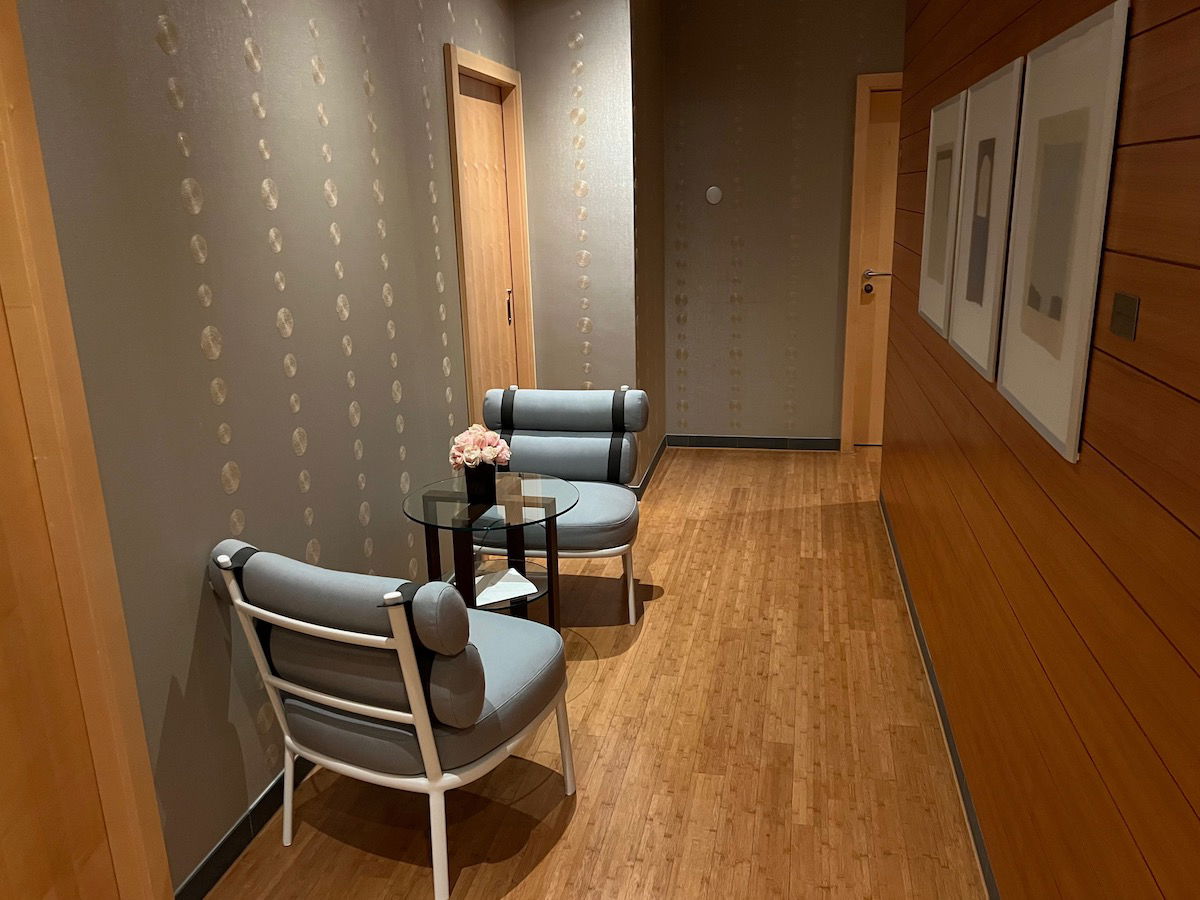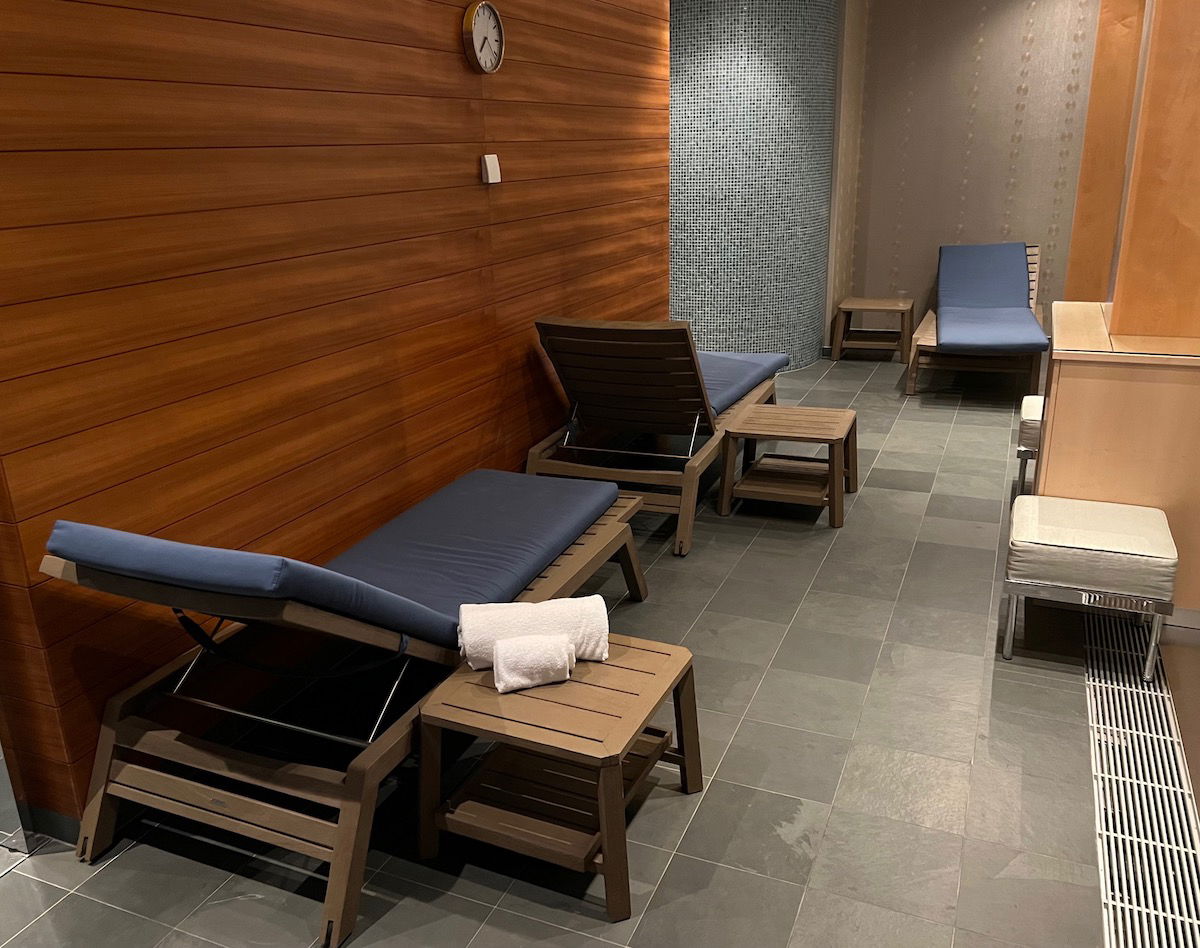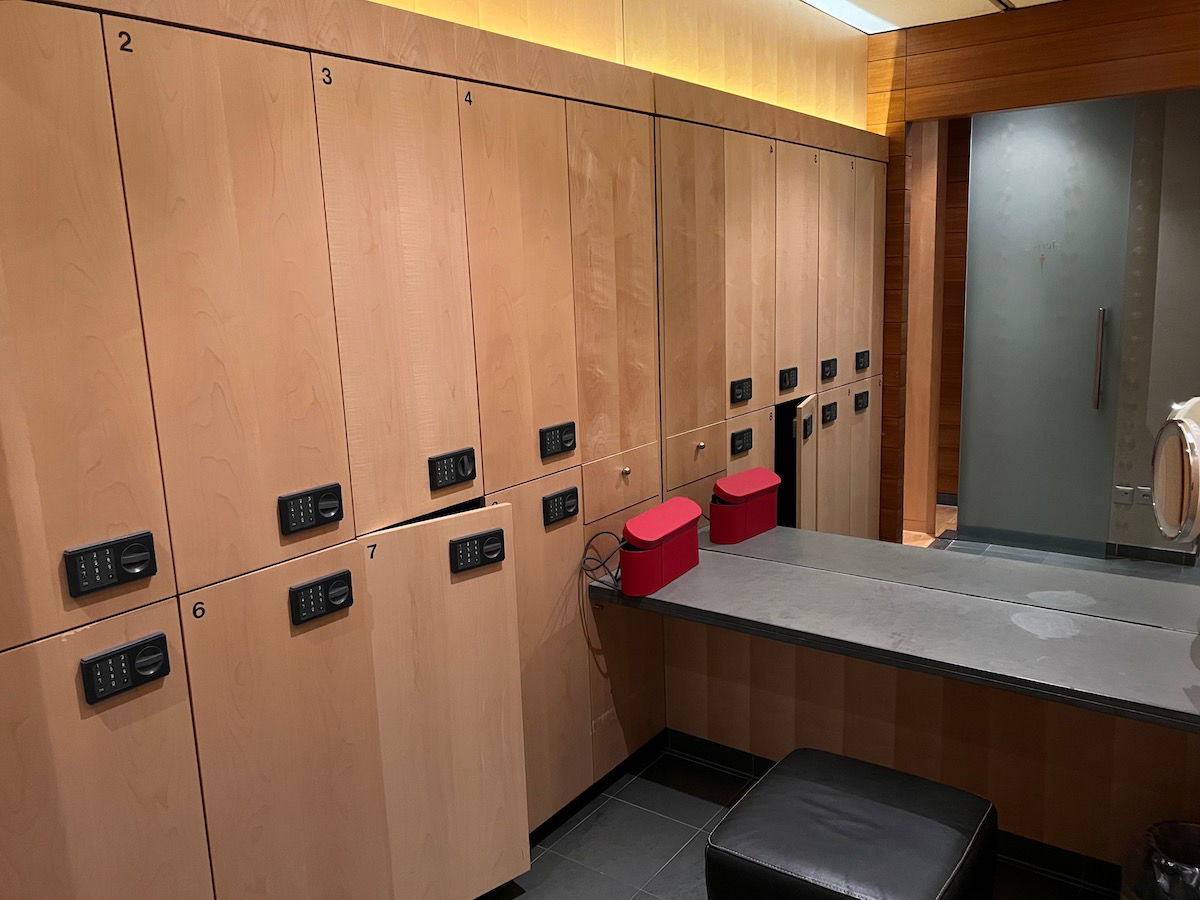 However, there is a sauna and steam room inside the gym, which is available daily from 7AM until 11PM.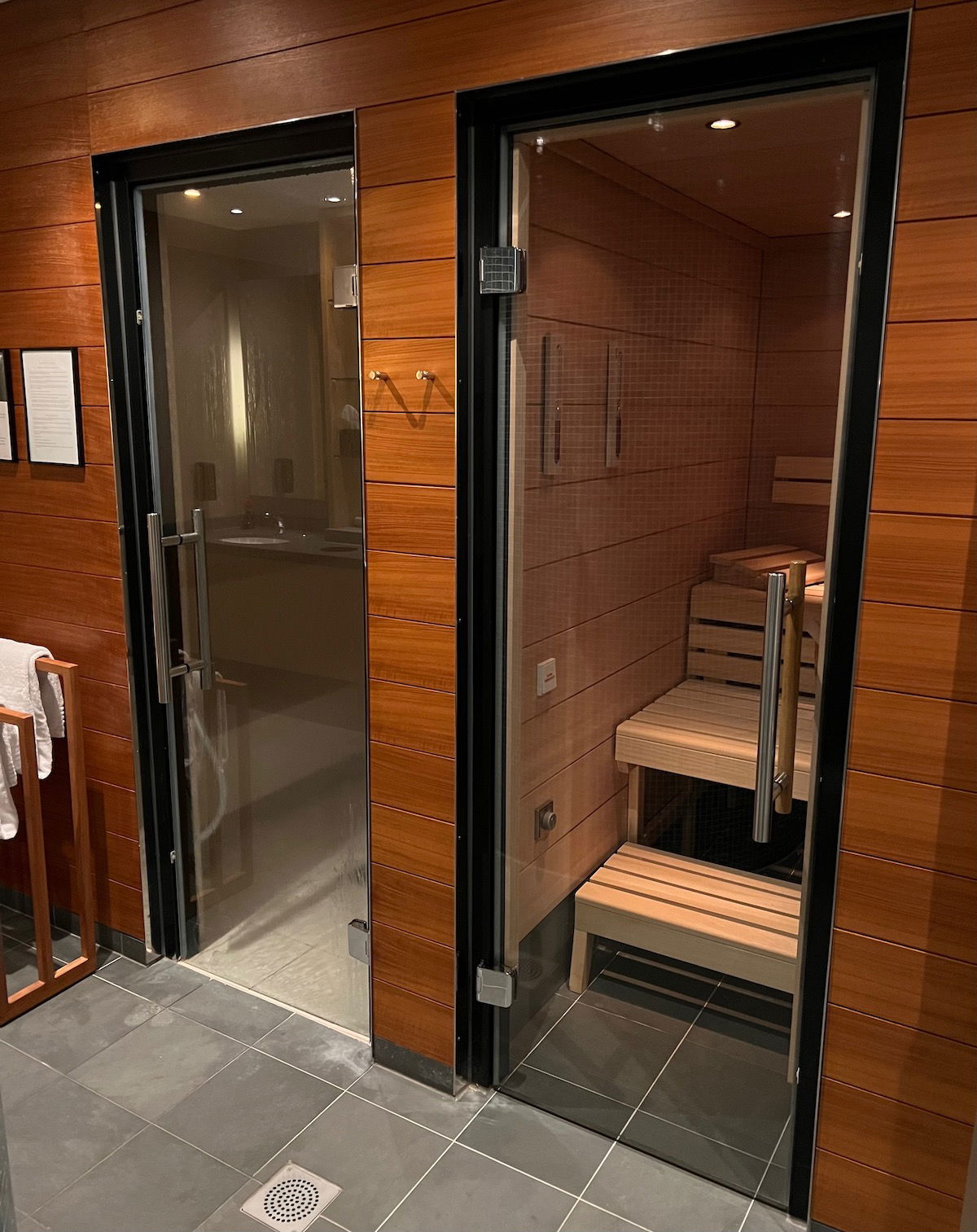 The Park Hyatt Zurich doesn't have a swimming pool, for what it's worth.
Park Hyatt Zurich Parkhuus Restaurant (breakfast)
Parkhuus is the Park Hyatt's signature restaurant. On weekdays it serves breakfast from 6:30AM until 10:30AM, and on weekends it serves breakfast from 6:30AM until 11AM. The hotel also serves lunch and dinner, though on a more limited basis — lunch is served Tuesdays through Fridays (menu here), while dinner is served Tuesdays through Saturdays (menu here). Since I was staying on a Sunday night, the restaurant was closed for everything except breakfast.
Parkhuus is located just down the hall from the lobby, and it's physically a beautiful restaurant, with very high ceilings, and a cool wine cellar.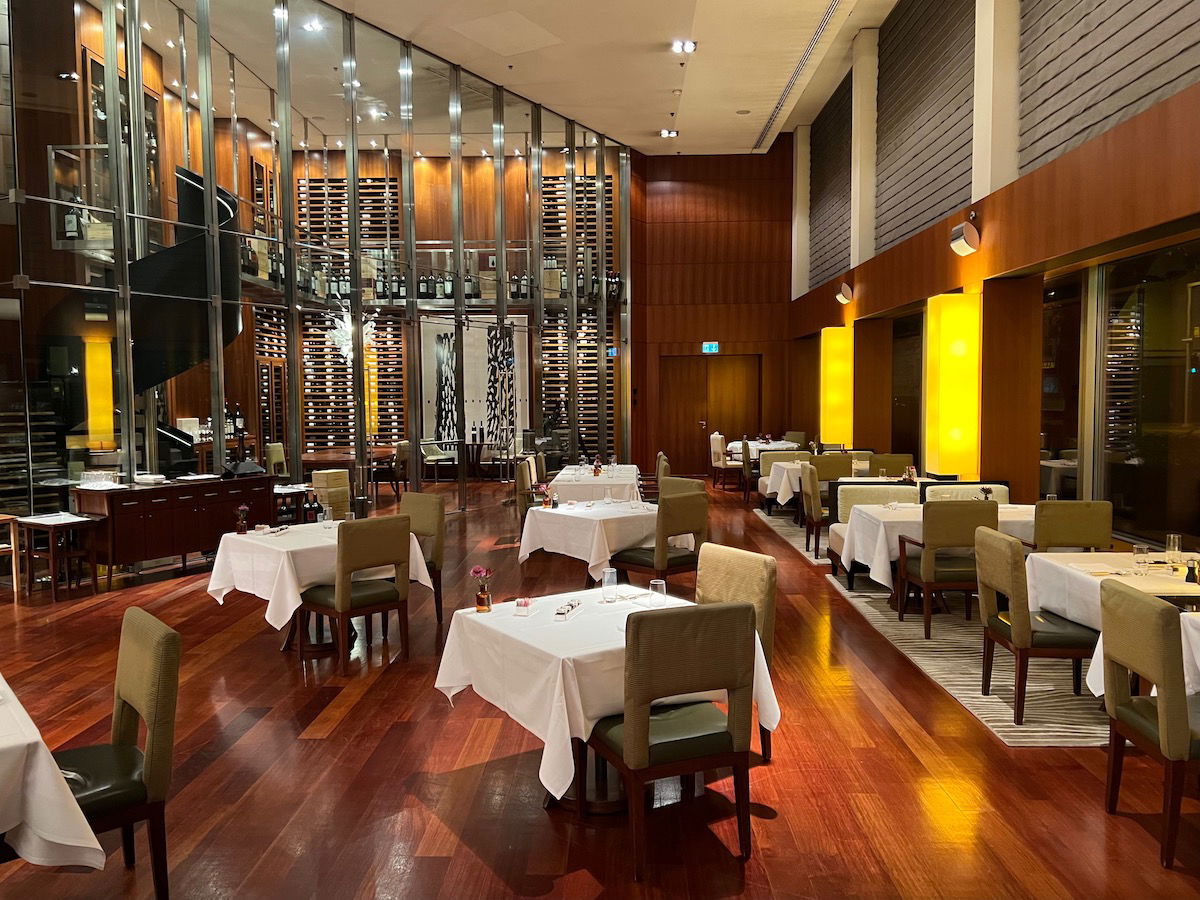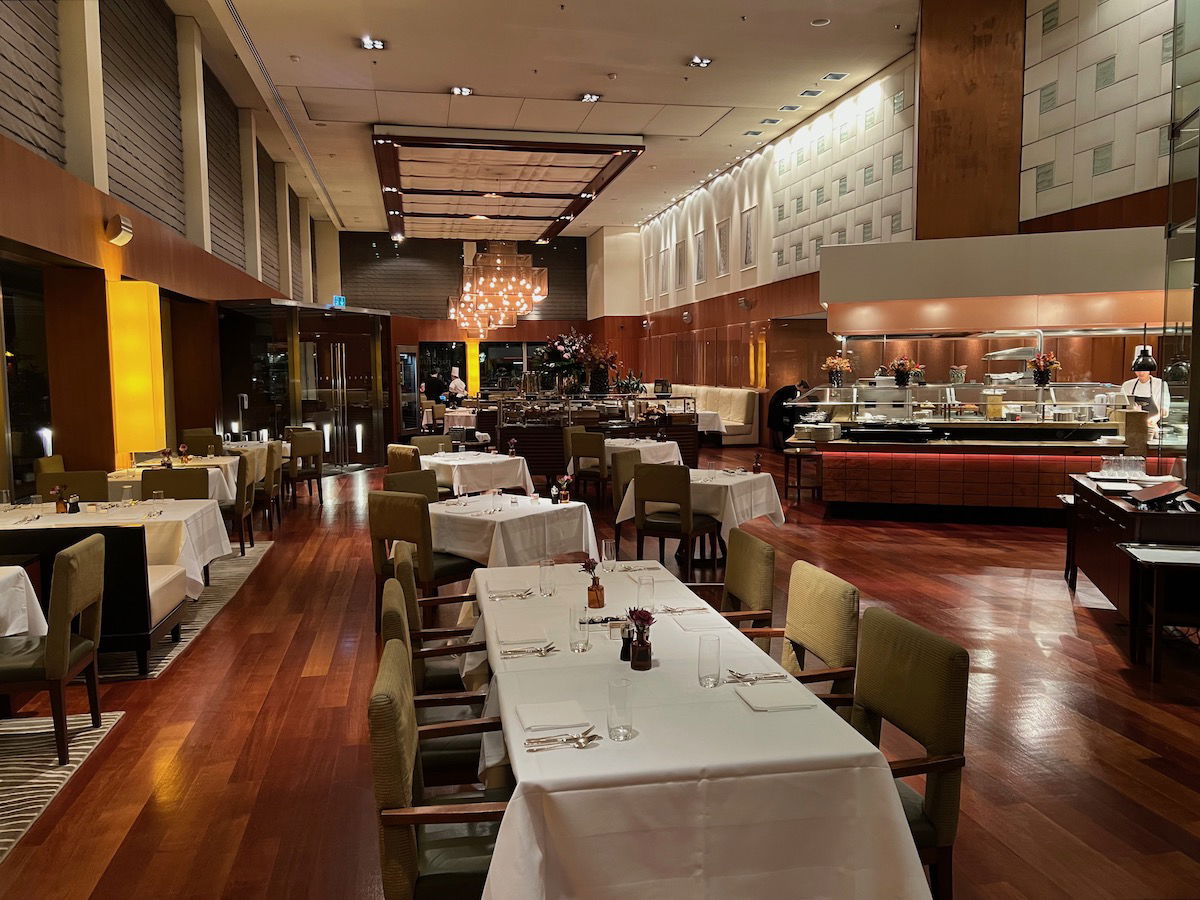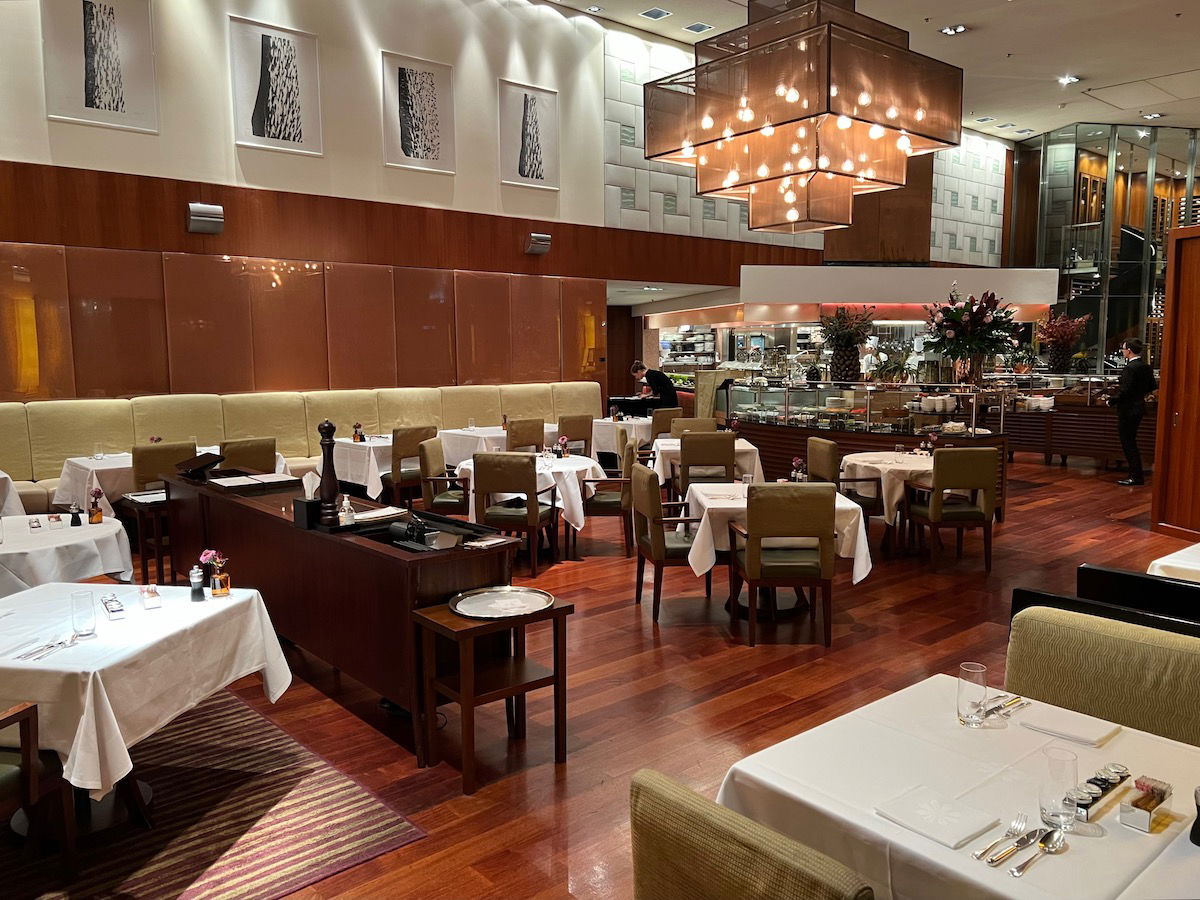 If breakfast is included with your stay, you can expect that you'll get coffee drinks of choice, access to the buffet, and you can order any one item off the menu.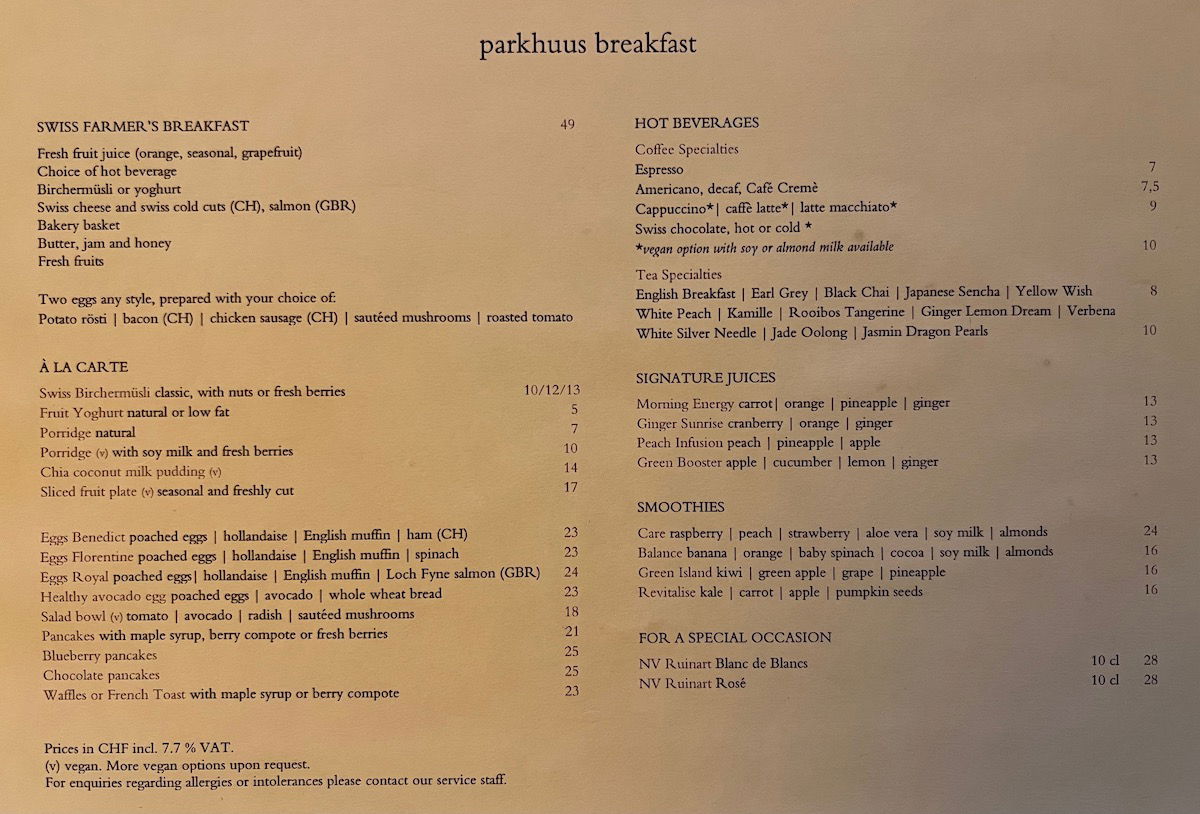 The breakfast buffet was excellent (by European standards), and included all kinds of fresh rolls and pastries, fresh fruit, cereal, yogurt, muesli, fresh juices, cold cuts, and a few hot dishes.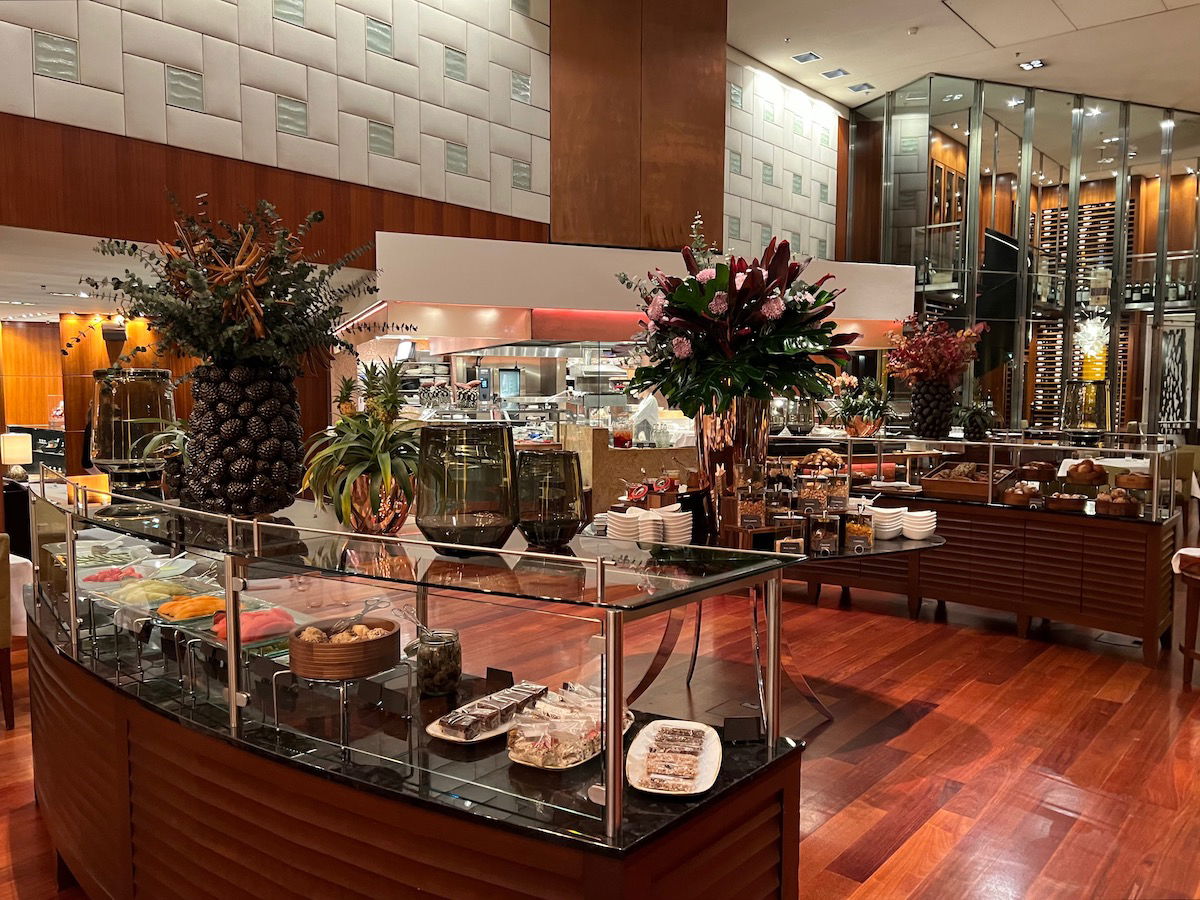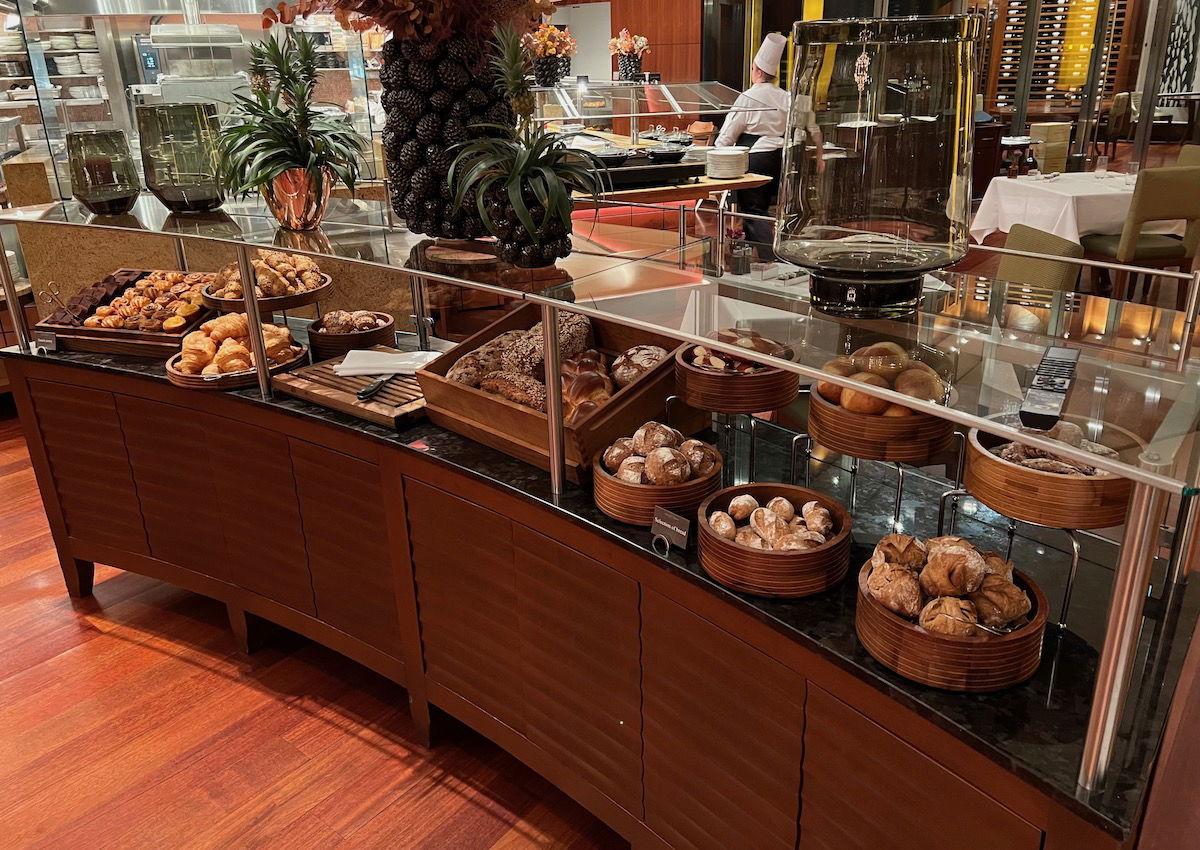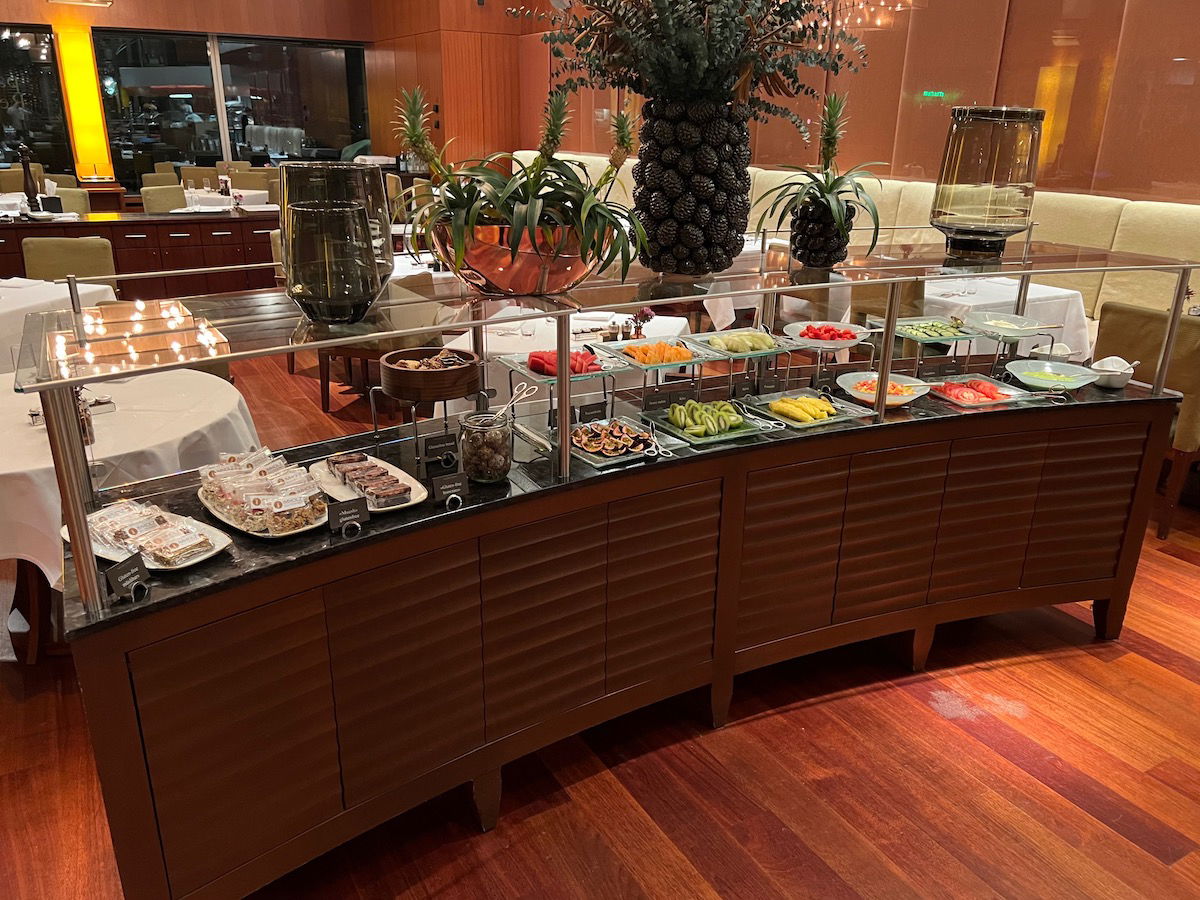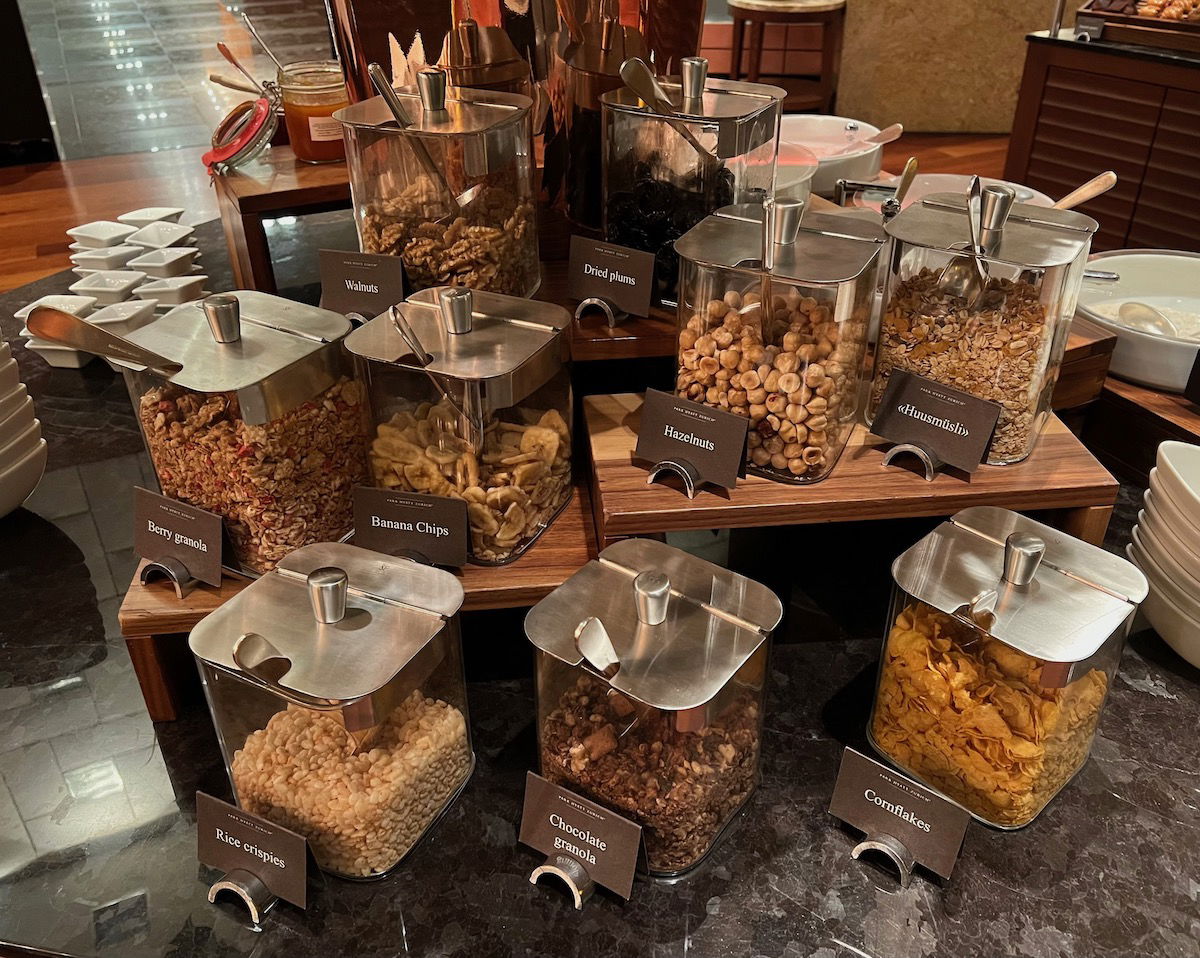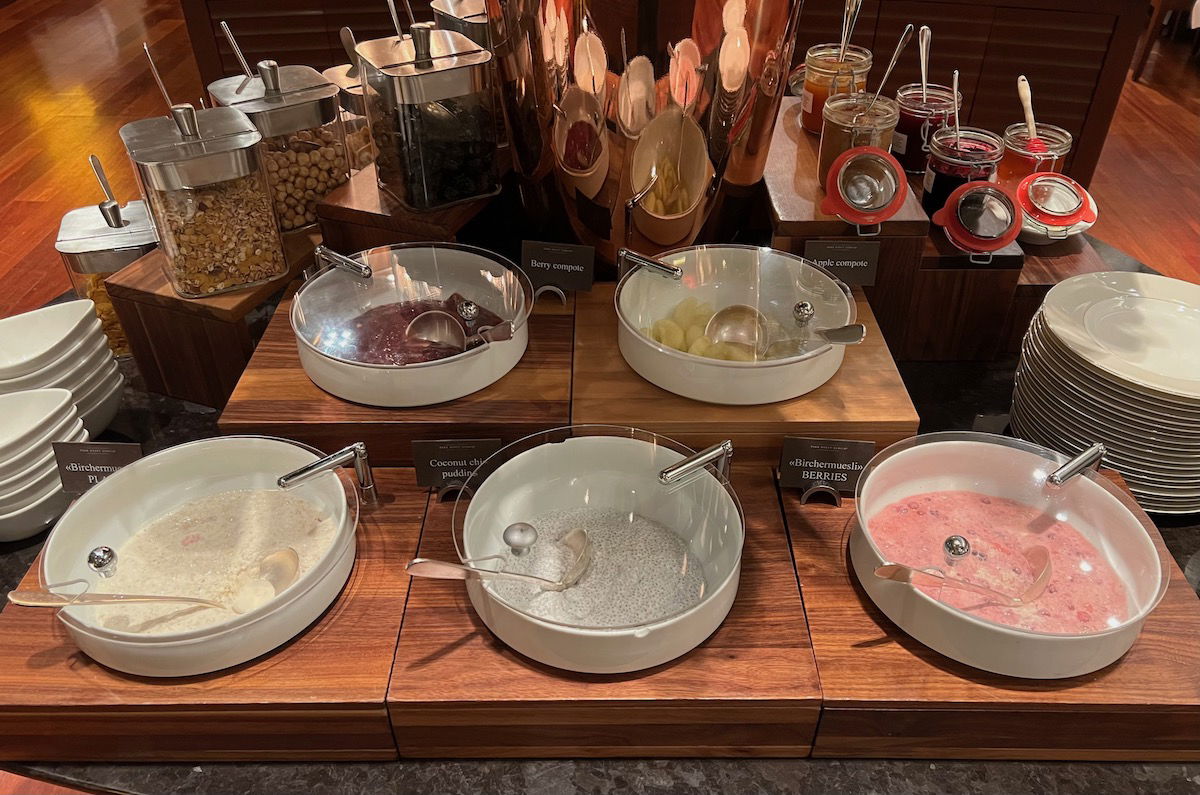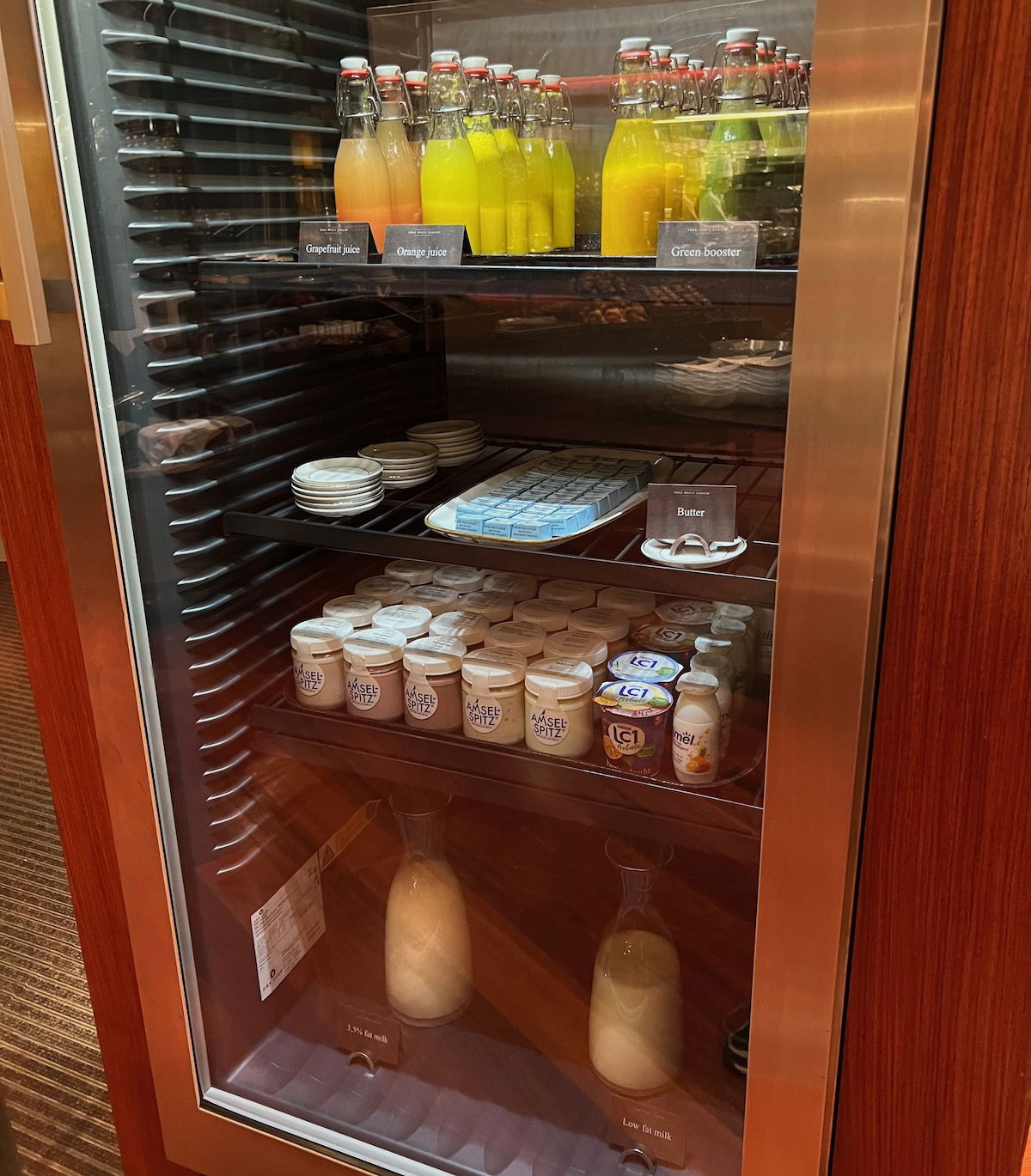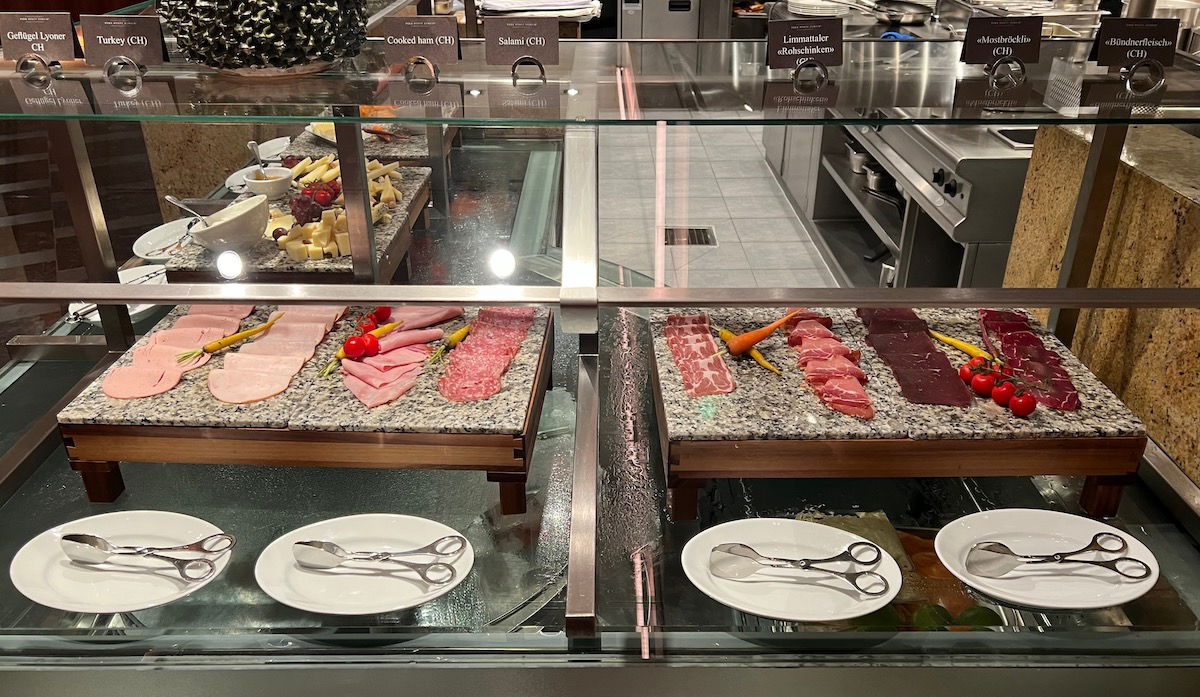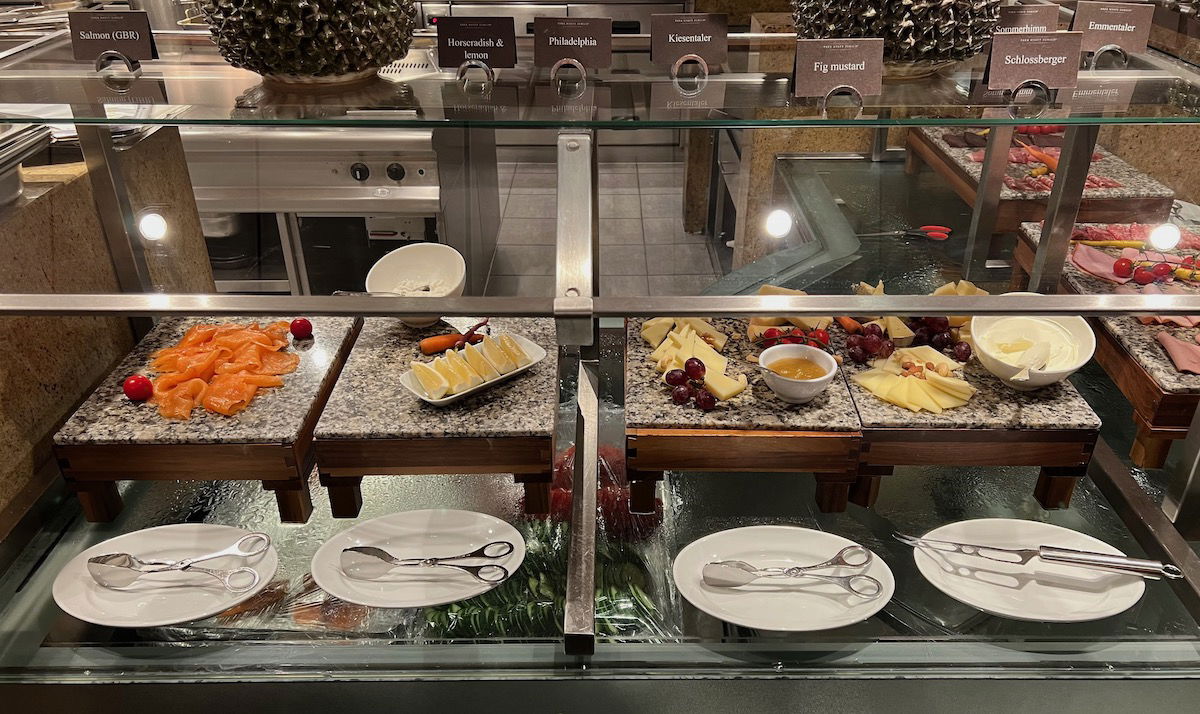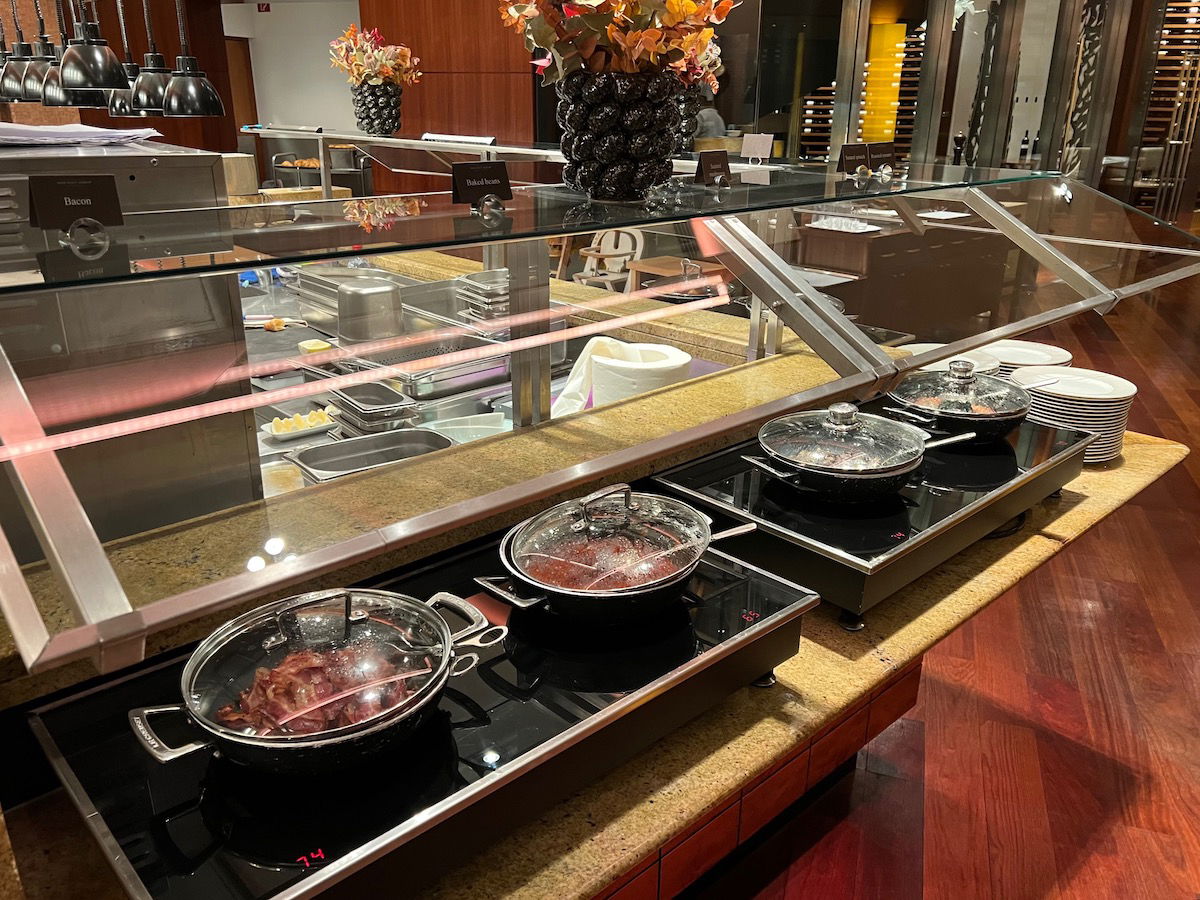 The coffee was excellent, and I decided to order the "healthy avocado egg" to eat, which I enjoyed.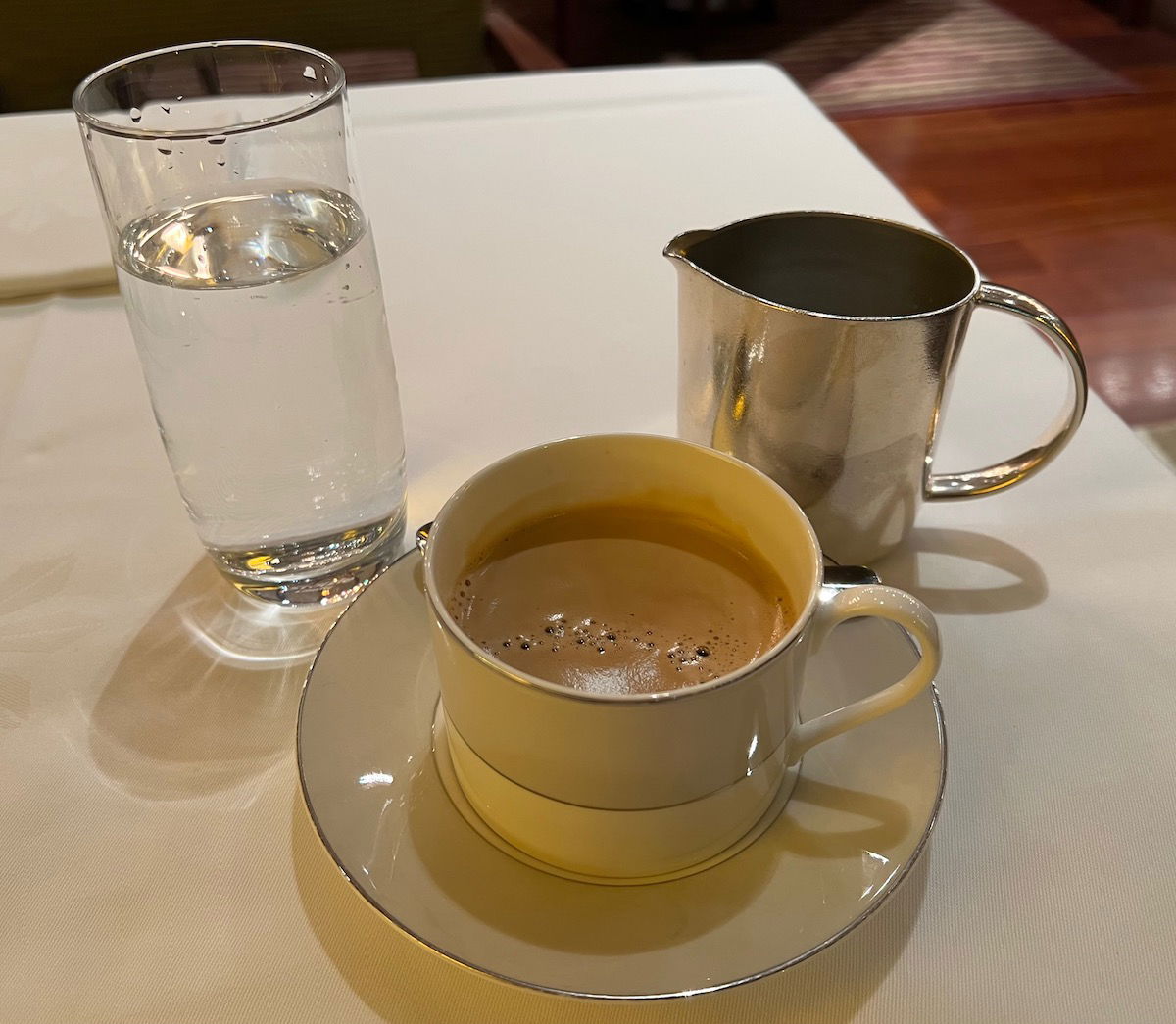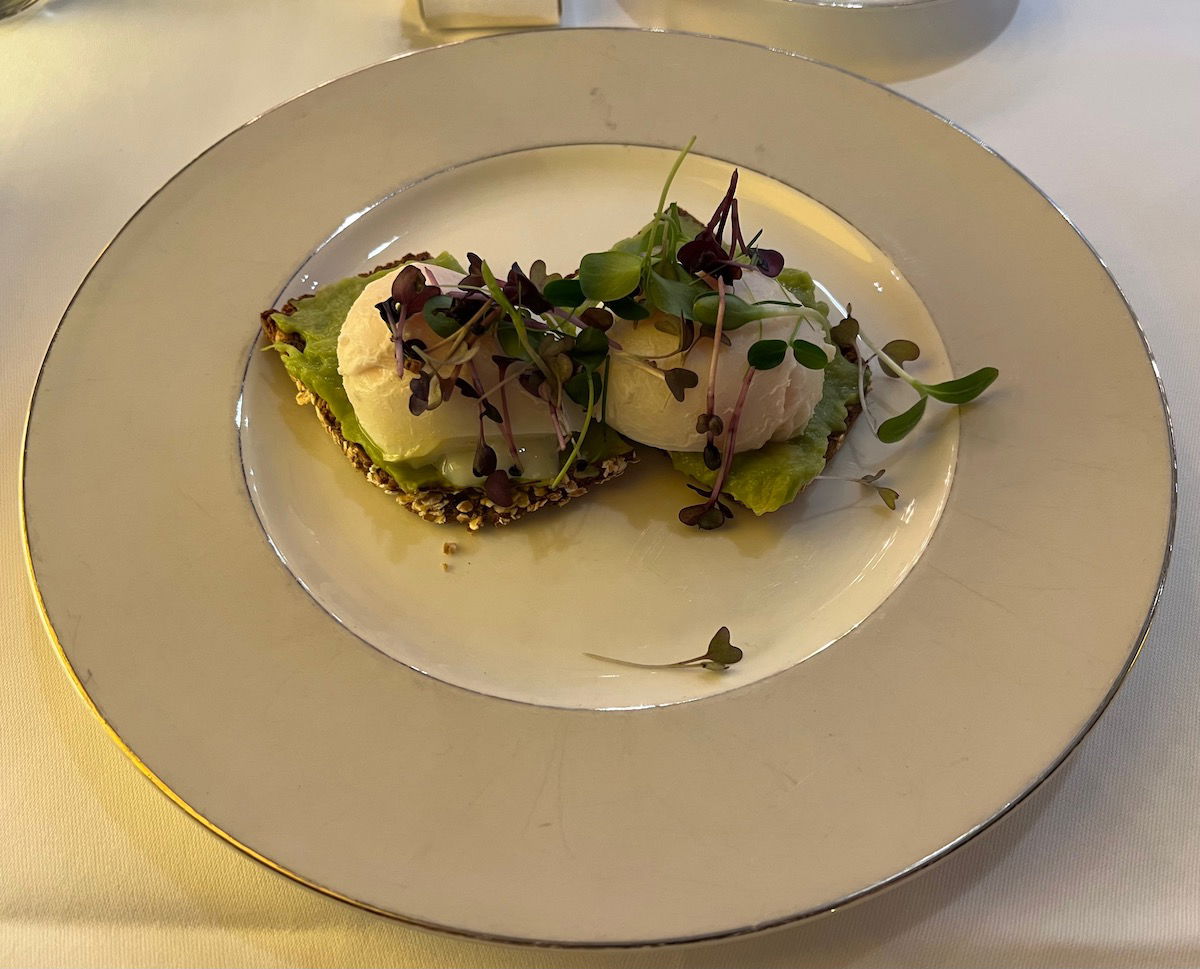 The guy working at breakfast was extremely friendly and attentive. Like I said, I didn't encounter a single not-professional employee at this hotel.
Park Hyatt Zurich Lobby Lounge
The Lobby Lounge at the Park Hyatt is open on weekdays from 8AM until 11PM, and on weekends from 11AM until 11PM (menu here). This is right in the heart of the lobby, and as you'd expect, on weekdays it's mostly filled with businesspeople in suits.
You can come here whether you're looking for a coffee, cocktail, lunch, afternoon tea, or dinner. Physically it's a pretty nice space, though there's no natural light — while there are curtains, they're really just covering walls, as far as I can tell.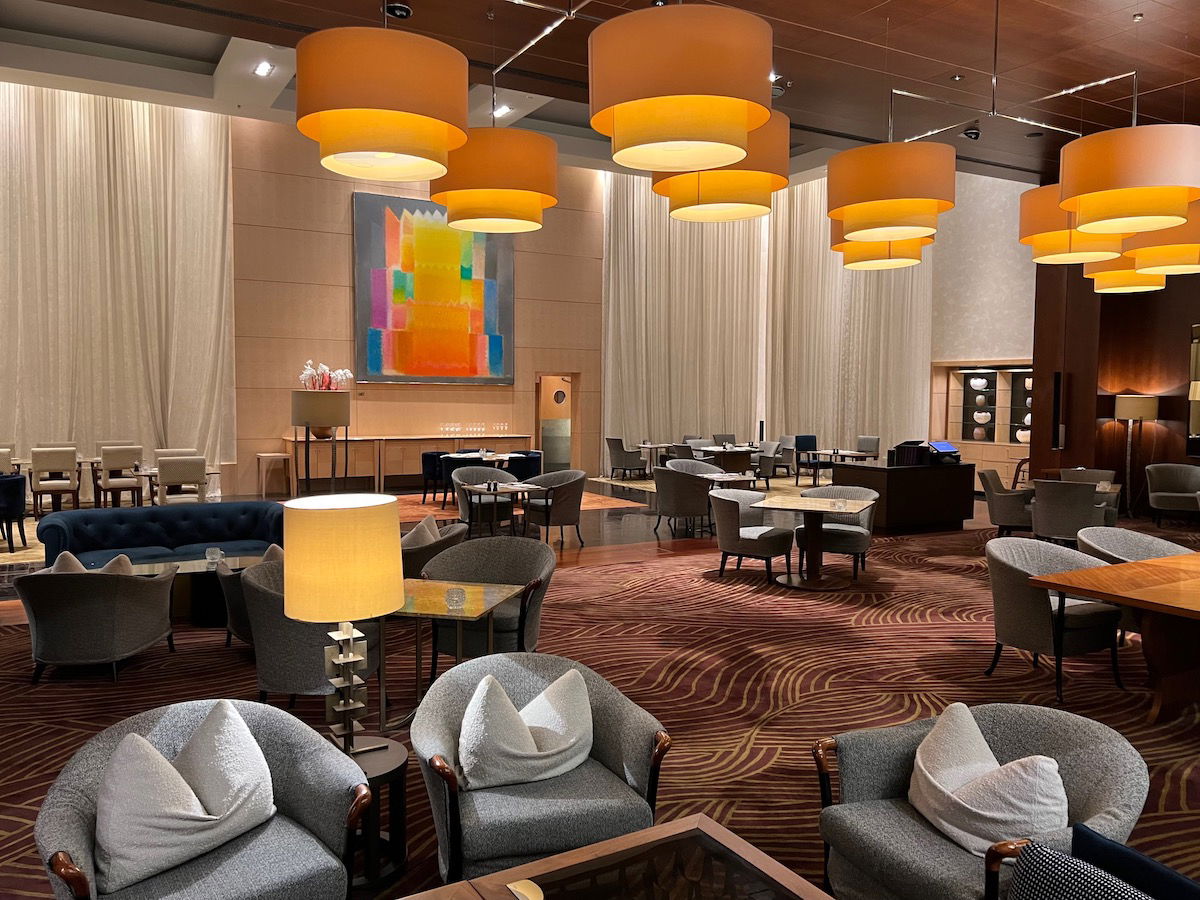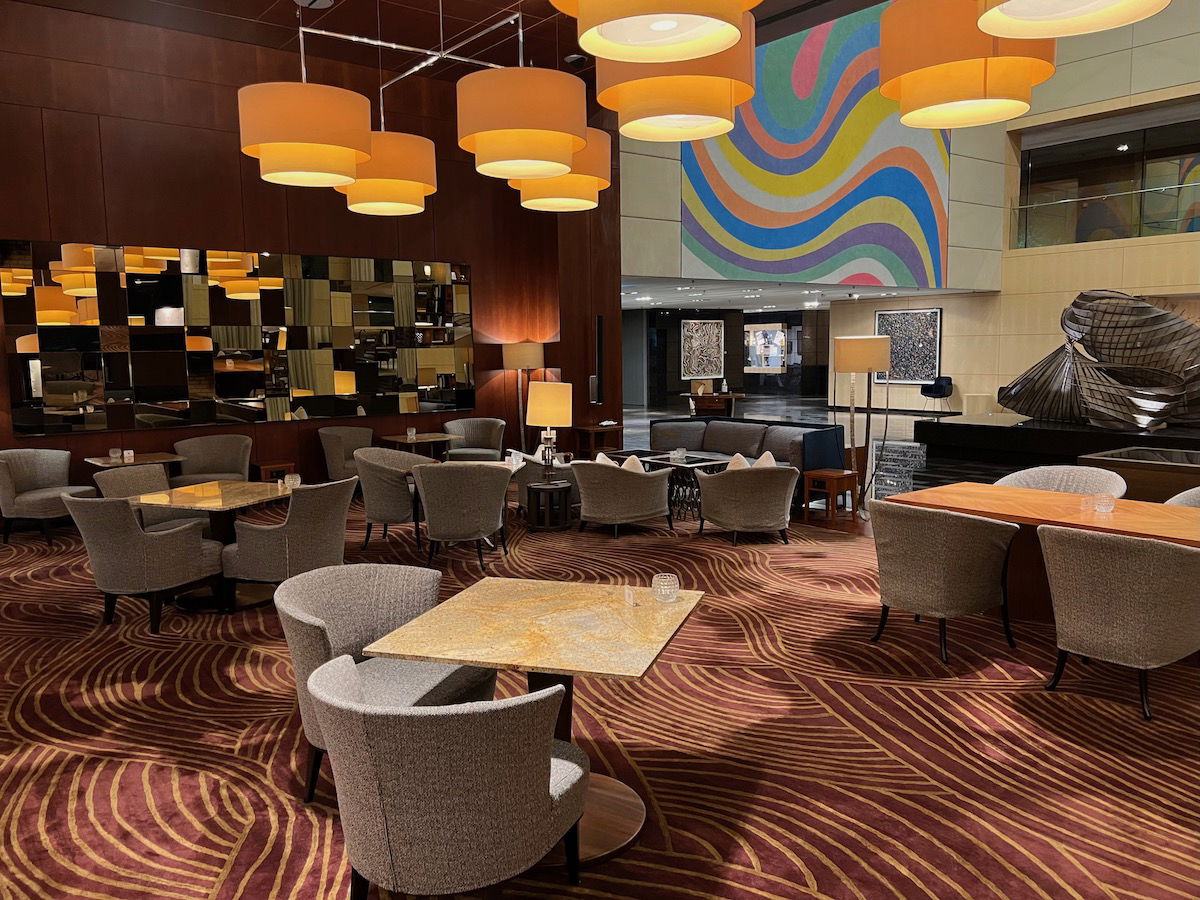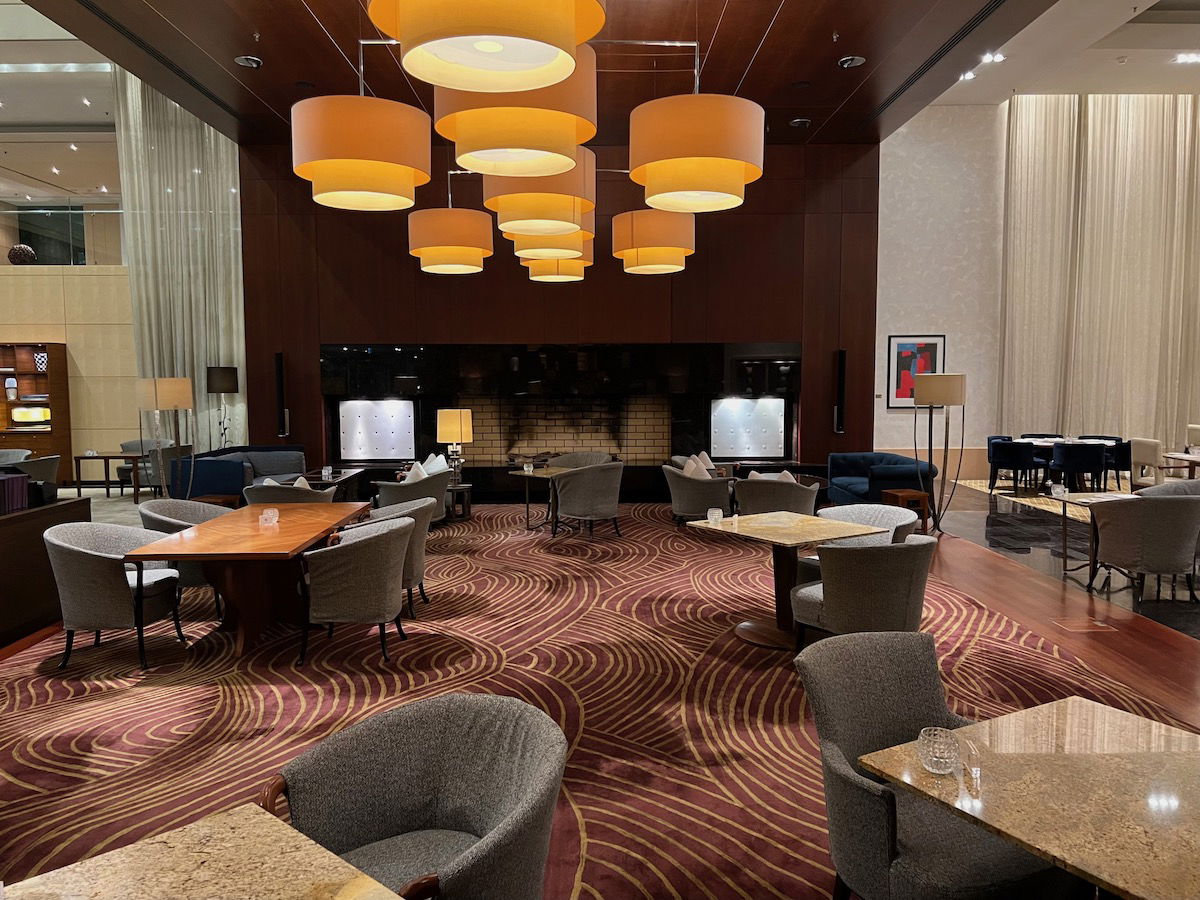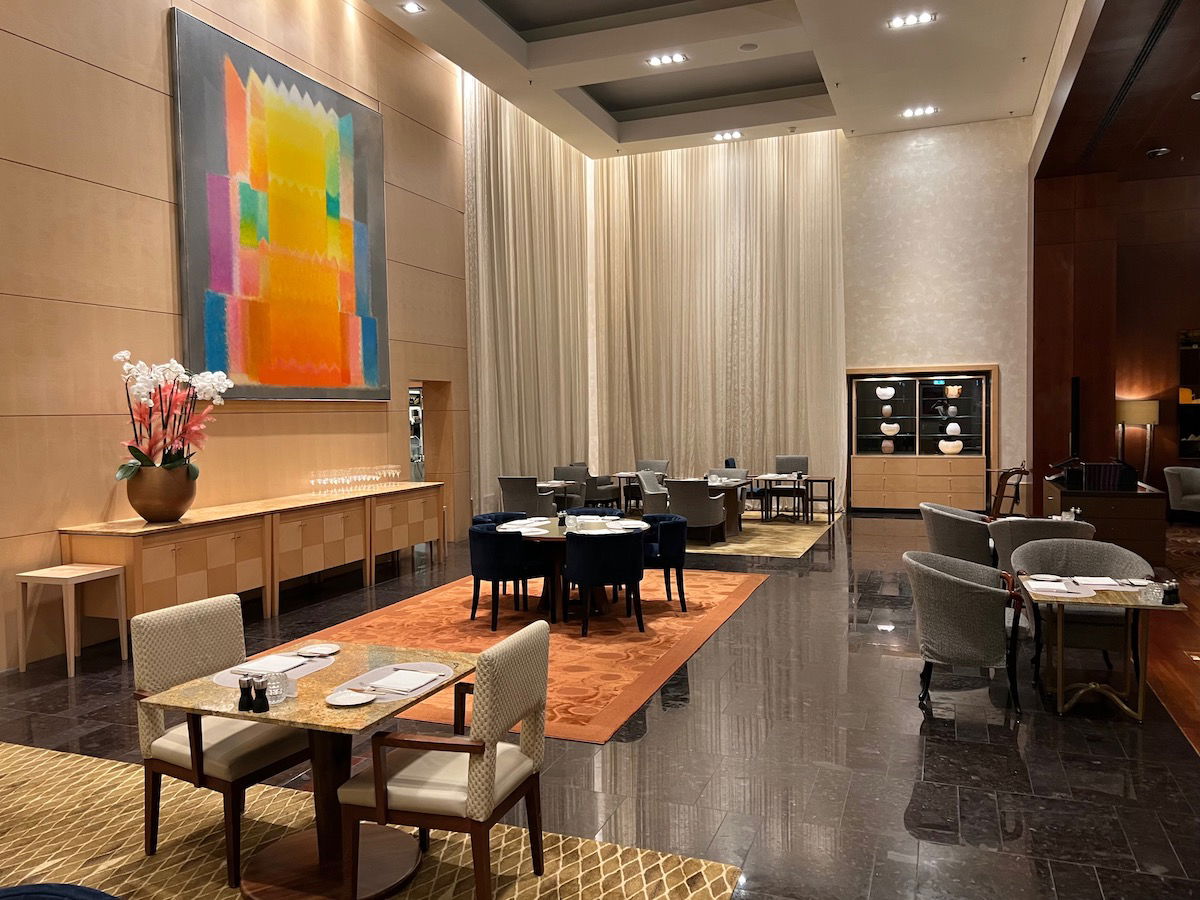 Park Hyatt Zurich ONYX Bar
The ONYX Bar is located right next to Parkhuus, and it's the Park Hyatt's evening bar. The catch is that it's only open from 5PM until 1AM Tuesdays through Saturdays, so it was closed during my stay. Below is a picture of the bar from Hyatt's website (I couldn't get in to get a picture, as it was locked while closed).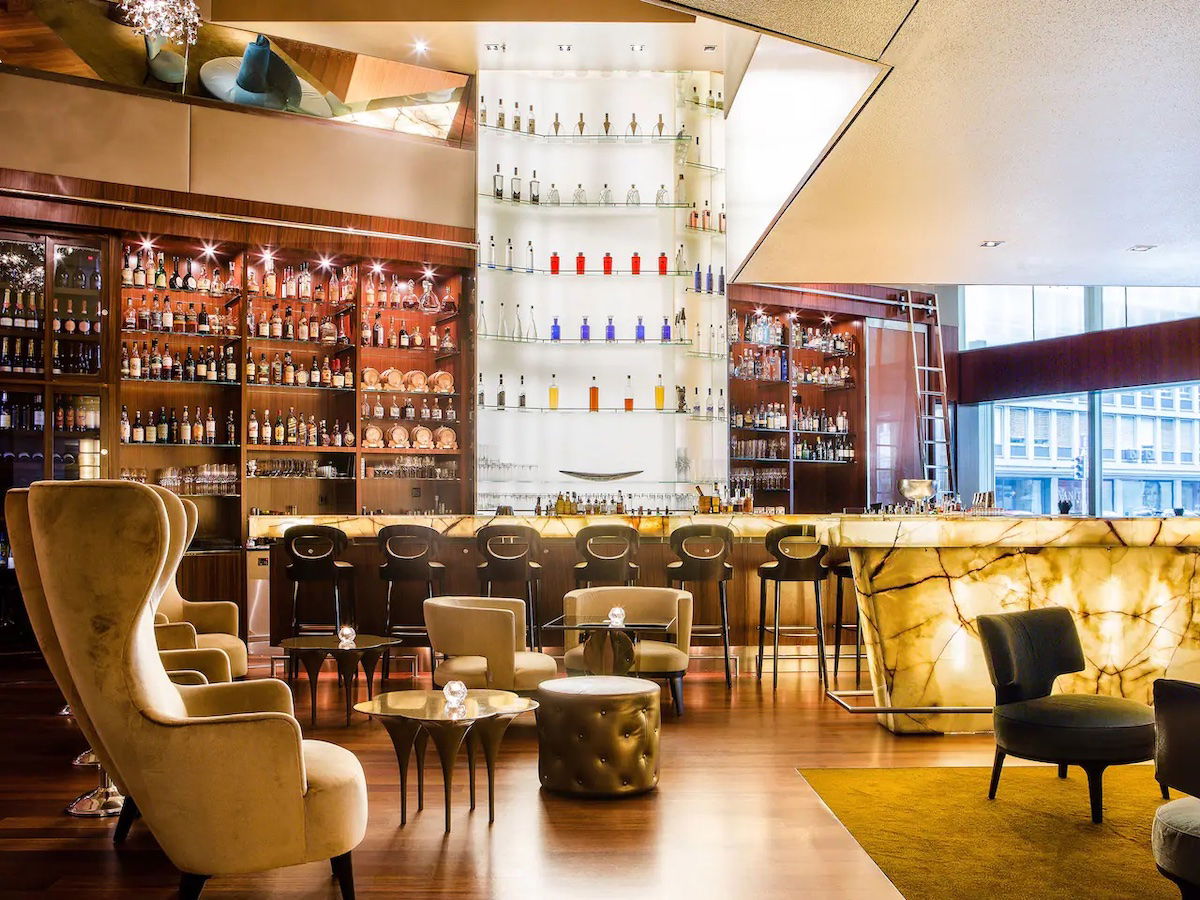 Bottom line
The Park Hyatt Zurich is a perfectly nice luxury, business-focused hotel. I wouldn't hesitate to return if I had a reason to, but I also wouldn't seek this place out again.
On the plus side, the hotel has friendly staff, a central location, and an excellent breakfast. Unfortunately the hotel also feels a bit past its prime, doesn't have much in the way of views, and lacks amenities. There's no real spa, no pool, and both the restaurant and main bar are closed several days of the week.
If this were a Hyatt Regency for half the price, I'd say it's a great property. But at this price point (even given how expensive Zurich is), I feel like the hotel should offer a bit more.
If you've stayed at the Park Hyatt Zurich, what was your experience like?