---
Our drive from Amankila to the airport was a bit of a disaster. The drive is only supposed to take about 75 minutes, but took more than double as long. Apparently the Indonesian president was in Bali, so it was really screwing up traffic. We were mildly panicked while the driver seemed incredibly calm, which confused me. I guess the part I forgot about is that Aman has a dedicated team of airport handlers, so as soon as we pulled up to the airport they were there to meet us, and had already informed Malaysia Airlines' ticket counter we'd be a bit late. Our boarding passes were waiting for us at the counter, and the Aman representative whisked us past all the lines so that we were airside in the terminal within five minutes, with time to spare.
We even had time to briefly visit the Premier Lounge, which I've reviewed in the past. It's a fairly nice contract lounge, and I especially love the tarmac views from their patio, from which we could see our Malaysia 777 parked.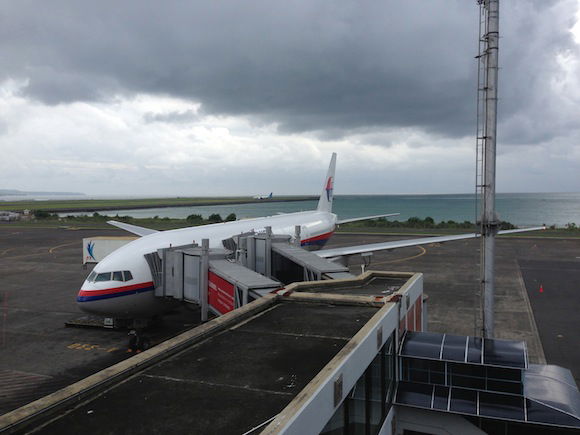 Plane to Kuala Lumpur
At around 3:30PM we headed down to our departure gate. Security at Depnasar is at each individual gate, so it took about 10 minutes before we were through. At that point boarding was already underway.
Malaysia 850
Denpasar Bali (DPS) – Kuala Lumpur (KUL)
Saturday, June 15th
Depart: 4:05PM
Arrive: 7:05PM
Duration: 3hr
Aircraft: Boeing 777-200
Seat: 4C (Business Class)
Malaysia Airlines has several flights a day to Bali, which seem to be split between 737s and 777s. We were sure to choose a flight operated by a 777. While the business class seats aren't fully flat, they are intended for longhaul flights, so much more comfortable than what you'd get on one of their 737s.
The business class cabin consists of a total of five rows in a 2-3-2 configuration. There are four rows in the forward cabin, and then one row behind the galley. We were in 4A & 4C, a pair of window and aisle seats in the last row of the forward cabin.
The seats themselves were pretty standard angled flat seats. There was plenty of legroom, and a small pillow and blanket waiting at each seat.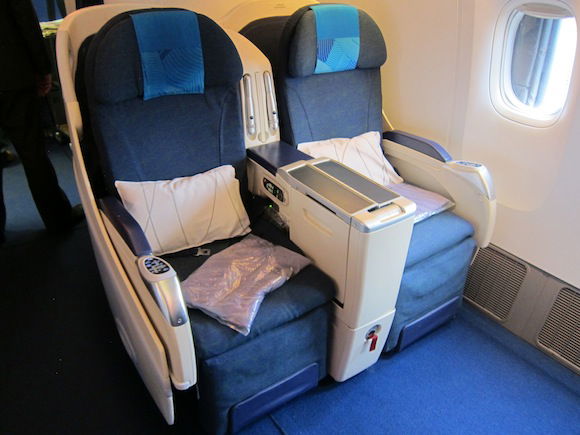 Our seats, 4A and 4C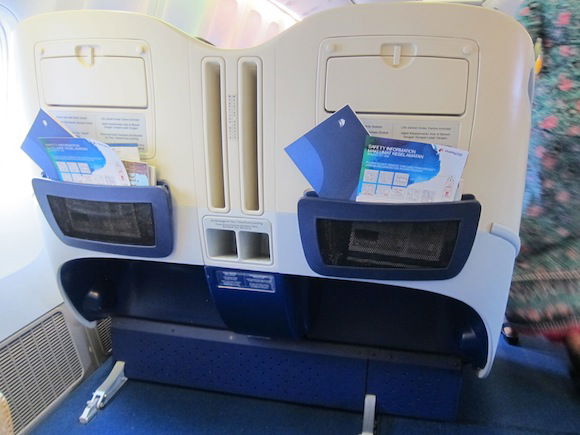 Legroom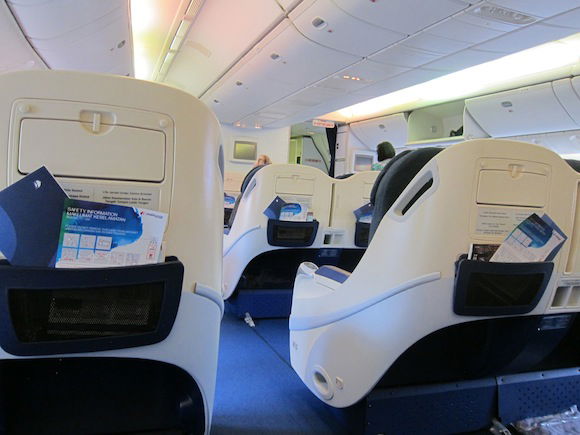 Business class cabin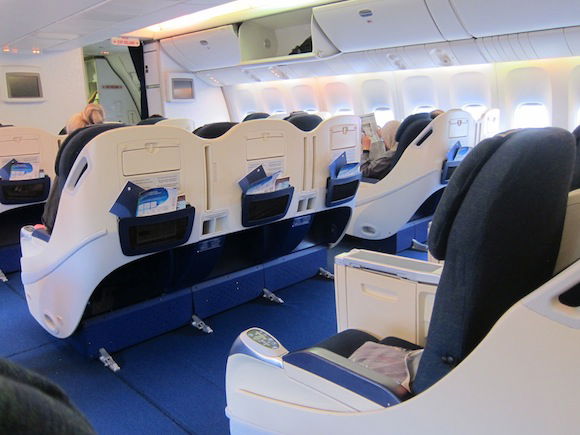 Business class cabin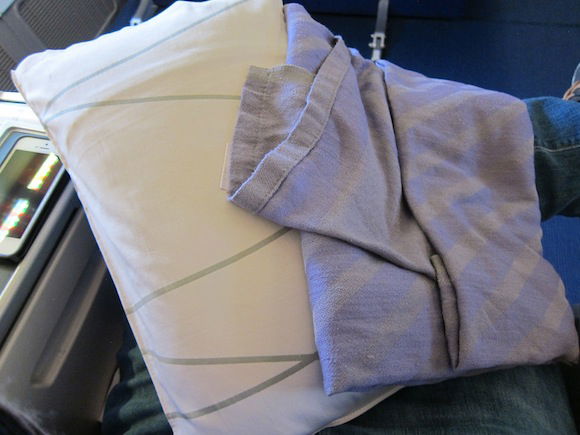 Day blanket and pillow
To the right of the seat were the seat controls, which were intuitive.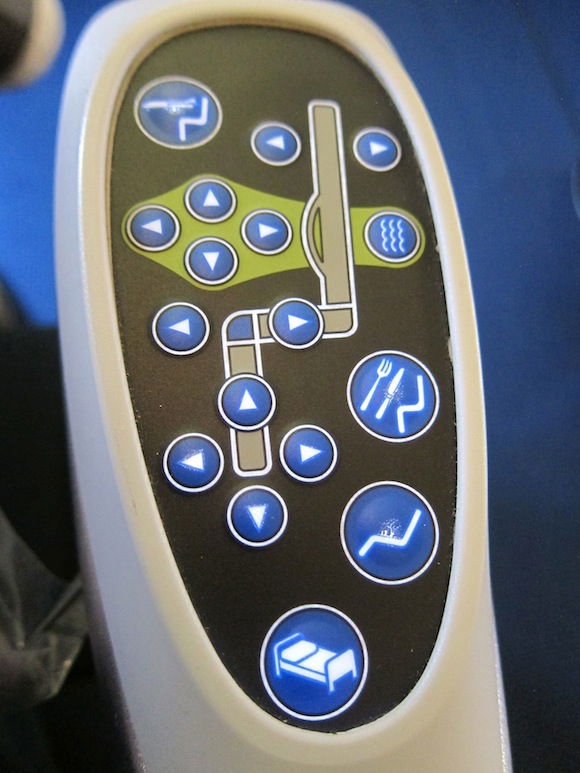 Seat controls
Then to the left of the seat were the entertainment controls.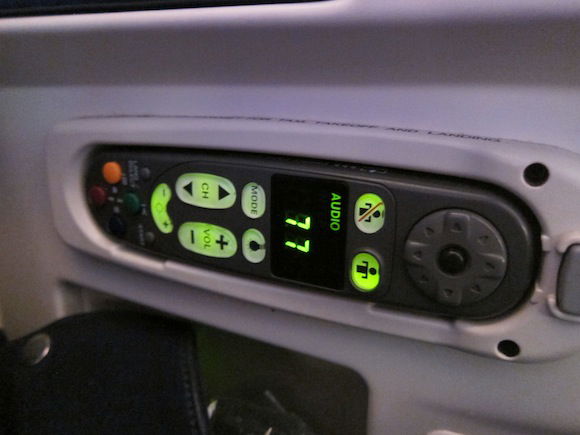 Entertainment controls
The best feature of the seats had to be the air vents, which are far too uncommon on non-US airlines.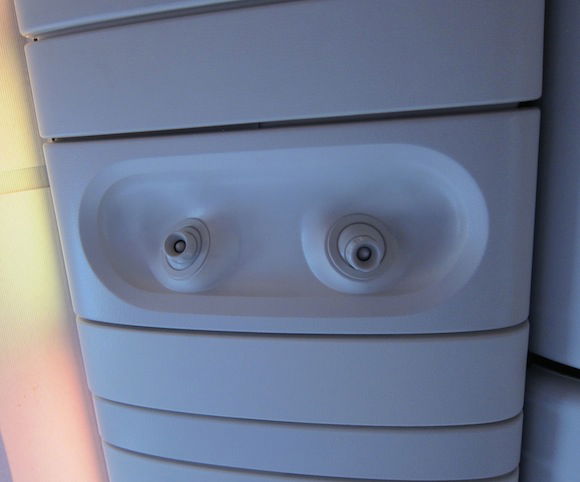 Air vents!
Once settled in, one of the crew members came around with a tray of pre-departure beverages. I selected a glass of guava juice.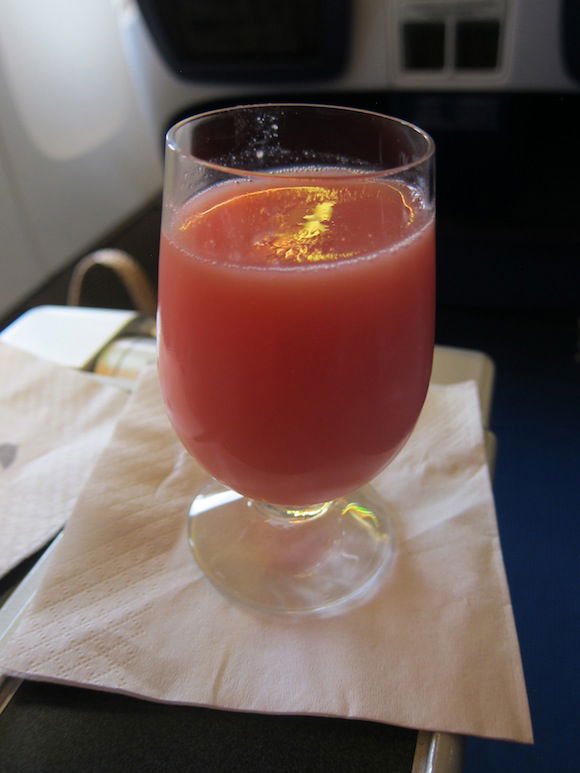 Pre-departure guava juice
As we approached our departure time the captain came on the PA to make his welcome aboard announcement, though I'm not actually convinced any of it was in English. The only words I understood were "two hours and thirty five minutes," which I assume was our flight time.
We pushed back a couple of minutes behind schedule, and had a fairly quick taxi to runway 9.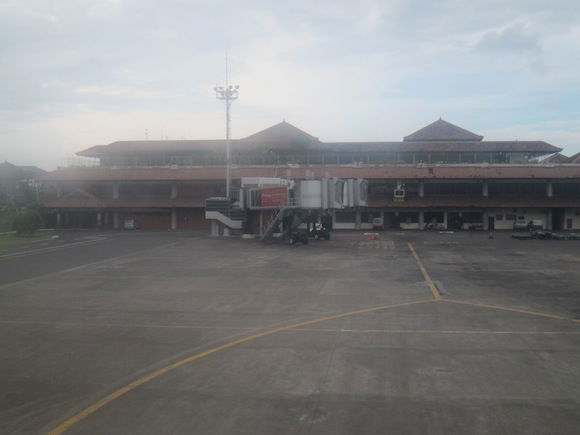 View of terminal
There was a Garuda Indonesia 737 in front of us, so as soon as they were airborne it was our turn.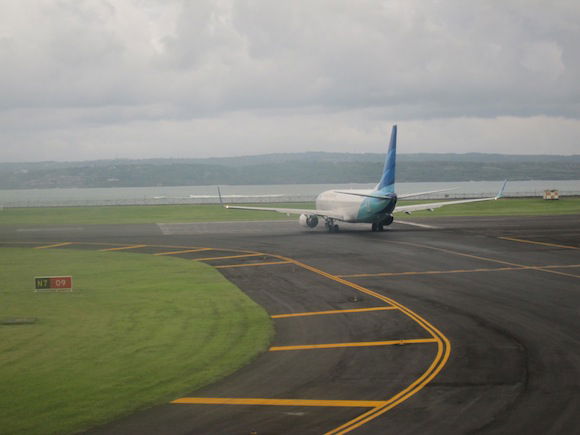 View on taxi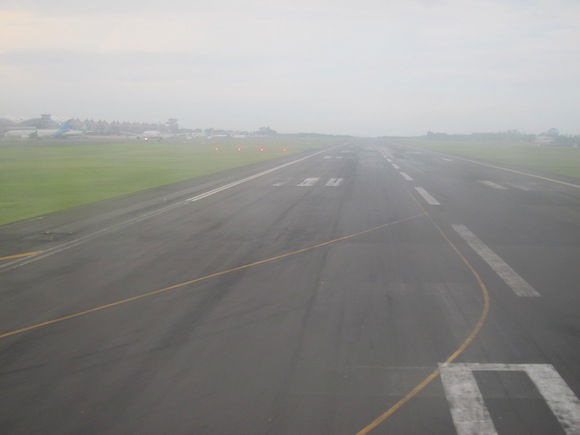 Ready for takeoff!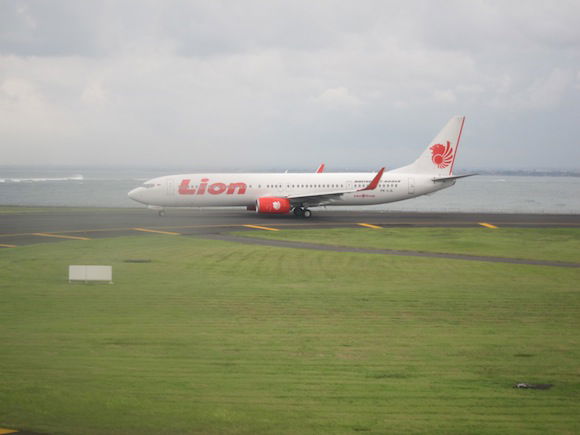 Lion Air 737 queuing behind us

The takeoff roll was extremely short, and the climb out was incredibly "jerky." I'm not judging the skills of the pilot, but I couldn't help but feel like the plane was flying in a similar manner to how I'd fly it in Flight Simulator 2004. There wasn't much turbulence on the climb out, though there was nothing gradual about the way we changed rate of climb or headings.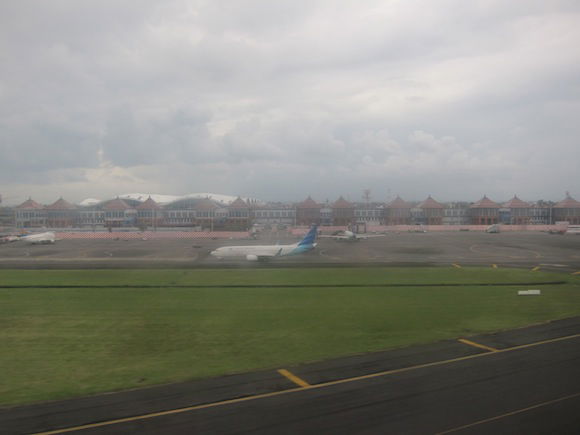 Terminal view on climb out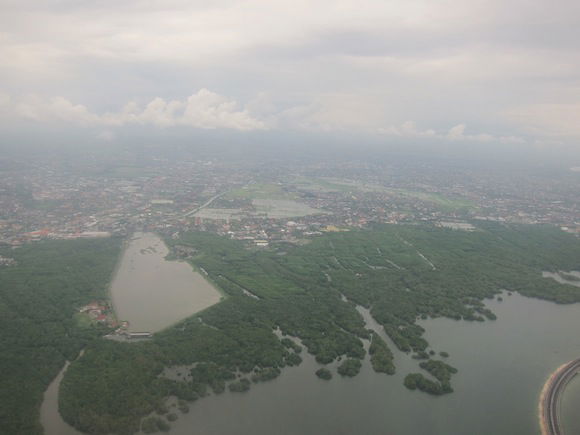 View on climb out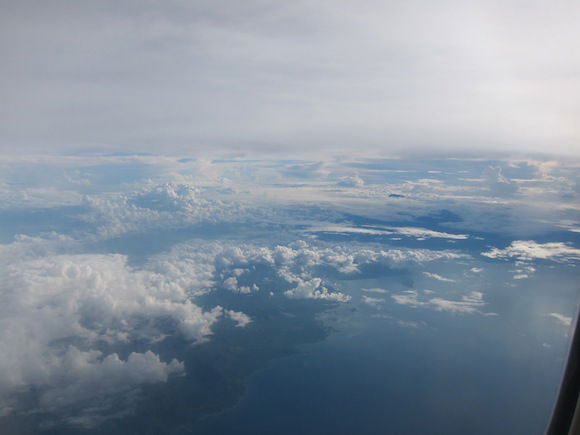 View above the clouds
Once we passed through 10,000 feet I began browsing the entertainment selection. It was better than I expected though still not great. I decided to watch Identity Thief again, which I figured would be entertaining enough.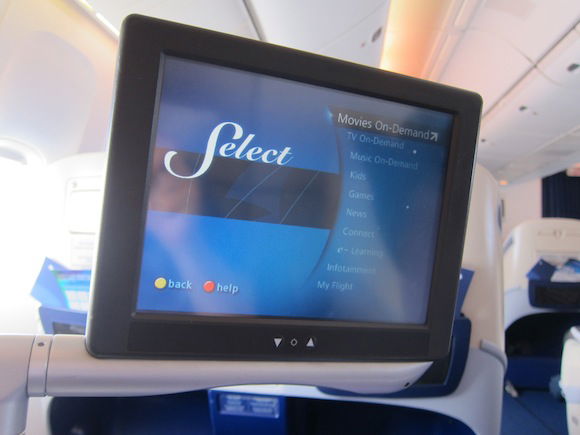 IFE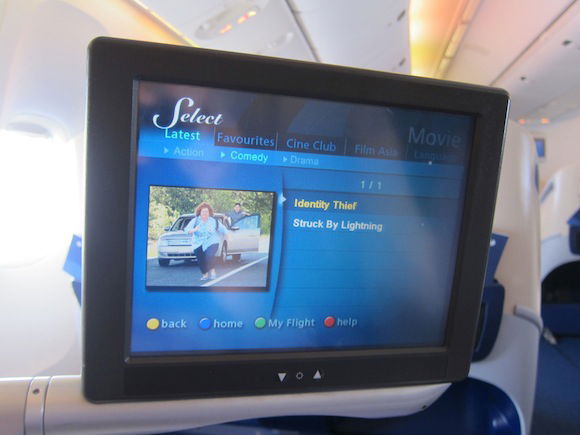 Identity Thief
The headphones were fairly cheap plastic ones, so the sound quality wasn't great.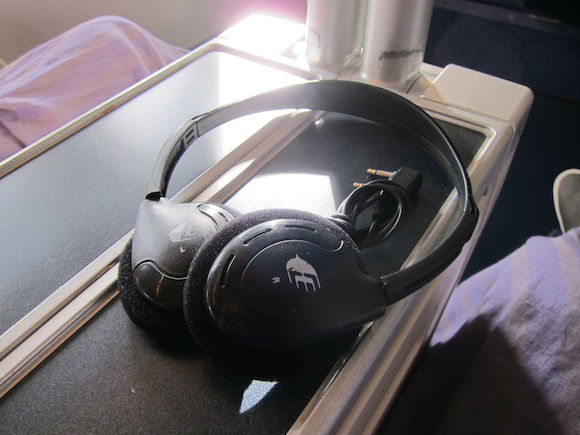 Headphones
Once we leveled off the meal service began. The menus had been in the seatback pocket the whole time, which I hadn't realized till they came around to take meal orders.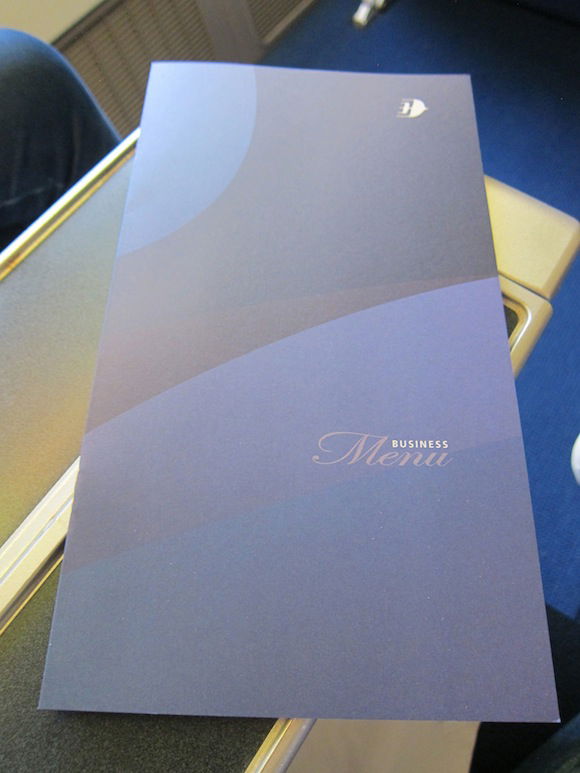 Menu
The menu read as follows: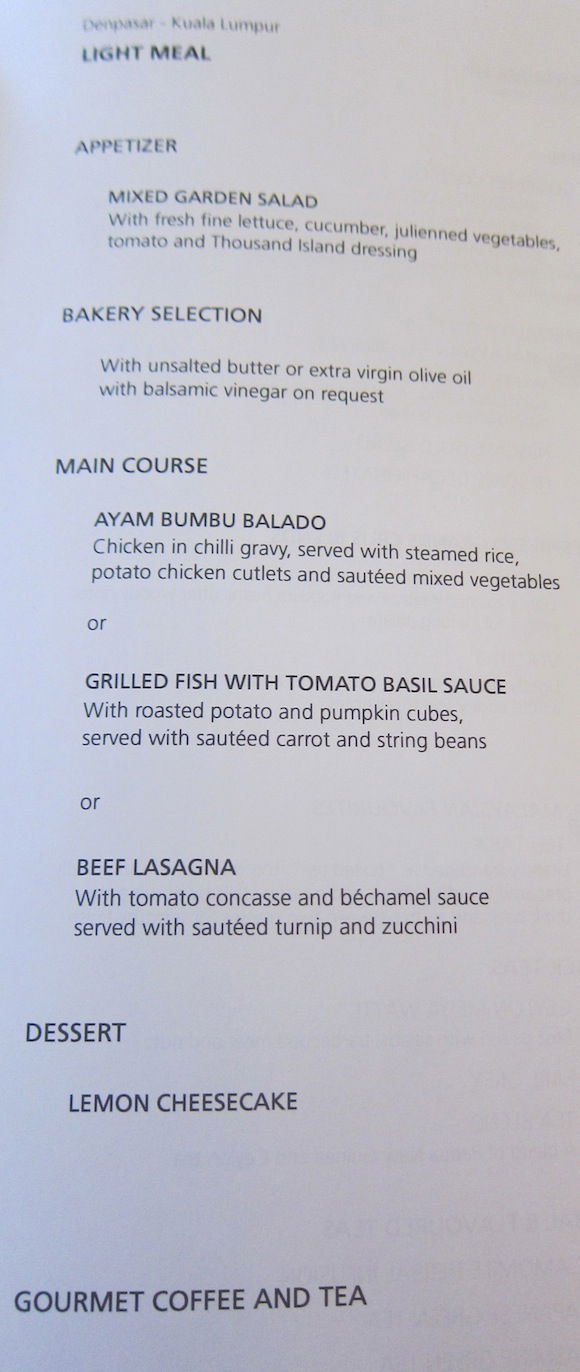 I found it rather interesting that they started service at our row, and addressed us by name the whole flight, while they didn't seem to address anyone else by name. Based on all my experiences on Malaysia Airlines so far, it seems they take really good care of their OneWorld Emerald members, as I've always had my meal order taken first and have always been addressed by name.
Anyway, I ordered the beef lasagna. The salad and dessert were quite good, though the lasagna was borderline inedible.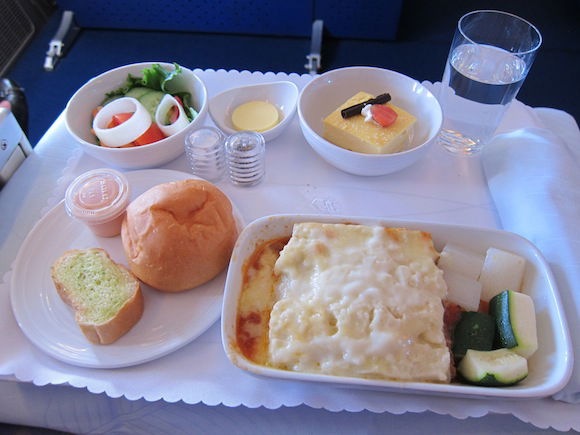 Lasagna
After lunch coffee and tea was served, and I ordered a teh tarik ("pulled tea"), which was tasty as always.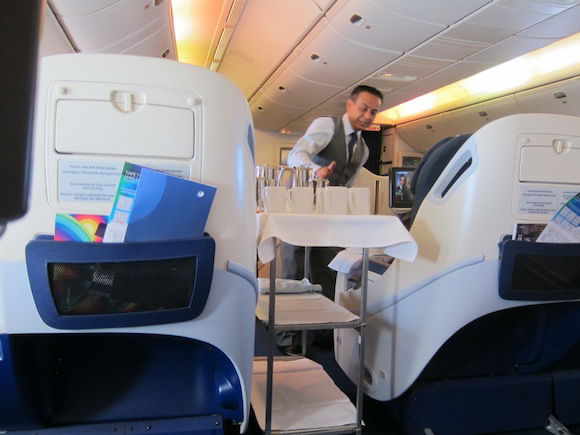 Beverage trolley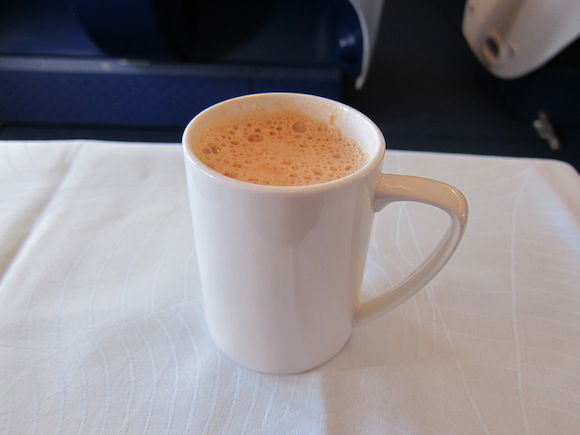 Teh tarik
Service throughout the meal service was fine. The crew treated us better than everyone else it seemed, though I can't really say that the service was friendly. Don't get me wrong, they weren't actively rude, but there were no smiles and they seemed to just be going through "the motions."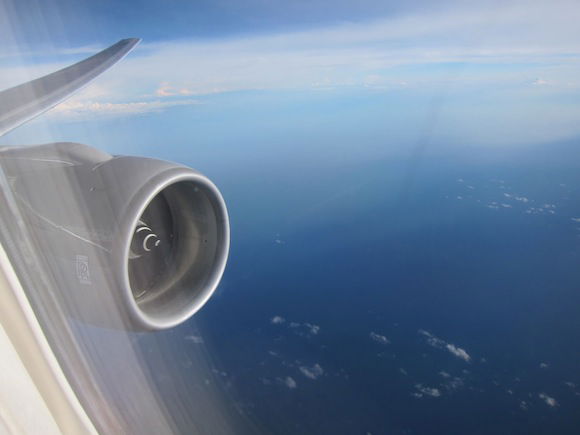 View after meal service
After the meal I tried to nap for a bit, and did manage to get in about a 30 minute snooze before we began our descent.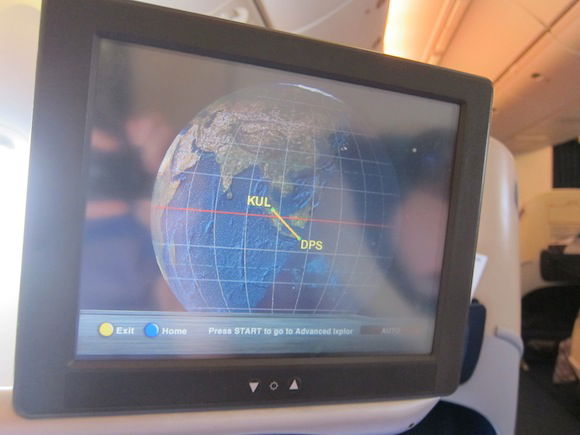 Airshow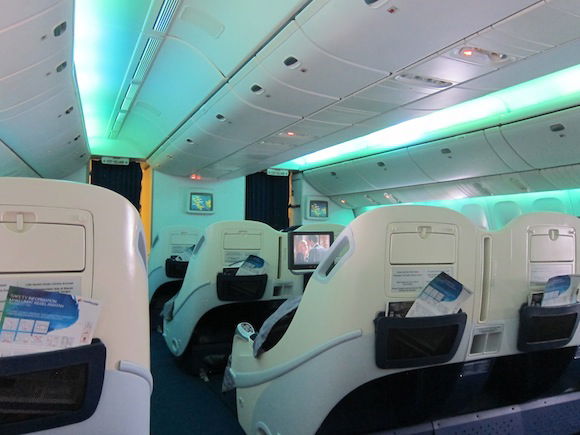 Cabin with lights dimmed
Before the seatbelt sign went on I headed to the lavatory, and on the way back to my seat asked the purser if we needed landing cards for Malaysia. He said "not for you Mr. Lucky, you're special OneWorld Emerald." My goodness, they really take this OneWorld stuff seriously!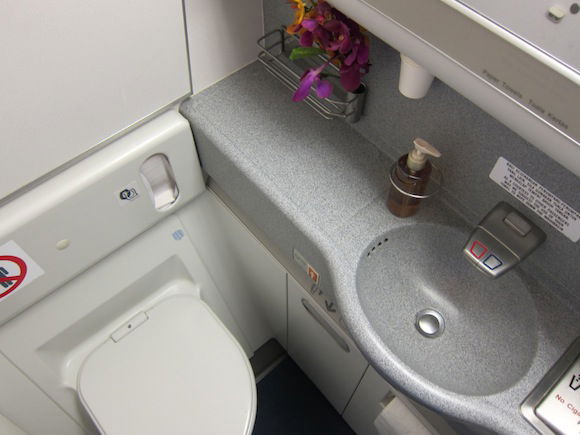 Lavatory
Our descent into Kuala Lumpur was gradual and smooth.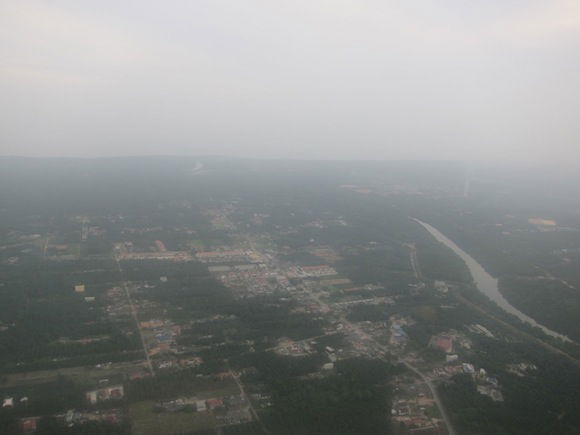 Views on approach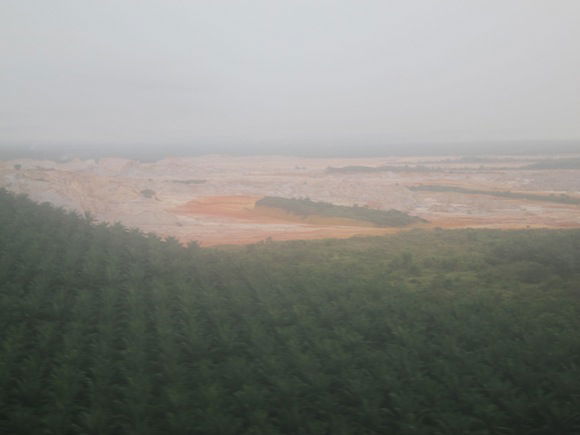 Views on approach
Upon touchdown we had about a five minute taxi to the gate, and passed a couple of Malaysia A380s.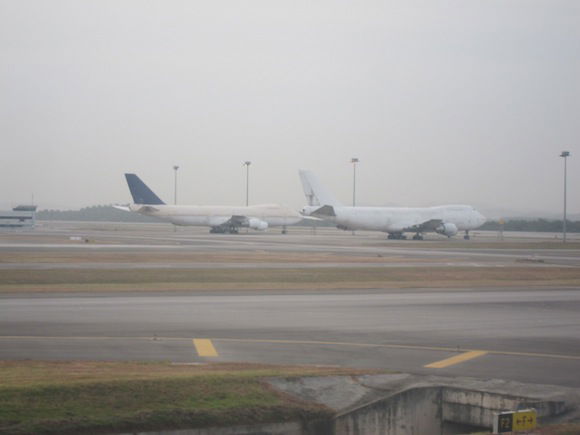 Anyone know what these planes are?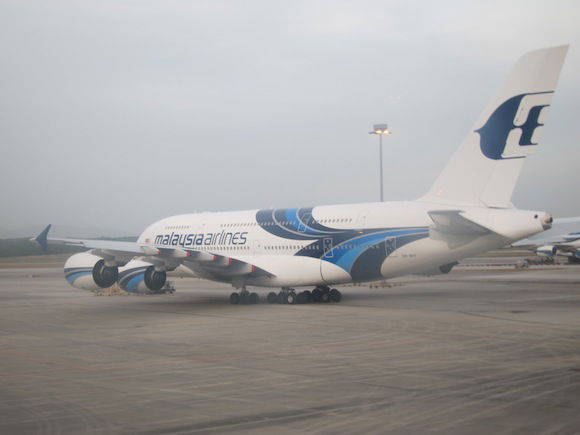 Malaysia Airlines A380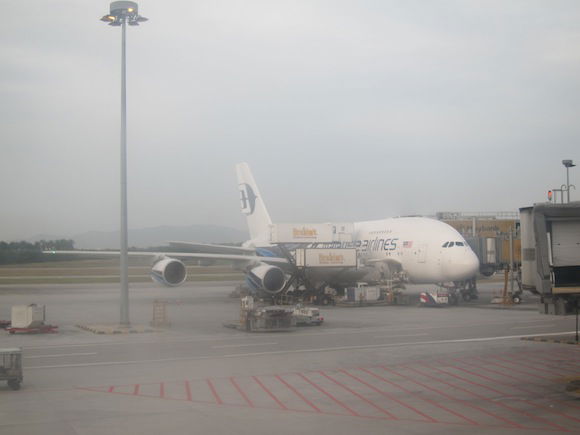 Malaysia Airlines A380
Upon landing we queued for immigration for about 20 minutes. At that point we took the train to the city, as we had just a quick overnight in Kuala Lumpur, so decided to stay at the Le Meridien. I've decided not to review it again since we were there for less than 12 hours, though you can find my previous review of the property here.
On the whole the flight was pleasant. Not quite as nice as Cathay Pacific's service to Hong Kong if you can score a first class seat, though I'd probably choose Malaysia over Singapore's service to Singapore, which features just regional business class seats.