---
Bali is one of those crappy airports that I actually like, at least airside. At first it's rather frustrating. When you enter the airport you first have to show your ticket as they screen all your bags. Each passenger goes through a metal detector, including taking off shoes, belts, etc. Not sure what purpose that serves since you still have your checked bags, but then again I'm no security expert.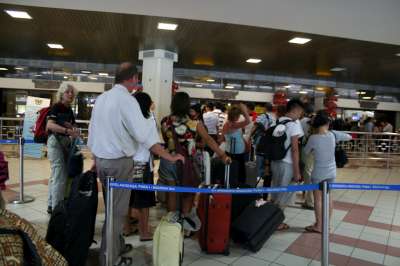 Queue to enter the airport
Once inside the airport we proceeded to the Cathay Pacific check-in counters, where we were promptly helped. They were randomly pulling people over to screen bags, but fortunately we weren't chosen (fortunately only because we wanted to save time, not because we had anything to hide). At check-in I once again asked whether it might be possible to be seated in the first class cabin, given that we were on first class tickets and I have status with OneWorld. As I mentioned in the outbound portion of the trip report, this flight is operated by a 747 which has three cabins, but Cathay only sells coach and business class on this particular sector, but they'll seat some passengers in first class and offer them business class service.
Anyway, the agent obliged and offered us seats 3A and 3K, which we gladly accepted. Our bag was checked to Hong Kong and off we were through the maze which is Denpasar Airport. Once up the escalators we had to pay our departure tax (gotta love that they charge you to enter the country and to leave the country), at which point we lined up to have our passports and documents checked yet again.
Airside, Denpasar Airport is surprisingly nice, with lots of duty free shops and restaurants. We headed straight to the contract lounge that Cathay Pacific uses, the same one I used the last time I departed here while flying Singapore Airlines.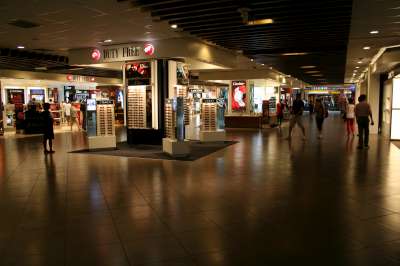 Duty free shops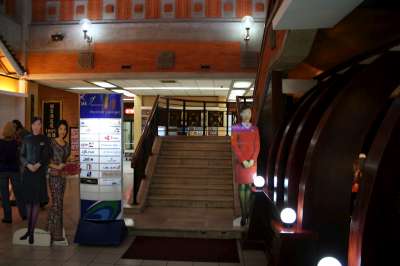 Stairs to the lounge
It's rather impractical that the lounge is on the second floor without an elevator (as far as I can tell), although it's quite comical because they have employees standing around just to help passengers with their carry on bags.
The contract lounge here is definitely one of the nicer ones out there. It's spacious, well decorated, and has a fantastic food spread, at least by contract lounge standards. I'm convinced it has the tastiest quasi-junk food anywhere in the world.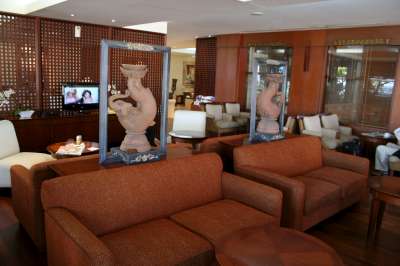 Contract lounge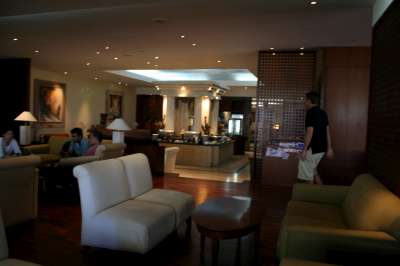 Contract lounge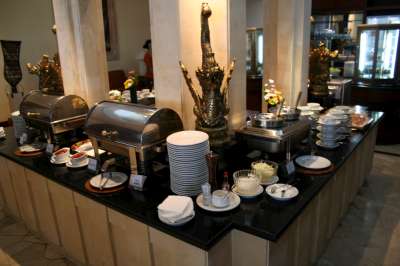 Buffet area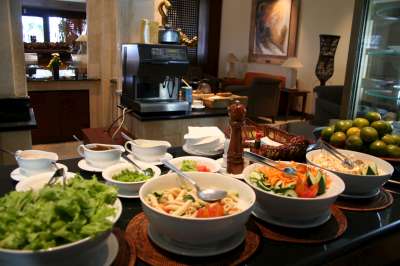 Buffet area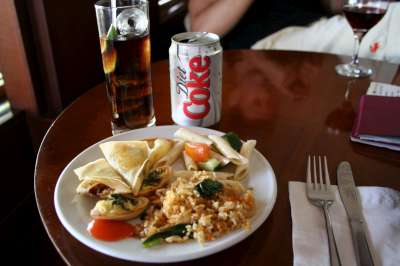 Pre-flight snack
Another thing that makes this lounge unique is the outside observation deck they have, directly overlooking the tarmac and runway.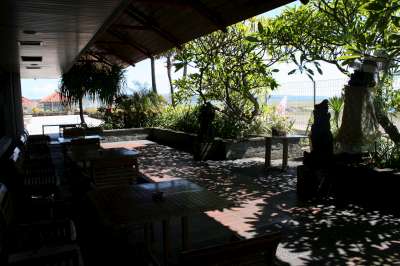 Observation deck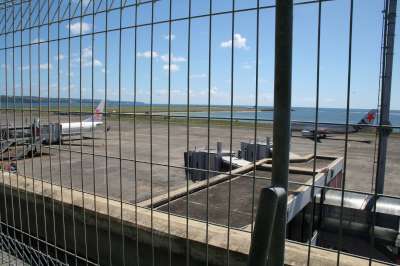 View from observation deck
As luck would have it, we happened to be out there just as our inbound Cathay Pacific 747 was landing from Hong Kong.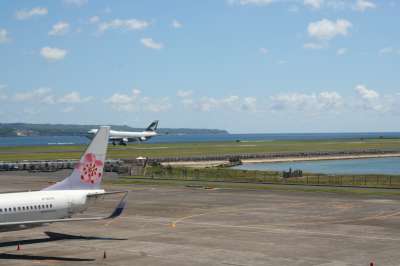 Here she comes….
About an hour before departure we headed to gate seven, where our flight was departing from. At Denpasar they have security lines at each individual gate, and surprisingly enough the line wasn't very long, so we were in the gate area in no time.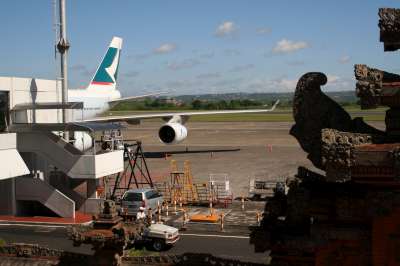 Our plane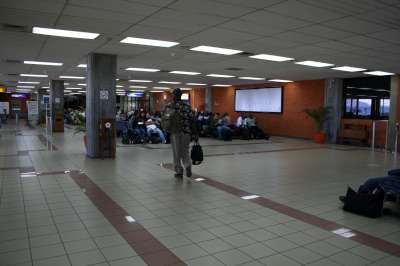 Gate area
At about 3:30PM boarding was announced for business class passengers, and we were among the first aboard.
Cathay Pacific 784, DPS-HKG, 747
Saturday, March 13
Depart: 4:00PM
Arrive: 8:45PM
Duration: 4hr45min
Seat: 3A (Business Class)
As usual we were escorted straight to our seats in row three. The flight attendant, Kitty, introduced herself and offered us beverages. We both went with champagne.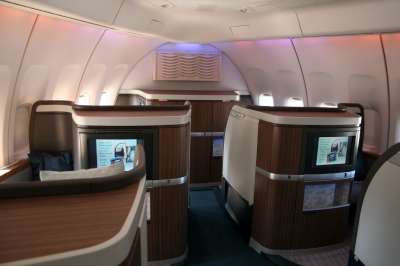 View from row three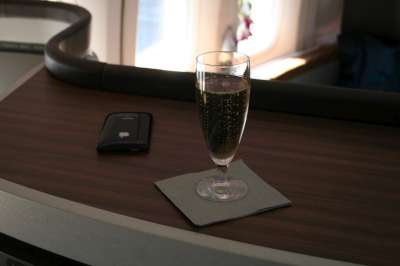 Pre-departure champagne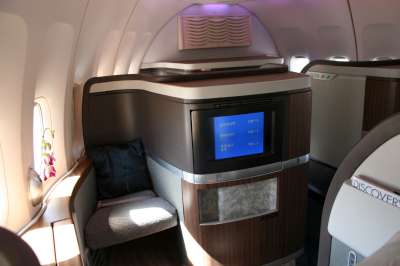 Looking at row two
The first class cabin continued to fill up to the point that seven out of nine seats were taken. Coincidentally enough, the same couple that made fun of my pants on the way out was on this flight seated right in front of us. We were asked if we wanted anything else to drink before takeoff, so I went with an orange juice.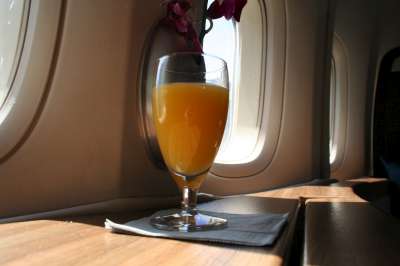 Orange juice
As the door got ready to close the captain came on the PA to welcome us aboard. I couldn't help but grin as the captain, clearly an American, welcomed us aboard "his" Cathay Pacific 747. Let me explain, it's not that I prefer pilots from the US, it's just that back in the day when I wanted to be a commercial pilot, it was always my dream to fly for Cathay Pacific. Where else can you start off flying heavies and be in command of a 747 flying longhauls after less than a dozen years with the company? When I see an American pilot on Cathay I can just kind of relate and say "good for you for not putting up with the US airlines." I'm even kind of jealous!
Hell, I would have loved to have a chance to talk to the guy and hear about his background — what made him decide to fly with Cathay, how he likes it, whether he regrets not working for one of the loss-leading legacies, etc. Whenever I talk to a US pilot that's unhappy, I ask them why they don't work for foreign carriers like Cathay Pacific. Their response is typically something along the lines of "Hong Kong, eh."
Anyway, he advised us of our flying time of 4hr17min and told us Violet and her team in the cabin would take great care of us. Moments later the main cabin door closed and we were off to Hong Kong.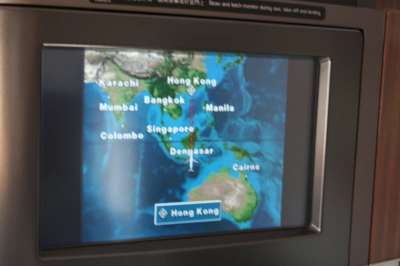 Our route this evening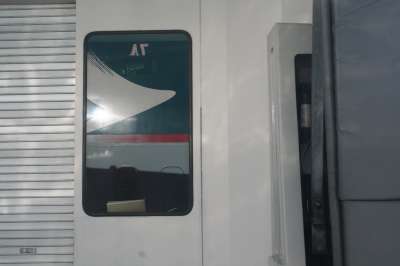 Plane's reflection on the jet bridge
After a fairly quick taxi we were cleared for takeoff on runway 09 and airborne moments later.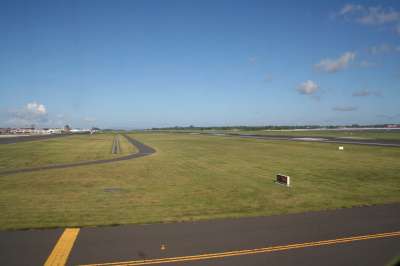 Number one for takeoff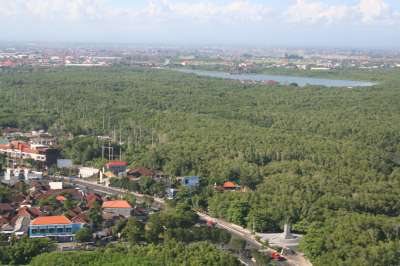 Once airborne
Now, having an American pilot isn't all sunshine and brownies (did I just invent my own phrase?). As I was expecting, he kept the seatbelt sign on for quite a while and switched it back on whenever there was even the slightest bit of chop. Nonetheless the crew was up after a few minutes to begin their service, and Violet, the inflight service manager, distributed the menus and introduced herself to us. In general inflight service managers do a good job, but then there are some that are truly outstanding, and Violet was one of them. She was engaging, polite, curious yet not intrusive, and a bit less formal than many of 'em are.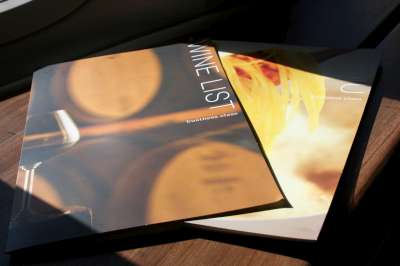 Dinner menu and wine list
The dinner menu read as follows:
Starters
Seared herb crusted salmon with wasabi mayonnaise, asparagus and semi sun-dried tomato

Mesclun salad with cherry tomatoes, cucumber and citrus vinaigrette dressing

Main Course
Pan-roasted lamb chop with thyme rosemary sauce, potato gratin, green beans and capsicums

Yellow seafood curry with steamed rice with shallots and stir-fried kailan

Stir-fried chicken with black bean sauce, steamed jasmine rice and baby pak choy with black mushrooms

Dessert
Fresh seasonal fruit

Banana cheese cake with raspberry coulis

Tea and Coffee

Pralines
And the wine list read as follows:
Champagne
Billecart-Salmon Brut Champagne

White wines
P.Ferraud & Fils Vire-Clesse 2008
Trinity Hill Sauvignon Blanc 2008

Red wines
Peter Lehmann Barossa Shiraz 2006
Bodegas Alto Almanzora Este 2007

Port
Dow's Late Bottled Vintage Port 2004
As we leveled off I tried to decide on a movie. After all the hype I've heard about it, I decided on "Twilight." After about ten minutes I decided I'm not on "Team Edward" or "Team Jacob." I'm on "Team This-Movie-Sucks." I gave up and watched a marathon of "Kourtney & Khloe Kardashian Take Miami," which, it goes without saying, doesn't suck. 😉
Kitty came around to take drink orders, and I went with the usual, which was served with a small ramekin of cashews.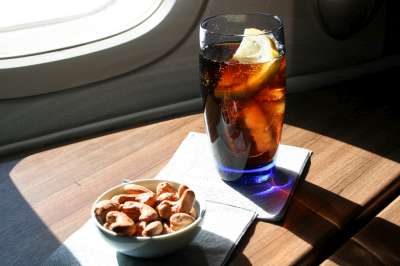 Diet Coke with lemon and cashews
Moments later dinner orders were taken, and I went with the chicken option. Tablecloths were quickly distributed and the salad and appetizer were plopped on our trays shortly thereafter, followed by the bread basket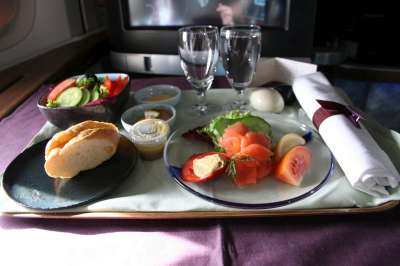 Appetizer and salad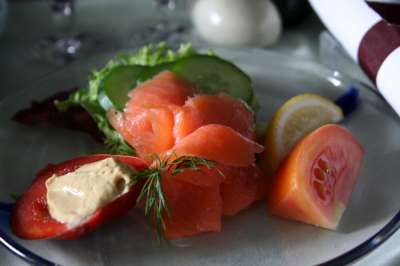 Seared herb crusted salmon with wasabi mayonnaise, asparagus and semi sun-dried tomato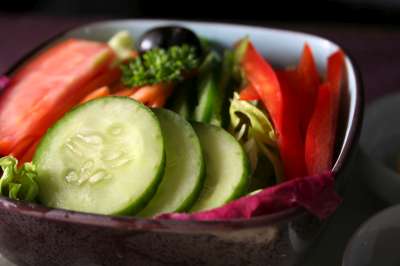 Mesclun salad with cherry tomatoes, cucumber and citrus vinaigrette dressing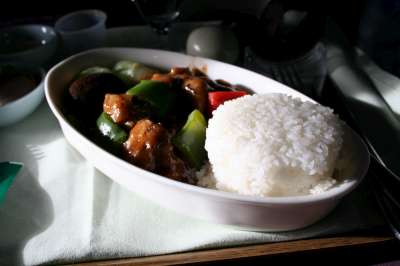 Stir-fried chicken with black bean sauce, steamed jasmine rice and baby pak choy with black mushrooms
For dessert I went with the banana cheese cake and coffee, which was decent, though banana and cheese cake just isn't a great combo, in my opinion.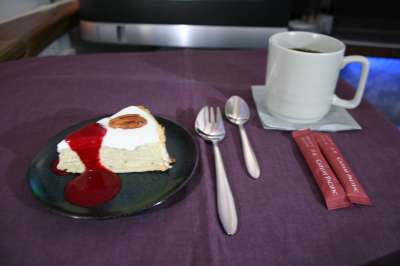 Banana cheese cake with raspberry coulis
As dinner finished up pralines, toothpicks, and towels were distributed. I was just nearing the end of my third episode of whatever crap show I was watching and decided it was time to take a nap before our arrival in Hong Kong as the sun began to set.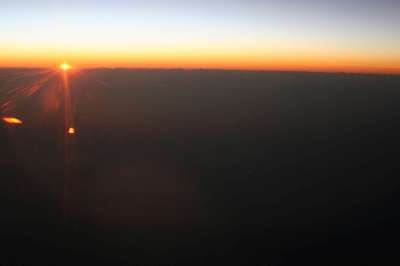 Sunset
I woke up with about 45 minutes to go to Hong Kong, as the inflight service manager distributed Hong Kong arrival forms. I started to talk to her as my brother started to talk to one of the other flight attendants. The ISM mentioned the whole crew was continuing to Paris in two days, which they were very excited about. Eventually we swapped, as my brother talked to the ISM and I talked to the other flight attendant. My brother mentioned the age difference between us (without mentioning our actual ages), and the ISM managed to guess both of our ages on the nose. She also, somehow, managed to ascertain that my brother was in business school in New York. Kind of freaky, almost!
Soon enough we began our descent towards Hong Kong as the flight attendants began to prepare the cabin for landing. We arrived at the gate right on schedule (shed-jewel, remember!) after a smooth landing and quick taxi.
We bid farewell to the crew, thanked them for the great service, and proceeded to the immigration lines. After a quick train ride and five minute queue in the immigration line we had our checked bag and were in the arrivals hall. We proceeded to the "SkyeXpress" bus counter, which was the easiest way to get to the Hyatt Regency Sha Tin, where we'd be spending the night before our long journey home.