---
We arrived in Hong Kong with about 40 minutes to make our connection. Our arrival gate was 60-something, and we were leaving from gate three. If you're at all familiar with Hong Kong Airport, you know that gate might as well be in Macau based on the distance. While my mom was stylishly limping down the jet bridge in her slippers, I was trying to carry our four bags, so between us we looked like a bit of a circus act. I was delighted when I noticed that there was someone waiting at the bottom of the jet bridge with a sign with our name on it. I figured she had a Maserati (or I would've settled for a golf cart) waiting to take us to the other side of the terminal given our short connection.
Ah, who am I kidding, this is Cathay Pacific, the airline that offers one of the all around most solid first class products, yet can't do ground services for $*&%. The problem is that the agent didn't even work for Cathay Pacific, she was a contract worker. She didn't speak much English, other than "hurry hurry." I pointed at my mom's feet and said "foot swelling, has to walk slow," while she pointed out her watch and said "has to walk fast." She proceeded to walk in front of us for the next 10 minutes while glancing down at her watch every few moments, during which time I think we made it from gate mid-60-something to low-60-something. Ain't no way in hell we were going to make the connection at that point.
So I saw one of those "concierge" golf carts, which you can hire to drive you from one end of the terminal to the other. I stopped him and asked him to drive us to the other side of the terminal. Rather expensive at HKD60 per person, but well worth it if it meant not missing the flight. As we hopped on the agent that picked us up looked all confused, and I asked her to get on as well. I was happy to pay for her to come along so she could get us in the crew line at the transit security checkpoint, which I know is about the only thing they're useful for.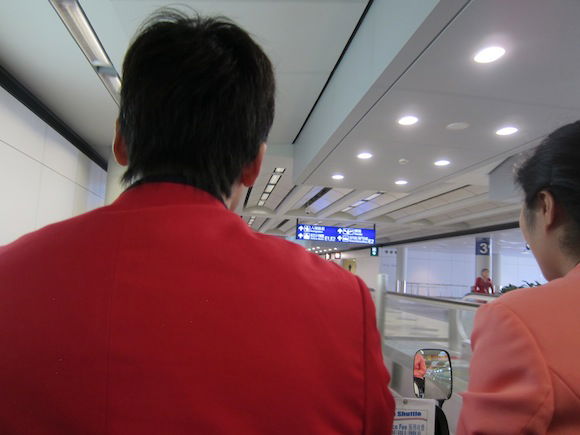 Finally making some progress!
Sure enough she could at least expedite us through the security checkpoint, and we made it to the gate at the final boarding call, and were the last passengers aboard.
Cathay Pacific 870
Hong Kong (HKG) – San Francisco (SFO)
Sunday, June 16th
Depart: 2:10PM
Arrive: 11:40AM
Duration: 12hr30min
Aircraft: Boeing 747-400
Seat: 2K (First Class)
The reaction of the crew as we boarded drenched in sweat, with my mom wearing airline slippers and I lugging four carry-ons, was a bit priceless, but we quickly settled into our seats, 2K and 3K.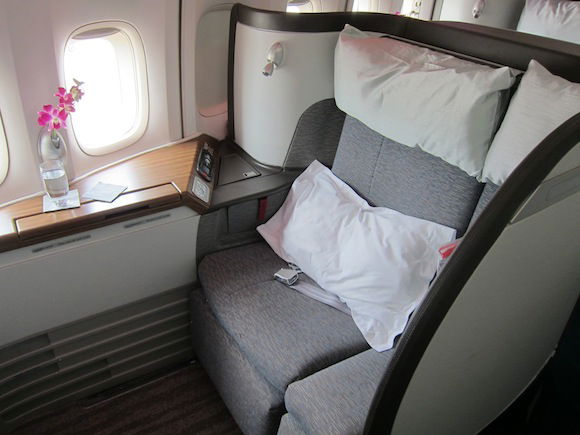 My seat, 2K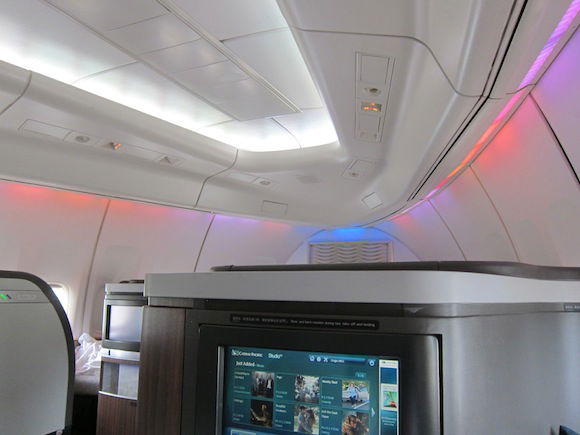 First Class cabin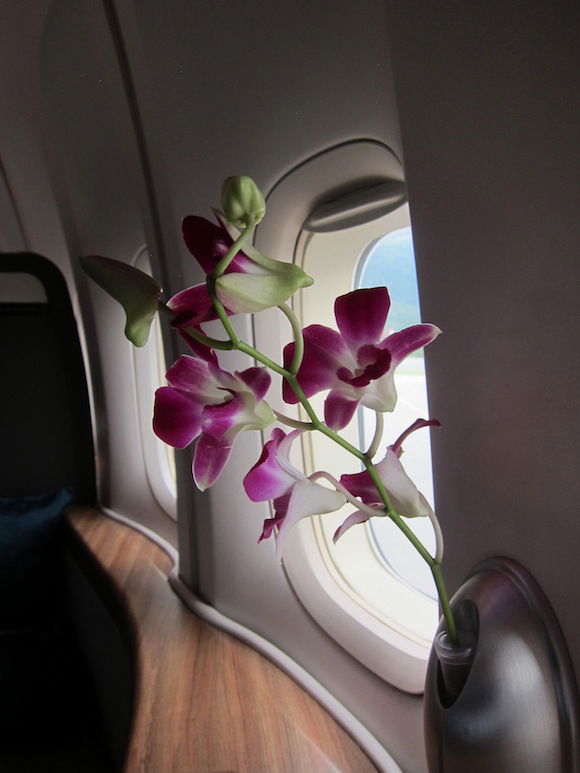 Orchids
The crew showed a lot of concern for my mother and quickly offered us pre-departure beverages. I just ordered a glass of water.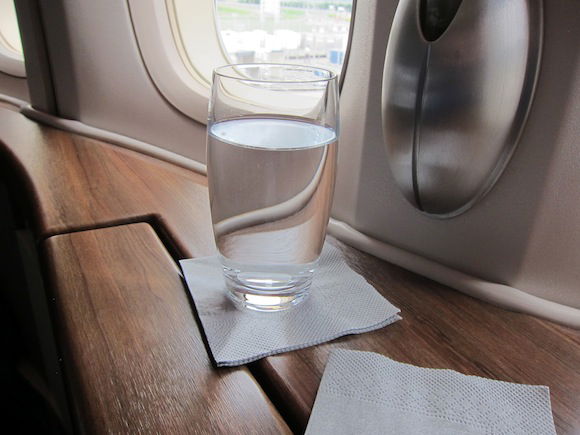 Pre-departure water
We were also offered amenity kits and Shanghai Tang pajamas.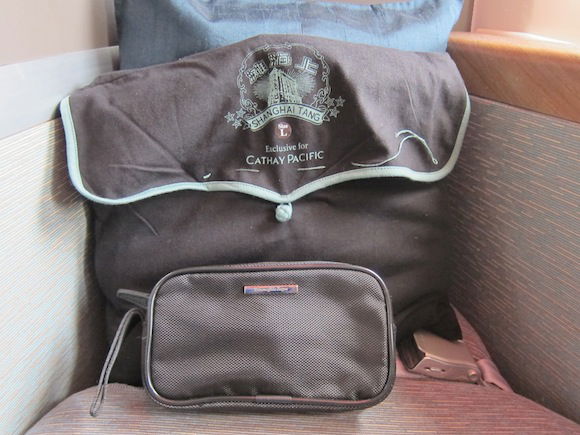 Pajamas and amenity kit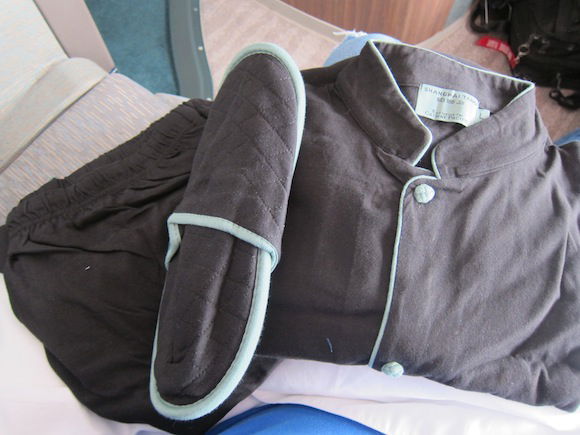 Pajamas and slippers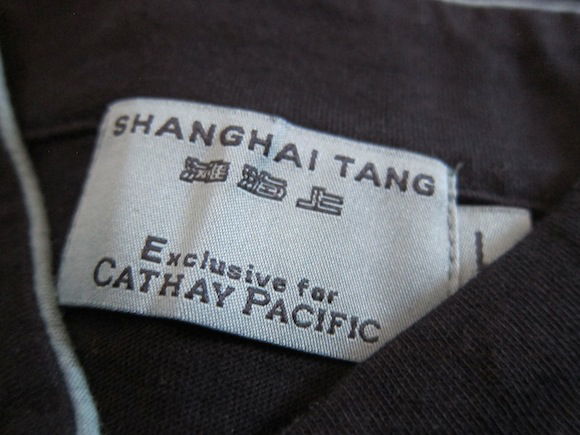 Shanghai Tang!
Right as the door was about to close one of the gate agents got aboard to tell my mom something, and when she was gone I asked my mom what she had said. She replied "oh, just that our bags won't make it and that they're being sent to New York." To New York?! Neither of us had New York as our final destination, so I wish I could've corrected that before the door closed. But unfortunately it was too late.
Once the door closed the San Francisco based captain, who sounded (and after seeing him at immigration on arrival, also looked) like he was all of 17 years old, welcomed us aboard and informed us of our flight time of 11hr53min, which he anticipated would put us into San Francisco roughly on-time.
We left the gate with seven of the nine first class seats taken. As we pushed back the safety video began to play. We taxied out to runway 7R, which took about 15 minutes.


Traffic at the terminal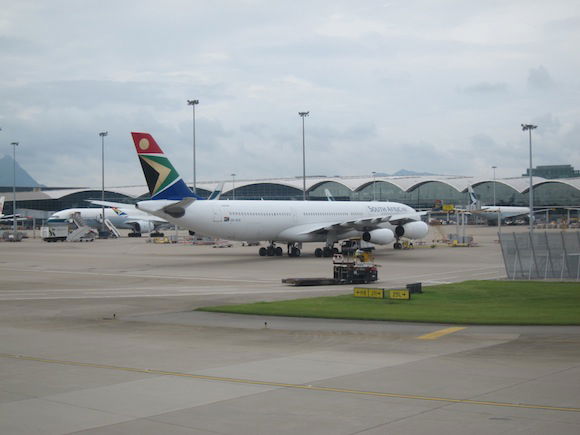 South African A340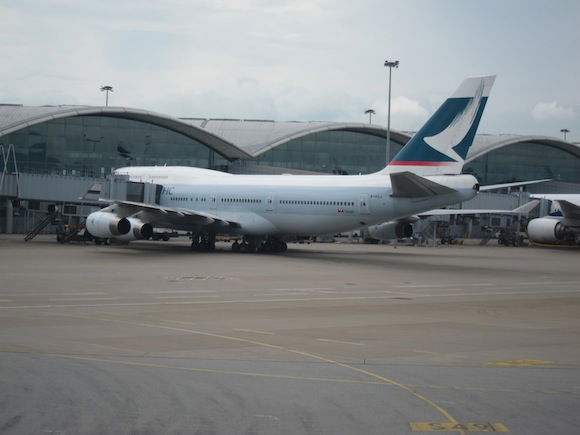 Cathay Pacific 747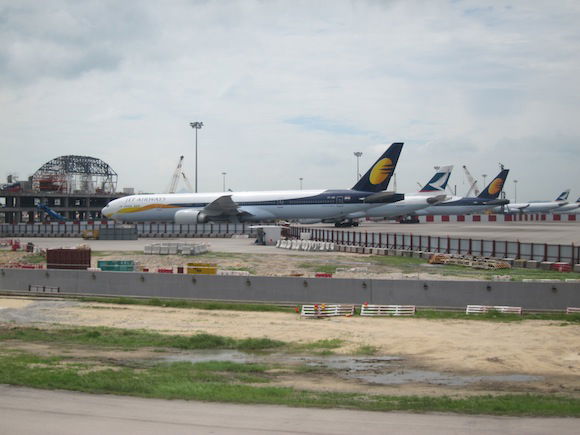 Jet Airways 777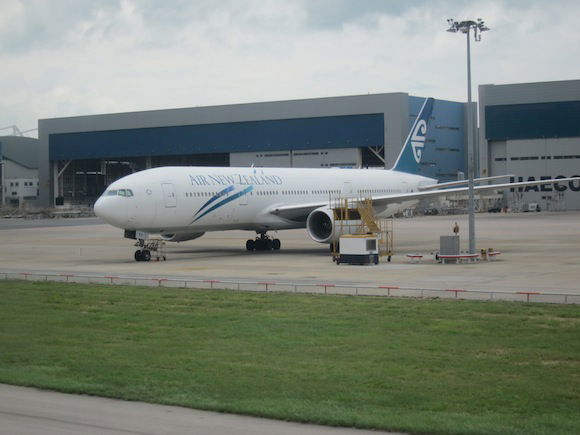 Air New Zealand 777

Once at runway 7R we were number one for takeoff and began our extremely long takeoff roll.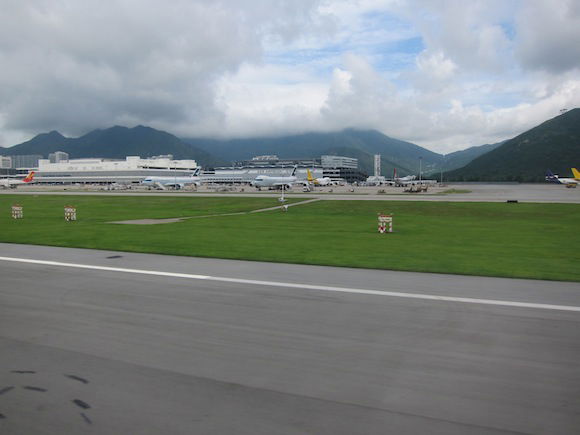 View on takeoff
Our climb out was gradual, and we hit a fair bit of chop for the first 10 or so minutes of the flight due to some thick clouds in the area.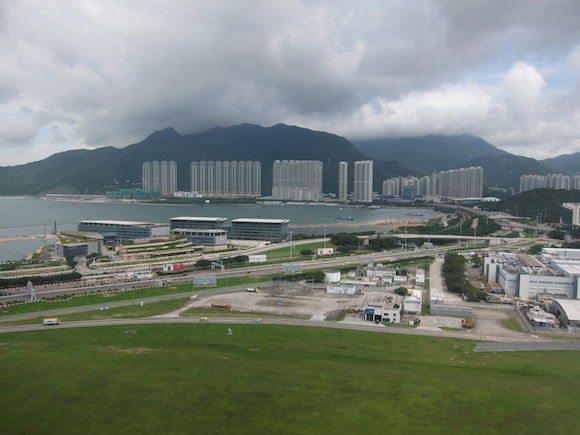 View on climb out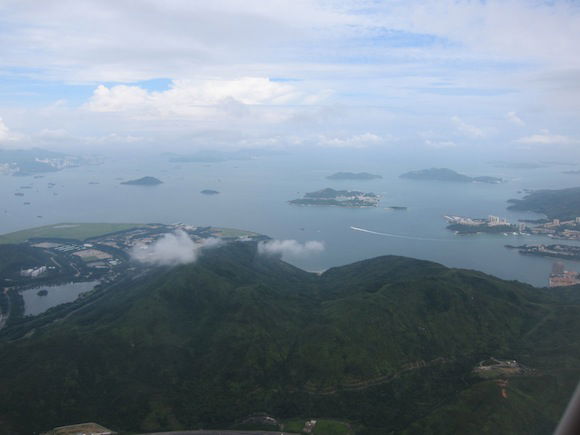 Views on climb out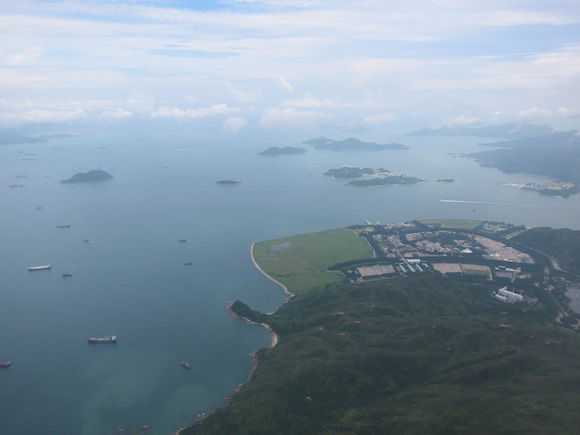 Views on climb out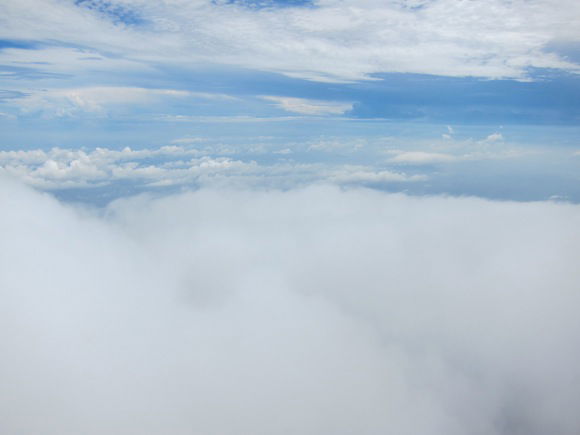 Above the clouds
Once we leveled off the inflight supervisor came by to introduce herself and distribute the menus. The lunch menu read as follows: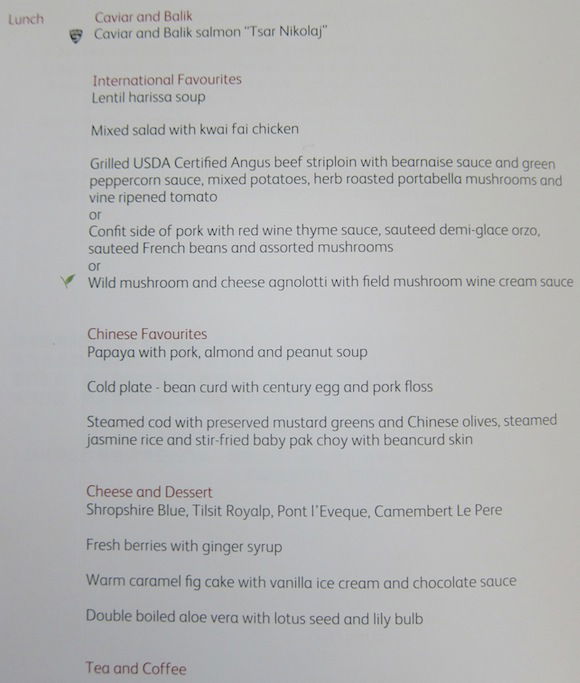 And the wine list read as follows: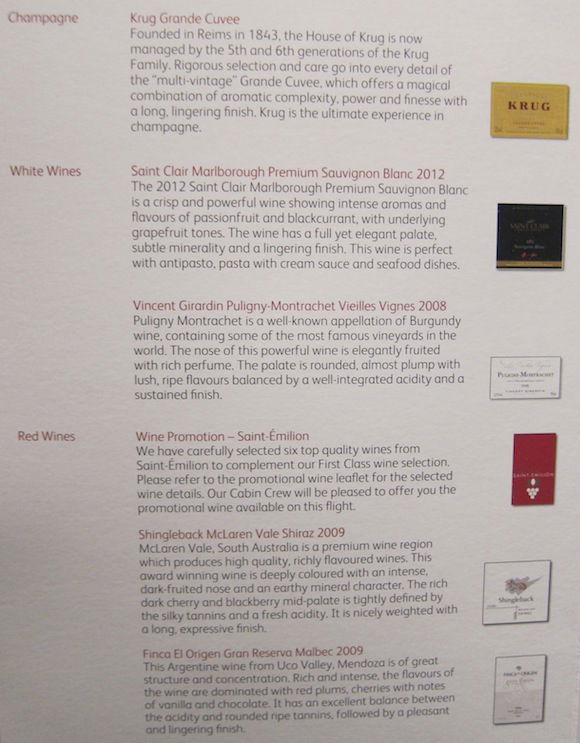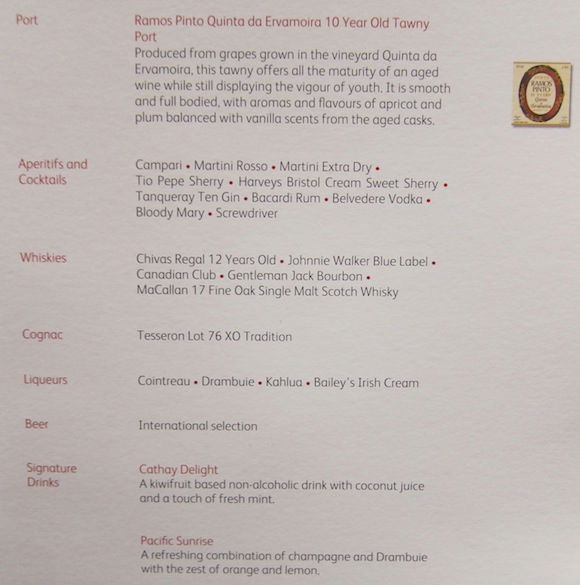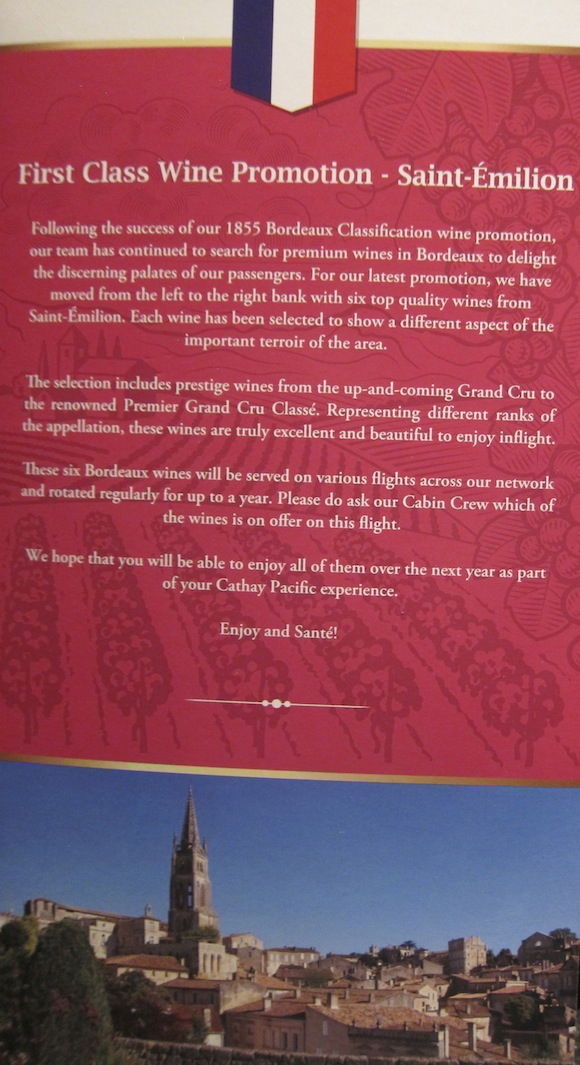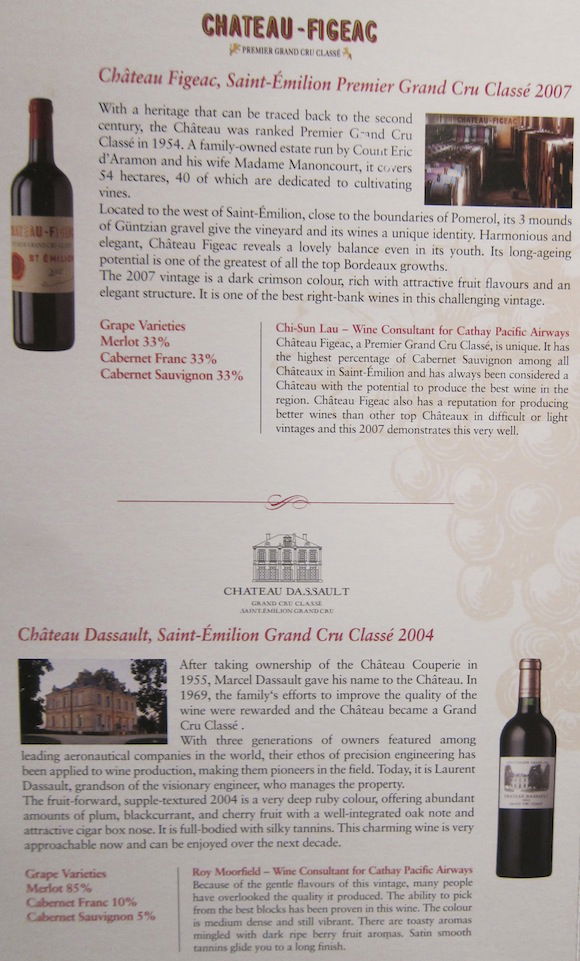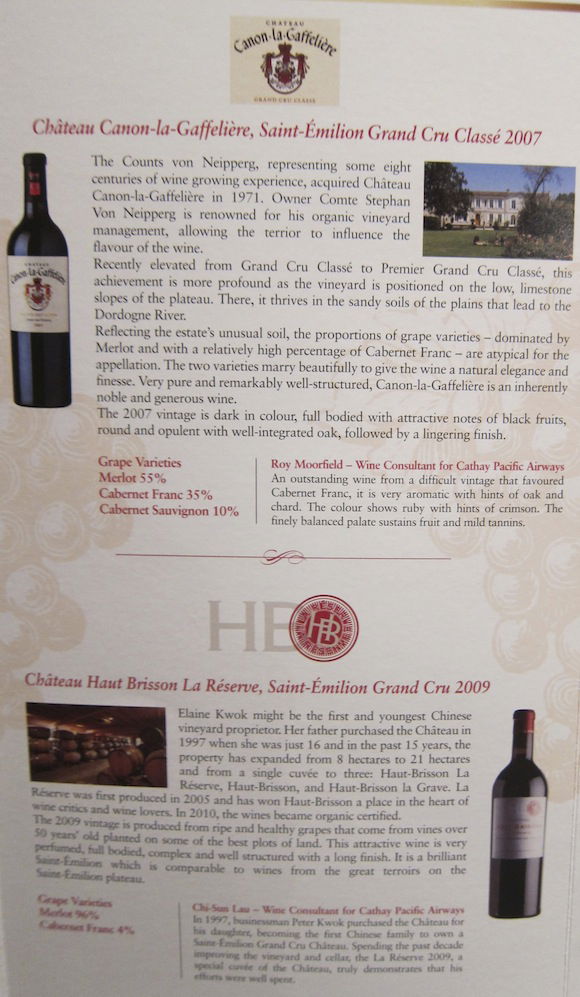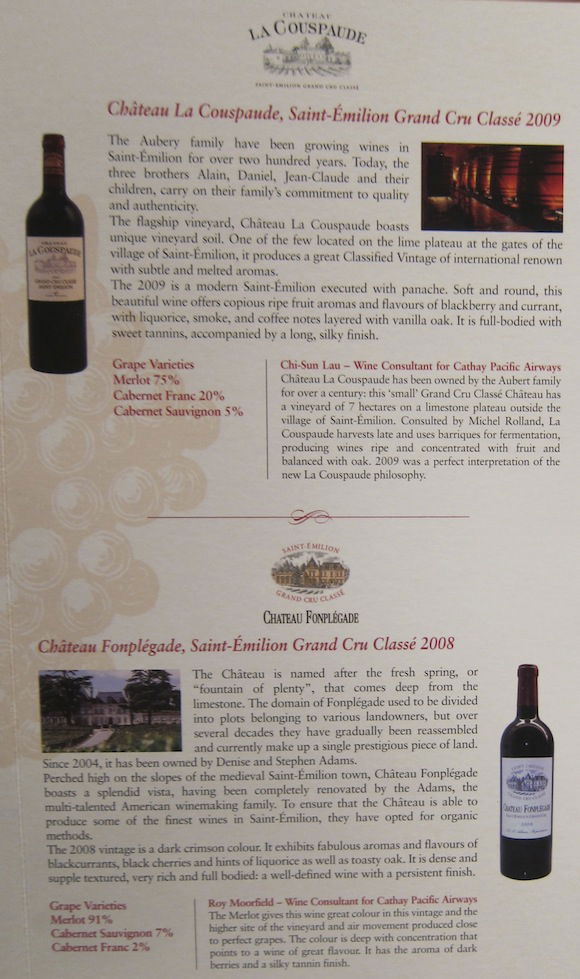 Service began with almonds and drinks — I ordered a Diet Coke.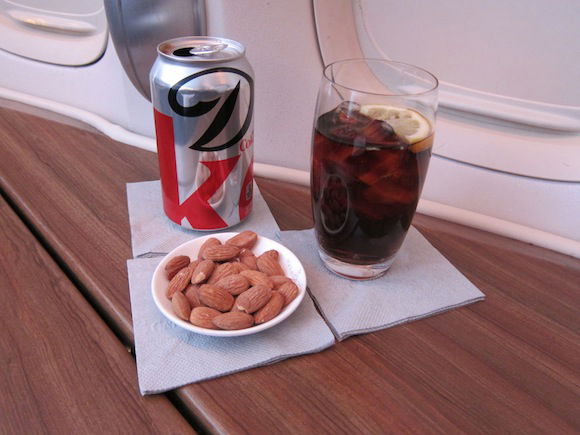 Diet coke and almonds
Shortly after that my table was set. My mom and I were both beat at this point, so decided to dine separately, especially so she could keep her feet up. To start I had caviar and salmon, along with a glass of Krug.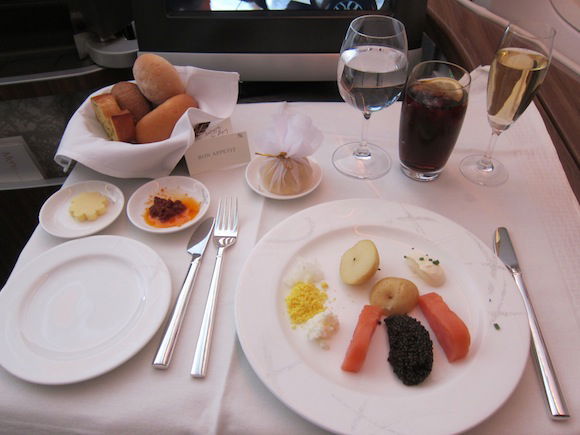 Caviar and salmon
Next I had a lentil soup, which was quite good.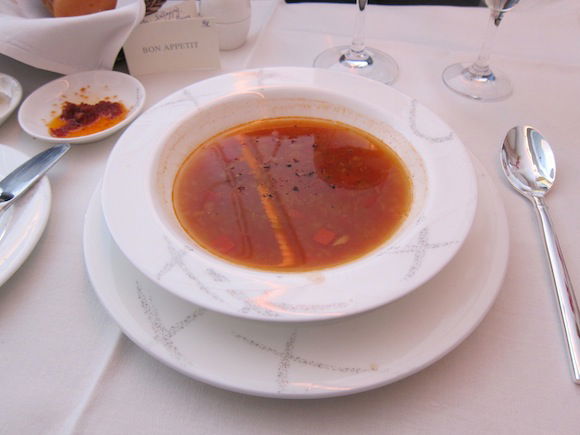 Soup course
I decided to skip the main course so had the salad with kwai fai chicken as well.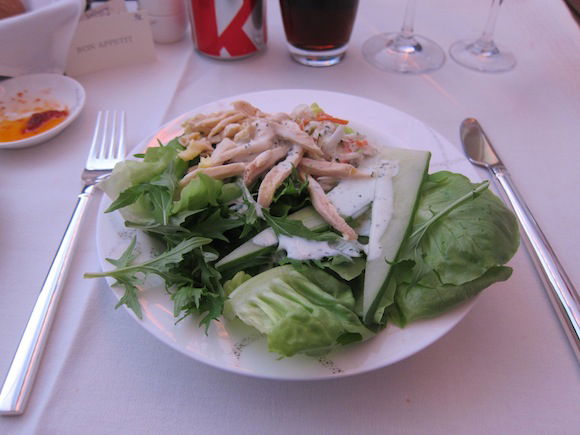 Mixed salad with kwai fai chicken
I then had a cheese course.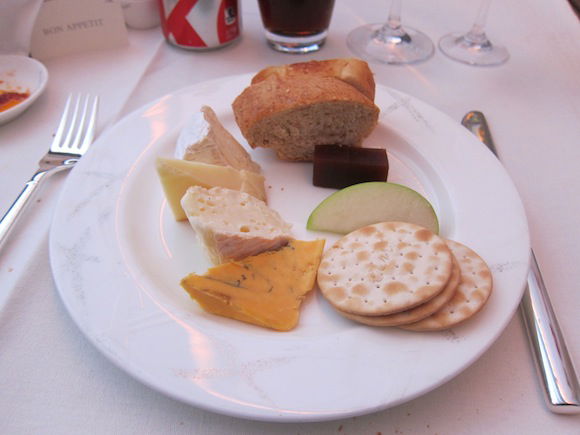 Cheese plate
And lastly the caramel fig cake with vanilla ice cream.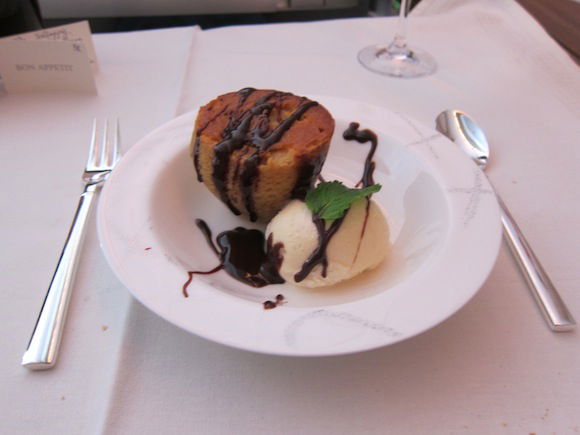 Caramel fig cake
As is customary with Cathay Pacific, I was also offered some pralines and a hot towel with the completion of the meal.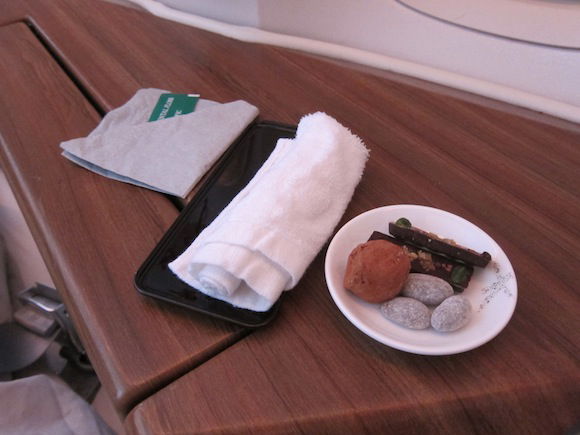 Towel and pralines
Service throughout the meal was good though unmemorable. The crew was exactly what you expect from Cathay Pacific, but didn't stand out in any way. Part of that might be that this was a 747 with a larger first class cabin than the 777, and seven of the nine seats were taken.
Once I was done with lunch I requested turndown service as I was tired. We had about 10 hours to go to San Francisco, and I managed to sleep for a solid seven.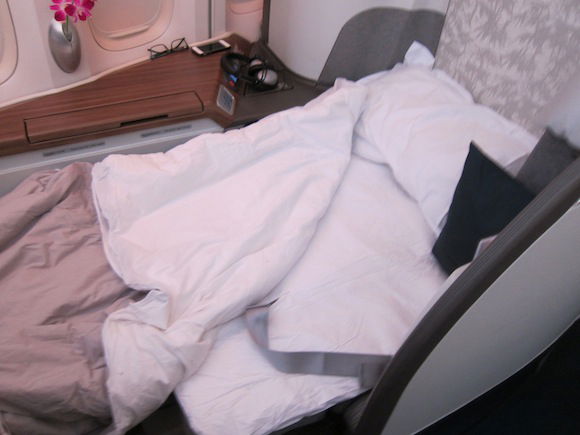 Turndown service
I woke up about three hours out of San Francisco and decided to order some egg tarts from the snack menu. I wasn't really hungry, but no Cathay Pacific ex-Hong Kong flight is complete without them, in my opinion. I had some Hong Kong style milk tea to go along with it.
The snack menu read as follows, for what it's worth: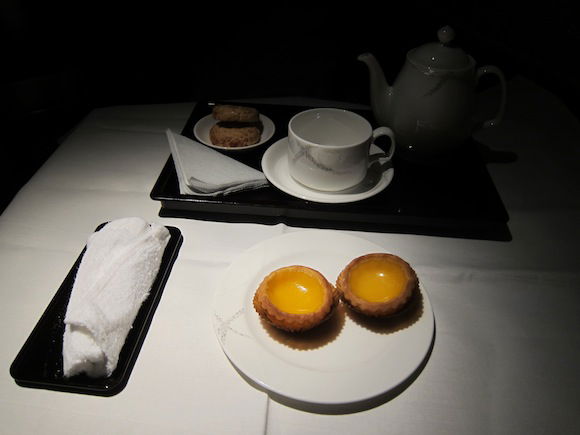 Hong Kong style milk tea and egg tarts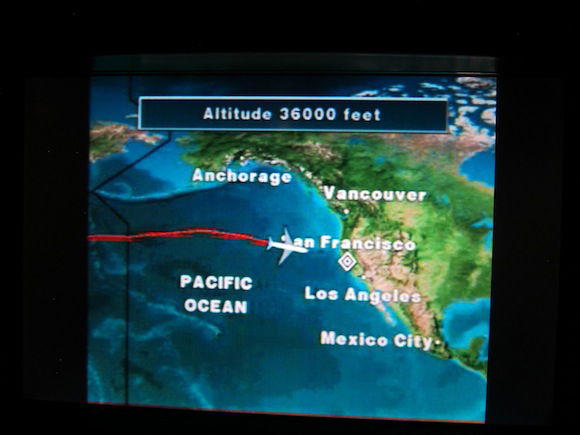 Airshow
I watched a few sitcoms for the next hour or so, and before I knew it we were a bit over an hour out of San Francisco, and it was time for the breakfast service. The breakfast menu read as follows: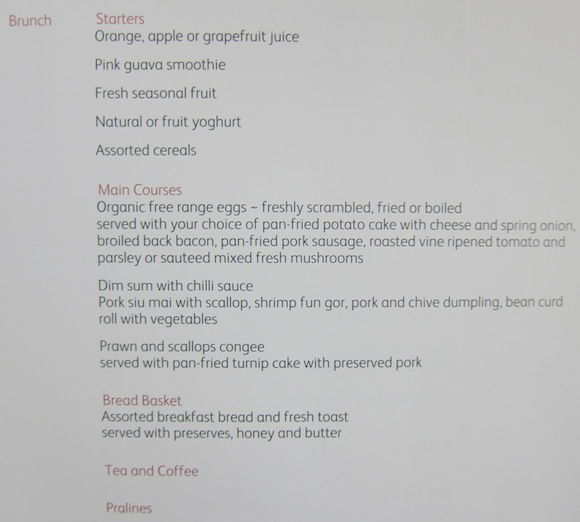 I had some fruit and wheat toast to start.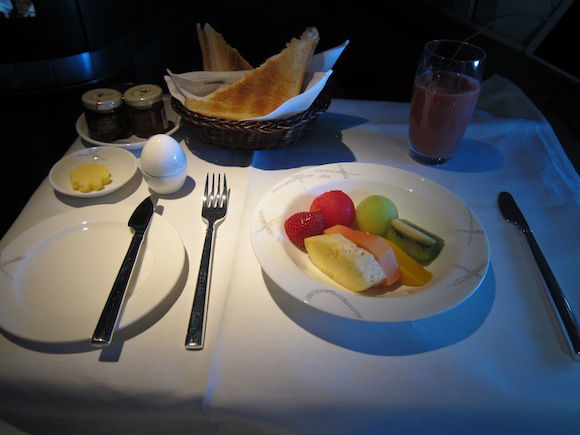 Fruit and toast

Then I had some strawberry yogurt.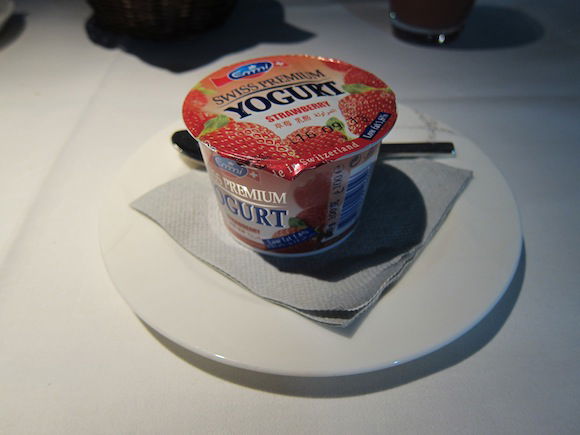 Yogurt
And then I had some scrambled eggs, which I ordered well done, and they were indeed cooked perfectly to my liking. I love that unlike other airlines, Cathay Pacific offers Tabasco sauce on their flights.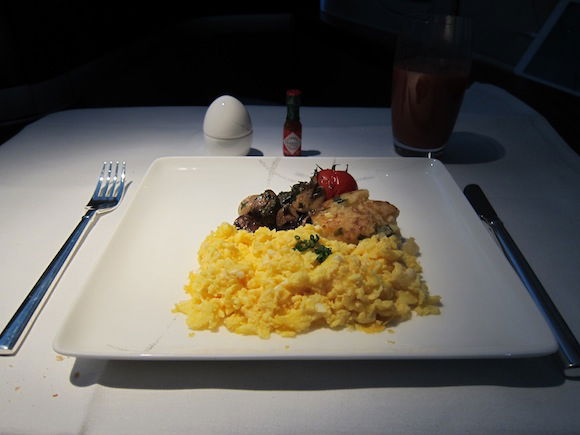 Scrambled eggs
About 30 minutes out the captain once again came on the PA to advise us we were initiating our descent. As always the views on approach were beautiful, and we touched down right on-time on runway 28R.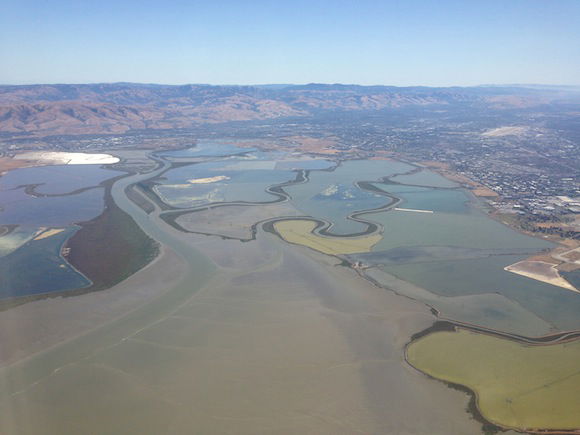 Approach into SFO
Our taxi to the gate was quick, and on arrival we bid farewell to our crew. Per the crew's suggestion we had a wheelchair waiting for my mom, which made her trip through immigration a bit easier.


Planes at SFO
My mom doesn't have Global Entry so while she was going through immigration I headed to the baggage department. Though we'd been told in advance that our bags wouldn't make it, I was absolutely delighted to find that the agent had already filled out the missing bag reports! All I had to do was tell him to which address I wanted the bags sent. I mean, it seems like common sense to do that, but I've never had that happen before.
By the time my mom cleared immigration I already had copies of both of the missing baggage forms, so we headed over to the American terminal. It was really tough saying goodbye to her, especially since she didn't have much of a choice but to fly on her own back to Tampa even though she really wasn't in much of a state to travel. I was fortunately able to change my Alaska flight to Seattle around a bit so I could wait with her till her flight's departure, but wish that she could have rested a bit longer in San Francisco.
Stay tuned, because in the next installment my mom will be sharing her thoughts of the trip!