---
My mom landed from Tampa around noon, and I landed from Seattle a few minutes after that. This left us a comfortable connection for our 3:30PM flight to Hong Kong. Once we both arrived we headed over to terminal five, where Cathay Pacific departs from. I sure do wish they'd just leave from American's terminal, much like Japan Airlines does.
After taking the train to terminal five we headed straight through security, where there was no queue. Terminal five gets busy in the late afternoon, so we beat the "rush" at security by arriving so early.
Once past security we headed to the SAS lounge, which Cathay Pacific uses for their passengers. Up until recently they used the Swiss lounge, and while that's by no means an amazing lounge, at least it had a first class section, which the SAS lounge doesn't have. As a reminder, if you wouldn't normally have access based on your ticket, there are a couple options available in Chicago for those with a credit card with lounge access.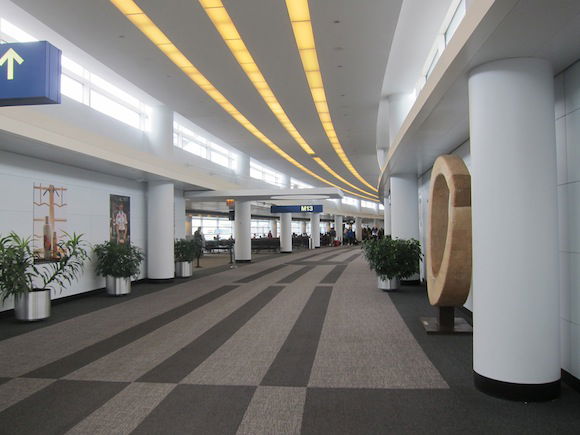 Terminal five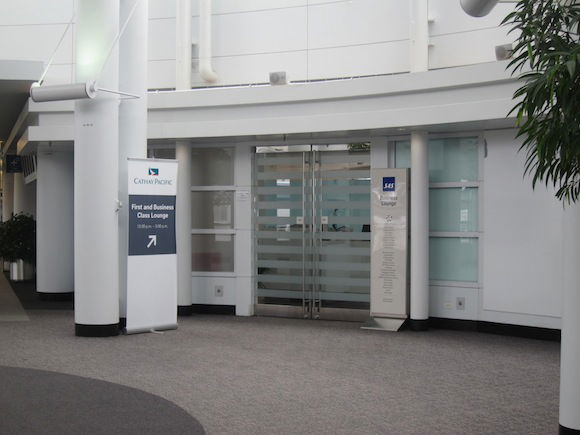 Entrance to SAS lounge
A super-friendly Cathay Pacific representative was working the desk and confirmed our travel documents and issued us boarding passes on Cathay Pacific card stock.
The lounge itself is pretty standard for an SAS lounge, with plenty of Ikea-esque furniture. It's fairly clear that the budget for designing the lounge was even less than the pilot episode of "Honey Boo Boo."
The lounge is large enough to accommodate all Cathay Pacific passengers without any overcrowding.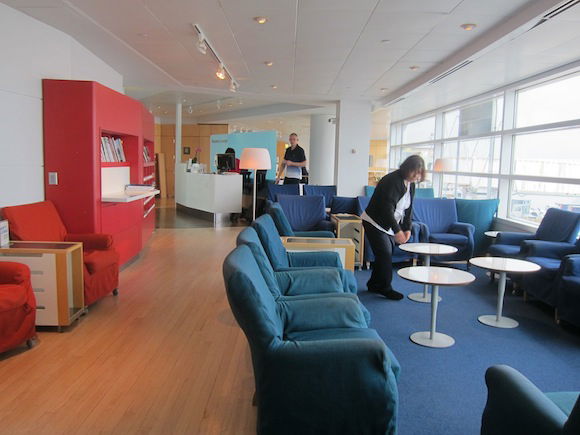 Lounge seating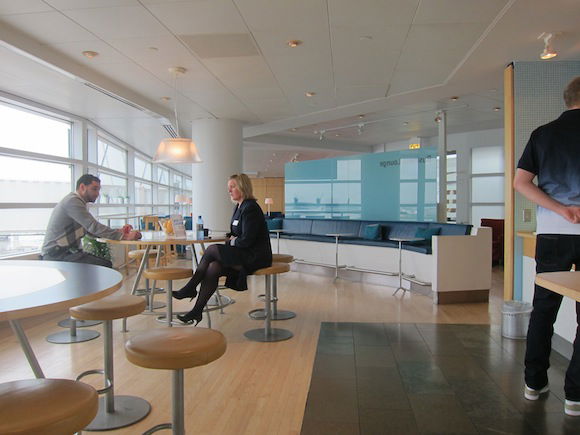 Lounge seating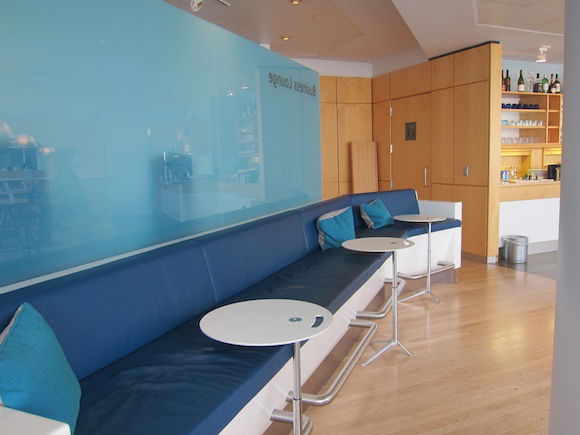 Lounge seating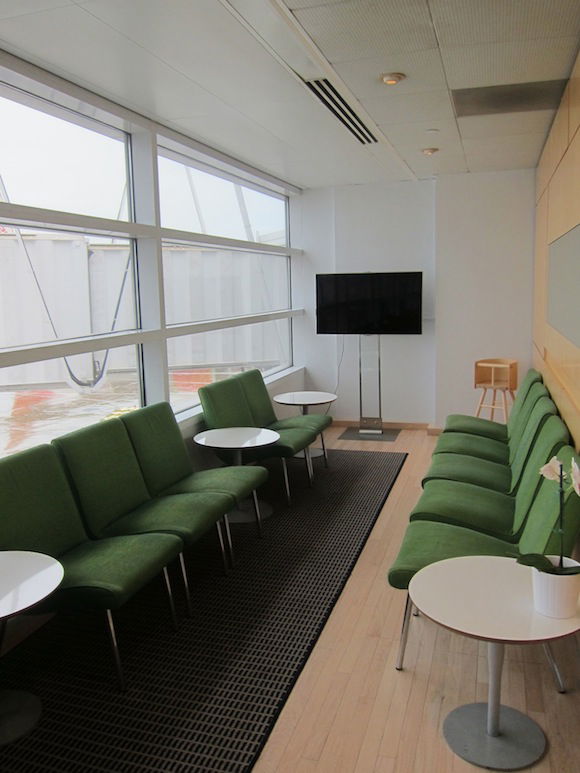 Lounge seating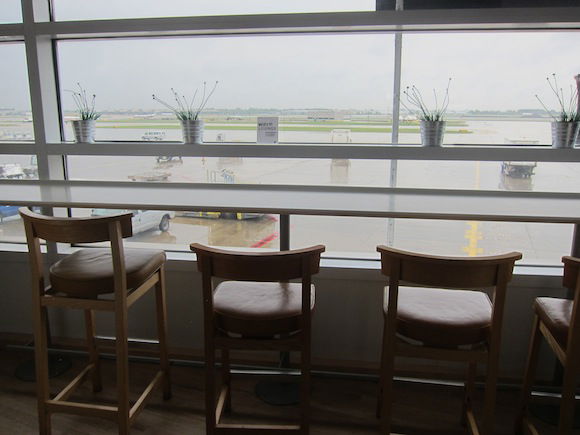 Tarmac views
In addition to plenty of seating areas there are also several Macs for passenger use.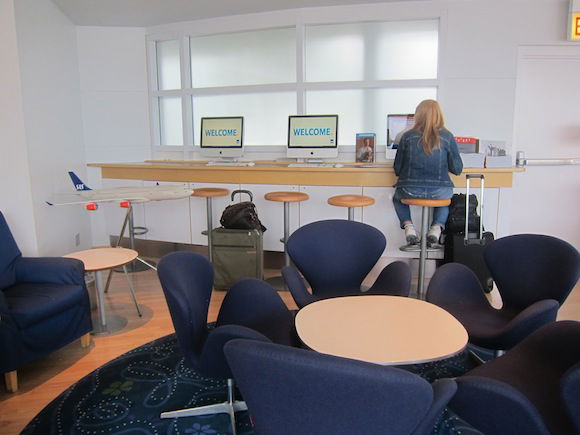 Business center
In terms of food and drinks, the lounge had a rather weak selection of self serve beverages.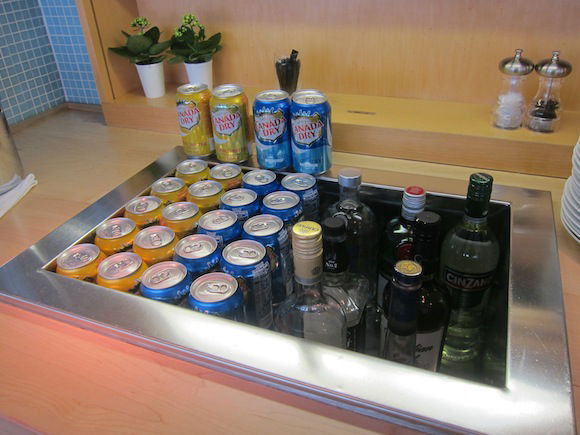 Beverages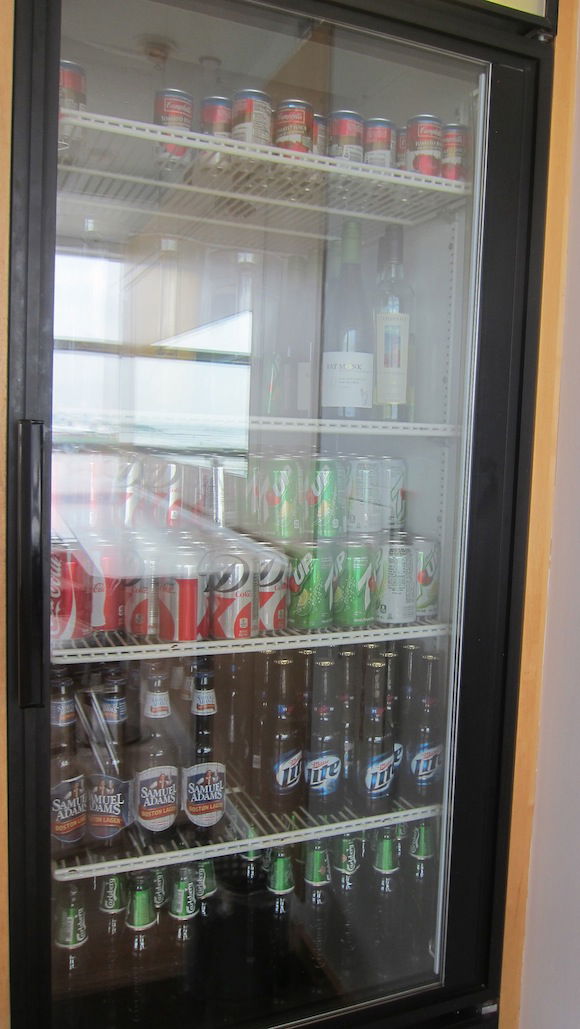 Beverages
The food spread was even more disappointing, I thought. The buffet was limited to chips, bread, meat, cheese, and some veggies.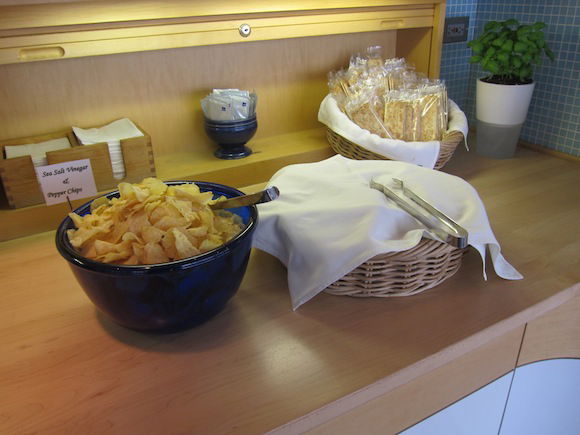 Chips and bread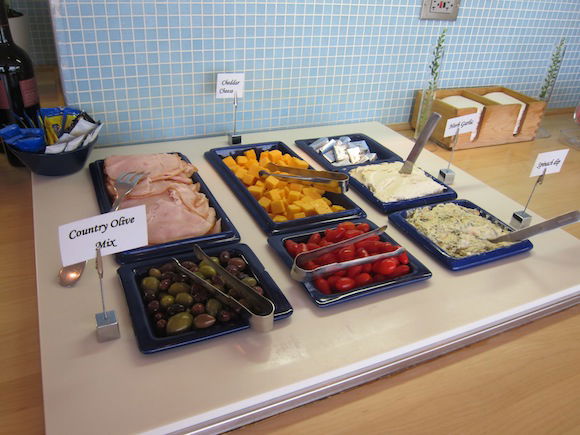 "Buffet"
I find it rather hilarious that by the door they had some carts with food exclusively for Cathay Pacific passengers. This consisted of finger sandwiches, ramen noodles, fruit, and veggies. Wouldn't want any of the pesky SAS passengers stealing such gourmet food, after all. 😉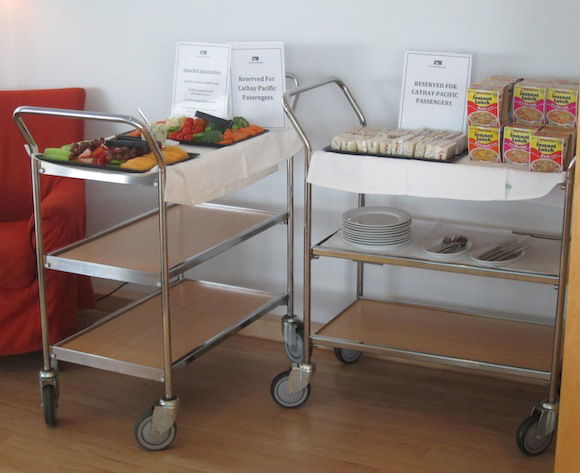 Cathay Pacific carts
The lounge did boast pretty great tarmac views. When we arrived a Lufthansa 747 just pulled in, and a couple of hours later we saw it push back to taxi over to the United terminal, where Lufthansa's flights depart from.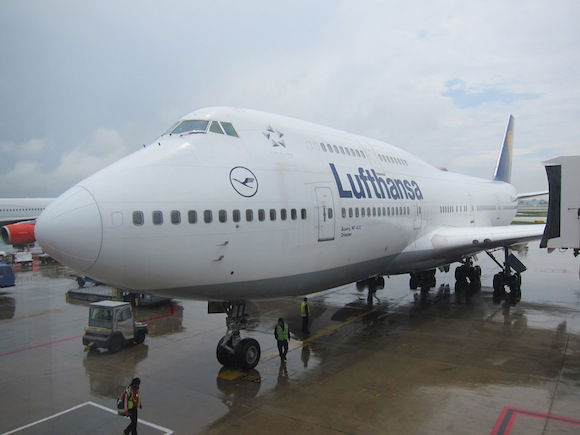 Lufthansa 747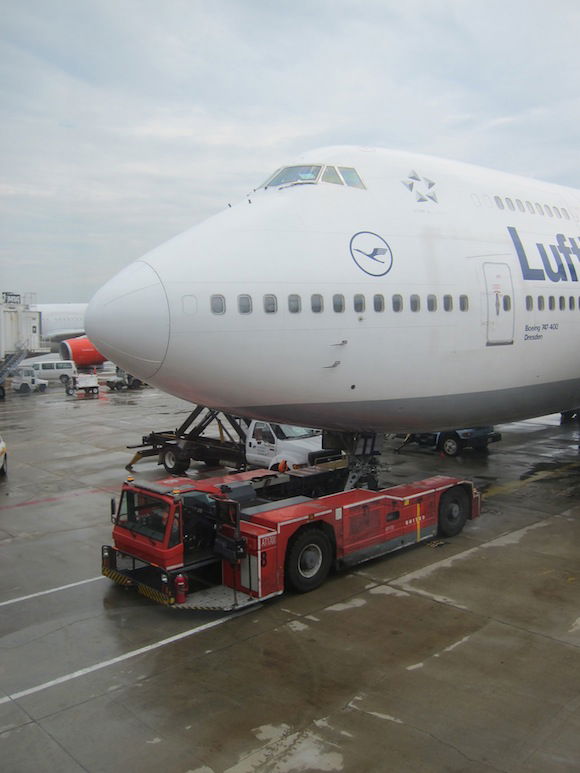 Beauty!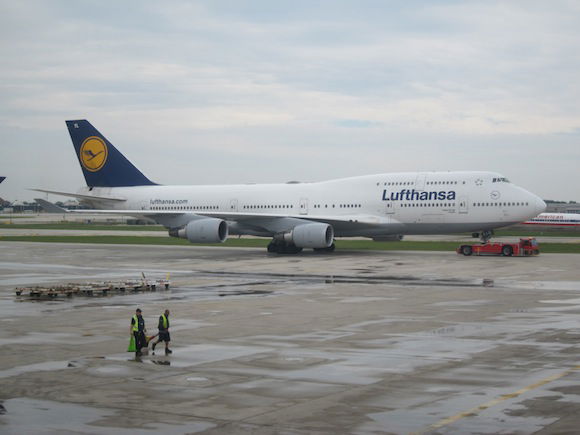 Watching the push back
Later we saw an SAS A330 arrive.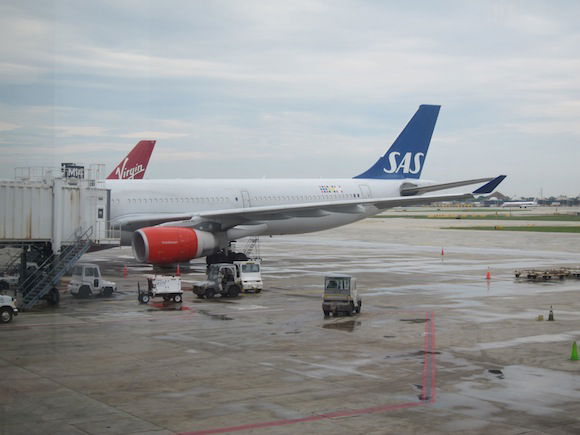 SAS
The biggest downside of the lounge, though, is that it doesn't have restrooms, so you have to go into the terminal to use them.
Our flight was departing at 3:30PM, so at around 2:30PM I got a bit bored and decided to head over to the British Airways lounge. In theory I should have been granted access to the lounge not only based on the fact that I was flying OneWorld first class but also based on my OneWorld Emerald status, but it seems they impose some "capacity" restrictions on completely empty lounges. I wrote about that here, for anyone that's interested.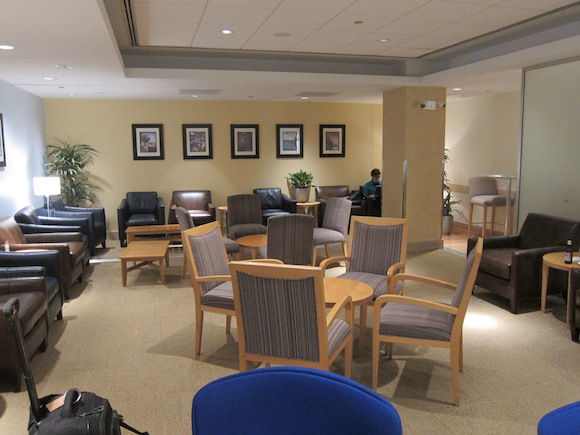 To British Airways, this is what a lounge looks like "at capacity"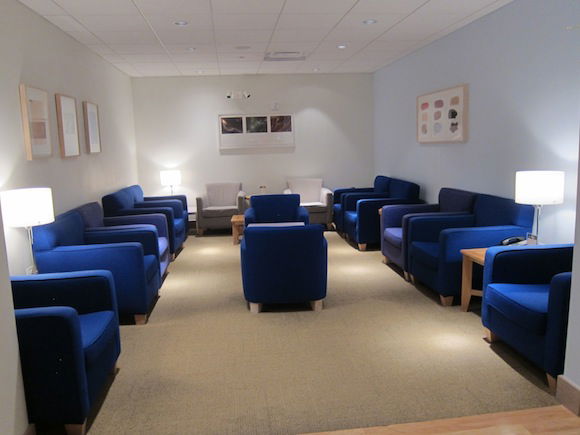 How will I find a seat?!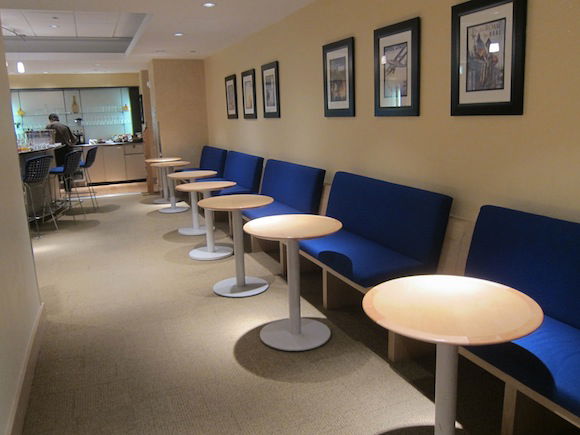 Overcrowding at its finest
At around 3PM we headed to our departure gate, and within a few minutes boarding commenced.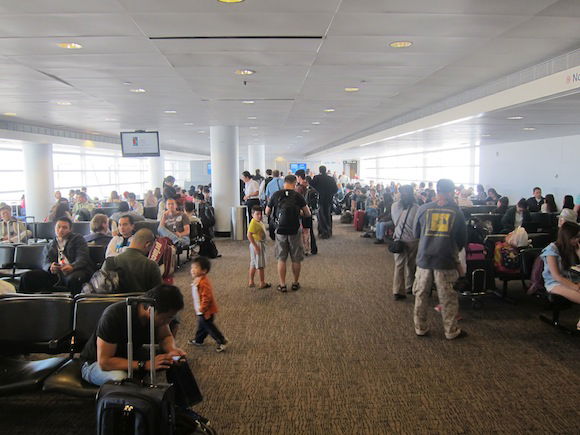 Gate area
As is always the case when flying Cathay Pacific from anywhere other than Hong Kong, the real experience only begins aboard!