---
We overnighted at the Le Meridien Kuala Lumpur, and in the morning took a 7AM train from the hotel to the airport, which got in at around 7:30AM.
While this is usually just a simple train ride, it turned out to be rather complicated. At this point in the trip my mom's foot was extremely swollen and she could barely walk. I think there were too many stairs for her between the white water rafting in Ubud and Amankila, so at this point in the trip I was literally dragging about six sets of bags (including her 70 pound suitcase), as she tried to just limp along.
Once at the airport we headed to the first class check-in counter, which is also for OneWorld Emerald members. Our boarding passes were quickly issued all the way to San Francisco. Even though we were in first class on Cathay Pacific from Hong Kong to San Francisco, unfortunately there was no first class award space on the flight from Kuala Lumpur to Hong Kong. As I covered in this post, Malaysia seems to have really cut back on the amount of first class award space they release since joining OneWorld, though at least their business class is fully flat.
Once we had our boarding passes we cleared immigration and headed to the international terminal. Wwe visited the first class lounge, though since I reviewed that just a few months ago I won't do so again, but feel free to check out my previous review.
The lounge is pleasant though nothing special, and at around 8:45AM we headed to our departure gate, which was about a 15 minute walk away (it would've been a five minute walk if it weren't for my mom's foot).
Once at the gate they were making the final boarding call, and we proceeded to the upper deck jet bridge.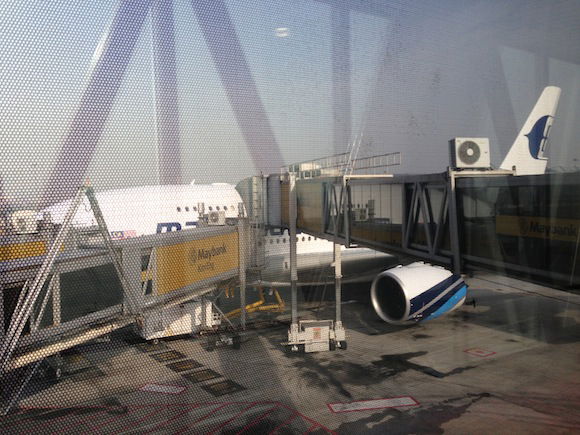 Our A380 to Hong Kong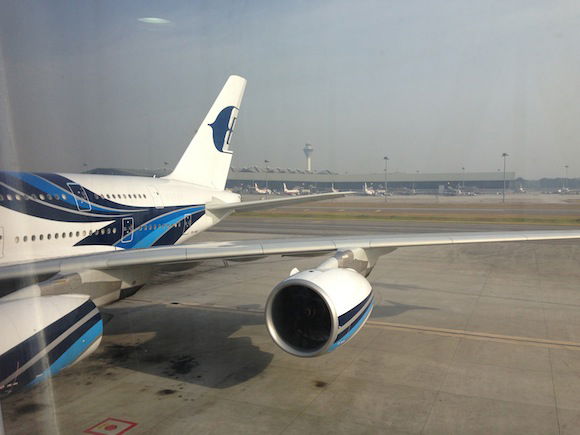 Our A380 to Hong Kong
Malaysia 72
Kuala Lumpur (KUL) – Hong Kong (HKG)
Sunday, June 16th
Depart: 9:15AM
Arrive: 1:05PM
Duration: 3hr50min
Aircraft: Airbus A380
Seat: 15H (Business Class)
Once on the upper deck we crossed the aisle and turned right towards our seats in row 15, which were towards the back of the cabin. The business class cabin was surprisingly full, with only a few empty seats.
Malaysia has pretty standard "no frills" fully flat seats, which are perfectly comfortable, especially if traveling with a companion. There were pillows and blankets waiting at our seats as well.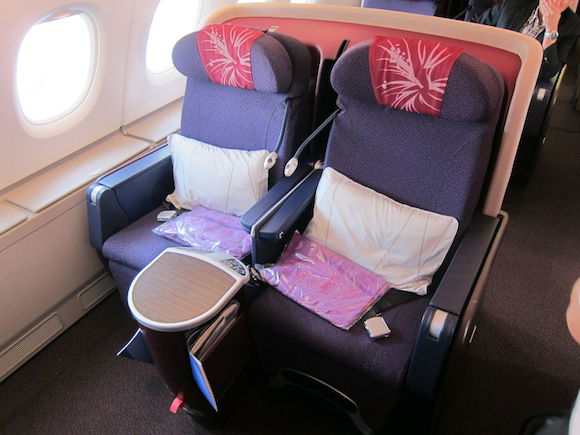 Our seats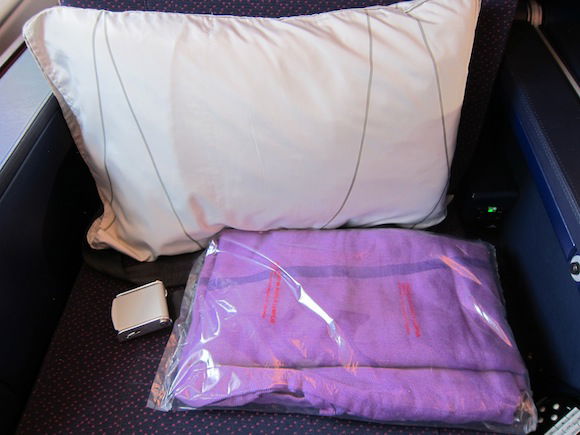 Pillow and blanket
On the center console were the seating controls.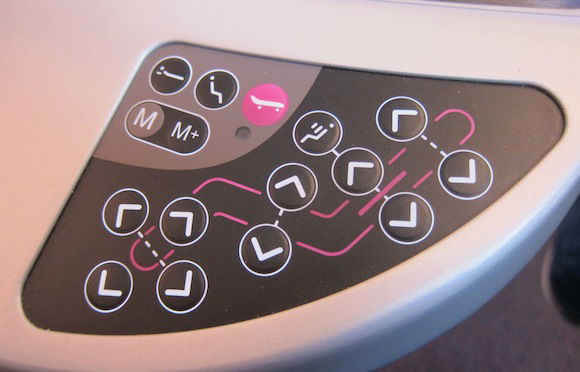 Seating controls
And beneath that were the entertainment controls.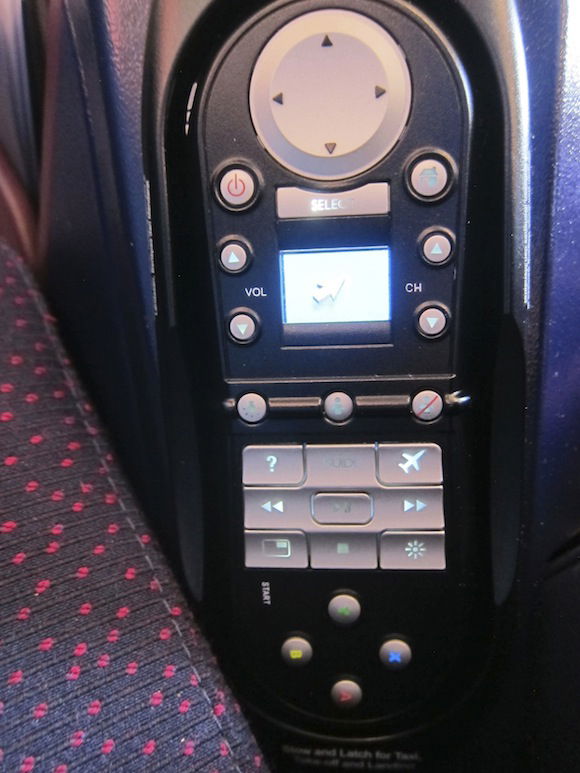 Entertainment controls
The seats had plenty of storage — there was a storage compartment underneath the IFE screen, and there were also lockers under the windows.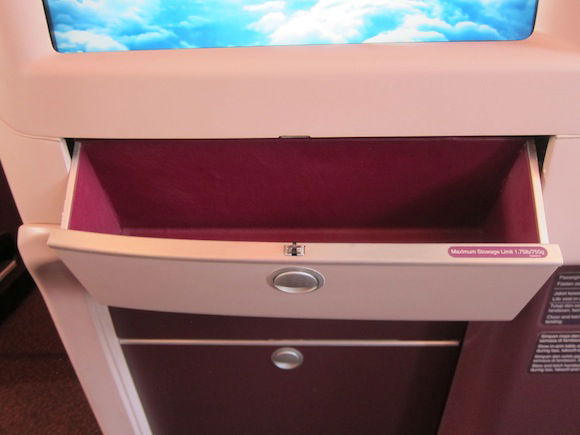 Storage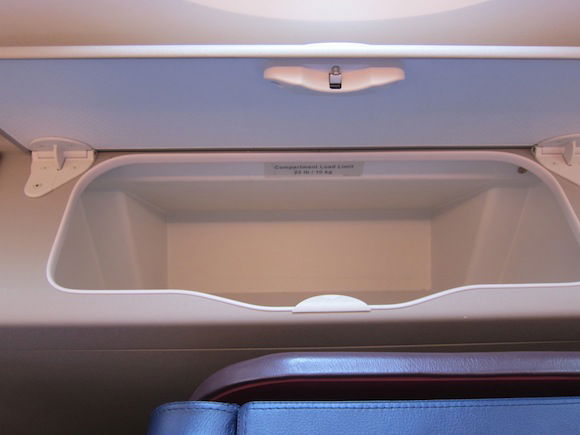 Lockers
While the crew on the last flight from Bali to Kuala Lumpur was mostly indifferent, on this flight the crew was nothing short of spectacular. They were all smiles and couldn't have been more attentive. They quickly offered us pre-departure beverages, and I selected some guava juice.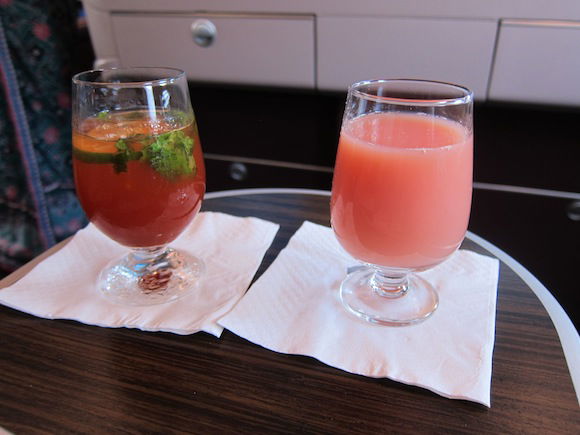 Pre-departure beverages
As the departure time rolled around the captain came on the PA to inform us of a slight delay due to air traffic control, and that we'd be about 20 minutes late departing. Stupidly I only planned about an hour connection in Hong Kong, and my mom's foot certainly wasn't going to help our chances of making the connection. Still, there was nothing I could do, so figured there was no point in panicking.
Anyway, since the engines still hadn't started and the APU wasn't working, the cabin was hot. Really hot — it must have been close to 100 degrees. Yes, it's annoying, but there's no need to throw a hissy fit over it, in my opinion. The guy seated across the aisle from me seemed to disagree.
As boarding finished up he asked the flight attendant why it's so hot. The flight attendant explained that it would cool off after takeoff and apologized profusely. He didn't accept that as an answer, so asked to be speak to the captain. At that point the purser came over and explained that the APU was faulty, and that as soon as we pushed back and started the engines it would be cooler. At this point he lost it and asked why his colleague lied to him, since he didn't say anything was faulty.
He sat there like a complete drama queen fanning himself with a full newspaper (hint: if you're going to fan yourself with something, make it a laminated safety card, and not a pound of paper that requires more energy than the "cooling" effects). As another flight attendant walked down the aisle he grabbed her and said "get me a cold towel NOW." She was courteous and apologetic and brought it to him. As soon as he was done with it he threw it on the floor and requested "an ice cold glass of water." He downed the glass, and yelled "another." She brought him another glass, and then he yelled "I want one more." He then said he wanted to be seated somewhere cooler, "maybe the lower deck." Yeah, like that's going to happen. It has been a while since I've wanted to bitch slap someone as badly as this douchewaffle, though I couldn't help but give huge props to the crew for how professionally they handled the situation.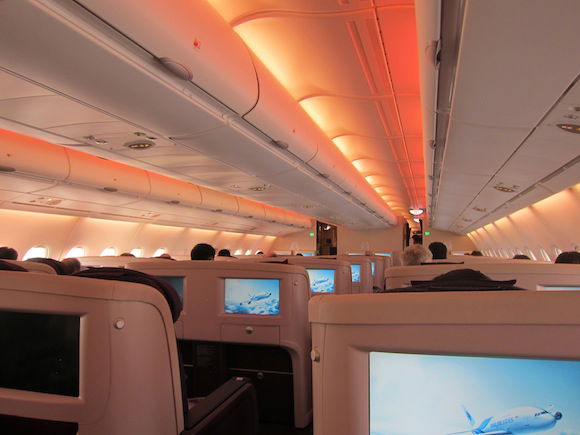 Cabin during delay
Sure enough about 25 minutes after our scheduled departure time we finally pushed back and began our taxi to the runway.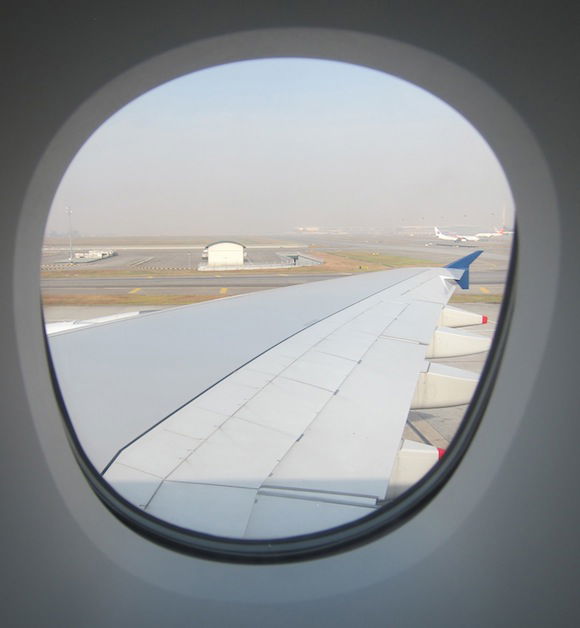 Window view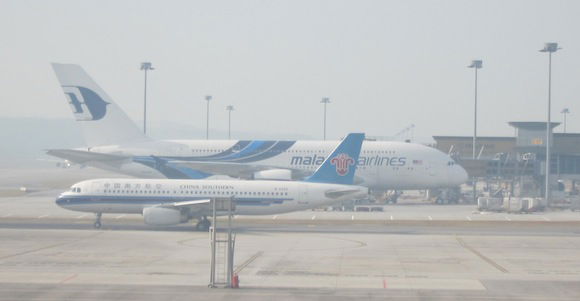 Malaysia A380 and China Southern A320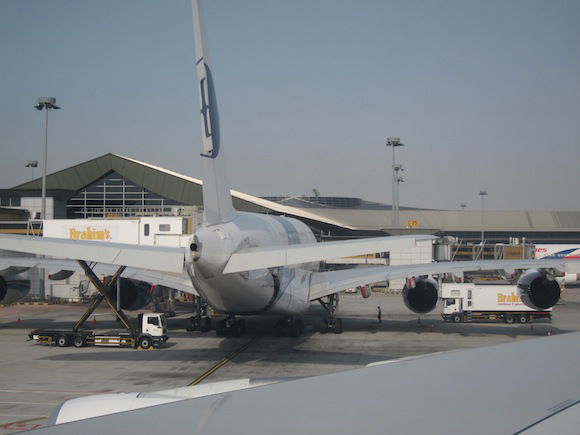 Malaysia A380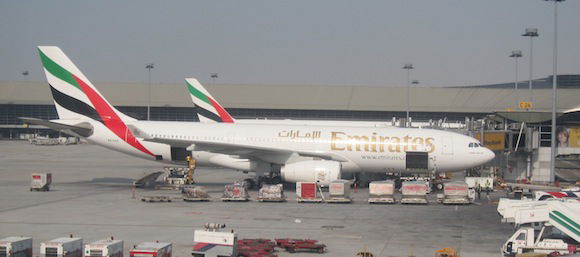 Emirates A330

After about a 10 minute taxi we made it to runway 32R, where we were number one for takeoff. Of course I was watching the tail camera on both taxi and takeoff.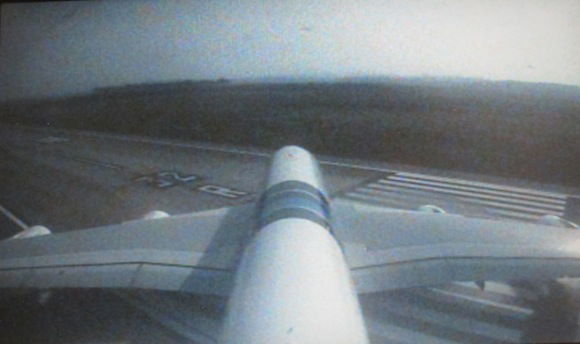 Taxiing into position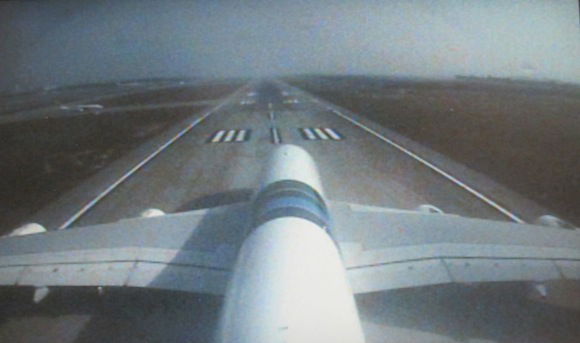 Taking off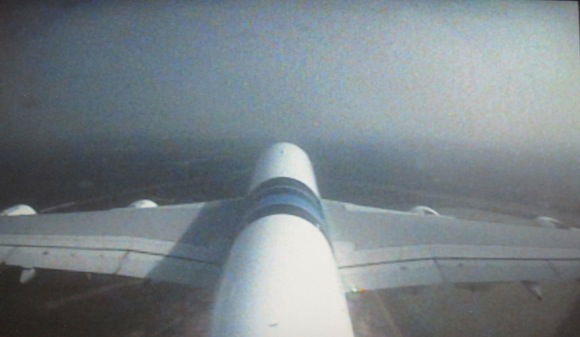 Off we go!

Further in our climb out I browsed the entertainment selection, which was extensive. I had seen all of the movies I was interested in seeing, so decided to watch "Khloe & Lamar." Please don't judge me. Please.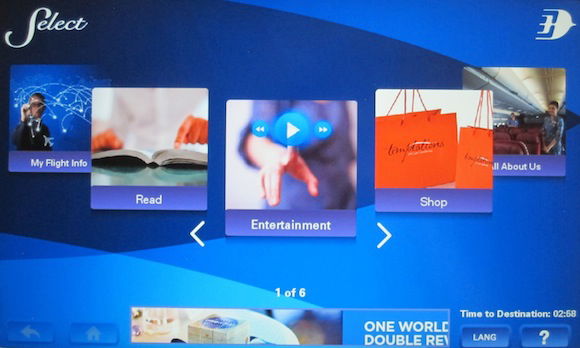 Entertainment selection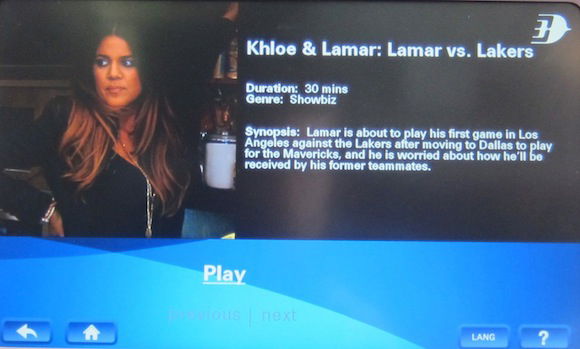 Khloe & Lamar
As soon as we leveled off the brunch service began. The menu read as follows:

Interestingly when meal orders were taken the flight attendant specifically came to our row first and addressed us by name, as did every flight attendant throughout the entire flight. Malaysia does a phenomenal job taking care of OneWorld Emerald members, better than just about any other airline I've flown.
Once meal orders were taken the cart was rolled through the aisle with drinks, a fruit starter, yogurt, and a breadbasket. I had a glass of guava juice, some water, and a teh tarik.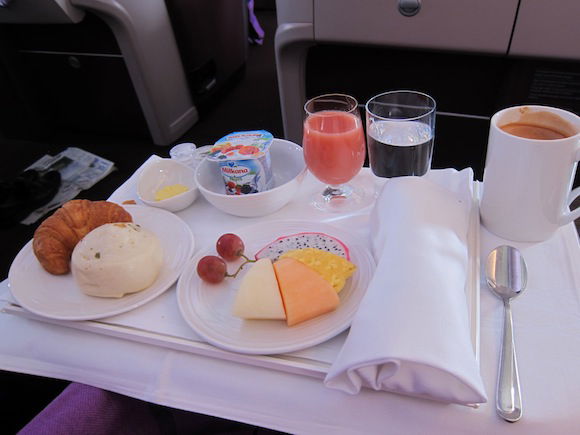 Starter
For the main course I had the nasi lemak, which was phenomenal.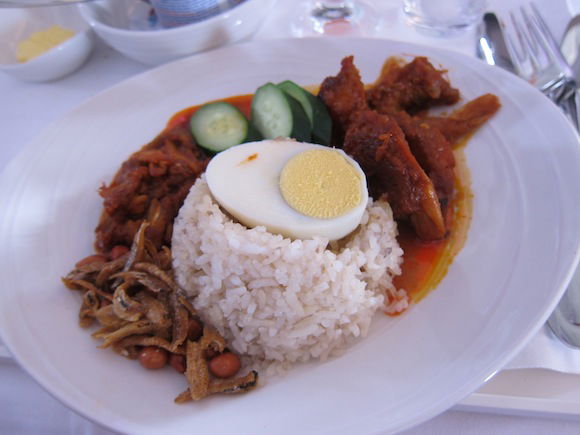 Nasi lemak
Meanwhile my mom had the scrambled egg with grilled cod, which she enjoyed as well.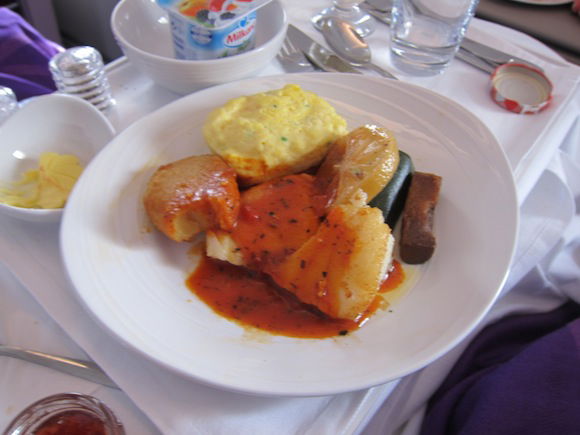 Scrambled egg with grilled cod
No breakfast is complete without some dessert — in this case vanilla ice cream.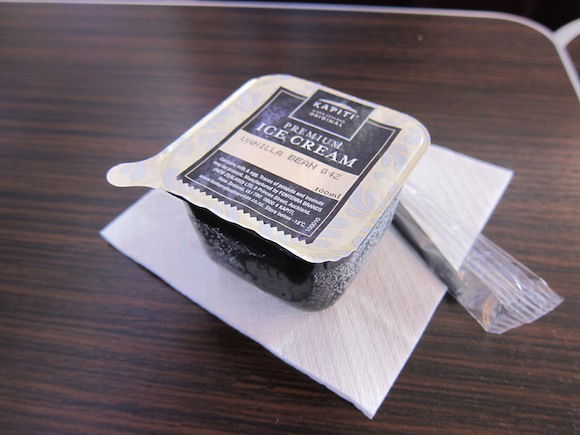 Ice cream
The crew was just really, really spectacular. I tend to think it's tough to provide great service in a 60+ seat cabin, but they were constantly smiling, incredibly attentive, and literally addressed us by name at every single interaction.
After breakfast I decided to watch an episode of Samantha Brown's Passport to Europe.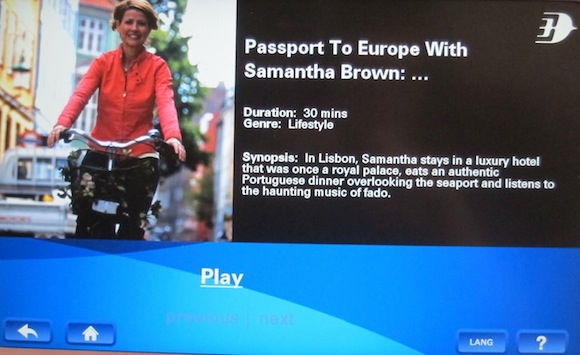 Passport to Europe
And then an episode of "Grannies Gone Wild," which was… interesting.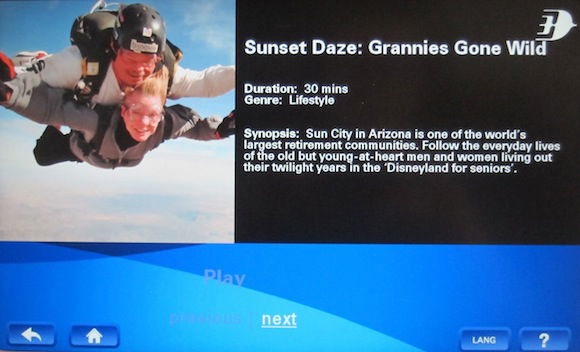 Grannies Gone Wild
With about an hour left in the flight I decided to recline into the bed position for a bit and try to get some rest.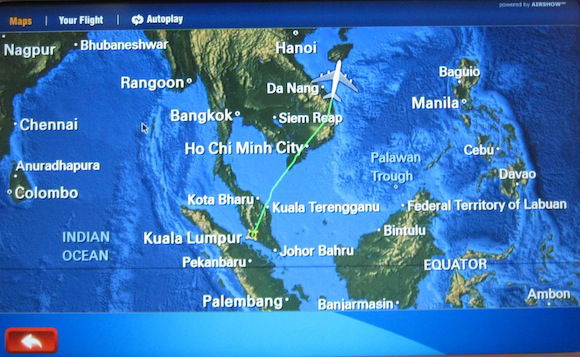 Airshow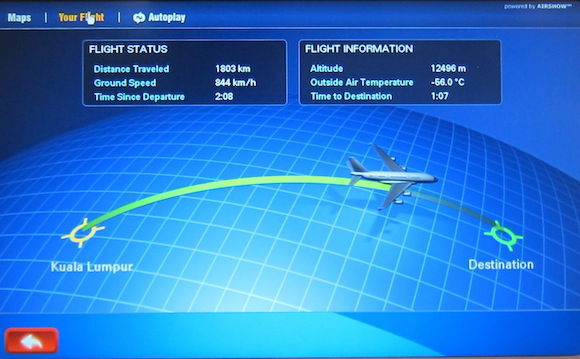 Airshow
I managed to rest for about 30 minutes, at which point I visited the lavs in the very front of the cabin. There's a small bar display there, as well as two fairly spacious lavatories.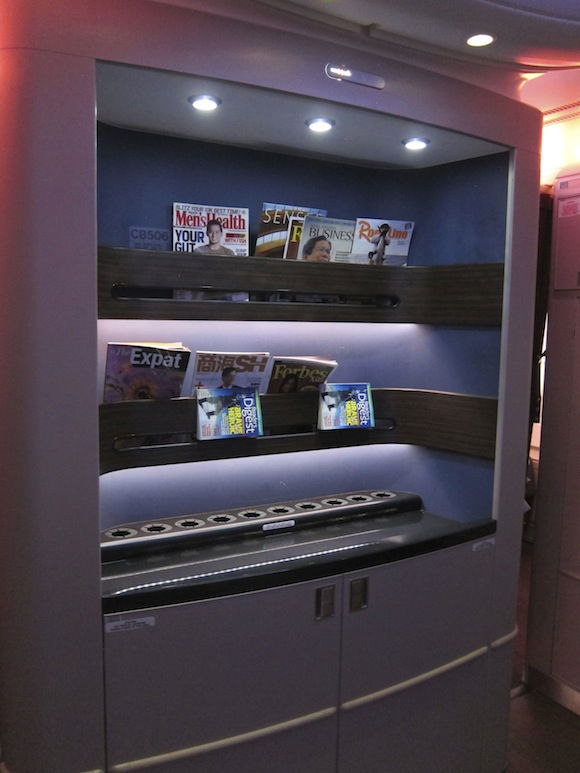 Bar display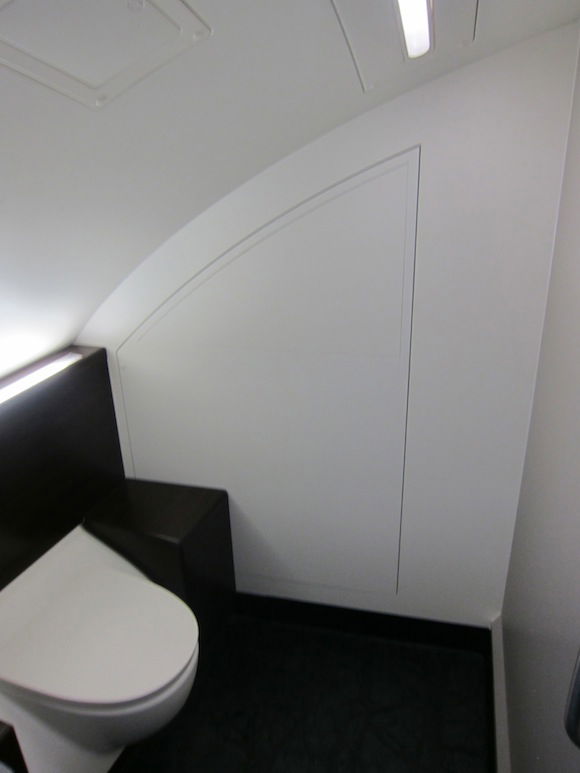 Lavatory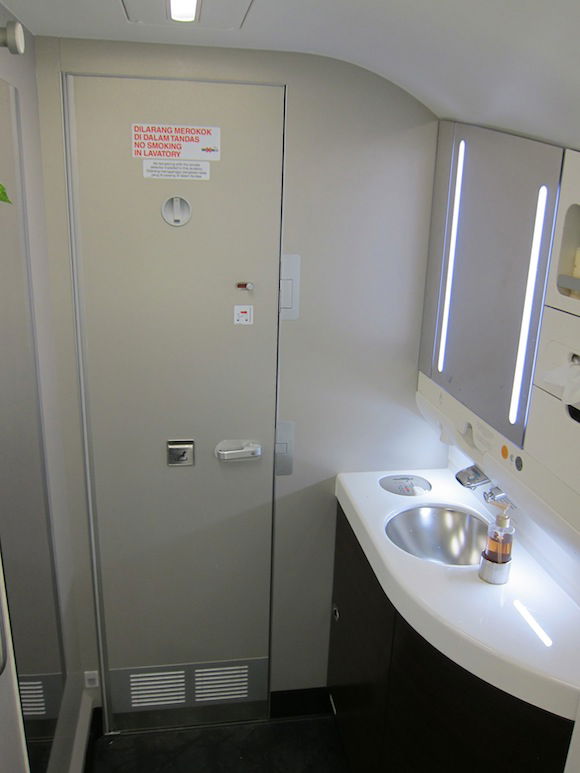 Lavatory
I explained my mom's situation to the crew, because her feet literally wouldn't fit in her shoes anymore. They showed a lot of concern and offered to give her slippers to wear instead, which was much appreciated.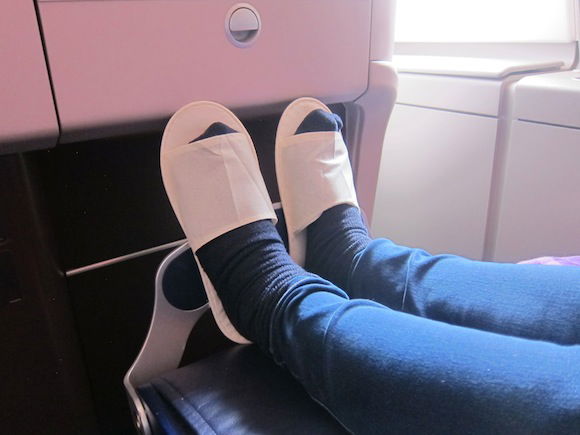 Slippers
About 25 minutes out we began our descent, so I again switched to the tail camera view.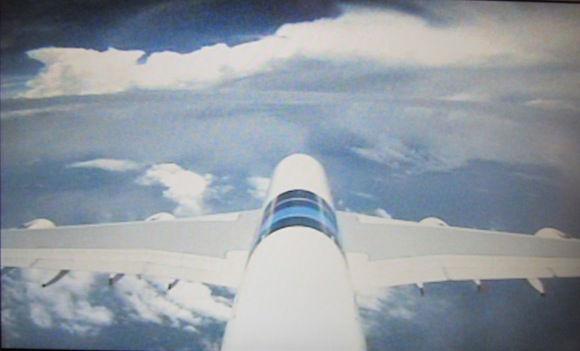 View on descent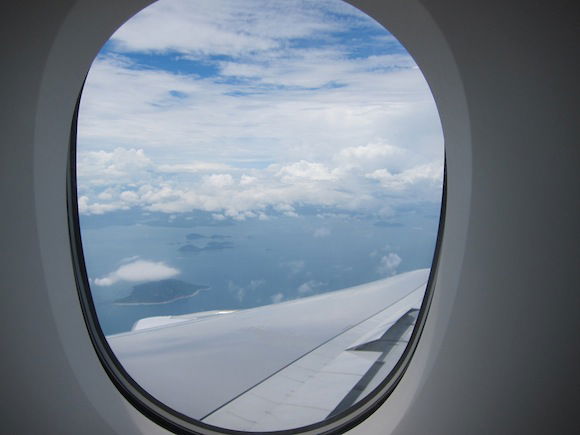 View on descent
After a brief holding pattern we initiated our final approach for runway 7L.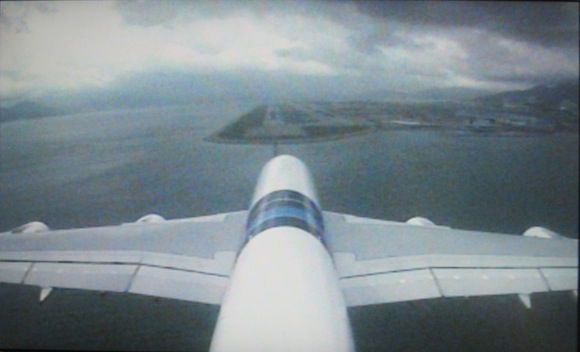 Final approach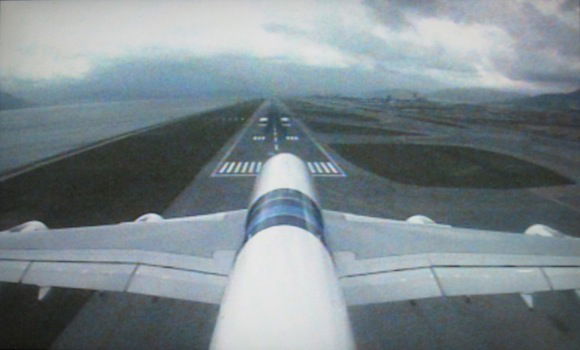 Short final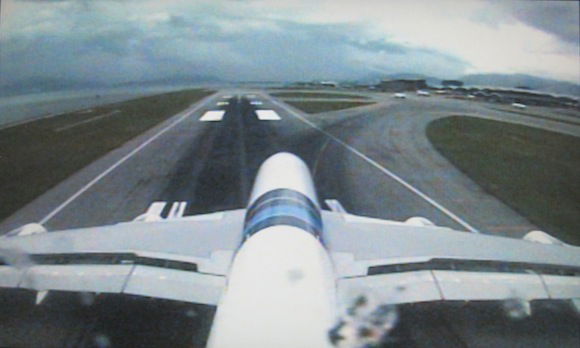 Exiting runway
Our taxi to the gate took about five minutes, and as usual there was lots of interesting traffic.


Thai A380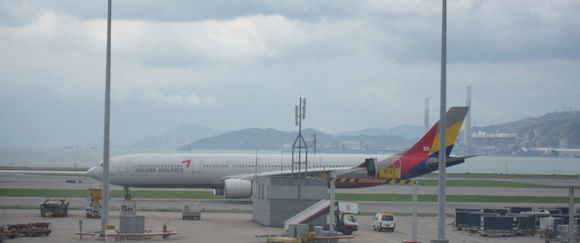 Asiana A330
We pulled into gate 60-something, while our connecting flight was leaving from gate three.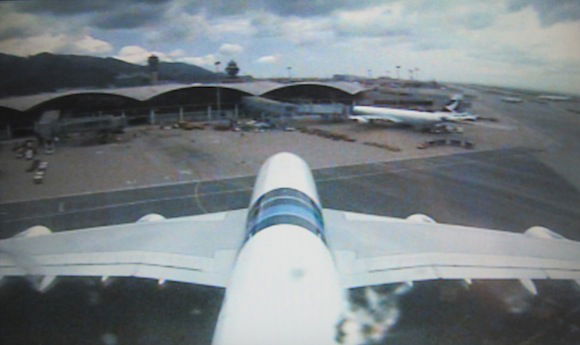 Pulling into our gate
With less than 40 minute to make our connection I knew we were in for some fun…