---
We got to the airport at roughly 8AM for our 10:20AM departure to Bali.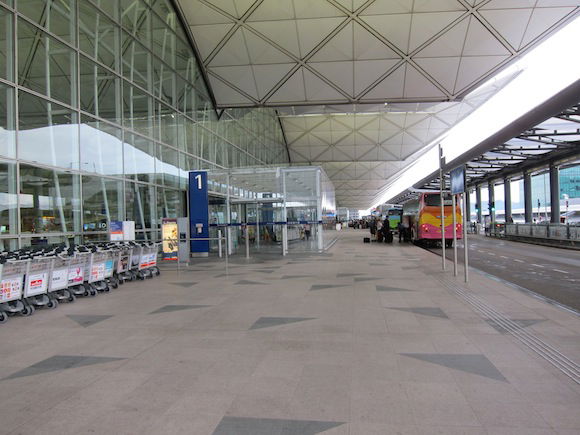 Terminal exterior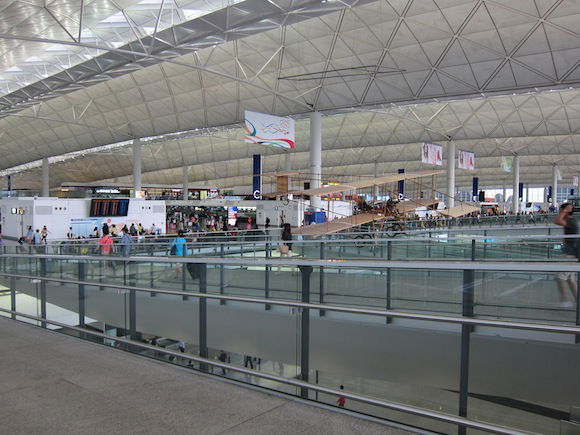 Terminal
While we were only flying business class to Bali, we still used the Cathay Pacific first class check-in area on account of my OneWorld Emerald status. Cathay Pacific's first class check-in is located on the left side of the terminal, and consists of multiple two sided kiosks, for more of a "face to face" experience than you'd get with a traditional counter. As you walk up to the first class check-in area an agent escorts you to a kiosk and quickly processes your check-in. The kiosk facing you features information about your flight, like your seat assignment, departure gate, flight time, etc.
The process is by no means as fancy as what you'd get with Thai in Bangkok or Lufthansa in Frankfurt, but one of the nicer experiences nonetheless.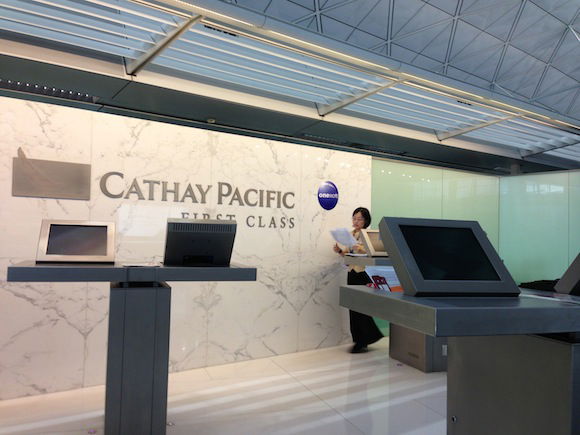 First class check-in
The flight to Bali was being operated by a 747 with a first class cabin. However, on this particular route they don't sell first class, but instead on demand they'll sometimes seat connecting first class passengers and OneWorld Emerald members in the first class cabin (though they still only have business class service up there). I had looked at the seatmap prior to getting to the airport and noticed all the first class rows (one through four) were still empty, so I politely inquired about the possibility of being seated in 1A & 1K.
The agent picked up the phone, and a couple of minutes later printed out some boarding passes with our new seat assignments — awesome!
My one major complaint about Hong Kong Airport is the lack of premium security/immigration queues, so that took roughly 20 minutes. It's not usually security that takes very long, but rather immigration, and today was no different.
We headed straight to the first class section of The Wing, which was just recently renovated. This review won't be nearly as thorough as the one from the last time I visited in March, so be sure to check out that review for a closer look at the lounge, and why I consider it to be one of the best airport lounges in the world.
We hadn't eaten breakfast so headed straight to the dining area. The dining area is catered and serviced by The Peninsula Hotel, so service is generally quite good. Within a few minutes of sitting down we were offered drinks — I requested an orange juice and iced coffee.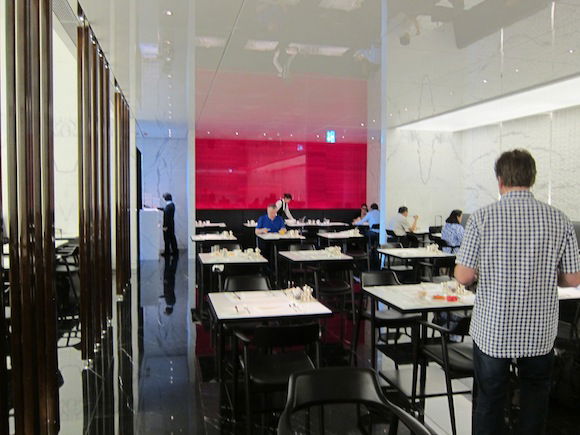 Dining area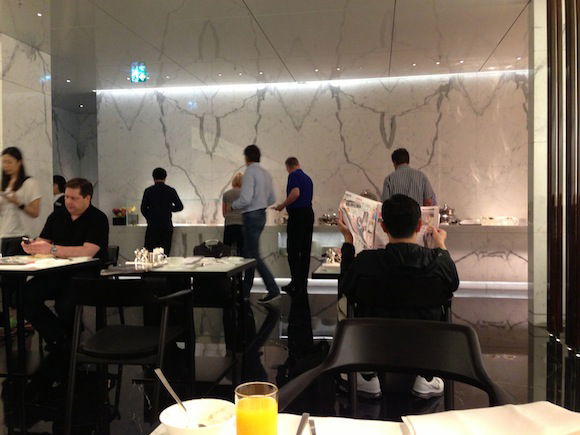 Dining area
The breakfast buffet was high quality though limited, and consisted of salad, pastries, yogurt, fruit, meat, cheese, cereal, muesli, and a few hot options. Then again, for an airport I guess it's pretty damn good. 😉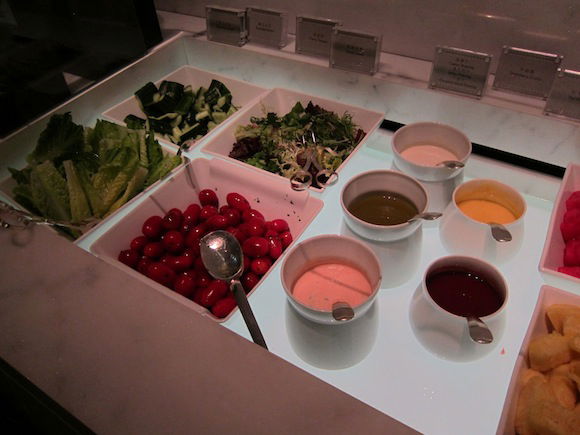 Buffet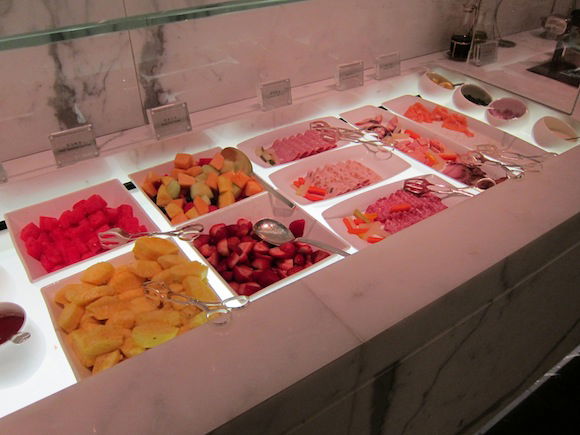 Buffet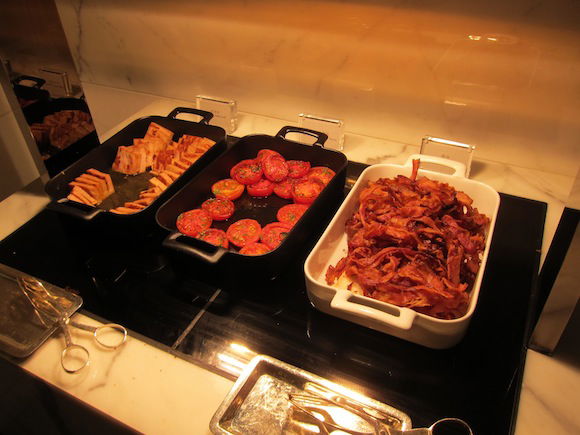 Buffet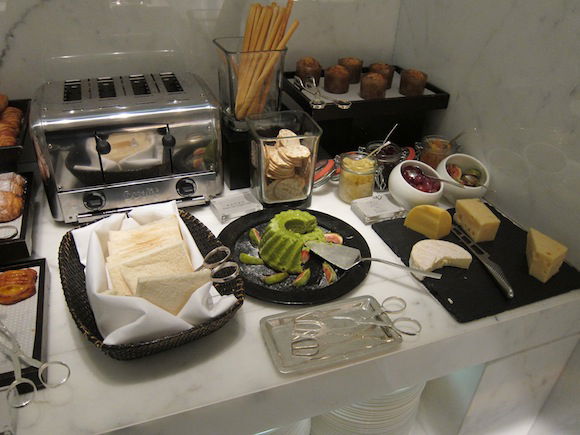 Buffet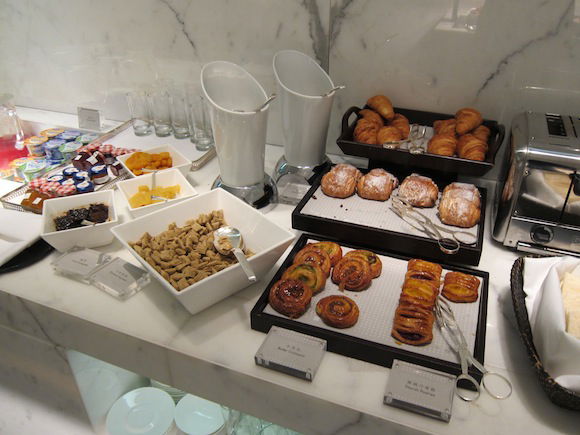 Buffet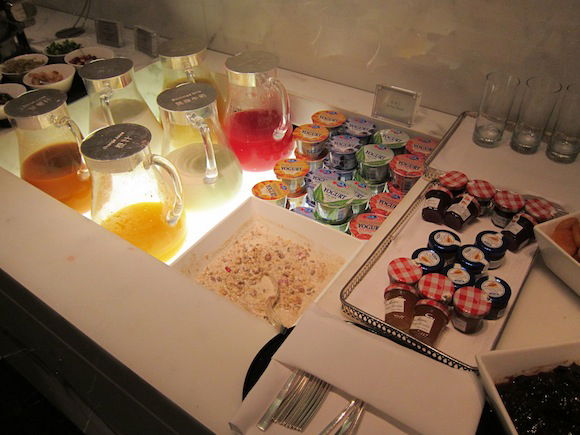 Buffet
In addition to that there's an a la carte menu, which reads as follows:

I just had a few things from the buffet. After breakfast we headed to the champagne bar, where I had to make the toughest decision of my day — Moet or Veuve (though admittedly not quite as enjoyable as choosing between Dom and Krug)? 😉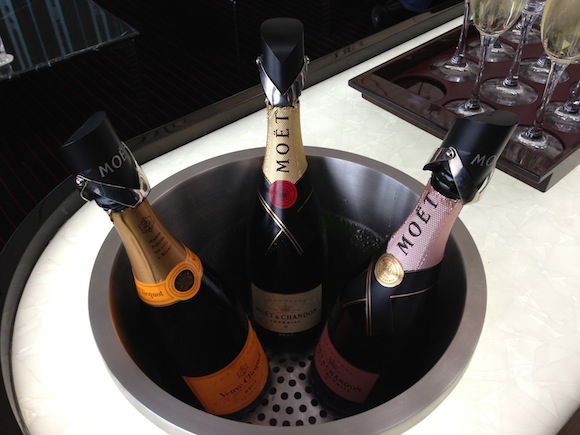 Champagne bar
As we sat at the champagne bar one of the agents came up to us and informed us due to a late inbound aircraft our flight would be delayed a further 30 minutes. Another two glasses of bubbly never killed anyone…
At around 10:30AM we headed to our departure gate, which was gate three. It's just a two minute walk from The Wing, and right as we walked up boarding began.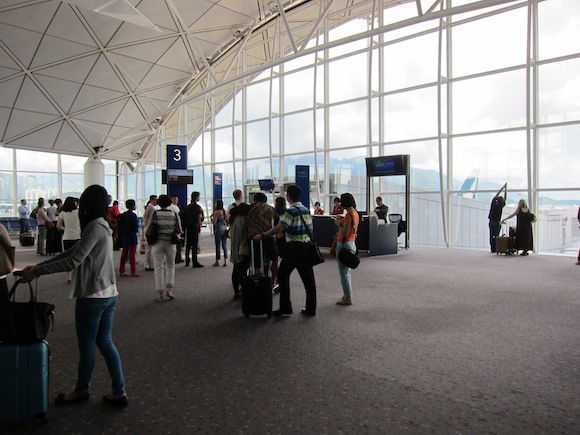 Departure gate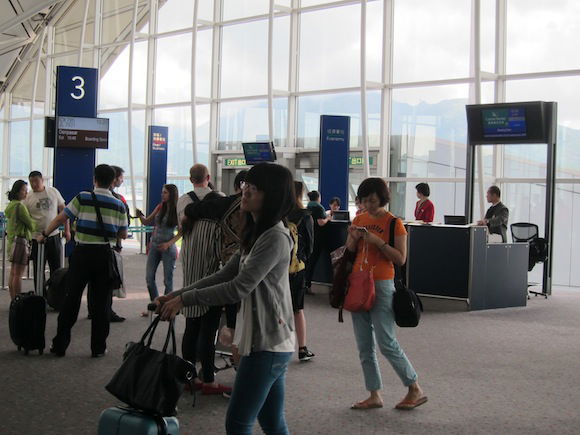 Departure gate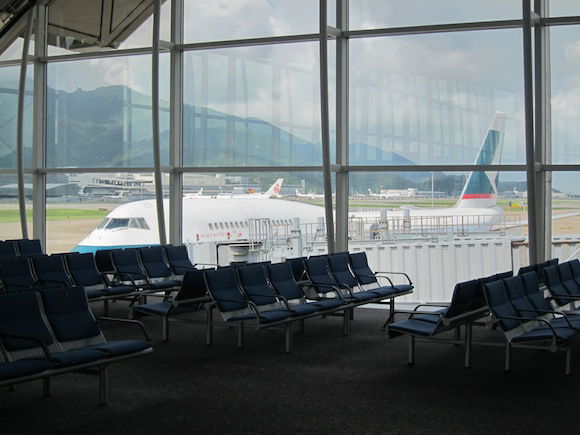 Our 747 to Bali
On to Bali we go!