---
Cathay Pacific 785
Hong Kong (HKG) – Denpasar Bali (DPS)
Sunday, June 9th
Depart: 10:20AM
Arrive: 3:00PM
Duration: 4hr40min
Aircraft: Boeing 747-400
Seat: 1K (Business Class)
We boarded through door 1L and were immediately welcomed by two members of the cabin crew that directed us to our seats in row one. I sure do love Cathay Pacific's first class layout in the nose of the 747, with just a total of nine seats and a single seat in the center of the cabin. And if you're traveling with someone it's tough to beat the privacy of seats 1A & 1K. It was my mom's first time in the nose of the 747, though sadly I think I was more excited for her than she was for herself. 😉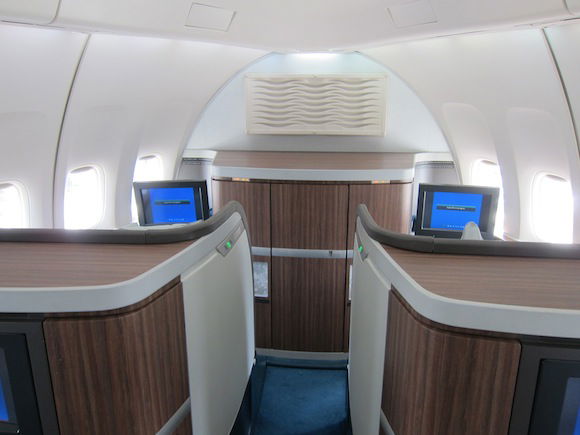 Row one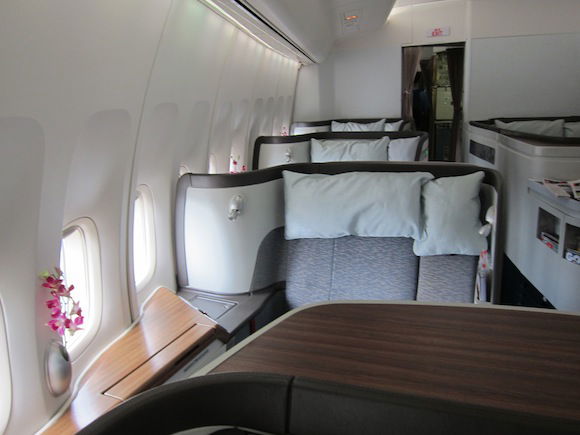 Looking back from row one
The seats are almost identical to those in first class on the 777, though it is worth noting that row one is just a bit tighter than the rest. Instead of the TV folding out of the side console it actually folds out from in front of you. So it is my preferred row by far if traveling with someone, though if traveling alone I'll take row two any day.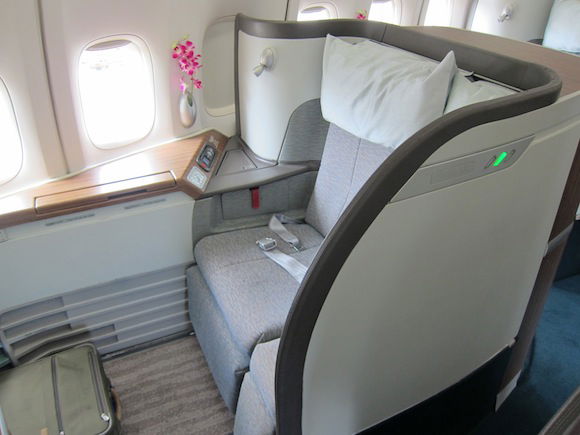 My seat, 1K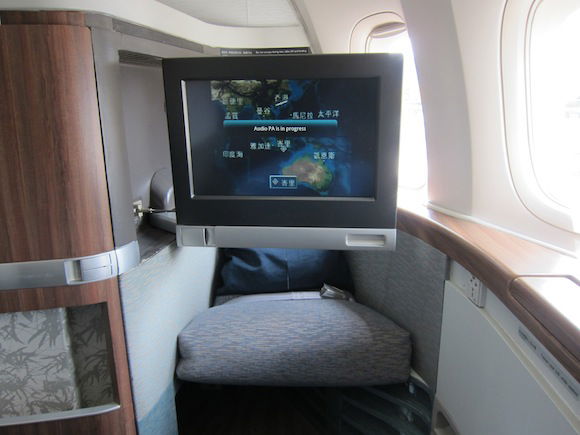 Fold out monitor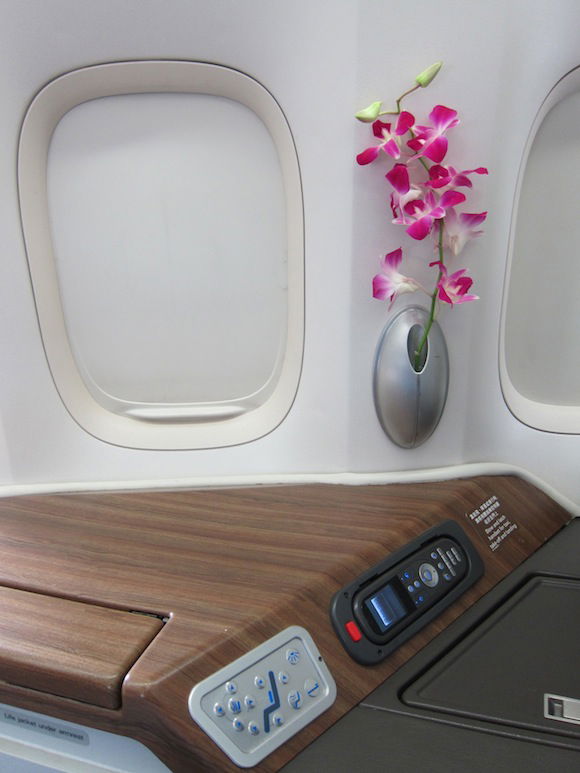 Seat and entertainment controls
What's interesting about flights like these is that even though we only technically got business class service (since they don't sell first class seats on these flights), the service is still hands down better when seated in first class than business class.
There were two crew members dedicated to the first class cabin (of which eight of the nine seats were taken), Karla and Stella, and they took amazing care of us. As soon as we settled in we were offered pre-departure beverages of choice. In business class they usually just come around with a tray, though I've found when you're seated up front they'll offer you whatever you'd like. I didn't have anything since I had a few too many drinks in the lounge.
As boarding finished up the Australian captain came on the PA to welcome us aboard, and apologize for the delay, which was due to the late inbound aircraft from Mumbai. He informed us our flight time would be 4hr15min, and that hopefully we'd be able to make up most of our delay once airborne.
We pushed back from gate three and started our taxi to runway 25L. For anyone not familiar with the Hong Kong Airport layout, that's about a four foot taxi, so we were ready for takeoff about a minute after we got our engines started. The safety video was still playing, however, so we had to wait for that to finish before we could take off.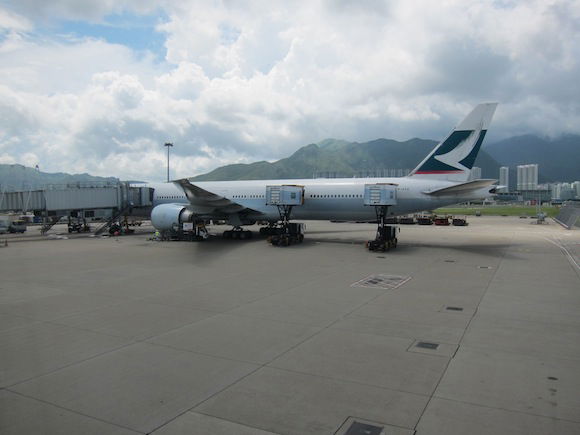 777 at gate next to us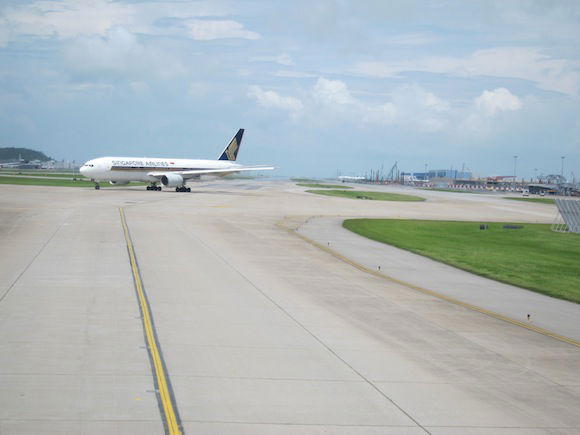 Singapore 777 ahead of us for takeoff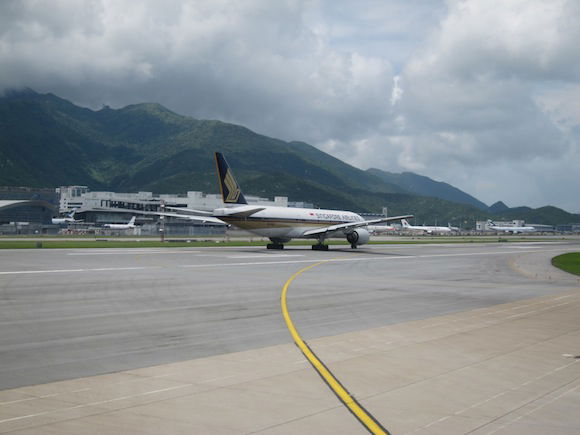 Singapore 777 ahead of us for takeoff
As soon as the safety video finished we taxied into position on runway 25L, and moments later rocketed off.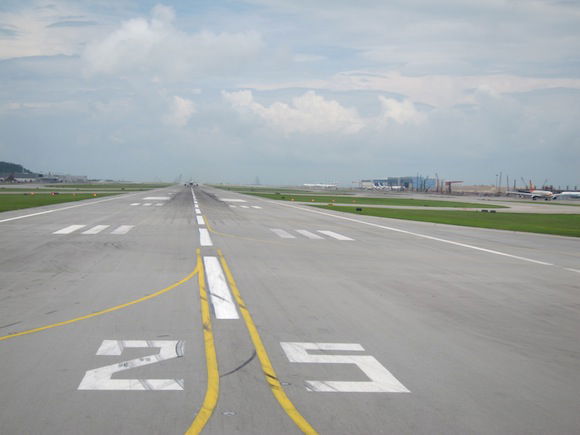 Taxiing into position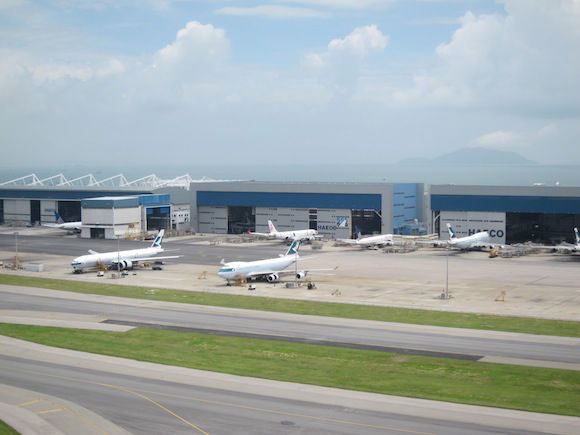 Views on climb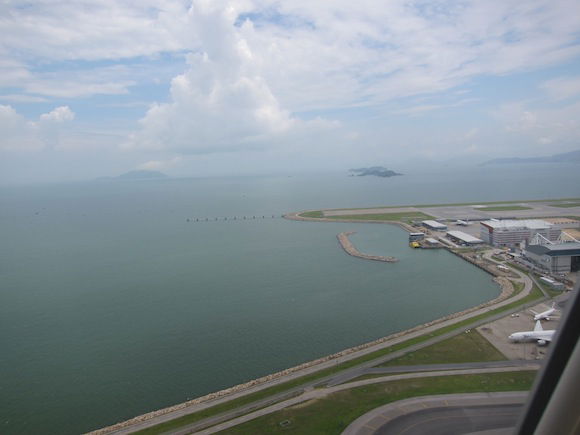 Views on climb
We hit some light chop on the climb out, though above the clouds it was a beautiful day as always.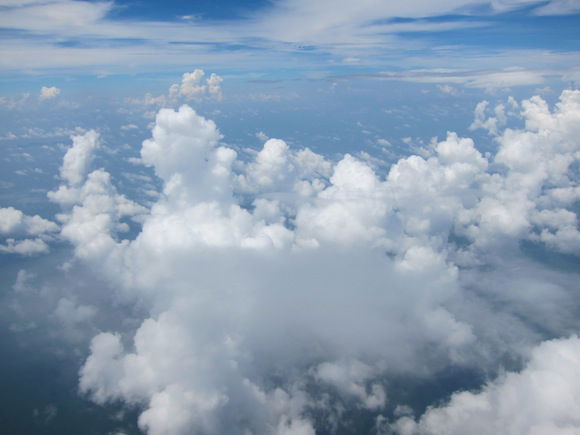 Views on climb
I browsed the StudioCX entertainment selection and decided to watch a movie, though after about five minutes I couldn't tolerate it anymore.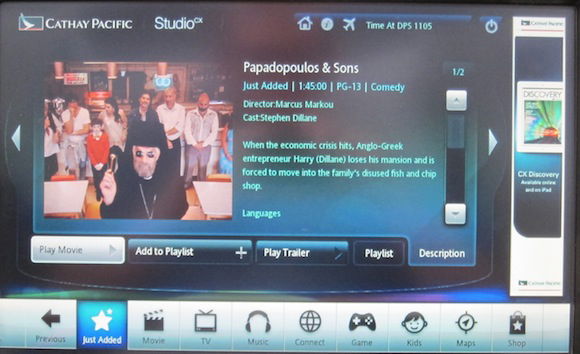 StudioCX
About 15 minutes after takeoff the inflight service manager, Patrick, came around to introduce himself and distribute the menu and wine list. That's another nice touch you don't usually get in business class.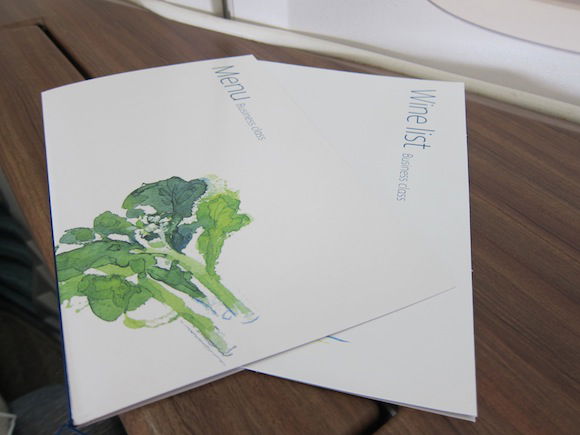 Menu and wine list
The lunch menu read as follows: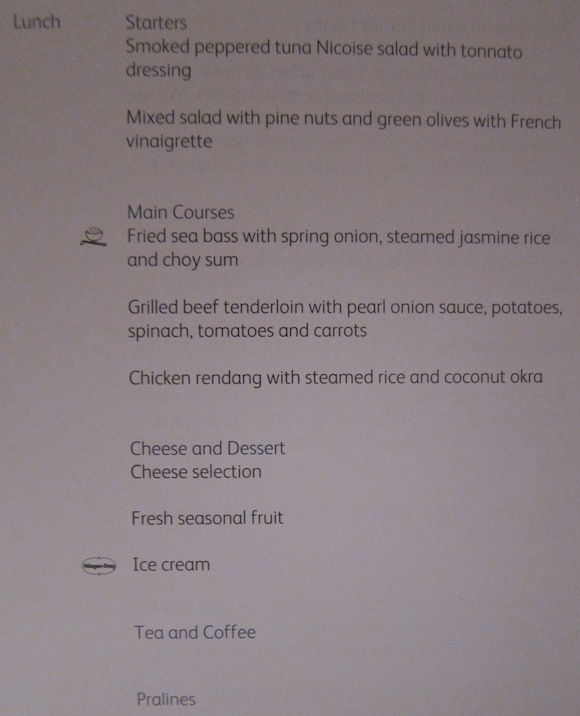 And the wine list read as follows: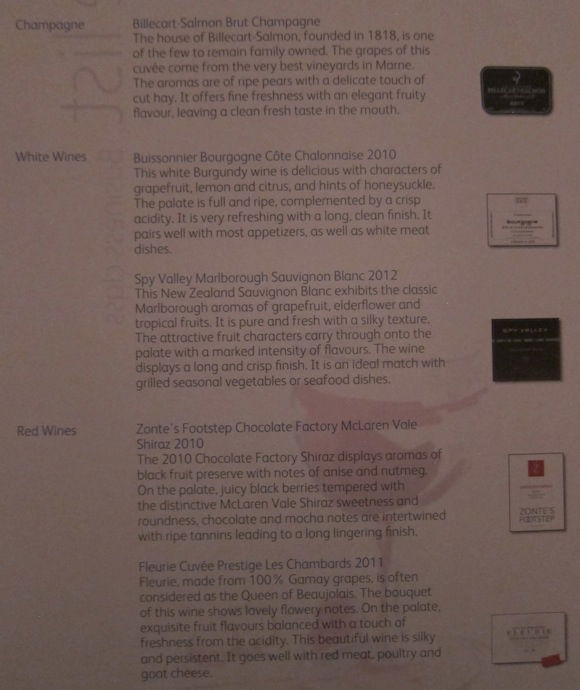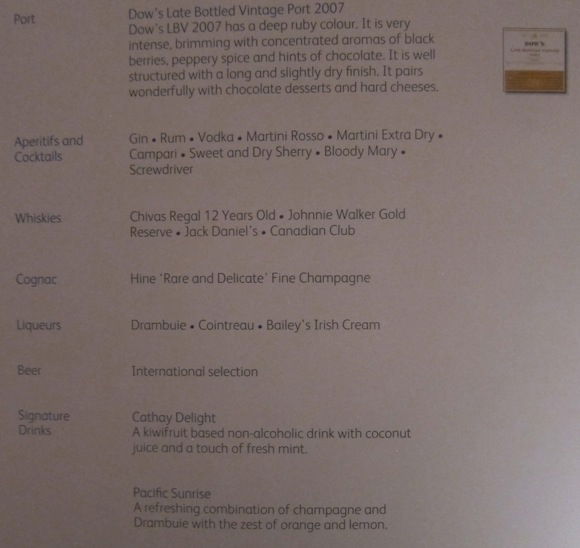 Service began with drinks and almonds. I ordered a Diet Coke with lemon.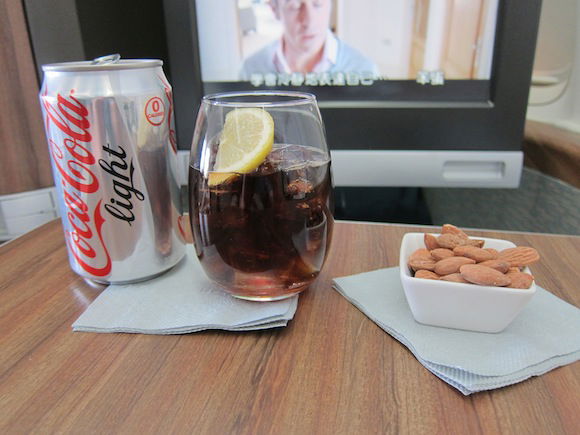 Diet Coke and almonds
Since this was business class the meals are served on trays, starting with the salad and starter. Both the mixed salad and smoked tuna were good, though I do wish the salad would've been a bit bigger.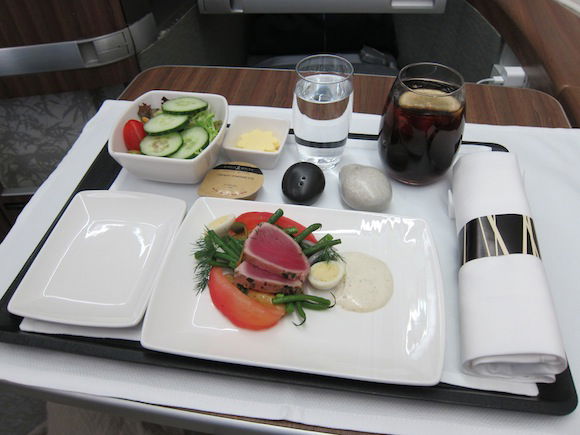 Starter and salad
I was also offered a selection from the bread basket, and chose some garlic bread.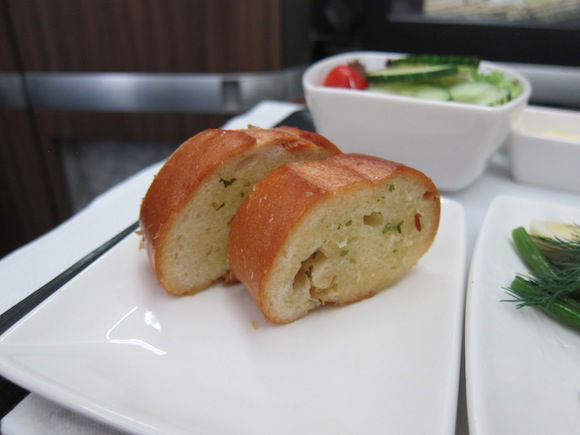 Garlic bread
For the main course I ordered the beef tenderloin, which was incredibly fatty, so I sent it back after a bite. I was already quite full because I just had breakfast a couple of hours prior.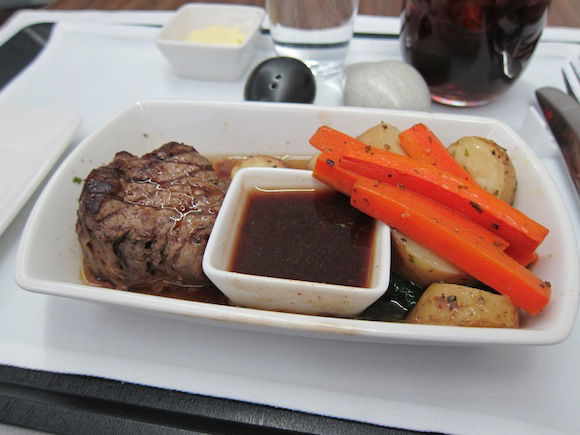 Beef tenderloin
For dessert I was offered strawberry Haagen Dazs ice cream.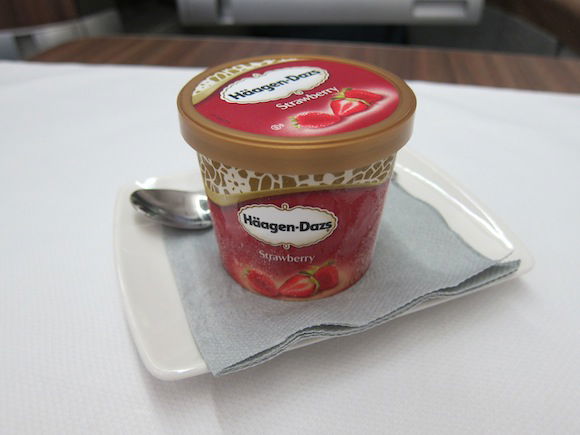 Ice cream
And to finish off the meal I had some Hong Kong style milk tea.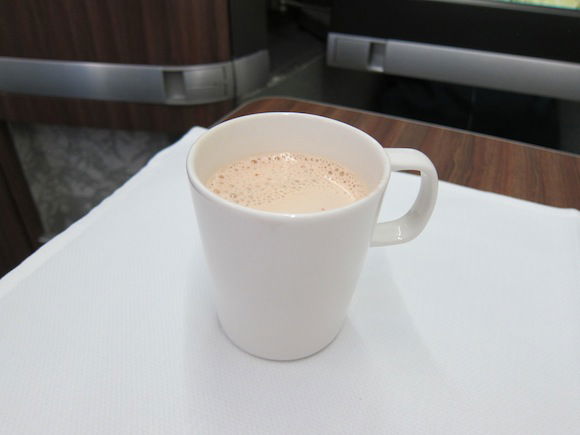 Hong Kong style milk tea
Service throughout the meal was excellent. Both Karla and Stella were top notch, and addressed me by name at every interaction.
After the meal service was done I decided to lay down for a bit, though I sure missed the comfortable duvet and pillows that Cathay Pacific usually offers in first class.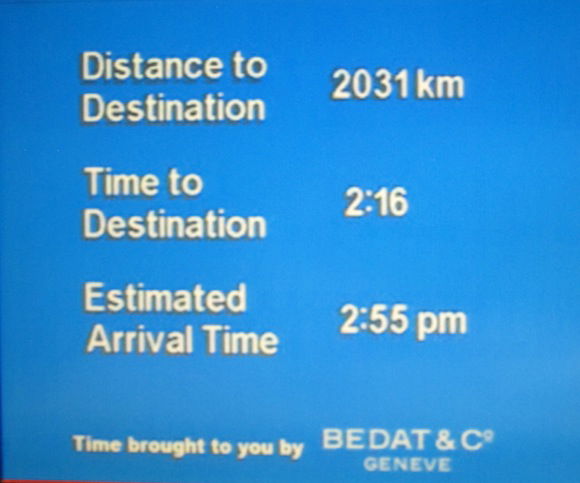 Airshow enroute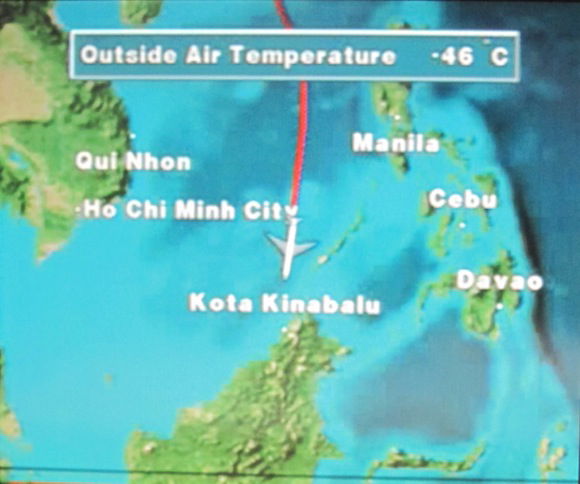 Airshow enroute
Since I couldn't sleep I decided to watch an episode of 2 Broke Girls.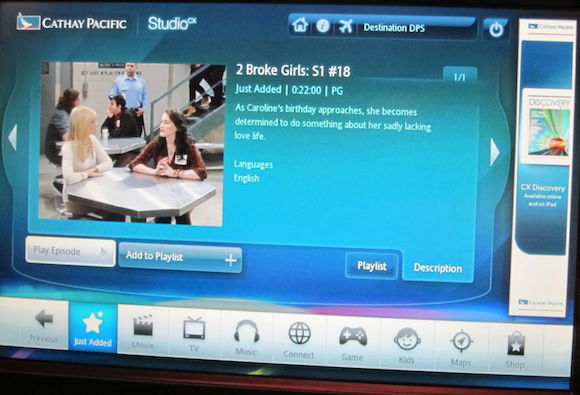 StudioCX
I also browsed the duty free catalog. I usually never even look at it, though decided I could finally use an international adapter, since previously I always just borrowed them from hotels. Furthermore I couldn't resist the adorable pilot teddy bear.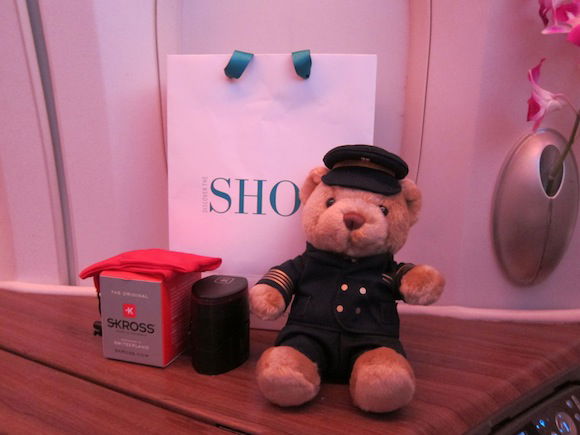 Duty free purchase
As we initiated our descent the captain came on the PA to inform us we had made up some time and should be landing on schedule (of course pronounced the proper Australian way — "shed-jewel").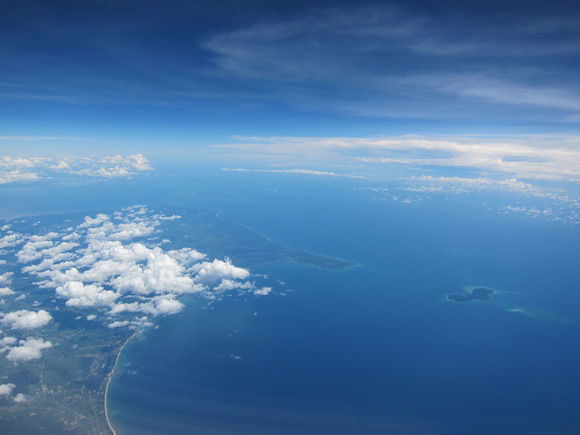 View approaching Bali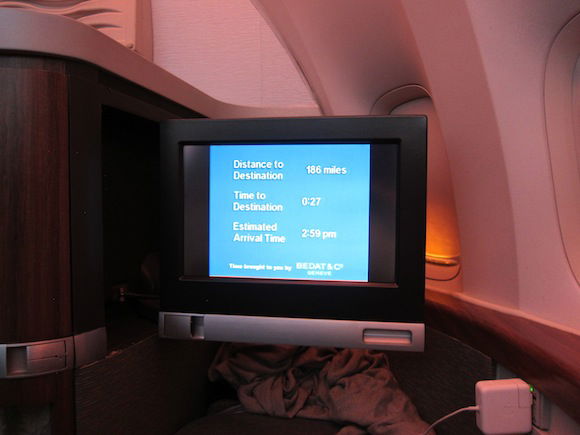 Airshow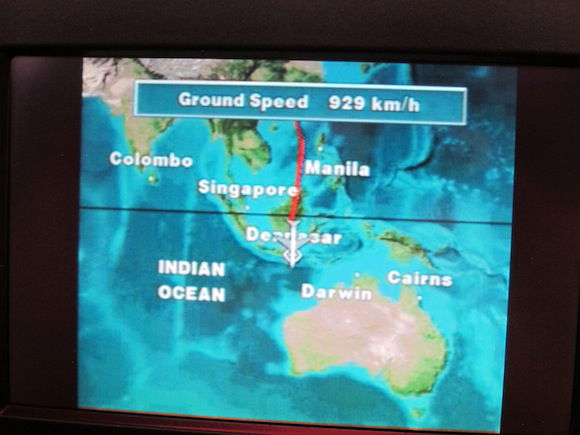 Airshow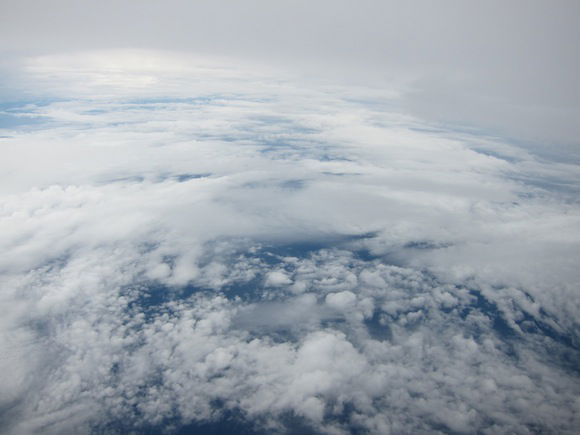 View on descent
Unfortunately as we descended through about 10,000 feet he came back on the PA to inform us we were being placed into a holding pattern, though fortunately we were released after 10 minutes.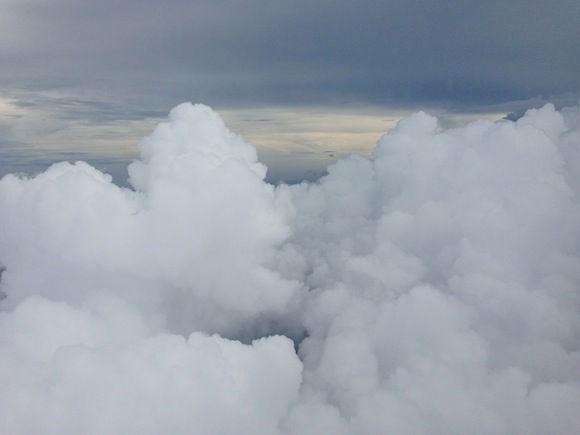 View on descent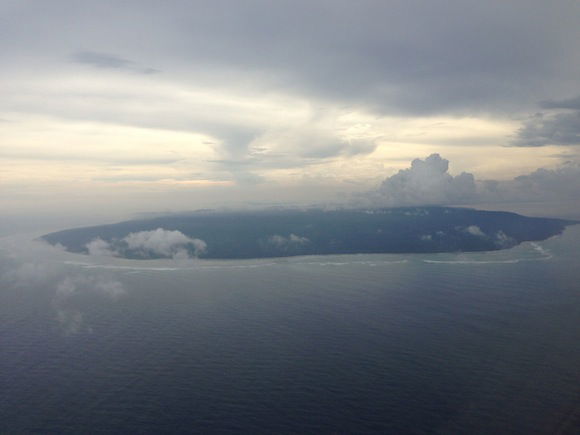 View on descent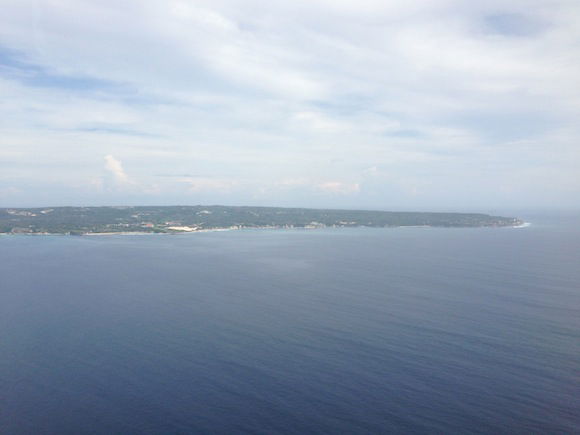 View on descent
We approached over the water, and since I was seated on the right of the aircraft I had nice views of Jimbaran Bay.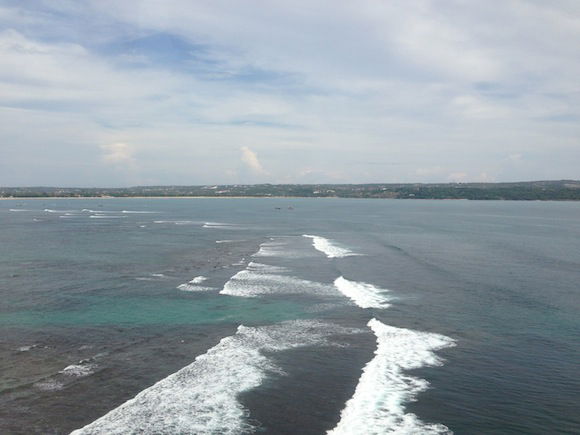 View on final approach
After a smooth touchdown we quickly taxied to our gate.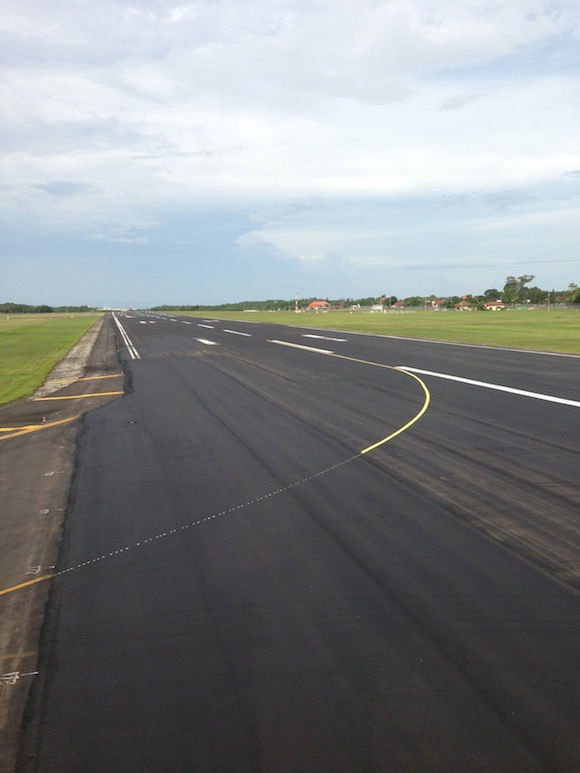 Turning off the runway
My gosh, I don't think I've ever seen Denpasar Airport so busy — there were dozens and dozens of aircraft, many of which were low cost carriers.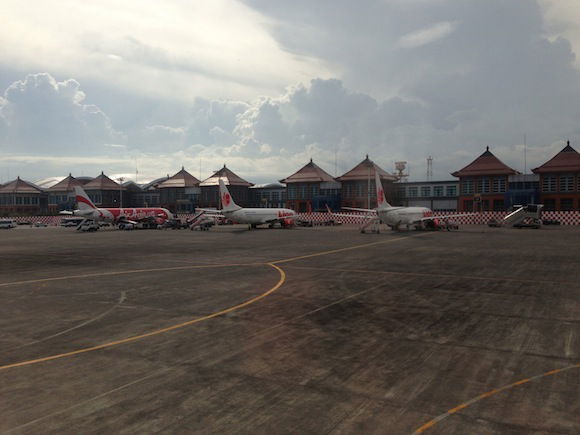 Traffic taxiing in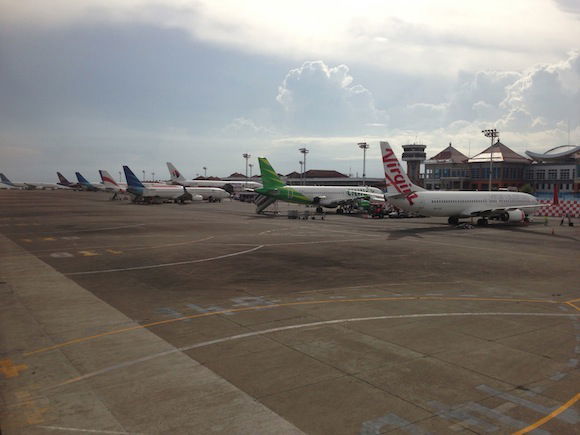 Traffic taxiing in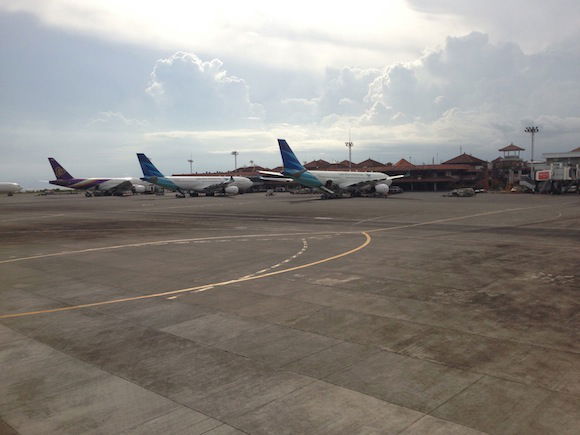 Traffic taxiing in
We eventually parked right next to a Malaysia 777.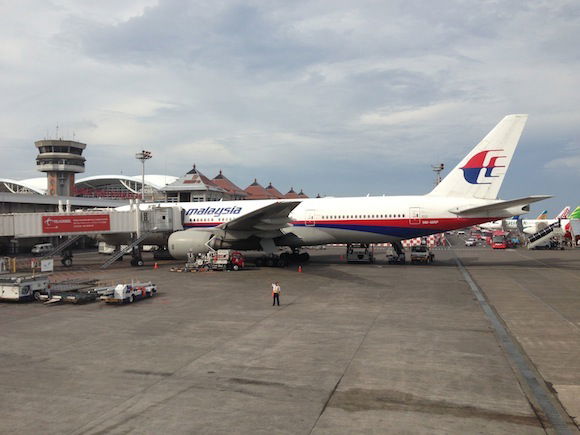 Malaysia 777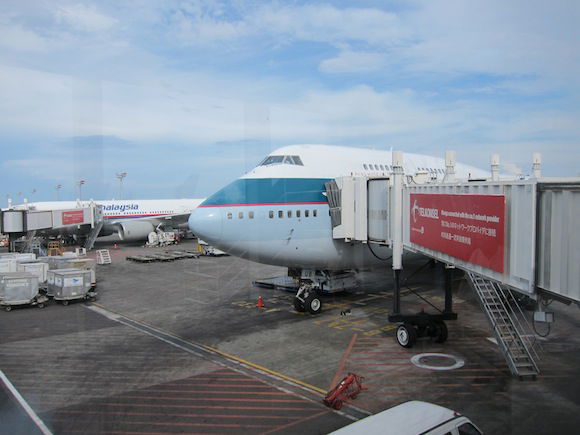 Our plane from Hong Kong
Upon deplaning, well, that's where the Aman experience began…
The flight was incredibly pleasant. While the food wasn't great, the service was top notch and you can't beat a first class seat with business class service on a flight like this. I'm sad to see that the 747 is no longer daily on this route for Cathay Pacific, so I'd definitely go out of my way to choose this over one of their regional 777s (like the one I flew from Singapore to Colombo earlier in the year).