As I mentioned in the introduction, I booked the Conrad using the two free nights I got from the sign-up bonus of the Citi Hilton Honors Reserve Card. I consider that to be a pretty good value, given that this is now a category nine property, making it 80,000 Honors points per night. The paid rate was 3,500HKD+ (~$450USD+), so I was thrilled with that redemption.

Hong Kong is probably my favorite city in the world and I've visited well over a dozen times, so I always get oddly excited when I take someone there for the first time and can "play" tour guide.
The Conrad is located on Hong Kong Island. While I prefer the views and general street atmosphere of Kowloon, I still kind of prefer staying on Hong Kong Island.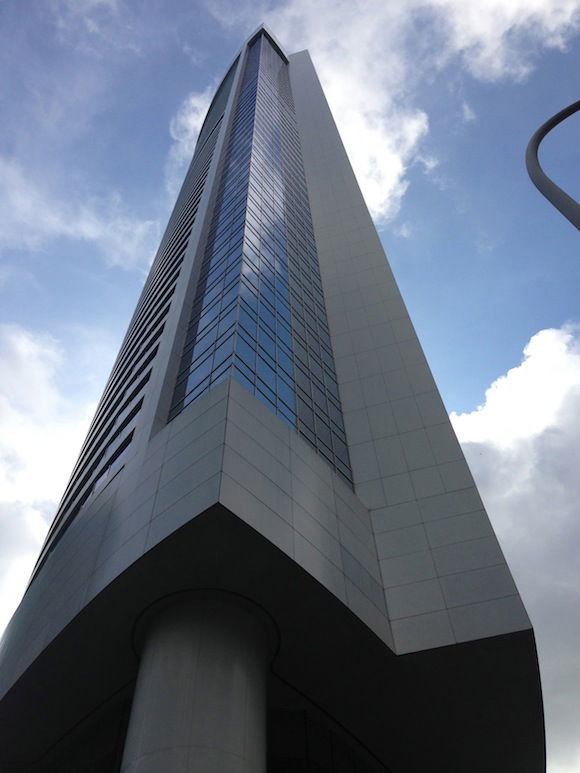 Hotel exterior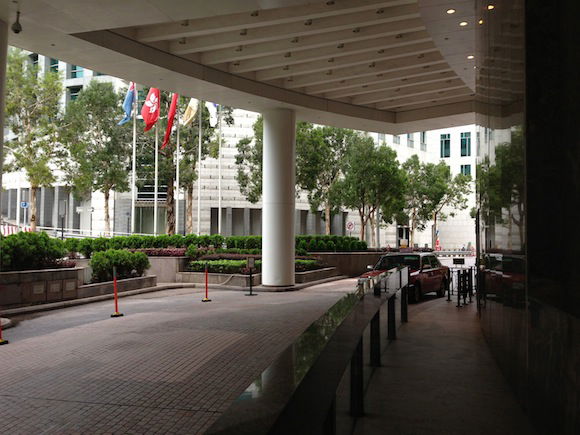 Hotel exterior
Upon arriving at the hotel we were welcomed by the bellman, who took our bags and directed us to the check-in desks, which are located inside the lobby on the right.
The lobby feels "grand," but at the same time also just a little bit dated.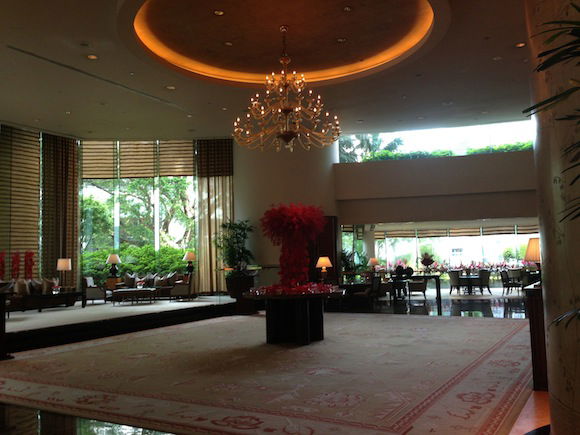 Lobby
The check-in process was efficient, and the agent explained all the benefits we'd receive due to my Honors Diamond status, including free internet, club lounge access, breakfast in the restaurant, etc.
We were quickly given keys to our room on the 58th floor, and took the elevator up.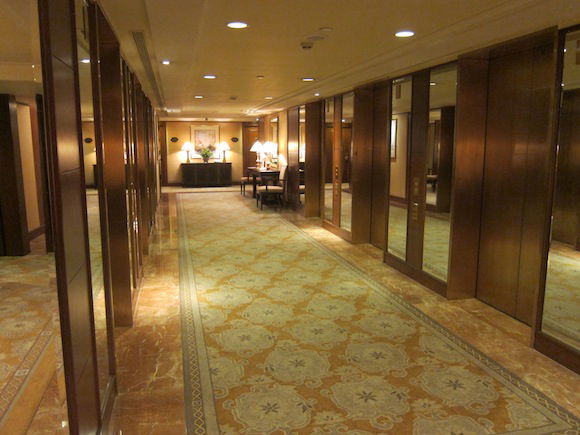 Elevators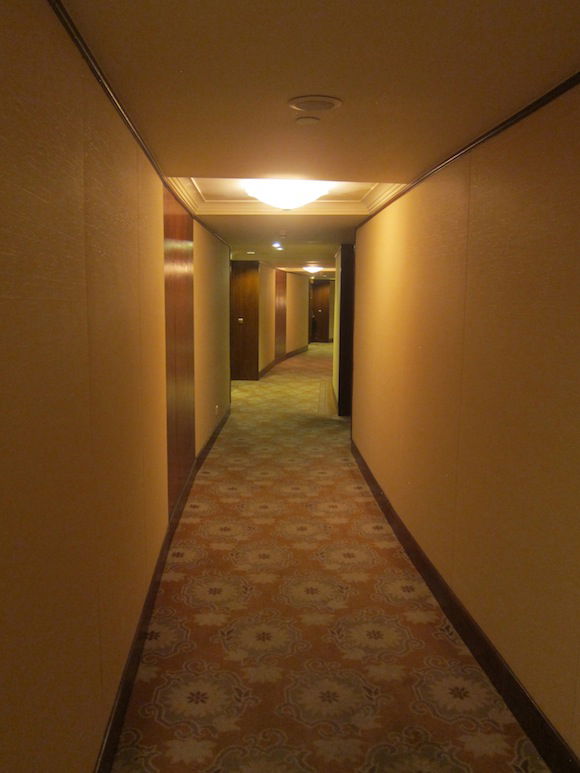 Hallway
We were assigned room 5807, a harbor view twin room.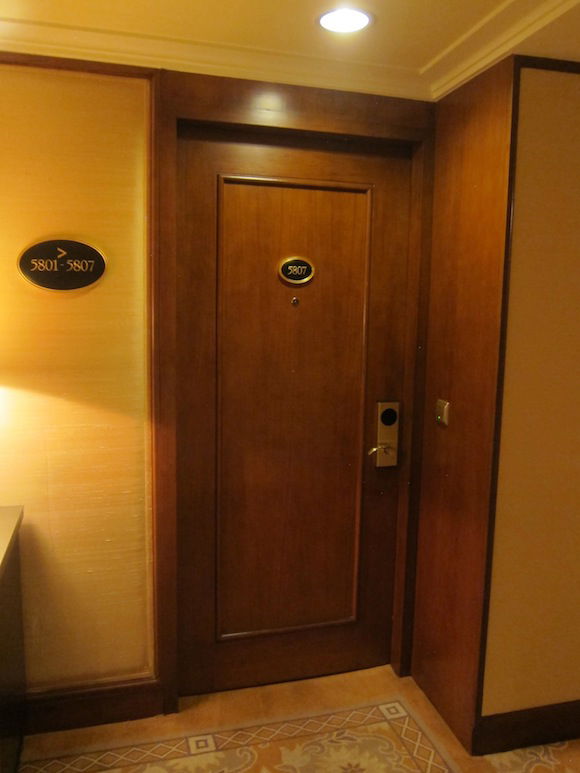 Room 5807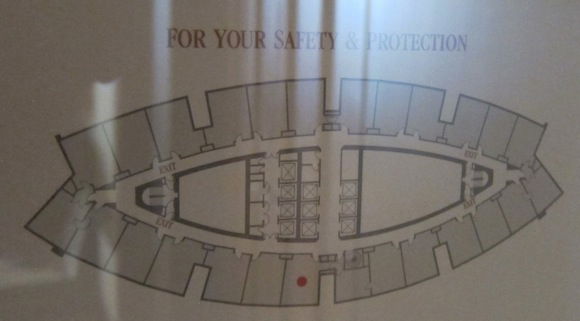 Room location
By Hong Kong standards the room is really spacious. It featured two comfortable, soft twin beds, a desk overlooking the harbor, a flat screen TV, and a chair in the corner.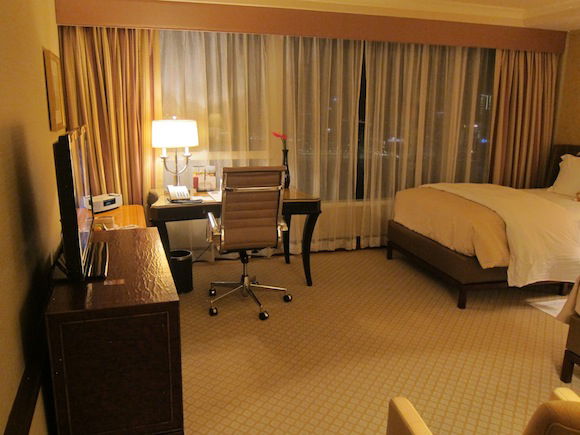 Room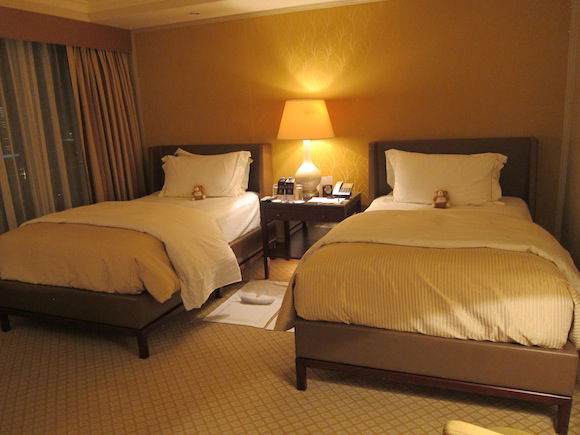 Twin beds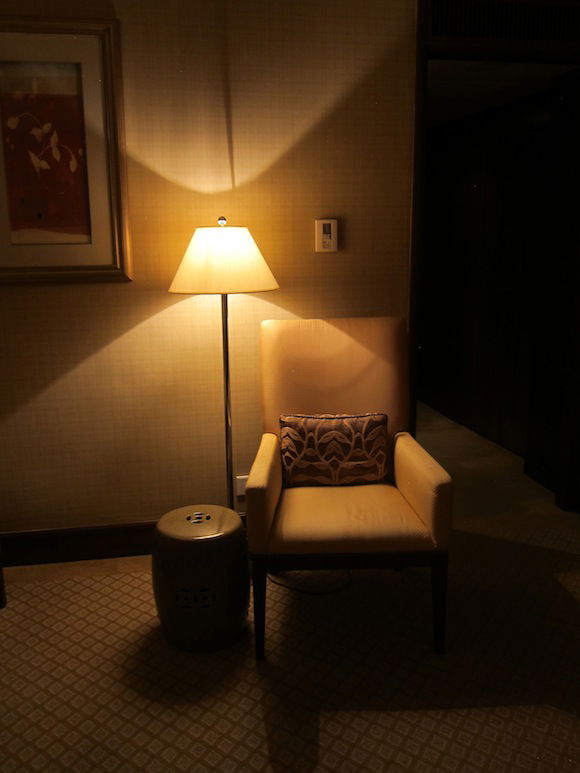 Chair and lamp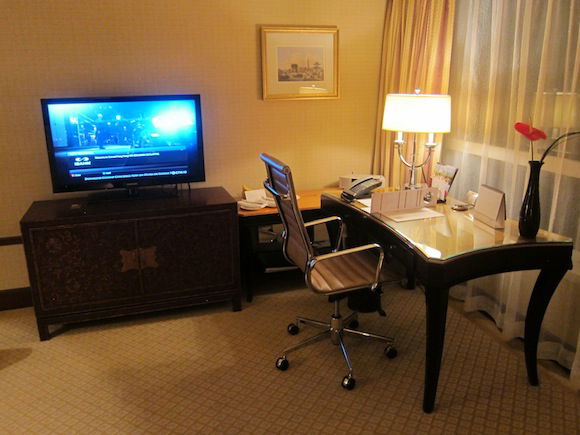 TV and desk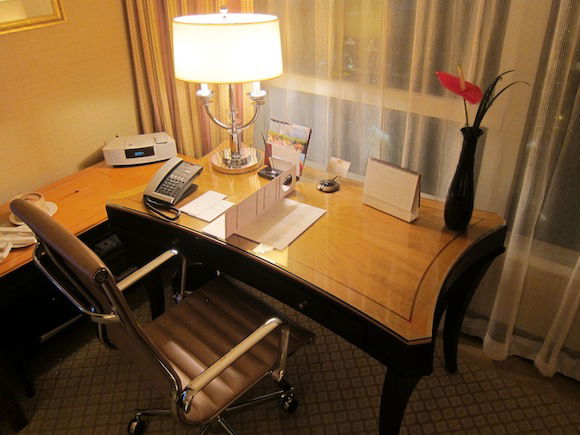 Desk
There was a welcome amenity waiting for us, consisting of fruit and some pralines.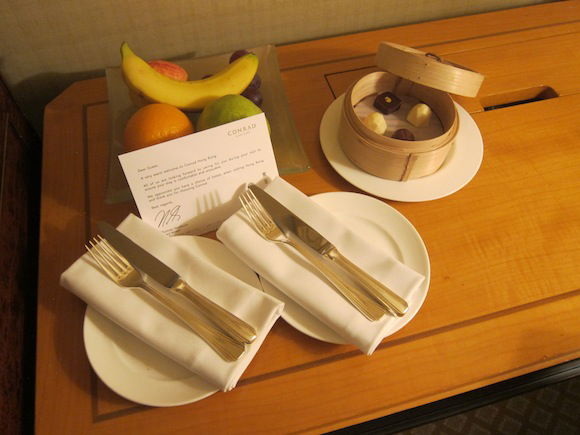 Welcome amenity
Then back towards the entrance was a large closet across from the bathroom door.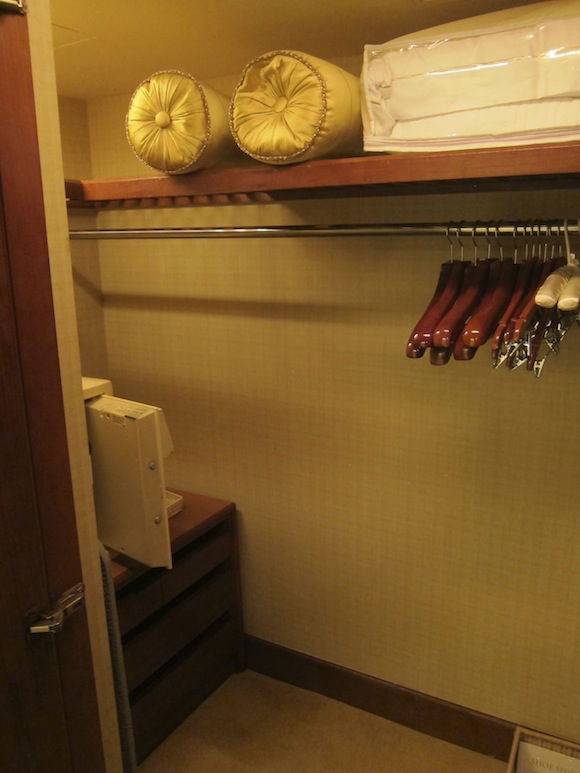 Closet
The bathroom is rather large for a standard room and consisted of a walk-in shower, tub, double sinks, and a toilet in a separate room.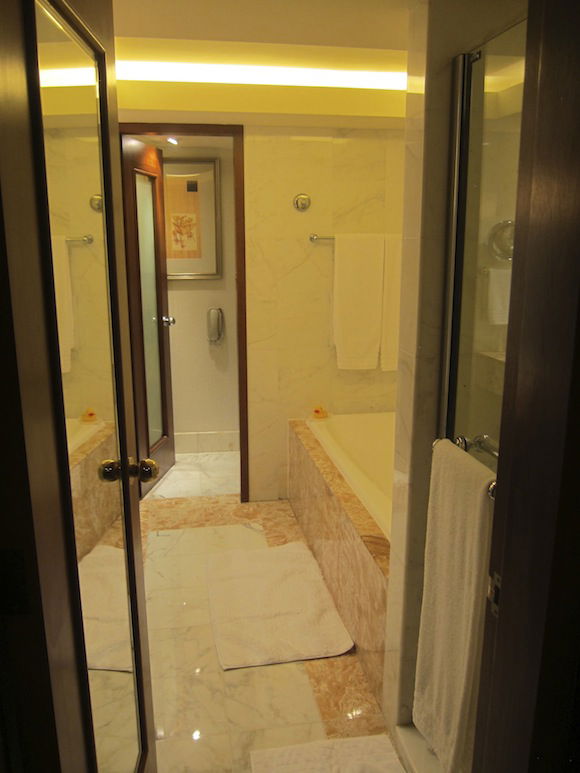 Bathroom entry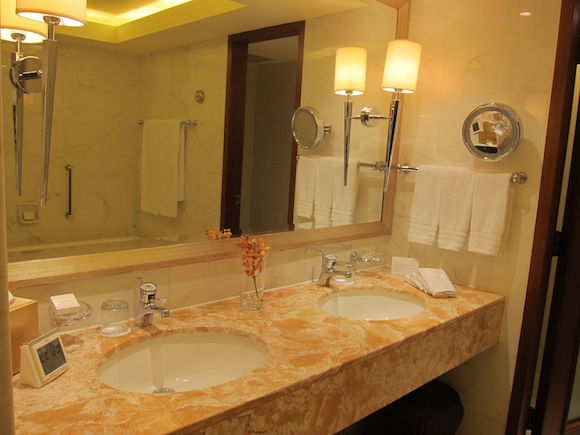 Double sinks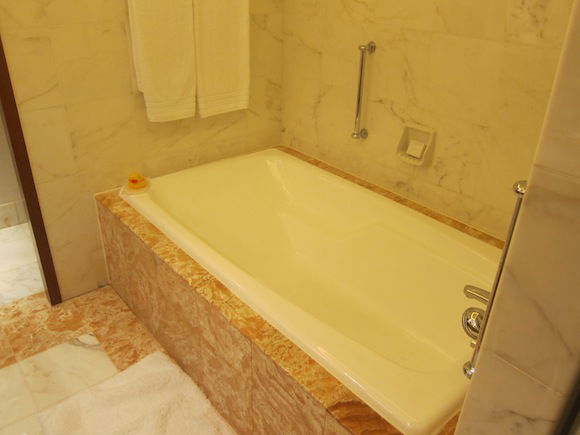 Bathtub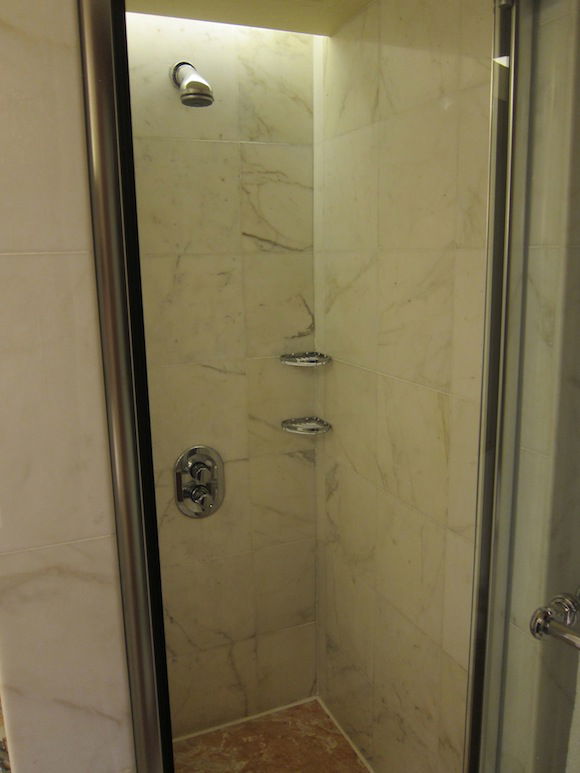 Shower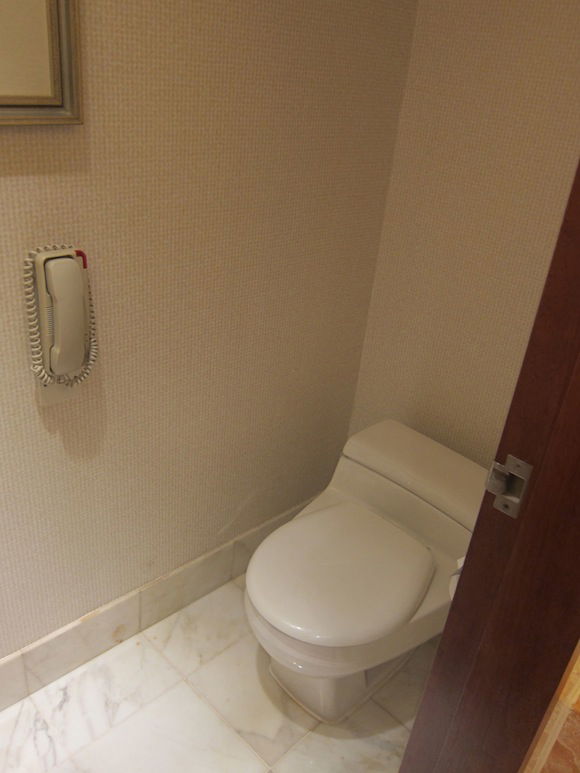 Toilet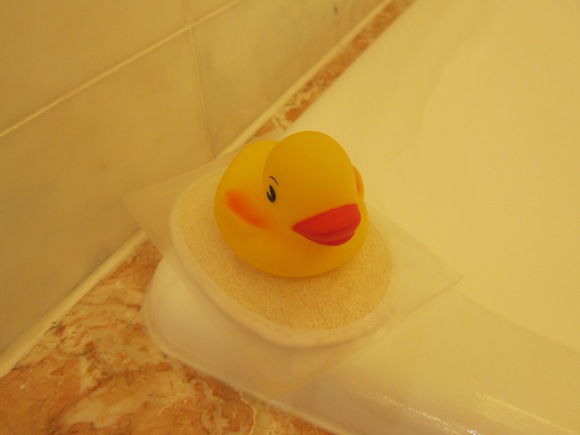 Rubber ducky!
The toiletries were Aromatherapy Associates branded. Maybe it's just me, but for the brand Conrad is trying to be I feel like they could do a bit better on the toiletry front. Or maybe I'm just totally off on what they're aiming for.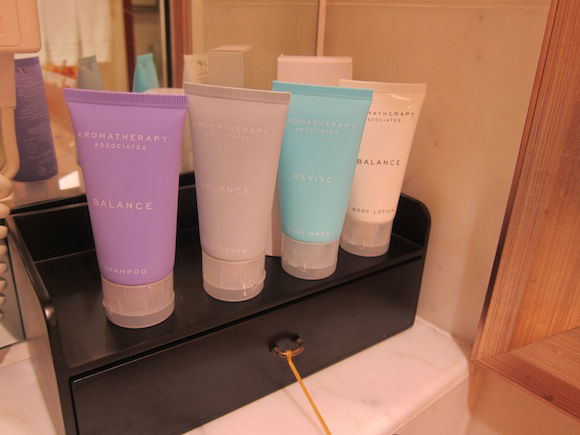 Toiletries
The best part of the room, of course, was the view of the harbor.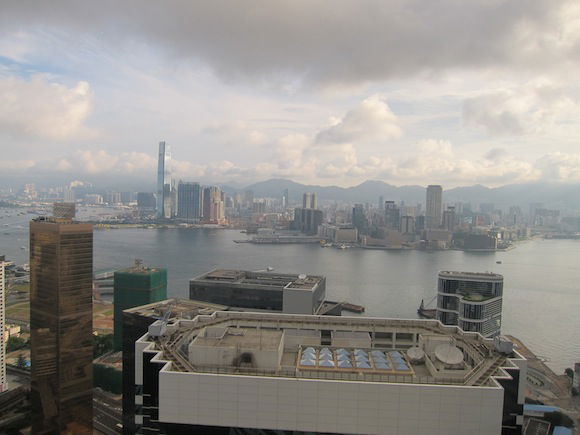 View from room
And the second best part of any Conrad stay, since I'm a five year old at heart, are the Conrad branded teddy bears and rubber ducks.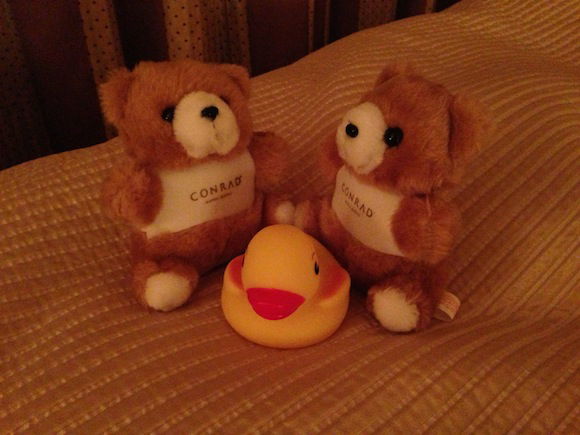 Friends for rubber ducky!
At check-in I was given a letter which listed executive floor benefits, which read as follows: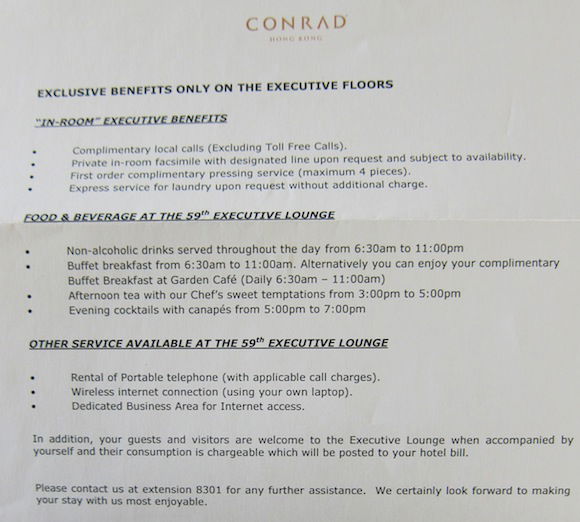 Executive floor benefits

We had breakfast at Garden Cafe, which is located just off the lobby.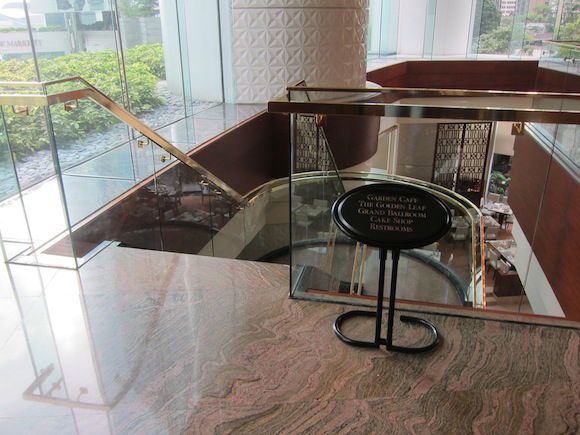 Stairway to restaurant
It's by no means a huge restaurant, though has a very spacious feel due to the high ceilings. We were there fairly early due to jetlag, and were among the only people there.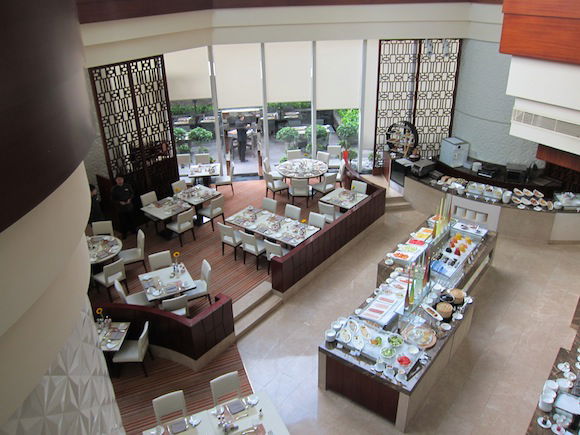 Breakfast setup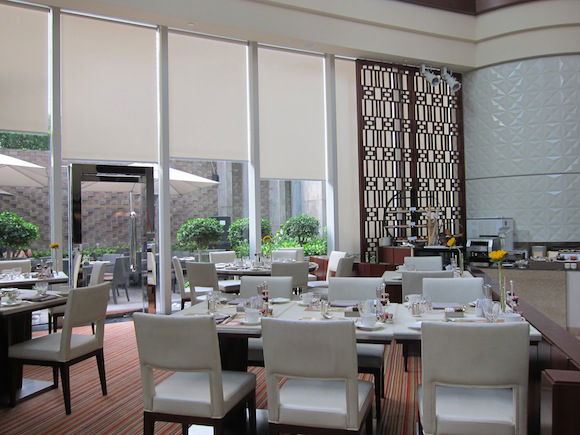 Restaurant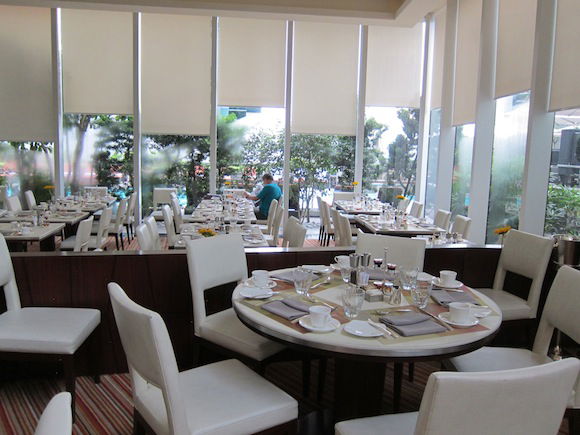 Restaurant
The service in the restaurant was generally friendly, with the caveat that it took forever to get drinks, which I find to be the norm just about everywhere in Asia (there are few things you can generalize about Asia as a whole given how different cultures are, but I consistently don't get drinks within 10 minutes for breakfast!).
The buffet was good. It wasn't a Le Meridien Bangkok or St. Regis Abu Dhabi style mega-buffet, but the contents were high quality and the selection more than sufficient. Ironically, given that this is Hong Kong, the dim sum selection was actually the most limited/disappointing part of the buffet.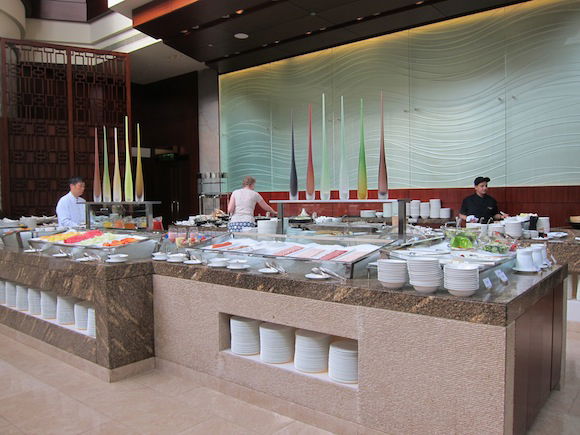 Buffet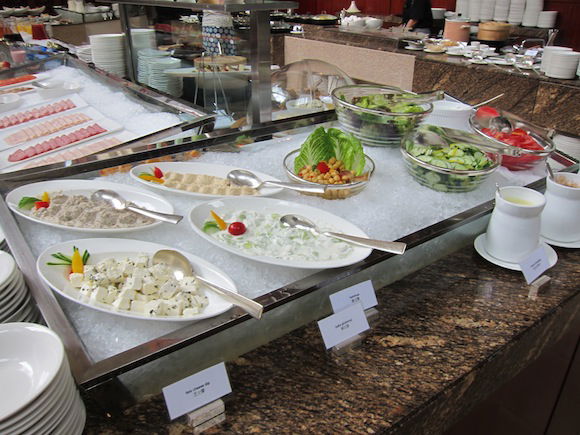 Buffet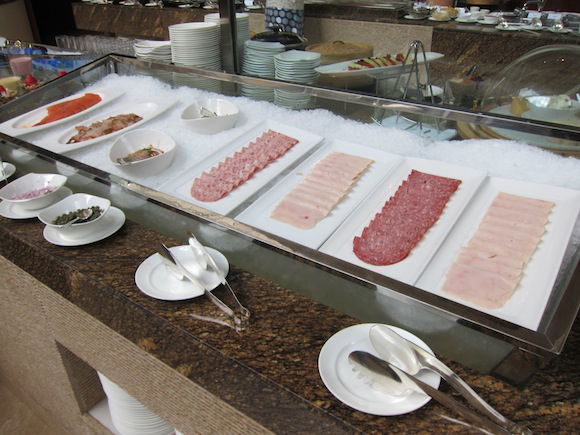 Cold cuts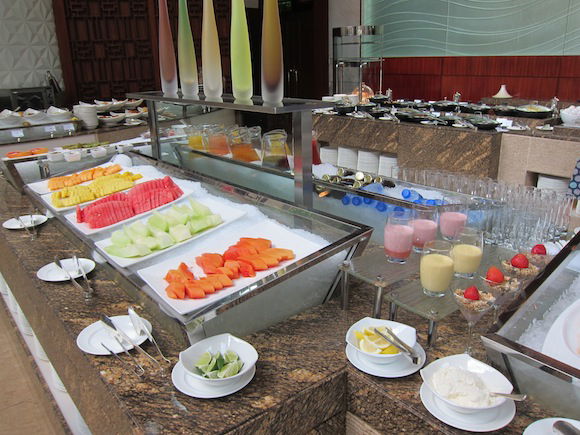 Fruit and yogurt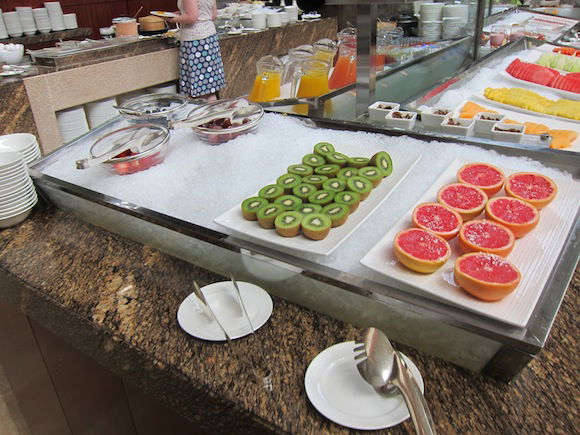 Fruit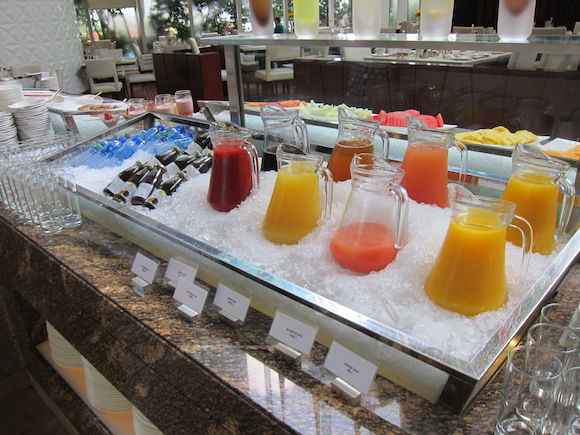 Juices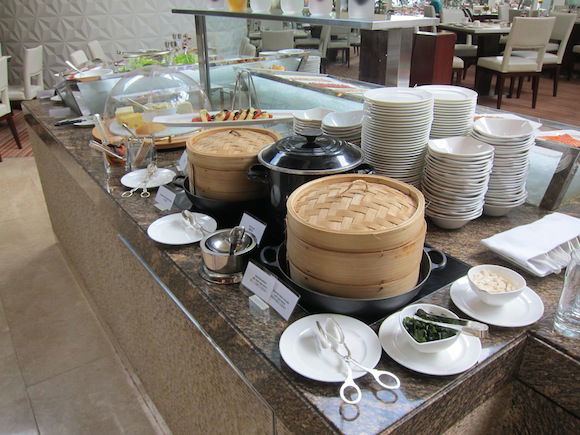 Dim sum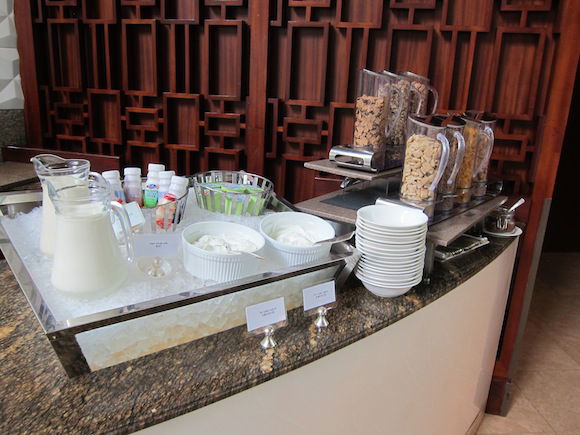 Cereal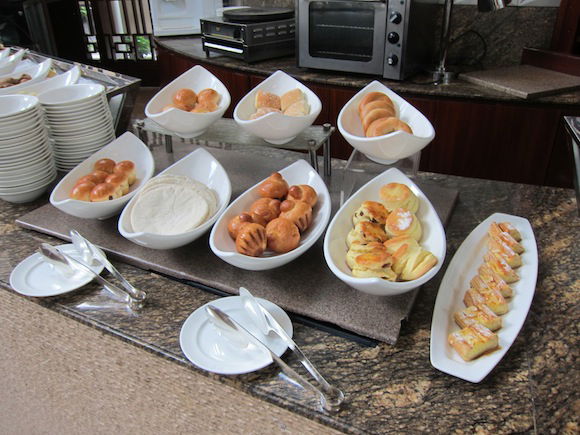 Pastries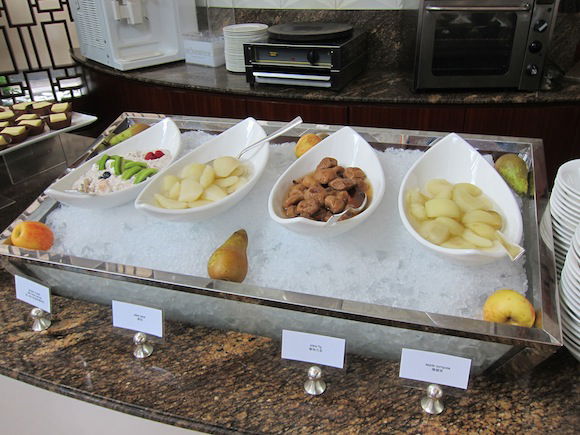 Buffet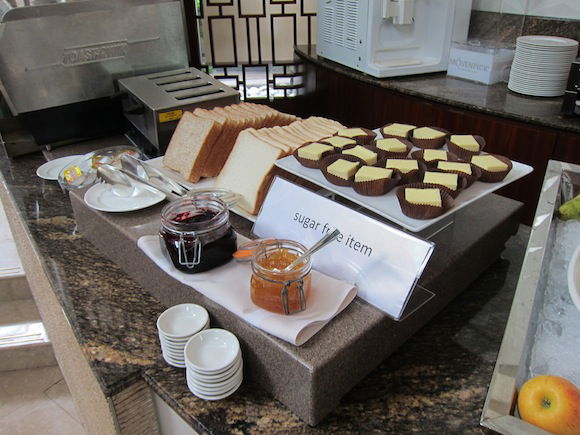 Breads and jams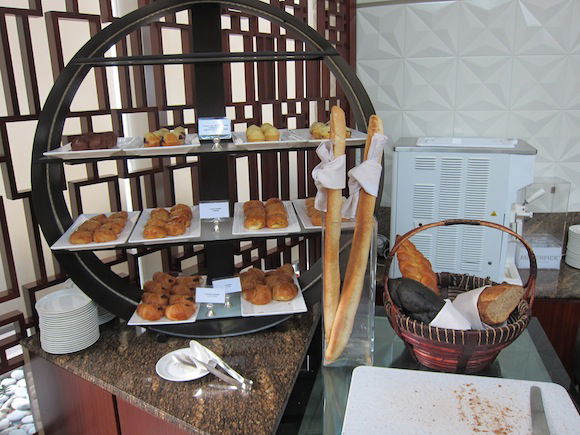 Bread display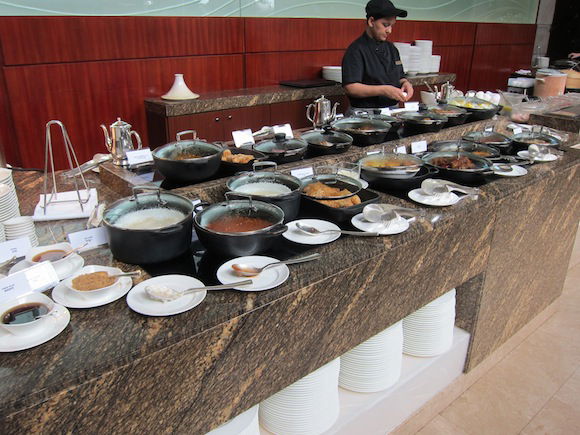 Buffet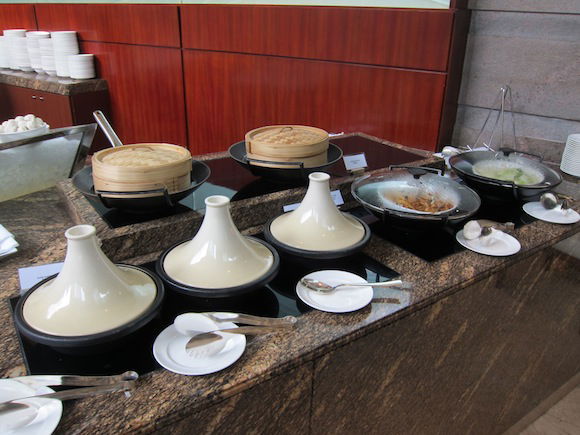 Buffet
The club lounge is located on the 59th floor, and serves afternoon tea from 3PM till 5PM and evening drinks from 5PM till 7PM.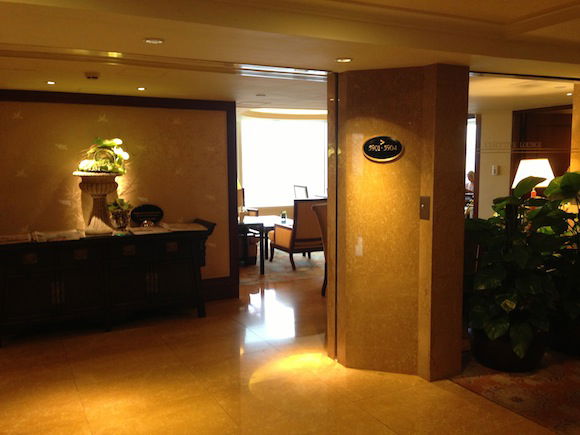 Entrance to club lounge
The club lounge features two rooms with a decent amount of seating, though for a hotel of this size I do think it's a bit on the small side, as it tends to fill up in the evenings.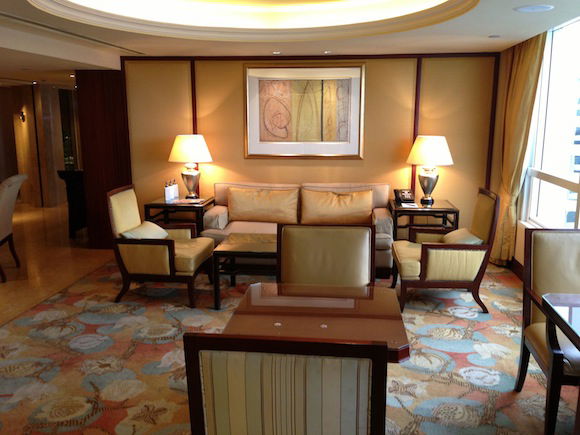 Club lounge seating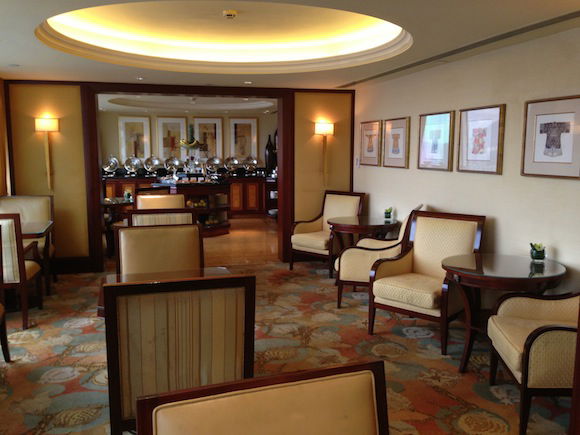 Club lounge seating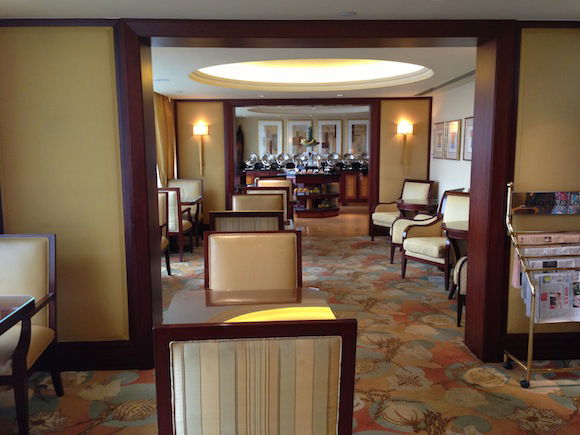 Club lounge seating
The view from the club lounge was similar to the view from my room. After all, it was in the same place just one level up.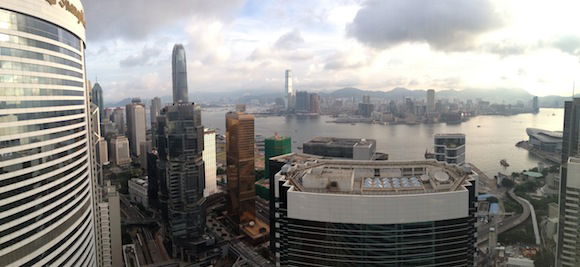 Views from club lounge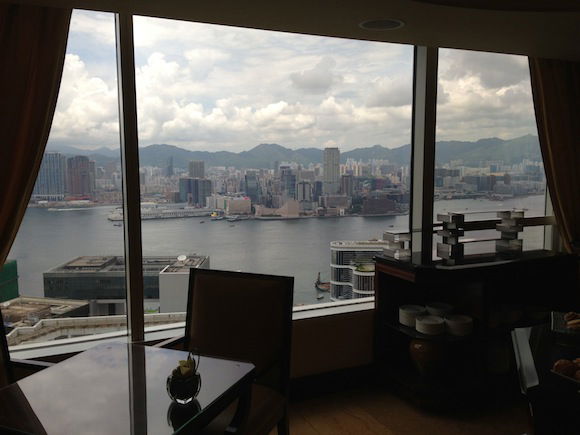 Views from club lounge
The afternoon tea spread consisted of cookies, scones, muffins, etc.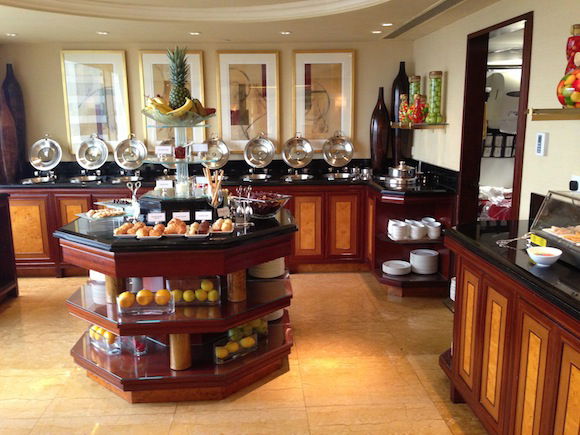 Afternoon tea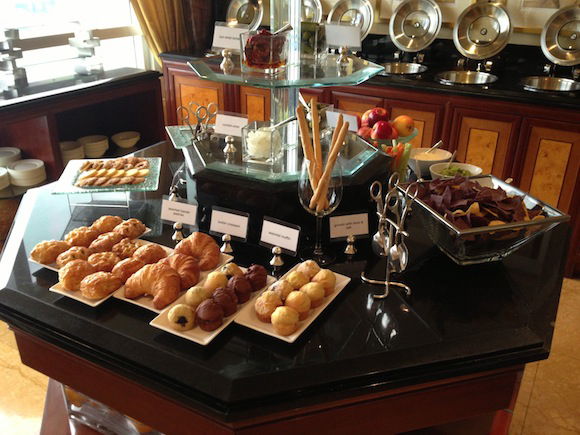 Afternoon tea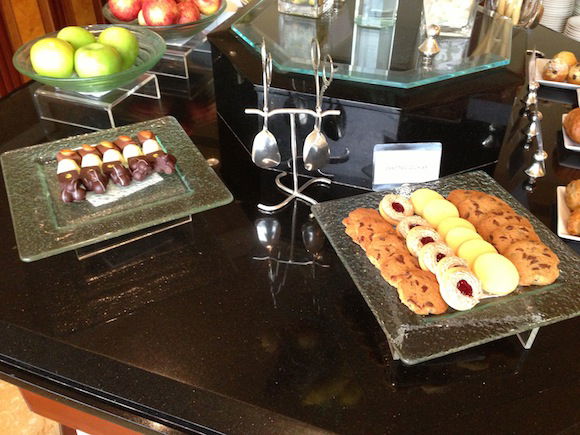 Afternoon tea
Then the evening spread was pretty impressive, with plenty of both hot and cold options. Service was excellent all times of day, as we were always immediately offered a drink upon arriving.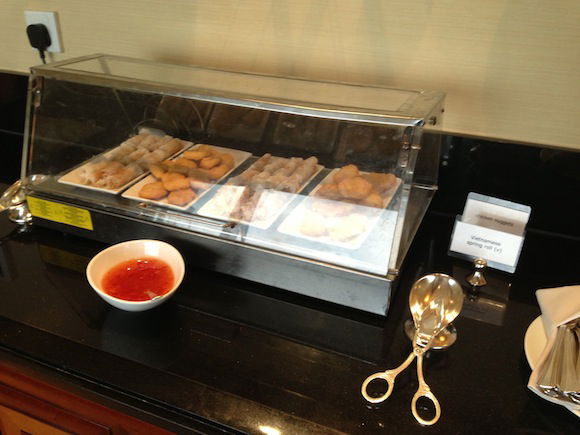 Evening spread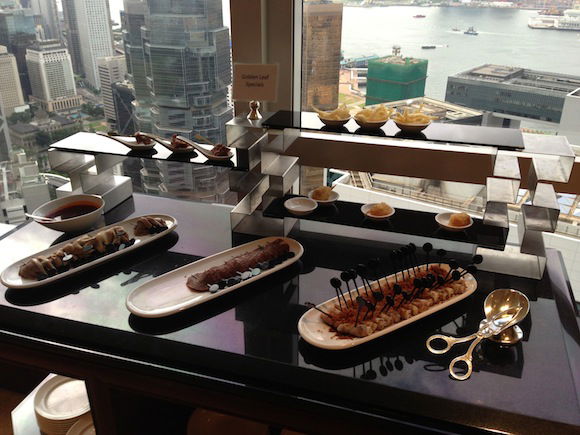 Evening spread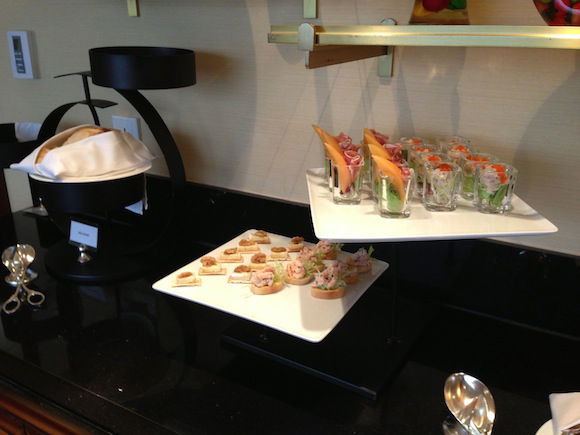 Evening spread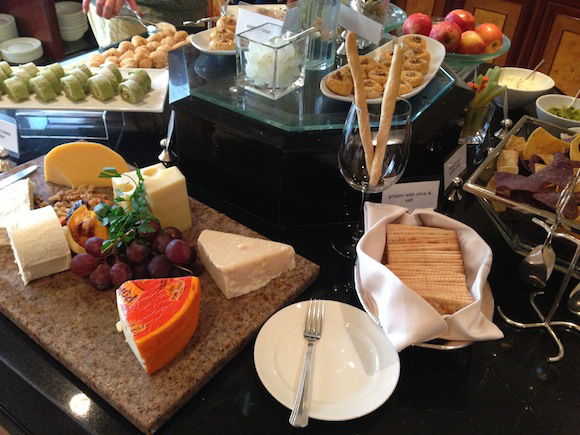 Evening spread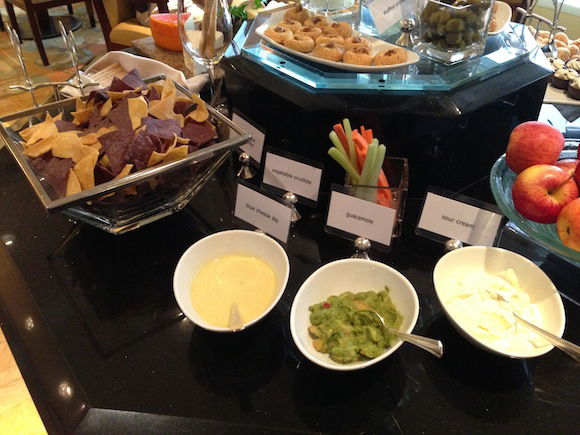 Evening spread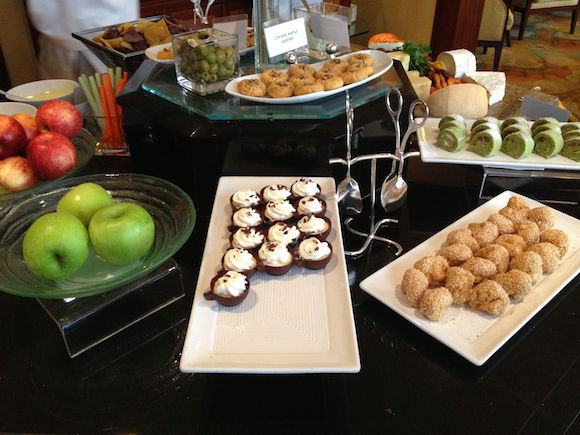 Evening spread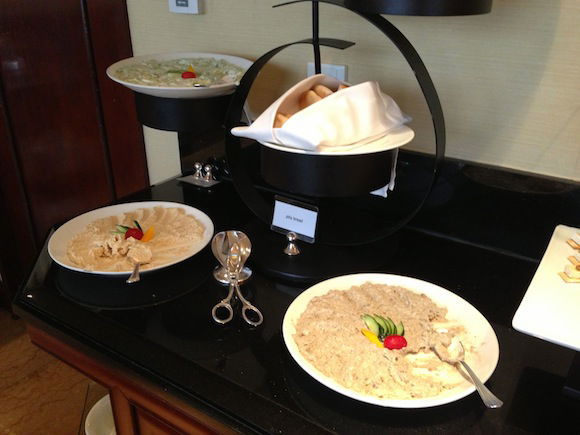 Evening spread
In terms of the hotel's other facilities, there's a pool which isn't especially impressive though still nice and private.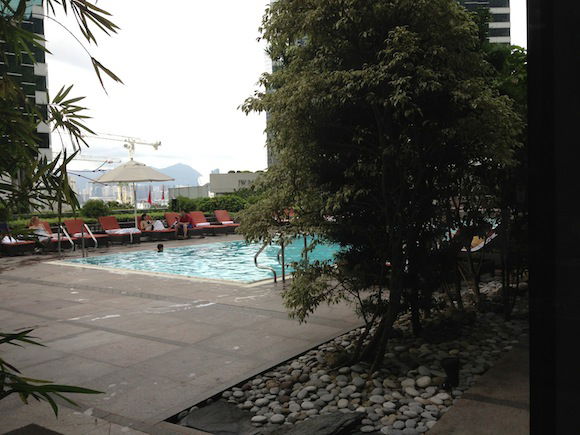 Pool area
There's also a nice gym.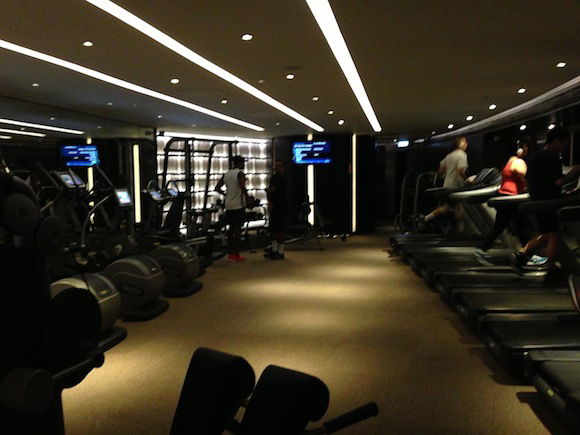 Gym
We only had one full day in Hong Kong, so I wanted to be sure we maximized it. We started the day by going to Victoria Peak, which I always like to get out of the way first to avoid the crowds.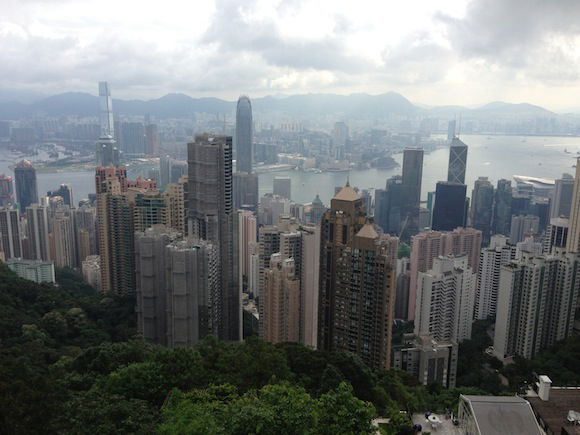 View from Victoria Peak
After that we took the bus to Stanley Market. I don't actually get the allure of Stanley Market as such, but I find the bus ride to be utterly fascinating, given that it shows such a different side of Hong Kong than what you'd get either in Kowloon or on Hong Kong Island "proper."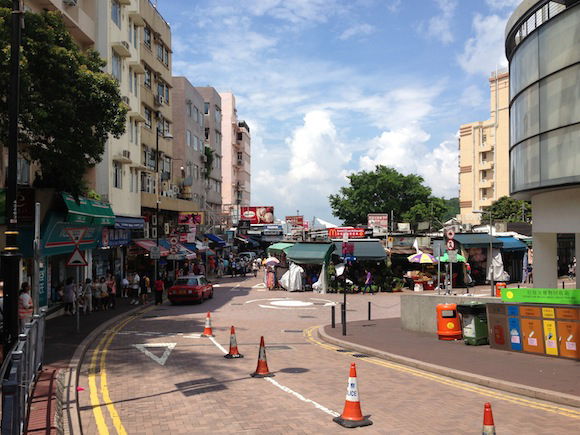 Stanley Market
We then took the Star Ferry over to Kowloon and walked around there for a bit. At that point my mom was a bit exhausted, so we headed back to the hotel to rest for a bit.
Then in the evening we watched the Symphony of Lights. As touristy/cheesy as it is, it never gets old for me.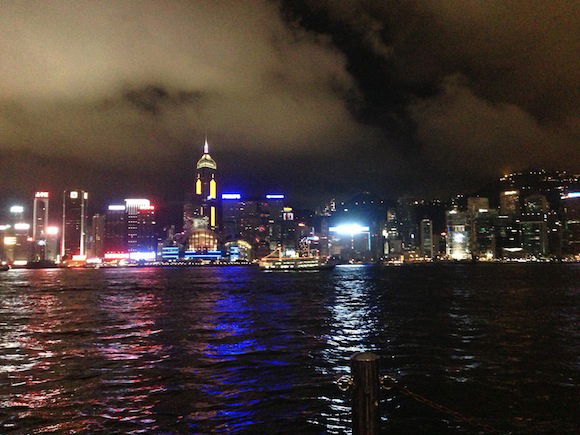 Symphony of Lights
Then we ended our day at the Ladies' Market, where I bought my mom a few handbags under the condition that she'd let me do the negotiating. She's too good of a person, so when you negotiate price and they pull the "but at that price I make no money" card, she would give in. I, on the other hand… 😉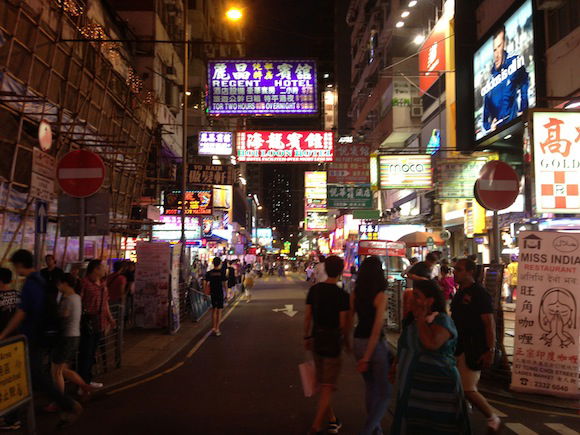 Ladies' Market
We probably overdid it a bit, because my mom's legs were killing her by the end of the day, and unfortunately that's something that only got worse as the trip continued…
Anyway, on the whole, we had a great stay at the Conrad. Here's the issue, though. The Conrad was a great value on points back when it was 50,000 Honors points per night. And it's a great value using the free night certificates from the Citi Hilton Reserve Card. However, at 80,000 points it's not exactly a bargain anymore.
And I also tend to think on paid stays, given that rates are $400USD+ per night, there's better value for the money than this place. But I do like the hotel…